Mention motion picture director James Whale and people usually think of two features. These are 1931's "Frankenstein", featuring Boris Karloff as "The Monster", and 1933's "The Invisible Man", starring Claude Rains' voice as "The Invisible One". Whale not only directed two other classic Horror films for Universal Pictures, but he also directed other genres.
This is not a look at those Four Horror tales, because they have been analyzed to death. This is about five overlooked, other features, I admit, are favorites of mine.
James Whale was born on July 22, 1889 in Dudley, Worcestershire, England.To avoid the upcoming draft he knew was coming during World War One. Whale chose his on fate and enlisted in the Worcestershire Regent and became a Second Lieutenant. In August 1917, he was captured "In Flanders Field", as the poem by Canadian Lieutenant-Colonel John McCrae's would make popular during that war.
In his prisoner of war camp, James Whale, became involved with the entertainment for the other captured men. He became a writer, director, set-designer and producer of their amateur productions and a career was started.
He 1919, after returning to Birmingham, the young man went to work in the legitimate theater as an actor, set-designer and builder, and what in America was called a stage manager. Through 1929 James Whale built up a career and became associated with multiple productions of the play "Journey's End" in the United Kingdom.

American producer Gilbert Miller acquired the plays rights and James Whale found himself directing an all British cast on the Broadway stage. In that production was an actor named Colin Clive. Who would become Whale's "Dr. Frankenstein" in both the 1931 motion picture and its 1935 classic sequel "The Bride of Frankenstein".
My Article "Mary Wollstonecraft Shelley On The Motion Picture SCREAM!" can be read at:
Above Colin Clive being directed by James Whale in the 1929 Broadway stage production of "Journey's End".

That production would lead to the director becoming involved with Hollywood film making in a British co-production of the play, released April 9, 1930 in the United States. Clive reprises his role of "Captain Denis Stanhope" and David Manners, soon to be associated with Todd Browning's "Dracula", was "2nd Lieutenant Ralegh".



Above left is David Manners, center, Colin Clive being observed by Ian Maclaren as "Lieutenant Osborne".
What makes all of this more amazing is within the world of 1920 and 1930's taboos. James Whale was an openly gay man.
"Journey's End"
was the beginning of James Whale's motion picture career and he was hired by Independent Producer Howard Robard Hughes, Jr. To turn a silent movie Hughes had shot, just prior to sound, into a talkie.
HELL'S ANGELES
released November 15, 1930
In 1927 Paramount Pictures hired William "Wild Bill" Wellman to direct a World War One feature about American flyers, "Wings". Wellman, who had volunteered for the French Air Force, prior to America's entry in World War One, was a highly decorated, by both France and the United States, airmen and a perfect choice to make direct the picture. The film became the first Best Picture Academy Award Winner.
Howard Hughes, also a flyer, wanted to make his own World War One Air Corps feature and began work on the silent "Hell's Angels", but with the advent of talking pictures. His silent feature was money wasted and zero audience potential.
Above Howard Robard Hughes, Jr. at the time of "Hell's Angels".
Hughes decided to use all of his great flying footage with sound effects added and re-shoot, in sound, the other sequences with his three leads.

Ben Lyon portrayed Monte Rutledge". James Hall portrayed his brother "Roy Rutledge". Both were established silent screen leading men and Lyon and Hall would make the transition to sound without any problems. Lyon's career lasted into 1955 and Hall's until his untimely death in 1940.
Greta Nissen portrayed "Helen". However, the problem for her and Howard Hughes was Nissen's Norwegian accent. The actress was beautiful and had starred in 15 features, but with the advent of sound. Her accent was hard to understand and especially as an American. She was let go, but would make 17 sound features. However, this leading silent screen actress was reduced to playing European female roles that were now mostly very small.


Above Greta Nissen in the silent "Hell's Angels".
There are two stories about how extra Jean Harlow became "Helen". One states it was star Ben Lyon that noticed her in a film and the other that cameraman Arthur Landau spotted Harlow on the studio lot. Whichever, if either, Howard Hughes now hired the unknown Jean Harlow for the role. Hughes signed the actress to a five-year, $100 dollar-per-week, contract. Which is equal to $1,500 a week at the time of this writing.


Above Jean Harlow with James Hall in one of the small color sequences in the mainly black and white feature film.
Going back to the original silent shoot with Nissen. Marshall Neilan started directing the picture on Halloween. October 31, 1927, but working with Howard Hughes wasn't easy and he quit. Next Hughes hired Luther Reed, borrowed from Paramount Pictures, but again the personality of Howard Robard Hughes, Jr. took over and Reed quit. Edmund Goulding came onboard to shoot the flying sequences. However, a year and a half into production the whole Hollywood Motion Picture Industry switched gears to sound. Goulding, like others, were excellent silent film directors, but not in the new medium of sound. He would become a Second Unit Director and finished the flying sequences for the film.
Hughes had just seen "Journey's End" and approached, unknown, James Whale to direct the sound sequences for "Hell's Angels". Whale's second motion picture would become a classic. His directing turned, also unknown, Jean Harlow, into a Worldwide sex object, "The Platinum Blonde", and had women of all ages dying their hair.

The Basic Screenplay:
Has two British Brothers, for different reasons, entering the First World War as aviators. Their Oxford roommate is a German who doesn't want to fight against England, but is also drawn into the war. The audience follows the two Brothers infatuations with "Helen" and the problems that causes between the two. Along with eventually confronting their good friend and German roommate piloting a "Zeppelin".
For all his work, James Whale received no on-screen credit. As the film lists the only director as Howard Hughes.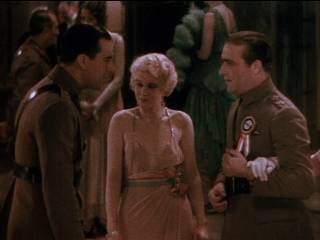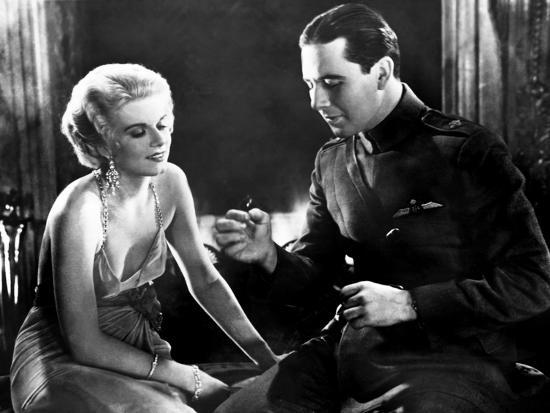 My article "HOWARD ROBARD HUGHES, JR.: The Motion Pictures" which tells of the curse on the John Wayne and Susan Hayward movie "The Conqueror" will be found at:
With his work as the dialogue director for "Hell's Angels" completed. James Whale went to Chicago to direct another stage production of "Journey's End".
After the critical success in both North America and the United Kingdom of "Hell's Angeles". As would be expected, the Film Industry knew who actually directed the sound sequences with the actors. Carl Laemmle, the founder and owner of Universal Pictures, signed James Whale to a five-year contract in 1931.
Carl Laemmle, Jr. assigned James Whale his first motion picture for the studio. This was playwright Robert E. Sherwood's ------
WATERLOO BRIDGE
released September 1, 1931



This was the first filmed version of Sherwood's two act Broadway play. The 1940 version is the most known and stars Vivian Leigh and Robert Taylor. The play was based upon Robert E. Sherwood's own wartime experiences.
The Cast of James Whale's feature:
Mae Clarke portrayed "Myra Deauville". Between 1929 and 1971 the actress would portray 123 roles. Additionally, in 1931, she became a trivia answer for the question: "Who had the grapefruit pushed in her face by James Cagney" in "Public Enemy?". Two more films after "Waterloo Bridge" found Mae Clarke, once again, working for James Whale in "Frankenstein" as "Elizabeth". Clarke become a "B" actress, but did co-star with Tristram Coffin in Republic Pictures classic serial from 1949, "King of the Rocket Men". Which introduced the jet powered rocket jacket used in two other serials and was parodied in Disney's 1991 "The Rocketeer".
Douglass Montgomery, billed as Kent Montgomery, was the "Sherwood character" of "Roy Cronin". Between 1930 and 1957 Montgomery only appeared on the big and small screens 33 times. In 1935 he co-starred with Claude Rains in the mostly forgotten version of Charles Dickens' "The Mystery of Edwin Drood" and in 1939 co-starred with Bob Hope and Paulette Goddard in the comedy remake of the thriller "The Cat and the Canary". In 1957 Douglass Montgomery appeared on a forgotten television anthology series,, "Matinee Theater", as "Dr. Jekyll and Mr. Hyde". Future "John Steed", of the British television series "The Avengers", Patrick Macnee, was also in that live production.


Above Mae Clarke and Douglas Montgomery. Below are Mae Clarke and, on the official cast listing, sixth-billed Bette Davis, in her 3rd on-screen appearance as "Roy's" sister "Janet".


Below is two of the matte sequences created and directed by James Whale of the film's title "Waterloo Bridge". Upon which the two main American characters first meet.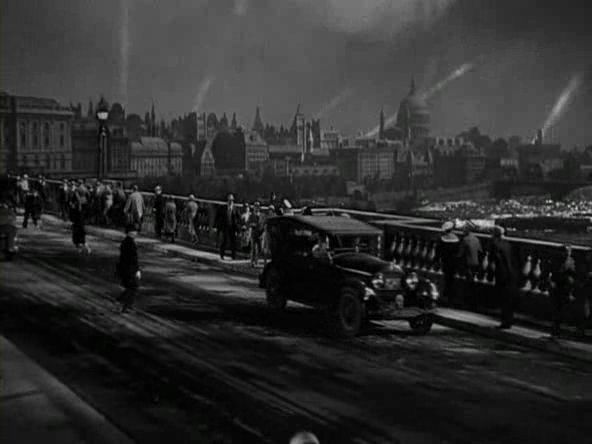 In this pre-Motion Picture Code feature. James Whale was able to keep Mae Clarke's "Myra", as in the play, a prostitute. In the 1940 Vivian Leigh version she became a ballet dancer and that remained for Leslie Caron in the 1956 version titled "Gaby".

The Basic Screenplay:
The plot deals with the self-loathing of "Myra", as she falls for an honest and innocent Canadian soldier, "Roy Conin". Who has no idea of her profession and sees "Myra" as another American in England caught during the war, because of the German U-Boats sinking passenger ships crossing back to New York.


In the end, "Roy", knowing the truth about "Myra", finds her on "Waterloo Bridge" where they first met.

He confesses his love, asks her to marry him and she accepts his proposal. As the Military Police believing "Roy" to be a deserter take him into custody. He joins other soldiers on a truck and it leaves with "Roy" knowing "Myra" is waiting, but a bomb hits the bridge killing her.
Describing the picture the "New York Times" film critic, Mordaunt Hall, wrote:


---a praiseworthy picture ---somewhat sketchy in substance, but it is acted cleverly and there is imagination in the employment of the camera and the microphone.It might have been even a more satisfactory production had Mr. Whale had full say as to the dialogue, for the lines from some of the cockney characters are occasionally a little forced.
Whale's film, during its initial release, ran afoul of local city Censor Boards in Chicago and New York and the entire State of Pennsylvania. They all made extensive, but different, local cuts to the picture to conform to their own censorship rules.

In 1934, when the "Production Code", the "Hayes Office", came into force. "Waterloo Bridge" was actually banned from showing in the United States. An action of both illustrating the Puritan aspects of the code and, in my opinion, a tribute to the directing of James Whale.




Eight feature films followed 1931's "Waterloo Bridge". These included those Four Horror films James Whale will forever be identified with. In fact, immediately before this next picture was "The Bride of Frankenstein". The movie reunited Boris Karloff and Colin Clive, but replaced Mae Clarke with Valerie Hobson, 1935's "The Mystery of Edwin Drood" and "The Werewolf of London", as "Elizabeth".


A far cry from Horror was the James Whale's favorite comedy mystery entry:
REMEMBER LAST NIGHT
released November 4, 1935



The screenplay was based upon the novel "The Hangover Murders" by Adam Hobhouse. Who the real Adam Hobhouse was is still a mystery and this was his, or hers, only published work and is remembered solely for this James Whale motion picture.
Carl Laemmle, Jr. wanted Whale to direct the sequel to Todd Browning's 1931 "Dracula"! Which would be 1936's "Dracula's Daughter", but James Whale did not want to make two back-to-back Horror movies and suggested the Hobhouse mystery he had recently read.
The go ahead was given to the director, but it would take six writers to turn the novel into a screenplay. Harry Clork, Doris Malloy and Dan Totheroh received on-screen credit. While Louise Henry, Benn W. Levy and Murray Roth added dialogue and made other changes without any credit.
The cast James Whale assembled was a very interesting group of actors.
Edward Arnold portrayed " District Attorney Danny Harrison". Arnold started acting in 1916 and was one of "Professor Moriarty's Henchmen" in actor and playwright William Gillette's "Sherlock Holmes". In 1932 he had one of the main supporting roles in "Rasputin and the Empress" starring Lionel, Ethel and John Barrymore. In 1933 Edward Arnold co-starred with Eddie Cantor, "The Goldwyn Girls" and Gloria Stuart, from Whale's 1933 "The Invisible Man" and 1997's "Titanic", in "Roman Scandals".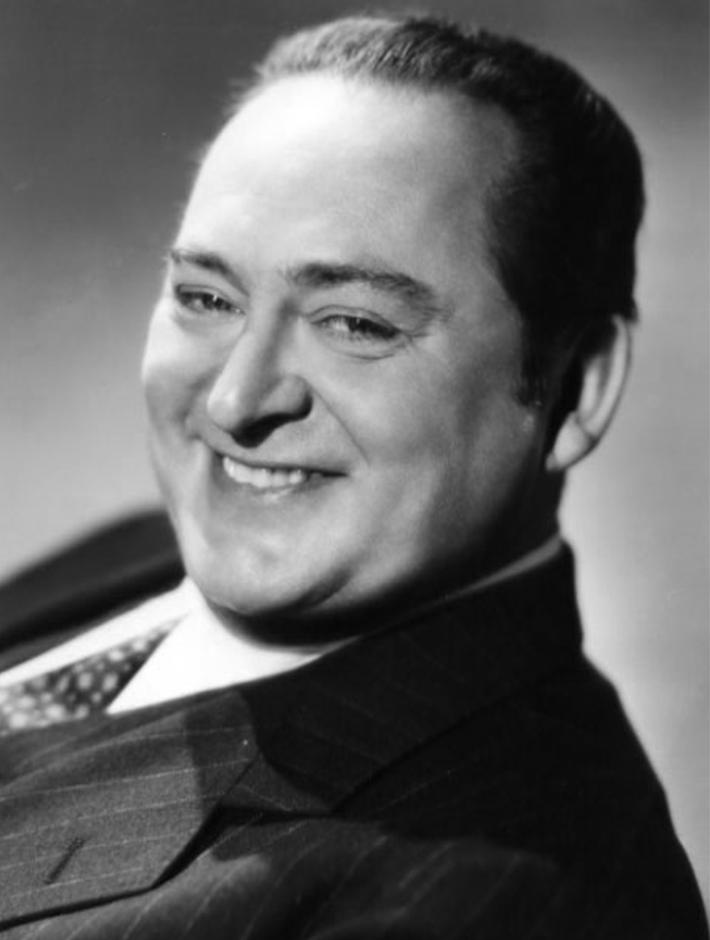 Robert Young portrayed "Tony Milburn". This was the future television's "Jim Anderson" of "Father Knows Best", 1954 to 1960, and "Marcus Welby, M.D.", 1969 to 1976, 32nd motion picture. Prior to this film Young had been seen in 1931's "The Black Camel", a Warner Oland "Charlie Chan" entry, the Marie Dressler and Walace Beery 1933 "Tugboat Annie", the George Arliss, Boris Karloff and Loretta Young, no relation, 1934 "The House of Rothchild". and the Wallace Beery and Lewis Stone 1935 "West Point of the Air". That had been written by Navy flyer Frank Weed (see the John Wayne and Maureen O'Hara 1957 "The Wings of Eagles").
Constance Cummings portrayed "Carlotta Milburn". She came from a musical family and appeared on the stage, but in 1930 went to Hollywood for her first motion picture. The year before this picture's release Cummings left the United States for England.She spent most of her life there appearing on the stage and an occasional motion picture, or television program. Her 58th and final on-screen appearance was in the British made for television movie, from 1986, "The Understanding".
Sally Elders portrayed "Bette Hulling". Elders was a "B" actress discovered by Max Sennett, but when her name would be mentioned related to Sennett's discovering her. It is her lunch partner, at the time, Jane Peters, who is also mentioned. As Peters would have her name changed to Carol Lombard.


Between 1927 and 1950 Elders appeared on-screen 69 times in forgotten motion pictures with possibly the exception of the previously mention "The Black Camel" with Robert Young and also Bela Lugosi.
Reginald Denny portrayed "Jake Whitridge". Denny started on-screen acting in 1915. Over his career he would appear in 1921's "Disraeli" starring George Arliss, the John Barrymore 1922 "Sherlock Holmes", co-star with Norma Shearer and Robert Montgomery in Noel Coward's 1931 "Private Lives", John Ford's 1934 "The Lost Patrol" with Victor McLaglen and Boris Karloff, the Bette David and Leslie Howard 1934 "Of Human Bondage", the 1935 Greta Garbo and Frederick March "Anna Karenina", Alfred Hitchcock's 1940 "Rebecca" with Joan Fontaine and Sir Lawrence Olivier and even 1965's "Cat Ballou" starring Jane Fonda and Lee Marvin.
Monroe Owsley portrayed "Billy Arliss". Owsley only appeared on-screen 37 times in forgotten movies.
Above left to right are Sally Elders, Monroe Owsley, Robert Young, Constance Cumming and Reginald Denny.
Additionally the cast featured:
Robert Armstong as "Fred Flannagan". Prior to this film, for producer Merian C. Cooper, Armstong appeared in 1932's "The Most Dangerous Game" and as "Carl Denham" in 1933's "King Kong" and "Son of Kong". In 1949 he appeared in Cooper and John Ford's "Mighty Joe Young". In 1943 Robert Armstrong was a detective in "The Mad Ghoul" with George Zucco and David Bruce. In all the actor would be seen in 197 different roles.




My article, "ROBERT ARMSTONG: It Wasn't All 'The Eighth Wonder of the World", His Brat, or Joe!" will be found at:

http://www.bewaretheblog.com/2020/08/robert-armstrong-it-wasnt-all-eighth.html

Jack LaRue portrayed "Baptiste Bouclier". LaRue would be known for his gangster roles, but was originally brought to Hollywood from Broadway to co-star in 1930's "Scarface", but lost that role to another actor named George Raft. He was to portray "Duke Mantee" in the 1936 film "The Petrified Forest", but was replaced by actor Humphrey Bogart who played the role on Broadway. However, by 1976 the touch guy actor would be seen in 143 different roles.


George Meeker portrayed "Vic Hurling". Meeker had co-starred with Irene Dunne in the 1932 version of the Fannie Hurst novel "Back Street". He was in the forgotten Bela "Dracula" Lugosi billed "Night of Terror" in 1933. After this picture George Meeker was seen in 1938's "Marie Antoinette" starring Norma Shearer, Tyrone Power and John Barrymore in the role of "Robespierre" and 1940's "High Sierra" starring Humphrey Bogart and Ida Lupino.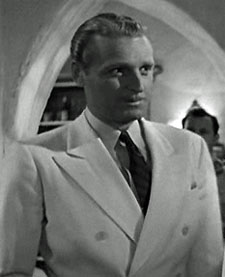 Gregory Ratoff portrayed "Faronea". Actually Ratoff was born Grigory Vasilyevich Ratner in Samara, Russia. As a character actor he appeared in 49 feature films. These included 1936's "Under Two Flags" starring Ronald Coleman and Claudette Colbert, 1957's "The Sun Also Rises" starring Tyrone Power, Ava Gardner and Errol Flynn and 1960's "Exodus" starring Paul Newman and Eva Marie Saint. However, he also directed and among his 30 directing credits are 1937's "Lancer Spy" starring George Sanders and Peter Lorre, 1941's "The Corsican Brothers" starring Douglas Fairbanks, Jr. and Ruth Warrick, and 1949's "Black Magic" starring Orson Welles.


The plot of the film explains why James Whale wanted to direct this mystery-comedy picture. Which, as I mentioned, stated was one of his personal favorite films he directed.

The Basic Screenplay:
To celebrate their six-month anniversary socialites, "Tony" and "Carlotta Milburn", decide to throw a wild party with nonstop drinks. It starts at their place, goes to a restaurant owned by "Faronea", and ends up back at their place.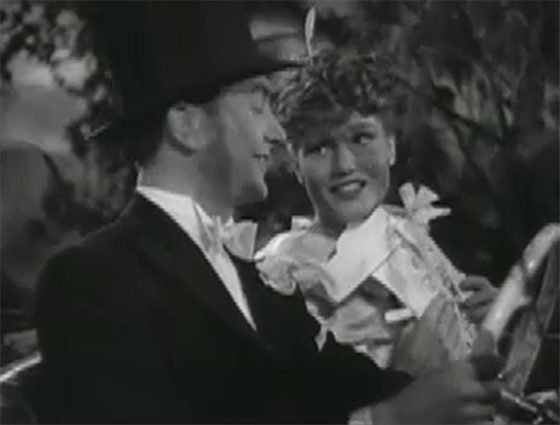 "Tony" and "Carlotta" have no idea that "Faronea" is arranging with "Vic Huling's" chauffeur, "Baptiste", to kidnap "Huling". Who is hosting the party at the restaurant. After more drinking the party group return to the "Milburn's".
The next morning "Tony" and "Carlotta" wake up hung over.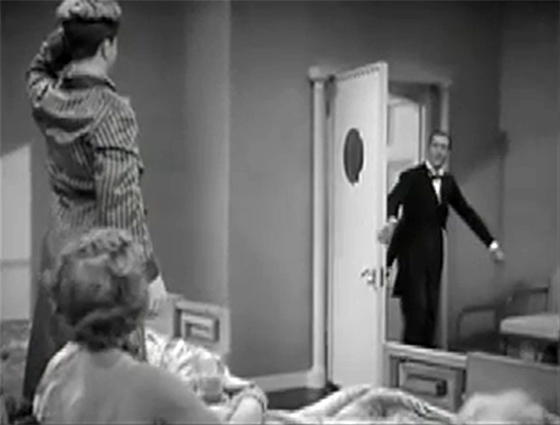 Their butler informs "Tony" and "Carlotta" that "Vic" is lying dead, shot through his heart, in their living room and his wife, "Bette", is missing. "Tony" calls his friend "District Attorney Harrison" to come over and investigate the murder.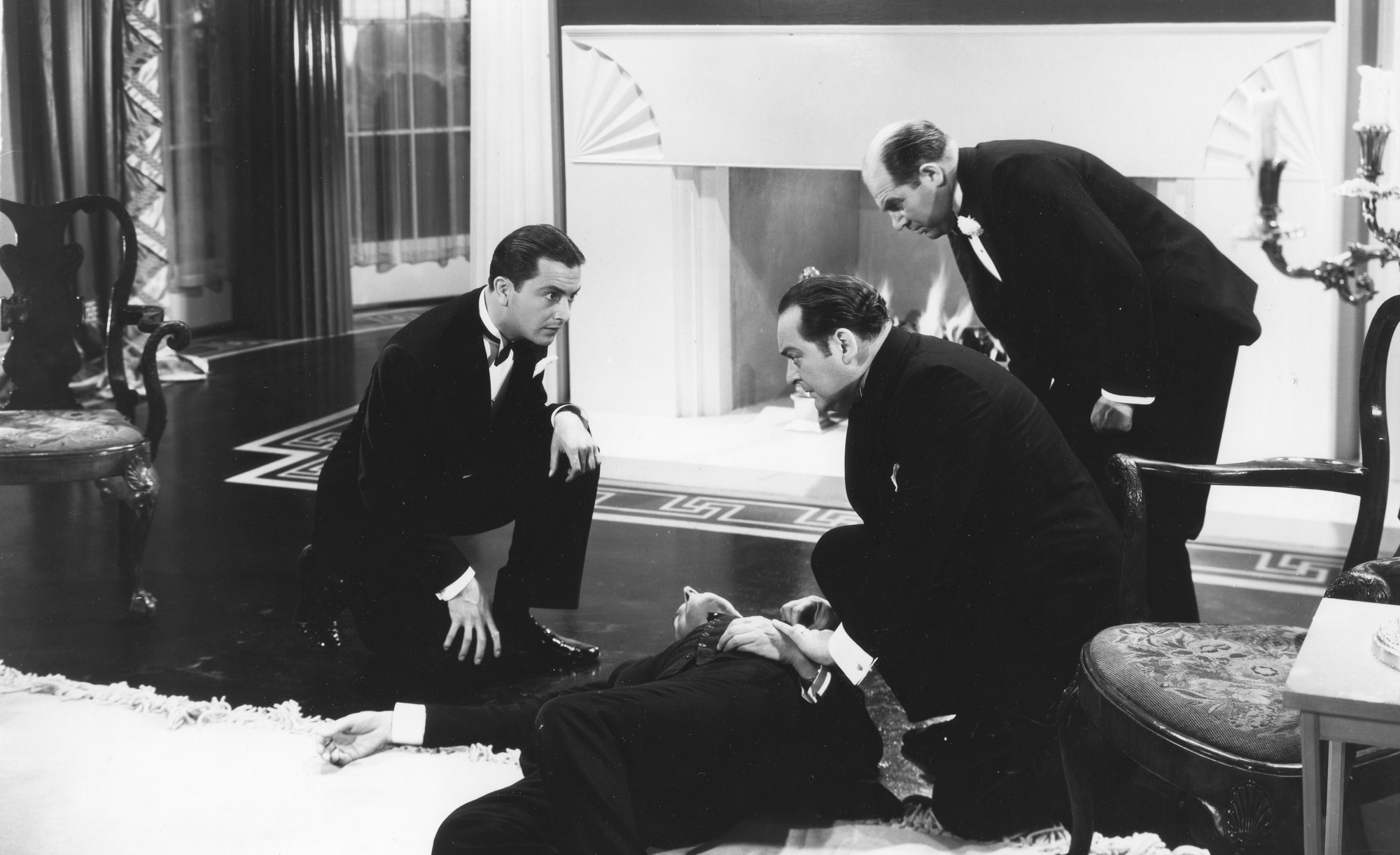 The problem facing "Harrison" is that both "Tony" and "Carlotta" drank too much and don't remember anything about last night.
As the investigation begins, "Bette" arrives at "Tony" and "Carlotta's" with "Billy Arliss". Whose house she spent the night at. After also drinking too much and unable to drive home. "DA Harrison" now finds out that the same drinking problem appears to be with every guest who attended the party. Nobody remembers anything specific other than have drank too much.
The circumstantial evidence points toward "Tony" as the murderer. He gets "Harrison's" permission to call in a hypnotist, "Professor Karl Jones", played by Gustav von Seyfferitz, to prove his innocence. "Tony" wants "Jones" to hypnotize all the party guests to make them remember. However, before "Professor Jones" can reveal the murderer he is murdered himself.
Next "Tony" and "Carlotta" go to see "Faronea" and ease drop on a conversation he is having with an associate. "Tony" bluffs about knowing about the kidnapping plot and the two get away. However, the next to be murdered is "Faronea". When the two-return home they discover "Baptiste" dead in his quarters.
Now comes a typical, over the top, 1930's mystery movie who-done-it reveal.
It starts with "Billy" making a frantic phone call to everyone's best friend "Jake Whitridge" from "Tony" and "Carlotta's" home.

Next, "Jake" arrives and confronts "Billy". While this is happening "Tony" and "Danny Harrison" arrive. The two had previously set this up with "Billy", but "Jake" unexpectedly attacks the other and knocks him out.

Upon regaining consciousness, "Billy" attempts to shoot "Jake", but "Tony" interferes and saves him. In walk all the wives adding to the confusion.
When everyone has calmed down, "Tony" reveals he has solved the crime in true "Nick and Nora Charles", "The Thin Man" style.
"Billy Arliss" borrowed money from "Vic Huling" on behalf of "Jake Whitridge". "Jake" then altered the $50,000 check to the higher amount of $150,000. Later, "Vic" forced "Billy" to reveal he had borrowed the money for "Jake". "Jake" then shot "Vic", at his own house, and brought the dead body to "Tony" and "Carlotta's". Which, to the party goers, appeared that "Vic" had just passed out from too much drink. With me so far?
"Jake" next paid "Baptiste" to stay quiet, because "Baptiste" had been in on the original kidnapping plot and knew about the altered check. To remain quiet "Baptiste" had to kill "Professor Jones" from revealing him to "Danny Harrison". Still with me?
"Baptiste" now kills "Faronea", because "Tony" appeared to know about the kidnapping plot and "Faronea" might talk. "Jake" then murdered "Baptiste" to keep him quiet. In the end----

"District Attorney Danny Harrison" arrests "Jake Whitridge" for murder. As he is the only remaining alive murderer.

"Danny" then gets a pledge from "Tony" and "Carlotta' to stop drinking.Which they agree to with a toast and a drink.
There is a great scene of Constance Cummings on a diving board and an inside joke from James Whale to Carl Laemmle, Jr. Bouncing on the board with a towel flapping behind her, Cummings says the line:
LOOK, I'M DRACULA'S DAUGHTER!
There was a second scene in which Cummings delivered the deadpan line:
I FEEL LIKE THE BRIDE OF FRANKENSTEIN!
Originally James Whale wanted to use the actual novel's title, but Censor Joseph Breen insisted the the word "Hangover" could not be used as it implied drinking alcoholic beverages. Then Breen sent two of his men to Universal to look the production over, because the film had too much drinking in it. However, they realized that drinking was necessary for the plot and could then be acceptable under the "Motion Picture Production Code", but Whale had to agree to keep in the scene were "Tony" and "Carlotta" promise to stop drinking. Which he did, but added the toast at the end of it to get even with Breen.
I now come to James Whales' dream motion picture project based upon a Broadway Musical.
SHOWBOAT released May 14, 1936




A Little Back Story
The original Jerome Kern and Oscar Hammerstein II musical was based upon the 1926 novel "Show Boat" by Edna Ferber. Her novels about strong women include "Giant", "Cimarron" and "So Big". All have been turned into several motion pictures and "So Big" multiple times. My very long titled article on Edna Ferber and the motion picture versions of her novels to date:

"Edna Ferber and the Hollywood Interpretations: Featuring Elizabeth Taylor, Barbara Stanwyck, Katharine Hepburn, Ingrid Bergman, Jane Wyman, Irene Dunne, Kathryn Grayson, Carolyn Jones and Ginger Rodgers" is found at:


http://www.bewaretheblog.com/2016/12/edna-ferber-and-hollywood.html


The first stage version of the musical was produced by Florenz Ziegfield in 1927. The first film version was in 1929 from Universal Pictures, see the above article, and, like "Hell's Angels", had bad timing, it was shot as a silent picture. With audiences expecting a musical and the advent of sound. Universal had scenes redone with sound dialogue and added some songs in a "Prologue". The total running time of the sound sequences was 30 minutes out of 114 minutes.

To cover their different screenplay from the Kern and Hammerstein musical with the public. The Universal Picture Publicity department created the tag line for the 1929 Universal Picture:
From the novel by EDNA FERBER and the ZIEGFELD stage production
In 1940 MGM purchased the rights to the 1929 film from the financially strapped Universal Pictures. In 1950, during the "Hollywood Black Listings", MGM made their own version of "Show Boat" in Technicolor, starring Kathryn Grayson, Ava Gardner and Howard Keel. The studio released their film on September 24, 1951. It was a flashy Hollywood production with a sanitized romance and characters without real depth and plenty of large production numbers.

In 1947 the studio had made their own version of the life of Jerome Kern, "Till the Clouds Roll By", which was basically production numbers with major stars such as Frank Sinatra, Lena Horne and Dinah Shore in cameo's. The film included a sequence from "Show Boat" with Kathryn Grayson ingterestingly as "Magnolia Hawks". In 1950 MGM made a version of the Broadway musical "Annie Get Your Gun" and would continue with big production musicals such as 1953's 3-D "Kiss Me Kate and 1954's "Seven Brides for Seven Brothers".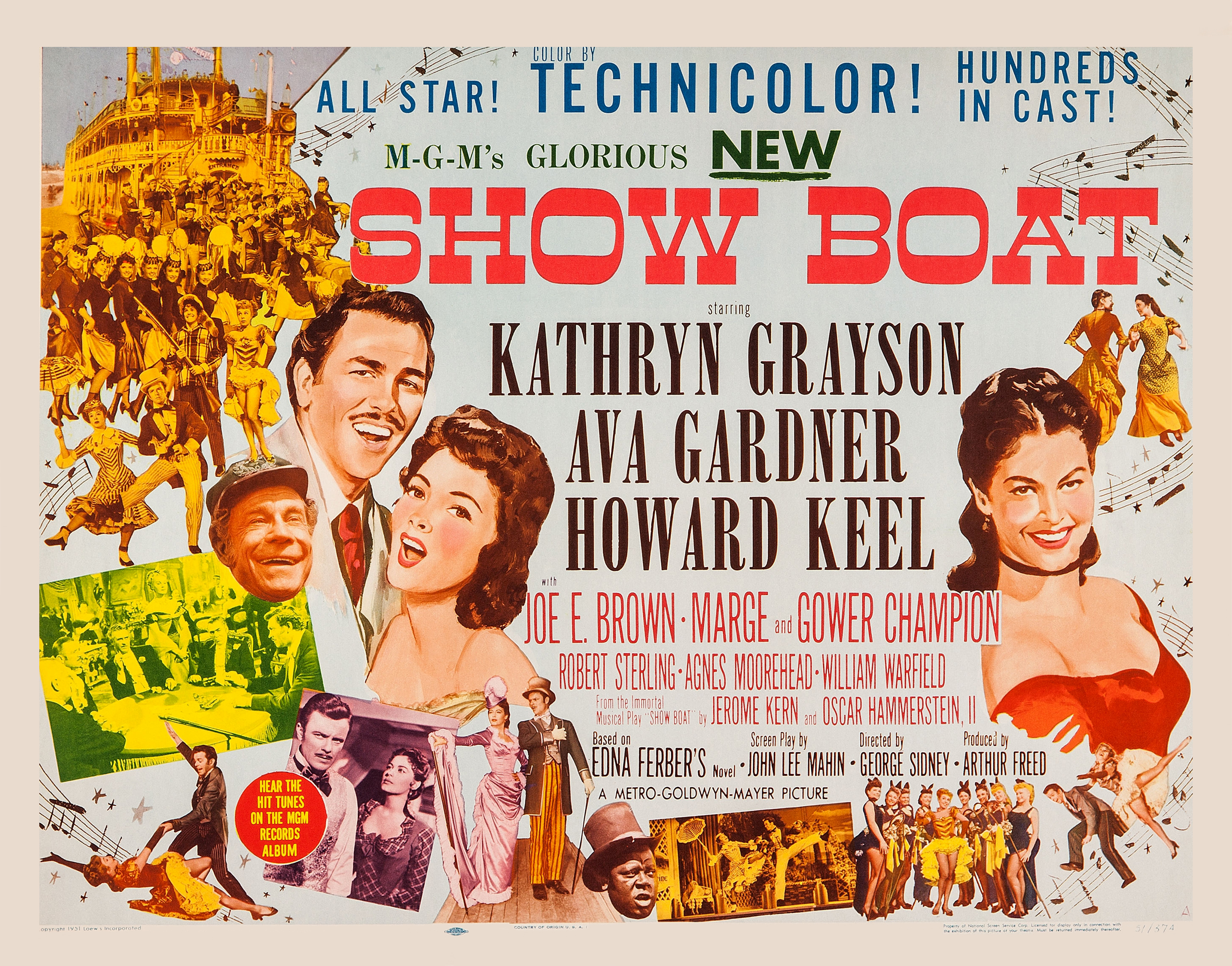 Universal Pictures, as did film critics, considered the MGM version as substandard compared to the James Whale 1936 feature. Universal wanted to re-release this picture in competition. However, they were not permitted by the Courts, because the rights no longer belonged to them. The more overriding reason, though, was the "Black Listing" of Paul Robeson. It would be two decades before the "1936 Version" would be re-released to Art House Movie Theaters in 1976 after Robeson had died. Which is still considered the "Definitive Version" film version by critics, but I am ahead of myself.
JAMES WHALE'S "SHOW BOAT"


Before I go any further about the film. I want to state that today many of the characters and sequences in this motion picture, and in the 1951 version, are considered offensive to African-Americans for good reason.

However, my reader must look at this picture in two ways. First, as a cinematic reflection, good or bad, of the period in America it was made and a representation of one of the great musicals of all time. Second, as part of film director James Whale's legacy, to us, his viewer. That captures the performances, on film, of two legendary singers for all time.

For Universal Pictures this was a very big budgeted production. Shooting took place in 1935. That year the studio released the previously mentioned Claude Rains entry "The Mystery of Edwin Drood" with a budget of $215,375. The Henry Hull and Valerie Hobson, "Werewolf of London", had a budget of $195,000 and the Boris Karloff and Bela Lugosi starring vehicle, "The Raven", had a final budget of $115,209 and Whale's own "The Bride of Frankenstein's" budget was $397,00.

While James Whale's "Show Boat" had a final budget of $1,194,943. Indicating the power of the story and director.

The first thing Whale did was hire Oscar Hammerstein II to write the screenplay. Hammerstein returned to Edna Ferber's original novel and rewrote most of his original stage play.

Another thing James Whale had Universal build was a real "Show Boat".

As Edna Ferber and James Whale both knew. A "Show Boat" never looked like the "Paddle Wheel Boats" seen in period movies about life along the Mississippi and Missouri Rivers. The "Show Boat' was actually a boat containing the dressing rooms, stage, audience seating and store rooms for the sets and costumes. The "Show Boat" had no power of its own and was pushed by a second boat that contained the sleeping quarters and dinning areas for the performers and crew. Along with the power to move itself and push the larger floating stage.




Above is Whale's opening arrival of "Captain Andy's Show Boat The Cotton Palace" in his film.

Below is the "Cotton Blossom" of MGM's 1951 "Show Boat". The studio reverted back to those old paddle wheel riverboats. They brought one out of moth balls and repainted, as some critics noted, for Technicolor and not realism.



The Two Leading Actors of James Whale's picture:

Irene Dunne portrayed "Magnolia Hawks". She had originated the role on Broadway. After appearing in her first motion picture the forgotten 1930's "Leathernecking". Dunne jumped to overnight stardom in her next film 1931's "Cimarron". It was based upon the Edna Ferber novel and co-starred "A" List Western leading man Richard Dix. In 1932 the actress had another strong women's role in the first version of authoress Fanny Hurst's "Back Street" and in 1932.

The actress heard that a sound version of "Show Boat" was to be made and let it known she wanted to be in it, but the motion picture wasn't made. Irene Dunne's singing voice was heard in 1935's "Roberta" co-starring Fred Astaire and Ginger Rodgers. She returned to a strong women's role immediately before this film in 1935's "The Magnificent Obsession" based upon author Lloyd C. Douglas' novel and co-starring with Robert Taylor.

Allan Jones portrayed "Gaylord Ravenal". Jones portrayed the romantic lead for "The Marx Brother" classics, 1935 "A Night at the Opera" and 1937's "A Day at the Races" with "Show Boat" splitting the difference. His 1938 song, "The Donkey Serenade", still ranks third on the all-time RCA Victor single record releases and was popular in the 1950's when I was a boy.
Four of the Supporting Roles:
Charles Winninger portrayed
"Captain Andy Hawks",
"Magnolia's Father"
.
Between 1915 and 1960 on either the motion picture screen, or the television screen. Charles Winninger would be have 79 different roles to play. Which did not include his radio appearances, his own radio show, or his legitimate stage roles. Winninger had portrayed the role in the original Broadway production.
Paul Robeson portrayed
"Joe".
Robeson portrayed the role in the 1928 "London Production" and made
"Ol' Man River"
his song alone. While performing the singer-actor was called for a
"Royal Command Performance"
at Buckingham Palace. The London production of
"Show Boat"
lasted for 350 performances. Back in 1933 he appeared in the motion picture version of Eugene O'Neil's
"Emperor Jones"
and in 1937 co-starred with Sir Cedric Hardwicke in a British film version of H. Rider Haggard's
"King Solomon's Mines",
but all was not good for Paul Robeson and his politics ran afoul of the
"House Committee on Un-American Activities".
My article on his life
'PAUL ROBESON Before 'Ol' Man River' To After Joseph McCarthy 'The Artists Must Elect to Fight"
can be read at:
http://www.bewaretheblog.com/2019/05/paul-robeson-before-ol-man-river-to.html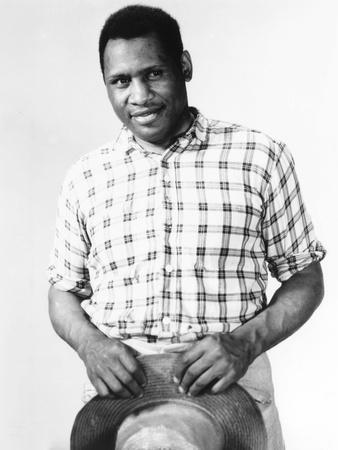 Helen Morgan portrayed
"Julie LaVerne".
Morgan has always been described as the
"Quintessential Torch Singer:"
She had portrayed
"Julie"
in the original 1927 Broadway production and appeared in the added songs to the 1929 film, but not in the role. Morgan would be arrested in 1927 for fronting an illegal club called
"Chez Morgan",
because this was still Prohibition. Paralleling her own life was the character she portrayed in
"Show Boat".
Both became alcoholics and Morgan's great voice would be heard live no more. After she died at the age of 41, on October 9, 1941, from cirrhosis of the liver.
Hattie McDaniel portrayed
"Quennie",
"Joe's Wife". She was a singer and with her sister formed the
"McDaniel Sisters Company".
Which was an all Negro Minstrel group. From 1926 to 1929 Hattie McDaniel joined another traveling Minstrel group,
"Professor George Morrison's Melody Hounds".
In 1930 she turned to acting in motion pictures in
"Deep South",
but no specifics are known of the movie or her role.
The actress would become a figure of controversy for two specific roles. Although she had perfected the "Mammy" character in many films prior to 1939. Her Supporting Actress Oscar for 1939's
"Gone With the Wind"
was looked upon by the NAACP as degrading Negroes. To accept that Oscar McDaniel had been brought into the All-White Academy Award Ceremony through the kitchen, accepted her Oscar was grace and dignity, and was escorted out through the kitchen without participating in any of the other activities and the dinner. In 1946 she played a similar role in Walt Disney's
"Song of the South".
A film, again with complaints from the NAACP, that Walt Disney was a racist.
The original Broadway role
of"Queenie" was portrayed by Italian-American actress and singer Tess Gardella. Who was a "Blackface Performer" that had been seen on stage using the stereo-type name of "Aunt Gemima". Gardella also performed in the "Prologue" to the 1929 picture with Helen Morgan. She was available and suggested by the Universal Pictures executives for the role, but James Whale wanted Hattie McDaniel.




Above a 1932 autographed picture of Tess Gardella and below as she appeared in the 1929 "Prologue".


Helen Westley portrayed
"Parthy Ann Hawks",
"Magnolia's Mother". The actress was a master of the unpleasant, grouchy character on the legitimate stage and in feature films. Helen Westley was fourth billed in her first motion picture, 1934's
"Moulin Rouge",
starring Constance Bennett and Franchot Tone. She followed the picture with 1934's
"The House of Rothschild",
starring George Arliss, Boris Karloff and Loretta Young. Then she tormented Shirley Temple in 1936's
"Dimbles"
and
"Stowaway",
1937's
"Heidi"
and 1938's
"Rebecca of Sunnybrook Farm".


The Revised Oscar Hammerstein II Screenplay:



Hammerstein and Whale went to the characters as written by Edna Ferber and the screenplay contains, at times, not too pleasant characters. A good comparison would be Allan Jones
"Gaylord Ravenal"
to Howard Keel's. MGM didn't want the audience to really dislike the gambler and go against the actor's image. Besides, their motion picture was, for 107 minutes, to remove American's worries about the "Cold War" and conform to what the "House Committee on Un-American Activities" would accept as
"Real Americana".
There are two subplots to both Edna Ferber's novel and the 1936 screenplay. The main one is about "Magnolia" and "Gaylord" and a smaller one about "Julie Laverne". Although they both exist in the 1951 version. The character of "Julie LaVerne" was turned into a much larger role than even in the novel, because of MGM's need to build up second billed Ava Gardner's part for the potential audience. Although, the studio deemed her singing voice as not right and had all Ava Garnder's songs dubbed by Annette Warren, but, strangely, left Gardner's vocals on the original cast record album.
The story spans 40 years in the lives of the two main characters, "Magnolia Hawks" and "Gaylord Ravenal", from sometime in the 1880's into the 1920's. It opens with the arrival of the Mississippi "Show Boat" the "Cotton Palace" at an unnamed town in Mississippi. Which is followed with a big parade down the town's main street.


The viewer now meets the main characters, "Captain Andy Hawks", his wife "Parthy", and their daughter, the day-dreaming "Magnolia". We also meet the main song and dance duo, "Elly 'Ellie' May Chipley", portrayed by Queenie Smith, and "Frank Schultz", portrayed by Sammy White.
Also in the parade, as coachman, is "Joe" and next to him is his wife "Queenie". They are followed by "Julie LaVerne" and her husband "Steve Baker", played by Donald Cook.
Into this happy group will come gambler "Gaylord Ravenal". Who is passing the "Cotton Palace" and notices 18 years old "Magnolia Hawks" and this leads to the duet
"Make Believe".




Next, "Sheriff Ike Vallon", portrayed by Charles Middleton, "Ming the Merciless" in Universal's "Flash Gordon" serials, appears on the dock in a buckboard and wants "Ravenal" to come with him to see the town Judge.
The audience sees "Joe" and "Queenie" and she take a sack of potatoes from him. "Joe" goes and sits on the dock watching the dock workers and picks up a piece of wood and with his knife starts to whittle.
James Whale and Cinematographer John J, Mescall now give their viewing audience Paul Robeson singing
"Ol' Man River"
in an excellent cinematic version of the song. Lifting visuals right from the Jerome Kern lyrics. The main change in the lyrics came from Robeson's London appearance. He removed the
"N Word's"
and Robeson changed them to
"Darkies".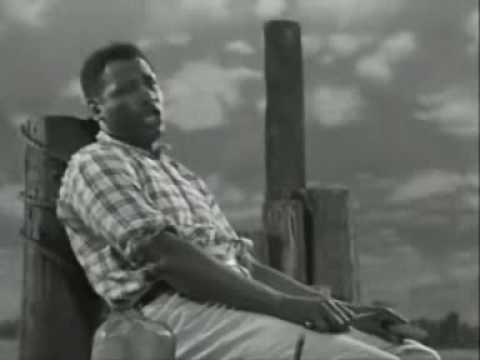 "Magnolia" dreams of singing on the legitimate stage and likes to perform for everyone and especially her best friend "Julie". "Queenie" hears "Julie" singing "Can't Help Lovin' Dat Man" to "Magnolia" and remarks, the only "Colored Folk" know that song and gets a strange look and a quick reply from "Julie". Who then continues the song as "Joe" enters and joins "Queenie" in some of the lyrics. That part of the song, from the original musical, was dropped in the MGM picture.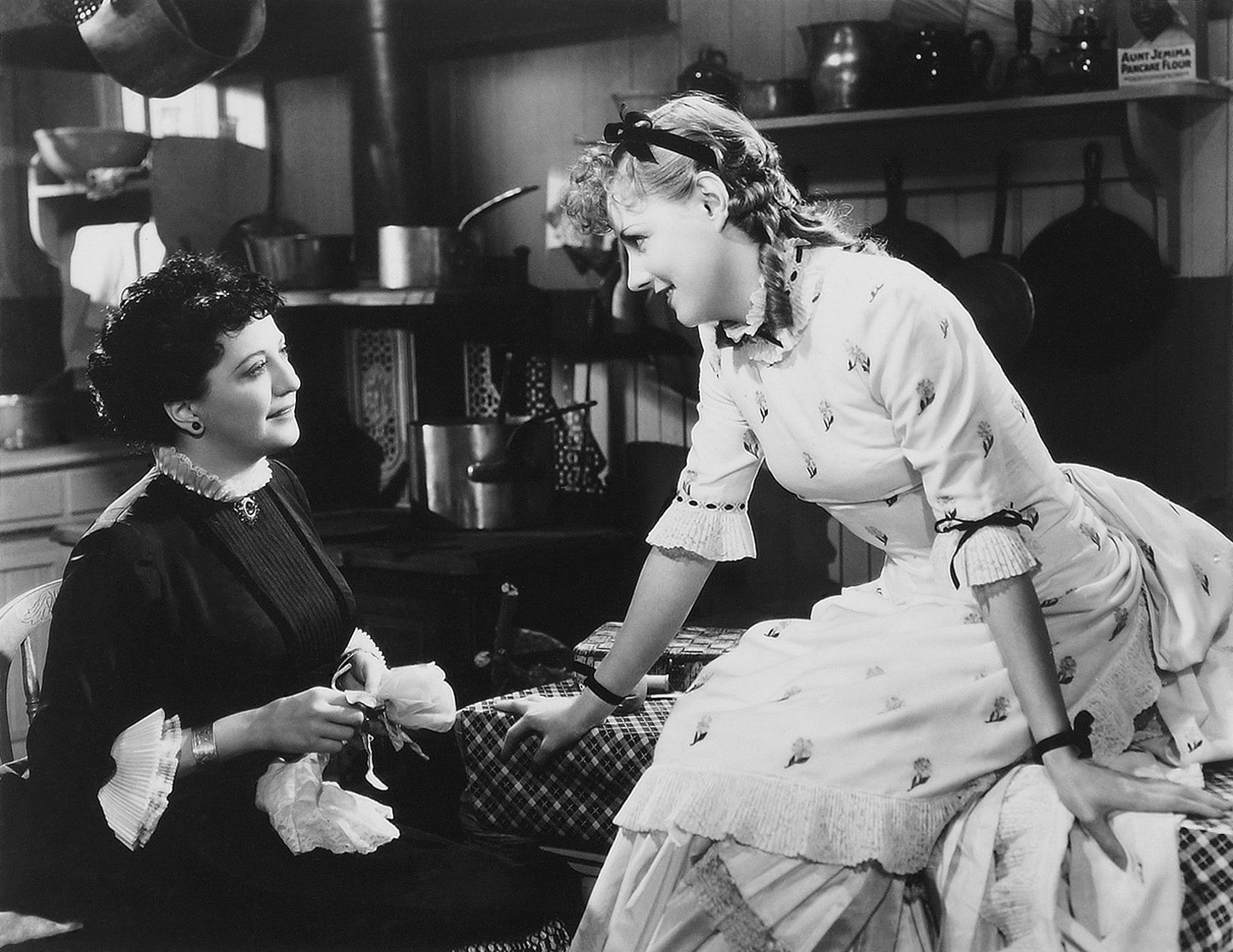 This is, of course, a foreshadowing of a scene to come. The term "Colored Folks" was replaced in the 1951 picture by "Negro".

Meanwhile, the Boat Engineer "Pete", played by Arthur Hohl, is angry with "Julie LaVerne" for giving "Queenie" a pendant he gave her, takes a publicity photo of "Julie", and goes to see the "Sheriff".

While, "Julie", "Steve" and "Captain Andy" rehearse a dramatic scene for the play they're to give that night. While they have been rehearsing, "Ellie May" and "Frank" have overheard "Pete" with the "Sheriff". In the above scene "Ellie" arrives to warn "Steve" and "Julie" that he coming.

"Steve" pulls out a formidable looking switchblade knife and to everyone's horror. He cuts "Julie's" hand and sucks her blood. This is right out of the Edna Ferber novel. In the MGM version, "Steve", uses what looks like a small sewing pin to prick his finger. and "Julie's". What's going on?
"Sheriff Ike Vallon" arrives looking for a half "Colored" women under "Julie LaVerne's" real name to arrest, because in Mississippi its against to law to have "Mixed Blood" and be married to a White man, miscegenation. "Steve", using everyone as witnesses, tells the "Sheriff" he also has mixed blood. The honest "Sheriff Vallon" tells "Steve" to take "Julie" and leave Mississippi. He also warns "Captain Andy" that the "Show Boat" better leave today, before the town turns on them. "Parthy" now tells "Julie" and "Steve" she does not want their kind on her boat.
"Captain Andy" is now faced with needing an actress and leading man for his play.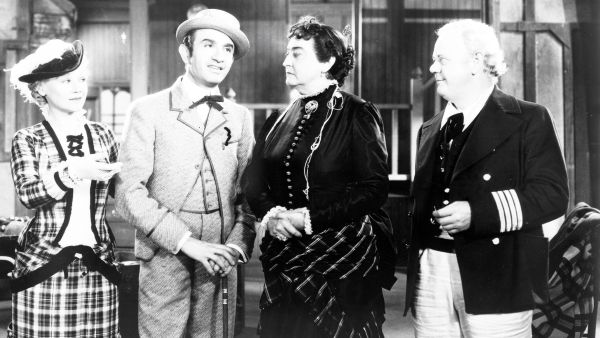 Both Ellie May" and "Frank Shultz' envision themselves in the roles and for one "Parthy" agrees with her husband that neither is right. Then the idea of using "Magnolia" comes to "Captain Andy's" mind, but "Parthy" is against it. "Queenie" walks in and says there's a "Handsome Gentleman" looking for a ride to the next town outside. As "Gaylord Ravenale" of "Tennessee" enters and becomes, even more to "Parthy's" anger, "Magnolia's" leading man and over time the two will fall in love.
"Pete" now sends a letter about "Ravenal" to "Captain Andy", but he doesn't want to meet with the man. However, "Parthy" does and goes out of town to find him. With her out of town, "Captain Andy", suggests the time is right for "Margnolia" and "Gaylord" to marry. On the wedding day, "Parthy" returns with "Sheriff Vallon", to tell everyone that "Ravenal" killed a man, but as the "Sheriff" says. It was ruled in self defense, but "Parthy" doesn't want her daughter married to a murderer. To which her husband reveals he killed a man himself long before they met and wedding goes on.


The story moves ahead a year, to a very stormy night, with "Magnolia" in labor and "Gaylord" off in town gambling. She gives birth to their daughter "Kim" and "Gaylord" takes her to Chicago to a life as the wife of a successful gambler and into high society.
Another difference between James Whale's film and MGM's is that both leading characters are shown aging as their daughter grows up and the 40 years pass. While in the MGM version, "Kim" is either a baby or little girl, and only 5 years pass from start to ending.
Above Allan Jones, Patrica Barry as
"Kim",
and Irene Dunne in one of the transition scenes.
"Ellie" and "Frank" are no longer with the "Show Boat" which apparently closed in the past. The two are looking for a room to rent and are now working at the "Trocadero". The landlady is showing them a room that the tenants are to be evicted from. In walks "Magnolia" and she fakes to her two friends how well she and "Gaylord" are doing. Claiming this room is just until their house is completed. A letter is delivered with $200 in it. "Magnolia", in shock, asks "Ellie" to read it too her and confirms that "Gaylord" has left her and "Kim" for what he believes is best. "Frank" asks if she needs money, or help in finding a job? The proud "Magnolia" says she'll be alright and they leave her in the room.
Below, "Gaylord" his daughter "Kim", played by Marilyn Knowlden, at the Convent School she is attending. To a reprise of
"Make Believe",
he tells "Kim" he will always love her and to tell her mother the same.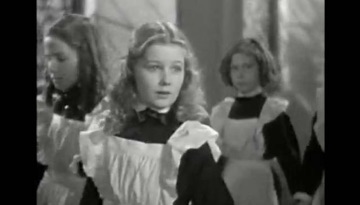 Switch to "Julie LaVerne" who was abandoned long ago by "Steve" and has become an alcoholic. She now works at the "Trocadero" and Helen Morgan sings her signature "Torch Song",
"Bill".

"Frank" shows up with "Magnolia" to see if she can get a job singing. The owner of the Trocadero listens, but doesn't like her. Also listening in "Julie" and she tells one of the stage hands to tell the boss she's left for good. Her idea is to force the owner to hire "Magnolia".
It is New Years Eve and "Captain Andy" and "Parthy" arrive at their hotel looking for "Magnolia". This is based upon a letter they received from her. In it she does not mention being separated from "Gaylord". "Parthy" now stays at their hotel, but "Captain Andy" goes out on the town. He now discovers his daughter singing at the "Trocadero". The crowd is ignoring "Magnolia", because they were expected "Julie LaVerne" and are even booing her. "Captain Andy" gets his daughter's attention, using his old techniques, she now wins over the crowd. This will now lead to "Magnolia Ravenal" becoming an International Star and eventually retiring.

"Kim", portrayed by Sunnie O'Day, opens on Broadway following in her mother's footsteps. What she doesn't know is that "Pop's", the old doorman, at the theater is really her father. "Magnolia" and her parents arrive late for her performance. Before they get to their seats, "Magnolia" sees "Gaylord", who has just been fired by the theater owner for attempting to watch the performance.

They meet each other and he starts to leave. On stage "Kim" tells the audience that there is "Another Ravenal" there that evening, "Magnolia". The crowd applauds and "Kim" asks her mother to sing "You Are Love". She starts to sing and in the hallway "Gaylord" joins in. "Magnolia" stops singing and tells the audience there is "Another Ravenal" in the theater, her husband, "Gaylord". "Kim" looks on as her parents do the duet of "You Are Love".
Some songs had to be cut, because of the running time of the final feature film. Probably the most noticeable mistake James Whale did was to cut the "Ellie May Chipley" and "Frank Schultz" comic song routine, from the original musical, it was filmed, "Life Upon the Wicked Stage" and kept the newly written, Irene Dunne in "Blackface", "Gallivantin' Aroun'".
In France during the reign of "King Louis XIV". There actually were stories talking about either a twin brother, or just a brother that might have been the legitimate heir to the French Throne and not Louis. These stories speak of a man imprisoned and his identity hidden by a mask of Iron. In the first half of 1844, French writer Alexander Dumas, published in serial form "The Three Musketeers". During the second half of 1844, Dumas took up the story of "King Louis the XIV's" prisoner and published in serial form "The Man in the Iron Mask".

THE MAN IN THE IRON MASK released June 26, 1939



The motion picture was released by United Artists from Independent producer Edward Small. Small was much like Robert L. Lippert and Bert I. Gordon. His films covered the gauntlet of genres and were either major productions like 1957's "Witness for the Prosecution". The starrred Tyrone Power, Charles Laughton and Marlene Dietrich, or minor "B" Westerns such as 1950's "Davy Crockett, Indian Scout". With George Montgomery playing the nephew with the same name and "B" Detective Thrillers, like 1952's "Kansas City Confidential", with John Payne and Coleen Gray.

In 1958 Small produced the science fiction cult double bill "It, the Terror from Beyond Space" and "Curse of the Faceless Man". He also used his smarts and produced 1962's stop motion, "Jack the Giant Killer", with Kerwin Matthews and Torin Thatcher. Thereby, playing off of Ray Harryhausen's 1958 "The 7th Voyage of Sinbad" with the same two actors.

The screenplay was written by George Bruce. Bruce was a "B" Adventure film writer that would transition to television in 1955. Among his very good screenplays were 1938's "The Duke of West Point" starring Louis Hayward, 1940's "South of Pago Pago" starring Victor McLaglen and Jon Hall. He wrote 1940's excellent "Kit Carson" starring Jon Hall, Lynn Bari and Dana Andrews, 1940's "The Son of Monte Cristo" starring Louis Hayward and Joan Bennett for producer Edward Small and the Alexander Dumas story, "The Corscian Brothers", in 1941, starring Douglas Fairbanks, Jr.and Ruth Warrick.

This James Whale directed feature film is still considered the best version of the Dumas novel and the source of several remakes.


The Main Cast:

Louis Hayward portrayed the dual roles of "King Louis XIV" and "Philippe of Gascony". Besides the two motion pictures I've already mentioned. Hayward was in the ensemble cast for the best version of Agatha Christie's novel "And Then There Were None" in 1945. In 1946 he was "Edmond Dantes" in Small's "The Return of Monte Cristo", in 1948 Hayward starred in Edward Small's version of Robert Lewis Stevenson's "The Black Arrow" and in 1951 Louis Hayward was "The Son of Dr. Jekyll". The following year the actor was "D'Artagnan" as actress Patricia Medina became "The Lady in the Iron Mask".




Above Louis Hayward meets Louis Hayward.

Joan Bennett portrayed "Princess Maria Theresa". Besides the already mentioned feature with Louis Hayward. Joan Bennett was in both "B" and "A" feature films. Among the more noticeable are the George Arliss 1929 "Disraeli", the John Barrymore 1930 version of Herman Melville's "Moby Dick", the 1934 drama "The Man Who Reclaimed His Head", co-starring with Claude Rains and Lionel Atwill, and with Randolph Scott in 1938's "The Texans". She co-starred with Edward G. Robinson in both 1944's "The Women in the Window" and 1945's "Scarlett Street". However, for my fellow fans of Dan Curtis' original television Horror Soap Opera, "Dark Shadows", Joan Bennett portrayed "Elizabeth Collins Stoddard". The actress was also in Dario Argento's "Suspiria".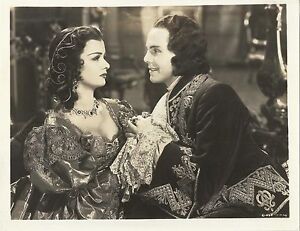 Above Joan Bennett and Louis Hayward.

Warren William portrayed "D'Artagnan". William's was the third actor to be S.S. Van Dine's detective "Philo Vance", the first two were William Powell and Basil Rathbone, in 1934's "The Dragon Murder Case". He was the first actor to portray Earl Stanley Gardner's "Perry Mason" and made four feature films starting with 1934's "The Case of the Howling Dog". He co-starred with Claudette Colbert in the first version of Fannie Hurst's "Imitation of Life" in 1934 and while playing both "Vance" and "Mason" became part of another detective series as writer Louis Joseph's Vance's "Michael Lanyard" aka: "The Lone Wolf". However, in 1941 Warren William took a break and appeared as "Dr. Lloyd" in Universal Pictures "The Wolf Man" starring Lon Chaney and Claude Rains.




Above Warren Williams and Louis Hayward.

Joseph Schildkraut portrayed "Fouquet". The actor started in Austrian silent movies in 1915, but co-starred with both Dorothy and Lillian Gish in D.W. Griffith's 1921 "Orphans of the Storm". In 1927 the actor was "Judias Iscariot" in Cecil B. DeMille's "King of Kings". Joseph Schildkraut portrayed "Gaylord Ravenal" in Universal Pictures 1929 version of "Show Boat". In 1934 he co-starred as "Herod" with Warren William as "Julius Caesar", Henry Wilcoxon as "Marc Anthony" in Cecil B. DeMille's "Cleopatra" starring Claudette Colbert. Also, in 1939, the actor appeared as "King Louis XIII" in a musical-comedy version of Alexander Dumas' "The Three Musketeers" starring Don Ameche and the comic group "The Ritz Brothers".

Alan Hale, Sr. portrayed "Porthos". Hale had been acting since 1912 and over his 249-role career. He would appear with Errol Flynn, alone, in the 1937 version of Mark Twain's "The Prince and the Pauper", 1939's "The Adventures of Robin Hood", "Dodge City" and "The Private Lives of Elizabeth and Essex". 1940's "Virginia City", "The Sea Hawk" and "Santa Fe Trail", 1942's "Desperate Journey" and "Gentleman Jim". Along with 1948's "The Adventures of Don Juan".
Trivia: in 1952's "The Lady in the Iron Mask", Alan Hale Jr. recreated his father's role of "Porthos".

Miles Mander portrayed "Aramis". In the 1935 version of "The Three Musketeers", Miles Mander was "King Louis XIII", in the 1939 version of the story he was "Cardinal Richelieu" and in Universal Pictures 1939 "Tower of London" the actor was "King Henry VI".




Above Mile Mander, Louis Hayward and Alan Hale, Sr.

Walter Kingford portrayed "Colbert". In 1936 the actor was "Napoleon III" in "The Story of Louis Pasteur" starring Paul Muni. The same year he was "Sir Francis Stevens" in the Boris Karloff and Bela Lugosi "The Invisible Ray" and in 1939 Kingford was "Prince Richard Metternich" in "Juarez". Also starring Paul Muni and Bette Davis.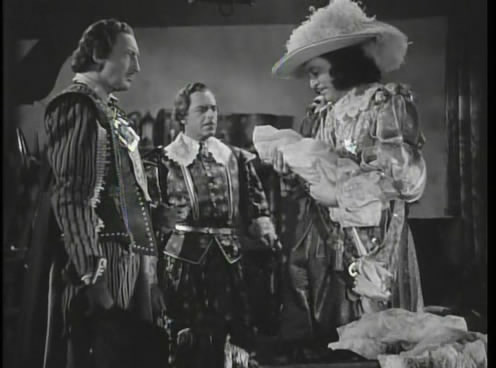 Above Walter Kingsford as "Colbert", center, presents the baby "Philippe" to Albert Dekker as "King Louis XIII". Also present is Warren William as "D'Artagnan".

Albert Dekker starred in Paramount Pictures, 1940, Technicolor science fiction feature as the title character "Dr. Cyclops". In 1939 character actor Dekker was in "Beau Geste" starring Gary Cooper, Robert Preston and Ray Milland. His final feature film was Sam Peckinpah's 1969 "The Wild Bunch".

There are two interesting non-on-screen credited small roles that are of interest here.

The first is a British actor in his first motion picture portraying the role of the "Second Officer" named Peter Cushing.

The other actor was Dwight Frye portraying "Fouquet's Valet". "Fritz" of James Whale's 1931 "Frankenstein" and "Renfield" of Todd Browning's "Dracula" had many roles without on-screen credits. I could not locate a still with Frye in it. However, my article "DWIGHT FRYE: Overlooked Horror Icon" may be read at:


http://www.bewaretheblog.com/2019/07/dwight-frye-overlooked-horror-icon.html
The Basic Screenplay:


In 1638 the wife of "King Louis XIII" of France" gives birth to a heir that will become "Louis XIV", but a few minutes later word of another son is given to the King. The second son, a twin, is named "Philippe", but there is a fear of twin boys eventually cause a Civil War.

The King's trusted advisor, "Colbert", comes up with a plan. "Philippe" will be sent away with "D'Artagnan" to be raised in his village in Gascony and the secret safe. However, "Fouquet", the messenger of the Cardinal, learns of the births and uses it to rise to power over the next 20 years to become the "Minister of Finance". He is now the main advisor of the cruel "King Louis XIV". Who is hated by the commoners for levying taxes upon them. That they are unable to pay and then executing them for that non-payment.

"D'Artagnan" and his village was exempt from taxes by "King Louis XIII" for services rendered to the crown. However, the greedy "Fouquet" send troops to Gascony to collect taxes for the King. The soldiers are driven off and report back to the "Finance Minister".Who sends them back in a larger number and succeeds in capturing "D'Artagnan" and "The Three Musketeers" along with "Philippe".

"King Louis" is about to order execution of the five men, but "Colbert" hints of the strong resemblance to the "King" of "Philippe". "Louis" has been worried about an assassination attempt and suggests to "Philippe" that if he poses as the "King" the execution will be called off.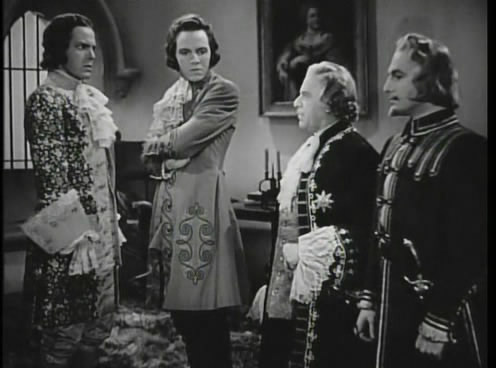 Spanish "Princess Maria Theresa" is at court as a possible wife of "Louis XIV". However, she is being put off by his cruelty.




Meanwhile, "Philippe" goes out as "King Louis XIV" and is ambushed, but shows mercy to the would be killers of "Louis".
The common people cheer him for it and "Princess Theresa" thinks maybe "Louis" has changed. However, she finds out the real "Louis" is having an affair with "Mademoiselle de la Valliere", played by Marion Martin, and leaves France for Spain.



Now, "Louis XIV", learns the truth of "Philippe's" birth as does the other. In fear of his twin taking over the throne "Louis" has "Philippe" imprisoned in the Bastille in an iron mask. Thinking with "Fouquet" that his beard will grow and strangle his brother.



Time passes, "Princess Theresa" returns, and learns the truth as the "Musketeers" now move to rescue "Philippe". He's
rescued and "Louis" placed in the mask and put in the Bastille.



"King Louis XIV" is able to get word out "Fouquet". Meanwhile, "Philippe" takes the place of the "King". A climatic chase in a coach containing the "King" and "Fouquet" takes place to stop "Philippe" from marrying "Princes Theresa". The coach is waylaid by the "Three Musketeers" and "D'Artagnan". However, "Porthos", "Aramis" and "Athos" are killed and "D'Artagnan" mortally wounded. The coach with "King Louis XIV" and "Fouquet" goes over a cliff to their deaths.




"Philippe" marries "Theresa" and resumes imitating the now good "King Louis XIV". "D'Artagnan" yells:
God Save the King!
Then dies.


In all James Whale only directed 23 feature films.




Above left to right, Colin Clive, Elsa Lanchester and James Whale on the set of 1935's "The Bride of Frankenstein".