David Bowie and Sting are two iconic music composers and singers to Three Generations at the time of this writing. I say that, because in my family. The First Generation is my wife and I, the Second Generation is our daughter and her husband and the Third our granddaughters. However, this article is not about Bowie and Sting's musical accomplishments, but two different Science Fiction motion pictures each was in.

DAVID BOWIE AND "THE MAN WHO FELL TO EARTH" first released in the UK March 18, 1976
David Robert Jones was born January 9, 1947 in Brixton, London, England. Over his life his innovated music style and look seemed out of place upsetting both parents and music critics alike. While he was building a youthful fan base as Frank Sinatra did in the 1940's and Elvis did in the 1950's, but as I first said this is not about music.
David Bowie's first on screen appearance, other than in a music video. was a 13 minute 1967 British short by forgotten horror director Michael Armstrong entitled
"The Image".
The short was about a painting that comes to life and haunts the artist that created it. Bowie was both the painting and the living image.
More music video's followed and than David Bowie's actual first feature film,
"The Virgin Soldiers".
A 1969 British War Movie with comedic elements, think "M.A.S.H.", set in the 1950's in Malaya. The motion picture starred Lynn Redgrave and Bowie had a non on screen credited role of a "Soldier" He is seen on the following still's far left.
More music videos followed and then another 27 minute short in 1970. The short was entitled
"Pierrot in Turquoise or The Looking Glass Murders"
and David Bowie portrayed a character named "Cloud". The short was by writer Lindsey Kemp and director Brian Mahoney and had no dialogue/ The acting was all in Pantomime/
More music videos and then 1976's
"The Man Who Fell To Earth".
The motion picture was based upon a 1963 novel by American writer Walter Stone Tevis of the same title. Two other novels by Tevis would become feature films, His 1959
"The Hustler"
and it's 1984 sequel
"The Color of Money".
Both motion picture versions starred Paul Newman as
"Fast Eddie Felson".
The feature film was co-produced by Michael Deeley. A British film editor turned producer in both the UK and the United States. As a film editor two of the British television series he worked on that came to America, when I was nine, are 1955's
"The Adventures of Robin Hood"
starring Richard Greene and 1956's
"The Buccaneers"
starring Robert Shaw. Deeley's motion picture's included the 1969 original
"The Italian Job"
starring Michael Caine and British playwright Noel Coward, 1978's
"The Deer Hunter"
starring Robert De Niro, Meryl Streep and Christopher Walken, and 1982's
"Blade Runner"
starring Harrison Ford and Rutger Hauer.
Co-producer Barry Spikings also worked in the UK and the United States. Spiking co-produced director Sam Peckinpah's 1978
"Convoy"
starring Kris Kristofferson and Ali MaGraw with Deeley and
"The Deer Hunter"
which he shared an Best Picture Academy Award with Michael Deeley
.
In 1991 Barry Spikings was executive producer of
"Bill and Ted's Bogus Journey"
starring Keanu Reeves and Alex Winter.
British cinematographer Nicolas Roeg directed
"The Man Who Fell To Earth".
Among Roeg's work as a cinematographer are Clive Donner's 1963
"The Caretaker"
starring Alan Bates, Donald Pleasence and Robert Shaw and Roger Corman's 1964 Edgar Allan Poe film
"The Masque of the Red Death"
starring Vincent Price and Hazel Court. Along with French director Francis Truffant's 1966 version of author Ray Bradbury's
"Fahrenheit 451"
starring Oskar Werner and Julie Christie.
Among Roeg's work as a director are the Mick Jagger and James Fox 1970
"Performance",
1973's
"Don't Look Back"
starring Julie Christie and Donald Sutherland and in 1990 Nicolas Roeg would direct Anjelica Huston and Mai Zetterling in
"The Witches".
English screenplay writer Paul Mayersburg wrote the script. Mayersburg's 14 on screen credits include 1983's
"Merry Christmas Mr. Lawrence"
that also starred David Bowie and the same years
"Eureka"
starring Gene Hackett and Rutger Hauer. In 1989 Paul Mayersberg wrote the sequel to David Lean's 1957 classic war movie
"The Bridge on the River Kwai"
entitled
"Return from the River Kwai"
starring Timothy Bottoms and George Takei. In 1990 Mayersberg wrote the screenplay for
"The Last Samurai",
starring Lance Henriksen, John Saxon and John Fujioka,
not to be confused with the 2003 Tom Cruise feature.
Back in 1987 Mayersburg original screenplay for
"The Man Who Fell To Earth"
was adapted into a United States made for television movie by Richard Kletter.
The Five Leading Actors
David Bowie portrayed
"Thomas Jerome Newton".
Rip Torn portrayed "
Nathan Bryce".
Torn is perhaps more recently known as "Zed" in the
"Men in Black Series"
. However, he started in his primarily work of television in 1956. Rip Torn's feature films include the 1957 court-martial motion picture starring Richard Widmark and Richard Basehart
"Time Limit".
In 1961 he portrayed "Judas" in
"King of Kings",
in 1962 Rip Torn appeared in the film version of Tennessee Williams
"Sweet Bird of Youth"
starring Paul Newman and Geradine Page. On television Torn was excellent as "President Richard Nixon" in the four part 1979 mini-series
"Blind Ambition"
based upon the best selling book of that title. In 1982 Rip Torn would portrayed "General Ulysses S. Grant" in the three part mini-series
"North and South".
Also in 1982 the actor was the villain Marc Singer has to defeat in the fantasy motion picture
"The Beastmaster".
Candy Clark portrayed
"Mary-Lou".
Clark is best known for playing "Debbie" in 1973's
"American Graffiti"
and 1979's
"More American Graffiti".
Over her career Clark had many guest roles on television and in motion pictures was in the cast of the made for television biography
"James Dean"
in 1976
.
In 1982 she co-starred in Larry Cohn's cult horror classic
"Q"
with David Carradine and Michael Moriarty.
Buck Henry portrayed
"Oliver V. Farnsworth".
Henry wasn't just an actor, but was also a comedy writer, story editor for feature films and director. He was the primary writer for television's
"Get Smart"
and the screenplay writer for Dustin Hoffman's 1967
"The Graduate".
Buck Henry not only wrote the screenplay for director Mike Nichols adaption of Joseph Heller's
"Catch 22",
but had 6th billing in the motion picture. As an actor Buck Henry appeared primarily on television.
Bernie Casey portrayed
"Peters".
Casey's first motion picture was the second sequel to 1960's
"The Magnificent Seven",
1969's
"Guns of the Magnificent Seven".
In the 1972 television movie
"Gargoyles"
Bernie Casey was the head "Gargoyle" planning to take over the Earth. In producer Roger Corman's 1972
"Boxcar Bertha".
directed by the unknown Martin Scorsese, he was part of "Bertha's" gang. 1976 saw the actor in a blaxportation version of Robert Lewis Stevenson as
"Dr. Black and Mr. Hyde".
In 1983's
"Never Say Never Again"
Bernie Casey was "Felix Leiter" and of course who can forget 1989's
"Bill and Ted's Excellent Adventure"
.
The motion picture was from the United Kingdom. but the primary locations were filmed in New Mexico and included the communities of Albuquerque, White Sands, Artesia and Fenton.
Overview of the screenplay
"Thomas Jerome Newton" is the founder and head of "World Enterprises Corporation". A company that has patented many of his inventions and made "Newton" wealthy. At least that is what most people believe to be the truth.
In truth he is an alien from a dying water starved planet that his wife and their two children are still on.
"Newton's" initial problem was he crash landed on Earth, in New Mexico, and just escaped from his destroyed space craft. He needs a new means of sending water to save his dying World. To build his wealth ""Thomas Jerome Newton" has used the tools of patent attorney "Oliver Farnsworth".
The audience meets "Newton" as decides to return to New Mexico and the site of his crash.There he meets "Mary-Lou" a young woman just trying to survive. Over time she has been a maid, bell-hop, and elevator operator in the small hotel the alien businessman is staying at. Both, in their own ways, feel alienated and the alien and lonely young woman come together. "Mary-Lou" believes the alien comes from England. As the screenplay needed a scene to explain David Bowie's obvious British accent.
It is "Mary-Lou" who introduces "Newton" to the American customs of going to church on Sundays, drinking alcohol and having sex. Another custom she introduces "Thomas" too, becomes his addiction to watching television. The alien is cable of watching multiple television sets at the same time and mentally keeping what he sees straight.
"Mary-Lou" and "Thomas" will live together in a lake side house he built near his original crash site.
At "World Enterprises Corporation", "Dr. Nathan Bryce", is hired as a fuel technician and starts to become a confident of his boss.
Now the screenplay gets weirder than it has been so far. "Dr. Bryce" comes to suspect that his boss may be something other than human. He installs a secret x-ray camera in his home and when "Newton" comes to visit. "Bryce" takes a picture of the other revealing his alien physiology.
Realizing his secret is now known. "Jerome Thomas Newton" decides to reveal his real self to "Mary-Lou". The way this is done makes the audience question, if it really happened or the young woman was just hallucinating.
"Mary-Lou" is shocked at what she sees and initially panics. The young woman attempts to understand, but "Newton" realizes this will no longer work and leaves her and New Mexico.
The spaceship is completed and amid major press coverage the alien plans to take it on a test flight. However, the audience discovers that the government has been watching him through his private driver. Apparently, with the help of his business rival, they take the alien into custody and lock him in a luxury apartment constructed deep within a hotel that is actually a government front. While "Farnsworth" is murdered to keep him quiet.
Now they start medical tests on the alien businessman.
Knowing of his addiction to alcohol the scientists keep "Newton" sedated using it. One of their experiments causes the lenses, "Newton" uses to look human, to permanently affix to his real eyes. Other tests involve cutting into his human skin for study as well as his alien skin.
The length of his captivity is illustrated when "Mary-Lou" comes to visit the prisoner. She is much older in her looks and ravaged by her own alcoholism. The two have mock violent sex, drink, and play with a pistol that has blanks in it.
"Mary-Lou" and "Thomas Jerome Newton" admit they no longer love each other and she leaves. Eventually, "Newton" discovers his "prison" has been deserted for some time. How long is never stated and all the doors are unlocked. So he just walks out.
Now, unable to return to his home world. A broken and alcoholic "Newton" makes a record album to be broadcast by radio waves to his home planet. Again, the audience is not clear how long has passed as "Dr. Bryce" is now married to "Mary-Lou". "Bryce" buys a copy of the album and meets with his ex-boss at a restaurant outside of town.
"Thomas Jerome Newton" is still rich and appears never to have aged. However, he has fallen into depression and with his alcoholism is not the man he was. The picture ends with him passing out on the restaurant's table.
What happened to his home world and family is never explained and there are many loose ends, if this was part of the screenplay or left on the cutting room floor is often discussed.
Here are two quotes from David Bowie about the motion picture.
In the May 12, 1983 issue of "Rolling Stone Magazine" with Kurt Loder. He is quoted as saying:
I'm so pleased I made that [film], but I didn't really know what was being made at all
In the same vein Bowie stated in an interview in the April 1992 issue of "Movieline". Volume 3, Issue 7 with Virginia Campbell:
I just threw my real self into that movie as I was at that time. It was the first thing I'd ever done. I was virtually ignorant of the established procedure [of making movies], so I was going a lot on instinct, and my instinct was pretty dissipated. I just learned the lines for that day and did them the way I was feeling. It wasn't that far off. I actually was feeling as alienated as that character was. It was a pretty natural performance. ... a good

exhibition

of somebody literally falling apart in front of you. I was totally insecure with about 10 grams [of cocaine] a day in me. I was stoned out of my mind from beginning to end
The motion picture has become a cult classic. However, film critic Joshua Rothkopf, of "Time Out" magazine, believes the idea of
"The Man Who Fell to Earth"
as just a cult classic is all wrong. To Rothopf it is one of the most
"intellectually provocative movie of the 1970's"
. The picture is ranked second by "Rolling Stone" of the top 50 science fiction motion picturesmade during the 1970's.
Director Nicolas Roeg made this a flawed, but interesting film to watch. My reader will have to make up their own mind about its status and its place within the late David Bowie's legacy.
STING AND THE FILM VERSION OF FRANK HERBERT'S DUNE released December 3, 1984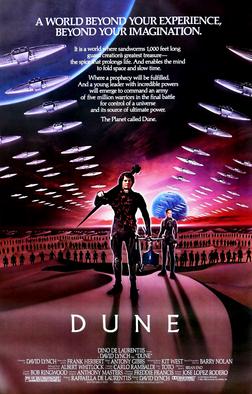 Gordon Matthew Thomas Sumner was born October 2, 1951 in Wallsend, Northumberland, England. The main different between
"Sting"
and David Bowie was that as lead singer for "The Police". Sting was mainstream "New Wave" rock rather than an innovative composer. Although he did compose some songs. Again this article is not about his music.
Sting had five music video's with "The Police", before his first feature film 1979's
"Quadropenia".
He was billed fifth with the colorful name of "Ace Face". The film was about "Jimmy", played by Phil Daniels, who rebels from his parents and society into the world of youth drugs and motor scooter gangs. Below Sting and Daniels are arrested and being taken in.
A couple of more "Police" music videos and than sixth billing in 1979's
"Radio On"
in a role described as "Just Like Eddie". The picture is about a man driving from Bristol to London to investigate his brother's death. He meets some odd people along the way. Six musical videos more and Sting was fourth billed in a 1981 made for the BBC science fiction thriller,
"Artemis 81".
The science fiction thriller was about the future of mankind fought between an "Angel of Light" and a "Angel of Death". For those, of my readers, who immediately think of Christopher Walken's
"The Prophecy".
Walken did make the first movie of the series until 1995.
Three more music videos later and in 1982 Sting starred in the movie
"Brimstone and Treacle".
Another horror film about a strange young man who disrupts the family of an author played by Denholm Elliot. Who played "Marcus Brody" in the "Indiana Jones" series.
Back to four music videos and Sting was ready for the Frank Herbert science fiction novel. Which is where I start.
The novel is about the political battle over the planet "Arrakis" aka:
"Dune"
for the control of the drug "Melange" aka:
"Spice". "Dune"
was first published as a novel August 1, 1965. However, Frank Herbert's science fiction story was originally two separate shorter works in
"Analog Magazine".
These were
"Dune World"
in 1963 and
"The Prophet of Dune"
in 1965. Herbert than combine them with new material into his novel
.
The book would win the 1966
"Hugo Award"
and the first ever
"Nebula Award for Best Novel".
Frank Herbert would go on to write five sequels. His son Brian Herbert has co-authored additional sequels after his father's death.
Above the cover of the first edition. As of this writing, this one book has sold over 20 million copies Worldwide and led to the 1984 released motion picture and its controversy.
The 1984 production was produced by Raffaella DeLaurentiis. Her two films prior to
"Dune"
are 1982's
"Conan the Barbarian"
and 1984's
"Conan the Destroyer".
The motion picture was directed and written by David Lynch. Should you find see a DVD copy with his name in the opening credits. My reader has found a rare print in deed, but more about that much later.
As a screenplay writer prior to
"Dune".
David Lynch had written six others including the 1977 horror film
"Eraserhead"
and the excellent 1980
"The Elephant Man"
that starred Anthony Hopkins and John Hurt. As a director Lynch had directed nine motion pictures and that included the two just mentioned,.
Some of the Large Cast in Official Billing Order
Because of the Epic Nature of the motion picture. There are 26 actors that receive on screen billing and 17 other supporting actors, including David Lynch, that received no on screen billing. Plus the extras in crowd scenes, or as the two main families and emperor's soldiers.
For those, like myself, who have read the Frank Herbert's science fiction novel. I am not going to mention all 47 characters, but the group needed to carry forth the
"originally"
released screenplay. More to my choice of word also later.
Francesca Annis portrayed
"Lady Jessica"
. First billed English actress Annis had appeared in several British television mini-series on both the BBC and ITV. Her first motion picture had the actress billed thirteenth in the Elizabeth Taylor, Richard Burton and Rex Harrison 1963
"Cleopatra".
In the United States she had fifth billing in Ivan Tors 1964
"Flipper's New Adventure",
but her main roles still come from British television. In 1971 Francesca Annis was "Lady Macbeth" opposite Jon Finch in the film
"The Tragedy of Macbeth".
Just prior to this film the actress was the "Widow of the Web" in the 1983 science fiction film
"KRULL".
Brad Dourf portrayed
"Piter De Vries".
Third billed Dourf had been seen in Michael Cimino's 1980 controversial Western
"Heavens Gate"
starring Kris Kristofferson and 1981's
"Ragtime"
starring James Cagney . After this picture Dourf was seen in 1990's
"Exorcist III",
but besides appearing in both
1990's
"Child's Play 2"
and 1991
"Child's Play 3".
Brad Dourf also provides "Chucky's" voice in all of the films in the series
.
However, it is Brad Dourf's role of "Wormtongue" in Peter Jackson's
"The Lord of the Ring's Trilogy"
that my readers may know him for.
Fourth billed Jose Ferrer portrayed the
"Padishah Emperor Shaddam IV".
It's hard to describe the work of actor, director and writer Ferrer in a paragraph. Three of his most known roles, of his 121, are 1950's
"Cyrano de Bergerac",
portraying French painter-Laugtrec", on his knees to have the painter's small stature, in 1952's
"Moulin Rogue"
and appearing in 1954's
"The Caine Mutiny".
Fifth billed Linda Hunt portrayed the
"Shadout Mapes".
As of this righting Hunt is best known for her role of "Heddy" on television
"NCIS: Los Angeles".
Prior to this picture Hunt was real life Vietnamese male "Billy Kwan" in 1982's
"The Year of Living Dangerously".
A role in which she won the Best Supporting Actress Academy Award. After
"Dune"
Linda Hunt portrayed "Stella" in the 1985 Western
"Silverado".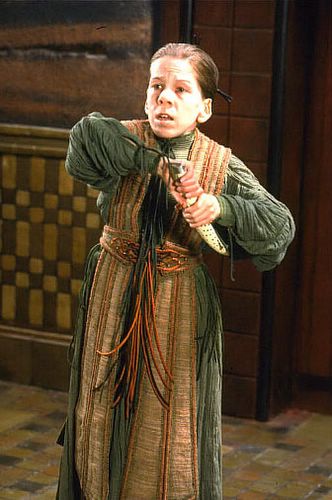 Freddie Jones portrayed
"Thufir Hawat".
The sixth billed Jones had been acting in mini-series productions on both the BBC and ITV since 1960. Among Freddie Jones' motion pictures are 1967's
"Far from the Maddening Crowd"
starring Julie Christie and Peter Finch
,
Peter Cushing's 1969's
"Frankenstein Must Be Destroyed",
1980's
"The Elephant Man"
and Clint Eastwood's 1982
"Firefox".
Jones portrayed
the past lover of the Francesca Annis character of the "Widow of the Web" in 1983's
"KRULL".
He was also in Stephen King's 1984
"Firestarter".
Richard Jordan portrayed
"Duncan Idaho".
Seventh billed Jordan had been "Francis" in 1976's
"Logan's Run",
he appeared in the Burt Lancaster 1971 Western
"Valdez is Coming"
and the Charles Bronson Western 1972's
"Chato's Land".
In 1974 Jordan was in the Robert Mitchum feature
"The Yakuza"
and in 1980 he portrayed author Clive Cussler's "Dirk Pitt" in
"Raise the Titantic".
After this picture the actor portrayed "Jeffrey Pelt" in 1990's
"The Hunt for Red October"
and in 1993 "Brig. Gen. Lewis A. Armistead" in the epic
"Gettysburg".
Kyle MacLachlan portrayed
"Paul Atreides"
. This was the first motion picture for eighth billed MacLachlan. Who became associated with director David Lynch's work with 1986
"Blue Velvet"
and the 1990-1991 television series
"Twin Peaks".
Later MacLachlan was back in the
2014 motion picture
"Twin Peaks: The Missing Pieces"
and the 2017 television revival of
"Twin Peaks".
Virginia Madsen portrayed
"Princess Irulan".
Ninth billed Madsen started out in film in 1983 and
"Dune"
was her fourth film role. In 1985 she portrayed "Marian Davies" in the made for television movie
"The Hearst and Davies Affair".
Most of her work is in television features, but Madsen was also in 1991's
"Highlander II: the Quickening",
1992's
"Candyman",
the Alec Baldwin, James Woods and Whoopi Goldberg 1996 true story
"Ghosts of Mississippi"
and the 2019 television series
"Swamp Thing".
Everett McGill portrayed
"Stilgar"
. Eleventh billed McGill actually started out as a band leader in Kansas City and then turned to acting on the Soap Opera
"The Guiding Light"
in 1975
.
He was in the Robert Redford 1980 movie
"Brubaker",
was a prehistoric man with Ron Perlman in the French 1981 film
"Quest for Fire".
After this feature was in the Stephen King based motion picture, as the werewolf , 1985's
"Silver Bullet"
and in 1985 portrayed Clint Eastwood's commanding officer in
"Heartbreak Ridge".
McGill was also in the cast of 1990's
"Twin Peaks"
and two episodes of the 2017 revival.
Kenneth McMillian portrayed
"Baron Vladimir Harkonnen".
Twelfth billed McMillian was in a couple episodes of Dan Curtis' original
"Dark Shadows",
was part of the cast of the television soap opera
"Ryan's Hope"
and appeared mostly on television. He had a role in the original 1979 made for television version of Stephen King's
"Salem's Lot".
That would be followed by a string of motion pictures including the Walter Matthau and Julie Andrews 1980 remake of Shirley Temple's
"Little Miss Marker",
1981's
"Ragtime",
1984's
"Amadeus" (Director's cut)
and Stephen King's 1986
"Cat Eye".
Sian Phillips portrayed the
"Reverend Mother Gaius Helen Mohiam".
Fourteenth billed Phillips is best known for portraying "Livia", the mother empress, on the eight episode BBC series
"I Claudius"
in 1976. Her career is associated with the finest in the BBC's "Masterpiece Playhouse" productions. The actress portrayed "Queen Casiopeia" in Ray Harryhausen's, all star, 1981
"Clash of the Titans".
Jurgen Prochnow portrayed
Duke Leto Atreides".
Fifteenth billed German actor Prochnow had been acting in Germany since 1970. He is known to World War 2 movie fans as the German submarine commander in 1981's
"Das Boot".
The actor played a Nazi commander in the weird World War 2 horror movie, from 1983,
"The Keep"
starring Scott Glenn. After
"Dune"
among his American films were John Carpenter's 1994
"In the Mouth of Madness"
and 1995's
"Judge Dredd".
Jurgen Prochnow was in 2006's
"The Da Vinci Code",
2010's television series
"24"
and was "Heddy's" ex-spy opponent in three episodes of
"NCIS: Los Angeles"
between 2010 and 2014.
Paul L. Smith portrayed
"Glossu Rabban aka: The Beast Rabban".
Sixteenth billed Smith portrayed "Bluto" in the Robin Williams and Shelley Duvall 1980
"Popeye",
"Falkon" in 1985's
"Red Sonja"
and "The Archduke" in the Mel Gibson, Jodie Foster and James Garner 1994 movie
"Maverick".
The was
based upon Gardner's old 1950's television series.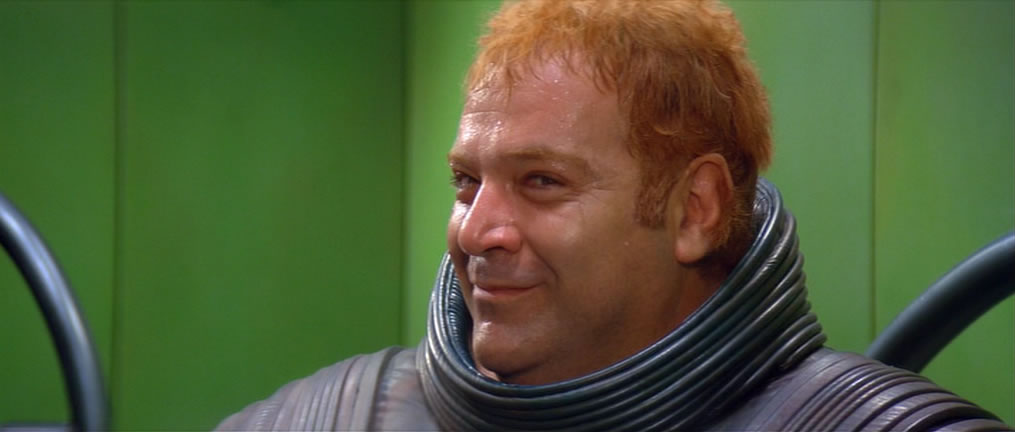 Patrick Stewart portrayed
"Gurney Halleck".
Seventeenth billed Stewart was three years away from becoming "Captain Jean-Luc Picard" on
"Star Trek: The Next Generation".
Among his previous work was the 1975 American mini-series
"North and South",
BBC's
"I Claudius",
director John Boorman's 1981 feature film
"Excalibur".
After this film Patrick Stewart had to play a man possessed by a female outer space vampire in Tobe Hooper's 1985
"Lifeforce"
and Stewart portrayed "The Duke of Suffolk" in the Helena Bonham Carter and Gary Elwes 1986
"Lady Jane".
Sting portrayed
"Feyd-Rautha"
with Eighteenth billing.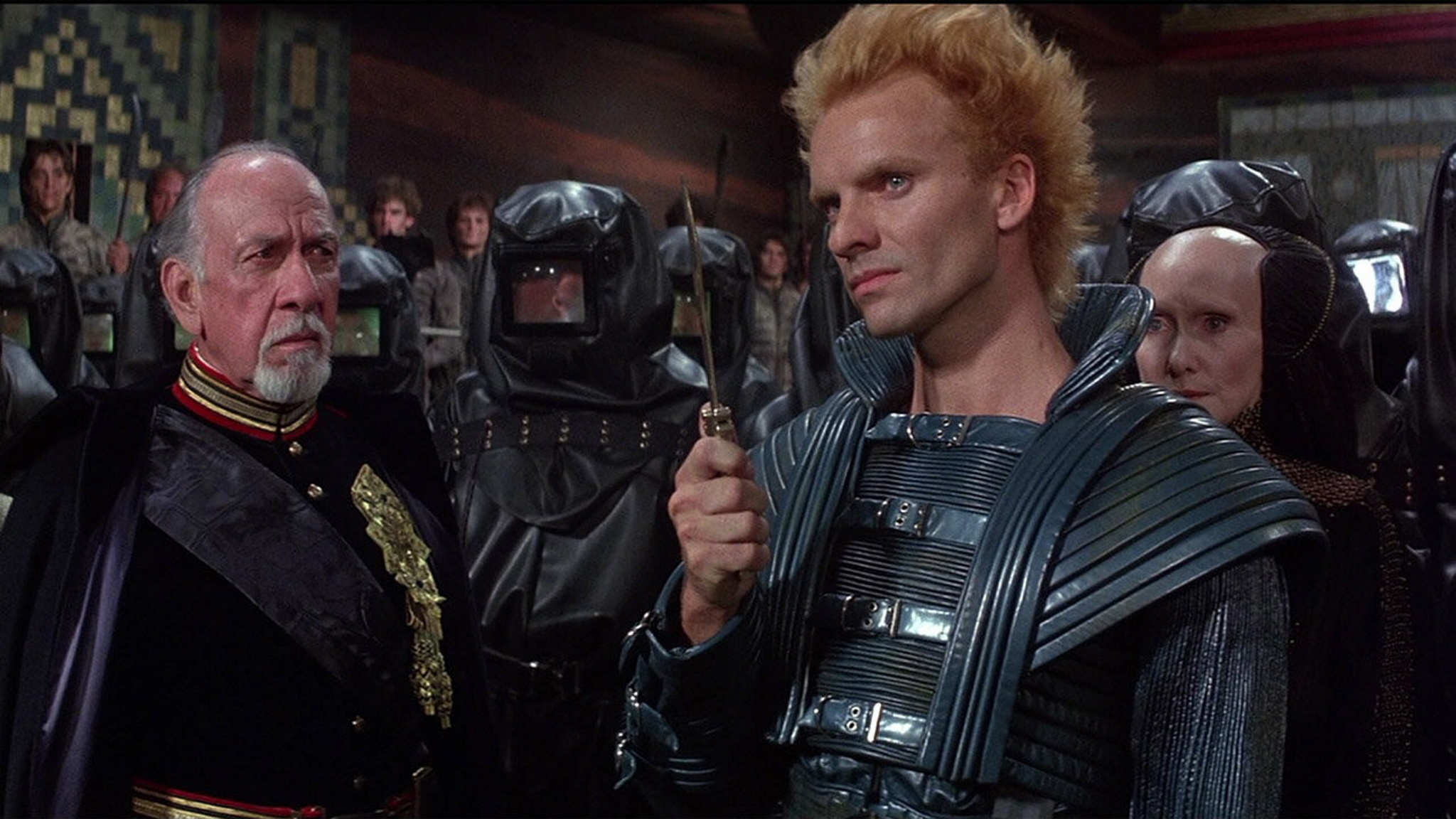 Dean Stockwell portrayed
"Doctor Wellington Yueh".
Nineteenth billed Stockwell had been in many major and minor films prior to this one and a very large number of television programs. In 1947 he played Gregory Peck's son trying to understand antisemitism in
"Gentleman's Agreement",
in 1949 he symbolized the plight of War orphans in
"The Boy with the Green Hair",
in 1950 he co-starred with Errol Flynn and Paul Lukas in Kipling's
"Kim",
and in 1959 he was one of the two murderers in
"Compulsion".
Based upon the best selling novel that was in turn
based upon the Leopola-Loeb murder case. In 1970 Dean Stockwell was after Sandra Dee and held a dark secret as "Wilbur Whateley" in H.P. Lovecraft's
"The Dunwich Horror".
Max von Sydow portrayed
"Doctor Kynes".
Twentieth billed von Sydow was in many motion pictures by Swedish director Ingmar Bergman. In 1965 the actor was "Jesus" in George Stevens
"The Greatest Story Ever Told",
in 1966 he portrayed Julie Andrews' husband in the epic film version of James Michener's
"Hawaii".
While 1973 saw Max von Sydow in the title role of
"The Exorcist"
and in 1976 he was the captain of the ship carrying Jewish refugees from Germany on
"The Voyage of the Damned".
In 1982 he was "King Osric" in
"Conan the Barbarian"
and in 1983 von Sydow was "Ernst Stavo Blofeld" in the return of Sean Connery's "James Bond" in
"Never Say Never Again".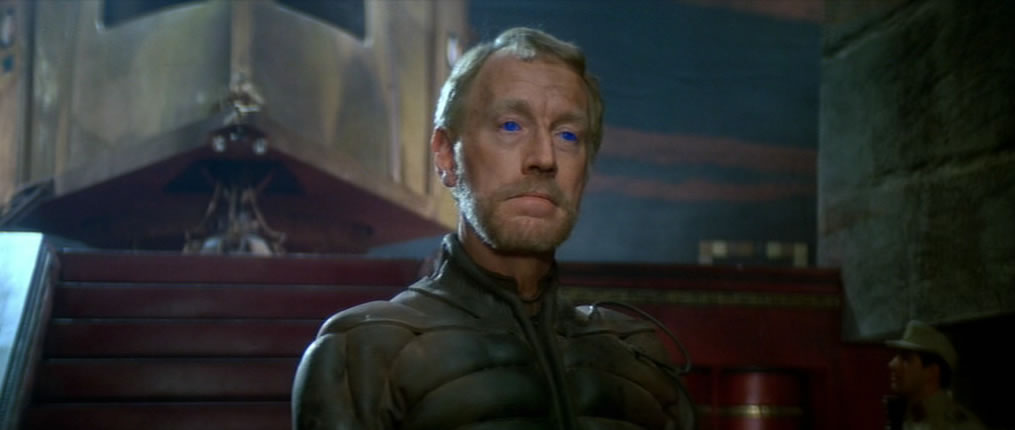 Alicia Witt portrayed
"Alia"
the sister of "Paul"
.
This was Twenty-first billed Witt's initial motion picture. At the time of production she was only nine years old. It would be six years later, before she had another acting role and that was on television's
"Twin Peaks".
Alicia Witt has been seen in 1995's
"Mr. Holland's Opus"
starring Richard Dreyfus, co-starred in the horror film
"Urban Legend"
in 1998 and the interesting comedy crime drama 2000's
"Cecil B, DeMented".
Sean Young portrayed
"Chani".
Twenty-second billed Young had been "Louise" in the Bill Murray,. John Candy and Harold Ramis 1981 comedy
"Stripes".
She was "Rachel" in director Ridley Scott's 1982
"Blade Runner".
In 1994 Sean Young co-starred with Jim Carrey and Courteney Cox in
"Ace Ventura Pet Detective",
Otherwise she was mostly on television with the exception of playing Tim Daly's other half in the movie
"Dr. Jekyll and Ms. Hyde".
An Overview of a Complex Screenplay
For those unfamiliar with
"Dune".
In Frank Herbert's 892 page novel. There are basically six groups, each, with their own political motivations, and, each, influencing the others for either good, bad, or maybe both.
These are:
Those controlled by the
"Padishah Emperor"
directly within his rule and intrigues.
The two warring "Houses": "
Atredes"
and
"Harkonnen".
The religious women of the
"Bene Gesserit",
"The Witches", as some call them. Whose agenda seems to override the agenda's of the above three and has some dark secret, or fear, known only within their group.
The mysterious
"Fremen"
of "Arrakis" aka;
"Dune"
.
The
"Spacing Guild"
that controls all space travel and provides the needed "Navigators". Mutated humans that mentally "Fold Space". Permitting travel from one point to another within the "Known Universe".
The final screenplay for the released motion pictures goes along these lines. There is a short explanation of the six groups and the need for
"Spice".
In the distant future the
"Known Universe"
is ruled by the "Padishah Emperor's" and this story takes place during the reign of the Fourth such Emperor. The most important commodity is the drug called "Melange" aka: "Spice" and he who controls the planet "Arrakis" controls the "Spice". "Spice" can expand a persons consciousness and it is used by the "Spacing Guild" to create their navigators. The "Guild" fears a conspiracy that could destroy "Spice" production and sends an emissary to "Shaddam IV" to
DEMAND
an explanation of the political movements he is making.
"Shaddam" states his fear of "Duke Leto Atredes". Who is building a secret army and whose popularity exceeds his own. "Shaddam IV's" plan is to seemingly remove the "Harkonnen's" from "Arrakis" and give the "Spice" control to "Duke Leto". Which will set up the death of the Duke by his enemy "Baron Harkonnen" without seeming to come from the Emperor. Thus, in "Shaddam IV's" mind, ending his worries and restoring control to the "House" he believes he has control over.
However, the Emperor is surprised by a request from the "Spacing Guild" navigator. He
DEMANDS
that "Leto's" son "Paul Atredes" also be killed. The "Guild" has sensed that the young "Atredes" has prophetic visions of the "Known Universe's" future and they are afraid, very afraid of what he sees, if they were to come true.
Switch to the current home world, "Caladan", of "Duke Leto", his family and followers as they prepare to leave for "Arrakis". The Duke has sent "Duncan Idaho", ahead of his arrival on "Arrakis", on a special mission. He is to make contact with the "Fremen" and offer them the "Duke's" friendship.
While "Leto's" concubine, the "Lady Jessica", a "Bene Gesserit", has violated her mission from the "Sisterhood". "Jessica" fell in love with "Duke Leto" and gave him the son, "Paul", he wanted and not the girl the "Bene Gesserit" demanded. The
"Reverend Mother Gaius Helen Mohiam"
has arrived and wants to "Test" "Paul" to see if "He's Human".

The boy will put his right hand into a box and the "Reverend Mother" will inflict pain. The pain is only in the boy's mind, but he sees the skin blister and turn into a charred skeletal hand. He removes it and realizes nothing really happened.

Before and after this took place. "Paul" realizes "Reverend Mother Gaius Helen Mohiam" is using "The Voice", a means of controlling another person by the "Bene Gesserit", and is able to fight her off. It is also obvious he knows when somebody speaks the truth. There has been a centuries long breeding program by the "Bene Gesserit" to create the "Superbeing", the
"Kwisatz Haderach"
that can go into the one place a woman cannot. Is it "Paul"? The "Reverend Mother Gaius Helen Mohiam" will tell the "Sisterhood" of the possibility.
Meanwhile, on the home world of the "Harkonnen's", "Giedi Prime". The sadistic Baron tells his, almost as sadistic, nephews "Glossu Rabban" and "Feyd-Rautha" his plans to eliminate the entire "House Atredes" by using a member of the "Duke Leto's" most loyal followers to betray him.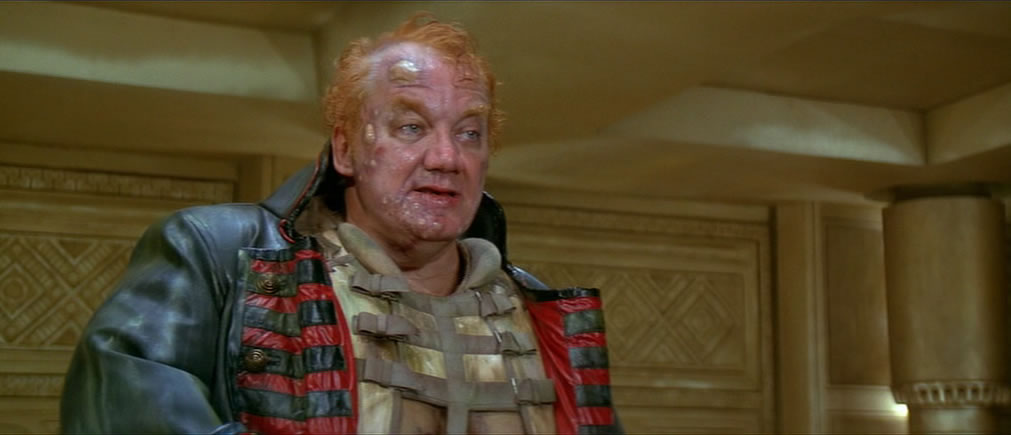 Accompanying "Duke Leto", "Lady Jessica" and "Paul" to "Arrakis" are three important figures to them.
One is "Thufir Hawat" their
"Mentat"
.
Who by drinking a special formula. known only to "Mentat's", becomes a human computers. He is also the "House Atredes" "Master of Assassins". His counter part in "House Harkonnen" is "Pieter De Vries",
Another is "Gurney Halleck" a close friend of both "Duke Leto" and "Lady Jessica". He is also the weapons teacher for "Paul". Look on his jawline and you will find a scar from a whip used on him by "The Beast Rabban", but this military man also loves music and is known for playing the baliset.
The third figure is "Dr. Wellington Yueh". He has had
"Suk Imperial Training"
which makes the subject incapable of inflicting harm on anyone. He is the personal physician of "Duke Leto".
Both "Gurney" and "Dr. Yueh" help "Paul" in his combat training. Which uses droids that could actually kill him and all he has is his skill and an
"Atredies Weirding Module"
, a sonic device, for defense.
When the Duke, his family, friends, and army arrive on "Arrakis". They are aware of two things. The the natives of "Arrakis", the "Fremen", have a prophecy of a "Messiah" that will come to lead them to freedom. That it is death to go into the desert, because of the Giant Sandworms, known to the "Fremen" as "Shai-Hulud", that seem to serve no specific purpose.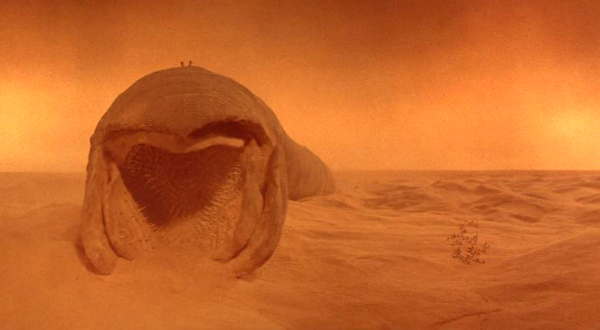 "Duncan Idaho" now informs "Duke Leto" that the "Emperor" and the "Harkonnen's", that had proceeded them, have under estimated the "Fremen". They are not a small nomadic group, but a very large hidden population that could form a strong alley to "House Atredes", if treated with respect. What neither of them know, or the "Lady Jessica" is that her housemaid the "Shadout Mapes" is a "Fremen". Although, the "Shadout Mapes" is both a spy and protector of the "Lady Jessica".
"Idaho" introduces "Doctor Kynes", who was sent to "Arrakis" by the Emperor, but became not only an expert on the planet but a trusted "Fremen" friend. He helps the "Duke" and "Gurney" with their special "Fremen" survival suits they do not know how to put on. These suits purify human fluids into water to survive on "Dune" the desert planet. So named, because it has never rained there and water is almost as precious a commodity as "Spice".
When he comes to adjust "Paul's" suit. "Kynes" is surprised to see it is properly adjusted and asked if "Paul" had ever worn one before. The reply is that "Paul" just presumed this was the proper way to wear it and for a moment the other thinks of the prophecy. The group goes on a tour of the planet and at a "Spice Mine" a sandworm attacks and the miners are surprised when the "Duke" looks to their lives and not protecting the "Spice".
Contact is made with the "Fremen" and both sides start to trust each other, but before this can be completely accomplished the "Harkonne's" launch their attack. The Baron's traitor is "Dr. Yueh" and even though he had the "Suk Imperial Training". The Baron's "Mentat" "Peter De Vries" told "Baron Harkonnen":
It's assumed that ultimate conditioning cannot be removed without killing the subject. However, as someone once observed, given the right lever you can move a planet. We found the lever that moved the doctor.
In this case his family. The doctor disables all the "Atredes" defensive shields and other automatically controlled weapons. Before "Leto" is captured "Dr. Yueh" replaces one of his teeth with a false one containing a deadly poisonous gas. The idea being, when the Baron gets close to the Duke, by pressing down on the tooth the gas will be let loose killing the other man.
This goes wrong when in a daze the dying "Duke Leto" sees "Baron Harkonnen", but "Peter De Vries" gets in the way and is killed. While the slaughter goes on "Duncan Idaho" is killed, but "Jessica" and "Paul" are able to escape into the desert in a vehicle that contains "Fremen" suits and food. "Dr. Yueh" stocked the vehicles supplies and helped their escape, before being killed himself. It is thought "Gurney Hallack" was also killed by the "Harkonnen's". "Tufir Hawat" is captured and he is administered a poison that slowly kills developed by "Peter De Vries". The Baron has the only antidote making "Hawat" chemically dependent to the Baron's service as a "Mentat" to stop the poison's spread.
"Lady Jessica" and "Paul" stumble upon a group of "Fremen" as they escape from a sandworm on some rocks. These "Fremen" live in an underground cavern with fresh water and, like other groups, is why their population has been thought to be a very small inconsequential group.
"Paul" is challenged by a "Fremen" and has to fight to the death.
He kills the man and learns it is now expected for him to take care of the man's wife and young son. He is accepted and given the "Fremen" secret name of "
Usaul",
but must pick his own name to be known by. He picks the name of the Kangaroo Mouse of the "Arrakis" desert. Which the "Fremen" leader, "Stilgar", says they like. "Paul Atredes" is no more and
"Paul Muad'Dib"
replaces him.
Now he must learn to ride the Giant Sandworms.
"Jessica" and "Paul" learn the secret of the Giant Worms. That they provide the
"Water of Life"
used to turn a member of the "Sisterhood" into a "Reverend Mother". The "Fremen Reverend Mother" is dying and "Jessica" is asked to go through the agony of becoming her replacement. She accepts while "Paul Muad'Dib" teaches the "Fremen" how to make "Weirding Modules" the same sonic weapon of "House Atreides". An army is being formed and attacks on the "Harkonnen's" begin. During one of the attacks "Gurney Halleck" is discovered and he joins "Paul's" forces and adds his knowledge of tactics and that of both the "Harkonnen's" and their allies the Emperor's
"Sardaukar"
.
In the "Fremen" cavern "Paul" has met "Doctor Kynes" daughter "Chani" and the two fall in love. Below "Chani" stands with the "Fremen Reverend Mother Jessica Atreides".
It is discovered, after she has taken the "Water of Life", that "Jessica" was pregnant with "Duke Leto's" baby. A girl is born with all the powers of a "Reverend Mother" that is named "Alia". To the "Sisterhood" she is an abomination.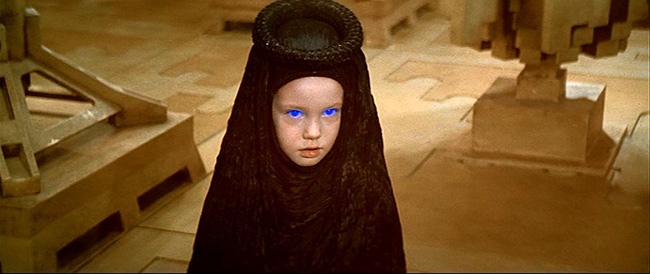 Two years of fighting has now pass and "Spice" production has come to a stand still. The "Spacing Guild" is afraid that "Paul Atreides" will take the "Water of Life" and tells "Shaddam IV" of their fear. "Paul" had a future vision of that meeting, but his visions have suddenly stopped. He now secretly takes the "Water of Life" and heads into the desert. "Chani" and a few others follow at a distance for his protection. There he drinks the water and goes through the ordeal.
He awakes with the power to control the sandworms and other new psychic abilities. He sees that the Emperor is amassing a large fleet above "Arrakis" with the sole purpose of eradicating the "Fremen". "Paul" now launches an all out attack against the "Harkonnen's" and the Emperor's forces in the capital city of "Arrakeen", Riding the Giant Sandworms the attack destroys the outer walls and the Emperor's troops are defeated.
Now comes the climatic confrontation with "Shaddom IV", "Baron Harkonnian" and the "Reverend Mother Gaius Helen Mohiam". The Baron will be killed by "Alia" and "Paul" will fight "Feyd-Rautha".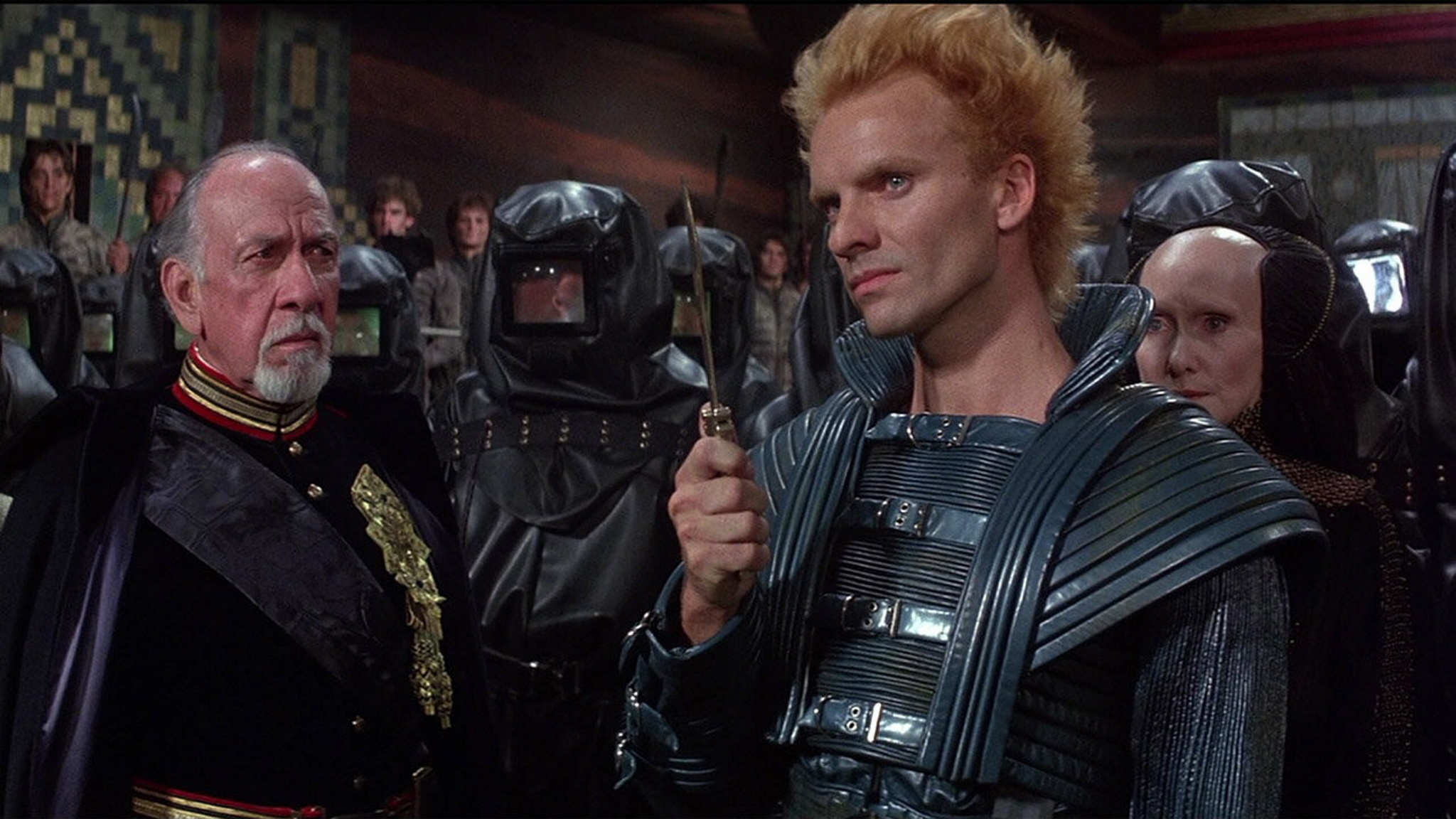 After killing "Feyd-Rautha", "Paul" demonstrates his new powers by causing rain to fall on the desert planet known as "Dune" and his sister "Alia" proclaims him the
"Kwisatz Haderach".
The Picture's Release
Universal Pictures saw David Lynch's edit. The Studio and Raffaella DeLaurtiis' Financial backers wanted a standard two hour cut of the film. This forced David and Raffaella to make cuts to the picture effecting the story line. They ended with a running time of 136 minutes and that became the
"Originally"
released screenplay.
Although the preview audiences saw David Lynch's name on the film. He wanted out of being associated with what Universal Pictures released and his name became
"Alan Smithee".
"Alan Smithee"is
an official pseudonym used by directors who wish to disown a project. Although, some without that knowledge actually believe he was a real director. When the television cut was released at 186 minutes neither Lynch, or "Smithee" was shown as director. The name on the film now was "Judas Booth". Think "Judas Iscariot".
Over the years the 136 minute film has developed a cult following, I prefer the television version, or as it is called the "Extended Version". As of this writing opinions still vary, if you're a fan of David Lynch films or the original Frank Herbert novel, I'm both and still wonder what that original "Director's Cut" might have looked like that both Lynch and DeLaurentiis submitted.
There apparently is a third cut running around, but I could not locate a running time or description as of this writing.
.