A "New Yorker Magazine" one panel cartoon and the charactures of Boris Karloff and an old age Bela Lugosi. They might not seem like the material for a weekly television show, but in 1964 both ideas became what were known as "Situation Comedy", or more commonly "SITCOMS".
The simple definition of a "SITCOM" is a television program with the same characters in each weekly episode.
What made both of these new sitcom's work was the way the characters were written and performed.
When they both premiered. American families were faithfully watching other sitcoms such as "The Adventures of Ozzie and Harriet", still on after 12 years with two more to go, and "My Three Sons" starring Fred MacMurray. Along with "Petticoat Junction" and "The Beverly Hillbillies", "The Andy Griffith Show" with little Ronnie Howard and "The Dick Van Dyke Show" made America laugh. "The Lucy Show" was Lucille Ball's follow up to "I Love Lucy" minus ex-husband Dezi Arnaz.
THEN, suddenly, here comes two new sitcoms that did not fit this mold. While even the talking horse "Mister Ed" actually did.
THE ADDAMS FAMILY
The first one panel cartoon of what became known as "The Adams Family" appeared in the "New Yorker Magazine" in 1938. The characters drawn by Charles Adams, below, never had individual names until the television series appeared 26 years later.
On September 18, 1964 the ABC viewing audience first herd "The Addams Family Theme" composed by Vic Mizzy.
They're creepy and they're kooky,




Mysterious and spooky,




They're altogether ooky,




The Addams Family.





Their house is a museum




When people come to see 'em




They really are a scream




The Addams Family.





(Neat)




(Sweet)




(Petite)





So get a witch's shawl on




A broomstick you can crawl on




We're gonna pay a call on




The Addams Family.
The names of the different members of the family resulted from Executive Producer David Levy approaching Charles Addams to help solve two problems with the purposed television show. One was the obvious. The characters needed names. The second was the creation of more characters to be used related to the family. Once this was accomplished the writing and casting began.
One element that both "The Addams Family" and "The Munsters" have in common is a strong female leading character. The immediate question for each proposed sitcom was were to find the right actress for the part. Both programs solved that problem by turning to two accomplished motion picture actresses. Which additionally brought audience recognition.
For "The Addams Family" it was Carolyn Jones and for "The Munsters" it was Yvonne DeCarlo.
Carolyn Jones started her film career with walk on roles and very small parts. She was a "Blonde Party Guest" in George Pal's 1953 classic "The War of the Worlds". Then Phyllis Kirk's girlfriend, "Cathy Gray", in the same years 3-D movie "House of Wax", seen below.
That Vincent Price vehicle was followed, for the actress, by mostly television appearances until 1956's "Invasion of the Body Snatchers".
After that classic science fiction she returned to mainly television until co-starring with Mickey Rooney as the wife of "Baby Face Nelson" in that hard hitting 1957 film. In the late 1950's Hollywood made many 1930's based gangster biographies and of course the television program "The Untouchables". "Baby Face Nelson" was one of the best. For those who might be interested my article of these films can be found at:
http://www.bewaretheblog.com/2016/01/1957-to-1961-hollywood-gangster-motion.html
Later Carolyn Jones would be seen playing opposite Elvis Presley in 1958's "King Creole".
Among her continuing work included receiving third billing behind Kirk Douglas and Anthony Quinn in John Sturges classic 1959 revenge Western "Last Train from Gun Hill". Fourth billing in the Frank Sinatra. Edward G. Robinson 1959 comedy "A Hole in the Head". Carolyn Jones portrayed George Peppard's wife in 1963's big budgeted Cinerama feature "How the West Was Won". Another fourth billing behind Shirley Jones, Gig Young and Red Buttons in 1963's "A Ticklish Affair" led to being cast as "Morticia" on "The Addams Family".
The actress portrayed "Morticia Addams" mostly with a "Dead Pan" delivery. Carolyn Jones as the wife of "Gomez" and mother to "Pugsley" and "Wednesday-Friday" Addams had first billing on the program.
||
I don't know how many takes were needed, if more than one, but it was that "Dead Pan" expression that really got me and I'm sure other viewers. A terribly funny line could be delivered to Jones by another character and she just kept that look on her face. Then delivered "Morticia's" response making it funnier than it had been written.
When "Gomez" would start kissing his "Tish" up her arm. "Morticia" would just stand there and the often repeated scene became purely sexual. There's not other way to describe it and apparently the censors didn't seem to get it.
"Morticia" grew beautiful roses in the Addams greenhouse. She would take time to arrange them and then cut off the actual rose, because it was the thorny stems she loved.
Of course this loving wife and mother had some quirky moments, for the character, that showed off the true comic genius of Carolyn Jones.
Portraying the now named "Gomez Addams" was John Astin. Astin is an actor with a comic touch of his own. From 1957 to 1961 he appeared either on stage, or small roles on different television programs. In 1961 receiving no on screen credit. John Astin appeared as the frustrated social worker "Glad Hand". Whose job it is to get the Dance, at the neutral territory School Gym, running smoothly between the "Jets" and the "Sharks" in Robert Wise's production of "West Side Story". Anyone seeing John Astin in that role knew the man had talent, because he steals the scene until the big dance number begins.
Bouncing around in small television roles, or appearing on the big screen in either non-screen credited or minor movie roles followed "West Side Story" until 1964. When John Astin landed the role of "Gomez Addams" and his career would take off.
Below Mr. and Mr. Gomez Addams
The following is an example of some of the great lines delivered by Astin and Jones with straight faces.
Another of those sexually implied bits between "Morticia" and "Gomez". Happens when the two go into their "Tango". The way Carolyn Jones and John Astin perform the dance is again a classic moment from "The Addams Family" television show. In fact the delievery between the two actors set what was expected from Anjelica Huston and Raul Julia in the 1992 motion picture.
"Gomez" mentions in on of the episodes that the family is extremely wealthy having made "A killing" from the stock market in 1929. Implying while others were loosing their wealth the "Addams Family" was making it by buying up their stock at cheap prices.
As I've mentioned "Morticia" and "Gomez" were the parents of two very normal children. There was the youngest "Wednesday Friday" Addams portrayed by 6 year old Lisa Loring.
Loring was born on the island of Kwajalein in the Marshall Islands. The actress would be married four times and her third was to Porno Star Jerry Butler. Lisa Loring's work after "The Addams Family" included the one season forgotten "The Pruitts of Southampton" aka: "The Phyllis Diller Show". After a role in an episode of "The Girl from Uncle". The actress did not appear for another 11 years and that was on the special "Halloween with the Addams Family". Later Loring was on the soap opera "As the World Turns" creating the character of "Cricket Montgomery" from 1980 to 1983. How you viewed the remainder of Lisa Loring's career depends on your view of very low budgeted slasher films between 1987 and 2015.
"Wednesday Friday" is like any little 6 year girl you might know. Her favorite hobbies are collecting spiders and playing with dolls. Of course she has a habit of removing their heads and naming them:
"Marie Antoinette" and "Mary Queen of Scots".
"Wednesday Friday" also studies ballet and practices in a tutu/
Then there is the older brother of "Wednesday Friday", "Pugsley" He was portrayed by Ken Weatherwax. One would have thought that Weatherwax had a solid future. His Aunt was 1930's/1940's Dancer/Singer'Movie Actress Ruby Keeler. His two Uncles, Frank and Ken Weatherwax, were the owners of the dogs that played "Lassie". Having taken over their father's dog training business. The family still has complete control of the name "Lassie"and the films and television programs the dog with that name has appeared in. Ken's cousin was on the original "Lassie" television show from 1954 into 1957 playing "Porky". but success was not Ken Weatherwax's fate.
Weatrherwax became typed cast as "Pugsley" and couldn't find much work. His total acting credits are four productions. Three of which were "The Addams Family". the 1973 cartoon series "The Addams Family" providing the voice of "Pugsley" in some of the 13 episodes. While 10 year old Jody Foster provided "Pugsley's" voice in the other episodes of the short run animated series.
Lastly Ken portrayed "Pugsley Senior" in 1977's "Halloween with the New Addams Family". Lisa Loring was back as "Wednesday Senior". Ken Marqis, who only has three acting credits, played "Pugsley Junior" and Jennifer Surprenant, who only has two acting credits, was "Wednesday Junior". Carolyn Jones, John Astin, Jackie Coogan and Cassidy returned also.
So with acting going nowhere. Ken Weatherwax joined the Army and after being discharged worked behind the scenes as a grip until his death at age 59 from a heart attack.
"Pugsley" is the closest to the conventional norms of a 1964 American family in the program. However, he loves building strange machines sometimes with his father's assistance. Also "Pugsley" has a pet! An octopus named "Aristotle". Probably the only real quirk is his love of playing with blasting caps used in jokes he plays on the neighbors.
"Uncle Fester" was portrayed by actor Jackie Googhan and talk about a long career. His parents were vaudevillians and Jackie became part of their act at the age of 5. At one of their performances Charlie Chaplin was in the audience and made the decision to use the boy in his next picture 1921's "The Kid".Chaplin's "Little Tramp" finds and bonds with an orphan. Silent movie, or not. This film still hits the viewers heart strings.
From that start until the 1984 movie "The Prey". Jackie Coogan was active in the motion picture business.
"Fester" is "Morticia's" Uncle and like his nephew "Pugsley" enjoys playing with blasting caps, but does prefer dynamite. Which he gets a real bang, pun intended, out of watching passerby's react too. He also needs an occasional half hour, or so relaxing in the family's "Play Room". Where he can be found reclining peaceably on a bed of nails.
In my opinion the loony charm of Jackie Cooghan's "Uncle Fester" was destroyed in the 1991 movie.
I must not forget "Grandma Addams" who was portrayed by Blossom Rock. Rock was born Edith Marie Blossom McDonald. Her younger sister was Singer/Movie Actress Jeanette McDonald. Who appeared in many motion pictures with opera singer Nelson Eddy including Jimmy Stewart's first film 1939's "Rose-Marie".
Although Blossom Rock had over 117 movie and television credits. It was her 64 episodes of "The Addams Family" that she will always be remembered. Rock was ill and could not reprise the role of "Grandma Addams for the Halloween special and died shortly it was shown.
"Grandma" is the mother of "Gomez" and a practicing witch. Her hobbies include playing the bagpipes, painting and fortune telling. The last she fakes.
Then there are the three supporting characters that we all love.
Ted Cassidy stood six feet nine inches in height and was perfect for the Addam's family butler "Lurch".
Cassidy was an accomplished organist, but was never permitted to actually play the harpsichord on the show. Song writer Vic Mizzy did. With his height Ted Cassidy was very busy in television and movie roles. For "Trekkies" he voiced the role of the barbarian warrior that kills Christopher Pike in the original "Star Trek" pilot. Cassidy also voiced "Balok" in "The Corbonite Maneuver" episode 10 of the first season. For fans of "Godzilla". It was Ted Cassidy that provided the roar in the 1979 animated series among many other animated characters including "Brainiac" on "Super Friends" and "Ben Grim aka: The Thing" in 1978's "The Fantastic Four".
Ted Cassidy's motion pictures appearances included a hilarious fight with actor fought Paul Newman, in 1969's "Butch Cassidy and the Sundance Kid". The actor appeared as an Apache giving Gregory Peck and Omar Sharif problems in "Mackenna's Gold" the same year.
As for "Lurch" the Addams family butler. Who was always summoned by one of the family pulling a rope, in the shape of a noose, that rang the bell in the tower of the home. The sound hook the entire house as "Lurch" would then enter saying:
You rang?
"Lurch" actually made a cameo appearance on the television show "Batman" on December 7, 1966 in "The Penguin's Nest".
This may seem weird today, but there was a song and dance called "The Lurch" that became popular for awhile.
Another popular character on the show was "Thing". For those who have always wondered what this hand's full name happened to be. It was "Thing T. Thing".
In the scenes without "Lurch: the viewership were seeing Ted Cassidy's hand. When "Lurch" was in a scene the hand was assistant director Jack Voglin.
Most of the viewers did not know the name of Felix Silla, but they loved his recurring character of "Cousin It". For those familiar with the television series "Buck Rodgers in the 25th Century". Felix was the robot "Twiki".
There are two other characters I want to mention. The first was "Ophelia Frump" portrayed by Carolyn Jones. "Ophelia" is the sister of "Morticia" and is the "White Sheep" of the family. "Ophelia" has a flower in her hair which has it's roots growing all the way down to her feet.
Playing"Morticia" and "Ophelia" Frump's mother was Margaret Hamilton. as "Grandma Hester 'Fanny" Frump".
Margaret Hamilton of course was "The Wicked Witch of the West" in 1939's "The Wizard of Oz". For those familiar with William Castle's original 1960 picture "13 Ghosts". The actress had a little fun with her character of housekeeper "Elaine Zacharides". At one point she conducts a seance and at the end is seen with a broom holding it like a witch. Which Charles Herbert's character of "Buck Zorba" always thought she was.
I already mentioned "Pugsley's" pet octopus "Aristotle", but there were other family pets.
They include "Pugsley's" other pet "Fang" a jaguar. "Homer" is "Wednesdays" pet spider. While "Cleopatra" is "Morticia's" pet African Strangler a form of man eating plant. Then there's the Addams pet piranhas "Tristan and Isolde", if you don't know those names look them up. "Kitty Cat" was the family's pet lion and lastly there was "Zelda" a pet vulture.
The plots of the 64 episodes revolved around the fact that "The Addams Family" considered themselves a normal family for 1964 like in "The Adventures of Ozzie and Harriet". "Ozzie" and "Harriet Nelson" had two sons and he worked for a living. While she was a mother and homemaker.
"Gomez" and "Morticia Addams" have a son and daughter. "Morticia" is, in her point of view, a typical mother and homemaker. The only difference in the set ups for the two sitcoms is that "Gomez" does not have to work.
However, it is obvious that "Gomez" and "Morticia's" world is not really that of "Ozzie" and "Harriet's" causing a culture clash as the two world's meet. A good example is in the still above as "Morticia" asks a guest would they like:
Salt, pepper, or cyanide?
"Morticia" sees nothing unusual with her question.
"The Addams Family" was on ABC from September 18, 1964 through April 8, 1966. As much fun as the ABC show was it wasn't as popular as it's competition on CBS.
THE MUNSTERS
On September 24, 1964, six days after the premier of "The Addams Family", the American viewing audience was introduced to it's somewhat twin "The Munsters".
This typical (?) American family lived at 1313 Mockingbird Lane in the fictional Los Angeles suburb of Mockingbird Heights, if you took the "Backlot" Universal Studios Tour after the series premiered. You would be surprised to discover that the house right next door was the one owned by the "Cleaver" family from "Leave It To Beaver". Another typical American family.
The series was made by, the then Universal Studio's television branch, Kayro-View Productions. Therefore, they were able to use variations of the classic Universal monsters of the 1930's and 1940's. In 1958 Universal Studio's put together a syndicated television package of those feature films and introduced a new generation, myself included, to their classic horrors.
So associating "Herman", "Lily", "Grandpa" and "Eddie" to these films was easy. Had those motion pictures remained on the shelves as many of the Universal Studios Executives still wanted in 1958. "The Munsters" might never have gotten the immediate interest it generated.
Actually, to be honest, "Lily Munster's" look didn't come from any specific Universal Studio horror film, but a variation of the Undead Wives of a Vampire with a little bit of the "Bride of Frankenstein" in the hair initially.. So let me start first with actress Yvonne De Carlo.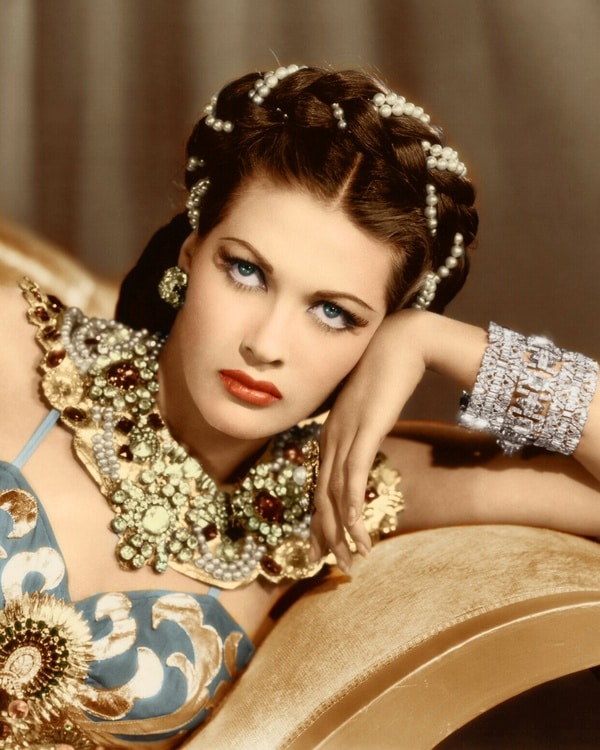 Yvonne De Carlo was a Canadian/American singer, dance and actress originally born Margaret Yvonne Middleton. She made 23 motion picture appearances either without screen credit, or having her small scenes deleted. Until producer Walter Wanger, John Ford's 1939 "Stagecoach", cast her as "Ann Marie" in 1945's "Salome, Where She Danced". This part Western picture overnight pushed De Carlo to center stage, so to speak, as she had the opportunity to sing, dance and act. It was as if no casting director had seen her before. The above photograph is from this picture.
In 1949 co-starring with singer/actor Tony Martin. Yvonne De Carlo appeared in "Casbah". A musical remake of the 1938 Charles Boyer and Hedy Lamarr drama "Algiers". The actress was also seen in 1949 as "Calamity Jane" in a Western and became the title character of 1950's "Bucaneers Girl", Later that year De Carlo was "Princess Scheherazade" in "The Desert Hawk".
Cecil B. DeMille cast Yvonne De Carlo as Charlton Heston's wife "Sephora" in his epic all star 1956 motion picture "The Ten Commandments".
The following year De Carlo was seen as "Amanda Starr". The half black daughter of a white plantation owner in love with Clark Gable in 1957's "Band of Angeles" co-starring Sidney Poitier.
The films were followed by guest starring on several television programs leading to being cast as "Lily Munster". Which brings me back to her look.
Although Todd Browning created the classic Undead Vampire wife look It wasn't for his 1931 "Dracula" starring Bela Lugosi, but his lost silent classic MGM's 1927 "London After Midnight". Which starred Lon Chaney with "Luna, the Bat Girl" portrayed by Edna Tichenor.
The actress most associated with and given credit for the look of the classic Undead Female Vampire was Carroll Borland. She also portrayed "Luna" in a Todd Browning film based upon "London After Midnight". MGM's 1935 "Mark of the Vampire" starring Lionel Barrymore and in third billing Bela Lugosi as "Count Mora". The first still below is Lugosi with Borland as "Mora's Daughter". Carroll Borland is just plain creepy is this fine film with it's unfortunate twist ending.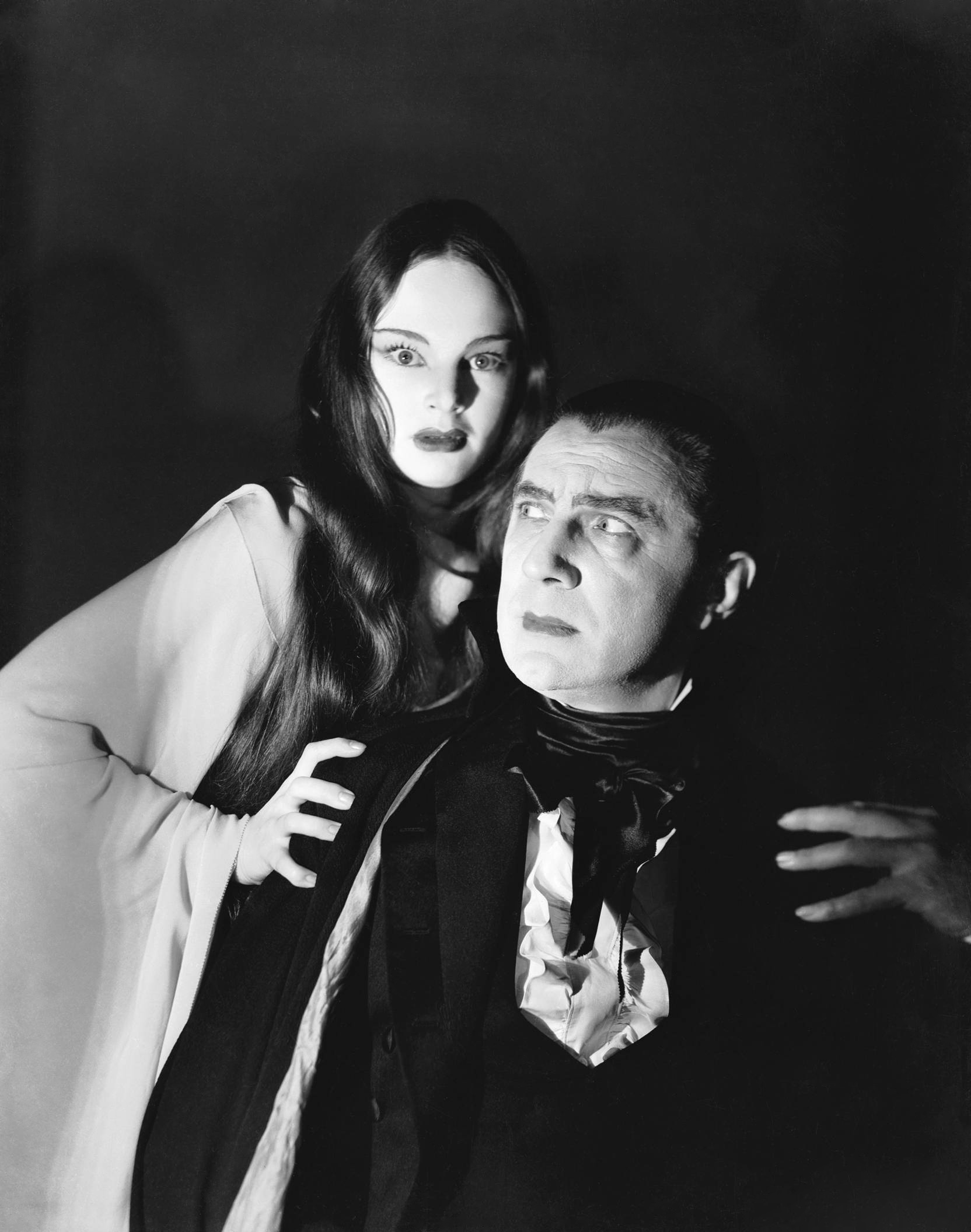 Borland, to my knowledge, is the only actress to ever be seen with vampire bat wings coming off of her shroud. Note that "Lily Munster's" shroud dress appears to have implied wings in the above photo of Yvonne De Carlo.
Unlike Carolyn Jones' "Morticia Addams". Yvonne De Carlo's "Lily Munster" could have been "June Cleaver", Barbara Billingsley, on the aforementioned "Leave It To Beaver", or even Jane Wyatt's "Margaret Andereson" on "Father Knows Best". In short outside of being take offs on classic monsters. "The Munsters" were portrayed as a typical everyday Los Angeles family.
Jack Pierce had created the original make-ups for the Universal films the rest of the families make-ups were based upon. In 1946 this great make-up artists was fired by the new owners of Universal Studios and Bud Westmore was promoted. This link is to my biography of Jack Pierce.
http://www.bewaretheblog.com/2015/06/jack-p-pierce-man-who-created-monsters.html
Westmore created the make-ups for the cast of "The Munsters" and the most recognizable went to Fred Gwynne. Who had previously been seen on the television police comedy "Car 54 Where Are You?"
Below a scene from the 1931 "Frankenstein" with Boris Karloff in Pierce's original monster.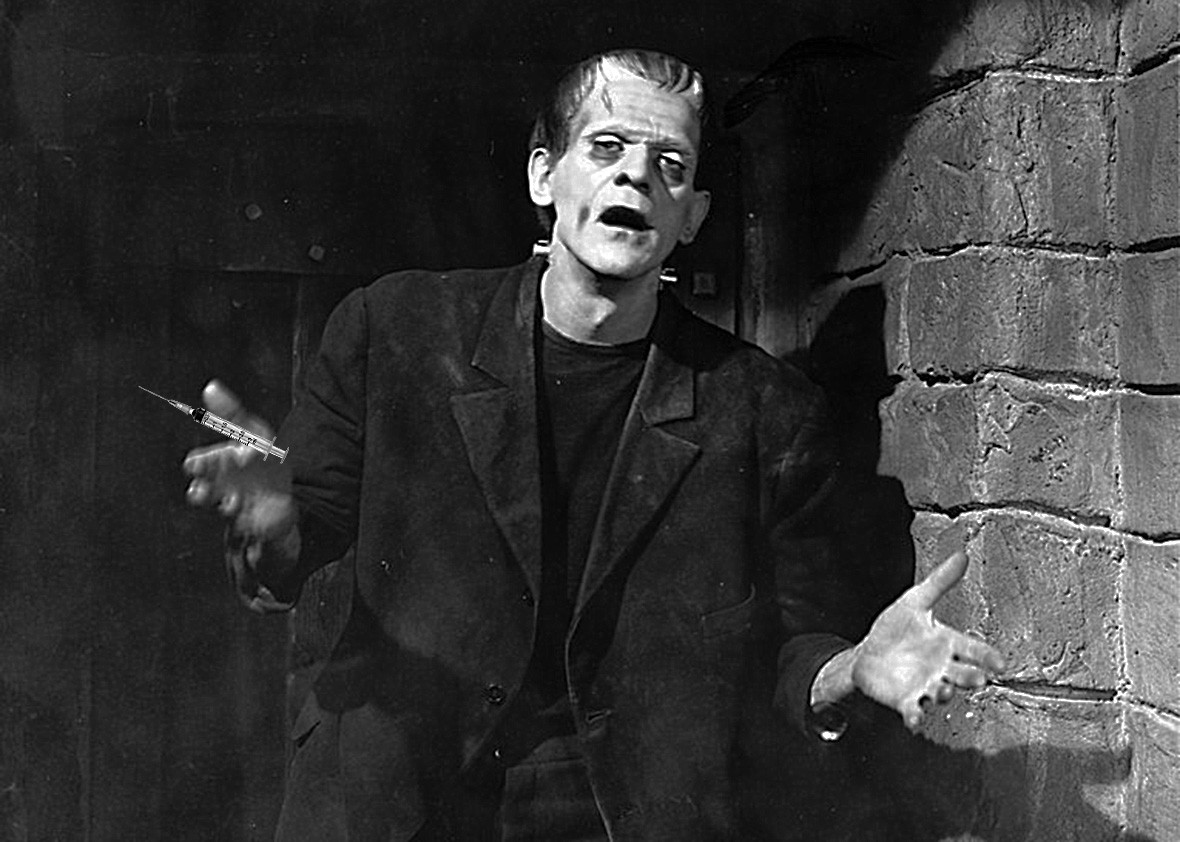 Pierce even did Lon Chaney, Jr and Bela Lugosi, Note how each actors features are seen behind the identical make-ups.
Jack Pierce's also did the make-up for "B" Cowboy Actor Glenn Strange in 1944's "House of Frankenstein" and 1945's "House of Dracula". Bud Westmore's did the make-up for Strange in 1948's "Abbott and Costello Meet Frankenstein".
Since 1952 Fred Gwynne had appeared on television programs. His sole motion picture appearance was the non-screen credited role of "Slim" in 1954's "On the Waterfront" starring Marlon Brando. In 1963 his was cast as "Officer Francis Muldoon" for "Car 54 Where Are You?" and appeared in all 60 episodes of the show,
Three forgotten television appearances afterwards and Gwynne was cast as "Herman Munster". "Herman" is a loving husband, father and is a hardworking employee of a Funeral Parlor where he tests coffins. Among other duties.
Al Lewis portrayed "Grandpa" who is "Lily's" father. Although I don't remember his character being referred by his full name on the show. Actually "Grandpa Munster" is "Sam Dracula" and of course "Lily's" maiden name is also "Dracula".
Most viewers of "The Munsters" knew that Al Lewis appeared with Fred Gwynne on "Car 54 Where Are You?"
Prior to "Car 54 Where Are You?" Al Lewis appeared on a few television shows, such as "The Naked City" and "Route 66". His one motion picture appearance was in the 1960 gangster movie "Pretty Boy Floyd" as a character called "Machine Gun Manny".
What does a "Frankenstein Monster" and "Dracula's Daughter" have for a child? Why a "Werewolf" of course. Patrick Alan Lilley played "Eddie Munster" as "Butch Patrick".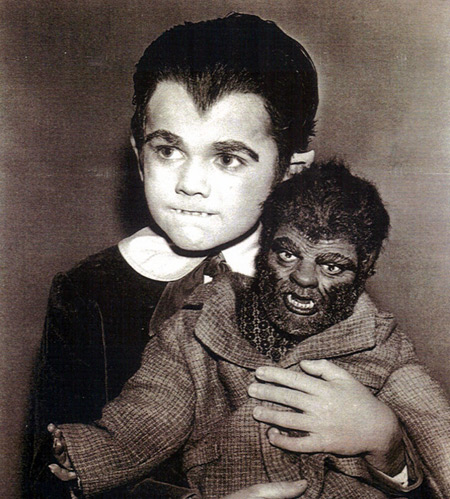 Speaking of "The Addams Family". In 1972 there was a pilot for a weekly musical show called "The Addams Family Fun House". It was not picked up, but in the lower right corner of the following publicity photo is Butch Patrick as a "Hippie" "Pugsley Addams". The tall man with the mustache standing next to Stubby Kaye's "Uncle Fester" is Pat McCormick as "Lurch, Not shown would be the only other original cast member Felix Silla as "Cousin It".
Sporadically was a low budget version of "Elvira, Mistress of the Dark" between 2002 to 2012 named "Ivonna Cadaver" portrayed by Natalie Popovich. She hosted a group of extremely low budget horror and science fiction turkey's on a program called "Macabre Theatre". One of her guest hosts was Butch Patrick as "Eddie Munster" for five episodes. In 2016 the series was brought back on "Reel TV" with "Ivonna Cadaver" portrayed by Brandy Melville.
Beverly Ogg took the stage name of Beverly Owen. She was born in Ottumwa, Iowa and is known primarily for playing "Marilyn Munster" during the first season of "The Munsters". "Marilyn" is considered the "Odd Munster Cousin" who looked normal to everyone, but the family. For that reason she is always getting sympathy for her condition.
Prior to "The Munsters" Owen was seen seven times. Two of them in soap opera's on television and one movie "Bullet for a Badman", After "The Munsters" she married writer Jon Stone. Stone was best known for his work on "Sesame Street" by helping Jim Henson create the on camera personalities of "Big Bird, "Oscar the Crouch" and "Cookie Monster". He was also the head writer on "Captain Kangaroo".
Beverly Owen was replaced as "Marilyn" by Pat Priest. Patricia Ann Priest was from Bountiful, Utah and prior to the program appeared 12 times on television.
After "The Munsters" Priest appeared on different television programs and some feature films. Two of the most memorable were the 1967 Elvis Presley movie "Easy Come, Easy Go" and 1971's "The Incredible Two-Headed Transplant" starring Bruce Dern.
As compared to the "Black Comedy" of "The Addams Family". "The Munsters" were Ozzie and Harriet Nelson. They just didn't look like them.
The idea for what became "The Munsters" goes back to Bob Clampett the creator of "Beany and Cecil" and my favorite "Thunderbolt the Wonder Colt". A parody of television's then popular "The Adventures of Superman". Clampett pitched the idea of a family of monsters as a parody of the average American family to Universal Studios in 1945. The project wasn't picked up. In early 1960's the cartoon idea was pitched to Universal Studios again, but by "Rocky and Bullwinkle" writers Allan Burns and Chris Hayward. It was also not picked up, but the idea of a live series using the Universal Studio's classic monsters came up during the discussion. .
Notice the changes in the look of the family? Don't like at the two different Marilyn's. This actually took place by Episode 7 of Season One.
So for the first six programs "Herman" looked closer to the Jack Pierce original make-up, "Lilly" had that very White "Bride of Frankenstein" hair streak which eventually became totally black and the star she wore around her neck in some scenes turned into a bat.
"The Munsters" were on television from September 24, 1964 through May 12, 1966 and as I said was the more popular of the two at the time. The subtle wit of "The Addams Family" was still a little beyond some of the average television viewers between 1964 to 1966.