Rod Steiger (Al Capone), Mickey Rooney (Baby Face Nelson), Ray Danton (Legs Diamond) as real life Gangsters get the Hollywood treatment.
On October 27, 1919 the House of Representatives voted to override a veto by President Woodrow Wilson. The following day October 28, 1919 the Senate followed suit. As a result of the action taken by both Houses of Congress. "The Volstead Act" was law and went into effect on January 17, 1920 and welcomed America to "Prohibition". Nine years later after the "Stock Market Crash" had destroyed many a life "The Great Depression" set in.
Those three events, "Prohibition", the "Stock Market Crash" and "The Great Depression" brought forth a strong criminal element that strangely to law enforcement seemed to be popular with most Americans of the period. Some of the murders, bootleggers and bank robbers even took on a glamorous appearance to the average American struggling to survive in the 1930's. Some were referred too as modern "Robin Hoods", because they went after the banks that had foreclosed on farmers struggling to make a living.
Into this myth making stepped Hollywood and we all love gangster motion pictures.
In 1931 two classic motion pictures came out. "Little Caesar" starring an unknown Edward G. Robinson in an obvious Al Capone take-off. "Public Enemy" starred unknowns James Cagney and Jean Harlow. Then a year later in 1932 Paul Muni played the original Tony Camonte, another Al Capone inspired character, in "Scarface" with Boris Karloff and George Raft. The 1939 look at Prohibition within the motion picture "Roaring Twenties" starred James Cagney and featured a still upcoming Humphrey Bogart.
1941 saw "Bogie" as the lead in "High Sierra" as a hunted criminal, 1942 found Alan Ladd as "This Gun for Hire", 1945 saw the low budget "Crime Incorporated", Barry Sullivan was 1947's "The Gangster" Which was over shadowed by another motion picture "Kiss of Death". That film noir classic starred Victor Mature and Brian Donlevy, but it was an unknown Richard Widmark as the emotionless killer that everyone watched. In 1948 Paul Henreid starred in the excellent film noir "The Scar". Making the case if you're going to impersonate somebody don't use a mirror to put their scar on your face.
Glenn Ford played a good cop caught in 1953's "The Big Heat", Marlon Brando wanted to be a contender in 1954's "On the Waterfront". While Broderick Crawford, Richard Conte and Ann Bancroft co-starred in 1955's "New York Confidential".
Real gangster biographies of even Al Capone were not touched by Hollywood yet. Although there were many characters patterned after him. The only exception until 1957 was 1945's "Dillinger" and like the films I'm about to discuss was far from the truth, but good entertainment.
Most of the motion pictures from the last half of the 1950's were low budget Science Fiction and Horror films aimed at a teenage audiences. They came with titles like "I Was A Teenage Frankenstein" and "I Married A Monster From Outer Space". Yes, the major studios were turning out films like Cecil B. DeMille's epic "The Ten Commandments", "Raintree County", with Elizabeth Taylor and Montgomery Cliff, a Northern Civil War counter to 1939's Southern "Gone With The End". War movies were dying out, but there was "The Bridge on the River Kwai". Simply the audience had changed by then to pre-teens and teens who could get money for a Drive-in movie. While their parents watched the 'Boob Tube" for free as the new medium of television would soon be called.
Into this mix of Teenage Motion Pictures and basically designated seating multi-hour epic films came a small movie from United Artists starring of all people Mickey Rooney released on December 1, 1957.
Rooney was eleven years older than the real Lester Gillis aka: George Nelson aka: "Baby Face" Nelson when he was finally killed at age 26.
Below the real "Baby Face" Nelson
Below Mickey Rooney in the movie
This crime film noir was directed by Don Siegel, 1956's "Invasion of the Body Snatchers", and although critics panned it as being "old fashioned".The public loved it. The film's budget was estimated at $175,000 dollars and the picture grossed $1,25 million dollars.
The story was gritty and told Hollywood style of the last days of this young criminal. Who rose to become the FBI's Number One Wanted Fugitive after John Dillinger was killed by Melvin Pervis. As a result of his scorned girlfriend the fabled "Lady in Red".
Below is a great publicity shot of Rooney as Nelson and Leo Glenn as John Dillinger. The two actors are standing in front of a newspaper headline the morning after the real Dillinger was killed. Dillinger and the "Lady in Red" had been watching the 1934 movie "Manhattan Melodrama" starring Clark Gable, Myrna Loy and William Powell. As they exited the the theater the FBI moved in.
The script of course makes some changes to the real story. For example Carolyn Jones plays Nelson's wife "Sue". Nelson married 16 year old Helen Wawzynak, Helen would be arrested at Little Bohemia Lodge in 1934. After her release she rejoined her husband's gang until his death.
Here is picture of Helen Nelson at the point of the motion picture story.
This is a picture of Carolyn Jones as "Sue" Nelson. Unlike the close look of Mickey Rooney to Lester Gillis. There is no closeness between the real Helen and the fictional "Sue".
The movie does portrays "Baby Face" Nelson as a cold blooded killer. In one scene for no reason Nelson kills the owners of the car he is stealing. In another scene he takes aim at a bunch of innocent children.
The ending of Irving Shulman's screenplay has the mortally wounded Nelson enter a grave yard and pleads with Sue to put him out of his misery. She eventually complies.
In real life Nelson had been shot nine times and was driven to a safe house were he died in bed with Helen by his side. She would serve a year in jail and would live to be 87 years old pasings away on July 3, 1987 at Fox Lake, in Lake County, Illinois.
The motion picture had an interesting supporting cast for movie buffs. Playing a not so legal fictional doctor named Saunders was Sir Cedric Hardwicke. Jack Elam played the fictional Fatso Nagel, John Hoyt was Samuel Parker, Anthony Caruso played real Canadian gangster John Hamilton, Ted de Corsia played Rocca and Elisha Cook, Jr. played real life criminal Homer Van Meter.
It is interesting that after this motion picture brought him back to the public's notice. Mickey Rooney attempted to revive his 1937 through 1946 successful 15 movie "Andy Hardy" series with 1958's "Andy Hardy Comes Homes". The movie which was to set up a new series failed at the box office and Rooney returned to two very tough gangster movies "The Last Mile" and "The Big Operator".
This Mickey Rooney picture is available on YouTube as of this writing.
Quick to realize the audience potential American International Pictures made two more gangster biographies Hollywood style for 1958 release. These were the only two gangster pictures apparently released that year, but they added to a slowly building interest on the part of movie goers for something different. That would come to fruition with a 1959 television program and an explosion on the big screen in 1960 and 1961.
Before Arthur Penn directed Warren Beatty and the unknown Faye Dunaway in the extremely violent for 1967 "Bonnie and Clyde". There was the young actress Dorothy Provine in "The Bonnie Parker Story" April 28, 1958.
This was Dorothy Provine's first starring role and she would go on to become a major television actress during the 1960's with two Warner Brothers series "The Alaskans" and "The Roaring 20's". She also co-starred in comedian Lou Costello's last motion picture as the title character of 1959's "The 30 Foot Bride of Candy Rock". A parody of the popular "The Amazing Colossal Man" and "The Attack of the 50 Foot Women" at the time,
Dorothy Provine as Bonnie Parker.
The real Bonnie Parker.
To begin with the screenplay changes Clyde Barrow into actor Jack Hogan's Guy Darrow for no apparent reason. Hogan as Darrow is on the left in this picture.
The real Clyde Barrow.
A first comparison between the 1967 film and this one are the running times. The Arthur Penn directed film runs 111 minutes while this picture directed by William Witney runs twenty-two minutes shorter at 79.
Director Penn made such films as Paul Newman's version of Billy the Kid "The Left Handed Gun", Arlo Guthrie's "Alice's Restaurant", Dustin Hoffman's "Little Big Man" and the Marlon Brando/Jack Nicholson's "The Missouri Breaks".
On the other hand besides "The Bonnie Parker Story" director William Witney was known for directing Republic and Monogram Chapter Serials such as: "The Lone Ranger" and "The Lone Ranger Rides Again", "The Mysterious Doctor Satan", "Adventures of Captain Marvel" and "Spy Smasher". In a Los Angeles Times article for September 15, 2000 Quentin Taratino was quoted as calling Witney a "lost master" and said of "The Bonnie Parker Story":
I was blown away. It was like, whoa, who made this? I have to see everything he ever did
While in 1967 critic Pauline Kael expressed the following opinion on the motion picture, see in her 2011 book "Selected Writings of Pauline Kael", in her article about the Arthur Penn film calling Witney's film:
a cheap - in every sense - 1958 exploitation film
To this writer the fact that Kael felt the need to even mention "The Bonnie Parker Story" must say something to the opposite of the words she used. Sure this was an "cheap exploitation film". Did AIP ever make expensive exploitation films?
Returning to the name changes in Stanley Shpetner's screenplay. The viewer finds Clyde's brother Buck Barrow becoming Chuck Darrow. Notice the rhyming in the names? Clyde Barrow becomes Guy Darrow and Buck Barrow becomes Chuck Darrow? I could not find any reason for any of this. Just as real life Former Texas Ranger Frank Hamer becomes Tom Steel without the rhyming.
Shpetner's screenplay has Bonnie Parker married to Duke Jefferson, At one point Bonnie convinces Guy and Chuck to break him out of prison. They succeed but Chuck Darrow is shot. Duke Jefferson now takes over as the real brains of the trio.
At the film's climax they attempt to rob an armored car when things go wrong. As the guards lock themselves in the bullet proof vehicle and Guy accidentally kills Duke. Bonnie and Guy flee to Louisiana, but Texas Ranger Steel finds them and the two go out in a blaze of bullets.
In real life just before her 16th birthday Bonnie Parker met Roy Thornton. The two would run off and get married, but Roy kept having problems with the law and ended up in prison. The two never saw each other after 1929. When Bonnie and Clyde were killed/ Roy Thornton was still in prison and of note on Bonnie's hand was the wedding ring Thornton have given her. For the following five year period she had never taken it off.
On May 23, 1934 Bonnie and Clyde were ambushed while driving in a car by Former Texas Ranger Frank Hamer and five others. Controversy has remained as almost all of their1958 accounts differ too much from each other and the question if the two were given fair warning was never answered. It appeared that one of the six men fired before Hamer gave any order to do so and with that shot killed Clyde Barrow immediately. Yet, by count 130 rounds were fired into the car and it was confirmed that neither Clyde Borrow, or Bonnie Parker could have been able to fire back.
According to the May 24, 1934 Dallas dispatch two of the six men Ted Hinton and Bob Alcorn stated:
Each of us six officers had a shotgun and an automatic rifle and pistols. We opened fire with the automatic rifles. They were emptied before the car got even with us. Then we used shotguns ... There was smoke coming from the car, and it looked like it was on fire. After shooting the shotguns, we emptied the pistols at the car, which had passed us and ran into a ditch about 50

yards

on down the road. It almost turned over. We kept shooting at the car even after it stopped. We weren't taking any chances.
Real life vs the motion pictures. As of this writing you can find "The Bonnie Parker Story" on YouTube.
Produced and Directed by Roger Corman was "Machine Gun Kelly" also released by American International Pictures a month after "The Bonnie Parker Story" in May of 1958. In 1967 after the huge success of Arthur Penn's motion picture "Bonnie and Clyde". American International Pictures re-released "The Bonnie Parker Story" and "Machine Gun Kelly" on a double bill.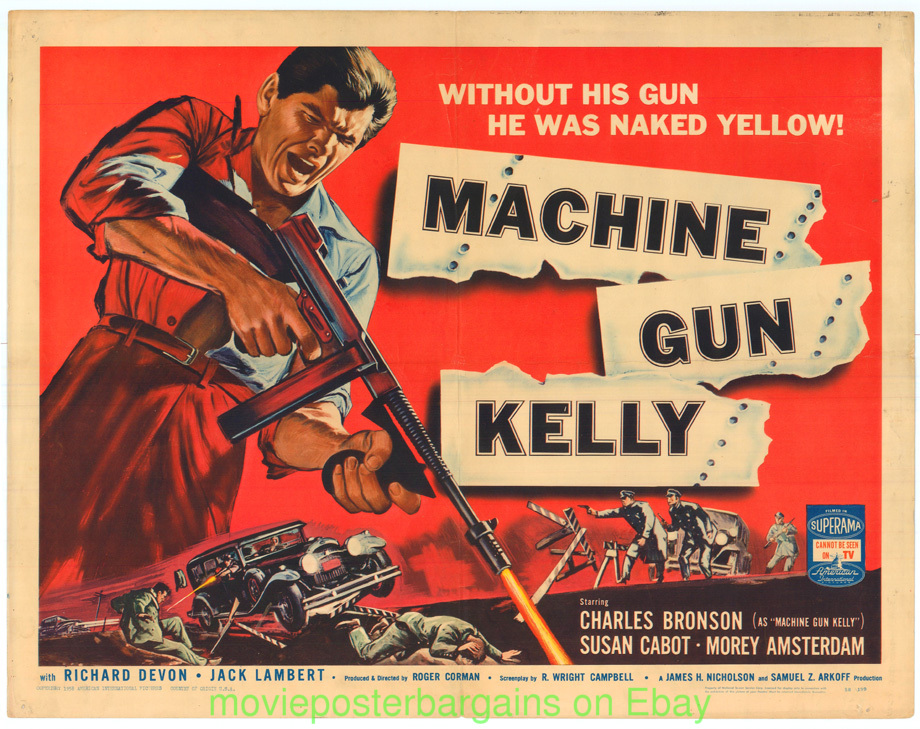 Playing the title character George "Machine Gun" Kelly was Charles Bronson. Prior to 1955 Charles Bronson was still using his birth name Charles Dennis Buchinsky, but with the madness of "The House Committee on Un-American Activities". His agent suggested Charles change it from a European sounding last name to a pure American one to protect his acting career.
In 1955 there was a now forgotten weekly television show "The Joe Palooka Story". In the first season's second episode Bronson was billed as Charles Buchinsky, but with his next acting role, also in that series, he had taken his agents sound advise Episode ten of the first season of "The Joe Palooka Story" shows no Charles Buchinsky on the screen credits, but Charles Bronson.
Charles Bronson as George Kelly.
The real George "Machine Gun" Kelly.
If "The Bonnie Parker Story" was off track with reality. This movie with a screenplay by Robert Wright Campbell made it look like historical fact, but did 1958 audiences care of course not.
So what was the film's story?
George Kelly meets a fictions young women named Florence "Flo" Becker played by Susan Cabot.
"Flo" is the daughter of "Ma" Becker. Think of "Ma" Barker who had no daughters. Together they form a gang of bank robbers and "Flo", because of George's choice of weapon the Thompson submachine gun nicknames him "Machine Gun". The two botch a kidnapping after he has becomes Public Enemy #1 and are captured. As the FBI enters his room Bronson's Kelly shouts the legendary "Don't Shoot G-Men! Don't Shoot G-Men". The only truthful part of the script and Kelly is captured and gave the FBI the nickname of "G-Men", or "Government Men".
A little reality check. Kelly's girlfriend who also become his wife was Kathryn Thorne, Below left is a picture of her. She had a streak for publicity and it was Kathryn who spread George Kelly's nickname around building him up as something he wasn't. In fact until she purchased the Thompson submarine gun for him. George had never had one. Kathryn Kelly's mother Ora Shannon ran a large and very successful bootlegging operation and was arrested shortly after her daughter. She was no "Ma" Barker, but just a very good Tennessee bootlegger that her daughter joined up with at age 17 and George Kelly later.
Picture of husband and wife.
The capture of Public Enemy #1 George "Machine Gun" Kelly and his wife was overshadowed as on the same day ten prisoners escaped from the Michigan City, Indiana penitentiary. Those ten would soon be known as the John Dillinger Gang.
As to his famous quote: "Don't Shoot G-Men! Don't Shoot G-Men!" it should be noted that George Kelly did not have one weapon on him, or near him to shoot back at the FBI. He was actually demonstrating his real personality of a scared coward who knew he was over his head in anything other than Bootlegging. As with his nickname "Machine Gun" it was once more Kathryn Kelly that got him into Bank Robbery and created the publicity for their small crimes.
The Charles Bronson picture is also on YouTube as of this writing.
1959 started off with Rod Steiger playing "Al Capone".
Rod Steiger as Al Capone
The Real Al Capone
Over the years there had been many pictures based upon Al Capone such as the two I first mentioned in this article "Little Caesar" and "Scarface". "New York Times" film critic Bosley Crowther thought the subject, even if his real name hadn't been mentioned, was over worked. However, he also wrote on March 26, 1959 that this motion picture had:
a strong documentary flavor and Rod Steiger is an odious skunk in the title role
The producers wanted Rod Steiger for the role, but Steiger thought the original script romanticized Al Capone and told them to rewrite it. The movie was made from the third script by Malvin Wald and Henry F. Greenberg. Which "Variety" called:
a tough, ruthless and generally unsentimental account
Allied Artists who had made "Baby Face Nelson" seemed to correct American International Pictures mistakes with "The Bonnie Parker Story" and "Machine Gun Kelly". In fact the script had the major names right and was given a decent running time of 104 minutes to tell the story..
Nehemiah Persoff played Chicago Gang Boss Johnny Torrio, Joe De Santis portrayed "Big Jim" Colosimo and Murvyn Vye was "Bugs" Moran. All three major mob bosses Capone dealt with at one time, or another.
One of the few names that were made up included actress Fay Spain as Maureen Flannery.
The actual wife of Al Capone was Mae Josephine Coughlin, They married on December 30, 1918 and would have a son Albert Francis "Sonny" Capone, Albert was born with syphilis passed on by his father Mae Capone died on April 16. 1986. .
Below is a photo of Mae Capone.
The film does play with history by creating a fictional Chicago police officer named Schaffer portrayed by actor James Gregory. Just as Sean Connery played the fictitious Chicago Police Officer Jimmy Malone in Brian De Palma's 1987 "The Untouchables".
Both characters were inspired by the real life FBI Agent Martin J. "Marty" LaHart. I could not locate a photo of LaHart by himself. The photo below identifies him as one of the original "Untouchables", but other than saying Elliot Ness is standing in back on the right. The names and history of all the other members in the photograph are given without identifying with face belongs to whom.
The motion picture shows the infamous 1929 "St. Valentine's Day Massacre" of some of "Bugs" Moran's men. The screenplay has Al Capone from his estate in Florida planning and ordering the attack on his Chicago Rival. The idea of Capone being in Florida came from Capone himself. He claimed to be vacationing there at the time of the massacre and therefore could not have been involved with the event. There has been no real evidence connecting Al Capone to the "St. Valentine's Day Massacre", but both Moran who wasn't there and the FBI believe this was Capone at his "best".
In the motion picture Moran and Capone call a truce and Maureen Flannery is finally fed up and leaves him. While Shaffer and the FBI find a way to arrest Capone for income tax invasion which leads to an 11 year sentence in a Federal Penitentiary. .
After the massacre in real life a series of trials on different charges were attempted on Al Capone and most failed. However, after Justice Oliver Wendell Holmes, Jr. rejected the notation that the Fifth Amendment protected a criminal from reporting illegal income. A new direction against Capone was begun. It would take until November 1931 to finally get a conviction of "Income Tax Evasion".
That conviction sent Al Capone to the Atlanta Federal Penitentiary. With the opening of Alcatraz in San Francisco Al Capone was transferred there were he was diagnosed of suffering from severe neurosyphilis.
After his release Capone received treatment for his worsening condition at John Hopkins in Baltimore, Maryland, but as the condition worsen. Al Capone eventually returned to house in Palm Island, Florida were his life ended from a heart attack on January 25, 1947.
The complete movie is not available at this time on YouTube, but different sequences are to be found.
Two events a motion picture and a television show occurred in October 1959. The first was the motion picture "The FBI Story" starring James Stewart and Vera Miles. The second was the premier of the television series "The Untouchables" starring Robert Stack as Elliot Ness.
Allegedly based upon Dan Whitehead's book "The FBI Story". The motion picture from Warner Brothers became a major hit telling the "true" story of the creation and work of the "Federal Bureau of Investigation". My readers must understand that American's in 1959 believed strongly in the work of the FBI and when a movie came out based upon a best selling non-fiction work we flocked to the theater.
Even Dell Comics released a version of the movie for young fans.
Quoting the above poster:
In First Complete Authentic Drama Of World's Greatest Crimefighter!
Probably the first clue that something was not quiet right with the movie was the grammar used.
Before the film is over James Stewart's fictional John Michael "Chip" Hardesty has either been directly involved with, or indirectly with every event from day one of the FBI through 1959. Which of course fit Stewart's image and American's bought this history as reality.
The problem here was one person making a quest appearance in the film.
Although director Mervyn Leroy, "Little Caesar", "Thirty Second Over Tokyo", "Quo Vadis" and "The Bad Seed" among others, was a friend of J. Edgar Hoover. What American's were unaware of, at the time, was Hoover being up to his old tricks. Apparently according to two different writers Curt Gentry "J. Edgar Hoover the Man and the Secrets" and Thomas Patrick Doherty "Cold War, Cool Medium, Television, McCarthyism and American Culture", J. Edgar Hoover had his agents dig up "the dirt" on Mervyn Leroy for leverage. He then controlled every frame and word used on "The FBI Story", if he didn't approve it. It wasn't in the movie. Hoover went so far as to have two FBI agents on the set at all time as "Advisers".
So in reality there was no difference in this motion picture to those I have already mentioned.
The premier episodes of "The Untouchables" was April 20th and 27, 1959 on "Westinghouse Playhouse". These would be the only episodes actually based upon Elliot Ness's book. Actor Neville Brand played Al Capone. It was the ratings for this television story that are credited with Allied Artists Studios decision to make the Rod Steiger motion picture, That original two part story would be edited into the movie "The Scarface Mob".
Desi Arnaz could not sell his show idea to CBS, The network his wife Lucille Ball and Desi were associated with. ABC purchased the series and the first actual episode of "The Untouchables" television series premiered on October 15, 1959. The program would run through May 21, 1963.
What's interesting is the controversy the program created. Here are just five examples.
Frank Sinatra and other Italian American's protested that all the Italian's depicted in "The Untouchables" were gangsters. Interesting with Sinatra's connections. The settlement was to add an Italian American to the cast as one of Ness's men.
J, Edgar Hoover objected to the show for using FBI cases as "The Untouchables" worked for "The Treasury Department". The second show of the series had Ness and his men capture Ma Barker which Treasury had no involvement with. So a disclaimer was added to future showings stating that the FBI was the primary agency in the case and future scripts were carefully watched.
The family of Al Capone sued over the depiction of them in the series.
On the other hand one of the programs strongest supporters was Ayn Rand. In her article "The New Enemies of the Untouchables", She wrote that the persistent and superficial attacks on the show was a result of the program's appeal and moral purpose.
Conversely "The Untouchables" was considered the most violent show ever on television and "The National Association for Better Radio and Television" stated it was:
not fit for the television screen
Whatever side of the argument you were on. 1960 would five more Gangster Biographical Pictures on the big screen. Followed in 1961 by three more.
So the Italian's and Capone's family was upset over "The Untouchables", Sergio Leone got their revenge though with his 1984 "Once Upon A Time In America" about a group of Jewish Gangsters in New York, but everyone seemed to overlooked the 1920's/1930's Jewish led Detroit, Michigan, Purple Gang.
On January 3, 1960 the movie version of "The Purple Gang" was released. The problem with the film is there is no mention that the "Purple", as they were known, was a Jewish Gang, or are any of the names in the film even Jewish sounding. The plot hadn't one bit of truth in the motion picture except that the setting was Detroit.
I really couldn't find much about the movie except for a great review on IMBd by Les Adams <longhorn1939@suddenlink,net>
A teen-age rat pack of the Detroit slums, the Purple Gang, headed by psychotic William Joseph "Honeyboy" Willard, teams with adult hijackers during prohibition and in three years controls the city's underworld. Detective Bill Harley is given a special assignment to break the gang. To intimidate Harley, Honeyboy and his chief henchman, Hank Smith, terrorize his pregnant wife, Gladys, who loses her baby and dies. The gang moves in on the cleaning and dyeing industry, which calls in the Mafia for protection. Hank tries to tip off Harley as to where the Mafia hoods are holed up but Honeyboy, mistaking his intentions, has Killer Burke seal him alive in a coffin and drop him in the Detroit river. Honeyboy locates the Mafia headquarters in an apartment building and goes there with two of his men. They break in and machine-gun the three Mafia leaders, Licovetti, Ricco and Castiglione.
Playing the leader "Honeyboy" was Robert Blake. Playing Detective Bill Harley was Barry Sullivan.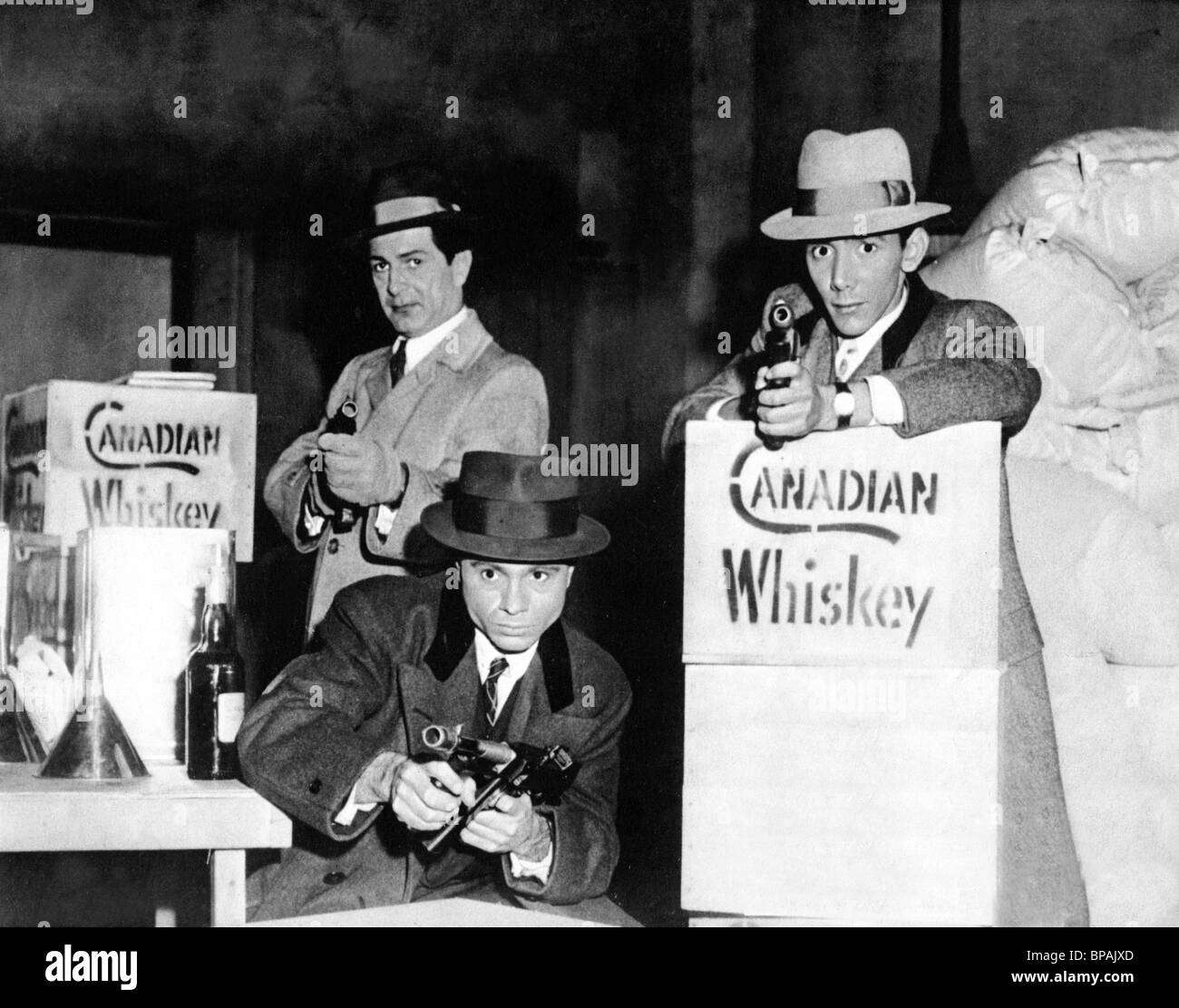 Here's a quick look at the real "Purple Gang" from the website "Legends in America":
Led by Abe Bernstein, the Purple Gang was a mob of bootleggers and hijackers who operated out of Detroit, Michigan in the 1920s. This group of mostly young Jewish immigrants got its start in the Hasting Street neighborhood known as Paradise Valley in Detroit's Lower East Side. Many of the core members went to school together and as boys, became thieves and pickpockets in an area called the Eastern Market close to their school. As they got older, their crimes got bigger and they soon began to commit armed robbery, loan sharking, and extortion under the mentorship of older neighborhood gangsters.
By the 1920's Detroit had become a major port for running and distributing alcohol products from Canada during Prohibition.
They operated between Detroit and Chicago, and would meet behind the Bohm Theatre or in secret places in houses of Albion, a small town halfway between the two points. The gang supposedly received their name during a conversation between two Detroit market owners, each of them gang victims. One owner made the comment: "They're rotten, purple like the color of bad meat."
Perhaps the most ruthless bootleggers of their time, they may have killed over 500 members of rival bootlegging gangs during Detroit's bootleg wars.

Bootlegging netted the Purple Gang millions of dollars, but the mob was also involved in extortion, hijacking, and jewelry thefts. After the repeal of Prohibition in the 1930's, the Purple Gang members joined the growing national crime syndicate that was replacing the old school mafia leadership, fondly known as the Mustache Petes.

The Purple Gang also attempted to run gambling rings in Detroit, especially among the African American population. Run by Julius Horowitz, the son of the sugar supplier to the breweries, and a one-legged black gangster wanted in the South for murder, the operation was successful until the gamblers learned that the Purple Gang had been using loaded dice and other tricks to keep it profitable. A small riot followed from which Horowitz escaped but the black gangster was believed killed.
The Purple Gang was exceptionally violent, constantly at war with other gangs and with each other. Newspapers would often carry stories of gang murders on both sides of their conflicts, which were constant during the gang's existence. Too many openly violent crimes caused a string of convictions of Purple Gang members, while the intra-gang violence between different gang members damaged the gang's organization and its abilities to control its turf.

The Purples ruled the Detroit underworld for approximately five years from 1927 to 1932 and had almost complete immunity from police interference as witnesses to crimes were terrified of testifying against any criminal identified as a Purple Gangster.
However, jealousies, egos, and intra-gang quarrels would eventually cause the Purple Gang to self-destruct. In 1931 an intra-gang dispute ended in the murder of three Purples by members of their own gang. The three men had violated underworld code by operating outside the territory allotted to them by the Purple Gang leadership. Three members of the "Little Jewish Navy," a group of Purples who owned several boats and participated in rum-running as well as hijacking, decided they would break away from the gang and become an underworld power themselves. This was the beginning of the end for the Purple Gang.
The three men, Hymie Paul, Isadore Sutker, aka Joe Sutker, and Joe Lebowitz, were invited to a peace conference with Purple Gang leaders on September 16, 1931. However, after a brief discussion the three unarmed men were shot to death.
A bookie named Sol Levine, who had transported the three men to the fatal meeting, was arrested soon afterwards and was quickly frightened into becoming a State's witness.
Also in January another biographical picture came out "Pretty Boy Floyd" starring John Erickson.
Below is a picture of actor John Ericson as Charles Arthur Floyd aka: Pretty Boy
This is the picture of the real Charles Arthur Floyd and it's obvious were the nickname came from.
Another tagline for the movie read:
THE KISS OF DEATH - WHERE THE UNDERWORLD BECOME THE JUDGES AND A HOODLUM WINDS UP DEAD!
jimmythemoviefreak@gmail,com described the movie, the only plot I could locate, on IMBd this way:
Trying to shake his troubled past and start a new honest life, Floyd loses his job because of that past. With nowhere to go but back home in Oklahoma he gets news that his father's been murdered and the local sheriff lets the killer off with a self-defense plea. Bent on revenge, Floyd does what he must which leads him down a dark road littered with robbing banks and loose women. Floyd's final days are anything BUT pretty!
The movie is known more for a very short appearance by a young actor named Peter Falk.
Charles Arthur Floyd was a killer no doubt about that and a bank robber, but unlike any of the "Gangsters" I am writing about he was also "Robin Hood" to those who lived in Oklahoma during "The Great Depression" and was even immortalized in song by the great Country composer/singer Woody Guthrie.
"The Ballad of Pretty Boy Floyd" first sung in March 1939:
If you'll gather 'round me, children,
A story I will tell
'Bout Pretty Boy Floyd, an outlaw,
Oklahoma knew him well.

It was in the town of Shawnee,
A Saturday afternoon,
His wife beside him in his wagon
As into town they rode.
There a deputy sheriff approached him
In a manner rather rude,
Vulgar words of anger,
An' his wife she overheard.
Pretty Boy grabbed a log chain,
And the deputy grabbed his gun;
In the fight that followed
He laid that deputy down.
Then he took to the trees and timber
Along the river shore,
Hiding on the river bottom
And he never come back no more.
Yes, he took to the trees and timber
To live a life of shame;
Every crime in Oklahoma
Was added to his name.
But a many a starvin' farmer
The same old story told
How the outlaw paid their mortgage
And saved their little homes.
Others tell you 'bout a stranger
That come to beg a meal,
Underneath his napkin
Left a thousand-dollar bill.
It was in Oklahoma City,
It was on a Christmas Day,
There was a whole car load of groceries
Come with a note to say:
"Well, you say that I'm an outlaw,
You say that I'm a thief.
Here's a Christmas dinner
For the families on relief."
Yes, as through this world I've wandered
I've seen lots of funny men;
Some will rob you with a six-gun,
And some with a fountain pen.
And as through your life you travel,
Yes, as through your life you roam,
You won't never see an outlaw
Drive a family from their home.


The following is from an article by the Carnegie Public Library from Liverpool, Ohio. A link to the complete article follows:
Here you will find some of the myths and legends that abound about this 1930's gangster from Oklahoma who became "public enemy # 1" and met his demise here in the East Liverpool, Ohio area.
Charles Arthur "Pretty Boy" Floyd was born out of the trials of being a poor farmer in the times of the Great Depression. He was raised in a small farming community of Akins, Oklahoma, close to the Cookson Hills which later would become his refuge from the arm of the law.
The people throughout the area were losing their farms to the banks. The banks wanted the land for the expansion of farming and its profits. Small farms were unprofitable. The people had done everything that they could to keep their homes even holding off the bank's tractors with shot guns, daring then to take what was rightfully theirs.
Into this story comes Charles Floyd, poor, out of work, with a young family. He would take odd jobs but that did not help. Many of the younger generation would not go hungry. They became armed bandits. Floyd was one of such people. He would rob the banks that were robbing them and whilst he was in the banks taking their money he would destroy or steal the mortgages to the local farms. With no record of a mortgage how could the banks take the land? He would also use his ill gotten money by buying food and distributing it to the members of the community. In return they protected him, became his communication system, fed him and welcomed him to their homes when he "dropped by".
Of all the bandits who hung-out in the Cookson Hills, some of whom were Ford Bradshaw, Troy Love, Aussie Elliott and Ed Newt Clanton, Charles "Pretty-Boy" Floyd's name is the best known. He was never called "Pretty-Boy" by any who knew him well, most called him "Chock". In 1931 and 1932 he robbed so many banks in Oklahoma that the bank insurance rates doubled. He even robbed two banks in one day at Paden and Castle, Oklahoma on December 12, 1931. He used a submachine gun and a bullet proof vest. Most of the time he worked alone but occasionally had one companion or fellow thief. He rarely concealed his identity and often introduced himself to his victims. Often it was said that when he left the scene of a robbery he would make the bank officials ride on the running boards of his car so that he was protected.
During his crimes however he did manage to get 10 notches on his lucky piece which always carried with him. He was so well thought of by the community that he could walk around in public unmolested and even went to church in Earlsboro.
The newspapers called him the "Robin Hood of the Cookson Hills". He was pleased with this nickname and once stated that, " I have robbed no-one but moneyed men"
"Pretty-Boy"
Charles Floyd always hated the nickname "Pretty-Boy".
Link to complete article:
On February 3, 1960 an Independent Movie Company "United States Pictures" released a movie distributed by Warner Brothers "The Rise and Fall of Legs Diamond". This is the unusual film of this group for several reasons. One is that the films was nominated for an Oscar for Best Costume Design and another it was nominated to the "American Film Institutes" Ten Top Gangster Films of All Time. The film is also noted for the first screen appearance of Actress Dyan Cannon who was billed as Diane Cannon. In December 26, 1988 a musical version of the movie appeared on Broadway and after 64 performances closed.
Actor Ray Danton as Jack "Legs" Diamond
The real Jack "Legs" Diamond
The film's plot tells of Jack and his sickly brother Eddie, played by Warren Oats, coming to New York. It goes on to tell how Jack Diamond worked at a dance studio run by Alice Scott leading to both his first theft at a jewelry store and jail time. After release he returns to Alice who becomes his wife. Actor Ray Danton was a professional dancer and he will return in another movie later in this article requiring that skill,
Karen Steele as Alice Scott
The real Alice Kenny---Mrs. Legs Diamond
The plot moves forward to when Diamond became a bodyguard for Jewish Gangster Arnold Rothstein, It is Rothstein who gives him the nickname "Legs", because of his dancing ability. After the death of Rothstein Diamond starts to sell protection and as a bootlegger takes over Rothstein's old territory. At the height of this racket he travels to Europe on vacation with Alice. In Europe "Legs" Diamond reads how most criminal activity in the States has now been consolidated into "The Syndicate" and decides to return to demand his cut. The film ends with hit men entering "Legs" Diamond's hotel room and killing him. As his corpse is being removed from the room Alice has the closing lines stating that Diamond was loved by many, but he loved nobody.
In the cast of "The Rise and Fall of Legs Diamond" is Frank de Kova as "The Chairman". Several real names were used in this film, but the producers decided not to use Mob Boss "Lucky" Luciano's name as he was still alive. The motive for that decision I leave up to my readers.
So what was the real Jack "Legs" Diamond like?
His name actually was John Thomas Diamond and he was an Irish Gangster sometimes known as "Gentleman Jack", There was a jewelry story robbery not related to a dance hall and he would marry Alice Kenny not Scott. Who never approved of his life and new about all his mistresses, but loved the man and apparently kept quiet. At the time of that jewelry store robbery Diamond was part of a New York Street Gang named the "Hudson Dusters". Along with his brother Eddie. The "Dusters" became the basis for the street gang in the 1935 Broadway show "Dead End" and the 1937 movie that followed. Which created the motion picture group "The Dead End Kids" in several films. Who became "The Eastside Kids" in 1939 for another studio and finally in 1945 to a third as "The Bowery Boys" that lasted into 1955,
Pictures below are "The Dead End Kids" from the 1937 motion picture, First from left is Leo Gorcey and third from left Bobby Jordan who was one of my father's friends until his death. Huntz Hall is last from right. Gorcey and Hall reminded with the group through all twenty years.
Jack Diamond actually served in the United States Army during World War One until he deserted sometime in either 1918, or 1919. He was caught and jailed for desertion, but once freed he would become the personal bodyguard for Arnold Rothstein the most powerful gangster in New York state. I will be mentioning a biography of Rothstein later. It was during this time that Diamond was given his nickname. It is not clear if the reason for it was either his dancing, or how fast he could run from his enemies.
Diamond became a prominent bootlegger after Rothstein's death and his main competition came from Mobster "Dutch" Schultz. Whose Hollywood biography will also be looked at shortly. Between 1916 and 1931 "Legs" Diamond survived several attempts on his life, Schultz is suppose to have asked his gang:
Ain't there nobody that can shoot this guy so he don't bounce back?
About that "vacation to Europe" in the movie. In reality it was in August 1930 so that Jack Diamond could see about arranging shipments of German Beer illegally into the United States. It really didn't go as well as the motion picture showed. First the moment he left the ocean liner "Belgenland" in Belguim he was arrested by the Antwerp Police. He agreed to leave Belguim and was escorted to a train to Germany. When the train reached the town of Ax-la-Chapelle now known as Aachen he was arrested again by the German Secret Service. On September 6, 1930 he was deported back to America on the freighter "Hanover", The moment the "Hanover" docked in Philadelphia on September 23rd "Legs" was met by members of that cities Police Department. At the court hearing the Judge said he would release Diamond if he agreed to leave the city immediately. He agreed. So ended his "European vacation" which Alice never took part.
Above Alice and Jack Diamond at the Polyclinic Hospital in Manhattan after a failed assassination attempt. Proving "Dutch" Schultz's statement as factual. "Legs" had been shot five times at close range and managed to walk out of his room at the Hotel Monticello, before collapsing in the hallway some feet away from the room's door. According to the official police report when asked how he managed to get out of the room? Diamond responded he took two shots of whiskey first.
As for his death. On December 18, 1931 Diamond went to visit his mistress Marion "Kiki" Roberts at 1 AM after having a diner with his family and friends at a restaurant.
He returned to his rooming house and passed out from drinking heavily at 4:30 AM. Two men entered and shot him three times in the head at point blank range. To this date no one knows for sure who was behind it. Of course one of the main suspects is "Dutch" Schultz, but many believe it was Democratic Party Chairman Dan O'Connell who ran the local political machine and ordered Diamond's execution to keep complete control of the territory to himself.
On July 1, 1933 Alice Diamond was also murdered probably because she knew too much.
As with the others this movie is currently on YouTube.
So how about the story of a nice mother and her boys?
According to "Ma Barker's Killer Brood" she was responsible for creating John Dillinger, ":Baby Face" Nelson, " and was at war with "Machine Gun" Kelly. The only truth in all this had to do with Dillinger and not in the way shown in this motion picture and did not involve "Ma", but one of her son's by accident.
Lurene Tuttle as Ma Barker
The real Ma Barker
Kate Barker starts teaching her four sons to steal from the church collection plate to the horror of her husband. Her husband finally leaves the family. Afterwards Ma convinces son Herman to rob a local fair and the Sheriff runs Ma and her boys out of his town. Cut to several years later.
"Ma' Barker and her sons are now major criminals known to "the underworld" for her well planned robberies, murders and other activities. We see her hosting a party for "Machine Gun'Kelly and his girlfriend "Lou". However, Kelly's girlfriend convinces him he can work alone and the two break away from Ma's influence and become her enemies.
Shortly later Alvin Karpis becomes part of Ma's brood. Karpis is being used by Ma to kill off potential threats to her and the gang. Her current husband drunk Arthur Dunlop is killed after he reveals to the wrong person all the details of the Barker gang. Next there is a failed bank robbery and to avoid capture Ma's son Herman, who she adores, kills himself.
This is all followed by a kidnapping of a banker Mr, Khortney, but "Machine Gun" Kelly and Lou discover Ma's hideout and attempt to take him from her by force, This fails as Ma reveals she has John Dillinger and "Baby Face" Nelson in her gang now. Kelly's girlfriend "Lou" knowing Ma's son "Doc" Barker is attracted to her seduces him in a plan to get even, but the FBI arrests "Doc" before the plan is completed. This leads to the discovery by the FBI of a letter telling the whereabouts of Ma and her son Fred.
The film ends with a gun battle after Fred wants to surrender and Ma does not. She guns down two FBI Agents and the two criminals die together.
The movie is also available on YouTube as of this writing. I already mentioned that Ma Barker never met John Dillinger, "Machine Gun" Kelly and "Baby Face" Nelson. So what were the real facts here?
Kate Barker was born Arizona Donnie Clark on October 8, 1873 in Ashgrove, Missouri and was known to her family as "Arrie", She would marry George Barker in Lawrence County Missouri in 1892. By 1910 her four sons, Herman, Lloyd, Fred and Arthur were having trouble with the law and are in and out of jail.
On January 16, 1922 Lloyd Barker is sentenced to 25 years in Leavenworth Prison for mail robbery and will never see his mother again. Lloyd would remain in Leavenworth until October 29, 1938. Two years after his release Lloyd Barker had become a United States Army Cook and would serve during the Second World War. Lloyd Barker one time criminal received a "Good Conduct Medal" and "Honorable Discharge". Leading a clean life as the manager of Denago Market in Denver, Colorado his wife murdered him on March 18, 1949. She was committed to the "Colorado State Insane Asylum".
On February 10, 1922 Arthur "Doc" Barker is sent to Oklahoma State Prison for the murder of Night Watchman Thomas A. Sherrill in Tulsa.
March 12, 1927 Fred Barker is admitted to Kansas State Prison for bank robbery.
On August 29, 1927 Herman Barker is killed after he commits suicide in Wichita, Kansas at a Police Road Block. He had murdered Sheriff Deputy Arthur Osborn. This was a result of Herman cashing stolen bank bonds in Cheyenne, Wyoming.
Some time in 1928 George Barker finally left "Arrie" for good. There are many stories about why this happened , but most agree he didn't like the way of life his son's were leading.
By 1930 Kate Barker was living in common law with a man named Arthur W. Dunlop, or sometimes misspelled as Dunlap according to the Tulsa County, Oklahoma census. In short they were living in Depression Era poverty with no source of income. Re-enter Fred Barker released from Prison and his ex-prison friend Alvin Karpis. The two will form what becomes known as the Barker-Karpis Gang.
Fred's mother was still called "Arrie" by him, her common law husband and Alvin Karpis. "Arrie" and Arthur Dunlop accompanied Fred and Alvin on their bank jobs remaining in the cars and not involved in the actual robberies according to witnesses. At some point Fred's mother's first reward poster is issued reading that:
Old Lady Arrie Barker
was wanted as an "accomplice" with a $100 reward being offered. As a result of that poster "Arrie" Barker became "KATE" Barker and "Arrie" was no more. A point to mention here is the reason the future "Ma" Barker was called "Old Lady" on her wanted poster was her age in 1931 was already 58 and like many poor women at the time looked much older.
On April 26, 1932 the body of Arthur Dunlop was found at Lake Franstead, Minnesota having been killed by Fred Barker and Alvin Karpis, The movie had it partly right, Dunlop did get loose lipped when drunk, but it turned out that a local resident, not Dunlop, had identified the gang from photos he saw in "True Detective Magazine" and Arthur paid for it.
During the period of 1932 until her death Fred Barker kept placing his mother in Hotel rooms under assumed named. Specifically so that she wouldn't known what was going on.
After Fred's brother Arthur "Doc" Barker was released from prison on September 10, 1932 he rejoined the gang and their crime spree.
The above poster is interesting for the murder of Howell County, Missouri Sheriff C.R. Kelly. It is for Kate "Ma" Barker, Arthur "Doc" Barker, Fred Barked and Alvin "Creepy" Karpis. The "two suspects" in this killing where Fred and Alvin. There was no mention that Kate, or Arthur were present ever. A perfect example of adding to "Ma" Barker's killer legend.
So what was the real John Dillinger connection? It occurred in April 1934 and revolved around "Doc" Barker's associated Volney Everett "Curley" Davis who was also worked for Dillinger from time to time. Barker was with Davis at his home in Aurora, Illinois. Unexpected John Dillinger and Homer Van Meter showed up with the dying John "Red" Hamilton from "The Little Bohemia Lodge" shoot out. After he died the group buried him in an unmarked grave and Dillinger and Van Meter left. This was the one and only time a Barker ever had contact with John Dillinger.
So was Kate Barker the leader of the Barker-Karpis Gang? According to Alvin Karpis:
The most ridiculous story in the annals of crime is that Ma Barker was the mastermind behind the Karpis-Barker gang. . . . She wasn't a leader of criminals or even a criminal herself. There is not one police photograph of her or set of fingerprints taken while she was alive . . . she knew we were criminals but her participation in our careers was limited to one function: when we traveled together, we moved as a mother and her sons. What could look more innocent?
That quote is from "The Alvin Karpis Story" by Bill Trent published in 1971 eight years before Karpis died on August 26, 1979 in Torremolinos, Spain.




So what about that famous death scene shown in so many motion pictures that started with the 1940 motion picture "Queen of the Mob"? It should be noted that Kate Barker's name was changed to that of "Ma' Webster and the events also changed at the request of the FBI for this first depiction.

Below the picture of the "historic" house Gang Leader "Ma" Barker met her end.
Arthur was arrested on January 8, 1935 and had a letter with a map of the location of the current Oklawaha, Florida hide out at 13250 East Highway C-25. The FBI moved on it, but unknown to them they were three days late in getting there would discover that Alvin Karpis and the rest of the gang had left. Only Kate and Fred were at the house. The FBI surrounded it and ordered the two to surrender. Fred opened up on the FBI Agents and they responded, Inside they found Fred's bullet riddled body and Kate Barker's, but with only one bullet hole in it.
According to the FBI a Thompson submarine gun was in "Ma" Barker's hands. J.Edgar Hoover claimed Kate Barker was:
the most vicious, dangerous and resourceful criminal brain of the last decade
However, there were others who witnessed the shootout. These locals who are suppose to have even brought picnic baskets to watch claimed that there was a Thompson on the floor, but in between the two bodies and not in Kate Barker's hands as the FBI claimed.
The true story is for my reader to decide, but many investigations starting after the shoot out do not support Hoover and the FBI, but Karpis and those unexpected by-standers.
Then there was the excellent movie "Murder Incorporated".
Released June 28, 1960 in CinemaScope this black and white motion picture not only told the true story of these killers for hire, based upon the book by ex-District Attorney Burton Turkas and Investigative Sid Feder that to date has sold over one million copies including mine, but named names.
The motion picture contains a chilling performance by an unknown actor named Peter Falk as killer Abe Reles. He would be nominated for Best Supporting Actor by the Academy of Motion Pictures Arts and Sciences and his career went non-stop from there.
Looking at the 15 main characters in the film. Only four were fictional. The part of Joey Collins played by Stewart Whitman and his wife the dancer Eadie played by May Britt, They represent the typical people who innocently got mixed up with Abe Reles and his organization. Simon Oakland's Lt. Detective William Flaherty Tobin also represents the many
New York State Police Officer's that assisted Turkas, because of the short 103 minute time of the film. and the night club singer played by the Great Sarah Vaughn was an added great cameo.
The real Abe Reles
Mel Barr and Irve Tunick's screenplay only concentrates upon Falk's Abe Reles when he turned informant in 1941 with some dialogue mentioning a back story as Reles was the key to everything. Playing D.A. Burton B. Turkus is Henry Morgan probably better known for the television programs "Dragnet" and "M.A.S.H.".

The film consolidates the first meeting of Reles with Louis "Lepke" Buchalter and the creation of "Murder Incorporated" from Abe's gang. It shows the murder of Walter Sage two an actual events, This brings in Whitman's character as a friend of Sages and creates an involvement including a rape of May Britt wife by Falk's Abe Reles.

The film quickly implies many killings by Reles and his associates for "Lepke" and the "Syndicate". This all comes together when District Attorney Turkas is assigned to the case and leads to the capture of Abe Reles and his incarceration in a supposed "Safe House".

Reles turns out to be really be a scared and insecure person and he reveals the working of the "Murder Incorporate" organization and for the first time "The Syndicate". The films end with his murder freeing Whitman's and Britt's characters from him forever.
The book by Burt Turkus is described on Amazon.com and is still available:
Murder Inc. by former Brooklyn D.A. Burton B. Turkus and veteran A.P. war correspondent Sid Feder is the riveting true crime classic that rips the lid off the national crime Syndicate"s "killing machine" that took 1,000 lives nationwide during the 1930's and 40's. In a page-turning non-fiction account that reads like a crime thriller, Turkus and Feder take us behind the scenes with the untold story of how Sicilian gangsters Lucky Luciano, Albert Anastasia and Joe Adonis partnered with Jewish gangsters Meyer Lansky, Bugsy Siegel and Louis "Lepke" Buchalter to create a multi-million rackets enterprise that included, gambling, prostitution, union corruption and the lucrative murder-for-hire scheme that operated out of the back of a Brooklyn Candy Store. After he was able to turn, Murder Inc.'s chief killer, Abe "Kid Twist" Reles, Turkus eventually sent Lepke and six other mobsters to the electric chair.
The real Abe Reles' testimony was the most inclusive of what became the "Syndicate" until twenty years later Joseph Valachi talked.
One of those killings by Reles' organization was mobster "Dutch" Schultz who defied the "Syndicate". The Hollywood movie on Schultz will be the last I speak about in this article.
The real Abe Reles while in protective custody on November 12, 1941 fell from the window of his room at the Half Moon Hotel. There are two stories. One is he had tied sheets together and was lowering himself from his fifth floor window to the ground. The knot apparently came untied. Those are the facts, but it is speculated that the police officers guarding him were paid off and they untied the knot. Five Police Officers were demoted the following day. Reles' body position was such that there really is no doubt that he wasn't pushed out of the window and the bed sheet, etc. were props.
Abe Reles was dubbed by the newspapers as:
"The canary who could sing, but not fly".
When speaking of "Legs" Diamond the name of Arnold Rothstein came up. On June 11, 1961 the motion picture "The King of the Roaring 20's: the Arnold Rothstein Story" aka: "The Bank Role" was released by Allied Artists starring David Janssen.




David Jansen as Arnold Rothstein



The real Rothstein
The following is a review of the motion picture at the time of its release from the New York Times:
David Janssen

is hardly perfect casting for the role of 1920s gambling king Arnold Rothstein (

Rod Steiger

or

Gene Barry

may have been better choices), but the sure-handed direction of

Joseph Newman

smooths over all the rough spots in this fanciful biopic. Set up in the gambling business by crooked politico

Jack Carson

, Rothstein cheats his partner

Mickey Shaughnessy

, cheats on his lovely wife

Dianne Foster

, and does his best to discredit his bitterest enemy, on-the-take police detective

Dan O'Herlihy

. When O'Herlihy engineers the death of Rothstein's pal

Mickey Rooney

, Rothstein pulls strings in the New York judicial system, assuring the conviction and execution of the rogue cop. As quickly as he rises to the top of the dung-heap, Rothstein falls with equal rapidity, and ends up riddled with mob bullets. Curiously,

King of the Roaring Twenties

bypasses Rothstein's involvement in the "Black Sox" baseball scandal of 1919, perhaps because too many participants in that debacle were still alive in 1960 (this incident would later be covered

in toto

in the 1988 film

Eight Men Out

, which co-starred Michael Lerner as Rothstein). While

King of the Roaring Twenties

ignores the facts, for the most part the film is to be treasured if for no other reason than the fact that director

Newman

managed to draw uncharacteristically subtle performances from

Mickey Rooney

and

Jack Carson

. ~ Hal Erickson, Rovi
Reality in this movie did not exist. Once again the question who was the real Arnold Rothstein the gambler/mobster who is credited with fixing the 1918 World Series?
Once again real names are absent in the motion picture. There was no Johnny Burke as played by Mickey Rooney, but there were Charles "Lucky" Luciano, Meyer Lasky and minor, but recognized names like rum runner "Waxey" Gordon and bootlegger Enoch "Nucky" Johnson.
Rothstein besides being credited with fixing "The World Series". "The Brain" as he was known had two major accomplishments in crime to his credit. According to Leo Katcher the writer of the actual biography of Arnold Rothstein used for the title of the film, The real Rothstein:
transformed organized crime from a thuggish activity by hoodlums into a big business, run like a corporation, with himself at the top.
Writer Rich Cohen in his work "Tough Jews: Father, Sons and Gangsters":
understood the truths of early century capitalism (giving people what they want) and came to dominate them.
Cohen's quote refers to the fact that Arnold Rothstein first realized the business potential that was called "Prohibition" that no other person seemed to realize, Rothstein is the recognized first to turn bootlegging into a business as the standard future gangsters followed.
The movie has gambler Rothstein always dreaming of building "A Big Bankroll" and having a "Royal Flush" at the poker table when they occurred. The movie ends with David Janssen's Arnold Rothstein being dealt that hand and killed by the hit men of a crooked police officer that goes back to the Mickey Rooney character.
In reality:
On November 4, 1928 Arnold Rothstein was mortally shot during a business meeting at Manhattan's Park Central Hotel. This supposedly was over gambling debts totaling $320,000 in 1928 dollars, or in 2014 dollars $4.3 million,
There are many possibilities over who shot him, but nobody knows for sure. One had fellow gambler George :Hump" McManus as his killer. He was immediately arrested and just as soon released for lack of evidence. Another says it was "Dutch" Schultz in retaliation for the murder of his friend Joey Noel by Rothstein's hit man Jack "Legs" Diamond. The fact remains nobody including J. Edgar Hoover knows for sure.
Released on October 26, 1961 the motion picture "Mad Dog Coll" was supposed to be the true story of the most dangerous of all gangland killers Vincent "Vince: "Mad Dog" Coll, but it wasn't. Listed fifth playing Detective Lt.. Daro in his first motion picture was Telly Savalas. He had been on eight television shows since 1959 and on one forgotten 1960 program "The Witness". Which told the "true" stories of different real life people, Interesting to this article is that Savalas played both Al Capone and "Lucky' Luciano on different programs of "The Witness".
Playing the title role of "Mad Dog Coll" was actor John Davis Chandler in his first role anywhere. Chandler would follow this starring role by playing the 15th screen credited part of Arthur Reardon in the Burt Lancaster/Dina Merrill hard hitting movie "The Young Savages". In that film Telly Savalas had 7th billing once more as Detective Lt, Gunderson,
John Davis Chandler is one of those recognizable movie faces you can never put a name too.
John Davis Chandler aka: John Chandler as Vincent "Mad Dog" Coll
The real Vincent "Mad Dog" Coll
I have to turn to the New York Times to get any clear description of this motion picture.
This gangland crime story about the life and death of mobster Vincent "Mad Dog" Coll (

John Chandler

) is most notable for the array of relatively unknown actors in bit parts who later became famous. Otherwise, there is a lot of bloodshed, surface characterization, and a great deal of fiction in the violent tale. Coll is first shown suffering extreme abuse from his father, and then he segues into the development of a neighborhood gang at the age of seventeen. From there, he gets on the wrong side of gangster Dutch Schultz which ultimately is a big mistake. Director Burt Balaban depicts Coll as increasingly insane, before his last killing leads to his violent death. Among those "new" faces are

Telly Savalas

as Lt. Dawson,

Jerry Orbach

as Joe, Coll's Judas,

Gene Hackman

in his first screen role as a cop, and

Vincent Gardenia

as Dutch Schultz. ~ Eleanor Mannikka, Rovi
As the New York Times review indicates the real Vincent "Mad Dog" Coll wasn't even like Chandler's performance, but is a typical yet interesting product of this period.
To start he was born Uinseann O'Colla in Country Donegal, Ireland and his family immigrated to the United States when he was a year old. Apparently something happened to his parents as Vincent and his brother, I was never able to locate his name, were raised by an Irish women who took him in. By the age of 12 he had been sent to reform school and afterwards would join "The Gophers" a Bronx street gang founded in the 1890's by Irish immigrants to protect themselves in the "Hell's Kitchen" neighborhood in Manhattan.
In 1924 Vincent and his brother met "Dutch" Schultz at one of his bars in Harlem. As Schultz expanded his territory the two young men joined him as enforcers of "Dutch's" bootlegging.
During the late 1920's Coll became a hit man and assassin for Schultz. At 19 Vincent was charged with the murders of Anthony Borello a speakeasy owner and a dance hall "hostess" named Mary Smith. Bordello was murdered for not wanting to buy "Dutch's" alcohol. Coll was initially arrested for the murders, but the charges were dismissed. Should the age of 19 trouble some of my readers. It should be mentioned that Vincent Coll was dead by age 24.
In January of 1930 Vincent Coll broke from "Dutch" Schultz to form his own bootlegging operation and began a war with his one time employer.
Vince Coll's crew in the picture below. He is the tall man on the extreme left.

It is alleged that on July 28,1931 Vincent Coll was responsible for the death of a five year old boy. The facts had Vince Coll going after one of Schultz's bootlegger's named Johnny Rio. A touring car drove past a "Social Club" with Rio outside. Those in the touring car opened up on him with shotguns, but Rio dove to the sidewalk and saved himself,. However, several children were also playing on the street and around the club's entrance. One of them Michael Vengalli was hit and died later at Beth David Hospital. As a result New York Major Jimmy Walker labeled Vincent Coll "MAD DOG" and the nickname stuck with the 23 year old for the less than one year remaining in his life.

A manhunt for Vince Coll started and he went into hiding. On October 4, 1931 Vincent Coll was arrested and a trial over the death of Michael Vengalli's started in December 1931. Coll claimed he was miles away and was being framed by his enemies. The prosecution's sole witness George Brecht revealed under oath to having both a criminal record being placed in a mental institution. Brecht admitted to having made similar claims against another bootlegger in Missouri. The District Attorney's case immediately started to fall apart and before the end of December the Judge made a direct verdict of not guilty. Vincent "Mad Dog" Coll as the press were calling him was cleared of all charges and returned to his bootlegging war with Schultz. Along with retaining side jobs as a hit man.

While awaiting his trial in September of 1931 "Mad Dog" was hired by Syndicate Boss Salvatore Maranzano to kill Charles "Lucky" Luciano. Luciano was invited to Marazano's office and Coll was to enter and make the hit,.When Vincent arrived at the office he saw Luciano's own hit man leaving after killing Marazano.

On February 4, 1932 while Vince Coll was in a drugstore phone booth talking to another gang leader Owney Madden. Four of Madden's men drove up. The driver waited in the car, one waited outside spotting for any law enforcement to approach, while the other two entered the drugstore. After motioning to the drug store counter man to stay out of the way. The two pulled out Thompson submachine guns and opened up on the unseeing "Mad Dog" Coll ending his life.

At one point "Dutch" Schultz had offered $50,000 to kill Coll as had Madden. It is said that Schultz even walked into a local Bronx Police Station in Coll's territory and offered to anyone who killed him a new house in the then exclusive Westchester.

Ever wonder why some actors in gangster films looked so real?

Released on November 22, 1961 dancer/actor Ray Danton was no "Legs" Diamond, but George Raft in "The George Raft Story". Note that Danton got that newly created "AND" screen credit to make him more important. Otherwise as this poster shows the movie was Jane Mansfied's.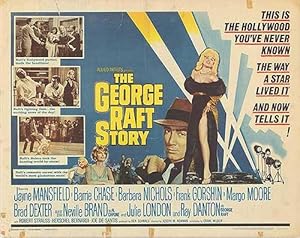 This was a big budget for 1961 $1.2 million dollar motion picture that would gross worldwide for Allied Artists $979,550,250.00. The cast included beside Mansfield and Danton, singer/actress Julie London, Frank Gorshin and reprising his role from "The Untouchables" Neville Brand as Al Capone.

In the United Kingdom the movie was titled "Spin of a Coin" for its release there.

Ray Danton as George Raft with Jayne Mansfield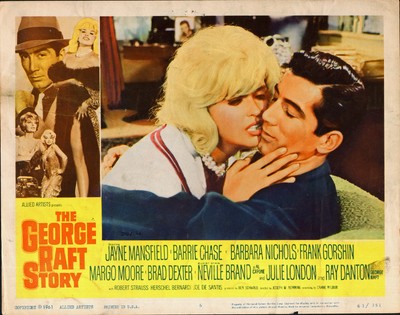 The real George Raft in the original "Scarface"




Whichever title used the motion picture was highly fictitious, Here is the plot as reported on the website IMDb by "alfiehitchie":
Dancer George Raft (Ray Danton) finds himself involved with the criminal underworld. After a conflict with gangster boss Frank Donatella (Joe de Santis), he is exiled to Hollywood, where he wins a role in the film "Scarface" and becomes famous. He lives with actress Lisa Lang (Jayne Mansfield) in a huge villa, but when his mother dies, he deserts her. His career slides downhill until he is offered a part in "Some Like it Hot" and becomes famous again.
So what was my babysitter like? Yes, my babysitter on many a Saturday night was George Raft. My family owned the "Ocean Park Arena" in Ocean Park, California located between Santa Monica and Venice Beach. My parents worked the concession stand for the Saturday night either boxing, or wrestling matches. So somebody had to babysit little Lloyd and my Uncle Max Hirsch was a good friend of Raft. So he pitched in to watch me many times. I looked for that scene in the motion picture.

http://boxrec.com/media/index.php/Ocean_Park_Arena

George Raft was born in "Hell's Kitchen" and was a Catholic. He was a boyhood friend of both future gangsters Owney Madden and Benjamin "Bugsy" Seigel. At one point in his life Raft acknowledged being a "Wheel Man" for the mob, but nothing else.

Raft's dancing skill found him performing at Night Club's in New York City. His skill eventually brought him to the attention of the owner of the famous New York speakeasy the "300 Club". She was Mary Louise Cecilla "Texas" Guinan and her club was the hangout of such celebrities as George Gershwin, Irving Berlin, Reggie Vanderbilt, Al Jolson, Rudolph Valentino and John Barrymore. George Raft became good friends with Valentino and visiting James Cagney who helped him get started later in Hollywood.

At some point in 1929, for some reason, George Raft left New York and went to California and Hollywood. His film career such as it was started in the film "Queen of the Night Clubs" released on March 24, 1929 playing the part of Gigola. The motion picture biography with Ray Danton says he left because of gangster Frank Donatellam but I could find nothing to support that.

I have another possibility. The star of the "Queen of the Night Clubs" was "Texas" Guinan and she wanted her friend in this motion picture with her. The movie was directed by Bryan Foy the eldest son of vaudeville star Eddie Foy. Foy played a major role in his son's picture.




The film is sadly considered lost, but here is a scene with George Raft.




In 1932 Raft appeared in the film "Taxi" which starred his friend James Cagney and Loretta Young. There is a dance number were Cagney and Young are up against George Raft and his dance partner.
His next film was his first as a gangster and the role became famous for what Raft improvised. The picture was 1932's "Scarface".




George Raft played hit man Guino Rinaldo and in several scenes he had no lines to speak and was in the background. Raft didn't want to be seen just standing there doing nothing. So he started flipping a coin and a trademark was created and the reason for the title to the U.K. release of "The George Raft Story".

The portrayal of Rinaldo was too good not to be based on George Raft's real life experience, or that was what many people thought. Especially when some of his friends were still Owney Madden and "Bugsy" Seigel along with a new one. "Bugsy's" partner Meyer Lansky,

In one documented incident. Actor Gary Cooper's romantic escapes was with the wrong women and he was placed on a mob hit list. Raft intervened with Seigel and Lansky and actually saved the young actor's life. So the stories of his gangland connections became bigger.

At this time George Raft became more interested in boxing and became good friends with boxer turned comedian "Slapsie" Maxie Rosenbloom the 1932 "Light Heavy Weight Champion of the World". Who would appear in several films, attend fights at either the Olympic Auditorium, or the Ocean Park Arena with Raft and others. He opened a successful Night Club on Whilshire Boulevard in Los Angeles.




Raft's first starring role 1932's "Night After Night" had a small role based on "Texas" Guinan, but she was refused the role as being too old for the part. So Raft used his sudden box office clout to get the part for his friend Mae West. It was West's first motion picture.

Midway during the 1930's the public voted for the most popular gangster in motion pictures. James Cagney was number one, Edward G. Robinson number two and George Raft came in third. Raft's fame and box office productivity was far above a yet to make his mark Humphrey Bogart during that entire decade.

In 1923 Raft had married Grace Mulrooney a devout Catholic. Several times George Raft asked for a divorce, but she refused to divorce him, They stayed married until Grace's death in 1970. Her refusal to divorce Raft, because of their Catholic religion plagued him throughout the years. He had affairs with actresses Mae West, Betty Grable and Marlene Dietrich, He wanted to marry actress Norma Shearer, who felt the same about Raft, but Grace stayed in his way. Jane Mansfield's character of Lisa Lang in the motion picture was a composite of all these ladies. Manfield's character was one of many inaccuracies in the film that George Raft objected too.

By 1941 Raft's movie career had peaked and in 1946 Raft was reported to have earned $108,000 for the year. Which was equal to $1,404,724.03 in 2014 dollars. In 1942 James Cagney took a two year term as President of the Screen Actors Guild and at this time the Guild was fighting the Mafia. Who was attempting to infiltrate the motion picture industry. Cagney alleged that the mob was sending a hit man on orders to kill him. According to Cagney his friend George Raft made some calls and the hit was removed. I'll let my readers determine the truth here, but if true it continues to raise the question of Raft's mob involvement beyond just being a "Wheel Man".

As his career went down George Raft kept the gangster/tough guy image on early 1950's radio and television programs, For a means of income he started working as a "Greeter" at the Capri Casino in Havana, Cuba, but Castro's invasion stopped that. In 1966 Raft was given a Visa to work in the United Kingdom again as a "Greeter" in their clubs. At this time he had a cameo with his coin flipping in the 1967 spook of James Bond films "Casino Royale".

On March 2, 1978 the 77 year old George Raft appeared in a movie based upon a novel by Mae West called "Sexette". It actually starred the 85 year old West and Dom DeLuise, Two years later he was in his last movie "The Man With Bogart's Face" aka: "Sam Marlow, Private Eye" as of course a gangster.

Raft applied once more for a Visa to work in the U.K., but this time it was denied over his alleged gang ties.

On November 24, 1980 George Raft died from leukemia, His good friend Mae West had passed away two days earlier and at one point both bodies were side by side at the mortuary.

Ending 1961, or starting 1962 depending on what country you were in was the story of "Dutch" Schultz "Portrait of a Mobster". This is the final film I will be looking at within this article. The premiere of the film was held in April of 1961 in New York, but it apparently sat on the shelves until December of that year. At which time the movie was released first in Mexico.The released for the United States, but not until January 1962 according to multiple websites including TCM and IMDb..





Playing the part of Arthur Simon Flegenheimer aka: "Dutch" Schultz was Vic Morrow. Below is a color still from the motion picture.





The real "Dutch" Schultz below




The plot for "Portrait of a Mobster" is described on Turner Classic Movies website:
In New York City during Prohibition, two small time hoodlums, Dutch Schultz and Bo Wetzel, join Legs Diamond's gang. While on a project for Diamond, Schultz oversteps his authority and kills a bootlegger, John Murphy, who has an attractive daughter named Iris. Though Schultz leaves Diamond to form his own mob, he is unable to forget Iris, and he persuades her to date him, despite her engagement to Frank Brennan, a young police detective. Upon learning that Schultz is a hoodlum, however, she rejects him and marries Frank. The newlyweds have a rough time of it financially, and before long the weak Frank is on Schultz's payroll of corrupt officials. When Iris learns of her husband's duplicity, she leaves him, becomes Schultz's mistress, and turns to alcohol for solace. After eliminating Legs Diamond and Mad Dog Coll, Schultz beats a criminal conspiracy rap and becomes New York's number one underworld czar. When Iris finally learns that it was Schultz who murdered her father, she moves into a rundown boarding house and becomes a hopeless alcoholic. Frank eventually finds her there, and the two decide to make a new life together. Schultz, meanwhile, is having trouble with the Mafia and he attempts to placate them by agreeing to allow his top lieutenants, including Bo, to be killed. The attack takes place, but, unknown to Schultz, the assassins have orders to kill him, too. Though he escapes, he is shot and killed by Bo, who, mortally wounded himself, mistakes Schultz for one of the assassins.
The real interest in this motion picture is that Ray Danton was reprising his role of Jack "Legs" Diamond. Actress Leslie Parrish played Iris Murphy and Peter Breck portrayed Frank Brennan..
Below Parrish and Beck in the motion picture.
Ray Danton as "Legs Diamond" and Peter Breck as Frank Brennan,
So was there any truth in the motion picture besides three names?
Flegenheimer was born on August 6, 1902 to Jewish German immigrant parents.
His early life consisted of honest jobs between 1916 and 1919 started by working for the Clark Loose Leaf Company as a feeder and pressman. Next the young Flegenheimer found work for the publishing company Caxton Press and then in some capacity he worked for the financial institution American Express. Which some of my readers might not know was founded in 1850. Flegenheimer also worked for Schultz Trucking as a driver. Possibly the eventual source of the last name he took. These positions were followed by working in a night club for a minor mobster while he started robbing neighborhood crap games and turned to burglary.
The last landed the 18 year old in the prison on "Blackwell's Island" founded in 1832, renamed "Welfare Island" in 1921 and once more renamed in 1975 "Roosevelt Island" in honor of FDR. After being transferred to a work farm in Westhampton, New York he escaped and was recaptured adding to his sentence. Schultz, now using the nickname "Dutch", was released on December 8, 1920.
He returned to working at Schultz Trucking. When Prohibition came into being the company began smuggling liquor for bootleggers. After getting into an argument "Dutch" Schultz left the trucking company to start working for the Italian bootleggers.
In 1928 a gangster named Joey Noe opened a speakeasy "The Hub Social Club" and hired Schultz as a bouncer. It was during this time that he became known for his brutality, but also Noe's partner in a trucking business to avoid delivery costs of liquor to their club as the Noe-Schultz's gang developed.
Their only competition came from the "Rock Brothers" John and Joe who controlled a major portion of the Bronx. The brothers refused to buy from the Noe-Schultz outfit so Schultz ordered Joe kidnapped, Joe was beaten up and hung him on a meat hook by his thumbs and allegedly had discharge from a gonorrhea infection rubbed into his eyes. Joe Rock would eventually go blind and the two brothers started buying their liquor from Noe and Schultz after paying them $35,000. The two now controlled the Bronx.
Joey Noel and "Dutch" Schultz expanded their operation to Manhattan's upper west side neighborhood's Washington Heights, Yorkville and Harlem, This expansion brought them into direct competition with Jack "Legs" Diamond and all out war began between the two gangs. Not as the motion picture says showing Schultz joining Diamond's operation.
Early on October 16, 1928 Joey Noe was outside of the Chateau Madrid on West 54th Street when a blue Cadillac came buy an shots rang out hitting him. Witnesses saw the car speed away hitting another parked vehicle as it lost one of its doors, When the vehicle was discovered by the police the body of Louis Weinberg who was not related to Schultz's gang was in the back seat. On November 21st Joey died of infection from his wounds. Noe was "Dutch's" mentor.
I will remind my reader that "Dutch" is considered one of the possibles for ordering the hit on gambler Arnold Rothstein who was "Legs" Diamond's mentor.
Rather than paying his gang a percentage of the take as all others were doing. Schultz's gang members were on a flat yearly salary. One his members Vincent Coll did not like this arrangement and demanded to be made a partner. The "Dutchman" said no and Coll left forming his own crew with the object of killing Schultz and take over his operation. Instead as I wrote above "Dutch" had "Mad Dog" gunned down in a drugstore phone booth.
Besides the three obvious names "Dutch" Schultz, "Legs" Diamonds and "Mad Dog" Coll was anyone else in the motion picture a real person? Maybe, or maybe not. I turn to "Dutch's" motion picture friend "Bo" Wetzel. In actuality one member of the gang was Abraham "Bo" Weinberg. Both Weltzel and Weinberg were Jewish names and both had the nickname "Bo". It appears somebody changed names and the first probability rather than screen writer Howard Browne was the writer of the "novel" "Portrait of a Mobster" Harry Grey.
So who was Abraham "Bo" Weinberg? To start with his brother George was also a member of the gang. However, "Bo" was also the Chief Lieutenant to Schultz in his gang. Although never proven it is believed that Weinberg was part of and in charge of the three "hits' that killed Jack "Legs" Diamond, Vincent "Mad Dog" Coll and mob boss Salvatore Maranzano. Of course there are other ideas about who might have killed "Legs" as I mentioned above.
In 1933 "Dutch" Schultz was indicted for tax evasion and went into hiding leaving "Bo" in charge of all operations. When "Dutch" return from hiding he became suspicious of "Bo" and it was rumored that Weinberg was negotiating with "Lucky" Luciano and "Murder Incorporated" to keep permanent control of what had been the Joey Noe and "Dutch" Schultz organization.
On September 9, 1935 Abraham "Bo" Weinberg left a midtown Manhattan night club and was never seen again. There are two versions about what happened. One says Schultz, himself, personally executed his Chief Lieutenant with a 45 mm handgun at point blank range. The other version comes from "Dutch's" lawyer J. Richard "Dixie" Davis
Below a picture of "Dutch" Schultz and "Dixie" Davis" is on right.
According to "Dixie" it was Schultz's bodyguard Bernard "Lulu" Rosencrantz who shot "Bo" Weinberg in the back of a car after the two had been drinking.
.
However, according to George Weinberg the "Dutchman" himself informed him of his brother's death by saying:
We hadda put a kimono on Bo,
A favorite phrase of Schultz translating to "Bo's" corpse being encased in cement and then dropped somewhere in the East River according to Paul Sann's book "Kill the Dutchman".
When the "Volestead Act" was repealed and Prohibition was no more. Schultz needed new sources of income and first found a way to beat "The Numbers Racket". In this "Racket" a player was required to "Pick Three" numbers which in this case would be the last three numbers before the decimal point on what was known as "The Hammer". "The Hammer" was the total amount of money all race track bettors placed on a given day at a given race track. Schultz's secret was Otto "Abbadabba" Berman a mental math wizard..
"Abbadabba" had the ability to calculate within seconds the exact amount of money needed for "Dutch" Schultz at the last minute before the final betting for the day at any track closed. Thereby alterring the odds in his favor. As a result Schultz won almost each time he placed a bet and "Abbadabba" received $10,000 a week for providing this information. The point here was this money, at the time we are talking, was considered tax free and "Dutch" Schultz was clearing millions each month.
Another scheme was the pure extortion of restaurant owners in and out of his territory.However, while this income was coming in Schultz was on trial for Tax Evasion, I mentioned, by United States District Attorney Thomas E. Dewey. "Dutch" Schultz was acquitted and a second trial took place with the same result. New York Major Fiorello La Guardia couldn't believe this and issued an order that Schultz was to be arrested, on sight, if he was seen within the city. "Dutch" relocated to Newark, New Jersey.
Relocation, or not Dewey was pressing for a third trial with new information. Schultz went to the Mafia High Commission for permission to kill the Federal District Attorney. The Commission was split and no authorization was given. However, all those present thought "Dutch" would put out a hit on Dewey anyway and that meant real trouble to them. So a hit was ordered on "The Dutchman".
On October 23, 1935 at the Palace Chop House in Newark "Dutch", two body guards and his accountant Otto Berman were having a late diner. At approximately 10:15 PM Charles Workman and Emanuel "Mandy" Weiss entered the Palace Chop House. Both men were from "Murder Incorporated" and caught Schultz in the bathroom. He was shot as was "Abbadabba" and the two body guards Abe Landau and "Lulu" Rosencrantz.
Schultz was transferred to a hospital. He had paid one of the paramedics $10,000 to see he was treated very well. While "The Dutchman" was in a hospital bed that paramedic put the money under his bed sheet after reconsidering how it would look, if it was found out he took the money, Schultz's injuries were considered the less of the four men and the others went into surgery first. At 2:20 AM on October 24th Otto Berman died, Eight hours after the shooting Landau was now dead and Rosencrantz in surgery. Rosencrantz would survive for approximately 29 hours from the time of the shooting, before he finally died.
During "Dutch" Schultz's second tax trial he had converted to Catholicism and had the last rites performed upon arrival at the hospital. On October 24, 1935 approximately 22 hours after the hit by "Murder Incorporated" Arthur Simon Flegenheimer aka: "Dutch" Schultz was dead.
Although "Portrait of a Mobster" in December 1961 ended this grouping started in December 1957, As I said we all love gangster motion pictures, or in the case of "The Untouchables" television shows. 1965 would find Nick Adams as 'Young Dillinger", 1967 found Roger Corman producing and directing "The St. Valentine's Massacre" actually a very good account of the events in a documentary style. The problem was he had cast Ralph Meeker as "Bugs" Moran and Jason Robards, Jr. as Al Capone. He bowed to the wishes of his two leads and they switched places. We now had a tall and thin Capone and a short and heavy looking Moran. Look for a cameo by an unknown actor named Jack Nicholson. Then there was the Arthur Penn "Bonnie and Clyde" also in 1967. These films continue until today with "The Godfather Trilogy", from Francis Ford Coppola and in the last two years prior to this article actor Johnny Depp playing in two different films as John Dillinger and James Joseph "Whitey" Bulger.
Television did not forget "The Untouchables" with shows such as "The Sopranos" which ran from 1999 through 2007, or "Boardwalk Empire" from 2010 to 2014.
WE LOVE OUR GANGSTERS!