They started with a GHOST and ended with a different GHOST. They starred a Teenage Singing Idol who wanted a girl from the Goddess "Venus" and an ex-member of "The Mickey
Mouse Club"

On April 10, 1959 Columbia Pictures released a motion picture about the fictional "Francine Lawrence". The film had both comedy and dramatic elements and was an unqualified success. The character of "Francine" was portrayed by Sandra Dee, but "Miss Lawrence" was better known by the film's title
"Gidget"
derived from "Girl Midget". The movie is considered the first real film about the California Surfing scene. The films sequel, starring Deborah Walley in the Dee role, was 1961's
"Gidget Goes Hawaiian".
That picture
just reinforced how cool surfing was, but it would be two years later that the California Surfing scene really broke World wide on the motion picture screen,
This is the story of the "BEACH PARTY" movies starring "FRANKIE AND ANNETTE".
THE GHOST OF DRAGSTRIP HOLLOW
Movies about teenagers and "Hot Rods" were sporadic throughout the 1950's. They were made for Rural America and Drive-In theaters in larger cities to attract teens. Mostly these quickie low budget movies were about competing "Hot Rod" gangs and like biker flicks, such as 1953's
"The Wild One"
starring Marlon Brando and featuring an unknown Lee Marvin, gangs fighting each other and causing trouble in small towns. Two exceptions both came out in 1959. The first, on June 25, 1959, was
"The Giant Gila Monster".
Where the teenage "Hot Rodders" stop the rear screen projected monster of the title and save their small town.It was also one of the last of the teen aimed horror movies of the 1950's.
My article on these Teen Horror and Science Fiction motion pictures of my youth. Starring future stars such as Steve McQueen, Robert Vaughn, Guy Williams and Michael Landon. Can be read at:
http://www.bewaretheblog.com/2016/06/i-was-teenage-werewolf-i-was-teenage.html
So it was inevitable that somebody would make a comedy about a "Hot Rod" gang and the result was
"The Ghost of Dragstrip Hollow".
Released in July 1959 by American International Pictures.
The cast for this picture may have my reader asking "WHO?".
Jody Fair portrayed "Lois Cavendish" dreaming of being a "Hot Rodder" instead of a girl friend. Fair had appeared in a forgotten major teen movie
"High School Confidential",
from 1958,
starring Russ Tamblyn, Jan Sterling, John Drew Barrymore and Mamie Van Dooren. However, she also was in such classics (?) as
"Hot Rod Gang"
starring John Ashley>
Jody was the female lead of the Science Fiction film
"The Brain Eaters".
An extremely low budget film:
They looked like a ball of fur with two old fashion pipe cleaners coming out of the top. The rest of Jody Fair's 20 credits were on mainly forgotten television shows.
Russ Bender portrayed "Tom Henry" one of the few adults in the picture. Actually he had a very solid "B" movie and television career of 122 roles. Bender was one of the Scientist fishing with Gene Barry in George Pal's 1953
"War of the Worlds".
Among his other AIP pictures were
"It Conquered the World", "Invasion of the Saucer Men", "The Amazing Colossal Man",
its sequel
"The War of the Colossal Beast"
and
"Panic in the Year Zero"
starring and directed by Ray Milland
.
Portraying "Dave", no last name, the boyfriend of "Lois" was Henry McCann. His 10 film credits included 1958's
"Hot Rod Gang"
and two major films of the previous year. The Jack Lemmon, Ernie Kovacs' army comedy
"Operation Mad Ball"
and the Frank Sinatra, Rita Hayworth, Kim Novak musical
"Pal Joey".
In both features his role was called "Shorty" and it was so small he received no on screen credit.
As I mentioned
"The Ghost of Dragstrip Hollow"
was a comedy having the "Hot Rod" gang spending Halloween in the "Haunted House" of "Lois Cavendish's" aunt. Strange things start to happen creating low budget gags. There's dancing and singing by one of the group. In short a typical very low budget and quickly made film aimed at pre-teens and teens. The picture contained the required Girl's Pajama Party scene, the required "Hot Rod" race, our heroine "Lois" getting caught by the police for speeding and facing her parents over possibly loosing her drivers license. For music there was a band named "The Renegades" who shot pistols into the air while performing, and of course "THE GHOST".
There are two notable points about this feature. The first point has to do with who played the "Ghost".
The"Ghost" turns out to be an out of work motion picture make-up artist/monster creature maker. He wants to be alone. The "Ghost", there is no "Dragstrip Hollow", is trying to drive the teens out of the house by scaring them. It doesn't work as they think he's one of their group in costume. .
The following is a picture of the "Ghost"..
Now, if you're a fan of 1950's American International Horror/Science Fiction movies, or grew up going to the theater to see the original releases like me. You will immediately identify the costume as a modification of 1956's
"The She Creature"
with a little wear and tare on it.
Below the original 1956 movie costume.
The costume was modified for 1957's
"Voodoo Women"
below shown in a behind the scenes still.
.
Then it was reassembled as best as could be for
"The Ghost of Dragstrip Hollow".
Bringing me to this scene from the motion picture when the "Ghost" is revealed to be the out of work make-up artist/monster maker.
.
Above as the "Ghost" was American International's chief make-up artist/ monster maker the great Paul Blaisell in a rare appearance. Should you not be familiar with the name. Besides
"The She Creature"
and
"Voodoo Women".
It was Paul Blaisdell that created the creatures for, among other films,
"The Beast with a Million Eyes", "It Conquered the World", "The Day the World Ended"
and
"Invasion of the Saucer Men".
The second notable thing about this film is who wrote the screenplay and produced it. The man's name was Lou Rusoff and he was the brother-in-law of Samuel Zachary Arkofff the owner of American Releasing Corporation. Arkoff and another low budget movie producer James Harvey Nicholson came together and founded American International Pictures. Putting Rusoff in the position of writing the screenplays for Roger Corman's 1955 Western
"Apache Women"
and
"The Day the World Ended",
the 1956 Western
"The Oklahoma Women"
and
"It Conquered the World"
among other screenplays for the newly formed AIP.
THE ORIGIN OF THE FIRST "BEACH PARTY" MOTION PICTURE
Our story starts in Italy in 1962 where my reader finds Sam Arkoff and James H. Nicholson in a screening room watching Italian language motion pictures. Their plan is to purchase a few at a cheap price, dub them into English and release them as if they're American made motion picture making a profit.
An example of one of their earlier purchases was the Italian film "
Il terrore dei barbari (Terror of the Barbarians)".
Which became AIP's English dubbed
"Goliath and the Barbarians"
starring Steve Reeves. That feature was followed by another unrelated Italian "Sword and Sandal" picture "
La vendetta di Ercole (Revenge of Hercules)".
The name of "Hercules" was dropped and the title changed to
"Goliath and the Dragon".
The title change and the publicity were designed
to make the potential audience think of the other film with the popular Steve Reeves, but "Goliath" wasn't played by Reeves. This time the AIP created character was portrayed by American Mark Forest. Who had taken up the "Hercules" role from Steve Reeves in Italian motion pictures.
At this time Arkoff and Nicholson were working their why through other Italian productions. When they found a picture that neither liked, but the idea of a middle aged man falling for a far younger women at a beach resort intrigued them. Sam Arkoff called his brother-in-law Lou Rusoff to work up a screenplay based upon that idea.
Lou Rusoff just took his screenplay from
"The Ghost of Dragstrip Hollow"
and moved the location to a Southern California Beach. Then turned the "Hot Rodders" into California surfers and made slight adjustments to that original screenplay.
The film was to be directed by William Asher known for his television work on 1950's shows including
"The Danny Thomas Show (Make Room for Daddy)", "I Love Lucy", "The Dinah Shore Chevy Show"
and
"The Jimmy Durante Show".
Asher's one motion picture was the 1957 Science Fiction entry
"The 27th Day"
starring Gene Barry and Valerie French.
With his background Asher agreed to direct, IF the movie was more a musical and the Teenagers were not bad. In short like his 1950's television programs Asher was mainly associated with.
William Asher took Lou Rusoff's screenplay and began working on it himself. Without writing credit associate producer Robert Dillion would assist in the rewrite. Dillion would go on to write the screenplays for AIP's
"X-the Man with the X-Ray Eyes"
and create the story and screenplay for
"The French Connection II".
When the movie was released the only name for the screenplay, shown on screen, was Lou Rusoff. Sam Arkoff asked William Asher to do him a favor and give full credit to his brother-in-law who was dying of brain cancer. Asner of course agreed. Sadly Lou Rusoff would die one month prior to the feature's release.
The new screenplay become a story about an Anthropologist, the middle aged man, named "Professor Robert Orville Sutwell". He's come to the beach to study the mating habits of California Teenagers without their knowledge. "Sutwell" is accompanied by his Assistant "Marianne" and is blind to the fact she loves him.
In this screenplay it wasn't "Hot Rodders", but a very dysfunctional motor cycle gang led by a parody of Marlon Brando in
"The Wild One".
That in their dysfunctional way cause not destruction, but comic situations with the surfers. The leader of the bikers was "Eric Von Zipper".
Then there were the surfers who included some rewrites of Rusoff's "Hot Rodders" from the
"The Ghost of Dragstrip Hollow".
The love interest were no longer called "Dave" and "Lois", but "Dave" and "Dolores".
So now the film needed to be cast.
CASTING
The thinking at American International Pictures was that the film needed recognized Adult actors in what they considered the two leading roles. Those of the Professor and his Assistant.
Actor Robert "Bob" Cummings had been acting since the 1930's. He was Ronald Reagan's lover in 1942's
"King's Row",
a secret agent during the French Revolution in 1949's
"The Black Book"
and the murderous husband in Alfred Hitchcock's 1954 3-D feature
"Dial M for Murder".
He was the star of television's
"Love That Bob
(
The Bob Cummings Show)"
from 1955 through 1959.
Dorothy Malone had been acting since 1940. Yet it wasn't until 1956 before she really became a major star. That motion picture had the actress opposite Rock Hudson in
"Written on the Wind".
The picture was immediately followed opposite James Cagney, as "Lon Chaney's" first wife, in 1957's
"The Man of a Thousand Faces".
The actress also portrayed the wife of Robert Stack in the exciting
"The Last Voyage"
about a luxury liner sinking.
The next question, for AIP, was who would play the two Teen Lovers that "Professor Sutwell" disrupts with his study. Director William Asher approached teen singing idol "Fabian Forte". However, in 1962, he was under contract to 20th Century Fox and there was no time for this feature. "Fabian" would be seen in the James Stewart, Maureen O'Hara feature
"Mr. Hobbs Take A Vacation",
Irwin Allen's
"Five Weeks in a Balloon"
and Daryl F. Zanuck's
"The Longest Day"
that year. At the start of 1963 "Fabian" was appearing as a guest on 20th Century Fox television programs.
The actor AIP settled on had made ten motion pictures and only two were major productions John Wayne's
"The Alamo"
in 1960 and Irwin Allen's 1961
"Voyage to the Bottom of the Sea".
Frankie Avalon was attempting to break free of his Teen Idol image and that five week number one song from 1959
"Venus".
His first movie had been a 1957 rock and roll musical "
Jamboree!".
With different singers such as
Fats Domino, Jerry Lee Lewis, Connie Francis
and
Avalon
appearing to sing a song as themselves, Looking for motion picture roles Frankie Avalon appeared in a 1963 Spanish film
"El Valle de las espadas (The Valley of the Swords)".
The picture was released in the United States as
"The Castilian".
This American-Spanish co-production
starred Cesar Romero and Broderick Crawford.
Back in 1962 Avalon had been in Ray Milland's very good
"Panic in the Year Zero".
Milland both starred and directed this picture about a family faced with survival after multiple Atomic Bombs are dropped on Los Angeles. During production Lou Rusoff and Avalon became close and when "Fabian" could not star in the new feature. The producer went to Avalon and "David" became "Frankie", literally, on the screenplay.
So who was going to be "Dolores"?
I was eight years old when the original
"Mickey Mouse Club"
premiered October 3, 1955 on ABC-TV. Immediately, like many other 8 to 10 year old boys, I fell in love with an older women. She was twelve year old Annette Funicello.
Between that day and becoming "Dolores". Annette appeared in two
"Spin and Marty"
adventures and her own 19 episode adventure,
"Annette",
on
"The Mickey Mouse Club".
She appeared in two Walt Disney movies. They were the original
"The Shaggy Dog"
with Tommy Kirk and
"Babes in Toyland"
with teen singing idol, there were a lot of them, Tommy Sands and the "Scarecrow of the
"Wizard of Oz"
Ray Bolger as the villainous "Barnaby". Annette was a regular on the second season of Disney's
"Zorro"
starring Guy Williams and was seen in five episodes of the non-Disney television series
"Make Room for Daddy"
starring Danny Thomas. The young actress was also seen on five stories on Walt Disney's
"The Wonderful World of Color".
Then she was offered "Dolores", but there was a problem. The problem's name was Walter Elias Disney.
At the time there was only 30 pages of the screenplay completed to show to Walt Disney. It might be said that he was more concerned for the "Disney Family Image" than his young actress. "Legend" states that Walt made a condition that Annette could not wear any swimsuits,or other clothing that SHOWED HER NAVEL. In short the "Bikini" popular with young girls at the beach and especially those associated with surfing was out.
What ever the real story is, if there was one. While all the other young actresses would be seen in Bikini's. Annette Funicello's naval was actually seen, but in very conservative two piece bathing suits. Such as the one below from the first film.
The result wasn't what either family minded Disney, or director Asher wanted, because with Annette being the only "Surf Bunny" not in the picture wearing a Bikini/ She was considered sexier by the young boys. again I know from experience, because those mostly covering two piece suits made her stand out in any scene with the other young actresses in the more revealing bikini's.
Portraying what became the recurring comic role of "Eric Von Zipper" was actor/comedian Harvey Lembeck. The actor appeared on Broadway, but most television viewers knew him as "Corporeal Rocco Barbella" on the
"Phil Silvers Show
(
You'll Never Get Rich)"
from 1955 through 1959. Although he appeared on the motion picture screen in Billy Wilder directed World War 2 prisoner of war movie "
Stalag 17".
Below Lembeck as "Von Zipper" is in the center of his "Ratz and Mice".
As I said it was obvious to anyone familiar with Marlon Brando's controversial 1953 biker flick
"The Wild One".
That Harvey Lembeck was doing a parody of Brando. Marlon Brando's "Look" set the required dress for most 1950's bikers and the style for "IN" young men at the time.. I even had one of those jackets and I was seven years old.
There were two supporting actors that appeared in the most of the series.
Jody McCrea, the son of Western Actor Joel McCrea, was "Deadhead". A reworking of one of the comical members of the "Hot Rod" gang in
"The Ghost of Dragstrip Hollow".
His name kept changing from movie to movie. In one he was "Bonehead", in another "Big Lunk" and back to either "Deadhead", or "Bonehead". McCrea is in the center of the following picture. Which also shows how the other girls were dressed compared to Annette.
The other recurring actor was John Ashley as "Frankie's" best friend. Ashley had starred in the previously mentioned
"Hot Rod Gang"
and in other features. Such as
"Dragstrip Girl", "Motorcycle Gang"
and the teen monster movie
"Frankenstein's Daughter"
. In this film he was "Ken", in another "Johnny" and still another "Steve", but like Jody McCrea, with one exception, his role remained basically the same.
This picture and the next would revolve around a Surfer's hangout known as "Cappy's". Portraying "Cappy" was actor/comedian Morey Amsterdam. Most television audiences knew him as "Buddy Sorrell" on television's
"The Dick Van Dyke Show"
from 1961 until 1966, but he had appeared in some Western television shows up to now and two gangster movies.
"Machine Gun Kelly"
starring Charles Bronson and
"Murder Incorporated"
starring Stuart Whitman.
Then there was just one of the surfer girls and dancers named "Candy" portrayed by Candy Johnson. In the first four motion pictures Johnson was part of the vaudeville style sight gags. In
"Beach Party"
she was billed as "The Perpetual Motion Dancer" and in sequences her moves would literally knock the guys off their feet..
Director William Asher wanted music. This would be provided by Frankie Avalon and Annette Funicello. Along with
"Dick Dale and the Del Tones".
Richard Anthony Monsour took on the name "Dick Dale" and formed his musical group. He is considered "The King of the Surf Guitar" and pioneered what many consider "Surf Music". He also worked closer with Fender and helped to create the first ever 100-watt guitar amplifier.
So with a cast filming took place over the next five weeks.
In his work "American International Pictures: The Golden Years" author Gary A. Smith has this quote from John Ashley:
We all had to wear body make up because nobody had a tan. One day Frankie and I had some dialogue to do on our way to the water with our surfboards. It was colder than hell that day and the water was freezing. We had our backs to the camera and Frankie said, 'Man, can you believe us? Two thirty year old guys in body make up playing teenagers
Frankie Avalon was really only 23 when he was hired and John Ashley was older at 28. The referenced "Body Make-up" was because it was only March and nobody in the cast had the required "Surfer Sun Tan" look.
THE PLOT SUCH AS IT IS
Anthropologist "Professor Robert Orville Sutwell" has rented a beach home near "Cappy's", a known Surfer Hangout, so that can secretly study the "Teenage Mating Habits" of the young people that go there and surf the waves nearby. He has brought along his assistant "Marianne" who is against his study and secretly in love with the Professor.
Meanwhile enter "Frankie" and "Dolores" singing. They're on the way to the beach house the gang has rented right next door to the "Professor" of course. The two will sing another song together and each has a solo number. Dick Dale and the Del Tones have two songs of their own.
Besides surfing there is dancing for "Sutwell" to observe. He decides to go and meet the teens in as inconspicuous as possible by also wearing a bathing suit.
The "Professor" and "Marianne" go to "Cappy's" to observe the teens and the place is disrupted by the arrival of "Eric Von Zipper" and his "Ratz and Mice". "Von Zipper" makes advances toward "Dolores". "Frankie" can't seem to stop him and embarrasses himself to both "Dolores" and everyone present .
However, the "Professor" uses one finger to temporarily paralyze "Von Zipper". Who is carried out by the "Ratz and Mice" stiff as a board. This will become a running gag throughout the series. The dialogue calls it "The Finger" and of course there are many jokes about "Von Zipper" giving himself "The Finger" as the series progresses.
Here's were that Italian movie really comes in as "Dolores" develops a crush on "Professor Sutwell".
Below Dorothy Malone's "Marianne" is attempting to tell Bob Cummings' "Professor" how ridiculous a man of his age is acting toward a teenage girl.
"Dolores" convinces "Professor Sutwell" to shave off his beard and starts to change his attitude.
Of course this upsets "Frankie" and he starts going with "Ava".
Things come to a head as "Eric Von Zipper" and his "Ratz and Mice" come into "Cappy's" for the film's climax.
"Von Zipper" and his group start a fight with the Surfers. During all the scenes inside "Cappy"s" there is a sleeping man. Who is the legendary "Big Daddy" of California surfing. Nothing, even this free for all fight, which includes using "Candy" as a secret weapon, disturbs him.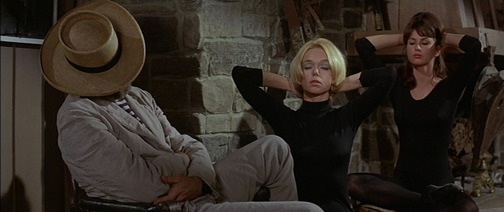 When the battle is won and "Von Zipper", after giving himself "The Finger", is removed by the "Ratz and Mice". "Frankie" and "Dolores" are back together and "Professor Robert Orville Sutwell" realizes he loves "Marianne.".
Suddenly "Big Daddy" stirs and pushes his hat back and the audience see "Vincent Price".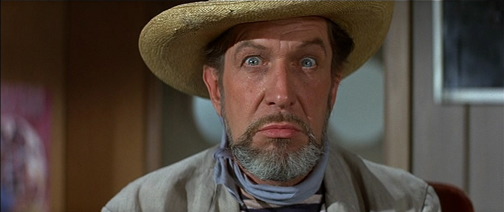 Who then speaks only one line:
The Pit… Bring me my pendulum, kiddies, I feel like swinging
Any fan of either Price, or Roger Corman knew immediately what movie he had just plugged from one year to the month earlier.
In the closing credits American International explained Prices real reason for being in this picture with:
A Special thanks" to Vincent Price

for appearing as Big Daddy – Soon to be seen in The Haunted Palace.
"Beach Party"
was released August 7, 1963. While
"The Haunted Palace"
was released 21 says later on August 28, 1963. Talk about a timely planned plug for an American International Picture.

There is a debate as to how much the final budget for "Beach Party" had been. Some say $200,000 1963 dollars and others $300,000. What is not debated is the box office $2,300,000 in just the United States and Canada alone. To date the highest grossing motion picture in American International Pictures history. So, IF one film was this successful? Why not another?
MUSCLE BEACH PARTY
Seven months after
"Beach Party"
premiered on March 25, 1964 AIP released
"Muscle Beach Party".
Back was director William Asher, Frankie Avalan, Annette Funicello, Morey Amsterdam, Jody McCrea, John Ashley. Candy Johnston and Dick Dale and the Del Tones.
The poster for the picture was a little bit misleading in its tag line of:
When 10,000 Biceps go around 5,000 Bikinis you KNOW what's gonna happen!:
The screenplay dropped the characters of "Eric Von Zipper" and his "Ratz and Mice". A mistake that would be rectified in the third picture. Annette was no longer "Dolores", but had become "Dee Dee". John Ashley was now "Johnny".
Again with girls in bikini's Annette was in a full swim suit, or two piece as in the previous film. As before she is the only non Bikini Beach Bunny.
There are four characters to cause the conflict for the surfers without "Von Zipper" being present. The first was Italian actress Luciana Paluzzi as "Contessa Juliana 'Julie' Giotto-Borgini". She had been appearing in small roles in Italian films such as the Steve Reeves
"Hercules".
Luciana's first American appearance was on an episode of 1960's
"The Tab Hunter Show".
She followed it portraying a character in the 1961 motion picture
"Return to Peyton Place",
but Luciana Paluzzi would mostly be known for her role as "Fiona" in the 1965 "James Bond" film
"Thunderball".
The second character was portrayed by comedian Buddy Hackett as "S.Z. Matts". Whom the "Contessa" is traveling with and is extremely wealthy, but very down to earth. Hackett, besides his appearances in Las Vegas and other venues, was seen in 1962's
"The Music Man".
That same year he was in the Cinerama production, from producer George Pal,
"The Wonderful World of the Brothers Grimm".
In 1963 he joined a major cast of comedians in the comedy treasure hunt
"It's A Mad, Mad, Mad World".
The character of "Jack Fanny", a parody of popular television health and fitness guru Jack LaLanne, was played by insult comedian/actor Don Rickles. When he wasn't in Las Vegas and other venues insulting the audience. Rickles had appeared on different television shows and just before this film appeared in American International's cult Science Fiction film
"X: The Man with the X-Ray Eyes".
Below Buddy Hackett on the left and Don Rickles on the right.
Portraying the main body builder in "Jack Fanny's" group "Flex Martin" aka: "Mr Galaxy" was an actor billed as "Rock Stevens". "Stevens" would go on to star in such Italian pictures, all released in English dubbing by AIP, as
"Hercules and the Tyrants of Babylon", "Goliath at the Conquest of Damascus"
and
"Challenge of the Gladiators".
In 1966 "Rock Stevens" finally used his real name of Peter Lupis portraying "Willy Armitage" on the television series
"Mission Impossible".
Donna Loren portrayed, of course, "Donna", one of the surfer girls. The singer sang "Muscle Bustle" with Dick Dale and the Del Tones. Believe it or not the song became a major hit at the time. Loren had been a guest on
"The Mickey Mouse Club"
and would became a regular on the musical variety show
"Shindig"
from 1964 through 1966. She would even appear on television's
"Batman".
The music, besides Dick Dale and Del Tones and Donna Loren. Featured a guest star 13-years-old
"Little Stevie Wonder".
Six of the eight songs were written by the team of Roger "Hot Rod Rog" Christian, Gary Usher and Brian Williams of the
"Beach Boys".
THE PLOT, OR HAVEN'T WE KINDA SEEN THIS BEFORE?
In Venice Beach, California, there is an area known as "Muscle Beach". That even today the body builders work out at. That was the source of the film's name, BUT the screenplay by Robert Dillon somehow moved it 18.04 miles north to Malibu Beach the setting of the picture. I'm very familiar with both locations. As I grew up in Ocean Park located on the shore front between Santa Monica and Venice.
Once more the surfer gang have rented a house for the Summer, but unknown to them "Jack Fanny" and his body builders also have beach access. This will lead to the same type of interactions as the group had with "Von Zipper". Except instead of bikers they have the body builders.
Next we have the switch from "Professor Sutwell" to the "Contessa". Instead of the problem being a crush by "Dolores" for the "Professor". In this film it is the "Contessa" out to get "Frankie". In a play on Avalon's teen idol status. She heard his singing and wants to make him a teen singing idol. The "Contessa" thinks she's really in love with "Frankie", but "S.Z." knows her whims. He believes "Frankie's" like a new toy for the "Contessa", Also, as with "Marianne", "S.Z." is the one really in love with her.
"Frankie", as "Dolores" did with the him in the previous film, seems to dump "Dee Dee" for the "Contessa".

The show down, as before, comes in "Cappy's". When "Jack Fanny" turns his body builders loose on the surfers.

As the place is being torn apart it will be stopped by "Mister Galaxy's" father. As with "Big Daddy" in the previous film. The surfers and the audience are told throughout the story of "Mr. Strangdour" the strongest man in the World. Who "Jack Fanny" actually works for. Suddenly "Mr. Strangdour" appears and stops the fighting and lecture his son for getting into trouble. Vincent Price was "Big Daddy" in "Beach Party" and Peter Lorre is "Mr. Strangdour" in "Muscle Beach Party".
Lorre grabs the ear of Peter Lupus, oops, "Rock Stevens", and leads him out of "Cappy's" complaining like a little boy.
Of course "Frankie" and "Dee Dee" make-up until the next movie.
THE RIP OFFS BEGIN
With the success of
"Beach Party"
20th Century Fox, who had the contract for Fabian Forte, made the first rip off.
"Surf Party"
released on January 30, 1964. The picture was shot in black and white to keep the cost down. The quality of this feature was below even that of
"The Ghost of Dragstrip Hollow"
and was produced and directed by Maury Dexter. Dexter was a low "B" director of such films as 1962's
Young Guns of Texas".
A western starring Robert Mitchum's son James, Joel McCrea's son Jody and Alan Ladd's daughter Alana and 1963's
"The Day Mars Invaded Earth"
starring Kent Taylor and Marie Windsor.
THE PLOT
Three girls "Terry" portrayed by Patricia Morrow. Who would be known for playing "Rita Jacks" on television's prime time soap opera
"Peyton Place".
"Sylvia" portrayed by Lory Patrick an actress probably best known as the wife first of actor Dean Jones and then, after the divorce, Science Fiction writer Harlan Ellison. "Junior" was portrayed by Jackie DeShannon. She would became a very popular singer and songwriter with "What the World Needs Now Is Love" and "Put A Little Love in Your Heart". All three leave Arizona together to become surfers in California.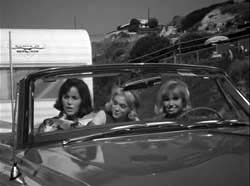 As they learn to surf "Terry" falls in love with "Len" portrayed by singer/song writer Bobby Vinton. Both DeShannon and Vinton sang two forgettable songs each. While additional music was provided by one hit wonder band "The Astronauts" and no hit band "The Rounders". The film basically disappeared after it ran in theaters, but can now be found on a 2013 DVD and the Internet.
In comparison in June 1964 United Artists released
"For Those Who Think Young".
The plot of the film has a rich kid and party animal surfer portrayed by "Gidget's Moondoggie" James Darren. His "Gardner Pruitt III", known as "Ding", is out for a new conquest in "Sandy Palmer", Pamela Tiffin. The studio wanted Ann-Margaret, but something stopped that from happening.
"Ding's" grandfather wants to stop the romance and also shut down a popular College teen hangout. When the group finds out grand dad was an old bootlegger. They blackmail him into letting the hangout stay open.
What makes the film interesting is the cast. Besides Darren and Tiffin below.
You had the romantic comic duo of Nancy Sinatra and Bob Denver.
Below with Frank's daughter on the right was Dean's daughter Claudia.
Then there was Paul Lynde, Roger Smith, husband of Ann-Margret, Ellen McRae who would change her name to Ellen Burstyn and even George Raft.
Then on August 5, 1964 Columbia Pictures got into the act with
"Ride the Wild Surf".
The movie could be called an more adult version of Columbia Pictures 1961
"Gidget Goes Hawaiian".
Fabian Forte finally was in a beach party movie, but not from American International Pictures opposite Annette. He portrayed "JodyWallis".
Accompanying him were his two friends
"Steamer Lane"
portrayed by Tab Hunter. Hunter had been in John Wayne's
"The Sea Chase",
William Wellman's
"Lafayette Escadrille"
, the musical
"Damn Yankees"
and the Gary Cooper/Rita Hayworth
"They Came to Cordura"
among other work.
Peter Brown was "Chase Colton" and he was known for his television roles. He had been "Deputy Johnny McKay" for 156 episodes of
"Lawman"
opposite John Russell's "Marshal Dan Troop", Along with appearing in three episodes of
"Maverick",
four of
"Cheyenne"
and three of
"Wagon Train"
. This was a break from his Western image.
Above left to right Peter Brown, Tab Hunter and Fabian Forte.
The girls in the film were a Hawaiian named "Lily Kilua" played by Susan Hart. The "Steamer" falls in love with her. Hart would appear in several American International Pictures films including the last of the
"Beach Party"
series. She married AIP co-founder James H. Nicholson. She was also a "College Girl" in
"For Those Who Think Young".
"Jody" falls for "Brie Matthews" portrayed by Shelley Fabares. She was escaping the television role of "Mary Stone" after 192 episodes of
"The Donna Reed Show"
. Also having appeared in 15 episodes of the Walt Disney series
"Annette".
Fabares would succeed in escaping her image by appearing in films like Elvis Presley's
"Girl Happy"
and on television with episodes of
"The Twilight Zone"
and other adult series.
"Chase" falls for "Augie Poole" portrayed by Barbara Eden. Eden had appeared on many television series including co-starring in the 52 episode
"How to Marry a Millionaire".
On the big screen Eden co-starred with Elvis Presley in
"Flaming Star",
was opposite Frankie Avalon in the motion picture
"Voyage to the Bottom of the Sea"
and in two George Pal films
"The Wonderful World of the Brothers Grimn"
and the
"7 Faces of Dr. Lao".
The year after this film's release she would appear in the first of 139 episodes of televisions
"I Dream of Jeannie".
Above left to right are Susan Hart, Shelley Fabares and Barbara Eden.
Not one of these three movies came close to the Box Office of
"Beach Party"
and like the ones to follow. Never was able to duplicate the chemistry of Frankie and Annette which lasted for decades after these films.
On July 22, 1964 the movie considered the Best of the Entire
"Beach Party" s
eries was released'
BIKINI BEACH
The screenplay was by director William Asher, Robert Dillon and Leo Townsend. Towensend was a major television series writer and is credited with adding two twists to the formula.
As the tag line indicated the now popular sport of drag racing was added by Townsend. The gang was about to meet an International British Rocker and drag racing champ "Peter Royce Bentley". Known to rock and roll and drag racing fans as "Potato Bug".
Remember the "British Invasion" started by
"The Beatles"
was on. Their movie
"A Hard Days Night"
would open in the United States the following month.
As far as the regular cast was concerned:
Annette was back as "Dee Dee", Frankie Avalon as "Frankie", Harvey Lembeck as "Eric Von Zipper", John Ashley as "Johnny" and Jody McCrea as "Deadhead". Don Rickles was in the cast, but this time as "Big Drag", Donna Loren was still "Donna" as Candy Johnson was still "Candy".
Whose new in the picture?
Keenan Wynn was the villain "Harvey Huntington Honeywagon III". Wynn was a familiar face in movies and television. Not only drama, but comedy and musicals. He had sang "Brush Up Your Shakespeare" in the motion picture version of Cole Porter's
"Kiss Me Kate'
with James Whitmore. Wynn was in a forgotten Western starring Frank Sinatra
"Johnny Concho"
and had a similar role to this one in both Walt Disney
"Absent Minded Professor"
and its sequel.
Martha Hyer was "Vivian Clements". Prior to this picture the actress was seen on different television shows. She was fourth billed co-starring in
"The Best of Everything"
with Stephen Boyd, Hope Lang and Suzy Parker. Followed by third billing in the Richard Burton, Robert Ryan version of Edna Ferber's
"The Ice Palace".
Then she was back guest appearing on television until a major role in the motion picture version of Harold Robbins' novel
"The Carpetbaggers"
starring George Peppard, Alan Ladd and Carroll Baker. The actress immediately followed this picture with Ray Harryhausen's
"First Men in the Moon"
.
Meredith MacRae was "Animal" in center of following still. She was the daughter of singer/actor Gordon MacRae. Who had starred in both movie versions of Rodgers and Hammerstein's
"Carousel"
and
"Oklahoma"
opposite Shirley Jones. Meredith's mother was television actress Sheila MacRae the co-star of the second version of Jackie Gleason's
"The Honeymooners".
Meredith would be known for her 29 episodes on televisions
"My Three Sons"
and as "Billy Joe Bradley"for all 114 episodes of
"Petticoat Junction".
She also had an non screen credited role in
"Beach Party"
as a "Beach girl".
Canadian born Danielle Aubry portrayed, "Lady Bug", the "Potato Bug's" companion. Her voice was dubbed by director William Asher's wife actress Elizabeth Montgomery daughter of actor Robert Montgomery. Later the same year as this film her television series
"Bewitched"
premiered,
Actor Timothy Carey portrayed the pool hustler "South Dakota Slim". Think Jackie Gleason as "Minnesota Fats" in the movie "
The Hustler"
meets "Norman Bates" in Hitchcock's original
"Psycho".
Carey, whose real personality was the opposite of his characters had already been seen in such pictures as
"The Wild One",
Stanley Kubrick's two early features
"The Killing"
and
"Paths of Glory".
He appeared in many Westerns both on television and motion pictures.
For those of my readers, who like myself, fondly remember and love the "Ratz and the Mice". Here they are:
Andy Romano was "J.D.", Alberta Nelson was "Puss", Myrna Ross was "Boots", Jerry Brutsche was "Jerome", Bob Harvey was "Bobby", Sam Page was "Chauncey", John Macchia was "Joey" and Allen Fife was "Beard".
As for musical numbers there was another guest appearance by "Little" Stevie Wonder. The entire cast performed the song
"Bikini Beach".
Frankie and Annette had a duo and each sang one song solo. Donna Loren sang a solo song, Candy Johnson and her band played another. While a South California surf band,
"The Pyramids",
backed up both Stevie Wonder and Frankie Avalon and did two songs of their own. As far as music went this was the most in the series so far.
"The Pyramids" did a song wearing Beatle Wigs, very popular, then mid-song removed them to reveal their bald heads. Hence the groups name "The Pyramids".
THE PLOT
There are three intertwined story lines. The first as usual is "Frankie" and "Dee Dee" having a problem with their relationship that will be solved at the film's end. In this case "Dee Dee" becomes too friendly with the "Potato Bug" for "Frankie's" taste. Who has put up his tent on their beach. "Frankie: will challenge the "Bug" for a drag race thinking he can get back "Dee Dee", if he wins.
The second involves "Harvey Huntington Honeywagon III"/ Who, like "Professor Sutwell", is looking at the mating rights of teenagers. He believes that teenagers are so mentally obsessed with sex causing their mentality to be below that of the lowest primate. "Honeywagon" plans to prove that with his drag racing chimpanzee "Clyde". Who also shows up the surfers.
The role of "Clyde" was performed by Janos Prohaska. He's most widely known role was as the recurring "Cookie Bear" on television's
"The Andy Williams Show"
from 1969 through 1971.
"Honeywagon's" real plan is to turn
"Bikini Beach"
into a retirement community that he can make millions off of.
Of course "Eric Von Zipper" and his "Ratz and Mice" get into the action, but between "Zipper's" mistake of taking on "The Bug" and, wait for it, giving himself "The Finger". The laughs are on him and his crew.
Once again the connection to the classic Brando picture
"The Wild One"
is parodied in the above still of Harvey Lembeck. In the other film Brando's "Johnny Strabler" steals a trophy and places it on his bike's handle bars and rides around with it. The trophy is also a little bit smaller than "Von Zipper's"/
Preparing for the big drag race with the "Potato Bug".
During the film there is a sequence with a man whose face the audience never sees until the pictures conclusion. The is an Art Dealer looking at paintings and explaining them to customers. Finally he turns around and in a cameo we see Boris Karloff.
The real gag was Karloff having fun at his friend Vincent Price's expense. Price was a noted art collector and recognized World wide for his knowledge of the field and its history. At the time of the film's release Vincent Price was seen on television plugging "The Vincent Price Art Collection" sold at Sears store. Price wears the exact looking clothing that Karloff wears in his cameo.
Like Price, Peter Lorre and Basil Rathbone. Boris Karloff was under contract to American International Pictures. He had appeared in Roger Corman's Edgar Allan Poe comedy
"The Raven"
and
"The Terror"
with an unknown actor named Jack Nicholson. From Italy he introduced and starred in one of a trilogy of horror from Mario Bava called
"Black Sabbath"
in the English dub
.
The film's title was the source of the Heavy Metal bands name.
Another character that appears in the film is a "Teenage Werewolf". Forest J, Ackerman's
"Famous Monsters of Filmland"
ran a contest for the best non-professional horror make-up and the winner got a cameo in a Hollywood movie. The movie was
"Bikini Beach"
and the winner was 19 year old Val Waren. In the following still right to left: James H. Nicholson, Val Waren and "4E" Ackerman.
One of the losers in the contest was 14 year old Rick Baker. Who became one of the prominent horror make-up artists for such films as 1976's
"King Kong",
1981's
"The Howling".
Michael Jackson's 1983 video
"Thriller"
and the 2003 remake of
"Planet of the Apes".
ONE LAST THING
If you've never seen
"Bikini Beach",
or figured it out from my stills. Frankie Avalon had a great time portraying "The Potato Bug".
So now lets all play:
BEACH BLANKET BINGO
The movie opened on April 14, 1965.
Annette is back as "Dee Dee" and Frankie Avalon is back as "Frankie". Harvey Lembeck is back as "Eric Von Zippe", Jody McCrea is still Bonehead" as Donna Loren is still "Donna". Timothy Carey is once more "South Dakota Slim" and that completes the returning characters.
John Ashley now appears as "Steve" and this character is unrelated to the previous movies and no nice fellow. Deborah Walley portrays "Bonnie". She had appeared in 1961 as "Gidget" in
"Gidget Goes Hawaiian"
and two Disney films
"Bon Voyage"
and
"Summer Magic".
Along with the Peter Fonda, Nick Adams 1964 film
"The Young Lovers".
Otherwise Walley was making the television guest rounds.
Below Walley is in between Don Rickles now as "Big Drop" and John Ashley as "Steve".
Speaking to Rickles role. In one sequence he gets to do a version of his Night Club Act of insulting the audience. In this case Frankie and Annette are his targets/ Asking them first why they're in this picture and telling "Dee" and "Frankie":
YOU'RE 40 YEARS OLD!
Before she got
"Lost in Space"
as "Judy Robinson".
Norwegian-American actress Marta Kristen was a mermaid named "Lorelei" that "Bonehead" falls in love with in this picture,
The story revolves around a poplar singer named "Sugar Cane". She is portrayed by Linda Evans. The role was originally planned for Nancy Sinatra, but she stepped away as the character gets kidnapped. Her brother Frank Sinatra, Jr. had been kidnapped two months before filming was to have started and Nancy did not want to relive those events.
After Linda Evans did this role and appeared in an episode of television's
"My Favorite Martian".
She became "Audra Barkley" on the television Western
"The Big Valley"
starring Barbara Stanwyck. The show ran for 112 episodes from 1965 into 1969. Evans would appear in several movies and than back to television in 1981 for 208 episodes of the original
"Dynasty".
Next the mini-series
"North and South: Book II"
and
"Dynasty: the Reunion"
.
Portraying "Sugar Cane's" agent "Bullets" was comedian/actor Paul Lynde. Below Lynde is addressing the
"Beach Party"
gang about "Sugar Cane". To his left is Earl Wilson who was a popular journalist and Hollywood Gossip columnist of the time. Linda Evans is t,po the right of Frankie Avalon.
Lynde guest starred on many television sitcoms, but is best remembered for being the "Center Square" on the prime time and day time game show
"Hollywood Squares".
He also starred in the Broadway Production of
"Bye Bye Birdie"
and recreated his role in the 1963 motion picture version introducing Ann-Margaret and starring Dick Van Dyke and Janet Leigh.
Silent movie classic comedian,
"The General"
and others, Buster Keaton was a "Cameo Guest Star".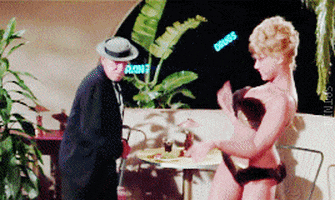 THE PLOT
"Sugar Cane's" Agent, "Bullets", is creating publicity stunts that claim to be of the singer.. These are being done without her knowledge and authorization. One has "Sugar Cane" Skydiving, BUT in actuality "Bonnie" is doing the stunt.
"Frankie" thinking he rescued the real "Sugar Cane", from the stunt going wrong, is duped by "Bonnie" to make her boyfriend "Steve" jealous."Steve" mow believes "Frankie" and "Bonnie" are an item and goes after the duped surfer. Who now takes up Skydiving to impress "Bonnie". "Dee Dee" is again angry as in the past films and to get her man back. "Dee Dee" tales up Free-Falling.
Next "Eric Von Zipper" shows up with his "Ratz and Mice" and falls madly in love with the real "Sugar Cane". While "Bonehead" has fallen for the mermaid "Lorei"/ Following the plot so far, because there's more to come.
"Sugar Cane" is kidnapped for ransom by "South Dakota Slim" and the feature moves to a
"Perils of Pauline"
style old fashion cliff hanger. Instead of "Pauline" being tied to the railroad track. It's "Sugar Cane" tied to a buzz saw. As both Keaton and Lembeck come to her rescue.
In the end "Sugar Cane" is rescued, "Bonnie" and "Steve" and "Frankie" and "Dee Dee" get straightened out.
The musical score had "Eric Von Zipper" and the "Ratz and Mice" singing a song"Follow Your Leader".
Frankie and Annette had two duos. Donna Loren one song and the music group "The Hondells", another surf singing group that lasted from 1964 into 1970, had two songs. As "Sugar Cane" was a singer Linda Evans lip synced two songs actually performed, off screen, by Jackie Ward.
HOW TO STUFF A WILD BIKINI
and that won't be with Annette. Who remained in either two piece, or full swim suits.
This film was released on July 14, 1965. In chronological order, to date, there had been two other films with Frankie and Annette that I haven't mention and will explain why later in this article.
The picture was once more had a William Asher, Leo Townsend screenplay, but with a twist as far as romance goes. Frankie Avalon's "Frankie" is now in the Naval Reserve and this added a patriotic touch to the screenplay.
An aside:
In July of 1965 fighting Communism in Vietnam was still seen as the right thing and having Avalon's character in the Naval Reserve fit the mood of the country, BUT by years end things began to change. As the "Students for a Democratic Society (SDS)" began protesting.
"Frankie" gets orders to go to Tahiti on Naval Reserve duty and leaves "Dee Dee" with the
"Beach Party"
gang. So exit "Frankie" and enter "Ricky". Avalon's total screen time would be only six minutes out of 90 in this feature.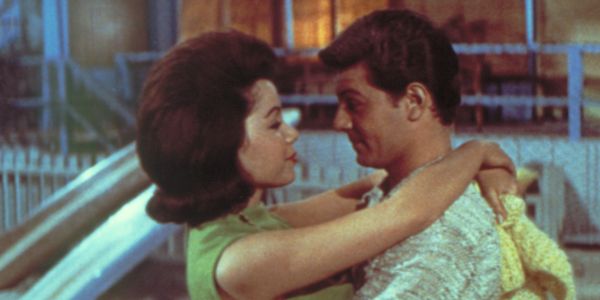 The cast again had recurring characters/ Harvey Lembeck was back as "Eric Von Zipper", John Ashley was back to being "Frankie's" friend "Johnny", Jody McCrea was "Bonehead", Bobbi Shaw was now "Khola Koku" and Buster Keaton was "Bwana".
To this group were added:
Dwayne Hickman as "Ricky". Since 1942 Hickman played roles simply described as "The Boy". He might be given a name like "Joey" in the excellent 1948
"The Boy With the Green Hair"
starring Robert Ryan and a young Dean Stockwell, but Hickman was still only in the background. The same in 1949's
"Mighty Joe Young".
On television from 1955 through 1959 he was "Chuck MacDonald" on the
"Bob Cummings Show"
for 154 episodes, However, he is best remembered as the title character of
"The Many Loves of Dobbie Gillis"
for 148 episodes with Bob Denver.
1940's and 1950's actor Brian Donlevy was "B.D. 'Big Deal' McPherson". Donlevy over his carrier, starting in 1923, had played both bad guys and good. He was a bad guy in 1939's
"Jesse James"
starring Tyrone Power and Henry Fonda, another in the James Stewart original
"Destry Rides Again",
real life Army General Groves in the story of the making of the Atomic Bomb
"The Beginning or the End"
and an Air Force General in the Clark Gable World War 2
"Command Decision".
In 1955 and 1957 Brian Donlevy portrayed "Professor Bernard Quatermass" in Hammer Films first two motion pictures based upon two of the four BBC Science Fiction mini-series about the "Rocket Group".
Mickey Rooney was "Peachy 'J. Peachmont' Keanne". Rooney was the actual original leader of
"The Little Rascals (Our Gang)"
in the silent era called
"Micky's Gang".
Later he had co-starred in the popular "Babes" series of MGM films opposite Judy Garland, and was "Andy Hardy" in another popular series of films, Mickey Rooney portrayed composer Lorenz Hart in MGM's
"Words and Music",
was
"The Atomic Kid"
who survived an Atom Bomb test by eating a peanut butter sandwich and portrayed gangster
"Baby Face Nelson".
Below Donlevy and Rooney:
We had heard her voice in
"Bikini Beach"
and now we get to see Elizabeth Montgomery as the daughter of Buster Keaton's "Bwana". The character has no name, but is a lot like "Samantha Stevens" of
"Bewitched"
which premiered on September 17, 1964.
Portraying "Cassandra" was Beverly Adams. Adams had been seen in the Elvis Presley motion pictures
"Roustabout"
and
"Girl Happy".
She was Dean Martin's "Matt Helm's" secretary "Lovely Kravezit" in
"The Silencers", "Murders Row"
and
"The Ambushers".
Adams was in the biker film
"Devils Angels"
and had many television series appearances such as on
"Bewitched"
until she married hair stylist Vidal Sassoon.
THE PLOT
"Frankie" hires With Doctor "Bwana" to stop Advertising Executive "Ricky" from making advances on "Dee Dee". "Bwana" conjures up "Cassandra" to break the two up. She arrives on the beach and suddenly all the male surfers fall in love for her. As a result "Ricky's" boss "B.D. 'Big Deal' McPherson" wants to use her in an advertising campaign.
Adding to the problems for "Dee Dee" and the surfers is arrival of "Eric Von Zipper" and his "Ratz and Mice" and back in Tahiti "Frankie" meets an island girl portrayed by Irene Tsu.
While Timothy Carey is not in this picture. Audiences would meet "South Dakota Slim's" brother "North Dakota Pete" played by Len Lesser.
In the end, as usual, "Frankie" and "Dee Dee" are reunited in part of that six minutes of on screen time for Frankie Avalon.
There was 12 songs in this picture and Dwayne Hickman only sang as part of the entire cast. While Annette had one solo and one song with "the girls". Mickey Rooney also sang with "the girls" and Rooney and Brian Donlevy did one duet entitled "Madison Avenue". Other songs were by the group "The Kingsmen". They were a beat/rock garage band from Portland Oregon and their one hit was "Louie Louie" written by Richard Berry.
Interesting factoids:
Tommy Kirk was supposed to play "Ricky", but got busted for possession of marijuana. Annette was pregnant and was shot mostly from the waste up, or with a prop in front of her to hide her "Baby Bump". An example is with this bucket of Kentucky Fried Chicken. Can you say product placement?
"How to Stuff a Wild Bikini"
was the last
"Beach Party"
film to feature Frankie Avalon and Annette Funicello together, OR WAS IT? My promised explanation.

FOUR MORE 'BEACH PARTY" (?) MOTION PICTURES

PAJAMA PARTY
On November 11, 1964 Annette Funicello was back, but not Frankie Avalon or (?), and her co-star was fellow Disney alumnus Tommy Kirk. Note the date of release is the year before the marijuana incident.
The origin is this motion was twelve years earlier in 1952. When one half of the animation team of Hanna and Barbera wrote a Broadway play. Joseph Barbera's story was about a Martian scout coming to Earth to plan the invasion and falling in love with an Earth girl. The plays title was
"The Maid and the Martian".
It lasted five weeks and closed. In 1954 the play was brought back with perfectly cast James Arness as not a human looking carrot, but the Martian.
This screenplay which updated Joseph Barbera's play was written by Louis M. Heyward. Heyward was both a screenplay writer and movie producer. In addition to this picture his credits include the English language screenplay for Maro Bava's classic
"Planet of the Vampires"
and the screenplay for the last
"Beach Party"
picture. He also produced the "Dr. Phibes" movies with Vincent Price.
The film is and is not one of the
"Beach Party"
series. This depends upon how the critic and viewer look at it. To me when I saw the picture as a teen. I always thought it was part of the series and over time has become accepted more as a part of that group.
One of the complaints against
"Pajama Party"
is that the names changed and some of the characters. Excuse me, but I mentioned name changes when speaking to other pictures. Anyway, here they are:
Annette is "Connie", Jody McCrea is now "Big Lunk", Donna Loren is "Vikki" and Don Rickles in now "Big Bang" and comes from Mars.
Mention the name Tommy Kirk and most of my readers would immediately think of his role as "Travis Coates" in Walt Disney's
Old Yeller".
For Disney he was one of
"The Hardy Boys"
in the
"Mickey Mouse Club"
mini-series
,
"Wilby Daniels" who changed into the original
"The Shaggy Dog",
Kirk was one of the children in Walt's
"Swiss Family Robinson",
was in the cast of the original
"The Absent Minded Professor",
an apprentice toy maker in Walt Disney's
"Babes in Toyland"
that starred Annette and portrayed "Merlin Jones", opposite Annette, in both
"The Misadventures of Merlin Jones"
and its sequel
"The Monkey's Uncle".
So for American International Pictures to cast him as the Martian "Go Go" opposite Annette seemed perfect casting.
Susan Hart, who had appeared in both
"For Those Who Think Young"
and
"Ride the Wild Surf",
portrayed "Jilda". In all she would appear in four AIP films. Two of which starred Vincent Price.
Actually, check the date for
"Beach Blanket Bingo",
this film was Buster Keaton's first film for American International Pictures portraying "Chief Rotten Eagle".
In the above picture Bobbi Shaw is portraying "Helga" a Swedish girl who basically says nothing but "Ya! Ya!" in answers to questions.
Probably best known for the "Road" pictures with Bob Hope and Bing Crosby. Dorothy Lamour was the "Head Saleslady".
Trivia:
Note the blonde in yellow just left of Lamour. Long before she became "Inga" in Mel Brooks'
"Young Frankenstein",
"Ronnie Neary" in Steven Spielberg's
"Close Encounters of the Third Kind",
or "Sandy" in Dustin Hoffman's
"Tootie".
That's Teri Hope, before she changed her screen name to her real one of Teri Garr.
While 1935's
"The Bride of Frankenstein",
herself, Elsa Lanchester, was "Aunt Wendy".
Jesse White portrayed "J. Sinister Hulk". White is in the center of the following picture. He was in the James Stewart comedy
"Harvey",
Ronald Reagan's
"Bedtime for Bonzo",
the Esther Williams film
"Million Dollar Mermaid",
on television he was everywhere with
"The Adventures of Ozzie and Harriet Show", "The Lone Ranger", "Make Room for Daddy"
and
"The Frank Sinatra Show"
among others.
THE PLOT
By the time
"Pajama Party"
was made there had been the first three "James Bond" features and everyone was getting into the Spy Game. So of course to check out the Earth for the big Martian Invasion. They send Secret Intelligence Agent Double-0h-Six "Go Go" to the planet.
The first Earthling "GoGo" meets is eccentric and very rich "Aunt Wendy". Eventually after trying on all kinds of clothes. She gets him to change his name to "George", change into a bathing suit and sends him to the beach.
There he meets "Aunt Wendy's" nephew "Big Lunk" and his girlfriend "Connie". "Big Lunk" is frustrating "Connie", because he's more interested in Beach Volley Ball than her.
Meanwhile, "Aunt Wendy's" neighbor "J. Sinister Hulk" and his gang of two "Chief Rotten Eagle" and "Helga", "Ya! Ya!". Plan to get "Wendy's" money. While "Eric Von Zipper" and the "Ratz and Mice" show up to get revenge from the teenagers for what happened in
"Bikini Beach".
Even though these are different characters with no relation to that film. "George" and "Connie" fall in love and "Big Bang" from Mars attempts to stop them.
This all leads to the big battle with "Von Zipper" the audience expects from the previous films and in the end "Connie" gets "George".
Two interesting points to this picture. In all the scenes with Don Rickles he is speaking mainly to a character named "Socum". Who doesn't speak and is seen from the back only, but seems very familiar. At the film's conclusion "Socum" turns around and he's Frankie Avalon. Explaining my question mark next to Avalon's name above. Also, this is the only film in the series that Donna Loren actually has a speaking role.
Directly following the release of
"Beach Blanket Bingo"
American International Pictures released:
SKI PARTY
On June 30, 1965. The film brings the gang to the Ski slopes, but ends with them back at the beach. The screenplay was by Robert Kaufman who had a great comic style. Among his work Kaufman would be the head writer for the television series
"The Monkees".
He wrote the screenplays for comic dramas
"Divorce American Style"
starring Dick Van Dyke and Debbie Reynolds and
"Freebie and the Bean"
staring Alan Arkin and James Caan
.
An overlooked film by Kaufman that hit on the rock and roll scene was
"The Cool Ones"
starring Roddy McDowall and Deborah Walley in 1967.
As Frankie Avalon had a non screen credited cameo in
"Pajama Party".
Annette Funicello had a non screen cameo in this picture as Biology Professor "Sonya Roberts".
A couple of the main characters had Robert Kaufman's sense of humor for the period.
Frankie Avalon portrays a California college undergraduate named "Todd Armstrong". Can you say fictional body builder "Jack Armstrong the All American Boy"? Deborah Walley was his girlfriend "Linda Hughes".
Bobbi Shaw is now Swedish "Nita Elksberg". Can you say Swedish actress "Anita Ekberg?
Otherwise this was a completely new cast starting out with Frankie's co-star Dwayne Hickman as California college undergraduate "Craig Gamble".
The other female lead was Yvonne Craig as "Barbara Norris". Craig had been appearing mostly on television shows since 1957. She had 12th billing in Sandra Dee's
"Gidget",
appeared in 6 episodes of
"Dobbie Gillis",
actually co-starred in a forgotten 1959 Western
"The Young Land"
with Patrick Wayne and Dennis Hopper. Yvonne Craig was 8th billed in the Bing Crosby, Fabian, Tuesday Weld 1960 movie
"High Time",
but of course she would become known as "Batgirl" on the television series
"Batman"
from 1967 to 1968 in 26 episodes of the show.
Above publicity still left to right Yvonne Craig, Dwayne Hickman, Frankie Avalon and Deborah Walley.
Future voice actor Aron Kincaid, known for voicing "Killer Croc" on
"Batman the Animated Series"
and "Sky Lync" on
"The Transformers",
portrayed "Todd and Craig's" athletic classmate "Freddie Carter"
.
Below Aron Kincaid is on the far right and Deborah Walley is the far left. Between them are two beautiful girls Frankie Avalon and Dwayne Hickman, The two are doing a take off, Kaufman again, of the Tony Curtis and Jack Lemmon drag characters from Billy Wilder's 1959
"Some Like It Hot"
co-starring Marilyn Monroe. The boys play two non-threatening English girls, accents and all, "Jane" and "Nora". This is so the boys can learn "Freddie's technique in getting all the girls he wants".
Leslie Gore sang the song was
"Sunshine, Lollipops and Roses",
written for the film by composer Marvin Hamish, and released as a single that shot up the charts afterwards.
Without on screen credit Meredith MacRae appeared in the bus scene as "The girl sitting behind Leslie Gore".
Additional music was by surfer band "The Hondells". They sang the theme song over the opening credits and appear at the end in the beach sequence.
Along with "James Brown and The Famous Flames".
The four leads also sang together on a couple of songs within the story.
The
"Some Like It Hot"
story line continues as "Freddie" falls in love with brunette "Nora", Hickman, as did actor Joe E. Brown" with Jack Lemmon's "Daphne". In the end at the beach "Todd" and "Craig" admit they were "Jane" and "Nora" and get their girls "Linda" and "Barbara".
While the film ends with "Freddie" jumping into the Pacific Ocean to swim to Guam. Where "Nora" told him she was going to swim too.So that "Craig" could become himself without love sick "Freddie" hanging onto him.
SERGEANT DEADHEAD
This motion picture was the reason why Frankie Avalon was not in
"How to Stuff a Wild Bikini".
He couldn't multitask making two motion pictures at the same time. However, others showed up in this picture released August 18, 1965.
Frankie Avalon has duo roles. First he is the title "Sergeant O.K. Deadhead" and second a soldier that looks exactly like him "Sergeant Donovan". While Deborah Walley was "Airman Lucy Turner".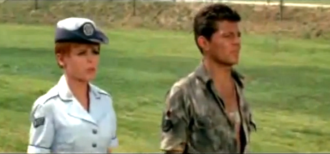 From the original
"Beach Party"
group. John Ashley was now "Private Filroy", Harvey Lembeck was "Private McEvoy" and Buster Keaton was "Private Binken".
Below Walley, Keaton and Avalon.
Below Lembeck and Ashley with Avalon.
Donna Loren was also in the picture as "Susan".
The rest of the cast was headed by Cesar Romero as "Admiral Stoneham". The following year Romero would become televisions "The Joker" on
"Batman".
Romero had been
"The Cisco Kid"
in several 1930's Westerns and was the first actor to portray "Doc Holliday" in
1939's
"Frontier Marshall"
starring Randolph Scott as the first actor to portray "Wyatt Earp" on the screen. The movie would be remade by John Ford in 1946 as
"My Darling Clementine"
starring Henry Fonda and Victor Mature.
Fred Clark portrayed "General Rufus Fogg". Among Clark's films were James Cagney's
"White Heat",
Billy Wilder's classic
"Sunset Boulevard",
the Marilyn Monroe, Jane Russell and Betty Grable musical
"How to Marry a Millionaire"
and Jerry Lewis'
"A Visit to a Small Planet".
Clark appeared on many television shows of the period.
Gale Gordon was "Captain Weiskopf". On television Gordon was a regular on the Eve Arden series
"Our Miss Brooks",
was "Mr. Wilson" on television's
"Dennis the Menace"
and was a regular on
"The Lucy Show".
His film work included Paul Newman and Joanne Woodward's
"Rally Around the Flag Boys",
Lou Costello's solo comedy
"The 30 Foot Bride of Candy Rock"
and the Elvis Presley/Nancy Sinatra
"Speedway".
Speaking of Eve Arden in this film she was "Lieutenant Kinsey". Besides being known too many of my generation as teacher
"Our Miss Brooks".
She is probably most known today as the Principle in both
"Grease"
and
"Grease 2".
Although the comedian did straight dramatic work in films such as Otto Preminger's
"Anatomy of a Murder"
starring James Stewart and the Joan Crawford vehicle
"Mildred Pierce".
Above right to left "Reginald Gardner" as "Lieutenant Commander Talbot", Eve Arden, Cesar Romero, Gale Gordon and Fred Clark.
Gardner got his break in motion pictures as a "Dancer at the Ball" in Alfred Hitchcock's 1927 silent
"The Lodger"
about Jack the Ripper. His next big break came in the musical comedy starring Eleanor Powell and singing (?) and dancing James Stewart
"Born to Dance".
Over the years Gardner would play distinguished Englishmen in several motion pictures and on television. Reginald Gardner also appeared on television's
"Batman"
in a story with Romero's
"The Joker".
He was great delivering one liners with his perfect English voice on such television shows as
"Green Acres", "The Phyllis Diller Show", "Petticoat Junction"
and
"The Monkees".

THE PLOT
So where had audiences seen this type of screenplay before? Lets see there was 1953's
"Abbott and Costello Go to Mars".
While loading an experimental rocket the boys accidentally start it and go not to Mars, but first New Orleans and then Venus. Six years later we had "The Three Stooges" in
"Have Rocket Will Travel".
The "Stooges" are janitors that accidentally send a rocket ship with them in it to Venus.
In this case "Sergeant Deadhead" was busted for his antics and put in the guard house with "Private McEnvoy". "Deadhead's" girl friend "Lucy Turner" is having second thoughts about him. The two men escape the guardhouse and the Sergeant falls asleep in the control room of an experimental space ship and is blasted into outer space with a chimpanzee. When it is discovered he's on board. "General Fogg" spins a narrative that he volunteered for the mission.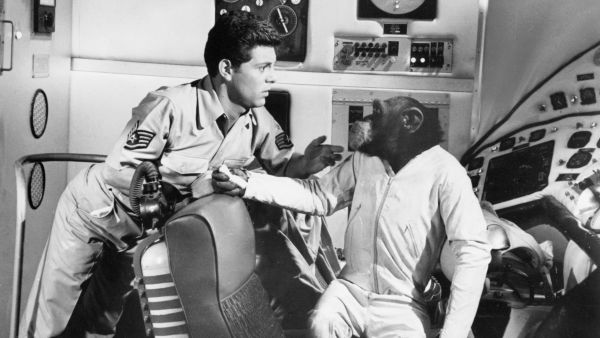 When he returns from outer space "Sergeant Deadhead" has developed a massive ego and somehow his personality has merged with the Chimp. The real "Deadhead" is placed in the guardhouse once more and his duplicate "Sergeant Donovan" replaces him.
Believing, as the top brass want everyone too, that "Donovan" is "Deadhead" "Turner" is set is marry him. The real "Deadhead" escapes the guardhouse and recovers his full memory. He goes to the Hotel were the wedding reception is now taking place and switches places with "Donovan". After knocking him out and locking him in a closet. "Deadhead" then continues to enjoy his honeymoon with "Lucy".
However, "Stoneman", "Fogg" and "Weiskopf" show up with two MP's to escort "Deadhead" and "Lucy" to an airplane that will take them to Washington, D.C. to meet the President. After they leave "Donavan" wakes up and comes out of the closet. "Stoneman", "Fogg" and "Weiskopf", realizing that the real "Deadhead" is now with "Lucy", make a call to Washington to have Marines arrest "Deadhead".
When the two Marines enter the oval office. They see a man in a space helmet and arrest him immediately and leave. It's the President trying on "Sergeant Deadhead's" space helmet. With all the commotion "Deadhead" and "Lucy" are able to leave on Marine One. In the end "Stoneman", "Fogg" and "Weiskopf" are in the guardhouse now.
The picture had seven songs. The opening credits had a song sung by all the ladies in the cast. Deborah Walley, Donna Loren and Bobbi Shaw sang another, Loren had a solo, Eve Arden had a solo, Frankie Avalon had a solo, and Deborah Walley and Frankie Avalon had two duets.
There was plans for a sequel
"Sergeant Deadhead Goes to Mars",
but that never got going as this film just broke even. I wonder would he have ended up on Venus instead?
THE GHOST IN THE INVISIBLE BIKINI
Considered by some the last of the actual
"Beach Party"
movies and by others as not. Originally American International Pictures wanted Annette and Frankie and both said NO! So they got Deborah Walley and Tommy Kirk. Hence, the debate.
The feature was released in April 1966.
Deborah Walley was "Lily Morton" and Tommy Kirk was "Chuck Phillips" From the previous films the audience saw Aron Kincaid as "Bobby", Jesse White returned as "J. Sinister Hulk", Harvey Lembeck was back as "Eric Von Zipper" with his "Ratz and Mice" and Bobbi Shaw was now "Princess Yolanda",
Added to this film were Nancy Sinatra as "Vicki". She would be seen later in 1966 opposite Henry Fonda's son Peter. In AIP's successful rip off of the Hell's Angles motorcycle club "The Wild Angeles". The publicity department played up the father daughter, father son relationships of the two stars. The movie spawned several AIP and other companies motorcycle features.
In 1968 she was an IRA Agent tracking down Elvis Presley in
"Speedway".
Beside's Frank's daughter Nancy was Dean's daughter Claudia as "Lulu".
Quinn O'Hara portrayed "Sinistra".
O'Hara was seen as a "Witch" in the Vincent Price picture
"Cry of the Banshee".
Francis X. Bushman had been acting in films since 1911 and this was role number 225 as "Macolm".
Bushman was the original "Messala" in the 1925 classic silent version of Union Army Officer/and then Governor of the New Mexico Territory General Lew Wallace's
"Ben Hur".
In the 1950's he appeared in another classic
"The Bad and the Beautiful",
starring Kirk Douglas and Lana Turner, about the Hollywood film industry. In 1960 Bushman had appeared in the Science Fiction film
"12 to the Moon"
and in 1961
"The Phantom Planet".
This feature was followed by his last two appearances on the television shows
"Batman"
and
"Voyage to the Bottom of the Sea".
Susan Hart was "Cecily"aka:
"The Ghost in the Invisible Bikini".
1930'a "Wise Cracking Comments" comedian Patsy Kelly was "Myrtle Forbush" and Basil Rathbone was evil lawyer "Reginald Ripper". Below Rathbone and Kelly.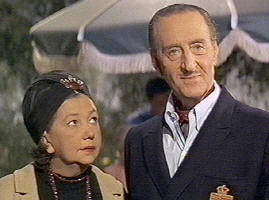 Prior to this feature Rathbone had appeared in Bert I. Gordon's
"The Magic Sword",
Roger Corman's
"Tales of Terror"
and Jacques Tourneur's
"The Comedy of Terrors"
during his contract with American International Pictures. Besides two Russian Science Fiction movies re-edited by Executive Producer Roger Corman into American movies with added footage
"Queen of Blood"
and
"Voyage to a Prehistoric Planet".
Portraying the other Ghost "Mr. Hiram Stokeley" was Boris Karloff. Below Hart as "Cecily" and "KARLOFF" as "Stokeley".
THE PLOT
"Reginald Ripper" is after the estate of the late "Hiram Stokeley". "Stokeley" finds that he has 24 hours to do a good deed and get into heaven. He enlists the help of his long dead girl friend "Cecily" to stop "Ripper" and protect his heirs.
Those heirs are "Lili", "Chuck", "Myrtle" and her son "Bobby". The teens bring their
"Beach Party"
friends to "Stokeley's" mansion for a pool party and "Ripper" plans to use "Sinistra", "Sinister Hulk", "Princess Yolanda" and, Buster Keaton's stand-in, as he had just passed away, comedian Benny Rubin, as "Chicken Feather" to terrorize them. Of course the uninvited "Von Zipper" shows up.
In the end "Ripper" gets his comeuppance, "Stokeley" his good deed and "Cecily" once more, and the heirs the estate. Oh and "Von Zipper" gets "The Finger".
The song "Geronimo" was sung by Nancy Sinatra. Quinn O'Hara sang "Don't Try and Fight It Baby", Italian singing star "Piccola Pupa (Little Doll) sang two songs and "The Bobby Fuller Four" backed her up on one and did a solo of their own. Two months after this film premiered Fuller died at the age of 23.
BEACH PARTY MEETS THE REAL WORLD OF STOCK CAR RACING
Two months after
"The Ghost in the Invisible Bikini"
premiered in April 1966. On June 7th. the first of two features some film critics labeled as the
"Beach Party"
gang meet the world of stock car racing was released.
However, American International's Executive Producer Deke Heyward may have countered the
"Beach Party"
idea with a Los Angeles Times interview on February 12, 1966. When he stated:
The next big thing for teenage films is protest. Teenagers empathize with protest because they are in revolt against their parents... These films represent a protest against society. These will be moral tales, there will be good guys and bad guys. But we will show the reasons for young people going against the dictates of the establishment.
At the time of his interview I was in the Navy stationed out of Mayport, Florida and with the events the were actually happening in the country, at the time of his interview,. I would fully agree with the above quote. Below is a link to my article on five motion pictures American International released that go directly to Deke Heyward's statement including the Peter Fonda/Nancy Sinatra
"The Wild Angels".
http://www.bewaretheblog.com/2015/02/5-influential-viet-nam-era-movies-you.html
The move to the stock car setting was a result of the highly successful Howard Hawks motion picture from November 9, 1965
"Red Line 5000".
This little film starred basically unknowns James Caan, Laura Devon, Charlene Holt and John Robert Crawford. The films title obviously influenced the one used for the first American International Pictures movie..
FIREBALL 500
Frankie Avalon and Annette Funicello were together again. Frankie was "Dave 'Fireball' Owens" and Annette was "Jane Harris", but the tag line on the following poster would never have won Walt Disney's approval for Annette. However, she was no longer in a contract with "Uncle Walt".
THEY LIVE FROM SPINOUT TO CRACK UP....and they love as fast as they can get it!
Harvey Lembeck was back not as "Eric Von Zipper", but "Charlie Brigg". In fact in this film he was the only other actor from the previous motion pictures, if you don't count Len Lesser as "The Man in the Garage".
.
Fabian portrayed race car driver "Sonny Leander Fox" the man to beat.
Chill Wills was "Big Jim Harris". Wills and Avalon had worked together in John Wayne's 1960
"The Alamo.
Singer/Actor Wills had been seen in such pictures as 1944's
"Meet Me in St. Louis"
and 1946's
"The Harvey Girls"
starring Judy Garland, the touching
"The Yearling"
starring Gregory Peck and Jane Wyman and
"Gallant Bess"
about a horse being recused during World War 2 from the battle field, In 1956 Chill Wills co-starred in George Stevens epic
"Giant"
starring Rock Hudson, Elizabeth Taylor and James Dean, in 1963 the actor appeared in the John Wayne/Maureen O'Hara feature
"McLintock"
and later in 1973 would be part of the cast in Sam Peckinpah's
"Pat Garrett and Billy the Kid"
starring James Coburn and Kris Kristofferson.
Above Chill Wills, and Annette
Julie Parish was "Martha Brian". Parrish made more appearances on television than motion pictures. Prior to this picture she was a "Student" in the Jerry Lewis original
"The Nutty Professor"
and
played, I like this, "Dee Dee" in a rip off of
"Ski Party".
Which was released four months later called
"Winter A-Go-Go".
Below Avalon and Parrish.
Trivia time:
Once again the film was directed by William Asher, who directed all but two of the series. As before Asher teamed up with Leo Townsend, another regular on the series, to write the screenplay, but a third writer was added. This was Burt Topper and her is were the trivia comes in.
Topper had written, directed, produced and acted in a very low budgeted Korean War movie
"War is Hell"
on November 22, 1963. The film was playing at the
Texas Theatre
in Dallas, Texas. During a showing a man slipped into the feature to hide. His name was Lee Harvey Oswald and he was arrested there for the assassination of President John F. Kennedy.
THE PLOT
"Dave Owens" a stock car racer, not surfer, from California goes to Spartanburg, South Carolina to race the local champ "Sonny Leander Fox".
"Dave" races and beats "Sonny" and impresses "Jane", the girlfriend of "Sonny", and "Martha" an extremely wealthy women. The film then takes a twist from stock car racing to a cross country night race.
It is at this point that the screenplay reminds viewers of the 1958 Robert Mitchum motion picture
"Thunder Road"
from eight years earlier. As it introduces Moonshine smuggling and IRS Agents going after an operation run by "Martha" and "Charlie Brigg". Unknown to "Dave" his car is being used to smuggle moonshine during the cross country race.
"Dave" wins the race and impresses "Sonny". Who challenges him to a dangerous figure eight race. "Sonny Leander Fox" also has his own moonshine business, but not on the scale of "Martha" and "Charlie's".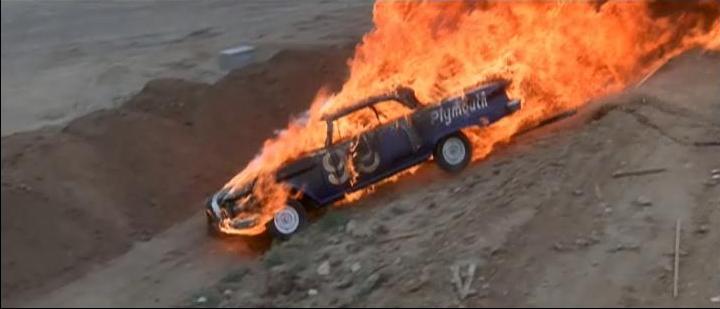 The IRS catches "Dave" smuggling. The advise him that unless he helps stop the moonshine operation a six month jail sentence awaits. Even though they know he was unaware of the smuggling operation. After a driver named "Joey", Mike Nader, is killed on a run. "Dave" and "Sonny" join to stop the moonshine operation.
The two discover that somebody is placing a large mirror across the road and further investigation leads to "Martha's" partner "Charlie Briggs". "Dave" and "Sonny" discover "Martha" was not involved in the death of "Joey". "Briggs" is solely responsible for the murder of "Joey" and had attempted to murder "Dave" as well. Again in a not normal
"Beach Party"
plot line the motive for "Charlie" attempting to murder "Dave" is because the other is now sleeping with "Martha".
In the end Annette gets Fabian and Frankie gets Julie.
According to the New York Times on November 24, 1966 this movie was:
a real turkey... one old bird that should have been cremated, not cooked
What ever the views of the movie critics Annette and Fabian were back March 27, 1967 in American International Pictures:
THUNDER ALLEY
Annette was now "Francie Madsen" and Fabian had become "Tommy Callahan".Look on the complete cast and crew list for this picture and they're the only ones associated with the previous films. In truth only Annette is directly associated with the
"Beach Party"
series. Yet,
"Thunder Alley"
shows up on many lists as one of that group.
"Thunder Alley"
started out as
"Malibu 500"
and was changed to
"Rebel 500"
before the
"500"
was dropped and the release title decided upon.
So who else was in it?
Diane McBain played "Annie Blaine". McBain had been under contract to Warner Brothers and made guest appearances on such television programs as
"Maverick", "Sugarfoot", "Bourbon Street Beat"
and was part of the cast on
"Surfside 6".
She was in two Warner Brothers movies aimed at the teenage audience, but based on torrid, for the time, best sellers. Opposite Troy Donahue and Claudette Cobert the young actress was sixth billed in 1961's
"Parish".
Which was followed by the title role of
"Claudelle English"
with Arthur Kennedy and Will Hutchens of Warner's
"Sugarfoot".
In 1968 Diane McBain would be "Shayne" the leader of AIP's
"The Mini-Skirt Mob".
The film is about an all female outlaw biker gang.
Warren Berlinger portrayed "Eddie Sands". Berlinger started out on Soap Opera's in
"The Secret Storm"
from 1954 through 1957. During the 1950's the actor appeared on a large amount of television episodes on other programs. Warren Berlinger also appeared in two forgotten motion pictures. They were 1956's
"Teenage Rebel"
starring Michael Rennie and Ginger Rodgers with Berlinger 10th billed. The same year and with the same billing he was in the Ray Milland, Ernest Borgnine and Frank Lovejoy vehicle
"Three Brave Men"
. Before this picture and during more television appearances the actor was seen in two Navy comedies. The first was the Ricky Nelson and Jack Lemmon 1960
"The Wackiest Ship in the Army"
and Pat Boone's 1961
"All Hands on Deck".
Below Warren Berlinger and Diane McBain.
Jan Murray was "Pete Madson". Murray was a comedian and game show host during the 1950's and in the 1960's appeared on many popular game and television shows. He also appeared in several motion pictures including William Castle's comedy
"The Busy Body", "Tarzan and the Great River",
the Jerry Lewis comedy
"Which Way to the Front"
and another teen aimed Vietnam War rebellion picture
"The Angry Breed".
THE PLOT
"Tommy Callahan" blacks out during a race and causes the death of another driver. After the accident he starts working for "Pete Madsen's" "Thrill Circus" as a stunt driver. There he meets "Pete's" daughter Francie Madsen" and her boyfriend "Eddie Sands". "Francie" is also a stock car driver and stunt women.
Both young men start talking and this leads to "Tommy" teaching "Eddie" stock car racing. Unfortunately, this also leads to :Tommy's" ex-girlfriend, "Annie Blaine", wanting to steal "Eddie" from "Francie".
"Francie" and "Tommy" have been quarreling his training of "Eddie" and of course the reappearance of "Annie". The two find themselves paired up on a 500 mile race with driver changes at different points in it. "Francie" has concerns over "Tommy" blacking out again during the race.
Her concerns are justified as "Tommy" starts to black out, but overcomes it. When he realizes the blackouts go back to a childhood trauma. Meanwhile, "Francie" has goaded ex-fiance "Eddie" over "Annie", as the race progresses, and it causes him to crash. In the end "Tommy" wins both the race and "Francie".
On the plus side the film was directed by Richard Rush. On the negative side he was hired after producer Burt Topper had spent three racing seasons filming stock car races and wanted all that footage used in the picture. The screenplay was written around it.
Rush directed Jack Nicholson is 1967's
"Hells Angels on Wheels"
and would direct Nicholson and Dean Stockwell in 1968's
"Psych-Out"
and Robert Walker in
"The Savage Seven".
As to Rush as a director and even the end result of
"Thunder Alley"
. Director Quentin Tarantino stated in his 2013 "My Favorite Racing Movies":
Richard Rush is a terrific director and stunt man and I actually used part of the score from this film in the big car chase scene in my movie

Death Proof

. It's a real Sixties hard-driving piece of music with bongos and a syntar. That's really cool.
So much for stock car racing
"Beach Party"
movies. There were two other motion pictures that fit into this time period and are considered part of the series.
THE DR. GOLDFOOT FILMS


DR. GOLDFOOT AND THE BIKINI MACHINE
The picture was released November 6, 1965 between
"Sergeant Deadhead"
and
"The Ghost in the Invisible Bikini".
The title was an obvious play upon the first and third "James Bond" films
"Dr No"
and
"Goldfinger".
The film was one of many world wide spoofs on the "James Bond" craze such as the British "Carry On" gang in 1964's
"Carrying On Spying",
1965's Italian
"008: Operation Exterminate"
with a female "James Bond" and on U.S. television 1964's
Man from U.N.C.L.E."
and 1965's
"Wild,Wild West".
The arch villain "Dr. Goldfoot" was played by Vincent Price.at his evil comic best.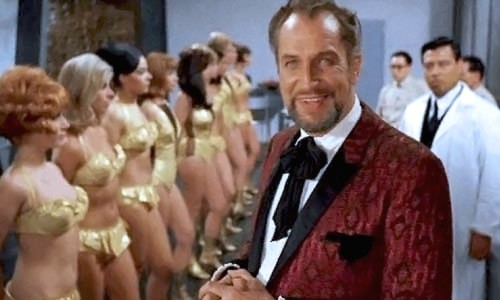 The two American Secret Agent's were "Craig Gamble" portrayed by Frankie Avalon and "Todd Armstrong" portrayed by Daryl Hickman". Robert Kaufman must have run out of characters names, or he was having a little fun with AIP's audience. Because he switched Avalon and Hickman's character names from
"Ski Party",
five months earlier, for
"Dr. Goldfoot and the Bikini Machine".
Probably wanting to see, if anyone noticed.
Susan Hart portrayed one of "Goldfoot's"
FEMBOTS
named"Diane". She is sent to stop Frankie Avalon, before he knows she's a robot.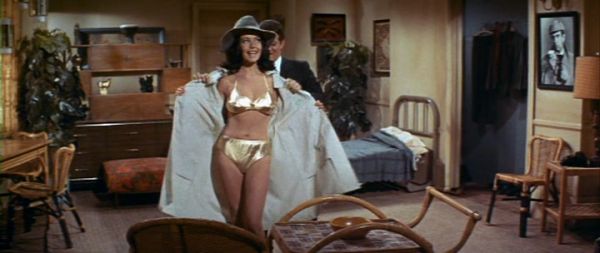 Jack Mullaney was "Igor" and was known for his comic roles. Two of Mulaney's films were Walt Disney's original
"The Absent Minded Professor"
and Elvis Presley's
"Tickle Me".
His television appearances were as a regular on 1958's
"The Ann Southern Show",
1962's
"Ensign O'Toole"
and 1964's
"My Living Doll".
Below Jack Mullaney and Vincent Price.
Fred Clark portrayed "D.J. Pevney" the two secret agent's boss.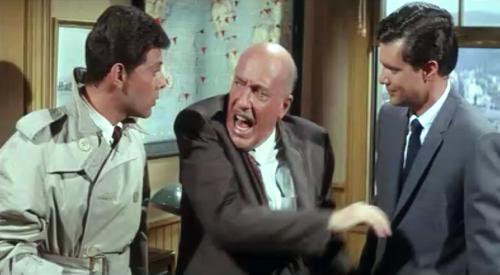 THE PLOT
Mad Scientist "Dr Goldfoot" with his comic sidekick "Igor" build a group of female robots to seduce and rob wealthy men. The two Secret Agents are sent to stop him and the picture ends with a "Keystone Cop" like chase through the streets of San Francisco.
There are two fun sequences I really enjoy. In one Vincent Price, as "Goldfoot", does a self parody of himself from Roger Corman's 1961
"The Pit and the Pendulum"
, Under the original sets pendulum he places Dwayne Hickman's "Todd Armstrong" who is rescued by Frankie Avalon's "Craig Gamble".
In the other sequence Avalon and Hickman find one of the first versions of "Goldfoot's"
FEMBOTS
. Annette Funicello.in a non on screen credited cameo and Kaufman has Frankie and Dwayne trying to figure out where they have seen Annette before.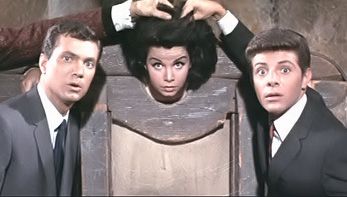 The movie was supposed to follow the standard Sam Arkoff American International Pictures
"Beach Party"
formula with musical numbers, but during production the musical numbers were all dropped. There was a sequence shot with Vincent Price's "Dr. Goldfoot" singing, but Arkoff cut it out. As Price's song seemed to imply "Goldfoot" was gay. However, the way Price played him was described in Tom Weaver's 2003 biography of Susan Hart by the actress:
One of the best scenes I've seen on film was Vincent Prince singing about the bikini machine - it was excellent. And I was told it was taken out because Sam Arkoff thought that Vincent Price looked too fey. But his character was fey! By taking that particular scene out, I believe they took the explanation and the meat out of that picture... It was a really unique explanatory scene and Vincent Price was beautiful in it, right on the money.
Then there was
DR. GOLDFOOT AND THE GIRL BOMBS
This film is not really shown on anyone's list of "Beach Party" film's, because it was really an Italian comedy turned into a sequel by American International Pictures.

The Italian producer Fulvio Lucisano wanted to make a sequel to a "James Bond" rip off starring Italian comedians Franco Franchi and Ciccio Ingrassia. The original motion picture was 1965's "Due mafiosi contro Goldginger (Two Mafiosi Against Goldginger)". However, he didn't have enough money to fund the production and made a deal with James H. Nicholson. The condition was that the screenplay could easily be changed into an American film with added scenes.




The original Italian screenplay was by Franco Castellano and Giuseppe Moccia aka Castellano and Pipola. The original Italian title was Le spie vengono dai semifreddo (The spies who came in from the semicold)" released in Italy on July 29, 1966. The title was a rip off of the Richard Burton motion picture "The Spy Who Came in from the Cold" released December 16, 1965 and based upon the John le Carre novel of the same title.




It's hard to read, but in the Italian motion picture Vincent Price is billed third on the above poster and down about two-thirds is the second American, Fabian's, name. In the Italian film the main stars are Franco and Ciccio. Price's "Goldginger" isn't a very large role and Fabian's is almost non-existent. Which is what happened to the two Italian comedians in the American version.

The rewritten American screenplay was by Louis M. Heyward and Robert Kaufman. According to Heyward he estimated the screenplays were rewritten about nine times. As both the Italian and American backers had different ideas of what they wanted to see on screen.

The American title started out as "Dr. Goldfoot and the Love Bomb". A reference to Stanley Kubrick's "Dr, Strangelove, or How I Learned to Stop Worrying and Love the Bomb". Then it became "Dr. Goldfoot and the S Bomb" in reference to the "Sex Bomb" mentioned in the picture.

The second American lead was suppose to be Frankie Avalon reprising his role of "Craig Gamble", but his wife was having another baby and the actor wanted to be with her. So the role was offered to "Fabian Forte" and the name changed to "Bill Dexter".

Fabian than, in the Italian original, became the butt of jokes by the stars Franco and Ciccio.
The English language version was shot at the same time as the Italian. Sometimes within minutes of completing a scene, if it, or a form of that scene was to be used.
When the American film opened. The two Italian comedians were introduced with a mistaken spelling of Franco's name on film, but not on the poster for
"Dr. Goldfoot and the Girl Bombs".
The director of this picture, who didn't want to do it, but was stuck with a contract with Fulvio Lucisano was Italian Horror Master Mario Bava. Bava had directed the classic
"La maschera del demonio (Mask of Satan)"
in 1960 which was released in the United States in 1961 as
"Black Sunday",
1961's
"Ercole al centro della Terra"
which was released in the United States in 1964 as
"Hercules in the Haunted World"
with Christopher Lee as the villain and 1965's
"Terrore nello spazio (Planet of the Vampires)"
released in both Italy and the United States in 1965.
My look at both the work of Mario Bava and another Italian Master of Horror Dario Argento may be read at:
http://www.bewaretheblog.com/2015/07/dario-argento-and-mario-bava-two.html
For those of my readers interested in the Foreign Language motion pictures of the late British actor Christopher Lee. In which he spoke each language fluently. My readers will find some interesting films at:
http://www.bewaretheblog.com/2016/08/christopher-lee-foreign-language-motion.html
THE PLOT OF THE AMERICAN VERSION
The evil "Dr. Goldfoot" is working with the Chinese Government to disrupt a scheduled North Atlantic Treaty Organization (NATO) war game. His idea is to use his
FEMBOTS
as bombs to blow up each of the NATO Generals involved.
One example of the difference between the Italian version of the story and the American. Is that in the Italian version the "Girl Bombs" are more brunette, a hair color favored in Italy, and the American version there are more blondes.
Below a gag photo of Vincent Price with the mainly brunette group.
.
Italian actress Laura Antonelli was "Rosanna". The love interest for "Fabian" in the English language version.
In the end "Dr Goldfoot" is attempting to start World War Three with a nuclear bomb dropped on Moscow. As in the first picture there is a frantic chase to stop him, but instead of San Francisco the chase is in Rome.
The Italian version of this picture was released in Italy on July 29, 1966 and the American version on November 9, 1966.
As to which films are really part of the
"Beach Party"
series, or not. I leave to my readers and film critics and historians everywhere. All I say is just take a step back and enjoy the nonsense and go with it.