Captain Nemo, Professor Van Helsing, the Phantom of the Opera and Napoleon are four roles portrayed on the Motion Picture Screen by actor Herbert Lom. This is a look at some of his 118 feature films and the memorable performances the actor gave us over 60 years.
Herbert Charles Angelo Kuchacevic ze Schluderpacheru was born September 11, 1917 in Prague, Austria-Hungrey. He first appeared on the motion picture screen in the 1937 Czechoslavakian motion picture
"Zena pod krizem (Women Under the Cross)".
The picture would be followed by two others in 1938. During this period Herbert changed his last name to Lom, which means "A Quarry, because it was the shortest name he could find in a local telephone book.
Like many Jewish actors in 1939, the now, Herbert Lom, left Europe to escape the rise of Adolph Hitler and the Nazi Party and went to Great Britain. His first English language motion picture was a 1940 Docudrama piece of propaganda entitled
"Mein Kampf-My Crimes"
aka:
"After Mein Kamf?: The Story of Hitler".
Lom portrayed an non screen credited "Hitler Youth" in the recreation footage. Also in recreated footage, without on screen credit, were British actors Robert Beatty and in his first motion picture Peter Ustinov. This picture did not appear in the UK until July 6, 1940, but was seen in France on March 9, 1940. Hitler started his invasion of France on May 10, 1940. The United States would see the docudrama on September 13, 1940
Herbert Lom became a versatile character actor and created several memorable performances during the 1940's and 1950's. The following are a few selected feature films out of the 46 made during those years..
Lom's second British made motion picture is an interesting period piece. A type of story always popular in the UK.
"The Young Mr. Pitt",
released in the UK on September 21, 1942 was Directed by Carol Reed, 1949's
"The Third Man"
starring Orson Wells and Joseph Cotton, 1959's
"Our Man in Havana"
starring Alec Guinness and the 1968 musical
"Oliver"
.
The motion picture starred Robert Donat, 1943's classic
"The Count of Monte Cristo",
1935's Alfred Hitchcock classic
"The 39 Steps"
and 1939's
"Good-bye Mr. Chips"
as "William Pitt, the Younger". Pitt became Prime Minister of England at the age of 24 in 1783.
The screenplay used Pitt's battles with Napoleon Bonaparte as a parallel to the then present day UK verses Germany. Portraying "Napoleon" for the first of two times was Herbert Lom.
On November 12, 1945 was
"The Seventh Veil".
starring James Mason and Ann Todd, an Independent motion picture Produced by Sydney Box. Who with his wife Muriel wrote the story and screenplay. On October 5, 1946 Ray Milland and Ann Todd did a major United States Radio adaptation. That screenplay would be turned into a 1951 stage production with Leo Glenn replacing James Mason. In 2004 the film was listed as #10 of all time UK cinematic greats by the British Film Institute.
The motion picture was Directed by Compton Bennett. Bennett would Direct 1949's
"That Forsyte Women"
starring Greer Garson, Errol Flynn and Walter Pigeon. In 1950 Stewart Granger, Deborah Kerr and Richard Carlson in
"King Solomon's Mines".
James Mason portrayed "Nicholas" a crippled second cousin and guardian to Ann Todd's "Francesca".
The story opens after "Francesca" has attempted suicide and she sees "Dr. Larsen" played by Herbert Lom. Through sessions of hypnosis the veils of "Francesca's" life are opened. As the audience learns what drove her to attempt suicide and finally who she really loves to find happiness. This is an excellent feature film.
A possibly forgotten excellent British Film Noir was released on June 3, 1947,in the UK, entitled
"Duel Alibi".
Herbert Lom portrays trapeze artist twins "Jules and Georges de Lisle".
The twins purchase a French lottery ticket and overtime forget they did. Their publicity agent "Mike Bergen", played by Terence de Marney, gets a letter for them from the French lottery commission. He opens the letter and learns of the winning ticket and the very large amount of money the two have won.
"Bergen" hires cigarette girl "Penny", aka: "Gloria Gregg", played by Phyllis Dixey, to go in with his con to get the ticket out of the brother's hands. She then sets out to get the one brother, whose name is on the ticket, to fall for her.
After getting the ticket. "Lucky Penny" and "Bergen" go to France to claim the money, but the twins now discover the truth. After years of searching "Jules and Georges" have located "Bergen" and "Penny" living in luxury off the fortune they stole from them. The twins now plan revenge on both and the murder of "Bergen" in plain sight of everyone, because which twin are we seeing?
There are two endings to the British Film Noir
"Night and the City"
Directed by American "Black Listed" Director Jules Dassin. Prior to his "Black Listing". Dassin Directed, among other work, the classic Charles Laughten comedy 1944's
"The Canterville Ghost"
and the classic 1948 Film Noir
"The Naked City".
In the 1960's he made several movies with his second wife Greek Actress Melina Mercouri including 1960's
"Never On Sunday",
1962's
"Phaedra"
and the classic robbery comedy 1964's
"Topkapki".
This is one of the first motion pictures in which there isn't one sympathetic character in the story.
Richard Widmark is "Harry Fabian" a hustler and con man whose plans never go right. Gene Tierney is "Mary Bristol" a nightclub singer. 20th Century Fox owner Daryl F. Zanuck told Jules Dassin that he believed Tierney was suicidal and that he also believed this work would help her mind set. The film premiered in New York City on June 9. 1950. Gene Tierney died on November 6, 1991, 13 days prior to her 71st birthday.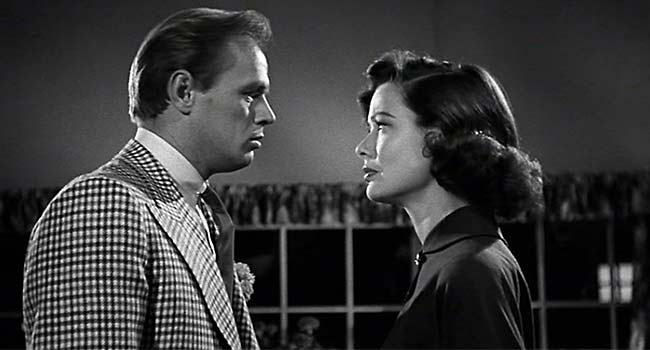 The story revolves around wrestling in London. Which is entirely controlled by "Kristos" portrayed by Herbert Lom. As with Boxing in the United States this is a criminally dominated sport in the UK and nobody can enter it without an agreement from and a percentage to "Kristos". This was one of many uinderworld and villainous roles portrayed by Lom.
"Harry Fabian" behinds an ex-wrestler who happens to be "Kristos" father. He realizes that the son won't bother "Fabian's" own wrestling venue, if the father works for him. Which is part of an elaborate con "Fabian" is working to oppose the other man. Portraying "Gregorius the Great", "Kristos" father, was Polish Strongman and Professional Wrestler Stanislaus Zbyszko, he is on right in following photo, and portraying the other Wrestler, "The Strangler", was Professional Wrestler turned actor Mike Mazurki.
The plot has "Harry Fabian" establishing his own gym with "Gregorius'" help. "Fabian" needs money and becomes deeply involved with shady characters and the London mob. His Wrestling license is a forgery and those around him that "Harry" considers friends will double cross him. He sets up a fight between the two wrestlers after borrowing money from "The Strangler's" manager to promote it. As "The Strangler" is a favorite of "Kristos". "Harry's" is further violating the underworld of London wrestling the other controls.
At one point "Mary" steals the money given "Fabian" by "The Strangler's" manager as the fight fee. Resulting in "Harry" needing to replace it somehow . While this is all going on "Kristos" hears that "The Strangler" is at "Harry Fabian's" gym, but before he can get there. "The Strangler" is able to goad "Kristos'" father into fight resulting in the death of "Gregorious".
To avenge his father's death "Kristos" puts a bounty of 1,000 pounds on "Fabian's" head and sends word out through the underworld. As "Harry Fabian" flees his multiple pursues during the night he is beaten by underworld thugs, but gets away.
"Kristos" finds "Harry Fabian", on Hammersmith Bridge, after he was betrayed by "Mary" over the reward. As he watches "The Strangler" approached and confronts "Fabian". The wrestler kills him and throws the body off the bridge as "Kristos" calmly walks away.
As I mentioned this motion picture had two endings. One is more upbeat then the killing of "Harry Fabian" as filmed by Jules Dassin originally. This was the British ending to comply with the British Censors. The fight between the two wrestlers is also toned down for the original UK release. Jules Dassin's original vision is considered a masterpiece by many film historians and eventually, five decades later, on DVD that film reached the UK.
In 1950 Herbert Lom would be seen in four other motion pictures besides
"Night and the City".
One was an interesting costume drama entitled
"The Black Rose"
. Those familiar with Thomas B. Costain's novel would be disappointed, because the movie was originally planned as a sequel to 1949's
"Prince of Foxes",
reuniting the two leads, but it turned out otherwise.
By this feature Director Henry Hathaway had been making films for twenty years. His work included 1935's
"The Lives of a Bengal Lancer"
with Gary Cooper, in 1940 both
"Brigham Young"
and
"Johnny Apollo"
with Tyrone Power, the WW2 Navy Drama 1944's
"Wing and a Prayer"
starring Don Ameche and Dana Andrews and the 1946 OSS drama
"13 Rue Madeleine"
starring James Cagney/
Tyrone Power was at the height of his career with the proceeding years
"Prince of Foxes".
As was Orson Wells who had just been seen as "Harry Lime" in Carol Reed's
"The Third Man"
right before
"Prince of Foxes"
as "Cesar Borgia". In this picture Power was "Walter of Gurnie" and Wells was Mongolian Warlord "Bayan of the Hundard Eyes". One of only a couple of actual people in the story.
In the top photo are Tyrone Power, French actress Cecile Aubry as "Maryam". She is
"The Black Rose"
of the title, because "Maryam" is half-English, half-Mongol. Sitting next to her is Jack Hawkins as "Walter's" companion, English bowman, "Tritram Griffen". Who has accompanied "Walter" to China as he seeks the patronage of 'Bayan". "Maryam" was part of "Bayan's" harem until she escapes and falls in love with "Walter", but he seeks only Chinese war knowledge and the secret of gunpowder. Herbert Lom portrayed "Arthemus" right in the middle of the 14 screen credited actors at number seven.
The role was important because Lom was breaking into major International productions. Also in the on screen credited cast were Michael Rennie, James Robertson Justice and an unknown Lawrence Harvey. Without on screen credit the audience heard the voice of Peter Sellars as "Lu Chung" and saw Thorin Thatcher.
Herbert Lom started 1951 by finding out that
"Hell Is Sold Out".
The drama was released in June 1951.
This was Lom's second motion picture with Swedish actress Mai Zetterling and Richard Attenborough. The first had been
"The Lost People"
in August 1949. In that picture Herbert Lom had an non screen credited role as a "Guest", but this time Herbert Lom was third billed.
The motion picture was Directed by Michael Anderson. Who over his career would Direct a true WW2 story in 1955's
"The Dam Busters",
the original filmed version of George Orwells
"1984"
in 1956, the same years
"Around the World in 80 Days",
1975's
"Doc Savage: Man of Bronze",
1976's
"Logan's Run"
and the 1980 made for television version of Ray Bradbury's
"The Martian Chronicles".
A Swedish women, "Valerie Martin", Zetterling, poses as the widow of a famous French author killed in World War 2 and writes a novel using his name entitled
"Hell Is Sold Out".
Two things occur to spoil her plans. The first is that "Dominic Danges", Lom, is alive, finds out about the novel and walks in the front door of his home that "Valerie" has taken over.
The second is that the publisher wants to serialized the novel in the United States and there is now talk about making it into a film. This means "Valerie" and "Dominic" must pose as husband and wife to protect the fact he didn't write the popular work.
The following photo shows both Lom and Richard Attenbourgh as his friend "Pierre Bonnet". Who was also a Prisoner of War and knows he never wrote the novel.
Things get more complicated when "Valerie" gets "Pierre" involved and both fall in love. While "Dominic" has also realized he loves "Valerie". She confesses to "Pierre" everything including that "Dominic" is really not her husband, but a dark turn occurs. "Pierre" falls ill as a result of a piece of shrapnel in his head, The motion picture received very good reviews in the UK and the United States and gave Herbert Lom another starring role.
On January 31, 1952 Herbert Lom was the blackmailer in a Detective thriller,
"Whispering Smith Hits London",
starring American actor Richard Carlson as "Stephen 'Whispering' Smith". Lom portrayed "Roger Ford" who has "Inherited" a lakeside cottage that was owned by a women named "Sylvia". She had committed suicide, or was it murder?
Below the poster for the United States release.
This was the only time Richard Carlson portrayed the character popular in both an American radio program and a series of motion pictures started in the 1940's with multiple actors. The film was made by Hammer Pictures before they became associated with excellent Science Fiction and Horror Films.
On February 10, 1953 Herbert Lom was in a Science Fiction/Spy Thriller entitled
"The Net"
in the UK and
"Project M-7"
in the United States.
At the time of the pictures release James Donald's name might not be familiar to Americans, but later portraying army officers in both 1957's
"The Bridge on the River Kwai"
and 1963's
"The Great Escape"
helped change that. He was also in the Kirk Douglas, Tony Curtis, Ernest Borgaine and Janet Lee 1958
"The Vikings"
and 1967's
"Quatermass and the Pitt"
aka:
"Five Million Years to Earth".
In this picture Donald portrayed lead scientist "Michael Heathley". Actress Phyllis Calvert was his wife "Lydia:, Robert Beatty was "Sam Seagram" and Herbert Lom "Alex Leon".
"Dr, Michael Heathley" is completely obsessed with creating his "Float Plane", "Project M-7", that he overlooks his own home life. This permits the Chief Project Engineer "Alex Leon" to make moves on "Michael's' wife "Lydia". Who at the time doesn't seem to mind, but when "Michael", unauthorized, takes up his "Float Plane" to prove its worth to the Government realizes her mistake.
Meanwhile there is a spy working for a government that is not named, but is obviously Russia. The spy is "Dennis Bord" portrayed by Noel Willman and he commits both murder and sabotage. Willman would become a solid British character actor having only started motion pictures in 1952. Among his appearances are Alfred Hitchcock's 1956
"The Man Who Knew Too Much",
1965's
"Dr. Zhivago"
and as "Aramis" in a 1968 British TV version of
"The Man in the Iron Mask".
However, he is best remembered by fans of the House of Hammer's Horror Films, As two of the most diabolical villains in 1963's
"Kiss of the Vampire"
and 1966's
"The Reptile".
This is an very well written and performed British political/romance thriller that is overlooked today.
On January 30, 1954 Herbert Lom finally found himself out of dramatic roles and in a comedy,
"The Love Lottery",
with fourth billing in a film starring David Niven.
David Niven plays Hollywood Star "Rex Allerton" who is escaping his fans and the studios by hiding out in Italy. Unfortunately he becomes "The Prize" in an International Lottery and fan Peggy Cummins pursues him. Cummins is perhaps best known to fans of classic Horror films. Co-starring with Dana Andrews in the Jacques Tourneur Directed 1957
"Night of the Demon"
known in the United States in a shorten, by 15 minutes, version as
"Curse of the Demon".
Above Herbert Lom, as "Andre Aminco", whose job was to follow Niven around and make sure he does not forget his promise "To Marry the Winner" of the lottery. French actress Anne Vernon as "Jane Dubois" is seen between Lom and Niven. This was a light weight comedy, but a complete change, at least for the moment, for Lom. Whose comedy talent was finally revealed.
In February 1954 Herbert Lom was fourth billed behind the husband and wife acting team of Cornel Wilde and Jean Wallace. This was a typical swashbuckler film of the period entitled
"Star of India".
Cornel Wilde portrayed "Pierre St. Laurent" who returns home to France from the wars in India. He finds his estate has been sold to a women "Katrina", played by Jean Wallace, for unpaid back taxes by the evil governor "Narbonne", Herbert Lom. "Katrina" tells "St. Laurent" she will give him back all of his property, if he will help her get back the fabulous jewel of the picture's title from "Narbonne".
In the lobby card, below, for the German version, Wilde is on the left and Lom the right.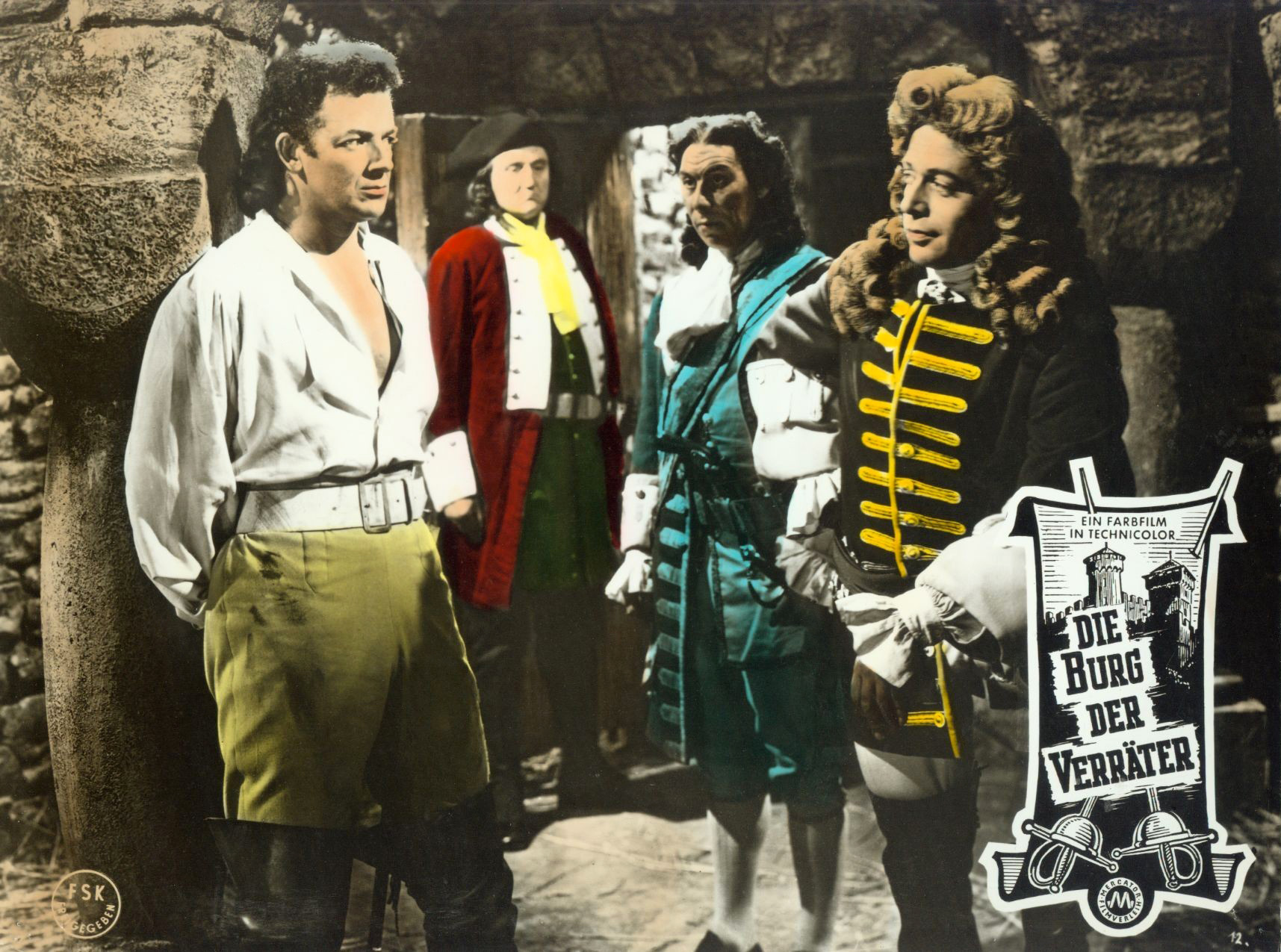 It was back to comedy in what was known as a "Black Comedy" in the British classic
"The Ladykillers"
released December 8, 1955. The film starred Alec Guinness and is ranked by the British Film Institute as the 13th greatest British film of all time,
Guinness as "Professor Marcus: is the mastermind of a group of crooks who plan to rob an armored van. Above they include Herbert Lom as "Louis Harvey:, Peter Sellers as "Harry Robinson" and several known comedy actors of the period.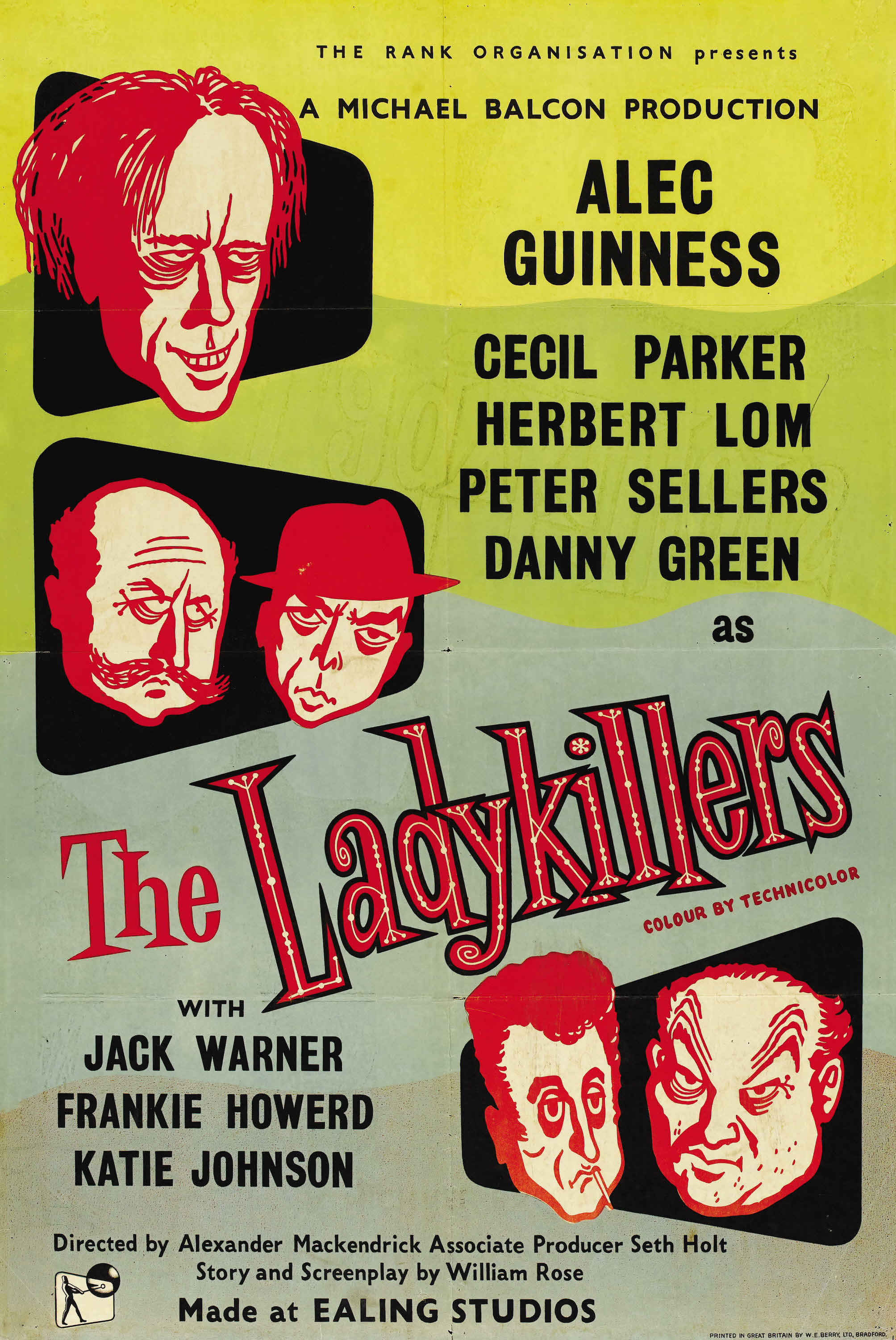 "Professor Marcus" convinces a sweet and somewhat eccentric old women "Mrs. Louise Wiberforce", Katie Johnson, to let him rent a room for his amateur string quartet. While they plan their robbery.
Note that Herbert Lom looks nothing like a member of a string quartet during the film, but the petty crook he really is. The picture was also the first major role for Peter Sellers. At one point the group of crooks have to give a performance for "Mrs. Wiberforce's" friends to keep up the pretense they are actual musicians.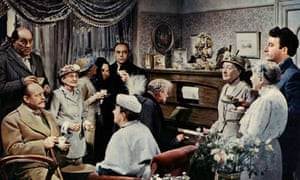 After pulling off the robbery and hiding the money in a cello case. The crooks have a falling out and the film takes it darker tone, As "Mrs. Wiberforce" is sleeping the gang starts to cross, double cross and even triple cross each other. In the end not one of them is left alive and "Mrs. W", as she is referred too, finds the money. She takes it to the police and tells her story about the string quartet. They don't believe her and think she's a little bite "daffy" and tell her to keep the money. In 2004 an updated version of
"The Ladykillers"
was released starring Tom Hanks.
On August 21, 1956 Italian Producers Dino De Laurentis and Carlo Ponti released an epic 208 minute star studded version of Leo Tolstoy's
"War and Peace".
The film was Directed by American King Vidor, 1925's anti-War
"The Big Parade"
about WW1 starring John Gilbert, 1940's
"Northwest Passage"
starring Spencer Tracy and Robert Young, 1949's Ayn Rand based
"The Fountainhead"
starring Gary Cooper and Patricia Neal, 1952's
"Ruby Gentry"
starring Jennifer Jones and Charlton Heston among other works.
Top Billing went to Audrey Hepburn as "Natasha Rostova". She was coming off of two very successful hits. They were 1953's
"Roman Holiday"
opposite Gregory Peck and 1954's
"Sabrina"
opposite Humphrey Bogart and William Holden. Hepburn became the lead in all the publicity.
The actual major role of "Count Pierre Bezukhov" went to Henry Fonda. The year before this release Fonda had been seen in
"Mister Roberts"
and the year following he was in Alfred Hitchcock's
"The Wrong Man".
Most critics felt Henry Fonda was terribly miscast and at times seemed uncomfortable.
Mel Ferrer portrayed "Prince Andrei Bolkonsky".
Also in major secondary roles were Oskar Homoka, Anita Ekberg and Vittorio Gassman.
For those unfamiliar with Leo Tolstoy's 1,440 page epic. It tells the story of the Rostov family and the people they meet during two periods of War between Russia and Napoleon and the Peace before, between and after he is defeated.
Portraying "Napoleon Bonaparte", for the second time, was Herbert Lom,
Even at three hours and twenty-eight minutes the film hardly touched the novel and strangely King Vidor's Direction was off and the overall production sluggish including the battle sequences.
For a Russian Count of the Napoleonic period. Henry Fonda sounded more like
"Young Mr. Lincoln",
or "Tom Joad" of
"The Grapes of Wrath".
While Audrey Hepburn didn't seem to age over the years the story covers. The $6 Million 1956 Dollar production was a financial and box off flop.
My readers may never have heard of a British drama entitled
"Hell Drivers"
released July 23, 1957, but you know several of the actors in it. It was
Directed by Cy Enfield, 1952's
"Tarzan's Savage Fury"
starring Lex Barker, 1961's
"The Mysterious Island"
I will mention shortly
,
1964's
"Zulu"
starring Stanley Baker and Michael Caine.
This motion picture also starred Stanley Baker. The feature co-starred Herbert Lom and once again Peggy Cummins. Here some fun. The fourth billed actor was Patrick McGoohan seven years before he became "John Drake" in
"Secret Agent"
. The film featured fifth billed William Hartnell six years before he became the 1st
"Dr. Who",
8th billed Jill Ireland the future Mrs. David McCullum and Charles Bronson. Speaking of David McCullum he was 11th billed six years before he appeared in
"The Great Escape"
and 12th billed Sean Connery five years before he became "James Bond" in
"Dr. No".
We've seen the basic story many times before. Stanley Baker's ex-convict turned trucker "Tom Yately" wants to expose the racket of his boss "Cartley", William Hartnell. Whose using "Red", Patrick McGoohan, to do his dirty work. "Tom" has befriended the Italian driver for the company "Gino Rossi", Herbert Lom. When "Gino" is deliberately run off the road and injured by "Red". "Tom" goes after the other diver and their boss. The film is very gritty and extremely well acted by all.
In 1958 Herbert Lom was the real French Army "Major DuPaty de Clam" in Actor/Director Jose Ferrer's feature film
"I Accuse".
The picture had a screenplay by Gore Vidal. The writer of the Paul Newman "Billy the Kid" movie, of the same year,
"The Left Handed Gun"
and author, among other works, of the best selling 1968 novel
"Myra Breckinridge".
Which would be turned into a hit movie starring Rachel Welch.
"I Accuse"
told the true story of 1894 true French Army Captain "Alfred Dreyfus". "Dreyfus" was falsely accused of Treason, because he was Jewish. Jose Ferrer portrayed the role. The motion picture was a commercial flop, but is considered by critics and historians as classic. The case became famous in a work by French writer Emile Zola who attended the trial.
In 1953 the Lloyd C. Douglas novel about what happens to a Roman soldier who wins
"The Robe".
That was worn by Jesus at the Crucifixion, became the first CinemaScope motion picture.
"The Robe"
starred Richard Burton, Jean Simmons, Victor Mature and Michael Rennie. Released on August 5, 1959 was a second motion picture based upon a Lloyd C. Douglas religious novel
"The Big Fisherman"
about the disciple "Simon Peter".
The movie starred singer Howard Keel as "Simon Peter". Keel was best known for the 1950's MGM Musical motion pictures
"Annie Get Your Gun", "Seven Brides for Seven Brothers", "Show Boat"
and
"Kiss Me Kate"
and for portraying "Wild Bill Hickok" in the Doris Day Warner Brother musical
"Calamity Jane"
.
Actress Susan Kohner was "Fara", John Saxon was "Voldi", Martha Hyer was "Herodias" and Herbert Lom was "Herod-Antipas".
Like
"War and Peace". "The Big Fisherman"
was a financial flop and considered too sluggish even for a religious picture of the period.
Herbert Lom ended the 1950's with two 1959 motion pictures.
"North West Frontier"
was set in British India and Walt Disney's
"Third Man on the Mountain"
was about a young man played by pre-original
"Hawaii Five-0"
James MacArthur. He's a young man who wants to climb a mountain his father never was able too.
The 1960's and 1970's combined Adventure with classic Horror and Science Fiction for Herbert Lom in 39 roles/ That a famous classic comedy role.
The battle between the United States and Russia known as the "Space Race". Brought to American's attention a German Rocket Scientist who had built their V-1 and V-2's, but before the war ended had, with others, taken asylum in the West. His name was Dr. Werner von Braun and he was even a technical adviser for Walt Disney on several "Tomorrowland" features on the television series "Disneyland",
On August 19, 1960 in Munchen, West Germany, a American Production
"I Am At the Stars"
premiered. This was the Hollywood version of the story of Werner Von Braun as played by German actor "Curd Jergens". In the film Herbert Lom portrayed "Anton Reger" another scientist. The film is very well done, but has always caused controversy by cleaning up Von Braun's German Rocket career among other points.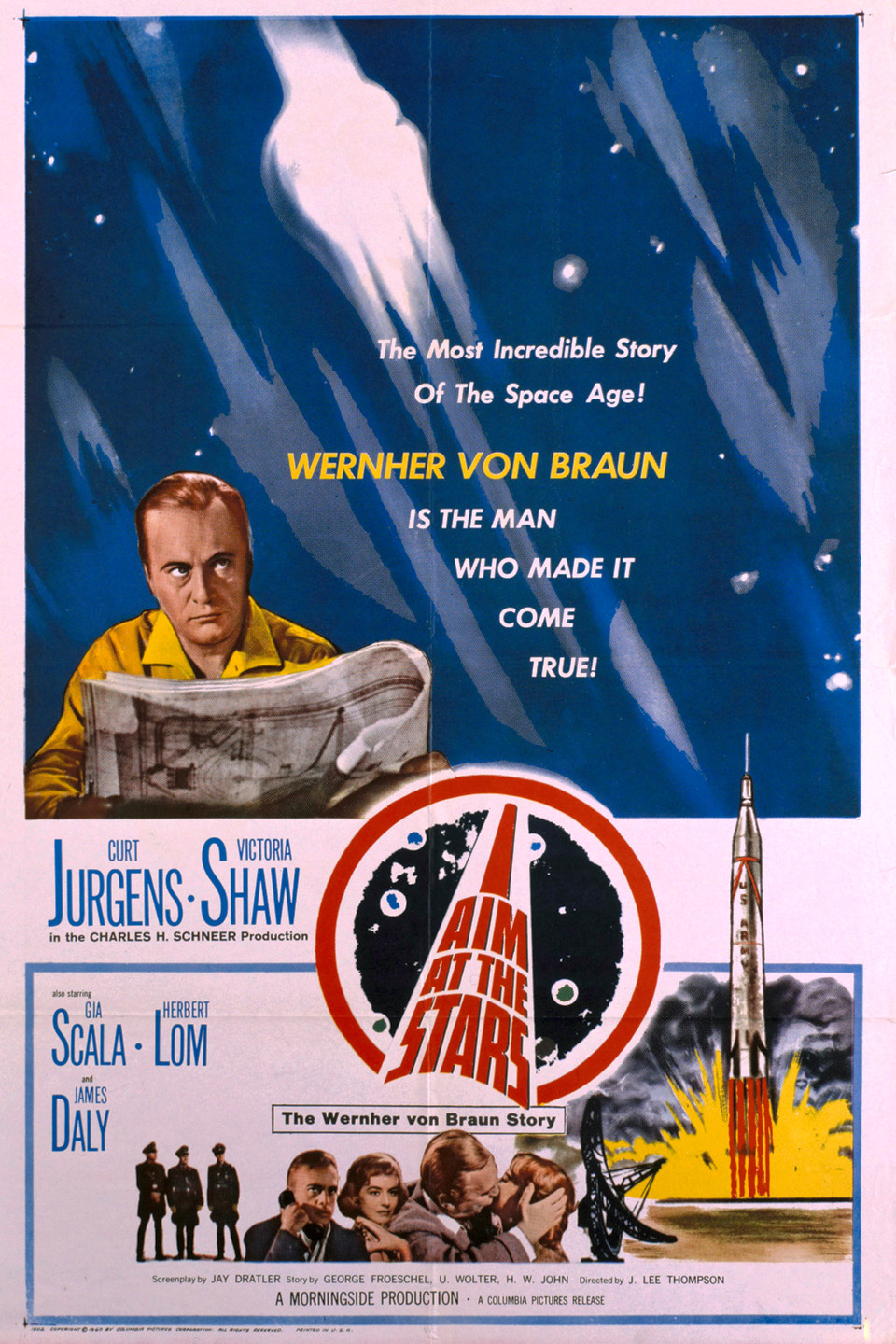 There is a line that played off the film's title used by the cynical American "Major William Taggert" portrayed by James Daily. Which was turned into a one liner joke by several comedians. It reflected the feelings many American's and other allies had about the real Werner Von Braun at the time of the movies release.
I AM AT THE STARS, BUT SOMETIMES I HIT LONDON!
On October 6, 1960 Herbert Lom was in the cast of Stanley Kubrick's epic
"Spartacus"
starring Kirk Douglas, Lawrence Oliver, Jean Simmons, Charles Laughton, Peter Ustinov, John Gavin and Tony Curtis.
In this massive spectacle about the Gladiator revolt against Rome. While Julius Caesar was still a nobody. Herbert Lom portrayed the pirate envoy, Tigranes Levantius:, sent to "Spartacus", Kirk Douglas, to arrange to take his people away from Roman rule.
Peter Sellers was now a major British comedic actor and on March 23, 1961 he starred in
"Mr. Topaze"
aka:
"I Like Money".
As an honest French teacher, "Auguste Topaze", who refuses to give a passing grade to the grandson of a wealthy baroness and is fired.
He then becomes the front man for crooked financier "Castel Bernac", Herbert Lom. The plan backfires as "Auguste" becomes too good fronting the financier's business and takes over. In the end he fires "Bernac" and gets the girl "Suzy", Nadia Gray.
After being reunited with Peter Sellers in the above comedy. Herbert Lom starred in a motion picture reuniting him with the still pre-"James Bond" Sean Connery. The picture
"The Frightened City'
was released August 9, 1961.
Herbert Lom was "Waldo Zhemikov" described as a sinister Mob Boss. Whose mistress, "Anya Bergodin", Yvonne Romain, is seduced by a a petty crook, "Paddy Damion" portrayed by Sean Connery. "Paddy" is lured into a protection racket as the plot is basically a gangland turf battle.
The next three features are motion picture classics that Herbert Lom is always associated with.
The first one was from the team of Producer Charles H. Schneer and Stop Motion Special Effects Master Ray Harryhausen. This was their version of
"Jules Verne's
The Mysterious Island"
known in the United States, where it had its World premiere in August 1961, as just
"The Mysterious Island".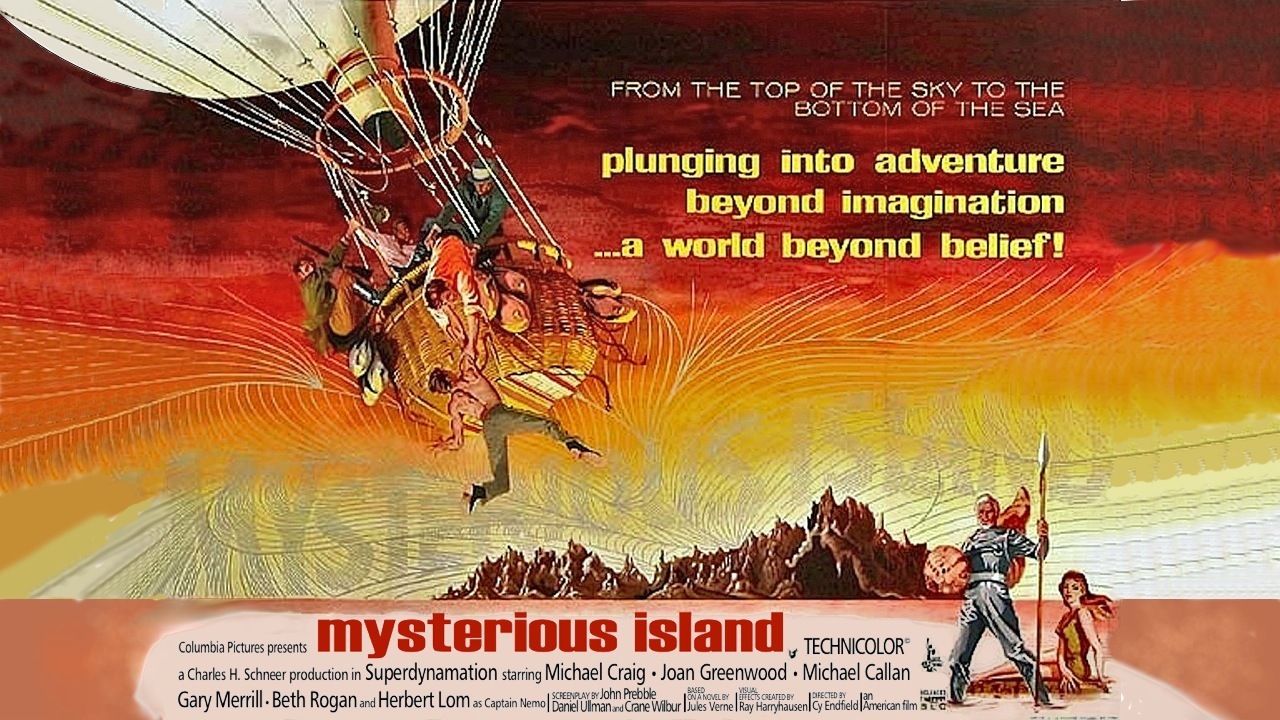 As I mentioned previously the live action was directed by Cy Enfield. The film starred Michael Craig as "Captain Cyrus Harding", Joan Greenwood as "Lady Mary Fairchild", Michael Callan as "Herbert Brown", Gary Merrill as "Gideon Splitt" and Herbert Lom with that glorious white hair as "Captain Nemo".
The screenplay was by John Pebble, Daniel B. Ullman and Crane Wilbur blended. They blended Verne's novel "The Mysterious Island", the sequel to "20,000 Leagues Under the Sea", with Verne's "In Search of the Castaways" to create a very good screenplay.
The "Mysterious Island" tells of a group of Union Prisoners of War and a Confederate Balloonist landing upon the title island. Which holds the secret hiding place of "Captain Nemo" and his submarine "Nautilus". The other novel brought in pirates and an English women and her niece.
For those of my readers interested in the character of "Captain Nemo" in motion pictures. Who first appeared in a silent version of "20,000 Leagues Under the Sea" made by Universal Pictures. My article can be read at:
http://www.bewaretheblog.com/2015/02/captain-nemo-motion-picture-star.html
Herbert Lom next appeared on December 6, 1961 in another epic motion picture Directed by Anthony Mann, Produced by Samuel Bronson and starring Charlton Heston and Sophia Loren.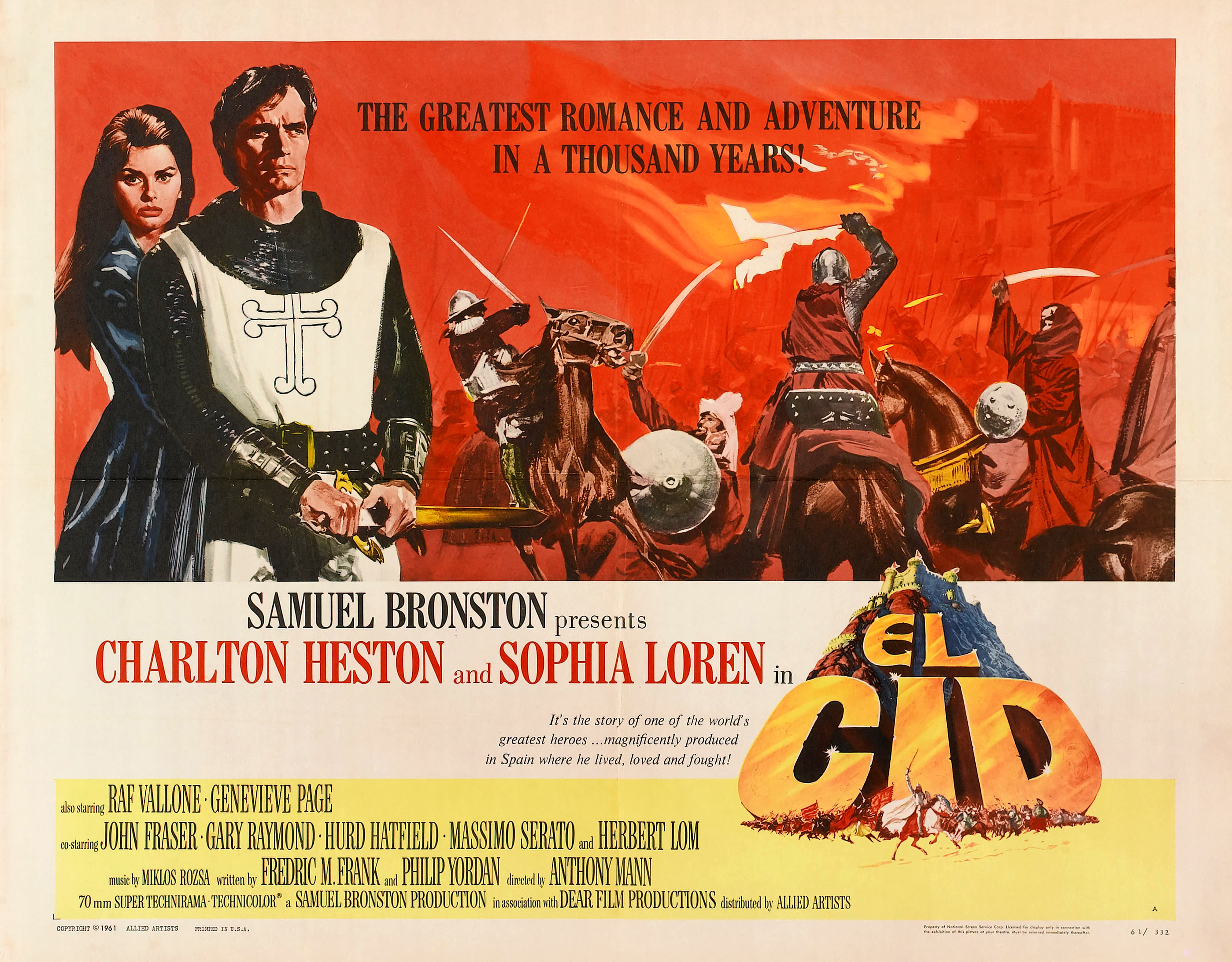 In this story the leader of the Almoravid Muslims, located in the 11th Century in Morocco, "Bem Yusuf", comes to Spain. He is proposing a "Holy War" against the Christians of the Iberian Peninsula.
In his best fanatic voice Herbert Lom was "Ben Yusuf". Whose role actually bookends the three hour movie by appearing at the opening of the story to declare "Holy War" and at the climax at the siege of Valencia.
Hammer Films had been reworking the classic Universal Studio's monsters. They had gone through "Frankestein", "Dracula", "The Mummy" and "The Wolfman". Now it was time for Hammer to take on "The Phantom of the Opera"/ To get around the problem that Universal still controlled the distribution rights for that title. Hammer made an agreement for that studio to release the motion picture in the United States.
So far, so good. Then Producer Anthony Hinds using his screenplay writing name of John Elder changed Gaston Lerox's novel in three ways. First he moved the story from Pairs to London. Second he made the "Phantom" not the villain of the piece, but the hero. He also borrowed the background from the 1943 screenplay by John Jacoby. Hinds was known to have somebody write a screenplay for one of his films and then put his pen name on the picture as that writer. Giving the actual writer no credit. The third thing he did was turn the music publisher into the villain of the piece.
In this version "Professor Petrie", Hebert Lom, makes the mistake of having "Lord Ambrose D'Arcy", Michael Gough, publish his opera. Instead "Lord Ambrose" puts his own name on the opera. "Professor Petrie" finds out what "DiArcy" is doing and goes to the publishing house to retrieve his opera. "Petrie" accidentally starts a fire and thinking he is throwing water on it. Splashes his face and hands with Nitric Acid creating the "Phantom".
In Universal Studio's 1943
"Phantom of the Opera".
Composer "Erique Claudin", Claude Rains, takes his Concerto to the publisher "Maurice Pleyel". Only to discover "Pleyel" has put his own name on it. In a rage "Claudin" starts to destroy the printed copies and "Pleyel's" secretary, thinking she is throwing water at "Claudin". Instead tosses a tray of acid in his face creating the "Phantom".
Very similar stories.
Below Michael Gough with Thorley Walters as "Lattimer".
I found the following alleged quote from Herbert Lom in several articles, but not one says when he was suppose to have said this and to whom:
This version of the famous Gaston Leroux

story dragged. The Phantom wasn't given enough to do, but at least I wasn't the villain, for a change. Michael Gough,

was the villain.
This is unfortunately one of the worst Hammer remakes of the classic monster films made. The possible reason why the "Phantom" was reduced to such a small part. May be read in author Wayne A. Kinsey's work "Hammer Films" The Bray Studio Years".
Kinsey wrote that the leading man was originally written for actor Cary Grant who had expressed a wish to be in a Hammer Horror Film. The role of "Christine' was to have been played by ex-MGM singer Kathryn Grayson. Who co-starred in the above mentioned Howard Keel musicals. Instead the male lead was portrayed by Edward de Souza and the female lead by Heather Sears.
Michael Gough's "Lord Ambrose D'Arcy" is a seducer of women and having failed with "Christine". He removes her from the opera enraging the "Phantom". Who appears to "Lord Ambrose" and when his lordship removes the mask and sees the face beneath. "D'Arcy" is last seen running into the streets in terror and never returns.
Any evil deeds are done by the hunchbacked dwarf played by Ian Wilson. He had saved "Professor Petrie" from drowning and protects him under the opera house.
In the Anthony Hinds, or John Elder screenplay. It is the dwarf enjoying the opera from the rafters that is spotted and chased by a stage hand. He jumps onto the chandler and brings it down. As it falls towards "Christine". The "Phantom" takes off his own mask. Then he jumps from the "Haunted Box" and pushes "Christine" out of the way dying heroically.
For those of my readers interested in the story of the REAL PHANTOM OF THE OPERA that Gaston Leroux based his novel upon. There was one! Along with all the versions, too date, of the motion pictures including foreign and animated appearances. My article can be read at:
http://www.bewaretheblog.com/2018/03/the-phantom-of-opera-gaston-leroux-on.html
My reader may be completely surprised when I mention that Karl May, whom they probably never heard of, is still the most prolific writers of American Westerns, but never saw the American West. He was a German and created several stories about the Apache Chief "Winnetou". The first Western motion picture based upon one of May's novels was
"Der Schatz im Silbersee (The Treasure of Silver Lake)".
The feature starred French actor Pierre Brice as "Winnetou", American Actor Lex Barker as his friend "Old Shatterhand" and Herbert Lom as the outlaw leader "Colonel Brinkley". The movie was made in West Germany and released there on December 14, 1962.
Herbert Lom is on the left in the following photo. Next to him is the heroine of this 1940's style Western German Actress Karin Dor. You might recognize her from the 1967 "James Bond" film
"You Only Live Twice",
or Alfred Hitcock's 1968 movie
"Topaz".
Should my reader be interested on the American West as seen by Europeans including the Soviet Union. My article on the subject can be found at:
http://www.bewaretheblog.com/2015/01/american-westerns-european-style.html
Herbert Lom was back with Peter Sellers in the great Blake Edwards comedy
"A Shot in the Dark"
released June 23, 1964. The previous year Blake Edwards brought his audience
"The Pink Panther"
starring David Niven as a famous jewel thief and Peter Sellers as the bumbling "Inspector Jacques Clouseau". A role in which Sellers stole the film from Niven, Robert Wagner, Capucine and Claudia Cardinale.
Now he was back as "Clouseau" in Blake Edwards' sequel
"A Shot in the Dark"
as the lead.
Where he has to track down the lovely suspect in the murder of the chauffeur of millionaire "Benjamin Ballon" played by George Sanders. The suspect is the maid, "Maria Gambrelli" portrayed by German actress Elke Sommer. She had just been introduced to America audiences the year before in two major motion pictures. The first was as part of the International cast in the World Wr 2 drama from Producer, Director and Writer Carl Foreman
"The Victors".
The second
"The Prize"
based upon the International Best Seller by Irving Wallace co-starring with Paul Newman and Edward G. Robinson.
"Inspector Clouesau" first tracks "Maria" down in a French Nudist Camp. There's a great bit for Sellers with a guitar to hide certain anatomical parts of his body.
The picture also introduced audiences to "Chief Inspector Charles Dreyfus" portrayed with comic brilliance as Sellers foil by Herbert Lom.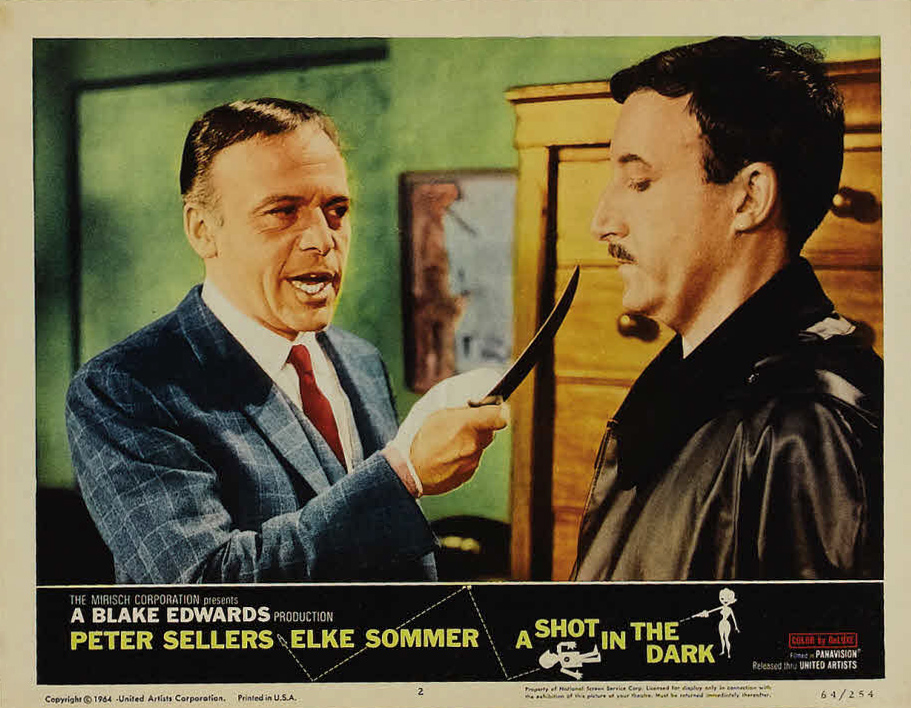 Lom's "Chief Inspector Dreyfus" would be back being driven slowly crazy with his obsession with Peter Sellers' "Clouseau". Again in 1975's
"The Return of the Pink Panther",
1976's
"The Pink Panther Strikes Again"
and 1978's
"Revenge of the Pink Panther".
Peter Sellers died in 1980, but two years later Herbert Lom was back as "Chief Inspector Dreyfus" in
"The Trail of the Pink Panther".
The picture incorporated edited out footage of Sellers as "Clouseau" to tell the story.
Herbert Lom's would be "Chief Inspector Dreyfus" two more times. The first was in 1983's
"The Curse of the Pink Panther".

In which Blake Edwards attempted to revive the series with Ted Wass as a bumbling American Detective. He's in France attempting to find the missing "Inspector Clouseau". The film had a gimmick were actor "Turk Thrust" portrayed "Jacques Clouseau" after extensive plastic surgery. The actor appeared at the end of the picture keeping the audience wondering, if they were still watching, how Edwards was going to have "Clouseau" without Sellers.
Below is a picture of the on screen billed "Turk Trust". He seems to look amazingly like Roger Moore with Wass on the left.
In 1993 Blake Edwards tried again with an American-Italian co-production called
"The Son of the Pink Panther".
Once more Herbert Lom was "Dreyfus" and Italian comedy actor Roberto Benigni was the star as "Gendarme Jacques Gambelli".
Between 1963 and 1964 Herbert Lom starred as "Dr. Roger Corder" on the British television series
"The Human Jungle".
I already mentioned Herbert Lom's working in West German cinema in a Western, but on April 15, 1965 he appeared in a West German production that would have been very controversial in the United States. Based upon Harriet Beecher Stowe's 1852 novel was
"Onkel Tom's Hutte (Uncle Tom's Cabin)".
Lom was the evil "Simon Legree" as the West German's looked at the pre-Civil War American South.
The Tag Line on the German poster translates as:
The most popular book of world literature a gigantic film,
The dubbed in English version would have a very limited run in the United States on January 1, 1969.
The character of "Uncle Tom" was portrayed by John Kitmiller. An American actor work made 40 European motion pictures. British and American audiences knew the actor for one role. He was "Quarrel" in the 1962 "James Bond" film "Dr. No".
The original West German version "
Onkel Tom's Hutte"
had a 170 minute running time, but when it arrived in the United States the film only ran 118 minutes a full hour and two minute's shorter.
In 1976 Producer, Director and Writer Al Adamson, known for such cheesy movies as
"Psycho A GO-Go"
and a
"Charlie's Angels"
rip off entitled
"Angels Wild Women",
obtained the rights to the English dubbed version of
"Uncle Tom's Cabin".
Adamson re-edited the 118 minute cut down by another 28 minutes to 90. Then promoted it to take advantage of two racially charged and sexual big budgeted Hollywood productions about the pre-Civil War South. Both has been based upon two best selling novels by Kyle Onstott of the same titles.
Three motion pictures later was a great comedy caper, with plot twists galore, entitled
"Gambit".
Do not even compare it with the so-called remake of 2012.
The original British comedy, released December 21, 1966, has Shirley MacLaine as "Nicole" and Michael Caine, with full Cockney Accent, as ""Harry". They're two crooks who plan an elaborate caper to get a priceless statue from millionaire "Mr. Shahbander", Herbert Lom. The poster, below, gives you an idea of how things are with the story.
In March and April 1967 Herbert Lom was in
"The Five Daughters".
A
two part story on televisions
"The Man From U.N.C.L.E.".
Besides the three stars Robert Vaughn, David McCullum and Leo G, Carroll.
"The Five Daughters",
set in London, had an out of the ordinary very large list of guest stars besides Herbert Lom. These included Joan Crawford, Curd Jurgens, Telly Savalas, Terry Thomas, Kim Darby, Diane McBain and Jill Ireland.
Below Lom and Joan Crawford.
Above Curd Jurgens with Robert Vaughn. Below Kim Darby, Robert Vaughn, David McCullum and Terry Thomas.
Below David McCullum's ex-wife and at the time wife of Charles Bronson, Jill Ireland.
Below Telly Savalas and Diane McBain.
A novelist William Douglas Lanford wrote a biography of Mexican Revolutionary leader "Pancho Villa". The original story and screenplay was by Sam Peckinpah who was set to Direct also. However, star Yul Bryner didn't like how Peckinpah, a realist, was portraying "Villa" as being overly cruel. He had the producer fire Sam Peckinpah and hire Robert Towne to rewrite the screenplay. The result is a fun old fashioned Western myth.
Yul Bryner was of course "Pancho Villa" and
"Villa Rides"
was released on May 29, 1968.
Robert Mitchum was the fictitious Texas gun runner "Lee Arnold". Who with an airplane is running guns for the Mexican Army for pay. The Army is supposedly helping the real "President Francisco Madero", played by Alexander Knox, but actually, under the real "General Huerta", Herbert Lom, is killing supporters of the revolution and planning to overthrow the government.
Charles Bronson was the real "General Rodolfo Fierro". The role was played with comic genius by the actor. Especially when he's ordered by "Villa" to take a plane ride with "Mitchum" to make sure he returns. Another great bit has Bronson peacefully relaxing against a wall and calling for Mexican Army soldiers to shoot and not wanting to waste ammunition. He lines three, or four up in a row. In one case having a tall man bend down to line all their hearts and then shoots one bullet through them all.
Herbert Lom was pure evil in a low keyed portrayal of the scheming "General Victoriano Huerta".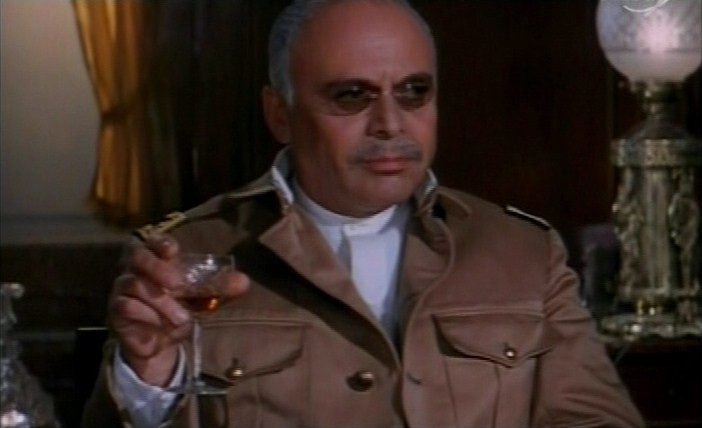 One has to wonder what the film would have been like under the Writing and Direction of Sam Peckinpah. There are some scenes that must have come from that original screenplay and several deal with Huerta. As the dialogue just doesn't seem to be Towne's or the bloody scenes, but I may be wrong.
How about a British-Spanish film party shot by British Director Jeremy Summers and finished by Spanish Director Jesus Franco. After Summers just one morning up and left the production. The title was
"The Face of Eve",
but it was shortened to just
"Eve".
The plot was basically about a female "Tarzan" and an Inca treasure and released August 5, 1968 in Spain.
The International cast is interesting. First we have three American actors Fred Clarke as "John Burke, Robert Walker, Jr. as "Mike Yates" and Celeste Yarnall as "Eve". Then you had British actors Herbert Lom as "Diego" and Christopher Lee as "Colonel Stuart". Add Mexican actress Rosenta Monteros as "Conchiita", Austrian actress Maria Rohm as "Anna" and Spanish actor Jose Ma Caffarel as "Jose".
Returning to a typical Herbert Lom role was that of the hire killer "Matt Wilson" for shipping magnate "Curt Valayan", Sir John Gielgud. Insurance Agent "Richard Cutting", Patrick O'Neal, has been sent to investigate "Valayan" in the motion picture
"Assignment to Kill".
The picture was released in December 1968. An interesting twist to the plot is that "Cuttings: love interest "Dominque Laurent", Joan Hackett, is actually killed.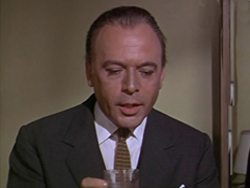 There was a
"Twilight Zone"
episode about an Astronaut who returns home from a flight to find the people he knows and even his home are all slightly off. Who soon discovers he isn't home, but on a slightly different Earth. A similar premise was used by the creators of
"Thunderbirds Are Go"
Gerry and Sylvia Anderson and was first released in the United States on August 27, 1969 and in the U.K., where it was made, on October 8, 1969.
This was a very intelligent Science Fiction feature called in the U.K. and Europe
"Doppelganger"
but in the United States and Canada as
"Journey to the Far Side of the Sun".
Herbert Lom had sixth billing. The picture stars American actor Roy Thinnes, televisions
"The Invaders",
as "Colonel Glenn Ross". His co-stars are Ian Hendry as "Dr. John Kane", Lynn Loring as his wife "Sharon", Patrick Wymark as "Jason Ross" and Loni van Friedl as "Lise Hartman". Lom was "Dr. Kurt Hassler".
The film opens with "Dr. Kurt Hassler" relaying information to a rival power in "The East", Cold War terminology for either Russia or East Germany, about the findings of a space probe. Apparently it has discovered a new planet. That fact by itself wouldn't be significant, BUT it is in the exact same orbit as the Earth. The planet can not be seen, because it is on the opposite side of the sun from Earth always maintaining the exact same distance.
Lom doesn't last long in the picture. As the projects Security Chief "Mark Neuman", George Sewell, discovers him in the act and there is a confrontation in which "Hassler" is shot and killed.
There will be a two man space launch to the newly discovered planet by "Colonel Glenn Ross" and British astrophysicist "Dr. John Kane". They arrive in a fierce electrical storm and the ship crash lands on the planet. "Kane" is critically injured and will die, but "Ross" is slightly injured. It is then that things turn strange, because the planet they have crashed upon is Earth.
The twist comes as everything is a bit off, but everyone "Ross" knows is there and they know him, or do they?. What's going on? My reader needs to see this overlooked film that was overshadowed, as many Science Fiction features were, by one from April 3, 1968, Stanley Kubrick's
"2001: A Space Odyssey".

Science Fiction was immediately followed by Horror in a West Germany picture released February 19, 1970 in West Germany. The original title was
"Hexen bis aufs Blut gequalt (Witches Tortured till they Bleed)".
On April 5, 1972 when the dubbed picture arrived in the United States the title was now
"Mark of the Devil"

Sick bags were given to the U.S. audience, because of their possible reaction to the violence. In the U,K. while not prosecuted for obscenity. The motion picture was confiscated under the "Obscene Publications Acts of 1959".
In early 18th Century Austria "Count Christian von Meruth", Uldo Kier, is an apprentice to the Witch Hunter "Lord Cumberland", Herbert Lom. He will discover that his "Lordship" is part of a land grab and that the charges of Witchcraft are false. "Cumberland" is also using the charge of Witchcraft to have sex with beautiful women.
Below Lom and Kier.
After a made for television movie
"Mister Jerico"
starring Patrick Macnee. Lom found himself back in Spain for the filming of the first motion picture actually using Bram Stoker's novel's story The original German title was
"Nachts , wene Dracula enwacht (At Night When Dracula Awakes)".
The motion picture is better known by it's shorter title
"Conde Dracula (Count Dracula)".
Although in the U,K, it was released as
"Bram Stoker's Count Dracula"
and to fool British audiences. The poster had a picture of Christopher Lee from any of several Hammer Films productions. See Below.
The picture was a Spanish, Italian, West Germany and U.K. co-production. The initial funds were by British Radio and Television Producer and sometimes screenwriter Harry Alan Towers. As was the practice still at the time. Instead of just straight dubbing the original motion picture. For different audiences and languages a European motion picture might be shot either with the same cast, substitute the cast with that countries actors, add or delete scenes, or use a combination of each.
This is why the writing credits for the picture are:
The initial screenplay by Augusto Finocchi.
The Italian version by Milo G. Cuccia.
The German version by Dietmar Behnke.
The English version by Peter Welbeck.
Directing the feature was Spanish Director Jesus "Jesse" Franco. Franco had always wanted to do Bram Stoker's classic as written and this was to be that film. However, Jesus Franco ran into two problems both caused by Harry Alan Towers. The first was funding ran out as his backers backed out of the production. This meant cuts to the story. One major cut was with the character of "R.M. Renfield". The picture would have no lead up and back story for "Renfield". He would already be in "Dr. Seward's" Asylum. The second was Towers wanted to save money from the beginning and the production would not be filmed in and around London, England. Instead Franco was force to shoot the picture in Madrid, Spain and London looks like Madrid during the late 1890's.
The picture was first released in West Germany on April 3, 1970, in Spain on November 6, 1970. As for the other two countries involved in the actual production.
"Count Dracula"
did not arrive in Italy until September 10, 1973 and sometime in 1973 it was released in the U,K, as an "Adult Only" feature film by the censors. It wasn't until October 12, 1973 did the film arrive in the United States at a very few theaters..
By 1973 actor Christopher Lee had portrayed "Dracula" seven times for Hammer Studios. His last appearance in
"The Satanic Rites of Dracula"
released in the U.K. on November 3, 1973 the same year this production finally arrived in the U.K.,
Christopher Lee in this production became the first actor to start out as old, as in the novel, and become younger by the time he reaches London from drinking the blood of the crew of the ship he's on.
In a classic scene explaining the family background to "Jonathan Harker", German actor Friedrich Wilhelm Locherer billed as Fred Williams, Christopher Lee's lines are actually the words of Bram Stoker.
Herbert Loam portrayed "Professor Abraham van Helsing".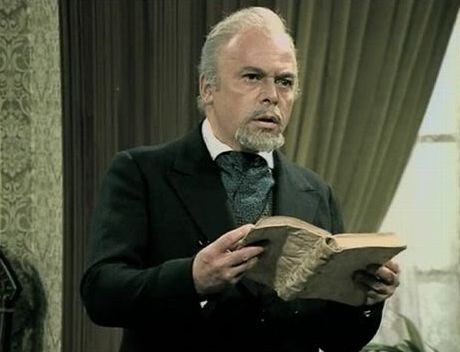 The shorten role of "R,M, Renfield" is portrayed by the great German actor Klaus Kinski. He would become "Dracula" in the Werner Herzog's classic 1979 updating of the 1922 German silent
"Nosferatu, the Vampire".
Below Klaus Kinski as "Renfield" and Paul Mueller as "Dr. John 'Jack' Seward".
My biography on the film work of Klaus Kinski may be read at:
http://www.bewaretheblog.com/2017/12/klaus-kinski-krimis-cowboys-vampires.html
The two ladies involved in the story are:
"Mina Harker" portrayed by Maria Rohm and "Lucy Westenra" portrayed by Soledad Miranda.
The final major character is the film is Texan "Quincy Morris" portrayed by America actor Jack Taylor.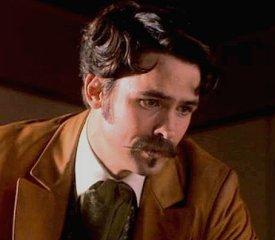 Herbert Lom became the third actor to portray "Professor van Helsing" on the motion picture screen. The two previous actors were
Edward van Sloan seen above confronting Bela Lugosi.
Peter Cushing seen below at the climax of 1958's
"Dracula"
aka:
"Horror of Dracula".
One of the problems critics point out is the slow pace of the picture and this is a result of Jesus Franco wanting to be as faithful to the novel as possible. Distracting are, as I have said, the overall look of the settings and the very obvious, but faithful to the period, Spanish costumes. Especially worn by the two female leads.
The ending is right out of Bran Stoker as "Harker", "Morris" and "Seward" rescue "Mina" and catch up with the cart carrying the Count. The picture and performances are very old school Universal Studios including a vampire bat at the window bouncing as if on a string, but with all the flaws there are. This is still a very good overall picture worth fans of Lohm and Lee to see.
Side note: I mentioned that this picture had an English, German, Spanish and Italian version. Being dubbed into another language was not necessary for Christopher Lee. He fluently spoke, not only German and Italian, but Spanish as well. My article on of Christopher Lee foreign language motion pictures may be read at:
http://www.bewaretheblog.com/2016/08/christopher-lee-foreign-language-motion.html
Twenty-one days after this film was released Herbert Lom, on April 23, 1970, was seen in a West German version of Oscar Wilde's "The Picture of Dorian Gray". Horror films were in for the actor.
Below Lom in
"Dorian Gray".
On September 14, 1971 Herbert Lom appeared in the
"Highest Castle, Deepest Grave"
episode of the original television series
"Hawaii Five -O".
Also in September Lom appeared in an American version of Edgar Allan Poe's
"Murders in the Rue Morgue"
in which Director Gordon Hessler added touches of Gaston Leroux's "The Phantom of the Opera"
,
because. he said, otherwise the audience knows the ending.
"Cesar Carron", Jason Robards, has a touring troupe of actors presenting, in Paris, a version of Poe's "Murders in the Rue Morgue".His wife "Madeline's", Christine Kaufman, mother, Lili Palmer, was murdered by an axe-welding man and the young women has terrible nightmares. Add into the plot that "Rene Marot", Herbert Lom, thought dead after being mutilated on stage during a performance and "Madeline's" mother's ex-lover returns.
There is no gorilla in the story, as in Poe, and the police believe "Cesar" is the murderer killing the members of his acting troupe. . Instead Herbert Lom's "Marot" becomes "The Phantom of the Rue Morgue" exactly ten years after he was the "Phantom of the Opera" for Hammer Films.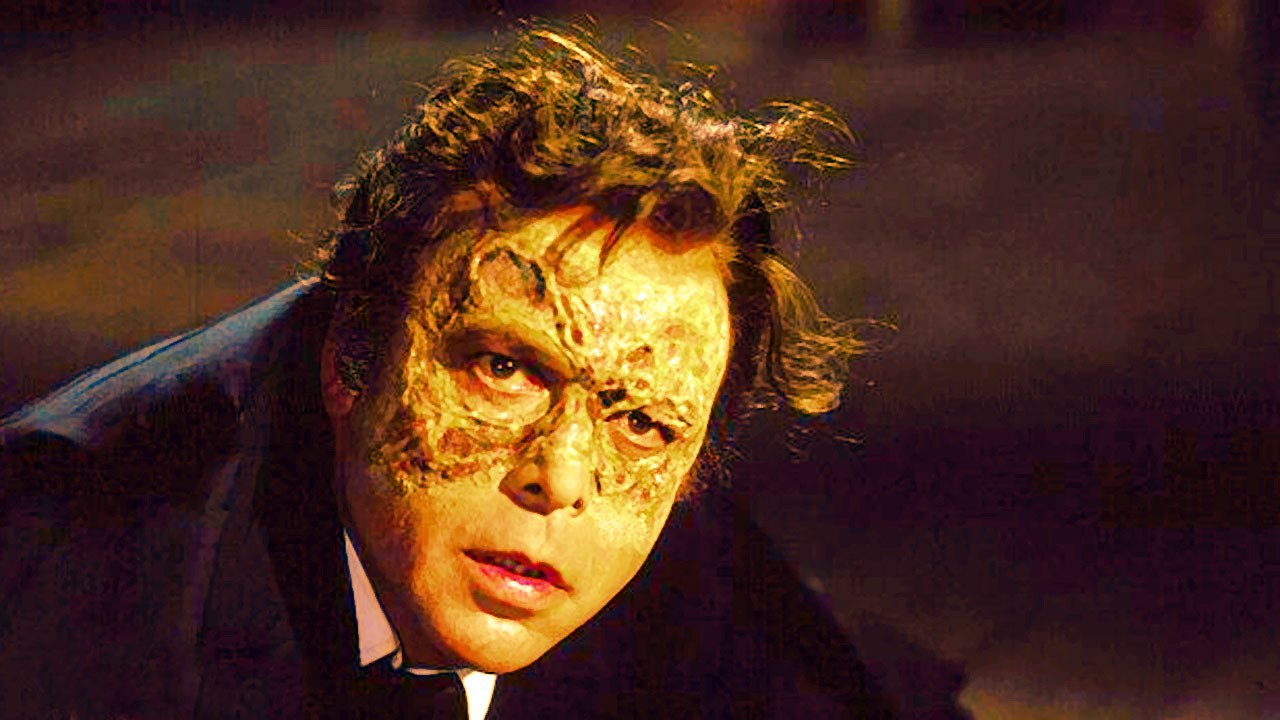 On November 17, 1972 the British Amicus Pictures released
"Asylum"
containing five short Horror stories tied to the titles Asylum. The screenplay was written by Robert Bloch the author of the novel "Psycho". It was Directed by Roy Ward Baker 1967's
"Quatermass and the Pit"
aka:
"Five Million Years to Earth",
in 1970 both he Directed both the
"Scars of Dracula"
and
"The Vampire Lovers",
and in 1971 the fun gender reverse
"Dr. Jekyll and Sister Hyde".
Herbert Lom was in
"Mannikins of Horror"
the final story and the epilogue that followed as "Dr, Bryon". Who is attempting to transfer a person's soul into a small mannequin.
In the film's cast among others are Peter Cushing, Barry Morse, Charlotte Rampling and Britt Ekland.
On April 27, 1973 Lom joined Peter Cushing, Patrick Magee, Guy Rolfe and Ian Ogilvy in
"And Now the Screaming Starts".
When a 1795 newlywed couple comes under a family curse.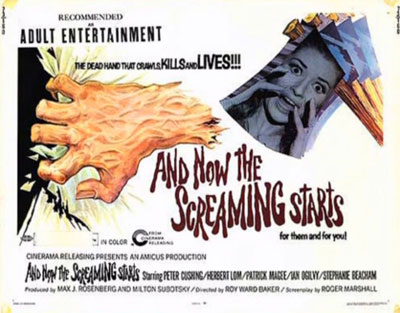 Also in 1973 was
"Dark Places"
in which "Dr. Mandeville", Christopher Lee, and his sister "Sarah", Joan Collins, go looking in a house for two suitcases full of money from a robbery. The only problem the house is haunted. Their plans also run into the mentally unstable "Andrew", Robert Hardy, who now resides in the house. Herbert Lom had the role of "Prescott".
Back in 1939 English authoress Agatha Christie published what would become a classic mystery novel "Ten Little Niggers". Taking its title from a popular song in the U.K. at the time. In the United States the novel's title was changed to "And Then There Were None". The story has ten people invited to an island by an unseen millionaire. They do not know each other and one by one somebody is killing them off. Is it the mysterious unseen millionaire and if so for what purpose, or is it one of themselves?
In 1945
"And Then There Was None"
was the first filmed adaptation of the novel and it was made in the United States. That motion picture starred Louis Hayward, Barry Fitzgerald and Walter Huston.
In 1965 Producer Harry Alan Towers got into the act and made the second motion picture version of the novel using the American version of the British song "Ten Little Niggers" as the films title and it became
"Ten Little Indians".
This film starred Hugh O"Brian of American televisions
"Life and Legend of Wyatt Earp",
Shirley Eaton the British actress who was painted in the "James Bond" film
"Goldfinger",
American teenage idol Fabian and others.
In 1974 Harry Alan Towers decided to make a third film version of the Christie novel and depending upon where it was seen. The title was either
"Ten Little Indians",
or
"And Then There Was None".
As with many of American Towers' films this was a co-production of Germany, Italy, France, Spain and the U,K. The United States wasn't involved.
Herbert Lom was "Edward Armstrong", wearing glasses below, and among the others present were Elke Sommer, Gert Frobe, Richard Attenborough and Oliver Reed. The voice on a tape recording of the man who invited the ten to the island was performed by Orson Wells.
Below the seven remaining "Guests" stare at the statues still standing of the original ten and wonder whose next to die?
In 1989 Harry Alan Towers made his third version of the Agatha Christie novel and Herbert Lom was back as "General Romensky". Among those portraying the other "Guests" in this version were Donald Pleasence, Brenda Vaccaro and Warren Berlinger.
In May of 1979 Herbert Lom appeared in a motion picture that had two distinctions going for it. The first the picture was a remake of the 1938 Alfred Hitchcock classic
"The Lady Vanishes"
starring Margaret Lockwood and Michael Redgrave. The second this would be the last Production from Hammer Studios for the next 29 years. Otherwise the film is forgotten and should be.
Being an American made motion picture the two leads are changed to American's, but the film takes place in 1939. Elliot Gould is "Robert Condon" and Cybill Shepherd is "Amanda Kelly". The two meet on a train going through Germany and become involved with the disappearance of a Nanny. In the Hitchock film the foreign country is never named, but it obviously Germany.
Herbert Lom portrays "Dr. Hartz". The role of "Dr. Hartz" in the original film was portrayed by third billed Paul Lukas. He was "Professor Pierre Aronnax" in Walt Disney's 1954
"20,000 Leagues Under the Sea".
The Nanny, "Miss Froy" was portrayed by Angela Lansbury.
As with the Hitchcock original the train is full of spies and military intelligence officers. The question of the disappearance of the Nanny becomes one of who is she really?
This last section are a look of some of Herbert Lom's remaining 30 roles.
On October 3, 1980 a comedy came out that either you like it, or you don't. I personally love it, but I also get it.
"The Man With Bogart's Face"
starred actor and Humphrey Bogart look-a-like Robert Sacchi. He portrays a fan of Bogie that has his face surgically changed to that of Bogart's.
The title character's name is "Sam Marlowe" and if I have to spell it out for you. You won't like the flick.
Then there's the rest of the cast searching for the "Eyes of Alexander". Two jewels stolen from a statue of Alexander the Great. Start with Victor Buono as "Commodore Anastas". Any resemblance to Sydney Greenstreet is on purpose.
Herbert Lom is "Mr. Zebra" in a great Peter Lorre impersonation.
The Mary Astor role of "Gena" is portrayed by Michelle Phillips.
Others in the cast are Misty Rowe, Sybil Danning, Franco Nero, Oliva Hussey, George Raft and Yvonne DeCarlo.
One of my favorite Stephen King novels was turned into one of my favorite Stephen King motion pictures from director David Cronenberg.
"The Dead Zone"
was released October 21, 1983 and doubled its budget at the box office upon initial release.
In the small town of Castle Rock a school teacher "Johnny Smith" played by Christopher Walken is about to marry another teacher "Sarah Bracknell" played by Brooke Adams. One stormy night, after leaving "Sarah's" home. "Johnny" has a car accident and wakes up five year later from a coma. He is now under the care of "Dr. Sam Weizak", Herbert Lom, and finds out two things. One is "Sarah" is now married with a baby. The other is by touching a person. "Johnny" knows everything about them, but might have a vision from "The Dead Zone" about something in that person's future.
If you've never seen this picture get it and if you have, watch it again.
In 1885 Henry Rider Haggard wrote his novel "King Solomon's Mines" about adventurer "Alan Quatermain". The first motion picture version in 1937, to me, is the best starring Sir Cedric Hardwick as "Quatermain" and African-American singer Paul Roebson as "Umpopa". In 1950 the second and most famous version starred Deborah Kerr, Stewart Granger and Richard Carlson. In 1985 a version completely unrelated to H.R. Haggard's novel except for some of the characters name was released with comic overtones.
1985's
"King Solomon's Mines"
had Richard Chamberlain's "Alan Quatermain" as a direct parody of Harrison Ford's
"Indiana Jones"
and he does a very good job.
The picture co-starred the unknown, Sharon Stone, as "Jesse Huston". "Jesse's" father has been captured by a German military mission looking for the legendary mines.
Portraying "Colonel Blockner" was Herbert Lom.
In the above still is Lom and John Rhys-Davies as "Dogati". Rhys-Davies was "Sallah" in 1981's
"Raiders of the Lost Ark".
Chamberlain and Stone returned as husband and wife in the sequel 1986's
"Alan Quatermain and the Lost City of Gold".
Herbert Lom was not in it.
1982 saw a British six part sitcom in the style of Monty Python entitled
"Whoops Apocalypse"
about events leading to World War 3. The writers reworked the premise into an hour and a half motion picture that features Loretta Swit, Ian Richardson, Peter Cook and Herbert Lom, below.
At this point Herbert Lom's acting career turned to appearances in forgotten motion pictures and a few going straight to video. 1987's
"Going Bananas"
was a supposedly an adventure comedy starring Dom DeLuise and Jimmy Walker. It premiered in France and Lom was billed sixth as "Captain Mackintosh".
Next were two period adventure movies shot in South Africa starring Oliver Reed entitled the
"Master of Dragononard Hill"
and
"Skeleton Coast".
In 1989 Herbert Lom was in a motion picture based upon a novel by Scottish author Alistar MacLean,
"The Guns of Navarone"
and
"Where Eagles Dare"
, entitled
"River of Death".
A great source novel, but a completely unknown and forgotten movie.
In the last days of the Third Reich a Nazi scientist "Wolfgang Manteuffel", Robert Vaughn, escapes to South America. Adventurer "John Hamilton", Michael Dudkoff, of the "American Ninja" movie franchise, runs afoul of the Scientist. Herbert Lom was "Colonel Ricardo Diaz" and Donald Pleasence is "Henrich Spaatz".
After his second appearance in
"Ten Little Indians".
Herbert Lom appeared in
"The Masque of the Red Death".
In 1964 Producer/Director Roger Corman made his final Edgar Alan Poe motion picture starring Vincent Price.
"The Masque of the Red Death"
was based upon that 1842 short story and incorporated another "Hop Frog" written in 1849. The film was a period piece and very faithful as movies go to the original.
The version starring Herbert Lom isn't based directly upon the Poe tale and is closer to Universal Studio's 1935 classic
"The Raven"
starring Bela Lugosi as "Dr, Richard Vollin". A man obsessed with the works of Edgar Allan Poe and uses Poe's devices to kill his invited guests.
This film was released on November 9, 1989. That date is important because 14 days earlier on October 27, 1989. Roger Corman was the Producer of a remake of his own 1964 motion picture with actor Adrian Paul,
"The Highlander"
television series, as "Prince Prospero" the Price role. The film was changed to have Patrick Macnee as a mysterious masked rider in a red cape. Who at the climax joins "Prince Prospero's" party of friends escaping the red death. So that film is actually the last Poe movie from Corman and not the 1964 picture as most people presume.
This non-Corman
"The Masque of the Red Death"
was Directed by Alan Birkinshaw. In this modern setting "eccentric millionaire "Ludwig", Herbert Lom, invites the rich and famous to a mask ball in his 18th Century Castle.. Each guest owes their fortunes to "Ludwig" at some time in their past. Then one by one the guests are killed by a person dressed and masked as "The Red Death".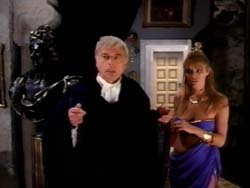 How does one follow a laughable American slasher film? Why with an Italian production in the same vein.
Not Directed, but Produced and partly written by Dario Argentio is
"La Setta (The Sect)"
aka:
"The Devil's Daughter"
aka:
"Demons 4".
Released March 1, 1991 in Italy. Now where have we heard this plot before?
In 1970 a Southern California group of Hippies and their children living in the desert are approached by a wayward stranger named "Damon" (Can one say "Damien"?). That night with the help of others he kills each in the name of Lucifer.
Skip to 1991. Frankfurt, Germany, a man pursues a women through the streets and kills her. When confronted by the Police he says he was forced by something to kill the women. He then kills himself. Cut to Seligenstadt, Germany and an American school teacher "Mirian Kresil", Kelly Curtis, nearly hits an elderly man with her car. She takes him back to her home and during the night he releases a beetle on her body which crawls into her nose. The long and short of the film. The man, "Morbius", Herbert Lom, is the leader of a Satanic guilt and before the movie is over. "Mirian" will give birth to Satan's baby.
If Kelly Curtis' last name sounds familiar. She is the oldest daughter of Tony Curtis and Janet Leigh and obviously than Jamie Lee Curtis' older sister.
After portraying "Chief Inspector Drefus" in the
"The Son of the Pink Panther".
Herbert Lom appeared in two British television programs as a guest. His last appearance wasn't really an appearance. He supplied the voice of "Jason Rafiel" on the
"Nemesis"
episode of
"Miss Marple"
January 1, 2009.
Herbert Lom passed away in London, England on September 27, 2012 at the age of 95, but his work lives on.