His name was Howard Robard Hughes, Jr. and he made motion pictures with the likes of John Wayne, Jean Harlow, Jane Russell, Susan Hayward and Lili St. Cyr.
Others have written about the life of Howard Hughes and how his love for flying became "Hughes Aircraft Company" in 1932. Followed by taking control, in 1939, of TWA, or TRANS WORLD AIRLINES. At a time when most American's weren't flying. Let alone from New York to Los Angeles and the thought of passenger flight around the World wasn't really considered. However, that company's name spoke to his vision. Then there was the registered "Hughes H-4 Hercules" aircraft. Which became better known as "The Spruce Goose" and flew one time and is now a tourist attraction in Long Beach, California.
There are those stories of his last ten years of his life as a recluse. Living, unseen, in the penthouses of Las Vegas Hotels and moving occasionally to one's in Beverly Hills, Boston, London, Nassau and Vancouver. but never seen either.
In 1961 author Harold Robbins wrote
"The Carpetbaggers".
A not too disguised novel about Howard Robard Hughes, Jr's. life.
The novel became a torrid best seller and in 1964 a major motion picture with a spin off,
"Nevada Smith",
in 1966.

Knowing Hughes love for the movies. I have to wonder what he thought of those two feature films? This article is about only one phase of the life of Howard Hughes.
It was in 1926 when Hughes entered the motion picture industry as a producer. He was at a golfing and meet an actor named Ralph Graves. Graves talked the 21 year old into fronting $40,000 for a movie the actor wrote and would direct. The cost would double for Howard Hughes, Jr. and when he saw what was titled
"Swell Hogan".
The motion picture novice didn't like what was on the screen. Smartly he went to his Uncle Rupert Hughes, who was both a respected novelist and motion picture director, for a second opinion. Uncle Rupert told his nephew:
It's nothing. No plot. No build up. No character development. The acting stinks. Destroy the film. If anybody sees it, you and that

homo

Graves will be the laughing stock of Hollywood.
The quote is from Richard Hacks: "Hughes: The Private Diaries, Letters and Memos".
Below Ralph Graves
Below Ruphet Hughes
However, the movie bug had bitten Howard Hughes, Jr. and his second attempt as a Producer went very differently. The silent feature was
"Two Arabian Knights"
released September 23, 1927.
Two of the three stars are very interesting. William Boyd eventually would become, for the rest of his life in both movies and television, "B" Cowboy "Hopalong Cassidy". He is also one of two actors, the other Ken Maymard, considered to be the source of Harold Robbins' character of "Nevada Smith". "Smith" would become a mentor to the Howard Hughes character, "Jonas Cord, Jr". and enter the movie industry to become a major "B Cowboy Actor".
I should mention that Maynard was one of five children. His younger, look alike brother, Kermit was also a "B Cowboy Actor" and is why most people believe "Nevada Smith" might be Boyd over Maynard Neither actor had an Native American mother and Robbins refused to state who was the real "Nevada Smith", but he never denied it wasn't William Boyd and neither did Boyd.
The other main character was portrayed by actress Mary Astor Astor may, or may not have had an affair with Hughes. It depends upon whose biography you read, but the actress was involved in several scandals during her acting career. Astor is must remembered for 1932's
"Red Dust"
as "Barbara Willis" opposite co-stars Clark Gable and Jean Harlow. Then there was "Bridgette O'Shaunghnessy" in John Huston's 1941
"The Maltese Falcon"
starring Humphrey Bogart.
Below Boyd and Astor in
"Two Arabian Knights".
.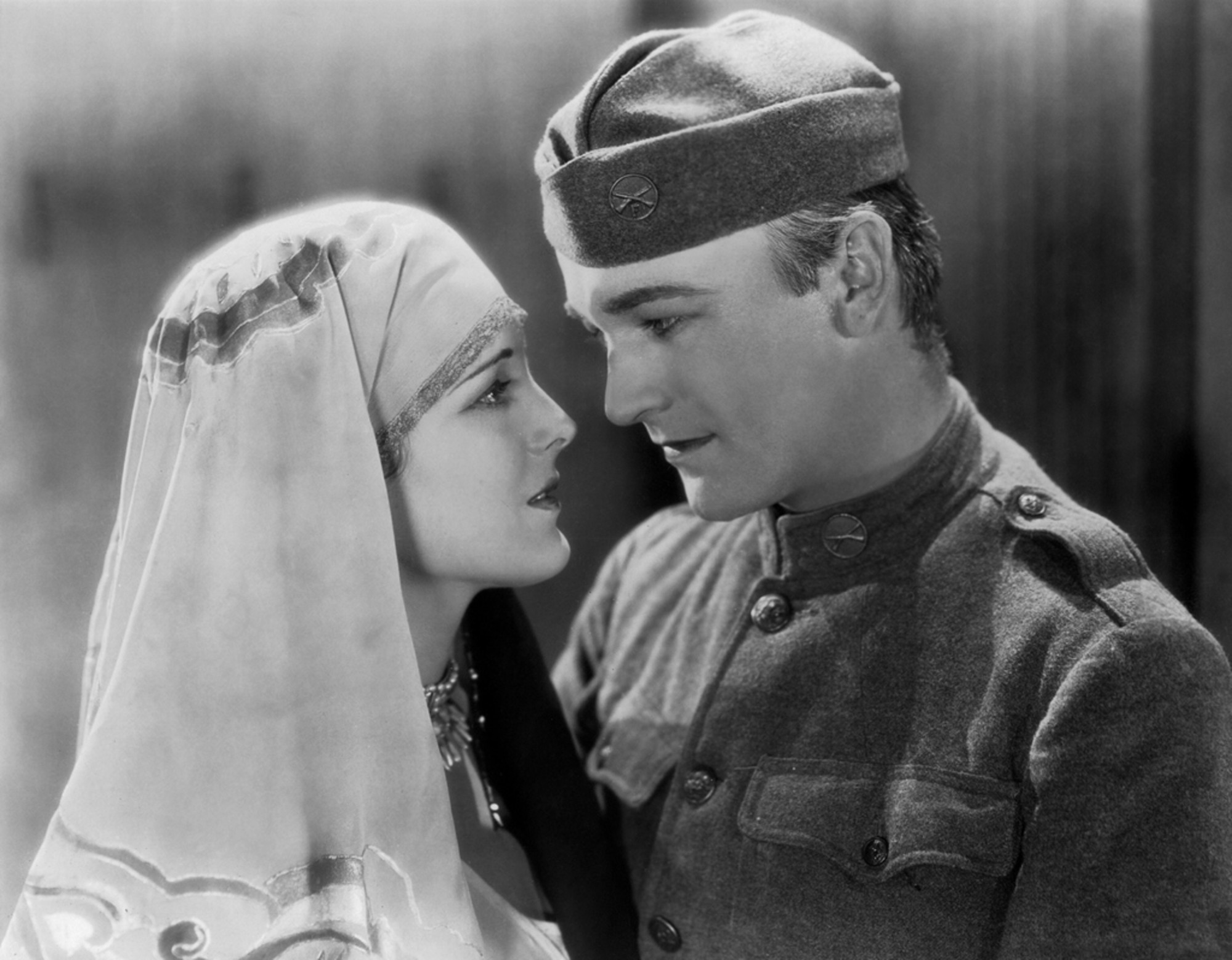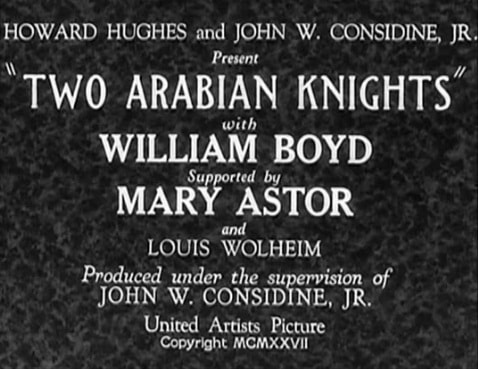 The picture's plot had two World War One soldiers being captured by the Germans and escaping. Only to run into more trouble with the daughter of an Arabian King.
At the very first Academy Award ceremonies held in 1929 for motion pictures that were released in 1927 and 1928.
"Two Arabian Knights"
won the award "Best Comedy Film Director" for Lewis Milestone. The following year the separate director categories of "Comedy" and "Drama" would be merged into one category.
If you can have one Academy Award nominated motion picture at the first Academy Award ceremony. Why not two and for "Outstanding Motion Picture". Which would eventually become "Best Picture".
"The Racket"
was released on November 1, 1928.
Once again this film was directed by Lewis Milestone/ An honest Police Captain vows to bring down a Chicago bootlegger protected by corrupt politicians. Any suggestion that the bootlegger was Al Capone in either the Broadway Play and the screenplay both written by Bartlett Cormack. Is answered by the city of Chicago City Counsel that banned both.
One last silent film made in 1928,
"The Mating Call",
and Howard Robard Hughes, Jr. entered the "Talkies" in a major way and on many levels. The motion picture was entitled"

HELL'S ANGELS
Released on May 27, 1930 with a major Hollywood premier at
Grauman's Chinese Theater.
The final print ran an imposing, for sound at the time, two hours and eleven minutes. This aviation epic made a star of Harlean Harlow Carpenter. Who was billed as Jean Harlow.
Below are stills from the one sequence in the motion pictures shot in "Multi-color" by the "Technicolor Company". The film was otherwise in black and white. This sequence is the only color motion picture film footage of Jean Harlow throughout her movie career..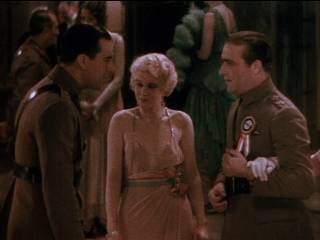 Howard Hughes started shooting his epic as a silent, but the 1927 film
"The Jazz Singer",
with Al Jolson, changed the motion picture industry. Hughes made the decision to switch to sound. Ab needed a Director who was already working in sound. He found two to work on different aspects on the motion picture.
The first was an unknown British Film Director named James Whale. Whale would go on to make three classic Universal Horror films: 1931's
"Frankenstein",
1933's "
The Invisible Man"
and 1935's
"The Bride of Frankenstein".
The second Director was Edmund Golding, 1932's all star
"Grand Hotel"
and 1939's
"Dark Victory"
starring Bette Davis, George Brent and featuring Humphrey Bogart. Golding would become the Assistant director for Orson Wells' 1941
"Citizen Kane"
and 1942
"The Magnificent Ambersons".
Neither of these neb received no on screen credit. The listed Director was Howard Hughes.
The two actors in the above pictures were Ben Lyons and James Hall. Lyons on the left of Harlow played "Monte Rutledge" and Hall on her right was brother "Roy Rutledge".The two are different in personalities. The straight laced "Monte" idolizes "Helen", Harlow, but "Roy" is a womanizer. Who gets "Monte" mistaken for him and into a duel with a German women's husband.
Both brothers and their German Oxford College friend "Karl", John Darrow, end up opposing each other after World War One breaks out. The air battles are great, but not on a par with Director William Wellman's
"Wings". "Wings"
had received the first 1929 "Outstanding Picture" award the year before
"Hell's Angels"
was released
. Of course William "Wild Bill" Wellman was an actual World War One decorated flyer for an American Escadrille in France. Wellman new real air combat and that gave him that edge over aviator Howard Hughes..
The film's star Jean Harlow did not make much on an impressions of he film critics. According to Mourdant Hall for the New York Times:
his film is absorbing and exciting. But while she is the center of attraction, the picture is a most mediocre piece of work.
The picture was only nominated for one Academy Award in 1930 for Cinematography and lost out to the the documentary
"With Byrd at the South Pole".
Of note were the major awards including Director went to Lewis Milestone for
"All Quiet on the Western Front".
Between 1931 and 1932 Howard Hughes produced five motion pictures. It is the first and fifth that concern my reader and are the two of this group he is remembered for making.
THE FRONT PAGE
On August 14, 1928 a play,
"The Front Page",
by Ben Hecht and Charles MacArthur, opened on Broadway. It would still be running there, when, on April 4, 1931, the motion picture Produced by Howard Hughes and Directed by Lewis Milestone was released. The Director went from his Oscar Winning stark tale, from the German point of view, of war with strong anti-war sentiments to a typical 1930's screwball comedy.
Ben Hecht's screenplay is about a reporter who gets his boss to go along with capturing an escaped murderer. The question from his boss is were do they hide him in the newspaper office? The comic answer and running gag is putting the murderer in a roll top desk in the newspaper bosses office. The two keep his capture a secret from everyone. So the paper can increase sales with stories about the murderer being at large on
"The Front Page".
The reporters boss "Walter Burns" was portrayed by Adolphe Menjou. The reporter "Hildebrand 'Hildy' Johnson was portrayed by Pat O'Brien. Two other classic films of the 1930's that Menjou would follow
"The Front Page"
in were the Gary Cooper, Helen Hayes 1932 version of Ernest Hemingway's
"A Farewell to Arms"
and the Janet Gaynor, Fredrick March original 1937
"A Star is Born".
The picture was only O'Brien's fifth on screen role. He would be teamed up with James Cagney in 1936's
"Ceiling Zero"
and in 1940 the two were in
"The Fighting 69th".
Also in 1940 O'Brien made a picture is most associated at, but because of another actor in a small but critical role. That other actor was Ronald Reagan and the picture was
"Knute Rockne All American".
"The Front Page"
also co-starred Mary Brian as "Peggy Grant". She had started in films in a 1924 silent version of
"Peter Pan"
as "Wendy". He career in pictures faded after 1937 and she would appear only in minor roles.
Two actors in the film are notable to mention. Portraying "Roy V. Bensinger" was Edward Everest Horton
The other was actress Mae Clarke. Unlike Mary Brian, Mae Clarke will always be part of cinema history. She portrayed the women who gets a grapefruit pushed into her face by James Cagney in 1931's
"The Public Enemy".
There is a running gag were O'Brien and Clarke put George E. Stone as murderer "Earl Williams" into a roll top desk to hide him, several times.
This classic film would be remade as 1940's
"His Girl Friday"
starring Cary Grant and Rosalind Russell.
That fifth film in this group would be updated and remade by Brian DePalma in 1983.
SCARFACE
Where Howard Hughes' 1928 picture
"The Racket"
might have gotten some viewers, and especially those in Chicago, to think Al Capone. There was no such ambiguity with
"Scarface"
Directed by Howard Hawks.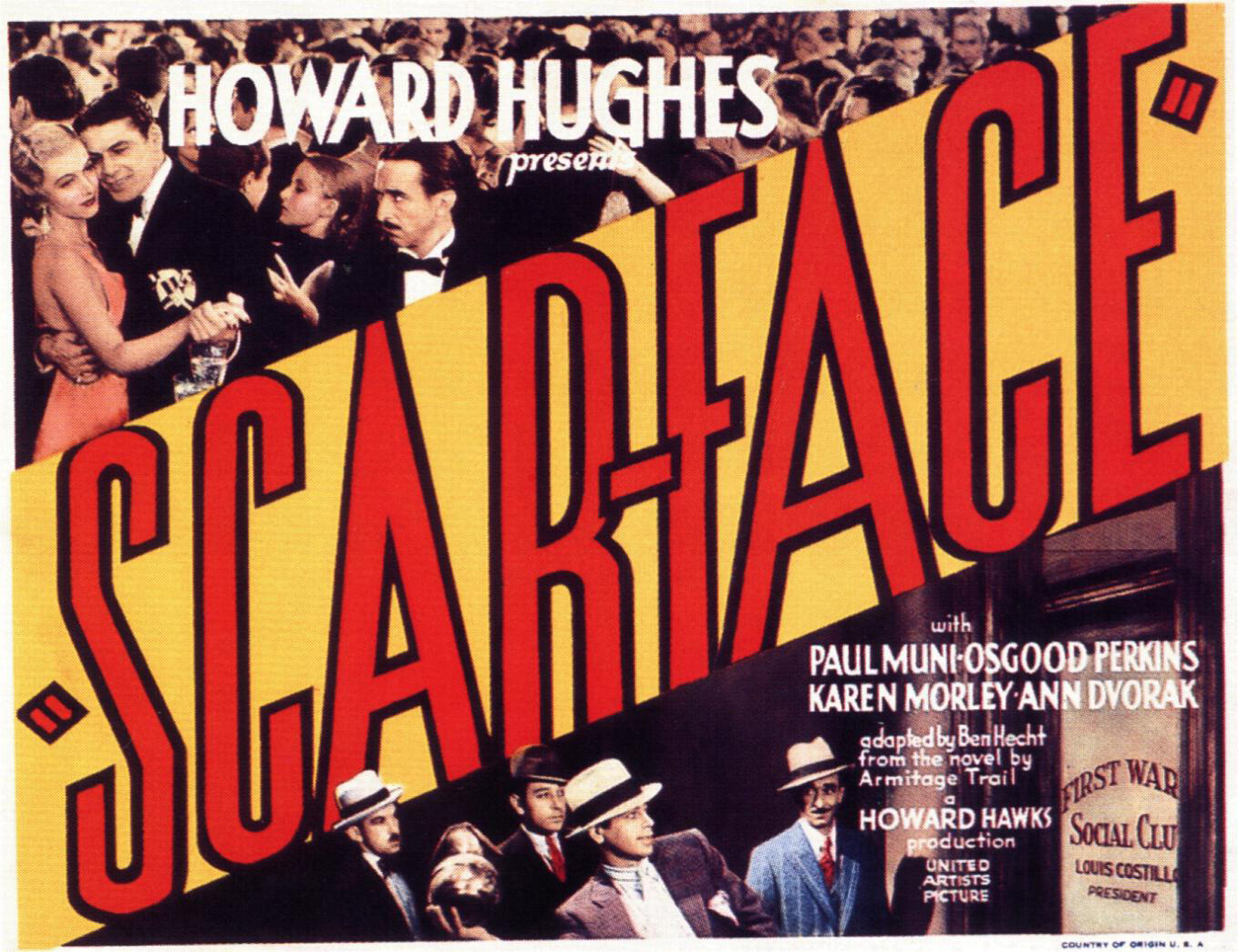 The motion picture was also known by two other titles. These were
"Scarface: the Shame of a Nation"
and just
"The Shame of the Nation".
Hawks chose actor Paul Muni for the lead. Muni had only two motion pictures prior to this feature released on April 5, 1932. Muni had been born Frederich Meshilem Meier Weisenfreund and was a major actor in the Yiddish Theater. After his role of "Antonio 'Tony' Camonte" he would become one of the major Warner Brothers stars of the 1930's.
Portraying the mob boss "John 'Johnny' Lovo" was actor Osgood Perkins. He had been a leading actor on the stage, but in supporting roles in movies since 1922. The actor passed away five years after the film was released..
Portraying the character of "Poppy" was popular actress Karen Morley. She was considered for the role of "Camonte's" sister, but suggested to Howard Hughes that her friend Ann Dvorak really looked the part. Just after
"Scarface"
was released. Morley would make the mistake of arguing with MGM management over her roles for the studio and the word got out to the other majors. Karen Morley's career with the majors was over and she could only find minor roles from the Independents.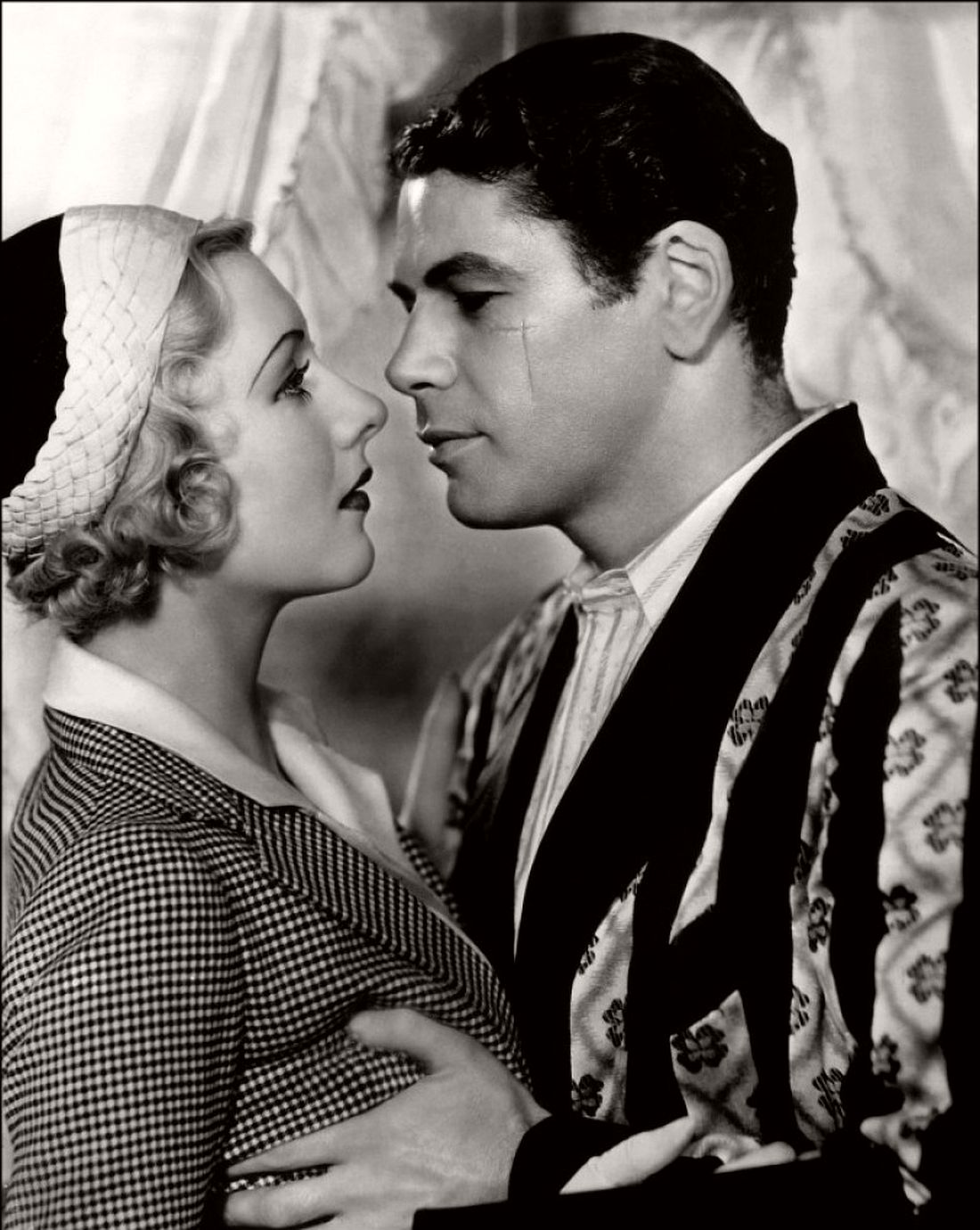 Ann Dvorak, the "D" is silent, became the interest of Howard Hughes and he personally "Groomed" the actress for her dramatic role. My reader may take the term "Groomed" to have other meanings.
Dvorak became "Francesca 'Cesca' Camonte" and this being "Pre-Code", prior to the 1934 establishment of the Motion Picture Production Code and the Hayes Censorship Office, the relationship between brother and sister was implied to be sexual.
"Tony" on orders of "Johnny Lovo" kills mob boss "Big Louis Costillo" and assumes command of "Costillo's" territory. Eventually "Tony" will kill "Lovo" and have all of Chicago as his territory. "Cesca" is as ambitious as her brother for power.
When the police finally corner the two in an apartment. "Tony", laughing manically at them, shoots out of an upstairs window. A stray bullet from the police hits and kills "Cesca" and maddens him more. He decides to make an escape, but will be gunned down by an unknown police officer and die on the street.
There were two smaller roles by basically unknown actors at the time of the release of
"Scarface".
Both would become major stars. Portraying "Tom Gaffney", the leader of the North Side Gange, was Boris Karloff.
The previous year he had appeared in
"Frankenstein".
Following this picture in 1932 "Karloff" would be seen in
"The Old Dark House", "The Mask of Fu Manchu"
and
"The Mummy".
The other actor was known as a excellent dancer for the nine motion pictures that proceeded
"Scarface"
. Afterwards George Raft would be associated with tough guy roles and famous for flipping a coin in several scenes in
"Scarface".
A gimmick that became his trade mark.
Raft's gangster image was solidified in two other 1932 pictures.
"Night After Night"
co-starring Mae West and
"If I Had a Million"
starring Gary Cooper, Charles Laughton and W.C. Fields.
As a result of the international box office recognition of Boris Karloff and George Raft. When
"Scarface"
was re-released, the posters now looked as if Raft and Karloff were billed second and third after Muni.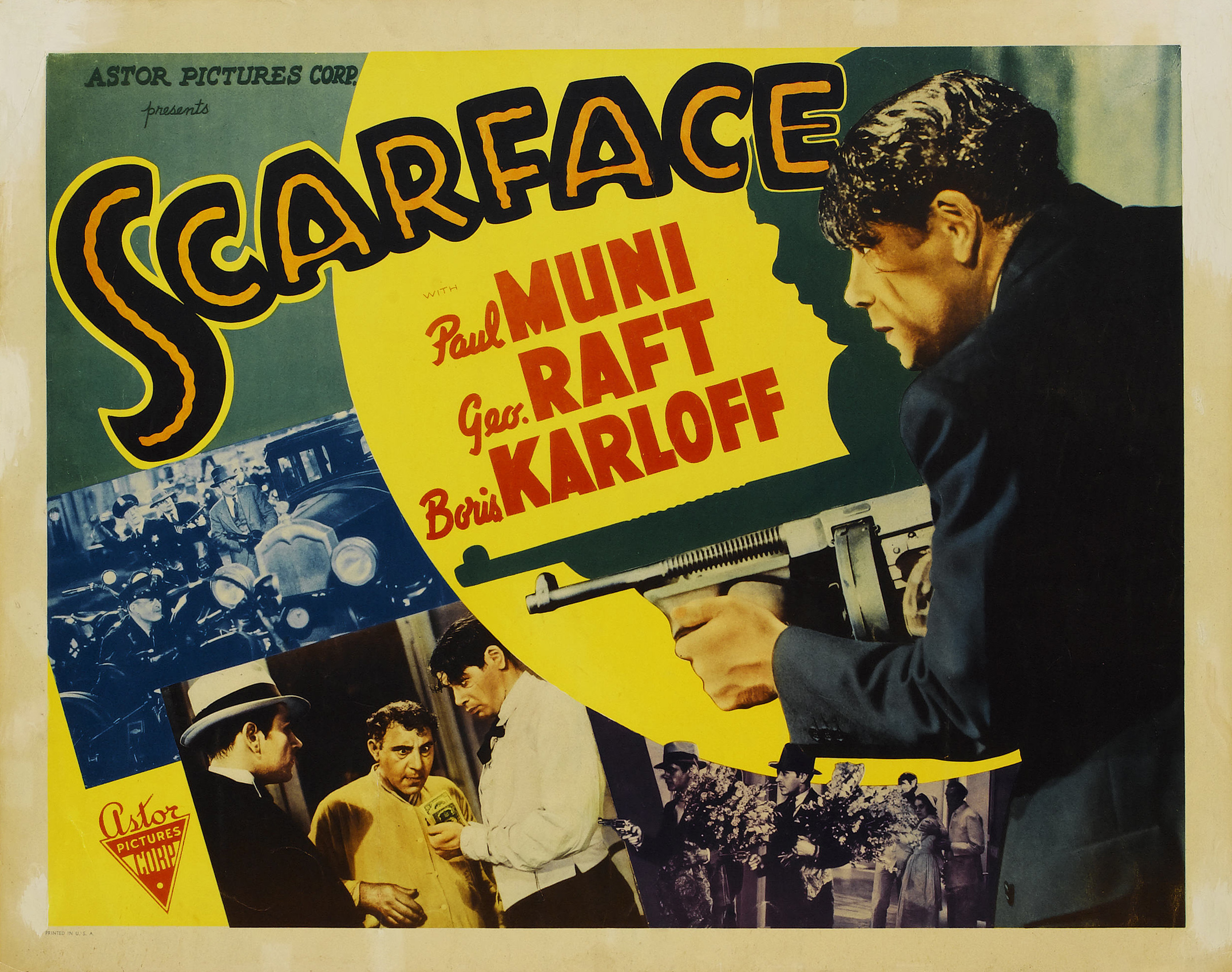 For the next eleven years Howard Robard Hughes, Jr. stopped his motion picture producing and concentrated on his love of aviation/ By making the "Hughes Aircraft Company" one of the most important manufacturers in the World. By the start of World War Two and during the post war period. "Hughes Aircraft" was one of the largest employers in Southern California.
During this beginning of this period. Hughes' developed the most technological air craft in the World. On September 13, 1935 Howard Hughes flew his "H-1 Racer" and set the Landplane air speed record.
The plane was reworked to make the "H-1" suitable for transcontinental flight and on January 19, 1937. Howard Hughes set the record for flying from Los Angeles to New York City non-stop.
Howard Hughes returned to the motion picture industry with a very controversial and banned film.
THE OUTLAW
His birth name was Henry McCarty, but he's known as either "William H. Bonney", or "Billy the Kid". The first motion picture about the "Kid" was released in 1911. Between that film and
"The Outlaw",
shot in 1941, were another 12 pictures. These starred "B" Cowboy actors Johnny Mac Brown in one, a series of six films with Bob Steele and the first two of another series starring Buster Crabbe. Along with a picture starring actor Robert Taylor and another starring Roy Rodgers before he took the moniker of the "King of the Cowboys".
Howard Hughes decided to make his own version of the myth that was "Billy the Kid".
"The Outlaw"
was completed in 1941 and was immediately blocked by the Hayes Censorship Office.
The reason was 20 year old actress Jane Russell's bust size.
Russell, Howard Hughes' current girlfriend, at the start of production, was the star of the picture as "Rio McDonald". Hughes was dissatisfied with Jane's 38 (34D) bust size. As he wanted to "accent" it much more than the camera would permit. So he went to the engineers of his "Hughes Aircraft Company" to see what they could do to emphasis that area. They came up with an underwire bra, but according to Jane Russell in her 1985 autobiography. She secretly didn't wear the Hughes bra as it was very uncomfortable and just added tissue to her own bra and tightened the bra straps.
Bob Hope, a good friend, once introduced Russell as:
The Two and only Jane Russell.
During their time together Hughes once joked:
There are two good reasons why men go to see her. Those are enough.
Russell was both the star and the lure as the above poster and photo indicates. The other three main roles were:
Jack Buetel was "Billy the Kid" and as with Jane Russell neither had been in motion pictures previously. Buetel signed a seven year contract with Hughes. Who promised to make him a major star. Buetel received lack luster reviews and Howard Hughes, contract in hand, would not cast him in any other rolls, and refused Howard Hawks request to cast Buetel in
"Red River".
As a result that role went to Montgomery Clift. It wouldn't be until 1951 the Jack appeared in his second feature film as "Bob Younger" in
"Best of the Badmen".
That picture starred Robert Ryan and Claire Trevor.
The role of "Pat Garrett" was portrayed by Thomas Mitchell. Mitchell was the first male actor to win the triple crown: an Oscar, a Tony and a Emmy. In 1939 he was in both
"Gone With the Wind"
and John Ford's
"Stagecoach".
He won that Oscar as "Best Supporting Actor" for the role of "Doc Boone" in the Ford Western.
The role of "Doc Holliday" was portrayed by Walter Huston. Huston. Walter was father to Director/Actor John and Grandfather to Actress Anjelica. Walter Huston was nominated twice for the Oscar as "Best Actor" and twice for "Best Supporting Actor". Only winning "Best Support Actor" for his son John's
"The Treasure of the Sierra Madre".



"The Outlaw"
was Directed by Howard Hughes from a screenplay by Jules Furthman. Furthman had been providing story ideas and screenplays since 1915. Among his work are 1935's
"Mutiny on the Bounty",
1944's
"To Have and Have Not",
1946's
"The Big Sleep"
and 1959's
"Rio Bravo"
with co-writer "The Queen of Space Opera", Leigh Brackett
.
The screenplay is obvious pure Hollywood and plays off myth rather than truth. "Billy" is in love with "Rio". His mentor is "Doc Holliday" and both men are friends of "Pat Garrett". "Rio" and "Billy" are in love with each other. In the end "Doc" is killed, "Billy" tricks "Pat", and rides out with "Rio". As true love conquerors all tale.
As to the objection by the Hayes Office and the delay of the picture's release. Here are few shots of Jane Russell. The first two are from the implied sex scene that caused part of the problem. The next two are examples of the publicity shots, but the Hayes Office stopped the release of those photos also.
The movie was finally released on February 5, 1943 in a limited run and that date is listed in most records for the picture.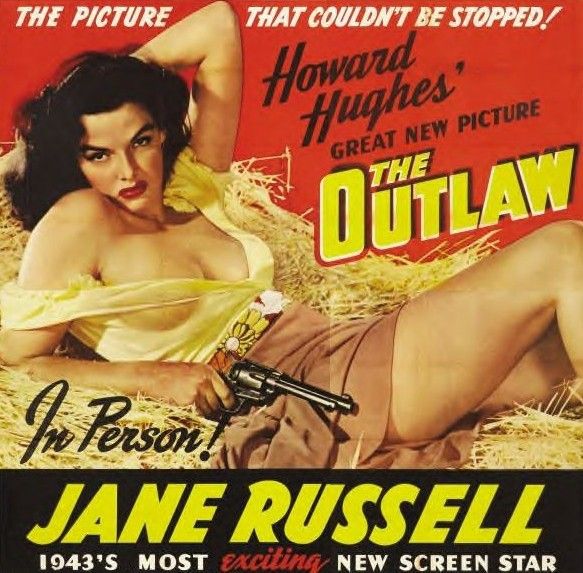 However, one week after it's 1943 release.
"The Outlaw"
was pulled from theaters due to "Violations of the Production Code". It sat on the shelves for another three years and then in 1946 found General release without pushing the sex angle. Of course by that time anyone familiar with the picture's history, or Jane Russell knew what they were getting. ||
In 1943 the stories about Russell and Hughes ended. When she married Bob Waterfield a major football star. He had been a UCLA-All American, the quarterback for the Cleveland Rams and stayed in that position after the team became the Los Angeles Rams. Waterfield would become the Rams Assistant Coach and then Head Coach.
On August 1, 1943 Howard Hughes produced a propaganda motion picture based upon a best seller.
BEHIND THE RISING SUN
It should be noted that this was the first film association between Howard Hughes and the RKO movie studio. Using money from another of his companies. Originally founded in 1908 by his father as "Hughes Tool Company". Howard bought a small amount of shares in RKO and started production on
"Behind the Rising Sun".
Portraying the three leading Japanese in this picture were white actors in typical Hollywood fashion under heavy make-up.
J. Carroll Naish portrayed "Reo Seki". He was an Irish-American character actor. who had been acting since 1925. Also in 1943 Naish he became the first on screen villain, also a Japanese, fighting
"Batman"
in the 15 Chapter serial from Columbia Pictures. Also in 1943 J. Carroll Naish had portrayed an Italian soldier in the Humphrey Bogart World War 2 film
"Sahara"
and a Greek Army Lieutenant in
"Gung Ho"
. In fact the only ethnic role the actor wouldn't portray during his long career, that included the hunchback in 1944's
"House of Frankenstein"
and the title role in 1954's
"Sitting Bull",
was an Irishman.
The role of "Reo Seki's" son "Taro Seki" was portrayed by Tom Neal. The actor is best known for the critically acclaimed Film Noir
"Detour"
in 1945. That same year he appeared in another well received detective thriller
"Club Havana"
and put on the Japanese make-up once more as an American soldier who has his features changed to spy on Japan in
"First Yank in Tokyo".
However, the top billed actor in the film was actress "Margo" as "Tama Shimamura". The Mexican American actress born Maria Marguerita Guadalupe Teresa Estela Bolado Castilla y O'Donnell had previously appeared in Director Frank Capra's 1937
"Lost Horizon",
Val Lewton's 1943
"The Leopard Man"
and would be seen in the Marlon Brando, Anthony Quinn
"Viva Zapata"
finally playing a Hispanic women.
This picture opens with "Reo Seki" being presented with the ashes of his son. Then flashes back to tell the story of a father and son who are caught in the evil of the Japanese Empire during World War 2. At the climax the film shows how "Taro Seki" dies and then returns to the opening scene as "Reo" denounces the ways of the Emperor and commits ritual suicide. Hoping that his life and death will put Japan on the right course and end the madness.
The picture had a budget of $239,000 and had a U.S. Box Office of $1.5 million dollars. Of interest the film was Directed by Edward Dmytrk. Among his films were 1941's
"The Devil Commands"
starring Boris Karloff, the excellent and overlooked 1953's
"The Juggler".
Which is one of Kirk Douglas' finestperformances, 1954's
"The Caine Mutiny"
starring Humphrey Bogart, 1957's
"Raintree County"
starring Elizabeth Taylor and Montgomery Clift and very interestingly 1964's
"The Carpetbaggers".
However, in 1951 the Director refused to "Name Names" for the "House Committee on Un-American Activities" and was "Blacklisted". He left the United States to make motion pictures in the U.K..He was "Permitted" back in late 1954.
In September 1945 Director/Screenplay writer Preston Sturges. Known for 1941's
"The Lady Eve"
starring Barbara Stanwyck and Henry Fonda. The same years
"Sullivan's Travels"
starring Joel McCrea and Veronica Lake, 1942's
"The Palm Beach Story"
starring Joel McCrea and Claudette Colbert and other classic comedy films was looking for a new direction. His contract with Paramount Pictures had run out. He joined with Howard Hughes and the two formed "California Pictures". Their first production was released through United Artists and was 1947's
"The Sin of Harold Diddleblock".
For fans of classic comedy this picture starred silent screen comedian Harold Lloyd in the title role and featured Rudy Vallee, Edgar Kennedy, Lionel Stander, Margaret Hamilton and other members of Preston Sturges' stock company.
Howard Hughes didn't like the originally released feature and re-edited it. The re-released titled was
"Mad Wednesday"
and Rudy Vallee's part was almost non-existent, Hughes added a talking horse to the end of the original picture and moved Harold Lloyd's name from above the title to after it. Causing the actor to file a $750,000 1953 lawsuit against "California Pictures" and the "RKO Studios" controlled by Hughes.
In 1948 Hughes bought out the 25 percent of RKO Stock owned by Floyd Odium's "Atlas Productions" and with his own shares gained control of the studio. Immediately he instituted a purge. Hughes dismissed three quarters of the RKO work force. Stopped all production and began hiring only those people that could be proven to reflect his anti-Communist views. The firings included many actors with contracts to the studio which Howard just bought out.
Next he reviewed those films that had started production and cancelled some of them, because of the views of the people involved. Once the purge was completed and the proper people hired did production resume. One has to wonder what Howard Hughes thought of Edward Dmytrk after he was black listed?
Three motion pictures later was a Howard Hughes Production known more for who was fired than what the feature was about.
VENDETTA


German Director Max Ophuls was announced as Director of
"Vendetta".
This was to be his first American motion picture. However, his pace of filming was going to slow. So Hughes fired him and replaced Ophuls was his partner Preston Sturges. Seeing the rushes on what Sturges was shooting upset Howard even more. This lead to the break up of their partnership.
There is a reason for all this madness with Hughes. Which I will explain after I talk about the next three Directors on the picture. Director Stuart Heisler had a personal contract with actor Gary Cooper. Howard Hughes approached Cooper about using Heisler and bought out his contract. So he could Direct
"Vendetta".
Next he fired at least two known members of the crew and actor Gregory Marshall. Hughes then hired two new actors George Dolenz and Donald Buka, rewrote some of the screenplay, and restarted shooting with Heisler now Directing.
Stuart Heisler became ill and not to stop shooting, which had reached an incredible 88 days, Film Editor Paul Weatherwax took over during Heisler's illness. After seeing the completed footage Howard Hughes was still upset over the film. In May 1947 Heisler was paid off and left the production, but Hughes still wanted a different ending.
Enter the fifth Director, Actor Mel Ferrer. Howard Hughes kept on expanding the ending and the time on Ferrer's contract. Seven weeks after the Actor/Director finished shooting and one million 1947 dollars. The picture appeared finished and Mel Ferrer left. However, Hughes, himself, re-shot some more sequences as Director.
So what was all the fuss really over?
Portraying "Columbia della Rabia" was the new "Protege" of Howard Hughes, Faith Domergue. All the firing of Directors and reworking the motion picture was solely to make Domergue look good on the big screen.
When Faith Domergue was "Discovered" by Howard Hughes. She was 18 years old and started filming
"Vendetta".
She would be 22 years old when the picture finally was completed and gave birth to her second child by her husband, at the time, band leader, actor, nightclub owner Teddy Stauffer.
As to how good Hughes' new discovery looked. The New York Times, December 26, 1950, review of the picture said this about the actress:
Faith Domergue, the heralded newcomer, is less than a fiery heroine. But despite the flamboyant lines that are her lot, the attractive Miss Domergue does occasionally contribute genuine emotional acting to the proceedings.
In 1955 the actress would make four motion picture forever associating Faith Domergue with 1950's Cult Science Fiction Features. These were in order:
"Cult of the Cobra", "This Island Earth", "It, Came from Beneath the Sea"
and the British picture
"The Atomic Man".
If you think this film had a hard shoot. There was Howard Hughes big planned anti-Russian Communist aviation motion picture starring John Wayne,
JET PILOT
This picture also went through multiple Directors and a lengthily shoot.
Howard Hughes originally thought of making another
"Hell's Angeles"
and from the start of production in 1949. He got permission to use Edwards Air Force base, California, as a background. Along with another in Georgia to look different as the Russian Air Force base.
John Wayne came on board solely because he was told the movie would be solid anti-Communist and he new Howard Robert Hughes' political beliefs. Otherwise he would not have been in it. When production began actress Janet Leigh was a complete unknown and had only small roles in four motion pictures. When the film was finally released, I will explain later, she had a total of 29 other motion pictures added to her credit.
The initial screenplay was by Jules Furthman. This would be one of the last six screenplays of his 119 including Hughes'
"The Outlaw".
Furthman was also the main producer of the picture and needed Hughes as a partner to get it made.
The original Director and the one getting screen credit would be Josef von Sternberg. Among his work was the German production of 1930's
"The Blue Angel".
That picture made Marlene Dietrich an International star. Then there were 1932's
"Blonde Venus"
starring Dietrich and Cary Grant and the excellent 1935
"Crime and Punishment"
starring Peter Lorre. Von Sternberg would also partly Direct. without on screen credit. the 1946 western
"Duel in the Sun"
starring Gregory Peck and Jennifer Jones. Over a 32 year career, Von Sternberg, whose work Howard Hughes liked, made only 35 films.
Von Sternberg started shooting in October 1949 and completed his work in February 1950. John Wayne portrayed the
"Jet Pilot"
of the title "Colonel Jim Shannon". Janet Leigh was a Russian Air Force defector "Lieutenant Anna Marladova " aka: "Captain Olga Orlief".
So what was that anti-Communist screenplay that Hughes had Furthman write? It did have KGB officer "Colonel Matoff", but he was played by Hans Conried. Who was known as a comic actor and would voice both "Mr. Darling" and "Captain Hook" in Walt Disney's 1953
"Peter Pan"
and be the over the top villain in the live action "Dr. Seuss" story
"The 5,000 Fingers of Dr. T".
J.C. Flippen portrayed Wayne's no nonsence Air Force commanding officer "Major Glenn Black".
As to anti-Communist story. Apparently a Russian pilot in their latest jet wants to defect. The plane is escorted to what is suppose to be an Alaskan Air Force Base. Wayne's "Shannon" approaches the plane to discover the pilot is Leigh.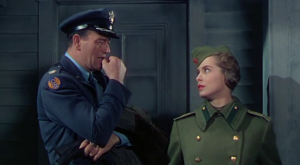 "Major Beck" working with Air Force Intelligence and the FBI believes "Marladova" might be a spy sent to get information on our aircraft.
Pause on plot for what happened from a strictly Director point of view.
Von Sternberg left, but Hughes and Furthman didn't like what they saw. Sound familiar? So instead of a five month shoot.
"Jet Pilot"
became a nightmare shoot. Replacing Von Sternberg as Director, in sequence, were Philip Cochran the Aerial Sequence Director, then Jules Furthman, followed by the Unit Production Manager Edward Killy and the model maker Bryan Haskin. For some additional scenes, that were never used, Don Siegel and of course Howard Hughes got into the act too.
Believe it or not! The last day of shooting for a picture began in October 1949 was in May 1953. However, that was not when the picture was finally released, but back to that anti-Communist screenplay.
In 1939 Greta Garbo made a motion picture entitled
"Ninothchka".
This comedy was the first American film to depict the Soviet Union, under Joseph Stalin, in a satirical way. Three Agents are sent to Paris by Stalin to sell jewelry taken from the Elite during the Russian Revolution of 1917. However, in Paris is one of the old aristocracy who wants her jewelry back. She sends a friend, a Russian Count, to get her jewels and he does this by showing the three Communist Agents the pleasures of Paris.
When he has no contact for a lengthy time with the Three Agents. Stalin next sends a very strict military follower "Nina Ivanovna 'Ninotchka' Yakushova" to find out what happened. What follows is the Perfect Communist Machine, "Ninotchka", falling in love with the Count as he charms her with Paris.
In 1955 the Greta Garbo classic was turned into the Broadway Musical
"Silk Stockings".
Two years later, on July 18, 1957, the motion picture version was released starring Fred Astaire and Cyd Charisse now called "Ninothchka Yoschenko..
As for
"Jet Pilot",
John Wayne's "Colonel Jim Shannon" is ordered to seduce Janet Leigh's "Lieutenant Anna Marladovna" and use her to feed false information to the "Commies"..
In what was sold to John Wayne as a serious dramatic anti-Soviet Union motion picture and Howard Hughes new
"Hells' Angels",
became more reminiscent of the Garbo comedy and the musical
"Silk Stockings".
Even the KGB Officer "Colonel Matoff" and his superior "Colonel Sokolov", Roland Winters, come off closer to two of the three Russian Agents than real Communist Military Officers.
The seduction of "Marladovna" seems forced for 42 year old John Wayne. As Janet Leigh was 21, half his age, at the start of filming. In the Jules Furthman screenplay the unexpected happens and the two fall in love. While Wayne is showing Communist Leigh the advantages of Capitalism. The two characters will end up married and that will lead to "Shannon" going with "Marladova" to Russia as a Defector. The dialogue, at times, seems more fitting for the 1930's.
Howard Hughes kept re-editing scenes. By the time this 1949 started picture was released. Hughes would no longer own RKO Studios. He would approach Universal Pictures to be the distributor of
"Jet Pilot"
and on September 25, 1957, eight years after production had first started. the out dated film went to movie theaters in the United States..
One dated sequence occurs after Wayne's taken Leigh to Palm Springs. They go in search of proper American clothing for her to wear. A scene has Janet Leigh modeling swim suits that in 1950 were the latest ladies styles, but this is seven years later. Below a publicity photo with one of those suits.
Note the color and style of Janet Leigh's hair in the above photo from now 1957's
"Jet Pilot".
Below a photo of the actress on the cover of
"Screen Stories"
in 1956 for the movie
"Safari".
Illustrating how dated the other motion picture was at release and the large change in the appearance of the actress.
The aircraft used in the film were outdated and obsolete also by the time of the picture's release. Most had been out of service for a few years, because of the need to improve planes during the Korean War. With all its faults like wearing the wrong Air Force Uniforms for the year
"Jet Pilot"
finally was seen. The motion picture does have a cult following among John Wayne fans.
Returning to 1951 and where Howard Robard Hughes, Jr. should have already released
"Jet Pilot"
was an interesting Film Noir.
HIS KIND OF WOMEN
This forgotten Film Noir brought back Jane Russell for a Hughes production. She had made two features between
"The Outlaw"
and this picture. The feature right before this one was the 1948 classic Bob Hope comedy
"The Paleface"
in which she played "Calamity Jane".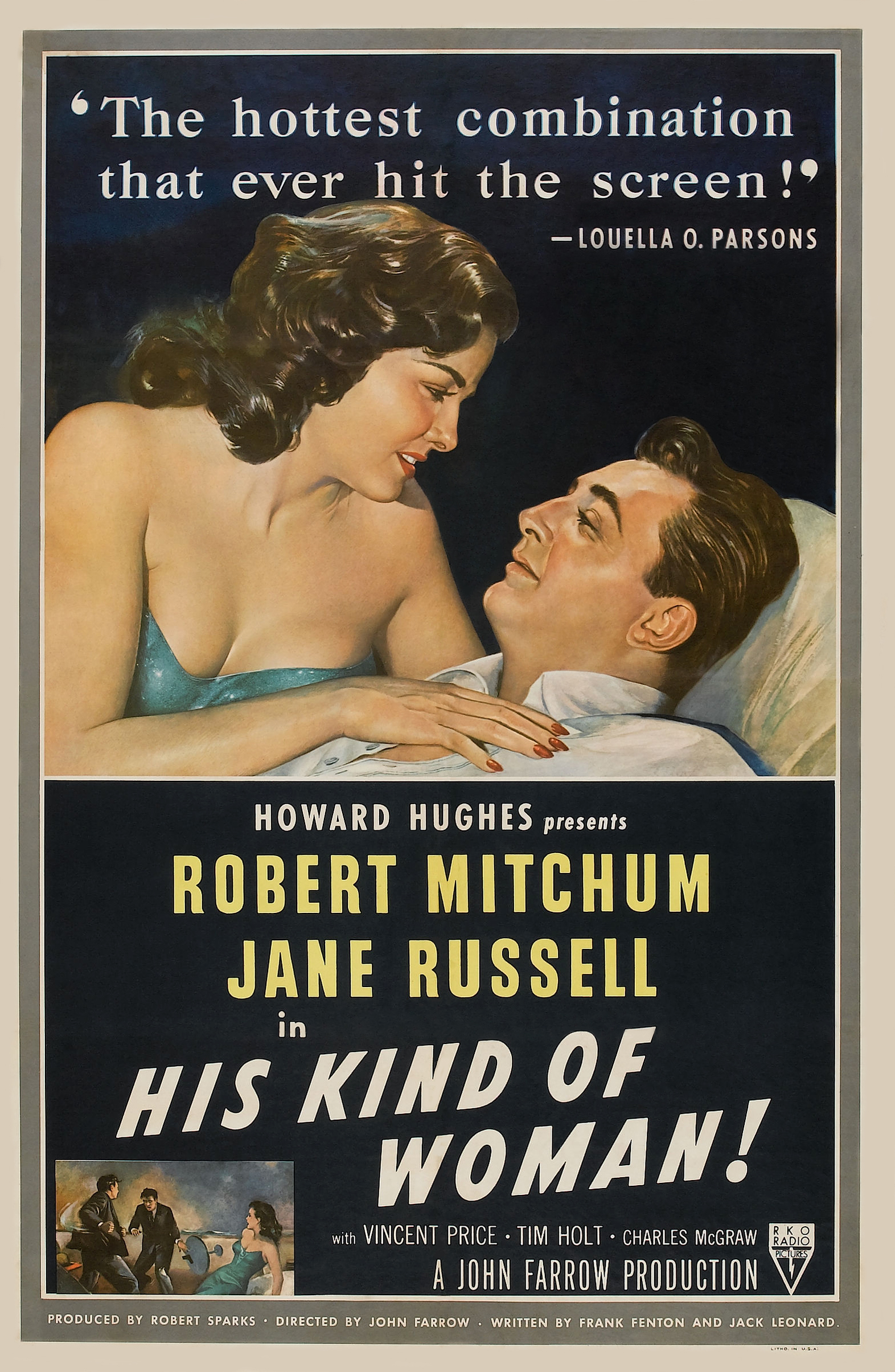 The leading man was Robert Mitchum. In comparison to his leading lady, at the time production began on this feature, Mitchum had appeared in 42 motion pictures. It had been 1945's
"The Story of G.I. Joe"
that made the actor a star. Prior to that film Robert Mitchum had appeared in various films of various quality. Including portraying different roles in six of William Boyd's "Hopalong Cassidy" pictures.
Mitchum portrayed a professional gambler named "Dan Miller" whose luck has been bad. He takes a job for $50,000 down in Mexico at an isolated resort. The only other passenger on his chartered flight is Jane Russell as "Lenore Brent". "Miller" is upset to learn that "Lenore" is actually the girlfriend of one of the other guests at the resort. The famous actor "Mark Cardigan" portrayed by Vincent Price. Price had just been seen in the pirate film
"The Adventures of Captain Fabian".
Six television appearances after this picture and one other movie. Would find Price in the film that would turn his career's direction. This was Warner Brothers first 3-D picture and the remake of their 1933
"Mystery of the Wax Museum",
1953's
"House of Wax".
Also present is an underworld boss that was deported to Italy named "Nick Ferraro" portrayed by Raymond Burr. "Ferraro" is attempting to get back into the United States. Burr was appearing in all forms of motion pictures. He was "Alexander Dumas, Jr". in the 1949 Orson Wells film
"Black Magic",
Burr had been "Potsy" in the American remake of the German classic
"M"
, a cavalry private in the Lew Ayres western
"New Mexico"
and an "Assistant District Attorney" in Director George Stevens classic
"A Place in the Sun"
starring Elizabeth Taylor and Montgomery Clift.
Also in the cast were Tim Holt, Jim Backus, Charles McGraw and Anthony Caruso.
The screenplay by Gerald Drayson Adams has a lot of misdirection and although somebody like Burr and Caroso are in obvious gangster roles. Don't count on everything being what you think it is. In this very low keyed story with some great comic relief by Vincent Price.
As with other Howard Hughes productions he did not like the finished work of Director John Farrow. So he hired animator Max Fleischer's son Richard to film new footage that actually ran one and a half hours by itself.
Later in 1954 Richard Fleischer would commit the greatest sin a son could do. He went to work for his father, Max's, sworn enemy Walt Disney. The result was the classic motion picture
"20,000 Leagues Under the Sea".
My article on the Disney/Fleischer feud can be read at:
http://www.bewaretheblog.com/2015/04/the-great-walt-disney-max-fleischer.html
Again Hughes didn't like the new footage, but only the actor in a majority of it, Lee Van Cleef. So Howard Hughes fired Van Cleef, hired Robert J. Wilke, and had Fleischer re-shoot all the scenes Van Cleef a[[eared in. As for Lee Van Cleef he moved from RKO Studios and what was to be be his first motion picture. To United Artists and a western entitled
"High Noon".
"His Kind of Women"
premiered on August 21, 1951 and promptly lost $850,000. Almost the exact amount of money Howard Hughes paid for the re-shoots.
THE WHIP HAND
In November 1950 RKO finished filming what would become known as
"The Whip Hand".
A horse racing metaphor for having the upper hand. When Hughes viewed the rushes and saw the film had to do with Adolph Hitler being alive and hiding in the United States. He announced to everyone involved that Nazi's were out and Communists were in. He then ordered most of the Nazi footage, including the role of Hitler portrayed by Bobby Watson removed, and the picture re-shot as a Communist plot to use Germ Warfare on America. Suddenly in the re-written screenplay these ex-members of the National Socialist Party joined the Communist Party, who they fought in World War 2, to confirm to Howard Hughes strong anti-Communist views.
The film was released October 24, 1951 and lost $225,000.
The star Elliott Reid is actually known for three major comedies. First as the man hired to spy on Marilyn Monroe's "Lorelei Lee" and ends up with her at the end of the classic 1953 musical
"Gentlemen Prefer Blondes"
co-starring Jane Russell. Then twice as Fred MacMurray's competition in Walt Disney's original 1961
"The Absent-Minded Professor"
and Disney's 1963
"Son of Flubber".
Reid's co-star Carla Balenda might be remembered as Mickey Rooney's love interest in his 1954 to 1955 television show
"Hey Mulligan",
if anyone remembers it
.
Otherwise she went into obscurity.
TWO TICKETS TO BROADWAY
On November 1, 1951 a Howard Hughes production,
"Two Tickets to Broadway"
premiered. This was
a musical starring Janet Leigh, popular singer Tony Martin and singer/actress Gloria DeHaven, comic actor Eddie Bracken and singer/dancer Ann Miller. The choreography was by the great Busby Berkeley. It should have been a hit, but lost $1.5 million dollars.
Jane Russell returned for two motion pictures for Hughes, but his luck as a Producer and Owner stayed away.
THE LAS VEGAS STORY
The cast included Jane Russell as "Linda Rollins", Victor Mature as her ex-boyfriend "Dave Andrews", Vincent Price as her husband "Lloyd Rollins" and pianist/composer Hoagy Carmichael as "Happy".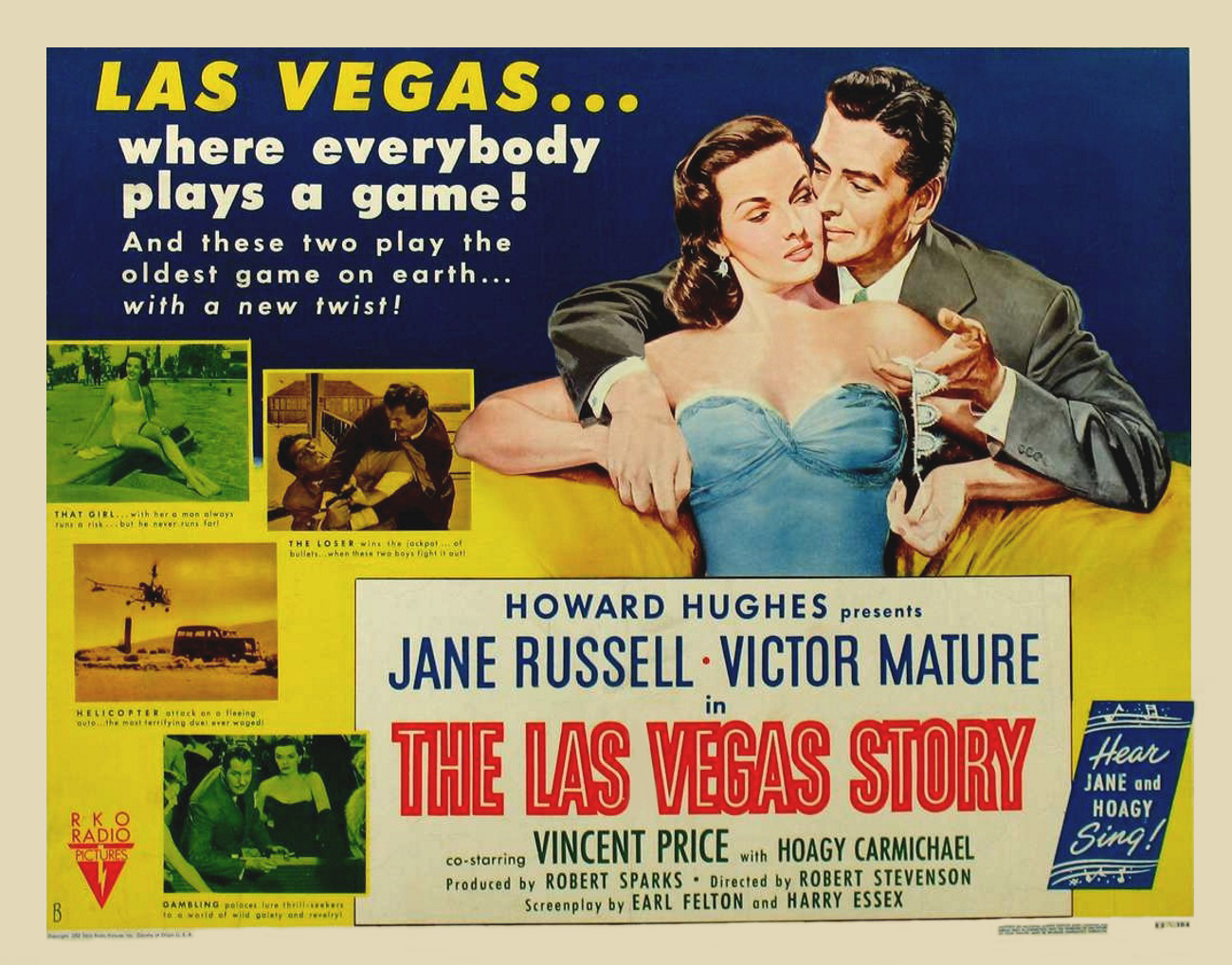 The film was originally to be called "The Miami Story" and to star Robert Ryan, but that was changed to become a vehicle for Victor Mature and Jane Russell.. The location was moved to Las Vegas and the start of production changed a few months from December 1950 to March 1951. The picture wasn't released until January 30, 1952.
Film critic Bosely Crowther of the New York Times described the picture:
The Las Vegas Story

at the Paramount is one of those jukebox gambling films that gives the impression of being made up as it goes along ... For the simple fact is that Miss Russell is slightly grotesque to look upon in the tacky costumes and pinched-in get-ups with which she is cheaply adorned, and for the rest she contributes to the drama nothing more than a petulant pout and a twangy whine. But, then, the scriptwriters, Earl Felton and Harry Essex, have not made demands in their loose-jointed, tabloid-tinted fiction for more than the lady gives. And the rest of the cast does not embarrass her by playing above her head. The best to be said on behalf of this hit-or-miss R. K. O. film is that, in throwing side glances at the sap-traps of Las Vegas, it points its own indeterminate moral: patrons proceed at their own risk; the odds are in favor of the house."
The picture is estimated to have lost $600 thousand dollars. Another problem for Howard Hughes came as a result removing the main screenplay writer Paul Jerrico's name from on screen credit.
Paul Jerrico was working at another studio on the Glenn Ford, Robert Wagner and Claude Rains motion picture
"The White Tower".
When a friend of Jerrico was called before the "House Committee on Un-American Activities". He gave Paul's name as being a Communist. Howard Hughes, with his strong anti-Communist sentiment, reacted to this information with the above mentioned action. Jerrico retaliated with a lawsuit claiming that Hughes removed his name over his Communist affiliation. Although this was completely true. Paul Jerrico, the "Black Listed" screenplay writer, lost his case, because it was determined he had "Violated the Morals Clause" of his RKO Contract.
Another result of the Paul Jerrico case was "an Out" for the Major Studio Heads. They now had legal ground not to give on screen credit to black listed writers, or pay them their contracted salaries.. Which hurt these men and women professionally.The McCarthy Era in action.
MACAO
Macao"
is another overlooked Film Noir from Howard Hughes, released April 11, 1952, reuniting Robert Mitchum and Jane Russell. Adding the always under appreciated William Bendix, All three arrive on a boat at the port of
"Macao",
China.
Mitchum is "Nick Cochran", described as a cynical, but honest ex-serviceman. Russell is "Julie Benson", described as an equally cynical night-club singer and Bendix is "Lawrence Trumble", described as a traveling salesman. Who deals in silk stockings and contraband.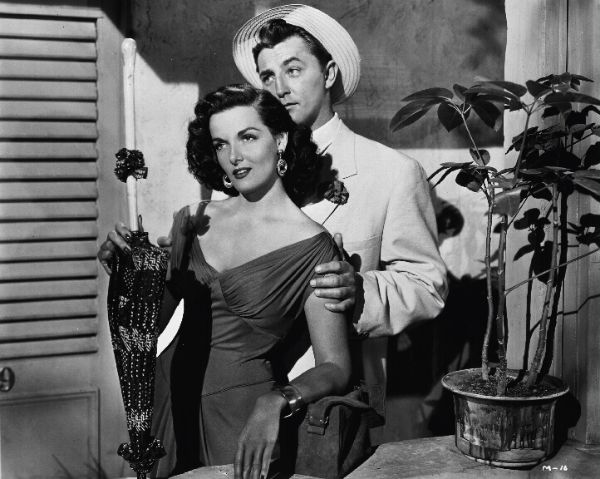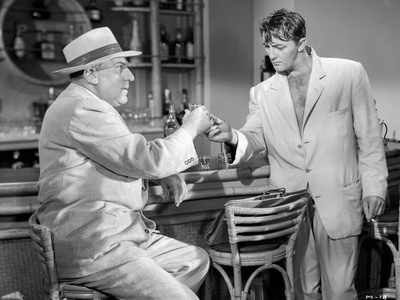 The cast also included Brad Dexter as an underworld boss named "Vincent Halloran". Who believes one of the three new arrivals is actually an undercover New York Cop after him. Then there's Gloria Graham as "Halloran's" girlfriend, "Margie", and Philip Ahn as ",Itxumi", the bodyguard.
Add in a corrupt Police Officer, "Lieutenant Sebastian", portrayed by Thomas Gomez and you have a better than average Film Noir.
In fact in 2005 film critic Dennis Schwartz wrote in "Ozus' World Review":
A wonderfully tongue-in-cheek scripted RKO adventure story directed by Josef von Sternberg...Jane Russell enthralls as she gets romanced by the laconic Mitchum, and they create movie magic together through their brilliant nuanced performances…She's the good-bad girl, while he's the hard-luck innocent who can't even win when playing with loaded dice…If you are looking for an underrated film noir gem—that somehow got swept under the rug—this is it!
Russell delivers two great songs:
The Johnny Mercer and Harold Arlen song "One for My Baby and One for the Road" and the Julie Styne and Leo Robin "You Kill Me".
Yet the picture still lost $700 thousand dollars.
Howard Hughes now entered the 3-D craze with three excellent leads.
SECOND CHANCE
The motion picture was shot on location in Mexico. The ending could have been based upon a real tram accident in Rio de Janiero two years before the picture's release date of July 18, 1953.
The movie opens as actor Milburn Stone, two years before he became "Doc" in the premiere of television's
"Gunsmoke",
is a mob bookkeeper killed by the emotionless "Cappy Gordon" portrayed by Jack Palance. Afterwards until things cool down "Cappy" will head for the Mexican town of San Cristobal.
Enter a prizefighter "Russ Lambert", portrayed by Robert Mitchum, who killed an opponent in the ring. He has come to San Cristobal to think his future over. Enter also the ex-girlfriend of "Cappy's" boss, "Claire Sinclair", portrayed by Linda Darnell.
Darnell had co-starred with Tyrone Power in both 1940's hits
"The Mark of Zorro"
and
"Brigham Young".
Plus had been seen with Power in 1941's
"Blood and Sand"
and as
"Doc Holliday's" girlfriend in John Ford's classic 1946
"My Darling Clementine".
At this point the 30 year old actress's star was declining, such was Hollywood, and she would die 11 years later after being trapped on the second floor in a house fire at a friends. The year before this picture. Linda Darnell was the female lead captured by Robert Newton's
"Blackbeard the Pirate".
The screenplay was from writers Sydney Boehm and Oscar Millar. Among Boehm's work were the Spencer Tracy, Irene Dunne 1943
A Guy Named Joe"
that Steven Spielberg would remake as 1989's
"Always",
George Pal's 1950
"When Worlds Collide",
his later work included 1954's
"Secret of the Incas"
with Charlton Heston as the model, clothing, whip and all for "Indiana Jones", the fictionalized tale of the 1950's Brinks Armour Car robbery 1955's
"Six Bridges to Cross"
and the 1967 Dean Martin-George Peppard Western
"A Rough Night In Jerrico".
While Millar had received an Academy Award nomination for the hard hitting Richard Widmark 1951 movie
"The Frogman".
Millar also did the screenplay for the very interesting James Stewart 1951
"No Highway in the Sky"
made in the U,K. He wrote the screenplay for another Hughes production I will mention later and afterwards became a television writer.
This screenplay is standard Film Noir as the three main characters interact leading to the non-standard climax on a tram way.
As to the performances of the three.actors., First I go to New Time Times critic Bosley Crowther's at the time:
The build-up to the aerial adventure is not only synthetic but slow...the development of a romance between Mr. Mitchum and Linda Darnell...is mechanical and routine. But once they get aboard that tramway—Mr. Mitchum and Miss Darnell, coming down off the mountain and trailed by Mr. Palance—the drama begins to crackle. And once that cable snaps, the picture becomes a welter of cliff-hanging terror and suspense. Every little movement of the tramway, hanging up there by a thread, causes the acrophobe to tremble. And there is plenty of movement, indeed.
In Time Magazine for July 27, 1953 Jack Palance's performance is described:
This man Palance keeps the show as well as Linda on the move. A rivet-eyed, onetime prelim fighter from the Pennsylvania coal country, Palance (

né

Palahnuik) [

sic

] gave terrifying performances in

Shane

(1953) and

Sudden Fear,

(1952) has since become the hottest heavy in Hollywood. His face alone, as thin and cruel as a rust-pitted spade, is enough to-frighten a strong man; and to make matters worse, he seems to emit hostile energy, like something left overnight in a plutonium pile.
The same Time Magazine review while mentioning that 3-D is a gimmick. Noted that this motion picture had discovered a way to not just throw things into people's faces. Overall the film did very well.
Having had a success with his first 3-D motion picture. Howard Hughes decided to make another, but what would be the lure for the audience. In his mind he thought of "Two Things" Jane Russell.
THE FRENCH LINE
This was a musical made at the height of Jane Russell's career and right after she and Marilyn Monroe had made 20th Century Foxes
"Gentleman Prefer Blondes"
released in August 1953.
"The French Line"
was released on February 8, 1954 and again the film would be banned. "The Catholic League of Decency" called for a complete boycott. The censors now known as the "Breen Office" refused to give the film a production code, because of one song and dance number.
Hughes had the costume makers of RKO create as skimpy as possible clothing for Jane Russell. Her breasts very literally busted off the screen into the audiences faces in 3-D.
Below is a still from a dance number most critics felt was based upon one from
"Gentlemen Prefer Blondes"
and Hughes never denied it.
The song and dance that caused all the "Publicity", that Howard Hughes loved, was "Looking for Trouble". The lyrics were by Ralph Blaine and Robert Wells with music by Josef Myrow. Hughes released a "Flat Screen" version of
"The French Line"
to reach more cities. He used the controversy to his advantage and the new posters went directly to it.
The picture co-starred Gilbert Roland as a playboy who doesn't know that Russell is actually a millionairess. Who is out to find true love without revealing her financial status..
Gilbert Roland started his career as an Extra in the 1923 silent masterpiece
"The Hunchback of Notre Dame"
starring Lon Chaney. He had fourth billing in the Mae West and Cary Grant 1933 classic
"She Done Him Wrong",
was a Pirate Captain in Errol Flynn's 1940
"The Sea Hawk",
took the role of "The Cisco Kid" aka: "The Robin Hood of the Old West" in 1946 for six features. He played "Gaucho" in the take down of Hollywood starring Kirk Douglas, 1952's
"The Bad and the Beautiful",
and was a Mexican revolutionary leader in 1956's
"Bandido"
co-starring Robert Mitchum. Least I forget Roland was also "Achmed Abdullah" in Michael Todd's all star 1956 version of Jules Vernes'
"Around the World in 80 Days".
For those familiar with the movie, or play
"The Rocky Horror Picture Show".
There's a line from "Janet" as the stars are in the swimming pool that goes:
GOD BLESS LILI ST. CYR
IF you can find the following Howard Hughes film that got him into more trouble and was shelved. You can find out why "God" blessed her.
SON OF SINBAD
"Son of Sinbad"
starred Dale Robertson as the title son also called "Sinbad". It featured a great comic Vincent Price as his friend the Persian poet "Omar Khaysm".
This is not your typical "Sinbad the Sailor" movie. Mainly there are the Khalif's harem slaves and one in particular co-star Sally Forrest as "Ameer". Then there is his dancing girl "Nerrisa" portrayed by Lili St. Cyr. Add in Dale Robertson and Vincent Price and you have a classic, but hard to find sexy comedy adventure.
Dale Robertson was kicking around in small films and "B" Westerns. His would become a 1950's 1960's television cowboy star with
"Tales of Wells Fargo",
running from March 18, 1957 through June 2, 1962, and find himself in the cast of two television prime time soap operas
"Dynasty"
and
"Dallas".
Below Robertson with Lili St. Cyr.
Sally Forrest was a dancer as were her parents. She had an MGM contract and appeared in the chorus of several of that studio's films. When she actually acted her films ranged from the Burt Lancaster, Joanne Dru Western from 1951, "V
engeance Valley",
to a Mickey Rooney comedy and a Charles Laughton, Boris Karloff horror film, 1951's
"The Strange Door".
Forrest got this role strictly because she actually could dance.
Forget the story, it isn't what this picture is known for, and let's talk about Lili St. Cyr. Who was one of the three main reasons this picture was shelved by Howard Hughes. After shooting it in 3-D for 1953 release.
Lili St. Cyr was a stripper and that alone shocked the studio, the critics and more importantly the censor boards and religious organizations across the country. Lili was as popular as Gypsy Rose Lee and at the time was bringing in more money than anyone in the film's cast.
The second reason for shelving the film was the backlash over the costumes the harem was wearing, or at times seemed not to be wearing.
An that third reason were the actual dances of both St. Cyr and Forrest. There is no question the routines in
"Son of Sinbad"
were similar to those in a Burlesque House and Vincent Price was hamming it up for more effect.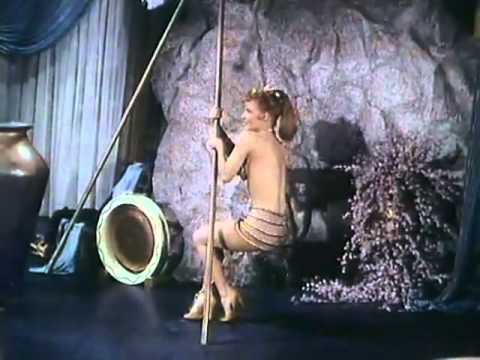 Howard Hughes decided he didn't need the fight at the time. He was on his way to owning all of RKO and the publicity might cause him even more problems. So the finished motion picture was left "in the can" as the saying goes.
"Son of Sinbad"
would finally be released two years later on June 1, 1955 converted to the wide screen process Superscope and become a cult classic. Good luck locating a complete copy.
The other reason Howard Hughes felt safe in releasing the picture, in 1955, was he no longer owned RKO. The shrewd business man side of his nature took over here. By the end of 1954 Howard Robard Hughes, Jr. completely owned the studio, but "General Tire and Rubber Company" wanted the studio's motion picture library to show on the growing medium of television. Hughes told them you want the film library? You buy the studio. RKO was sold for 25 million 1955 dollars. In 2018 dollars that sale would equate to 235 million, 64 thousand, 3 hundred and 54 dollars and 67 cents for good measure.
For those of my readers who are interested in the 3-D Craze of 1953, 1954 and into 1955. My article on the subject may be read at the following link. For your further enjoyment of this article. Should you have a pair of those red/blue cardboard 3-D glasses? You can look at some eye popping stills.
http://www.bewaretheblog.com/2015/08/third-dimension-golden-age-of-3-d.html
UNDERWATER



Howard Hughes next to his last motion picture was another Jane Russell, Gilbert Roland vehicle that initially was to have been in 3-D, but was released in Superscope.
Besides Russell and Roland the other two stars of
"Underwater"
were Richard Egan and Lori Nelson. According to Nelson: Howard Hughes made a deal with Universal Studios to get her for this one picture. Lori Nelson had read for and was scheduled to have the role of "Theresa Gray". The wife of Richard Egan's character "Johnny Gray".
However, Jane Russell was under contract for one more feature. So Nelson became the number two female role of "Gloria". At this time she was having small roles in Universal productions and had appeared in two series films. One about the popular, at the time, "Ma and Pa Kettle" and another about "Francis the Talking Mule".
Lori Nelson would be remembered by Science Fiction fans for her next release
"The Revenge of the Creature".
The second movie in
"The Creature from the Black Lagoon"
trilogy and also 1955's Roger Corman feature
"The Day the World Ended".
Gilbert Roland portrayed Egan's partner "Dominic Quesada".
Below Nelson and Roland.
Below Russell and Egan relaxing between takes.
Egan was a solid "B" adventure/detective star with an occasional "A" leading role such as Elvis Presley's older brother in 1956's
"Love Me Tender",
Walt Disney's 1960
"Pollyanna"
and "King Leonides" in 1963's
"The 300 Spartans".
As for his "B" films there was the final installment in Ivan Tors' "Office of Scientific Investigation Trilogy". This was the very good 1954 3-D movie
"GOG".
For any Science Fiction buff reading this article, if you hasn't heard of the Tors trilogy. My article on it with the first two films starring Richard Carlson. May be read at:
http://www.bewaretheblog.com/2016/07/ivan-tors-office-of-scientific.html
Above Gilbert Roland and Jane Russell
"Underwater"
was released February 9, 1955 and as far as the box office went was never underwater. The screenplay, no matter which actress had the lead role, was a very routine hunt for treasure in a sunken Spanish galleon. The ship is on an underwater ledge in shark infested water and another man wants the treasure. He awaits Roland and Egan to bring it up and will steal it from them.
Although
"Jet Pilot"
would be released the following year. The last actual motion picture made by Howard Robard Hughes, Jr. also starred John Wayne and came with a legendary curse.
THE CONQUEROR
Production on
"The Conqueror"
started in 1954 with a screenplay by Oscar Millard
.
This was going to be major historical epic. Howard Hughes needed a major name to Direct and at the same time be an audience draw.
Hughes chose Singer/Actor/Director Dick Powell. This would be Actor Powell's. 1934's
"Flirtation Walk",
1944's
"Murder My Sweet"
portraying Raymond Chandler's "Philip Marlowe", the 1945 Film Noir
"Cornered"
and 1952's
"The Bad and the Beautiful",
second directing assignment., The decision to hire Powell was based upon the 1953 feature
"Split Second".
That Film Noir was about escaped convicts lead by Stephen McNally. Who on the run pick up several hostages including co-star Alexis Smith. They then take them to a deserted ghost town. The tension and suspense in the film was captured by Powell. Along with a twist in Irving Wallace's screenplay. Unbeknownst to McNally and the other convicts is that the ghost town is actually an Atom Bomb Test site. The title refers to how much time is left at the pictures climax, before the bomb goes off
Below Powell on the studio set for
"The Conqueror".
During production 20th Century Fox would release 1954's
"The Robe"
in their new process CinemaScope. To illustrate how much Howard Hughes wanted a major epic. He paid 20th Century Fox for the right to use their wide screen process over the lower quality widescreen Superscope of RKO.
After filming his epic Howard Hughes had spent the advertised, see the above poster, 6 million 1956 dollars. In 2018 dollars the
budget would have been 54 million 987 thousand dollars.
In comparison that first CinemaScope all star motion picture,
"The Robe",
had cost 4 million dollars two years earlier. The previously mentioned five Academy Award nominated 1955 movie
"The Bad and the Beautiful",
starring Kirk Douglas, Lana Turner, Walter Pidgeon and Gilbert Roland, only had a
budget of 1.5 million dollars. In 1956 the year
"The Conqueror"
was released.
The classic Gary Cooper, Dorothy Malone and Anthony Perkins Civil War motion picture
"Friendly Persuasion"
had half the budget of Hughes' epic at 3 million dollars. There was one other motion picture released in 1956 that did have a 6 million dollar budget. This was Michael Todd's three hour version of Jules Verne's
"Around the World in 80 Days".
Besides David Niven, Shirley MacLaine, Cantinflas and Robert Newton in the leads. The picture had 51 major International Stars in Cameo, the word was created for this picture, appearances and was filmed in many different countries.
In what seemed a weird choice for the male lead. John Wayne, Cowboy actor, was portraying the real life "Genghis Khan". The role of "Temujin" was one of four roles that the actor took in an attempt to break his"Cowboy" image. None of them worked, but my article on these roles can be read at:
http://www.bewaretheblog.com/2015/04/john-wayne-four-gutsy-role-choices.html
The role of "His Tartar Women" "Bortai" was portrayed by Susan Hayward. Wayne accidentally drowns Hayward in Cecil B. DeMilles 1942
"Reap the Wild Wind"
and she was the female lead opposite Wayne and Dennis O'Keefe in 1944's
"The Fighting Seabees".
Now they would have an on screen relationship similar the one Wayne had with Maureen O'Hara in John Ford's 1952
"The Quiet Man".
Portraying "Temujin's" mother "Hulun" was Agnes Moorehead. The actress had four Academy Award Nominations, six Emmy Nominations and won two Golden Globes. She appeared in two major films by Orson Wells
"Citizen Kane"
and
"The Magnificent Ambersons"
and the Bette Davis, Joan Crawford horror film
"Hush...Hush....Sweet Charlotte",
but is best remembered as "Endora" on the 1964 through 1972 television series
"Bewitched".


Portraying "Temujun's" older brother "Januga" was Pedro Armendariz. The excellent Mexican actor appeared twice with Wayne in 1948. The films were both by John Ford
"Fort Apache"
and
"3 Godfathers".
His last performance was in the second "James Bond" picture 1963's
"From Russia With Love".


Portraying one of "Temujin's" remaining two brothers "Kasar" was actor William Conrad. Conrad created the role of "Marshall Dillon" on radio's
"Gunsmoke",
but lost the part to Wayne's friend James Arness on television. On television William Conrad was detective "Frank Cannon" from 1971 through 1976, but listen closely to the animated "Rocky and Bullwinkle" shows and you will hear him as the narrator of all the episodes.
The role of the John Wayne;s third brother "Chepei" went to actor Lee Van Cleef. Steel eyed Van Cleef, as I mentioned above, had started as one of the gunmen after Gary Cooper in 1952's
"High Noon",
brought an alien to Earth in Roger Corman's 1956
"It Conquered the World",
was seen with Wayne again in John Ford's classic 1962 Western
"The Man Who Shot Liberty Valance"
and went on to appear in two Sergio Leon Spaghetti Westerns, 1965's
"For A Few Dollars More"
and 1966's
"The Good, the Bad and the Ugly".


Although John Wayne wanted to escape his Cowboy image. Howard Hughes'
"The Conqueror"
is often described as a Mongolian Western. You could almost substitute the Mongols of "Temijun" for the United States Cavalry and the Tartars for the Apaches, or Sioux. Although the screenplay has many actual historical points and names.
Two points about Hughes' epic released on February 2, 1956. Critic's aside, the film was the 11th top box office motion picture of 1956. Which is something, especially when you realize there were 299 American films released that year. Including John Ford's
"The Searchers",
Cecil B. DeMille's
"The Ten Commandments",
George Stevens'
"Giant"
and Elvis Presley in
"Love Me Tender".
The other point is that as bad as some people think
"The Conqueror"
is. It's listed in
"The Official Razzie Movie Guide"
as one of the 100 Most Bad Enjoyable Movies Ever Made. I was 9 when I first saw it and have enjoyed Mongolian Wayne ever since.
Then there was THE CURSE!
America dropped two Atomic Bombs on the cities of Hiroshima and Nagasaki, Japan on August 6 and 9, 1945 respectfully. You would have thought Scientists would have learned something about Atomic Fallout by 1951.
All the locations for
"The Conqueror"
were in Utah. One of these was the community of St. George, Utah. On January 11, 1951 the United States Government established a Nuclear Test Site 65 miles Northwest of Las Vegas at Yucca Flats, Nevada. St. George, Utah was located 137 miles Down Wind of the Atomic Testing,
Radiation from above ground Nuclear tests moved over St. George and starting late in 1951/ There was a marked rise in all forms of cancer. In 1961 "The Atomic Energy Commission" reported that children living in St. George at the time of the fall out contamination had received dosages of 120 to 140 rads to their thyroid glands alone.
Between 1951 and 1961 there was the production of Howard Hughes' motion picture.
Pedro Armendariz was diagnosed with kidney cancer in 1960 and killed himself in June 1963. In January 1963 Dick Powell died of cancer. Wayne, Hayward and Mororehead all died from forms of cancer in the 1970's. Actor John Hoyt died from lung cancer in 1991. By the end of 1980 "People Magazine" determined that 96 people from a crew of 220 had died from some form of cancer. Several of Wayne and Hayward's relatives that visited the set developed forms of cancer. Examples are that Michael Wayne developed skin cancer, Patrick Wayne developed a benign tumor that was removed from his breast, Tim Baker, Susan Hayward's son, had a benign tumor removed from his mouth.
Professor of Biology at the University of Utah Dr. Robert Pendelton wrote in 1980:
With these numbers, this case could qualify as an epidemic. The connection between fallout

radiation and cancer in individual cases has been practically impossible to prove conclusively. But in a group this size you'd expect only 30-some cancers to develop. With 91 cancer cases, I think the tie-in to their exposure on the set of

The Conqueror

would hold up in a court of law." Several cast and crew members, as well as relatives of those who died, considered suing the government for negligence, claiming it knew more about the hazards in the area than it let on.
Howard Robard Hughes, Jr. was taken aback by what was happening over
"The Conqueror".
He spent 12 million dollars buying up every known copy and putting them into a vault. The movie was out of circulation for years until Universal Studios purchased the film from Hughes estate in 1979.
HOWARD HUGHES NEVER MADE ANOTHER MOTION PICTURE!