It really wasn't a "ZIP-A-DEE-DOO-DAH" Day for the First African American Actors to get "Academy Awards". Hattie McDaniel and James Bassett only appeared together once. That picture inspired a ride, first at "Disneyland Park", Anaheim, California, opening
31 years ago,
on
July 17, 1989.
A ride that's
about to get a change in characters, because of their motion picture's racial tone. However, I am getting ahead of myself.
HATTIE MCDANIEL




Both her parents had been enslaved, the property of Southern Landowners, but their lives changed during and after the American Civil War.

Henry McDaniel was born in 1845 and passed away in 1922. He served as a member of the "122nd United States Colored Troops". Henry fought during the Civil War against the same "Confederacy" that had enslaved him and his future wife.

Susan Holbert was born in 1850 and passed away in 1920. Susan was a "Gospel Singer" and passed her love of singing to the lord to her 13 children. Hattie McDaniel was born on June 10, 1893, and was the youngest of them.

-----------

Her older brother Sam McDaniel would also become an actor and between 1929 and 1960 he would appear in 220 film roles.




Her sister Etta McDaniel acted in 60 films starting as the "Native with the Baby" in 1933's "King Kong" and ended her film career in 1945.




----------
In 1900 the family moved to Fort Collins, Colorado, and then to Denver. There Hattie attended "East High School". Later on, Hattie, started writing songs for another brother, Ottis McDaniel. Ottis owned a traveling carnival company and minstrel show.




Above Hattie at the time and below her brother Ottis.




In 1914 Hattie and Etta combined their talents and started their own all female minstrel show, "The McDaniel Sisters Company", working with Ottis. In 1916, Ottis passed away, and the fortunes of Hattie and Etta declined. It would be four years before Hattie McDaniel's career restarted with "Professor George Morrison's Melody Hounds".




That's singer Hattie McDaniel standing in this photo of the "Melody Hounds".
Hattie was heard singing with the group on radio station "KOA", still going as a news station, in Denver, Colorado, from 1920 through 1925. Between 1926 and 1929 Hattie McDaniel was a. "Female Blues Singer", recording artist for "Okeh Records" in New York City, and "Paramount Records" out of Chicago.




On this multi-singer album. The first two tracks are Hattie McDaniel"s
"I Wish I Had Somebody" and "Boo Boo Blues".

Hattie was riding high for an African American at the time. Until, September 4, 1929, when "Wall Street" crashed and Hattie McDaniel was reduced to a washroom attendant at Wisconsin's, "Sam Pick's Club Madrid".




The club was purposely located just inside the Waukesha County Line near Milwaukee, because there were no police officers in that area and only county sheriff deputies to deal with. This was a favorite Prohibition watering hole for Al Capone, major sports figures and politicians who wanted to drink and be entertained without worry.

Sam Pick was reluctant to let his washroom attendant take stage and sing, but one night gave in. Hattie McDaniel became a popular singer at the club. In 1931 she would move with Sam, Etta and another sister, Orlena, to Hollywood and the film industry. I could not locate any information about Orleana.

There is confusion over what was Hattie McDaniel's first motion picture. Many sites and other sources list her as playing an unknown role in a film with Willie Best and Daisy Bufford entitled "Deep South" in 1930.

The "IMDb" film listings for both Best and Bufford give the same year for that motion picture without a plot, or length.

However, Wikipedia, lists the film as being a short subject. Which Best and Bufford, released in 1937 and was nominated for an "Academy Award" as "Best Two Reel Short Subject" for the March 3, 1938, ceremony. I confirmed on an Academy Award website that this is correct and another listing for Best doesn't mention a 1930 version.

Looking at Hattie McDaniel's film listing on IMDb, only the 1930 entry shows. While Willie Best and Daisy Bufford's listings have both the title "Deep South" in 1930 and 1937. There is no way for me to confirm if the 1930 film was different from the 1937, or if it actually existed.

What is confirmed, and may be her real first film appearance, is that Hattie McDaniel appeared as an "Injured Patient" in the Lew Ayers and Mae Clarke feature film "The Impatient Maiden", released March 1, 1932. The feature was directed by James Whale and known as the director of 1931's "Frankenstein" at that time.

McDaniel's second confirmed feature film had the singer portraying the non-on-screen credited role of
"Aunt Fatima--Singer"
in
"Are You Listening?"
released March 21, 1932.


Above Hattie McDaniel as "Aunt Fatima" and at the desk third billed Anita Page.


When not appearing in films, Hattie, was back to either being a cook, or a maid.

At about this time, Sam was able to get his sister a revolving spot, on "KNX Radio's", "The Optimistic Donut Hour", that he also worked on. She portrayed "Hi-Hat-Hattie", a maid, that regularly forgets her place. The show and role were very popular, but her salary so low that she still worked jobs as a maid.





Below, Hattie is "Cora, Helen's maid in New Orleans". Portraying "Helen" is Marlene Dietrich and the movie is 1932's "Blonde Venus".



Some sites add to the confusion of Hattie's film beginnings. By claiming that the 1932 Hoot Gibson Western, "The Golden West", in the role of "Mammy Lou", was her first film. Obviously, they're incorrect. As between "Are You Listening" and "Blonde Venus" were three other films.

If we forget 1930's "Deep South". The Hoot Gibson Western was really Hattie McDaniel's seventh on-screen appearance, but without any credit.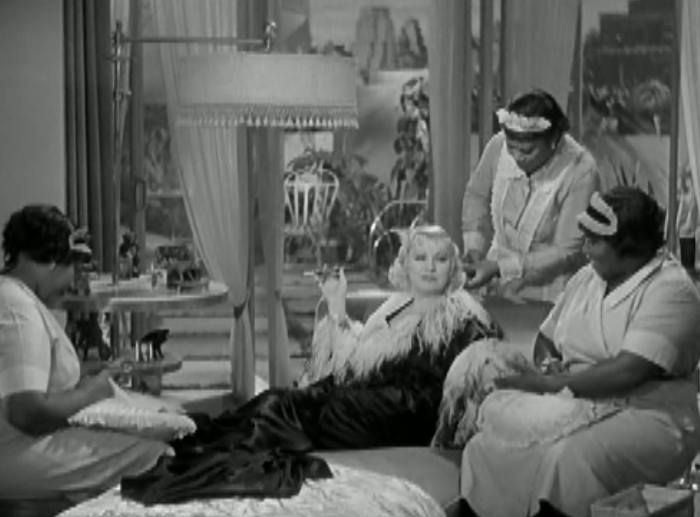 Hattie McDaniel is to the right of Mae West in the foreground. This is from 1933's "I'm No Angel" and her role is "Tira's Maid-Manicurist". Her next four roles were stereo-typical African American "Maids".

Hattie McDaniel's first on-screen billed role came in the 1934 Will Rodgers motion picture "Judge Priest". The feature was directed by John Ford and is set in 1890 Kentucky.




Above, 13th billed, Hattie is to the left of Will Rodgers in the title role. She portrayed "Aunt Daisey".

This was a major role for the actress and not the completely stereo-typical maid she had been playing. Her name, for the first time, was in the opening credits with an "S" added to become "Hattie McDaniels".
John Ford, recognizing her real acting ability, had additional scenes written and cut down the role of lead African American actor Stepin Fetchit, who portrayed over-the-top, very stereo-typical characters, on purpose. This was his trademark, Fetchit played upon it all the way to bank and appeared in 58 movies between 1925 and 1976, becoming very rich.

As a result of the script changes. Ford caused a little bad blood between the two African American actors on the set.




Above Hattie McDaniel and Stepin Fetchit.

Hattie McDaniel actually had a chance to sing in the picture.




Here songs were:

"My Old Kentucky Home/GoodNight"
"Aunt Daisy's Improvisation" written by Hattie McDaniel.
"Massa Jesus Wrote Me A Note"
"Little Brown Jug"
"Aunt Daisey's Song"


Then for her next nine films Hattie McDaniel was back to playing stereo-typical maids in very small non-screen-credited roles.

On February 22, 1935 came the Shirley Temple vehicle "The Little Colonel". Her role was "Becky 'Mom Beck' Porter", the housekeeper of "Elizabeth", portrayed by Evelyn Venable. The role is actually very important to the plot of the story.




Above Hattie McDaniel, Shirley Temple and Evelyn Venable. Below a scene from the Colorized version of the movie with Hattie and Shirley.




Below Shirley Temple with her dancing partner the great Bill 'Bojangles" Robinson. who worked with James Baskett as I will mention later on:




Two short subjects and two feature films followed, and then the picture, "China Seas". The motion picture starred Clark Gable, Jean Harlow and Wallace Beery. Hattie McDaniel was Jean Harlow's character of "Dolly 'China Doll' Portland's" maid, "Isabel McCarthy". This was McDaniel's first film with Clark Gable and Jean Harlow.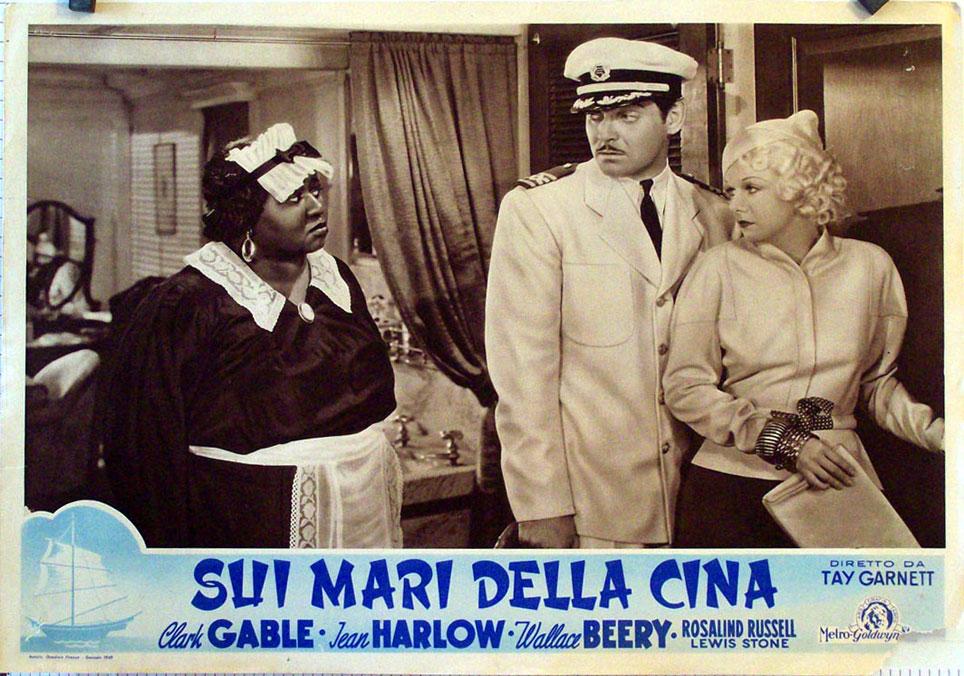 Above Hattie McDaniel, Clark Gable portraying "Captain Alan Gaskell" and Jean Harlow as "China Doll. Below Hattie with Jean Harlow.


Next the actress was "Malena" in director George Stevens production of author Booth Tarkington's "Alice Adams", released on August 15, 1935. The motion picture starred Katharine Hepburn and Fred MacMurray.


Above with his fork in his hand is Fred MacMurray portraying "Arthur Russell", Hattie Daniel as "Malena", and Katharine Hepburn as "Alice Adams". This is at the climatic dinner party.
Again, McDaniel's role is that of a maid and cook. A terrible cook out of her element to be precise, but vital to the entire picture's plot. As "Malena's" cooking and serving dinner is the means of "Mr. Adams", portrayed by Fred Stone, exposing "Alice" for the many lies she has told "Arthur" about herself.
Below two more scenes of Hattie McDaniel at the critical dinner party.


Above Hattie and Fred Stone.
Released on October 1, 1935, with the interesting titled "Murder By Television". This low budget quickie found Hattie with 8th billing as "Isabella the Cook". The picture was one of those low budgets and forgotten Bela Lugosi thrillers. The motion picture is also known by the name "The Houghland Murder Case".

On the night that inventor "Professor James Houghton" is to demonstrate his process of sending television signals anywhere in the world. He is murdered! What did the cook know?


"Murder By Television" might be a "Poverty Row Studio Production", but Hattie McDaniel's name appeared on the poster second from the bottom of the cast.


There would be three more on-screen appearances in 1935. This included "Music Is Magic" with a light cast twist for Hattie McDaniel. She is listed as portraying "Amanda" in the on-screen credits, but her character is called "Hattie" in the actual film the audience watched.
1936 started out with very small roles in four feature films and one short subject.
One of those features was "The Singing Kid", released April 11, 1936. The picture starred Al Jolson, the first person to talk in a sound motion picture, in "Blackface", at times, as "Al Jackson". The film featured African American Band Leader Cabell "Cab" Calloway and his band. Who had, on the posters, second billing to the White singing and comedy group "The Yacht Club Boys". While on the official cast listing the two were switched in positions. Hattie McDaniel had the role of somebody's "Maid". Apparently nobody thought to use her singing talents with Jolson.


On May 2, 1936, an "Our Gang" comedy short, "Arbor Day", was released. Hattie McDaniel portrayed "Buckwheat's Mother".



Below

"Buckwheat"

portrayed by Billie ' Buckwheat" Thomas. He was only five years old at the time and already had appeared in 16

"Our Gang"

shorts. He is seen with Carl "Alfalfa" Switzer.

Hattie McDaniel's second feature with director James Whale was a
musical.
SHOW BOAT
released May 14, 1936

Universal wanted to cast Italian American "Blackface actress" Tess Gardella as "Queenie". Gardella had portrayed the role in the original Broadway cast, but James Whale knew about Hattie McDaniel "Blues Singing" and acting. He insisted she become his "Queenie", the wife of "Joe", portrayed by the great Paul Robeson.
My article on the tragic political life of African-American singer Paul Robeson can be read at:
The 1936 "Show Boat" starred Irene Dunne as "Magnolia Hawks" and Allan Jones as "Gaylord Ravenal". It is still considered the definitive film version of the Jerome Kern and Oscar Hammerstein II musical.
Above, on the left, and considered one of the quintessential American "Torch Singers" is Helen Morgan singing "Can't Help Lovin' Dat Man", Hattie McDaniel is listening with Irene Dunne on the far right. Paul Robeson enters the scene and accompanies McDaniel in a duet section of the song.

Hattie McDaniel also sang a song with Paul Robeson that Jerome Kern and Oscar Hammerstein II wrote specifically for this motion picture version of their Broadway Show entitled "I Still Suits Me".


Even with the praise for her performance in "Show Boat". The casting director put Hattie McDaniel back in the non-singing role of Barbara Stanwyck's "Maid". This was in RKO Pictures "The Bride Walks Out", released July 10, 1936, seen below.


Five more non-screen-credited roles followed and then the actress found herself in a very racially charged
"Family Comedy-Musical"
motion picture,
"Can This Be Dixie?",
released November 13, 1936. This movie starred child actress Jane Withers. Known, unfortunately for the very talented girl, as in second place to Shirley Temple on the 20th Century lot.
Although Hattie McDaniel was able to have several very racially charged scenes removed. The names of some of the other characters can give my reader the idea of the heavy racial tones of this
"Comedy-Musical"
set in the deep South. These names are:
"Ulysses S. Sherman", "Longstreet Butler", "Jeff Davis Bunch"
and "
Toma Jefferson Peachtree".

Two of the "Musical Numbers" also reflect the accepted tone of the picture. The names are:
"Pick, Pick, Pickaninny"
and
"Uncle Tom's Cabin is a Cabaret Now".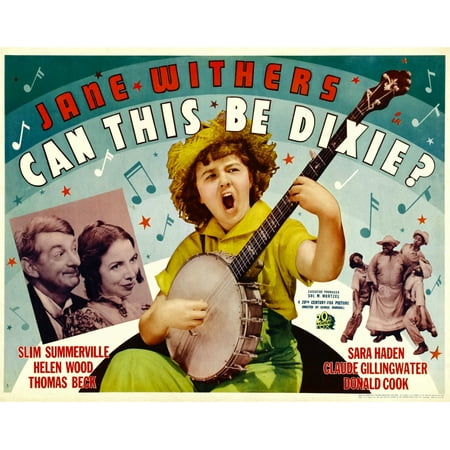 That's Hattie Daniel on the bottom left of the above poster.
One more feature film and Hattie McDaniel was into 1937. On January 12, 1937, Ann Dvorak, Smith Ballew and Harry Carey, Sr. starred in
"Racing Lady".
The plot is not important, but the billing is. Hattie McDaniel is billed in the picture's publicity in 4th position, a reflection of her draw power since
"Show Boat"
, but in reality the official cast listing shows her as 8th, behind Willie Best, a reflection upon how the casting directors looked at her being able to play other roles since a "Housekeeper".
My reader may not know the names Frederic Dannay, or Manfred Bennigton, but the two combined to write detective mystery novels under the name of
"Ellery Queen".
They also wrote detective movie screenplays and one became
"The Crime Nobody Saw",
released March 12, 1937. The film starred Lew Ayers and Ruth Coleman. The plot has three popular crime playwrights discussing possible plots for their next murder mystery. When a man walks into their apartment, dies, and they're involved in a real murder mystery.
In the cast at 10th billing was Hattie McDaniel as
"Ambrosia".
Above Hattie McDaniel explains what she saw to Lew Ayers as
"Nick Milburn".



Two more films found the actress back in a movie starring Clark Gable and Jean Harlow. "Saratoga" was released on July 23, 1937. This picture was Gable and Harlow's sixth feature film together and the second with Hattie McDaniel. Jean Harlow would die on June 7, 1937, before final filming was wrapped.

Hattie McDaniel portrayed "Rosetta" with 10th on-screen billing. This was a substantial supporting role and she got to sing in the picture. The role is on a par to "Queenie" in "Show Boat" for the actress.




Above at the left Jean Harlow, Clark Gable and Hattie McDaniel.

Hattie McDaniel went from a major Hollywood production to a low "B" from producer Sam Katzman at "Poverty Row" studio "Victory Pictures". The movie was entitled "Sky Racketeers" and starred Herman Brix. Who smartly changed his name to Bruce Bennett and became known for major motion pictures such as 1943's "Sahara" starring Humphrey Bogart and with Bogart,1948's "The Treasure of the Sierra Madre", directed by John Huston. On the following poster Hattie McDaniel is listed last and once more with that "S" has been added to her last name.


Four films later saw Hattie McDaniel in another Jane Withers motion picture, "45 Fathers", released November 26, 1937. In typical stereo-typical naming Hattie was "Beulah". Another three feature films saw Hattie as "Agatha" in "Battle of Broadway", released April 22, 1938. The movie starred Victor McLaglen, Brian Donlevy and Gypsy Rose Lee. However, to avoid controversy, the famous "Strip Tease Artist" was using her real birth name of Louise Hovick.

Another four movies playing "Maids" and Hattie McDaniel was back with Barbara Stanwyck and also Henry Fonda in "The Mad Miss Manton", released October 21, 1938. This was a "Comedy-Mystery"

Hattie McDaniel's character was described as "Hilda, Melsa Manton's, Barbara Stanwyck, grumpy housekeeper."




Above McDaniel and Henry Fonda.

Hattie McDaniel made three more feature films and then became caught in a racial controversy that continues to this day.
GONE WITH THE WIND
released December 15, 1939



Before I get Hattie McDaniel specific. In August 2017 I wrote an article entitled "The American Civil War Through the Eyes of Hollywood". Not only do I mention "Gone With the Wind", but I go into many feature films that came out of the movie studios from D.W. Griffith's 1915 "Birth of a Nation" to Edward Zwick's 1989 "Glory". My reader can find that article at:


http://www.bewaretheblog.com/2017/08/the-american-civil-war-through-eyes-of.html



On June 30, 1936 Margaret Munnerlyn Mitchell published "Gone with the Wind". It followed the lives of four characters, "Katie Scarlett O'Hara", "Captain Rhett K. Butler", "Major George Ashley Wilkes" and "Melanie Hamilton Wilkes".



Margaret Mitchell had started writing her novel in 1926, ten years before its publication.

Growing up she heard stories about the Civil War and the Reconstruction Period from her Irish-American Grandmother. These stories were based upon Mitchell's grandmother's perspective of being a Southern White Women during those years.

Margaret Mitchell is quoted in Sara Hines Martin's "More Than Petticoats: Remarkable Georgia Women":
On Sunday afternoons when we went calling on the older generation of relatives, those who had been active in the Sixties, I sat on the bony knees of veterans and the fat slippery laps of great aunts and heard them talk.
She also stated that other childhood stories came from her mother and Mitchell is quoted in Deborah Felder's "A Century of Women: The Most Influential Events in Twentieth-Century Women's History" as saying:
She talked about the world those people had lived in, such a secure world, and how it had exploded beneath them. And she told me that my world was going to explode under me, someday, and God help me if I didn't have some weapon to meet the new world.
Margaret Mitchell's mother and grandmother's Georgia, became her mythic novel. A best selling novel that would be turned into the 1939 motion picture.

David O. Selznick's feature including Overture, Intermission, and Entr'Acte music runs 238 minutes, or 3 hours and 58 minutes in length. Although only Sidney Howard gets on-screen credit for the screenplay. It was additionally written by Oliver H.P. Garrett, Ben Hecht, Jo Swerling and John van Druten. Although only Victor Fleming gets on-screen directors credit. Early on Fleming quit the production and it was finished by a combination of George Cukar, Sam Wood and William Cameron Menzies. Menzies filmed the great Atlanta train station shot of the dying Confederate soldiers as "Scarlett" walks into the frame.

Those four main character from Margaret Mitchell's novel were portrayed by:

Clark Gable as "Rhett Butler".

Vivien Leigh as "Scarlett O'Hara".




Leslie Howard as "Ashley Wilkes".

Olivia de Havilland as "Melanie Hamilton".


But this article is not interested in these characters, or the overall plot of the film.
Hattie McDaniel is listed as
a
"House Servant at Tara Plantation"
named
"MAMMY"!
Below McDaniel's helps Vivien Leigh get dressed.
The motion picture premiered in Atlanta, Georgia, December 15, 1939. Earlier that day a special plane arrived with Clark Gable, Vivien Leigh, Oliva deHavilland, Leslie Howard, their spouses, and MGM Executives.
Above Mr. and Mrs. Clark Gable at the Atlanta airport.
Everyone got into provided cars and a motorcade started out. The roads and streets, from the airport to the "Georgian Terrace Hotel", they were to stay at, were lined with people waving at Gable, Leigh, deHavilland and Howard. Although, she wanted to be at that premier, Hattie McDaniel, was kept away, because of Georgia's
"Jim Crow Laws".
The second premiere for
"Gone with the Wind"
was held five days later in New York, on December 20th, complete with the four main stars in attendance.
Hattie McDaniel would finally attend the third premiere, on December 28, 1939, in Hollywood, California.
The
"12th Academy Awards"
were held on Thursday, February 29, 1940, at the
"Coconut Grove"
of the Los Angeles
"Ambassador Hotel"
.
Look at the posters for the film at the time of its original release, see the one under this sections title, and you will only see the four actor's names. Look at the posters for the film
"After the Academy Awards"
and you will see only the same four actors names, below.
Look on the 1967 re-release poster, below, and it's the same four names.
Of those four names, all but Leslie Howard were nominated for Oscars.
Clark Gable lost
"Best Actor"
to Robert Donat for the sentimental
"Goodbye Mr. Chips".
Vivien Leigh won as
"Best Actress".
Olivia deHavilland lost to a name never shown on any of the posters, or advertising for
"Gone With the Wind".

"Best Supporting Actress"
went to
Hattie McDaniel,
but her name, as I said, would never be seen on any of the posters, to date, and her Oscar win would be rolled into the lower left hand corner that said:
Winner of Ten Academy Awards
It was as if she never beat out three other actresses in her
"Supporting Actress"
category:
The other nominee's were Geraldine Fitzgerald for
"Wuthering Heights",
Edna May Oliver for
"Drums Along the Mohawk"
and Maria Ouspenskaya for
"Love Affair".
Should you look at the "Official Cast List", from MGM, based upon when the character appears on-screen. Hattie McDaniel is listed 8th, behind George Reeves and Fred Crane as the
"Tarleton Brothers".
Both actors disappear after the opening sequence at
"Tara"
. Vivian Leigh, listed 3rd, is the only one of the four main actors who makes their entrance before Hattie McDaniel's
"Mammy".
Leslie Howard is 15th, Olivia deHavilland is 16th and Clark Gable is 19th.
I say this to illustrate how Hattie McDaniel's
"House Servant"
role stood out to get the nomination for
"Best Supporting Actress".
In fact, if you compare on-screen time between Olivia deHavilland, Leslie Howard, and even Clark Gable to Hattie McDaniel. During the three hours and 58 minutes of
"Gone with the Wind".
Only Vivien Leigh, as "Scarlett O'Hara", has more time then Hattie McDaniel.
The role was written very close to Margaret Mitchell's own words and descriptions of the character. In his 2005 work,
"Great African American Women",
Darryl Lyman, quotes Hattie McDaniel telling film critics at the time, about her role as
"Mammy"
that:
I think I understood her because my own grandmother worked on a plantation not unlike Tara.
Sounds like she had the same tales as Margaret Mitchell, but from a different perspective to bring forward.
What actually happened at the
"12th Academy Awards"
ceremony is a negative reflection on the
"Motion Picture Industry",
but was the expected reaction of
"White America"
at the time toward a
"Negro actor, or actress".
To begin with, knowing both Los Angeles and California today, the
"Ambassador Hotel"
was
segregated.
Producer David O. Selznick had to petition and have others put pressure on the ownership of the "Ambassador" to
"Permit"
Hattie McDaniel to be there.
Above left to right, at David O. Selznick's own table are:
Olivia deHavilland, Selznick, Vivian Leigh and her husband Sir Lawrence Olivier.
Hattie McDaniel and her African American date were seated at the far end of the auditorium, from the stage, by the kitchen with her White manager William Meiklejohn. While the other nominees were seated either at David O. Selznick's table, or close to the stage. When her name was read as the winner of the
"Best Supporting Actress Academy Award".
Hattie McDaniel walked the entire length of the room, with all eyes on her, to the stage to receive her
"Oscar".
Above Hattie McDaniel and actress Fay Bainter. Bainter was the
"Best Supporting Actress"
winner at the
"11th Academy Awards".
This photo is misleading. Although the
"Oscar"
was presented by Fay Bainter to Hattie McDaniel as shown. She didn't receive an
"Oscar"
to take home, as seen in this photo, but a plaque used by the
"Academy of Motion Picture Arts and Sciences"
between 1937 and 1943 for every category, but three,
"Best Picture", "Best Actor"
and
"Best Actress"
. An example of the plaque is seen below.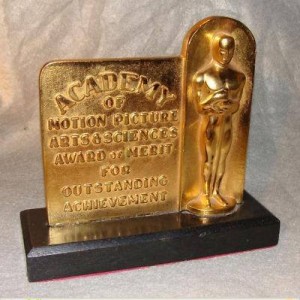 Then with grace and dignity the 46 years old actress gave a historical speech. As the first African American to be so honored by their own fellow performers. David O. Selznick had written the speech he expected her to give should she win. However, Hattie and her close friend actress, author and activist, Ruby Berkley Goodwin, had written another speech and that was what was given that night.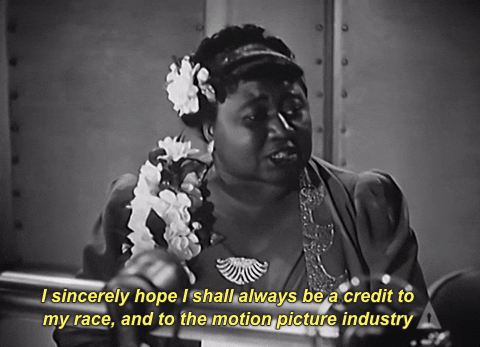 Academy of Motion Picture Arts and Sciences, fellow members of the motion picture industry and honored guests: This is one of the happiest moments of my life, and I want to thank each one of you who had a part in selecting me for one of their awards, for your kindness. It has made me feel very, very humble; and I shall always hold it as a beacon for anything that I may be able to do in the future. I sincerely hope I shall always be a credit to my race and to the motion picture industry. My heart is too full to tell you just how I feel, and may I say thank you and God bless you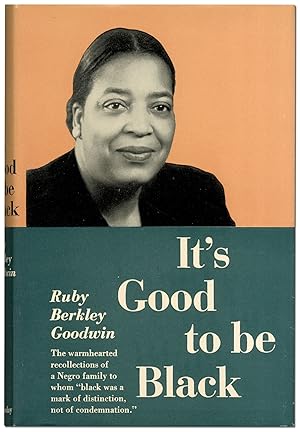 After Hattie McDaniel's acceptance speech, photos were taken, and then the
"Oscar"
winning actress walked the length of the room to her table by the kitchen.
Note:
in this photo Hattie McDaniel is holding
the plaque
she won.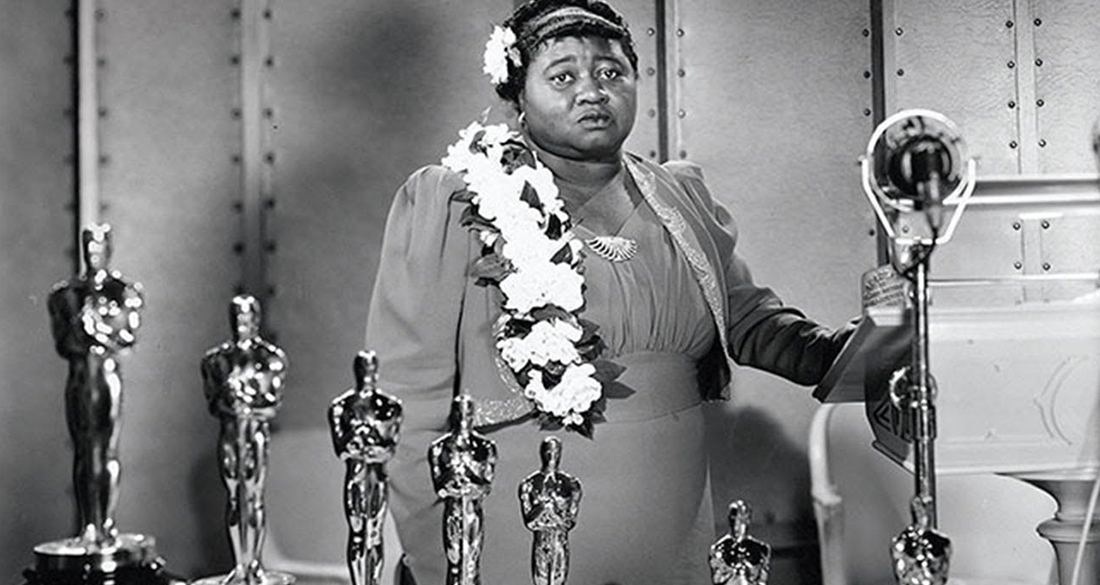 One has to wonder, if Hattie McDaniel's facial expression was an accident just caught, or was there more too her thoughts at time, being reflected in this one photo?
According to Jill Watts in her 2005 work,
"Hattie McDaniel: Black Ambition, White Hollywood".
The actress thought the African-American community would be proud of her accomplishment, becoming the First African-American
"Oscar"
winner. Hattie McDaniel decided to take her character of
"Mammy"
on the road, but met with hatred over portraying the stereo-typical character from the African-American community at large.
Yet, that same African-American community went to
"Black Movie Houses"
to see stereo-typical characters in
"All-Colored"
cast features without adverse comments.
So, what does an
"Oscar Winner"
do for their next motion picture?
MARYLAND released July 1940

Hattie had 6th billing behind Majorie Weaver on the "Official Cast Listing", but 5th billing on the posters in the stereo-typical role of
"Housekeeper Aunt Clara"
. The film is about a mother, played by Fay Bainter, whose husband dies. She sells off their stable of horses and has to contend with her son, John Payne, who wants to race a horse in the
"Maryland Cup".
Other than the facsimile of Hattie McDaniel's face on the above poster. I could not locate any photos of her from the feature, or for that matter anyone else except one of Walter Brennan.
When you're an African American actress there are not many roles for an
"Academy Award Winner"
. In Hattie's next feature film,
"The Great Lie",
released April 12, 1941, she portrayed Bette Davis'
"Housekeeper
Violet".

One of the lines Hattie McDaniel had to give in
"The Great Lie"
was:
You an't gonna feed that man is you?
On January 1, 1942 Hattie McDaniel was in another feature film starring Olivia deHavilland and co-starring Errol Flynn,
"They Died with Their Boots On".
This was the "Hollywood" version of the military career of George Armstrong Custer/. The actress had 12th billing as
"Callie".
This time the
"Housekeeper"
for George and Elizabeth Custer.
Hattie's next feature also starred Olivia deHavilland and this time with Henry Fonda, but McDaniel's role stayed the same at 7th billing. Four motion pictures later was
"Thank Your Lucky Stars"
and the actress had 18th billing as the
"Gossip in 'Ice Cold Katie' number".
The film was one of those popular during War World 2 having multiple stars appearing as themselves in cameo's.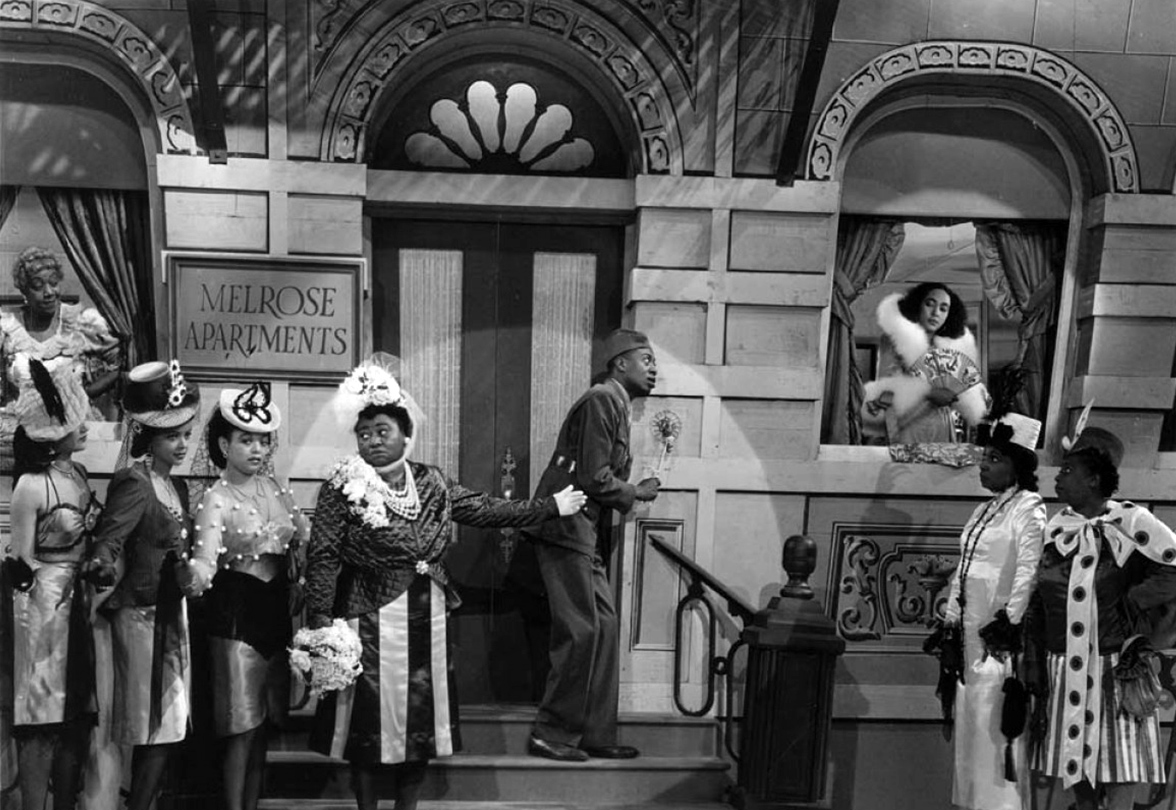 Above and below Hattie McDaniel in the
"Ice Cold Katie"
number.
Seven more feature films followed with Hattie doing variations of the same role without little chance to show her real acting ability, or singing voice. Then came another very controversial 1946 motion picture,
"Song of the South",
which I will address in my next section about African-American singer and actor James Baskett.
On radio there was an African-American housekeeper and cook for the
"Henderson Family"
named
"B
e
ulah".
The character appeared on different radio programs, with different titles, between 1939 and October 1947. She was very stereo-typed and portrayed by White male actors. On November 24, 1947 the role was given to Hattie McDaniel on what was now called
"The Beulah Show".
She started out at $1,000 a week during the first season, doubled the ratings, and pleased the
"National Association for the Advancement of Color People (NAACP)",
becoming the first African-American to star on an American Radio Program. This was the same "NAACP" that attacked her roles in both
"Gone with the Wind"
and
"Song of the South".
Hattie McDaniel continued in the role into 1952 when she became sick and was replaced by Lillian Randolph.
Four more roles followed in feature films bringing Hattie McDaniel to her last feature film. This was the Mickey Rooney racing motion picture
"The Big Wheel",
released on November 4, 1949, as yet as another maid named
"Minnie"
.
For her last motion picture Hattie McDaniel is shown on the above poster with 6th billing.
On October 2, 1952 Hattie McDaniel passed away from breast cancer in Woodland Hills, California. Over her career she portrayed 97 roles, but they were unfortunately the same.
For those interested in the disappearance of Hattie McDaniel's "Oscar" after her death. My reader can find a lot of speculation on line for those who are interested.
JAMES BASKETT
There is not much straight biographical information I could locate on the man forever associated with the character of
"Uncle Remus".
What follows, I created, piece mill, from sentences I found on line, into a semblance of his biography. My sources include Disney and other sites
.
There are plenty of books and articles on the racial aspects of the
"Song of the South"
, but no real biography of the man associated with it.
So here goes:
James Franklyn Baskett was born on February 15, 1904 in Indianapolis, Indiana. His parents were John S. Baskett, a barber, and his second wife Elizabeth Brown Roney.
The little on the actor's education only shows he attended
"Arsenal Technical High School".
The school got its
name, because during the Civil War it was a Union Arsenal
in Indianapolis. The High School student planned to go into pharmacology. However, he didn't have the income to continue to the higher education required in his chosen career and turned to acting. What happened between graduating High School and arriving in Chicago I could not locate.
While in Chicago, James attended a show of the
"Tutt Brothers Troop".
The brothers were Salem Tutt Whitney and J. Homer Tutt. What exact year this was I could not also locate. but James Baskett became a member of the troop.
Above the "Tutt Brothers".
I know that on February 22, 1924, in Garland Arkansas, why he was there I could not locate, James Baskett married Beulah Ewing. She was born on April 2, 1907, in Chicago, to unknown parents. It is possible that Beulah was part of the "Tutt Brothers Troop" and they were performing in Garland, but again I couldn't find information if that was true. Sometime prior to 1931 the two must have divorced. I determine this, because Beulah didn't pass away until March 30, 1944 and Baskett had remarried before that date
After honing his craft with the "Tutt Brothers". Around 1929, James Bassett moved to New York City and appeared in a Warner Brothers short subject, shot in that city, entitled
"Sending a Wire"
with Eddie Green and Norma Davis. This was the first of two shorts the actor would make. Also that year Baskett joined Bill "Bojangles" Robinson's, seen below, stage and dance company.
Above Bill "Bojangles" Robinson in the show.
With Bill Robinson's group, on June 20, 1929, he became part of the "Ensemble" for the Broadway musical
"Hot Chocolates"
aka"
"Connie's Hot Chocolates"
playing at the Hudson Theater
.
The all African American musical was Louis "Louie" Armstrong's Broadway debut.
Above Louis "Louie" Armstrong in 1929.
Later Cabell "Cab" Calloway would join the cast. James Baskett went by the name
Jimmie Baskett.
Among the performers and song writers was Thomas "Fats" Waller. Jimmie Baskett was becoming well known on the Broadway stage and after the show ended, he appeared in other productions.
James Baskett married Blues Singer Edith G. Simms on January 31, 1931, in Manhattan. She had been born on January 9, 1905 in Washington, D.C. to Joseph and Katherine Simms. The two were divorced 15 years later, possibly in November 1946. At the time of James and Edith's marriage he was now spelling his last name
Baskette.
While in New York,
Jimmy Baskette,
made
"Harlem is Heaven",
released May 27, 1932 ,and starring Bill Robinson as himself. This was a Pre-Motion Picture Code "Crime-Musical" with mainly an African American cast and the first of Baskett's eight feature films.
Like most of the
"All-Colored Cast"
pictures of the period.
"Harlem Is Heaven"
was written and directed by a White man, in this case Irwin R. Franklyn, and filmed with an All-White crew. Also, as I mentioned, such motion pictures were shown at
"Black Audiences Only"
theaters, because African American's were not permitted in White Theaters across the country.
Above Bill "Bojangles" Robinson as
"Bill".
Below Jimmy Baskette as Harlem Racketeer
"Money Johnson".
Anise Boyer portrayed
"Jean Stratton".
She made only four films but being a part of Harlem's most popular dance team,
"Anise and Aland",
is what she is remembered for.
On August 12, 1933, another short subject was released entitled
"20,000 Cheers for the Chain Gang".
You do not see James Baskett in the short subject, but you hear his voice as the vocalist. This was a comedy about four convicts who escape and want back in jail, because of the improvements made by the new warden, as seen below.
On August 15, 1938, Jimmie Baskette was in his second feature film,
"Gone Harlem".
The motion picture was from the Connecticut based studio,
"Creative Cinema".
Except for the cast showing on the above poster. I could not locate any additional information about this musical. Other than it ran one hour and five minutes.
Sometime after
"Gone Harlem",
Creative cinema released what was described as a
"Mystery-Musical"
called
"Policy Man"
starring Jimmie Baskett. What his character's name is I could not locate. However, the movie had appearances by "Count Basie and his Orchestra", the "Plantation Club Chorus", "Arthur White's Lindy Hoppers and Jitterbugs", "The Big Apple Dancers" and the "Al Taylor Orchestra".
As the above two posters for the feature film indicate. Jimmy Baskette was slightly more popular, when the picture was released, than Count Basie.
After the filming of
"Policy Man"
was completed James Baskett moved to Los Angeles. On December 12, 1939 the actor had 10th billing as
"The First Detective"
in the Nina Mae McKinney starring vehicle
"Straight to Heaven".
As I already mentioned, even in Los Angeles, the picture was seen in "Black Only" theaters. Although, McKinney would be seen in major productions. Such as the U.K's. 1935 feature
"Sanders of the River"
with Paul Robeson and the American, 1949,
"Pinky"
Which is
about a young Negro women, played by White actress Jeanne Crain, passing herself off as White, because of her skin color.
In 1940 James Baskett had second billing to Eddie Green in the Horror-Comedy
"Comes Midnight".
I could not locate any description, or other stills from this picture.
On October 23, 1941 Walt Disney released his animated classic
"Dumbo".
On the lower right is
"Fats Crow".
You won't find the name James Baskett anywhere on the motion picture, but its his voice you hear in the now very controversial sequence.
On September 17, 1943, James Baskett made his first real Hollywood motion picture. Even though it was from "Poverty Row" studio Monogram Pictures.
"Revenge of the Zombies"
starred John Carradine, Gale Storm, 1952 to 1955's television series
"My Little Margie",
and Robert Lowery, the 1949 serial
"Batman and Robin".
James Baskett had 10th billing as
"Lazarus".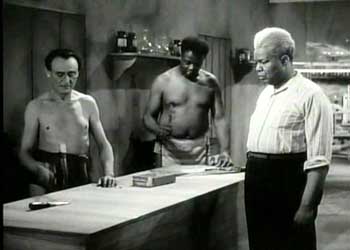 James Baskett is on the far right as the Zombie known as
"Lazarus"
. Below African-American comedian Mantan Moreland as
"Jeff".
Also, in 1943 James Baskett's voice was heard on the radio program
"Amos and Andy".
He voiced the fast-talking stereo-typical lawyer
"Gabby Gibson".
He would portray the role, weekly, until his death. Another of the few other African American actors who joined the All-White cast that year was Eddie Green.
SONG OF THE SOUTH released November 12, 1946
Joel Chandler Harris was born December 9, 1848, in Eatonton, Georgia. At the age of 14, March of 1862, he quit school and was hired by Plantation owner Joseph Addison Turner to work as a "Printer's Devil" on his newspaper
"The Countryman".
During the American Civil War, the newspaper was one of the largest in circulation within the Confederacy.
In 1876 Harris went to work for Henry W. Grady of
"The Atlanta Constitution"
newspaper and began writing his tales of
"Uncle Remus".
The stories were read across the United States and publisher
"D. Appleton and Company"
approached Joel Chandler Harris to published them in book form. Eventually, they would be read too and by a boy named Walter Elias Disney.
In 1946 James Baskett auditioned for one of the voice parts to the animated sections of
"Song of the South"
and, according to the story, Walt Disney hired him for the role of
"Uncle Remus"
instead.
Actually the role of "Uncle Remus" was third billing.
Ruth Warrick had first billing portraying
"Sally".
Warrick started her on-screen acting as
"Emily Monroe Norton Kane",
the first wife of Orson Welles, in the 1941 motion picture
"Citizen Kane".
She followed that role opposite Douglas Fairbanks, Jr. in 1941's
"The Corsican Brothers".
The actress would transition to television and be seen on the Soap Operas,
"The Guiding Light", "As the World Turns", "Peyton Place"
.
Bobby Driscoll was second billed as
"Johnny".
The nine year old actor would appear in two other Disney pictures, 1948's
"So Dear to My Heart"
and as
"Jim Hawkins"
in 1950's
"Treasure Island".
In 1953 Driscoll provided the voice of Walt Disney's animated
"Peter Pan"
.
On the left is Bobby Driscoll and on the right Glenn Leedy as
"Toby".
Luana Patten portrayed
"Ginny".
She co-starred with Bobby Driscoll in
"So Dear to My Heart".
In 1957 Patten co-starred with Hal Stalmaster in Disney's
"Johnny Tremain".
In 1960 Patten was billed 6th in the Robert Mitchum, Eleanor Parker, George Peppard and George Hamilton
"Home from the Hill".

Above Patten, Baskett, Drsicoll and Leedy.
Lucille Watson portrayed
"Grandmother".
Among Watson's films are the Vivien Leigh and Robert Taylor
"Waterloo Bridge",
the Bette Davis 1941
"The Great Lie",
the Bette Davis, Paul Lukas and Geraldine Fitzgerald 1943
"Watch on the Rhine"
Hattie McDaniel portrayed
"Aunt Tempy".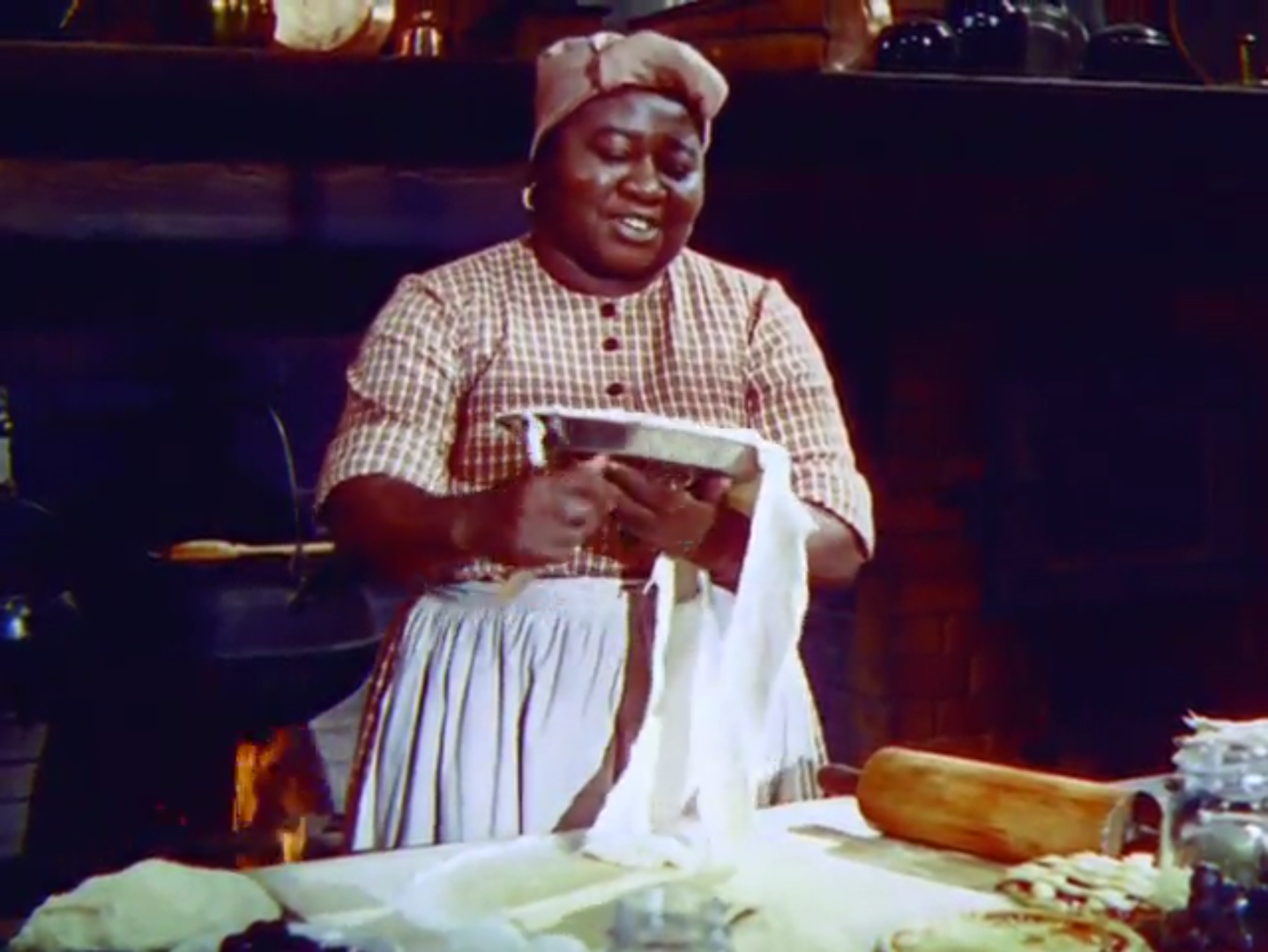 The motion picture had two directors.
Harve Foster directed the live action. This was his first directing assignment and he would go on to 1950's television.
Wilfred Jackson directed the animated sections. Jackson had been an animator for Walt Disney since 1929. His first feature length directing assignment was 1939's
"Snow White and the Seven Dwarfs".
Jackson directed 1950's
"Cinderella",
1951's
"Alice in Wonderland"
and 1953's
"Peter Pan".
Back in 1938 Walt Disney had wanted to film the Joel Chandler Harris stories that he remembered as a child. Disney prepared two research paper on the tales dated April 8 and April 11, 1938. In 1939 he purchased the rights from the Harris family for $10,000-1939 dollars, or $182,374-2020 dollars.
The most objectionable animated sequence is the story of
"The Tar Baby".
Another objection was seeing the Plantation workers happily singing both on the way to the Cotton Fields and returning. Actually, charges of Walt Disney's racism go back to 1926 and I cover them in my article
"The Walt Disney, Max Fleischer Animation Feud"
found at:
http://www.bewaretheblog.com/2015/04/the-great-walt-disney-max-fleischer.html
According to several Motion Picture Historians. The initial reaction toward
"Song of the South",
as it pertained to race, may have been the bad timing of the picture's release. In 1946 the United States Government was still promoting the
"Double V Propaganda Campaign".
Initially the United States Government's decided to run a propaganda campaign using Winston Churchill's "V for Victory" turned into a slogan to fight for Democracy overseas. However, at the outset, that same campaign had a piggy-backed anti-racial discrimination campaign added too it.
This occurred, on February 2, 1942, created by the
"Pittsburgh Courier",
a weekly African-American newspaper. The publishers saw an opportunity to take the original propaganda campaign and, locally, add a push for integrating the American military, but they exceeded their plans as the effort went Nationally.
What was also occurring, in 1946, and had started in 1942, were resentment from White Racist Groups attacking the idea of integration. These groups were being countered by C.O.R.E. and the N.A.A.C.P.
In the Disney organization publicist Vern Caldwell wrote his concerns to the film's producer Perce Pearce. Although Walt's name would appear on the feature. According to Neal Gaber in his 2006
"Walt Disney: The Triumph of Imagination",
Caldwell was concerned that:
the negro situation is a dangerous one. Between the negro haters and the negro lovers there are many chances to run afoul of situations that could run the gamut all the way from the nasty to the controversial.
The prediction came true and especially with the N.A.A.C.P. They called
"Song of the South"
a very racist portrayal of Southern Plantation life after the Civil War made into a "Family Film".
Deja vu:
The World Premiere was held in Atlanta, Georgia, and of course, because of
"Jim Crow Laws"
neither James Baskett, or Hattie McDaniel could attend.
With all the racial discussions and protests over the motion picture. As of 2012
"Song of the South"
had made $300 million 2012 dollars. When it was released the initial 1946 Gross Box Office was $3.3 million dollars, or $47,101,256-2020 dollars. The net profit upon that initial release for Walt Disney was $226,000-1946 dollars, or $3,225,720-2020 dollars.
Sometime in 1947, date and location unknown, James Baskett married his third wife Margaret Elizabeth Bonvill. She was born to unknown parents, on October 28, 1911, in New York City. She would outlive her husband.
Walt Disney wanted to get James Baskett nominated for the
"Best Actor Academy Award",
but the
"Academy of Motion Pictures Arts and Sciences"
wouldn't hear of it. Walt asked for help from the N.A.A.C.P., but they refused because of the racist nature of the
"Song of the South".
Walt Disney went to friends in the film and animation industry and at the,
"20th Academy Awards,"
held on March 20, 1948. James Baskett was received an
"Honorary Academy Award".
The Academy stated his
"Oscar"
was:
for his able and heart-warming characterization of Uncle Remus,

friend and story teller to the children of the world in Walt Disney's Song of the South!
On July 9, 1948, James Franklyn Baskett, passed away from heart failure brought on by diabetes.
Below the double grave makers. The first for James and his father John Baskett. The second the plaque placed on his grave at "Crown Hill Cemetery", Indianapolis, Indiana.
I started this article mentioning the opening of
"Splash Mountain"
at the original Anaheim, California park.
Inside the ride for the last 33 years visitors of from all over the World have joined going through it with the characters of "Brier Rabbit", "Brier Fox" and "Brier Bear". The look of the characters have changed with improvements, but the ride remained the same.
This year the push was made to change these characters, because of the racist nature to another form. One of the suggestions was to use the "Muppets" and another "Star Wars" as both are now earned by the "Disney Corporation".
The decision made, as of this writing, is to close down all "Splash Mountain" rides and replace the current characters, World Wide, with the non-racist African-American characters of Walt Disney's film
"The Princess and the Frog".