Except for the one filmed scene of the funeral for the wife of "The Old Man". BELA LUGOSI WAS DEAD, really dead, when Edward Davis Wood, Jr. filmed "Plan 9 From Outer Space". This article is a look at the people who appeared in Wood's motion picture.
The above is an excellent example of 1950's Film Poster Art. It appears a combination of one of the many low budget science fiction space opera's of the period and a vampire film. However, it does the job of making "Plan 9 From Outer Space" look interesting to the potential audience. It was designed by Tom Jung. Four of his other 132 poster designs and story boards include 1939's "Gone With The Wind", 1958's "Cat on a Hot Tin Roof", 1965's "Dr. Zhivago" and 1995's "Mars Attacks".
"Plan 9 From Outer Space" had a cast of 29 actors including the "Most Excellent" Ed Wood, Jr. in the important role of "The Man holding a Newspaper".
The 28 other actors backgrounds are as strange, in some cases, as the movie. I will start looking at this group with the three names mentioned on the above poster. The first two of which are the actors most associated with this Science Fiction Cult Classic.
Moat of my readers know this film as Horror Icon Bela Lugosi's final motion picture appearance. Which it was,
BUT
technically except for the one sequence, possibly, of the funeral for "The Old Man" wife. Bela Lugosi was never in "Plan 9 From Outer Space" and this explains why so many people are confused over the apparent inconsistencies in the scenes with Lugosi that appear not to fit the narrative.
Described in the narration the above scene is allegedly of "The Old Man" leaving his home the day after his wife's funeral. Off screen he is hit by a car and killed.
The above picture is actually of the actor leaving Tor Johnson's house and was filmed by Ed Wood back in 1955. It was part of what might even be called "home movies". As the actor and Wood shot footage with no specific motion picture in mind.
The sequence with Bela wearing his cape, below, came from an idea the two men had for a possible Lugosi vehicle called "Dr. Acula", but appears in "Plan 9 From Outer Space" as a scene of the now dead old man. Note that it was shot during daylight hours. Another possible title for "Dr. Acula" was something called "The Phantom Ghoul". The character, not played by Bela Lugosi, appeared in Ed Wood's "Night of the Ghouls" and would be played by "B" Cowboy actor Keene Duncan.
As to that opening scene for "Plan 9 From Outer Space". I used the word "possibly" before. As it may also not have been originally part of the working script called, at the time, "Grave Robbers from Outer Space". According to several sources the screenplay was not completed until after Lugosi's death on August 16, 1956. Raising the question if Wood might did not have changed the script to become Bela Lugosi's last feature film and also a major audience lure.
Bela Lugosi previously had a small role as the scientist/narrator of Ed Wood, Jr's 1953 "Glenn and Glenda" and was in his "Bride of the Monster" shot in 1954 and released on May 11, 1955.
Also during 1955 Bela Lugosi had shot his scenes for the movie "The Black Sleep" which would be released two months prior to his death in June 1956. "Plan 9 from Outer Space" although shot in 1956 would not be released until July 22, 1959.
The second name associated with Ed Wood's space opera was television horror hostess "Vampira".
The above make-up is the classic look fans associate with "Vampira". In Wood's motion picture it is non-screen credited to Make-up Artist Maila Nurmi. Nurmi is of course the actress herself. Below is a 1947 photo of the actress prior to the creation of her secondary personality for those who have no idea what she really looked like during her earlier film career.
During 1946 Maila Nurmi was cast in a Gothic Horror movie "Dreadful Hollows" to be directed by Howard Hawks and was written by William Faulkner. The production brought the actress to Hollywood, but the film was never made. Here is an interesting photo of her for the picture.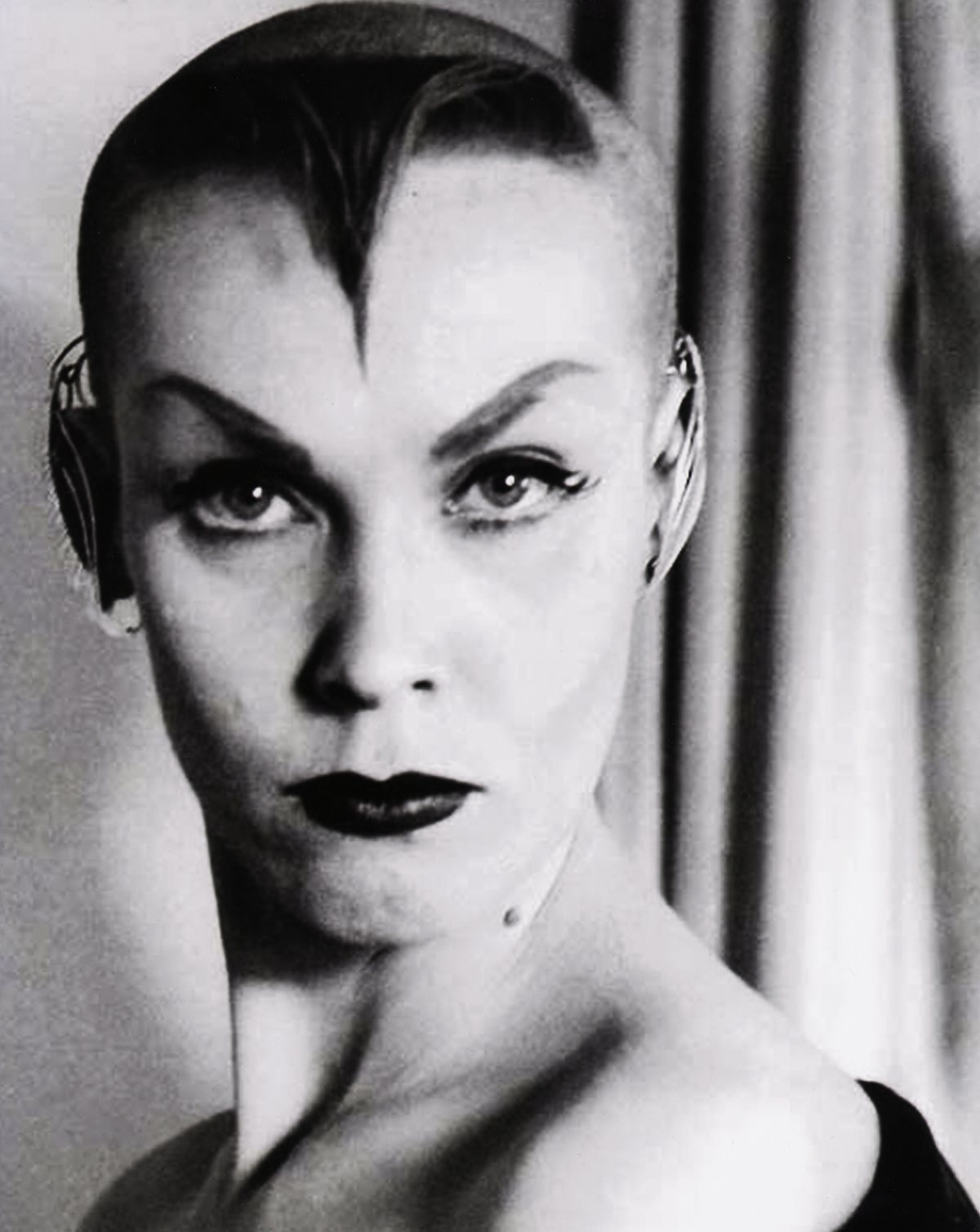 Finish-American actress Maila Nurmi was born Maila Elizabeth Syrjaniemi, The creation of "Vampira" came from Nurmi going to a costume party as Morticia Adams in 1953 and meeting some executive from KABC-TV. the local Los Angeles station. Her on air costume was supposed to be a combination of the "Dragon Lady" from the popular newspaper comic strip "Terry and the Pirates" and the evil queen from "Snow White and the Seven Dwarfs".
Nurmi's show was called "Dig Me Later, Vampira" for the premier program. It was immediately changed to "The Vampira Show" running from the start of 1954 through the end of 1955 at 10:30 PM. The character then started showing up on major television shows in guest spots.
In "Plan 9 From Outer Space" her roll was called "Vampire Girl", but the narration clearly states she was the wife of "The Old Man".
The third name on the movie poster was actor Lyle Talbot. In the 1930's the actor was a major Warner Brother star. For example he was fourth billed in the Spencer Tracy, Bette Davis movie "20,000 Years in Sing Sing" and again fourth billed in "Oil for the Lamps of China" a major production. However suddenly Lyle Talbot felt the wrath of Jack L. Warner when the studio head turned on him. Talbot's sin was activism for the three year old Screen Actors Guild and his career stopped in its upward movement as the major studio's banned Talbot..
Columbia Pictures like Universal Studio's was not considered a part of the majors. During the late 1940's and early 1950's Lyle Talbot appeared in several Columbia Pictures Chapter Serials and movies. For those fans of Detective Comics (DC). Talbot has a double motion picture distinction. He was the first actor to play Commissioner Gordon in the 1949 15 Chapter Serial "Batman and Robin".
Plus he was also the first actor to play Lex Luthor in the 1950 15 Chapter Serial "Atom Man vs Superman".
As for films by Ed Wood, Jr. besides "Plan 9 From Outer Space". Lyle Talbot Appeared in Wood's 1953 "Glenn and Glenda" and 1954's "Jail Bait". Piece of unrelated trivia is that "Jail Bait" was the fourth screen appearance of future movie strongman Steve Reeves.
In "Plan 9" Lyle Talbot's role was General Roberts.
The first of two names that did not appear on the poster, but are associated specifically with "Plan 9 From Outer Space" was Jeron Criswell King. King became known as "The Amazing Criswell" a psychic that predicted the future. He first appeared on television on Los Angeles station KCOP and had started out as a radio announcer. The 1950's was a perfect time for a showman like Criswell. Who usually wore a sequined tuxedo and claimed to sleep in a coffin at night. His flamboyant predictions would lead him to several appearances on "The Jack Parr Show" which eventually become called "The Tonight Show".
One of Criswell's predictions that apparently did not come true was that the World would end on August 18, 1999 and another was that Denver, Colorado would be attacked by a ray from outer space that would turn all metal into a rubber like substance. However, it is considered that about 87 percent of all the predictions "Criswell" made have come true in some form.
One of the most intriguing prediction took place on "The Jack Parr Show" in March 1963. On that program "The Amazing Criswell" predicted that President John F. Kennedy would not run for re-election, because something would happen to him in November of that year. Tragically on November 22, 1963 the President was assassinated and because of that prediction. Criswell was interviewed by the FBI looking for ties to Lee Harvey Oswald.
Another prediction that came true that the "psychic", he never claimed to be one, made was in 1964. He said actor Ronald Reagan would become the Governor of the state of California.
In "Plan 9 From Outer Space" "The Amazing Criswell" appeared at the film's beginning and as the narrator.
The second person associated with Wood's motion picture, but whose name did not appear on the poster was Tor Johnston. Tore Johnston was a Swedish wrestler normally billed as "The Super Swedish Angel". Johnson's wrestling name came from the fact that there had been an original "Swedish Angel" during the 1940's seen in the picture below.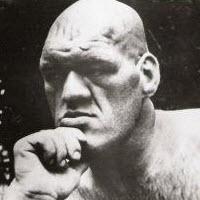 Tor Johnson started to get bit roles in movies playing a side show strongman as early as 1934. That first movie was "Registered Nurse" and Johnson was billed as "Sonnevich the Terrible Bulgarian", but it is the science fiction/horror movies of the 1950's that he is remembered for. Below is a picture of Tor Johnson during his wrestling career and his looks are neither that of the first "Swedish Angel", or the face most fans connect with his movie career.
"Bride of the Monster" was the first time Tor Johnson and Ed Wood, Jr. collaborated. Below Bela Lugosi and his second billed co-star Tor Johnson as "Lobo" looking like he is fondly remembered.
Johnson also appeared with Bela in "The Black Sleep". In "Plan Nine From Outer Space" his role was that of "Inspector Clay" who is killed and becomes one of the alien's walking dead. Tor Johnson would also appear in Ed Wood's "Night of the Ghouls" a planned sequel to "Bride of the Monster" also as "Lobo".
The Wrestler turned Actor is buried about eight minutes from my home in Eternal Valley, Newhall, California.
Like Lyle Talbot there were four other very experienced actors that the audience might have seen. The first name I want to mention was Johnny Duncan who had a direct connection to Talbot. Duncan was "Robin" in the serial "Batman and Robin".
By the time Duncan made "Plan 9 From Outer Space" he had appeared in 68 feature films. Most without credit. These included the 1944 through 1945 portion of the long running movie series "The Eastside Kids/Bowery Boys", "Bedtime for Bonzo", "The Wild One" and "The Caine Mutiny". His role in the Wood's movie was "Second Stretcher Bearer (uncredited)".
Above Johnny Duncan on the left as Dick Grayson with Robert Lowery as Bruce Wayne. Below Duncan wearing the bow tie with Leo Gorcey to his immediate right. Gorcey was the original leader of "The Dead End Kids" that became"The East Side Kids" and then "The Bowery Boys" as the group changed names and studios.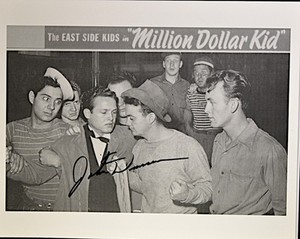 Johnny Duncan's last motion picture role was in Stanley Kubrick's 1960 "Spartacus". The part he played reflected most of the non-screen credited walk on's of his career. He was "Beheaded man".
Playing the role of "Colonel Tom Edwards Chief of Saucer Operations" was 1930's to 1950's "B" Cowboy Actor Tom Keene. In the 1950's Keene played several military roles.
Tom Keene's cowboy characters wore both the identifiable "Good Guy" in the White Hat, but at times also the Black hat of the "Bad Guy". So unlike many 1930's "B":Western actors like William Boyd, Don "Red" Barry, or Humphrey Bogart look alike Lash La Rue. While audiences enjoyed his Westerns. It was hard to place Keene's image. Adding to the confusion was he often used the name "Richard Powers" while acting as he did in the Randolph Scott starring "The Return of the Badmen". Keene played another military man Major General George Burdette in the 1952 Cold War Science Fiction film "The Red Planet Mars" starring Peter Graves and appeared as Major Lee in an episode of television's "The Adventures of Superman".
Veteran Charcter Actor Ben Frommer was "A Mourner" at the funeral of "The Old Man".
Frommer started out as a "Voice Actor" in 1940 and his last work was providing voices for both the 1987 "Bugs Bunny and Tweety Show" and 1988's "Daffy Duck Quackbusters". In 1955 Ben Frommer played a "Drunk" in Ed Wood's "Bride of the Monster" and the same year was a "Hot Dog Stand Owner" in an excellent forgotten horror film "Cult of the Corbra". Just prior to his final voice actor work Ben Frommer was seen in the Dan Ackroyd picture "Doctor Detroit" and Al Pacino's "Scarface".
The fourth professional actor Ed Wood, Jr. hired was Gregory Walcott as "Jeff Trent" the airline pilot.
By the time he filmed "Plan 9 From Outer Space" Walcott had 14 film and television appearances to his credit. These included Robert Taylor's 1952's "Above and Beyond" about the training of the crew of the Enola Gay and the dropping of the Atomic Bomb on Hiroshima. He was in the motion picture version of Leon Uris' novel "Battle Cry" and the Henry Fonda/James Cagney film "Mister Roberts". Along with the Gary Cooper picture "The Court-Martial of Billy Mitchell". Although all non-leading actor roles by 1956 Gregory Walcott was well established within the industry. After the Ed Wood picture Walcott would appear mostly on television, but was featured in the Clint Eastwood/Jeff Bridges movie "Thunderbolt and Lightfoot" and became a regular of the "Eastwood Stock Company". He was also seen in Steven Spielberg's "The Sugarland Express" and the Charlton Heston war movie "Midway. Gregory Walcott's last work was as a "Potential Backer" in Tim Burton's "Ed Wood" starring Johnny Depp.
Ed Wood, Jr's "Night of the Ghouls", as I said before, was supposed to be a sequel for "Bride of the Monster". It was completely filmed, but Wood went bankrupt and lost control of his rough cut and the negative. The movie had been planned for a 1958 release. The picture was considered lost until an Ed Wood Fan, Wade Williams, discovered the negative of the movie still at the lab with Wood's overdue bills. Williams paid those bills and had the film turned into a straight to VHS tape for release in 1984.
I mention this because besides Tor Johnson the "Amazing Criswell" is back once again as the narrator. The picture revolves around a supposed "Haunted House" and seems to contain social commentary of the 1950's by Ed Wood. Along with the living dead left on Earth by the Aliens of the first movie. The cast also included eight other actors seen in "Plan 9 From Outer Space" that I want to mention at this point.
In "Plan 9" Mona McKinnon played Gregory Walcott's character's wife "Paula Trent'.
McKinnon's first motion picture was the 1953 "Mesa of Los Women" portraying, of course, a lost woman. The following year she played "Miss Willis" in Ed Wood's "Jail Bait" that starred Lyle Talbot. In "Night of the Ghouls" 20-years -ld Mona McKinnon had the non-screen credited role of the "Juvenile Delinquent Girl". That was her fifth and final actual motion picture. She would appear, on previously shot footage by Ed Wood, in a sequence of a 1993 straight to video movie called "Hellborn" as "Danny's girlfriend".It should be noted that Mona McKinnon had died three years earlier than that films release on March 12, 1990.
James "Duke" Moore was seen as police "Lieutenant John Harper" in "Plan 9" and as police Lieutenant Daniel Bradford in "Night of the Ghouls". In fact, Moore's entire six film credits between 1957 and 1995 was for Ed Wood, Jr. Although he died on November 16, 1976. Moore's final picture was "Crossroads of Laredo" a short released in 1995 made from the unfinished Western by Ed Wood, Jr "The Streets of Laredo".The footage was originally shot in 1948 and was silent.
"Duke" Moore is seen on the right in this still.
Portraying "Patrolman Kelton" was Paul Marco. Marco had played the same role in "Bride of the Monster" and would be seen as "Patrolman Kelton" a third time in "Night of the Ghouls".These three Ed Wood, Jr. pictures are also known as the "Kelton Trilogy",
Marco co-produced with Ed Wood "Night of the Ghouls". Paul Marco had a total of 12 film credits to his name and they included 2005's "The Naked Monster". A stand-up of the 1950's horror film filled with stars of the era like Kenneth Toby, John Agar and Lori Nelson. Marco played "Kelton". He also played the role in"Kelton's Dark Corner" filmed in 2006 the year of his death at 78, but not released until 2009.
David De Mering played the role of "Danny" the co-pilot of the airplane that first sees the flying saucers in "Plan 9 From Outer Space". He also played the "Dead Man" in "Night of the Ghouls", but was billed as David De Maring in that film.
De Mering's total known film work are these two Ed Wood motion pictures. He just happened to be a house guest of Paul Marco at the time Ed Wood was going to film his science fiction "epic" and was asked if he wanted to be "Danny"?
De Mering is seen speaking into the microphone below. While Gregory Walcott flies the airplane. Behind them is the "FAMOUS" Shower Curtain.
During the above sequence the boom microphone's shadow appears and disappears and reappears.
Below is Tom Mason's famous scene from "Plan 9 From Outer Space" doubling for Bela Lugosi's character. Of course, Mason doesn't look like the late actor and also he was obviously much taller. Compare this still with the one of Lugosi in front of Tor Johnson's house above.
Initially Ed Wood was able to get Tom Mason, his wife at the time Norma McCarty's chiropractor, to co-produce a short entitled "Final Curtain". The plot is described as "After the horror play's final performance. The Vampire roams the theater", This short was released in 1957. It was also a pilot for a proposed television series.
In "Plan 9 From Outer Space" Mason's role was described as "Ghoul Man with Cape Over Face". In "Night of the Ghouls" Tom Mason played "Foster Ghost".
Who Clay Stone was before "Plan 9 From Outer Space" in which he played the "Mourner reading the bible in the opening scene" is unknown. Who Clay Stone was after he played "The Young Man" in "Night of the Ghouls" is as blank. Except for the two Ed Wood, Jr. motion pictures. Clay Stone, if that was his real name, does not exist. I found this photo of Stone with Bela Lugosi from the colorized version of "Plan 9 From Outer Space".
Karl Johnson played "Farmer Calder". Calder picks up Paula Trent in his car as she flees the living dead in a grave yard. Which just happens to be close to her and Jeff's house in the middle of nowhere.
In 1949 Karl Johnson played a "Drunken Guest" in Metro-Goldwyn-Mayer's "Madame Bovary". A big budgeted production starring Jennifer Jones, James Mason, Van Heflin and Louis Jourdan, His next film wasn't until he appeared in "Plan 9 From Outer Space" followed by "Night of the Ghouls". Karl Johnson also was in 1957's ": The Unearthly" starring John Carradine, Myron Healey and Allison Hayes. In that film he played "The Monster in the Cellar".
Here is an excerpt from Paul Marco's interview about Tor Johnson for Tom Weaver's book: "Interviews With B Science Fiction and Horror Movie Makers: Writers"
He was just a big teddy bear. He didn't speak too well, as you can see in Plan 9, but personally he was a pussycat--sweet, generous, charming and a lot of fun to be with. His son Carl, who was a police officer in the San Fernando Valley, was also very nice, he had a small part in Plan 9, and he was one of the dead men in Night of the Ghouls.
Notice that for the Ed Wood pictures Tor's son Carl used the Swedish "K" instead of the American "C" for his first name.
Karl's father also appeared with him in "The Unearthly" playing a character with the interesting name of "Lobo 2" probably related to his two Ed Wood films.
Below is still I made from "Plan 9" of Karl Johnson's "Farmer Calder".
The eighth actor I want to speak of in this section playing "The Man in Fight" in "Night of the Ghouls" was Conrad Brooks. In "Plan 9 From Outer Space" Brooks played "Patrolman Jamie" seen below holding the gun as Paul Marco looks on. The two part autographed picture shows a younger Brooks with Bela Lugosi. Conrad Brooks was in Ed Wood's "Glen and Glenda", "Jail Bait", "Bride of the Monster" and "The Sinister Urge".
Some of the titles of Brooks' 92 films, two are still in production due for 2018 release, earned him the title "The John Gieglgud of Bad Films" according to an interview with Anthony C. Hayes published on September 18, 2015 on the website "Los Angeles Post Examiner":
http://lapostexaminer.com/plan-9-from-outer-spaces-conrad-brooks-still-king-of-the-bs/2015/09/18
You ever want to be in the movies? Easy! Just produce one. In this case Executive Producer J. Edwards Reynolds and Associate Producer Hugh Thomas, Jr. who played the two "Grave Diggers".
Hugh Thomas, Jr. the shorter man in the above still also appeared as a solider in John Huston's production of "The Red Badge of Courage" and was the production manager of a 1975 motion picture "The Grizzly and the Treasure".
The other "Grave Digger" J. Edwards Reynolds is a little more interesting. He was a Baptist Minister of a church in Beverly Hills that somehow Ed Wood, Jr. convinced to help finance and appear in his picture. As I mentioned above the original working script had the title "Grave Robbers From Outer Space", but Reynolds objected to the "Blasphemous" title. Hugh Thomas, Jr. was an "Associate" of Reynold's Baptist Church/
Both "Grave Diggers" are killed off screen. After we see an image of "Vampira", shot either at night or on a dark stage, apparently heading for the two men, who are in the sun. and then we hear their screams without seeing them killed.
After Tor Johnson's "Inspector Clay" is killed. There is a funeral service for him conducted by another real Baptist Minister from Oklahoma. The Reverend Lynn Lemon had come to Hollywood to find backing for a film he wanted to make about Evangelist "Billy" Sunday. Sunday was probably the most influential person to convince the Government to create the 18th Amendment to the Constitution (Prohibition). Instead of finding back for his film Lemon met Ed Wood and appeared in the funeral scene. Lynn Lemon is in the middle holding the Bible.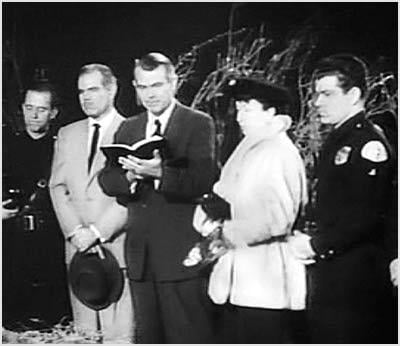 So who played the three space invaders that had that intense scene revealing "Plan 9"?

Alien Leader:
What plan will you follow now?
Alien Commander:
Plan 9. It's been absolutely impossible to work through these Earth creatures. Their soul is too controlled.
Alien Leader:
Plan 9. Ahh yes. Plan 9 deals with the resurrection of the dead. Long distance electrodes shot into the pineal and pituitary glands of recent dead. Have you attempted any of this plan as yet?
Alien Commander:
Yes, Excellency.
Alien Leader:
How successful has it been?
Alien Commander:
We have risen two so far. We will be just as successful on more.
Alien Leader:
The living, they have no suspicion of your movements?
Speaking of "Plan 9". Did you ever wonder what "Plan 8" was?
Radio announcer and actor Dudley Manlove played "Eros".
Besides appearing in "Plan 9 From Outer Space". Dudley Manlove was in a very good little science fiction film from 1962 "The Creation of the Humanoids", if you can find this film see it. It is talky and very low budget, but the movies real undertone was racial discrimination and bigotry covered up as as a film about a dying Earth after all out Nuclear War.
Manlove was the narrator of Ed Wood's "Final Curtain" and appeared in many 1950's television series. He had a small role in the Gary Cooper, Diane Varsi and Suzy Parker 1958 motion picture "Ten North Frederick".
Playing the alien Tanna was actress Joanna Lee. Who had a very interesting life that involved overcoming dual tragedy's.
The actress has 11 television and motion pictures credits to her name. One of the movies was an even lower budgeted science fiction movie 1958's "The Brain Eaters". The title creatures look more like hairy tennis balls with pipe cleaners coming out of them.
In 1961 Joanne Lee was involved in a major car accident that ended her acting career. So she turned to writing television episodes and made for television movies. Along the way Lee won an Emmy for a 1972 screenplay and become a producer. In 1975 Joanna Lee wrote and produced the television documentary on the life of Olympic Athlete Babe Dickerson Zaharias. She was nominated for an Emmy for that production and won a Golden Globe for "Best Motion Picture Made for Television".
That other tragedy the actress had to overcome was the death from Aides of her son Craig Lee in 1992. The actress/writer passed away on October 24, 2003.
The leader of this three-person space invasion of Earth was the character known simply as "The Ruler" and was played by John Breckenridge.
His full name was John Cabell Breckenridge and this "Drag Queen" had the nickname of "Bunny". The one-time actor was the namesake of his great grand-father United States Vice President John Cabell Breckenridge. Who served with President James Buchanan, but became the Secretary of State for the Confederacy during the Civil War. Breckenridge's other great grand-father was Lloyd Tevis the founder of "Wells Fargo".
"Bunny" got the role of the ruler, because he just happened to be a house guest of Paul Marco at the same time as David De Mering.
The cast of "Plan 9 From Outer Space" was rounded out by the six remaining people below.
Carl L. Anthony portrayed "Patrolman Larry". He was apparently a longtime friend of Ed Wood and on this production assisted with the set up of the scenes. Below is a picture with Anthony on the left during the filming of "Plan 9",
Anthony also appeared in Ed Wood's 1960 "The Sinister Urge" and had role in. 1982's "Raw Force" starring Cameron Mitchell. He was interviewed for the 1992 documentary "Flying Saucers Over Hollywood".
Playing "Edith" the airline stewardess was Norma McCarty. As I mentioned before she was married to Ed Wood, Jr. at this time.
Other than "Plan " Norma McCarty appeared in a 1989 television documentary program called "The Incredibly Strange Film Show" about her first husband Ed Wood. McCarty appeared in 1995's "The Haunted World of Ed Wood" and one more television show about her husband 1999's "E! Mysteries and Scandals".
According to her obituary in "The Hollywood Reporter" for August 18, 2014:
According to her son, McCarty met Wood on a studio lot when she was working on the CBS series

Gunsmoke

, and they were wed on a soundstage in October 1955. Weeks later, Wood admitted to her that he was a cross-dresser, and she, with two young sons at the time, booted him from their home.
"I'd find my nightgown on the bed when I got home from work and said, 'I didn't wear that last night.' But it never dawned on me that he might be wearing these things," McCarty said in an interview for a 1999 installment of the series

E! Mysteries & Scandals

.
http://www.hollywoodreporter.com/news/norma-mccarty-dead-ed-woods-726040
Reading the above article, I discovered Norma McCarty passed away in June of 2014 at a convalescent hospital near my home.
In the above still I took from the movie is Bill Ash playing the role of "The Captain". Previously Ash received no screen credit for portraying a "Spotter" in the Korean War movie "The Bridges of Tokyo-Ri" starring William Holden in 1954. The part time actor would appear 11 more times between 1978 and 1990. Four of which were on the television series "In the Heat of the Night", He lived in Georgia and what other work he did between film roles I could not locate.
Donald A. Davis played "A Drunk" in Wood's motion picture which was his only acting role. I could not find, or get a clear picture of him from the motion picture. He was also the "Editing Supervisor" on "Plan 9". Then his name does not appear until 1967 when he produced and directed the movie "For Love and Money" from an original story by "Ed Davis" in the credits, but actually Ed Wood, Jr.
From 1967 through 1973 Donald A. Davis directed 14 motion pictures and produced 12 of them. The titles included: "Swamp Girl", "For Single Swingers Only" and "Dial-A-Degenerate".
The last of the cast of 29 I want to speak about was Gloria Dee. She played a "Mourner" at the Funeral of Inspector Clay, if you go back to the picture with Reverend Lynn Lemon above. Dee is standing next to him. The only reference I could find about an actress named Gloria Dee. Mentions she was in Alfred Hitchcock's 1955 "To Catch A Thief" as a "Peruvian Slave Girl". I have no way to ascertain if she was the same Gloria Dee in the Ed Wood picture, or anything else about her.
My reader now knows something about each of the faces that were seen on screen in Edward Davis Wood, Jr's "Cult Classic" Science Fiction motion picture. One last item I would like to mention are those famous Flying Saucers.
Even Tim Burton in his motion picture "Ed Wood" kept alive the myth that they were actually hubcaps from a Chevorlet. When I was a young boy in the early 1950's I had two, or three model flying saucers from Lindberg. Here is an article about those models and a special one created for fans of "Plan 9 From Outer Space":
http://www.scalemodelnews.com/2014/02/worst-movie-ever-plan-9-from-outer.html