Ronald Reagan was a "Political Animal", but First he was an Actor.
In the last several political campaigns candidates for President from the "Grand Old Party" invoke the image of President Ronald Reagan and vie for which one of them is his true successor. This article is not about their Ronald Reagan, or the ex-Governor of my state of California I once voted for as a Reagan Democrat.
This is a look at Ronald Reagan the actor during his motion pictures and television years. However Ronald Reagan as I said became a "Political Animal" and this article will involve politics of a sort. As it revolves around the Screen Actors Guild before and during the McCarthy witch hunts. Also as you will read his politics affected his personal life in more ways than one.
I start my story in 1932 when Ronald Wilson Reagan graduated from Eureka College in Eureka Illinois. After which Reagan traveled to Iowa were he found work at different radio stations until he become the Sports Commentator for "WHO" Radio in Des Moines.. At this time he would be given spot reports on the status of baseball games he was not able to see. He was then faced with creating a "play by play" narration for the radio audience as if Reagan was actually at the game.
This led to traveling with the Chicago Cubs as they acrossed the country. It was during 1937 when the Cubs were in Los Angeles that Ronald Wilson Reagan would take a screen test for Warner Brothers and be signed to a seven year contract.
On March 25, 1937 after completing fourteen home extension courses for the United States Army. He was commissioned a second lieutenant in the United States Calvary Reserve.
In a January 6, 2004 article for "The Washington Post". Writer Lou Cannon quoted Reagan on what it was like working in Warner Brothers "B" movie unit. According to the ex-President they:
didn't want them good; they wanted them Thursday
Ronald Reagan's first film was released October 2, 1937 titled "Love is on the Air". In it he plays the crime reporter for a radio station who gets in trouble with his sponsor, because his character "Andy McCaine" is exposing corruption in "high places" that leads directly to that sponsor. Reagan's first co-star was June Travis who lasted another year as an actress and then married a prominent Chicago Business Man. She would return to movies twice. First in 1952 with a major supporting role in Betty Davis' movie "The Star" and then again in 1965 in something called "Monster-A-Go-Go".
January 1, 1938 saw Ronald Reagan in the title role of "Sergeant Murphy" opposite Mary Maguire and Donald Crisp. His character was as close to real life as his roles playing radio announcers. In this film Reagan is a Calvary Sergeant who buys a horse rejected by the military and trains it to become a winning race horse.
Seven days later on January 8th another feature with Ronald Reagan came out entitled "Swing Your Lady" starring Humphrey Bogart. Reagan was billed 10th as Jack Miller. This is one of two films, the other is "The Return of Dr. X", that Bogart would never speak about. He played promoter Ed Hatch who goes to the Ozarks with his fighter Joe Skopapolous to fight a women named Sadie Horn, but Joe falls in love with her. I could not locate what Ronald Reagan's part was about.
Another seven days on January 15, 1938 the all star Busby Berkeley musical "Hollywood Hotel" came out featuring Benny Goodman and his orchestra.
Ronald Reagan appeared in one scene without film credit as of course a "Radio Announcer".
Then he became part of the annual "Bloopers" Reel shown at the Warner's Club for the stdio executives, cast and crew. Reagan's outtakes came from "Love is on the Air". The timing of all of this early work does seem to support having a film made by "Thursday".
Between the movie "Accidents Will Happen" where Ronald Reagan played an insurance investigator released on April 3, 1938 to "Girls on Probation" released October 22, 1938 with Reagan as a crusading attorney the actor made six motion pictures. Two of which all anyone heard was his voice as a radio announcer. Pertaining to "Girls on Probation" in ninth billing was a young actress named Susan Hayward.
Seven days after the release of "Girls on Probation" a motion picture was released that had a major impact on the life, if not the career of actor Ronald Wilson Reagan "Brother Rat".
The motion picture was an adaptation of a Broadway Play about cadets at the Virginia Military Institute, It starred Wayne Morris and Priscilla Lane. The film also introduced actor Eddie Albert who plays one of the three main cadets. The problem is he is secretly married and soon to be a father. A big violation to remain in the school. The film was so successful that on January 13, 1940 a sequel was released with the same cast "Brother Rat and the Baby".
Before I explain my comment about a change to the actor's life. Note on these original posters for the two motion pictures. That in "Brother Rat" Ronald Reagan was listed third, but in the later film "Brother Rat and the Baby" he was listed sixth.
Oh that change? On both posters is the name of one of his female co-stars Jane Wyman. The two first met on the set for "Brother Rat" and were married thirteen days after "Brother Rat and the Baby" premiered on January 26, 1940.
Below a publicity shot from "Brother Ray" of Wyman and Reagan.
The couple would have two biological children Maureen Elizabeth born January 4, 1941 and Christine who only tragically lived one day. They would adopt a son Michael born John Flaugher on March 18, 1945.
Returning to the motion pictures of Ronald Reagan the date was December 31, 1938 and the actor played the part of Jack Withering in this Dick Powell starring vehicle "Going Places", but was his film career?
On March 4, 1939 Ronald Reagan first played Secret Service Agent Lt. "Brass" Bancroft with Eddie Foy,Jr. as his sidekick "Gabby"Watters in "Secret Service of the Air" aka: "Murder Plane". There would be three more in this series that had the actor referring to himself as the "B" movie Errol Flynn.
The other three motion pictures were:
"Code of the Secret Service" May 27, 1939
"Smashing the Money Ring" October 21, 1939
"Murder in the Air" June 1, 1940
Back on April 22, 1939 Ronald Reagan had his first "A" list major motion picture role playing Alec in the Betty Davis film "Dark Victory". Davis' leading me were George Brent and Humphrey Bogart now out of the "B"'s,
"Dark Victory" was the story of a socialite played by Betty Davis who is diagnosed with an inoperable brain tumor and lives her remaining life to the fullest. The actress was nominated for the Oscar, but lost to Vivian Leigh in something called "Gone with the Wind".
However, if you look at the movies Ronald Reagan was in such as the Secret Service Series immediately on either side of the Betty Davis"A" list vehicle. They were all still typical "B"'pictures. That group included two forgettable films with "The Dead End Kids" who had top billing over the actor. Thus in a sense the Betty Davis motion picture became a "Dark Victory" for the actor himself.
Then came a small role in a Pat O"Brien starring vehicle.
The film tells the fictionalized life of Knute Rockne the great Notre Dame Football Coach. Ronald Reagan played George Gipp known as "The Gipper". A nick name that would be picked up by the press when the actor started running for California Governor, but even more during his Presidential races as the movie started appearing on television stations across the country and at re-run movie houses.
Ronald Wilson Reagan's death scene when he asks Pat O'Brien's Knute Rockne to "win one for the Gipper" is classic Hollywood heart tugging and caused a lot of tears from the ladies and some men at the time.
Back in 1933 Marie Dressler and Wallace Berry made a classic comedy titled "Tugboat Annie". On October 26, 1940 a sequel came out starring Marjorie Rambeau and Alan Hale, Sr. "Tugboat Annie Sails Again". Playing Annie's ward Eddie Kent was Ronald Reagan and playing the girl he loves was Jane Wyman. Who had billing over her new husband.
December 28, 1940 saw a motion picture billed as a "Western" titled "The Santa Fe Trail", but actually about the tracking down and capture of abolitionist John Brown prior to the Civil War. This was a big budgeted Warner Brothers Errol Flynn and Olivia de Havilland production and it featured Ronald Reagan. The "B" Errol Flynn met the "A" Errol Flynn.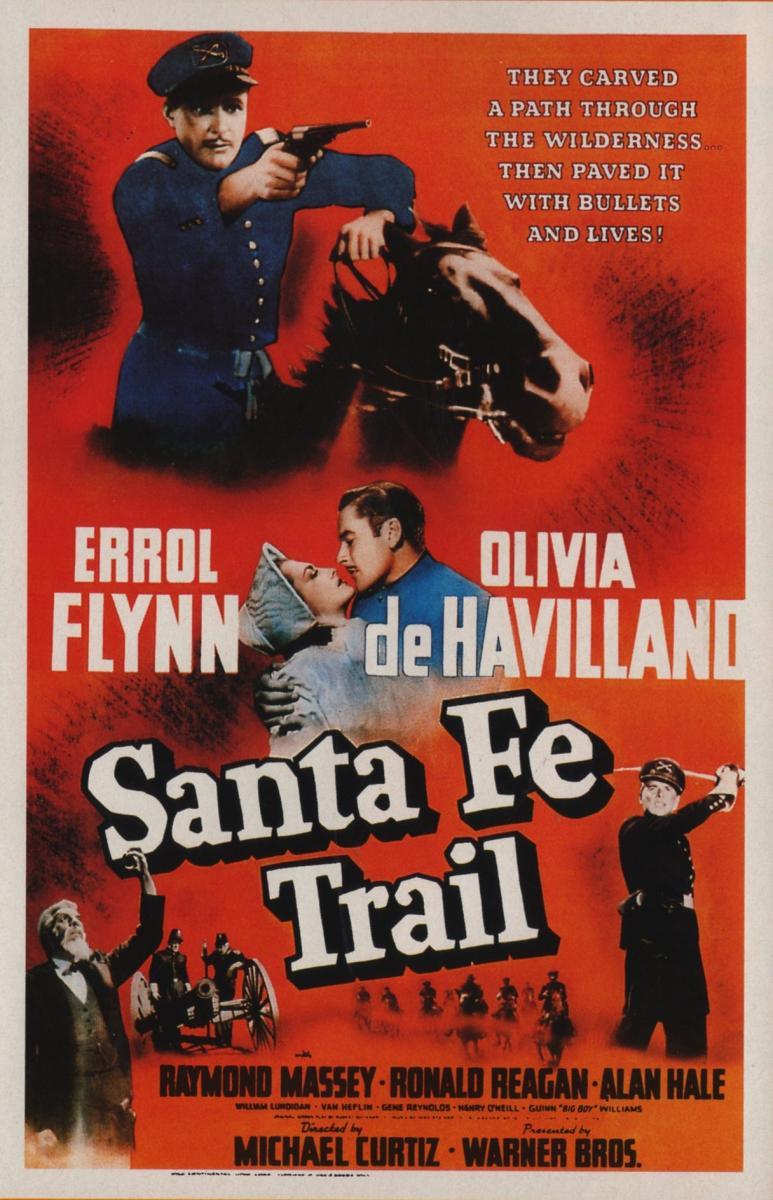 The picture was filled with inaccuracies, but had some great performances. Errol Flynn played James "Jeb" Stuart, Raymond Massey was John Brown a role he would repeat in 1958's "Seven Angry Men", Ronald Reagan played George Armstrong Custer and Olvia de Havillard's fictional love interest had the great name of Kit Carson Holliday.
Of course Stuart and Custer were never together in the same class at West Point. Stuart was class of 1854 and Custer class of 1861, but who cares. The movie is classic Hollywood directed by the great Michael Curtiz with music by Max Steiner. Then you have a young William Lundigan and a villainous Van Heflin in his second motion picture.
With his growing popularity Ronald Wilson Reagan was beginning to get a lot of fan mail and answering it throughout most of his career was his mother Nelle Clyde Wilson Reagan.
On March 28, 1941 the actor would have fourth billing in a Western "The Bad Man" starring Wallace Berry, Lionel Barrymore and featuring Lorraine Day.
This movie is interesting in the casting which reflected on "B" actor Ronald Reagan. The star power is an interesting dynamic for Reagan to be up against. At this point Wallace Berry had been in motion pictures 28 years starting in 1913, His last film would be eight years later in 1949 and his career ended only because of his death at 64.
The second billing was Lionel Barrymore brother of Ethel and John. His career started in 1908 and at this time Barrymore was working in films for 33 years, His last work would be in 1956 at age 76 when he also passed away.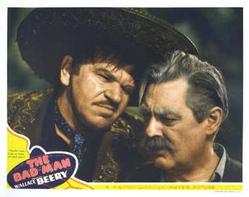 As for his leading lady Laraine Day who was also billed over him. She was a more popular actor than Ronald Reagan even though she had exactly half the number of screen appearances than he did. One reason was her recurring role as Nurse Mary Lamont in the very popular "Dr. Kildare" movie series. She also had just been seen as Joel McCrea's co-star in Alfred Hitchcock's "Foreign Correspondent"
Also during 1941 the actor was elected to the Board of Governors of the Screen Actors Guild (SAG) as an alternate member.
Three more forgotten motion pictures and we come to "Kings Row" released on April 18, 1942 a date with double meaning for Ronald Wilson Reagan.
Ronald Reagan had third billing in a controversial motion picture based upon a controversial novel by Henry Bellamann, Considered his best movie the actor is quoted in Otto Friedrich's "City of nets: a portrait of Hollywood in the 1940's" as saying "Kings Row" was a:
slightly sordid but moving yarn that made me a star.
The film starts in the small town of "Kings Row" in 1890 when we meet five small children and follow their lives forward.
Bringing the novel to the screen ran afoul of the Hayes Office from the start. Joseph Breen the Director of the Motion Picture Production Code was quoted by the Turner Classic Movie website as saying:
To attempt to translate such a story to the screen, even though it be re-written to conform to the provisions of the Production Code is, in our judgment, a very questionable undertaking from the standpoint of the good and welfare of this industry
One of those "re-written to conform to the provisions of the Production Code" story elements was the Homosexual relationship between the characters of actors Robert Cummings and Ronald Reagan.
Some of Joseph Breen's other objections were:
illicit sexual relationships without sufficient compensating moral values
the general suggestion of loose sex...which carries throughout the entire script.
Breen was also concerned with the incest between Betty Field's character of Cassandra and her father. Also with depicting the mercy killing of the grandmother of Robert Cumming's character by him.
Then there was a very sadistic surgeon.
Probably the best scene actor Ronald Wilson Reagan ever had happens in "Kings Row". It involves his character of Drake who has an operation performed by the sadistic surgeon played by Charles Coburn. When he awakes he discovers that both his legs have been amputated for no reason. At which Ronald Reagan screams in a very powerful scene:
:
Where's the REST of me???
A line that became the title of his 1965 autobiography.
"Kings Row" had a budget of $1,081,698 and made $5,093 million dollars.
I mentioned there was a double meaning to the release date for this picture. Also on April 18, 1942 Ronald Wilson Reagan was called to active military duty. However, do to his poor eyesight he was classified for limited duty only. His first assignment was as liaison officer at Fort Mason between the Army and the San Francisco Port Authority. The actor requested a transfer out of the Cavalry to the Army Air Force. This was granted and he was assigned to the "First Motion Picture Unit" later known as the "!8th Army Base Unit" which would make over 400 propaganda films and training films. He was now stationed in Culver City, California.
On May 29, 1942 Ronald Reagan's new film career had a short subject "Mister Gardena Jones" released. This 13 minute film was about the work of the United Service Organization better known by it's initials "U.S.O.". The actor was cast in the title role. The short also featured Laraine Day, vaudevillian Charles Winninger and an unknown Chill Wills. It even contained archival footage of FDR.
The following day Warner Brothers released the movie "Juke Girl" starring Ann Sheridan and Ronald Reagan. This drama was about exploited farmers in the South and has a small time tomato farmer at odd with a crooked cannery owner. The war was not stopping the actor from appearing in feature films at this time.
Between his "First Motion Picture Work" and Warner Brothers the actor was being kept busy. Ronald Reagan's next movie had the "B" Errol Flynn once more working with the "A" Errol Flynn in director Raul Walsh's "Desperate Journey". Released September 26, 1942. The film tells the story of a British Bomber crew shot down by the Germans who escape their Nazi captors with vital military information. It is their "Desperate Journey" to get this information to the allies that forms the story.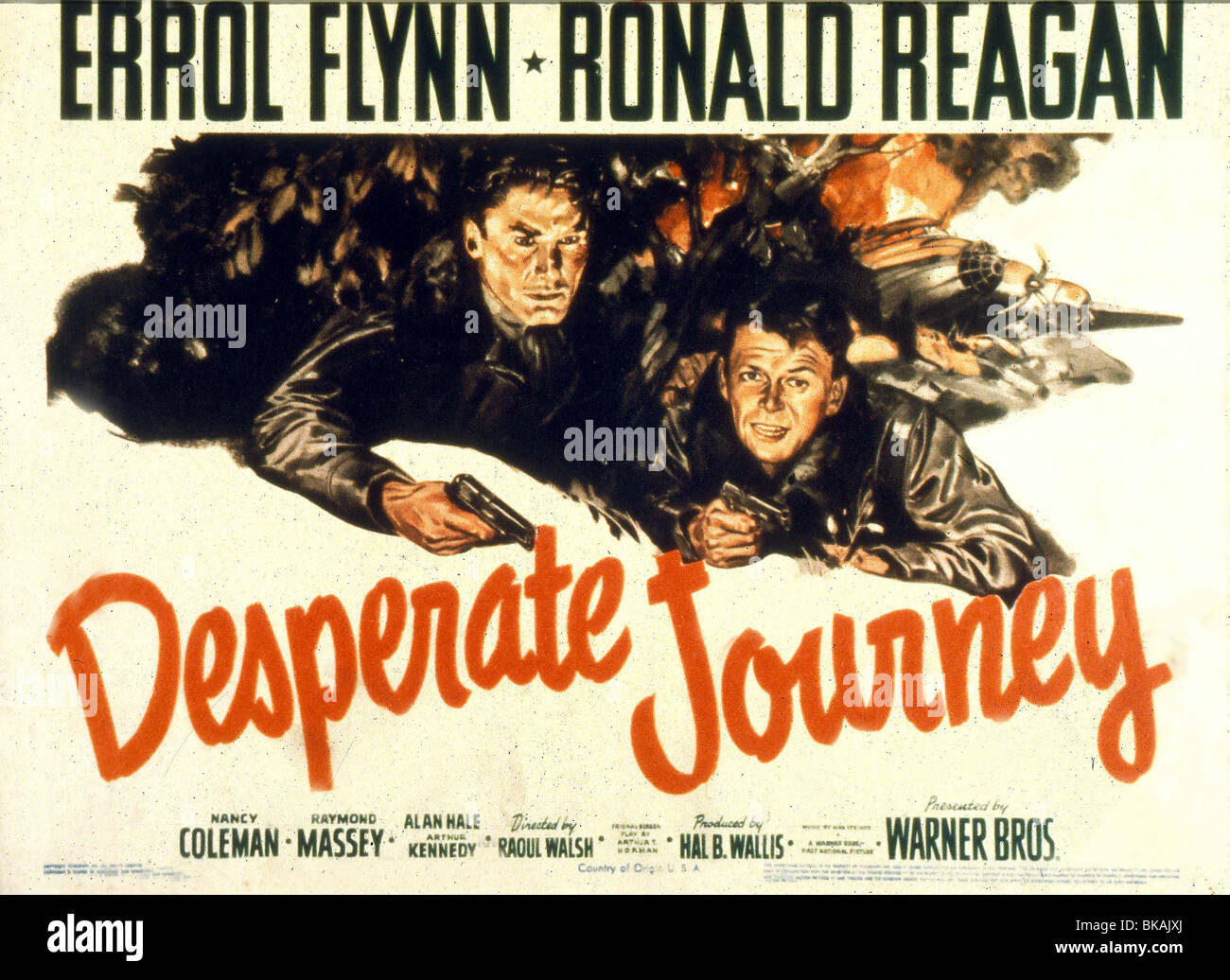 November 22, 1942 found the voice of Second Lieutenant Ronald Wilson Reagan narrating a 22 minute short, The short told the story of how Ranch Hand Hewett T. Wheless became an Army Air Force Captain. Then it told of his exploit of flying a bomber that became caught between 18 confirmed Japanese Zeroes at the start of the war and being awarded the "The Distinguished Service Cross" for bringing his crew and aircraft safely back to base.
On January 14, 1943 Second Lieutenant Reagan was promoted to First Lieutenant and transferred out of his Culver City work location to the Army provisional task force unit known as "THIS IS THE ARMY". First Lieutenant Reagan was now stationed in Burbank, California at his home studio Warner Brothers.
April 10, 1943 saw the release of another short subject "The Rear Gunner". This was an all star cast in a 26 minute film about an enlistee who is disappointed in his job as a mechanic and becomes a rear gunner on a bomber.
The following cast list and some stills are from the website IMPDb which is "Dedicated to identifying aircraft throughout movies, television and now video games".
https://www.blogger.com/blogger.g?blogID=4856844389887948002#editor/target=post;postID=1691753947564985655;onPublishedMenu=allposts;onClosedMenu=allposts;postNum=0;src=postname

Starring:
Burgess Meredith (Pvt. L.A. Pee Wee Williams)
Ronald Reagan (Lt. Ames)
Tom Neal (Instructor Sergeant)
Dane Clark (Benny)
Jonathan Hale ( Commanding Officer)
Knox Manning (Narrator)
After completing his duty at "This is the Army" First Lieutenant Ronald Wilson Reagan was transferred back to the "First Motion Picture Unit" and on July 22, 1943 became Captain Ronald Wilson Reagan.
On August 14m 1943 Captain Reagan was part of an all star cast in a wartime musical directed by Michael Curtiz, produced by Hal B. Wallis and Jack Warner "This Is The Army". I wonder what Ronald Reagan felt about the title?
This is the cast list off of Wikipedia:
As Themselves:
This Irving Berlin musical starts in World War 1 with song and dance man Jerry Jones (George Murphy) and switches to right after Pearl Harbor when his son Johnny Jones (Ronald Reagan) enlists. The basic story is used to have two musical reviews one during the First World War arranged by Jerry and one during the Second World War arranged by Johnny.
Political note: George Murphy would become a Senator from California and of course Ronald Reagan Governor and at one point both would be serving at the same time. Like father, like son?
The Navy was not forgotten in "This Is The Army".
Two more short subjects ended 1943. The first was the 43 minute "For God and Country" and tells the true stories of three Army Chaplains. Ronald Reagan portrayed Father Michael O'Keefe. The short also starred Hugh Marlowe and Richard Carlson, The narrator of the piece was Walter Huston.
The second was a 15 minute long training film "Cadet Classification" which Captain Reagan narrated.
Captain Ronald Wilson Reagan's motion picture career took a short break at this time. When he was assigned in January 1944 to temporary duty in New York City to participate in a series of "War Loan Drives" until November 14, 1944. At which time he returned to the "First Motion Picture Unit".
The time period of the "War Loan Drives" means Ronald Reagan was involved with the complete Fourth and Fifth Drives and the first two weeks of the Sixth. Although some biographies only mention the Sixth Drive as his assignment. That cannot be true as the Fourth was from January 18, 1944 through February 15, 1944, the Fifth from June 12, 1944 to July 8, 1944 and the Sixth began on November 2, 1944. Twelve days before Reagan returned to Culver City, California. To give my readers an idea of how much the Fourth and Fifth Drives raised from average American's in 1944 dollars for the War Effort by buying "War Bonds". The combine revenue was $37,3 billion dollars, or in 2016 dollars at a 1246.1 percent inflation rate $502,100,386,363.64. When I was in school during the first half of the 1950's these Government Bonds were still very popular and I had a booklet to put 25 cent stamps in until I had enough for a $25 dollar bond. How times have changed.
Below is a picture of the Series "E" $50 Bond sold between 1941 and 1945.
On February 2, 1945 Captain Reagan was recommended for a promotion to Major. That recommendation would be turned down on July 17th. Apparently Captain Reagan's duties at this time and until the end of the war did not involve being in any motion pictures, or training films.
A rather mundane event occurred when Ronald Reagan was back at "First Motion Picture Unit". The unit sent photographer David Conover to photograph women at work in the factories for morale building propaganda home front shorts. One of the ladies Conover photographed at the "Radioplane" factory was Norma Jeane Mortenson. The Military Man/Actor saw the photo's and suggested she be screen tested by Warner Brothers. As my readers know Norma Jeane would change her name to Marilyn Monroe.
This is the photograph used for the cover of "Yank" Magazine which basically was a source of "Pin Ups" for the Army service men.
On December 9, 1945 Captain Ronald Wilson Reagan was separated from Active Duty in the Army.
Although he was not making films at this time and at home with his family. Reagan returned to the Screen Actors Union Board in 1946. As he awaited a motion picture assignment that "Political Animal" began to appear as he became SAG's Third Vice-President. Two events happened the following year 1947 one of which changed the actor's life.
The first he was back at Warner Brothers making motion pictures and on April 12, 1947 the film "Stallion Road" was released.
The drama tells the story of a young veterinarian played by Ronald Reagan who falls in love with the owner of a horse breeding farm played by Alexis Smith.
This picture would be followed by one more picture that year. "That Hagen Girl" was released seven months later on November 1, 1947. The movie was a strange vehicle for both Ronald Reagan and playing the title role Shirley Temple.
Mary Hagen (Shirley Temple) is believed by the town gossips to be the illegitimate daughter of Tom Bates (Ronald Reagan) a former resident and lawyer. At one point Mary attempts suicide over all that is happening, and Tom rescues her. It is later revealed that the Hagen's adopted Mary and she is free to leave town with the man she loves Tom Bates.
The New York Times at the time of the movie's release wrote:
Ronald Reagan keeps as straight a face as he can while doing what must have struck him as the silliest job of his career [...] [b]ut it is poor, little put-upon Shirley who looks most ridiculous through it all. She acts with the mopish dejection of a schoolchild who has just been robbed of a two-scoop ice cream cone.
Ronald Reagan considered the picture the worst one of his entire film career. Interesting to note that as his political star started to rise copies of this motion picture disappeared from film vaults and television stations that had their own copies. It would turn up on Turner Classic Movies in the mid-1990's.
Temple stated in her autobiography that she believed at the time of filming "That Hagen Girl" that Reagan didn't want to do the film, but was forced under contract too. At one point after multiple takes of the suicide scene the actor collapsed on set and had to be taken to Cedars of Lebanon Hospital and was diagnosed with viral pneumonia.
The life changing event of 1947 involved the Screen Actors Guild. At the start of the year SAG adopted new bi-laws covering conflict of interest. As a result the President and Six Board Members resigned their positions. Ronald Reagan was elected to the Presidency and the "Political Animal" fully emerged. Reagan becoming the SAG President started to affect his home life as it dominated his time.
Released February 28, 1948 the comedy/romance "The Voice of the Turtle" was the only feature film the actor was in that year.
"The Voice of the Turtle", don't know were that name came from, is a typical light love story. Eleanor Parker agrees to a date with stood up soldier Ronald Reagan. Eve Arden who stood up Reagan for his Commanding Officer Wayne Morris now resets her sights on him. However, Parker's character has sworn off love after her break up with Kent Smith. Guess who becomes the couples at the film's end?
When the picture first appeared on television that title had been changed to "One for the Books" which was used when the picture was re-released to theaters.
Democrat Ronald Reagan joined some political organizations reflecting his "leftist" viewpoint which he would argue against Republican members of SAG such as George Murphy and his wife actress Jane Wyman Reagan. He even appeared in 1948 with President Truman at a campaign rally in Los Angeles for his re-election. The pressure of all this non-acting politics was straining his relationship with her and that according to Wyman began right after the death of baby Christine. She filed for divorce which would be finalized in 1949
On February 4, 1949 Ronald Reagan and Patricia Neal had the title roles in "John Loves Mary".
.
This was Patricia Neal's film debut as Mary McKinley that John left behind for the war. He returns married to a girl named Lilly played by Virginia Field as means of getting her into the United States to be able to wed Fred played by Jack Carson. I think my readers can guess what follows.
On June 10, 1949 Ronald Reagan and Viveca Lindfors co-starred in director Don Siegel's "Night Unto Night".
The plot is described on the website IMDb as:
A scientist haunted by the incurable illness epilepsy meet a beautiful woman haunted by the voice of her dead husband.
Talk about a dramatic set up for a love story.
Finally back in the acting groove July 16, 1949 saw the release of "The Girl From Jones Beach".
Ronald Reagan is a famous artist for his painting known as "The Randolph Girl". The problem is people want to meet the model, but "The Randolph Girl" is a composite of several models and now Reagan and Eddie Bracken are on a search for a look-a-like and at this point school teacher Virginia Mayo entered the story.
Like many Warner Brothers stars Ronald Reagan made a cameo appearance as Ronald Reagan in the Doris Day-Dennis Morgan-Jack Carson picture "It's A Great Feeling" released August 1, 1949.
Prior to his last picture for 1949 entering into his life was a young actress named Nancy Davis.
Their meeting happened on November 14, 1949 when the actress approached the Screen Actors Guild President for help. She was being accused of Communist sympathies and was being confused with another actress also named Nancy Davis.
The Hollywood "Black Listing" started in 1947 as a result of the "House Committee On Un-American Activities" being formed that year. Ronald Reagan and his wife at the time, Jane Wyman, are on record of naming names to the FBI of those they felt might either be, or associated with known Communists. For those of my readers who might be interested in Hollywood at this time. I suggest reading my blog article: "Guy Endore: Communism in the Motion Picture Industry and "The Hollywood Black Lists".
https://kinescopedreams.blogspot.com/2015/12/guy-endore-communism-in-motion-picture.html
In a BBC News story "End of a Love Story" on June 5, 2004 Nancy Reagan described her first meeting with her future husband as:
I don't know if it was exactly love at first sight, but it was pretty close
The actor though felt burned by his recent divorce and although he dated Nancy Davis he dated others as well. It would be three years until March 4, 1952 before the two would marry. Actress Brenda Marshall was Maid of Honor and Actor William Holden was Best Man.
Nancy and Ronald Reagan would have two children their daughter Patti born October 21, 1952 and Ron born May 20, 1958.
On December 2, 1949 the motion picture the "Hasty Heart" opened.
The picture based upon the play of the same names tells of a group of allied soliders during the war who are all in a mobile military hospital in Burma. It goes into their differences and opinions of each other and their respective countries.
Ronald Reagan's character is simply the "Yank" and Patricia Neal portrays a nurse "Sister Margaret Parker". All those differences disappear as the patients come together to lift up the spirits of Richard Todd's "Cpl. Lachlan 'Lachie' MacLachlan, the Scot". After finding out the irritating Scot is dying.
Todd was nominated for the Best Actor Oscar and the motion picture won two Golden Globes for "Most Promising Newcomer-Male" which was Todd. He actually had been in motion pictures since 1937 and this was his fourth film. However, in his first three roles the actor received no on screen credit and it was eleven years between the last of those three and this motion picture.
The reason was that Richard Todd became a Commando Captain in the British Army which he joined in 1941. For those of my readers who have seen Daryl F. Zanuck's "The Longest Day" about the Normandy Invasion. Todd played Major John Howard whose commando's fly into Normandy in gliders and was instructed to hold an important bridge against the German's until relieved. This was an interesting bit of casting as Richard Todd was the commander of the relief column for Howard shown in the film. Another actor played Todd.
In 1950 as President of SAG, a Union, and from his own personal point of view as a Democrat. Ronald Wilson Reagan verbally opposed the Republican's legislation to turn California into a Right-to-Work State. Reagan also supported his friend actress and California Senator Helen Gahagan Douglas wife of his good friend actor Melvin Douglas at the start of her re-election bid against Republican Richard M. Nixon. The campaign was very dirty and when it was over and Nixon had won. Helen Cahagan Douglas had been branded "the Pink Lady". A reference to her "Pink Underwear" created by the Nixon campaign to give the voters the impression she might be a "Red" Communist without really accusing her of it and facing a libel suit. While Helen Cahagan Douglas came up with a description of Richard M. Nixon he would go to his grave with. She libeled him during the campaign "Tricky Dicky".
However, like Jane Wyman, Nancy Davis was also a Republican and with her influence and the hearings he attended in front of the "House Committee On Un-American Activities" the actor was switching his political beliefs. The Democrat was now an anti-Communist Republican.
May 31, 1950 saw the release of a film entitled "Louisa".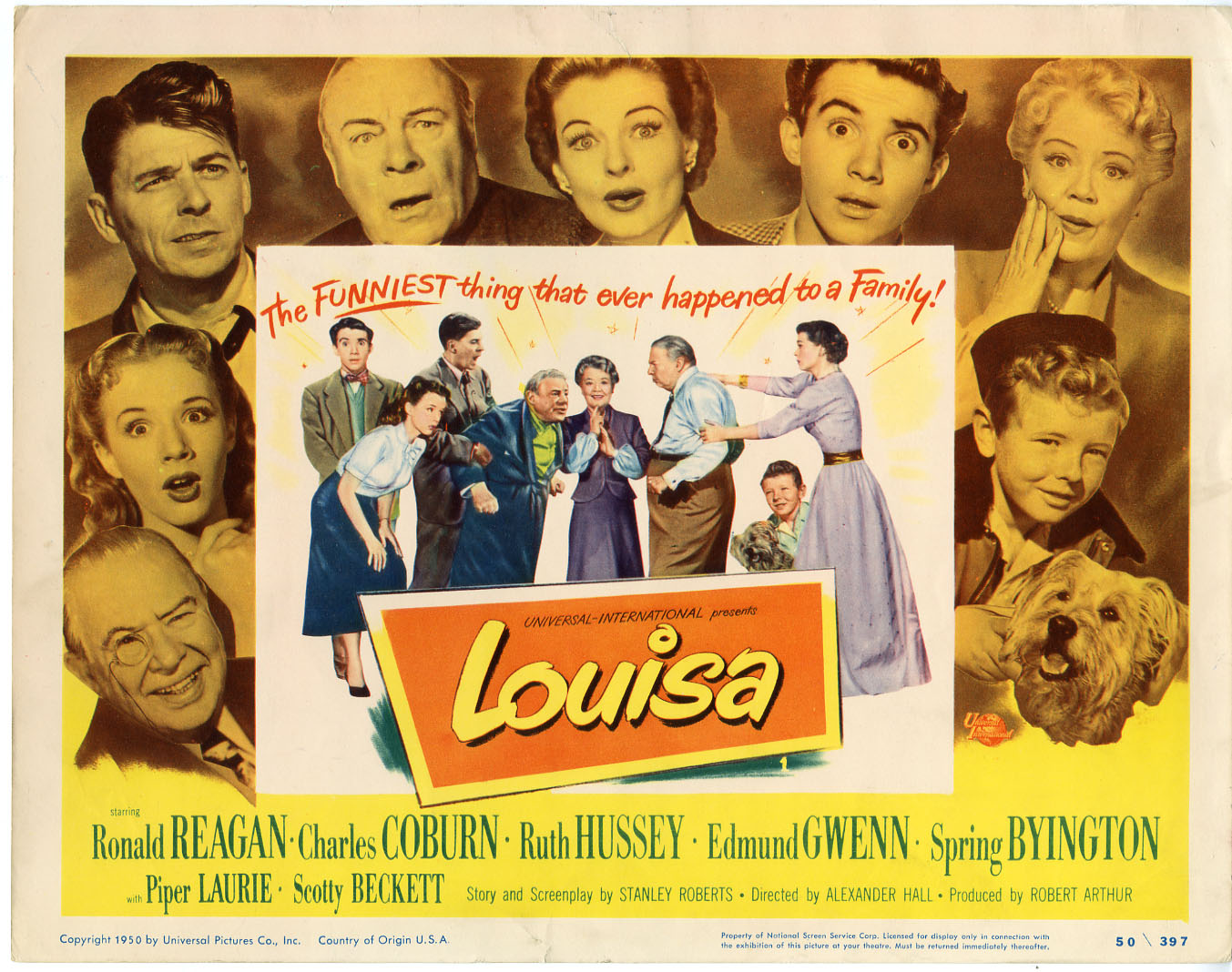 Much to the surprise of the family Grandma Louisa, Spring Byington, starts dating two mean played by Charles Coburn and Edmond Gwenn. Her grown son Hal, Ronald Reagan, is more than upset as one of the two men is his boss. The film also features Piper Laurie, Ruth Hussey and Jimmy Hunt as members of the family. Scott Beckett as Laurie's love interest.
On December 7, 1950 Ronald Wilson Reagan first appeared on television. The live program was part of the anthology/drama series "The Nash Airflyte Theater" at 10:30 PM Thursday nights on CBS. The series presentations were based upon works of major writers, In Ronald Reagan's case his first shot at television was Agatha Christie's "The Case of the Missing Lady", Reagan and a young actress named Cloris Leachman in her 10th television appearance played married detectives Tuppence and Jimmy Blunt. I don't know what caused it specifically, but Ronald Reagan became a vocal critic of television.
On February 10, 1951, Ronald Reagan starred as a District Attorney taking on the Klu Klux Klan over the murder of an uncover agent in a small southern town in "Storm Warning".
The movie stars Ginger Rodgers as the visiting older sister of Doris Day. The Rodgers part was supposed to be played by Lauren Bacall who turned the part down. Bacall was suspended from working by Warner Brothers over that refusal.
April 4, 1951, saw Ronald Reagan as an ex-Confederate Officer during the Civil War and Bruce Bennett as his brother an ex-Northern Officer in "The Last Outpost". Rhonda Fleming is the girl between them.
"The Last Outpost" was followed by a picture that is considered the most remembered of all of Ronald Reagan's movies. Released on April 5, 1951 was "Bedtime for Bonzo".
The future President of the United States played opposite a chimpanzee as a college professor attempting to solve the "nature versus nurture" theory of human behavior. The mention of "Francis" on the poster refers to the very popular at the time "Francis the Talking Mule" series with comedian/singer/dancer Donald O'Connor.
The film was a hit and a sequel "Bonzo Goes to College" came out, but without the original cast. The movie has had many references over the years and still does. Three found in music were the Ramones' "Bonzo Goes to Bitburg" and the Dead Kennedy's album "Bedtime for Democracy" which featured "Rambozo the Clown", Then in the Damned's fourth studio album, "Strawberries" was an unflattering song about Ronald Reagan "Bad Time for Bonzo". The MMORPG Video game "DC Universe Online" in the game "Gorilla Grood's Lab" the Flash quips "It's Bedtime for Bonzo" and the references go on and on.
With all the popularity and references to the film over the years. It wouldn't be until 1984 before Ronald Wilson Reagan ever saw the completed motion picture.
"Bedtime for Bonzo" was followed by a ten minute short Ronald Reagan narrated called "The Big Truth", but there is no online references as to what it was about. Next was the movie "Hong Kong". The release dates of the film indicate there must have been problems with the production, The only information I can find about the movie is that an adventurer, Reagan, is seeking a jeweled treasure from a theft, What it was I could not locate and in the end he is saved by a good women played by Rhonda Fleming.
As to those release dates on January 12, 1952 the picture had a premier in Seattle, Washington. Then it was either shelved, or re-edited until fourth months later on April 4, 1952. When it premiered once more in New York City and at some other later date was finally released for General Audiences. Another indication of the quality of this motion picture is that it is known mainly for being actor Stuart Whitman's non-screen credited first motion picture appearance.
"Hong Kong" was followed on June 20, 1952 with the motion picture "The Winning Team". The actor had second star billing. Even though he played the main character baseball player Grover Cleveland Alexander who had passed away two years earlier. The first billing went to Doris Day who had moved up in popularity as an actress since "Storm Warning" with the American public.
In typical Hollywood biographical fiction the website IMDb describes "The Winning Team", referring to Cleveland and his wife and not a baseball team, as:
Poor health and alcoholism force Grover Cleveland Alexander out of baseball, but through his wife's faithful efforts, he gets a chance for a comeback and redemption.
Ronald Reagan the actor who had openly criticized television saw his motion picture career spinning slowly downward in forgetful films and now turned to that medium for more work. Although he would appear in some feature films as he made this transition.
The actors first television appearance was on the series "Hollywood Opening Night" with something called "The Priceless Gift" on December 29, 1952. This was followed by two also forgotten motion pictures. On January 14, 1953 Ronald Reagan was saving Rhonda Fleming's banana plantation in the "Tropic Zone".
To indicate the quality of the few motion pictures Ronald Wilson Reagan was now appearing in. On September 15, 1980 "People" Magazine ran an article in which the actor described "Tropic Zone" as a:
sand and banana picture with a hopeless script
On May 13, 1953 a Western starring Ronald Reagan and Dorothy Malone was released by Universal Studios. With apologies to Wyatt Earp this picture had Marshall Frame Johnson, Reagan, arrive in Cottonwood Arizona after having cleaned up Tombstone.
Now the actor's television performances started in earnest with an appearance on July 18, 1953 in "A Job for Jimmy Valentine" on "Medallion Theater". From that date into 1954 Ronald Reagan was seen on America's television sets in:
An episode of "The George Burns and Gracie Allen Show"
An episode of "The Revlon Mirror Theater"
Two programs for "Lux Video Theater" and
Three programs on the "Schlitz Theater"
On May 4, 1954 the actor appeared in a movie about a volunteer who parachutes into North Korea to be taken prisoner so he can investigate rumored conditions in North Korean POW camps. This obvious piece of propaganda was called "Prisoner of War".
"Prisoner of War" was followed by the actor's third appearance on "The Ford Television Theater". Ronald Reagan's last appearance of the year was on November 18th. The actor was back in the saddle again opposite Barbara Stanwyck as the "Cattle Queen of Montana".
When Sierra Nevada, Stanwyick, and her father move from Texas to Montana, She meets a stranger, Reagan, who may, or may not be involved with the cattle rustling going on.
On December 12, 1954 Ronald Wilson Reagan first appeared in an episode of "General Electric Theater". That point is of importance to this article, but what makes it even more interesting is one of the other actors in "The Dark,.Dark Hours" was a young man named James Dean.
This is a link to John Meroeny's article on that program with a condensed video clip of the two actors.
http://www.theatlantic.com/entertainment/archive/2010/04/ronald-reagan-and-james-dean-rare-video-from-1954/39238/
Over the next eight years the actor would be seen in 30 of the programs productions as an actor. However, starting in 1954 the man who was critical of television, because the "Host" of the program and every week was in the front living rooms of American Homes. His salary averaged approximately $125,000 dollars a year from General Electric. In 2016 dollars that average would be $1,100,910 dollars. Ronald Reagan's contract with G.E. required that the actor tour their plants 16 weeks out of the year and give an average of 14 speeches a day.
Released on September 25, 1955 was "Tennessee's Partner" loosely based upon Western novelist Brete Harte's story. Although Reagan had second billing the picture is considered a John Payne Western.
The only thing that really came from this movie was it inspired one of the major hits of the singing group "The Four Seasons", In a scene between John Payne and Rhonda Fleming she tells him: "BIG GIRLS DON'T CRY!"
Motion Picture Actor Ronald Wilson Reagan had only one feature film role opposite his wife Nancy Davis. A role he thought would jump start his movie career. Released in May of 1957 the film is "Hellcats of the Navy".
On December 31, 1943 Gary Grant and John Garfield were in a classic submarine picture "Destination Tokyo" from Ronald Reagan's old studio Warner Brothers. The actor hoped "Hellcats of the Navy" with a similar premise would be its equal. However, even with an on screen endorsement by Fleet Admiral Chester W. Nimitz it wasn't. Ronald Reagan said in his autobiography how disappointed he was based upon his expectations at the time of being cast.
The main reason for the movies failure was it came from Columbia Pictures, Which at the time was under the last year of the studio's founder "King" Harry Cohn's life, Cohn was always looking for ways to make low budget films. So his potential for profits were high, He taught 1950's/1960's Science Fiction/Horror producer Sam Katzman his trade. Along with director William Castle.
Assigned to Cohn's budget for ":Hellcats of the Navy" was Charles H. Schneer which was actually in Ronald Reagan's favor. Schneer had already teamed up with Stop Motion/Special Effects Great Ray Harryhausen for "It Came from Beneath the Sea" and "Earth vs the Flying Saucers" for Columbia Pictures. The two would release for that studio both "20 Million Miles to Earth" and "The 7th Voyage of Sinbad" in 1958 the year after the Reagan film.
Although "Destination Tokyo" had as its director Delmer Davis. Who had recently directed Jimmy Stewart and Jeff Chandler in the classic Western "Broken Arrow", Victor Mature and an all star cast in "Demetrius and the Gladiators" the sequel to the first CinemaScope movie "The Robe". Plus the original "3:10 to Yuma" with Glenn Ford and Van Heffin. Cohn went to his directors pool and assigned Nathan Juran to direct Reagan's picture.
For the actor this actually was another lucky choice. Juran was a solid action director who would direct "20 Million Miles to Earth", "The 7th Voyage of Sinbad" and "First Men in the Moon" for Schneer and Harryhausen. He already had directed the overlooked classic Boris Karloff, Richard Greene horror film "The Black Castle" and several major television programs. Juran would also direct the movies "Jack the Giant Killer", "The Deadly Mantis" and as Nathan Hertz the two 1950's science fiction cult classics "The Attack of the 50 Foot Women" and "The Brain from Planet Arous".
So in all the actor was in really good hands, but even good hands couldn't overcome the lack of a budget and what film critic Glenn Erickson of "DVD Talk" and other called a "cornball script".
My reader should in all fairness to the actor expectations know of just four of the World War 2 movies that came out that same year against "Hellcats of the Navy". There was the future Best Picture "The Bridge on the River Kwai", two with Robert Mitchum "The Enemy Below" with Curt Jurgens and "Heaven Knows Mr. Allison" with Debra Kerr. Plus John Wayne and Maureen O'Hara in "The Wings of Eagles"
The whole premise once you remove the love scenes for "Hellcats of the Navy" is that Ronald Reagan commands a submarine with second in command Arthur Franz, Their assignment is to chart the minefields off Japan so an invasion of the island can take place. Perhaps that was a big difference in the minds of the audience who knew no such event took place. Whereas the attacks on convoys in "Destination Tokyo", or the cat and mouse games between Robert Mitchum's destroyer and Curt Jurgen's German submarine did.
The movie is interesting strictly from an historical point of view. As it is the only feature film that Nancy Reagan ever appeared in with her husband and does well still in DVD sales and the ocassion late night television appearance.
It should noted that the two did appear from time to time on television programs. One of those TV appearances occurred on the "General Electric Theater" he hosted at the time. Although he was not in the November 23, 1958 episode Nancy "Davis" was and it had an interesting title "A Turkey for the President". I can tell my reader that Ward Bond starred, but although I can find the cast listing. I could not locate any plot, or character names.
On January 18, 1960 Ronald Reagan appeared in "The Way Home" on "The DuPont Show with June Allison". Like Reagan Allison hosted the series and appeared in some of the episodes. June Allison became the third women to Host an anthology program. The first was Loretta Young and the second the ex-Mrs. Ronald Reagan, Jane Wyman. Of note also is that Wyman appeared on "General Electric Theater" the episode was "Amelia" on January 2, 1955, This was her first television appearance.
In 1961 the actor would appear in an episode of "The Zane Grey Theater" and one on the "Dick Powell Theater". His voice would be herd as the narrator of the motion picture "The Young Doctors" released December 1, 1961.
As I mentioned Ronald Wilson Reagan ended his working relationship with General Electric in 1962 and his next television appearance was in "The Fort Pierce Story" September 23, 1963 on "Wagon Train". He followed that by narrating a short entitled the "Heritage of Splendor" Of all companies this short was by Richfield Oil and was about protecting the environment.
On June 4,1964 the actor played Judge Howard R. Stimming in "A Cruel and Unusual Night" on the "Kraft Mystery Theater". Where the Judge is held prisoner by an escaped man he sent to prison.
July 7, 1964 Ronald Reagan appeared in his last motion picture and one that really shocked his audiences. He played gangster Jack Browning in director Don Siegel's adaptation of Ernest Hemmingway's "The Killers" starring Lee Marvin and Angie Dickinson.
Ronald Reagan may have had fifth billing, but it was a terrific part and perhaps one of his finest, in my opinion, roles. The plot is simple. Two hit man enter a school for the blind and find their mark calmly waiting for them at a desk. After shooting them the two "Killers" start questioning why he would just wait to be killed and who actually hired them. So search begins for the answers/
According to Kirk Douglas in his autobiography "The Rag Man's Son". His friend Ronald Reagan regretted doing this movie especially as he had to slap Angie Dickinson.
The final acting roles for Ronald Wilson Reagan happened while he was the Host of "Death Valley Days". There are 452 episodes of the series that started out with Stanley Andrews as "The Old Ranger" hosting the program from the first episode on March 1, 1952 into 1965.
Andrews who became ill was replaced by Ronald Reagan who hosted the program into 1966, When his friend Robert Taylor took over as did the "Political Animal" and a run for the Governorship of California started..