GERALD MOHR was said to have a certain resemblance to HUMPHREY BOGART in his later years and people would approach him thinking he was "Bogie". Between 1939 and 1969 the character actor portrayed 185 different roles and some multiple times. He appeared in almost every possible movie and television genre and two cult 1950's science fiction films and one cult horror picture. He also provided the original animated voice to "Dr. Reed Richards" of "The Fantastic 4" and the original animated voice of the "Green Lantern". This is a look at some of this forgotten actors work.
Above Gerald Mohr and below Humphrey Bogart
Mohr was born in Manhattan, New York on June 11, 1914. He had a talent for languages and by the time Gerald Mohr had graduated from Dwight Preparatory School in that city. He was fluent in both French and German. In 1964 living in Sweden was his second wife, Swedish Actress Mai Dietrich,. the actor became fluent in Swedish.
While at Columbia University Mohr was studying to become a doctor, but had an appendicitis and found himself in a hospital. While recovering another patient, a radio announcer, heard Mohr's baritone voice and, as the story is told, suggested he enter radio instead of medicine.
RADIO
Gerald Mohr became the youngest Radio Reporter for CBS sometime after his hospitalization. By the mid-1930's Orson Wells invited the young actor to join his
"Mercury Theatre of the Air"
and Gerald Mohr started to refine his acting craft.
In 1935 he co-starred on the children's radio show
"Anne of the Airlanes".
The opening for each program was:
Over Valley and Mountain, River and Plain, through Wind and Storm...rides Anne of the Airlanes.
In 1938 Gerald Mohr took over the role of
"Jungle Jim"
on the adventure series based upon the newspaper comic strip. Another popular radio show,
"The Shadow of Fu Manchu",
found Mohr as both narrator and in small roles.
Motion Picture actors Robert Montgomery, Dick Powell and Humphrey Bogart had already portrayed Raymond Chandler's "Phillip Marlowe" in three classic motion pictures. On radio the role was originally voiced by Van Heflin from June 17, 1947 to September 9, 1947. When the program returned to the airwaves. The role of Gumshoe Detective "Marlowe" was portrayed by "Gerry" Mohr between September 26, 1948 and September 15, 1951.
For those interested a closer look at Gerald Mohr's radio work. My reader can find that on the website
"Old Time Radio"
at:
http://www.geraldmohr.com/radio-old-time-radio.html
MOTION PICTURES
A Look at Some of Gerald Mohr's Work Prior to His World War 2 Service
Gerald Mohr's first six motion pictures started with Preston Foster's 1939
"Society Smugglers"
released March 1, 1939. He had the non on screen credited role of a "Footman". Another of those six roles was that of "Dr. Zodiac" in
"Charlie Chan on Treasure Island".
The picture was
released September 8, 1939 and while Mohrn may not have gotten on screen credit. His make-up was great .
On August 31,1940 Errol Flynn starred in the last of Mohr's non on screen credited films
"The Sea Hawk".
On June 20, 1941 Gerald Mohr received his first on screen credited role. He portrayed both the guard at the main entrance to the new "Walt Disney Studio" in Burbank, California and voiced the narrator in the animated story
"Baby Weems".
Which was part of
the overall Walt Disney title
"The Reluctant Dragon".
A combination of black and white live action to show off the studio and four technicolor animated stories. Besides Gerald Mohr the film had another new actor named Alan Ladd playing a Disney animator.
Gerald Moht's next film
"The Monster and the Girl"
gave him 10th billing as "Munn" a gangster. This low "B" thriller from Paramount Pictures, released February 28, 1941, is interesting for the cast besides Mohr. It included Ellen Drew, Val Lewton's 1945
"Isle of the Dead"
, Robert Paige, Lon Chaney's 1943
"Son of Dracula",
Paul Lukas, Walt Disney's 1954
"20,000 Leagues Under the Sea",
George Zucco, "Professor Moriarty" in the Rathbone/Bruce 1939
"The Adventures of Sherlock Holmes"
and 1950's "B" Cowboy star Rod Cameron. The plot was about a prostitute played by Drew. Having her brother's, Philip Terry,brain placed in a gorilla and then seeking revenge.
On March 28, 1941 thousands heard Gerald Mohr's voice, but didn't know it. Republic Pictures released the first chapter of their serial
"Adventures of Captain Marvel".
The audience knew that the villain was called "The Scorpion" and that he was one of the original scientific team that found the Golden Scorpion, but which one?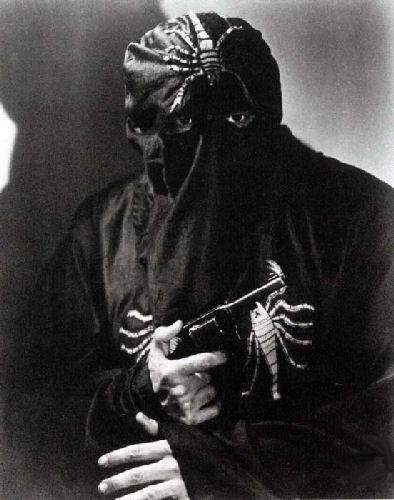 To mislead the audience. The voice of "The Scorpion" was disguised by having Gerald Mohr speak the lines instead of the actual actor.
On June 21, 1941 the audiences saw Gerald Mohr as the villain "Slick Latimer" in the 15 Chapter serial
"Jungle Girl".
Republic Pictures borrowed actress Francis Gifford for the title role of "Nyoka Meredith" from Paramount Pictures. Actor Tom Neal was the hero "Jack Stanton".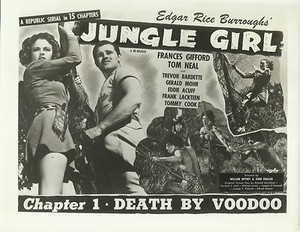 Note that the above lobby card states
"Jungle Girl"
was by Edgar Rice Burroughs. Republic Pictures acquired the rights to the Burroughs novel, but only kept the title. There was no character name "Nyoka" and let alone a female "Tarzan". The novel took place in Asia and was about an Asian Princess and not a White Women living in Africa.
January 24, 1942 found Gerald Mohr in the Ray Milland and Paulette Goddard
"The Lady Has Plans".
Mohr was 13th billed in a role he would play many times, a gangster, named "Joe Scalsi".Next only his voice was heard over the radio in the Spencer Tracy and Katherine Hepburn
"Women of the Year"
released in February 1942.
Although Gerald Mohr was billed, once again, 13th as "Harry Cooper".
"One Dangerous Night",
released January 22, 1943 and starring Warren William, as "Michael Lanyard" aka: "The Lone Wolf", a retired jewel thief turned detective, is important. As Mohr would take over the role in 1946 after he returned from three years in the Army Air Force.
Below Gerald Mohr as "Harry Cooper" is surrounded by three lovely ladies. Actress Mona Barrie as "Jane Merrick" to his left, Marguerite Chapman as "Eve Andrews" to his right and standing Tala Birell as "Sonia Budenny".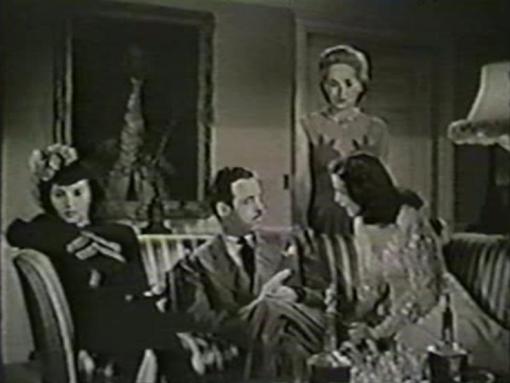 Below Mohr and Birell in the doorway.
On April 3,1943 saw Gerald Mohr's first "B" Western sort of. The motion picture was
"King of the Cowboys"
and starred Roy Rodgers and Trigger. During World War 2 a group of saboteurs are blowing up government warehouses and undercover agent Roy Rodgers is out to stop them.
In this modern day Western picture. Gerald Mohr was "Maurice, the Mental Marvel".
Directed by William "Wild Bill" Wellman was
"Lady of Burlesque".
This fun picture was based on the novel
"The G-String Murders"
by Gypsy Rose Lee and released May 1, 1943.
The movie starred Barbara Stanwyck and Michael O'Shea. Mohr was 17th billed as gangster "Louie Grindero". Also in the movie was actual burlesque comedian "Pinky Lee". Who went on to have a popular children's show while I was growing up and became the idol of future comedian "Pee-wee Herman".
On September 13, 1943 was the last feature film prior to Gerald Mohr entering the Army Air Force. The operatic musical
"The Desert Song"
starred Dennis Morgan, Irene Manning and Bruce Cabot. Mohr portrayed a character named ""Hassan" without on screen credit.
After World War 2
Mohr returned to Republic Studios in the role of "Eddy Quiillan", The feature was called
"A Guy Could Change"
released on January 27, 1946.
The plot is convoluted and starts with newspaper man "Mike Hogan's", Allan Lane, wife dying in childbirth. This leaves "Mike" with a daughter to raise and he has no idea how to do this. "Mike" arranges for his daughter to live with his sister and her husband.
Later "Mike" falls in love with "Barbara Adams", Jane Franzee. As their romance is progressing "Eddy Quillan" is released from prison. "Barbara" had observed a robbery and was the sole reason "Quillan" was convicted. At the climax "Quillan" shows up with the intent of killing "Barbara", but when the police arrive is killed. "Mike" marries "Barbara" and with his daughter become a family.
For his next motion picture Gerald Mohr was the title character of
"The Notorious Lone Wolfe".
The picture was released February 14, 1946.
Another non screen credited role and then Mohr was "Captain Delgado" in the Rita Hayworth, Glenn Ford and George Macready film
"Gilda"
released April 25, 1946.
On April 20, 1946 Gerald Mohr was "Inspector Severen" tracking down
"The Catman of Paris".
Two more forgotten Republic Pictures films and on June 20, 1946 Gerald Mohr co-stared with Forest Tucker and Lynn Merrick in
"Dangerous Business".
Tucker and Merrick are two lawyers who run afoul of a gangster played by Mohr. This was a comedy drama.
On January 16, 1947 Gerald Mohr was back as "Michael Lanyard" in
"The Lone Wolf In Mexico"
and on November 13, 1947 "Michael Lanyard" was now
"The Lone Wolf in London".
Above Gerald Mohr as "Michael Lanyard" and Evelyn Ankers as "Iris Chatham" in
"The Lone Wolf in London".
Fans of Universal Pictures' horror movies recognized Ankers from 1941's
"The Wolfman",
1942's
"The Ghost of Frankenstein"
and 1943's
"Son of Dracula"
and
"The Mad Ghoul".

In the still above standing between Ankers and Mohr is Alan Napier as "Monte Beresford". Napier would have over 168 roles to his credit, but he is best remembered portraying "Alfred" on television's
"Batman"
from 1966 into 1968.
On September 1, 1949, Gerald Mohr entered television, although only his voice was heard. He was the narrator of Episode One, Season One of
"The Lone Ranger".
Mohr would do the narration of the show through January 12, 1950. That was the last program with narration and the series would continue for another 203 episodes.
Of Mohr's next six feature films. Only four saw him on screen and his voice is heard narrating two. Also during this period Mohr was starting to really transition to television.He appeared with unknowns Anne Bancroft and John Forsythe in a live production of "
"The Golden Mouth"
on
"The Ford Theatre Hour"
February 23, 1951.He followed that live production with another, April 4, 1951, entitled
"Pearls from Paris"
on
"Stars Over Hollywood".
This production
featured another unknown actor named Raymond Burr.
The setting of the feature is 1925 Damascus. Humphrey Bogart is gun runner "Harry Smith" during a Syrian guerrilla war against the French occupiers of Syria.
In the picture 5th billed Gerald Mohr was "Major Leon". Below one of those rare stills with Bogart and Mohr and a small bit of that resemblance showing.
Below a chess game between "Bogie" and "Gerry" on the film's set. Lee J. Cobb and Marta Toren watch. Humphrey Bogart was an avid chess player and while attempting to find roles in plays. He spent many a day making money in central park in such games.
On November 6, 1951 Gerald Mohr was "Tami Giacopetti" in director William Wyler's Academy Award winning
"The Detective Story"
starring Kirk Douglas and Eleanor Parker.
This is a hard hitting, even for today, story of a group of Detectives tracking down an abortionist in New York City. Women are dying from his operations and "Detective Jim McLeod", Kirk Douglas, gets in over his head as the case becomes personal. When it comes out that his wife "Mary", Eleanor Parker, had once been pregnant by Racketeer ""Tami Giacopetti" and had an abortion by the doctor in question "Karl Schneider", George Macready.
"Detective Story"
was followed by the Burt Lancaster
"Ten Tall Men",
released October 26, 1951, and co-starring Gilbert Roland and Kieron Moore. This time Gerald Mohr was "Kayeed Hussein".
Above Mohr as the "Riff" leader "Hussein" and below with actress Jody Lawrence. Lawrence was a "B" actress who starred in two other 1951 films. They were
"The Son of Dr. Jekyll"
and
"John Smith and Pocahontas".
She was "Pocahontas" in that second feature and in the French Foreign Legion
"Ten Tall Men"
her role was that of "Mahia".
That radio voice became a narrator in one forgotten motion picture and a rodeo announcer in an episode of television's popular
"Sky King".
Released on May 9, 1952 was the Film Noir
"The Sniper".
Arthur Franz was "Edward 'Eddie' Miller", Adolphe Menjou was Police Lieutenant "Frank Kafka" and 3rd billed Gerald Mohr was Police "Sergeant Joe Ferris". "Ferris" is on the trail of "Miller".who has problems with women and starts killing them on the streets of New York.
Then back to being a narrator for a Western and then a role in another Western "The Duel at Silver Creek". This better than average "B" stared Audie Murphy, John Huston's 1951 "The Red Badge of Courage" and his biography 1955's "To Hell and Back", and Faith Domergue, 1955's "This Island Earth", "Cult of the Cobra", "It Came from Beneath the Sea" and "The Atomic Man", as "Opal Lacy". 5th billed Gerald Mohr was "Rod Lacy" the brother of "Opal". Stephen McNalley is the town sheriff. Who makes an uneasy alliance with "The Silver Kid", Murphy, against a group of claim jumpers led by Domergue. Susan Cabot, Roger Corman's "The Wasp Women" and "War of the Satellites", is the girl Murphy loves. The movie was directed by pre-"Invasion of the Body Snatchers" Don Siegel and has Lee Marvin in one of his early roles.






Next it was a trip to the Arabian Nights with Tony Curtis as the
"Son of Ali Baba".
Mohr was "Captain Youssef" of the palace guards.
Above on the far right is Gerald Mohr as "Captain Youssef" and on the left are William Reynolds, the original 1960's television series
"The FBI",
as "Mustapha" and Susan Cabot as "Sybil".
Boxing movies were big during the 1950's. OIn September 26, 1952 the independent King Brothers Production's not only released a boxing feature, but tackled being an Mexican American in the United States at the time.
Gerald Mohr starred in this "B" film as "Pete" the manager of young boxer "Tommy", Lalo Rios. This was also a very early film for Rita Moreno. She would go on to win the 1961 Academy Award for Best Supporting Actress in the musical
"West Side Story".
On November 13, 1952 Mohr appeared in an episode of the popular television program
"The George Burns and Gracie Allen Show".
Then came the first of the actor's two cult science fiction motion pictures.
For a "B" picture the cast of
'INVASION U.S.A."
was somewhat impressive for the time.
This was a Cold War Era feature released on a double bill with a low budget look at what the United States would be like decades after the atomic war Americans were fearful of in the first years of the Cold War.
I had just turned six years old when
"Invasion U.S.A."
was released on December 10, 1952. At my elementary school we had daily drop and cover drills. There were daily air raid siren tests in Los Angeles and television had anti-Soviet Union programs like
"I Led 3 Lives"
starring Richard Carlson. Communist Russia was mentioned almost daily on local television news programs and in newspapers. Americans were so tightly wound in those first Cold War years that even a "B" motion picture bringing our fears to life could:
Scare the Pants Off You
The movie starts out at a New York City bar with six strangers enjoying their drinks and a bar tender preparing them. They are:
Television newscaster "Vince Potter" portrayed by Gerald Mohr.
New York Society women "Carla Sanford" portrayed by Peggie Castle. Castle is best remembered for Bert I. Gordon's 1957
"Beginning of the End".
My article on Peggie Castle, Allison Hayes and Gloria Talbott may be read at:
http://www.bewaretheblog.com/2015/04/peggie-castle-allison-hayes-and-gloria.html
The brooding "Mr.Ohman" was portrayed by Dan O'Herlihy. O'Herlihy would be seen in the excellent 1954
"Robinson Crusoe",
1960's
"The Night Fighters"
with Robert Mitchum and was "Marshall Michel Ney" in 1970's outstanding
"Waterloo"
starring Rod Steiger as "Napoleon" and Christoper Plummer as the "Duke of Wellington". O'Herlihy is known to science fiction fans as "Grig" in 1984's
"The Last Starfighter"
and appeared in the first two
"RoboCop"
movies as the head of the company.
Wade Croisby was "Illinois Congressman Arthur V. Harroway". The character actor was mostly seen on television and appeared, without on screen credit, in 1973's
"Westworld",
1974's
"Airport 1975"
and 1975's
"The Hindenberg"
Robert Bice was "Industrialist George Sylvester". Bice became a familiar face, without on screen credit, in many a television Western and Detective series.
Eric Blythe was Arizona Rancher "Ed Mulfory". This was his only film.
Tom Kennedy was "Tim the Bar Tender". Kennedy has been acting since 1915 and was a familiar character actor in many films and had been the comic relief in the "Torchy Blane" 1930's film series.
Meanwhile, this representative American group starts discussing the general situation in the United States. When suddenly there is a news report.
Below everyone but Dan O'Herlihy are seen looking at the television screen. When the word of approaching enemy planes crossing the dew line is reported..
Next, the group hears that enemy paratroopers have taken the military base at Seal Point, Alaska. Then word that Nome has been taken over and there are unconfirmed reports of Atomic Bombs being dropped on Air Force Bases. As the conquest of the United States starts and the group, in some panic, disbands and leaves the bar.
Newscaster "Potter" goes to his television station to start broadcasting and socialite "Sanford" starts organizing her friends into a major blood drive.
Below Rancher "Mulfory" and Industrialist "Sylvester" share a cab after flying from New York to San Francisco. The enemy starts dropping conventional bombs on the city. As the cab pulls up to the curb at "Sylvester's" business headquarters. The two men and the cab driver run inside and watch the bombing. "Sylvester" says he will remain in San Francisco and dies there. "Mulfory" hires the cab to actually drive him to his ranch in Arizona.
Strategic cities are now seen as targets for the unnamed enemy's Atomic Bombs. San Francisco becomes one of those targets.
"Ed Mulfory" and the Cab Driver make it to his Arizona Ranch and pick up his wife played by Phyllis Coates, the future television "Lois Lane", and their son.
"Invasion U.S.A."
contained an earlier
"Superman"
reference with a New York Airport Ticket Taker portrayed by the original "Lois Lane" Noel Neil.
The cab and its occupants appear to be getting away safely. When, in Nevada, the cab is buried under tons of water as a nuclear missile hits Boulder Dam.
Soldiers dressed like American troops attack Washington, D.C. killing "Senator Harroway" and others. As one by one those in the bar are killed.
Below enemy soldiers dressed as Americans have taken "Vince Potter" and "Carla Sanford" prisoner in her hotel room,
"Vince" is taken to his television station and told what propaganda he is now expected to report. While broadcasting he starts to tell the truth and is stopped, taken out, and executed. Meanwhile, "Carla" alone with the soldiers starts to feel uneasy. As one starts toward her she manages to elude him, makes for the balcony, and jumps off.
As "Carla" falls to her apparent death. The picture starts to swirl and her body appears in a brandy glass being held by "Mr. Ohman". Everyone is back in "Tim's" bar and alive. Each remembers hypnotist "Ohman" starting to swirl his brandy glass just before the first enemy attack was reported. "Mr. Ohman" tells them he was listening to their fears and wanted each to experience how lucky they are to be living in the United States and not the enemies. "Potter" and "Sanford" rekindle their romance and the others leave.
Yes, this motion picture got the
"The Mystery Theatre 3000"
treatment, but for years it was used at Colleges around the country in two specific fields. One was in American History discussing the Cold War Period as a perfect example of "America's First Red Scare". The second was in psychology departments for the same purpose.
Next Gerald Mohr was narrating the first
"Lone Ranger"
motion picture actually put together from some of the television shows. Then he was a guest on
"I Love Lucy"
followed by another forgotten motion picture. That followed by the role of a Spanish Pirate in
"Raiders of the Seven Seas"
starring Donna Reed and John Payne released May 27, 1953.
Below, Mohr as "Captain Jose Salcedo", with John Payne as "Barbarossa".
On January 27, 1954 Gerald Mohr was back in the Army Air Force in the Korean War motion picture
"Dragonfly Squadron".
Not only was this one of the few Korean War films being made by Hollywood, but it was shot in 3-D. However, the process wasn't doing well only 14 months after the first 3-D picture
"Bwana Devil"
starring Robert Stack. So Mohr's film was released in 2-D. My article on those first 3-D films, the article partly in 3-D, can be read at:
http://www.bewaretheblog.com/2015/08/third-dimension-golden-age-of-3-d.html
In the
"Dragonfly Squadron",
Gerald Mohr was "Captain MacIntyre". The basic plot has a Korean War combat veteran sent to train South Korean pilots for their first mission.
Gerald Mohr now started guest appearances on the growing medium of television and became a major known face, if not a name..The actor appeared on ten different television shows from 1954 into 1957. They included his third appearance, since 1952, on "My Friend Irma" and the series "Foreign Intrigue"..
The Sheldon Reynold's series
"Foreign Intrigue" was
filmed in Europe and ran for four seasons and 156 episodes, However, there were three different leads in this espionage drama. Season One and Two had Jerome Thor" as "Robert Cannon", Season Three had James Daly as "Michael Powers" and Season Four had Gerald Mohr as "Christopher Stone".
When the show went into syndication
"Foreign Intrigue"
now became three different programs. Seasons One and Two became
"Date Line Europe",
Season Three became
"Overseas Adventure"
and Season Four
"Cross Current".
Which consisted of 40 of the 156 episodes of the original title.
Mohr appeared twice on
"The Loretta Young Show"
and was seen in an episode of the forgotten 1955
"It's Always Jam"
and the May 3, 1956
"The Empty Room Blues"
on the anthology series
"Climax".
That live broadcast starred Hollywood actress Celeste Holm.
Next came
"The Thing From Another World In A Mini Skirt".
Actually
"Deep Freeze"
on the television anthology
"Warner Brother Presents"
May 8, 1956. An arctic expedition consisting of Gerald Mohr, Charles Bronson and Jon Sheppord discover a space craft and a alien women played by Allison Hayes. She proceeds to kill them off. Unfortunately no detailed plot line, or photos exist.
Gerald Mohr went Western in the 8th episode of Season One of the
"Zane Grey Theatre". "A Quiet Sunday in San Ardo",
premiered November 23, 1956, with the actor as the outlaw leader, "Veringo", planning a bank robbery. He kills the town marshal as the only man who will stand up to his gang. After a meeting the townspeople want the reluctant "Clay Burnett", Wendell Corey, to take the job of town marshal. Then there's the girl "Burnett" loves,"Jennie", portrayed by Peggie Castle. Harry Lauter, the deputy sheriff in Ray Harryhausen's
"It Came from Beneath the Sea",
played "Maurie" one of Mohr's gun hands.
Mohr's voice was heard as the narrator for the 1957 science fiction motion picture
"The Night the World Exploded"
starring Kathryn Grant,
"The 7th Voyage of Sinbad",
and Trstram Coffin, the 1949 Republic Pictures serial
"King of the Rocket Men".
The following month 3rd billed Gerald Mohr was another Western bad guy named "Slinger". The motion picture was
"The Buckskin Lady"
starring Patricia Medina,
"The Beast of Hollow Mountain"
and the wicked queen in
"Snow White and the Three Stooges",
and Richard Denning.
"The Creature from the Black Lagoon"
and Roger Corman's
"The Day the World Ended".
Below Gerald Mohr's "Slinger" meets Richard Denning's "Dr. Bruce Merritt".
Besides "B" Western motion pictures. Gerald Mohr was showing up as the bad guy on television Westerns. Call it type casting, but it was work. On January 7, 1958 it was
"The Californians",
on April 30th it was
"Tombstone Territory"
with the title role in
"Doc Holliday in Durango".
"Doc" was a role he would repeat in several of the Warner Brother Western Series of the 1950's and 1960's. Type casting that got many a viewer to know what was coming from the actor. Below he is "Holliday" in an episode of James Gardner's
"Maverick"
from Warner Brothers.
Five more television appearances including on
"Wanted Dead or Alive"
and Gerald Mohr found himself in that horror-thriller cult movie. Depending on when, and where you saw it. The feature was either called
"Terror in the Haunted House",
which was title I saw the film under, or the more catchy
"My World Dies Screaming".
Both titles
released December 25, 1958.
The future gimmick king William Castle had only released
"Macabre".
When Gerald Mohr was seen in:
PSYCHORAMA!
Mohr portrayed "Philip Justin".
Kathy O'Donnell plays his wife "Sheila". O'Donnell was a promising actress that went nowhere. She had 6th billing in director William Wyler's 1946 Oscar winner
"The Best Years of Our Lives",
was the lead opposite Farley Granfer in Nicholas Ray's 1948
"They Live By Night"
and was 5th billed in the Greer Garson and Walter Pidgeon 1950
"The Miniver Story".
Then her promising motion picture career nosed dived and O'Donnell ended up almost strictly on television for the next 14 years.
On the above lobby card, left to right, are Carthy O'Donnel, Gerald Mohr and John Quialen as "Joah Snell".
So what was
"Psycho Rama"
aka:
"The Precon Process"
? It was a means of communicating filmed subliminal information by flashing it at so high a speed that the naked eye doesn't see it, but a person's brain does. The process was designed to cause a person to react to the unseen images intent. In the case of this
"My World Dies Screaming".
Those images were a "Skull for Terror", a "Snake for Hate", "Two Hearts for Love" and "Large Letters Spelling Out Blood".
The movie starts in Lausanne Switzerland. "Sheila Wayne Justin" is seeing a psychiatrist about her life long nightmares of a deserted house with the name "Tierney" on the mailbox. In her nightmare "Sheila" has an over-welling compulsion to enter the house. She enters and sees a flight of stairs. Next "Sheila" walks up them and approaches a small door. Her hand reaches out to open it. Then, before "Sheila" sees what's behind the door wakes up screaming. "Sheila" also tells the psychiatrist that as a child she was sent to a Swiss Asylum to take care of her tuberculous.
"Sheila" adds that her recent and very happy marriage to American "Phillip Justin" has had no effect on stopping the nightmare. "Phillip" now suggests that they go back to America and his family house that has been passed down to him in Louisiana.
"Phillip's" inherited family house is the one in "Sheila's" nightmare.
She finds the "Tierney" family bible and discovers that the family patriarch and two of his sons died on the same day. One son was "Philip's" father and "Philip" was supposedly away on the day of the deaths. "Sheila" next notices that one of her husband's bags has the initial "PT" and not "PJ" for "Phillip Justin".He confesses that he is really "Philip Tierney" and the last of the family. He also tells "Sheila" she never had tuberculous, but was sent to that Swiss Asylum for a nervous breakdown at the age of seven.
"Jonah Snell" tells the two about the curse of the "Tierney" Family. That every so often one member goes insane and the last was "Philip's" aunt. Later "Jonah's" brother "Mark" reveals to "Sheila" that he and "Jonah" are actually "Philip's" cousins. He is concerned for her as "Mark" believes her husband may be insane.
Of course "Sheila" has found that small door of her nightmare and goes up into the attic. This now leads to the climax.
The viewer now confirms that "Mark" had complete control of the property, because nobody knew what happened to "Phillip". However, with his return "Mark" no longer has legal possession. When "Jonah" wanted to tell "Phillip" the truth about the murders of his father, uncle and grandfather. "Mark" murders his brother to protect the fact that the brothers are the sons of "Philip's" aunt and both are insane.
Above Gerald Mohr, Cathy O'Donnell and William Ching as "Mark Snell".
The insane "Mark" attempts to murder "Phillip" with the same ax that killed his father. In the fight "Mark" is killed with the ax. Afterwards. "Philip" tells "Sheila" that she had heard a noise in the attic and the seven year old girl entered and witnessed the murders. The real reason she was sent to the Swiss Asylum. "Sheila's" nightmare is now over.
After appearances of the Western television shows
"The Texan", "The Rough Riders"
and
"Rawhide".
Gerald Mohr had a
"A Date With Death"
released in June 1959 and once more in
"Psychorama".
In this excellent Film Noir. Mohr is a drifter thrown from a train as a hobo. He comes across a parked car with a man inside. He decides to go up to it and ask for a ride. However, the man has been murdered and "Mike Mason" changes clothes with the dead man and leaving the body on the roadside drives away.
He is stopped by two motorcycle patrolman who asked for his identification. "Mason" shows them the other man's and the two officers tone toward "Mike" suddenly changes. They escort "Deverman" into town.
There "Mike" gets an even bigger surprise, because "Devermam" is the town's new Chief of Police no one there ever met. This will lead to taking on the local crime syndicate run by "Joe Emmanuel" played by actor Robert Clarke. "Mike"suspects he probably murdered the real "Deverman" and knows the truth about the town's new Police Chief.
"Mike" also falls in love with a transient "Paula Warren" played by Liz Renay. Who may have ties to "Emmanuel".
Unfortunately
"A Date With Death"
seems a lost film. However,
"Terror In the Haunted House"
is available as an expensive DVD and worth a visit. As it is the
"Psychorama"
version.
Next was an appearance on the Mike Connor's television series
"Tightrope"
and the science fiction movie Gerald Mohr is most associated with.
"The Angry Red Planet"
was released November 23, 1959 in:
CINEMAGIC
"The Angry Red Planet"
was also known by two other names
"Invasion of Mars"
and
"Journey to Planet Four".
The screenplay was by the motion picture's director Ib Melchior and his partner producer Sid Pink. The two would bring to the world of science fiction both 1961's
"Reptilicus"
and 1962's
"Journey to the 7th Planet".
Ib Melchior is more interesting than this picture for several reasons. He wrote a screenplay
"Volcano Monsters"
that became the English language version of the sequel to 1954's
"Gojira".
That 1959 Warner Brothers release was titled
"Gigantis, the Fire Monster"
. Melchior's original screenplays included two in 1964
"The Time Travelers"
and
"Robinson Cruse on Mars".
He also wrote the English language version to Mario Bava's 1965
"Planet of the Vampires".
During the second World War Ib Melchior worked for the "Office of Strategic Services (O.S.S.)". That organization became the "Central Intelligence Agency (C.I.A.)". During that War Melchior was one of the actual "Monument Men". My article on Ib Melchior may be read at:
http://www.bewaretheblog.com/2016/06/ib-mechior-from-world-war-2-office-of.html
Gerald Mohr portrayed "Colonel Thomas O'Bannon" and Naura Hayden was "Dr. Iris 'Irish' Ryan". Hayden was mainly a television actress, but this picture forever placed her in cult classic science fiction immortality. Les Tremayne was "Professor Theodore Gettell". Tremayne is best known for portraying "Major General Mann" in producer George Pal's 1953 classic
"War of the Worlds".
He was also "Dr, Sam Jorgenson" in the cult classic horror movie from 1959'
"The Monster of Piedras Blancas".
Above Naura Hayden, Gerald Mohr and Les Tremayne on the space craft.
Above Les Tremayne and Canadian character actor Jack Kruschen as "Chief Warrant Officer Sam Jacobs", Kruschen was known for playing many ethnic roles. He was "Salvatore" one of the three men first killed by the Martians in 1953's
"War of the Worlds".
He was "Jose Mordante" on two episodes of Walt Disney's
"Zorro",
"Henrich Schmidt" in a television episode of
"Rescue 8",
":Sam Bolt" in an episode of the Western series
"Sugarfoot"
and "Sam Winkleman" in an episode of another Western series
"Black Saddle".
The story opens with the first space ship to Mars being manually returned to Earth and the discovery that "Jacobs" is missing, The military find "Professor Gettell" dead in the craft and"Dr. Ryan" is in a state of shock. However, it is a strange growth on the arm of "Colonel O'Bannon" that puzzles the medical doctors. As he is deathly ill and non-responsive.
"Dr. Ryan" comes out of our shock, but can't remember what happened on Mars. It is decided to give her a new type of drug to permit "Iris Ryan" to remember, but it will cause hallucinations of what she thinks she might have seen.
At this point the motion picture is not in "
Cinemagic"
and that process is used. if the space craft's crew is actually on the Martian soil.
When I first saw
"The Angry Red Planet"
Sid Pink and Ib Melchior were able to get a local Los Angeles station to cover the "World Premier". Which I watched live on television complete with a red carpet and the film's stars. They also had bleachers set up for science fiction fans on either side of that red carpet.
Above "Dr. Ryan" is given the drug and the explanation begins. Below the ship blasts off for Mars and the crew goes through their daily and somewhat boring, especially to "CWO Jacobs", routine.
Once they land on Mars from a view port they can see plant life, but nothing appears to be moving, or acting if alive.
It is decided to leave the craft and suddenly
"Cinemagic"
kicks in.
Immediately "Dr. Ryan" is attacked by a carnivorous plant and it is frozen with a ray gun.
"Cinemagic"
is a combination of cheap special effects with the silent motion picture technique of tinting each still to change black and white photography into color. As crude as this sounds. It was fun and worked as a 1950's gimmick. I would point out that the big budgeted 2000 Gary Sinise
"Mission to Mars"
directed by Brian de Palma used the same technique.
The four explorers move further into the jungle of Mars and discover a group of trees. Taking out a machete to get a sample of the wood the tree lets out a scream. This is one of those great ideas from Ib Melchior that was seen in too short a sequence. I give my reader unfamiliar with
"The Angry Red Planet"
the RAT-PAT-SPIDER.
Above as seen in the motion picture and below in a clear black and white the still. The RAT-BAT-SPIDER is blinded by the freeze ray gun and the four space travelers escape to their spaceship.
The crew believe some unknown force is controlling the animal and plant life and will not let them leave the planet. They have seen what appears to be a Martian city across a lake and decide to explore it.
While rowing across the lake their way is blocked by a giant Amoeba creature. It attacks and kills "CWO Jacobs" by absorbing him into it. The creature follows the three remaining explorers back to their ship and surrounds it.
An electrical charge is shot through the space craft's hull and it drives off the Amoeba, but to do it modifications to the electrical system had to be made.The three still cannot take off and looking out a view port "Dr. Ryan" screams at a Martian face and them blacks out/
When she recovers from the shock. The space ship is returning to the Earth, but two things happen. The first is "Professor Gettell" dies from an apparent heart attack caused by the stress..
Then it is discovered that "Colonel O'Bannon" has an growth on his arm from the Amoeba. The story returns to the present and from the information about the electricity driving the Amoeba from the space craft "O'Bannon" is cured. Lastly, all the recordings made on the flight have been erased except a message from the inhabitants of Mars to stay away.
What followed the picture were extensive guest appearances on television programs mainly in popular Western series. These programs included
"Sugarfoot", "Johnny Ringo", "Tales of Wells Fargo", "The Alaskans", "Lawman",
the Henry Fonda series
"The Deputy", "Overland Trail"
and
"Stagecoach West".
Non-Western appearances included four guest on the very popular
"The Red Skelton Show"
and an appearance on
"The Barbara Stanwyck Show".
That episode of her anthology series starred the actress in
"Ironbark's Bride"
initially shown on November 28, 1960.
Then it was back to television Westerns with Mohr's sixth and seventh appearances on
"Maverick",
a second on
"Cheyenne",
a second on
"Bat Masterson"
and three on
"The Outlaws".
These Western guest shots were broken up with appearances on three Warner Brothers detective series
"77 Sunset Strip", "Surfside 6"
and
"Hawaiian Eye".
Again back to the Westerns such as three appearances on
"Bronco"
and one on
"The Rifleman".
In the mid 1960's there was
"The Man from Uncle"
and
"Lost in Space".
The
"Lost in Space"
episode was entitled
"A Visit to Hades",
December 7, 1966, and Gerald Mohr was "Morbius" a devil of a part.
During this period Mohr appeared four times on "Perry Mason" starring Raymond Burr.
The actor once appeared as "Athos Vadim" in
"The Lost Bomb"
episode of the television series
"Voyage to the Bottom of the Sea"
December 11, 1966.
On September 9, 1967 Gerald Mohr's voice was heard in the first on screen appearance of Marvel Comics"Reed Richards" of the'
"Fantastic Four".
This was a 22 episode animated series from Hanna-Barbera and one of two shows premiering that same date. The series kept that name
"Fantastic Four"
world wide except in Japan were it
became
"Space Ninja's Gones".
The other three voice were provided by Jo Ann Pflug as "Susan Storm", Pflug was probably best known as "Lieutenant Dish" in Robert Atlman's 1970 motion picture
"M.A.S.H.".
Paul Frees was "Ben Grimm". Voice actor Frees is probably best known as the voice of "Boris Badenov" on
"Rocky and Bullwinkle".
"Johnny Storm" was voiced by Jac Flounders and other than this role. I could not locate anything on him.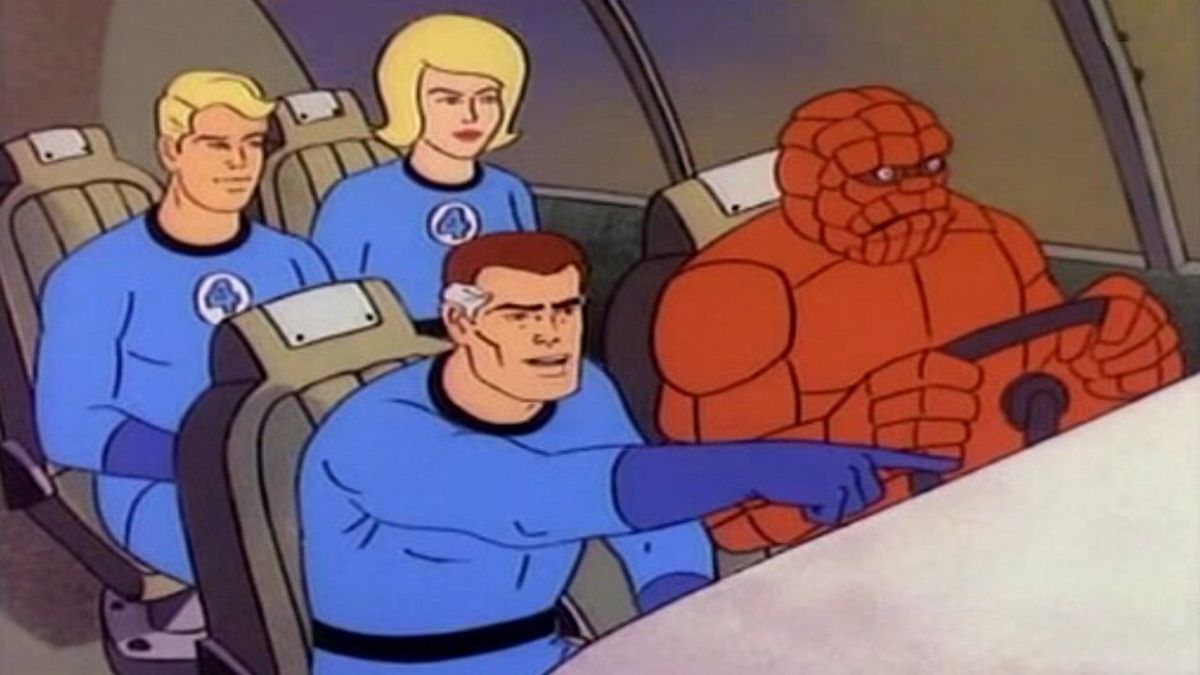 The second animated series from Hanna-Barbera was based upon D.C. Comic heroes. The
"Superman/Aquaman Hour of Adventure"
gave its youthful target audience many characters. On this program Gerald Mohr was heard as "Green Lantern".
On April 28, 1969 Gerald Mohr made his last on screen appearance on the Western television program
"The Big Valley".
The episode was entitled
"Flight from San Miguel".
However, the actor suffered a heart attack and had died five months earlier at the age of 54, November 9, 1968, at his home in Stockholm, Sweden.