Ask somebody to name a Humphrey Bogart motion picture and you'll probably get one of four answers: 1941's "The Maltese Falcon", 1942's "Casablanca", 1948's "The Treasure of the Sierra Madre" and 1951's "The African Queen". A real Bogie fan might mention 1944's "To Have and Have Not" in which he met his wife Lauren Bacall, or two from 1954: "The Caine Mutiny" and "Sabrina". This article looks at one of two movies Humphrey Bogart HATED with a passion.
PROLOGUE PART ONE
Back in 1932 Jack L. Warner decided to go into the Horror-Thriller motion picture genre in competition with both Universal Pictures and Metro-Goldwyn-Mayer. Warner Brothers also decided to make their first entry in
Technicolor
.
Historically their motion picture is the first all color Horror feature. Color tinting had been used in silent films and the "Grand Ball with Lon Chaney as the Mask of the Red Death" was shot in an early Two-Strip Technicolor process for 1925's
"The Phantom of the Opera".
The Warner Brothers entry was entitled
"Doctor X".
Lionel Atwill portrayed "Dr, Jerry Xavier" and Atwill's daughter "Joan Xavier" was played by Fay Wray. The motion picture would be released on August 3, 1932 in New York City.
"Doctor X"
was to have been the first of many Thrillers with Horror/and Science Fiction overtones from the Warner Brothers Studio.
The screenplay by Robert Rasker and Earl Baldwin was based upon a play
"The Terror"
by Howard W. Comstock and Allan C. Miller. The motion picture was directed by Michael Curtiz. Who would direct Bogart in 1942's
"Casablanca"
among other features.
The plot was a typical 1930's Thriller-Horror story. Actor Lee Tracy played a reporter investigating a series of murders. Which are always committed under the full moon and the victims cannibalized. The reporter solves the case, before the baffled police and gets the girl. Note that Tracy had billing over Atwill and Wray on the above bill boards. As the forgotten actor was the most known at the time of the release of
"Dr. X".
For the ladies who are reading this article. The following lovely make-up was worn by fourth billed actor Preston Foster and designed and applied by Max Factor. Foster seen above with the glove on his hand has no left arm. So of course he can't be the murderer.
As anyone will tell you. There is nothing like synthetic flesh to change your outlook on things.
The movie was budgeted at 224,000 1932 dollars and between the United States and the World grossed 594,000 1932 dollars. So Jack L. Warner ordered a second Technicolor Horror Thriller
"The Mystery of the Wax Museum",
released February 18, 1933, and starring once more Lionel Atwill and Fay Wray. In 1953 the studio remade
"The Mystery of the Wax Museum"
in 3-D as
"House of Wax".
For Fay Wray this second motion picture was overshadowed one month later, on March 2, 1933, by
"King Kong".
My article on
"Fay Wray Before King Kong"
may be read at:
http://www.bewaretheblog.com/2015/11/fay-wray-before-king-kong.html
Events occurred and changed plans for the studio. It would be three years before Warner Brothers made another film in the Horror-Thriller genre and six years before Jack:L. Warner decided to make a sequel to
"Doctor X".
PROLOGUE PART TWO
Legitimate stage actor Humphrey Bogart's first motion picture work was for the Fox Film Corporation in two long forgotten short subjects. His first feature film was also for Fox and co-starred another actor, in his first motion picture, Spencer Tracy. It would be drinking buddy Tracy that coined the nickname
"Bogie"
. Released October 12, 1930 their comedy-drama
"Up the River"
was directed by John Ford.
Below Bogart and Tracy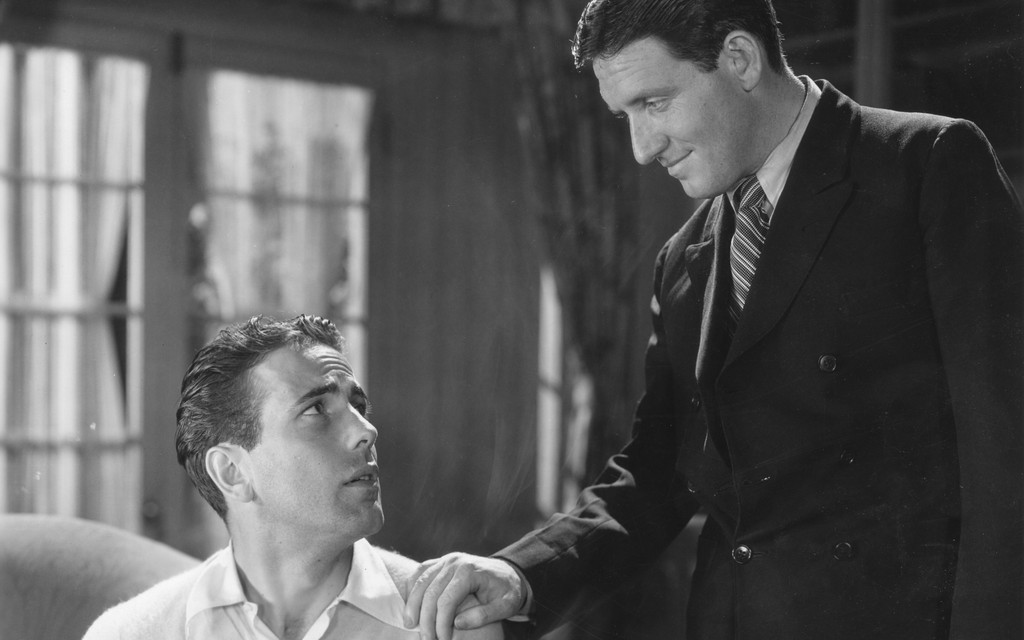 "Contract Player"
Humphrey Bogart's first Warner Brothers motion picture was 1932's
"3 On A Match".
A "Warner Brothers Contract Player" was assigned a motion picture by Jack L. Warner and had no input on the role, or feature. That was the Jack Warner's way of doing things and lasted into the 1950's.
Humphrey Bogart was billed sixth as "Harve" in
"3 On a Match".
.That's Bogart second from the left with Ann Dvorak.
Three forgotten "B" crime movies followed with Bogart as the star. Then came
"The Petrified Forest"
released February 6, 1936. In 1935 actor Leslie Howard, who is known mostly today for
"Gone With the Wind",
was one of the few Warner Brother Studio actors powerful enough to have final script and actor approval. The studio had wanted to cast Edward G. Robinson in the role of "Duke Mantee", but Howard demanded, and got, his Broadway co-star, the vertically unknown Humphrey Bogart recreating his stage role.
Below Humphrey Bogart, Leslie Howard and Bette Davis.
Bogart was developing a "Tough Guy" persona. After
"The Petrified Forest"
Warner Brothers basically type cast him in crime pictures. These included 1936's
"Bullets for Ballots"
starring Edward G. Robinson and three "B's" in 1937. The films were
"Black Legion",
"San Quentin"
and
"Kid Galahad"
starring both Robinson and Davis.
1938's
"Angels With Dirty Faces"
starred Pat O'Brien, James Cagney, "The Dead End Kids" and Bogart. It was also directed by Michael Curtiz. Which brings me to the year 1939 and seven motion pictures including the one this article centers upon. The year started off with another gangster picture
"King of the Underworld"
released January 14, 1939.
The typical Humphrey Bogart gangster feature was followed by an example of being a Warner Brothers "Contract Player". Appearing in whatever movie Jack L. Warner wanted you in. This was the weird casting of gangster film stars James Cagney and Humphrey Bogart.
The two found themselves out of character in a Western called
"The Oklahoma Kid"
released March 3, 1939. Cagney was "Jim Kincaid" the title character and Bogart was "Whip McCord".
Look at the size of that hat on Cagney and his action position to Bogart. They were used to make the shorter Cagney appear the same size as the taller Bogart.
Next was a role that showcased Humphrey Bogart's real dramatic acting ability in the Bette Davis and George Brent
"Dark Victory"
released April 22, 1939.
However, the studio knew where they wanted the actor and it was back to being a gangster in
"You Can't Get Away with Murder"
released May 20, 1939. On October 28, 1939 both Bogart and Cagney were in director Raul Walsh's classic gangster film
"The Roaring Twenties".
1939 would end on December 30, 1939 with yet another crime movie starring George Raft
"Invisible Strips".
Between these last two motion pictures was Humphrey Bogart's only Horror-Thriller motion picture.
THE LEAD UP TO BOGART'S HORROR MOVIE
Between 1933 and 1936 Warner Brothers became known for Crime and Gangster motion pictures. During that three year period the studio didn't make a single Horror, Thriller, or Science Fiction film. After
"The Mystery of the Wax Museum"
Jack L. Warner recognized the profitability of gangster movies and felt Horror and Thriller picture were unprofitable for his studio.
During those same three years Universal Studios continued to be known for Horror films and have high profits. The studios films included 1933's
"The Invisible Man",
1934's
"The Black Cat".
1935's
"The Bride of Frankenstein"
and
"The Werewolf of London"
and
1936's
"Dracula's Daughter".

In 1935 Metro-Goldwyn-Mayer,, known for dramatic classic and period films, had just made the studios first Nelson Eddy and Janet MacDonald operetta. That same year MGM also decided to compete with Universal and made two classic Horror films. They were
"Mad Love"
starring Peter Lorre
and Todd Browning's
"Mark of the Vampire"
starring Lionel Barrymore and Bela Lugosi. Finding both films box office successes in 1936 Browning and Barrymore were back with
"The Devil Doll".
While Paramount Pictures, who had the Oscar winning 1932
"Dr. Jekyll and Mr. Hyde",
released 1933's
"Supernatural".
Even the "Poverty Row" studios were into Horror-Thrillers.
Majestic Pictures released 1933's
"The Vampire Bat"
starring Atwill and Wray, Mascot Pictures released 1935's
"The Phantom Empire",
Academy Pictures released 1936's
"Revolt of the Vampires"
and Puritan Pictures released 1936's
"Ghost Patrol"
for example.
So in 1936 Jack L. Warner reconsidered the genre and joining with First National Pictures, which Warner Brothers would purchase to get their Burbank studio, made
"The Walking Dead"
directed by Michael Curtiz
.
The story is about a wrongly accused man, portrayed by Boris Karloff, sent to the electric chair. He is brought back to life and goes after the men responsible. The dialogue written for Karloff and how his character is acted. Along with the character of the doctor, portrayed by Edmund Gwenn made up to resemble Lionel Atwill. Make the film an obvious rip off of the 1931
"Frankenstein".
As immediately as the decision to enter the Horror-Thriller genre was made by Jack L. Warner. He dropped it with the one feature. Even though
"The Walking Dead's"
box office receipts were $83,000 more than the stated budget. For the next three years the studio went back to its three major sources of income, Crime Films, Errol Flynn vehicles and Bette Davis pictures. However, in 1939 Jack L. Warner, still seeing the large profits being made by Universal Pictures, attempted to re-enter the Horror-Thriller genre and choose of all actors Humphrey Bogart.
My article on the acquisition of "First National Pictures" by Warner Brothers and the history of the mythical town called Hollywood. May be read in my article
"HOLLYWOOD: Segregated Housing, Motion Pictures Studios and Movie Palaces"
at:
http://www.bewaretheblog.com/2019/04/hollywood-segregated-housing-motion.html
THE RETURN OF DOCTOR X
Above is the original poster for
"The Return of Doctor X".
Note it reads:
Presented by Warner Bros
This was because the movie really wasn't made by Warner Brothers and was filmed as a low budget entry by their subsidiary, "First National Pictures", as means for Jack L. Warner to distance himself should the film be a financial failure.
The two executive producers on the picture were Jack L. Warner and Hal B. Wallis. Bryon Foy had the on-screen credit as director. Foy was the eldest son of Vaudeville Comedian Eddie Foy. His "B" film work went back to 1924 and included all the popular 1930's series films featuring the characters of
"Nancy Drew"
and
"Newspaper Reporter Torchy Blane".
The director was Vincent Sherman an actor turned director. This was his first directing assignment, but his career would include: 1944's
"Mr. Skeffington"
starring Bette Davis and Claude Rains, 1948's
"The Adventures of Don Juan"
starring Errol Flynn, 1950's
"Harriet Craig"
starring Joan Crawford and Wendell Corey and 1952's
"Affair in Trinidad"
starring Rita Hayworth and Glenn Ford.
According to Jack L. Warner's instructions. The motion picture was supposed to be a sequel for 1932's
"Doctor X"
, but the screenplay was closer to 1936's
"The Walking Dead".
The picture is based upon British author William J. Makin's short Science Fiction, Vampire story
"The Surgeon's Secret"
from 1935. Which was republished as
"The Doctor's Secret",
the story credited for the screenplay,
in an 1938 issue of "Detective Fiction Weekly".
That screenplay was by Lee Katz. Who was both a screenplay writer and second unit director. This was the 12th of his 13 "B" screenplays. As second unit director he had worked on
"The Mystery of the Wax Museum"
and the Pat O'Brien and Humphrey Bogart 1936
"China Clipper".
In 1942 Katz worked on both Bogart's
"Across the Pacific"
and
"Casablanca".
"The Return of Doctor X"
starred Wayne Morris as "Walter Garrett". Although the on screen credits had it wrong as "Walter Barnett". Morris was a solid "B" lead until after World War 2. From which he returned a highly decorated war hero, but his career as a lead was over. His first motion picture had been 1936's
"China Clipper"
and had the title role in 1937's
"Kid Galahad".
That same year Morris co-starred with Ronald Reagan, Eddie Albert and Priscilla Lane in the 1938 comedy
"Brother Rat"
and its sequel
"Brother Rat and a Baby".
Probably one of his strongest roles was as a French soldier about to be executed for following orders in Stanley Kubrick's 1957
"Paths of Glory"
starring Kirk Douglas.
Rosemary Lane portrayed "Joan Vance". Rosemary started out with sister Priscilla as a vocal artist with "Fred Waring and His Pennsylvanians", Both sisters would go into acting. Rosemary was one of the
"Four Daughters"
in the 1938 film starring Claude Rains and John Garfield, she co-starred, again, with John Garfield in 1939's
"Blackwell's Island"
and co-starred in Cagney and Bogart's 1939
"The Oklahoma Kid"
.
Third lead Humphrey Bogart, seen above, was the mysterious "Marshall Quesne".
Dennis Morgan, the fourth lead, portrayed "Dr, Michael Rhodes". Morgan was a radio announcer for the "Green Bay Packers" and went to Chicago and became a radio singer. At times he sang in movies and at other times acted. His big break came with the movie that followed
"The Return of Doctor X".
That was the World War 1 feature
"The Fighting 69th"
that starred James Cagney, Pat O'Brien and George Brent. In 1940 Morgan co-starred with Ginger Rodgers in the drama
"Kitty Foyle".
In 1941 Dennis Morgan was "Cole Younger" in
"Bad Men of Missouri".
Wayne Morris was "Bob Younger". In 1945 Morgan would star as Robert L.Scott in the biographical film based on Scott's World War 2 experiences as a "Flying Tiger" in China
"God Is My Co-Pilot".
John Litel was "Dr. Francis Flegg". Supporting actor Litel was seen in many film genres prior to this picture. His roles included 1937's
"The Life of Emile Zola"
starring Paul Muni
.
1938's
"Jezebel"
starring Bette Davis and Henry Fonda, the same years
"The Amazing Dr. Clitterhouse"
starring Edward G. Robinson and co-starring Humphrey Bogart. He was also seen in several films portraying "Carson Drew" the father of
"Nancy Drew".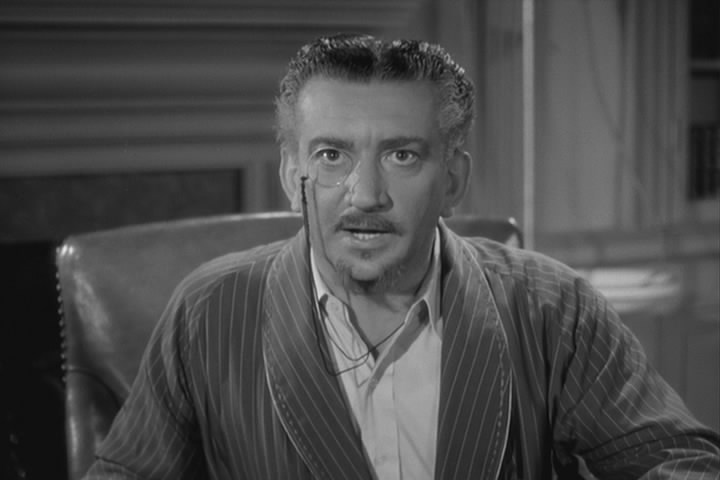 Lya Lys, her real name, played "Angela Merrova".
"The Return of Dr. X"
was the German born actresses 18th film out of 19 on screen appearances starting in her native country.
Three names in the cast are of interest to film and television buffs. The first is seventh billed Huntz Hall as "Pinky". One of the reporters who works with Wayne Morris. Hall was one of the original "Dead End Kids" with Leo Gorcey and Bobby Jordon. Hall stayed with the group when they became "The Bowery Boys"
I couldn't locate photo's of the last two on screen credited actors. The first was DeWolf Hopper as an "Intern". Later in his career DeWolf changed his first name to William and became television's "Paul Drake" opposite Raymond Burr on
"Perry Mason".
He starred in Ray Harryhausen's 1958
"20 Million Miles to Earth"
and was featured in both 1955's
"Rebel Without a Cause"
and 1956's
"The Bad Seed".
Another "Intern" was portrayed by Glenn Langan. Langan was a solid third, or fourth billed actor during the 1940's, but probably is best remembered for portraying the title role in 1957's
"The Amazing Colossal Man".
The feature starts out with Reporter "Walter Garrett" discovering the body of the dead actress "Angela Merrova" in her hotel room. When the authorities arrive they find the body missing. The following day the actress appears at "Walt's" newspaper office threatening to sue over her obituary, but something about her just doesn't seem right.
"Walt" goes to his friend "Dr. Michael Rhodes" for a possible explanation and "Rhodes" refer "Garrett" to his associate "Dr. Francis Flegg".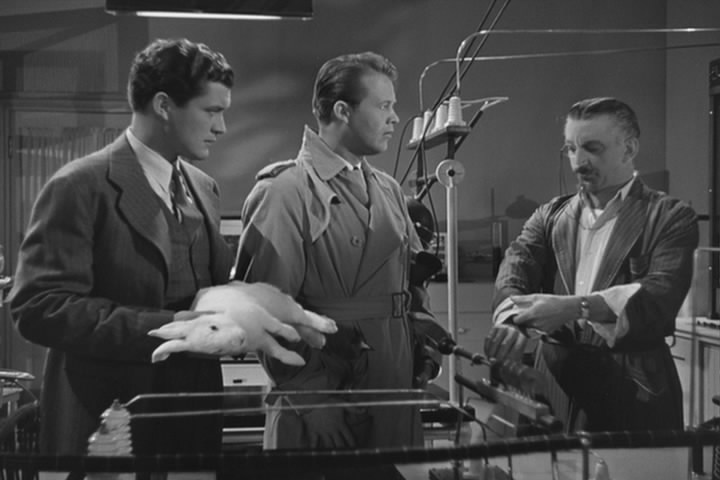 "Flegg" insists that "Garrett" is hallucinating, but appears to be dodging the questions being asked. Afterwards "Rhodes" is called by the police to identify a body which turns out to be one of his patients. The body has been drained of almost all its blood. "Walt Garrett", whose with him, tells his friend that "Merrova" looked the same way. When he first saw her in the hotel room, before she disappeared.
That night "Michael Rhodes" visits "Dr. Flegg" with a blood sample from his now dead patient and meets "Flegg's" assistant the strange ""Marshall Quesne". Note the somewhat
"Bride of Frankenstein"
white streak to Bogie's hair. Which I guess the make-up artist and director thought would give him a more sinister appearance.
Having followed "Rhodes" back to "Flegg's" house. "Garrett" sees "Rhodes" leave and "Merrova" enter for what becomes a strange blood transfusion by "Quesne" and "Flegg".
"Walt" convinces "Michael" to go with him to "Merrova's" hotel room to confront her. There they meet with the actress who confirms the reporters story about both the hotel room and transfusion. She promises to reveal more about what's been happening on the following day. However, before "Rhodes" and "Garrett" leave. "Quesne" shows up and "Merrova" goes very silent.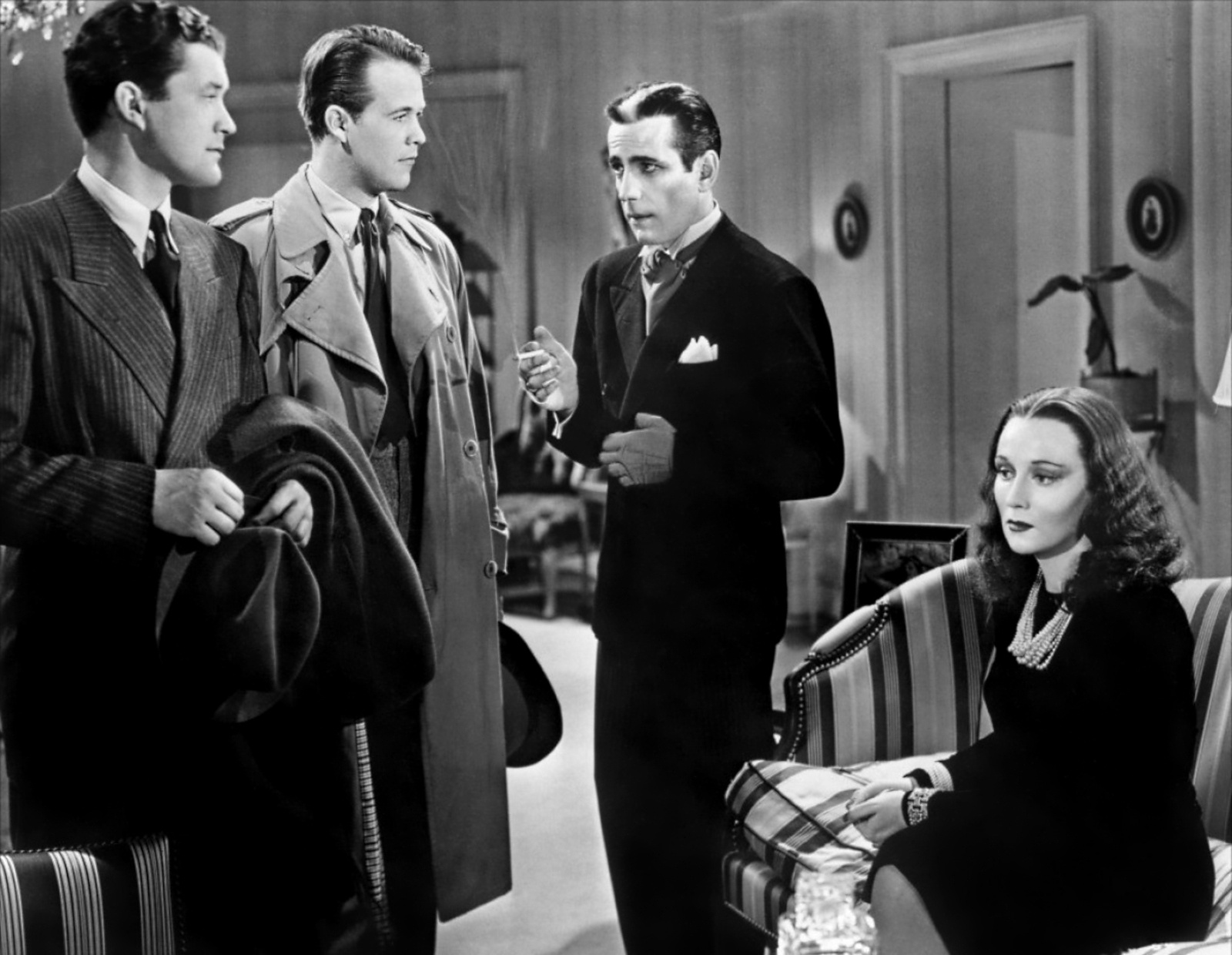 When "Garrett" and "Rhodes" return the next morning. They find "Merrova" dead once more, but this time for real and drained of blood. "Walt" been trying to remember something familiar about "Marshall Quesne" and he starts digging through old newspaper files. He finds what he was looking for: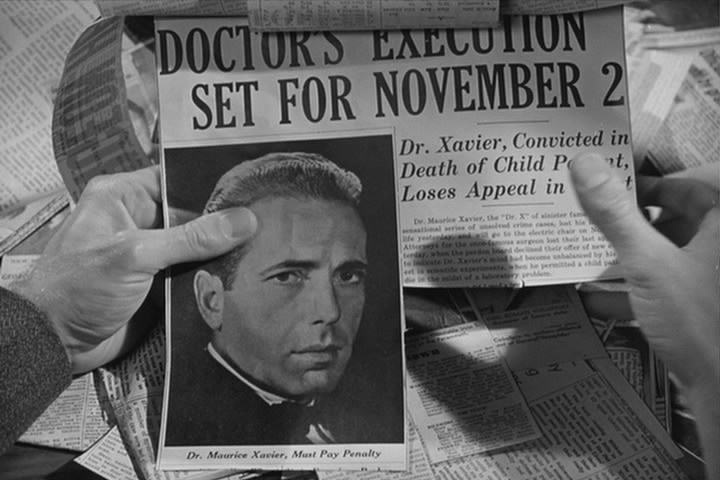 Is "Dr. Xavier" "Marshall Quesne" and did "Xavier" fake his own death somehow?
Jack L. Warner and the Warner Brothers publicity department, in their Press Books, called
"The Return of Doctor X"
a direct sequel to the 1932 movie
"Doctor X".
However, only the film's title and Humphrey Bogart's character's last name, being the same as the Lionel Atwill and Fay Wray characters. Would seem to be the only ties to the seven year old previous motion picture. Certainly the stories aren't related and as I have written come from different sources by different writers.
To continue "Dr. Michael Rhodes" and "Walt Garrett" go to the cemetery containing the grave of "Dr. Xavier" and dig up his coffin. The coffin is empty and the two men next go and confront "Dr. Flegg" about his assistant. "Flegg" reveals that as an experiment he brought "Xavier" back from the dead and demonstrates the procedure with a dead rabbit.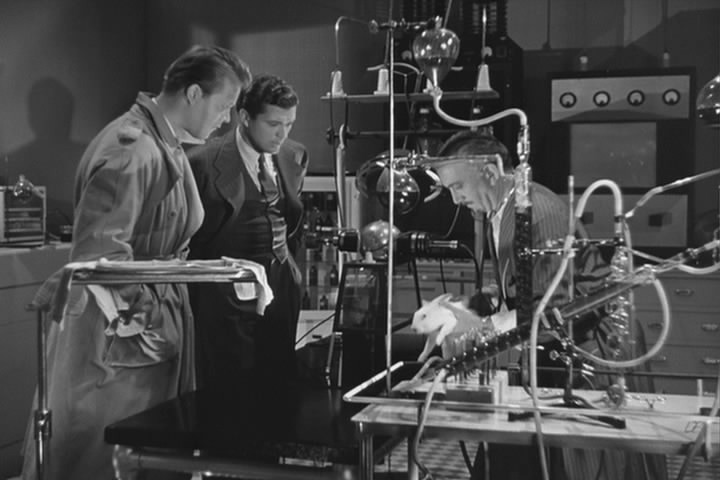 "Flegg" reveals a problem he had not thought of when planning his experiment. The problem is "Dr. Xavier" now requires blood, more specifically an extremely rare blood type, as an ingredient in a special formula he requires to stay alive . It is "Dr. Xavier" aka: "Marshall Quesne" whose committing what are being described as the vampire murders.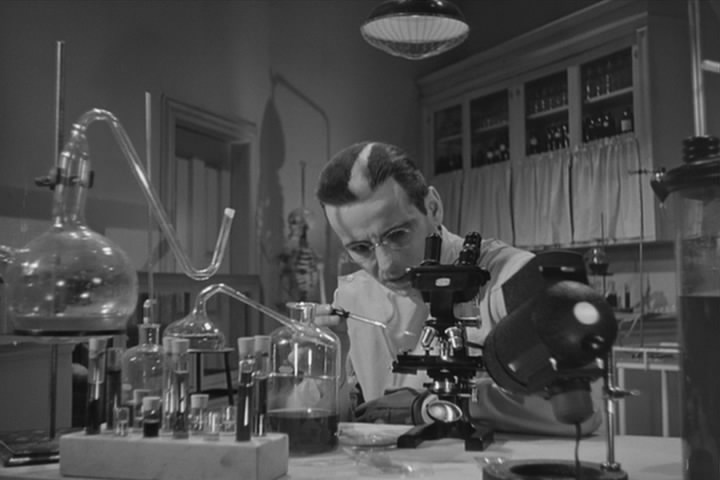 I guess at this point you could say there's an oblique third tie in to the 1932 screenplay. Instead of "Dr. Wells" creating synthetic flesh to make a new arm to commit his murders. Here we have "Dr. Xavier" creating synthetic blood to feed upon.
Realizing that "Garrett" and "Rhodes" are getting close to him. "Dr. Xavier" decides to get "Dr. Flegg's" book containing all the known people in the city with that right blood type and obtains it by murdering the other man.
From the book "Dr. Xavier" discovers that "Dr. Rhodes'" girlfriend "Nurse Joan Vance" has the proper type of blood. He goes after the girl and the hunt for him is on.
Of course in the nick of time "Rhodes", "Garrett" and the police arrive. "Dr.Xavier" escapes for the moment, but is shot and dies freed of being a murder.
As I said Bogart hated this picture, but as a "Contract Player" he was at the whims of Jack L. Warner.
Who immediately cast Humphrey Bogart with fourth billing in another Western. This time it was 1940's
"Virginia City"
starring Errol Flynn, Miriam Hopkins, Randolph Scott and directed by Michael Curtiz. Bogie followed
"Virginia City"
with three two classic 1940 motion pictures
"Brother Orchid"
starring Edward G. Robinson and
"They Drive By Night"
co-starring George Raft, Ann Sheridan and Ida Lupino..
But "THE RETURN OF DOCTOR X" always seemed to haunt him.