John Wayne is famously nicknamed "Duke", but where did that name come from? One common story, told by his father, was as a boy Marion had a dog of that name. The dog was "Big Duke" and the boy "Little Duke". Another story, told by Ward Bond, was that the nickname was given to Wayne while he was the quarterback of the University of Southern California's (USC) football team that both men were on. This is a story of a third, that later in his life, John Wayne would reply:
THEY NAMED THE HORSE DUKE!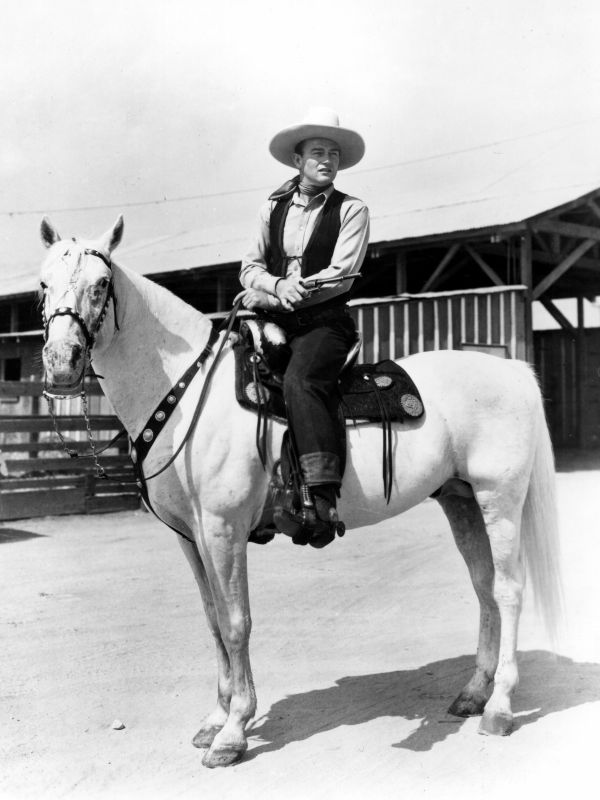 Above John Wayne and
"Duke the Devil Horse"
After 21 non screen credited appearances in motion pictures. That included playing a dead body in a John Ford silent feature. Marion Mitchell Morrison, born Marion Robert Morrison, had his name changed to John Wayne and starred in director Raul Walsh's 1930 70 mm widescreen Western
"The Big Trail".
Should my reader not be familiar with the motion picture that truly began the career of John Wayne, or the 70 mm process called "Grandeur". My article on both may be read at:
http://www.bewaretheblog.com/2015/10/john-wayne-william-fox-grandeur-and-big.html
Between 1932 and 1933 John Wayne made six "B" Westerns for Warner Brothers First National Pictures. Five of them are remakes of silent Westerns starring Ken Maynard.
Horses With Names
Most of my readers know that Gene Autry's horse was "Champion", Hopalong Cassidy's horse was "Topper", Roy Rodgers rode "Trigger" and Dale Evans "Buttermilk". The "Lone Ranger" rode the range on "Silver". Which was also the name of silent film "B" Cowboy star Buck Jones' horse.
To that list we can add some other 1920's to the early 1950's "B" Cowboy stars horses:
Tom Mix rode :"Tony", Andy Devine's horse on television's
"The Adventures of Wild Bill Hickcok"
was "Joker", Rex Allen rode "Koko", Lash La Rue rode "Black Diamond" and:"Rush", Johnny Mack Brown rode "Scout", "Reno" and "Rebel". While Tex Ritter rode "White Flash", Annie Oakley's horse was "Target" and Wild Bill Elliott was seen on "Thunder",
The point is that fans of "B" Westerns from the silent years into 1950's television knew every Cowboy, or Cowgirl's horses names and they were as important as the actor, or actress themselves.
Above Ken Maynard on "Tarzan".
The Six Westerns
The idea was to save as much money as possible for Warner Brothers First National Pictures. Someone came up with remaking five of Ken Maynard's silent motion pictures that the studio owned. All they had to do was match up Maynard's look to the actor of these "new" "B" Westerns and the studio could use stock footage from the original.
Above one of the posters for Ken Maynard's
"The Unknown Cavalier"
released November 14, 1926. The film became
"Ride Him Cowboy"
released on April 23, 1932. Instead of Ken Maynard and his white horse "Tarzan". Viewers would see John Wayne and his white horse now called
"Duke the Devil Horse".
Above Ken Maynard in
"The Unknown Cavalier"
and below John Wayne in
"Ride Him Cowboy".
Wayne was dressed as close to Maynard as possible. So that in long shots he became the other actor and the audience was fooled.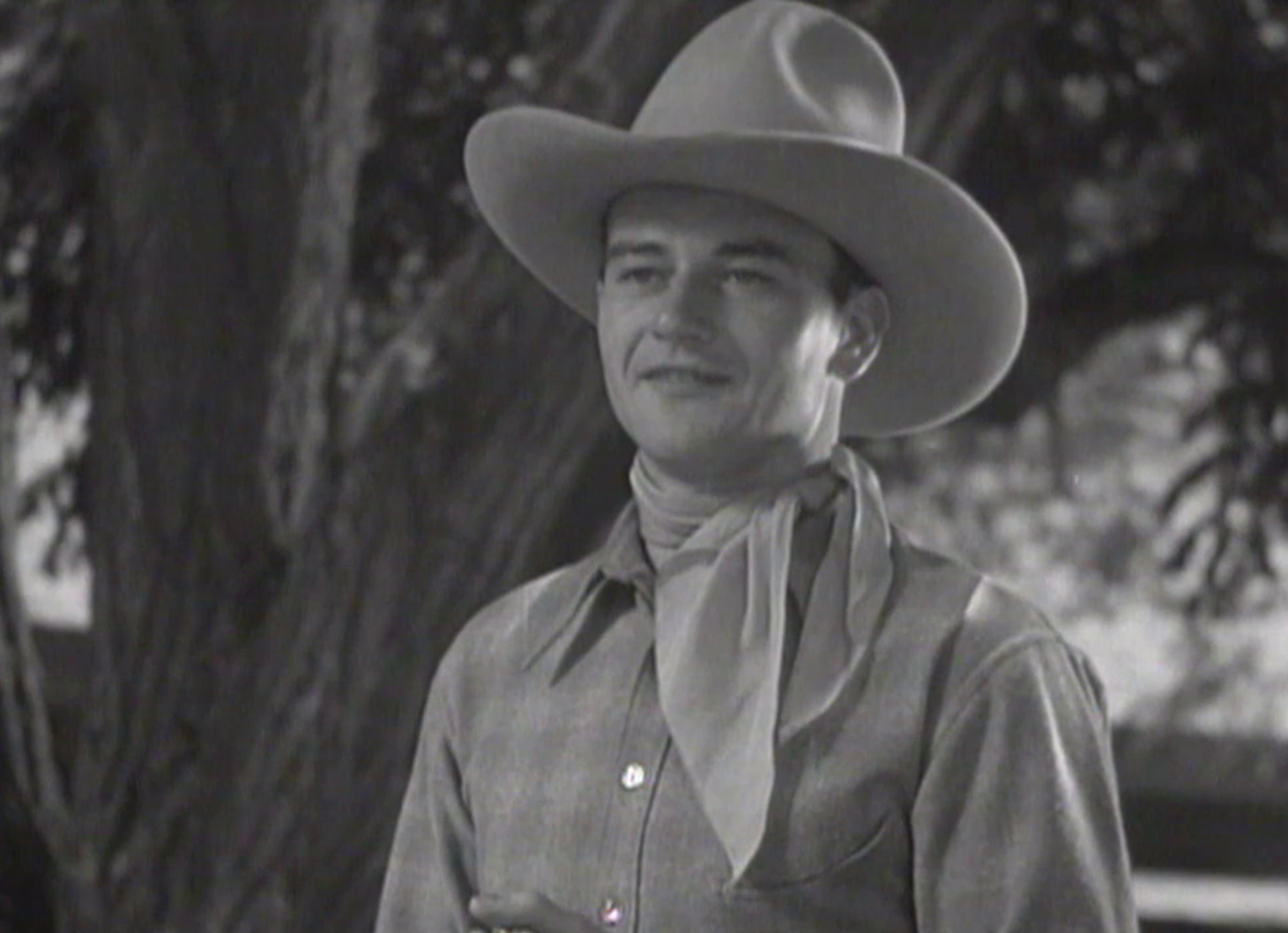 An interesting piece of trivia is that
"Ride Him Cowboy"
was directed by Leon Schlesinger. Who two years earlier took over Warner Brother's animation department and created the "Looney Toons" and then "Merrie Melodie" cartoons.
The next film for John Wayne was 1932's
"That's My Boy",
but Wayne wasn't one of the 14 on screen credit actors. He received not credit as a "Football" player. Another non screen credited football player was Buster Crabbe four years prior to becoming
"Flash Gordon".
"The Big Stampede",
released October 8, 1932, was
a remake of Ken Maynard's
"The Land Beyond the Law"
released June 5, 1927. Maynard's character was "Jerry Steele" and Wayne's was called "John Steele".
My reader should not get confused with a 1937 Warner Brothers First National Western from Warner also called
"The Land Beyond the Law".
That picture
starred "The Singing Cowboy Dick Foran". Who was "Steven Banning" in both Universal Studios 1940
"The Mummy's Hand",
with "B" Cowboy actor Tom Tyler as the Mummy, and 1942's
"The Mummy's Tomb"
with Lon Chaney, Jr. as the same role of "Kharis".

"The Big Stampede"
was immediately followed by
"Haunted Gold".
Although I could not locate a still of Ken Maynard. Note that John Wayne is wearing a shirt like Maynard's image in the poster for
"The Phantom City"
released December 23,. 1928
.
Along with what became Maynard's trademark scarf. As
"Haunted Gold",
released December 17, 1932, was also filmed in black and white. The color of the shirt, scarf and hat really didn't matter as long as they seemed to match what was seen in the stock footage.
I wanted to use the above lobby card to show a picture of African American actor Blue Washington as "Clarence Washington Brown. Today a person would be offended by this pre-Motion Picture Production Code features dialogue. During the 58 minute movie there are several racial slurs about Blue's character. He is called "darkie", "sambo" and "hombre with the watermelon
accent".
Blue Washington portrayed the same role four years earlier in the Ken Maynard original. Washington appeared in 67 motion pictures between 1919 and 1961. He was also a pitcher in the Negro Baseball League for both the "Chicago American Giants" and "Kansas City Monarchs".
I want to point out a change in billing on the actual poster for
"Haunted Gold".
John Wayne was no longer billed with "Duke His Devil Horse", but as:
JOHN WAYNE AND "DUKE"
The horse now received full Second On Screen Billing in the credits and to anyone not knowing that "Duke" was a horse. Might think Wayne's co-star was an actor by that name..
"The Telegraph Trail",
released March 18,1933, was a remake of Ken Maynard's
"The Glorious Trail"
released October 28, 1928.
Note the similar clothing to Ken Maynard in
"The Glorious Trail"
worn by John Wayne in
"The Telegraph Trail".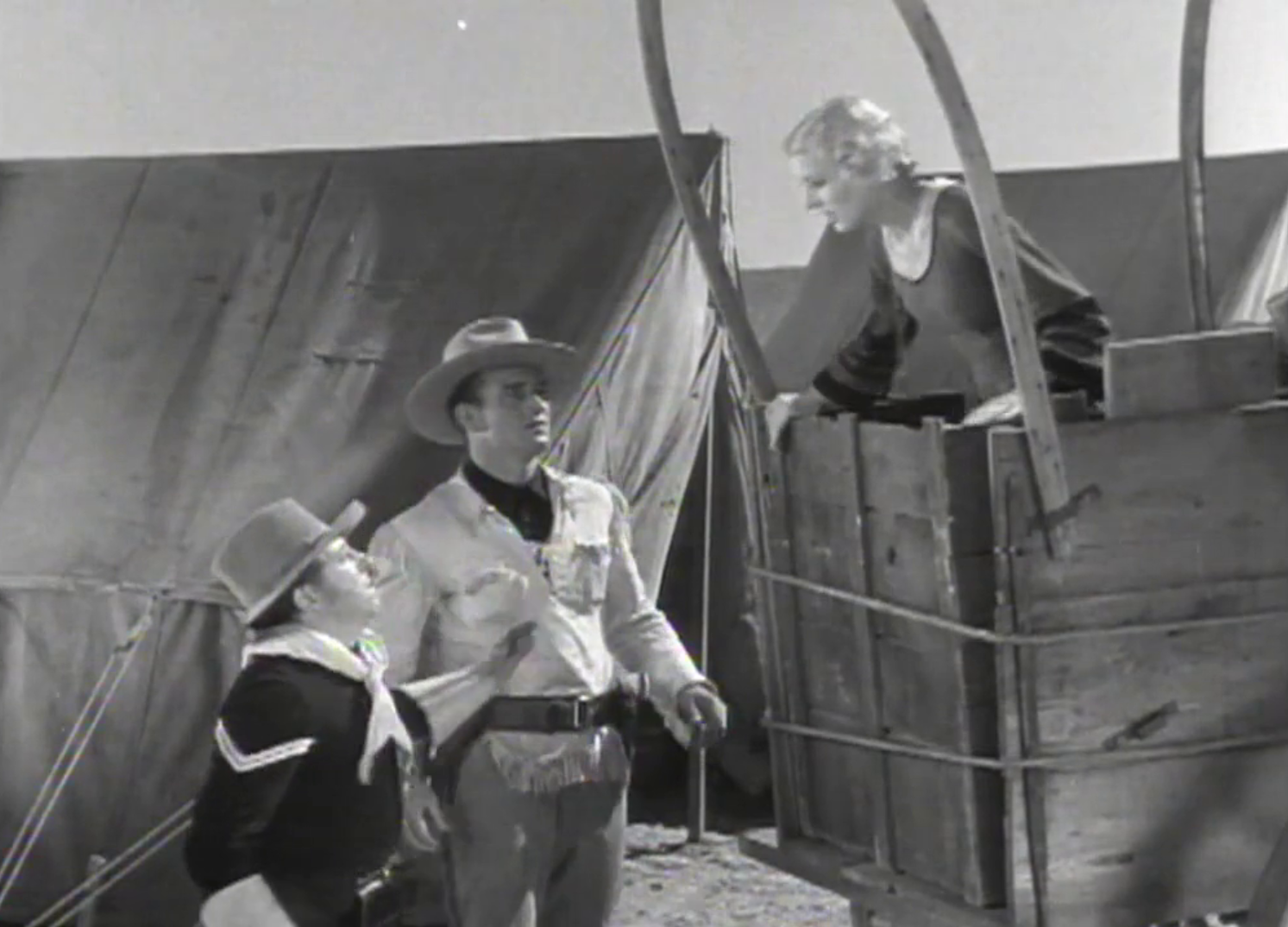 The final remake for John Wayne of a Ken Maynard Western was the only one of the five films that had the original title on it.
"Somewhere in Sonora"
was originally released April 3, 1927.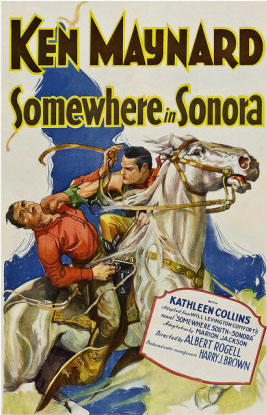 John Wayne's version was released May 27, 1933. It was also the only motion picture of the group that maintain the same name for the characters. However, "Duke" was now
"Duke the Miracle Horse".
In both films Ken Maynard and John Wayne portrayed "John Bishop".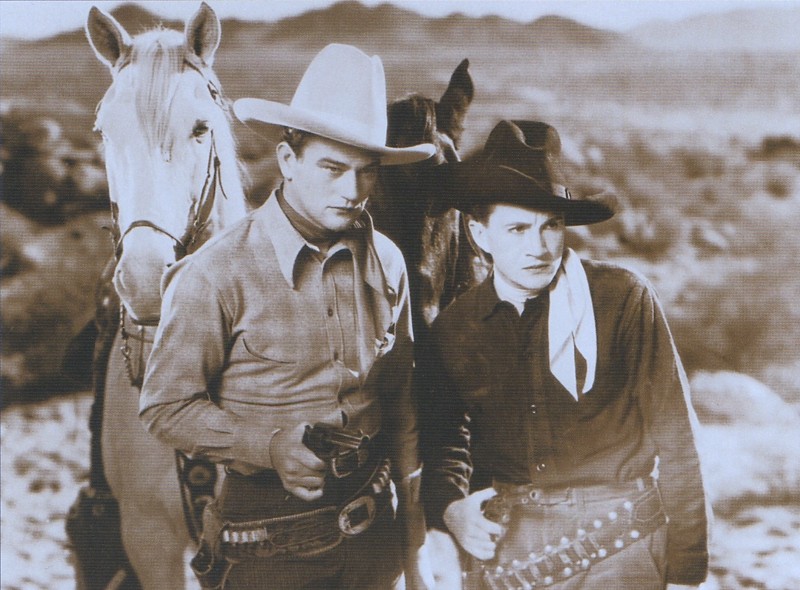 Above with Wayne is Paul Fix as "Bart Leadly". Fix was a close friend of "B" Cowboy star Harry Carey, Sr. As such he became a close friend of Wayne and for my trivia interested readers. It was Paul Fix that taught the young John Wayne his famous walk and became the actor's acting coach as well. Fix would be in many of Wayne's films, but is best remembered by fans of Sam Peckinpah's television Western
"The Rifleman"
portraying "Marshal Micah Torrance".
The final film of this series was
"The Man from Monterey"
released July 15, 1933. The picture appears not to have been a remake of a Ken Maynard motion picture.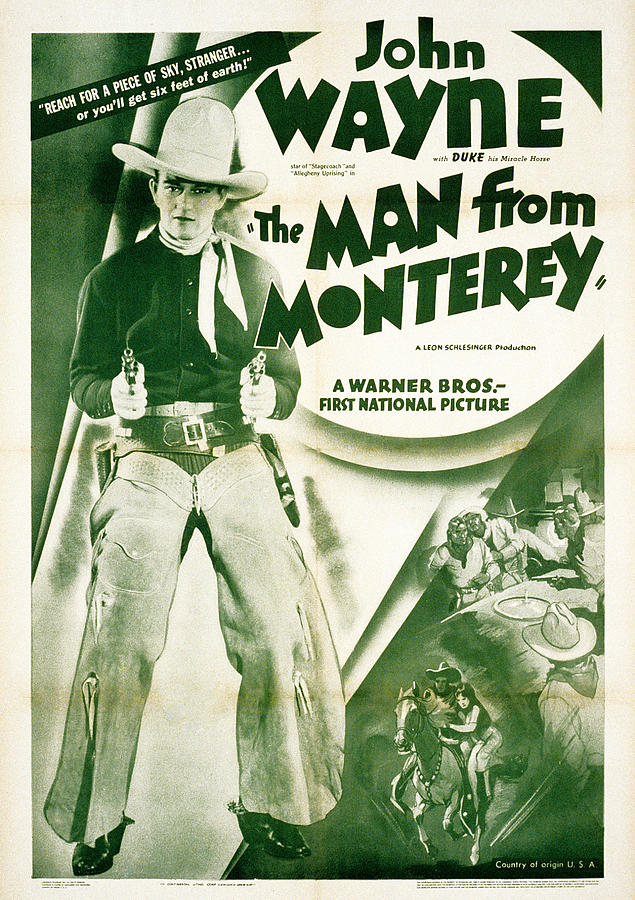 The movie is notable as having John Wayne for the first time portraying a Cavalry Officer.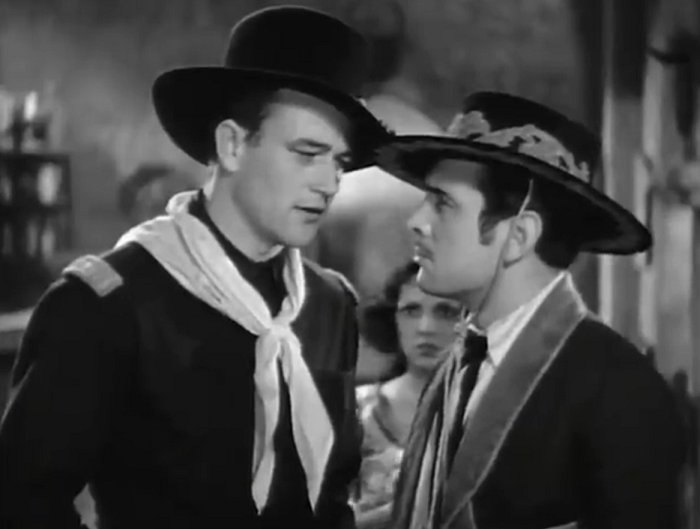 The opening credits for
"The Man from Monterey"
tells the audience that the film stars
"John Wayne and Duke".
One has to wonder, if Leon Schlesinger paid third billed Ruth Hall less than "Duke"?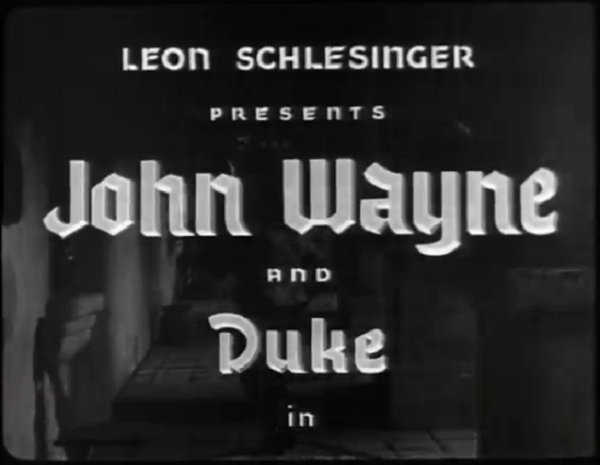 Was "Duke" the source of John Wayne's nickname? We know that sometime after these Warner Brothers films he began to be called
"Duke", "The Duke",
or
"Duke Wayne".
He never gave a straight answer to the question of his nickname except his joke answer that:
THEY NAMED THE HORSE DUKE!
For those of my readers interested in "The Duke" I have some other article you might like too read.
"Four Gutsy Roles"
tells of four movies John Wayne used to try and break his Cowboy image.
http://www.bewaretheblog.com/2015/04/john-wayne-four-gutsy-role-choices.html
The actor's political views are expressed in
"Jane Fonda and John Wayne: Two Sides of the Vietnam Coin".
http://www.bewaretheblog.com/2016/11/jane-fonda-and-john-wayne-two-sides-of.html
Self explanatory is the title
"John Wayne in John Ford's CALVARY TRILOGY: "Fort Apache" 1948, "She Word A Yellow Ribbon" 1949 and "Rio Grande" 1950"
http://www.bewaretheblog.com/2017/12/john-wayne-in-john-fords-cavalry.html
Then there's the story of the filming of the motion picture
"The Alamo"
entitled
"John Wayne's "THE ALAMO": A Fan Reflects On Seeing the Original Roadshow Engagement"
http://www.bewaretheblog.com/2016/12/john-waynes-alamo-fan-reflects-on.html