John Ford did not plan a Cavalry Trilogy. He was forced into one. This is a look at the three motion pictures of this "Trilogy". All set in Arizona and Texas after the Civil War.
FORT APACHE (Released March 27, 1948)
"Fort Apache"
is considered the first motion picture in what Film Historians and Fans call the
"John Ford's Cavalry Trilogy"
. The film has an ensemble cast coming mostly from what was known as "
THE JOHN FORD STOCK COMPANY"
, as would the other two, but besides Ford. The two major names always associated with this feature were John Wayne and Henry Fonda. Two names 1930's/1940's movie goers knew were also closely associated with the director.
In the three years prior to "Fort Apache".
John Ford
had made only three motion pictures. Partly because America was involved in World War 2 and Ford was an Officer in the United States Navy.
"They Were Expendable" was the story of the Navy's PT Boats at the start of the war. Ford's film included the actual moving, under Japanese ships and land based guns, of General Douglas MacArthur and his family from the Philippines. According to the film's opening credits it was made by Captain John Ford, U.S.N.R.. The picture was released December 19, 1945 and starred Robert Montgomery and
John Wayne.
In "My Darling Clementine" Ford was investigating the myth of the old west through "The Gunfight at the OK Corral".A myth he would really destroy in his excellent 1962 "The Man Who Shot Liberty Valance". "My Darling Clementine", for 20th Century Fox, was a remake of their "Frontier Marshall" starring Randolph Scott in 1939. The motion picture was released, the day I was born, October 16, 1946, and starred
Henry Fonda
, Linda Darnell and Victor Mature.
"The Fugitive" was about a Catholic Priest, becoming the title character in an unnamed Latin America County where Religion is outlawed. It was released November 11, 1947 and starred
Henry Fonda
and
Pedro Armendariz.
Soon to be
a member of the Ford Stock Company.
John Wayne would portray "Captain Kirby York" in "Fort Apache" and Henry Fonda was cast as his advisory and commanding officer "Lieutenant Colonel Owen Thursday".
Most viewers of this film are drawn to the comparison's of the screenplay to the final days of George Armstrong Custer and the Battle at the Little and Big Horn Rivers. The source material for Frank S. Nugent's screenplay is the short story "Massacre" by James Warner Bellah, but before we examine that work. Let's look at some of the other names on the above poster.
In the upper left hand corner along with John Ford's name, as producer, is his friend and co-producer Merian C. Cooper. IF the name Merian C. Cooper isn't familiar to my reader. Let me mention one motion picture he made in 1933 entitled "King Kong". The two men would co-produce the other two films in Ford's Cavalry trilogy. Along with both 1949's "Mighty Joe Young" and 1952's "The Quiet Man".
Cooper is a very interesting personality. He was the real "Carl Denham" from "King Kong", a spy for the OSS and the creator of the film process "Cinerama". In a life, if Hollywood filmed it, you would have considered a fake, but it was all true. My biography on Merian C. Cooper can be read at:
http://www.bewaretheblog.com/2015/10/merian-c-cooper-before-king-kong-to.html
Shirley Temple was "America's Sweetheart". A nick name going back to her movies such as ""The Little Colonel", ""Captain January", "Heidi" and "Rebecca of Sunnybrook Farm" from 1932 to 1940. In 1942 with the box office failure "Miss Annie Rooney", 14 year old Temple, had been trying to escape her image and move on to more adult roles. Six motion pictures later found her portraying "Miss Philadelphia Thursday" the daughter of Henry Fonda's "Lieutenant Colonel Owen Thursday".
Pedro Armendariz, his father was Mexican and his mother was American, from 1935 into 1947 become one of the major stars of the Mexican Cinema. In 1947 he met John Ford who cast Armendariz as "A Lieutenant of the Mexican Police" in "The Fugitive". Two more films made in Mexico led the actor to the role of "Sergeant Beaufort" in "Fort Apache".
Ward Bond was a friend of Marion Mitchell Morrison that went back to their days on the University of Southern California football team. He appeared with him starting in the silent era. In 1930 Bond had a non on screen credited role as "Sid Bascom" in the Raoul Walsh directed Western "The Big Trail". The first motion picture in which his friend's name changed to John Wayne on the Marquee. Bond, a certified member of the John Ford Stock Company and drinking buddy, portrayed "Sergeant Major Michael O'Rourke".
Speaking of "The Big Trail" it was filmed in one of the earliest 70 mm film processes known as "Grandeur". My article on the movie and that process can be read at:
http://www.bewaretheblog.com/2015/10/john-wayne-william-fox-grandeur-and-big.html
George O'Brien, "Captain Sam Collingwood", had been a major 1930's "B" Cowboy actor. In his 1930 picture "Rough Romance" there was an non on screen credited John Wayne in a minor role. Like John Wayne, O'Brien's mentor was John Ford, but unlike Wayne. George O'Brien enlisted in the Navy during World War 2, a major plus with John Ford, and upon his return started being cast in Ford's motion pictures regularly as a part of the "Stock Company".
Then there was Victor McLaglen the winner of the Best Actor Oscar for the 1935 John Ford motion picture "The Informer". Another good friend of the director who appeared in many of his motion pictures. McLaglen portrayed "Sergeant Festus Mulcahy".
The last name I want to point out is at the very bottom of the cast credits on the above movie poster. It reads:
Introducing John Agar
John Agar was in what the public considered a "Fairy Tale" marriage to "America's Sweetheart" Shirley Temple since 1945. Now their adoring public was about to see husband and wife together on the motion picture screen. Agar played Ward Bond's son "Lieutenant Michael Shannon "Mickey" O'Rourke" and the love interest for "Philadelphia Thursday". The perfect dream film couple for America and actually the World's movie theater going audiences.
However, there was a dark side with his drinking that would lead to their divorce in 1950. My biography on the rise, fall and reinvention of John Agar as a 1950's Science Fiction Cult Star may be read at:
http://www.bewaretheblog.com/2015/03/john-agar-his-fall-that-led-to-science.html
Above photo from left to right: John Wayne, Shirley Temple, Henry Fonda and John Agar.
Bottom photo from left to right: Henry Fonda, John Wayne, George O'Brien, John Agar and Ward Bond.
Below Pedro Armendariz with John Wayne
Below Victor McLaglen talking to new Cavalry recruits.
"Massacre" as I said was a short story by Western writer James Warner Bellah. He also wrote the short stories that both "She Wore A Yellow Ribbon" and "Rio Grande' were based upon. The complete original short story appeared in "The Saturday Evening Post" on February 22, 1947. In 1950 Lion Publishing released an novelization of the story running to 191 pages expanded by the author.
LOCATION IS EVERYTHING and of course, although the picture took place in Arizona, John Ford filmed "Fort Apache" in Monument Valley, Utah. The location he fell in love with and became his every State's scenery of the Old West. Below Ford filming 1956's "The Searchers". The scene being filmed was either supposedly in Texas, or New Mexico for that picture.
Below a 1939 still from "Stagecoach" with the Cavalry Patrol in the foreground following the title character.
In 1937 actor Ray "Crash" Corrigan, while on a fishing trip with Clark Gable, saw some land he believed would make a good ranch. The property was located in the Santa Susana mountains part of Simi Valley, California.
Ray Corrigan's varied motion picture roles included saving the world from the "Lost Continent of Atlantis", becoming the Martian monster in "It, the Terror from Beyond Space" and fighting Johnny Weissmueller, as "Tarzan", while Ray was inside a large Gorilla suit, but it was his 47 "B" Westerns that most of his fans remember the actor for. From August 28, 1938 through August 10, 1939 in eight of the 24 "The Three Mesquiteers" "B" Westerns Corrigan appeared in. The role of "Stony Brooke" had been taken over by John Wayne.
Ray Corrigan purchased his Simi Valley property for $11,354 1937 dollars. Today in 2017 the purchase price would be $194,486, if he could have actually purchased it that low. When three bedroom homes start for around $500,000 on what use to be "Corriganville". Instead of turning his property into a working ranch the decision was made to create a Western location for the making of motion pictures. On the property a Cavalry Fort was also built. It was that fort John Ford used for "Fort Apache". Later in 1954 "Fort Apache" became the television location for "The Adventures of Rin Tin Tin" and eight year old Lloyd would visit "Corganville" a few times. As it was only twenty minutes from my home.
Below John Ford, John Wayne John Agar, Victor McLagen and Dick Foran with some of the crew.
No actual date for this story is given, but we know two facts. Based upon what will happen this does seem to rework the ambush by the Sioux under their war chief "Crazy Horse" at the junctions of the Little and Big Horn Rivers. That even took place June 25 and 26 1876 in Montana.
"Fort Apache's" screenplay changes "Crazy Horse', or is it suppose to be "Sitting Bull", into Apache Chief "Cochise". Instead of the Sioux we have the Chokonen Band of the Chiricahua Apaches. They were located in "The Dragon Mountains" in Southern Arizona. Below is a photo of those mountains to be used by my reader for a comparison to John Ford's "Monument Valley" location.
The picture opens with "Captain Kirby York" expected to take command of Fort Apache. After the previous commanding officer leaves. However, the Department of the Army gives the command to "Lieutenant Colonel Owen Thursday". Who has been assigned the post for some unmentioned act that affected his possible promotion. "Thursday" arrives with a "Chip on his Shoulder" and his daughter "Philadelphia".
The subplot revolves around the love of "Philadelphia" to West Point Graduate "Lieutenant Michael Shannon O'Rourke". He was able to go to the "Point", because during the Civil War. His father, "Sergeant Major Michael O'Rourke", received "The Congressional Medal of Honor" while serving in the "Irish Brigade".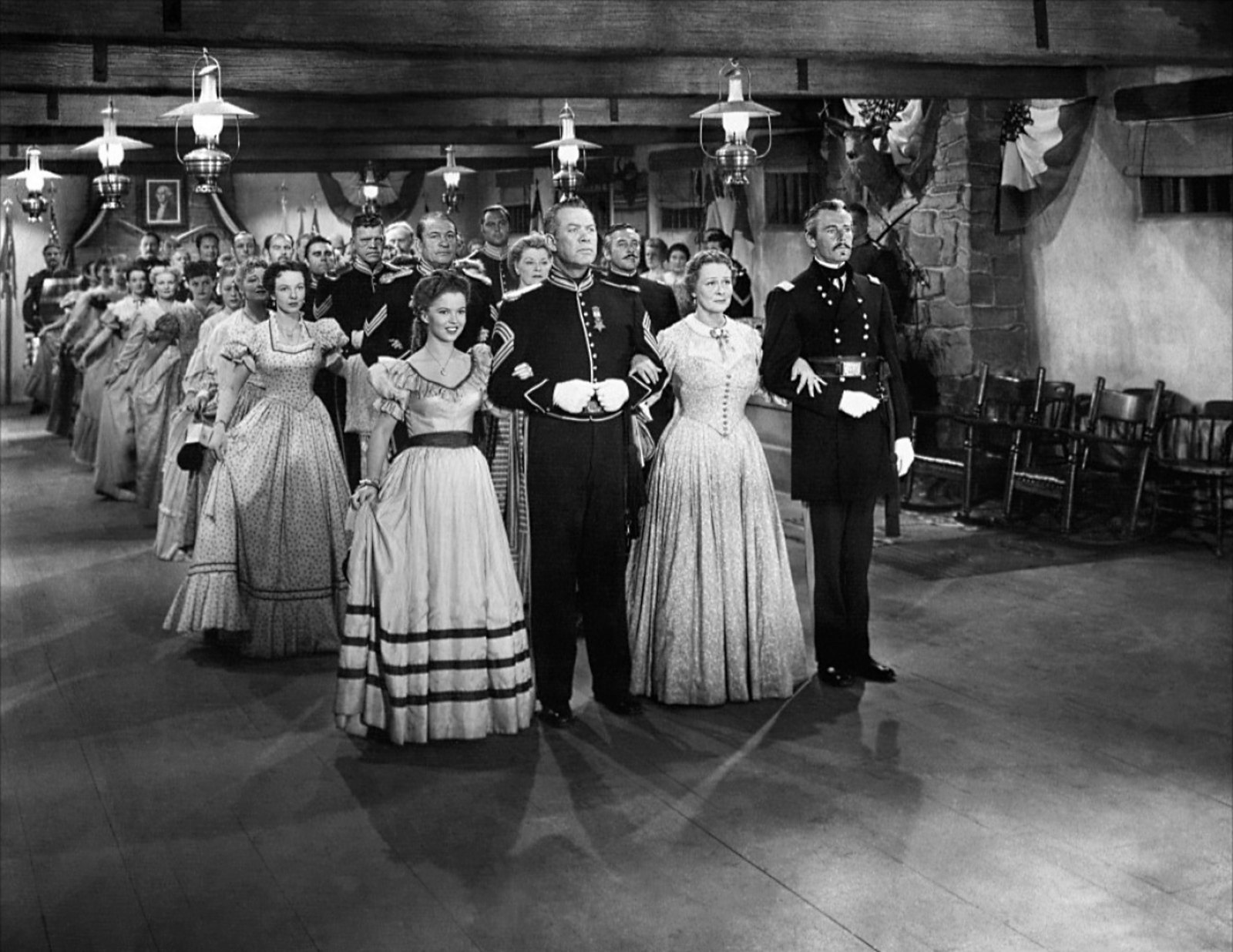 It is "Thursday's" animosity toward the Apaches and "Cochise" that the story centers around. He takes the side of the corrupt Indian Agent "Silas Meacham", Grant Withers.
John Ford has been criticized for his portrayals of Native Americans. It is a strange comment, if the viewers looks at this trilogy. In "Fort Apache" Ford treats Native Americans with respect and "Cochise" is seen is a strong, fair leader of his people. It is "Owen Thursday's" blindness to the words of "Captain Kirby" and others that causes the climatic battle. Although he knows "Meacham" has been cheating the Apache's. "Lieutenant Colonel Thursday" lets his own prejudices toward inferior non-whites take hold.
When the picture reaches its climax. When "Lieutenant Colonel Thursday" orders his entire command out to track down "Cochise" and his band. The viewer sees----
----"Thursday's" action play into "Cochise's" plan for an ambush. One that reflects what happened to George Armstrong Custer. In Ford's film this is also caused by "Thursday's" search for GLORY to redeem himself with his superiors.
"Cochise's" warrior's were played by members of the Navajo tribes in Utah. There was a great documented friendship between Ford and his Native American actors.
The revised Battle of the Little and Big Horn Rivers!
Prior to the actual charge "Captain York" attempts to get "Lieutenant Colonel Thursday" to return to the fort. "York" warns "Thursday" he's taking his command into a trap on "Cochise's" terms of battle. Instead of listening to his Second in Command, the more familiar man with Apache tactics, "Owen Thursday" relieves "York'. He orders him to exchange places with "Captain Collingwood". "Captain York" is now at the head of the relief column. Probably thinking of his daughter, "Philadelphia", "Thursday" orders "Lieutenant O'Rourke" to stay with the relief column, Confirmation he knows what his Second in Command has told him is the truth.
What follows is John Ford restaging "Custer's Last Stand".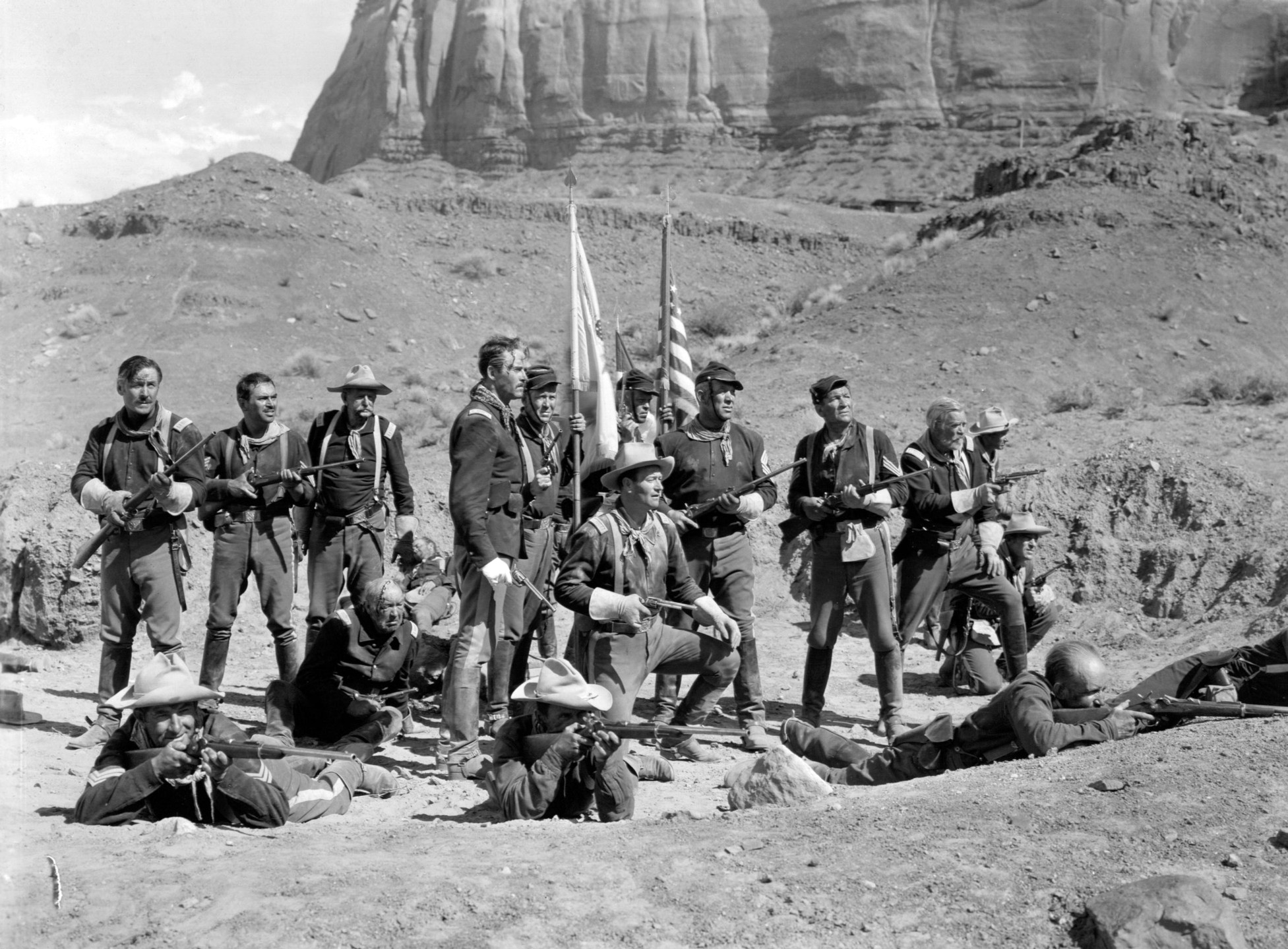 Except for most of the troops of "Captain York's" relief column. "Lieutenant Colonel Owen Thursday's" command is wiped out by "Cochise" in a battle that should never have been.
John Ford now goes to destroying the myth of "Custer" by giving his viewer the myth of "Thursday".
Cut to a group of reporters talking to the now "Lieutenant Colonel Kirby York" in his office. They are introduced to "Philadelphia" and her husband "Lieutenant O'Rourke". One remarks if "York" has seen the "Famous Painting" of "Thursday's Heroic Charge"? "Kirby" who considers "Owen" a poor tactician that wasted lives. Lies by saying the painting is completely accurate. Another direct reference to a painting right after the Little Big Horn glorifying George Armstrong Custer.
Following are behind the scenes filming of "Fort Apache" from the website "DUKEWAYNE.COM:
https://dukewayne.com/index.php?thread/1896-fort-apache-1948/&pageNo=5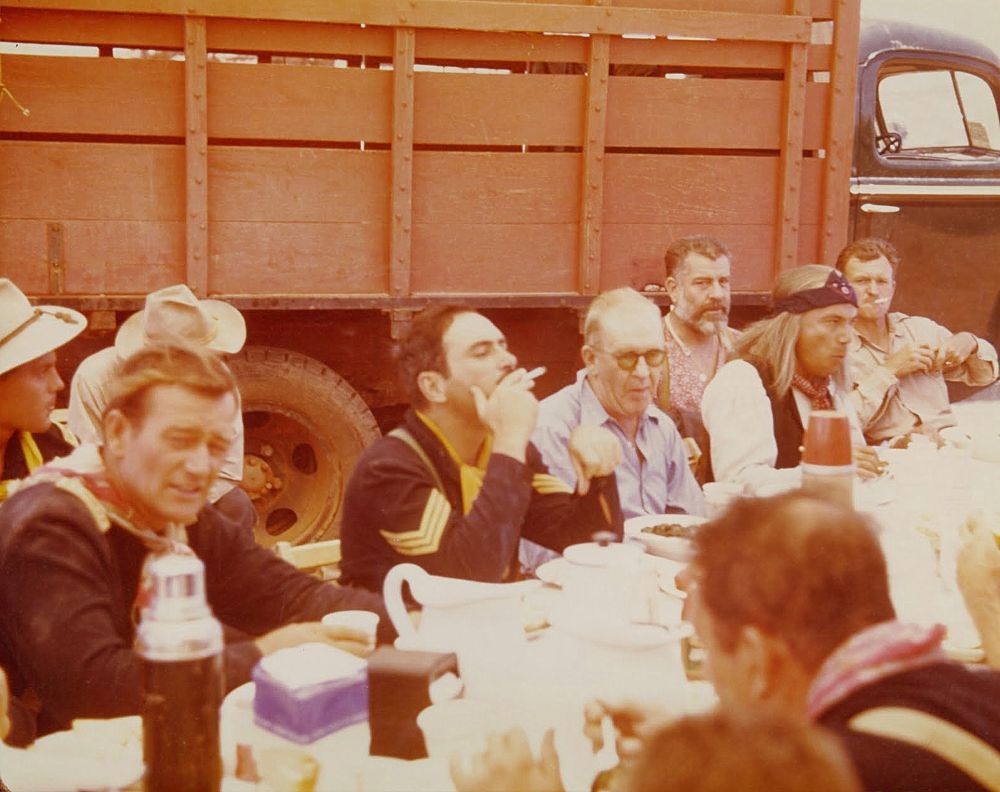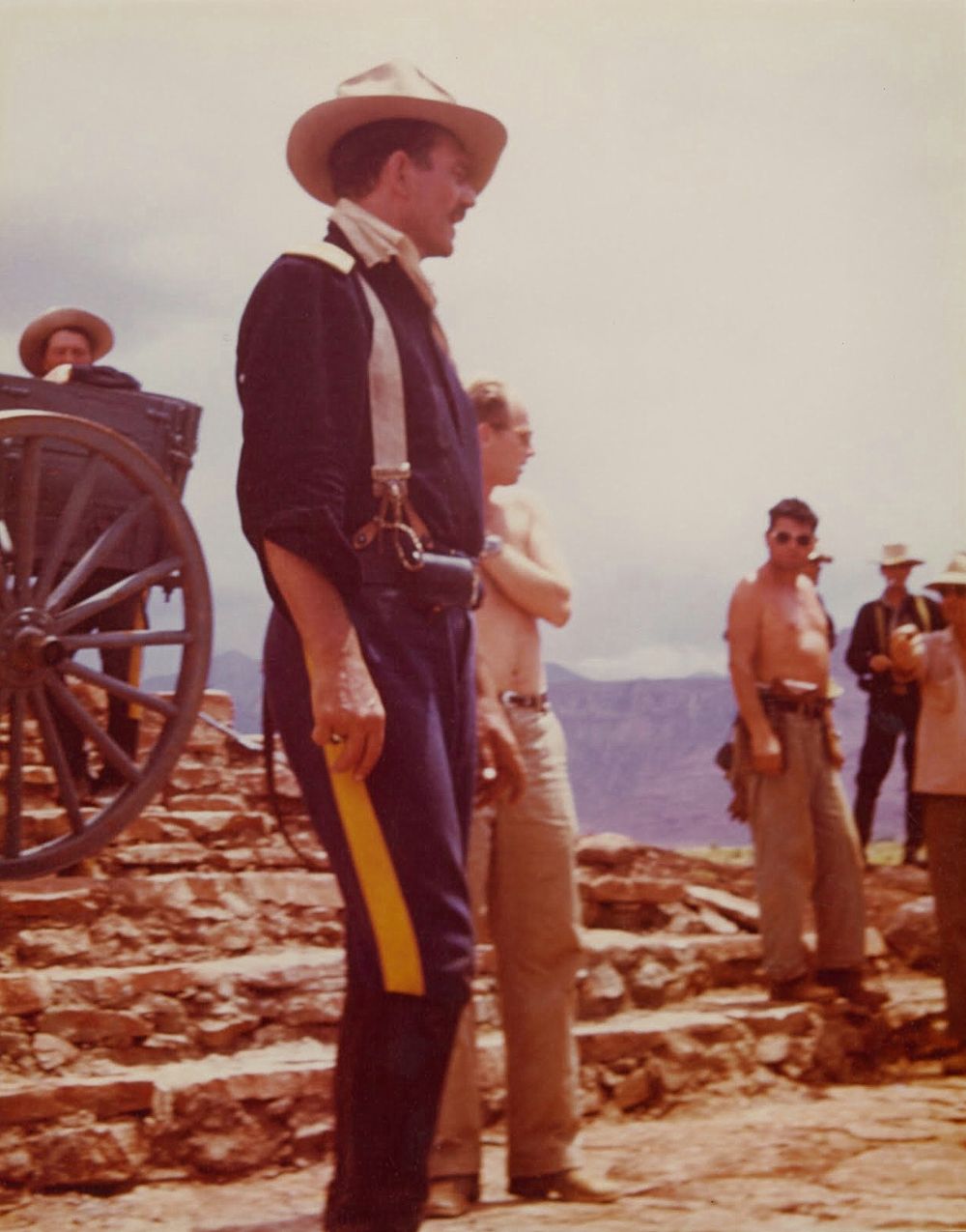 SHE WORE A YELLOW RIBBON (Released July 26, 1949)
Before I discuss
"She Wore A Yellow Ribbon"
I want to speak to the motion picture John Ford made between "Fort Apache" and the second part of his Cavalry Trilogy.
Back in 1919 Ford made a silent Western with his good friend and eventually one of John Wayne's mentors Harry Carey. The film was entitled "Marked Men".
It was an adaption of Peter B. Kyne's 1913 novel "The Three Godfathers".
John Ford had always wanted to remake the picture in technicolor and it took until December 1, 1948 for
"3 Godfathers"
to premier in Washington, D.C. The remake was dedicated to Harry Carey and co-starred Harry Carey, Jr., Ford's godson, as "William Kearney" aka: "The Abilene Kid". The two names above Carey, Jr. were John Wayne as "Robert Marmaduke Hightower" and Pedro Armendariz as "Pedro 'Pete' Fuerte". Ward Bond appeared as "Sheriff Buck Sweet".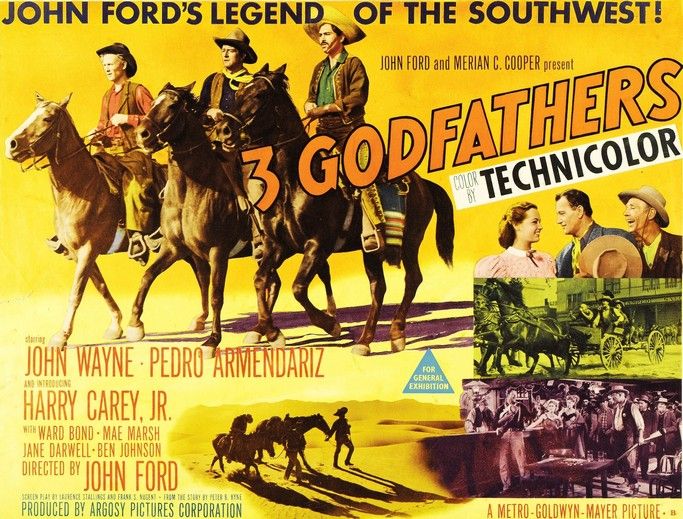 Chester Morris, Lewis Stone and Walter Brennan, center, starred in the 1936 production of "The Three Godfathers". The picture was not directed by John Ford and this film has become forgotten, because of the popularity of Ford's version.
"3 Godfathers" is a classic Christmas story in an old west setting. As three cattle rustlers rob a bank and are pursued by "Sheriff Buck Sweet". As they cross the desert they come across a lone covered wagon and the only living person is a pregnant women, Mildred Natwick. She gives birth to a baby boy and dies. Prior to her death she reveals that her Uncle is "Sheriff Sweet" and asks them to please take the baby to him.
When "She Wore A Yellow Ribbon" began production Pedro Armendariz wasn't in the cast, but Wayne and Carey, Jr. were. Harry Carey' Jr. wrote a great memoir of the "John Ford Stock Company" entitled
"A Company of Heroes: My Life as an Actor in the John Ford Stock Company",
if you're really interested in Ford this is the work for you. Harry Carey, Jr. is a great spinner of stories and "Tall Tales" and his book is extremely readable.
The source of the screenplay for "She Wore A Yellow Ribbon", once again by Frank Nugent, as I mentioned was James Warner Bellah. Specially three short stories for the "Saturday Evening Post": "Command" appeared on June 8, 1946, "The Big Hunt" on November 8, 1947 and "War Party" on June 19, 1948.
Which brings me to a classic John Wayne role he wasn't suppose to get.
Wayne and Ford had an off again, on again, father and son relationship. One of the "Off's" always had to do with John Wayne not joining the Military during World War 2. Another "Off" was John Ford didn't really consider him an actor, or at least one that could handle a role 20 years older than his real age. Wayne was 42 at the time and "Captain Nathan Brittles" was described as 62.
However, John Ford still hadn't cast the main role for his picture and couldn't seem to find the right actor. Then he went to see his friend director Howard Hawks' motion picture "Red River" in a private screening. The motion picture had been shot in 1946, copyrighted in 1947, but for some reason it would not be released to the General Public until September 30, 1948.
In "Red River" John Wayne was self made "Cattle Baron" "Tom Dunson". From the opening sequence in which "Dunson" meets a young boy and only survivor of an Indian attack on a wagon train. To the main story line of the Cattle Drive across the Chisholm Trail and confrontation between "Dunson" and "Matt Garth", Montgomery Clift. The story spans 14 years and Wayne's "Dunson" had to age and the Wayne had to act.
According to the reviews of both "Red River" and "She Wore A Yellow River' on the Turner Classic Movie Website. John Ford was supposed to have commented after watching the Howard Hawks picture:
I didn't know the son of a bitch could act.
So the "Son of a Bitch" got what would become one of his most memorable roles.
Let's take a look at the other four actors mentioned on the movie posters for "She Wore A Yellow Ribbon". Right after Wayne's name was Joanne Dru. This was Dru's third motion picture. Her first was playing an Irish girl who wanted to marry a Jewish boy in the totally forgotten Comedy/Drama/Romance from 1946 "Abie's Irish Rose".
However, the motion picture right before John Ford's feature was "Red River" and it is probable this was were the director saw her first. In that film Dru plays "Dance Hall Girl" "Tess Millay". "Tess" becomes the love interest for "Matt" and he gives her the bracelet once worn by "Dunson's" mother. "Tess" is a strong willed women and in one scene tells "Dunson" off and is not afraid of the "Cattle Baron".
In "She Wore A Yellow Ribbon" Joanne Dru portrayed "Olivia Dandridge" the niece of the commanding officer of "Fort Starke". She becomes the love interest of the two dueling "Lieutenants" for her favors. "Olivia" also is the witness to the love "Nathan" had for his dead wife "Martha" in some of the most tender moments in any John Ford motion picture. In the scene with the "Prairie Roses" below. John Wayne really does show he can act and almost brings the audience to tears.
As the first of the 'Dueling Lieutenants" was John Agar as "Lieutenant Flint Cohill".
Portraying the other "Dueling Lieutenant" was Harry Carey, Jr. as "Lieutenant Ross Pennell"
In the above photograph with John Wayne and Harry Carey, Jr. was Ford's discovery "Ben Johnson" as "Sergeant Tyree".
True Story:
Howard Hughes purchased horses from a ranch managed by Ben Johnson's father. Johnson took the horses to Hollywood from Oklahoma and hung around as a part time stunt man and horse wrangler. Working as a horse wrangler on the filming of "Fort Apache". Johnson was relaxing with some of the other cowboys. He was watching John Ford film a scene with two women in a wagon pulled by a horse team. As the cameras rolled something spooked the horses and there was a real run-a-way. Johnson realized what was happening, jumped on a horse, and went to the real rescue. Ford kept the camera running and when it was over. Not only was the rescue used in the film, but Ford signed the horse wrangler/stunt man to a personal contract and Ben Johnson became a major member of the "John Ford Stock Company".
My biography about "Ben Johnson: Roping a 12 Foot Gorilla", which refers to the Merian C. Cooper/John Ford produced 1949 "Mighty Joe Young" can be read on my blog at:
http://www.bewaretheblog.com/2016/06/ben-johnson-roping-12-foot-gorilla.html
Speaking of the "Ford Stock Company". The film contained Victor McLaglen as "Sergeant Quincanon" and George O'Brien played "Major Mack Allshard".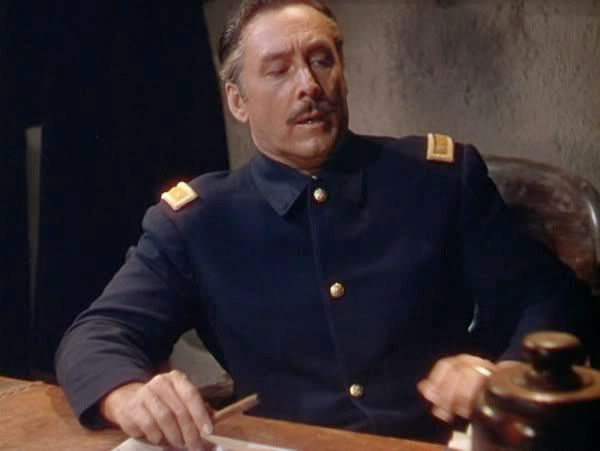 Portraying George O'Brien's wife "Mrs. Abby Allshard" aka: "Old Iron Pants" was Mildred Natwick. The dying mother in John Ford's "3 Godfathers".
Portraying "Dr. O'Laughlin" was Arthur Shields. Shields was often confused with his brother Barry Fitzgerald, below, who had changed his last name.
John Ford cast both brothers in "The Quiet Man" which also featured Mildred Natwick. Below is Fitzgerald as "Michaleen Oge Flynn"
"
Look closely at this bar room scene with McLaglen. The man to his right is "Connolly the Bar Tender" played by John Ford's older brother Francis.
Tom Tyler portrayed "Corporal Quayne". He was a major 1930's "B" Cowboy actor, "Luke Plummer" in Ford's 1939 "Stagecoach", the original Mummy "Kharis" before Lon Chaney, Jr. and the original "Captain Marvel" for Republic Pictures.
My article on this overlooked actor can be read at:
http://www.bewaretheblog.com/2017/01/tom-tyler-b-cowboy-star-who-became.html
"Pony-That-Walks" was portrayed by Chief John Big Tree of the Seneca Nation. He was born Issac Johnny John and appeared in John Ford's 1924 silent classic "The Iron Horse" and 1939's "Stagecoach".
Unknown to John Ford, or anyone over his years in motion pictures and television was the truth behind Chief White Eagle who portrayed "Chief Sky Eagle". He claimed to be a Mohawk Tribal Chief. However, after his death on January 24, 2011. It was discovered "Chief White Eagle" really was Basil F. Heath. His parents were Andrew Cleve Heath and Amelia De Amorim Heath from Canada. In Canada he had attended McGill University in Montreal, Quebec and went to Oxford University in the England. Afters serving in World War 2, not in the Canadian Army, but in he United States Army 101st Airborne. He suddenly became a Mohawk Chief and acted in motion pictures.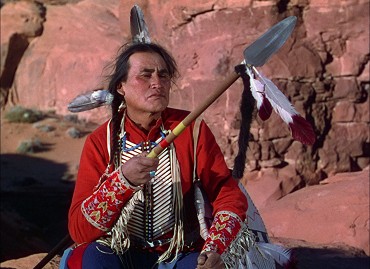 Not claiming to be a Native American, but a character actor who appeared in Merian C. Cooper's "King Kong", "Son of Kong" and "The Most Dangerous Game" was Noble Johnson. This African-American actor and early Civil Rights Activist played more Native American roles than any Native American actor as of this writing. In "She Wore A Yellow Ribbon" Noble Johnson was the War Chief "Red Shirt".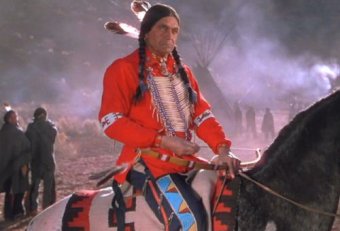 My biographical article on this remarkable African-American actor can be read at the following link:
http://www.bewaretheblog.com/2015/06/noble-johnson-african-american-pioneer.html
I also have written an in depth look at "Native American's Hollywood Style". My article looks at the treatment and depiction of Native American's in the motion picture industry. That article is found at:
http://www.bewaretheblog.com/2015/08/native-americans-hollywood-style.html
"She Wore A Yellow Ribbon" is a story of facing Old Age. It is told mainly through the upcoming retirement, from the United States Cavalry, of "Captain Nathan Brittles". As he remembers his life and reflects upon where he is going. Having known no other life than the Army and having been married to an "Army Wife".
Countering his story, John Ford, in a small but powerful sequence, does a reflection on old age from "Brittles" enemy and friend "Pony-That-Walks", Allowing the director to look at both cultures.
The subplot, which most audiences zero in upon, is the love story between "Olivia Dandridge", as she grows up under the rigors of frontier life at Fort Starke, and her suitors who are forced to face responsibility.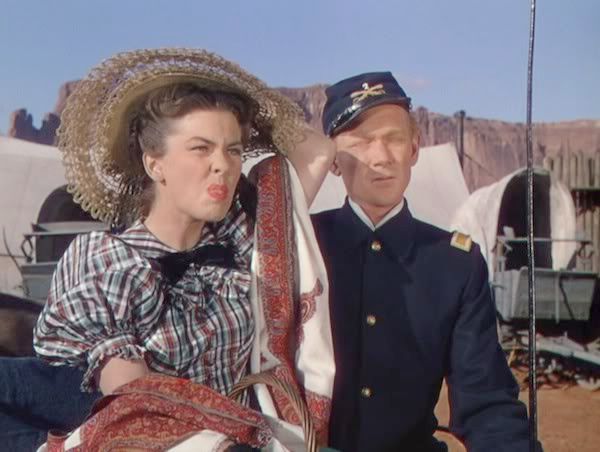 There is a comic subplot involving the also retiring "Sergeant Quincannon", Victor McLaglen, Setting up the "Sergeant" for a little fun over his love of drinking. "Nathan" loans his long time "Sergeant", since the Civil War, "Quincannon", his own new set of civilian clothes to try on. "Brittles" knows his "Sergeant" will not be able to resist going over to Fort Starke's bar to show everyone how he will lock as a civilian. "Nathan" then sends some men to arrest "Quincannon" for being out of uniform and drinking on duty.
.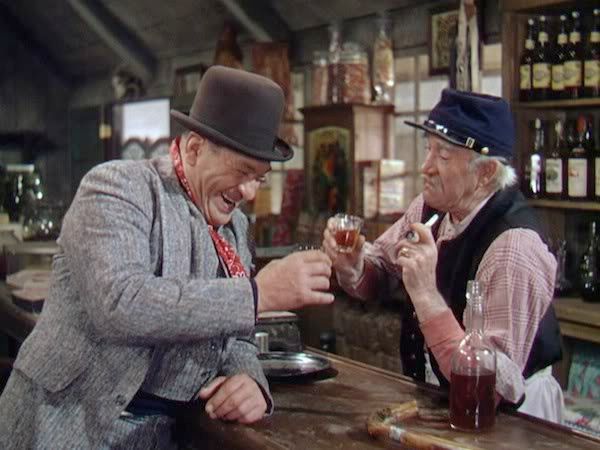 A renegade "War Chief" named "Red Shirt" is attempting to start a new "Indian War". He leads a breakout of young warriors of both the Cheyenne and Arapaho tribes from the Reservation. The story takes place either at the end of June, or start of July 1876. "Red Shirt's" breakout is caused by news of the massacre of George Armstrong Custer and members of the 7th Cavalry at the Little and Big Horn Rivers.
"Captain Nathan Brittles" is given the mission of finding and returning the renegades to the reservation. However, making that problematic is the added responsibility of escorting his Commanding Officer's wife and Niece to where they can take the Eastbound Stage to safety,
Accompanying "Captain Brittles'" escort troop are "Oliviia's dueling suitors "Lieutenant Cohill" and "Lieutenant Pennell".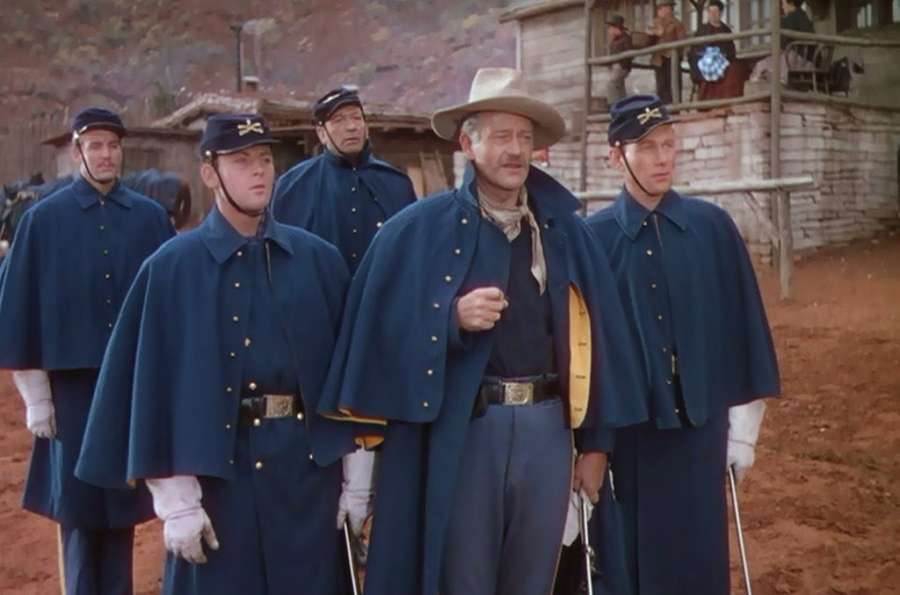 As the escort troops moves toward the Stage Coach station they come upon signs of the new Indian War led by "Red Shirt".
There will be a skirmish with the Indian's resulting in the death of one of "Captain Brittiles'" oldest privates. This gives John Ford a chance to mention what many of the men who fought for the "Confederacy" did after the Civil War ended. Dialogue has already established that "Captain Brittles" scout "Sergeant Tyree" was a "Captain" in the Confederate army.
Below is the death of the private and his burial scene with the ex-Confederate soldiers in "Brittes: command around his coffin. "Captain Brittles" knew his "Private' as a "Confederate General" he fought against.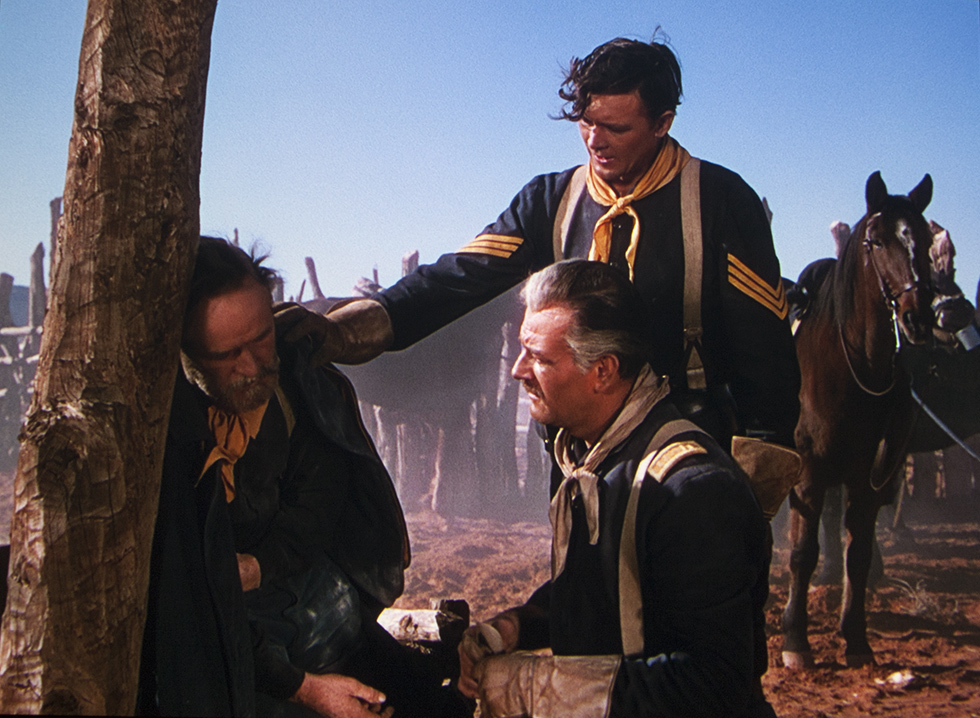 Without getting his charges to safety and thinking of their safety. The troop returns to Fort Starke. It is the day before "Captain Nathan Brittes" is "Officially Retired" on the Cavalry's list. He is presented with a gold watch for all the years of his service and leaves his life and wife's grave behind him.
It is the little things in this movie that make John Wayne's "Captain Brittles" human. When he receives the watch he must put on a pair of glasses to see the inscription written on it.
"Brittles" tracks down the column going after the renegade Indians under "Red Shirt". Now being led by "Cohill" and "Pennell". He checks his watch and tells them he is still a member of the United States Cavalry until Midnight. The two Lieutenants turn over Command to the most experienced man. "CAPTAIN Brittles" takes "Sergeant Tyree" and they go to the Indian encampment to speak to "Chief Pony-That-Walks" about peace.
Only the two discover he is no longer the leader and considered too old. "Pony-That-Walks" wisdom is still strong, but "Red Shirt" has become "War Chief" and the young men follow him instead. "Captain Brittles" then puts his secondary plan into effect and the entire troop surprises the Indian encampment by driving off their horses. As simple as this may sound today. Without their horses the young men return to the Reservation ending the raiding.
"Brittles" returns to Fort Starke with the Column and a second good-bye. As was popular with Hollywood Westerns. Still technically, "Captain Nathan Brittles", apparently "Rides Off Into the Sunset" of his Army Career and Life.
HOWEVER, he sees "Sergeant Tyree" riding hell bent for leather toward him. They meet and "Brittles" learns his Commission as Chief of Army Scouts has come through and he returns to Fort Starke.
"She Wore A Yellow Ribbon" was more a character rather than action driven story. Especially compared to even "Fort Apache". That didn't stop the RKO Publicity Department from attempting to turn the film into something else.
As to:
A THOUSAND SAVAGES IN WAR PAINT!
I really don't think so, but the"Tag Line" was sure to attract audiences as if John Wayne's name wasn't enough at the time on a John Ford motion picture!
I just want to point out the lower right hand corner of the above newspaper add for a Double Feature that would have normally included a newsreel and cartoons. The 1949 Adult ticket price for the "Palace" Movie Theater in New York City before 5:30 PM was 45 cents and then it went up to the regular Adult ticket price of 64 cents.
Then there was that title theme song! That every major singing group was recording and in most cases rearranging to fit their styles.
The original music and the idea of wearing a "Yellow Ribbon" seems to have come from England by settlers prior to the Revolutionary War. At some point John Philip Sousa created a Military March out of that. In 1917 the first copyrighted version with lyrics was created by George A. Norton. The title as seen on the above music sheet was "Round Her Neck: She Wore A Yellow Ribbon".
Norton's song has "Susie Simpkins" singing about her soldier love "Silas Hubbard". The chorus was written as:
'Round her neck she wears a yeller ribbon,
She wears it in winter and the summer so they say,
If you ask her "Why the decoration?"
She'll say "It's fur my lover who is fur, fur away.
The chorus for the modern Russ Morgan version rewritten to fit John Ford's motion picture goes:
Round her neck she wore a yellow ribbon
She wore in the winter
And the merry month of May
When I asked her: Why the yellow ribbon?
She said: It's for my lover who is far, far away
As for the rest of the song with slight updating it was the same lyrics, but it was that chorus that stuck with audiences.
While the song might have been uplifting. The living quarters during production, including those for Joanne Dru and Mildred Natwick, weren't much to speak about. They were provided by Harry Goulding, just north of the Arizona-Utah boarder, and at the time were truly primitive. It was Goulding that introduced John Ford to the beauty of Monument Valley. The sleeping quarters had dirt floors and communal cold-water showers. One of he buildings, on Harry Goulding's property, doubled as the living quarters for John Wayne's "Nathan Brittles" seen below.
"She Wore A Yellow Ribbon" won the Academy Award for Best Cinematography for Winton Hoch. He attempted to base much of the film's imagery on the paintings of Frederic Remington. This sounds great, but there is one story about a verbal battle between Ford and Hoch over the weather.
My reader will note that the sky was getting pretty bad in this still.
What happened next was an unplanned for thunder storm and Winton Hoch wanted to pack up his equipment before they got damaged from the downpour. John Ford ordered him to keep shooting to get the scene. While the dispute between the two men continued. So did the filming. This became one of those iconic sequences in a motion picture and went toward that Oscar for the Cinematographer.
RIO GRANDE (Released November 15, 1950)


"Rio Grande"
is my favorite of what is referred too as John Ford's Cavalry Trilogy, but as I said at the start of the article. This picture was not planned by Ford and was forced upon him.
Both "Fort Apache" and "She Wore A Yellow Ribbon" were made for RKO Studios, at the time owned by Howard Hughes, but the studio would not back an idea for a film John Ford wanted to make. He looked elsewhere and this led the director to Herbert Yates the founder of "Republic Pictures".
To the general public, Yates, Ford and John Wayne seems like one of a happy group. They were not and that is part of the story of "Rio Grande" and "The Quiet Man".
Herbert Yates ruled "Republic Studios" in the same dictatorial style as his counter part Columbia Pictures Harry "King" Cohn, John Wayne had come to Republic just after completing "She Wore A Yellow Ribbon" in 1949.
He made two films for Yates:
"The Fighting Kentuckian" and "The Sands of Iwo Jima".
John Ford approached Herbert Yates about making "The Quiet Man" in Technicolor not Republic's "Tru-Color", a cheap color process the Studio used, and to shoot the picture entirely in Ireland with an American cast. As at RKO, Yates, used to getting his way, told the director NO!
Ask John Wayne about Herbert Yates. Wayne kept pitching a motion picture he wanted to make. It was about the battle for "The Alamo". Yates kept dangling the "Alamo" project before John Wayne as a means of keeping the actor at Republic. Wayne wised up and left Republic Studios in 1952. Three years after John Wayne left Republic Pictures to form his own company
Batjac Productions.
Herbert Yates made "The Last Command" with Sterling Hayden as "Jim Bowie", Richard Carlson as "William B. Travis" and Arthur Hunnicutt as "Davy Crockett".
However
,
Herbert Yates had never gone up against a John Ford.
Yates did mention to John Ford that he might be interested in a Cavalry picture, Similar to the two Ford had made for RKO. According to Patrick Ford, John's son, his father wasn't interested in making another Western and especially a Cavalry story.
Additionally John Ford had just released a little Western, the last film he made for RKO, entitled
"Wagon Master"
. A great little picture and a favorite of the director. The film's stars were Ben Johnson, Joanne Dru, Harry Carey, Jr and Ward Bond. Not majors like John Wayne, but Ford wanted solid basically unknown actors to help with the intimacy of the story he wanted to create. "Wagon Master" was about two horse traders who agree to guide a Mormon Wagon Train to Utah.
Again, according to Patrick Ford, a compromise, or sorts, was reached between Hebert Yates and his father. The studio owner would approve "The Quiet Man",
IF
John Ford would make another Cavalry picture. Ford grudgingly agreed so he could make his dream film in his family's native Ireland.
Then Herbert Yates added another stipulation. The Cavalry motion picture could have any actor John Ford wanted,
BUT JOHN WAYNE.
This went directly to Yates' battle for control of what the actor did as
HIS CONTRACT PLAYER
and the feelings Wayne had toward the studio head. Ford won the battle, because in the end Herbert Yates knew the screen value of John Wayne and Republic's bottom line was top most. Then John Ford was faced with convincing John Wayne to be in the picture. Which also took some doing.
At this point it appeared a go and John Ford had cast Maureen O'Hara to co-star, for the first time, opposite Wayne. Then another small battle came up. Herbert Yates wanted "Rio Grande" shot first, but Ford wanted "The Quiet Man". In the end Herbert Yates won that round and a shaky "Peace Treaty" was signed between the two men.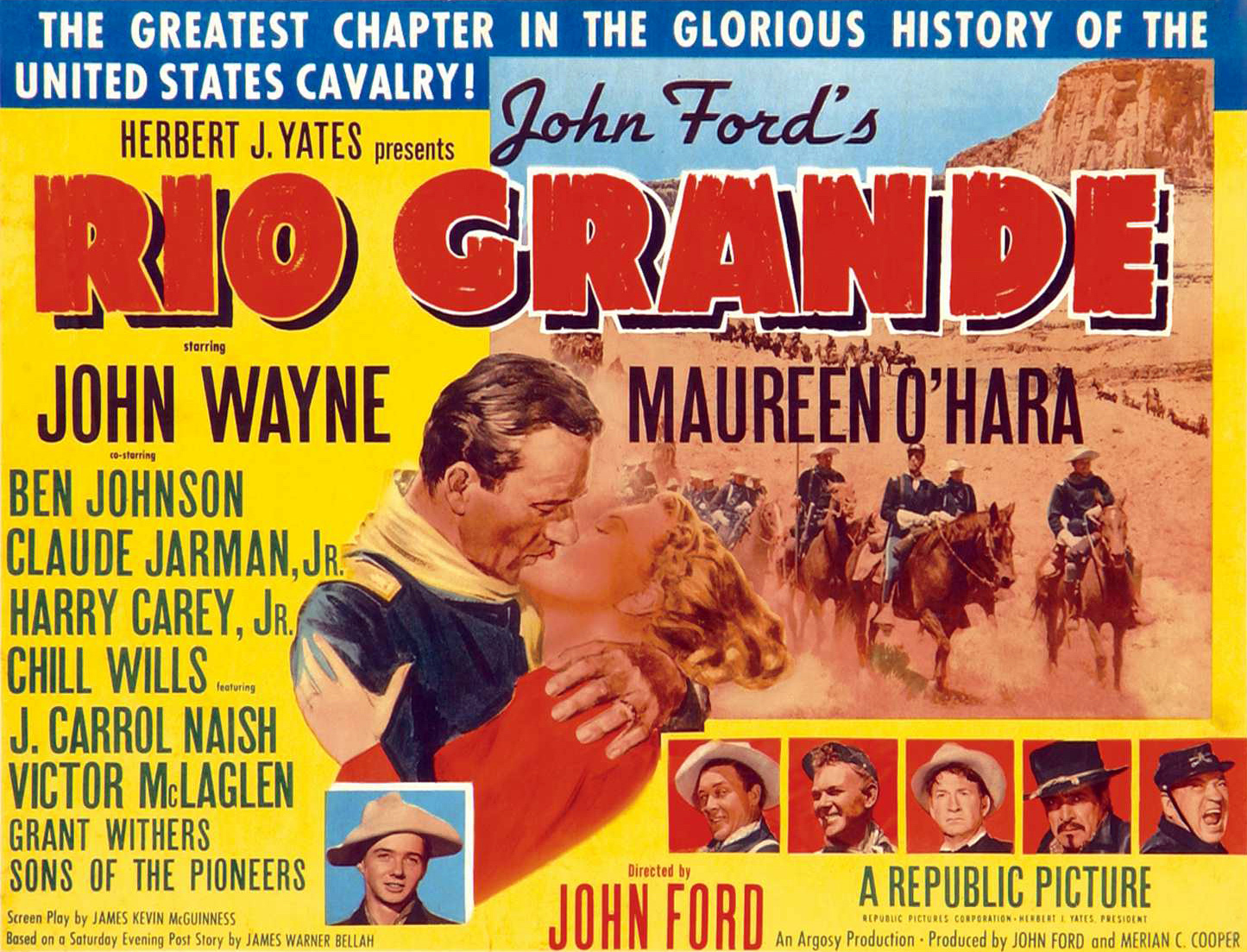 Before I look at the cast of "Rio Grande" I want to look at the origin of the screenplay. Initially it was based upon James Warner Bellah's short story "Mission With No Record" from the September 27, 1947 edition of "The Saturday Evening Post". However, both John Ford and his son Patrick created that actual story outline to be filmed and turned that over to James Kevin McGuinnesss to write the screenplay. McGuinness had been a member of John Ford's Photographic Unit during World War 2 and wrought the narration for Ford's award winning "Battle of Midway".
As the writings of James Warner Bellah were the basis for the trilogy. I want to give my reader a little additional information about those stories. Which were all about the same characters. This information is taken from "The New Frontier: John Wayne Data Base" at:
http://dukefanclub.weebly.com/complete-john-wayne-bibliography/category/movie-tieins-and-novelizations-and-original-novels-and-stories
In all, there are 13 "Fort Starke" stories, and when taken together paint a clearer and more well-rounded picture of Fort Starke and its inhabitants – a picture that in turn enables the reader to understand the films better. Of course there are some differences between the stories and the films, as such is the nature of adapting stories to screenplays. That being said, however, there are enough similarities and recognizable characters as to tie the three films together and fill in much of the back story that is missing from the films.
The "Fort Starke" stories can be found in

"Reveille"

(published by Fawcett Gold Medal in 1962) and

"Massacre"

(published by Lion 1950).

They are:

Command

[The Saturday Evening Post June 8, 1946] (Basis for She Wore a Yellow Ribbon)

By the Beard of Saint Crispin

[The Saturday Evening Post Aug. 3, 1946]

West of the Paradise

[The Saturday Evening Post Sept. 7, 1946]

Massacre

[The Saturday Evening Post Feb. 22, 1947] (basis for Fort Apache)

Spanish Man's Grave

[The Saturday Evening Post May 3, 1947]

The Devil at Crazy Man

[The Saturday Evening Post June 21, 1947]

Mission with No Record

[The Saturday Evening Post Sept. 27, 1947] (Basis for Rio Grande)

Lash of Fear

[The Saturday Evening Post Nov. 8, 1947]

Big Hunt

[The Saturday Evening Post Dec. 6, 1947] (Basis for She Wore a Yellow Ribbon)

The Last Fight

[The Saturday Evening Post Oct. 16, 1948]

Stage for Elkhorn

[The Saturday Evening Post Nov. 20, 1948.
Anyone who has seen the Trilogy must have noted that the name of John Wayne's character of "Kirby York" is in both "Fort Apache" and "Rio Grande". Although in the later film his last name is spelled with an "E" at the end as "Yorke". Which is the way Bellah wrote it.
That same viewer must have noted that ex-Confederate Officer "Tyree" is in both "She Wore A Yellow Ribbon" and "Rio Grande". Causing the question to be raised in the minds of the viewers unfamiliar with James Warner Bellah's work. Where these movies actually related to each other? Now my readers know the answer.
Another point:
I located a copy of the 1962 Fawcett release of "Reveille" on line. The paperback which sold originally for 35 cents in available for $78,00 as of this writing.
Returning to "Rio Grande" and the picture's cast.
As already mentioned John Wayne was again cast as "Kirby Yorke", but with that "E". In "Rio Grande" "Kirby" is a "Lieutenant Colonel". In "Fort Apache" "Kirby" starts out as a "Captain", but at the film's fade out. He has been promoted to "Lieutenant Colonel". Apparently skipping over the rank of "Major" as a result of the actions of "Owen Thursday" and the command structure at "Fort Apache" calls for that rank.
For those of my readers attempting to put the three films in a chronological order. The year "Rio Grande" takes place, the only one of the three actually identified with a date, is 1879, or 15 years after the 1864 Civil War Shenandoah Valley Campaign.
Should you substitute "Lieutenant Owen Thursday" with "General Custer" and the Apaches for the Sioux as many viewers do and I mentioned previously. Then you could consider "Fort Apache" as having taken place in 1876. Permitting the now "Lieutenant Colonel Kirby Yorke" to be transferred from Arizona to Texas for the events in "Rio Grande". However, "Tyree" presents a slight problem as you will read.
Maureen O'Hara portrays "Kirby's" estranged wife "Kathleen Yorke". From the dialogue we lean she had a Southern Plantation, "Bridesdale", that he, under orders of General Philip "Phil" Sheridan, burned to the ground. This establishes her animosity towards him. Although both are obviously still in love and will rediscover that fact.
Ben Johnson is "Trooper Tyree" in "Rio Grande". The ex-Confederate Captain appears to have joined the Union Army to avoid being jailed. However, in "She Wore A Yellow Ribbon" he is "Sergeant Tyree". That story had to take place in 1876, because "Red Shirt" and his renegades escape the reservation shortly after the Little Big Horn which was in June of that year,
Therefore, Ben Johnson's "Sergeant Tyree" shoots down any idea of putting a actual chronological order to John Ford's Cavalry Trilogy and the three films must be considered as separate from each other.
Claude Jarman, Jr. portrays John Wayne's and Maureen O'Hara's son "Trooper Jefferson Yorke".
"Kirby" hasn't seen his son in 15 years and the boy wants to meet his father. So he decided joining the Army was the best way to do this. The amount of years since "Kirby Yorke" last saw his boy is exactly how long its been since the Shenandoah Campaign and the burning of "Bridesdale".
In the story "Kathleen Yorke" has come to take her son home and needs "Kirby" to sign the release papers, because the boy lied about his age to enlist. As a way to determine the boy's age when "Kirby Yorke" last saw his son. "Claude Jarman, Jr. was 16 when he shot "Rio Grande".
The other "Junior" in the picture was of course Harry Carey, Jr. He portrays the third "Trooper" making up the tent shared by "Tyree" and young "Yorke". His character is "Trooper Daniel 'Sandy' Boone".
Victor McLaglen is back in the same role as in "She Wore A Yellow Ribbon" as "Sergeant Major Quincannon". This character also adds to the confusion for those attempting to place this film in some chronological order with the others, because in the previous film he is also retiring from the Army in 1876.
My favorite sequence is about the new recruits getting their first Military Horse Mounts.Victor McLaglen as "Sergeant Quincannon" asks if any of the recruits know how to ride a horse? Both Harry Carey, Jr. and Ben Johnson show their real horsemanship by riding Roman Style. You can't clearly see their faces, but these riders are actually Carey, Jr and Johnson.
Portraying the Regimental Surgeon "Dr, Wilkins" was Theodore Childress "Chill" Wills.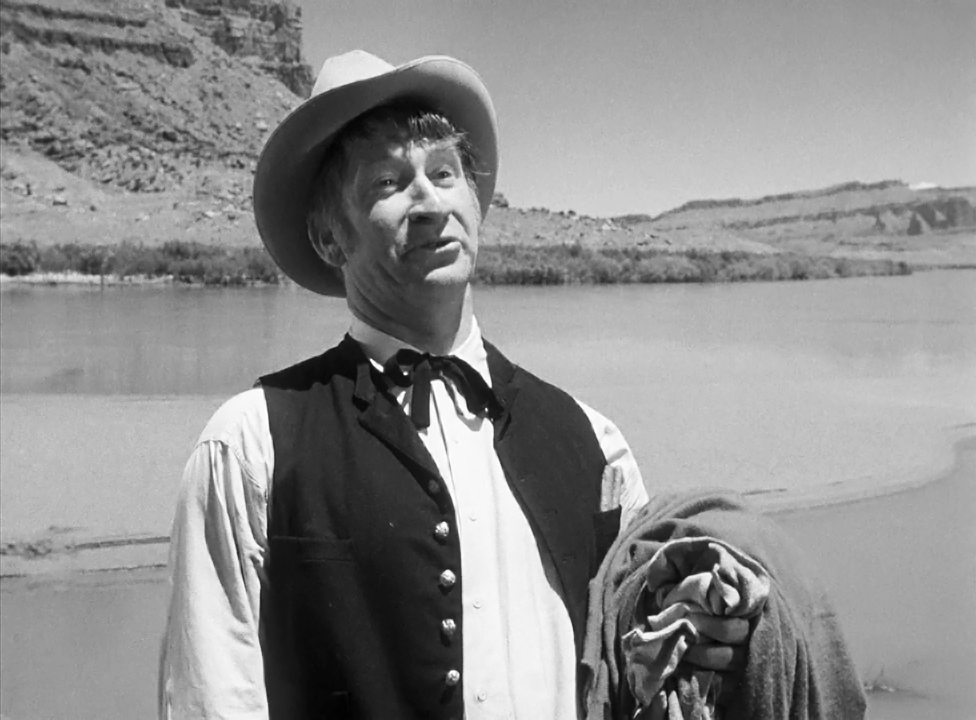 There was one interesting actor, who couldn't really act, that John Ford cast as "Captain St. Jacques". Very much pirate looking with that eye patch over his right eye.
"St. Jacques" was played by an ex-Marine Officer and his career was probably the main reason John Ford put him in the film. Again possibly hitting at John Wayne for not enlisting. His name was Peter J. Ortiz.
In the Marine Corps his rank was Colonel, but before the United States entered World War 2. Ortiz joined the French Foreign Legion and was promoted from the ranks to Lieutenant. Ortiz was also an agent of the Office of Strategic Services (OSS) and was involved in several spy missions into German occupied France and Morocco. The latter were he was stationed in the Foreign Legion. The 1947 James Cagney movie "13 Rue Madeleine" was based on some of Ortiz's work. As was 1952's "Operation Secret" starring Cornel Wilde.
The Regimental Singers were the then current "Sons of the Pioneers" Country/Western singing group. The group had been founded by a young man named Leonard Slye and two others Bob Nolan and Tim Spencer..In 1937 Slye left the group when Herbert Yates offered him a contract and changed his name to Roy Rodgers. Now among the group was John Ford's son-in-law Ken Curtis. Curtis would appear in several Ford pictures and in 1959 he became "Festus" for 304 episodes of the television classic Western "Gunsmoke". That starred John Wayne's friend James Arness.
Above on the left Curtis in "Rio Grande" and on the right "Gunsmoke".
The post on the Texas Frontier is really no Fort, but large and small tents with the start of fortifications. Mainly a main entrance gate and a building for both the General Store and Hospital. Everything else is under construction. ""Lieutenant Colonel Kirby Yorke" lives in a large tent. When "Kathleen" arrives he gives the tent to her and goes to stay with another officer. When the two entertain "General Sheridan" and the officers of his command. The table they all sit at is in that same large tent.
The audience sees a somewhat un-glamorized life for the soldier's families. Which shows the wives, including "Kathleen", washing clothes for the men of "Kirby's" command in a stream for a price. This leads to a comic bit between Maureen O'Hara and Victor McLagen over saddle sores in his long johns.
"Kirby" discovers his son in a "Soldiers Fight" with a larger man and makes the two shake hands. His son was defending him..
Back in the tent, after seeing the Regimental Surgeon the young "Yorke" will be visited by his mother.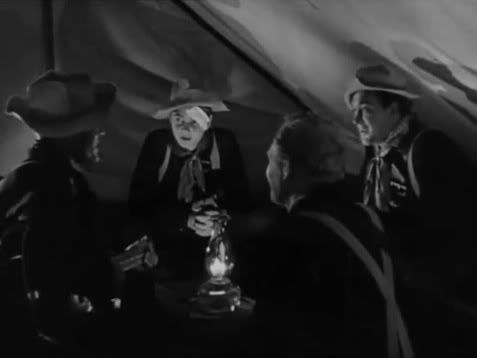 The Apaches attack the fort to rescue their leaders. A few are killed, but the raiders get away. As "Lieutenant Colonel Yorke" is dealing with the raid. He discovers "Kathleen" had been with their son during the raid. Then Two Texas marshals arrive looking for "Trooper Tyree", but quick thinking "Sergeant Quincannon" and "Dr. Wilkins" put him in the hospital. After dark the two make sure the Trooper gets a chance to escape. "Tyree" takes "Kirby Yorke's" horse and leaves the fort.
General Sheridan arrives to discuss going after the Apaches with "Yorke". Below is an awkward meeting for the post commander as his proper Southern Wife and General Sheridan meet, before the dinner I mentioned above. The Regimental Singers, led by Ken Curtis, will add a little to the awkwardness by singing the love song: "I'll Take You Home Again Kathleen".
Above Maureen O'Hara meets the man who burnt her plantation to the ground. Portraying "General Phil Sheridan", the only real personage in the film, was J. Carrol Naish.
"General Philip Sheridan" orders "Lieutenant Colonel Kirby Yorke" to cross the "Rio Grande" into Mexico and hunt and kill the Apaches. Should "Yorke" fail he will subject to court-marital for entering a sovereign nation, "Sheridan" tells him that the members of his court-marital will be reminded of Shenandoah.
Just after his pursuit of the Apaches begins. "Kirby" and his troops come upon what is left of a group of wagons on their way to safety at Fort Bliss, but were attacked by the Apaches. From "Kathleen", who was in that group, he learns that the Apaches have taken the children. Meanwhile, "Tyree" has a run in with some of the Apache scouts, but also has learned where the children are taken.
"Tyree" has a plan to rescue the children who are in a burned out church in a small town. He requests that "Sandy" and "Jeff" go with him to infiltrate the Apache camp.
The three make there way into the church and await the Calvary charge. The bugle blows and the troops enter battle with the Apaches.
"Kirby"is injured by an arrow. After the rescue is completed he is brought back to the fort on a stretcher and it is then that "Kathleen" realizes how much she still loves him.
The three young Troopers and an Indian Scout are honored as heroes. As the Marshal shows up after hearing "Tyree's" name. Immediately "Lieutenant Colonel Kirby Yorke" grants "Trooper Tyree" an immediate furlough and he jumps upon "General Sheridan's" horse and rides off.
On September 14, 1952 in the U.K., not the United States, John Ford's "The Quiet Man" was first seen by a motion picture audience. The film is considered a little too idyllic as in the small village there is no animosity between Catholics and Protestants, but on the other hand their are no Leprechauns either. Only one great battle of the sexes between Wayne and O'Hara.
Three classic Westerns from a recognized master of film John Ford. Three iconic John Wayne performances, but in the end "The Quiet Man" made have been first in the director's mind.
I wrote an article comparing John Ford's 1939 motion picture "Stagecoach" and the two remakes in 1966 and 1986. Should my reader be interested that article may be found at:
http://www.bewaretheblog.com/2016/09/a-comparison-of-john-fords-1939.html
For those of my reader who are fans of John Wayne. You may enjoy the following articles:
On the previously mentioned "The Alamo":
http://www.bewaretheblog.com/2016/12/john-waynes-alamo-fan-reflects-on.html
Wayne portrayed "Genghis Khan", a WW2 German Merchant Skipper, the First American Counsel General to Japan and an Adulter. If this perks your interest read about these roles at:
http://www.bewaretheblog.com/2015/04/john-wayne-four-gutsy-role-choices.html
Interested in John Wayne's politics? How about "Jane Fonda and John Wayne: Two Sides of the Vietnam Coin"?
http://www.bewaretheblog.com/2016/11/jane-fonda-and-john-wayne-two-sides-of.html