LEIGH BRACKETT may not be a recognizable name to most of my readers, but if you're into Howard Hawks, John Wayne, Humphrey Bogart or George Lucas. You probably have seen some of her screenplays. If you're into Science Fiction stories and haven't read any of hers. Then you are missing Classic Science Fiction.
To be honest I first discovered Leigh Brackett while researching Howard Hawks and the movie
"Rio Bravo"
. Although there is minimal biographical information on her in my article. This article tells her whole story. You can read about Hawks,
"Rio Bravo"
and its two sequels at:
http://www.bewaretheblog.com/2017/10/howard-hawks-rio-bravo-remade-as-el.html
Her full name was Leigh Douglas Brackett. It was that male sounding name that caused Howard Hawks to tell his secretary to call:
That Guy Brackett
While looking for a third screenwriter on a Raymond Chandler story he was planning to film.
Leigh Brackett was born on December 7, 1915 in Los Angeles, but after the influenza epidemic of 1918 in which her father died. She was raised, by the Pacific Ocean, in Santa Monica at her mother's father's home. At that time Santa Monica was a very small beach community.
The above Santa Monica Street went to the ocean when Leigh was growing up. For those of my reader familiar with the city today. Nevada Avenue became Wilshire Boulevard.
By the time "Tomboy" Leigh Brackett was 9 years old. The previously fire burned "Lick Pier" had reopened with its game stalls, the Diving Bell which took passengers down to see fish. It was actually an aquarium, but most of all there was the Largest Wooden Roller Coaster on the Pacific Coast When I was a little younger than Leigh. I also started playing at Lick Pier in what was now called Ocean Park. I can imagine how she felt riding that coaster with one side having a straight drop to the Pacific Ocean.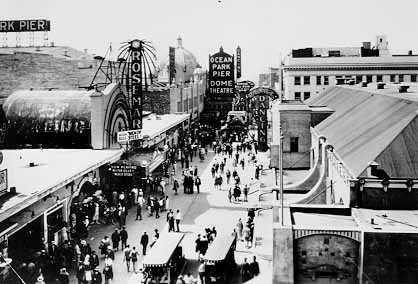 As a young girl she was constantly having disagreements with her mother and a maiden aunt that lived at the house. It was her grandfather that encouraged her dreams. Leigh's mother never understood her daughter and in an attempt to control the teenager. Sent her to an all girl's high school to learn conformity. The young women was a dreamer and she imagined what life might be on other worlds, or in far off lands.
With her grandfather's help and his encouragement. Leigh Douglas Brackett wrote a short story entitled
"Martian Quest".
At the time she was taking a course from Science Fiction and Fantasy writer Lawrence R. D'Orsay. He liked what he saw and without Leigh's knowledge showed it to his own "reader", Henry Kuttner, another writer of Science Fiction.
Kuttner critiqued "Martian Quest" and suggested some rewrites. Then he went a step further and got Leigh Brackett an agent, his own. He was Julius Schwartz a comic book editor, besides being an agent for Science Fiction and Comic Book writers. Schwartz placed the story with
"Astounding Science Fiction"
and Leigh Brackett's career started professionally, at the age of 24,.with the February 1940 issue.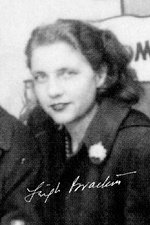 Leigh became a member of a group of West Coast Science Fiction and Fantasy writers. Robert Heinlein was another and for one young writer she became his mentor. That young writer was named Ray Bradbury.
"Martian Quest" would be followed in April by
"The Treasure of Ptakuth".
Besides her childhood love for both Edgar Rice Burroughs'
"Tarzan of the Apes"
and his
"Barsoom Series".
Which was better known by its lead character
"John Carter of Mars".
Leigh Brackett was into detective fiction and especially the work of both Dashiell Hammett and Raymond Chandler. In fact some of her stories would blend the two genres together.
Her first piece of Detective Fiction
"The Death Dealer:
aka:
"The Misfortune Teller"
appeared in the March 1943 issue of
"Flynn's Detective Fiction".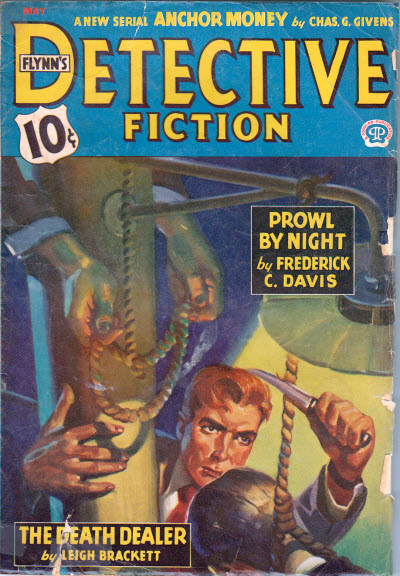 While the
"Citadel of Lost Ships"
appeared the same month in the Science Fiction Magazine
"Planet Stories".
"The Death Dealer" was the first of four consecutive Detective short stories by Btackett through July 1944. The year her first novel
"No Good from a Corpse"
featuring Detective
"Ed Clive"
was released
.
"Clive" becomes involved in a dead women's murder, the corpse of the title, and all her boyfriends as suspects. In the style of Raymond Chandler is a long detailed and exciting chase sequence down Los Angeles' Sunset Strip.
Her dialogue was very hard hitting and unlike other writers her female characters were too. An example of Leigh's prose from "No Good from a Corpse":
The blonde's fist caught him on the side of the head. Clive turned over three times and hit a table, causing a crash and an explosion of splinters . . .
"Ed Clive" would return in several stories of various lengths over the years.
On May 27, 1945 Republic Pictures released
"The Vampire's Ghost".
Although John K. Butler has the main screenplay writing credit. It is acknowledged this was really Leigh Brackett's first screenplay and Butler only reviewed her writing.
This original vampire tale was all Brackett and she does get that additional on screen credit.
The best way, in my opinion, to describe
"The Vampire's Ghost"
is "Dracula Meets Casablanca"/ Although "Webb Fallon" is in no way like Bram Stoker's famous vampire.
Describing how she was offered this writing job. Scott Myers on November 25, 2015 in his "How to Write a Script" series quoted Leigh Brackett on Republic:
they were doing this horror film. They decided to cash in on the Universal monster school, and I had been doing science fiction, and to them it all looked the same — "bug-eyed monsters.It made no difference.
Another interview from 1975 first published in 1976 can be found on the website "Tangent" In it. Leigh described the shooting schedule on her first motion picture:
They shot the film in ten days and that was two days over schedule (laughing). They fired the cameraman after the second day because he was taking too much time. But uh, it was not the greatest film ever made.
https://www.tangentonline.com/interviews-columnsmenu-166/1270-classic-leigh-brackett-a-edmond-hamilton-interview
The story is set in the African town of Bakunda and revolves around a local bar and nightclub owned by "Webb Fallon" portrayed by John Abbott. Abbott's performance, like many of his others, is very low keyed. His vampire is never over the top as Bela Lugosi was in 1931's
"Dracula",
1935's
"Mark of the Vampire"
and 1944's
"Return of the Vampire",
or even how John Carradine's performance was in 1944's
"House of Frankenstein"
. Leigh Brackett's "Fallon" is a very likable person and he can walk around in direct sunlight. The only notable difference, from other white residents of the town, is he wears very dark sun glasses.
British actor Abbott had been in motion picture starting in the U.K. before World War 2. Some of his appearances included portraying "Prospero" in 1939, This was in a two part version for British television of William Shakespeare's
"The Tempest"
and yes there was television in 1939
.
That same year he appeared in
"The Saint in London"
starring George Sanders. In 1942 Abbott appeared in the American made
"Mrs. Miniver"
starring Greer Garson and Walter Pidgeon set in England.
Over his 164 roles John Abbott's films had a wide range. They included 1943's propaganda war movie
"The Cross of Lorraine"
starring Gene Kelly, 1944's
"Cry of the Werewolf",
1946's
"The Bandit of Sherwood Forest"
playing "Will Scarlet" and the 1958 musical
"Gigi"
staring Leslie Caron and Louis Jourdon.
Above Peggy Stewart as "Julie Vance" and Charles Gordon as "Roy Henrick".
Peggy Stewart started her career at Paramount Pictures in 1937's
"Wells Fargo"
playing Joel McCrea's teenage daughter. She moved to Republic and starting in 1944 portrayed the role of the "Girl in Distress" in many of "B" Westens featuring Allan Lane, "Sunset" Carson and "Wild Bill" Elliot. This film was a break for her. While Charles Gordon has a total of nine acting credits to his name and this was number four.
"Roy Henrick" returns home to the town of Bakunda to discover the small community is frightened, because of a series of murders. Each victim has been drained of blood and there are two tiny puncture marks on their necks.The natives claim it is a vampire. Sounds liked a typical vampire movie, but the audience is dealing with Leigh Douglas Brackett.
The local nightclub is run by newcomer "Webb Fallon" For the small community on the Ivory Coast this is the place to gather and enjoy entertainment. Think of it as "Rick's Place Meets Tarzan".
As seen above Abbott's vampire smokes, he also drinks liquor and eats food. To all appearances he is just as normal as anyone else in Bakunda. "Fallon" is a congenial host, but like Bogie's "Rick Blaine". You don't want to mess with him. In one case a troublesome Sea Captain "Jim Barrett", Roy Bancroft, finds out twice.
First by being thrown out of the nightclub by an extremely strong "Fallon" and second by becoming a victim of the vampire.
Then it's "Webb Fallon's" dancer "Lisa", Adele Mara, who makes a mistake and is killed by the vampire.
"Roy", his girl friend "Julie", and her father "Thomas Vance", Emmett Vogan, the owner of a large plantation, decide to speak to "Webb". Apparently he is an expert on the occult and voodoo. He should be as he's been around for 400 years. Another twist on Stoker and other vampire story writers is that in a box presented to him by "Queen Elizabeth the First". "Fallon" keeps some of his original burial soil. At night he sleeps not in a coffin, but a normal bed. The box is kept under the pillow where his head rests. Webb Fallon" was actually one of the Sea Captain's of Elizabeth's fleet that fought the Spanish Armada in 1588.
A native discovers the truth about "Webb" as they are talking. This happens when he notices that "Fallon" is not casting a reflection in a mirror. An attempt to kill him with a silver tip spear fails initially.
"Roy" has also become suspicious of "Fallon". He finds the vampire with the spear head in him and "Webb" convinces "Roy" to remove it. Bad move on "Henrick's" part.
The vampire reveals his whole history to "Roy", but then puts him under a curse. Turning "Roy" into part Zombie and his slave. When "Roy" goes back to "Julie" and her father. He appears normal, but also feverish.
After realizing that everyone knows the truth. "Fallon" places "Julie" under a voodoo spell and has her come to him. Leigh Brackett is deftly mixing African Voodoo with European Vampire Legends.
Below it is up to "Father Gilchrist", Grant Withers, to break the hold "Webb Fallon" has on "Roy Henrick's". Then they go after the vampire as the local natives already are doing.
Wither's name may bot be familiar to my reader, but he appeared as "Police Captain William 'Bill' Street" in five of the
"Mr. Wong Detective"
films starring Boris Karloff,. He was "Ike Clanton" in John Ford's 1946
"Mr. Darling Clementine",
the villain "Silas Meacham" in Ford's 1948
"Fort Apache"
and
the Deputy Marshall in Ford's 1950's
"Rio Grande".
That film's climax comes at the ruins of an old Temple deep within the African Jungle. It is here that "Fallon's" actual coffin is hidden.
|
The movie is now available on Blu-ray and is worth a look. This feature is part of five forgotten little thriller gems from the 1940's I wrote about at:
http://www.bewaretheblog.com/2016/11/the-undying-monster-seventh-victim.html
There were two interesting men in Leigh Douglas Brackett's life in 1946. One was a Science Fiction and Fantasy writer and the other a Hollywood Director.
His name was Edmond Moore Hamilton and one of the West Coast Science Fiction writers. He would create a popular series in 1940 following the space adventures of
"Captain Future".
There would be 14 tales in all.. Another series by Hamilton was first created in 1928 about the "Sun People".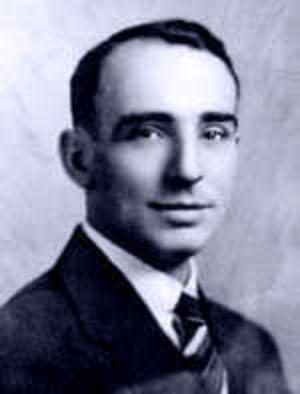 The Japanese company Toei adopted "Captain Future" into an animated series.
Three of another of Hamilton's series about the
"Star Wolf"
were adopted into a Japanese live action television series
"
宇宙の勇者 スターウルフ
Uchû no Yûsha Sutâurufu
)"
by Eiji Tsuburaya's production company. Special Effects creator Tsuburaya brought, among others, "Gojira (Godzilla)", "Mosura (Mothra", "Radon (Rodan)" and "Kingu Gidora (King Ghidorah") to life.
On December 31, 1946 Edmond Hamilton married Leigh Douglas Brackett. Although the two authors worked side by side. There is only one work they co-authored
"Stark and the Star Kings"
and it wasn't release until after both had passed away in 2005.
Then there was that second man in 1946 director Howard Hawks.
Hawks liked my dialogue and called my agent. He was somewhat shaken when he discovered that it was Miss and not Mister Brackett, but he rallied bravely and signed me on anyway...
The above quote is from the website "Authors and Creators":
http://www.thrillingdetective.com/trivia/brackett.html
As for Hawks' first impression of the Detective Fiction writer. He had read
"No Good from a Corpse"
and other stories by Leigh:
In walked a rather attractive girl who looked like she had just come in from a tennis match. She looked as if she wrote poetry. But she wrote like a man.
Howard Hawks had two other writers on his project. The making of the first motion picture based upon Raymond Chandler's classic
"The Big Sleep".
Jules Furthman had been writing screenplays since 1915. He had been one of three writers nominated for an Oscar for 1935's
"Mutiny on the Bounty".
Furthman was the only writer on Howard Hughes controversial Western about Billy the Kid
"The Outlaw"
in 1943
.
He had previously worked on Hawks'
"To Have and Have Not"
loosely based upon an Ernest Hemingway short story.
The second writer had been uncredited for his contributions to the screen play of
"To Have and Have Not".
In fact before this motion picture the writer had 14 uncredited screenplays to his name. That name was William Faulkner.
To those two writers Howard Hawks added Leigh Bracket. The main reason for adding her were descriptions of "hard women". Leigh was to concentrate on the scenes between husband and wife Humphrey Bogart and Lauren Bacall, but win the opening screen credits role. Leigh had second billing as a screenplay writer. Additionally she had made an impression on Hawks that would eventually explain my blog article's title.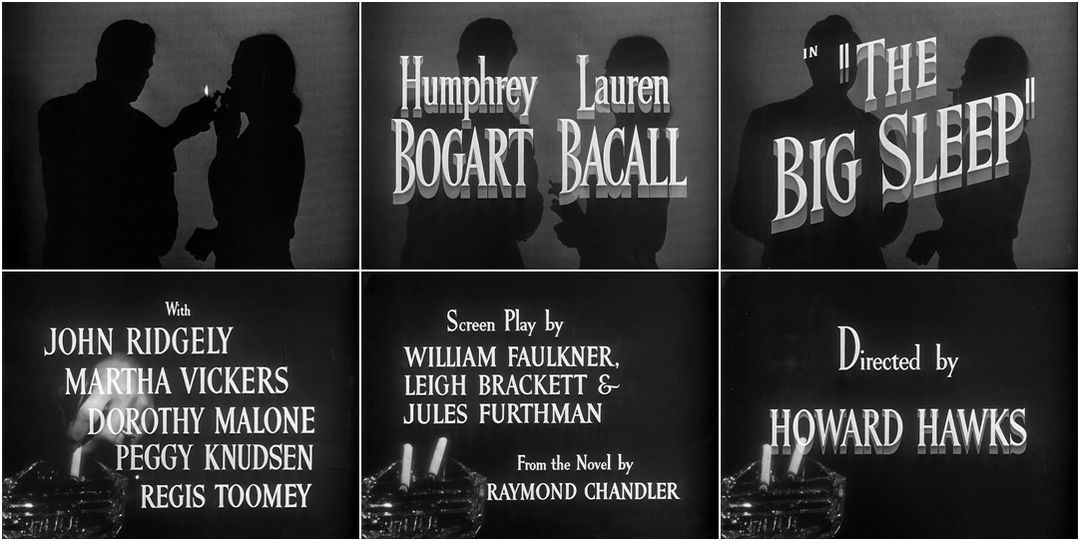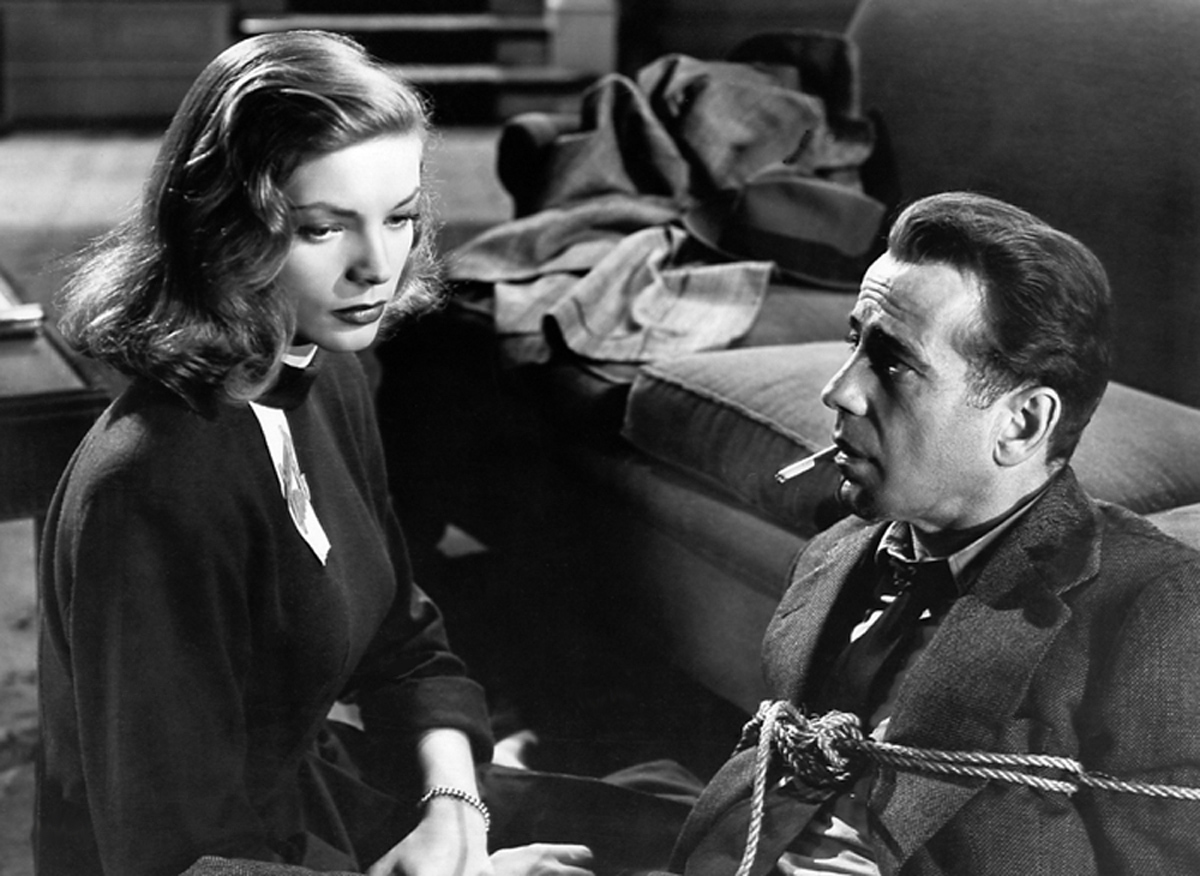 There were two views by the movie critics on the screenplay.
New York Times critic Bosley Crowther had one view:
The Big Sleep

is one of those pictures in which so many cryptic things occur amid so much involved and devious plotting that the mind becomes utterly confused. And, to make it more aggravating, the brilliant detective in the case is continuously making shrewd deductions which he stubbornly keeps to himself. What with two interlocking mysteries and a great many characters involved, the complex of blackmail and murder soon becomes a web of utter bafflement. Unfortunately, the cunning script-writers have done little to clear it at the end.
While Time Magazine critic James Agee wrote:
wakeful fare for folks who don't care what is going on, or why, so long as the talk is hard and the action harder
But adding:
the plot's crazily mystifying, nightmare blur is an asset, and only one of many
There was a second screenplay co-written by Leigh Brackett in 1946. Which was the exact opposite of the major production for Howard Hawks she had worked upon. The film was also a mystery, but part of a typical low budget series turned out in six or less days for Columbia Pictures. The title was
"Crime Doctor's Manhunt"
and was the seventh in what would be ten features based upon the radio character.
The other two writers on this 61 minute feature were Max Marcin and Eric Taylor, Marcin would write the screenplays for all ten "Crime Doctor" features. While Taylor has co-written Universal Studio's 1941's
"The Black Cat",
1942's
"The Ghost of Frankenstein"
and in 1943 both
"The Phantom of the Opera"
and
"Son of Dracula".
Of additional interest in this formula feature was the director. By this time the contract director had 14 films assigned to him by Columbia Pictures. He would move into Columbia "B" Westerns in the early 1950's, but in 1958 he directed and produced a feature that would start to make his name known World wide. The film was
"Macabre"
and his name was William Castle.
My article on the "Gimmick King" can be read at:
http://www.bewaretheblog.com/2017/10/a-tale-of-william-castle-motion-picture.html
Leigh wouldn't write another screenplay until 1959 and that would once again be for Howard Hawks.
Brackett's second novel was a 1946 murder mystery entitled
"Stranger at Home".
However, originally she received no credit, because Leigh was the "Ghost writer" for actor George Sanders. Sanders was obtaining a literary name for himself, but not actually writing the works. In this case he always claimed having no idea who Leigh Douglas Brackett was and that he wrote the novel.
Below is the original paperback cover of the novel.
Here's a current cover for the novel giving Leigh full credit.
The plot is very simple. "Mike Vickers" returns home after being presumed dead for four years. Beginning with his wife he attempts to find out who in his family wanted him out of the way in the first place.
In 1954 Hammer Films turned the novel into a feature starring Paulette Goddard and William Sylvester directed by Terence Fisher. It was released in the United States as
"The Unholy Four".
The website "Rotten Tomatoes" describes the picture:
https://www.rottentomatoes.com/m/the_unholy_four/
Four friends go on a friendly fishing trip but only three return. This suspenseful drama chronicles the fate of the fourth who returns home an amnesiac after a three year absence to get revenge upon the "buddy" who knocked him out and left him to die. Any one of the remaining three could be a suspect as all of them are interested in pursuing his lovely widow. Unfortunately, the man's return coincides with a murder and he ends up blamed. Fortunately, his wife helps him solve the mystery and clear his name. The British title was A Stranger Came Home. ~ Sandra Brennan, Rovi
In 1956 Leigh Douglas Brackett, now known as
THE QUEEN OF SPACE OPERA,
became the first women Science Fiction writer to be on the short list for the prestigious
HUGO AWARD.
That list reads:
Double Star by Robert A. Heinlein [Astounding Feb,Mar,Apr 1956]
Call Him Dead, by Eric Frank Russell
The End of Eternity, by Isaac Asimov
Not this August, by Cyril Kornbluth
The Long Tomorrow, by Leigh Brackett
The winner was Robert A. Heinlein

.
For those of my readers unfamiliar with the term "SPACE OPERA". It was created in 1941 by Science Fiction writer Wilson Tucker and is defined as
emphasizing space warfare, melodramatic adventure, interplanetary battles, chivalric romance and risk taking.




The above photograph of Leigh Brackett was taken in 1956 with author Robert Bloch. Should his name be unfamiliar to my reader? Perhaps his works such as "Psycho", both the novel and screenplays, and two of his screenplays for William Castle "Straight Jacket" and "The Night Walker" might be.

By 1958 Leigh had penned four Detective and five Science Fiction novels. Along with eighteen short Science Fiction stories and eight Detective short stories. A complete list of her work is at the end of this article.

Her 1957 novel
"An Eye for an Eye"
became a teleplay by Jameson Brewer and John Kneubuhi for
"Suspicion".
The show starred Ray Milland as "Roy Markham", MacDonald Carey as "Ben Forbee", Kathryn Crowley as "Lurene Guthrie" and Andrew Duggan as "Al Guthrie".
The plot is typical Brackett about a wife running away from vicious husband. The husband kidnaps a young girl off the street. Then hires a detective to find his wife and bring her back. Otherwise he kills the girl.
Re-enter Howard Hawks and Leigh's return to screenplay writing.
Unlike my Howard Hawks article about this picture I mentioned above. I will be going deeper into the reason's behind this specific screenplay rather than the story line.
Hawks had originally contracted with Jules Furthman to write
"Rio Bravo".
Furthman, who wrote many a "B" Western, was doing the same thing. In actuality the 71 year old Jules Furthman's last screenplay, prior to this picture, had been John Wayne's
"Jet Pilot"
co-starring Janet Leigh and released September 25, 1957. The problem though was that the Howard Hughes produced Cold War drama had actually begun filming in 1949 and then was shelved by Hughes. So Furthman hadn't actually worked in ten years, but would still get first screenplay writer position when this feature was released on March 16, 1959.
Howard Hawks needed help and he phoned Leigh Brackett to come in and work on the screenplay. Not only was this to be a character driven Western, but there was a subliminal message for the audience that both Hawks and star John Wayne wanted. Although when released and especially today most viewers had no idea was in the film.
Brackett and Furthman were told that the screenplay was to reflect both Hawks' and Wayne's pro "Hollywood Black Listing" position. The Communist Black Listing's by the Major Hollywood Studios had started in 1947 and would seem to have come to an end while this picture was in production, but that didn't matter.
The two writers were to make their screenplay for
"Rio Bravo"
an anti
"High Noon".
That 1952 Western had starred Gary Cooper and Grace Kelly, but was considered by many. As a subliminal attack on Senator Joseph McCarthy and the Hollywood Black Listing of actors, directors, producers and writers by both the major studio's and the House Committee of UnAmerican Activities. Message aside
"High Noon"
had been nominated for seven Academy Awards and won four including Best Actor. Even though, and this railed Hawks and Wayne further, screenplay writer Carl Foreman, himself "Black Listed".
Hawks was on record about his views of
"High Noon".
In a Turner Classic Movies review of
"Rio Bravo".
You will find this
quote by the director:
I didn't think a good sheriff was going to go running around town like a chicken with his head cut off asking for help, and finally his Quaker wife had to save him.
http://www.tcm.com/this-month/article/1069%7C0/Rio-Bravo.html
As to what John Wayne thought of
"High Noon".
I will let film critic Roger Ebert recollect. "The Duke: told him:
What a piece of you-know-what that was," he told me. "I think it was popular because of the music. Think about it this way. Here's a town full of people who have ridden in covered wagons all the way across the plains, fightin' off Indians and drought and wild animals in order to settle down and make themselves a homestead. And then when three no-good bad guys walk into town and the marshal asks for a little help, everybody in town gets shy. If I'd been the marshal, I would have been so goddamned disgusted with those chicken-livered yellow sons of bitches that I would have just taken my wife and saddled up and rode out of there.
https://www.rogerebert.com/reviews/rio-bravo-1959
The set up for
"Rio Bravo"
is an extended silent opening scene. In which "Joe Burdette", early work by character actor Claude Akins, is drinking in a bar. When the drunken Deputy Sheriff "Dude", played by Dean Martin in his first of many Westerns, enters and stares at the drink in "Joe's" hand. "Joe Burnette" tosses a a dollar into a spittoon. "Dude" starts to reach for it, but "Sheriff John T. Chance", John Wayne, makes his entrance by kicking the spittoon over. "Dude" in anger attacks his friend "John T." with an ax handle and knocks the Sheriff out. Then in turn "Joe Burdette" starts to beat up "Dude", an unarmed cowboy attempts to stop "Joe", but instead is shot and killed.
"Joe Burnette" leaves that saloon and heads for his brother "Nathan's". "Joe" is standing at the bar as the Sheriff, with blood on his face, enters and we finally hear dialogue. As "Chance" starts to arrest "Joe Burnette", but another of "Nathan's" cowboy's draws his gun on the Sheriff. However, the gun is shot out of his hand by "Dude". Who has entered unnoticed. This entire opening has the hallmark of Leigh Brackett upon it and with the arrest of "Joe" sets up the entire anti-
"High Noon"
plot.
Above "John T.", as the character of "Feather's" will call "Sheriff Chance", goes for "Joe Burnette".
John Wayne's "John T. Chance" in comparison to Gary Cooper's "Marshall Will Kane" is the ultimate Wayne image. No attack on Cooper's Oscar winning performance intended. In the Jules Furthman and Leigh Brackett screenplay. "Chance" is best described as a hero with doesn't show fear and has a strong inner courage and commitment to public duty, even at the very low pay for a Town Sheriff, and never wavers from them.
He is up against "Nathan Burnette" portrayed by John Russell.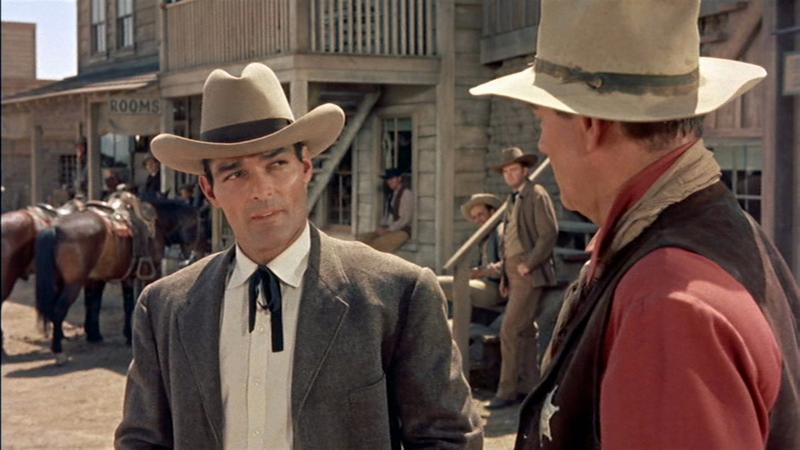 As an aside: Russell was an interesting casting choice because of one motion picture, 1955's
"The Last Command",
from Republic Pictures. John Wayne had finally left that studio over his battle with owner Herbert J. Yates about making a film about the Alamo. Yates kept teasing Wayne with the possibility of making such a picture as a means of keeping him at his studio, but finally the actor left. Russell portrayed "Captain Dickinson" in the story of the Alamo that Yates finally green lighted. While John Wayne would finally make his own version of the story,
"The Alamo",
in 1960.
My article on John Wayne and the making of "The Alamo" may be read at:
http://www.bewaretheblog.com/2016/12/john-waynes-alamo-fan-reflects-on.html
John Russell had already started appearing as low keyed "Marshal Dan Troop" on television's
"Lawman"
. While
"Rio Bravo"
was in post production and would stay as "Dan Troop" for 156 episodes. In 1985 he portrayed what could be described as the evil incarnation of "Dan Troop" as "Marshall Stockburn" in Clint Eastwood's
"Pale Rider".
However, in
"Rio Bravo",
Russell's Rancher "Nathan Burnette" owns most of the land around the town, a saloon in it and a warehouse just outside of the city limits. For "Nathan" cutting off the Sheriff from being able to take his brother out of town to the territorial Marshall, or having help enter is extremely easy. He has the manpower at his disposal, but also the patience and understanding to wait "Chance" out. While looking for the right opportunity to rescue his brother.
As written in this screenplay. "Nathan Burnett" is a much more powerful figure than "Frank Miller" and the three cold blooded killers, "Ben Miller", "Jack Colby" and "Jack Pierce", awaiting his arrival together
.
In
"High Noon"
the viewer sees the people of the Western town of "Hadleyville" attending "Marshall Will Kane's" wedding. They joyfully watch him and his bride of a few minutes get into a buggy to leave town. "Kane" has put up his guns and badge, to honor his Quaker Wife, and starts to leave. When the telegraph operator from the train station runs up to the group to say that "Frank Miller" was let out of prison and is on his way there. Also "Miller's" brother "Ben" and the other two members of his gang await his arrival at the stroke of noon.
Immediately the town's people start thinking with "Kane" gone. Perhaps "Miller" will leave without trouble and now they turn inwards. They want him out, before "Miller" arrives. "Kane" picks up his badge to face the man he sent to prison and one by one his "Friends and Neighbors" turn against him. They think only of themselves and the possible destruction of their town. In Wayne and Hawks view they are cowards!
The people of "Hadleyville" will not stick up for "Kane" and what is right. An allegorical reflection, some will say, of those in the motion picture industry turning against friends. That now find themselves accused of being a Communist and refusing to name names for the House Committee on UnAmerican Activities. It should be noted that director Fred Zinnemann always stated
"High Noon"
was just a Western and not an allegory of what was happening in Hollywood and Washington, D.C. at the time.
.
The opposite is seen in the Leigh Brackett and Jules Furthman screenplay. The viewer see's different people of the town of
"Rio Bravo"
offering assistance to "Sheriff John T. Chance".
We have already seen "Chance's" ex-Deputy Sheriff known either as"Dude", or "Borrachon (Big Drunk)", Over the course of the movie "Dude", portrayed by Dean Martin, finds his courage and becomes sober. While standing up to "Nathan Burnette's" men and at one point "Nathan" himself,
The previous year Dean Martin finally broke the impression that he was only a crooner, or straight man for Jerry Lewis. The break came from director Edward Dmytryk. Dmytryk cast Martin as one of the leads in the World War 2 film
"The Young Lions"
co-starring Marlon Brando and Montgomery Cliff. That film was based upon a best selling Irwin Shaw novel.
As the opening credits role the audience watches a group of supply wagon's heading for town. The owner and leader is "Pat Wheeler" portrayed by Ward Bond. "Wheeler" will be murdered, shot in the back, by one of "Nathan's" men. The reason for his murder was simply that he offered to help "Chance"."Wheeler's" death in this screenplay makes the point about the difference between the townspeople of "Hardleyville" and
"Rio Bravo"
for both Hawks and Wayne.
The casting of Bond also helped with the message. As he was in his second season of television's popular
"Wagon Train"
as the honest "Major Seth Adams".
Wanting revenge for the "Father Figure" of "Pat Wheeler" is a young guard and gun hand known either as "Colorado", or by his last name of "Ryan". "Ryan" is the son of a mutual friend of "Wheeler" and "Chance" from many years in their past. "Colorado" was portrayed by "Teen Idol" Ricky Nelson.
America had watched him grow up on the television series
"The Adventures of Ozzie and Harriett"
featuring the husband and wife team with their two sons David and Ricky. By 1959 Ricky had been on the airwaves for seven years and the show would last into 1966. This familiarity with Ricky Nelson was both a plus and curse up until his tragic death. He could never get rid of fans thinking of him as "Little Ricky Nelson" and his song "Garden Party" reflects this fact.
Most Americans knew Walter Brennan as "Grandpa Amos McCoy" on the television series
"The Real McCoys".
When this film was released the series had been on air for two years. It would remain on television through 1963. Character actor Brennan had portrayed "Eddie" the friend of Humphrey Bogart in
"To Have and Have Not",
he was "Old Man Clanton" in John Ford's classic
"My Darling Clementine"
and "Nadine Groot" in Hawks'
"Red River"
with Wayne.
Walter Brennan was "Chance's" second Deputy, "Stumpy". An old, slow, arthritic ex-gun fighter. At the time of this film the actor was 65 years old and looked a lot older. "Stumpy" is the butt of some friendly jokes and as written both "Nathan" and "Joe Burnette" look down on the "cripple". A big mistake as the screenplay shows he is smart, cunning and dedicated to his work and friendship with the Sheriff. Which as implied goes back decades.
Then there was "Feathers" the young, widowed, gambler that "Chance" thinks at first is cheating and then, even after "Colorado" proves otherwise, still wants her out of town, because she's trouble.
"Feather's" was portrayed by Angie Dickinson. Prior to this role Dickinson had appeared 54 different times on varied television programs. Most were Westerns and she was seen in eight low budget motion pictures. Six were also "B" Westerns that included one without on screen credit and in another with only her voice being heard.
Two films would follow
"Rio Bravo"
in 1960. The first was
"The Bramble Bush"
based upon a popular torrid novel. Dickinson had fourth billing behind Richard Burton, Barbara Rush and Jack Carson. However it was her second 1960 feature that with her role in
"Rio Bravo".
Brought Angie Dickinson name recognition within Hollywood and with the viewing public.That second picture was the original
"Ocean's 11"
starring Frank Sinatra and his "Rat Pack". Which included Dean Martin, Sammy Davis Jr, Peter Lawford, and Joey Bishop. Before that film concluded production Angie Dickinson became the "Rat Pack's" only female member.
Jules Furthman had rewritten some dialogue, for
"Rio Bravo",
related to a first kiss he had used in
"To Have and Have Not".
It had been especially written for a scene between Bogart's "Harry 'Steve" Morgan" and, at the time his future wife, Lauren Bacall's "Marie 'Slim' Browning". In the 1944 film the line was:
It's even better when you help
In
"Rio Bravo"
the line between "Feathers" and "John T." is:
It's better when two people do it
Later in the budding romance between Dickinson and Wayne. Furthman had this change from the two pictures.
I'm hard to get, Steve—all you have to do is ask me.
Became:
I'm hard to get—you're going to have to say you want me,
Leigh Brackett further changed "Feathers" from a typical Western love interest into a strong women. We still have the comic Bogie/Bacall banter from Furthman, but when "Nathan" has the Sheriff bottled up. "Feathers" shows her worldly smarts and is there for the man she has fallen in love with.
Howard Hawks had hired Dean Martin and Ricky Nelson for two critical roles. Both were singers and the wise Hawks had a couple of songs added to the screenplay for their fan base. Also a lure to get those bases into buying a ticket.
Then there were the owner of the Hotel both "Chance" and "Feathers" stay at. His name was "Carlos Robante" portrayed by American character actor Pedro Gonzalez Gonzalez. Who was known for his comic timing and somewhat stereo typed Mexican roles. However, in this picture behind the comic banter mainly with "Carlos'" wife. There is a shrewd business man and ally for the Sheriff. Facades sometimes fool and in the screenplay "Nathan" doesn't realize the toughness of the hotel owner. In short Furthman and Brackett played off that stereotyped Mexican by hiding a very intelligent man. This was way ahead of Hollywood's view to Latin actors.
Pedro's first screen appearance was fifth billed in the 3-D motion picture
"Wings of the Hawk"
starring Van Heflin and Julie Adams. He followed that as a passenger in William Wellman's 1954
"High and the Mighty"
starring Wayne. Prior to this picture he made many television appearances and in 1958 was seen in
"The Sheepman"
starring Glenn Ford, Shirley MacLaine and Leslie Nielsen.
Playing "Carlos'" wife "Consuelo" was Estelita Rodriquez. The Cuban born Estelita had been seen in twenty-three motion pictures prior to this production. Most of her roles were in Republic Pictures Roy Rodgers films. As with "Carlos", "Consuelo". is not the typical stereo typed Mexican women. She is strong willed and actually smarter than her husband. Although for comic relief there were some, in Spanish, arguments between the two. |
The above seven people, as I mentioned, are all written as strong characters. They will stand up to "Nathan Burnette" and back up "Sheriff John T. Chance". In comparison to those friends of many years "Marshall Will Kane" thought he had in
"High Noon".
Which brings me to "John T" as "Feathers" keeps calling him. John Wayne, the year prior to this film, under the direction of John Huston, had attempted to break free, once more, from the image of a "Cowboy" he seemed stuck with. The title was
"The Barbarian and the Geisha"
and was the story of the First American Counsel General to Japan Townsend Harris. The movie, which I like, was a flop and that wasn't by the doing of either John Huston, or John Wayne. Should you be interested you can read about the four films Wayne used to try to prove he was a serious actor. You will find my article on my blog at:
http://www.bewaretheblog.com/2015/04/john-wayne-four-gutsy-role-choices.html
John Wayne would follow
"Rio Bravo"
with John Ford's
"The Horse Soldiers"
also a 1959 release.
I have already mentioned some of "John T. Chance's" character traits at the start of this section of my article. They all relate to being one hell of a Sheriff and one hell of a typical John Wayne character. Perhaps a cross between "Captain Kirby York" and "Hondo Lane" with a little bit of "Tom Wilder" thrown in.
The screenplay also humanizes "John T. Chance" as in the comic scene were "Carlos" is showing him the lingerie he purchased for his wife. "Carlos" is holding them up to "Chance" as "Feathers" walks in, or the closing sequence between Dickerson and Wayne with "Feathers" wearing a typical dance hall girl dance outfit and "John T." is visibly embarrassed,
In
"High Noon"
you might call Gary Cooper's "Will Kane" stoic.As he goes about tracking down and killing "Frank Miller", "Ben Miller", "Jack Colby" and "Jack Pierce", but when it comes to his bride "Amie Fowler Kane", fifth billed Grace Kelly, he seems aloof to her and without real passion in most of their scenes.
As I said the screenplay as viewed by many, even in 1959, and especially today. Seems like one great Western of the Rich and Powerful vs the Honest Law Man variety. Which we've seen countless times even in 1930's "B" pictures, but not done this way. Leigh Bracket and Howard Hawks would return to a non political Western screenplay for
Rio Bravo"
twice more.
Although the film was based upon a book by B.H. McCampbell of the same title. During filming Leigh Bracekett wrote a novelization of the screenplay for a tie in. A practice during the 1950's by Hollywood. I found a copy of this mass marketed paperback that originally sold for 35 cents in 1959 on the Internet at $175.00 in very good condition.
In 1960 Leigh Brackett wrote an episode for the television mystery series
"Checkmate".
The new show featured Anthony George, Doug McClure and Sebastian Cabot.
"Face in the Window"
premiered October 22nd and was the fifth program of the first season.
The plot has a well respected Archaeologist, portrayed by Joseph Cotton, about to murder a man who was supposed to be dead for years and knows the truth about his success. The Archaeologist's fiancee, played by Julie Adams, hires the "Checkmate Team" to stop him.
On February 18, 1961 a Western starring Clint Walker and Roger Moore
"Gold of the Seven Saints"
premiered. The screenplay was by Leigh Brackett from a 1957 novel "Desert Guns'" by Steve Frazer. The producer Leonard Freeman added his name to the screen writing credits.
The story was about two Fur trappers accidentally finding a big gold strike and the outlaws and others that wanted their gold.
In 1957 Leigh Brackett had written a detective thriller
"The Tiger Among Us".
On June 6, 1962 Columbia Pictures released
"13 West Street"
from a screenplay by Bernard C. Shoenfeld and Robert Presnell, Jr. based upon Brackett's novel. The picture starred Alan Ladd and Rod Steiger.
First Brackett's title was changed from
"The Tiger Among Us",
because Columbia Studios thought the potential audience might think this was a Jungle picture. The title became
"13 East Street",
but for some reason star Alan Ladd wanted the title changed to
"13 West Street".
Leigh Brackett's story concerns a Teenage Gang from the East Side of Los Angeles, but Ladd took sway once more. He wanted the setting moved from East Los Angeles to the rich area of Bel Air just outside of Beverly Hills on Los Angeles' West Side. Alan Ladd in an interview, at the time. about the picture with Los Angeles Times reviewer John L. Scott said:
The story concerns a teenage gang from Los Angeles east side but I suggested the locale be switched to the swank purlieu of

Bel Air

, I have nothing against Bel Air but I want to show that juvenile delinquency can breed in exclusive areas too.
Leigh Brackett's comments on the film after viewing it were:
very, very dull
In 1960 Howard Hawks wanted to make a movie about the people who capture wild animals in Africa for Zoo's around the word. That was all he knew except for two things. One he was thinking about starring John Wayne and Clark Gable in the feature, but Gable's death on November 16, 1960 stopped that idea. The second was he wanted Leigh Brackett to write the screenplay.
John Wayne remained in Howard Hawks' mind as the leader of the crew that captures the animals. Hawks sat down with Brackett to outline the basic story and decide on characters. Leigh needed to provide the director/producer with detailed outlines of each character. He would use that as a guide to cast each role. At this time she did not need to work on a screenplay.
Next Howard Hawks cast those roles. Telling each actor that there would be no stunt men or women. Each would be expected to do their own stunts and it was possible they could be injured, or worse. At the same time he informed his actors that there was no actual screenplay and it would be worked on as the film was shot. Leigh Brackett accompanied the actors to Africa were they shot the catching scenes and returned to the United States. At which point she was working on a screenplay developing the characters over the story.
The movie of course was
"Hatari"
released June 18, 1962.
German actor Hardy Kruger, who portrayed "Kurt Muller", actually owned "Ngorongoro Farm" in then the country of Tanganyika Which was used as John Wayne's "Sean Mercer's" base of operations. So all the film crew had to basically do was set up the lighting for the camera's scenes shot there.
Hardy Kruger was known to American audiences as the aircraft designer that turns out to be a model airplane designer in the original 1965
"The Flight of the Phoenix"
starring James Stewart/ He was also "Major General Ludwig" in Richard Attenbourgh's 1977 production of writer Cornelius Ryan's
"A Bridge Too Far".
There were two female roles and Leigh made each a distinctive, but different strong woman. There was the Italian Photojournalist "Anna Maria D'Alessandro" nicknamed "Dallas". She was sent by the Basel Zoo to make a photographic journal of the capture of the animals being sent there. The character was played by Italian actress Elsa Martinelli. Martinelli had been acting since 1953 and her first American role was as a Native American girl that Kirk Douglas falls in love with in 1955's
"The Indian Fighter".
In 1960 she was in one of my favorite vampire stories from France
"Blood and Roses"
directed by Roger Vadim. The actress basically appeared in Italian and European feature films. She would follow this film with the comedy World War 2 film
"The Pigeon That Took Rome"
co-starring with Charlton Heston. In 1968 Elsa Martinelli would star in the only Spaghetti Western directed by a women, Lina Wertmuller. This was one of the very few such productions with a women in the lead role. The title was
"Belle Star: My Body for Poker"
and was inspired by the Faye Dunaway and Warren Beatty movie
"Bonnie and Clyde"
. By substituting "Belle Star" and her husband for the two American gangsters.
"Dallas" becomes the love interest for "Sean". As he finds her in his bed asleep and doesn't know who she is. Leigh Brackett once again gives John Wayne some comedy scenes to play and humanizes his tough guy image. While "Dallas" can hold her own with "Sean" and also gets a famous comic musical sequence with a Baby Elephant. That became a major hit for Henry Mancini.
The other woman in the picture is the actual owner of the company. Her name is "Brandy de la Court" and was portrayed by French actress Michele Girardon. The actress posed a problem for Brackett as she did not know English and would learn the language while
"Hatari"
was being filmed. Her lines had to convey the plot, but also be easy, without seeming childish to English speaking viewers. Prior to this film Girardon had appeared in ten French language features.After this picture Michele Girardon returned to French films.
It was with her character that Leigh Brackett apparently had some fun with the actors. He screenplay had Hardy Kruger's "Kurt Muller" and French actor Gerard Blain's "Charles 'Chips" Maurey" flirting throughout the film with "Brandy" and in private a friendly war as to which one she would marry. What Leigh did to all the actors and director Hawks was not to tell who gets Michele Girardon's "Brandy" at the end.
Gerard Blain also appeared mostly in French films and directed nine motion pictures.
The somewhat comic character of "Pockets" was portrayed by Best Supporting Oscar Winner Red Button. He won that Oscar as one of the tragic lovers in 1957's
"Sayonara"
based upon James Michener's novel set in Japan during the Korean War. Button's would also be seen in 1962 as a soldier in Daryl F, Zanuck's
"The Longest Day",
1969's excellent but depressing
"They Shoot Horses Don't They"
and Irwin Allen's disaster epic
"The Poseidon Adventure"
in 1972,
One of the things confronting Leigh Bracket was creating before and after dialogue, to fit what was already filmed, when Howard Hawks shot footage of the capture of animals. In one case a rocket was used to send a net over a tree to confine a large group of monkeys. Leigh turned this into a crazy idea "Pockets" was trying to sell to "Sean" and "Kurt" in the above scene. She had him researching rockets as part of the set up.
Oh, and who gets "Brandy" in the end? Why "Pockets" of course.
In 1963 Leigh Douglas Bracket wrote two screenplays for the television series
"Alfred Hitchcock Presents". "Death of a Cop"
was shown on May 24th and starred Victor Jory and Peter Brown. A police officer vows to find the man, also a cop, who killed his son and take revenge. The second episode was
"Terror at Northfield"
on October 11th starring Dick York. A small town is rocked by a series of murders beginning with a farmer's son.
Leigh Bracket had continued writing Science Fiction and Detective fiction, but from September 4th through 7th in 1964. Leigh and her husband Edmond Hamilton were the "Guest Hosts" of the
22nd World Science Fiction Convention
aka:
Pacificon II.
It was held in Oakland, California
In their October 1964 issue "The Magazine of Fantasy and Science Fiction" published Leigh Brackett's short story
"Purple Princess of the Mad Moon".
She also published two novels set on Mars with her protagonist is gun runner "Erik John Stark". The titles were
"The Secret of Sinharat"
and
"People of the Talisman".
Howard Hawks approached Leigh Brackett in mid-1965 to create a screenplay for a Western with John Wayne. She
wasn't told
"El Dorado"
was supposed to be a remake of
"Rio Bravo".
In all honestly I don't think either Hawks or Wayne, at the time, were thinking that way and she worked hard on an original screenplay with an interesting ending.
In the "Tagent" interview I mentioned above. Leigh Brackett talks about her original screenplay presented to Howard Hawks and her disappointment over what started to happen.
El Dorado

was a direct rewrite of

Rio Bravo

. This is a long sad story. I wrote, what was to my way of thinking, the best script I had ever done in my life. It wasn't tragic, but it was one of those things where Wayne died at the end. I sent it out to Howard and he said he loved it, it was great, and the studio loves it, Duke loves it, it's great. Fine. So I'm feeling all warm and happy and I go out to do the final polish on it and it turns out we're not going to do it at all, really. And the more we got into doing

Rio Bravo

over again the sicker I got, because I hate doing things over again. And I kept saying to Howard I

did

that, and he'd say it was okay, we could do it over again.
On one scene I said, "You

did

that scene. I'm not going to write those lines again." It's where the girl comes into town, she gets off the stage, and blah blah blah. And I said to him, "I'm not going to do it again." And he said, "

Why

not? It was good once, it'll be just as good again." And Duke looked down at me from about eight feet high and said, "That's right. If it was good once...it'll be just as good again." (Laughing) I knew I was licked right there, so all I could do was try to do it again. But, you know, the guy that signs the final check has the final say.
Of course that scene of the girl getting off the stage isn't in the final motion picture.
However, the result is a different set of characters, but basically 1959's
"Rio Bravo".
So obvious to fans of the first motion picture.
Howard Hawks just told Leigh Brackett to make this and that change. So there really was no set screenplay for the actors to follow day to day. As Robert Mitchum said in a 1968 interview edited by Frank Broughton for the work "Time Out Interviews 1968-1998":
When Howard called me, I said, 'What's the story?' and he said, 'No story, just characters' and that's the way it was. Did one scene, put it away, did another, put it away.
Leigh Douglas Brackett just gripped her teeth and made the changes Hawks requested. Who the characters where, or for that matter their names in Leigh Brackett's original screenplay we apparently do not know for sure.
The following looks at the characters found in the first film and remade for the new Hawks production.
"Sheriff John T. Chance" is changed into "Sheriff J.P. Harrah". "Harrah" is an ex-gun for hire, as many town lawmen where and a friend, possibly at one time a competitor of "Cole Thorton". When the audience first sees "Sheriff J.P. Harrah". He is pretty much a copy of "John T. Chance" from
"Rio Bravo".
When the audience next sees "Harrah" he has become "Dude" from the previous film.
After this picture Mitchum would be in several Westerns including 1968's
"Villa Rides"
from a screenplay co-written by Sam Peckinpah and the same years
"Five Card Stud"
with Dean Martin. He appeared in three films, I truly enjoy, and recommend. The first was his own production from 1958's
"Thunder Road"
with Gene Barry as a Revenue Agent after moonshine runner Mitchum. Then there were 1955's
"Night of the Hunter"
and 1959's overlooked
"The Wonderful Country".
"Colorado Ryan" was a young gun fighter and guard in the 1959 feature. He's loyal to a fault to his employer "Pat Wheeler" and when "Pat" is shot down by "Nathan Burnette's" men. "Colorado" first wants revenge, but as the story progresses. He changes his mind and joins "Chance" to stop "Burnette".
In the new film he has become "Alan Bourdillion Traherne" with a nickname of "Mississippi". "Mississippi" has no idea how to shoot a gun and uses a knife instead. Like "Colorado" he is out for revenge. A group of men killed the old Mississippi gambler "Johnny Diamond" that raised him. The young man has killed, with his knife, all but one man when he enters the story.
"Mississippi" will join "Cole Thornton" to aide "Sheriff Harrah" in the town of
"El Dorardo".
On the way there he will get a sawed off shot gun to use instead of his knife.
James Caan had been kicking around on television shows since 1961. In 1964 he played the leader of a group of 'hoodlums" that terrorize Olivia de Haviland as a women trapped in a home elevator. The year before being cast as "Mississippi". Caan had the lead role in Howard Hawks' movie about racing
"Red Line 7000"
The character of "Stumpy" became "Bull Harris". Where "Stumpy" was written for and around Walter Brennan. "Bull Harris" was written for character actor Arthur Hunnicutt. Unlike Brennan, Hunnicutt was associated with a mountain man/frontiersman image. He had appeared in 1952's
The Big Sky"
starring Kirk Douglas, based upon the A.B. Guthrie novel .and directed by Howard Hawks. In 1955 Hunnicutt had the role John Wayne wanted as "Davy Crockett" in Republic's
"The Last Command".
"Bull" is a nickname from the Battle of Bull Run where he was a bugler. Which side is not mentioned, but with Hunnicutt's Arkansas accent. I think it's easy to guess.
"Nathan Burnett" becomes rancher and saloon owner "Bart Jason". Basically there are similarities between the two characters. Although one dissimilarity is in the brain department. "Burnette" is, as I've had sad, a cool, calculating man. While "Jason" is a land grabber, believes money buys anything and anyone, if not. He just takes what he wants and sees if somebody objects. As played by Ed Asner "Bart Jason's" posture tells the audience everything about him they need to know.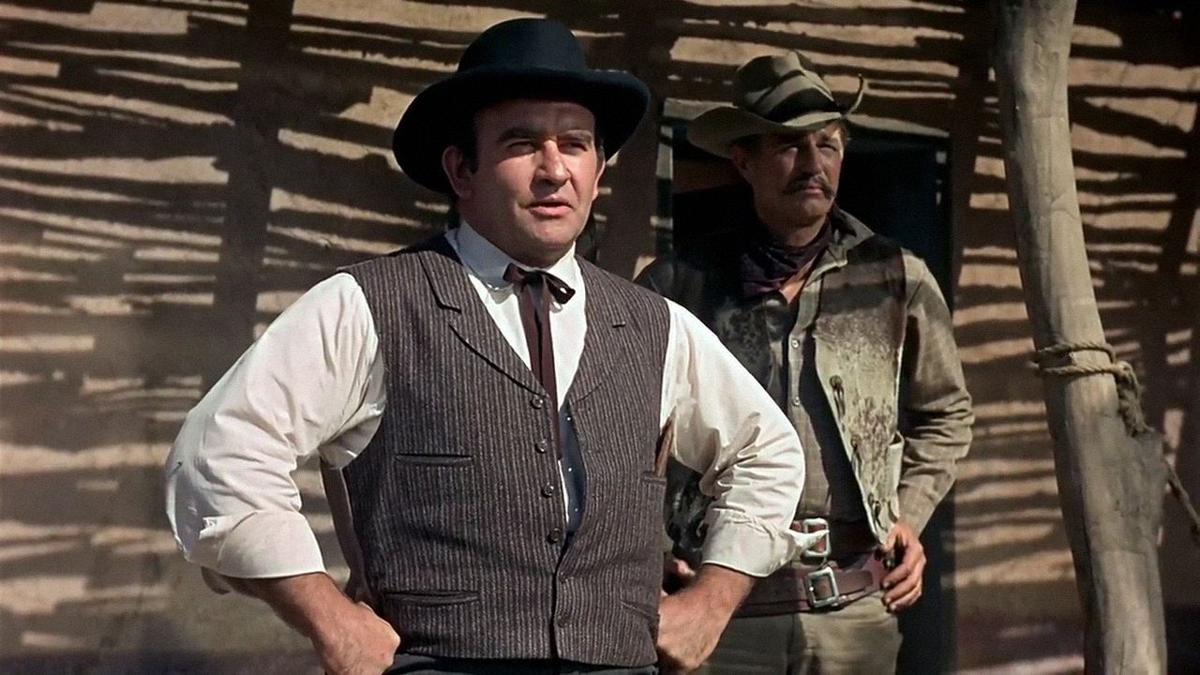 When he made this movie Asner was four years away from a seven year run on television's
"The Mary Tyler Moore Show".
Basically his career was in television since 1957. During the time leading up to
"El Dorado".
The actor was only in five movies, but made sixty-eight television appearances.
The major role of "Feathers" in
"Rio Bravo",
became an afterthought in
"El Dorado".
The ex-gambling lady. Who is "WOMEN ENOUGH FOR BOTH YOU!" As she tells John Wayne and Robert Mitchum upon making her entrance was named "Maudie'" That entrance is a quick comic scene when she walks in on "Cole Thornton" and "Harrah". She appears when "Thornton" is shot, when he needs information upon jis return ti town, in another comic scene about soap, and at the film's climax. There are one or two other scenes, but there is no development of the character in the screenplay and it appeared Howard Hawks just told Leigh Brackett he wanted another "Feathers". So Leigh made him happy by inserting a few scenes. "Maudie: was portrayed by Charlene Holt.
The previous year the actress had also been in Hawks'
"Red Line 7000".
Her short movie and television career started in 1962 and ended before this picture was released. After Holt married a millionaire Los Angeles builder.
There were three characters not associated with
"Rio Bravo"
that were in
"El Dorado"
. The first was John Wayne's "Cole Thornton"."Cole" like "Harrah" was an old gun for hire with a code. The difference was "Thornton" hadn't settled down and turned "Sheriff". He was still selling his gun. but to help people not just kill people.
Michele Carey portrayed "Josephine 'Joey" McDonald" the daughter of a rancher holding out against "Bart Jason". She will also become the love interest for "Mississippi".
Careey had been doing television roles since 1964 and most of her acting appearances would be in that medium. As far as non made for television movies go. Michele Carey also appeared in 1968's
"The Sweet Ride"
and Frank Sinatra's 1970
"Dirty Dingus Magee".
The third new character was very interesting and that was partly to the way actor Christopher George portrayed gun for hire "Nelse McLeod" and not that very good make-up. He is one of a few fast guns left and "Thornton" and "Harrah" are the others.
This is supposition on my part, but I believe you can see a lot of what Leigh Brackett's original screenplay was like and the direction she was going to take prior to Hawks and Wayne making their "Suggestions"!
Try to remove from your mind the scene where "Cole Thornton" first meets "Sheriff J.P Harrah" with "Maudie" as seen in
"El Dorado".
Looking at the first third of the screenplay. Leigh Brackett has an aging gun fighter, "Thornton (?), ride into a small town and meet a friend from the past. The friend is now the Sheriff. "Harrah"(?). and the two remember the times they had riding together. In the course of the conversation the Sheriff finds out why his old friend is in his town and sets the other straight.
"Thornton" now leaves and goes to the man who has hired him and explains that he will not go up against his old friend. We have something of Sam Peckinpah's 1962's
"Ride the High Country"
in Brackett's two old gun fighters. While riding away from the man who hired him's property. "Thornton" unknowingly crosses the land of the man whose ranch the other wanted and was willing to kill the entire family to obtain. Suddenly a shot rings out and "Thornton" reacts shooting his unknown attacker. Which turns out to be the youngest son of the rancher he was supposed to go after. The boy is gut shot and kills himself. The gunfighter's code of honor comes into play and he takes the boy's body to the rancher and his family.
We next have a similar scene as "Thornton" is riding away and is shot in the back. He discovers this was by another of the rancher's children. It is also possible we have the character of "Joey". Who seems not complete, as if something was possibly taken away by Hawks, in the screenplay for
"El Dorado".
"Thornton" makes it back to town and is told, by the local doctor, that the bullet couldn't be removed and is resting on a nerve close to his spine. It could kill him, if its not removed. However, this doctor is not skilled enough.
Cut to "Thornton" several months later entering another town and going into a saloon that serves food. He is eating when a group of obvious guns for hire enters and goes to a table. He watches as a young man, "Mississippi" (?), enters and confronts one of the gunmen at the table. What follows is the same series of events as seen in
"El Dorado".
Brackett's original screenplay probably had the knife versus pistol scene in it. As I believe that whole sequence was original dialogue and plot points.
The one major point that is established is the mutual respect of the leader of the hired guns, "Nelse McLeod" (?), for the older man. Again the gun fighter's code. This, in my opinion, was the actual set up for part of the conclusion of Leigh Brackett's original screenplay and when John Wayne dies.
Up until "Cole Thornton" and "Mississippi" ride to help "J.P. Harrah". I believe we have basically seen what was the original screenplay with a few modifications made by Hawks. Such as the adding of "Maudie". It is when the two men arrive in the town. That
"El Dorado"
becomes a remake of
"Rio Bravo"
and the tone and direction of Leigh Brackett's original screenplay changes completely.
Everything Leigh wrote from this point forward, becomes a remix of Howard Hawks' 1959 motion picture. It is obvious that something happened to "Harrah" that "Nelse McLeod" mentioned, but it certainly wasn't turning the Sheriff into comic relief until he becomes sober again. The women coming to town on the stage and "Harrah" falling for her. Then she gets tired of him and leaves resulting in his drinking could make sense though, but handled in a more serious tone by Bracket.
What the actual events in Leigh Brackett's original screenplay. From the point "Thornton" and possibly "Mississippi" enter the town are I don't know, but again I can speculate on part of the actual ending.
Even in the screenplay actually used for
"El Dorado".
The character of "Nelse McLeod" is very strong. When "Thornton" and "McLeod" again meet. That same tension between them, as earlier at the saloon, and the need for a show down between the two men is felt, but then you have Howard Hawks wanting to remake
"Rio Bravo".
The audience doesn't get the "Show Down" to find out which one is faster between the two gunfighters, but instead a cop out. "Thornton" is in front of "Bart Jason's" saloon sitting in a wagon, because his hand is paralyzed from the bullet in his back. Out comes "Nelse McLeod" and as "Thornton" sees the other man go for his pistol. He fires a shot gun at point blank range. No matter how fast "McLeod" was on the draw. There is no way he beats a shot gun. Ask the Cowboys that died in the "Gunfight at the OK Corral"? They were at the same distance as "McLeod" was to "Thornton" and all died in 30 seconds.
I believe based upon the dialogue and interactions between "Cole Thornton" and "Nelse McLeod" that remained from Leigh Btackett's original screenplay.. That there was to have been a gunfight between the two men over the speed of their draws to settle that issue. The result, speculation again, was "McLeod" is beaten. but "Thornton" dies possibly from that bullet on his spine moving during his own draw. A hero's death saving the rancher and his family, the Sheriff and the town.
As I said I am speculating on all of this, but based upon the above quote from Leigh Brackett. There had to be, in my mind, a gun fight between the two men in her original screenplay and not the un-John Wayne dirty trick played on Christopher George.
.In 1969 another crime novel came out entitled
"Silent Partner".
On December 17, 1970 what is considered the second remake of 1959's
"Rio Bravo"
hit the motion picture screens. It was based upon a story by Burton Wohl. Between 1961 and 1970 Wohl would have a total of five film credits starting with co-writing the screenplay for his novel
"A Cold Wind in August"
and ending by co-writing this screenplay.
Howard Hawks called in Leigh Brackett to bail out the screenplay, but miracle worker she was not as "Variety" on December 31, 1969 wrote:
Rio Lobo is the sort of western that John Wayne and producer-director Howard Hawks do in their sleep. But by no stretch of nostalgia does it match such previous Wayne-Hawks epics as Red River or Rio Bravo.
Leigh Brackett and Burton Wohl's script, based on Wohl's story, is by the numbers. In the Civil War, Wayne is a Union colonel – an ex-Texas Ranger, of course – who keeps losing army gold shipments to Confederate guerrillas led by Jorge Rivero and Chris Mitchum. He captures them, but they won't tell him who the traitors are who have been tipping them off about the gold.
From than on it is the same plot that has been worked over since the silent days of Bronco Billy with no new surprises.
Hawks' direction is as listless as the plot.
https://variety.com/1969/film/reviews/rio-lobo-1200422156/
What is of interest here is that the review was dated one year prior to the film's release. Was it sitting on the shelf?
So where does
"Rio Bravo"
come in?
After the overly long Civil War segment has ended. Which was designed just to set up that one of Wayne's "Colonel Cord McNalley's" own soldier's is behind stealing the Union Payrolls. Then have Wayne make friends, after the war has ended, with the Confederate Officer, Jorge Rivero, and his Sergeant, Christopher Mitchum, Robert's second son, who were robbing the Union Gold Shipments.
Later John Wayne is contacted by a Sheriff friend that the two Confederate soldiers he befriended need him. He arrives to find "Pierre Cordonna" aka: "Frenchy", Rivero, waiting for him with news that "Tuscarora Phillips", Mitchum, has been jailed as a means to acquire his father's land. Mitchum was set up by crooked "Sheriff Blue Tom Henricks", of the town of
"Rio Lobo".
"Henricks" is portrayed by ex-football player and 1960's "Tarzan" Mike Henry.
I guess Burton Wohl thought he would twist the idea from the two previous pictures. That the Sheriff is the good guy and the one he's keeping in jail the bad guy. As we finally arrive at something that is similar to
"Rio Bravo".
"Henricks" and his Deputies work for a rich land owner named "Ketchum", He will turn out to be the soldier Wayne was looking for, "Ike Gorman", portrayed by Victor French.
Above Henry and below French.
The "Stumpy/Bull" character is "Tuscarora's" father. He has no fancy nicknames and is just referred to by his last name of "Phillips" and portrayed by Accountant turned Character actor Jack Elam.
There is no "Feather's", or "Maudie", but three main female characters. One is "Shasta Delaney" portrayed by Jennifer O'Neill. "Shasta" is Wohl's version of either "Colorado", or "Mississippi". As she wants to report the murder of her Medicine Show employer by "Blue Tom's" Deputies. Which is how Wayne gets involved with her and she accompanies him to
"Rio Lobo".
The murder is the only tie in to the 1959 original. She also really isn't a strong character and that may owe more to O'|Neill's acting, or lack of it. Than to Leigh Brackett's screenplay.
The second female character is "Tuscarora's" girlfriend "Maria Carmen" portrayed by "Susana Dosamantes. There is no direct character tie in for her to the previous two pictures, but unlike "Shasta". She is one tough women.
The third women is "Maria Carmen's" best friend "Amelita" played by Sherry Lansing and the strongest female character of the three. Because she and 'Maria Carmen" help "Tuscarora". "Blue Tom" cuts her face and in the end it is "Amelita" that kills the Sheriff.
After capturing "Ketchum" at his own guarded ranch and forcing him to sign back all the deeds for the land he took. "McNally", "Phillips" and "Frenchy" take him back to town in what is a variation of the wagon sequence of
"El Dorado".
They rescue "Tuscarora" and takes over the jail putting "Ketchum" in a cell, another variation on the second film, and the fight with "Blue Tom" and his Deputies starts.
As my reader can tell. Wohl's story and the screenplay with Brackett seem to have a piece here and a piiece there of
"Rio Bravo",
but more
"El Dorado".
While the cast is OK. The story is just too long, or seems that way, but those pieces make Howard Hawks' final motion picture a remake of the 1959 original. Perhaps it was sitting on that shelf and finally, like
"Jet Pilot"
was released. I could find no comment about what Leigh Brackett thought of the screenplay.
In 1973 Leigh returned to Raymond Chandler for the screenplay to
"The Long Goodbye"
starring Elliott Gould as "Philip Msrlowe" and directed by Robert Altman.
According to "Backstory 2: Interviews with Screenwriters of the 1940'sand 1950's" by Patrick McGillian. Leigh Brackett is quoted as saying about this film:
...set the deal with United Artists, and they had a commitment for a film with Elliott Gould, so either you take Elliott Gould or you don't make the film. Elliott Gould was not exactly my idea of Philip Marlowe, but anyway there we were. Also, as far as the story was concerned, time had gone by—it was twenty-odd years since the novel was written, and the private eye had become a cliché. It had become funny. You had to watch out what you were doing. If you had Humphrey Bogart at the same age that he was when he did The Big Sleep, he wouldn't do it the same way. Also, we were faced with a technical problem of this enormous book, which was the longest one Chandler ever wrote. It's tremendously involuted and convoluted. If you did it the way he wrote it, you would have a five-hour film.
As for working with Robert Altman in the same interview Leigh stated:
We conferred about ten o'clock in the morning and yakked all day, and I went back to the hotel and typed all the notes and went back the next day. In a week we had it all worked out. He was a joy to work with. He had a very keen story mind.
In 1969 Elliott Gould was in the popular
"Bob & Carol & Ted & Alice"
and the following year was the original "Trapper John McIntyre" in Robert Altman's
"MASH".
Then there was 1977. It started with the death on February 1st of Leigh's husband Edmond Hamilton. Then in November she was approached by producer/director/writer George Lucas to work with him on the screenplay for
"Star Wars II".
What is fact is Leigh Douglas Brackett delivered the original screenplay for what became
"The Empire Strikes Back"
to George Lucas in either late February, or during the first week of March 1978. Before she could be involved in any rewrites on March 18, 1978 she passed away from cancer.
According to George Lucas he disliked completely what Brackett had written for him. Then we get into two different narratives. One says Lucas turned over the screenplay to one writer to work on. Rejected that writers screenplay and tried another. Finally giving it to Lawrence Kasdan.
The second version has Lucas just turned Leigh's screenplay directly to Kasdan. According to both Lucas and Kasdan it was during the rewrite process that the idea of "Darth Vader" becoming "Luke Skywalker's" father came up.
According to George Lucas there is nothing left in the final screenplay of Leigh Brackett's work. This is debated by fans of the author and the debate continues. For one Lucas not only left her name as screenwriter, but she proceeds Kasdan. Thereby. giving her major credit for what we see on the screen.
John Saavedra of the website for "Dennis Publishing" writes:
Most importantly, you see that Brackett's draft, while definitely in need of a rewrite and several tweaks, holds all of the big moments we'd eventually see on screen. We still get a version of the Battle of Hoth (a much more ridiculous one), the wise words of an old Jedi Master, the excitement of zooming through a deadly asteroid field, a love triangle (a MUCH more overt one), a majestic city in the clouds, unexpected betrayals, and the climactic duel between Luke Skywalker and Darth Vader that we would reenact on playgrounds for years to come
https://en.wikipedia.org/wiki/Dennis_Publishing#Publications
Should my reader be interested in reading that original first draft screenplay. There are only two known copies. One is with the archives of "Lucasfilm", but with the sale to the Disney Company. May now be located somewhere else. The other is at "The Jack Williamson Special Collections Library" at "Eastern New Mexico University". You may read it in a special room, but you can not make notes or copy it.
NOVELS
(All crime fiction, unless otherwise denoted)
No Good From a Corpse (1944; Edmond Clive)

Stranger at Home (1946; ghost-written for actor George Sanders)

.

Shadow over Mars (1951; aka "The Nemesis from Terra"; science fiction)
The Starmen (1952; aka "The Galactic Breed" [abridged]; The Starmen of Llyrdis; science fiction)
The Sword of Rhiannon (1953; science fiction)
The Big Jump (1955; science fiction)
The Long Tomorrow (1955; science fiction)
An Eye for An Eye (1957)
The Tiger Among Us (1957; aka "13 West Street")

.

Rio Bravo (1959; western, novelisation of film)
Alpha Centauri or Die! (1963; science fiction)
Follow the Free Wind (1963; western)
The Secret of Sinharat (1964; expanded by Edmond Hamilton, from a short story; science fiction)
People of the Talisman (1964; expanded by Edmond Hamilton from a short story; science fiction)
The Secret of Sinharat
and
People of the Talisman
were published together as an Ace Double Novel, and later reprinted together as
Eric John Stark: Outlaw of Mars
(1982)
Silent Partner (1969)*
The Ginger Star: Reintroducing Eric John Stark,1 (1974; science fiction)
The Hounds of Skaith: Further Adventures of Eric John Stark,2 (1974; science fiction)
The Reavers of Skaith: Further Adventures of Eric John Stark,3 (1976; science fiction)
The Ark of Mars (n.d.; science fiction)
The Jewel of Bas (1990; novella, science fiction)
SHORT STORIES
"Martian Quest" (February 1940,

Astounding

; science fiction)
"The Treasure of Ptakuth" (April 1940,

Astounding

; science fiction)
"Child of the Green Light" (February 1942,

Super Science Stories

; science fiction)
"The Sorcerer of Rhiannon" (February 1942,

Astounding

; science fiction)
"Citadel of Lost Ships" (March 1943,

Planet Stories

; science fiction)
"The Death Dealer" (March 1943,

Flynn's Detective Fiction

; aka "The Misfortune Teller")
"Murder in the Family" (March 1943,

Mammoth Detective

)
"The Case of the Wandering Red Head" (April 1943,

Flynn's Detective Fiction

; aka "Red-Headed Poison")
"Design for Dying" (June 1944,

Flynn's Detective Fiction

)
"No Star Is Lost" (July 1944,

Thrilling Detective

)
"Shadow Over Mars" (Fall 1944,

Startling Stories

; science fiction)
"I Feel Bad Killing You" (November 1944,

New Detective

)
"Murder Is Bigamy" (July 1945,

Thrilling Detective

)
"Lorelei of the Red Mist" (Summer 1946,

Planet Stories

; with Ray Bradbury; science fiction)
"The Moon That Vanished" (October 1948,

Thrilling Wonder Stories

; science fiction)
"Queen of the Martian Catacombs" (Summer 1949,

Planet Stories

; Eric John Stark; science fiction)
Later expanded by Edmond Hamilton to form the 1964 novel
The Secret of Sinharat
.
"Enchantress of Venus" (Fall 1949,

Planet Stories

; Eric John Stark; science fiction)
"The Lake of the Gone Forever" (October 1949,

Thrilling Wonder Stories

; science fiction)
"The Dancing Girl of Ganymede" (February 1950,

Thrilling Wonder Stories

; science fiction)
"Black Amazon of Mars" (March 1951, Planet Stories; science fiction)
Later expanded by Edmond Hamilton to form the 1964 novel
People of the Talisman
.
"The Woman from Altair" (July 1951,

Startling Stories

; science fiction)
"The Last Days of Shandakor" (April 1952,

Startling Stories

; science fiction)
"Shannach--the Last" (November 1952,

Planet Stories

; science fiction)
"The Queer Ones" (March 1957, Venture; aka "The Strange Ones"; science fiction)
"So Pale, So Cold, So Fair" (July 1957,

Argosy

)
"The True Death of Juanito Rodriguez" (February 1965,

Cosmopolitan

)
"

Toutes les couleurs de líarc-en-ciel

" (1968,

Fiction [France]

; tr. by Bruno Martin)
NON-FICTION ARTICLES & ESSAYS
"The Science-Fiction Field" (July 1944,

Writer's Digest

)
"And As to the Admixture of Cultures on Imaginary Worlds..." (1965,

Amrav2 #33

)
"Barsoom and Myself" (1966,

ERBania#19

)
COLLECTIONS
The Coming of the Terrans (1967; 5 novelettes, science fiction)
The Halfling and Other Stories (1973; science fiction)
The Book of Skaith (1976; omnibus collection of the three Skaith novels; science fiction)
The Best of Leigh Brackett (1977; edited by Edmond Hamilton; science fiction)
No Good from a Corpse (1999)

..
Collects the novel and all her short crime fiction, as well as an introduction by Ray Bradbury.