He portrayed both Bram Stoker's "Renfield" and "Count Dracula". He fought Clint Eastwood's "The Man With No Name" and hijacked an airplane to Entebbe, Uganda. Not many could say they did all of this, but one of my favorite German character actors, Klaus Kinski, could.
Over his career the actor would appear in 136 Feature Films from an extra to a leading man, but it was always his
presence
that caught hold of me. In a crowded scene you could pick him out.
THE CREATION OF AN ACTOR!
The actor was born either on October 18, 1926, or October 8, 1926, depending on the source, as Klaus Gunter Karl Nakszynski in Zoppot, Germany (now Sopot, Poland). The future actor's father was a failed opera singer turned pharmacist Bruno Nakszynski. His mother was Susanne Lutze Nakszynski a nurse whose father was a pastor.
During "The Great Depression" his parents could not make a living in Zoppot to support themselves, Klaus and his two older sisters and brother. The family moved to Berlin in 1931 and it was then that his parents took German citizenship changing the five year old boy's nationality from Polish.
The world of motion pictures sometimes bend the truth. Here are two stories about the same events in Klaus Nakszynski's short career in the German Military during World War 2. Which would lead to his first experience with the legitimate stage.
All biographies state Klaus was conscripted into the German Army in 1944. Where they disagree is what his actual age was at the time. Depending on the source he was either 16, or 17. Klaus Kinski's autobiography "All I Need Is Love", November 28, 1988 (Reprinted in 1996 under the title "Kinski, Uncut"), gives the 16 year old age.
The basic version of events state the young Nakszynski did not see action until after being transferred to the Netherlands during the winter of 1944. Then, on only his second day of action. He was wounded, captured by the British, and sent to a Prisoner of War (P.O.W.) camp in England.
However, the actor gives a more dramatic account in his autobiography mentioned above.
As to the part of the story about being sent to the Netherlands. Klaus does not disagree, but what happened next is a different animal. He claims to have made a decision to desert the German Army, but was captured, court-martialed and sentenced to death. Somehow he escaped from his German jailers and headed into the nearby woods. The German Army never found him, but there was some type of confrontation with a British patrol and he was wounded. After the British treated his wound and interrogated him. He was placed on a British transport ship to be sent to that P.O.W. camp in England, but again his story gets a little color too it.
While crossing the Atlantic Ocean a German U-Boat sent a torpedo at the British ship. It was hit, but apparently was able to complete the crossing. Klaus Kinski's autobiography does not explain either why the U-Boat stopped torpedoing the transport ship, or what happened to that U-Boat. Upon arrival in England he was inturned at a "Camp 186" located at Berechurch Hall in Colchester, Essex and his story returns to the basically given biographical facts.
It was as a P.O.W. that the future motion picture actor first began his craft. Klaus become part of the Prisoner Repertory Company. When the war with Germany ended. Those prisoners still sick were to be returned home first. So the very healthy Klaus decided to get himself "sick".
In his attempt to become "Sick". Klaus stood naked outside every night, drank urine and ate cigarettes, but the "Healthy" Klaus Nakszynski remained the "Healthy" Klaus Nakszynski until his normal turn to return to Germany came.
Upon that return he saw the ruins that had once been Berlin. He learned his father had died of natural causes and his mother was killed in an Allied Air Raid. Having tasted the stage during his imprisonment he turned to acting and Klaus Nakszynski, became Klaus Kinski.
In 1946 Kinski was hired by a prestigious German theater, but he was fired the following year by it's manager due to his volatile nature. A nature, that under control, would bring out some outstanding performances to the motion picture screen.
That first performance was a small role as a Dutch prisoner in the 1948 motion picture
"Morituri",
The plot was about a group of prisoners escaping and hiding in the wood as the Soviet Army moves into the area against the Germans.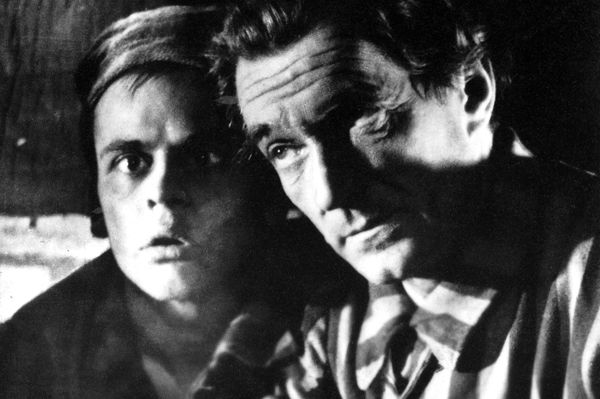 Klaus Kinski's unmistakable face is on the left in the still from the picture.
A PART OF THE VARIED LIBRARY OF FILMS MADE BY KLAUS KINSKI
I start next with a 1951 American motion picture
"Decision Before Dawn"
directed by Anton Litvak starring Richard Basehart, Gary Merrill and Austrian actor Oscar Werner (1965's "The Spy Who Came in From the Cold" and "Ship of Fools" and 1966's "Fahrenheit 451") as a German Prisoner of War. Who helps gather intelligence for the American's near the end of World War 2 in Germany. At the very beginning Klaus Kinski is seen as one of the other prisoners. The film is notable for illustrating the actor's skill with Foreign Languages.
It wasn't until 1954 before the young actor once again appeared on screen in the very small role of a Cabaret Performer in Italian director Roberto Rosselini's
"Fear"
, The motion picture starred the director's wife Ingrid Bergman and was shot in both German and English versions simultaneously. A practice being done instead of dubbing. Which had not yet become a standard practice. Any lines Klaus Kinski had would have been shot in both languages with possibly slight changes to his performance.
In 1955 for about three months the actor lived in a boarding house. There he met a 13 year old boy named Werner Herzog. Neither would have realized the impact that 13 year old would have on the actor's career starting 17 years later.
Also in 1955 Klaus Kinski had his first major role in the West German biographical motion picture
"Ludwig II: Glanz und Ende eines Konigs (Ludwig II: splendor and end of a King)".
He portrayed "Prince Otto von Bayern" the younger brother of Ludwig.
I skip forward by bypassing six motion pictures. To the first of several motion pictures Klaus Kinski would be associated with based upon the novels of English mystery author Edgar Wallace. Wallace wrote 170 novels and 957 short stories. He also was the co-author with Merian C. Cooper of the original novel that became 1933's "King Kong".
German's love a good mystery story and between 1959 and 1972 a wave of motion pictures based upon Edgar Wallace novels appeared on movie screens. That first film was "Der Drosch mit der Maske (The Frog with Mask)" premiering on September 4, 1959. It started a film craze in West Germany that became known as
"KRIMI'S".
Taken from the German word "Kriminalroman" that translates into English as "Detective Novel", or as these features became referred too "Crime Movies".
On August 5, 1960 Klaus Kinski's first "Krimi" premiered. The picture was
"Der Racher (The Avenger)".
The film was the third Edgar Wallace "Krimi" of a series of 39 motion pictures. Giving my reader the popularity of the author to German movie audiences of the period.
In typical Edgar Wallace form in "Der Racher". There is a maniac loose in London and he is sending the decapitated heads of his victims to Scotland Yard. A detective ties the murders to a traveling repertory company. Klaus Kinski portrayed "Lorenz Voss", a member of the company, but was billed as Klais Kinski.
The following March the actor portrayed "Edgar Strauss" in the Wallace story
"Die toten Augen von London (Dead Eyes of London aka: Dark Eyes of London)".
The plot has the murders of Wealthy Men leading to a group of blind men with a strange leader.
Note the image of Klaus Kinski in the lower left corner on this English Language poster for the picture.
For fans of Bela Lugosi reading this page. In 1939 he starred in a British version of "Dark Eyes of London" released in the United States as "The Human Monster".
Also in 1961 Klaus Kinski first appeared in a motion picture with British Actor Christopher Lee. The movie was also based upon an Edgar Wallace novel. As was still the practice this British-West German co-production was shot with two different casts. One in English and one in German. Christopher Lee spoke fluent German and appeared as "Ling Chu" in both filmed versions of
"The Devil's Daffodil"
. Klaus Kinski only appeared as "Peter Keene" in the West German film. The role in the English language version was portrayed by Colin Jeavons.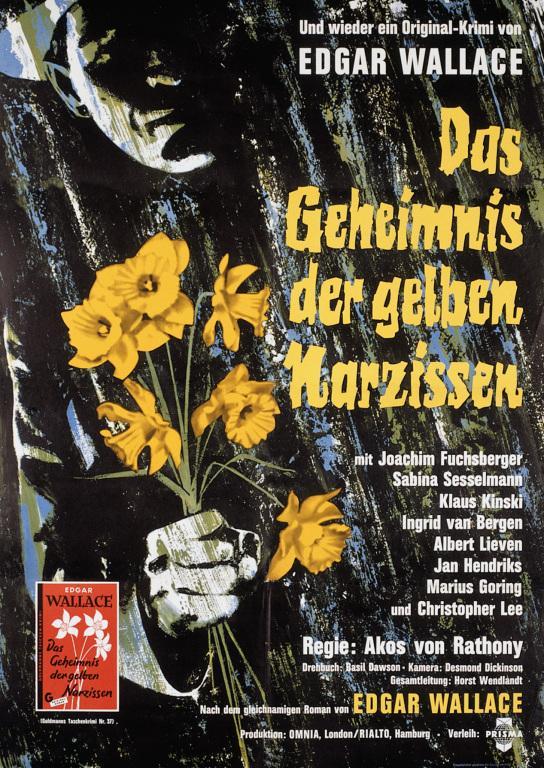 Still later in 1961 Klaus Kinski showed a side of his acting not yet seen on the screen. He appeared as "Bex" in a West German comedy
"Bakraub in der Rue Latour (Bank Robbery in the Rue Latour)".
It was directed by and starred Curd Jurgens. Jurgens first name was modified and he would become known in the United States as Curt Jurgens.
Klaus Kinski ended 1961 and started 1962 with two more Edgar Wallace mysteries. He was being type cast into a specific genre in West Germany. However, on April 17, 1962, Kinski did appear as a Jewish refugee named "Kinder" in Paramount Pictures big budgeted spy film
"The Counterfeit Traitor".
The motion picture's leads were William Holden and German actress Lilli Palmer.
Eight West German features followed the American Production. These included five Edgar Wallace Stories and led to a role in one chapter in a major series of German motion pictures going back to director Fritz Lang.
The character Fritz Lang first brought to the motion picture screen was the evil criminal genius "Dr. Mabuse" created by Luxembourg novelist Norbert Jacques. Lang's.1922 silent classic was entitled "Dr. Mabuse deer Spieler (Dr. Mabuse the Gambler)".
"Mabuse" is a little bit like Sir Arthur Conan Doyle's "Professor Moriarty". The unseen manipulator of a World Wide crime family. He uses a knowledge of rare drugs like Sax Rohmer's "Dr. Fu Manchu" and hypnosis like George du Maurier's "Svengali". One of the themes is that "Dr. Mabuse" can not be killed as he is nothing but an evil spirit that roams from one body to the next. Something on the order of Guy de Maupassant's "Le Horla".You kill "Dr. Mabuse's" current form, but not "Dr. Mabuse".
Released on September 20, 1963 was
"Scotland Yard jagt Dr. Mabuse (Scotland Yard Haunts Dr. Mabuse
aka:
"Scotland Yard vs Dr. Mabuse").
This was the fifth and next to the final feature in a series that starred German actor Peter van Eyck. He is always after "Dr. Mabuse:, but in each of the films portraying a different character. American audiences would see van Eyck in a few of the six "Dr. Mabuse" movies dubbed into English, but also in 1962's "The Longest Day", 1965's "The Spy Who Came in from the Cold", 1968's "Shalako" and 1969's "The Bridge at Remagen".
In this "Dr. Mabuse" entry Klaus Kinski is Scotland Yard Inspector Joe Wright". Below "Inspector Joe Wright" is speaking to "Major Bill Tern", Peter van Eyck.
Portraying the "Ghost" of "Dr, Mabuse", who takes over a different person's body in each of the six motion pictures, was German actor Wolfgang Preiss. Preiss, like van Eyck, was known to most American audiences for 1962's "The Longest Day" and 1977's "A Bridge Too Far". He was also seen in the 1983 television mini-series "The Winds of War". Below are two photo's of this fine actor. The first as "Dr. Mabuse's Ghost" and next to it as he appeared in many films I've enjoyed.
Above Klaus Kinski as "Scotland Yard Inspector Joe Wright".
On March 28, 1964 the actor appeared in his first Western, but although this took place in the American West. It was a West German-Austrian production filmed in the Spanish Canary Islands. In the mid-1960's the "Spaghetti Western" was born. However, not known to many fans of the genre in the United States. Was that West Germany turned out as many, if not more than Italy. I wrote an article on "Euro" Westerns and the German author, Karl May. May wrote more Western novels than even Louis L'Amour. or Zane Grey combined.
http://www.bewaretheblog.com/2015/01/american-westerns-european-style.html
"Der Letze Ritt nach Santa Cruz (The Last Ride to Santa Cruz)"
starred British/American actor Edmund Purdom. He had been somewhat popular in the early 1950's in films like the 1954 epic "The Egyptian" and the operetta "The Student Prince" made the same year. Purdom's singing voice for the later was dubbed by Mario Lanza/ He would appear in many Italian "Sword and Sandal" motion pictures. In this Western Edmund Purdom's character of "Rex Kelly" is after the gang of "Pedro Ortiz",Mario Ardorf,. They made the mistake of kidnapping his wife. Klaus Kinski portrayed "Jose".
Kinski is second form left in the following still.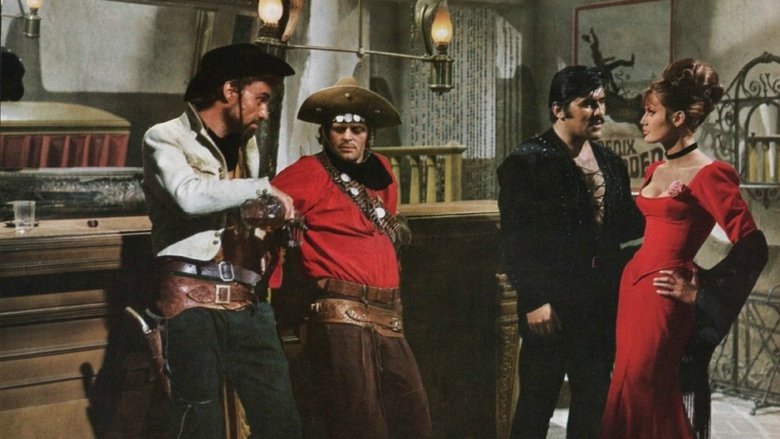 Two murder mysteries, one by Edgar Wallace, followed and then Klaus Kinski entered into a major Western series based upon Karl May's character of "Apache Chief Winneotau". "Winneotau" was played by French Actor Pierre Brice in both the motion picture series and a French television series made later. Playing one of two other major characters in May's novels was American actor Lex Barker as "Old Shatterhand". The picture was "
Winneotau 2: Teil (Winneotau: Part 2
aka
Last of the Renegades
aka
The Red Gentleman").
The standard "B" Western plot has Oil Barren "Bud Forester", Anthony Steel, another 1950's British actor going nowhere and married to Anita Ekberg, wants to create a war between the "White Man" and "Indians". So that he can take over their land for the mineral rights. In this picture Kinski had fifth billing as "David 'Luke' Lucas".
Below left is Pierre Brice and German actress Karin Dor as "Ribana". On the right is Lex Barker and Anthony Steel.
Back in 1954 the motion picture "Three Coins in the Fountain" premiered. It was about three young women, Dorothy Malone, Jean Peters and Maggie McNamara, who get an apartment together in Rome, Italy, and find romance. The motion picture with a title song by Frank Sinatra was a major hit. In December 1964 the story was remade as "The Pleasure Seekers", but set in Spain. The three young women were Ann-Margret, Carol Lynley and Pamela Tiffin. It also was a major hit.
Only five months later in May 1965 a British film entitled
"The Pleasure Girls"
was released. It was about three young women, Francesca Annis, Anneke Wills and Suzanna Leigh, who move in together and seek romance in London, England.
In the British motion picture Klaus Kinski was cast as "Nikko Stalmar" one of the three men, as in the other two features, the girls fall in love with.
A few films later, including two more based upon Edgar Wallace novels, found the actor appearing in a West German, Italian and Spanish co-production. Released in Italy on December 18, 1965 directed by Sergio Leone. The film was
"Per qualche dollaro in piu (For A Few Dollars More)".
The motion picture contains probably the most recognizable role in the United States portrayed by Klaus Kinski. Even if his audience had no idea who he was, or what his name was either.
The actor's character is always referred to as "The Hunchback", but his full name is "Juan Wild". The following stills are from one of my favorite sequences in "For A Few Dollars More". Where Lee Van Cleef as "Colonel Douglas Mortimer" strikes a match on "Juan's" hunchback. It is pure classic with two actors whose eyes convey great emotion and actually hold the audiences attention as to what MIGHT happen next.
The actual German poster for the motion picture does not show an image of Lee Van Cleef, Eastwood's co-star, but mentions his name. For the German audience the image of Klaus Kinski as "Juan Wild" is the more important. Even though his role is relatively small.
TRIVIA:
Clint Eastwood's character was publicized as "The Man With No Name". Yet, in "A Fistful of Dollars" he was always called "Joe". In this feature his character was mentioned as being a Bounty Hunter named "Manco" and in "The Good, the Bad and the Ugly". Eastwood was referred too as "Blondie".
On December 22, 1965 another motion picture featuring a role by Klaus Kinski was released. Listed 13th in a large ensemble cast in the role of "Kostoyed Amoursky", which by name the actor is never mentioned, was director David Lean's
"Doctor Zhivago".
His small sequence inside a cramped box car of people, gives the actor a few lines that reflect the "Freedom" once had by the Russian people before the Revolution. It is very moving, but like a lot of roles in such an epic 3 hour and 13 minute motion picture. It becomes lost. However, as of this writing that sequence can be found on YouTube.
After a British comedy
"Our Man in Marrakesh"
starring American actor Tony Randall and Austrian actress Senta Berger. Which like many movies was now parodying what was becoming the "James Bond" spy fad. Klaus Kinski was in a West German-British motion picture, based upon another Edgar Wallace mystery, entitled either
"Circus of Fear"
in the U.K.,
"Psycho-Circus"
in the United States, or
"Das Ratsei des sibermen Dreieck (The Riddle of the Silver Triangle)"
in West Germany. Where the picture premiered on April 29, 1966.
An armed car is robbed and Scotland Yard believes the thieves are hiding in a circus. Where a series of murders with throwing knives starts to take place. The picture starred Christopher Lee as a a facially scared lion tamer named "Gregor" and Suzy Kendall (Dario Argento's "The Bird with the Crystal Plumage") was "Natasha".
Klaus Kinski portrayed "Manfred Hart" until he got the point of the picture in his heart.
Three more motion pictures and then on January 13, 1967 the very good
"Quien sabe? (Who Knows?)
aka:
("A Bullet for the General")
aka
("El Chucho Quien Sabe? The Chucho Who Knows?)"
The motion picture was the first of what became known as a "Zapata Western". Where a Mexican Bandit and an American, who is after money, team up during the Mexican Revolution,
In this pictures case that team is "El Churcho Munos". Gian Maria Volante ("El Indio" in "For A Few Dollars More") and "Bill 'Nino' Tate/Taylor" played by Lou Castel. Whose name was actually Ulv Quarzeill and he was from Brazil.
Klaus Kinski was second billed in the motion picture portraying "El Santo". While the female revolutionary "Adelita" wasplayed by British actress Martine Beswick ( The James Bond film "Thunderball", RayHarryhausen's "One Million Years B.C." and "Dr. Jekyll and Sister Hyde" playing Hyde).
This motion picture, unlike many Spaghetti Western, was actually a serious look at the Mexican Revolution and is recognized as such. Although you have the usual violence and blood shed. The film was similar to part of the life of Pancho Villa.
The Kinski's next picture was a strange mixture of comedy and mystery in a British and West German co-production entitled
"Five Golden Dragons".
The screenplay used some characters some of the short stories written by Edgar Wallace. In West Germany the film was called
"Die Pagode zum funften Schrecken (The Pagoda to the Fifth Fright)".
It is the cast that makes this picture and nothing else. The story set in Hong Kong is about a secret society of Gold Smugglers. Klaus Kinski portrayed one of the villains, naturally, named "Gert".
Portraying the American, "Bob Mitchell", who gets involved with the gold smuggling society of Dragons was Robert 'Bob" Cummings. He had just finished the first remake of John Ford's "Stagecoach" and while making this film. The actor fell in love with the Chinese script girl, Regina Fong, and she became his fourth wife.
British actor Rupert Davies portrayed the Edgar Wallace character "Commander Sanders". Davies had recently been seen with Christopher Lee in the West German "The Brides of Fu Manchu". Davies next would be in Hammer's "Dracula Has Risen from the Grave" also with Lee.
Speaking of Christopher Lee. He was one of the "Guest Stars" and portrayed the character known as "The Fourth Dragon". American actors Dan Duryea was the "First Dragon". He had been guest appearing on television Westerns at the time. Brian Donlevy was the "Second Dragon". He had just appeared in the American re-edit of the Japanese Kaiju film "Gamera, the Invincible". While portraying the "Third Dragon" was 1940's Gangster actor George Raft. Who had just guest starred on the camp television series "Batman".
Like "Five Golden Dragons",
"The Million Eyes of Su Maru",
also spelled on some posters as
"The Million Eyes of Sumaru",
had an interesting cast of actors. The screenplay was based upon a Sax Rohmer series of novels. Rohmer was the creator of "Fu Manchu" and "Sumaru" might be called a female version. The picture, released in 1967, was described by some as a Spy film and others as an Action Adventure film. The British and West German "Fu Manchu" films were still going strong. At least in Germany and some other counties. So the idea of adopting one of Rohmer's other novels about "Sumaru" seemed to fit.
Klaus Kinski portrays the President of the country of Sinonesia. The head of his security detail has been killed and British Intelligence believes "Sumaru" and her army of beautiful women assassins are behind this.
Two American agents "Nick West" and his friend "Tommy Carter" are sent to investigate. This poster will give my reader the reason I find the casting of this picture somewhat interesting. Casting Klaus Kinski as "President Boong", don't ask, makes more sense than the rest of the cast.
The two Americans are played by George Nader. A "B" actor whose claim to fame are two terrible Science Fiction movies. The first is 1953's 3-D "Robot Monster" with a man in a gorilla suit seeming to be wearing a fish bowel with what were known as TV "Rabbit Ears" attached. The second was 1965's "The Human Duplicators". That even Richard Kiel, James Bond's "Jaws", would like to forget.
Then there was the actual star of the picture teen idol/singer/ actor Frankie Avalon. He must have thought he had Deja vu with this picture. Two years previously he co-starred with Vincent Price in "Dr. Goldfoot and the Bikini Machine" and now he seemed to be in the same story, but somehow being played straight and not for laughs.
The role of "Sumaru" was portrayed by actress "Shirley Eaton". Any of my readers who saw the third James Bond movie "Goldfinger". Will remember Eaton as "Jill Masterson" the girl that gets the gold paint job.
Below is a still of George Nader, Wilfred Hyde-White as head of British Intelligence, and Frankie Avalon at the films conclusion.
Below Shirley Eaton on right as "Sumaru".
Ten motion pictures later found Klaus Kinski in an unusual, but excellent Western. This was a an Italian and French co-production.
"ll grande silenzio (The Great Silence
aka:
The Big Silence)"
was released December 7, 1968. The film was a true Revisionist Spaghetti Western directed and co-written by Sergio Corbucci. In many views the equal too and in some respects above Sergio Leone as both a director and writer.
The "Revisionist" nature of the story was in the form of an Allegory about the death of Che Cuevara and Malcolm X. The plot takes place in Utah prior to "The Great Blizzard of 1899".
The movie has it's anti-hero "Gordon" referred too as "The Silence", because he's Mute. French actor Jean-Louis Trintignant (Roger Vadim's 1956 "And God Created Women" with Brigitte Bardot, Costa Gavras' 1965's "The Sleeping Car Murders" and Claude Lelouch's 1966's "A Man and a Women") portrays the role perfectly.
The leader of the Bounty Hunters, "Loco", in the English language version and, "Tigrero", in the Italian version was portrayed by Klaus Kinski..
The role of "Pauline Middleton" was portrayed by Vonetta McGee. She would co-star with Fred Williamson in 1972's "Hammer",was "Blacula's" wife the same year and appeared in 1973's "Shaft in Africa".
Frank Wolff portrayed "Sheriff Gideon Burnett". The name used in every version, but the Italian. Where his characters name was "Corbett". Wolff was very popular in Spaghetti Westerns. but Americans knew him from Rodger Corman's "The Wasp Women" and "Beast from Haunted Cave".
Luigi Pistilli in the role of "Henry Pollicut" portrayed many a Spaghetti Western villain. He was one of the few Italian actors that didn't use an American sounding names for these films. He was "Tuco's" Priest brother in "The Good, the Bad and the Ugly" and the leader of the outlaws in "Death Rides A Horse". Two classic's of the genre.
The story opens as "Pollicut", a corrupt banker and Justice of the Peace in Utah, has a man named "Gordon" and his wife murdered by two Bounty Hunters. To prevent their son from talking his vocal chords are cut. .
Skip forward to 1898 where the town of "Snow Hill" is short on food and supplies as a result of a blizzard. "Pollicut" uses this to his advantage as people are forced to steal to survive. He hires Bounty Hunters, led by "Loco", to track down the thieves for a price which they split. Those starving townspeople are now considered Outlaws by "Pollicut".
A man named "James Middleton" leaves the safety of the group of "Outlaws" to be with his wife "Pauline". "Loco" shows up and murders him. Enter the now grown boy who is known and feared as "Silence". He decides to protect "Pauline" and the "Outlaws" by going after "Loco" and "Pollicut" with the help of "Sheriff Burnett".
The film has a very bleak look to it. Which highlights how cut off the town of "Snow Hill" is from the rest of Utah during the blizzard.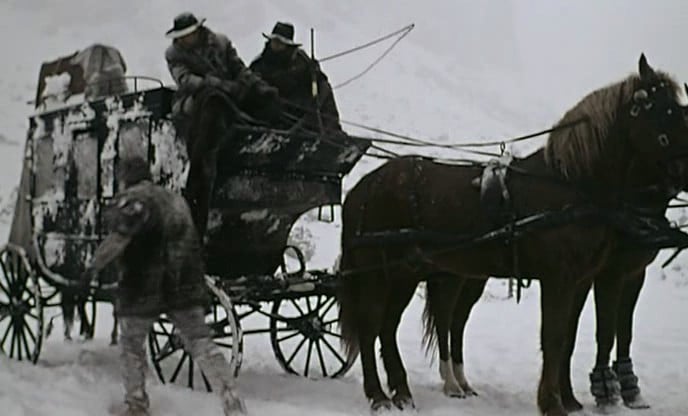 The motion picture has two different endings. The actual film as shot ends as follows:
"Silence" goes to the town saloon and attempts to provoke "Loco" into drawing his gun. "Silence" has always used that technique to be able to claim he killed the other man in self defense, Another interesting point to "Silence" is that his hand gun is a German Mauser.
However, instead "Loco" savagely beats him. The Sheriff arrests "Loco" and prepares to take him to a jail in the town of Tonopah. While this is going on "Pollicut" confronts "Pauline". He admits he wants her to become his mistress and that was the reason he put a bounty on her husband's head. She refuses him as she has fallen in love with "Silence". Before the Sheriff leaves with "Loco"/ He asks the towns people, who the Outlaws have been stealing from, to get food to them. As the town's people now understand what "Pollicut's" been doing and why the others have been stealing.
On their ride to Tonopah "Sheriff Burnett" and "Loco" arrive at a frozen lake. The Bounty Hunter says he needs to relive himself, but instead is able to spring a trap on the Sheriff. "Loco" shoots the ice around the other's feet and 'Burnett" falls into the frozen lake and the Bounty Hunter rides away .
"Loco" goes to his gang to convince them to go after "Silence". Meanwhile "Pollicut" and another man named "Martin" have gone to "Pauline's" house. There the Banker attempts to rape her as "Martin" looks on, but "Silence" arrives. However, "Silence", not expecting the two to be there. is surprised and caught. "Martin" tortures him by burning his right hand. "Silence" is able to break free of the torturing and kills both "Martin" and "Pollicut".
The "Outlaws" arrive at town to collect the promised food and supplies. "Loco" decides to capture them as a way of getting "Silence" to come to him. He also finds "Pauline" now at the saloon he is using and tells her to take message to "Silence". "Loco" challenges him to a duel, if he wins the "Outlaws" go free and if he loses they are killed.
"Pauline" tells "Silence" it's a trap, but the gunfighter still goes to meet "Loco".
A shot rings out wounding "Silence's" left hand. "Loco" stands in the doorway now ready to face "Silence" with his now two injured hands.
"Loco" reaches for his pistol. As "Silence" starts to bring up his Mauser another shot hits him and :Loco" shoots the gunfighter in the head killing him. "Pauline" runs to the dead "Silence" and picks up the Mauser and attempts to shoot "Loco", but instead is killed. Then the Bounty Hunters turn their weapons on the "Outlaws" and murder them all in the name of Justice.
"Loco" takes the Mauser from "Pauline's" hands for his own. His gang then collect the bounties on the dead "Outlaws" and ride out of town. The film ends with a title card stating that
:
"Loco's" actions resulted in a public condemnation of Bounty Killings and a memorial in honor of those who died for somebody elses greed was erected in "Snow Hill".
Not a very uplifting ending.
I said there were two endings. For the North African market where Spaghetti Western were extremely popular Sergio Corbucci was forced to have a "Happy Ending", In it there is an actual duel in the street gunfight between "Silence" and "Loco". Although "Silence's" right hand has been burnt.
Before "Loco" can be prompted by "Silence" to draw. He pulls his pistol out, but a gunshot rings out hitting "Loco" in the head and killing the Bounty Hunter. It comes from "Sheriff Burnett" who did not drown in the lake and arrived just in time. "Silence" kills the remaining Bounty Hunters, "Burnett" frees the "Outlaws", clears them of all crimes and "Silence" and "Pauline" live happily ever after.
This is an outstanding motion picture and Klaus Kinski is just perfect as "Loco". One other note about the director Sergio Corbucci. My reader may not know his name, but two years before this film he created a character that may be familiar: "Django".
Another motion picture released April 3, 1969 was entitled
"Justine ovvero le disavventure della virtu (Justine, or the Misadventures of Virtue)"
better known as
"Marquis de Sade's Justine".
Klaus Kinski was the "Marquis de Sade". The picture was a West German and Italian production directed by Spanish director Jesus "Jess" Franco.
Portraying "Father Antonin" was Jack Palance. This picture was his sixth Italian production starting in 1968. Right after he made Dan Curtis' "The Strange Case of Dr. Jekyll and Mr. Hyde".
Portraying "Madame Dublois" was Mercedes McCambridge. She had been nominated for a Best Supporting Actress Oscar in 1956. This was for her role as Rock Hudson's sister in Geroge Stevens' production of "Giant". She had won that award for 1949's "All the Kings Men", but the actress was now just making "Guest Appearances" on American television shows.
Portraying "Justine" was actor Tyrone Power's youngest daughter Romina Francesca Power. Her motion picture career was completely in Italian films.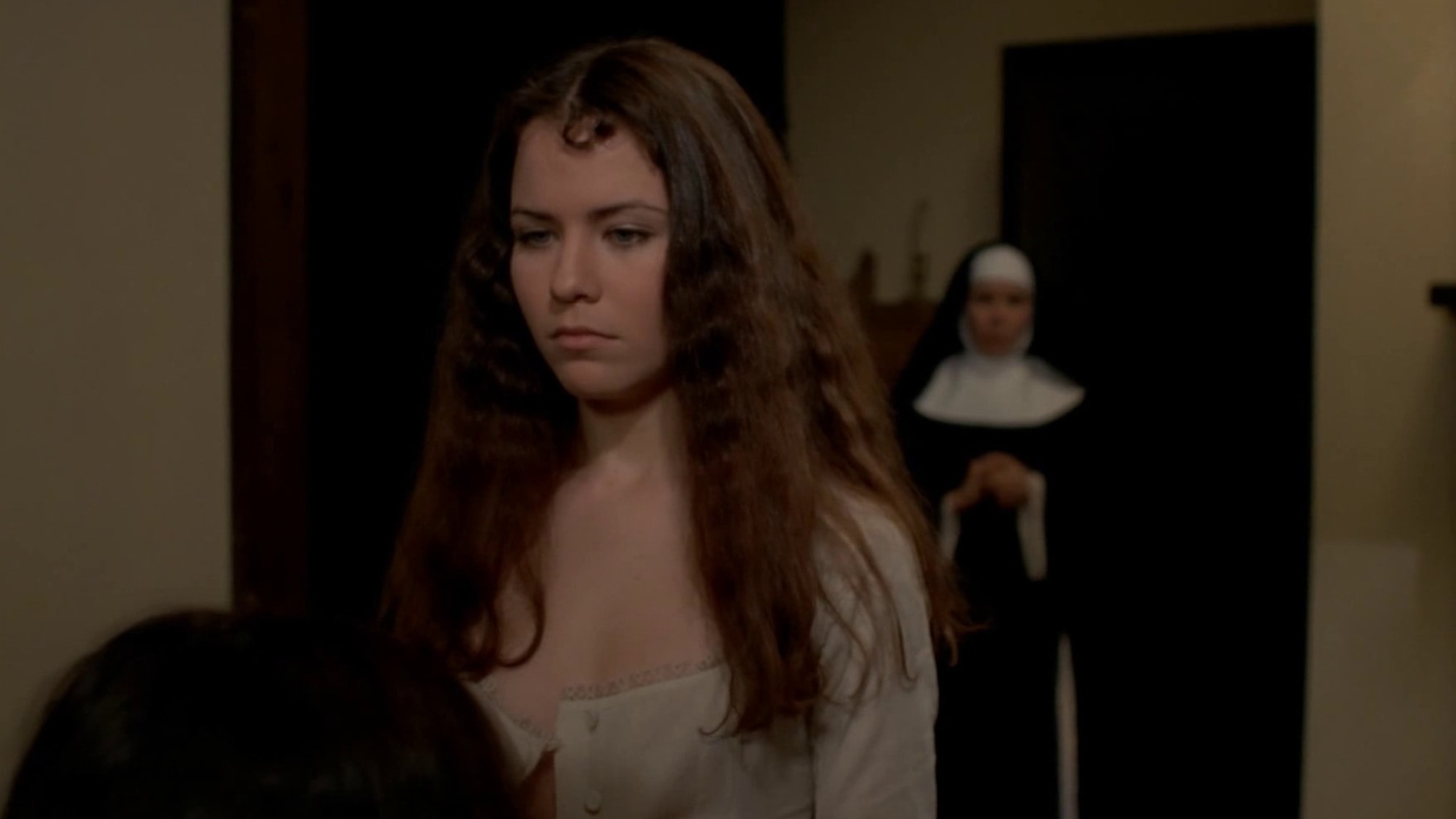 Power, who was 17 at the time, had completed eight small roles including an Italian television series based upon Rex Stout's detective stories about "Nero Wolfe". Jess Franco felt she didn't have the acting experience to carry the motion picture as conceived and the screenplay had to be rewritten to fit her talent level.
The "Marquis de Sade" is in prison writing these stories. We see the story through his hallucinations as Klaus Kinski becomes the film's narrator.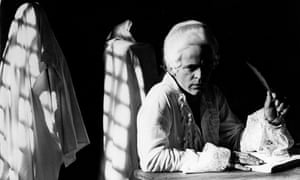 I mentioned the above film, because of the combination of Klaus Kinski and director Jesus Franco. Seven motion pictures later would bring these two together in a very interesting attempt at Bram Stoker.
On April 3, 1970 released first in West Germany was an Italian, Spanish, West German and British Horror movie. The title in West Germany was
"Nacht, wenn Dracula enwacht (At Night When Dracula Wakes),
in Spain the title was
"El Conde Dracula (Count Dracula)",
in Italy the similar title
"ll conte Dracula (Count Dracula)"
and in the U,K. the same two word title was used
.
When Jesus Franco's movie was released in the United States the title became
"Bram Stoker's Count Dracula".
The motion picture is flawed in many respects, but reminiscent of the 1930's/1940's Universal Studios series.
The first obvious flaw was in the budget. There wasn't one! Director Franco and British executive producer Harry Alan Towers', the British/West German "Fu Manchu" series with Christopher Lee, "Circus of Fear","The Million Eyes of Sumaru" and "Five Golden Dragons", backers pulled out after actual filming began. Which resulted in either scraping scenes already shot, or some editing leaving an audience, at times, saying what's missing here? In my opinion Franco still made an interesting film.
The second obvious flaw is the look of the picture. The novel takes place in 1890's England, but this movie was filmed both in West Germany and Spain. When "Dracula" is in England it looks more like Barcelona, or Madrid than London. This problem harps back to the budget cuts as Jesus Franco wanted to shoot his picture in the U.K. The costumes, which are the right period, are Spanish in design, but could have been designed correctly.
That and other flaws aside. This is a good movie and as I said the first to actually attempt Bram Stoker's novel. Now to the cast which was a mixture of styles and nationalities.
Portraying "Count Dracula" is Christopher Lee. Some of the aversion to this picture resulted from viewers thinking this would be a Hammer Studios movie, because of Lee. As the picture moves forward we see Lee's "Dracula" rejuvenate from an grey haired elderly man into a younger "Count Dracula: in appearance.
Lee has a great scene where "Dracula" tells "Jonathan Harker" the family history. The words are Bram Stoker's from the novel and Lee delivers them perfectly.
Portraying "Professor Abraham van Helsing" was the Czechoslovakian born British actor Herbert Lom. He had portrayed "Napoleon" in King Vidor's all star 1956 version of Leo Tolstoy's "War and Peace", for Hammer he was "The Phantom of the Opera", but is best known for playing "Chief Inspector Charles Dreyfus" that Peter Sellers "Inspector Jacques Clouseau" literally drives mad in Blake Edwards' "The Pink Panther" films.
The third star for Jess Franco's movie was Klaus Kinski as "R.M. Renfield". Unfortunately some of Kinski's work ended up on the cutting room floor, because of the budget. However, he is excellent as the insane (?) "Renfield" that knows to much about "Count Dracula".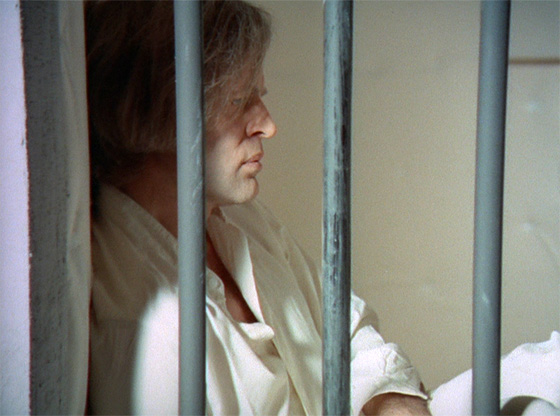 Playing "Jonathan Harker" and billed as Fred Williams was Friedrich Wilhelm Lochner. He appeared in many West German motion pictures, but is known Internationally for Richard Attenborough's "A Bridge to Far" as "Hauptsurmfuher Viktor Eberhard Grabner".
Maria Rohm portrayed "Mina Murray". The Austrian actress had appeared in "The Million Eyes of Sumaru", "Five Golden Dragons", "Marquis de Sade's Justine" and two of the Christopher Lee "Fu Manchu' films produced by Harry Alan Towers. Along with four other of Towers' pictures prior to "Count Dracula". Oh, one small point. Rohm was also Towers wife.
"Lucy Westenra" was portrayed by Soledad Miranda. He real name was Soledad Rendon Bueno and the actress and pop singer was born in Seville, Spain.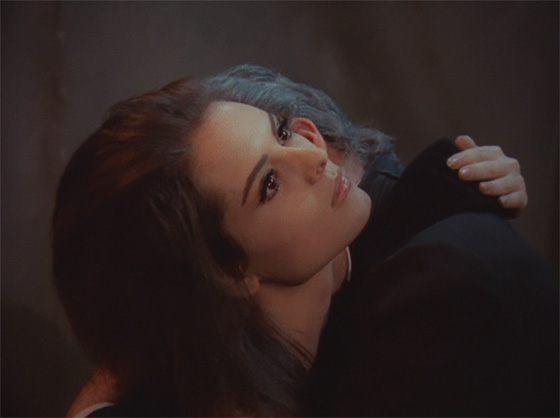 Swiss Character actor Paul Konrad Muller was "Dr. John 'Jack' Steward" seen below with Klaus Kinski in "Steward's" Asylum.
The role of Texan "Quincy Morris" was given to American actor Jack Taylor. Taylor's real name was George Brown Randall.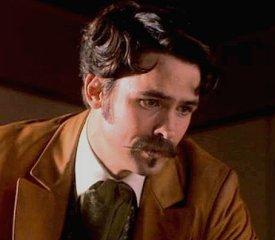 I personally enjoyed this film and took it for what it was a solid Universal Studio's "B" Dracula. However, here are two opposing reviews of the film which illustrates how this movie seems divided without any middle ground.
At the time of it's United States release movie critic Robert Firsching in the New York Times wrote:
This doggedly faithful adaption is prodding and dull, Even Christopher Lee (in an uncharacteristically weak performance as Dracula), Klaus Kinski (as the mad Renfield), and seven credited screenwriters cannot make this confused, distant film worthwhile. Franco appears as a servant to Professor van Helsing (Herbert Lom), and though certainly literate, the film fails as both horror and drama.
In 2009 Brett Cullum of "DVD Verdict" wrote:
For curious Dracula fans. Jess Franco's Count Dracula is a neat find. It's a stellar cast working under a low budget, and it comes off entertaining if not a classic. It's a "B" treatment at best, but.....Lee comes off fiery and committed to making this Count one that would be noticed.
From Bram Stoker to Edgar Alan Poe ten motion pictures and one year later. On August 26, 1971 Amereican actor Anthony Franciosa appeared as "Alan Foster" and Klausi Kinski as "Edgar Allan Poe" in director Antonio Margheriti's
"Nella Stretta Morsa Del Ragno (In the Narrow Struck of the Spider"
aka:
"The Web of the Spider").
Which was a color remake of Margheriti's 1964
"Danza Macabra (Dance Macabre"
aka;
"Castle of Blood")
starring Barbara Steele.
It's a story about a man who takes a bet from Edgar Alan Poe. That he can't stay the night in a Haunted Castle and through the long night experiences ghosts and a beautiful women. Who is also trapped within the Castle asking for his help to escape.
There was a period basically in the 1960's. When European film makers turned to American writer Edgar Allan Poe for their horror films. My article on these European Poe pictures, which actually start with a 1928 silent film, can be read at:
http://www.bewaretheblog.com/2016/07/1928-s-fall-of-house-of-usher-1964s.html
I mentioned that in 1955 Klaus Kinski encountered a 13 year old boy named Werner Hertzog at a boarding house he was staying in. On December 29, 1972, in West Germany, a motion picture that would not reach the United States until five years later was released. It was written, produced and directed by that boy.
"Aguirre, der zorn Gottes (Aguirre, Wrath of God)"
would be the first of five collaborations between Herzog and Kinski.
The film was based upon the true story of the 1560 quest for "El Dorado" the Inca City of Gold by Spanish Conquistadors. The title character, "Lope de Aguirre", portrayed by Klaus Kinski. Herzog's screenplay is also a story of madness and at this time might have been said of the actor.
Kinski had a reputation of being hard to work with and throwing temper tantrums on the set. Werner Herzog was to learn that from the start, but the two men worked around it. At the time the picture opened Kinski had been married for over a year to his third wife. There would be a fourth in 1987. All ending in divorce.
According to the first of his three children his oldest daughter Pola. The other two where actress Natassja and actor Nikolai. Her father sexually abused her for 14 years starting around the age of six. According to Pola in an interview with "The Guardian" for their January 10, 2013 release:
I've written a book about it because I can no longer bear the fact that a person whose halo gets bigger from year to year is being glorified in this way
Pola's book is entitled "Kindermund (Child's Mouth)" and for my readers "The Guardian" article can be read at:
https://www.theguardian.com/world/2013/jan/10/klaus-kinski-rape-claims-daughter
Returning to the picture:
Werner Herzog wrote most of the screenplay while on a 200 hundred mile bus trip with the Football (Soccer) team he was on. Although it is based on an actual event that screenplay contains fictional characters and sequences. The movie is almost a complete scene by scene shoot of that original screenplay and utilizes minimal dialogue and concentrates on visuals to tell the story.
The leader of the explorers, or adventurers dreaming of halls of gold, was "Gonzalo Pizarro" portrayed by Alejandro Repulles. "Pizzaro" is probably the only real name familiar to my readers. The choice of Klaus Kinski, by Herzog, was specific, because of that volatility in Kinski's nature. As it reflects what was historically known of the actual "
Mad",
as in somewhat insane, "Lope de Aguirre".
Another interesting aspect to the shoot was that the motion picture had to be shot in English. Although it would not be released in that language until November 14, 1974 in the U.K. The reason for the choice of language was that the actors and film crew where from 16 different countries, but all spoke English.
The picture was shot in the Peruvian Rain Forest, Machu Picchu an actual 15th Century Inca citadel.
and the Amazon River tributaries of the Ucayall region. So what did such a on location motion picture cost? At the time the entire budget was $370,000 U.S. Dollars. Which one third of that amount was Klaus Kinski's salary. Calculating that budget for 2017 inflation, at the time of this writing, the budget equates to $2,253,519 U.S. Dollars.
That tight budget precluded using stunt men, or building sets in a studio. So Werner Herzog, his crew and the actors did it all on location in those hot costumes.
The film is excellent tale of the doomed expedition. There are some great scenes on rafts going down the Amazon River as the explorers, which included "Lope de Aguirre's" daughter, are slowly killed off by unseen Incas, or from fever.
In the end only "de Aguirre" remains alive and completely "Mad" from both what he has seen and fever. He believes his daughter is still alive and talking to a group of Amazonian monkey's. Which he hallucinates are his men. The film ends with him declaring:
I, the Wrath of God, will marry my own daughter, and with her I will found the purest dynasty the world has ever seen. Together. we shall rule the entire continent. We shall endure. I am the Wrath of God...Who else is with me?
Between this motion picture and Klaus Kinski's next with Werner Herzog were 21 feature films. These included Westerns, World War 2 dramas and of course Edgar Wallace mysteries. Before I look at a classic horror remake by Kinski and Herzog. I want to look at just two of those other motion pictures the actor appeared in.
On September 23, 1976 Klaus Kinski portrayed "Dr. Dennis Orloff" in a co-production of West Germany and Switzerland. This feature was about one of the most famous murders of Victorian England. The motion picture's German title was
"Der Dirnenmorder von London (The Wicked Murders of London)".
but was known in English simply as
"Jack the Ripper".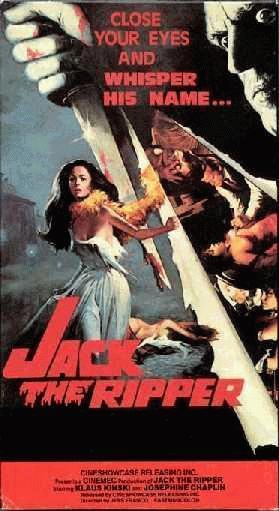 The picture once again reunited Klaus Kinski with Spanish director Jesus Franco. The screenplay by Franco owes a lot to Marie Belloc Lowndes' 1913 novel "The Lodger". Made into a 1927 British silent film by a young Alfred Hitchcock and the 1944 film version starring Laird Cregar in the title role of the "Ripper". However, Jesus Franco out bloody's Hammer Films with this production.
Many movies have exploited the story of "Jack the Ripper" over the years and there have been television programs claiming to tell the real story. For those of my readers who may be interested in the actual recorded events and some of the other filmed takes on the case. My blog article can be found at:
http://www.bewaretheblog.com/2015/09/jack-ripper-in-motion-picture-and.html
On June 27, 1976 an airplane left Athens, Greece and was hijacked by a splinter group of the "Popular Front for the Liberation of Palestine (PLO)". The hijackers had the aircraft flown to Entebbe Airport in Uganda. Where the Ugandan dictator Idi Amin Dada welcomed them. Of those on the plane 100 Israeli's were held hostage and they would be rescued in a daring raid by the Israeli military.
In the United States 20th Century Fox Television put together a movie entitled "Raid of Entebbe" starring Peter Finch and Charles Bronson. It was scheduled for a January 9, 1977 broadcast. ABC television pushed out their own version of the events entitled "Victory At Entebbe" starring Kirk Douglas and Elizabeth Taylor among others. ABC beat 20th Century Fox on to American television by one month. The ABC version was first aired on December 13, `1976.
While both of these films were claiming to be the real story, but were really just after ratings. In Israel the Canon Film Group, owned by Israeli cousins Yoram Globus and Menahem Golan, made their own film using the raids name
"Operation Thunderbolt".
The only two names in the cast some American's might recognize were low budget "B" actress Sybil Danning. Although this was three years before she appeared in Roger Corman's version of Akira Kurosawa's "The Seven Samurai" entitled "Battle Beyond the Sun" and possibly Klaus Kinski. The rest of the cast were prominently Israeli actors and actresses.
Above is Austrian actress Sybil Danning as the real Brigette Kuhlmanm aka: Halima. One of the founding members of the West German left-wing militant group "Revolutionare Zellen". To her left is Klaus Kinski as the real Wilfred Bose. A founding member of the West German left-wing militant organization "Revolutionary Cells". Bose was seen in both American television movies, but was the only named participant in the hijacking.
"Operation Thunderbolt" had no major International star power as with the dueling American television productions, but it had the tense, actual story, dramatized correctly for the motion picture screen. Another factor for this production was the language. The film as shown in Israel and other foreign markets had the actors speaking in Hebrew, French, German, Arabic and English depending on their roles. Then the language was subtitled to fit the market it was showing in. It was then reshot in an all English language version for the U.K. and United States markets and others.
The authenticity of this motion picture compared to the two American made films earned an Academy Award Nomination for Best Foreign Language Film. Additionally the motion picture footage was used in several World wide documentaries on the "Entebbe Raid"/
Four motion pictures later and Klaus Kinski and Werner Herzog recreated a German Expressionist Horror Classic from 1922 in full color. The title of the original motion picture was
"Nosferatu, eine Symphonie des Grauens (Nosferatu, A Symphony of Horror)".
The silent film's director F.W. Murnau was born Friedrich Wilhelm Plumpe, in 1888 Bielefeld, Province of Westphalia in the German Empire. His picture was an unauthorized version of Bram Stoker's novel "Dracula". Muranu changed the character's name to "Count Orlock". Along with all the other characters. Portraying "Count Orlock" was Friedrich Gustav Maximilian 'Max" Schreck. Who was born in Berlin in 1879.
A lawsuit by Florence Stoker was filed and she won. All prints of the 1922 film were to be destroyed. This was being done up to the time of her death, but a few prints remained and were saved.
Werner Herzog's remake
"Nosferatu, Phantom der Nacht (Nosferatu, Phantom of the Night"
aka:
"Nosferatu, the Vampyre").
Although a West German production had it's opening on January 17, 1979 in France. It wouldn't be until February 25, 1979, after showing in both Sweden and Italy, that the motion picture was seen at the "Berlin Film Festival" in West Germany.
Klaus Kinski was cast as "Count Dracula" as the copyright on that name had expired.
Herzog's movie was a stylized homage to the F.W. Murnau film. In short from a strictly German film point of view. You had a stylized motion picture of an already stylized motion pictuire.
On October 24, 2011 American Film Critic Roger Ebert wrote a review of the film starting with the follow description:
There is a quality to the color photography in Werner Herzog's "Nosferatu the Vampyre" that seeps into your bones. It would be inadequate to call it "saturated." It is rich, heavy, deep. The earth looks cold and dirty. There isn't a lot of green, and it looks wet. Mountains look craggy, gray, sharp-edged. Interiors are filmed in bold reds and browns and whites -- whites, especially, for the faces, and above all for Count Dracula's. It is a film of remarkable beauty, but makes no effort to attract or visually coddle us. The spectacular journey by foot and coach to Dracula's remote Transylvanian castle is deliberately not made to seem scenic.
The review is excellent and I do not have to add to it. My reader can read Ebert at:
https://www.rogerebert.com/reviews/great-movie-nosferatu-the-vampyre-1979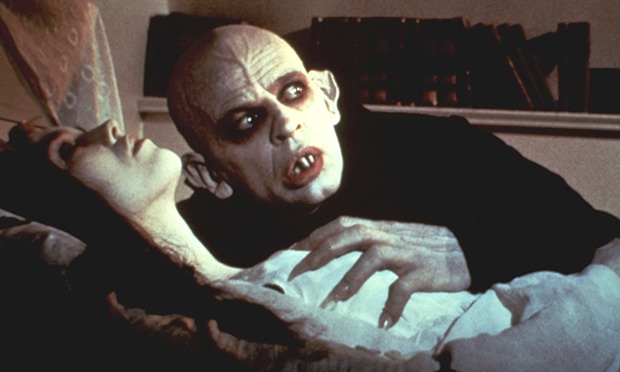 Above Isabelle Adjani as ""Lucy Harker", a name change from the novel and a switch with the character of "Mina" played by Martje Grohmann, at the film's climax. Below Greta Schroder as "Ellen Hutter" in the same scene from the 1922 original.
Two more quotes, if my reader will permit me, from Roger Ebert:
"Nosferatu the Vampyre" cannot be confined to the category of "horror film." It is about dread itself, and how easily the unwary can fall into evil. Bruno Ganz makes an ideal Harker because he sidesteps any temptation to play a hero, and plays a devoted husband who naively dismisses alarming warnings. He is loving, then resolute, then uncertain, then fearful, then desperate, and finally mad -- lost.
I wonder if Kinski himself believed this was a role he was born to play. Famously temperamental, his emotions on a hair trigger, he endured four hours of makeup daily without complaining. The bat ears had to be destroyed in removal, and constructed again every morning. It's as if he regarded Schreck's performance and wanted to step in and claim the character as partly his own.
Those who haven't seen this picture, in either the original German or English language version, are missing greatness. Both from Herzog, for envisioning this picture and directing it, and Kinski for his recreation of Max Schreck's role. Adding his own interpretation making the vampire more sexual than even Christopher Lee did in either the Hammer Film's, or Jesus Franco's production.
Two films later the actor and director made their third a motion picture about a lonely soldier named
"Woyneck"
and once again touched upon madness.
The film was first seen in May 1979 at the Cannes Film Festival.
The basic plot has Kinski as "Franz Woyneck". A soldier stationed in a provincial German town of the mid-19th Century. His mistress "Marie", portrayed by Eva Mattes who won the Best Supporting Actress award at Cannes, is the mother of his legitimate child.
"Franz" agrees to take part in an experiment and as a result his mental health starts to deteriorate as he starts to see Apocalyptic Visions. His mood changes drive "Marie" in to an affair with a Drum Major in the military. "Woyneck's" confronts the man and is beaten up and humiliated. At which point "Woyneck's" mind snaps. He takes "Marie" to a pond for a quiet launch, but then takes a knife and stabs her to death.
While washing off the blood from his hands he starts to hallucinate once more and drowns. In the end the townspeople are actually excited that as a result of the murder. Something memorable has come in to their bored lives.
What is remarkable is that five days after the two men finished filming "Nosferatu" this film began. The shoot was completed 18 days later. Werner Herzog was able to shoot the picture in almost total first takes speeding up the process.
On November 28, 1981 a British film with a International Cast premiered in Japan. On January 19, 1982 it opened in the U.K. and ten days later in the United States. The motion picture was entitled
"Venom"
and was directed by Piers Haggard. Among his work was a four episode BBC mini-series starring John Mills as British Science Fiction's "Professor Bernard Quatermass" and it's motion picture version "The Quatermass Conclusion". He also directed the terrible Peter Sellers comedy "The Fiendish Plot of Dr. Fu Manchu".
"Venom" featured Klaus Kinksi, Olver Reed, Sterling Hayden, Sarah Miles, Nicol Williamson, Michael Gough and Susan George among others. Let me have Piers Haggard give a back story on the film from a 2003 interview with M.J. Simpson:
I took over that at very short notice. Tobe Hooper had been directing it and they had stopped for whatever reason. It hadn't been working. I did see some of his stuff and it didn't look particularly good plus he also had some sort of nervous breakdown or something. So anyway they stopped shooting and offered it to me. Unfortunately I had commitments, I had some commercials to shoot. But anyway I took it over with barely ten days of preparation - which shows. It doesn't become my picture, it's a bit in between... [Oliver Reed was] scary at first because he was always testing you all the time. Difficult but not as difficult as Klaus Kinski. Because Oliver actually had a sense of humour. I was rather find [

sic

] of him; he could be tricky but he was quite warm really. He just played games and was rather macho and so on. Klaus Kinski was very cold. The main problem with the film was that the two didn't get on and they fought like cats. Kinski of course is a fabulous film actor and he's good in the part, the part suits him very well. They were both well cast but it was a very unhappy film. I think Klaus was the problem but then Oliver spent half the movie just trying to rub him up, pulling his leg all the way. There were shouting matches because Oliver just wouldn't let up. None of this is about art. All the things that you're trying to concentrate on tend to slip. So it was not a happy period
Klaus Kinski portrays International Criminal "Jacques Muller aka: Jacmel". He enlists the maid "Louise Andrews" Susan George, of a women named "Ruth Hopkins", Cornella Shape, to help kidnap "Ruth's" asthmatic son"Phillip", Lance Holcolm, for ransom. Also in on the kidnapping is "Ruth's" chauffeur "Dave Averconnelly", Oliver Reed. Everything goes wrong as the trio of kidnappers becomes trapped in the house with an extremely deadly black mamba snake. A result of a mix-up in what was to have been a pet snake for "Philip". A police officer is shot by the kidnappers and the police surround them, the boy and the snake inside the house.
On March 4, 1982 another collaboration between Klaus Kinski and Werner Herzog was released entitled
"Fitzcarraldo"
and like "Aguirre, Wrath of God" took place in Peru.
Some critics say this Werner Herzog film has "Surreal" feel to it. "Surreal" is defined by Merriam Webster as:
Marked by the Intense Irrational reality of a dream.
In this case the reality of the real Peruvian Rubber Baron Carlos Fermin Fitzcarrald the son of an Irish-American sailor and a Peruvian women.
Portraying the Werner Herzog's recreated title character "Brian Sweeney Fitzgerald" was Klaus Kinski. To the Peruvian's he was called "Fitzcarraldo". Originally the role was being portrayed by American actor Jason Robards, but at the start of filming he developed dysentery and his doctor's would not permit his return to Peru. At that point Herzog thought of casting Jack Nicholson in the role, or himself.
"Fitzcarraldo's" mistress "Molly" was portrayed by Italian Tunisian actress Claudia Cardinale.
Another delay to the story came over the character of "Brian Fitzgerald's" assistant "Wilbur" portrayed by Mick Jagger. Jagger had to start a tour with the "Rolling Stones", because of the delay over Robards, and the entire character was just cut from the script.
This is a story of madness caused by obsession. "Fitzcarraldo " loves opera and especially the Opera Singer Enrico Caruso. He spends hours listening to music and lives in the small Peruvian town of Iquitos dreaming of building an Opera House. His one claim to fame is that he bankrupt the now incomplete Trans-Andean railroad. The first dream he had of connecting Peruvian cities with each other by crossing the Andes mountains.
"Fitzcarraldo" hears of an area of Peru, inaccessible, but a major possibility for great wealth in rubber. Rubber has put the country of Peru at the center of World trade in the 1890's. He purchases this area from the government after realizing that the Pachitea River is not far from tributary of the Amazon known as the Ucayali River. All "Fitzcarraldo" has to do is get a ship to carry the rubber from the plantation he plans to build, but first he has to figure out how to move a ship over a mountain. This becomes the main story as "Brian Sweeney Fitzgerald" and his enslaved Peruvian natives take that ship to the Pachitea.
Below Werner Herzog during film of "Fitzcarraldo". In the background the 320 Ton Steam Ship used in the motion picture. The director did not think using a model ship would look right on film. So he purchased a real one. It should be noted that the actual ship Carlos Fitzgerald used only weighed 30 tons.
In the end "Brian Sweeney Fitzgerald" does not get any rubber, but he is able to get Enrico Caruso to perform Opera in the town of Iquitos.
Like many reviewers Roger Ebert thought Klaus Kinski's character was the real person Werner Herzog based his film upon. The following opens an August 28, 2005 review by Ebert:
Werner Herzog

's "Fitzcarraldo" is one of the great visions of the cinema, and one of the great follies. One would not have been possible without the other. This is a movie about an opera-loving madman who is determined to drag a boat overland from one river system to another. In making the film, Herzog was determined to actually do that, which is more than can be said for Brian Sweeney Fitzgerald, the Irishman whose story inspired him.
The complete article can be found at:
https://www.rogerebert.com/reviews/great-movie-fitzcarraldo-1982
Point of actual history, besides the fact that the ship Carlos Fitzcarrald actually used weighed only 30 tons and not Herzog's purchased, for cinematic effect, 320 tons. His enslaving of the natives to move his ship is still considered the main reason that the "Yine" and "Mashco Piro" people dislike each other.
Two forgettable films followed.
First, 1982's
"The Soldier"
not to be confused with Kurt Russell's 1998 film "Soldier". The picture did have one redeeming quality with a cameo by Country Singer George Srait playing himself.
Second, 1983's
"Android"
from Roger Corman's "New World Pictures". Klaus Kinski's "Dr. Daniel" has built a human looking and working, in every respect, android named "Max 404" as company on a lonely Space Station. Then a space ship arrives in need of repair with a crew of fugitives being pursued by the Galactic Police Force. Two of the fugitives are women and "Max" asks "Dr. Daniel" to built him a female counter part. The doctor agrees and then this modern "Frankenstein" story turns into a blood bath.
Actress Shelley Duvall was Executive Producer and did the on screen introductions to her "Faerie Tale Theatre", August 13, 1984 saw the premier, on United States television, of
"Beauty and the Beast"
. The 50 minute production starred Susan Sarandon as "Beauty" and Klaus Kinski as both "The Beast" and "The Prince". What a difference from the work the actor had been doing of late. The program, which can still be found on line, was directed by French director Roger Vadim.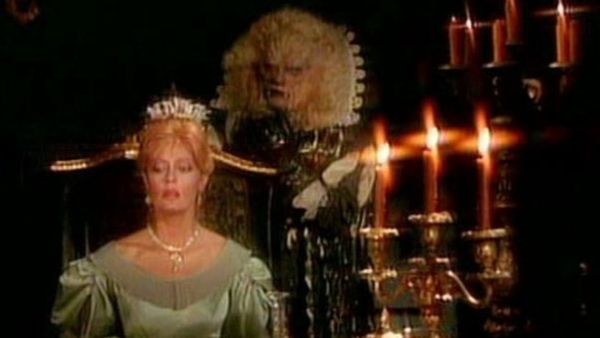 The classic motion picture version of "Beauty and the Beast" was made in 1946 France. Immediately after the end of the Second World War filmed in stark black and white. The production was directed and written by the great French director Jean Cocteau. For those only familiar with either the Walt Disney animated, or live action musical. This is the film most of there concepts came from.
Although I could not find out who did the make-up for the "Faerie Tale Theatre" version. It is obvious that director Roger Vadim was doing a homage to that 1946 feature. The following is a shot of actor Jean Maris in his "Beast" make-up.
And they lived happily ever after. Filters were used for two purposes. One was to give the happy ending a real faerie tale look and the other to hide the age of Klaus Kinski.
In the category of this film is so "BAD IT'S GOOD"! I give you the Spanish Science Fiction motion picture
"El caballero del dragon (The Knight and the Dragon"
aka
"Star Knight")
released in Spain on December 20, 1985.
In medieval Spain a Dragon has abducted the Princess Alba, Maria Lamor. It is up to a glory hunting Knight named "Klever", Harvey Keitel, to save her. Only problem is the Dragon is a space ship and maybe the "Princess" doesn't want to be saved from "IX" the alien.
Below Klaus Kinski as the good and kindly, we are talking about Klaus Kinski aren't we (?), scientist and physician "Boetius". Actor Miguel Bose as the alien "Ix" and Maria Lamor as the "Princess Alba".
I know European film makers like to rip off other films. So take a look at "Ix" above and Sting from the previous years "Dune".
Maybe it's just me, but----
Oh and Harvey Keitel, who has a run in with a flying goat. You heard me correctly. Seems a bit out of place attempting to sound as a Medieval Spaniard with a Brooklyn accent. Oh, the goat scene, as of this writing, is available on line.
Below Keitel in a combination space suit and medieval Armour. Next to him is Fernando Rey as "Fray Lupo"..
Below Kinski and Rey the two pro's going with the joke by playing it serious.
Switching to a very good and forgotten made for American television motion picture is the intelligent science fiction film
"Timestalkers".
The movie was first shown, on CBS, March 10, 1987.
William Devane portrays "Professor Scott McKenzie". Whose wife and son die in a car crash a year before the main story begins. The "Professor" has a love for the Wild West Gunslinger Culture. With a friend "General Joe Brodsky", John Ratzenberger, the two bid on a pair of old trucks from that period.
The picture uses flashbacks to explain the items found in the truck. Inside is a picture of a man "Dr. Joseph Cole", Klaus Kinski, taken when he shot down three local gunslingers in a small town. A photographer took a picture of "Cole" at that time.and when "McKenzie" blows it up. It appears "Cole" is using a .357 Magnum, but the picture is dated to be one hundred years old.
"Dr. Cole" is a time traveler looking for a gunslinger with a distinctive pair of ebony handled pistols marked with stars. Meanwhile "Professor McKenzie" meets a women "Georgia Crawford", Lauren Hutton, that seems to knows things before they happen.
She gets "McKenzie" involved in both saving "President Grover Cleveland's" life and preventing "Dr. Cole' from killing the President's body guard "Matthew Crawford", John Considine, and as a result ending her own family. "Georgia" and "Cole" are from the 26th Century. In that time "Dr. Crawford", again Considine, and "Dr. Cole" are at odds over using time travel to change the outcome of historical events. Killing "Mathew Crawford" in the past eliminates "Dr. Cole's" problems in the 26th Century as it eliminates "Dr. Crawford" from being born.
In the end "Professor Scott McKenzie" will stop the assassination of "President Cleveland", save the life of "Matthew Crawford", become the gunslinger, of course, that "Dr. Cole" was actually looking for and thanks to "Georgia Crawford". Will be returned to moments before the car accident that killed his wife and son occurred to save their lives.
The final collaboration between Werner Herzog and Klaus Kinski was
"Cobra Verde"
aka:
"Slave Coast".
The picture was filmed in Ghana, Brazil and Columbia and released December 3, 1987 in West Germany, On the production there was plenty of tension between Herzog and Kinski caused mainly by the actor.
This was the story of paroled Brazilian bandit "Francisco Manoel de Silva" aka; "Cobra Verde" portrayed by Klaus Kinski. As part of his parole agreement he is sent to a Portuguese Fort in command of a small garrison on the West African coast, but with the real mission of convincing a local Chief (King) to rejoin the Brazilian slave trade. The Chief is against it, but "Cobra Verde" is resourceful and trains an army of warrior women to overthrow him and install a "Chief" of his choice.
'Cobra Verde" is able to get the slave trade finally working only to discover that Brazil has now outlawed slavery, the British have a price on his head and he is out of favor with the man he made "King",
At the Venice, Italy film festival on September 8, 1988 the motion picture
"Nosferatu a Venezia (Nosferatu in Venice)"
premiered. It is also known as
"Vampire in Venice"
and
"Prince of the Night".

Writer, producer and director Augusto Caminito obviously was playing off the Werner Herzog motion picture from nine years before. The film was suppose to be a sequel, but among other problems for Caminito was Klaus Kinski. He refused to go through the make-up process and shave his head again. So the film just implies he's the same vampire as in the Herzog feature.
The film was originally to be directed by Mario Caiano. He left after arguments with and being insulted on set by Kinski. Then Augusto Caminito took over himself, but he also stopped directing the feature with similar complaints about the actor. Klaus Kinski stated in his autobiography that he finished the shoot.
The film also does not follow the normal means of fighting vampires, or was shown in Werner Herzog's "Nosferatu". Below the coffin with a crucifix on does not seem to prevent the vampire from getting out. Although he does react to the religious symbol with fear. Another element that critics pick on is when Kinski's "Noseferatu" is walking around Venice in full day light.
Two wasted actors were Christopher Plummer as "Professor Paris Catalano" and Donald Pleasence as "Don Alvise". One might state that Plummer's "Catalano" was more catatonic than vampire slayer. While Pleasence just went through the motions enjoying a paid vacation in Venice, Italy.
The plot has "Professor Catalano" investigating the last known sighting of "Nosferatu" at the Venice Carnival of 1776. The motion picture takes place in 1988 Venice, Italy. Which would fit the idea of a sequel to the Werner Herzog motion picture. Except that the legend Christopher Plummer's "Professor" is investigating. States a family has had the vampire trapped in their houses basement since 1776. So did Augusto Caminito ignore the ending to the 1979 feature, or was the idea of a sequel dropped and the screenplay rewritten after the problems with Klaus Kinski started?
"Professor Catalano" believes "Nosferatu" wants to finally die, but again the legend states a virgin must fall in love with him for his true death to occur. Which allows for a little nudity to enter the story. Below the face of torment upon "Noseferatu".
Most biographers of Klaus Kinski state that his motion picture
"Paganini"
aka:
"Kinski's Paganini"
was his last film. It was the last film made by the actor, but not the last film released.
The question about this motion picture on the life of composer and virtuoso violinist Niccolo Paganini is whose life was it really?
Klaus Kinski, wrote the screenplay, directed the motion picture and starred in it. He considered Paganini's life to be very similar to himself and that both of them gave "Demonic", Kinski's word, performances. So when we look on screen at Kinski as Paganini. Are we looking at the violinist, or the actor?
It should be noted that Kinski cast his then fourth wife Debora Kinski as "Antonia Bianchi" and his son Nicolai Kinski as "Achille Paganini". The other two major roles in the production. The rough cut was shown in May 1989 at the Cannes Film Festival and the final cut opened in France in December of that year.
Klaus Kinski asked Werner Herzog to direct the picture, but he turned the actor down. The reason of the refusal went back to their troubled relationship on "Cobra Verde". Most critics condemn this movie and call it a mess. They even doubt it could be called a "Bio Pic". As I said Niccolo Paganini and Klaus Kinski seem to merge into one person. Whose personal tastes are documented in many ways as the same.
Although
"Grandi Cacciatori"
aka:
"Lowcy"
aka:
"White Hunter"
was made in Italy by Augusto Caminito in 1988. It wasn't released until 1990 in a limited run in that country after
"Paganini".
The motion picture is about a man whose wife is killed by a panther and is motivated by revenge to go after it. After that delayed appearance in Italy the next time the film surfaced was in Poland in 1991 as "Lowcy" and then on video only.
It appears that after that limited 1990 Italian theater run the film went straight to the World wide video market.
Klaus Kinski died on November 23, 1991 at the age of 65 in Lagunitas, Marin Country, Northern California near San Francisco. There is no question that the actor was temperamental and driven by his own demons, but to this blogger. He brought me some great moments on the motion picture screen and very memorable performances.