To be honest my first experience with "Stagecoach" was the 1966 remake of the John Ford classic. Even though I love Westerns and John Wayne. I even have some silents with "The Duke". I also have to admit that two of my favorite films he made were not Westerns, but William Wellman's 1955's "Blood Alley" and maybe surprising to some 1956's "The Conqueror". Films that stuck in the head of a nine year old boy.
However, it was the first name on the 1966 poster for the remake of "Stagecoach" that caught my eye. It read "Ann-Margaret". I had dumped Annette Funicello, whom I had an adolescent crush on since 1955's "The Mickey Mouse Club", in 1963 for her. That was just after seeing the opening song sequence for the motion picture "Bye Bye Birdie". It would be thirty years after Ford's classic came out and I was 22 years old and no longer in the United States Navy, before I saw the original with the following iconic image:
This article is a fan's look at all three versions of "Stagecoach" and for that I start not with the 1939 motion picture, but with a 1937 short story "Stage to Lordsburg" aka: "The Stage to Lordsburg" by Ernest Haycox. Here is a link to a scanned copy:
http://www.u.arizona.edu/~swhite/english_300_fall_2006/haycox.pdf
THE SOURCE AND THE 1939 SCREENPLAY
The basis of the screenplay for "Stagecoach" can be seen in Haycox's story. Although some of the events and characters are slightly different. Also there are only a few names given and they are different from the picture. You will not find a "Ringo Kid" getting on the stagecoach in the middle of its run, but you will find a blonde young man out for revenge in Lordsburg named "Malpais Bill". You won't find a saloon girl named "Dallas", but there is "Henriette" and the coach driver isn't named "Buck". He's "Happy Stuart". Yet, it is very easy to substitute one for the other.
So how did this short story become Dudley Nichols' screenplay for a motion picture that was promoted by two very interesting posters. Posters that seemed to have turned what Nichols wrote into another motion picture than the one I saw, but probably caught the potential audience's attentions with tag lines such as:
MEN-AND WOMEN-ON THE LAST FRONTIER OF WICKEDNESS
To begin with it is said that John Ford remembered an 1880 short story by French writer Guy de Maupassant "Boule de Suif". Which can be translated in four ways as "Dumpling", "Butterball", "Ball of Fat", or "Ball of Lard" and refers to a prostitute. The story fits in very well with Ernest Haycox's "Stage to Lordsburg". Set during the Franco-Prussian War de Maupassant's story has ten people share a carriage escaping the pursuing Prussian army. The group reflect people of all aspects of French society and their stations in life start to interact.
Some of the reviewers for Ford's motion picture believe there was some influence from Bret Harte's 1892 story "The Outcasts of Poker Flat". Their reasoning is based upon Hate's having a character called "The Duchess" who is a saloon girl/prostitute. A professional poker player named "John Oakhurst" and "Uncle Billy" the town drunk and a suspected robber.
To be fair screenwriter Dudley Nichols may have read the Bret Harte story as could have Ford, but according to John Ford there were only two influences on the screenplay. De Maupassant and Haycox. The film's credits gives the sole source as Ernest Haycox's "The Stage to Lordsburg".
It should be noted there is a 2001 article from the "Oregon Cultural Heritage Commission" about the State's native son Ernest Haycox. The article mentions that along with writing the story "Stage to Lordsburg". Haycox had other stories that would become the basis for 1939's "Union Pacific" directed by Cecil B. DeMille, 1941's "Abilene Town" starring Randolph Scott and 1954's "The Far Country" starring James Stewart and directed by Anthony Mann among seven others. In the Commission's article the writer states that according to Dudley Nichols, He never read either Guy de Maupassant, or Bret Harte to avoid being influenced by other writers than Haycox. The article further states Nichols concentrated on the history of the period instead.
My reader can choose who to believe. John Ford, or the "Oregon Cultural Hertiage Commission" on the background for the screenplay.
John Ford's choice of Dudley Nichols to write the screenplay was excellent. Nichols had won the Oscar for John Ford's 1935 "The Informer", Among Nichols' other screenplays would be Merian C. Cooper's 1936 "SHE", the 1936 Katharine Hepburn and Fredrick March "Mary of Scotland" directed by John Ford and 1939's "Gunga Din". He would also be nominated for an Oscar for 1940's "Long Voyage Home" and 1943's "Air Force".
What also must be mentioned is though Nichols received sole screen credit for the screenplay. It is a known fact that Ben Hecht worked on it without credit. One has to wonder what part of what we see on screen came from him?
THE 1939 MOTION PICTURE
This motion picture grows on you and no matter it's true source. Dudley Nichol's screenplay and just the right cast gives this story grit under the direction of John Ford. Nichols takes his time to bring the audience into the lives of the coaches driver and passengers. As each person with their supposed and real backgrounds become involved with getting to Lordsburg and avoiding the Apaches. Apaches that are never seen until the climax, but whose influence on these nine people are felt by the audience from the Calvary Officer's first mention of Geronimo.
John Ford's choice of what would become his favorite backdrop Monument Valley, Utah, becomes a canvas to paint black and white shadows or stark sunlight images. However, before the paint brush touched the canvas Ford needed a backer to finance the picture.
He approached David O. Selznick to produce the film. Selznick had doubts over making what was essentially an "A" Western, because of the budget and cast. The budget was first in his mind as this was the Era of "B" Westerns and John Ford hadn't made a Western since "the Silents". As to the cast nobody knew the impact of the "B's" more than John Wayne.
Since the day Marian Mitchell Morrison was renamed John Wayne for the lead in "One Eye" Raul Walsh's "A" budgeted 1930 70mm "The Big Trail" for Fox. Wayne had been moving from one "B" to the next "B" not necessarily in the leads with tiles like "The Range Feud", "Texas Cyclone" and "Two-Fisted Law" John Wayne even made six remakes for Warner Brothers of Ken Maynard silent Westerns. His costumes were designed to look like Maynard's so that Warner Brothers could save money by editing in scenes from the silent versions. In these films John Wayne rode a horse to match Maynard's that got co-star billing as "Duke the Miracle Horse". So technically "The Duke" was riding "The Duke",
Initially John Wayne didn't think he would be considered by his friend and mentor John Ford for the lead in "Stagecoach". So he suggested another friend of his Lloyd Nolan for the part of "The Ringo Kid". but Ford now felt Wayne had finally reached a point of development in his acting skills and could carry the picture.
Below is a picture of Lloyd Nolan in 1939's "St. Louis Blues". One has to wonder what "Stagecoach" would have been had Nolan been cast as "The Ringo Kid"?
David O. Selznick finally agreed to produce "Stagecoach", but he still had doubts over the budget and the cast. Mainly the relatively unknown "B" actor John Wayne for the lead. As a result John Ford withdrew the picture and searched once more for a backer. He found Walter Wanger who had changed his last name of Feuchtwanger to just "Wanger" to rhyme with "Danger".
Walter Wanger also had doubts about John Wayne and putting up the amount of money for an "A" list Western John Ford wanted. Wagner told Ford he wanted Gary Cooper for "The Ringo Kid" and Marlene Dietrich for "Dallas". John Ford refused to budge over John Wayne and a compromise was reached. Walter Wagner would put up $250,000 less than half the pictures final budget and better known actress Claire Trevor would have the top billing position as "Dallas". "Stagecoach" was now ready for shooting.
Below is a color photo of John Wayne as "The Ringo Kid". The choice of colors for his clothing was important to show just the right hues on black and white film stock.
We know John Wayne's background at the time,but lets look at each of the actors who took "The Stage to Lordsburg" starting with Claire Trevor. At the time of "Stagecoach" Trevor had been seen in motion pictures since 1931 and appeared as either a "Harden Women" like "Dallas", or the heroine in 33 motion pictures. These include the following movies that I would recommend to my reader. 1935's "Dante's Inferno" starring Spencer Tracy, 1936's "Human Cargo" with Brian Donlevy, 1937's "Dead End" starring Humphrey Bogart, Sylvia Sidney and Joel McCrea and 1938's "The Amazing Dr. Clitterhouse" starring Edgar G. Robinson and Humphrey Bogart. Back in 1934 Claire Trevor even co-starred with Shirley Temple in "Baby Take a Bow".
My reader should not have any problem with the choice of character actor Thomas Mitchell for the role of "Doc Boone". "Stagecoach" was released in 1939 and Mitchell would be seen in four other major motion pictures that same year. He played "Kid Dabb" opposite Gary Grant, Jean Arthur and Rita Hayworth in "Only Angels Have Wings", "Diz Moore" in "Mr Smith Goes to Washington" starring James Stewart, Jean Arthur and Claude Rains. He was outstanding as "Clopin" the leader of the thieves in "The Hunchback of Notre Dame" starring Charles Laughton and Maureen O'Hara. Who could forget Thomas Mitchell as "Gerald O'Hara" in "Gone With the Wind" starring Clark Gable and Vivien Leigh?
Driving the stage was Andy Devine. I first saw Devine in 1951 as "Jingles" the sidekick of Guy Madison in the television series "The Adventures of Wild Bill Hickok". The show aimed at 1950's children would be on the air through May 16, 1958. He also starred in "Andy's Gang" another children's television show I watched starting on August 20,1955. The program was sponsored by "Buster Brown Shoes". Any kid who watched it can not forget the puppet "Froggy the Gremlin" who always caused trouble for Andy. Andy had a line with "Froggy" that today might have a double en tender meaning "Pluck your magic twanger Froggy".
By the time Andy Devine played "Buck" he had appeared 62 times on the motion picture screen starting in 1926. Of note were Devine's roles of "Danny McGuire" in the 1937 original "A Star Is Born" starring Janet Gaynor and Frederick March and "Pickle Bixby" in 1937's "In Old Chicago" starring Tyrone Power, Alice Faye and Don Ameche,
Portraying the Southern Gambler with a past "Hatfield" was Shakespearean actor John Carradine. By the time Carradine appeared as Hatfield. He had already established himself as a professional character actor, In some of his roles he might have been seen for one scene only. Such as the informer in James Whales' 1933 "The Invisible Man", his three different roles in Cecil B. DeMille's 1934 "Cleopatra" starring Claudette Colbert and the hunter at the hermit's cottage in 1935's "The Bride of Frankenstein", Longer roles were "David Rizzo" in 1936's "Mary of Scotland" as I mentioned above starring Katharine Hepburn, Frederick March and directed by John Ford and "Long Jack" in "Captains Courageous" starring Spencer Tracy and Freddie Bartholomew.
Known for dramatic roles and Westerns George Bancroft played "Marshall Curly Wilcox" to perfection. His first film appearance was in 1921's "The Journey's End" as an "Iron Worker". His last would be in the 1942 Red Skelton and Ann Rutherford" comedy "Whistling in the Dark". Bancroft had been a star whose star had fallen to supporting roles such as "Curly", but he made some wise investments and in 1942 retired to a large ranch he had purchased
Louise Platt was a stage actress who came to Hollywood in 1938 and left in 1942 for the Broadway Stage once more. Her total film work including playing "Lucy Mallory" were 7 motion pictures. Starting in 1952 with the Soap Opera "The Guiding Light". She could be seen guesting on different television programs through 1963. When again Louise Platt returned to the stage.
Perhaps with the most appropriate name for his role of Samuel Peacock the whiskey drummer was Donald Meek. As Peacock seems to be in the wrong place on the ride towards Lordsburg and very "meek" in courage. Donald Meek was anything, but "Meek" in real life and had fought in the Spanish American War. Where he contracted Yellow Fever which cost him most of his hair. Starting in 1926 Donald Meek would appear in 126 feature films, but is best remembered for "Samuel Peacock" and as "Mr. Poppins" in the Frank Capra 1938 comedy "You Can't Take It With You" starring Jean Arthur and James Stewart.
The final passenger on the Lordsburg stage was the oddly acting, to Curly and Buck, Banker "Henry Gatewood". The two kept asking why Gatewood had met the stage at the outskirts of town and wouldn't let go of the only bag in his possession. Of course the audience knew Gatewood had robbed his own bank. Playing Gatewood was Berton Churchill. The actor had started film work in 1919 and after filming "Stagecoach". Churchill had only 14 more appearances before he passed away on October 10, 1940.
Now my reader has met the travelers thrown together on a cramped stagecoach moving through Indian territory towards the township of Lordsburg. There are two more cast members I want to showcase here. Both in minor roles, but both very important to the story.
The message that Geronimo is on the warpath was brought to all the passengers except Henry Gatewood by "Calvary Lieutenant Blanchard". Blanchard and his troops would escort the stagecoach to its first stop. Playing the Calvary Officer was Tim Holt. Holt. Holt started his motion picture career under contract to Walter Wranger and that was the reason he appeared in the John Ford film. Holt's first major movie appearance was in the Barbara Stanwyck vehicle "Stella Dallas" as Ann Shirley's suitor. He would be identified with many fans of "B" Westerns as a "Cowboy Star". Besides "Stagecoach" there was one other "A" Western Tim Holt is associated with released in 1946. He played the role of Virgil Earp in John Ford's "My Darling Clementine" starring Henry Fonda and Linda Darnell. Holt would appear in three other motion pictures that broke that cowboy mode and are considered classics in their genres. The first of the three was Orson Wells' 1940 "The Magnificent Ambersons", the second director John Huston's 1948 "The Treasure of the Sierra Madre", note the title is not as most people think "Treasure of the Sierra Madre", and for science fiction fans 1957's "The Monster That Challenged the World".
Tom Tyler started acting in 1923 and would, like Tim Holt, become associated with Westerns. Tyler gets overlooked as the years go by, but he was very important to John Ford's "Stagecoach". Tom Tyler portrayed "Luke Plummer" the man "The Ringo Kid" wants to kill. In Tyler's 182 appearances there are three non-Western performances that are worth mentioning. When you think of Universal Studio's second Mummy "Kharis". The name Lon Chaney,Jr. immediately comes to mind as he portrayed Kharis three times. However, the first film 1940's "The Mummy's Hand" did not star Chaney, but Tom Tyler as Kharis. Tyler also originated the title character in Republic's 1941 12 Chapter Serial "The Adventures of Captain Marvel". In 1943 Tom Tyler starred in Columbia Studio's 15 Chapter Serial "The Phantom: The Ghost That Walks".
My article on Tom Tyler may be read at:
http://www.bewaretheblog.com/2017/01/tom-tyler-b-cowboy-star-who-became.html
The actual plot of Dudley Nichols' screenplay appears very simple in construction. It's about a group of people who are traveling from one town to the next and the events that occur. Those events begin when Buck arrives with his stage and is greeted by Lieutenant Blanchard. Blanchard mentions Geronimo is on the warpath and Buck's guard quits on the spot.
Buck goes to the Town Marshall Curly Wilcox to borrow one of his deputy's to guard the stagecoach. Curly tells him they're all out searching for "The Ringo Kid" who broke out of prison. Buck accidentally mentions he saw Luke Plummer in Lordsburg and within moments Marshall Curly Wilox is now the stage guard. As Curley now knows where the Kid is going and states, for the audience, the reason for his prison escape. Luke Plummer murdered the Kid's father and brother and he is out for revenge.
Meanwhile the "righteous" women of the community are running Saloon Girl/Prostitute Dallas out of town. Defending her and also leaving the town is alcoholic "Doc" Boone. Both find seats on Buck's stage. "Doc"has been talking to a man he discovers is a whiskey drummer named Samuel Peacock. Whose clothing suggest a traveling reverend and Boone will start calling him by that nickname. Samuel Peakcock too joins the group. Another passenger will be the pregnant Lucy Mallory. She has been traveling across country to meet her Calvary husband. At the last moment the gambler Hatfield also becomes a passenger and for an unstated reason wants to protect Mrs. Mallory on the journey.
Buck and Curly start out of town when the stagecoach is stopped by Banker Henry Gatewood. He asks if there is room for him as he just received a telegram and most go to Lordsburg. The problem is Lieutenant Blanchard told Buck and Curly that Geronimo had cut the telegraph lines. So how did Gatewood get a telegram? This will lead to the discussion about Gatewood and his bag between Buck and Curly I mentioned above.
The last member of the group is introduced when the stage is stopped by "The Ringo Kid". Who starts to resist arrest by Curley, actually a life long friend of the Kid, when Blanchard and his troops reappear. We now have our characters in place and Nichols' screenplay is a straight line of events leading to the confrontation between Luke Plummer and Ringo. The stagecoach also contains a group of people similar in class to those written about by Guy de Maupassant. Bringing up the comparison's with his story.
What now happens is while the plot is simple the characters are complex. We start to find out who Hatfield really is and his relationship to Mrs. Mallory's father. Which answers "the why" that he is going to risk his life to protect her. We see the social status of Dallas come back into play from the actions of Lucy Mallory, Hatfield as his Southern upbringing returns and even the robber Gatewood. Who all look down upon her.
Ringo invites Dallas to join everyone at the large table at the Dry Fork stage stop. Dallas first does and then leaves to sit alone at a table by herself. Ringo joins Dallas and apologizes for her treatment by the other passengers. He appears naive to what Dallas is and thinks it was his presence at the table that caused the young women to leave. but there is a hint that he might not be as naive as he appears. Also it is becoming obvious that we are looking at two kindred souls.
By this time the audience has learned that the timid whiskey drummer Samuel Peacock has a wife and family he cares very much for. "Doc" Boone has been holding Peacock's sample case and drinking at times, but is his drunkenness something more? It's implied, but never settled completely.
A decision needs to be made as Lieutenant Blanchard's Calvary will not accompany the stagecoach beyond Dry Fork per his original orders. The second group of Calvary the stagecoach was to meet has left to go after Geronimo being led by Mrs. Mallory's husband. Curly addresses the passengers and suggests they vote on going, or not going to the next stop Apache Wells by themselves. Curly immediately casts two votes. One for Ringo and one for himself to go on. Mrs. Mallory votes to go on and of course Hatfield also votes that way. Dallas could care less if she goes, or stays. Peacock is for going back, but "Doc" Boone makes him agree to go on. Gatewood must go on, because of the robbery. Curly has told Buck as the driver in really has no say so in the vote.
When the group arrives at Apache Wells they learn the Calvary troop with Lucy's husband has left once more. They also learn there was a fight with Geronimo and Mrs. Mallory's husband was wounded, She faints and goes into labor. The others sober up "Doc" Boone and with Dallas' help they delivery the baby. It is during the night that Ringo tells Dallas of his ranch in Mexico and proposes marriage.
The class difference vanishes between Mrs. Mallory and Dallas, or at least for the reminder of the trip to Lordsburg/ The stage continues it's journey and the Apache's attack.
Both Buck and Samuel Peacock are injured. When all seems lost for those aboard "The Stage to Lordsburg" the Calvary arrives. Unfortunately, Hatfield is shot by an arrow at the time of their deliverance and dying asks Mrs. Mallory to tell his parents what happened to him.
Once in Lordsburg the "righteous" Cavalry Officer Wives meet the stage and immediately put Dallas in her place. Although Lucy says she is always welcome in her home which surprises the class conscious wives Dallas attempts to stop Ringo from going after Luke Plummer to no avail. Ringo insists on escorting her to her new home which she does not want him to see. Dallas is seen "crossing the railroad tracks" to her "proper place" in the town
The double climax to the film is next. The first being the Apache attack on the stage and the second when "The Ringo Kid" faces Luke Plummer and his brothers. The gunfight is off screen building the tension for the audience as we watch Dallas' reaction to the sound of gunfire. She runs towards them and we now see Ringo alive and well.
The ending is what the audience has been wishing to see. As Curly and "Doc" Boone arrange for Dallas and the Kid to find happiness in Mexico/ The two trick Dallas and Ringo to get into the same buckboard to say goodbye, but start the horses pulling the buckboard into the darkness.
This "A" Western nobody wanted to back was nominated for seven Academy Awards and won two. Best Supporting Actor Thomas Mitchell and Best Music (Scoring) for Richard Hageman, W. Frank Harling, John Leipold and Leo Shunken. The other five nominations were for Best Picture, Best Director John Ford, Best Art Direction, Best Cinematography and Best Film Editing.
To illustrate what "Stagecoach" was up against at the 12th Annual Academy Awards. The Best Picture Oscar went to "Gone With the Wind", but besides "Stagecoach" the other nominee's where: "Dark Victory", "Goodbye Mr Chips", "Love Affair", "Mr Smith Goes to Washington", "Ninotchka", "Of Mice and Men", "Wuthering Heights" and a little thing called "The Wizard of Oz". A film buff's dream competition.
Thomas Mitchell won his Oscar for Supporting Actor over Brian Aherne for "Juarez", Harry Carey, Sr. for "Mr Smith Goes to Washington", Brian Donlevy for "Beau Geste" and Claude Rains for "Mr Smith Goes to Washington".
John Ford lost Best Director to Victor Fleming for "Gone With the Wind". Both men were also up against Frank Capra for "Mr Smith Goes to Washington", Sam Wood for "Goodbye Mr Chips" and William Wyler for "Wuthering Heights".
For those that thought "Stagecoach" was the change in direction for John Wayne. His next four motion pictures were the "B" Westerns "The Night Riders", "Three Texas Steers", "Wyoming Outlaw" and "New Frontier". On November 10, 1939 John Wayne co-starred once more with Claire Trevor in "Allegheny Uprising" and that change in direction began.
SHOULD A MOVIE BE REMADE?
The question everyone needs to ask when making a remake of any previous motion picture and especially a classic like the 1939 "Stagecoach" is WHY? There are reasons, but just to say "for a new generation" is a cop out in my view.
In 1960 Alfred Hitchcock made a picture that was nominated for Four Academy Awards named "Psycho". Even though people know the ending. They are still scared by this excellent horror film that never shows a single blade point touching Janet Lee in the famous shower scene.
However, in 1998 producer/director Gus Van Sant decided to remake "Psycho", but this time in color. Except for very slight changes to the original screenplay made to update the time of the story. The reminder of the dialogue is exactly what was written by Joseph Stefano for the original 1960 screenplay. Actually Stefano is the only writer given credit for the 1998 screenplay. The camera angles are also exactly the same. So the question remains WHY did Van Sant remake Hitchcock's "Psycho" and why did Universal Studios, who released the original, other than a failed attempt to make a profit release the remake?
The flip side to remaking a motion picture starts in 1959 when Howard Hawks' "Rio Bravo" was released. The Western starred John Wayne as small town Sheriff John T. Chance. He has the brother of a major rancher in jail for murder. As his deputies you had Dean Martin's once excellent lawman turned town drunk over a women. Along with Walter Brennan's old timer and Ricky Nelson's young gun hand. Together these three stand up to John Russell's larger group of hired killers. The motion picture is considered a Western Classic.
For a 1966 release, in the United States a year later, Hawks reworked the story into "El Dorado". Now we have Robert Mitchum as Sheriff J.P. Harrah. His character is a hybrid of Wayne's J.T. Chance and Dean Martin's "Dude". At one point Mitchum becomes a drunk over a women. His deputy is Arthur Hunnicutt as the old timer. John Wayne is an old friend that returns to come to Robert Mitchum's aid. Along with Wayne comes a young man not good with a gun, but in this film a knife played by James Caan. We now have Wayne and his deputies from "Rio Bravo" remixed and it works. Instead of the brother of a powerful rancher. Mitchum has the powerful rancher played by Ed Asner in his jail. "El Dorado" is also considered a classic Western,
Then in 1970 Howard Hawks takes John Wayne and remixes "Rio Bravo" one more time as "Rio Lobo". The picture is not considered a classic, but is a solid Western. The film starts out during the Civil War and we see Wayne as Col. Cord McNally of the Union Army. His troops are guarding a secret payroll train. They're ambushed by a small group of Confederate soldiers. They could only have gotten knowledge by a traitor within McNally's troops. After the war ends as the Confederates that raided the train are being released. McNally asks them who told them about the payroll. Now ex-Confederate Sergeant Tuscarora Phillips, Christopher Mitchum, Robert's second son, points out they were the one's that killed McNally's friends. McNally replies that was an act of war and he holds nothing against them. McNally is after the traitor. This all leads to the town of Rio Lobo and a larger variation of "Rio Bravo". As the town is now under the control of the Union traitor and Tuscarora is being held in jail on false charges. This time you have John Wayne's McNally, Jorge Rivero's ex-Confederate Officer Pierre Cordona and as an added switch to the formula Jennifer O'Neil's Shasta Delaney fighting the town boss. Once more this remix/remake works, because as with "El Dorado". The story has "Rio Bravo's" original elements added and characters recognizable giving the audience a good feeling.
THE 1966 REMAKE
The above section brings me to the 1966 remake of "Stagecoach" and that poster with Ann-Margaret's name on it. That I saw while training to be a combat photographer in Pensacola, Florida the week of the pictures release..
There first thing noticeable on this poster is the incorrect Tag Line:
These Were The Ten Who Fought Indians, Outlaws And Each Other As They Rode To Greatness On The Stagecoach To Cheyenne
Only the same nine characters as in 1939 where on the stagecoach. Kennan Wynn played "Luke Plummer" and is obviously not on the coach and is the leader of the "Outlaws" he and the other nine were suppose to fight. Publicity Departments sometimes overstate things. Another very apparent difference from the tag line is the destination of this "Stagecoach". I'll look at the specific plot changes later.
The screenplay for the first remake is credited as follows:
Screenplay by Joseph Landon based upon a screenplay by Dudley Nichols from a story by Ernest Haycock.
Between 1953 and 1959 Joseph Landon wrote for television. Prior to "Stagecoach" he wrote both the stories and screenplays for 1960's "The Rise and Fall of Legs Diamond", 1961's "The Hoodlum Priest", 1961's "The Explosive Generation", 1963's "Wall of Noise" and the same year "Johnny Cool". In 1964 Landon wrote just the screenplay for the Western "Rio Conchos" and followed it with the screenplay for 1965's "Von Ryan's Express". "Stagecoach" was his final work.
This production was produced by Martin Rackin. Rackin himself had been a writer for motion pictures starting in 1941 with "Buy Me That Town" starring Lloyd Nolan and Constance Moore. Some of his other work included writing 1951's "Distant Drums" which starred Gary Cooper, the non-Walt Disney sequel to "Treasure Island" "Long John Silver" which also starred Robert Newton and several episodes of the follow up television series "The Adventures of Long John Silver" also with Newton. Rackin produced and wrote "The Deep Six" starring Alan Ladd in 1958, co-wrote and co-produced with John Lee Mahin John Wayne's 1959 Calvary classic "The Horse Soldiers" co-starring William Holden and directed by John Ford. In 1960 the adventure/comedy "North to Alaska" co-starring Stewart Granger was produced and written by Martin Rackin. So he was very familiar with two aspects of the motion picture industry. When in 1966 he produced "Stagecoach".
This version of "Stagecoach" was directed by Gordon Douglas. Douglas started directing in 1935 and during the 1950's he was associated with some very good motion pictures which included: 1952's "Iron Mistress" with Alan Ladd as Jim Bowie, Guy Madison in the 1953 3-D motion picture "The Charge At Feather River", the 1954 classic Science Fiction film"THEM!" starring James Arness and James Whitmore and 1959's "Up Periscope" starring James Garner and Edmond O'Brien.
So as I did with the 1939 film. Let us take a look at the new cast which was listed alphabetically to avoid conflicts in billing starting with Ann-Margaret. Which actually put her in the same position as Claire Trevor in 1939.
I first saw Ann-Margaret on the "Ed Sullivan Show" when she was just starting out as a singer. I next saw her in 1961's "A Pocket Full of Miracles" in the small part of Apple Annie's daughter in a film co-starring Glenn Ford based upon a Damon Runyon story, Ann-Margaret's next picture was a terrible remake of the 1945 musical "State Farm" by Rodgers and Hammerstein in 1962 opposite Pat Boone, Bobby Darin and Pamela Tiffin. Then came "Bye Bye Birdie" and suddenly she was a major new Hollywood Star. To show how quickly things changed for her with one motion picture. The proof came by doing the voice of "Ann-Margrock" on the first Prime Time animated series "The Flintstones". Followed by the box office success of "Viva Las Vegas" with Elvis and then "The Cincinnati Kid" with Steve McQueen. Her next feature film was "Stagecoach" where some reviewers complained the 25 year old Ann-Margaret was too young to play "Dallas". Even though Claire Trevor was only four years older when she did the role. I admit Ann-Margaret does almost look like a teenager in this photograph for the 1966 "Stagecoach".
What is interesting here is that each of the actor's roles on Joseph Landon's screenplay had a descriptive sentence about the character which was used in all the publicity and some of the posters for the picture. Ann-Margaret is "Dallas, the Dancehall Hostess". Pardon me for laughing, but picturing "Dallas" as a "Dancehall Hostess" has me envisioning her standing at the door to "The Dancehall". Then asking Cowboys, if they have reservations and seating them at a table with a follow up question of would you like a bottle of sarsaparilla? Instead of being a Saloon Prostitute.
Alex Cord is simply "The Ringo Kid" without any other description of any kind. Cord will probably be remembered more for the role of "Archangel" on television's "Airwolf" than his movies. Previous to playing "The Ringo Kid" Cord had been in episodes of 13 television series and most of his remaining career would also be on television. When reviewers do a bio of Alex Cord. They usually state his fourth billed role of "Zankie Albo", a drug addict, seeking rehabilitation in 1965's "Synanon" as his first motion picture. Cord's actual first motion picture role was as "Bardelli" in 1962's "The Chapman Report". The confusion might comes from the fact that Alex Cord was using his real name Alex Viespi and was 22nd billed.
The role of "The Ringo Kid" was a role most actors might not have wanted to accept, because it was so associated with John Wayne, The part did not hinder Alex Cord, nor did it help him. His next two roles were on television after "Stagecoach". They were followed by a 1968 Spaghetti Western "Un minuto per pregare, un istante per morire (A Minute to Prey, a Second to Die)" which is very good.
I am not going to stay with the producers alphabetical listing for the other actors and roles in the 1966 "Stagecoach". Bing Crosby is described as playing "Josiah Boone, the Alcoholic Doctor".
This was Bing Crosby's last motion picture and he wanted to play "Josiah" not "Doc" Boone his own way and not recreate Thomas Mitchell. Whose character's first name was also "Josiah", but is not called by it. In my opinion Crosby created the most interesting characterization in the 1966 production.
Bing Crosby's career as both a singer and actor was varied. His first filmed performance was the 1930 musical "King of Jazz" as part of a trio "The Rhythm Boys". They had formed the year before and played night clubs. Crosby's comedic talents are well known to fans of "The Road" movies co-starring Bob Hope and would be seen in a 1964.musical motion picture. Which took the Robin Hood legend and transported it to 1930's Gangland Chicago. Bing Crosby played "Alan A, Dale" in "Robin and the Seven Hoods, or Who Maid Marian" starring Frank Sinatra and his "Rat Pack".
What is often over looked by fans of Crosby's singing and films like "Going My Way". Is his performance as an alcoholic actor attempting a comeback in 1954's "The Country Girl" co-starring Grace Kelly and William Holden. Bing Crosby received a Best Actor Oscar nomination for that performance and it can be said it laid a foundation for the performance he gave in the 1966 "Stagecoach".
Described as portraying "Buck, the Stage Driver" was character actor Slim Pickens.
Prior to this picture Pickens appeared in such classic Westerns as 1955's "The Last Command" about Jim Bowie at the Alamo, Walt Disney's "The Great Locomotive Chase" in 1956 and 1965's "Major Dundee". Who could forget his role as Major "King" Kong in Stanley Kubrick's 1964 "Dr. Stangelove, or How I Learned to Stop Worrying and Love the Bomb" as Pickens rides the Atomic Bomb down to its target like a bronc buster? After 1966's "Stagecoach" Slim Pickens would appear in two other classic Westerns. They are Sam Peckinpah's "Pat Garrett and Billy the Kid" in 1973 and comic genius Mel Brooks' 1974 stand-up "Blazing Saddles". You could also find the actor making many appearances on major television shows from 1954 through 1983.
Before he became television's detective "Mannix" from 1967 to 1975. Mike Connors appeared on many television series in the 1950's and 1960's as "Touch" Connors. Two of his early motion picture appearances were in Roger Corman's 1955 "The Day the World Ended" and in the same year Corman's Western "Five Guns West". :Touch" also had a small role in Cecil B. DeMille's 1956 "The Ten Commandments". For 1966's "Stagecoach" "Michael" Connors played "Hatfield, the Card Shark".
Compared to Alex Cord, Ann-Margaret and Mixhael Connors was motion picture veteran Van Heflin as "Curley Wilcox, the Marshall".
Van Heflin appeared in his first movie in 1936 and the following year in a version of Bret Harte's "The Outcasts of Poker Flats". In 1942 he portrayed President Andrew Johnson in "Tennessee Johnson", in 1948 was Athos in "The Three Musketeers", played Joe Stewart in the 1953 classic Western "Shane" and Major Sam Huxley in "Battle Cry". He also played opposite Glenn Ford in the original 1957 version of "3:10 to Yuma" and as a German Raider Captain in 1960's "Under Ten Flags". In short he was an "Old Pro" whose films had been enjoyed by millions of viewers.
"Mrs. Lucy Mallory, the Expectant Mother" was played by Stephanie Powers.
Powers first appearance was on television in 1960 and would continue in television throughout her career. In 1962 Stephanie Powers played Lee Remick's sister in Blake Edwards' thriller "Experiment in Terror". Also that year she appeared in the successful motion picture "The Interns" as Nurse Mead and would repeat her role in 1964's "The New Interns". Prior to repeating Nurse Mead. Powers would play John Wayne and Maureen O'Hara's daughter in 1963's "McLintock". The same year "Stagecoach" was released Stephanie Powers starred as "April Dancer" in the short lived television series "Girl from Uncle". From 1979 into 1984 Powers co-starred with Robert Wagner on the television series "Hart to Hart" and afterwards appeared in several made for television movies about the couple.
The role of "Mr. Peacock, the Whiskey Salesman" was portrayed by Oscar winner for Supporting Actor Red Buttons in 1957's "Sayonara". Buttons like other actors of the period made many television appearances, but besides "Sayonara" he was known for the World War 2 comedy "Imitation General" and 1959's "The Big Circus". 1962 was a major motion picture year for the actor. The year began with Red Buttons playing the comic "Pockets", the guy that gets the girl, in John Wayne's "Hatari". Which would be followed by the comical adaptation of Jules Verne's "Five Weeks in a Balloon", the soldier in John Wayne's brigade who get hung up on a steeple in "The Longest Day" and as the voice of Robespierre in the animated "Gay Puree" starring the voice of Judy Garland. In 1965 Red Buttons received a Golden Globe nomination for Best Supporting Actor playing Arthur Landau in the Caroll Baker version of "Harlow" based upon the life of Jean Harlow. Not to be confused with the quickie black and white "Harlow" starring the other Carol, actress Carol Lynley, which beat the bigger budgeted picture with Baker to the screens in what was called by the press "The War of the Harlow's".
In the original 1939 version "Mr. Peacock" was constantly referred to by the other characters as "Reverend", because of his appearance. In the 1966 version Red Buttons' "Mr. Peacock" was dressed more like the stereotypical traveling reverend than Donald Meek ever looked.
"Henry Gatewood, the Embezzler" was portrayed by Robert Cummings.
Robert Cummings like Red Buttons was just as good at comedy as in dramatic roles. His motion picture career started in 1933 and over the years he appeared in such major productions as 1942's "Kings Row". Cummings was opposite an actor named Ronald Reagan playing lovers whose affair was toned way down under the firm motion picture production code. The same year Cummings starred in Alfred Hitchcock's "Saboteur" and the comedy "It Started with Eve". He was excellent in the French Revolution story "The Reign of Terror" aka: "The Black Book" in 1949. "Bob" Cummings switched to television and starred in a comedy series "My Hero" in 1952, but had bigger success with the television comedy "Love That Bob" aka: "The Bob Cummings Show" from 1955 into 1959. Cummings was also seen in Alfred Hitchcock's only 3-D motion picture "Dial M for Murder". His comedy talents were evident in the 1963 motion picture "Beach Party" which featured Annette Funicello and Frankie Avalon as teen surfers. That movie's first spin off would be 1964's "Muscle Beach Party" and the actual start of the California Surfer motion picture craze began,
I have discussed the nine actors and their roles on the stage going not to Lordsburg, New Mexico, but Cheyenne, Wyoming. Only one major character need be mentioned. Especially as the posters for the 1966 production imply, incorrectly, that he was a passenger on the stage. That character is of course the reason for the Ringo Kid stopping the stage.
"Luke Plummer, the Killer" was played by Keenan Wynn. His look seems so different to that of Tom Tyler in 1939 and to most people probably not typical for a Western. One thing that needs to be said is there is a "Plummer" in Ernest Haycox's "Stage to Lordsburg", but what he looks like is left to the reader. So what Luke Plummer is suppose to look like depends on the producer, director and costume designer. Walter Wanger and John Ford's motion picture was set in 1880. Martin Rackin and Gordon Douglas set their film in 1885, but for the record both Tom Tyler's and Keenan Wynn's looks are acceptable for the period..
Kennan Wynn was active in either motion pictures, or television from 1942 to 1986. His roles went from drama, to comedy to musicals. One of my favorite roles he did was as "Lippy" the gangster in 1953's 3-D version of Cole Porter's "Kiss Me Kate". Wynn and James Whitmore do the song and dance number "Brush Up Your Shakespeare" and it is a classic piece against type. Kennan Wynn played the obnoxious Alonzo P. Hawk in 1961's original "Absent Minded Professor" from Disney and repeated the role in 1963's "Son of Flubber", He was "Colonel Bat Guano" in 1964's "Dr. Strangelove, or How I Learned to Stop Worrying and Love the Bomb" and "Harvey Huntington Honeywagon" in "Bikini Beach" the same year. He was a well rounded actor and his "Luke Plummer" in the 1966 "Stagecoach" was pure evil.
In Ernest Haycox's "Stage to Lordsburg" and the John Ford's 1939 motion picture. The stagecoach journeys from Arizona to Lordsburg, New Mexico. Therefore Geronimo and his Apache warriors fit. Moving the final destination in the 1966 remake to Cheyenne, Wyoming causes a few minor changes. The Indian tribe has to be changed from Apache to Sioux and Geronimo is replaced with Crazy Horse. Making the journey toward Cheyenne also changes the backgrounds of the film. One can not reuse Monument Valley, Utah for example.
What is more interesting is that the feature was actually photographed in Colorado. Which further changes the look of the setting for the movie no matter what the characters dialogue indicates. The utilization of Colorado was chosen for the 1966 release based upon how that State's scenery would look in Color and in the Widescreen process.
Unlike the Ford classic where we have the raid by Geronimo never seen at the picture's opening. The 1966 "Stagecoach" opens with what was considered an overly violent sequence for an American Western. Showing the slaughter of a Calvary troop by Crazy Horse and a Sioux war party. It contains close-ups of Sioux weapons smashing the troopers faces and arrows and lances piercing their backs. The river in the sequence has turned blood red and a trooper, before being killed himself, remarks about the color as if the audience is not already aware.
I used the words "overly violent for an American Western", because in Italy by 1966 the complete "Man Without A Name" trilogy from Sergio Leone had already played. The first motion picture "A Fistful of Dollars" would not reach the United States until January 1967 and the last by December 1967. Filmmaker's might have been aware of "The Spaghetti Western", but Americans had a year to go. Hollywood was still turning out the aforementioned "El Dorado", "Alvarez Kelly" with William Holden and Richard Widmark, "A Big Hand for the Little Lady" with Henry Fonda and Joanne Woodward and "The Night of the Grizzly" with Clint Walker and Keenan Wynn. Compared to Italy very tame and predictable fair.
There were a few exceptions to the American Westerns in 1966 taking some chances with a more violent content. "Nevada Smith" with Steve McQueen based on a section of Harold Robbins' "The Carpetbaggers" and Ralph Nelson's "Duel at Diablo" with James Garner and Sidney Poitier are examples. Both showing the start of the changes of the American made Western toward a more violent film influenced by Italy. Sam Peckinpah's 1969 "The Wild Bunch" and Ralph Nelson's 1970 "Soldier Blue" with the publicity explaining why that picture opens with the mess rape of Indian women, with full frontal nudity, was necessary for the story. Illustrate where the American Western would be four years after the remake of "Stagecoach" with it's consider "violent" massacre opening.
After the Sioux attack the film cuts to the"Dancehall" that looks like any Saloon in any Western ever made. In the scene we see "Dancehall Hostess" Dallas dancing with a cowboy. As Doctor Josiah Boone sleeps in a chair and "the Card Shark" Hatfield is in a game of poker. "Michael" Connors is wearing his immaculate white suit that even on a ride over the countryside in a stagecoach does not seem to get dirty.
The Dancehall sequence contains a confrontation between Captain Mallory and Dallas. There had been a fight between two Calvary men that ends with both dead. Captain Mallory does not believe the version of the fight told by Dallas and believes another "Dancehall Hostess that she was at fault,. Mallory then tells Dallas to be out of town by the following morning. This change in plot from 1939 will give more character to the relationship between Dallas and Lucy Mallory.
The audience next sees Buck speaking to Marshall Curley Wilcox in his room. From Buck's comments we learn he drives the stage back and forth from Deadwood to Cheyenne and plans to leave in the morning, but because of the Sioux raid doesn't have a shotgun guard.
As with Dudley Nichols original screenplay. It is at this point that Curley learns from Buck that he saw the Plummer Family in Cheyenne and decides that after his escape from prison "The Ringo Kid" would be heading there. Curley now will ride as shotgun for Buck. Buck's dialogue has given another change to the story as instead of Luke Plummer and his two brothers having killed the Kid's father and brother. We are dealing with "The Plummer Family" and Keenan Wynn's Luke Plummer is not a brother, but the father of that family. In fact one might substitute Walter Brennan's "Newman Haynes Clanton" the head of the "Clanton Clan" in John Ford's 1946's "My Darling Clementine" for Luke Plummer in the 1966 "Stagecoach".
Again as in the 1939 screenplay the following morning Josiah Boone leaves Deadwood, but this time over the previous nights deaths. We meet the whiskey drummer Peacock, but as I mentioned above. Red Buttons' costume looks more like a a traveling reverend than did Donald Meek's. In a change to the original picture Lucy Mallory she sees her husband leave with his troops, before she boards the stagecoach. She is going to meet him later. At this point we do not know she is pregnant as Stephanie Powers clothing is loose fitting and typical for the period. Later in the picture will her condition be revealed.
Another switch in story comes over Henry Gatewood. As in the original Gatewood's wife drives him crazy, but in the 1966 version he is not the Banker but his son-in-law. Gatewood has decided to get out of this life and steals $10,000. Which is the payroll for the Silver miners working a local Deadwood mine. Additionally he boards the stagecoach with the other passengers as he is on an errand for the bank. The missing money will be discovered and news of it will reach Cheyenne before Gatewood.
The stage leaves Deadwood with a Calvary escort.
Now comes the entrance of "The Ring Kid" and in this version it is not as dramatic as Ford's. The stage and its passengers find Alex Cord sitting actually serenely on the roadside awaiting its arrival. There is a waterfall in the background and with the greenery surrounding Cord. The scene seems very peaceful for a hunted prison escapee out for revenge. The imagery contrasts with what the audience is use to seeing with a Western Outlaw. Is this then the real man behind the reputation? However, the scene also gives a sense of strength to Ringo. The idea of reputation versus reality is handled in an excellent piece of dialogue in the second remake which I will address later in this article.
The coach then proceeds on toward its first stop and the fact that the passengers have to decide on going it alone to Cheyenne. At this point the audience is seeing these people for the first time as this is the turning point in both the 1939 and 1966 screenplays.
What stands out from the original is the difference in development of the character's relationships with each other. However, this is not to put down the screenplay by Dudley Nichols in 1939 which worked for the year John Ford's masterpiece was shot. Audience expectations had changed in 27 years and Joseph Landon had to work to that.
Boone and Peacock start out with the same bit between Thomas Mitchell and Donald Meeks over the whiskey samples, but as the story progresses the relationship between Bing Crosby and Red Buttons develops into a real friendship. The stagecoach driver is still the least drawn character, but Slim Pickens' "Buck" is a tougher person than Andy Devine's. The reason isn't really the way the character is written as it is the images of the two actors. Pickens played many roles Western and otherwise that are tough no nonsense characters. While Andy Devine even in 1939 was being associated with comic, or lighthearted roles. In both films Buck is needed to drive the stagecoach, but is required to do little else in relation to the other characters except Curley.
Then there was Marshall Curley Wilcox. The casting of Van Heflin was inspired as the actor had played many Western and Calvary roles over his career. His Wilcox is a troubled, tired man knowing there is no future left for him beyond being the Town Marshall of Deadwood. He is also torn between liking "The Ringo Kid" and the reward for his capture. Of those on the stagecoach he is the most experienced with fighting the Sioux and in that role and with the authority of his position as Marshall makes him the group's leader. A position he might not really want to be in.
Stephanie Powers' Lucy Mallory is another thing and perhaps the weakest link in the film. It is not really the way the character is written, but her performance. It isn't bad, but it somehow doesn't fit the character. Blame Gordon Douglas, maybe? As I have written Mrs Mallory is a more intricate character than in 1939. We have met her husband the night prior to the stagecoach living Deadwood. He is no longer the unseen heroic Calvary officer of the 1939 motion picture and that plays on Powers' Lucy Mallory, The audience already knows there was conflict between her husband and Dallas. Now both women with different views of Captain Mallory are in the same tight confinement of the stagecoach on its journey to Cheyenne. Emotions between the two are high, but this comes to a resolution after the birth of Lucy's baby. At least for the reminder of the journey.
The character of Hatfield is also a more rounded character. His background and relationship to Lucy's father is brought out in a little more detail. In both versions it is Hatfield's silver drinking cup with the "Ashburn" family crest that starts Lucy thinking there is more to the gambler then is being shown. In 1939 you never really know why he's left his home for the West, but Joseph Landon's screenplay answers a little of what was missing in Nichol's screenplay. We learn that the gambler left his family to avoid embarrassing them with what he had become. Hatfield is a fallen man of Southern honor and holds those traditions still dear to him. His actions throughout the journey reflect a descent man caught in circumstances that he has caused and hurt those he loves.
Like Stephanie Powers, Michael Connors may be a little out of place as Hatfield. Especially when compared to John Carradine's performance, but he gives his best at this point in his career.
Robert Cummings playing Henry Gatewood is playing against type. He may have the most difficult characterization of all the cast. As this part is entirely rewritten by Joseph Landon from the 1939 Gatewood. For the last 16 years Cummings had been a lovable and comedic television actor. His last two movies were romantic comedies and he had just appeared in a television series "My Living Doll" about an Air Force doctor who invented a female robot everybody else thinks is a real women. Here he had to be accepted as a man who steals from hard working miners and as is implied in some scenes may have had a long time sexual relationship with Dallas. The character is well written and Cummings does get us to hate him. Especially after that relationship with Dallas who is now in love with Ringo is revealed.
Alex Cord is not John Wayne and Joseph Landon had the pressure of attempting to change "The Ringo Kid"into not being a carbon copy. Of course the chosen outfit for Cord didn't help. Below Wayne and Cord as "The Ringo Kid" with their respective Dallas.
Alex Cord and director Gordon Douglas probably were on the same wavelength and played "The Ringo Kid" low keyed and this compares well with the other actors performances. Another aspect in Ringo's character that Joseph Landon added is self doubt. Cord's Ringo is not as confident in himself going up against Luke Plummer and his family. While Wayne's Ringo might have been too self assured in himself. Of course Landon also changed the character of Luke Plummer as I already mentioned. In short in 1966 "The Ringo Kid" might be described as being more human with his faults than in 1939. Once more a result of changing times in the United States.
Landon expanded some of the scenes such as the one where Dallas and Ringo realize they love each other and he plans to leave. In the 1966 movie Dallas goes and gets him a horse and as he starts to ride away he stops and Curley recaptures him. At which point Ringo tells Curley he wasn't going very far as the Sioux have surrounded the station.
What is obvious in the 1966 "Stagecoach" which was not in the original. Is that almost all roads lead to Dallas. I have had some fun with the idea of the screenplay calling her a "Dancehall Hostess". So now let me look at the women.
We first see Dallas actually dancing with a cowboy through the opening of the saloon sequence. Her dancing is used to show us both Hatfield, at a table, and Josiah Boone, asleep on a chair, as the couple dances at a frantic pace around the entire set. Claire Trevor's Dallas could not have done this scene and especially at the pace of this dance as Gordon Douglas sets it up, but of course Ann-Margaret could and the cowboy is obvious a professional dancer. It is an interesting counter point to the massacre we have just witnessed.
During the scene with Captain Mallory we start to notice a tougher side to this Dallas. While on the stagecoach she holds her own with the male passengers. This Dallas has a bone to pick with Lucy Mallory's husband and the friction between the two women is felt in the coach, but once more Stephanie Powers' wife seems a weaker character. The way Joseph Landon wrote her she may not be Dallas' equal, but she should have been stronger than we see. Especially when the audience sees Dallas' mean streak come out and implies to Lucy that her husband was a customer of hers. There is doubt that she is telling the truth here, but you wouldn't have seen Claire Trevor tell Louise Platt those lines. As with Henry Gatewood another confirmation that Dallas is more than just a "Dancehall Hostess".
Once Alex Cord is on the stagecoach the dynamics between the two characters is more complex than in 1939. Like Ringo, Ann-Margaret's Dallas feels in a lot of ways a looser in life and this has made her a hard women under a soft exterior. The hard women persona disappears with the birth of Lucy's baby and the two women come together, but Dallas still is in charge.
I mentioned how this Dallas after being proposed too takes the initiative to get Ringo the horse, but she also not afraid to tell him how she feels.
When we get to showdown between Ringo and the Plummer family. Dallas tells him:
Forget about Luke Plummer. Make me more important.
Lines like that fill Joseph Landon's screenplay between these two young lovers. Making them real as compared to the John Ford's original with what is described by some reviewers as a "Mythic West". This is not to say the original film is flawed, but once more Landon is reflecting what the 1966 audience expects over the 1939.
Using the scenery of Colorado Gordon Douglas creates a very suspenseful sequence of the stagecoach having to cross a mountain pass. Which was not in original. The trail is so small that we have a cliff on one side and a deadly drop on the other side of the coach. In the sequence the stagecoach seems to touch the cliff and just clear the drop.
When we come to the Sioux attack in this version the passengers are on their own. There will be no Calvary coming to the rescue. In the sequence as in the original Hatfield is killed and Lucy Mallory promises to tell his family what happened to their son.
The stagecoach finally arrives in Cheyenne and once more we have a different sequence of events. For one Curley handcuffs Ringo to a wheel of the stagecoach to prevent him from going after the Plummer family. It is his job to bring them to justice. Curley is also still thinking about the reward money for the Kid which would set him up nicely for the rest of his life. However, Curley is informed of the theft of the $10,000 by Henry Gatewood and hears he has gone to the saloon. Wrong choice for Gatewood.
When Robert Cummings' Henry Gatewood enters the saloon he is confronted by Keenan Wynn's Luke Plummer and his two boys. Curley enters to arrest Gatewood and is shot by Luke Plummer. Who proceeds to kill Gatewood for the $10,000. Curley is able to get out of the saloon and returns to the coach were he reluctantly releases "The Ringo Kid" to go after the Plummer's.
In the original short story Ernest Haycock has Henriette watch Malpais Bill walk down a dark alley to meet Plummer. Four shots ring out in the dark and the young blonde Bill reemerges unharmed. In Dudley Nichols' screen play a reworking of that scene occurs. Joseph Landon changes it all.
The shoot out between Alex Cord's "Ringo Kid" and Keenan Wynn's "Luke Plummer" takes place in the saloon. During the sequence a fire breaks out and from it Curley see's Ringo appear having killed the Plummer family. At this point once again Joseph Landon's screenplay somewhat follows Dudley Nichols again. Curley forgoes the reward and lets Ringo escape with Dallas during the confusion being caused by the fire.
In a cameo role at the poker table with Hatfield was painter Norman Rockwell as "Busted Flush, the Poker Player". For the end credits Rockwell had painted each of the main stars.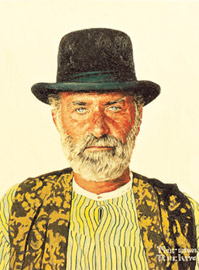 THE 1986 REMAKE
This made for American television motion picture like "El Dorado" to "Rio Bravo" is more a remix, of the original 1939 John Ford film than a true remake, or revision like the 1966 "Stagecoach". The screenplay was by James Lee Barrett who had written the screenplays for 1965's "The Greatest Story Ever Told", the 1968 John Wayne picture "The Green Berets" and 1977's "Smokey and the Bandit" among other works. Barrett's screenplay changed a few details of Dudley Nichols' original, but more to the point added a few comic lines to fit the personalities of the four main leading actors of this feature.
The director of this remix was Ted Post. Post. Post had among his resume television episodes of "Gunsmoke", "Wagon Train" and "Rawhide", His feature films included "Beneath the Planet of the Apes" and the two Clint Eastwood movies "Hang "Em High" and "Magnum Force".
By now my reader is very familiar with the nine people on the stage from Tonto to Lordsburg. What twists the story just a bit over both the 1939 original and 1966 remake are those four leading actors of this version. A twist that allows James Lee Barrett to have a little fun with the characters. While retaining the spirit of the John Ford film.
Who are these gentlemen? At the time they had come together to form the Country/Western/Outlaw singing group "The Highwaymen". Yep, the viewing audience saw Willie Nelson not as "Doctor Josiah Boone", but nice twist here, "Dentist/Gunfighter Doc Holliday", Waylon Jennings as "Hatfield". Kris Kristofferson as "The Ringo Kid" and "The Man in Black" Johnny Cash as "Marshal Curley Wilcox".
This casting might seem odd, but it works well and turns this story into a very enjoyable trip,
My readers may, or may not know that Willie Nelson had a major role and improvised most of his dialogue in the 1979 Robert Redford/Jane Fonda film "The Electric Horseman". In that feature film he first sang "My Heroes Will Always Be Cowboys" and "Mamas Don't Let Your Babies Grow Up to Be Cowboys", He starred in 1980's "Honeysuckle Rose" with Dyan Cannon and Slim Pickens. Willie Nelson was nominated for an Academy Award for his song from this picture "On the Road Again". The point here is that the laid back Nelson had solid acting behind him. He would write the entire score for the 1986 "Stagecoach" and sing the title song over the opening credits. None of the other "Highwaymen" sang in the film. Some of the best one liners in Barrett's screenplay came out with perfect timing from Nelson's "Doc" Holliday.
Waylon Jennings also had an acting background of sorts, A lot of my readers may be familiar with the 1979 to 1985 television show "The Dukes of Hazard". Where Jennings was "The Balladeer" singing about those "Good Ol' Boys" Cousins Bo and Luke Duke who live with their Uncle Jesse and drive their car "The General Lee". He is also the narrator of the television series. What you may not know was there was a movie from four years earlier "The Moonrunners" about Cousins Grady and Bobby Lee Hagg. They drove a car called "Traveler" named for Robert E. Lee's horse and live with their Uncle Jesse. Sound familiar? Add in Waylon Jennings as the narrator and "The Balladeer" and you had the model for the television series both by Gy Waldron. As "Hatfield" Waylon Jennings is dressed not in Michael Connors white, but black which works well for his look.
I said Alex Cord knew he was not John Wayne, but the 1986 "Stagecoach" definitely got away from the John Wayne image with Kris Kristofferson. Especially with that beard. Should you be a fan of Sam Peckinpah, like myself, the image of Kristofferson in "Pat Garrett and Billy the Kid" comes to mind. Reaching back to the grittiness, but somewhat laid back tone of that role. Kristofferson gave the viewer a completely different take on "Ringo" compared to the previous two actors.
John Wayne was 31 when he played "The Ringo Kid". Alex Cord a year older at 32 and that still made "Ringo" 18 years younger than Kris Kristofferson when he played the part. He actually was born three years before the John Ford picture was released and was 50 years of age when "Stagecoach" appeared on television in May 1986. Kristofferson had just appeared the previous February in another television Western "The Last Days of Frank and Jesse James". He played Jesse and Johnny Cash was Frank.In a small role as General Jo Shellby was Willie Nelson. Wayon Jennings was missing from the cast.
Which brings me to "My name is Johnny Cash!" Cash had appeared in several television programs and the mini-series "North and South", He was also in a favorite Western of mine that might not be known by many "A Gunfight" opposite Kirk Douglas. Both played famous Gunfighters who come up with a scheme to make money. The two will charge admission to see one of them die in the "Gunfight" of the title. The film has a double, or maybe triple ending. It's up to the audience to decide the outcome. Cash brought a similar weariness to Curley Wilcox as Van Heflin and like Willie Nelson had great comic timing bringing a certain charm to the character unlike Van Heflin.
Elizabeth Ashley is "Dallas" in this version of the story.
I wonder what those reviewers who brought up Ann-Margaret's age as being too young compared to Claire Trevor would think of Elizabeth Ashley as "Dallas"? She was 47 at the time of this picture. Actually I think Ashley's "Dallas" compared to both Claire Trevor and Ann-Margaret the effect of both her professional and her life on the character more realistically. James Lee Barrett wrote the perfect "Dallas" and Elizabeth Ashley plays her just right.
Elizabeth Ashley appeared mostly on television starting in 1960 in most of the major series. In fact she appeared in an episode of Mike Connors' "Mannix". However, her few non-made for television motion pictures included the major star studded production of Harold Robbins' "The Carpetbaggers". Based upon a novel revolving around a fictional Howard Hughes that starred George Peppard in 1964. Ashley was in a great off beat Western/Comedy. 1976's "The Great Scout and Cathouse Thursday" starring Lee Marvin and British Actor Oliver Reed as an Indian.
The role of the stagecoach driver "Buck" in this version is a major character compared to either the 1939, or 1966 movies. Let me return to "The Dukes of Hazard" as Buck was played by "Bo Duke" himself John Schneider.
After "The Dukes of Hazard" ended its run in 1985 John Schneider appeared in two made for television motion pictures prior to "Stagecoach". Since this movie he has appeared in many other made for television motion picture ventures.
The role of "Lucy Mallory" was played by actress Mary Crosby. Like both Ashley and Schneider she was mainly a television actress appearing in many series. However, for those fans of Science Fiction Mary Crosby played Princess Karina in 1984's stand up of the genre "Ice Pirates" starring Robert Urich, if my reader has never seen this picture. FIND IT! She also played in full make-up a Cardassian women on "Star Trek" Deep Space Nine". Crosby appeared as the Governor's wife in "The Legend of Zorro" starring Antonio Banderas and Catherine Zeta-Jones.
Anthony "Tony" Franciosa portrayed Banker Henry Gatewood. Starting in 1957 Franciosa was a leading man in such films as 1957's "A Hateful of Rain" and "Wild Is the Wind", 1958 saw him playing opposite Paul Newman and Joanne Woodward in "The Long Hot Summer" co-starring Orson Wells. The same year saw Anthony Franciosa playing Goya in "The Naked Maja" Besides his television appearances in 1964 saw him in the gritty Western "Rio Conchos" starring Richard Boone and Stuart Whitman. That same year he appeared in the update of the 1954 "Three Coins in the Fountain" called "The Pleasure Seekers". The picture also starred Ann-Margaret and Carol Lynley.
The last member of the party is the Whiskey Salesman. In this version not Samuel, but "Trevor" Peacock played by British actor Anthony Newley. Peacock is selling specifically "Old John's" Whiskey. Newley started acting in 1944 in a small role in Lawrence Olivier's "Henry V". Over his long career he would be seen in "The Pursuit of the Graf Spee", "X The Unknown", numerous British and American television appearances and in the 1967 musical "Dr. Doolittle" starring Rex Harrison. In 1985 Anthony Newley played "The Mad Hatter" in a made for television motion picture of "Alice in Wonderland".
There is no mistaking this Whiskey Drummer for a "Reverend" in this screenplay and that description was dropped.
The television movie starts exactly as John Ford's 1939 "Stagecoach". You do not see Geronimo's raids. Lieutenant Blanchard arrives in Tonto and informs Buck and his guard that Geronimo is raiding and has cut the telegraph lines.
Buck's guard leaves him and he has to see Marshall Curley Wilcox for help. The talk turns to "The Ringo Kid" who has escaped prison to go after the murderer's of his father and brother. Curley learns that Luke Plummer and his brothers are in Lordsburg and becomes Buck's guard.
The film pretty much proceeds as the original except we do not have a drunken "Doc" Boone, but a consumptive "Doc" Holliday. We meet Dallas who appears to be leaving Tonto on her own. Later talking with Ringo we will learn that she gets bored of her surroundings and just drifts on. Which is the story of her life. Pregnant Lucy Mallory is taking the stagecoach to meet her Calvary Officer husband Captain John Mallory. We have Hatfield join the passengers to look after Mrs. Mallory, because of debt to her father. The whiskey salesman "Trevor" Peacock also boards the stagecoach and the group starts out of Tonto escorted by Blanchard's Calvary.
We have already seen the backstory on Banker Henry Gatewood which is exactly as Dudley Nichols had originally written it. He meets the stage at the edge of Tonto with his black bag of money. When asked why he didn't board the stage with the other passengers. Gatewood, of course, replies he just received a telegram and most go to Lordsburgh. Curley asks him to pass up his bag, but he refuses and will keep it. This will, of course, lead to the conversation as to why he is leaving so strangely and how could he have gotten a telegram with the telegraph wires cut?
The stage and its escort proceeds out of Tonto. It is here we learn for the first time some solid information about the stagecoach driver Buck in a comic scene between Cash and Schneider. Where they switch being the straight man as this scene progresses. Curley asks Buck didn't his wife use to ride shotgun with him all the time? Buck replies yes, but she had to stop as the bouncing of the stage was hurting her. Curley seems confused and we learn it has to do with her female "equipment". In lesser hands this could have been a very sexist scene, but with these two and especially Cash's timing laughs come out of the viewer.
Cut to a man on horseback being pursued by a posse. We have our third version of how "The Ringo Kid" enters the story. Ringo dismounts after finding a hiding place and sends his horse on its way. The posse pursues and the Kid is in the clear. He proceeds to the road and the stagecoach arrives with Buck and Curley. Curley aims his shotgun at the Kid who starts to refuse being arrested when Blanchard arrives. Ringo turns over his weapons to Curley and enters the stagecoach.
Introductions follow inside the stagecoach and Gatewood remarks that Kris Kristofferson is the
notorious "Ringo Kid". Kristofferson corrects Anthony Franciosa saying that his name is "Bill Williams" and that "The Ringo Kid" is somebody you read about in "Dime Novels". An interesting response from James Lee Barrett's screenplay reflecting legend vs reality.
The stagecoach arrives at the first stop which is run by a widow and her son. Playing the widow is June Carter Cash the wife, at the time, of Johnny Cash. It is here that Barrett's screenplay does another change to the 1939 original. When it is learned that the Calvary they were to meet has left and that their escort is returning per Blanchard's orders. The whiskey salesman Trevor Peacock decides not to go on. He purchases a horse and returns to Tonto with the Calvary.
The stagecoach then starts its journey once more. When we arrive at the next stop and Mrs, Mallory has her baby. We have a double comic sequence revolving around Willie Nelson's "Doc" Holliday. We first see once more the comic team of Schneider and Cash trying to decide which of the two is going to have to tell the only doctor available "Dentist" Holliday that he will have to deliver Mrs. Mallory's baby. The two decide they will both tell the Dentist. This scene works so well, because of the low key performance of Willie Nelson. First he's never delivered a baby. Second he's embarrassed himself. Look at the expressions you can see on the three participants faces.
Then comes an even funnier scene as Nelson has to examine Mary Crosby and her comedic talents come out with some great facial expressions. Crosby's expression when"Doc" Holliday reveals he is a "Dentist" and the only babies he delivered where horses is classic and says a lot. Then when he asks to "Look" to see how much she's dilated . Crosby repeats: "Look?" and Nelson repeats "Look!".Both actors with perfect timing. The idea of turning Josiah Boone from an Alcoholic M.D. into a Dentist makes what was a routine scene in many Westerns into a more memorable comedic bit.
Needless to say the baby comes and Dallas takes over. Unlike the other two motion pictures Mrs Mallory and Dallas seems very friendly and Crosby is accepting the more mature Ashley's advise.
We now proceed to the last leg of the journey to Lordsburg and the Apache attack on the stagecoach. Not as dramatic as in 1939 and way shorter than in 1966. What is important here is that Gatewood is killed not Hatfield and both Buck and Curley are wounded. Besides you can't kill off one of "The Highway". Whose first album premiered the year before and according to "Rolling Stone", August 5, 2014, this movie functioned as:
----a Western themed commercial for the chemistry between Willie Nelson, Johnny Cash, Waylon Jennings and Kris Kristofferson.---
Curley gives in to Ringo, because wounded he cannot go after Luke Plummer and his brothers. However, nice twist again, he deputizes "Doc" Holliday and Hatfield to assist the kid. The three now go after the other three at the local saloon. Hatfield and Holliday each prevent and arrest one of the two brothers of Luke. Then it is the showdown with Ringo. It happens off screen and Hatfield, Holliday and Luke's two brothers watch Luke reenter the saloon in the picture below.
.
He walks by Curley, gets a drink and drops over dead.
The picture ends with Johnny Cash, Waylong Jennings and Willie Nelson watching Elizabeth Ashley and Kris Kristofferson ride off into the night together.
What we have here are three pictures that are a reflections of their times telling the same story. John Ford's Academy Awarding motion picture is the "Mythic West" as he saw it. This was the first and it would be followed by "My Darling Clementine"where he established the "Mythic Wyatt Earp" as he rides out of town with Clementine Downs watching him go. He would end his "Mythic West" by killing it in "The Man Who Shot Liberty Valance" by saving it with the line:
When the Legend becomes fact. Print the Legend!
Gordon Douglas was faced with changing tastes in America. The year was 1966 and the Vietnam War was in force and the country was starting to be torn apart. The "Mythic West" was dead, but the story in "Stagecoach" was still solid. So the location was moved and the characters modified with a tougher edge to them. It worked, but the problem here was everyone remembered 1939 and the comparison's overrode his work.
Ted Post had it easier with a script with a few twists to fit the personalities of his actors. The story was there, but although each of his leads could have played it straight. Their images in 1986 as "Outlaws" said otherwise. So we have a very light version of the John Ford original that works for what it is. As I said it is very enjoyable.
Which is the better picture? I say each is the equal of the others on their own terms. Call it a cop out, but these are three pictures telling the same story in three different ways.
FADE TO BLACK.