His name was
"Sam Giancana"
and some people believe he put out
"The Hit"
on
"President John Fitzgerald Kennedy".
My
"Great Aunt Alice"
was at
"Frank Sinatra's"
"Palm Springs" home when he introduced "JFK" to one of her girlfriend's,
"Judith Exner"
. Who happened to be "Giancana's" mistress at the time.
"J. Edgar Hoover's"
personal
"Federal Bureau of Investigation (FBI)"
caught "Sam" speaking of the Kennedy Brothers and comparing "John" and
"Attorney General Robert Kennedy"
to a dog. "Sam Giancana" was heard saying, if you cut off the tail of the dog, "Bobby", who was cracking down on the Crime Syndicates, the head can still bite you, but if you cut of the dog's head, "John", the tail can't wag.
Some say "Sam Giancana", or possibly
"Frank Costello"
and
"Carlo Gambino",
became part of author "Mario Puzo's" "Don Vito Correlone" in his 1969 novel
"The Godfather".
Puzo never said, but one character needs no guessing as to whom he was modeled after.
The novel's singer
"Johnny Frontaine"
was
"Frank Sinatra"
. Which leads me to his actual "Godfather", "Sam Giancana", over "Carlo Gambino".
PROLOGUE

American's have always had a fascination with gangsters and crime movies. The first credited American film was the 17-minute silent
"The Musketeers of Pig Alley",
released October 31, 1912, and directed by D.W. Griffith.
On August 20, 1920, Samuel Goldwyn, released
"The Penalty"
featuring Lon Chaney. The picture ran 90-minutes and Chaney, with 4th billing, portrayed
"Blizzard".
"Blizzard" is the criminal mastermind of San Francisco's "Barbary Coast". Who plans to loot all of the San Francisco banks at one time and get revenge against the doctor who mistakenly amputated both his legs.
Skipping ahead to the 1930's and a major output of American gangster features. Four of which stand-out, even today, and were released by Warner Brothers, "Gang Central", in the 1930's for crime movies.|
LITTLE CAESAR
released January 9, 1931, directed by Mervyn Leroy.
The picture is about the rise and fall of a crime boss. The screenplay by Francis Edward Faragoh was nominated for an "Academy Award". The original author of the novel, W. R. Burnett, complained to Warner Brothers, because in this pre-production code feature. The character of
"Rico"
was now a repressed gay man.
Above Edward G. Robinson as
"Caesar Enrico 'Rico' Bandello"
aka:
"Little Caesar".
Robinson had been in nine previous pictures, mostly minor roles, but overnight, he became a Warner Brothers star and his image was created.
THE PUBLIC ENEMY released April 23, 1931, directed by William "Wild Bill" Wellman.

Like
"Little Caesar"
to "Eddie" Robinson
, "Public Enemy"
would make a Warner Brothers star out of James Cagney in his 4th on-screen role as
"Tom Powers".
Unlike Robinson, Cagney was a song and dance man from the legitimate stage and would still be seen in musicals. Such as 1933's
"Footlight Parade"
and the classic Hollywood Biography, 1942's
"Yankee Doodle Dandy",
as American composer and song and dance man,
George M. Cohan.
At the movies conclusion, Cagney's "Tom Powers" gets his in the rain and is delivered dead to his mother.
SCARFACE
released April 9, 1932, directed by Howard Hawks and produced by Howard Hughes.

This is the original film that Brian De Palma would remake in 1983 with Al Pacino, but this picture stands up extremely well.
Paul Muni portrayed
"Antonio 'Tony' Camonte".
This was Muni's 3rd motion picture and would immediately follow it up with director Mervyn Leroy's
"I Am a Fugitive from a Chain Gang".

Ann Dvorak portrayed his sister
"Francesca 'Cesca' Camonte".
This was Dvorak's 28th feature film, but her previous roles were mostly small parts. That changed after this film!
Above Paul Muni and Ann Dvorak. As
"Scarface"
was a pre-production code feature. There is an implied sexual relationship between brother and sister. That after the code came went into force, in 1934, would never have been permitted.
George Raft was 6th billed as
"Guino Rinaldo".
Like James Cagney, George Raft was actually a nightclub song and dance man, before appearing on-screen. This was Raft's 10th motion picture with four being musicals. Raft has a classic scene in
"Scarface".
He is standing at a bar without any lines to say. So to make his character more interesting the actor started flipping a coin. The coin flipping became Raft's trade mark and because of all the mail being received asking who was the actor flipping the coin? George Raft was moved to larger supporting roles and eventually leads.
Above George Raft and Paul Muni. Below Boris Karloff as
"Tom Gaffney"
the leader of the "North Side Gang".
THE ROARING TWENTIES
released October 23, 1939 directed by "One Eyed" Raul Walsh.
James Cagney portrayed
"Eddie Bartlett".
Humphrey Bogart portrayed
"George Hally".
"Boggie" had been in pictures since 1928 and finally got his break, recreating his Broadway role, as
"Duke Mantee"
in 1936's
"The Petrified Forest".
Only because star Leslie Howard,
"Gone With the Wind",
wanted his Broadway co-star in the picture.
The movie starts out in World War One and ends up in 1933. The film is excellent in both casting and story. As it reflects what was actually happening in American during that period.
Gangster films disappeared during the 1940's. The major studios output was now aimed at "Home Front Morale Building" with World War 2 movies. Such as 1943's
"Bataan"
staring Robert Taylor and 1945's
"Back to Batann"
starring John Wayne. Along with others such as 1942's
"Wake Island"
starring Brian Donlevy and 1943's
"Guadalcanal Diary"
starring Preston Foster.
THE BLACK HAND
released March 17, 1950
The motion picture starred singer and dancer Gene Kelly in his first dramatic role. In the story he portrayed
"Giovanni E. 'Johnny' Columbo".
Just prior to
"The Black Hand"
audiences had seen a typical Kelly feature,
"On the Town",
with Frank Sinatra. Gene Kelly followed that picture with another typical song and dance movie,
"Summer Stock",
opposite Judy Garland.
J. Carrol Naish portrayed Detective
"Louis Lorelli".
Also, in 1950, character actor Naish would portray
"Lieutenant General Philip Sheridan"
in John Ford's
"Rio Grande"
starring John Wayne and Maureen O'Hara and, four years later in 1954, had the title role of
"Chief Sitting Bull".
The story begins in 1900 with the murder of "Johnny Columbo's" father by the
"Mano Nera (Black Hand)"
. An organization of American criminals from Italy and Sicily operating out of New York City. Eight years later, "Johnny" returns to New York's "Little Italy" to avenge his father. This hard-hitting period piece has one scene showing a member of the "Black Hand" throwing acid into the face of a young women to terrorize the locals. This is probably the first American motion picture on the subject of the "Mafia". Which is never mentioned by that name. As the criminal organization was still unknown, in 1950, to the general American public and actually a lot in law enforcement.
On the left is Gene Kelly and on the right J. Carol Naish. Between them is Teresa Celli as
"Isabella Gomboli".
It would be seven years, December 1, 1957, before Hollywood returned to gangster movies and that started with Mickey Rooney as
"Baby Face Nelson".
Rooney
co-starred with Carolyn Jones as his wife,
"Sue Nelson".
That motion picture would trigger other crime biographies. These included films about
"Pretty Boy Floyd", "Ma Barker", "The Purple Gang",
and
"Murder Incorporated".
That
featured an unknown Peter Falk. Rod Steiger was
"Al Capone"
and Dorothy Provine had the title role in
"The Bonnie Parker Story".
While
"Machine Gun Kelly"
starred another unknown, Charles Bronson, and
"Portrait of a Mobster"
starred Vic Morrow as
"Dutch Shultz".
My article comparing "Hollywood Gangsters" to the real criminals,
"1957 To 1961 Hollywood Gangster Motion Pictures Vs Reality"
is available for reading at:
http://www.bewaretheblog.com/2016/01/1957-to-1961-hollywood-gangster-motion.html
THE VALACHI PAPERS
released November 3, 1972
This was an Italian and French co-production shot in English. It was based upon investigative writer Peter Maas' best selling book. Published in 1968, one year before the Mario Puzo novel. The main difference was that
"The Valachi Papers"
named names and was all true, but read like a novel. In 1973 Peter Maas released another best seller
"Serpico: The Cop Who Defied the System".

The motion picture's screenplay was by Stephen Geller. The same year of this motion picture, Geller, would write the excellent screenplay for Kurt Vonnegut, Jr's best selling novel
"Slaughterhouse-Five".
"The Valachi Papers"
was by British director Terence Young. The
"James Bond"
films, 1962's
"Dr. No",
1963's
"From Russia with Love"
and 1965's
"Thunderball".
The motion picture starred Charles Bronson as
"Joseph Valachi".
He had just starred with Japanese actor Toshiro Mifune, French leading man Alain Delon, and Swedish-American actress Ursula Andress in the Terence Young Euro-Western
"Red Sun"
and would follow this picture with
"Chato's Land".
Above Charles Bronson as "Joseph Valachi", before he starts testifying and through flashbacks, tells his story, and below the real Valachi testifying.
"Joe Valachi" was in prison with
"Vito Genovese",
the head of the "Genovese Crime Family". "Vito", while even being behind bars in the
"Atlanta, Federal Prison",
was able to run his family. An incident occurred at the prison and, next, a man attempted to murder "Valachi", a "Soldier" of the "Genovese Family". As a result and thinking "The Hit" came from "Don Vito". "Joe Valachi" asked for United States protection and became an informant, before Senator John L. McClellan's 1963 committee on crime that October.
The screenplay brings to life the story of "Joe Valachi" from 16 years of age to this testimony.
Above Bronson as "Valachi" sharing a cell with Italian actor Lino Ventura as
"Vito Genovese".
Above Bronson and real life wife and actress Jill Ireland. Ireland portrayed "Joe Valachi's" wife
"Maria Reina Valachi"
.
As a result of Joe Valachi's testimony two names became public. The first was his confirmation that the
"Mano Nera
(
Black Hand)",
of late 1880's and early 1900's America, was part of the Italian and Sicilian organization colloquially called the
"Mafia"
. However, he added another name unknown even to Robert Kennedy's Department of Justice,
"La Cosa Nostra ("Our Thing").
The actual name for the Sicilian Mafia. Valachi, also surprised the DOJ by revealing
"The Five Families"
running crime from coast to coast.
Joe Valachi went even further and for the first time the Department of Justice knew the structure of a typical
"La Cosa Nostra Family".


There is a Joe Valachi character in 1974's
"The Godfather Part II".
His name was Benjamin "Bugsy" Siegel and he had been one of the founders of
"Murder Incorporated".
In 1945, Siegel, made a deal with William R. Wilkerson, the founder of
"The Hollywood Reporter",
for co-ownership of the
"Flamingo Hotel"
in Las Vegas, Nevada. This was the first time "The Mob" became interested in the potential of the city and Nevada. By 1946 Wilkerson was going bankrupt and Siegel used that fact to force him out of the hotel's co-ownership . "Bugsy" next began organized crime's control of Las Vegas' legitimate gambling industry.
To illustrate the power of William R. Wilkerson over the Motion Picture Industry. In his
"The Hollywood Reporter"
, Wilkerson, had a personal column called
"Billy's List".
The column gave the
"House Committee on Un-American Activities"
the names of
"Alleged Communists"
in the motion picture industry, but, in reality, the column was the private revenge list of William R. Wilkerson. Which came out long after the
"Black Listing"
ended.
It is said that the character of
"Moe Greene",
in the novel of
"The Godfather",
was based upon "Bugsy" Siegel. If so, in the motion picture, the character of
"Moe Greene"
is changed and, as shown, appears to be William Wilkerson and
"Michael Corleone"
is "Bugsy" Siegel. I based my statement upon the above true story.
There is a
"Hollywood Legend"
about Frank Sinatra.
The legend claims it was his "Mafia Connections" that were needed to get Sinatra the dramatic role of
"Private Angelo Maggio".
In producer, Buddy Adler's, 1953 motion picture version of the James Jones novel, about Army life, in Hawaii, during the days before December 7, 1941,
"From Here to Eternity".
Frank Sinatra's motion picture performance surprised audiences and critics alike. Who had thought of Sinatra as only a singer and light comedic actor! Instead, the singer turned dramatic actor, received the "Academy Award" as
"Best Supporting Actor"
for portraying
"Maggio"
.
As to the
"Legend"
, others say it was his, then, wife, actress Ava Gardner, asking the wife of Columbia Pictures owner Harry Cohn to give her husband the break. What the real story was only those involved can say, but Mario Puzo used the "Legend" and added a little scene with a horse's head for dramatic effect.
I wrote an article on three other dramatic roles from Frank Sinatra that followed
"From Here to Eternity".
These were
"The Man With the Golden Arm",
about a drug addict, the Politically disguised Western,
"Johnny Concho",
and the true life story of singer
"Joe E. Lewis".
Who ran afoul of a crime boss and had his vocal chords cut,
"The Joker Is Wild".
That article entitled
"FRANK SINATRA: Three Dramatic Motion Picture Roles"
may be read at:
http://www.bewaretheblog.com/2015/11/frank-sinatra-three-dramatic-motion.html
I bring this up, because of what is in Mario Puzo's novel and the movie's screenplay about his Frank Sinatra character of
"Johnny Fontaine".


I would add that one of my "Great Aunt Alice's" husbands worked at the
"Flamingo Hotel"
as the "Pit Boss" for "Bugsy" Siegel. When the real "Joe E. Lewis" appeared, at the "Flamingo", shortly after the release of the movie
"The Joker Is Wild",
that I still love, ten years old Lloyd was sitting in the front row with Lewis playing to him.
My "Great Aunt" also told me stories of the history of Las Vegas after the Second World War.
In October 1953, Frank Sinatra started performing at the new
"Sands Hotel and Casino"
and not the "Flamingo" as implied in both Puzo's novel and the 1972 motion picture. Sinatra bought into the "Sands", at the suggestion of crime bosses Meyer Lansky and Frank Costello, and it would become the home base of his 1960's version of
"The Rat Pack".
https://en.wikipedia.org/wiki/Rat_Pack#1950s
THE BROTHERHOOD
released by Paramount Pictures on December 25, 1968

"The Brotherhood"
was directed by Martin Ritt, his two previous motion pictures were 1965's
"The Spy Who Came in from the Cold"
based upon the best-selling John le Carre espionage novel starring Richard Burton, and 1967's
"Hombre"
starring Paul Newman and Richard Boone.
The screenplay was by Lewis John Carlino. Who would write Charles Bronson's 1972
"The Mechanic"
and Robert Duvall's 1979
"The Great Santini".
The motion picture starred Kirk Douglas as the "Mafia Don". Douglas had just been seen on-screen in the terrible Western, 1967's
"The Way West",
and the excellent Western, from the same year, with John Wayne,
"The War Wagon".
Douglas' first co-star was
Alex Chord co-starred as Kirk Douglas', just released from military service, younger brother and probable successor. Chord was in the excellent Italian-American Western, 1968's
"A Minute to Pray, A Second to Die"
and would follow this picture with 1969's
"Stiletto".
That was
based upon best-selling novelist Harold Robbins novel.
The third leading role went to Greek actress Irene Pappas as Douglas' wife.. In 1961 she co-starred in
"The Guns of Navarone",
and in 1964 opposite Anthony Quinn in
"Zorba the Greek".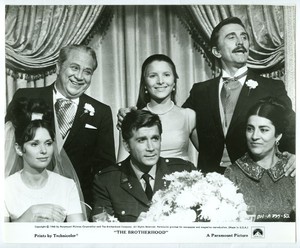 With this group making
"The Brotherhood".
The executives at Paramount Pictures thought they had a sure winner. However, the picture, became the perfect example of why "Crime Movies" weren't doing very well during the Vietnam War period and never recovered the final budget.
Which brings me to:
"THE GODFATHER" VS "ONCE UPON A TIME IN AMERICA"

THE GODFATHER released March 14, 1972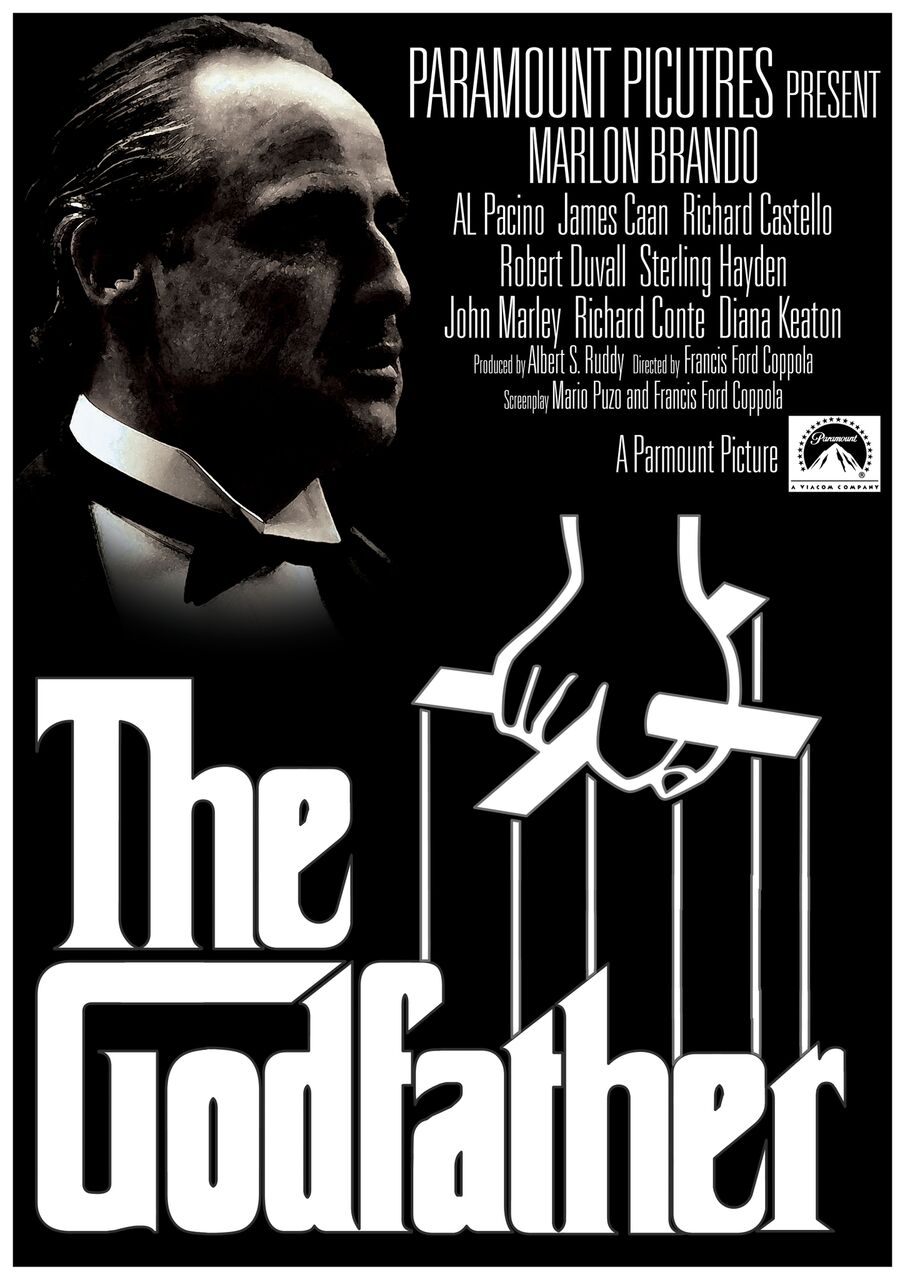 Before I start, I am looking at the original motion picture and not
"The Godfather Part II",
or
"The Godfather Part III".
Although I may reference an actor, or character from the sequels.
After the failure of
"The Brotherhood"
it is understandable that the Paramount executives might be standoffish to make another Mafia movie. However, in 1967, a literary scout for the studio contacted the Vice-President of Production Peter Bart. This was about a 60 page manuscript the scout had discovered. It was entitled
"Mafia"
and was by Mario Puzo. An offer was made to option the finished work for filming in the amount of $12,000. At the time Puzo owed $10,000 in gambling debts and accepted. In 1969 the novel was published and Paramount paid Mario Puzo another $80,000 for the filming rights. Which both parties thought was fair at the time for an unknown work.
"The Godfather"
would remain on
"The New York Times Best Seller List"
for 67 consecutive weeks.
The Paramount executives thought the real reason for the failure of
"The Brotherhood"
was that the film's creative team were mostly non-Italians, Douglas and Ritt were Jewish, and they did not want to repeat their mistake with the new picture.
The man behind the Worldwide
Spaghetti Western Craze,
starting with Clint Eastwood's
"Man With No Name Trilogy"
, Italian director Sergio Leone was Paramount's first choice to direct. He turned the offer down to make his own motion picture that would eventually be titled
"Once Upon a Time in America".
Next, Paramount, went to Peter Bogdanovich, but he wasn't interested in doing a "Mafia" movie. The Paramount executives were now sitting upon a "Best Selling Novel" and couldn't find a director.
They would offer the position to Peter Yates, Richard Brooks, Arthur Penn, Costa-Gavras, and even Otto Preminger not really an Italian group of directors, but they were now seemingly desperate for somebody to direct
"The Godfather".
Peter Bart went back to the studio's original idea of an Italian directing the motion picture. He suggested Francis Ford Coppola, not for his expertise, but because his last film,
"The Rain People",
with James Caan, Robert Duvall, had been a box office failure and believed Coppola would work cheaply compared to the other names already considered.
For producer the studio assigned Albert S. Ruddy. He was known to bring motion pictures in
under budget. "The Godfather"
would only be his 4th producing assignment. Ruddy's only major film, prior to this one, was 1970's
"Little Fauss and Big Halsey"
starring Robert Redford and Michael J. Pollard and directed by Sidney J. Furie.
The Paramount executives hired Coppola and assigned Ruddy to make a $2.5 million dollar movie for the studio, or less. However, with the sudden popularity of the Mario Puzo's novel. Francis Ford Coppola was able to get that budge increased instead of shorten. As a graduate of the Roger Corman, cameo as a Senator in
"Part II"
, school of motion picture making. Coppola knew how to make something from nothing and went to work with Mario Puzo, the perfect choice, to write the screenplay.
Francis Ford Coppola's casting was interesting. In several very small non-screen credited roles are the names: Carmine Coppola, his father, Gian-Carlo Coppola, his son, Italia Coppola, his mother, Roman Coppola, his other son, and Sofia Coppola, his daughter. At least the Paramount executives couldn't argue there weren't any Italians involved in this production.
The
"Corleone Family":
Marlon Brando portrayed
"Don Vito Corleone".
In 1969 he starred in the excellent overlooked Italian film
"Quimada (Burn)"
and would follow this picture with Italian director Bernardo Bertolucci's, "X-Rated", 1972,
"Ultimo Tango A Parigi (Last Tango in Paris)".


Al Pacino portrayed
"Michael Corleone".
Right before this picture Pacino was in the harrowing look at drug addicts in 1971's
"The Panic in Needle Park"
and would follow this feature with 1973's
"Serpico"
based upon the Peter Maas book
.
James Caan portrayed
"Sonny Corleone".
Caan had portrayed football player
"Brian Piccolo"
in the 1971 made for television movie,
"Brian's Song".
He was in both Howard Hawks 1965
"Redline 5000",
and 1967's
El Dorado",
co-starring with John Wayne and Robert Mitchum.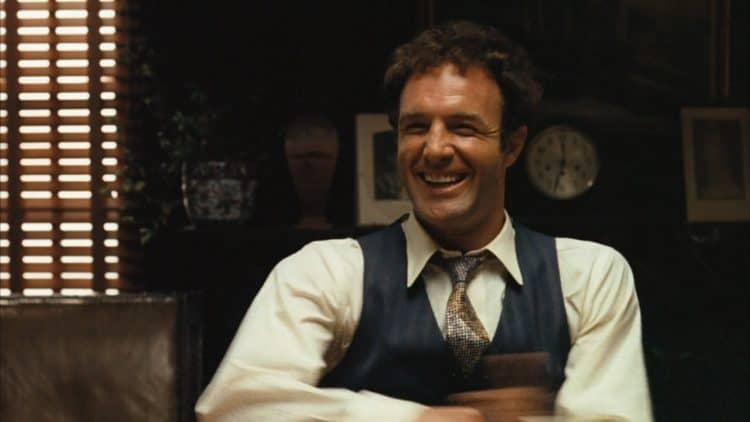 Diane Keaton portrayed
"Kay Adams Corleone".
Keaton had been acting primarily on television after her first on-screen appearance was in 1970's
"Lovers and Other Strangers".
This was her second feature film. It would be followed by the actresses first two collaborations with writer, actor and director Woody Allen, 1972's
"Play It Again Sam"
and 1973's
"Sleeper".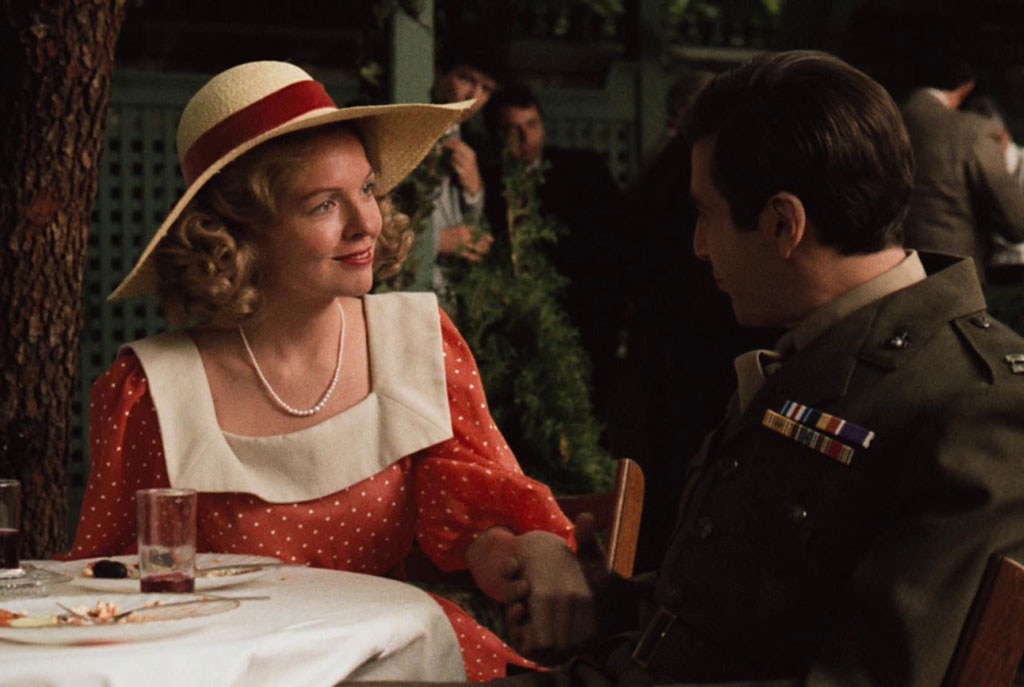 Talia Shire portrayed
"Connie Corleone".
Her first motion picture was Roger Corman's 1968
"The Wild Racers"
with a non-screen credited Assistant Director named Francis Ford Coppola, her brother. Her birth name was Talia Rose Coppola. Four years after this picture Shire portrayed
"Adrian"
in 1976's
"Rocky"
and continued as
"Adrian Balboa"
for the next three motion pictures in the series.
John Cazale portrayed
"Fredo Corleone".
His on-screen acting career only lists seven roles as Cazale was a major legitimate stage actor. His films include Francis Ford Coppola's 1974's
"The Conversation",
starring Gene Hackman, director Sidnet Lumet's 1975
"Dog Day Afternoon",
starring Al Pacino, and director Michael Cimimo's 1979
"The Deer Hunter",
starring Robert De Niro and Christopher Walken.
Morgana King portrayed
"Mama Corleone".
This was her first motion picture and she would only have six other roles. Her other most known role was
"Mrs. Manganaro"
on the Daytime Soap Opera
"All My Children".
Julie Gregg portrayed
"Sandra Corleone".
The majority of her 44 roles were on television.
Simonetta Sefanelli portrayed
"Apolonia Corleone".
Sefanelli is an Italian actress with 25 film roles to her credit.
"The Godfather"
was her sixth motion picture and her only English language feature.
The Three Major Supporting Roles:
Richard Castellano portrayed
"Clemenza".
He was basically a television actor until his first motion picture, with third billing, 1970's
"Lovers and Other Strangers",
co-starring Diane Keaton. Like Keaton,
"The Godfather",
was Castellano's second motion picture and the one character he is most identified with.
Robert Duvall portrayed
"Tom Hagen".
Duvall started acting on television in 1960 and brought attention to himself as
"Boo Radley"
in his first motion picture, 1962's
"To Kill a Mockingbird",
starring Gregory Peck
.
It was back to television with the exception of another Gregory Peck feature from 1963,
"Captain Newman, M.D.".
In 1966 Duvall had tenth billing in
"The Chase"
starring Marlon Brando, Robert Redford and Jane Fonda. Then his career was split between television and motion pictures including starring in unknown director George Lucas' 1971 Science Fiction,
"THX-1138".
Abe Vigoda portrayed
"Tessio".
Vigoda has been working on television since 1949 including the Daytime Soap Opera
"As the World Turns"
and Dan Curtis' Horror Soap Opera
"Dark Shadows".
This was his first motion picture and he returned to television from 1975 through 1982 on
"Barney Miller"
and starred in the spin-off
"Fish".
Three Other Roles of Interest Based Upon Real People:
Al Martino portrayed singer
"JohnnyFontaine".
He portrayed the role again in
"The Godfather Part II".
Otherwise he appeared on television five times.
John Marley portrayed
"Jack Woltz".
Marley has been acting since 1947 and before this picture he portrayed Jane Fonda's father in 1965's
"Cat Ballou"
and was in the 1970 tearjerker
"Love Story".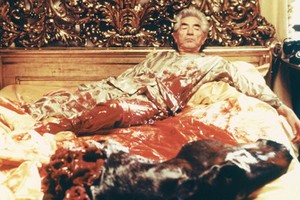 Alex Rocco portrayed
"Moe Greene".
Rocco started in films with soft-porn producer Russ Meyer's 1965
"Motorpsycho".
Followed that with Roger Corman's 1967
"The St. Valentine's Day Massacre".
About the war between
"Al Capone"
and
"George Clarence 'Bugs' Malone"
over control of Chicago. He also appeared on the
"Batman"
television series that same year.
The haunting music score was by Italian composer Nino Rota. Among his 180 motion picture scores are Federico Fellini's 1954
"La Strada"
starring Anthony Quinn, King Vidor's 1956 version of Tolstoy's
"War and Peace"
starring Henry Fonda, Audrey Hepburn and Mel Ferrer, Fellini's 1957
"Nights of Cabiria".
Which became the American Broadway Musical
"Irma La Douce",
Fellini's 1960
"La Dolce Vita"
starring Marcello Mastroiani and Anita Ekberg, and Luciano Visconti's 1963
"The Leopard"
starring Burt Lancaster, Claudia Cardinale and Alain Delon.
The Screenplay:

As I mentioned, when Paramount Pictures made
"The Brotherhood".
The final 1968 motion picture ran 93-minutes and never recovered the costs to make it. Now the studio executives envisioned producer Albert Ruddy and director Francis Ford Coppola making a small movie and bringing the finished motion picture below budget and making the studio a profit. What they got instead, as I also mentioned, was a request for more money and an estimated final budget of $7.2 million 1972 dollars, or equal to $13,494,421 at the time of writing this article. The final motion picture ran 177-minutes, or just 3-minutes short of 3 hours without an Intermission. However, Paramount did get their profit. The Worldwide Box Office was $287 million 1972 dollars, or $1,814,559,644 today.
The movie works very well on the small television screen, because although there is that violence and blood. The Mario Puzo and Francis Ford Coppola screenplay is very intimate in its story and sequences.
The picture opens at the wedding of "Don Vito Corleone's" daughter "Connie". Hoover's "FBI" is seen taking down licence plate numbers and photos outside the gate of the "Corleone" family estate. "Don Vito", one of the heads of
"The Five Families",
is in his office listening to a
"Request"
from the baker who made the wedding cake. For helping out the baker, the "Don" wants him to come, at any time called, to do
"A Favor"
for him. When asked, by the baker, how "Don Vito" can get the man he is having problems with to change. "Don Vito" replies:
I'll Make Him A Offer He Can't Refuse!
The "Don" then assigns the task to one of his men present.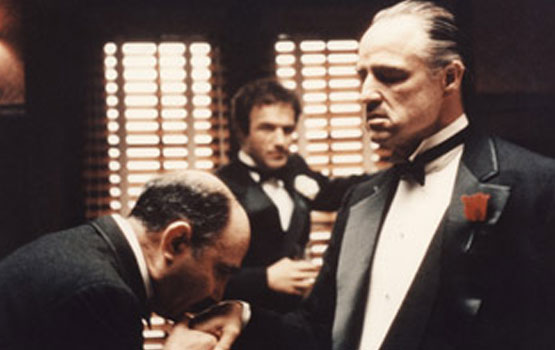 "Sonny Corleone" goes outside the gates and roughs up the FBI Agents and breaks their camera. While throwing money on the ground to pay for a new one. The youngest member of
"The Family",
in his Marine Uniform, "Michael Corleone",
now arrives with his girlfriend, "Kay Adams", and he introduces her to his family. To an inquiry by "Kay", he replies, that he is not one of them and is not a part of
"The Family Business".
The backstory as to why "Michael" joins the Marines is in a flashback, before the fade out of 1974's
"The Godfather Part II".
Apparently, the scene wasn't used in this movie, but was added to the ending of the second feature. In this deleted sequence the audience sees others at a kitchen table with "Michael" and "Sonny". As "Michael" explains his reasons for not staying in
"The Family Business"
and joining
Marine Corps.
Above "Kay" meets "Sonny".
Singer "Johnny Fontaine" arrives to screaming Italian teenage girls and the "Frank Sinatra" connection continues with a song in the "Sinatra Style". Followed, shortly, by "Fontaine" talking to his "Godfather" about wanting a movie role in a World War 2 picture. Which "Fontaine" claims is perfect for him and would make "Johnny" a movie star. The problem is the owner of the movie studio
"Jack Woltz".
It should be noted that this scene is taking place in
"The Godfather"
five years before the release of Frank Sinatra's
"From Here to Eternity".
"Don Vito" will dispatch his adopted son and
"Consigliere",
"Tom Hagen", to Los Angeles and "Woltz," to take care of getting "Johnny" the role.
Above
"The Corleone Family".
Below, for publicity (?), a grouping not seen in the movie, of "Don Vito" and his three sons, "Sonny" the oldest, "Fredo", the second son, who had problems at his birth, see
"The Godfather Part II",
and now has some mental issues. Along with "Vito's" third and youngest son "Michael".
Shortly, before Christmas, one of the New York Drug Lords named
"Sollozzo",
portrayed by Al Lettieri, asks "Don Vito" to invest in his drug operation"Vito. " declines and states that the "Corleone Family" will not be involved in drugs. Even though "Tom Hagen" and others say they're the future.
Suspicious of "Sollozzo's real intentions and knowing he's backed by the "Tattaglia Family". "Don Vito" sends his enforcer
"Luca Brasi",
played by Lenny Montana, on a specific mission to get information --------
-------but "Luca" is garroted as he meets "Sollozzo" and
"Bruno Tattaglia",
played by Tony Giorgio.
"Sollozzo" next has "Tom Hagen" kidnapped and "Don Vito" gunned down in the street. "Fredo" panics, drops his gun and never shoots back to protect his father.
"Vito" is still alive, but that is unknown to "Sollozzo" and "Tom Hagen". Whom "Sollozzo" now pressures to tell "Sonny" to accept his deal. "Hagen" returns to "The Family" as a package is delivered containing a "Dead Fish" wrapped in "Luca's" useless bullet-proof vest and implying that "Brazi" is
"sleeping with the fishes"
.
Meanwhile, "Michael" goes to visit his father in the hospital. He finds nobody at the reception desk and other areas seem abandoned with food still waiting to be eaten. A nurse appears, after "Michael" enters his father's room, and he gets her to help him move "Don Vito" to safety.
It is obvious that somebody is coming to kill "Michael's" father. Next, he calls "Sonny", tells him of what he has found, and asks for help protecting their father.
Footsteps start being heard approaching and "Michael", who has no weapon., tells the nurse to stay with his father and goes to investigate.
The footsteps belong to the "Baker" the audience first saw with "Don Vito" at the film's opening.
"Michael" and the "Baker" go out the hospital's front door and pretend to have guns in their pockets. Police arrive, led by the crooked
"Captain McCluskey",
played by Sterling Hayden, who's on "Sollozzo's" payroll.
"McCluskey" confronts "Michael" and the police captain's uniformed stooges grab the young "Corleone". So that "Captain McCluskey" can punch him in the face breaking "Michael's" jaw. As this is happening help arrives and "McCluskey" and company are forced to leave.
Back at the "Corleone" estate, "Sonny", now in command of the family, determines that both "Sollozzo" and "McCluskey" have to be killed. It is "Michael" that suggests he do it to everyone's surprise, because everyone knows "Michael" is not part of the "Family Business" and he wouldn't be expected to make "The Hit".
As the meeting is set up, "Clemenza" tapes a pistol, so it will not leave fingerprints on it, and instructs "Michael" on its use and how to drop it during the confusion after "The Hit".
"Sonny" makes a "Hit" on "Bruno Tattaglia" and "Michael" is picked up by "McCluskey". Who searchers him for a weapon and find none. The two men join "Sollozzo" at an Italian restaurant and, as instructed, "Michael" asks permission to go to the bathroom. He leaves and finds the gun planted by "Clemenza" in the old fashion chain pull toilet. Next, he walks back to the table and coldly kills both men, drops the gun, and walks out.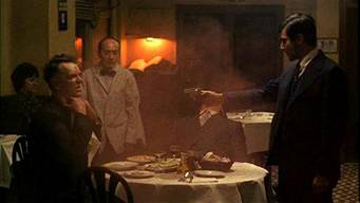 "Michael" immediately leaves for Sicily, for the next year, until things calm down for him. "Sonny" continues to command until his father returns home and is told about "Michael".
The story now splits between the two subplots.
"The Five Families"
start a full scale gang war with each other for complete control. While "Fredo" is sent to Las Vegas to work for "Moe Green".
In Sicily, "Michael" is being sheltered by a friend of his father and that "Don" has assigned two bodyguards to accompany him.
One day "Michael" sees the beautiful "Apollonia" and falls in love. The two have a traditional Sicilian courtship and presents her with a very expensive gold necklace. After the appropriate courtship period the two are traditionally married.
"Michael" now starts to teach his wife English and how to drive to be able to take her to the States at the end of exile.
Back in New York, "Don Vito" has recovered and resumed running "The Family". His daughter "Connie's" husband,
"Carlo",
played by Gianni Russo, abuses her and "Sonny" beats him up. He adds the threat of killing "Carlo", if it happens again. It does happen again and "Sonny" gets into a car to go after "Carlo", but is ambushed and killed.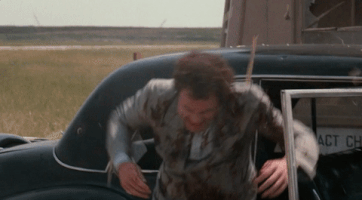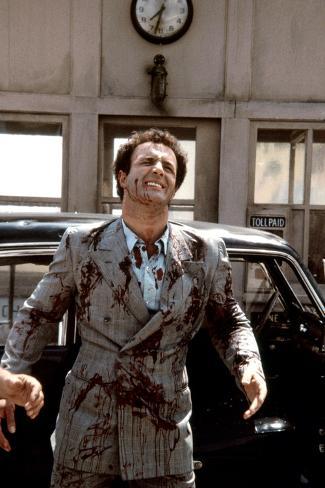 Now, "Don Vito" calls in his "Favor" from the "Baker". He is asked to make "Sonny" presentable, before his wife sees the body.
In Sicily attempting to show off her driving skills. "Apollonia" gets into the car she's been learning how to drive in, but "Michael" notices one of his bodyguards acting strange and walking out of the compound he and his wife live in. Realizing what is about to happen, turns toward the car, watches "Apollonia" turn the ignition key and the car explodes.
The "Tattaglias" are now controlled by
"Barzini",
played by Richard Conte. Devastated by "Sonny's" death, "Don Vito" calls a meeting of "The Five Families" to stop the war.
Above Richard Conte at the meeting. Below with Marlon Brando in the foreground.
"Don Vito" assures the group he will not interfere with their heroin business and not take revenge for "Sonny's" murder. His safety and his family's is assured. "Michael" returns and "Vito" turns the day to day running of "The Family Business" over to him. "Michael" reunites with and marries "Kay". He assures her that within five years "The Family Business" will be entirely legitimate. Over those five years, "Kay" gives birth to two children, a boy and a girl. However, "Don Vito" is now too old and "Fredo", the older brother who should take over is too weak, so enter the son, who didn't want to be involved, as "Don Michael Corleone".
The first thing "Michael Corleone" does. Is to tell "Tom Hagen" he is no longer "Consigliere". Saying there is no need to have a formal
"War time Consigliere"
and he is to relinquish that role to "Vito". Next, "Michael" tells "Tom" to take his family and relocate to Las Vegas. "Michael's" father agrees with the decision and "Tom" has no choice, but to accept. The father and son protecting "Michael's" adopted brother, "Tom", of being accused of involvement with what is coming next.
"Michael" now travels to Las Vegas for the purpose of buying out "Moe Greene's" in the Vegas casino. Only to discover that his brother, "Fredo", is more loyal to "Greene" then his own blood.
"Greene" fights the buy out, but in the end "Michael Corleone" wins.
It is now 1955 and outside with his grandson, "Vito Corleone", suffers a fatal heart attack.
The death of "Don Vito Corleone" is attended by members of "The Five Families" including "Barzini".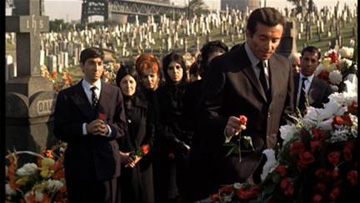 "Tessio" approaches "Michael" asking him to meet with "Barzini". "Michael" knows this is the betrayal his father had warned him about.
The meeting is set for the same day "Connie's" baby is to be baptized. As "Michael" stands at the alter as the baby's
"Godfather".
"Michael's" soldiers are killing off the other "Don's" and "Tessio". Then "Michael" gets "Connie's" husband "Carlo" to confess that he set up "Sonny's" murder for "Barzini".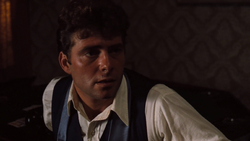 "Clemenza" garrotes "Carlo" and an upset "Connie" accuses "Michael" of ordering the death of her abusive husband. She tells "Kay" that her husband murdered her's. However, "Kay" is relieved when "Michael" denies it, but watches in horror as his "Capos" arrive and pledge themselves to
"Don Michael Corelone"
their crime family's head.
Mentioned above, was the fact that Paramount Pictures wanted Italian director Sergio Leone to direct
"The Godfather",
but he was involved with his own gangster epic and turned the offer down.
However, for reasons to follow, Leone's final film as a director was not completed and released until 12 years after the first of the three films that became known as
"The Godfather Trilogy":
"The Godfather",
1972,
"The Godfather Part II",
1974, and
"The Godfather Part III",
1990.
C'ERA UNA VOLTA IN AMERICA (ONCE UPON A TIME IN AMERICA) first shown in the original European version at the Cannes Film Festival on May 23, 1984
Herschel Goldberg, was born in Odessa, or possibly Kiev, in the Russian Empire, November 2, 1901. At the age of four the boy immigrated with his parents to the United States During the Seventh Grade he dropped out of school and hit the streets of New York City to find work.
In 1932 Herschel married Mildred Becker and the two would have three children, Beverle, Harvey and Simeon. While serving time in Sing-Sing Prison for his criminal activities. Goldberg, now a government informant, decided to write a semi-autobiographical book, entitled
"The Hoods".
Which would be published on August 24, 1952.
The book is about Goldberg's Jewish gangster life during the 1920's and 1930's. To protect his family from what he was to reveal as both a writer and informant. Herschel Goldberg took the pen name of Harry Grey. Grey's book was discovered in 1968 by Sergio Leone and formed the basis for his motion picture
"Once Upon A Time In America".
After his father passed away on October 1, 1980. Harry Grey's son, Simeon, on December 31,1999, had a star placed on Palm Springs, California's,
"Walk of Stars",
honoring his father. The same year other names added to the walk included actors Lon Chaney, Sr. and Iron Eyes Cody, President Gerald Ford and actor Randolph Scott.
The name on the gangster turned author's
"Palm Spring's Golden Star"
reads:
Harry "Noodles" Grey
The above is the cover of the 1st edition of the book. It's available on line, as of this writing, for only $2,500.
In 1958, still using the name Harry Grey. Herschel Goldberg wrote
"Portrait of a Mobster"
about
"Dutch Schultz".
That book was
used as the basis for the Vic Morrow feature previously mentioned.
"Once Upon A Time In America"
was the final entry in Leone's
"Once Upon A Time--"
trilogy. The first had been 1968's
"C'era Una Volta Il West (Once Upon A Time (There Was) The West)"
starring Henry Fonda, Charles Bronson and Claudia Cardinale. The second moved forward in time to the 1913 Mexican Revolution and was originally to have been titled
"Once Upon A Time In The Revolution",
but this 1971 motion picture starring James Coburn and Rod Steiger became
" Giu La Testa (Duck, You Sucker!)".
Initially, Sergio Leone envisioned two 180-minute (3 hour) motion pictures to tell the screenplay he was working on with five other Italian writers. This "Road Show" release would be shown on consecutive days. Then, after the "Road Show" runs, he would edit the two parts down for "General Release" as one 269-minute (4 hours and 29-minute) version.
However, his Italian financial backers and film distributors convinced Leone to release his feature at a running time of 229-minutes (3 hours and 49-minutes) and that was the version shown at the Cannes Film Festival and known as
"The Director's Cut"
.
However, Leone's American financial backers,
"The Ladd Company"
, founded by actor Alan Ladd's son, Alan Ladd, Jr., had no plans to release a 229-minute, no intermission, motion picture in the United States. Not only did they remove 90-minutes from
"The Director's Cut"
. Reducing its length to 139-minutes (2 hours and 19-minutes), but "The Ladd Company" rearranged the sequence order, eliminating flashbacks within flashbacks. In their thinking, making the shown events flow evenly from one year to the next.
That North American version of
"One Upon A Time In America"
was a critical and box office disaster. Eventually, Art Houses, got a hold of the 229-minute version and Sergio Leone's motion picture is now considered one of the all-time great gangster films.
The excellent musical score was by Sergio Leone's favorite Ennio Morricone. Who wrote the classic scores for
"The Man With No Name"
trilogy! Except
he had a name. In
"Fistful of Dollars",
it was
"Joe",
in
"For A Few Dollars More",
it was
"Monco",
and for
"The Good, the Bad and the Ugly",
he was called
"Blondie".
It had taken until the end of 1974 for Sergio Leone to get a screenplay he was satisfied with.
In 1975 Leone was ready to cast the three leads and because both
"The Hoods"
and his screenplay started with the leading characters as teenage criminals, in each role two actors were needed.
That year Richard Dreyfuss was cast as the young "Noodles" and veteran actor James Cagney would play the older "Noodles".
French actor Gerard Depardieu was cast as the young "Max". The actor planned to learn English, as the picture would be shot in that language, with a "Brooklyn Accent". Veteran French actor Jean Gabin, who had played gangsters before in French movies , was to be the older "Max".
I could not find out why the film fell apart, but it would be another five years before casting was started once more. In late 1980 the cast appeared to be:
Tom Berenger as the young "Noodles" and Paul Newman as the older "Noodles".
While the role of "Max", at any age, had not been decided upon and Sergio Leone spoke to:
Dustin Hoffman, Jon Voight, Harvey Keitel, John Malkovich and even John Belushi.
The role of "Deborah" was offered to Brooke Shields in 1981, and she was set to play the role. However, an
"Actor's Strike"
started in the United States and Sergio Leone's plans were again delayed.
The Three Major Roles As Seen On-Screen:

Robert DeNiro portrayed the older "David 'Noodles' Aaronson". In 1974 he had portrayed the young "Don Vito Corloene" in "The Godfather Part II". DeNiro followed that role with 1976's "Taxi Driver" and 1980's "Raging Bull".
James Woods portrayed the older "Maximilian 'Max' Bercovicz"". Besides television, Woods was seen in 1979's "The Onion Field", 1983's "Videodrome", and would follow this picture with Stephen King's 1985's "Cat's Eye".
Elizabeth McGovern portrayed the older "Deborah". In 1980 she was in "Ordinary People" and in 1981 "Ragtime".
Scott Tiler portrayed the young
"Noodles".
This was his second on-screen appearance out of twelve.
Rusty Jacobs portrayed the young
"Max".
This was his second of four on-screen roles.
Jennifer Connelly portrayed the young
"Deborah".
This was her third on-screen appearance and after the picture. Connelly would be seen in 1986's
"Labyrinth"
with David Bowie and the "Muppets", and 1991's
"The Rocketeer".
Supporting Roles:
James Hayden portrayed
"Patrick 'Patsy' Goldberg".
This was the last of his only seven roles.
Brian Bloom portrayed the young
"Patsy".
At the time Bloom was appearing on the Daytime Soap Opera
"As the World Turns".
He became a voice actor for animation programs and video games.
William Forsythe portrayed
"Philip 'Cockeye' Stein".
Forsythe became known for portraying unlikable and nasty characters. Among his films are 1990's
"Dick Tracy",
1992's
"The Gun in Betty Lou's Handbag",
he portrayed
"Al Capone"
in all forty-two episodes of the reboot of television's
"The Untouchables"
in 1993, and was in Michael Bay's 1996
"The Rock".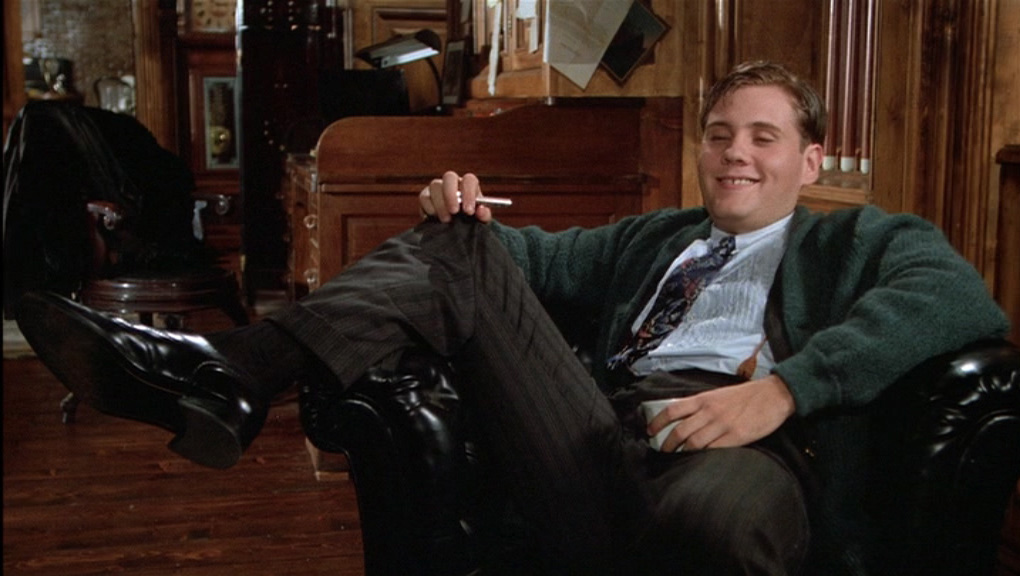 Adrian Curran, in his only on-screen appearance, portrayed young
"Cockeye".
Larry Rapp portrayed
"Fat Moe".
This was Rapp's second motion picture of only five.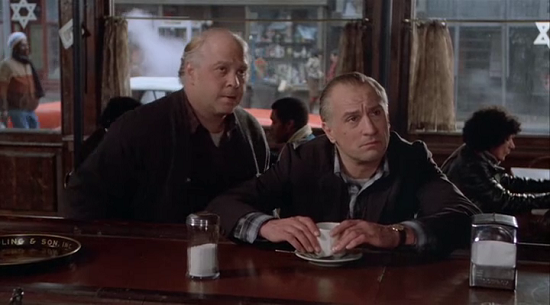 Above Rapp and DeNiro.
Mike Monetti portrayed the young
"Fat Moe".
This was his only on-screen appearance.
Tuesday Weld portrayed
"Carol".
She started acting as a teenager in 1956's
"Rock! Rock! Rock!"
and besides many television appearances. Weld played Bing Crosby's daughter in love with Fabian in 1960's
"High Time"
She appeared
opposite Audie Murphy in 1961's
"Wild in the Country",
was seen in two Steve McQueen films, 1963's
"Soldier in the Rain"
with Jackie Gleason, and 1965's
"The Cincinnati Kid"
with Ann-Margret and Edward G Robinson.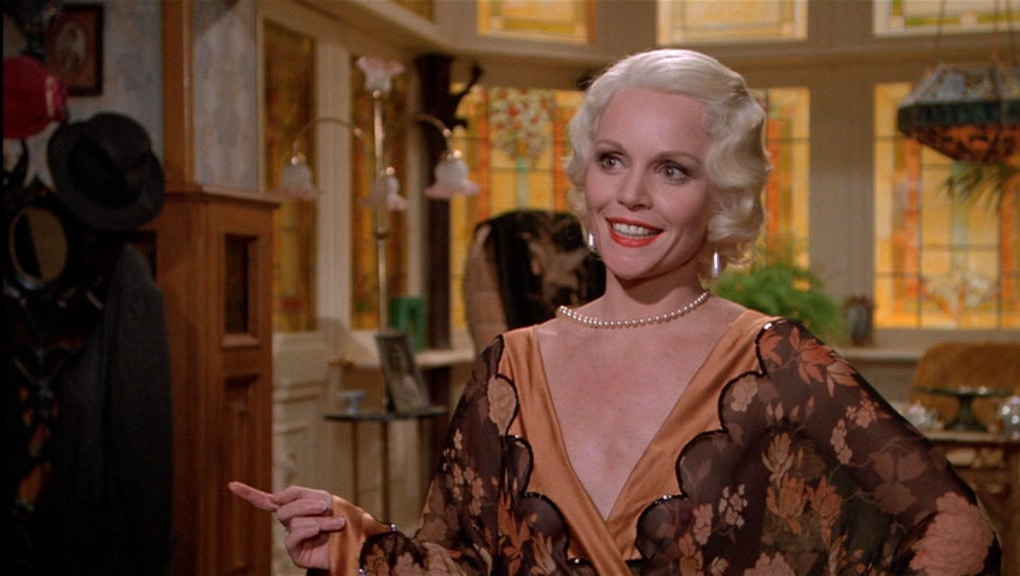 Darlanne Fluegel portrayed
"Eve".
Her first on-screen appearance was in the Faye Dunnaway 1978
"Eyes of Laura Mars".
That feature was followed by Roger Corman's 1980 cult version of Akira Kurasawa's
"The Seven Samurai"
entitled
"Battle Beyond the Stars",
that
co-starred George Peppard, Robert Vaughn, Richard Thomas and John Saxon.
Treat Williams portrayed
"Jimmy 'Clean Hands' O'Donnell".
Williams, at the time, was best known for 1976's
"The Eagle Has Landed"
and the motion picture version of the Broadway musical
"Hair"
the same year. Don't blink, or you'll miss him as an
"Echo-Base Trooper"
in 1980's
"Star Wars: The Empire Strikes Back".
The Basic Screenplay For the Four Hour and 29-Minute Screenplay:
The obvious difference between
"The Godfather"
and
"Once Upon A Time In America"
is the tone of the two screenplays.
The former, as I said, has an intimacy and the audience is made to care for the "Corleone" family members. There is violence, but it isn't overbearing and, at times, seems more implied. The horse's head scene is full of blood on the sheets and "Woltz's" hands, but the horse is not shown being slaughtered and its bloody head being brought to the bedroom. In fact, its a quick cut view of it to avoid the audience reacting to the dummy horse's head.
While the later picture, as with most Italian films of the period, is violent and realistic. It contains strong sex and drug sequences. The audience isn't directed to care for the three main characters and their girls, but are brought into the world that author and informant, Hershel Goldberg, knew and experienced.
The story opens in
1933,
Manhattan, as three thugs enter a Chinese
"Wayang (Puppet Theater)"
looking for a "Marked Man". The proprietors slip into a hidden Opium Den and warn the "Old Noodles", but he pays no attention.
The audience starts the first flashback, of the police removing three disfigured corpses from a street, are we seeing reality, or an opium induced dream? The story returns to the opium den.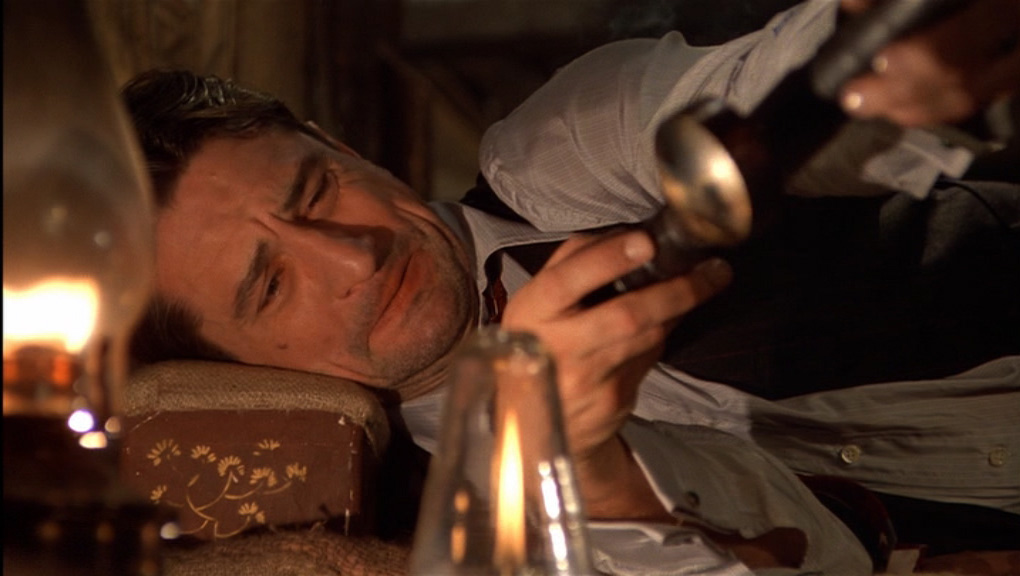 "Noodles" kills one of the thugs that's come after him and leans his girlfriend "Eve"
is dead and his money stolen. He decides to leave town.
The motion picture now switches to a teenage "Noodles" and his friends, "Patsy", "Cockeye", and
"Dominic",
played by Noah Moazezi. All are petty thieves in
1918
Manhattan, New York, and work for a criminal called
"Bugsy",
played by James Russo.
Above Noah Moazezi as "Dominic". Below James Russo as "Bugsy".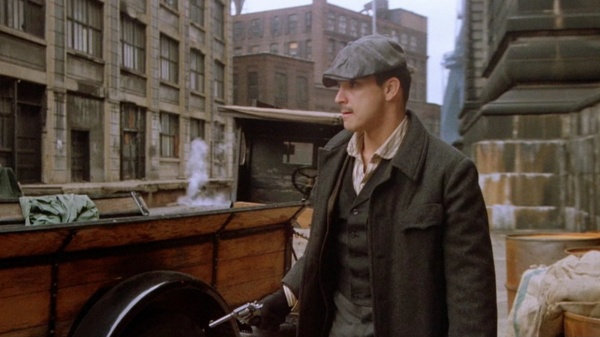 The boys plan to rob a drunk who will be hidden from a police officer by a truck, but "Max" jumps off the truck to rob the man himself. "Noodles" confronts "Max", but a crooked police officer steals the drunk's pocket watch the two are fighting over.
"Max" proceeds to blackmail the police officer. Who is having sex with a young girl named
"Peggy",
at this time played by Julie Cohen, and the neighbor of "Noodles". "Peggy" also offers herself to "Noodles" for a desert treat that is hard for them to afford.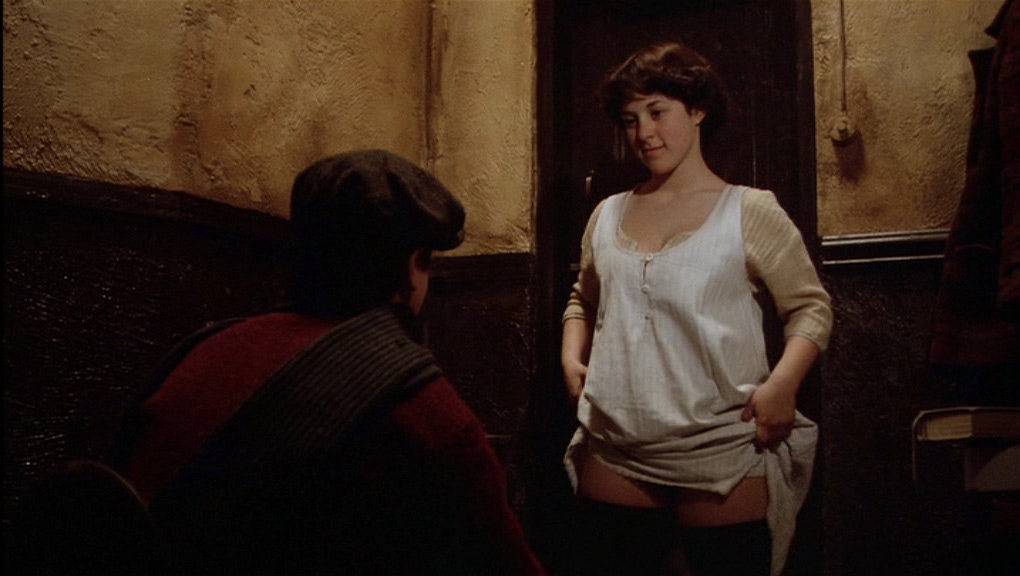 Below the desert of "Peggy's desire.
Next, "Noodles", "Max", "Patsy", "Dominic" and "Cockeye" decide to leave "Bugsy" and form a gang for themselves.
The gang decides to split all money they extort from businesses and put half in a suitcase. The suitcase goes into a locker at the railway station, but the key goes to a good friend, "Fat Moe", who is not part of their operation.
"Noodles" is in love with "Fat Moe's" sister "Deborah", but she dreams of being either a dancer, or actress.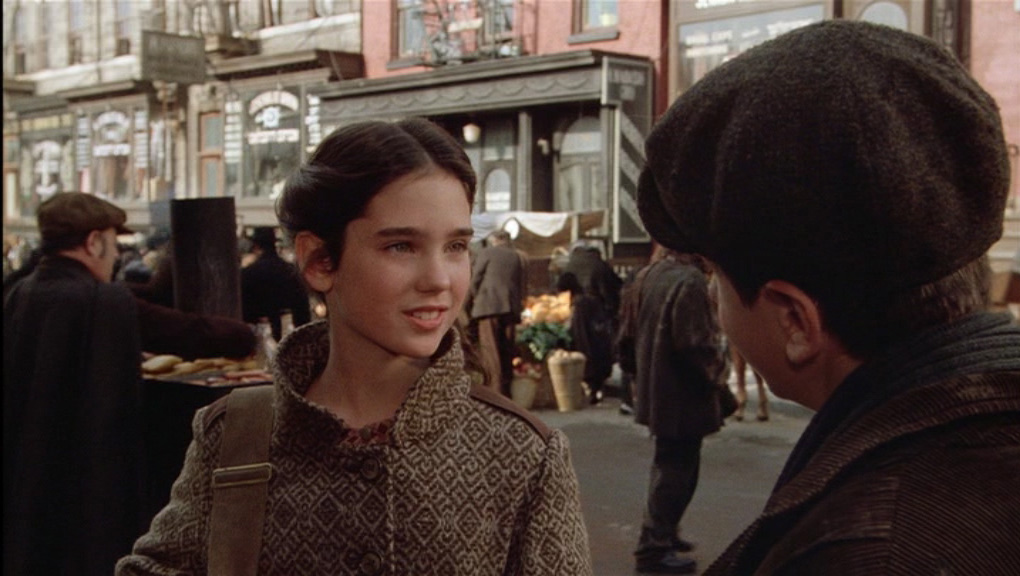 The boys fortunes seem to be riding high, but "Bugsy" now ambushes them and kills "Dominic".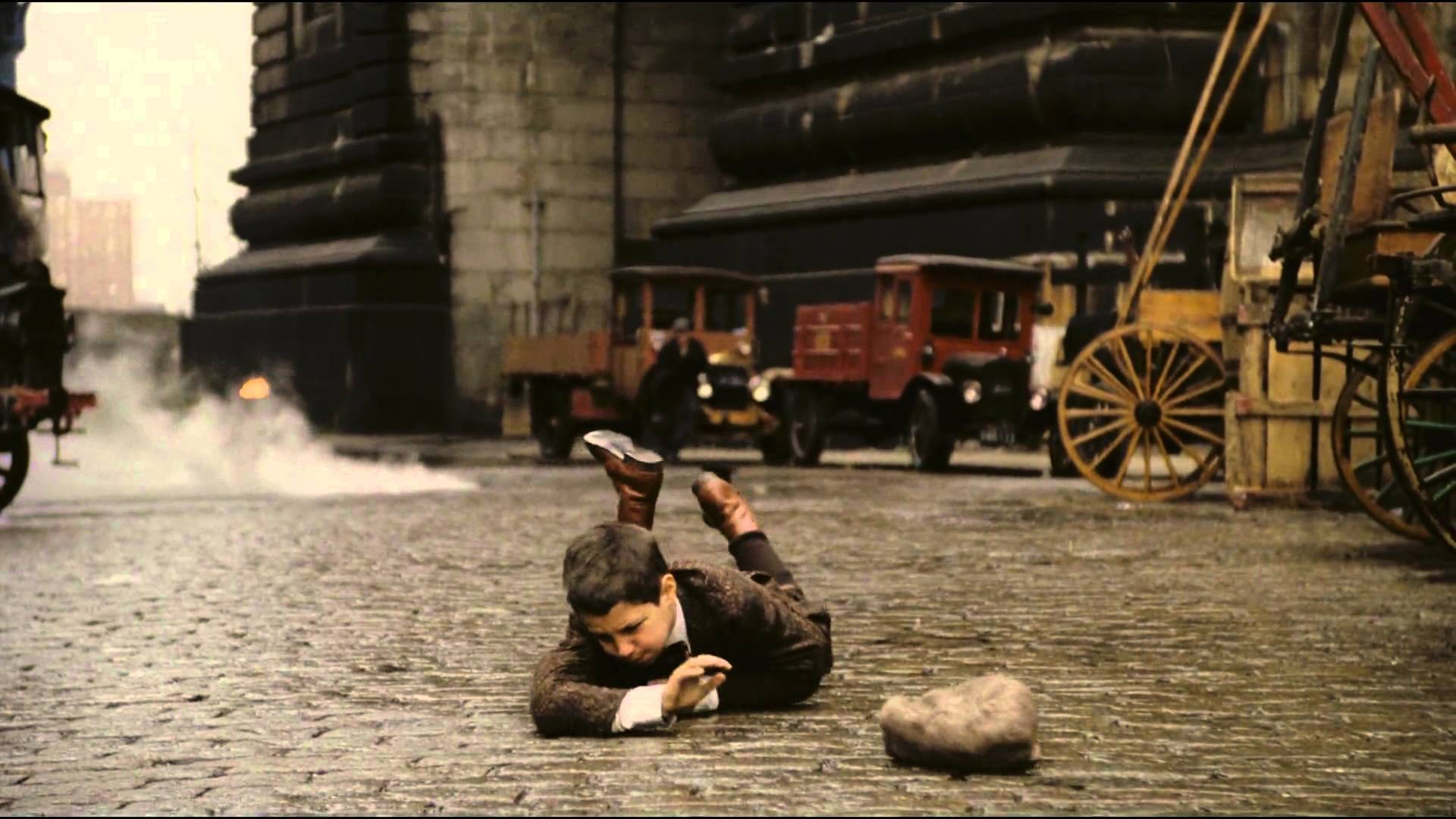 "Dominic" dies in "Noodles" arms and in a blind rage. He stabs "Bugsy" to death, stabs a police officer, and is arrested and sent to prison.
In
1930
"Noodles" is released from prison and reunites with the old gang. Who are now successful bootleggers during prohibition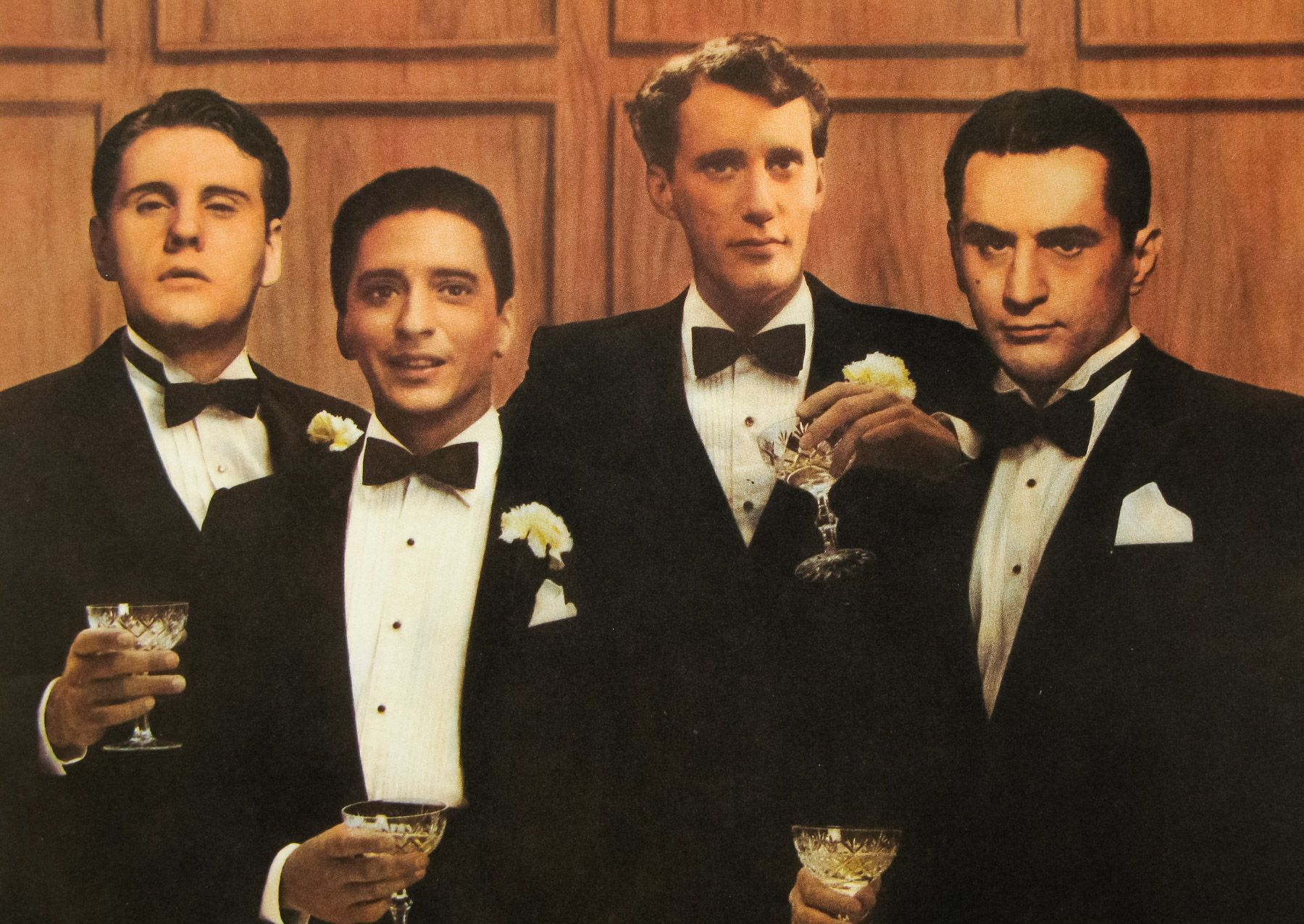 "Noodles" attempts to rekindle a relationship with "Deborah" and asks her to marry him.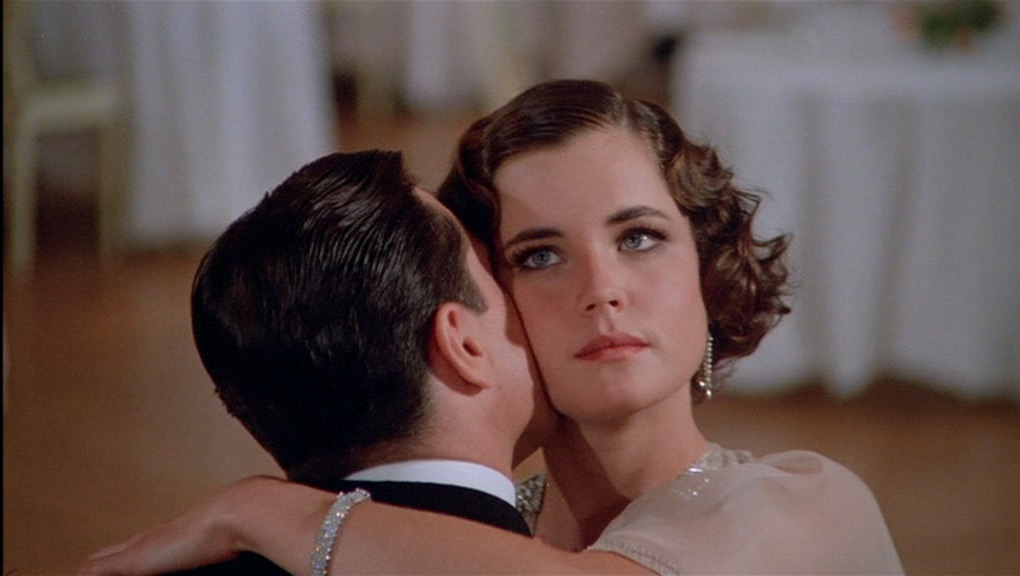 She is still dreaming of becoming an actress, refuses, and tn anger "Noodles" rapes her.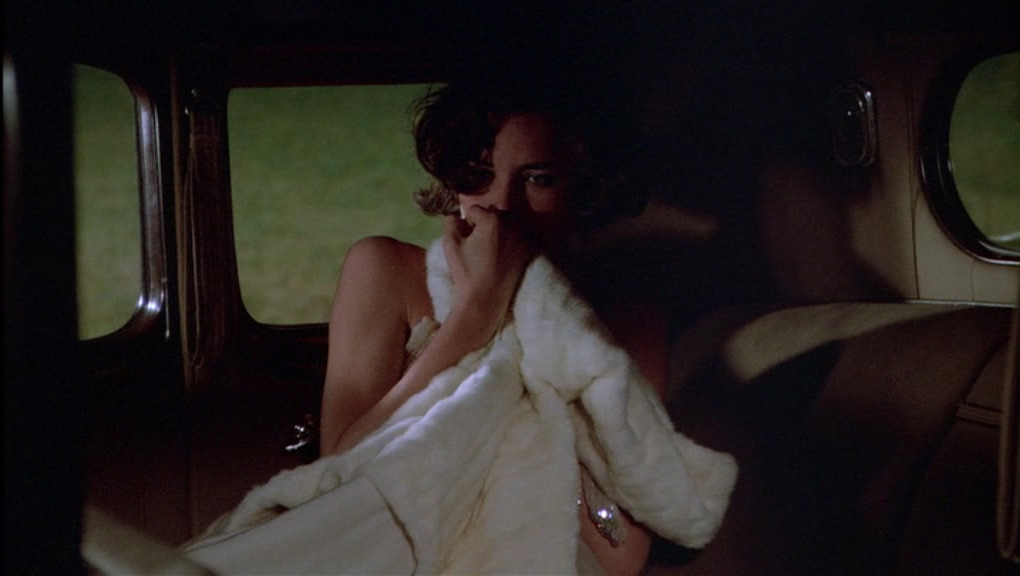 The next day "Noodles' goes looking for "Deborah" at the train station, spots her, but she closes the blind and heads for her dreams in Hollywood.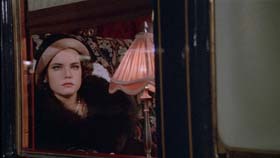 In
1933,
with the end of prohibition, the gang's financial success ends. Meanwhile, "Deborah" is on her way to becoming a major Hollywood Star. The gang now meets "Teamster Union Leader" "Jimmy 'Clean Hands' O'Donnell". Whom they rescue from being killed by a corrupt politician's henchmen and in return, O'Donnell offers them a job, but they refuse.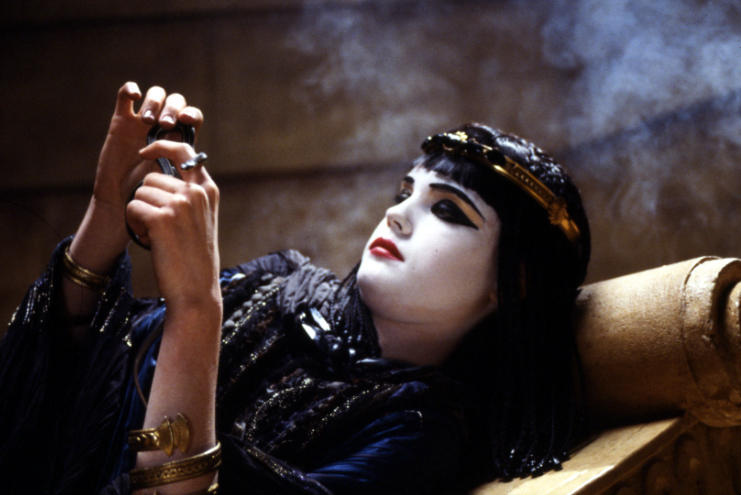 Above "Deborah" on a movie set for one of her films.
In 1934 actress Claudette Colbert starred in Cecil B. DeMille's
"Cleopatra".
Could Sergio Leone be playing off that for the character?
"Max" suggests that the gang join the "Teamsters"
as muscle, but "Noodles" objects. "Max" and his girlfriend "Carol", "Noodles" and his girlfriend "Eve", head for Florida.
Above "Noodles" and "Eve" enjoying the beach. Below "Max" argues with "Carol".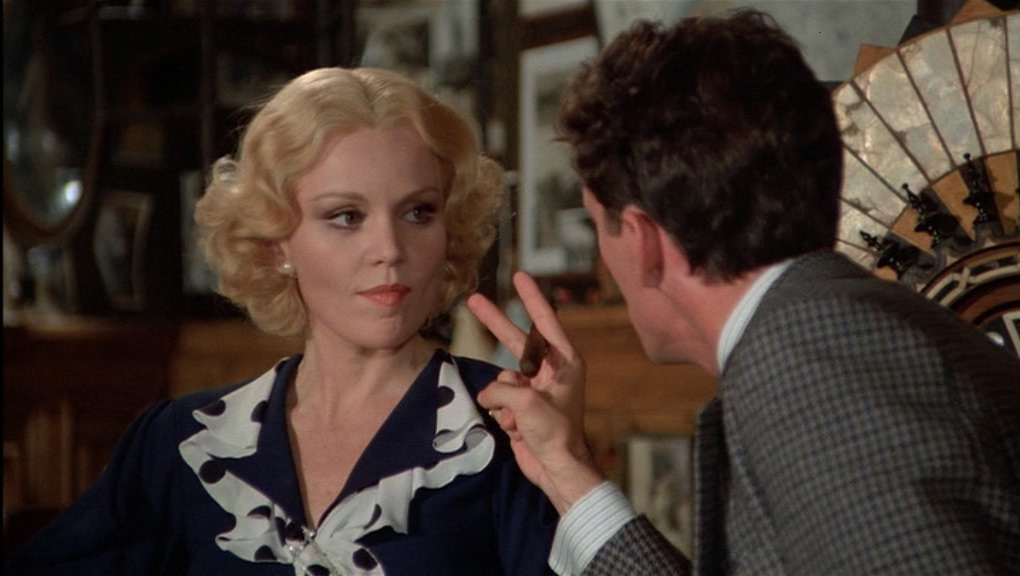 Money appears to be running out and "Max" suggests that they go back to New York City and with the help of "Patsy" and "Cockeye" rob the
"Federal Reserve Bank of New York".
"Noodles" believes that's a suicide mission, but goes back to New York.
"Carol" inspects the planned bank robbers and confirms "Noodles'" thoughts about them pulling off the robbery. "Carol" convinces "Noodles" to call the police and tell them about a lesser robbery that would amount to a one year, or less, jail sentence and all four friends would still be alive. However, "Noodles" is knocked out by "Max" after making the call.
When he regains consciousness, "Noodles" is told his three friends were killed by the police. "Noodles" now blames himself and leaves for Buffalo, New York, to live under the assumed name of
"Robert Williams".
In
1968,
"Noodles" receives a letter informing him that the cemetery his friends are buried at is to be redeveloped. The letter asks him to make arrangements to move the bodies. Who has found him under his assumed name for the last 35 years?
He returns to Manhattan and stays with "Fat Moe" in an apartment above the restaurant "Moe" owns.
"Noodles" visits the cemetery and discovers a key to the locker the old gang used for their money. He goes to the train station and finds the locker and with the key opens it. Inside is a suitcase full of money, but with an ominous note saying the money is a down payment on
"his next job!"
"Noodles" hears about an assassination attempt on the corrupt "U.S. Secretary of Commerce Christopher Bailey".
"Noodles" now goes to the retirement home, owned by the "Christopher Bailey Foundation", that "Carol" is living at.
She now reveals that "Max" planted the idea of "Carol" and "Noodles" tipping off the police, because he didn't want to become insane and die the way his father had in an asylum. The police were going to arrest the three friends, but "Max" deliberately opened fire on them so they would kill him.
"Noodles" sees a photo of "Deborah" standing next to "Bailey" at the dedication of his foundation in "Carol's" room. He tracks her down and finds "Deborah" still an actress.
He questions her about "Secretary Bailey" and mentions receiving an invitation to a party he's giving at his estate. "Deborah" claims she's never met the Secretary and to leave her by the back exit. Standing at her dressing room door is "Christopher Bailey's" son
"David",
named after "Noodles", and bearing a strong resemblance to "Max" and is
also played by Rusty Jacobs.
At the party "Noodles" is taken to a private room to meet "Secretary Bailey". Who is, of course, "Max".
He explains that some corrupt police officers helped him fake his death. So he could steal the gang's money, make "Deborah" his mistress, and become "Christopher Bailey". A man with strong connections to the "Teamsters Union", but those have gone sour and explains the attempted assassination
Faced with more attempted assassinations from the "Teamsters", "Max" asks "Noodles" to kill him. It was "Max" that tracked him down and left the money for
"his next job".
"Noodles" keeps referring to him as "Secretary Bailey" and refuses to end "Bailey's" life, because "Maximilian Bercovicz" died with the gang in 1933.
As "Noodles" leaves "Bailey's Estate". He sees "Max" standing in the drive-way's gated entrance and hears a garbage truck start up. As "Max" walks towards "Noodles", the truck passes him. "Noodles" hears the auger grinding down the rubbish, but "Max" has disappeared.
The film now returns to
1933
with "Noodles" entering the opium den just after his friends death.
Was all of this nothing more than an opium induced dream? What about the three thugs and if he killed only one. What happened with the other two? The ending confused "The Ladd Company" and was eliminated.