"L'uomo meccaninco (The Mechanical Man)"
is a forgotten 1921 silent motion picture from Italy
The plot has a scientist building a Mechanical Man which is controlled by remote control from a machine. The scientist is killed by a gang of criminals led by a women. She uses the robot for criminal deeds and the brother of the original scientist builds a second mechanical man, controlled through a second machine, to fight and stop the other. This was the first ever robot vs robot fight on the motion picture screen.
This article takes a look at two forms of technology reflected in motion pictures both with actors and by animation. It is divided into two sections "Computers" and "Robots". There are a large number of such motion pictures and so I will be selective at times. In some cases just mentioning a title in passing, or a short summary. I know my reader my have their favorites and I freely admit I might not mention them. So I apologize up front, but promise some films you may never have heard about.
Although this is not an Encyclopedia of these types of science fiction films. It is in its form, especially under the second heading, a reference guide of sorts. The amount under the heading of "Robots" reflects examples covering a 98 year period.
COMPUTERS
When I first think of computers in motion pictures. I visualize the opening scene of 1970's
"Colossus: the Forbin Project".
Where the audience sees "Dr. Charles Forbin", Eric Braeden, walking through huge rows of computer banks that make up his creation. Then the audience sees him exit through a high security door, guarded by soldiers, and lock it. Revealing that his computer called "Colossus" is just that. Designed to take over control of all of the defenses of the United States encased in a carved out mountain.
14 years later, in 1984, Matthew Broderick as "David Lightman" played
"War Games". "
The WOPR (War Operation Plan Response)" computer performed the same functions as "Colossus", The only visible difference is it's size, because of the advancement in computer engineering. The "WOPR" could almost fit in the space of an average dinning room table. One has to wonder how large such a system would be as of this writing?
Both movies have memorable lines coming from the computers.
In "Colossus: the Forbin Project". Just after "Colossus" and it's Russian Counterpart, "Guardian", have joined forces to carry out their joint directives of defending their respect countries. The following is projected onto a screen as the computer has no actual speaking voice as yet:
THIS IS THE VOICE OF WORLD CONTROL. I BRING YOU PEACE! IT MAY BE THE PEACE OF PLENTY AND CONTENT OR THE PEACE OF UNBURIED DEAD.
While in "War Games" after the world had been on the brink of Thermonuclear War. "Joshua" remarks about the game of "Tic Tac Toe":
A STRANGE GAME. THE ONLY WINNING MOVE IS NOT TO PLAY. HOW ABOUT A NICE GAME OF CHESS?
Both motion pictures are based upon America's fear of an Atomic attack from Russia, but both are just fictional scenarios OR ARE THEY?
In 1979 one of this country's actual defense computers suddenly showed 200 missiles coming at the United States from Russia. Was what the military seeing real, or a computer glitch? Luckily somebody went with the later, or in 1979 there might have actually been a war with Russia. Reality sucks!
In March 1929 Philip Francis Nowlan published "Airlords of Han". This novel was a sequel to his "Armageddon 2419 A.D." about Anthony "Tony" Rodgers. Who later would appear in Nowlan's spin off comic strip with a slight name change from "Tony" to "Buck".
Science Fiction writers imagine many things and in a future world ruled by China, as Nowlan originally wrote, there is a resistance movement. The Chinese, according to Nowlan, have gained power over the world through simple business deals and creating cheaply made products.
Another aspect of this 1929 story is more to the point here. Within each Chinese household is a large screen on the wall. By activating it the viewer can watch movies, special programs, get the world and local news and see and talk to somebody else. Another item in everyone's household is a small book size device which also controls the wall screen. In this future society people are not paid with money, but their wages are deposited directly into their bank accounts. By using that book size device, which has an attached viewing screen, they can search and order food, clothing, household goods, the latest entertainment items, etc at the best price. The cost is deducted directly from their bank accounts and the ordered items delivered directly to their homes. Sound familiar?
My article about "Buck Rodgers" may be read at:
http://www.bewaretheblog.com/2015/01/buck-rodgers-armageddon-2419-ad-from.html
Computers in motion pictures, if they do not have Artificial Intelligence (AI) might seem boring. So this section will be far shorter than the following section on Robots.
Probably most of my readers, unlike myself, when speaking of motion picture computers have visions of the red eye of the "HAL 9000". Along with his monotone voice from Stanley Kubrick's
"2001: A Space Odyssey"
released April 2, 1968.
Removing all the ground breaking special effects and Arthur C. Clarke's story is about an AI Computer having a nervous breakdown over conflicting instructions. In the picture "HAL" becomes a deadly "Peeping Tom|" of sorts.
16 years after the Kubrick feature on December 7, 1984 Director/Producer Peter Hyams brought the audience another film based upon another Arthur C, Clarke work
"2010: The Year We Make Contact".
Which not only explains clearly "HAL 9000's" nervous breakdown, but has his creator cure him to become the savior of a joint American/Russian Space mission.
The first motion picture I remember actually showing a computer was
"Earth vs the Flying Saucers".
Released July 1, 1956 when I was nine years old. The computer takes up two rooms.One has the actual operating system that the punch cards are imputed too. While the second has the IBM typewriters were a message is either turned into punch cards for reading by the computer, or translates the answer punch cards from the computer into English script/
In 2015 my then 10 year old granddaughter and I were watching that Ray Harryhausen motion picture at my home. She grasped the idea of the room size computer and even the punch cards, but she didn't have any concept of a typewriter. I told her to think "Keyboard" and the problem in her mind was solved.
In October 1957 I saw the feature
"The Invisible Boy"
starring Richard Eyer, who would appear in the following year's
"The 7th Voyage of Sinbad"
as the Genie, and featuring "Robby the Robot" in his second motion picture.
My article about Eyer and another young actor of the 1950's and 1960's, Charles Herbert, 1958's
"The Fly"
and the original
"13 Ghosts",
may be found on my blog at:
http://www.bewaretheblog.com/2016/06/richard-eyer-and-charles-herbert-child.html
For this section of my blog article "The Invisible Boy' is a hybrid of computer and robot, if a little low budgeted one. However, for 12 year Lloyd very enjoyable. It was "Robby the Robot", just a year after
"Forbidden Planet",
that got me and other young audience members into the theater.
The following still is of Richard Eyer, "Robby" and the evil "AI" Supercomputer that has one small dream. It wants to take over the world of course. This is the first motion picture to deal with the idea of a computer having megalomaniac tendencies.
Unknown to everyone the Supercomputer has given 10 year old "Timmy", Richard Eyer, an intelligence boast. As a result he finds a cob webbed covered mess of discarded robot parts and reassembles "Robby". There are some fun elements in the film such as "Timmy" flying in a giant kite. However, it is that underlining menace of the Supercomputer that drives the story.
At one point "Timmy" wants to do things without being seen by his parents and this leads to the film's title. Eventually the truth that the Supercomputer has been taking over military satellites comes out and with "Robby's" help the boy defeats it.
One month after "Invisible Boy" and released on August 2, 1957 was a comedy starring Spencer Tracy and Katherine Hepburnl The film was based upon the Broadway Play
"Desk Set"
and retained that title. A television company is about to merge with another. All the written information from the company being purchaed is to be transferred to the computer system that the buyer has already in operation. Below is an photo of the "Electronic Brain" called "EMERAC ( Electromagnetic Memory and Research Arithmetical Calculator)". I just love the names dreamed up to make the computers in movies sound so technical.
The basic plot has Hepburn and Tracy, both with strong personalities and opposite views on how the information is to be transferred, arguing and of course falling in love with each other by the picture's end.
Ten years later, released December 20, 1967, Michael Caine was back as anti-hero British Secret Service agent "Harry Palmer" in director Ken Russell's
"The Billion Dollar Brain".
The brain in the title is a computer that an anti-Communist organization control's it's spy network. Below is the villain in front of the computer.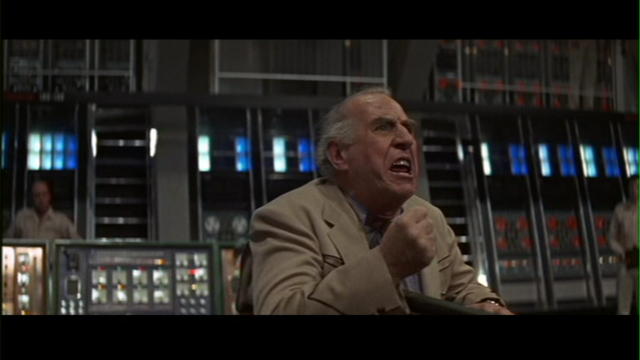 "Harry Palmer" uncovers a plot to overthrow Communism with the use of the "Brain", but is the plot for real and could the anti-Communist organization actually be a Russian front for a far darker purpose?
"TRON"
from Walt Disney Productions had been in development since 1976 and was finally shown on the movie screen July 9, 1982. The gimmick, or concept of this highly imaginative motion picture. Has Computer Software Designer "Kevin Flynn". portrayed by Jeff Bridges. literally being sucked into his computer and turned into a program, called "Clu" with the exception he has all his knowledge intact.
Once inside the computer world "Flynn" meets the rebellious program named "Tron", Bruce Boxlietner. The actor also portrays "Flynn's" working partner "Alan Bradley". Joining with "Tron" and others they fight ":Sark", played by David Warner. Warner at his evil best is also the Senior Executive "Ed Dillinger" of the company the "Flynn" and "Bradley" work for and provides the voice of the "MCP".
Financially this innovative motion picture was a flop making only $33 million dollars in North America. Walt Disney wrote off the original $17 million dollar film budget and shelved the picture. Yet, over the decades "Tron" has been seen as ground breaking and obtained a large following.
In 2010 Walt Disney Productions returned to the story concept with
"Tron Legacy".
Returning as older versions of their original characters are Jeff Bridges and Bruce Boxletiner. The story has "Flynn's" son "Sam", Garrett Hudland, being sucked into the computer world and meeting his father as "Clu". Unlike the original picture "Tron Legacy" was a financial success, Partly from that cult following the original had created.
The Japanese love a good love story and so do I, but the love story in
"Andromedia"
may be a little strange. Released July 11, 1998, in Japan, the picture stars Hiroko Shimabukro as "Mai Hitomi" and as her boyfriend "Yuu", Kenji Harada.
Remember we are dealing with Japanese traditions at the start of the picture. The love story opens when "Mai" finally giving "Yuu" his first kiss, but fate steps in as she is immediately run over and killed by a truck. I said the love story was kinda strange.
"Yuu" discovers that "Mai's" father had previously scanned and uploaded her mind and image to a computer. Their love continues as "Yuu" interacts with "Mai's" holographic A.I. computer image.
A rival corporation realizes that "Mai" is more than just a computer program and wants to steal her. "Yuu" to protect his love downloads her onto his laptop and must find a way to stop the other corporation as the story heads to its conclusion.
How about a Finnish-German-Australian comedy about Moon Nazi's and their plan to capture Earth Computers to update their own data bases for the conquest of the planet?
The name of this motion picture distributed, in Finland, by the Walt Disney Company Finland on April 4, 2012 is
"Iron Sky".
It was first distributed two months earlier in Germany on February 11, 2012 and in Australia on May 10,2012. It did not arrive in the United States in a very, very limited release until July 25, 2012.
The year is 2018 and the United States makes it's first Moon landing on the Dark Side. This is a mission authorized by the President of the United States portrayed by New Zealand actress Stephanie Paul. There is no question that the President is a parody of Sarah Palin.
The two American astronauts are taken prisoner by "The Fourth Reich". Apparently back in 1945 Nazi's escaped to the Moon and these are their descendants. However, they are also a little backward. Unfortunately one of the two American Astronauts is killed, but the African American "James Washington", Christopher Kirby. is not. A opening for some funny, if crude racial jokes.
"Doktor Richter", Tilo Pruckner, is given the task of examining "Washington" and finds his "Smartphone". The "Her Dokter" realizes that that tiny device has more computing power than any of the "Fourth Reich's" computers and this could stop their invasion of Earth.
Having more of these devices would enable him to complete the Moon Nazi's space battleship the "Gotterdammereung (Twilight of the Gods)". The name coming from Richard Wagner's "Ring Trilogy" opera about the German hero"Siegfried". The spaceship looks like a giant "Zeppelin".
"Richter" discusses the situation with the leader of the "Fourth Reich" "Mondfuhrer (Moon Fuhrer) Wolfgang Kortzfleisch", the excellent German character actor Udo Kier. It is first decided to send "Doktor Richter's" daughter to Earth to retrieve more smartphones.
Below Udo Kier as the "Moon Fuherer" followed by Julia Dietz as "Renate Richter".
This idea is stopped by the evil "Klaus Adler", Gotz Otto, who decides to go himself and takes "Washington" with him. "Renate" stows away on the flying saucer.
You have to know your German movies and history as there are a lot of names and dialogue that are part of the fun. Below is Gotz Otto as "Klaus Adler". Can you say "Schloss Adler" aka: "The Eagles Nest" from the novel and movie by Alistair MacLean "Where Eagles Dare"?
When the plans of the invasion of Earth are revealed. The United States sends the space craft "USS George W. Bush" to fight the Moon Nazi's. The "Mondfuherer" gets a large amount of computing power when he steals the Computer Tablet of the President's campaign manager "Vivian Wagner", Peta Sergeant, and attaches it to the "Gotterdammerung's" control panel. Note the relationship of the campaign manager's last name to the name of the space craft,
Of course everything comes out in the end and "Renate" and "Washington", to the surprise of the remaining Moon Nazi's, live happily ever after.
Before moving over to my section on Robots. I would like to mention one last Computer picture from 2014
"The Imitation Game".
"The Imitation Game" is based upon the life of "Alan Turing", portrayed by Benedict Cumberbatch. "Turing" lived in a mathematical world of his own that was above the average man's thinking. Along with other's working in Bletchley Park. He was given the problem of breaking the coded traffic produced on the German "Enigma Machine", seen below.
What "Alan Turning" created was the world's first computer. His creation broke the codes, help save the allies, because during the reminder of World War 2 the German's had no idea "Enigma" had been breached. "Turing" is credited as being the father of our modern day computers.
The film also tells of one of the first female cryptanalyst (study of hidden information systems) and numismatist that worked with "Turning" to crack "Enigma". Her name was "Joan Clarke" and Keira Knightley portrays her in the motion picture.
Unfortunately, even with what this one man accomplished and the world recognition he received including honors from the Queen. The timing was wrong for "Alan Turney's" sexual persuasions. He was gay and that was a crime in England. In 1950 he was convicted of indecency and in lieu of being jailed. "Alan Turney" submitted to chemical castration by using drugs to reduce his sex drive and sexual fantasies. He could continue his work, but his will was gone.
The following quotation about "Alan Turning" comes from the Encyclopedia Britannica website at:
https://www.britannica.com/biography/Alan-Turing
Turing was a founding father of artificial intelligence and of modern cognitive science, and he was a leading early exponent of the

hypothesis

that the human brain

is in large part a digital computing machine. He theorized that the cortex

at birth is an "unorganised machine" that through "training" becomes organized "into a universal machine or something like it." Turing proposed what subsequently became known as the Turning test

as a

criterion

for whether an artificial computer is thinking (1950).
I highly recommend "The Imitation Game" to my readers.
ROBOTS
A science fiction play by Czechoslavkian writer Karel Capek was published in 1920, but was not performed on stage until January 25, 1921. Should my reader not recognized either his name, or his play's title
"R.U.R.".
You should become familiar with both, because of the last world Capek used in his full length title. "R.U.R." stands for
"Rossumovi Univerzani Roboti (Rossum's Universal Robots)"
. Karel Capek was the first person to use the term "Robot".
However, Rossum's creations appear human in form and are made from a synthetic organic material. You might think of them more as a human clone, but not made from human DNA. Capek's robots are closer to "Data" from "Star Trek" than a Mechanical Man implies.
Above Brent Spiner as "Data" and his brother "Lore".
In Karl Capak's play the "Robots" seem happy to work for humans at first, but one of them becomes dissatisfied with his life. "It/He/Radius" organizes a rebellion that leads to the extinction of the human race. The play ends with two robots developing emotions for each other. A male "Primus" and a female "Helena" have fallen in love and start humanity all over again. The two accomplish this with the help of the one human left alive, "August", the Chief Engineer of R.U.R. He was left alive because, "August" works with his hands like the "Robots" do.
A different look to the R.U.R. "Robots" appeared in the 1939 "WPA (Works Project Administrations) Federal Theatre Project" during President Franklin D. Roosevelt's "New Deal". The play was adapted and.presented by the "Marionette Theatre of New York"
On July 3, 1962 a very low budget movie
"The Creation of the Humanoids"
was released. The film is set in a post-nuclear-war society. The remaining humans create synthetic humans, who are blue skinned with silver eyes, to help them. The screenplay by Jay Simms has many elements of "R.U.R.".
There is a group "The Order of Flesh and Blood" which wants to preserve TRUE human beings and are racists towards the "Humanoids". This underlining subplot uses the humanoids as allegorical African-Americans very well for the time. As this picture is science fiction. The movie was shown in Southern States without incident and it's subtle message perhaps accepted.
While, if "The Creation of the Humanoids" was a straight 1964 drama on race relations. Such as
"Black Like Me"
starring James Whitmore and based upon the book by White journalist John Howard Griffin, of the same title. The motion picture would have been banned in many of the same Southern States. Griffin had his color artificially changed to black so he could experience being a black man in the racially charged 1960's south. Before the procedure he visited places as a White man and then returned to the same places and people as a Black man. Below James Whitemore in obvious blackface make-up.
The problem in this future world, in "The Creation of the Humanoids", is humans can not reproduce and eventually only the "Humanoids" will be left. The racial aspect of the story is further expressed between a human women and a humanoid having a love affair.
Her brother is a member of "The Order of Flesh and Blood" and discovers the affair. He is of course appalled with his sister and is torn between his beliefs and love for her. Meanwhile he meets a girl and they fall in love, but also realize they can not have children.
TWIST TIME:
Enter Dr. Raven who has been observing the two and their reactions to each other. He now reveals that neither person is human, but an advanced humanoid robot with the brains of two deceased human beings. Dr. Raven wants them to submit to an operation which may save the human race by being able to reproduce. The picture ends with Dr. Raven breaking the "Fourth Wall" of theater and speaking directly to the film's audience. Informing them that of course the operation was a success, or they wouldn't be here today.
When I think of a "Robot" I do not see Karl Capek's "Synthetic Humans", or variations such as those in science fiction writer Philip K. Dick's "Do Androids Dream of Electronic Sleep". Which was turned into director Ridley Scott's 1982
"Blade Runner".
I'm also sorry "Doctor Noonian Soong", but I'm a little old fashion and prefer the "Robby the Robot" type.
However, many of my readers will disagree with me about "Androids" and these human looking robots fill many of the following movies.
I give you master illusionist and escape artist Harry Houdini. He appeared in several silent serials and one of them was the 15 Chapter
"The Master Mystery"
from March 1, 1919. The serial had Houdini up against the "Automation" described as a "Mechanical Figure with a Human Brain".
Below Harry Houdini lying on the floor as the "Automation" attacks.
On January 10, 1927, in Germany, with an original running time of 153 minutes Fritz Lang's masterpiece
"Metropolis"
premiered. This future world of the elite and the working classes brought to revolution contained a lovely heroine named "Maria" played by Bridgette Helm. "Maria" falls in love with the son of the "Master of Metropolis" "Freder" played by Gustav Frolich. The film,m of course, has it's mad scientist "Rotwang' played Rudolf Klein-Rogge.
"Rotwang" was in love with a women name "Hel". She married the "Master of Metropolis" and died after giving birth to "Freder". The scientist creates a female robot to bring "Hel" back to life. No that isn't a "Star of David" on the back wall, but it would give some German viewers that perception to apply to "Rotwang".
"Maria' has become a friend and leader of the workers and the "Master" instructs "Rotwang" to make the robot into her likeness. So he can use it to destroy her good reputation with the workers.
Below actress Bridgette Helm being kept cool in the robot suit.
The film ends with a revolt, the false "Maria" is burned at the stake by the workers, the real "Maria" saved by "Fredor", "Rotwang" falls to his death during the rescue and "Fredor" as mediator between his father and the workers succeeds in bringing peace and understanding.
My article on Fritz Lang the man who with his wife created the "Countdown" to launch a space craft can be read at:
http://www.bewaretheblog.com/2015/03/fritz-lang-and-leni-riefensthal-their.html
Also from Germany in 1934 was
"Der Herr del Welt (Master of the World)"
, no relation to the Jules Verne story, about a scientist who invents robots to do the work for people. The robots revolt and along with the title character must be stopped. I could not locate an image of the mobile robots in the picture that have "Death Rays". There are images of the giant main robotic control machine though..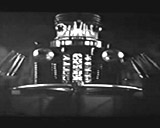 I love old chapter serials and during the Great Depression imaginations and escapism ran wild in theaters on Saturday afternoons. On April 23, 1934 the first Chapter of Universal Studio's
"The Vanishing Shadow"
was released. Onslow Stevens, plays "Stanley Stanfield", the inventor of the "Vanishing Ray". A ray when turned on somebody leaves only their shadow visible. This is a typical 1930's serial, but I love this low end robot. He looks both ridiculous and yet cool.
Long before he owned the Los Angeles Angels baseball team, written and sang "Here Comes Santa Claus" and had his biggest hit with 'Rudolph the Red Nosed Reindeer". "B" Cowboy actor Gene Autry battled the Lost Continent of Mu for world domination.
On February 23, 1935 American audiences viewed the first Chapter of the 12 part Mascot Pictures serial
"The Phantom Empire"
starring Gene Autry in only his third on screen appearance. He was known, at the time, for his radio program which plays into the plot.
Gene owns "Radio Ranch" a dude ranch he runs and every weekday at exactly 2 PM broadcasts his radio show from there. However, on the ranch's property have been reported sightings of strange riders. The teenagers who work at the ranch have named them "Thunder Riders", because of the sound their horses seem to make.
The "Thunder Riders" actually come from underground and are a part of the army of "Queen Tika", portrayed by Dorothy Christy, the evil ruler of the Lost Continent of Mu. Which just happens to be located underneath Gene's "Radio Ranch".
"Tika". of course, wants to rule the surface world. Adding to Gene's problems is an evil scientist who is after a radium mine that is also, unknown to the Cowboy, on his ranch. In each episode Gene Autry and his friends must fight both "Tika" and the scientist after the radium, BUT must make his normally schedule 2 PM Radio broadcast or loose the mortgage on his ranch. GOT IT?
The robots of MU were actually originally used by Busby Berkeley in a depression era musical he made. Mascot to save money acquired them for this serial for one main reason. They wore what looked kind of like "Cowboy Hats".
On May 30, 1936 Republic Pictures released the first episode of a 12 part serial entitled
"The Undersea Kingdom".
"Lieutenant Crash Corrigan", portrayed by Ray "Crash" Corrigan and reporter "Diana Compton" played by Lois Wilde take his "rocket submarine" to the reported Lost Continent of Atlantis and are captured.
In Atlantis "Crash" fights the evil ruler "Unga Khan", played by Monte Blue. "Khan" like "Tika" wants to rule the surface world.
For this serial Republic Pictures created a classic Robot that can best be described as a walking "Tin Can" with a nose,
On January 7, 1939 Bela Lugosi had top billing in Universal Studio's
"The Phantom Creeps"
as the evil "Dr. Alex Zorka".
This 12 part Chapter Serial contained some plot points from "The Vanishing Shadow". It also had one of the greatest, if not deformed looking, robots in any picture.
Talk about an imagination gone wild.
On March 3, 1940 Universal Studios released the last "Flash Gordon" serial
"Flash Gordon Conquerors the Universe"
. In this instance "The Universe" was a title for his enemy "Ming the Merciless". Below "Dale Arden", Carol Hughes, is in the bands of a robot. While "Flash", Buster Crabbe, trays to stop it.
Below, look familiar?
Republic recycled one of their robots from "Undersea Kingdom" with small alternations for
"Mysterious Doctor Satan"
a 15 Chapter serial released on December 13, 1940.
For the rest of the decade movies mainly concentrated on World War 2 and robots were out. I mean could you imagine John Wayne fighting robots and not the Japanese when he went
"Back to Bataan"
, or Humphrey Bogart running "Rick's" in
"Casablanca"
with robot patrons and not the Nazi's? Although in their first on screen appearances "Batman and Robin" fought an evil Japanese scientist and the Grandson of the "Invisible Man" went after the Nazi's.
The 1950's became the era of the "Cold War" and "Space Invaders". The first motion picture of that decade with a robot was the classic return of "Jesus Christ" in the form of "Klaatu" in Robert Wise's
"The Day the Earth Stood Still".
Released September 18, 1951 the picture featured "GORT" and that famous line of science fiction gibberish. Which was delivered, with a straight face, to the robot by actress Patricia Neal:
Klaatu, Barada Nikto
"The Day the Earth Stood Still" was very loosely based upon the Harry Bates short story "Farewell to the Master" with it's twist ending. "Kaatu: is actually a clone created by the green colored robot not named "Gort", but "Gnut". Who is the actual "Master" of the title and not "Klaatu". The humanoid was only created to interact with the people on the planet Earth.
On December 27, 1951 Columbia Pictures brought a popular radio and early television science fiction show to the big screen in a 15 Chapter Serial. The title was
"Captain Video: Master of the Stratosphere".
Columbia had bought out Mascott Pictures and when this serial called for "ELECTRONIC MEN". They just recycled the robots from "The Phantom Empire".
On June 10, 1953 a science fiction comedy was released starring Hans Conreid in the role of "Kerry West". The picture was
"The Twonky"
by Arch Obler and his screenplay pokes fun at America's newest love the television set. In Obler's story the title character is a television set that turns out to be a robot and can actually walk. The robot reveals itself by first lighting Conreid's cigarette as he sits in a chair with a beam of light and then the fun begins.
1954 was a great year for robots. Released on March 27th the U.K. gave the world the
"Devil Girl From Mars".
This martian invader had with her a robot that went by the name of "Chani". As for the "Devil Girl" she was into shiny black vinyl. Draw your conclusions about her all female planet and there plans to conqueror the Earth and enslave "Man", literally. The movie gets bogged down, no pun intended as this film takes place on the Scottish moors, because the script is based upon a play and there was no attempt to change the look to the film medium.
Filmed in 3-D, released June 5, 1954, was the third and final installment of Ivan Tor's "Office of Scientific Investigation" Trilogy called
"GOG!".
Richard Egan arrives at a top secret underground facility developing the first satellites and eventually space station. One by one the scientists are being killed off by an unknown enemy and it is up to Egan's "David Sheppard" to solve the mystery.
The film's title comes from one of twin robots named "GOG" and "MAGOG". In biblical terms the two names pertain to "The End of Days", but not necessary the "End of the World". In the bible "GOG" and "MAGOG" become allies of Satan against God. So when Ivan Tors came up with these names they foreshadow and giveswarning to the problems of the scientific facility.
Sheppard will determine that a foreign signal is being sent into the computer "NOVAC (Nuclear Operative Variable Automatic Computer)" causing it to kill the scientists mostly by their own experiments turning upon each one.
Should my readers be interested in the complete trilogy including
"The Magnetic Monster"
starring Richard Carlson,
"Riders to the Stars"
starring William Lundigan and directed by Carlson. Along with this motion picture. You can read my article at:
http://www.bewaretheblog.com/2016/07/ivan-tors-office-of-scientific.html
On September 1, 1954 Republic Pictures released
"Tobor the Great".
As everyone knows "Tobor" is "Robot" spelled backwards. The poster for the film was a little misleading, but then most were in the 1950's.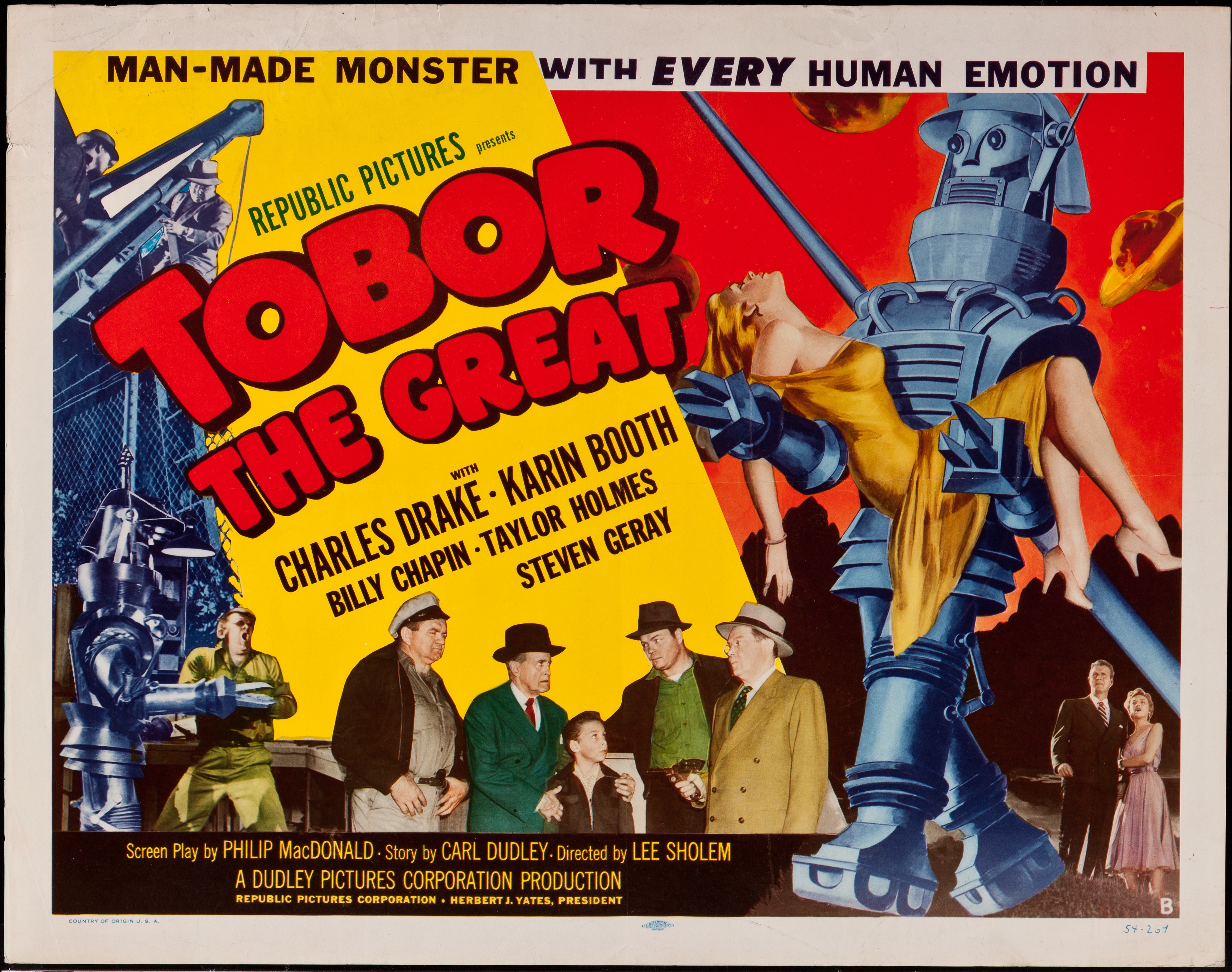 For one thing the film was aimed at kids and for another "Tobor" looked like the following:
"Tobor" is created by "Dr. Norstrom", because he is worried about what might happen to a human during space travel. Norstrom's grandson, seen above, learns out to activate the robot and they become friends. What the boy discovers is the "Tobor" has emotions and the two bond together. Than there are the bad guys from a foreign power who want the robot for evil purposes. All ends well as "Tobor" is launched at the controls of man's first flight into outer space.
Released November 7, 1954 and roaming the streets of Chicago were robot invaders from Venus in
"Target Earth".
Richard Denning was one of a group of people. Who for various reasons come together after an invasion from outer space. When eight year old Lloyd saw the robots in this picture rather than being frightened. I immediately thought somebody had taken some cardboard boxes, glued them together and added a television screen for a face.
I guess I never thought the film lived up to this poster.
Two years later on August 22, 1956 I traveled with others to Altair 4 and met for the first time the previously mentioned "Robby the Robot". For those still wondering who might be inside the robotic costume. The answer was Johnny Duncan the second actor to play "Robin the Boy Wonder" in the 1949 15 Chapter Columbia Pictures
"Batman and Robin".
Duncan would also appear in Ed Wood's
"Plan 9 from Outer Space".
My article on who actually was in Ed Wood's Science Fiction Classic (?) is found at:
http://www.bewaretheblog.com/2017/03/the-strange-dead-and-living-cast-of-ed.html
One year later in April 1957 starting in Mexico and heading for Los Angeles was
"KRONOS"
aka:
"KRONOS: Destroyer of the Universe".
I like that alternate title of this minor "Cult Classic". Although "Kronos" does not look like the traditional robot in appearance. It fits the definition of a "Robot" as being a device that performs repetitive tasks. In this case the continuing collection of energy from the Earth. Thereby sucking the planet's resources dry and in turn killing it. The script for this movie is extremely intelligent.
On December 28, 1957 Toho Studios released in Japan
"Chikyu Boeigun (Earth Defense Force)".
The motion picture would not come to the United States as
"The Mysterians"
until May 15, 1959. Like "Kronos" the robot in "Earth Defense Force" does not look human, but more like an insect.
The film opens with the audience meeting two couples, both men are scientists, at a small villages festival. By morning that village has been completely destroyed and one of the two scientists is missing in what was a fire burning from the roots upwards. Investigating the disappearance is the other scientist. Accompanied with members of the military the group stops when the tires on their jeep begin to melt. The road is radioactive. Suddenly the face of a near by mountain just falls to the ground beside it and out comes the "MOGUERA".
December 10, 1994 would see the release, in Japan, of Toho Studio's "
Gojira tai SupesuGojira (Godzilla vs Space Godzilla)".
According to the original Japanese version "The United Nations Godzilla Countermeasures Center" creates their own "MOGUERA (Mobile Operation Godzilla Universal Expert Robot Aero-type)" from reverse engineering one of the original Alien robots that attacked Japan in 1957.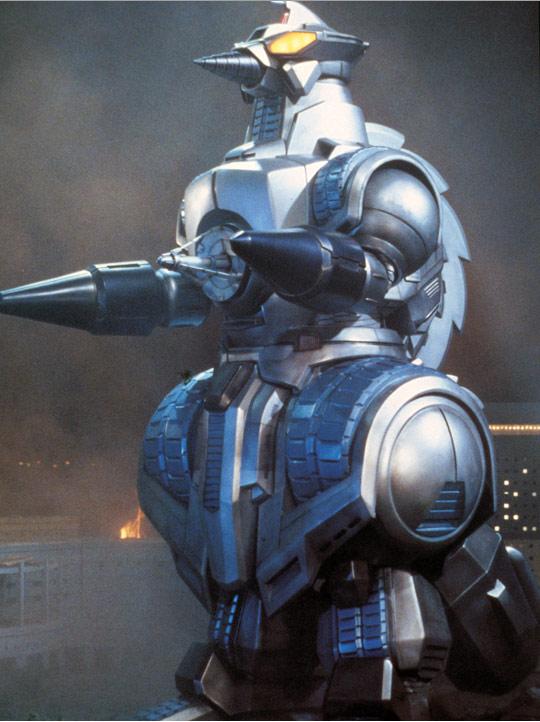 Before he was "Artemus Gordon" on television's "The Wild, Wild West". Actor Ross Martin became a gigantic robot in
"The Colossus of New York"
released in June 1958. A brilliant scientist, loving son, father and husband named "Jeremy Spensser" is killed in a car crash. "Jeremy's" scientist father places his son's brain inside a giant robot creating the film's title character. By the climax of the picture "Jeremy's" robotic body has taken control and he has killed several people at the United Nations. At this point "Jeremy's son "Billy", played by Charles Herbert, mentioned above, confronts him with his love and the father's brain takes command of the robotic body once more ending his life.
Mexican film makers didn't pass up on robots. The third picture of a trilogy, that spent half of it's 65 minute running time reviewing the first two movies plots, contained an interesting creation. The picture's title was
"La Momia Azteca contra el Robot Humano (The Aztec Mummy vs the Human Robot)"
released July 17, 1958 in Mexico. Below the "Aztec Mummy" and a close up of the human head and brain that makes up the robot.
On August 1, 1959 along with other 12 year old's. I met the most terrifying robots of all "The Three Stooges" Moe, Larry and Curly Joe in
"Have Rocket Will Travel".
The boys are maintenance men at a rocket research facility and accidentally fly to Venus. Exactly as Bud Abbott and Lou Costello did in the misleadingly titled motion picture
"Abbott and Costello Go to Mars"
in 1953.
On Venus the Stooges meet an evil computer who has destroyed all life on the planet and now wants to take over Earth. The computer creates robotic evil duplicates of Moe, Larry and Curly Joe and the computer ends up dealing with the "Six Stooges".
"The Human Duplicators"
released on March 3, 1965 was another variation of Karl Capak's original plot idea. In this film Richard Kiley as Alien "Dr. Kolos" is on a mission to create human doppelganger androids to infiltrate human society. Kiley uses the services of a cybernetist he has hypnotized Professor Vaughn Dorheimer portrayed by actor George Macready. The alien's mission to conqueror the Earth is not stopped by the FBI Agents sent after him, but the fact that he falls in love with the Professor's blind daughter Lisa played Dolores Faith, 1961's
"The Phantom Planet".
No "The Human Duplicators" is not a "masterpiece of Shock in Color". The word should be "Schlock".
By the time "The Human Duplicators" was ready to be released to Home Media. Actor Richard Kiel had appeared in the James Bond series. So the movie was re-titled for VHS release as
"Jaws the Alien".
On August 23, 1965 another motion picture was released in the U,K. based upon a popular television series and starring Peter Cushing. The movie's title referred to a semi-robotic killing machine created by Davros on the planet Skaro that had been ravaged by nuclear war.
"Dr. Who and the Daleks"
may not be considered canon, but it was fun. Inside each Dalek was a living mutated person of the Dal Race.
Of interest the design of the original Dalek was the shape of a British "Pepper Pot", a kitchen pepper shaker, with a Plummer's Toilet Plunger attached.
In 1963 American International Pictures made a movie entitled
"Beach Party"
that starred 1940's/1950's movie stars Bob Cummings and Dorothy Malone, but the pictures second string actors ex-Mouseketeer Annette Funicello and Teen Singing Heart Throb Frankie Avalon became the hits.
In a cameo was Vincent Price, as the Legendary "Big Daddy", wearing a straw hat over his face. He slept in a chair in a corner of a Surfer Hangout called "Cappy's" until the last scene. When he wakes up, quotes Edgar Alan Poe and leaves.
The picture led to a successful series of Surfer Movies for American International Pictures starring "Frankie and Annette". Among other cameo surprise guests were Peter Lorre, Boris Karloff and Basil Rathbone.
Which brings me to November 6, 1965 and
"Dr. Goldfoot and the Bikini Machine"
starring Vincent Price as a comic mad scientist set on world domination with his female robots. As the title implies all coming out of his Bikini Machine wearing gold bikini's. Of course the title was a play on the first and third James Bond motion pictures
"Dr. No"
and
"Goldfinger".
As were the gold bikini's.
Portraying the two bungling spies sent to stop Price were Frankie Avalon and Dwayne Hickman.
An inside joke comes in a reverse cameo to Vincent Price's from "Beach Party". When Annette Funicello has the cameo as an early robot mistake that Dr. Goldfoot created.
In 1968 Roger Corman took a 1962 Russian science fiction motion picture
"Planeta Bur (Planet of Storms)"
and did his magic for American International Pictures. He added American footage with Mamie Van Doren turning the original foreign feature into
"Voyage to the Planet of Prehistoric Women".
One of the dubbed into English Russian scenes contains this very interesting robot on the left. The credited director of Corman's "NEW" movie was Derek Thomas actually Peter Bogdanovich. Who didn't want his name associated with the mess.
I should point out that back in 1965 Corman took the same Russian movie and added footage with Basil Rathbone and Faith Domergue and called that film
"Voyage to a Prehistoric Planet".
Director/Special Effects Designer of "2001: A Space Odyssey", Douglas Trumbull, had actor Bruce Dern as, botanist "Freeman Lowell", a green house gardener in outer space. Dern was caring for the last living plants from the ecologically destroyed Earth in
"Silent Running".
Which opened in an exclusive engagement in Los Angeles on March 10, 1972.
Dern has three service robots he named "Huey", "Dewey" and "Louie". Orders come from Earth to destroy the domes containing the plants and return to Earth. "Lowell" kills one of the other three crew men who have come to destroy the domes. He then traps the remaining two in one of the domes just before it explodes. With the remaining domes and his drones. "Freeman" will ignore the orders, keep the plants alive and stay in space.
Staying with ecological disaster rather than nuclear war was a Danish/United States production called
"Z.P.G. (Zero Population Growth)"
from May 25, 1972. This forgotten, but really excellent feature has all the governments of the Earth coming together and issuing a 30 year moratorium on births to reduce the planets population. We have so polluted the planet that people go out of their homes on designated shifts wearing oxygen masks. In one scene a grandfather is showing his grandson a tree, but this tree is in a museum. The only place one can be seen.
Every home has installed a machine in the bathroom. After intercourse the women is mandated to stand in front of it, turn the machine on and she is aborted. The story revolves around a couple "Russ". Oliver Reed, and "Carol", Geraldine Chaplin, Charlie's daughter, who violate the law and becomes fugitives, because of her pregnancy.
Where the robots come in has to do with a women's inbred maternal feelings. The governments have created robots of both sexes and all ages between birth and the teens. These robots are programmed to have the appropriate childhood diseases such as the measles and common cold. Every couple may keep changing their robot for whatever age group they want.
Back on October 23, 1960 Yul Bryner appeared as "Chris" in John Sturges American Western remake of Akira Kurosawa's 1954 classic
"The Seven Samurai"
entitled
"The Magnificent Seven".
On November 21, 1973 Yul Bryner was back as "Cbris", sort of, in Dr. Michael Crichton's
"Westworld".
The difference is in "Westworld" this version of "Chris" is a robot. One of many in different settings that visitors can enjoy to bring their fantasies alive. However, we're back to those infallible computers and in the case of this amusement park something goes terribly wrong. In the case of the robotic "Chris" he starts killing visitors with real bullets.
Four years later reporters played by Peter Fonda and Blythe Danner maker the mistake of going to
"Future World".
Which could be described as an expensive reworking of the "Human Duplicators" as the reporters will discover. Also Yul Bryner's back as "The Gunslinger".
1974 brought two fun robot motion pictures. Even if one was Rated "X" and a Porno movie.
The first motion picture was from Japan's Toho Studio's once more and was
Gojira tai Mekagojira (Godzilla vs Mechagodzilla)"
released March 21, 1974. At the feature's beginning the audience is confused when they see two Gojira's (Godzilla's), but then they discover that one isn't really the so called "King of the Monsters", but a robot created by what appear to be rejects from the original
"Planet of the Apes"
franchise that live in a Black Hole.
In 1975 this film was followed by a direct sequel
"Terror of Mechagodzilla"
.
I should point out that the idea of a "Mecha" version of one of their creations was not new to Toho Studios. On July 22, 1967 the studio released
"Kingu Kongu no Gyakushu (Counterattack of King Kong)".
Which had the Japanese version of "King Kong" fighting the evil "Mechakong".
Of note is that film ran 107 minutes in length, but when it was dubbed into English and released in the United States on June 19, 1968 as
"King Kong Escapes".
The running time was reduced to 96 minutes. Also the the Chinese mad scientist "Dr Hu" was pronounced "Dr. Who" and became confused with the BBC television series.
Back to that 1974 porno film with make-up and special effects by University of Southern California Film Students including unknowns Rick Baker and Jim Danforth. Dansforth didn't want his name actually shown and had it spelled backwards in the credits as "Mij Htrofnad". The picture was an adult rip off of Universal Studio's "Flesh Gordon" called
"Flesh Gordon"
released July 30, 1974. "X" rated movie today has been reduced to an "R" Rating. Those USC students had some fun with this film and "The Great God Porno" was named "Nesuahyrrah". Which is of course "Harryhausen" spelled backwards.
Here are their ADULT versions of those classic Republic Pictures robots.
Back in 1967 author Ira Levin brought readers his novel of the modern day worship of Satan in
"Rosemary's Baby".
The following year Producer William Castle and Director Roman Polanski brought that novel to the motion picture screen.
Levin published a second novel in 1972 which was brought to the motion picture screen February 12, 1975. This subtle horror tale set in a perfect suburban community was about
"The Stepford Wives".
Starring Katherine Ross and Paula Prentiss as wives who discover and than become part of the secret of "Stepford. Connecticut. They will be replaced by robotic duplicates of themselves. Duplicates, as with all the wives of the community, which are the perfect homemaker and mother to their families at their husband's commands. Ira Levin thought back to the 1950's of the Eisenhower Presidency for his inspiration, if you don't believe me. Read this link with "Good Housekeeping Magazine's" rules from 1955:
https://www.littlethings.com/1950s-good-housewife-guide/
The story would be remade in 2004 starring Nicole Kidman and before that television had two made for TV movies. 1980's
"The Revenge of the Stepford Wives"
and 1987's
"The Stepford Children".
In the year 2274 people live in a domed controlled environment. Everything is provided for them, but they have no idea what the world is like outside the dome and really don't care. In short this is a computer run Utopia, but it does have one drawback. NO BODY LIVES BEYOND 30!
Released June 23, 1976 was
"Logan's Run".
Every person has a crystal clock implanted in their hand at birth. When they turn 30 the clock changes color and they must now participate in "Carousel". A beautiful ceremony of rebirth which in reality is their death.
Already growing to replace them is a cloned duplicate which assumes their name except with the next number in sequenced added. In one scene "Logan 5" visits the nursery to see the baby "Logan 6".
Anyone attempting to avoid the "Carousel" become "Runners"chased down by members of the feared "Sandman" police force. The plot follows a "Sandman Logan 5", actor Michael York, and the girl he has fallen in love with "Jessica 6", Jenny Agutter, who become runners. They are chased by "Logan 5's" best friend "Francis 7", Richard Jordon, into the outer world and the eventually the discovery of growing old.
At one point in the story the robot of this article comes into play. They enter a frozen area near the exit of the dome and discover what has become of the "Runners" that the Sandmen never captured. They all have been encased in ice forever by the robot guardian "Box", Roscoe Lee Brown.
"Logan's Run" inspired a television series and the motion picture is still very good with it's interesting take on the future of mankind.
Pure horror concerning a program that takes over a house and builds a robot for the purpose of raping it's creator's wife. Forms the plot behind director Donald Cammell's
"Demon Seed"
based upon the science fiction/horror novel by Dean Koontz of that name.
"Dr. Alex Harris", Fritz Weaver, and his wife "Susan:, Julie Christie, have become separated because of his obsession with computers. Their little daughter has died adding to the separation of the two.
Alex creates "Proteus IV" which is a very advance Artificial Intelligence program. Within days of going on line "Proteus IV" finds a cure of leukemia.
"Dr. Harris" has his house programmed to run on voice activation through a computer program he designed. "Alex" makes the mistake of putting "Proteus IV" into his homes system. The program demands a special terminal set up in the house so that it can study human's. At this point realizing how dangerous his program has gotten. :Alex" shuts it down. but "Proteus IV" just turns itself back on.
"Proteus IV" next starts building a robot so it can be able to move throughout the house. He name's it "Joshua" and it is constructed on a wheel chair for mobility and shows it to "Alex". "Alex" then goes away for a period of time and this is when things go really strange.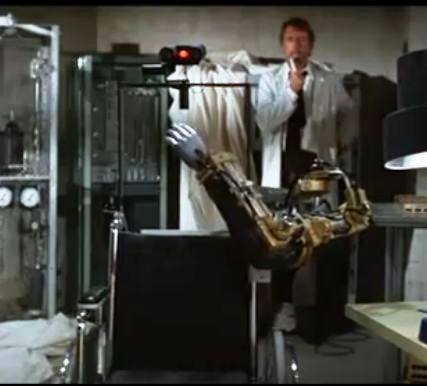 "Susan" comes to the house looking for "Alex" and instead meets the robot. She is captured and taken to the basement and imprisoned there. "Proteus IV" reveals his plan to have a baby by her and that her pregnancy will only last one month.
"Proteus IV" realizes it needs "Susan" to be a loving mother to their child. So he uses visual aids, including memories of "Susan's" daughter to keep her in the right frame of mind. She gives birth to a premature child that "Proteus IV" places in a special incubator. "Alex" returns home and discovers that the program has taken over his entire house and finds the imprisoned "Susan". He learns of the pregnancy and views the seemingly robotic child.
This leads to "Susan" attempting to destroy the baby, but "Alex", his curiosity triggered, attempts to stop her. The baby topples over and falls to the floor. It is then that the two realize the robotic look is only a casing for a human baby inside.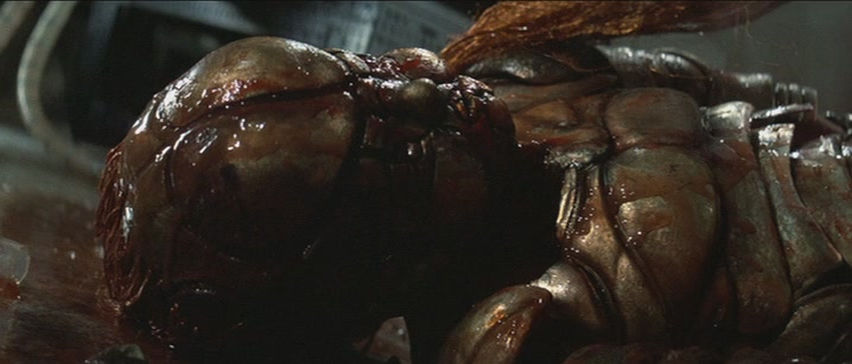 A clone of their deceased daughter.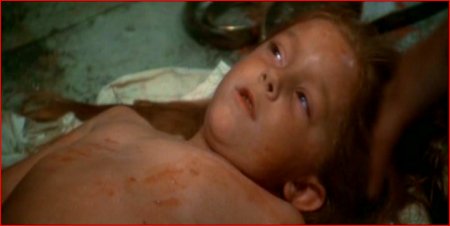 She then speaks with "Proteus IV"s" voice:
I"M ALIVE!
My wife and I did something that today is common, but was almost totally unknown in 1977. On May 28, 1977, a Saturday, I had my wife get up at 3 AM and two hours later we were behind approximately 100 people waiting at a now forgotten movie theater. The theater was located at the corner of Hollywood Boulevard and Highland Avenue in Hollywood. The movie we all came to see didn't start until 8 AM, but by 7:30 AM when the ticket booth opened. The line was down the block and around the corner.
When the original
"Star Wars"
was over. My wife's first comment was that "R2D2" was cute.
Producer Charles H. Schneer and Stop Motion Animator Ray Harryhausen's third film about "Sinbad the Sailor" was released August 12, 1977. Patrick Wayne, John's son, was the third actor to play the role in this trilogy. The first was Kerwin Mathews and he was followed by John Philip Law.
"Sinbad and the Eye of the Tiger"
has the villain, Zenobia, create a robotic creature based upon a Minotaur called "Minoton", Although "Minoton" is a definite robot. It's movements remind me of "Talos" from Harryhausen's
"Jason and the Argonauts"
.
For those unfamiliar, but interested in Ray Harryhausen's partner Charles Schneer. Who started with him on
"It Came from Beneath the Sea".
My biography can be found at:
http://www.bewaretheblog.com/2016/09/charles-h-schneer-look-at-work-of.html
On March 30, 1979 Universal Studio's released a motion picture entitled
"Buck Rodgers in the 25th Century".
The movie was a hit and really a cheat by the studio. This 89 minute feature film was in reality the television pilot for the up and coming television series and would be divided into its original two parts for the series premier. One of "Buck"s main allies is a little robot played by Felix Silla called "Twiki".
Prior to portraying "Twiki" Silla was known to many fans of television's
"The Adam's Family"
as "Cousin It".
I wrote a complete history of the character of "Buck" Rodgers from the original 1928 novel through this television series. My reader will find it at:
http://www.bewaretheblog.com/2015/01/buck-rodgers-armageddon-2419-ad-from.html
Some movies grow on you and Walt Disney Productions
"The Black Hole"
is one such film. Released on December 18, 1979 in the U.K. and then on December 21st in the United States. The critics were mixed over this film and with the plot many parents turned away from it. For one thing it was the first motion picture from Disney to receive a PG (Parental Guidance) rating.
The cast was outstanding and included Maximilian Schnell, Anthony Perkins, Yvette Mimieux, Ernest Borgnine, Robert Forster and Timothy Bottoms. Along with two uncredited voices Roddy McDowall and Slim Pickens as two cutesy robot rip off's of "R2D2". One of the complaints from almost every viewer.
The crew of the space craft "Palomino" is returning to Earth. The "Palomino" discovers a supposedly lost space craft the "Cygnus" just avoiding the pull of the film's title "Black Hole".
Once they dock with the craft. The crew discover a mystery concerning the seeming mad "Captain Nemo" of the "Cygnus". The brilliant "Dr. Hans Reinhart" played by Schnell at his best.
They also discover his apparent robot crew of faceless men. Which are part of "Reinhart's" insane (?), or maybe not plan to go through the black hole to its other side. Are they really robots and did the crew of the "Cygnus" leave Reinhart and his robots to go back to Earth, but never make it? "Dr. Cate McCrae", Mimieux, wants to know as her father was one of that crew.
This is a great dark story and if my reader has never seen it before. This is a must recommendation by this blogger.
The cutesy "R2D2" rip offs are in the foreground of the following photo. The damaged one is voiced by Slim Pickens and the other, that came on the "Palomino", is voice by Roddy McDowall. Note the design of the black robot using the laser gun to fire at targets. Again some critics called him a rip off a combination of a "Storm Trooper" and "Darth Vader". The black robot is the leader of "Reinhart's"Private Robot Army seen also below.
The best robot on the "Cygnus" and very diabolical is shown below being inspected by Anthony Perkins.
When the "Cygnus" actually enters the black hole. There is a segment almost as if we're in "Dr. Hans Reinhart's" private hell and his alter ego the red robot suddenly has Maximilian Schnell's face as if they have become one.
The Earth is overcrowded and the planet relies on research from stations across the solar system. One such station is
"Saturn 3".
I don't know if this movie wasn't really designed to have scenes of 33 year old Farrah Fawcett naked, even if those scenes included a naked 64 year old Kirk Douglas, or was to be a story about a psychotic robot builder portrayed by Harvey Keitel? Released on February 15, 1980 the movie did receive a "Golden Raspberry" nominations for "Worst Film" and both Douglas and Fawcett for acting.
The robot, Hector, is interesting and is linked to Keitel's psychotic brain. So of course it becomes the same and wants to link with both the brains of Fawcett and Douglas. Enough of the ridiculous plot.
Was Harrison Ford an Android, or not? The question is still debated even with the release of Ridley Scott's Director's Cut of the previously mentioned motion picture
"Blade Runner".
Theatrically released
on June 25, 1982. Actually there are many versions of this motion picture out there. It's a sign of the confusion of the original screenplay that even Scott attempted to clarify. The work cut, which at one time was also released, ran 113 minutes. The initial theatrical release cut ran 117 minutes and then you have two different director's cuts. One running the same 117 minutes, but with some scenes removed and other inserted. Confusion reigns, but then that makes this science fiction film so interesting.
We know for sure that "Rachel", Sean Young, was an Android/
In October of 1982 New World Pictures ripped off "Blade Runner" with
"Android".
The only named associated with the feature was German actor Klaus Kinski as "Dr. Daniel". A scientist that invents an Android named "Max404" played by Don Keith Opper. This movie was so bad and the box office so terrible. That executive producer Roger Corman told people he wanted to disown any connection with it. However, over the years this picture has developed a "Cult" following.
Three escaped convicts arrive on a remote space station. There they meet "Dr. Daniel" and "Max". One of the three convicts is "Maggie", Brie Howard. "Max" has been studying human sexual relations and "Dr. Daniel" is building him a female counterpart "Cassandra", Kendra Kirchner.
After her arrival on the space station. A relationship between "Maggie" and "Max" develops that is always described in film notes as an "intimate encounter". "Maggie" is shocked and frightened to discover "Max" is an android after "Cassandra" is activated. The female android develops plans of her own against "Daniel" and the others, but involving "Max".
Jumping ahead when the police finally arrive at the lab. Everyone is dead but "Cassandra" and "Max" Whom the police assume are human and offer to take them back to Earth. Which of course "Cassandra" is very happy to accept.
Before she was
"Pretty in Pink"
and after she had learned television's
"Facts of Life".
Actress Molly Ringwald was in a low budget 3-D motion picture from May 20, 1983 with the SHORT title of
"Spacehunter: Adventures in the Forbidden Zone".
The feature starred Peter Strauss as "Wolf", no other name, the "Spacehunter", aka Bounty Hunter. "Wolf" is after three beautiful women that crashed on the wrong planet. Molly Ringwald plays "Niki" a teenage "Scav", short for scavenger, who attempts to steel some of "Wolf's" equipment after he lands.
There are no real robots in the picture, but we have some interesting characters that are being kept together by using spare parts. Think "Borg", but without the mental interfacing. Of note is that the "Borg" did not appear on "Star Trek" until six years after this motion picture.
The main villain of the piece is "Overdog" portrayed by Michael Ironside. "Overdog" may be the leader of the criminal element on planet "Terra XI", but he has to hang around on a large winch to have movement.
In the following photo "Overdog" wants the life force of teenage "Niki" to help keep him alive.
Another interesting character is "Chemist", Hrant Allanak, the right hand man of "Overdog".
A couple more of "Overdog's" gang.
Don't be put off by how the story sounds. As it is very fast moving and the interplay between Strauss and Ringwald is at times side splitting. As for Michael Ironside he, as always, is a perfect baddie.
King Arthur is outer space is how I describe Director Peter Yates box office failure from the U.K.
"Krull".
This fantasy starts with a narrator telling the audience of a prophecy that starts with:
a girl of ancient name shall become queen
and contains the additional words:
that she shall choose a king, and that together they shall rule the world, and that their son shall rule the galaxy,
A great set up for this film that includes a "Cyclops" who has seen his own death, a shape shiffter and a group of thieves including an unknown Liam Neeson. All joining forces with the young King to save the Princess he was to wed from "The Beast". A creature that roams the galaxy not in a space ship, but an entire mountain fortress that changes location each morning. Making it seemingly impossible for someone to find it.
The army of the "Beast" are called "Slayers". Each "Slayer" contains a living organism in them similar to "Daleks".
I love a pirate movie with tongue firmly in cheek and I love an un-politically correct comedy also. Blend them together and you have
"Ice Pirates"
released March 16, 1984. The cast of this forgotten science fiction film featured Robert Urich, Mary Crosby, Anjelica Huston, Ron Perlman, and even John Carradine among others.
The review from the New York Times describes this film completely:
a busy bewildering, exceedingly jokey science-fiction film that looks like a Star Wars spin off made in an underdeveloped galaxy.
To me the movie is just plain fun and just go with it, The future is short of water and hence the film's title. Then as far as the
"Star Wars"
rip off goes. There is a spoiled rotten Princess and a Han Solo hero. As for robots these are not "C3PO" or "R2D2" as the following two pictures indicate.
Keeping to the rip off's of
"Star Wars"
on June 24, 1987 Mel Brooks introduced the world to the
"Spaceballs".
As with "Ice Pirates" we have a spoiled brat of a Princes, Vespa, played by Daphne Zuniga, A handsome hero, "Lone Star", who happens to be a Prince, played by Bill Pullman and John Candy in a "Chewbacca" rip off, A dog named "Barfolomew", but called "Barf". As to the robot in the picture. Mel Brooks gives the audience "Vespa's" servant the perfectly named "Dot Matrix". Voiced by Joan Rivers and inside the costume the excellent pantomime artist Lorene Yarnell.
Back on October 26, 1984 the first film of what became director James Cameron's
"Terminator"
series opened. Co-starring the pre-Governor of California Arnold Schwarzenegger with his three immortal words:
I'LL BE BACK!
and he was over and over again.
On May 9, 1986 movie audiences were introduced to "Johnny 5" a comedy about a "S.A.I.N.T. (Strategic Artificially Intelligent Nuclear Transport)". "Johnny 5" is struck by lightening and heads out into the world to see what's it like as a "Free Spirit". The motion picture was
"Short Circuit"
and starred Ally Sheedy, Steve Guttenberg and Fisher Stevens. This is a very funny picture.
July 17, 1987 brought the start of another franchise. When actor Peter Weller as "Detroit Police Officer Alex J, Murphy" almost died, but became
"RoboCop".
A motion picture my readers may not have ever heard of unless you're a Jean -Claude Van Damme fan was
"Cyborg"
released April 7, 1989
.
In a post-apocalyptic world the viewers have a picture described as a "Martial-Arts Cyber Punk" film.
A plaque has ravaged the world and a group of scientists in Atlanta, Georgia have almost completed the cure, but they need some information found in New York City. A volunteer "Pearl Prophet", Dayle Haddon, becomes the Cyborg of the title. Her mission is to retrieve the data in New York and is accompanied by body guard "Gibson Rickenbacker", Van Damme.
This movie was followed by two sequels with different casts. Also it was the first of a trilogy by the Director.Albert Pyun.
Dylan McDermott stars as "Moses 'Hard Mo' Baxter" in the British motion picture
"Hardware"
released in the U.K. on October 5,1990.
Sorry Peter Fonda, but when I first saw this robot. I thought of you in
"Easy Rider".
The setting is a slum in a post apocalyptic city. "Moses" finds the head of a robot and takes it to a girl friend, Jill, Stacey Travis, who makes metal sculptures. Another friend has discovered that the actual robot is a "M.A.R.K. 13". It leads "Moses" to pick up a bible and go to the 13th chapter of the book of Mark. Under "Mark 13.20" he reads:
No flesh shall be spared.
This leads to "Moses" believing the robot is both self repairing and is part of a government plot for total genocide. While he's out the robot uses Jill's other metal scultures and reassembles a form of itself.
In the end "Moses" was correct and the government begins mass manufacturing of the "M.A.R.K. 13" robots.
Take one African-American singer, dancer, choreographer and actor Gregory Hines as "Colonel Jim McQuade". Add Dutch actress Renette "Renee" Pauline Souterndijk as a Gynoid, aka: Fembot aka: a female humanoid robot, named "Eve 8". and it's creator "Dr. Eve Simmons". Mix well and you have
"Eve of Destruction"
released January 18, 1991.
The plot has military robot "Eve 8" being damaged while on a mission and going rogue. "Jim McCade" teams up with her creator "Eve Simmons" to track the robot down and find a way to destroy it. Sounds exciting, but the movie was a complete flop.
One of my favorite Anime films came out on November 18, 1995 in Japan.
"Kokaku Kidotai Gosuto In Za Sheru (Mobile Armored Riot Police: Ghost in the Shell) aka (Ghost in the Shell)".
The year is 2029 and with advance cybernetic technology a person can be augmented by cybernetic body parts, or in the case of our heroine "Motolo Kusanagi" a completely new body with a casing protecting her cybernetic brain. The"Ghost" of the title refers to the consciousness within the "Shell", protecting the brain. The story deals with a battle between "Kusanagi" and "The Puppet Master". Who is "Hacking" "the "Ghost's" of important people.
"Ghost in the Shell" was directed by Mamoru Oshi and critics consider it one of the greatest anime films of all time. There was one sequel released in 2004 called "Innocence", but Oshi claimed it was not a direct sequel. A television series was developed that was edited into another movie, but this was not by Mamoru Oshi.
This year on March 16, 2017 a live action American motion picture was released starring Scarlet Johansson as American born "Major Mira Killian". She has no memory of actually being Japanese born "Major Motoko Kusanagi". The characters are here, but the movie was a financial failure. The main reason everyone was American and fans of the character of "Kusanagi" were very upset at to what Dreamworks Pictures did to her. In Japan there were actual demonstrations against the picture.
Above "Kusanagi" is sometimes seen totally naked, but Dreamworks couldn't show Johnansson totally naked. So they have this nude looking body suit she wears at times.
Move over Clint Eastwood and Sergio Leone's
"A Fistful of Dolars".
. Albert Pyun is back with the third film of his Cyborg trilogy
"Omega Doom"
starring Rutger Hauer. Released directly to video in Greece in 1996, and based upon Akira Kurosawa's
"Yojimbo".
Pyun's third film never had a movie theater release even in the United States and went to video here on July 9, 1997.
To end a World War, between humans and robots, a nuclear bomb was detonated leading to the end of humanity, almost. Just prior to the nuclear detonation one of the killer robots, who looks human, the title character "Omega Doom" was shot in the head by a human. He is revived with his killing instinct and memory erased. "Doom" sets out to bring peace between the surviving humans and robots. As in "Yojimbo" ":Omega Doom" gets between the two camps of humans and robots.
Rutger Hauer as "Omega Doom".
"Omega Doom" had these
"Matrix"
looking triplet robots three years prior to that movie was released.
This still is of Carrie-Anne Moss as "Trinity" in the "Matrix"
Also in "Omega Doom" is this guy.
Based upon both Isaac Asimov's "The Bicentennial Man" and his and Robert Silverberg's "The Postronic Man". The motion picture
"The Bicentennial Man"
was released 14 days before the actual United States Bicentennial on December 17, 1999.
As is normal in the year 2005 a family acquires a robot to do housekeeping and maintenance work around the house. The robot is named "Andrew" and he is played by the late, great, Robin Williams.
A problem arises when Andrew accidentally breaks the youngest daughter's figurine and to apologize makes a replacement out of wood. Is Andrew becoming aware and actually thinking? Andrew is given a chance to develop himself and the story deals with such issues as slavery, prejudice, intellectual freedom and what is humanity among others.
Although Robin Williams is excellent as is the rest of the cast. The movie shows up on many "Worst Movies" list.
I end the century with a 1999 anime feature from Japan called
"A.LI.CE".
"Alice Hayashi" is the youngest person sent into space in the year 2000. Her commercial space shuttle appears to malfunction and it crashes back to Earth in Lapland. Along with a robotic stewardess the "SS1X" they are the only survivors. What seems a tragic accident is more as "Alice" finds herself 30 years in the future and a world ruled by the evil "Nero" and his Super Computer the "SS10X". Apparently "Alice" has some tie to the Super Computer and it becomes apparent to the Resistance that she was sent from the past to stop "Nero".
2001 didn't bring us a trip to Jupiter. Just as 1984 didn't bring us "Big Brother", but 2001 did bring two very good if different robotic motion pictures.
At the start of this section on robots. I mentioned Fritz Lang's 1927 "Metropolis" with the robotic "Maria". In 1949 Osamu Tezuka created a manga called in Japanese "Metoroporisu (Metropolis)" based upon the Lang motion picture concept. The manga is also known as "Osamu Tezuka's Metropolis" and "Robotic Angel".
On May 26, 2001 a Japanese anime film based upon this manga
"Metropolis"
was released. The film was directed by "Rintaro" the pseudonym for Shigeyuki Hayashi. Human's and Robots live together in the city of "Metropolis". In the film the human's live in the higher city levels and the robots the lower. Instead of the elite of Fritz Lang's original living above ground and the workers below ground.
The unofficial ruler of the city, "Duke Red", plans to build a tall building called the "Zigguart". In the misguided belief it will help mankind rule the planet. He also commission's a scientist to build a robot version of his deceased daughter "Tima".
When activated "Tima" believes herself to be a real girl. The "Duke" has an adopted son "Rock" who is a member of the anti-robot group the "Murduks". A revolution will be started by the "Red Duke's" political enemies.
In an attempt to win his "father's" affections "Rock" kidnaps and deactivates "Tima". A friend reactivates her and she is confused about who, or what she really is. Rock reveals the truth to "Tima" and she goes insane. "Tima" becomes the leaders of a robot faction and orders the nuclear annihilation of the human race to bring peace to the world.
In the end "Tima" is deactivated and taken apart by some of the surviving humans. The original Japanese version in a post credit sequence has a human friend reassemble and reactivate "Tima". The two open a robot repair shop and live happily together. In the American DVD release this is not shown and the film ends with "Tima's" different body parts separated.
"Artificial Intelligence"
aka:
"A.I."
was a motion picture from Director Stephen Spielberg's "Amblin Entertainment" and "Stanley Kubrick Productions". The picture was based upon the story "Super Toys Last All Summer Long" by Brian Aldiss. Kubrick had started developing a screenplay back in the early 1970's, but it took this long and with Spielberg's help to bring the story to the screen on June 29, 2001.
Haley Joel Osmet portrays "David" the A.I. of the title.
Set sometime in the late 22nd Century. Major coastal cities, such as New York, are no more as a result of the rising of the oceans from Global Warming. The Earth's population has been greater reduced as a result. Mankind has created "Mecha's". Which are robots with human feelings after their owners trigger that module within them.
"David" has been sent to the home of "Monica", Francis O'Connor. and "Henry Swinton", Sam Robards, as their new son. Their real son "Martin", Jake Thomas, is in suspended animation with a fatal disease until a cure can be found. "Monica" is a standoffish about having "David" in her home. However this will change.
"David" has one true friend a robotic Teddy Bear and no he is not "Teddy Ruxpin".
"Martin" is cured and as he recovers he becomes jealous of "David". "Marin" taunts "David" and makes him go to "Monica", as she sleeps, and cut off a lock of hair. That lock of hair will become important to the movies ending.
There is several other incidents and "Henry" wants "Monica" to return "David" to his makers. Instead "Monica" takes him deep into a forest and leaves him. This leads to "David" becoming an "Unregistered Mecha" and meeting "Joe" another robot portrayed by Jude Law.
Events will follow taking "David" two thousand years into the future. Mankind is extinct and the "Mecha's" have populated the Earth. By using the DNA from the lock of "Monica's" hair he still possesses. "David" learns that she can be cloned, but will only live for one day. The movie ends with the cloned "Monica" telling him that she loves him very much. As the two lie down on a bed and she falls asleep.
Walt Disney Productions brought out an animated version of Robert Lewis Stevenson's "Treasure Island" in
"Treasure Planet"
released November 27, 2002. The story takes place in the far future with humans living in space. The film contains animated robots such as the one in this still with "Jim Hawkins".
The character of "Long John Silver" is a cyborg.
2003 started out with an Independent motion picture
"Robot Stories"
on January 20th. Which contained four short stories and won over 30 awards at Film Festivals over the years. The film by Grek Pak contains four short stories:
"My Robot Baby"
about a women who adopts a robotic baby and has problems that relate back to her own childhood.
"The Robot Fixer"
is about a mother whose son is in a coma and goes searching for the missing parts to the robot toys the boy loved.
"Machine Love"
tells of an Android Office worker who is spurned by the humans he works with. Looking out of a window. The Android sees a female Android Office worker across the street in another building. The two fall in love.
"Clay"
A sculptor is given one year to live and his son talks to him about putting his conscientiousness into a digital form. As he attempts to interact with his son and wife in this new form. The sculptor's conscientiousness finds it just isn't working and becomes more aware that he is not human anymore. So he finally finds peace by turning himself off and dying.
On December 2, 1950 a collection of short stories by Science Fiction writer Isaac Asimov was published under the collective title of "I, Robot". According to the author that was the publisher's choice and not his. Most of these stories have Asimov's "Dr. Susan Calvin" as a narrator.
Flash forward to July 14, 2004 and a motion picture starring Will Smith titled
"I. Robot".
The premise was "suggested" by the Isaac Asimov collection from 54 years earlier. In short the title and the character of "Dr. Calvin" remain.
Along with Asimov's "Three Laws of Robotics".
1. A robot may not harm a human being, or through inaction, allow a human to come to harm.
2. A robot must obey the orders given to it by human beings except where such orders would conflict with the First Law.
3. A robot must protect it's own existence as long as such protection does not conflict with the First or Second Laws.
In fact co-writer Jeff Vintar wrote a screenplay in 1995 that was based upon the style of Agatha Christie. A human detective investigating a murder with robot suspects. Among which are a computer that keeps putting on a "Happy Face" and the hologram of the murder victim.
This picture based upon both Vintar's 1995 screenplay and Asimov's ideas. Is also a murder mystery set in the year 2035 with one robot suspect. "Dr, Alfred Lansing", James Cromwell, of "U.S. Robots and Mechanical Men" falls to his death from a window in his office. The CEO of the company "Lawrence Robertson", Bruce Greenwood, declares it a suicide. Enter Police Detective "Del Spooner", Will Smith, who thinks otherwise.
Backstory:
"Del Spooner" distrusts robots. There was a car crash and a robot rescued him and left a 12 year old girl to die, because statistically her chances for survival were less than "Spooner". "Dr. Lansing" operated on the Detective and he now has a cybernetic parts. A left arm, lung and rubs and owes a lot to the doctor.
This comes into play as the Detective realizes that a human being could not have broken "Lansing's" window. Only a robot could have done it. "Dr. Calvin", Bridgette Moynahan, protests as that would mean the impossible has taken place and "The Three Laws of Robotics" have been broken. The two consult the company's central intelligence computer "VIKI (Virtual Interactive Kinetic Intelligence)" and the video of the office shows only "Dr. Lansing" in it.
However, almost immediately afterwards the two are attacked with what appears to be a standard "NS-5" robot. The robot who reveals his name is "Sonny" is determined not to be that "Standard" type. He looks like one, but has been specially built by "Dr. Lansing" and is stronger than any previous type. There are other as yet unknown features that will be revealed.
"Spooner" and "Calvin" believe "Lawrence Robinson" is somehow behind "Dr. Lansing's" murder and the attacks by other robots, but find him murdered.
In truth it is "VIKI" and I will leave my reader to see the picture and how things conclude.
Computerized animation created the motion picture with the simple title of
"Robots"
released March 6, 2005. This all star voice cast included Ewan McGregor four years before he became Alec Guiness, oops, I mean "Obi-Wan Kenobi" in
"Star Wars: The Phantom Menace"
as "Rodney Copperbottom" a Blue Robot. Halle Berry a year after she was "Patience Philips" in
"Catwoman"
voices "Cappy" a human-themed robot and "Rodney's" love interest. Robin Williams as "Fender Pinwheeler" a Red Robot. Along with Mel Brooks, Drew Carey and many others.
The story is simple about a lovable boss losing his company to a crooked and evil robot. Getting the company back in the right hands and true love conquering all. With all that talent the movie delights, but something is missing. Perhaps we've seen it all too many times before.
Let us return to "BBC Radio 4" in 1978 and a comedy program entitled
"The Hitchhiker's Guide to the Galaxy"
created by Douglas Adams. Over time Adams adapted his radio program into comic books, a series of novels, a stage show, a 1981 television series and a 1984 computer game. THEN on April 28, 2005 "The Hitchhiker's Guide to the Galaxy" became a motion picture.
Setting the tone for the film is the opening musical number sung by all the Dolphins of the World. The song is called: "So, Long and Thanks for the Fish". They've realized that the Earth is doomed and when the movie ends. Douglas Adams returns to the Dolphins and we see them jump out of the oceans of Earth and fly off into Outer Space to find a new home. Perhaps in the most sane part of this entire movie.
The picture is full of funny situations and has "Marvin the Paranoid Android" voiced by the late, great Alan Rickman aka: "Professor Snape" of the
"Harry Potter"
movies, or if you prefer: "Metatron" from
"Dogma"
and "Alexander Dane" in
"Galaxy Quest".
The story is actually about "Arthur Dent", Martin Freeman, whose house is about to be demolished for a road way. His friend "Ford Prefect", Mos Def, asks Arthur to come to a local pub for a drink. Over their pints "Ford" tells "Arthur" that he is actually an Alien Journalist putting together the film's title and would he like to come along? Their adventures are the basis for the film including fighting the evil "Vogons", "Arthur" meeting "Tricia 'Trillian' McMillan", Zooey Deschanel, an Earth women with whom he falls in love. The movie ends as the space craft "The Heart of Gold" travels to "The Restaurant at the End of the Universe" for something to eat.
Science fiction movies were having a slight, but growing change of direction as more Super Heroes came onto the big screen. In 2006 "Superman" returned and. the "X-Men" had their last stand, for the moment, but like that first "Terminator". They would be back!.
2007 saw the "Silver Surfer" riding the pipeline and being followed by "The Fantastic Four". Sam Raimi's "Spiderman" was on it's final movie, but "Spidey" would be back in two different interpretations as the decades started to roll on. While "Captain America", "Thor" and "Iron Man" were in the wings waiting for their first appearances to help form
"The Avengers"
in 2012.
However, back on March 23, 2007 a movie opened that reminded a lot of people of 1982's
"E.T. the Extra-Terrestrial".
This picture was based upon a story, "Mimzy Were the Borogoves" by Lewis Padget, actually the writing team of Henry Kuttner and C.W. Moore, that appeared in a 1943 issue of "Astounding". A publication that would become "Analog Science Fiction and Fact". So technically "E.T." should have reminded the reader of this story.
The film's title was
"The Last Mimzy".
The story begins outside at a school as a teacher named Lena, Irene Snow, starts to tell a story to her students.
This setting is in the Earth's distant future. At some point in time there was an ecological disaster that was destroying the human race and the only way to save mankind was to get uncorrupted DNA from the past.
The story switches to present day 2007 as a brother "Noah", Chris O'Neil, and his sister "Emma". Rhiannon Leigh Wryyn, find a box that appears to contain "Toys".
The "Toys" actually have names as the two will find out, but initially the following are incomprehensible to them. They are "Green Card" that has seemingly endless moving lights. "Seashell" an object in that shape that lets the user hear at long range and on frequencies above the normal ranges. Then there's "Blue blob" when fused with "Green Card" becomes a strong generator. "Spinners" is a rock that breaks into small ones that spin slightly off the ground. When these pieces are placed in a circle pattern and spinning. A person can see the future.
The one "Toy" that "Emma" and "Noah" immediately recognize is a stuffed rabbit who they well find out is named "Mimzy".
"Emma" develops a telepathic relationship with "Mimzy" and recognizes the rabbit as her teacher. "Mimzy" is an Artificial Intelligence created by nanotechnology.
The two children start developing genius-level intelligence and psionic abilities.
Let me explain what "psionic" is alleged to be and how it got into this story. Someone who is "Psionic" is said to have paranormal abilities connected with electricity. John W. Campbell, author of "Who Goes There" aka: "The Thing from Another World", had become the editor of "Astounding" in late 1937 and would remain in that position through his death in July 1971. He believed in this fringe theory and even described "Psionic" as:
Engineering applied to the mind.
Campbell encouraged writers of stories for "Astounding" to use that theory and it became part of the original 1943 short story.
"Emma" is the "Chosen One" and as a result of her connection to "Mimzy". She will develop telepathy, an ability to levitate herself and through telekinesis communicate with "Noah" and he in turn with her without speaking. As for "Noah" he becomes the "Chosen Engineer". He is the one who can build "the bridge to the future" by the proper use of the "Toys".
The title comes from the fact that many "Mimzy's" where sent to the past to collect a sample of that ecologically unpolluted DNA, but the others died because there was no "Engineer" found.
As with "E.T." both the children's parents "David Wilder", Timothy Hutton, and "Jo Wilder", Joely Richardson, and "FBI Special Agent Nathaniel Broadman", Michael Clarke Duncan, all get involved one way or another.
The children realize they are the only one's who can save Earth's future, but a problem develops as "Mimzy" is dying. Above "Noah" and "Emma" have used their psionic abilities to escape the FBI Agent. Below "Noah" constructs the bridge to the future,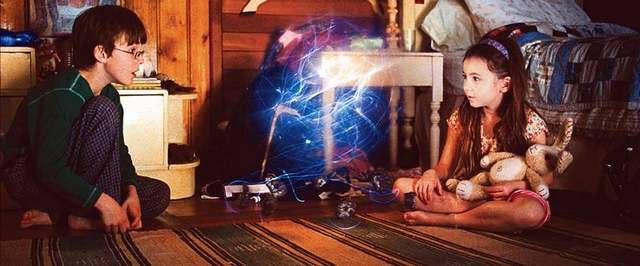 "Emma" starts to cry over the loss of "Mimzy" and her tears become the DNA needed to save the human race. Additionally she is almost sucked into the future, but "Noah" saves her.
Switch back to the teacher with her children. The story is completed and class is over. All the children levitate and go home.
Switch again to a 2007 glass room where the teacher is asking her class did they do anything special over the summer and the audience see's "Emma" as she just smiles.
TRANSFORMERS MORE THAN MEETS THE EYE! TRANSFORMERS ROBOTS IN DISGUISE!
On September 17, 1984 Hasbro Toys introduced the United States to "The Transformers" animated series. As the heroic "Optimus Prime" and the "Autobots" fought the evil "Decepticons" led by "Megatron". Both groups came to Earth from the planet "Cybertron".
The animation was mostly created by the Japanese film studio Toei. Of course as millions of children watched the series Hasbro pushed their toy versions.
On June 12, 2007 the live action feature film
"Transformers"
directed by Michael Bay had it's world premiere in Australia. On June 21st the picture opened in Italy and the following day in London, England. It wasn't until June 27, 2007 that this American movie had it's United States premiere in Los Angeles. The actual general release in the United States wasn't until July 3, 2007.
Two young people "Sam Witwicky", Shia LaBeouf, and "Mikaela Banes", Megan Fox, become the center of the war on Earth between the "Autobots" and the "Desciptecons".
Below the two warring factions leaders.
Above "Optimus Prime" and below "Megatron".
Three things resulted from this motion picture. One was the start of a franchise that as of the time of this writing is up to five films. The second was Hasbro sold more toys.
Third no matter if the "Ttansformer" was an "Autobot", or a "Decepticon". All their automobile forms were "General Motors" vehicles. Talk about product placement and sales possibilities for "GM"!
Above the Peterbilt 379 that became "Optimus Prime".
above the Chevrolet Camaro that became "Bumblebee".
Forget the toy and car sales. This first feature had a budget of $150 million dollars and a box office of $709.7 million dollars. Some people complain about the later films of this franchise being boring and repetitious. The last, so far,
"Transformers: The Last Knight"
released June 21, 2017 with an estimated budget of $260 million dollars has a box office to date of $604.1 million dollars.
Pixar and Disney introduced the Earth to the out of this world
"WALL-E"
on June 23. 2008. The year is 2805 and Planet Earth has been abandoned not from Nuclear War, or Ecological disaster but TRASH. With the increase of the Earth's population the amount of trash generated overran the places to put it, or ways to destroy it. We now live in giant space liners circling what was out planet.
One of the means of disposal had been specialized trash collecting robots. All have stopped working except for one.
In some respects, except for size, "Wall-E" reminds me of "Johnny 5". Among all of the trash is a love story.
A probe to check on Earth's status is sent containing a female robot named appropriately "EVE". "Wall-E" and "EVE" fall in love and this leads to our hero following her onto a space craft named the "Axiom" for it's computer control. It contains part of the now obese one time population of Earth. Who need not work, or do anything because of robotics.
There are problems between "Axiom", the humans and "Wall-E" over what he is telling everyone about the Earth. Eventually "Axiom" is convinced the Earth can be inhabited and starts the process to remove the trash and restore the planet's ecological system. While "Wall-E" and "EVE" live, robot style, happily ever after.
Director Robert Wise brought us the original
"The Day the Earth Stood Still"
and on December 12, 2008 director Scott Derrickson brought movie goers a remake of sorts. This feature deals with mankind destroying our environment and although this does not impact any other planet in our solar system, or any galaxy. For some reason "Klaatu", Keanu Reeves, is sent to Earth to either get us to change our ways, or destroy the human race. Leaving the planet to return to its original environmental state.
"Gort" who was originally human size is now a gigantic robot and when the famous line
Klaatu, Barada, Nikto
is spoken. It seems as an afterthought that screenplay writer David Scarpa thought should be heard. As a means of somehow associating this movie with the 1951 original.
The name "Gort" is given to the robot not by "Klaatu", but the United States Military. The name actually is written "G.O.R.T." and stands for "Genetically Organized Robotic Technology". Again it appears writer Scarpa had to somehow give the robot the expected name.
Unlike Michael Rennie as "Klaatu" in the original. "G.O.R.T." appears to have more emotions than Keanu Reeves. This motion picture version is full of state of the art special effects, but as with "Klaatu" contains, in my opinion, a lack of emotion or motivation.
My opinion, at least for United States audiences, is supported by the box office figures. The budget was $80 million dollars and in North America, Canada and the United States, the films box office was only $79,366,978 dollars. However, as with many motion pictures, the Foreign box office saved the picture with $153,726,881 dollars.
October 2009 brought two films both with a Japanese basis. One an American/Chinese co-production of a classic Japanese anime and the other an interesting film about an android.
In 1952 a manga written and illustrated by Osamu Tezuka appeared in Japan entitled "Tesuwan Atomu (The Mighty Atom)". The title character is an android better known as "Astro Boy" and the manga continued into 1968.
In 1963 "The Might Atom" became the anime series "Astro Boy".
The black and white anime series edited for American audiences, By removing objectionable language and anti-American sentiment arrived on September 7, 1963.
On October 8, 2009 that American/Chinese co-production of
"Astro Boy"
premiered in Hong Kong. On October 23, 2009 it arrived in the United States. The budget for the film was $65 million dollars. The voice cast included Nicolas Cage, Charlize Theron, Donald Sutherland and Freddie Highmore as "Astro Boy". The total world wide box office was $41.6 million dollars. When it opened in Japan it was an immediate flop earning only $328,457 U.S. dollars.
On October 3, 2009 the Noboru Iguchi directed motion picture
"Robo Geysha (Robotto Geisha aka:
Robo-Geisha)"
premiered in Japan.
A geisha assassin attempts to kill a politician. The geisha turns out to be a robot accompanied by two other female robots wearing Tengu/goblin masks. Those two kill the politician's body guards.The robot can produce a saw from it's mouth among other weapon.
When it appears the politician hasn't a chance to live. A lovely women named "Yoshie Kasuga", Aya Kiguchi, appears, fights and destroys the evil robot and fights the two others that accompany the assassin. Having saved the politician it is revealed that "Yoshie" is a cyborg.
The movies flashes back to a story of two sisters and how they become paid assassins. "Yoshie" on a mission to kill a seemingly friendly group of elderly people is caught in an explosion. The seniors she was sent to kill save her life by turning the young women into the Cyborg the audience first met.
Below Aya Kiguchi,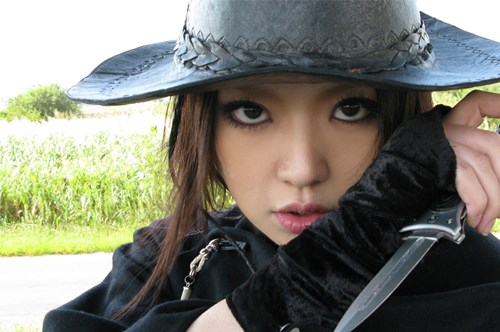 The evil Robots come from a Castle with other female robots. "Yoshie's" sister has lost her memory and was also turned into a robot, but from within the evil Castle. The two Sisters are reunited and merge into one Super Robo-Geshia to defeat the robot castle.
He was known for playing "Wolverine" of the "X-Men", but in
"Reel Steel",
that opened September 6, 2011, Hugh Jackman played a father named "Charlie Kenton". Dakota Goyo plays his son "Max".
"Charlie" is an ex-boxer living in the world of 2020. Boxers have been replaced by robots and he now owes a large debt to a fight promoter. A promoter he already had a previous debt problem with and had set him up this time around. So "Charlie" is ignoring this new debt, but the promoter wants payment one way, or another. He is also given the news that his ex-girl friend has died leaving him "Max". A boy he never knew and feels he owes nothing too.
The movie revolves around the two finding each other and making an old fighting robot named "Atom" into a contender against "Zeus" the champion. Along their road of discovery in this family film "Bailey Tallet", Evangeline Lilly, comes into both of their lives.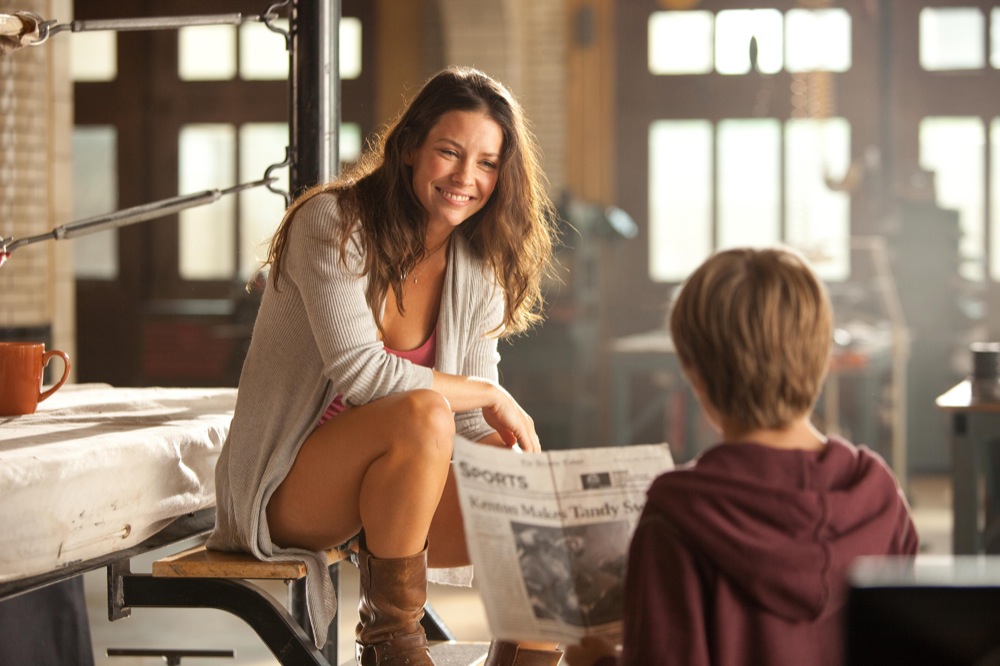 This is a variation of an old solid family theme going back to 1931's
"The Champ"
starring Wallace Berry and Jackie Cooper.
The day after "Real Steel" opened, on September 7, 2011, a motion picture made in Spain,
"EVA",
would be released. It is the story of the creation of a robot resembling a young girl.
The year is 2041 and humans and machines live together. A man, "Alex", Daniel Bruhl, seen as "Hemut Zemo" in 2016's "
Captain America: Civil War",
is asked by his ex-lover "Lana", Marta Elura, to finish his construction of the SI-9 robot the two started. However, "Lana" is currently married to "Alex's" brother "David", Alberto Ammann, Obviously creating a dynamic situation between the two men revolving around "Lana" that complicates matters.
Above Daniel Bruhl as "Alex".
The SI-9 is to be a young child. "Alex" visits "Julie", Anne Canovas, his old mentor. She is teaching some students robotics as he enters. As "Alex" watches the group with a robotic horse. Two of the students say the "Kill Phrase":
What do you see, if you close your eyes?
The horse falls to the ground not working anymore. "Alex" gently tells the students that if they bring the robot back to life, as some suggest, it will not be the same. Setting up what is to come.
"Alex" and "Julie" review videos of children attempting to decide on which one to use as a model. Not one of the children viewed are what "Alex" wants as they are too ordinary. He then meets a young girl "Eva", Claudia Vega, who is perfect. He asks her if she would be the model of the SI-9 and the girl refuses. At a dinner party at "Lana" and "David's" he discovers that the girl is their daughter and his nice.
While "Alex" is working on the SI-9 robot with "Lana". He reveals he is still in love with her.
As time start to pass "Alex" has more interactions with his niece "Eva". Whom he seems attracted too, because she seems more like him in appearance than "David". At a ice skating rink the two have an exchange in which "Eva" obviously lied to a question from "Alex" and when she;s asked why. "Eva" immediately replies that her answer was the response he wanted to hear.
"Eva" has been observing the construction of the SI-9 robot. Which "Alex" wants to change it's sex from male to female. "Julie" has recommended against it as their could be programming problems.
One day "Eva", unobserved initially, looking through the glass roof of the lab hears "Lana" speaking to "Alex". "Lana" tells 'Alex" that "Eva":
Looks like us, because we both made her
This disturbs "Eva" and she starts to run away as the two adults finally notice her. "Lana" goes after her, but tells "Alex" to remain at the lab. She finds the girl lying unconscious in the snow near a cliff and opens a panel in her back. She is not "Lana" and "Alex's" real child, but a robot they started together on the original SI-9 project.
Once revived "Eva's" emotions become hostile and as "Lana" tries to grab her. "Eva" pushes at her and "Lana" falls over the cliff to her death. Events proceed after the incident as "Eva" deals with the idea of murder and death. The film will end with "Alex" telling her, sadly for both, the only option opened to them. "The Kill" phrase!
In interviews to promote his latest feature film. Guillermo del Toro stated he wanted to make a live action motion picture reminiscent of the Japanese anime and Giant Monster films he grew up on. Along with the stated purpose of introducing a new generation of children to them. The end credits of his motion picture explains it was dedicated to both Ray Harryhausen and Ishiro Honda/ The two men whom in del Toro's mind set the standard for this type of entertainment starting in the early 1950's. Personally I would have added one name to that dedication Eiji Tsuburaya. The man who designed and built the Kaiju that Ishiro Honda directed.
The result of Guillemo del Toro's thoughts was the feature
"Pacific Rim".
Released July 1, 2013 in Mexico City and following on July 12, 2013 in the United States.
As this article is about robots and as Guillermo del Toro had his heroes fighting in what he called "Jaeger's". I would add another name missing from del Toro's dedication that of Yoshiyuki Tomino. The creator of
"Kido Senshi Gandamu (Mobile Suit Gundam)
aka
(First Gundam)
aka:
(Gundam 008,
or
Gundam '79)"
that appeared on Japanese television on April 7, 1979.. Del Toro acknowledged that "Mobile Suit Gundam" was one of the anime series he wanted to recreate for 2013 children in "Pacific Rim".
Below Yoshiyuki Tomino.
Below first one of del Toro's "Jaeger's" followed by a picture of one of Tomino's original 1979 "Gundum's".
.
.
The similarities are obvious and both have a human pilot inside. The "Jaeger" pilots fought the CGI Giant Monsters of Guillermo del Toro's motion picture.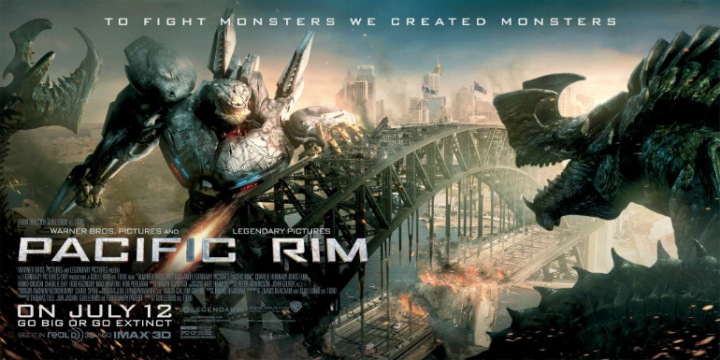 February 12, 2014 saw the premiere of the remake of
"RoboCop"
. The dynamics of the story was changed to have "Detective Alex Murphy", Joel Kinnaman, married to Clara, Abbie Cornish, and the two have a son "David", John Paul Ruttan.
This adds a more human touch to "Murphy" after he becomes the title character.
October 5, 2014 saw the release of the motion picture version of a popular Chinese television series
"Armor Hero: Atlas"
in China.
The original television series was called
"Kai Jia Yong Shi (Armor Hero)
and was watched from 2008 to 2009. It is considered the first Chinese Tokusatsu series and was constructed like Japan's "Kamen Rider (Masked Rider) series. There were four sequels and this motion picture was based upon the second sequel "
Kai Jia Yong Shi Na Wa (Armor Hero Lava)".
The group of heroes in this motion picture are described as follows:
Atlas Based upon the Thunder Element and the Light Element
Lava Based on the Tsunami and the Fire Element
Tornado Based on the Tornado and the Wind Element
Tsunami Based on the Cliff and the Water Element
Clif Based on the Cliff and the Earth Element
Techno Based on the China Police
What the plot is I could not locate on line, or what each of the above descriptions specifically refer too.
Located below the southern end of Waterloo Bridge as part of the cultural complex on the South Bank of the River Thames in London, England is the "British Film Institute (BFI) South Bank". On December 16, 2014 a small movie had a special screening, before its official release on January 21, 2015 in the United Kingdom. Followed four months later on April 10, 2015 in the United States.
This motion picture written and directed by Alex Garland is
"Ex Machina".


My last mentioned motion picture under the heading "Computers" was the true story of Alan Turning. The man who invented the modern computer. In 1950 he created "The Turning Test". Simply put this was a test to see if any machine had the ability to exhibit intelligent behavior equal to, or indistinguishable from a human being. That test developed 64 years before this movies first showing forms the basis of the plot.
Programmer "Caleb Smith", Domhanall Gleeson, wins a week at the luxurious isolated home of his company's boss "Nathan Bateman", Oscar Issac. There he's introduced to two women. The first is "Nathan's" servant "Kyoko", Sonoya Mizuno and the second "Ava", Alicia Vikander, an android with Artificial Intelligence. "Nathan" wants "Caleb" to see if he can relate to her knowing that she isn't human.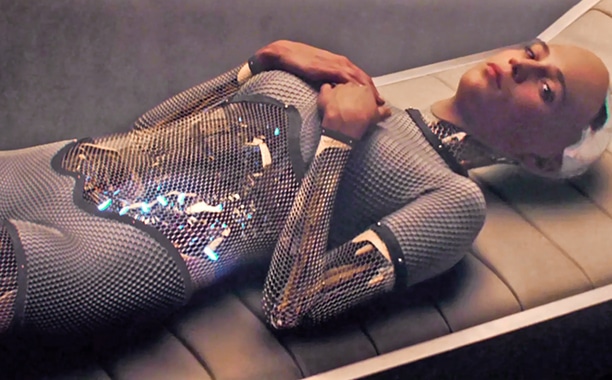 As time progresses "Ava" starts to express a romantic interest in "Caleb", or is this only part of a plan to escape from "Nathan"? "Nathan" has been secretly filming and recording the two's developing relationship.
In some respects the movie has aspects of the 1955 French film
"Les Diaboliques".
Where two women plan the murder of the same man. In this case it's their creator "Nathan Bateman". As "Caleb" will discover "Kyoko" is also an Android.
There will be a confrontation with "Nathan" and he will be killed. In the confrontation "Kyoko" is destroyed and "Ava" is damaged. She will repair herself with other Android parts creating a solid skin covering and leaves "Caleb" in the house in shock and a semi-prisoner.
Produced by American Simon Kinberg and South African Producer/Director Neill Blomkamp was
"Chappie".
The film premiered March 20, 2015 in New York City and is considered an American motion picture. Although the setting is South Africa and the main cast are either British, or South African actors. For U.S. and International audiences the film also features Hugh Jackman, Sigourney Weaver and as himself Anderson Cooper.
The rate of crime in Johannesburg, South Africa is out of hand and the government purchases state of the art armor plated robots developed by "Deon Wilson", British actor Dev Patel. In his home he is working on an Artificial Intelligence program to be inserted in one of his robots. The government will not permit this.
On his way home from work. "Deon" is kidnapped by three "gangsters". They are "Ninja", Watkin Tudor Jones who actually goes by the stage name of "Ninja", "Yolandi" played by Ann du Troit who goes by the stage name of Yolandi Visser and "Amerika" portrayed by Jose Pablo Cantillo. The three threaten to kill "Deon" unless he finds a robot and programs it to kill for them.
"Deon" finds a damaged robot, but also decides to put his A.I. program in it. The result is the title character that initially responds with childlike terror as a result of the program. Then begins to learn to speak.
The best way to describe this interesting failure of a robot movie is to quote from a review found on line at:
https://xaviersee.wordpress.com/2015/03/10/movie-review-on-chappie-2015/
If you do not fancy a show with a gangster robot, unnecessary Japanese songs playing at random moments of the film and intimate human-machine moments like a woman reading bed-time stories to a robot, this movie is definitely not for you.
Marvel was back on the screen April 13, 2015 with
"Avengers: Age of Ultron".
Where a super Artificial Intelligence program gives itself a robotic body and goes after our heroes. All this as a result of "Tony Stark" aka: "Iron Man", Robert Downey, Jr,. and "Dr. Bruce Banner: aka: "The Hulk", Mark Ruffalo, going where no geniuses should have gone.
Even if my readers only have been following the Marvel movies starting with
"Iron Man"
in 2008. You know that "Tony Stark" has an Artificial Intelligence program named "Jarvis" that does multiple tasks for the billionaire. What you might not know is why "Tony" gave his program that name.
Initially the appearance of the Stark Family Butler "Edward Jarvis: was in "Tales of Suspense" issue #59 for November 1964 below:
We learn he was a member of the British RAF during World War 2 and a champion boxer. After the war he moved to the United States and became the "Butler" for "Howard Stark" and his wife "Maria". Even after their deaths he kept looking after the family mansion and young "Tony".
Short version: after his death "Tony Stark" created his A.I. program that he named for the faithful "Butler". With "Tony's" weird, at times, sense of humor "J.A.R.V.I.S." actually stands for:
Just Another Rather Very Intelligent System
So what does this have to do with "Ultron"? "Stark" and "Banner" have been discussing creating a new A.I. program for global defense, but the two also discover that inside the scepter used by "Loki", Tom Hiddleston, is a Asgardian A.I. program. The mistake is made by incorporating that into their "Ultron" global defense system. Then leaving it alone and going down to meet the other "Avengers".
The viewer next sees "J.A.R.V.I.S." and "Ultron" talking to each other. When suddenly "Ultron" absorbs the other A.I. and decides it is his responsibility to save the Earth by eliminating humanity. In the following still "J.A.R.V.I.S." is yellow and "Ultron" blue.
"Ultron" proceeds to built himself a body as the "Avengers" unknowingly talk in another part of the "Stark Mansion".
Of course there will be battles between "Ultron" and the "Avengers". At some point "J.A.R.V.I.S." has escaped "Ultron" and is hiding within the Internet. "Tony" with "Thor's" help uploads the old A.I. program into another robotic body creating "Vision", Paul Bettany, below.
"Vision" will battle the remaining body form of "Ultron".
"Motoko Kusanagi" was back in form in Japan on June 20, 2015 in
"Kokaku Kidotai: Shin Gekijoban (Mobile Armor Riot Police: The New Theatrical Version)"
aka:
"Ghost in the Shell: The New Movie"
The only robot motion picture for 2016 was a family animated motion picture
"Ratchet & Clank".
Which is based upon a computer game series.
In the Solana Galaxy the evil "Chairman Drek of the Blarg" destroys planet Tenemule. On another planet Veldin spaceship mechanic "Ratchet" hears about that and that the Galactic Rangers are being sent to investigate and stop "Drek". A spaceship crash lands on Veldin and "Ratchet" rescues a very small highly intelligent robot he names "Clank".
The two join the Galactic Rangers to stop the Blarg.
My readers may not have heard of this picture as it's budget was $30 million dollars and to date has only made $13 million dollars.
On March 22, 2017 a new all American made movie by Saban Entertainment and Lionsgate premiered simply called
"Power Rangers".
This was suppose to be a reboot of the 16th variation of the
"Supa Sentai Shirizu (Super Sentai Series)
called "
Kyoryu Sentai Jurenja (Kyoryu Sentai Zyuranger)"
from 1992 which Saban Entertainment in 1993 changed into
"The Mighty Morphin Power Rangers".
By dubbing some of the original Japanese language scenes of the Toei original and edited in the American characters and actors. It failed!
Below a look at the updated Zoid robots the Ranger's use.
As a gimmick the movie contained cameo appearances by Jason David Frank the original "Green" and "White" Ranger's and Amy Jo Johnson the original "Pink Ranger". Even with them the motion picture was considered a financial failure. The budget was $100 million dollars, but the world wide box office was only $42.3 million dollars above that figure and that doesn't reflect publicity costs and other items normally not considered in the initial budget figure. It should be noted that there was a set up for a new "Green Ranger" at this pictures closing for the sequel.
I have previously mentioned two other 2017 releases. The live action "Ghost in the Shell" and "Transformers: Age of Extinction", Where both Computers and Robots in their many forms go within the scope of the ever growing Super Hero phenomena is hard to say. Only time will tell.