Type casting is one thing, but being locked into one certain role can haunt an actor.
Robert Armstrong
will always be
"Carl Denham",
but between 1927 and 1964 there were
197 others
.
Obviously I'm not going into every role, but I will be selecting roles Robert Armstrong portrayed over his
37 years
and,
yes,
the big gorilla will be mentioned.
BEFORE FILM
Robert William Armstrong was born on November 20, 1890 in Saginaw, Michigan. His father was William Armstrong and his mother was Minnie A. Lahman Armstrong. His father owned a small flotilla of boats to use on "Lake Michigan", at this time they were living in Bay City, but around 1902 the family moved to Washington State. Apparently, William was thinking of the "Gold Fields" in Alaska and Washington was the jumping off place.
For the young boy, the spell of his Uncle Paul Armstrong, playwright, screenplay writer and producer's, touring company appealed to the young Robert and he became the company's manager. That was until his Uncle passed away on August 30, 1915 and the company was dissolved.

When America entered World War One, on April 6, 1917, the 26 years old Robert William Armstrong did a "hitch" in the Army. Upon his return he entered the "University of Washington" to study law.
There he also did a little acting and the bug bit him and he joined an acting company.
In 1920 Robert married stage actress Peggy Allenby, but divorced her five years later.
At this point the young actor met fellow actor James "Jimmy" Gleason, a Spanish War Veteran, whose parents owned a traveling acting company. Which he joined.
The two became life-long friends and Robert started learning his craft from the bottom up. Touring with Gleason's stock company he went to London, England, in 1926. I could not locate what the production was, but at this this time he married Ethel Virah Smith. Their marriage lasted into 1931.
While appearing in New York in a play written bu Jimmy Gleason entitled
"Is Zat So?".
A
Hollywood scout, in the audience of one of the performances, signed Robert William Armstrong to a film contract with one of them.
THE SILENT SCREEN
On October 6, 1927, Al Jolson spoke the first sound words on a motion picture screen in
"The Jazz Singer".
However, even Warner Brothers, who had made the feature, wouldn't attempt a full sound film until late 1929. American's still only saw silent movies.
Robert Armstrong's first on-screen appearance was in the boxing-romantic-drama
"The Main Event",
released on November 18, 1927. The motion picture starred Vera Reynolds as
"Gloria Frayne".
Vera's leading actress career consisted of 76 roles between 1917 and 1932, but with the advent of sound her roles decreased in statue.
Above the poster told the potential audience that Robert Armstrong, who portrayed
"Red Lucas",
was billed fifth. The following silent films are selected, by me, because of who else was in them with Armstrong and not necessarily for the story.
Robert Armstrong's next feature was the silent Horror film
"The Leopard Lady",
released January 22, 1928. The actor was billed third as
"Chris".
This circus-based picture had a little of Edgar Allan Poe's
"Murders in the Rue Morgue"
and Lon Chaney's 1924's
"He Who Gets Slapped"
mixed into the screenplay
.

Above Robert Armstrong is on the far right and next to him is Jacqueline Logan as
"Paula, the Leopard Lady".
Next to Logan is Alan Hale, Sr. as the
"Wild Russian, Caesar".
Who has trained a killer gorilla.
Armstrong's third motion picture teamed him with Victor McLaglen. The feature was directed and co-written by Howard Hawks.
"A Girl in Every Port",
released February 26, 1928
,
had the two actors as rival sailors for the girls in the ports their ship visits.
Above Victor McLaglen with Louise Brooks as
"Marie".
Who was
the problem for the two friends
.
Below Robert Armstrong with Brooks.
Five features later and Robert Armstrong was in his first motion picture with actress Jane Alice Peters renamed Carole Lombard, but misspelled on screen as "Carol Lombard". The picture was entitled
"Show Folks"
and was released on October 21, 1928. Neither Lombard, or Armstrong were the lead actors. The story was set in Vaudeville actors and Robert Armstrong was the fourth billed promoter
"Owens"
and Carole Lombard was third billed as
"Cleo".



The stars were Eddie Quillan as
"Eddie Kehoe"
and Lina Basquette as
"Rita Carey".
For publicity purposes on the above poster. Robert Armstrong is moved to third billing and the better known actress Bessie Barriscale, who portrayed
"Kitty Mayo",
is shown in fourth before Carole Lombard. Barriscale actually was billed sixth on the official cast listings.
Robert Armstrong was billed third as
"Babe Callahan".
The still misspelled "Carol" Lombard was billed sixth as
"Jennie"
in
"Ned McCobb's Daughter",
released December 2, 1928.
Above on the right is star Irene Rich as
"Carol"
with Robert Armstrong and Carole Lombard.
The future
"Hopalong Cassidy",
William Boyd, was a major silent screen leading man. Released on February 24, 1929 was
"The Leathernecks"
Boyd portrayed
"William Calhoun".
Alan Hale, Sr. portrayed a simple minded ex-German soldier named
"Otto Schmidt"
and Robert Armstrong portrayed
"Joseph Hanlon".

"The Women from Hell"
starred Mary Astor as
"Dee Renaud".
Astor whose seen as the conniving
"Brigid O'Shaughnessy"
in director John Huston's classic 1941
"The Maltese Falcon"
had been acting since 1921. This picture was her forty-ninth on-screen appearance. Robert Armstrong played the evil
"Alf"
and Dean Jagger was the hero
"Jim Coakley".
This was Jagger's first motion picture.
Above Robert Armstrong and Mary Astor.
Accused of a murder he did not commit is Newspaper Reporter
"Steve Banks",
Robert Armstrong". The accusation is jeopardizing his marriage to
"Margaret",
Carole Lambard, in
"Big News",
released September 7, 1929.
Above Lombard and Armstrong. There would be two more silent pictures for Robert Armstrong and then came his first sound film and it was co-starring, now, "Carol" Lombard.
THE START OF THE SOUND FILMS
"The Racketeer"
was
released on November 9, 1929.
Above Carole Lombard as
"Rhoda Philbrooke"
, Robert Armstrong as
"Mahlon Keane",
the title character. Who is sponsoring an alcoholic violinist to win the hand of a divorced socialite and Jeanette Loff as
"Millie Chapman".
Nine forgotten early sound pictures later and Robert Armstrong was back with William Boyd and also James Gleason in
"Suicide Fleet",
released November 30, 1931. Three U.S. Sailors are in a decoy ship fighting German U-Boats during World War One.
Of course there's a girl in the picture and in her eleventh film was Ginger Rodgers as
"Sally".
It would be another sixteen motion pictures, including 1933's
"42nd Street"
and
"Gold Diggers of 1933",
before the movie audience would see the first teaming of Ginger Rodgers and Fred Astaire in
"Flying Down to Rio".


Above James Gleason, Ginger Rodgers and Robert Armstrong.
Two movies later found Robert Armstrong out of the United States Navy and in the United States Army Air Corps. The feature film was
"The Lost Squadron",
released March 12, 1932,
and starred Richard Dix as
"Captain Gibson".
Who was nominated for the "Best Actor Oscar" for 1931's version of Edna Ferber's
"Cimarron"
co-starring Irene Dunne.
Armstrong was reunited with actress Mary Astor as
"Follette Marsh"
and with 3rd billing he portrayed
"Lieutenant Woody Kerwood".
With 5th billing, in his 16th film, was Joel McCrea as
"Red".
McCrea. Actor, writer and director Erich von Stroheim
as
"Arthur Von Furst".

Above are these actors billing on the official cast listing, but noticed the realignment of their names on the posters for the picture. The story is about three ex-World War One pilots that became movie stunt flyers. The title
"The Lost Squadron"
is misleading.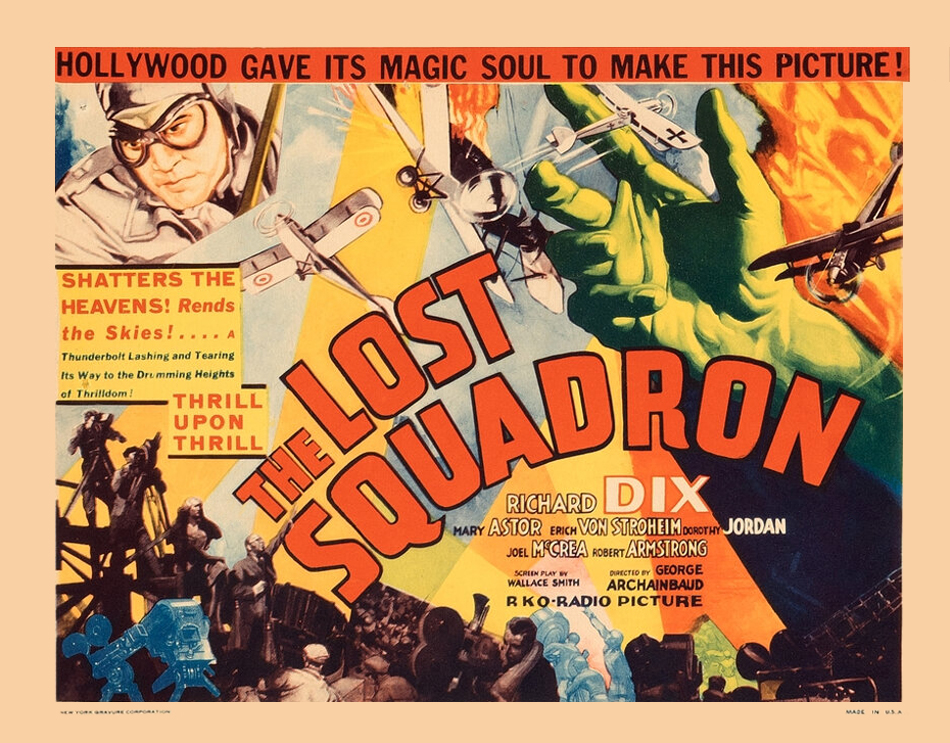 Above Joel McCrea, Richard Dix and Robert Armstrong.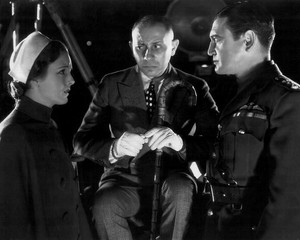 Above Mary Astor, Eric von Stroheim and Richard Dix. Below Robert Armstrong illustrates what a director and actor might get away with in a Pre-Motion Picture Code film.
Three features later and Robert Armstrong first worked for producer Merian C. Cooper and his partner director Ernest B. Schoedsack. In 1924
"Collier's Magazine"
published a short story by Robert Cornell and Cooper's film was the first of many adaptations of----
THE MOST DANGEROUS GAME released September 16, 1932


Joel McCrea portrayed
"Robert 'Bob' Rainford.


Fay Wray portrayed
"Eve Trowbirdge".
This film was part of my article
"Fay Wray Before 'King Kong"
and includes the first two all Technicolor Horror movies,
"Dr. X"
and
"The Mystery of the Wax Museum"
and can be read at:
http://www.bewaretheblog.com/2015/11/fay-wray-before-king-kong.html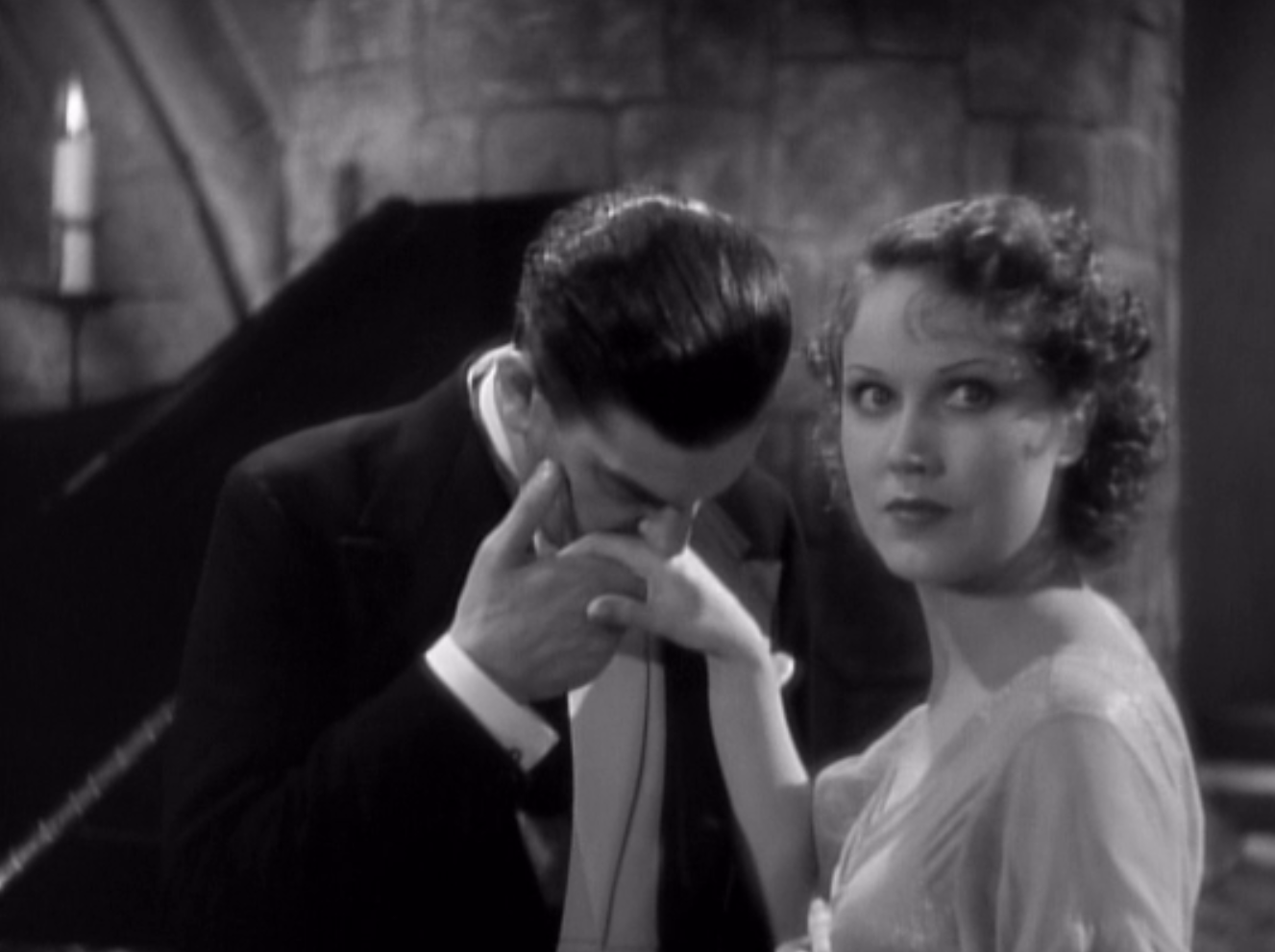 Leslie Banks was the evil hunter
"Count Zaroff".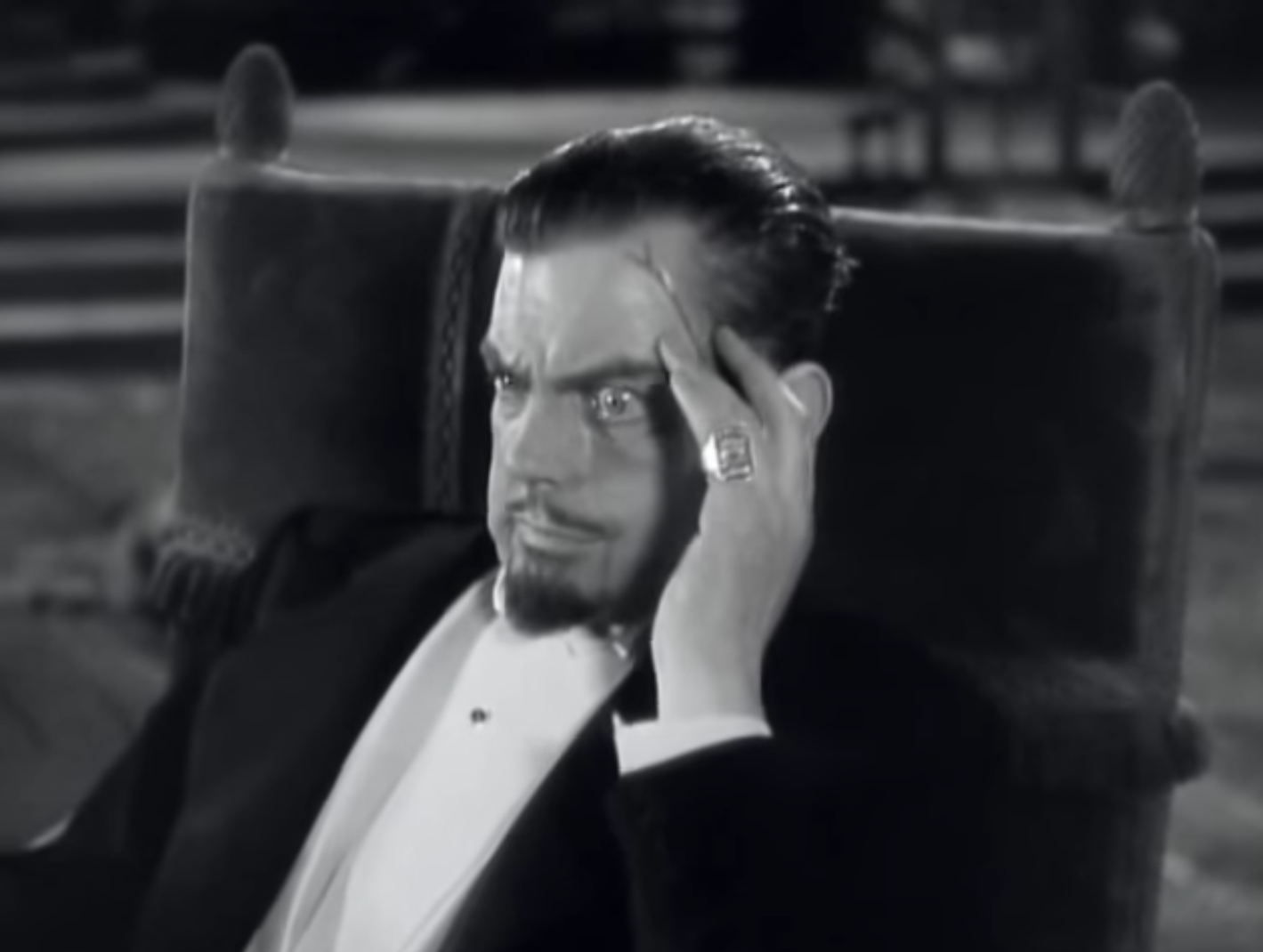 Robert Armstrong portrayed "Eve's brother"
"Martin Trowbridge"
.
Nobel Johnson portrayed
"Ivan".
Don't recognize the actor? He's probably best known for portraying the
"Chief of Skull Island",
but Nobel Johnson and his brother had their own African-American film company during the silent era, appeared in films with Bob Hope and Bela Lugosi, and was directed in
"She Wore a Yellow Ribbon"
by John Ford. My article
"Nobel Johnson African-American Pioneer Actor"
may be read at:
http://www.bewaretheblog.com/2015/06/noble-johnson-african-american-pioneer.html
The story opens on board a luxury yacht and a conversation is going on with big game hunter "Bob Rainford". He's asked how he would feel to switch places with the animals he hunts. As the yacht runs a ground in a channel by an island and sinks. "Bob" swims to shore and is the only survivor.
On the island "Bob" comes upon a chateau owned by an expatriate Russian Count named "Zaroff". There he meets the Count's other guests including brother and sister "Martin" and "Eve Trowbridge" and "Zaroff's" servant "Ivan".
"Zaroff" knows of "Rainsford" fame as a big game hunter. "Zaroff" reveals he is a game hunter, himself, of what he calls
"The Most Dangerous Game"
, but leaves his statement there. "Eve" tells "Bob" that the two sailors that came ashore with her and her brother have disappeared. This happened right after they entered the Count's trophy room. During the night "Martin" disappears and then "Zaroff" appears with his body. "Eve" and "Bob" enter the trophy room and find "Zaroff's" hunting trophies are the heads of people he killed.
"Bob" and "Eve" now realize they are
"The Most Dangerous Game"
that "Count Zaroff" hunts.
Robert Armstrong followed the picture with a comedy starring the duo of Bert Wheeler and Robert Woolsey. The team were the Abbott and Costello of the 1930's and started out on stage with Florenz Ziegfield. Armstrong's role was 4th billed as
"The Radio Announcer",
but he does not appear on the poster for the picture as only his voice is heard on film. This picture was released the same day as
"The Most Dangerous Game".
THE YEAR OF THE GORILLA


1933 started out on January 7, 1933 with
"The Billion Dollar Scandal".
The plot had Robert Armstrong as ex-con
"Fingers Partos".
"Fingers"
gets into trouble
,
because his brother,
"Babe Partos",
played by Frank Albertson, is messing around with the boss's daughter,
"Doris Masterson",
Constance Cummings. The boss is
John Dudley Masterson",
portrayed by Frank Morgan, the
"Wizard"
in 1939's
"The Wizard of Oz".
James Gleason portrayed
"Ratsy Harris"
and Olga Baclanova was
"Anna aka: GoGo".
Above Robert Armstrong, Olga Baclanova and James Gleason.
That feature was followed by:
KING KONG released March 2, 1933


Fay Wray portrayed
"Ann Darrow".

Robert Armstrong portrayed
"Carl Denham".
When
"King Kong"
was released, the friends of producer Merian C. Cooper told him that
"Denham"
was his doppelganger.
Cooper wasn't just a movie producer. Over his life he made pictures in jungles and foreign countries no other went too. He was a spy against the Germans by working with the "Office of Strategic Services (OSS)" now called the "CIA". During the second World War Merian C. Cooper created a film process to help allied pilots and bombardiers better identify their Nazi German targets and afterwords called his process
"Cinerama".
My article
"Merian C. Cooper: Before 'King Kong" To 'Cinerama"
may be found at:
http://www.bewaretheblog.com/2015/10/merian-c-cooper-before-king-kong-to.html
Above sitting in the back are Merian C. Cooper and Fay Wray. In front with his hands around his knees is stop motion animator Willis O'Brien and next to O'Brien is director and Cooper's partner Ernest B. Schoedsack.
Bruce Cabot portrayed
"John 'Jack' Driscoll".
Cabott portrayed
"Magua"
in the 1936 production of James Fenimore Cooper's
"The Last of the Mohicans"
starring a young Randolph Scott, but would become a major Western bad guy in films like Errol Flynn's and Olivia deHavilland's 1939
"Dodge City"
and with his good friend John Wayne in 1947's
"The Angel and the Badman".


Above Bruce Cabot, Fay Wray and Robert Armstrong.
Frank Reicher portrayed
"Captain Englehorn".
Character actor Reicher started on-screen acting in 1915 and over his career was seen in Paramount Pictures Science Fiction classic 1940's
"Doctor Cyclops",
1942 Horror movies
"Night Monster"
and
"The Mummy's Tomb",
1944 Horror movies
"The Mummy's Ghost"
and
"House of Frankenstein"
and even Cecil B. DeMille's 1949
"Sampson and Delilah".


Above Robert Armstrong and Frank Reicher. Below Noble Johnson is the stereo-typed role he will always be known for.
I need not tell my readers about the pictures plot. Other than to say the initial novel was written by British classic mystery author Edgar Wallace and Merian C. Cooper
BEFORE
the screenplay was written and published prior to the motion pictures release.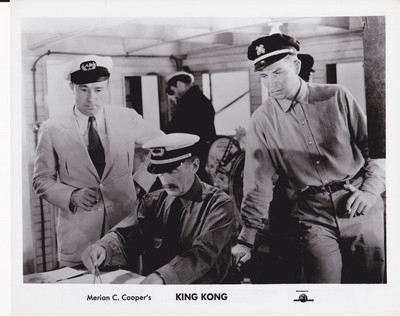 Above "Carl Denham" reveals the location of the phantom island to "Jack Driscoll" and "Captain Englehorn".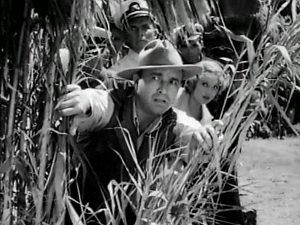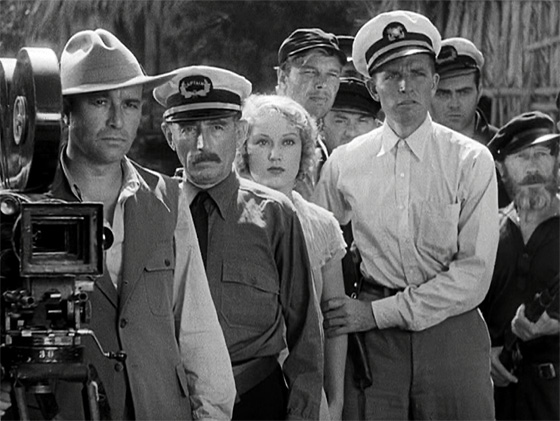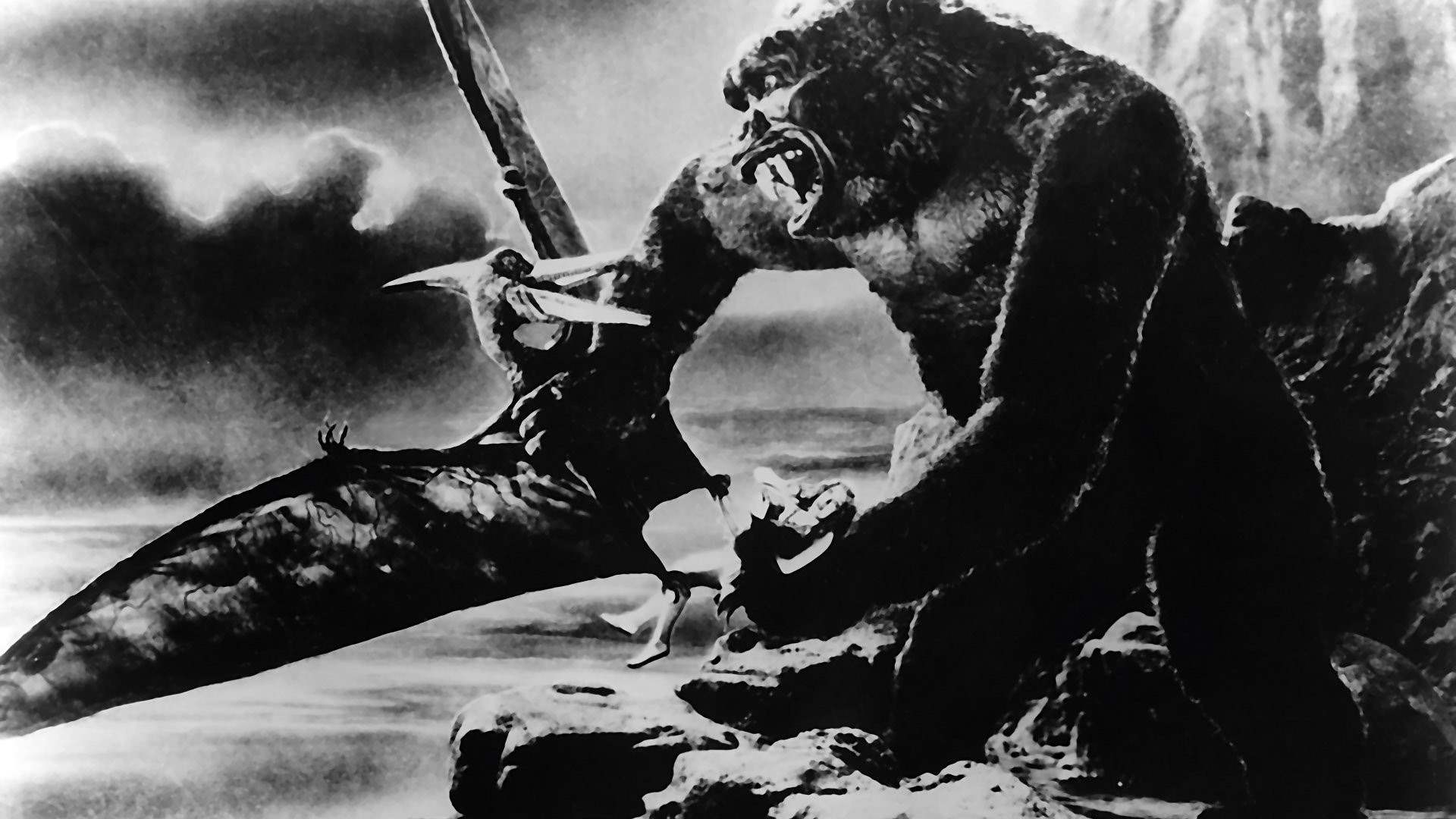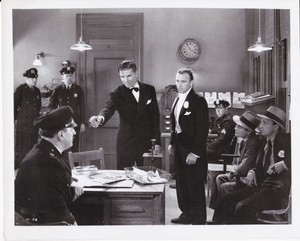 Above "Driscoll" suggests using airplanes to kill "King Kong".
IT WAS BEAUTY KILLED THE BEAST!
Robert Armstrong, Fay Wray and Bruce Cabot and even Merian C. Cooper are always overshadowed by the work of Stop Motion Animator Willis O'Brien. My article about the mostly unknown model builder
"MARCEL DELGADO: The Artist That Built 'King Kong"
may be read at:
http://www.bewaretheblog.com/2016/04/marcel-delgado-artist-that-built-king.html
One piece of trivia you may, or may not know:

Here is a shot of the pilot and gunner that kill "King Kong".
The pilot was Ernest B. Schoedsack and the killer of "King Kong" is his creator Merian C. Cooper.
Between producing and directing the Horror classic from 1932
"Freaks"
and producing and directing the 1935 Horror movie
"Mark of the Vampire".
Todd Browning produced and directed, without any on-screen credit,
"Fast Workers",
released March 10, 1933.
The picture starred
"The Great Lover"
of the silent screen
,
John Gilbert, as riveter
"Gunner Smith".
Gilbert was nearing the end of his career and life. He would die January 9, 1936 of a heart attack. Robert Armstrong co-starred as riveter
"Bucker Reilly".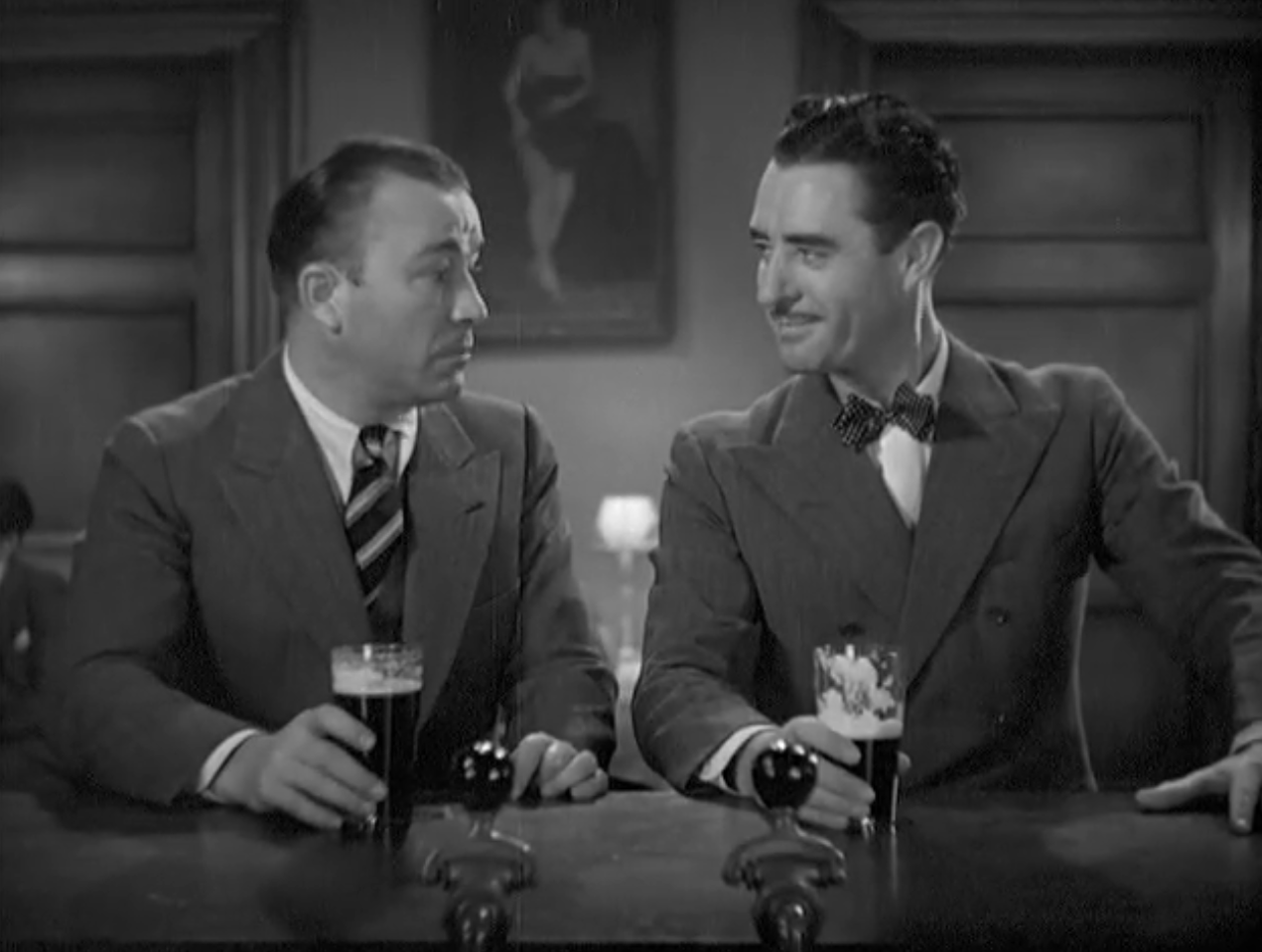 Above Robert Armstrong and John Gilbert. Below Mae Clarke as
"Mary"
the girl both men fight over.
If you don't recognize Mae Clarke you should. Before this film, 1931 was a major year for the actress. She's the girl James Cagney pushes the grapefruit into her face in
"Public Enemy".
Mae Clarke followed that film with the first motion picture version, of three, of Robert E. Sherwood's play
"Waterloo Bridge"
directed by James Whale, but her character remained a prostitute and a ballet dancer as in the next two versions. Then there was that other 1931 James Whale motion picture. The Horror classic
"Frankenstein"
in which Mae Clarke portrayed
"Elizabeth".
On July 9, 1933 was another crime drama
Above Edmond Lowe as
"Brains Stanley aka: Roger Winthrop",
Nancy Carroll as
"Grace Clark",
Warren Hymer as
"Mousey"
and Robert Armstrong as
"Driller".

Released August 18, 1933 was
"Blind Adventure".
A mystery
about an American in London stumbling upon a criminal ring
.
I mentioned this Robert Armstrong starring film, because of his co-star Helen Mack. This was Helen Mack's first motion picture for producer Merian C. Cooper and director Ernest B. Schoedsack. She was two movies away from the release of her second for them and Armstrong's third.
Above 4th billed Ralph Bellamy as
"Jim Steele",
Robert Armstrong as
"Richard Bruce"
and Helen Mack as
"Rose Thorne".
Robert Armstrong was
"Above the Clouds",
released December 13, 1933, as newspaper reporter
"Scoop Adams".

Robert Armstrong would finish 1933 off, on December 22, 1933, with his second motion picture with Helen Mack from the team of Merian C. Cooper and Ernest B. Schoedsack.
SON OF KONG

The RKO executives were taken by surprise with the success of
"King Kong"
and wanted an immediate sequel.
Screenplay writer Ruth Rose,
"King Kong",
and later for Cooper and Schoedsack, 1935's
"SHE"
and
"The Last Days of Pompeii"
and 1949's
"Mighty Joe Young",
took the point of view that:
If you can't make it bigger, make it funnier.
Especially withe very low budget RKO gave the filmmakers.
Back from the original motion picture were:
Robert Armstrong as
"Carl Denham".
In this screenplay Ruth Rose make "Denham" the major character and everyone else secondary to him. Unlike in the original feature.
Frank Reicher as
"Captain Englehorn".

Above Armstrong and Reicher.
Noble Johnson as
"The Chief of the Skull Island Natives"
in a cameo.
Victor Wong as the Chinese cook
"Charlie".


Added to the cast were:
Helen Mack as
"Hilda Peterson".
Which is her characters name
in the motion picture's credits, but never called by it. Her father refers to "Hilda" by the stage name of
"Madame Helene"
and "Denham" just calls her
"Kid".
Mack would have a similar type role in Merian C. Cooper's 1935
"SHE".
Opposite Randolph Scott, Helen Gahagan and Nigel Bruce.
John Marston was the villain of the piece
"Captain Nils Helstrom".


Several stop motion sequences from
"King Kong"
that had not used in that picture were now , because of the low budget and speed of production.
"Little Kong"
was nothing more than changing the fur on the 1933 original.
The plot is simple, "Denham" and "Englehorn" are broke after having to pay for the destruction of New York City by "King Kong".
"Denham" is about to be evicted and meeting with "Captain Englehorn" the two decide to go into business hauling goods between different islands. They arrive at one and two events take place. First, the two attend a show with little monkeys, that gives "Denham" chills about "Kong", and a young girl badly singing and playing the guitar.
The night "Hilda's" father is in a tent drinking with "Captain Nils Helstrom", who lost his ship under questionable circumstances, and the two get into a fight. "Helstrom" kills the other and sets the tent on fire.
At a bar, "Carl Denham" finds "Captain Helstrom" and introduces him to "Captain Englehorn". As the man he got the map to Skull Island from. Knowing that "Hilda" saw him, "Helstrom" asks the other two, if they will take him along? This doesn't work and the crafty "Nils Helstrom" asks, if they had found the Treasure of Skull Island?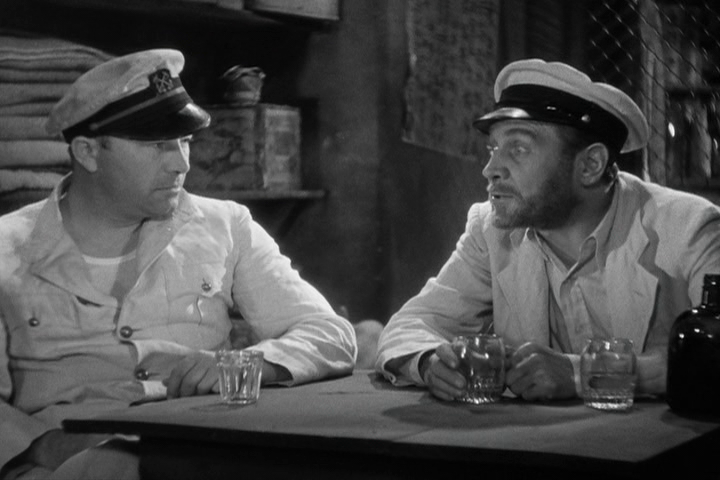 The following day "Carl" finds the "Kid", the destroyed show and learns about her father's death.
"Denham" feels sympathy for "The Kid", but tells her she can't go with him. Later, at sea, she is discovered as a stowaway.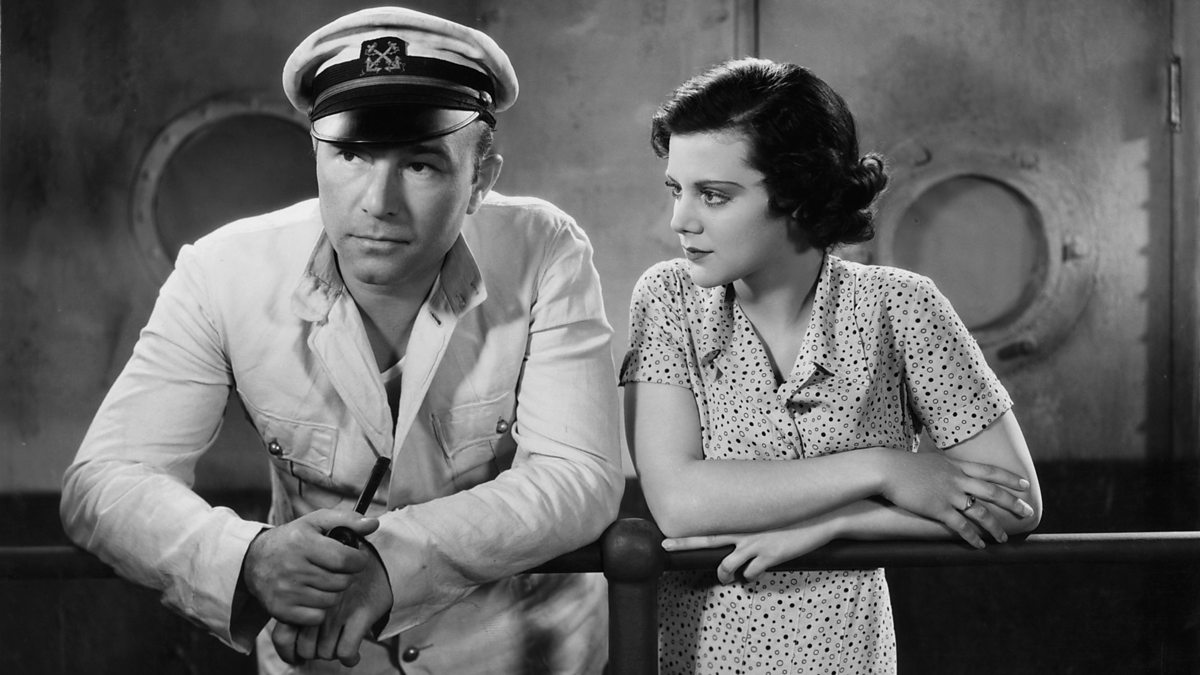 It should be noted that Helen Mack's character is not another Fay Wray character. As the story progresses the two will fall in love.
Two things occur, the first is "Helstrom" discovers that "Hilda" is onboard and fearing she'll say something. He warns her to stay quiet.
The second is that "Helstrom" starts working on the crew to mutiny and accept him as their "Captain". He is using the deaths of the first crews on Skull Island as a means to achieve his goal. However, the crew doesn't want any "Captain's" and at the island put "Denham", "Hilda", "Englehorn" and "Helstrom" in a small boat. The cook "Charlie" joins them and the five row to shore.
They meet the natives, but the Chief drives them off. As with New York City he is mad at the two men for bringing "King Kong" into his village.
The group lands on another part of Skull Island.
"The Kid" and "Denham" walk away from the other three and discover a "Baby Kong".
"Denham" becomes embarrassed as "Little Kong" like him and he's the one responsible for Dad's death. While "Hilda", "Carl" and "Little Kong" are making friends the other three members of their party are attacked by a Styracosaurus and chases the three into a cave.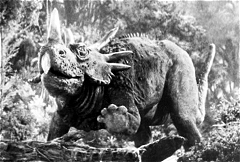 The two groups are now truly separated and "Hilda" and "Carl" are attacked by a cave bear and "Little Kong" comes to their rescue.
"Carl Denham", "Hilda" and "Little Kong" now discover there is real treasure on Skull Island.
The group is back together and "Denham" warns "Englehorn" there's a "Little Kong" and not mentioning it to "Helstrom". "Helstrom panics when he sees "Little Kong". The treasure is placed in the life boat and "Helstrom" attempts to escape the island in it while leaving the others. A sea serpent appears and kills him.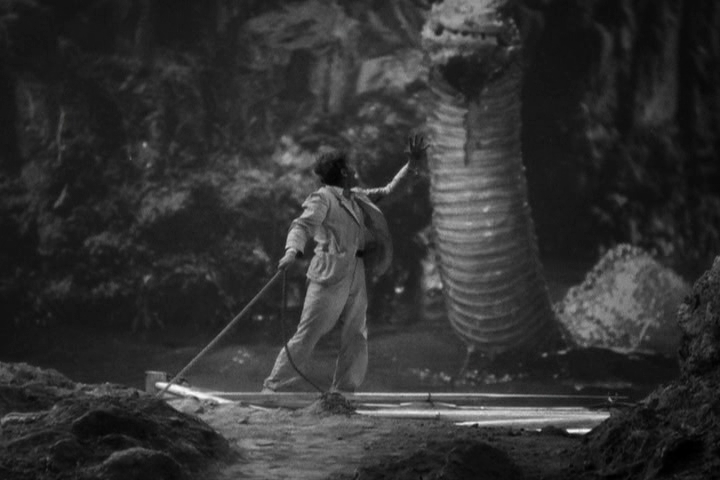 The other three head for the lifeboat as an Earthquake begins. Skull Island comes apart and starts to sink into the ocean. "Little Kong" rescues "Carl Denham" as the island sinks into the ocean.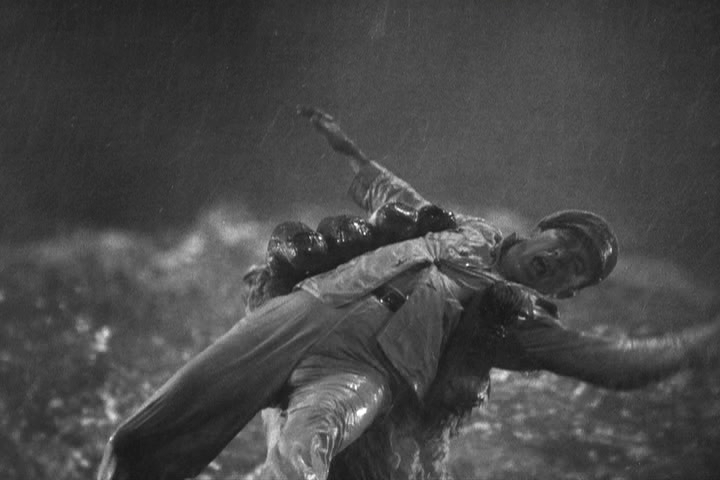 THE END OF THE 1930'S
Five motion pictures later and Robert Armstrong co-starred with Ann Southern in
"The Hell Cat",
released June 16, 1934. Armstrong was in his trademark newspaper reporter role investigating a gambling syndicate. In 1937 Jean Harlow was supposed to star in a comedic role in a movie called
"Maisie".
The screenplay wasn't ready and Harlow passed away. In 1939 Southern stared in the picture and nine sequels.
Six more forgotten features and Robert Armstrong was
"FBI Agent and Trainer Jeff McCord"
opposite
JAMES CAGNEY
as
"Brick Davis",
who was still kicking around in "B" crime movies and about to do 1935's Shakespearean
"A Midsummer Nights Dream",
in
"G Men"
released May 4, 1935.
Ann Dvorak had played
"Cesca Camonte"
in the original
"Scarface"
in 1932. He films until now had been low "B" pictures. Margaret Lindsay who plays Armstrong's sister and Cagney's love was another pretty face in the "B" films from several studios.
Above a publicity shot of James Cagney, Ann Dvorak and Robert Armstrong.
"Little Big Shot",
released September 7, 1935,
was Warner Brothers attempt at a Shirley Temple feature with a little Damon Runyon thrown in for good measure. A girl's father is murdered by mobsters and a couple of gamblers and their girlfriends became her family. While avoiding the mobsters that did the killing.
Like Ann Southern with the
"Maisie"
series. Glenda Farrell, see on the poster, would do several films as popular 1930's newspaper reporter
"Torchy Blane".
Four more forgotten pictures and Robert Armstrong found him in an "A" list comedy-mystery feature starring William Powell,
"The Thin Man"
series with Myrna Loy, as
"Dr. Lawrence Bradford"
and Jean Arthur, 1929's
"The Mysterious Fu Manchu"
and the following year as "
Calamity Jane"
to Gary Cooper's "
Wild Bill Hickok"
in Cecil B. DeMille's
"The Plainsman",
1939's
"Mr. Smith Goes to Washington"
also with Cooper, as the title character of
"The Ex-Mrs. Bradford", "Paula".
In the picture, released May 13, 1936, with 5th billing was Robert Armstrong as the bookie,
"Nick Martel".
The audience knew to substitute "Lawrence" and "Paula Bradford" of this RKO feature with
"Nick and Nora Charles"
of Powell's "Thin Man" series and it worked very well.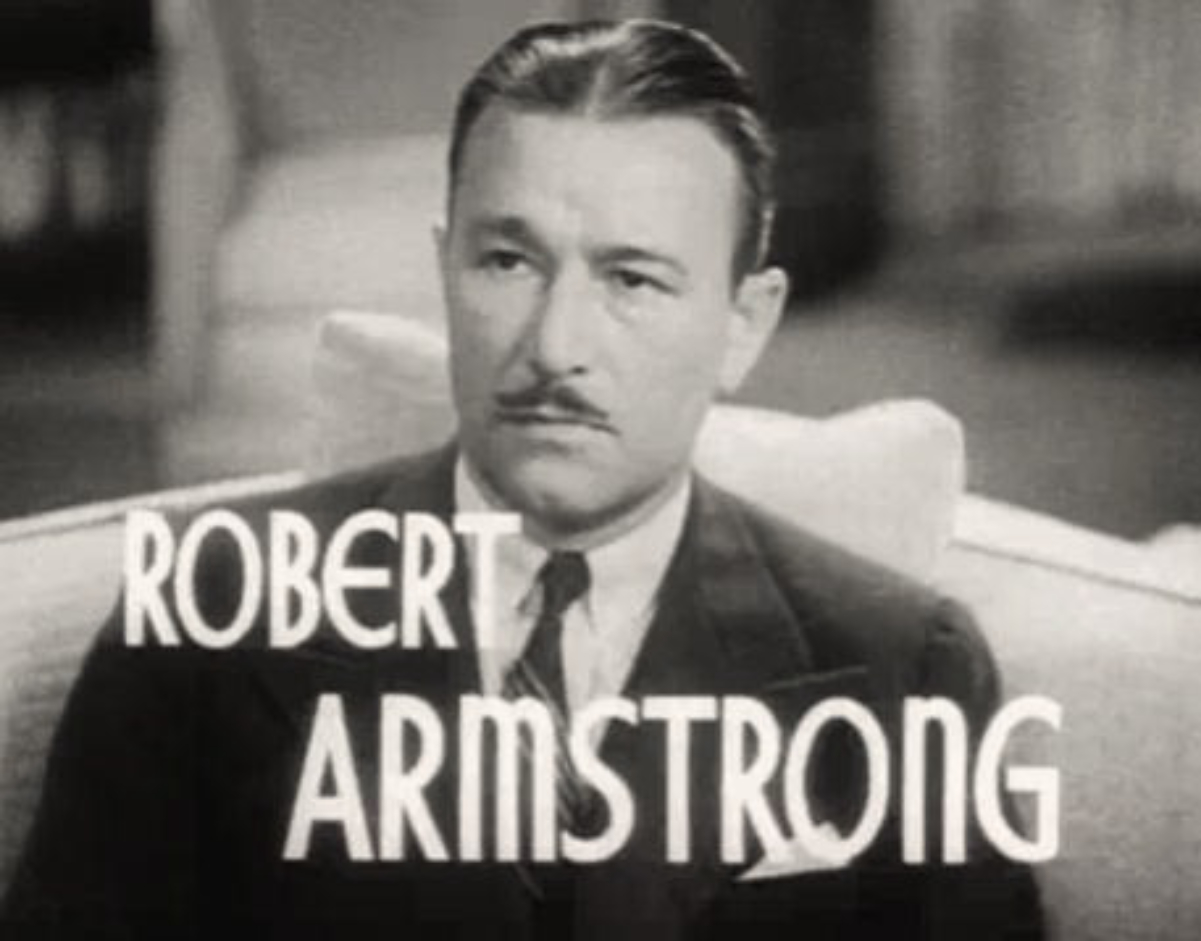 Above William Powell, Jean Arthur and James Gleason as
"Detective Inspector Corrigan".

In 1936 Robert Armstrong married his third wife Gladys Dubois and it last for three years until his divorce 1939.
Five more films and Robert Armstrong found him in a Comedy-Musical-Romance set just after World War One in a Serbian Town,
"Three Legionnaires",
released July 11, 1937. Three American soldiers charged with upholding American values there. Got it?
Above out heroes comedian Donald Meek, John Ford's
"Stagecoach",
as
"Uriah S. Grant",
Lyle Talbot, the first
"Commissioner Gordon"
in the 1949 serial
"Batman and Robin",
as
"Jimmy Barton"
and Robert Armstrong as
"Chuck Connors".
Canadian actress-singer Fifi D'Orsay portrayed
"Olga".


Anne Nagel, Gordon Jones' girlfriend in both serials 1940's
"The Green Hornet"
and the same years
"The Green Hornet Strikes Again"
and the 1940 Boris Karloff, Bela Lugosi
"Black Friday",
played
"Sonia".


Robert Armstrong's next feature film kept him type cast since playing "Carl Denham" as a showman who isn't above running a few hoax's to get audiences into the theater named
"Al Tinker".
The forgotten comedy-crime movie was
"It Can't Last Forever".
It's interesting because actress Betty Furness as
"Carol Wilson"
was second billed to Ralph Bellamy as
"Russ Matthews".
During the entire 1950's she became the Worldwide spokesperson for
"Westingtonhouse Electronics".
She was seen on television, heard on radio, appeared at business meeting around the globe, and had her picture on billboards. She made a fortune.
In 1939 Western leading man Richard Dix starred in a Republic Pictures biography of
"Sam Houston"
entitled
"Man of Conquest",
released May 15th.
This picture is noted for Joan Fontaine in 3rd billing as "
Eliza Allen".
The same year she had 6th billing in
"The Women".
Which might seem not very major, but the five actresses before her were in order 1 to 5: Norma Shearer, Joan Crawford, Rosalind Russell, Mary Bolland and Paulette Goddard. Fontaine's next feature film was Alfred Hitchcock's 1940
"Rebecca"
co-starring with Lawrence Olivier and followed by Hitchcock's 1941
"Suspicion"
co-starring with Cary Grant.
Robert Armstrong had 9th billing as
"Jim Bowie".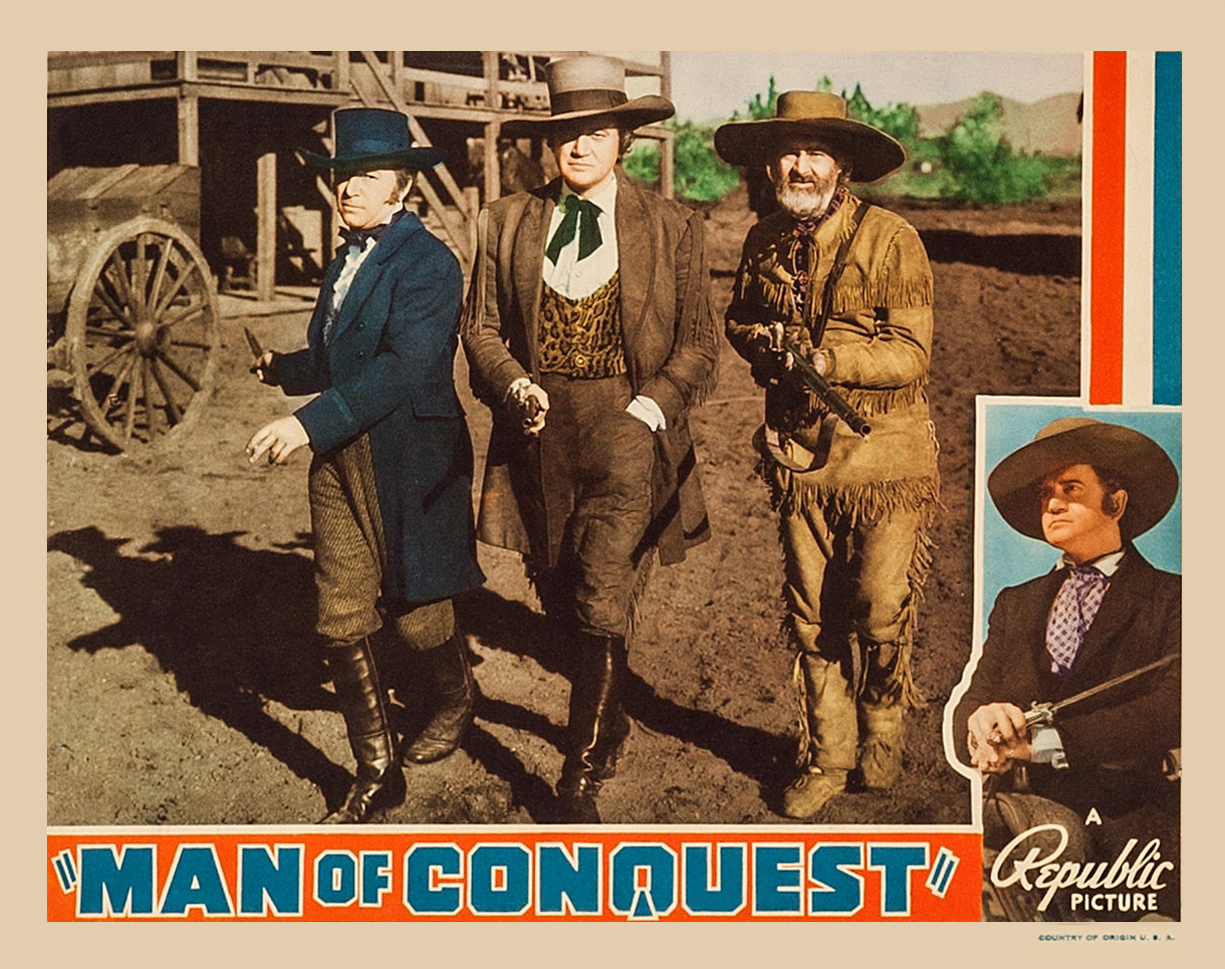 Yes, that's George "Gaby" Hayes as
"Lannie Upchurch".
Victor Jory portrayed
"William B. Travis",
and in his 21st non-screen credit role was a Republic contract actor named George Montgomery.
Four more films followed and Robert Armstrong ended his 1930's film run with
"Call A Messenger",
released November 3, 1939. The movie was actually a
"Dead End Kid's"
vehicle. The group started out on Broadway in the 1935 play
"Dead End".
It would become a 1937 feature film with the same young actors and starring Sylvia Sidney, Joel McCrea and Humphrey Bogart. Later the group would have two name changes to first the
"East Side Kids"
and then
"The Bowery Boys".

Above some of the "Dead End Kids" with the very recognizable Huntz Hall. Robert Armstrong had 3rd billing as
"Kirk Graham",
behind Hall and another "Kid" Bill Halop, far left.
I could not locate a still of Armstrong, but above is either
"Tarzan", "Flash Gordon",
or
"Buck Rodgers"
Larry Crabbe in the film. My article
"Tarzan, Flash Gordon, Buck Rodgers, Billy the Kid and LARRY "BUSTER" CRABBE!"
can be read at:
http://www.bewaretheblog.com/2020/06/tarzan-flash-gordon-buck-rodgers-billy.html
THE 1940'S AND STILL TYPE CAST
On January 1, 1940 Robert Armstrong married for the 4th time Claire Louise Frisbie. They would remain married until his death.
The first motion picture in this period had Robert Armstrong as the boss,
"Skippy"
of a newspaper reporter,
"Hank Parker",
played by Frank Alberton, the Marx Brothers 1938
"Room Service"
, being framed for a murder. The well thought out title was
"Framed",
released February 23, 1940. Constance Moore,
"Wilma Deering"
of the
"Buck Rodgers"
serial, was
"Phyllis Sanderson".
Robert Armstrong is seen in lower right between the two police officers.
Two pictures later and 3rd billed Robert Armstrong was
"FBI Agent Gordon"
attempting to stop an
"Enemy Agent"
from getting the plans for the B-17 Bomber in the movie released April 19, 1940.
Below a very corny publicity photo.
The actors next five on-screen appearances included two short subjects. Hollywood was pushing various spy films in the early 1940's. On April 8, 1941 enemy spies attempt to steal a new fighter plane in
"Sky Raiders"
in a 12 Chapter Universal Pictures serial.
Note the star is Donald Woods as
"Captain Bob Dayton/John Kane".
Most of my readers may know him from either Ray Harryhausen's 1953
"The Beast from 20,000 Fathoms",
or William Castle's original 1960
"13 Ghosts".
Bill Halop was back as
"Tim Bryant"
and Robert Armstrong was
"Lieutenant Ed Cary".


Above that's Robert Armstrong just below Donald Wood in the lower left.
Another crime film and then an "A List" feature about the United States Navy Air Corps. Released August 30, 1941 and starring Errol Flynn and Fred MacMurray was
"Dive Bomber".

Flynn portrayed
"Lieutenant Douglas S. "Doug" Lee"
of the Navy Medical Corps. MacMurray was veteran pilot
"Lieutenant Commander Joe Blake"
and a skeptic about "Lee's" work to find a way to prevent pilots from blacking out during a dive. Ralph Bellamy was
"Lieutenant Commander Lance Rodgers"
of the Navy Medical Corps. Alexis Smith was the girl in the picture
"Mrs. Linda Fisher"
and 5th billed Robert Armstrong was
"Art Lyons".

The film is notable for using actual footage of Navy planes and pilots less than four months prior to the Japanese attack on Pearl Harbor. Additionally the aircraft carrier
"Enterprize"
is used extensively.
Above from the left are Fred MacMurray, Ralph Bellamy and Errol Flynn.
Above Robert Armstrong on the far left with the three male leads.
Robert Armstrong's next appearance with in a 13 Chapter Serial based on the popular radio series
"Gang Busters"
fighting crime in the "Big City".
It was released on March 31, 1942, and starred Kent Taylor as
"Detective Lieutenant Bill Bannister".
Robert Armstrong was Taylor's partner
"Detective Tim Nolan".
Second billed Irene Harvey was
"Vicki Logan, girl reporter".

Above Armstrong and Taylor.
It would be five more appearances before Robert Armstrong was fighting for our country during World War Two.
"The Fighting Engineers",
released January 2, 1943, was a 20 minute long short subject. All I know is a boxer is trained to fight the Japanese. As I could locate the cast, but not their character names or stills from the short.
On July 23, 1943 Robert Armstrong was in his first full fledged "B" World War Two morale busting Monogram Picture
"Wings Over the Pacific".


Robert Armstrong is one of the bad guys,
"Captain Pieter Van Bronk"
is this forgotten "B".
Still the bad guy, Robert Armstrong was
"Arthur Galt"
in
"Adventures of the Flying Cadets",
released September 7, 1943
.
"Galt" frames for murder cadets:
"Danny Collins",
Johnny Downs a one-time
"Our Gang Kid", "Jinx" Roberts,
Bobby Jordan a one-time
"Dead End Kid",
"Zombie Parker",
William "Billy" Benedict a current
"East Side Kid"
, and
"Scrapper McKay",
Ward Wood. This was his 3rd on-screen appearance and his first was the John Garfield and Gig Young 1943
"Air Force".

Above Robert Armstrong.
Next Armstrong was reunited with Richard Dix in the Western
"The Kansan",
released September 10, 1943.
Then Universal Pictures put the actor in one of their low budget Horror entries
"The Mad Ghoul",
released November 12, 1943 and starring Turhan Bey, Evelyn Ankers, 1940's
"The Wolfman",
1941's
"The Ghost of Frankenstein"
and 1943's
"Son of Dracula",
George Zucco,
"Professor Moritarty"
in 1939's
"The Adventures of Sherlock Holmes",
that years
"The Hunchback of Notre Dame",
1940's
"The Mummy's Hand"
and 1942's
"The Mummy's Tomb".

Above Evelyn Ankers as
"Isabel Lewis",
Turhan Bey as
"Eric Iverson"
and David Bruce as
"The Mad Ghoul.

Below Robert Armstrong had the role of news reporter, naturally,
"Scoop McClure".


Below Robert Armstrong has George Zucco at the point of his gun, but the unseen David Bruce is about to kill him.
Two features later George Sanders portrayed
"Michael Gordon"
discovers a Nazi plot to stir up an Arab insurrection as a diversion for the Nazi attack against the Suez Canal. "Gordon" gets United States consulate employee
"Matthew Reed",
Armstrong, to help me stop it. The movie was
"Action in Arabia"
and it was released on February 18, 1944.
Another four films brought Robert Armstrong to the cast of the excellent
"Blood on the Sun",
released April 26, 1945.
The twist is that the story is set in 1929 Japan and James Cagney portrayed,
"Nick Condon",
the editor of an American newspaper's branch in Tokyo.
Above James Cagney and his co-star Sylvia Sidney as
"Iris Hilliard".
"Condon" has uncovered an actual plan, by the real life
"Premier Baron Gilichi Tanaka",
portrayed by 4th billed John Emery, in Japanese make-up, known to 1950's Science Fiction fans for
"Rocketship X-M"
and
"KRONOS",
to have Japan conqueror the world.
Above John Emery with 2nd billed Sylvia Sidney.
Robert Armstrong had 5th billing, in Japanese make-up as
"Colonel Hideki Tojo".


Above Cagney and Emery seated and Armstrong standing next to Cagney.
Getting even lower billing in forgotten pictures and a chapter serial
"The Royal Mounted Rides Again",
released October 23, 1945 ended Robert Armstrong's war years and very little war related motion pictures.
I would be January 25, 1946 before the actor's next picture a forgotten comedy film from Republic Pictures
"Gay Blades"
set in the world of Hockey premiered. Robert Armstrong only made four more motion pictures in 1946 as work for him was very slow.
Robert Armstrong portrayed
"Floyd McCurtin",
at 10th billing, in the "A List"
"The Sea of Grass",
released April 25, 1947, to start 1947. The motion picture starred Spencer Tracy, Katharine Hepburn, Robert Walker and Melvyn Douglas. The story is about a St. Louis woman who married a New Mexico cattleman that the locals see as a tyrant.
Above Robert Armstrong is standing by the Judge's bench between Douglas and Tracy.
Indicating the type of role Robert Armstrong was now getting. On November 11, 1947 the John Ford directed
"The Fugitive"
starring Henry Fonda, Delores del Rio and Pedro Armendariz was released. Armstrong was listed on the official cast listings as
"A Mexican Sergeant of Police".
In all he only worked in four motion pictures during 1947. While 1948 consisted of only two feature films.
The first wasn't released until July 17, 1948 and was the Western
"Return of the Bad Men"
starring Randolph Scott, Robert Ryan and Anne Jeffreys. Scott was Federal Marshall
"Vance Cordell",
Ryan was
"The Sundance Kid"
and Jeffreys was
"Jeannie 'Cheyenne' McBride".

In this still excellent picture, Randoph Scott was sent into "Badman Territory" to capture Ryan and of course falls for Jeffrey's. Robert Armstrong had 13th billing as
"Wild Bill Doolin".

Above Armstrong as "Wild Bill".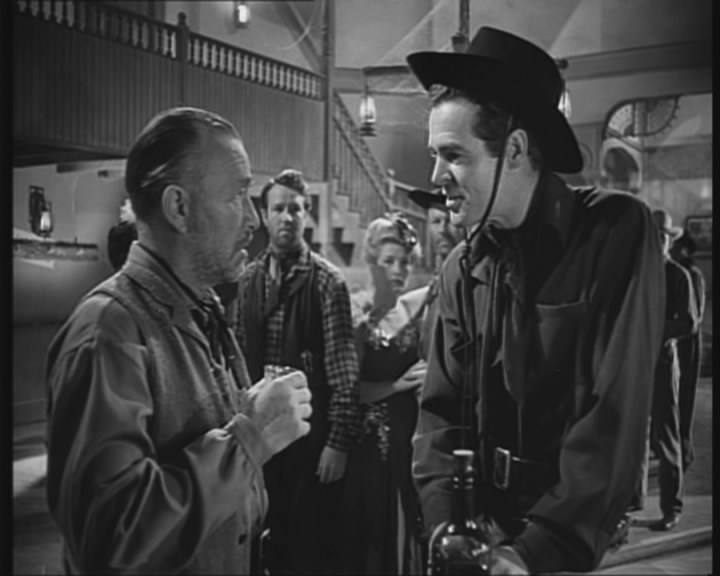 Robert Armstrong's second 1948 feature was the Bob Hope and Jane Russell Comedy-Western "The Paleface", released December 28, 1948. Bob Hope portrayed Dentist "Painless Peter Potter" a graduated for a correspondence school. Jane Russell was "Calamity Jane" sent to find out whose smuggling rifles to the Indians and uses Hope as a cover.

Robert Armstrong had third billing, but his name wasn't on any posters or advertising as "Terris".



1949 found the actor in five feature films. Two of them are of interest to my reader.
STREETS OF SAN FRANCISCO AND MR. JOE YOUNG


"Streets of San Francisco",
released April 15, 1949,
was a typical quickie "B" crime drama from Republic Pictures. What makes this motion picture of interest is the reuniting of Robert Armstrong with his co-star Mae Clarke, 1933's
"Fast Workers".
In that picture he was a middle aged man falling for a women 20 years younger and their ups and downs in life. In this picture Clarke portrays "
Hazel Logan"
his wife of many years and a childless couple.
The above poster indicates Gary Gray as
"Frankie Fraser"
is the first co-star. He's listed 3rd on the official cast listings. Below, Gray with Armstrong as
"Detective Lieutenant Willard 'Will' Logan"
after he kills the boy's father during a robbery "Frankie" was forced to go on. The film follows the "Logan's" winning over the boy and "Frankie" becoming their adopted son.
There was a second reunion in both producer and director that re-imagined a classic role for Robert Armstrong.
MIGHTY JOE YOUNG released July 27, 1949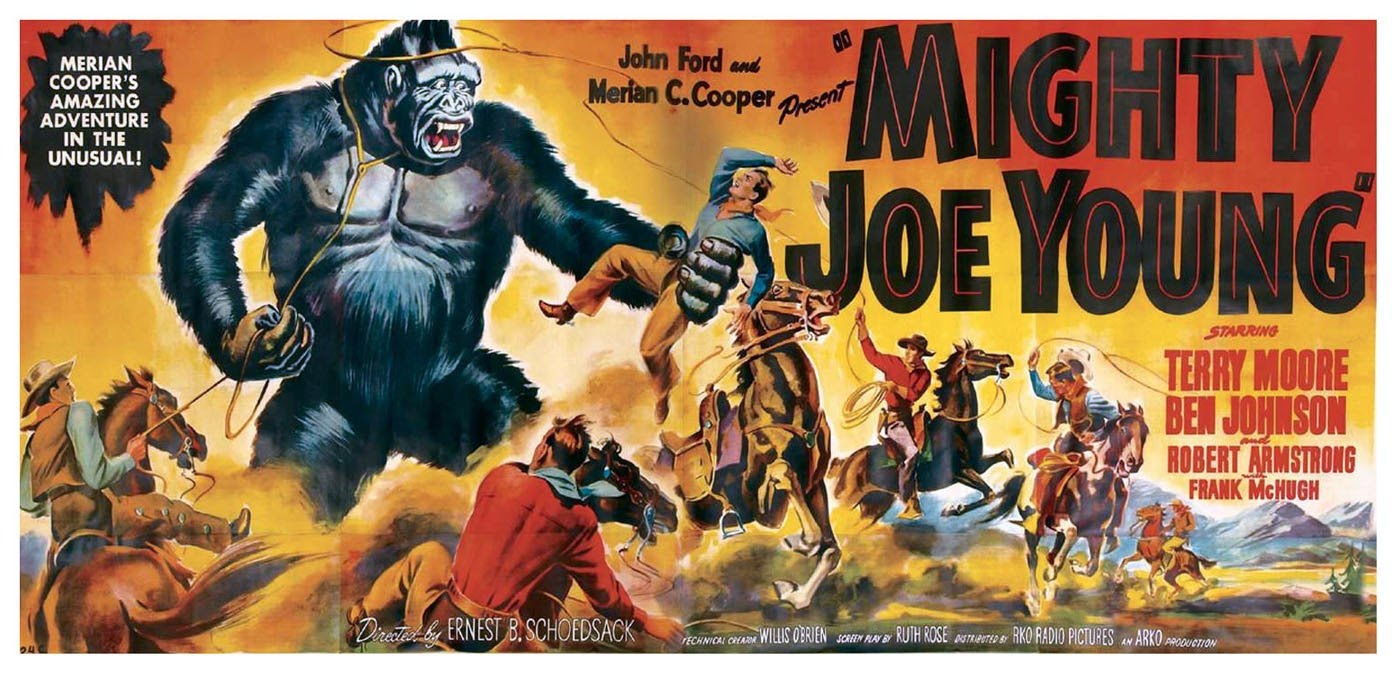 Merian C. Cooper did not have the funds to make
"Mighty Joe Young"
and RKO Pictures didn't want to bank roll the entire film. Cooper went to his good friend and war time buddy John Ford and both men produced the picture. Ernest B. Schoedsack was back as the director.
Willis O'Brien as the Technical creator and Marcel Delgado doing Special Effects and building the models. The actual stop motion animation was by an Army Photographic Unit Veteran named Ray Harryhausen credited as First Assistant to O'Brien. Together the three men won the
"Best Visual Effects Academy Award"
for Willis O'Brien. However, under the rules of the "Academy of Motion Pictures Arts and Sciences" the Oscar had to go to the producer, Merian C. Cooper. Who in turn presented it to O'Brien.
For O'Brien and Ford to make the picture. They had to agree to use the current owner of RKO Pictures, Howard Hughes' current girlfriend, Terry Moore, in the lead. The 20 years old actress was cast as
"Jill Young".

Ben Johnson had brought John Ford several horses from his father's ranch to the location shoot for 1948's
"Fort Apache"
. Per the contract with his father the young man was working with those animals as a horse wrangler. Johnson was on a break watching the director shoot a scene with a wagon and some actors. Suddenly, the horses spooked and actually started to run with the wagon and frightened actors. Ben Johnson jumped on his own horse and rode out and stopped the team
.
As this was happening Ford had kept his cameras rolling and afterwards. He put the Horse Wrangler under a personal contract to him and Ben John became a permanent part of what was known as
"The John Ford Stock Company".
In
"Mighty Joe Young"
he became "Jill's" love interest
"Gregg".

Above Terry Moore and Ben Johnson.
My article on the actor
"Ben Johnson: Roping a 12 Foot Gorilla"
can be read at:
http://www.bewaretheblog.com/2016/06/ben-johnson-roping-12-foot-gorilla.html
Robert Armstrong was portraying a comic version of "Carl Denham" as showman
"Max O'Hara".

Above Robert Armstrong, and Ben Johnson.
According to the closing credits the role of
"Mighty Joe Young"
was portrayed by the actor
"Mr. Joseph Young of Africa".

The picture opens Tanganyika, Africa, in 1937, with a 8 years old "Jill" getting a baby gorilla from some local natives she names "Joe".
Above Lora Lee Michel as "Jill". Just before this motion Lora Lee accused her mother of beating and starving her. The charges became a heated Beverly Hill custody battle at the time. In 1963, Lora Lee Michel and her second husband were sentenced in Federal Court for stealing a car and driving the vehicle across State lines.
"Jill's" father, a very few minute role, was portrayed by character actor Regis Toomey. Over his career since 1929, Toomey was in 1935's
"G Men",
Cecil B. DeMille's 1939
"Union Pacific"
and DeMille's 1940
"Northwest Mounted Police".
In 1941 Regis Toomey was seen in
"Dive Bomber", "Meet John Doe"
starring Barbara Stanwyck and Gary Cooper and
"They Died with Their Boots On"
starring Errol Flynn and Olivia deHavilland. On the other hand the actor was in 1943's
"Adventures of the Flying Cadets"
and another low budget serial, 1944's
"Raiders of the Lost City",
but additionally appeared in Alfred Hitchcock's 1945
"Spellbound"
starring Ingrid Bergman and Gregory Peck.
Switch to 12 years later and "Max O'Hara", "Gregg", a crew of cowboys arrive to find wild animals for "Max's" Hollywood nightclub. Sound somewhat familiar? As screenplay writer Ruth Rose has a little more fun with the 1933 story and character of "Carl Denham". Remember, Robert Armstrong was 43 when he was in
"King Kong"
and now the actor was 59 years old.
"O'Hara's" crew has captured several lions and other animals and are preparing to leave Africa. When a 12 foot tall gorilla appears and starts letting them out of their cages.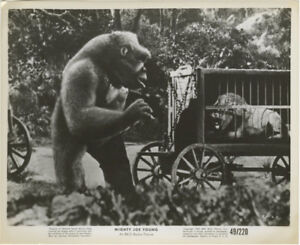 What follows is a sequence right out Willis O'Brien's unmade
"Gwangi"
screenplay. As the cowboys attempt to rope the gorilla. I go into detail in my article
"WILLIS O'BRIEN: 1925's 'The Lost World" and the Story of Gwangi".
My reader can locate that article at:
http://www.bewaretheblog.com/2020/06/willis-obrien-1925s-lost-world-and.html
"Jill Young" now arrives, stops the roping, calms "Joe", and puts both "Max" and "Gregg" in their places and leaves.
"Max" wants gorilla and "Jill" as his star attraction and tells "Gregg" to go and see her. "Max" is frightened of "Joe" at the moment. "Gregg" goes and speaks to "Jill" and meets the curious "Joe".
"Max" is brought to "Jill's" and the fast-talking showman kicks in knowing the girl has never been out of Africa. She agrees and the story shifts to Hollywood. While a romance is developing between "Gregg" and "Jill".
On opening night is one of the best stop motion animation and special effects sequences in the movies. After being introduced by "Max O'Hara" to his nightclub's audience. "Jill Young" goes to a piano and starts playing Stephen Foster's
"Beautiful Dreamer".
Which happens to be "Joe's" favorite piece of music. As she plays, "Jill" and the piano start to rotate and then rise as the audience beholds "Joe" holding the platform, the piano and "Jill".
"Max" sees nothing but profits after ten successful weeks. However, "Jill" wants to take "Joe", whose locked up in a cage in the basement when not on stage, and go home. The Hollywood lifestyle isn't her and "Joe". "Gregg" agrees, but "Max" talks her into staying for just a little longer.
It is now the 17th week and "Joe" is miserable and homesick. "Max" now has him play an organ grinder's monkey.
That night three drunk patrons make their way to the basement and "Joe's" cage. There they start to taunt the gorilla and one of them burns "Joe's" fingers with a cigarette lighter. He goes mad and breaks loose, goes to the main room and starts releasing the caged lions on display.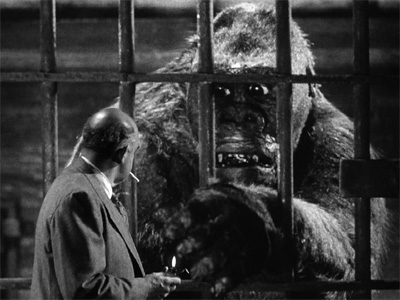 "Jill" manages to get "Joe" back in his cage as the police arrive. A court order is issued to kill him.
At the start of this series of pictures is actor Nestor Paiva standing up as the drunk who will use the lighter on "Joe". For those of you unfamiliar with his name. In 1954 he portrayed the Amazon boat captain
"Lucas"
in the first two
"Creature from the Black Lagoon"
features. He also portrayed the Sheriff in 1955's
"Tarantula".
My article
"NESTOR PAIVA: Skipper of the 'Rita' vs 'The Creature from the Black Lagoon"
can be read at:
http://www.bewaretheblog.com/2020/02/nestor-paiva-skipper-of-rita-vs.html
"Max" now plans with "Jill" and "Gregg" the release of "Joe" and his return to Africa.
Getting "Joe" out of the club and into the back of a moving van. "Jill", "Gregg" and "Max" head for the docks and awaiting ship to Africa.
The three listen to the police bands as they head across town, but come upon an orphanage on fire and trapped children. "Joe" now becomes a hero and in a tinted sequence saves the children. Only to get burned himself.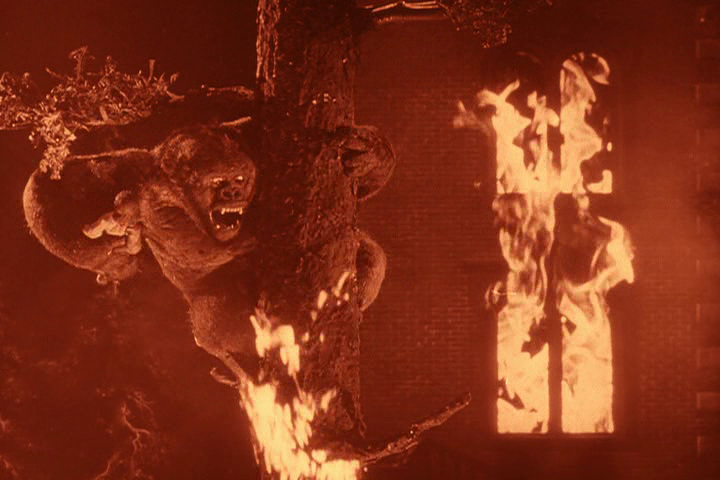 In the end "Max O'Hara" watched footage sent by "Gregg" and his wife "Jill" of the two of them and "Mighty Joe Young".
TELEVISION IN THE 1950'S

The new medium of television started with many anthology series, because the stations hadn't decided completely about creating a one character, or characters television series.
One such early anthology was
"The Silver Theatre"
on CBS from 1949 into just 1950. On May 1, 1950 was a drama entitled
"The First Hundred Years"
with Robert Armstrong as
"Mr. Martin",
"Connie's father", Jimmy Lyndon as
"Chris Thayer",
who marries "Connie", Allene Roberts was
"Connie Martin"
and William Frawley was in it, but I could not determine his role. Frawley would have the role of
"Fred Mertz"
on
"I Love Lucy"
from 1951 through 1957.
Both Robert Armstrong and James "Jimmy" Lyndon appeared in a forgotten crime drama
"Destination Big House",
released June 1, 1950
."The Silver Theatre"
program, became the pilot for the first television
"Soap Opera"
. Also called
"The First Hundred Years"
from December 4, 1950 through June 27, 1952.
Between February 12, 1951 and March 12, 1952, Robert Armstrong appeared on the "Soap Opera" as "Connie's father", "Mr. Martin". Apparently Allene Roberts was replaced by Olive Stacey.
On November 25, 1952, Robert Armstrong appeared as
"Harry Parker"
on the
"Armstrong Circle Theatre",
another anthology series, in Season 3, Episode 7, entitled
"Fable of Honest Harry".
Between 1953 and 1956 Robert Armstrong appeared in episodes of 20 different television programs. Such as
"Cheyenne", "Zane Grey Theater", "Broken Arrow",
and the very short lived police show
"Code 3"
as
"Captain Morse".
Also in 1956 he became
"Sheriff Andy Anderson"
co-starring with Rod Cameron as
"Lieutenant Rod Blake"
on
"State Trooper".

Starting in 1957 Robert Armstrong continued to appear strictly on television on shows such as
"Have Gun Will Travel"
starring Richard Boone,
"M Squad"
starring Lee Marvin,
"The Deputy"
starring Henry Fonda, and
"The Alaskans"
starring Roger Moore, Dorothy Provine and Jeff York.
On June 3, 1964, Robert Armstrong was billed 20th, as
"Norman Armstrong",
in the surfer teen movie,
"For Those Who Think Young".
That starred James Darren, Pamela Tiffin
,
and Paul Lynde. It featured Frank Sinatra's daughter Nancy, and Dean Martin's daughter, Claudia. Along with Bob Denver and Tina Louise, before the two set sail for televisions
"Gilligan's Island".

Left to right, Robert Armstrong who played "Carl Denham" in 1933's, "King Kong", Jack LaRue, who Howard Hawks brought from Broadway to star in 1932's, "Scarface", but lost the role to Paul Muni. Allen Jenkins, who played the good-natured gangster that was working for "Gentlemen Detectives" "B" films and provided the voice of "Officer Dribble" on the Hanna-Barbera animated series, "Top Cat". Far right, not having worked in over four years was George Raft.
Robert Armstrong's last appearance was his 4th on Raymond Burr's "Perry Mason", January 9, 1964, in the episode entitled "The Case of the Accosted Accountant".


COINCIDENTAL DEATHS

Robert Armstrong died of cancer on April 20, 1973 at the age of 83. Merian C. Cooper died of cancer 16 hours later on April 21, 1973 at the age of 79.