Three
motion pictures-
Three
different decades-
Three
heroes-
Three
Box Office failures. All
Three
features were designed to be the first of a series of films.
The concept goes back to the silent movie era and a series of "Cliff Hangers", started on March 31, 1914, with actress Pearl White in
"The Perils of Pauline".
In the 1930's and 1940's, audiences saw the very popular
"Flash Gordon"
serials with Olympic Medalist Larry "Buster" Crabbe. Then there was detective
"Dick Tracy"
with Ralph Byrd. The actor starred as the detective in both serials and a series of motion pictures. Byrd and
"Tracy"
would make the transition to early 1950's television in a further version.
Another favorite character came from the pen of adventure writer Edgar Rice Burroughs.
"Tarzan"
first appeared on the motion picture screen in 1918 portrayed by Elmo Lincoln. He was still going strong in the 1960's with Jock Mahoney. Along with a television series starring actor Ron Ely.
We cannot overlooked those other 1930's and 1940's detective film series based upon pulp detective fiction. Such as
"The Thin Man",
"The Saint",
and
"The Falcon".
Who was first portrayed by George Sanders and after he left the role. "The Falcon" continued portrayed by Sanders own brother Tom Conway.
What about the Asian Sleuth's? A large group of movies featured the character of
"Charlie Chan"
portrayed by Warner Oland and Sidney Toler. Then there was
"Mr. Moto"
portrayed by Peter Lorre and
"James Lee Wong"
portrayed by Boris Karloff.
Then came the decade of the 1950's dominated by Science Fiction, Westerns and Musicals without a major motion picture series. However, in 1962 Sean Connery first portrayed Ian Fleming's
"James Bond"
fighting
"Spectre"
and
"Dr. No".

So the stage was set for:
DOC SAVAGE THE MAN OF BRONZE released in June 1975


"Doc Savage's"
real name was
"Clark Savage, Jr."
and he first appeared in his own magazine in March 1933. He was written by Lester Dent using the "Publishing House Name" of
"Kenneth Robeson"
on the series.
Above the cover of the first issue of the
"Doc Savage Magazine".
"Clark Savage, Jr." was described by Lester Dent as:
a physician, scientist, adventurer, detective and polymath
The last is a person who knows many subjects and can draw upon them to solve any situation.
"Doc Savage's" stated goal according to Dent was to
RIGHT WRONGS AND PUNISHES EVIL DOERS!
In 1964 "Bantam Books" started publishing the novels and collected short stories, 180 in all, and there was a resurgence in popularity for the character. Bantam hired writer Will Murray to produce seven more novels from outlines of stories left by Lester Dent.
"Doc Savage"
also appeared on radio with 15-minute broadcasts in 1934 for 26 episodes. Then in 1943 another series was broadcast, but unfortunately not one episode of either program survive today.
In the first three issues of
"The Shadow Comics",
in 1940, there was a section with "Doc Savage". Then after that third issue he was given his own publication that would run for 20 issues into 1943.
In issue #5
"Doc",
became a superhero after being given a ruby inserted into his forehead and a blue hood to wear.
"The Invisible Doc Savage"
didn't resemble the originally written character and, thankfully, didn't last long before the original returned.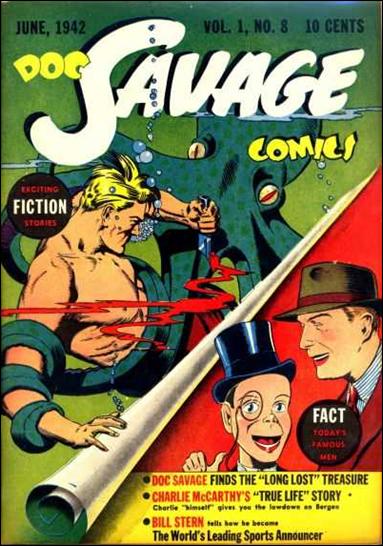 The television production team of Mark Goodson and Bill Todman, game shows
"The Price is Right", "Match Game", "Family Feud",
television westerns
"The Rebel"
with Nick Adams and
"Branded"
with Chuck Connors, announced their plans to make a movie version of Lester Dent's second novel.
"The Thousand-Headed Man"
would star Connors as
"Doc Savage".

Goodson and Todman wanted to get into the
"James Bond Craze"
that 1965's
"Wild, Wild, West"
was accomplishing for producer Michael Garrison. They planned to release their "Doc Savage" film to North American television in 1966 and Europe as a feature film. However, the two ran into copyright problems with the new executors of Lester Dent's estate and dropped the project.
Enter producer George Pal, 1950's
"Destination Moon",
1953's
"War of the Worlds",
1958's
"Tom Thumb"
and 1960's
"The Time Machine".
Pal went to Lester Dent's widow, Norma, and acquired the rights to make a motion picture. He planned a film series and then a possible television show.
George Pal had signed body builder and actor Steve Reeves to portray
"Clark Savage, Jr.".
I could not locate the original director and writer. However, George Pal's plans were interrupted by the 1973
"Writers Guild of America"
strike that lasted three and a half months. By the time the strike ended Reeves and the planned director were longer options and let go.
The new director would be Michael Anderson. Michael Todd's 1956 version of Jules Verne's
"Around the World in 80 Days",
the Gary Cooper and Charlton Heston 1959
"The Wreck of the Mary Deare",
George Peppard's 1965
"Operation Crossbow"
and 1968's
"The Shoes of the Fisherman"
starring Anthony Quinn and Sir Lawrence Olivier.
The screenplay was co-written by George Pal and television writer Joe Morheim as
"Joe Mohaim".
It was based upon the original 1933 novel, but added elements from the 1935 novel
"The Mystic Mullah"
and the 1938 novel
"The Green Death".
They set the story in 1936.
Mention
"The Fortress of Solitude"
and most people go to
D.C. Comics "Superman".
However,
"Kal-El's"
fortress did not appear until
"Superman",
issue #58, for June-July 1949. The original
"Fortress of Solitude"
belongs to "Doc Savage" and first appeared in 1933 and was located in the Arctic. Below are some stills from the opening of the motion picture of "Doc Savage's Fortress of Solitude" and are an exact replication of the description given by Lester Dent.
To enter "Doc" must place his hand in a specific spot.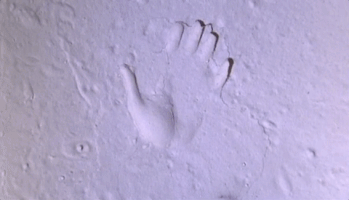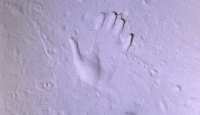 Note the sign above the doorway that reads
"Fortress of Solitude"
right out of the original story.
Ron Ely portrayed
"Clark Savage, Jr.".
Ely's second on-screen appearance had been in 1958's
"The Fiend Who Walked the West"
as 8th billed
"Deputy John Dryer".
This Hugh O'Brien forgotten Western was actually a remake of director Henry Hathaway's 1947
"Kiss of Death".
A motion picture
that introduced Richard Widmark as the psychotic killer. In 1961 Ron Ely co-starred in the television series
"The Aquanauts"
and from 1966 through 1968 he starred as, previously mentioned,
"Tarzan".

"Doc Savage's The Fabulous Five"
Michael Miller portrayed
"Lieutenant Colonel Andrew Blodgett 'Monk' Mayfair"
an Industrial Chemist. Miller played
"Tom Sawyer"
in a sequence of 1944's
"The Adventures of Mark Twain"
starring Frederick March. Michael Miller was in 1971's
"The Anderson Tapes"
starring Sean Connery and in the same year was seen in
"Three Days of the Condor"
starring Robert Redford.
Darrell Zwerling portrayed
"Brigadier General Theodore Marley 'Ham' Brooks"
an Accomplished Attorney. In 1974 Zwerling appeared in Roman Polanski's
"Chinatown"
starring Jack Nicholson and was appearing on different television shows.
William Lucking portrayed
"Colonel John 'Renny' Renwick"
a Construction Engineer. Whose favorite signature expletive is
"Holy Cow"
and loves slamming his fists through solidly constructed doors, or door panels. Lucking had been seen in the William Holden, Ryan O'Neal and Karl Malden 1971
"Wild Rovers"
and the last of the original
"Magnificent Seven"
features, 1972's
"The Magnificent Seven Ride",
starring Lee Van Cleef.
Paul Gleason portrayed
"Major Thomas J. 'Long Tom' Roberts"
an Electrical Engineer. Gleason is known for portraying
"Richard Vernon"
in 1985's
"The Breakfast Club",
but was primarily a television actor.
Eldon Quick portrayed
"William Harper 'Johnny' Littlejohn"
an Archaeologist and Geologist. "Johnny" has a habit of using long, obscure words when simple words would suffice.An example is his signature expletive of
"I'll be superamalgamated".
Quick was mainly a television actor.
Left to right, Darrell Zwerling, Michael Miller, Eldon Quick, Paul Gleason, Ron Ely and William Lucking.
The Other Two Main Characters
Paul Wexler portrayed
"Captain Seas".
The character was based upon the brutal
"Captain Flamingo"
of the 1936 novel
"Mystery Under the Sea".
Wexler was a "B" movie and television actor. He portrayed
"Deputy Sheriff Slim Adams"
in the Frank Sinatra and Sterling Hayden crime drama,
"Suddenly"
in 1954. He was also the Jivaro headhunter in 1959's
"The Four Skulls of Jonathan Drake"
.
Pamela Hensley portrayed
"Mona".
Her first on-screen role was 1970's
"There Was a Crooked Man"
starring Kirk Douglas and Henry Fonda. She basically was a television actress, but her major roles were
"Janet Blake"
on
"Marcus Welby, M.D.",
1975 through 1976,
"Beth Kelly"
in the forgotten Raymond Burr series
"Kingston Confidential"
in 1977,
"Princes Ardala"
on
"Buck Rodgers in the 25th Century"
in 1979, and
"C.J. Parsons"
on
"Matt Houston"
from 1982 through 1985.
The Plot
The screenplay opened with "Doc" at his "Fortress of Solitude" enjoying his daily two hours of exercise and meditation. Switch to "The Fabulous Five" in "Doc's" penthouse at the top of the "Empire State Building". As "Doc" arrives the audience sees a South American Indian with a high-powered rifle on the opposite building aiming it as "Doc", but not getting a clear shot.
"Doc" is told that a letter came from his father and it's in the safe. "Doc" looks towards the wall clock and on his wristwatch adjusts the hands and the same thing happens on the clock opening the safe. A shot rings out and the bullet misses him. The glass used on the windows has a special element in the glass. The element makes anything seen through it to be actually slightly off the position you're seeing and protecting "Doc" from the rifle shot.
"Doc" has "Johnny" stay in the penthouse to guard it. While "Monk", "Ham" and "Long Tom" go after the shooter in "Doc's" bronze colored chord automobile with the words "Doc Savage" on it. Then "Renny" and "Doc" take off from the "Empire State Building's" rooftop in "Doc's" own bronze colored helicopter with the words "Doc Savage" on it also.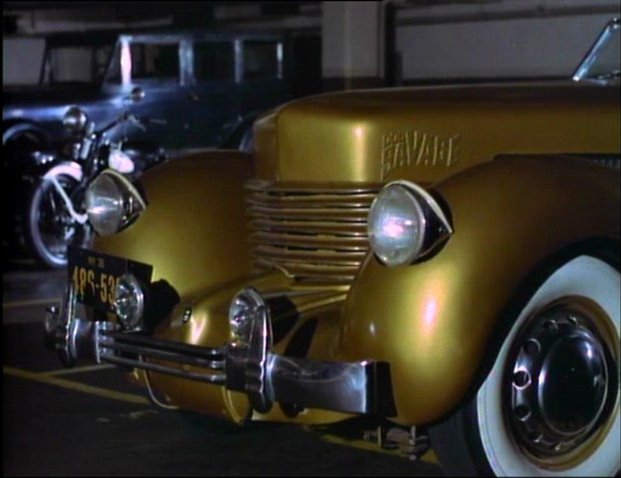 Below part of the helicopter.
"Doc" chases the shooter across the roof tops and the South American Indian falls to his death.
The shooter's body has native markings, red tipped fingers as if from blood and his chest has a tattoo of the ancient Mayan snake God Kukulan. Back in "Doc's" penthouse "Johnny" is recovering from being knocked out and the others find the letter from "Doc's" father burnt. However, from the markings on the shooter it is obvious to "Clark Savage, Jr." that he came from the small country of Hidalgo.
With "The Fabulous Five", "Doc" heads for the airport and his private, bronze colored airplane with his name on it, to fly to Hidalgo.
As "Doc's" plane is in flight a bi-plane appears and the pilot starts shooting at it. After a little aerial combat "Doc's" plane explodes and the pilot and bi-plane leave. It turns out that wasn't the real plane, but a wooden model remotely controlled from the real aircraft to confuse attackers.
Waiting in Hidalgo is the International criminal and smuggler "Captain Seas". Who has already had "Doc's" father murdered, arranged the attempt on his life in New York and in the skies on his way south. With "Captain Seas" are two women
"Adriana",
Janice Heiden, and
"Karen",
played by Robyn Hilton.
Above Robyn Hilton stealing the scenes with her way over the top, but perfect Marilyn Monroe act.
Upon their arrival the group discovers that "Doc's" father received a large land grant from the Quetzamal, a Mayan tribe, that was supposed to have disappeared 500 years ago. However,
"Don Rubio Gorro",
played by Bob Corso, of the local government. Informs "Doc" that all the paperwork on the land transfer seemed to have disappeared. "Don Gorro" sleeps in a giant baby crib.
"Captain Seas" confronts the bi-planes pilot who insists he killed "Doc Savage". Later using a Mayan witch doctor to make a special poison,
"The Green Death"
. The same phantom like green snakes that killed "Doc's" father now attack and kill the pilot.
The local coroner arrives and presents "Doc" with his father's cremated remains. "Clark Savage, Jr." starts studying them to see if he can find out what killed his father.
While studying his father's ashes "Doc" is attacked by the phantom snakes.
"Doc" and "The Fabulous Five" meet "Captain Seas" and are invited to his yacht for dinner that evening.
After the ladies are excused for the evening. The waiters come back in and at a signal from "Captain Seas" attempt to kill the others. However, things do not go as plan and "The Fabulous Five" escape into the water.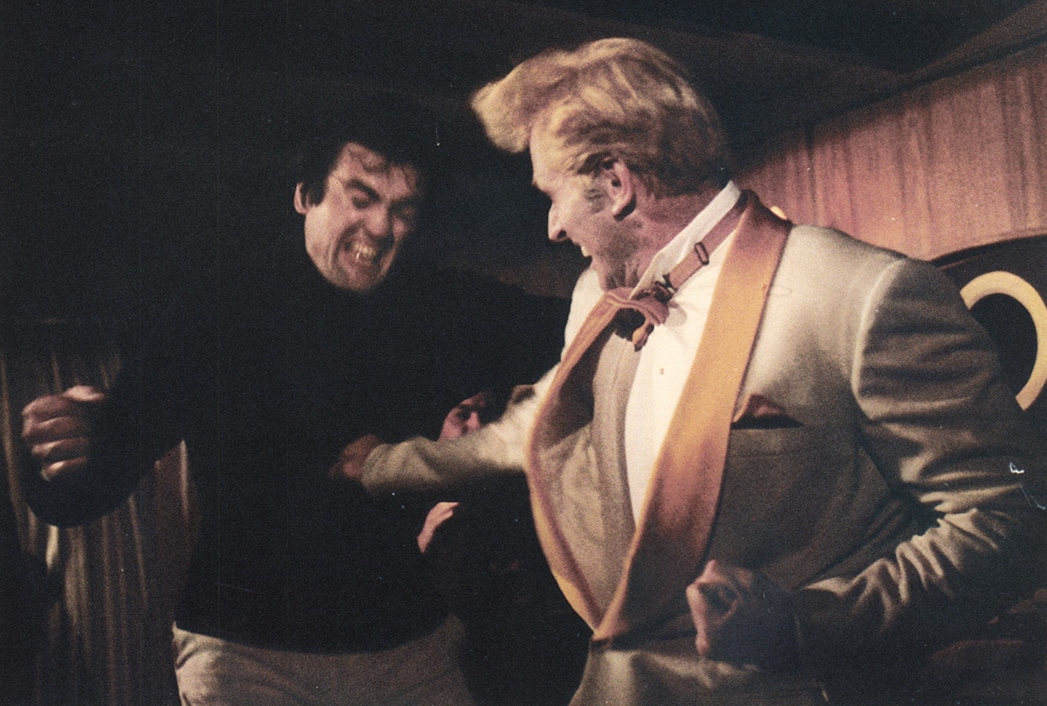 "Captain Seas" confronts "Doc" and starts firing a machine gun at him, but the bullets only make holes in his dinner jacket. He is wearing a bullet proof vest and as the confused "Captain" looks on. "Doc" jumps overboard and joins the others. The six men are using breathing apparatuses "Doc" invented.
Now "Doc" goes back to "Don Gorro's" office and meets his assistant "Mona". "Mona" says she knows somebody that can lead "Doc" and "The Fabulous Five" to where the Mayan tribe is located.
That old man says he will only take them to where they can see the land of the Mayan tribe and "Doc" agrees. On the journey "Mona" says she's in love with "Doc", but responds that he will never love again. "Clark Savage, Jr." was engaged to be married, but an enemy used her to get at him. From that moment on he vowed not fall in love again and endanger another women. "Mona" is told to stay at the old man's house, or return to Hidalgo.
Then the journey begins to the land of the Mayan tribe.
After the old man leaves them. The group follows a clue left my "Doc's" father about the way to take into the valley of the Mayan's. They discover that the tribe is being used as slaves by "Captain Seas". The answer to all of "Clark Savage, Jr's" questions is seen in a volcanic pool of liquid gold that "Seas" is having turned into gold bars and would have been owned by his late father. He goes off to investigate and his team remains in hiding at his direction.
The five are captured and so is "Mona" who followed them. "Captain Seas" has her and the others put in a cave with the tribe's chief. Who has been against what "Captain Seas" has been doing to his people. It turns out the Mayan Chief speaks English taught to him by "Doc's" father.
Next "Seas" has the witch doctor make the "Green Death' poison. The Mayan uses a green snake from a pit of snakes with other substances. The witch doctor, then, using a blow gun, shoots the phantom snakes into the cave to kill those inside.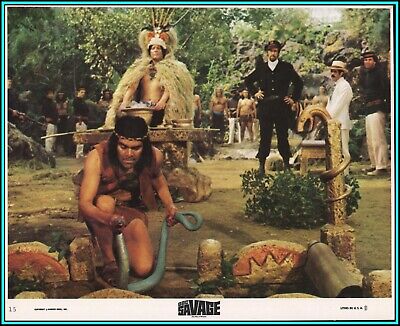 "Doc" shows up and a fight with "Captain Seas" begins. They use different forms of fighting techniques and the audiences sees a caption of what each technique is as the two change forms.
"Doc" knocks out "Captain Seas" and releases his friends. He had made an antidote earlier in Hidalgo, after the attack, and gives it to his friends.
Suddenly the volcano starts to erupt causing the pool of gold to splatter upwards and the witch doctor to fall into the pit of snakes.. After the small eruption ends. The body of "Don Rubio Gorro's" has been turned into a statue encased in gold. "Captain Seas" is found under some wreckage and taken prisoner. The Mayan Chief offers the gold and land grant to "Doc". Thankful and overwhelmed he replies to the Chief:
I promise to continue my father's work ... his ideals. With this limitless wealth at my disposal, I shall be able to devote my life to the cause of justice.
"Mona" and "Doc" kiss their good-bye and she plans to stay with the tribe.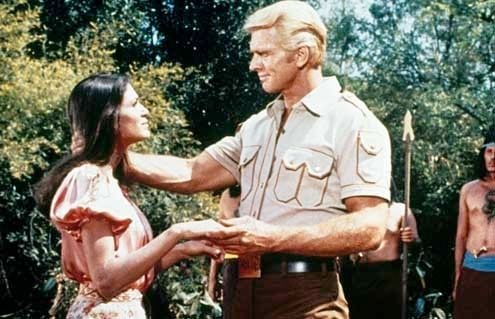 Returning to the United States and at his private rehabilitation center. "Clark Savage, Jr." performs acupuncture brain surgery upon "Captain Seas".
"Seas" now has become a good man and is last seen on Christmas Eve working a Salvation Army donation kettle.
The closing credits tells the audience that:
Doc Savage Would Return in "Doc Savage: The Arch Enemy of Evil"
That never happened as the motion picture bombed at the Box Office. The primary reason was that the same June 1975
"Doc Savage: The Man of Bronze"
was released. Another little picture from an unknown director, Steven Spielberg, entitled
"JAWS"
was also released.
Upon seeing the finished motion picture, Lester Dent's wife, Norma, stated in the January 1976 letters page of
"Doc Savage Magazine":

... I thought my heart would burst with pride. I saw the movie three times that day. I cried when I heard Ron Ely deliver the Doc Savage code - he said it as he meant every word of it. It was wonderful.
THE ADVENTURES OF BUCKAROO BANZAI ACROSS THE 8TH DIMENSION released August 15, 1984


Back in 1974 Producer and Director D.W. Richter's wife read a novel by Earl Mac Rauch and mentioned it to her husband. At the time Rauch was still attending the Dartmouth College in Hanover, New Hampshire. Which just happened to be Richter's old school. He was now attending the University of South California and working as a script analyst for Warner Brothers Pictures.
The two men started letter writing. After some years Rauch mentioned wanting to become a screenplay writer and Richter said to look him up, if he came to Los Angeles. The two met and over a dinner, prepared by D.W. Richter's wife, the subject of Earl Mac Rauch's character
"Buckaroo Bandy"
came up. The novelist's character was inspired by all those old 1970's Kung Fu movies.
Rauch had started a dozen screenplays for his character and tossed them aside, because they just didn't seem to work in the way he wanted. Now with Richter's help, Rauch's character, now named
"Buckaroo Banzai",
came together.
D.W. Richter would only produce three motion pictures between 1973 and 1991 and this was number two. He only directed two of those three, but was also a screenplay writer. Richter would write thirteen major screenplays, but not this picture. Two of these were 1978's
"Invasion of the Body Snatchers"
and 1979's
"Dracula".
He also adapted John Carpenter's 1986
"Big Trouble in Little China".
Earl Mac Rauch only wrote four screenplays and his first was Martin Scorsese's 1977 musical-drama
"New York, New York"
with Robert DeNiro and Liza Minnelli. This was his third and Earl Mac Rauch's fourth was 1989's
"Wired"
about
"John Belushi".
Note some character similarities to
"Doc Savage"
are in the basics of this screenplay.
Peter Weller portrayed
"Buckaroo Banzai".
The character is described as:
a physicist, neurosurgeon, test pilot, rock star, and polymath
He also plays a guitar and sings
.
Before this picture Weller was seen on television and two forgotten motion pictures with sixth billing in both.
"Buckaroo's Team Banzai, Technically the Hong Kong Cavaliers".

Jeff Goldblum portrayed
"Dr. Sidney Zweibel aka: New Jersey"
a neurosurgeon who plays piano and sings. Goldblum started on-screen acting in 1974 and in 1978 was in the remake of the
"Invasion of the Body Snatchers".
He portrayed
"Lionel Whitney"
in the forgotten, one season, television program
"Tenspeed and Brown Shoe".
Right before this feature Jeff Goldblum portrayed comedian Ernie Kovacks in the television movie
"Ernie Kovacks: Between the Laughter".
Lewis Smith portrayed
"Tommy Lee aka: Perfect Tommy",
plays rhythm guitar. Smith was also a television actor and would be seen in the two mini-series
"North and South Book I and Book II".
He also co-starred in the short-lived television series
"Karen's Song"
with Patty Duke.
Pepe Serna portrayed
"Reno Nevada",
plays saxophone.
Mexican-American Serena prior to this picture had been acting since 1970 and as of this writing would have appeared in over 100 feature films and 300 television programs.
Clancy Brown portrayed
"Rawhide",
plays piano. Brown has been doing voices for animated characters and video games since 1994 as his primary income. Besides this feature you can see him in 1986's
"Highlander",
1986's
"The Bride"
as Frankenstein's creation
"Viktor",
1994's
"The Shawshank Redemption"
and
1997's
"Starship Troopers".

Billy Vera portrayed
"Pinky Carrurthers".
Vera's acting is mostly on television as he is known more for the soundtracks in movies.
Michael Santoro portrayed
"Billy Travers".
This was his first film of only fifteen through 2008.
Above "Buckaroo Banzai" and "Team Banzai". Left to right, Jeff Goldblum, Michael Santoro half hidden, Clancy Brown, Peter Weller, Pepe Serna, Lewis Smith and Billy Vera.
Robert Ito portrayed
"Professor Hikita"
a Japanese particle scientist. Who is part of
"Team Banzai",
works at the
"Banzai Institute"
and is Buckaroo's mentor
.
Ito portrayed characters on several television series including
"Ironside", "Kung Fu", "Mannix"
and
"Quincy, M.E."



The Other Three Main Characters

John Lithgow portrayed
"Dr. Emilio Lizardo aka: Lord John Worfin".
Lithgow started out with fourth billing in a forgotten 1972 feature film,
"Dealing: Or the Berkeley-to-Boston-Forty-Brick Lost- Bag Blues".
Appeared in 1983's
"Twilight Zone: The Movie",
1984's
"2010"
and of course was on television's
"3rd Rock from the Sun",
1996 through 2001.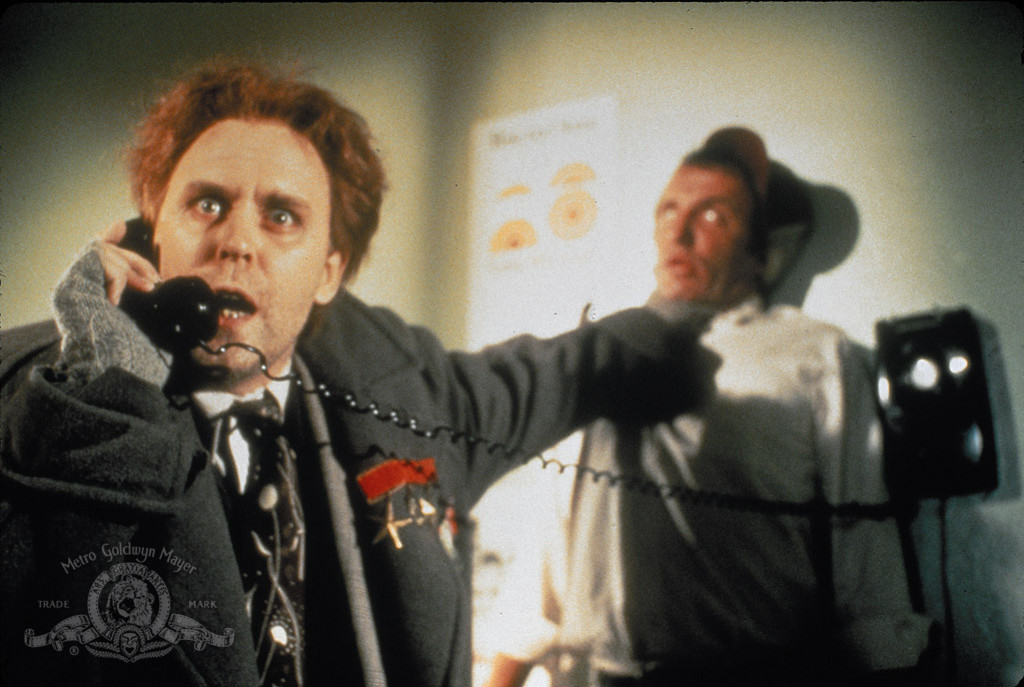 Ellen Barkin portrayed
"Penny Priddy".
Before this picture Barkin was appearing on television, but in 1983 she appeared in the cult rock and roll motion picture
"Eddie and the Cruisers".
After this film Ellen Barkin was seen in several forgotten features films, but in 1995 she portrayed
"Calamity Jane"
in the excellent, if over looked,
"Wild Bill",
starring Jeff Bridges as
"Wild Bill Hickok".

Christopher Lloyd portrayed
"John Bigboote".
Lloyd's on-screen acting started in 1975 in the Jack Nicholson feature
"One Flew Over the Cuckoo's Nest".
In 1981 he was in another Nicholson film co-starring Jessica Lange,
"The Postman Always Rings Twice",
and of course there were the three
"Back to the Future"
movies and the two
"Addams Family"
movies.
The Plot
Opens with "Buckaroo Banzai" testing an invention he and "Dr. Hikita" have built called an "oscillation overthruster". Which propels his "Jet Car" through solid matte, in this instance, a mountain. While passing through the rock of the mountain "Buckaroo" finds himself in
"The 8th Dimension"
.
The jet car is a modified Ford F-350 pick-up truck with a jet engine capable of reaching Mach 1. It has been modified by the addition of the "oscillation overthruster".
Below "Banzai" discovers something alive on his windshield.
Cut to the
"Trenton Home for the Criminally Insane",
in Trenton, New Jersey,
and "Dr. Emilio Lazardo" watching a television newscast about what "Buckaroo" has done. Back in 1938, "Lazardo" and "Hikita" built a prototype "overthruster", but it resulted in "Emilio" being stuck between two dimensions and possessed by
"Red Lectroids".
He now escapes from the asylum after realizing that "Buckaroo Banzai" was able to penetrate "The 8th Dimension"
and safely return,
Below a picture of the "Red Lectroids".
Cut again to a Night Club performance by
"The Hong Kong Cavaliers".
"Banzai" stops the performance seeing a depressed and suicidal women, "Penny Priddy" in the audience. During a song he now performs for her she attempts to commit suicide, but it is thought to really be an assassination attempt on "Buckaroo Banzai".
After bailing "Penny" out of jail. "Buckaroo" realizes she is his late wife's twin sister.
Of course there will be a romance that raises the question is "Buckaroo" in love with "Penny", or the image of his late wife?
Later, "Buckaroo Banzai" holds a Press Conference about his experiences with the "overthruster" and explains the alien trans-dimensional life form he found on the "Jet Car's" windshield. He is called away to take a phone call and gets an electrical shock. Two strange men enter the room where the Press Conference is being held and kidnap "Professor Hikita", but because of the electrical shock he received. "Banzai" is able to see these men as actually reptilian humanoids the evil "Red Lectroids".
Giving chase "Buckaroo" is able to rescue "Hikita" and the two are picked up by members of "Team Banzai". The group return to
"The Banzai Institute"
and are met by
"John Parker",
played by Carl Lumbly, a representative of
"John Emdall",
played by actress Rosalind Cash, the leader of the good
"Black Lectroids of Planet 10".


Above Rosalind Cash as "John Emdall".
Above Carl Lumbly in human form. Below is the "Black Lectroids" space craft in orbit around the Earth.
"John Parker" explains that they have been at war with the "Red Lectroids" for years and were finally able to banish them to "The 8th Dimension". However, the failed experimentation of "Dr, Lazardo" and "Professor Hikita", in 1938, enabled the "Red Lectroid's" leader, "John Whorfin", to take over "Emilio Lazard's" body. He thereby escaped "The 8th Dimension" along with some of his followers, if you haven't picked up on it yet. All the "Red and Black Lectroid's" first human name is "John"
"John Emdall" fears that "Lord John Worfin" will release the other "Red Lectroids" still in "The 8th Dimension". By using "Buckaroo Banzai's" perfected "overthruster" to enter it. "Emdall" gives "Banzai" the task of stopping "Worfin". Oh, as an incentive, should he fail, "John Emdall" will fake a nuclear detonation in Russia starting World War Three and assuring the destruction of the "Red Lectroids". At this point "Buckaroo Banzai and the Hong Kong Cavaliers" are involved in an inter-dimensional war.
"The Hong Kong Cavaliers" track the "Red Lectroids" to
"Yoyodyne Propulsion Systems"
in New Jersey.
They realize that the Orson Welles
"War of the Worlds"
radio broadcast, on Halloween 1938, was actually a warning by Welles that the "Red Lectroids" were in New Jersey, but the "Lectroids" somehow forced him to state the program was fiction based upon the H.G. Wells novel.
At this time "Lord Worfin" and his "Red Lectroids" are building a spacecraft to cross over to "The 8th Dimension" and bring out his forces. They break into "The Banzai Institute" and kidnap "Penny" as they search for the "overthruster". Unknown, is the fact she has it in her possession.
"Banzai" now breaks into "Yoyodyne" as "Penny", who is being tortured, keeps refusing to answer the questions of "Worfin-Lazardo". "Buckaroo" rescues "Penny", who is confused and wounded, but he becomes "Worfin's" captive instead of her.
"The Hong Kong Cavaliers" accompanied by
"The Blue Blaze Irregulars",
a group of youngsters, enter the facility and rescue "Buckaroo Banzai" and attend to "Penny's" injuries. Meanwhile, "Lord Worfin" and his men enter their spacecraft, but without the perfected "overthruster". They have to use "Lizardo's" imperfect model from 1938 to penetrate "The 8th Dimension". The craft takes off by breaking through a wall, but is unable to make the inter-dimensional travel the "Red Lectroids" wanted to do.
What the "Red Lectroids" don't know is both "Banzai" and "John Parker" are on board their ship. The two have been hiding inside one of the pods and plan to sabotage the craft. However, "Worfin" discovers this and ejects the pod, but "Buckaroo" and "Parker" are able to get the pod's weapons on line. They shoot the spaceship destroying those on board ending the possible "Red Lectroid" invasion.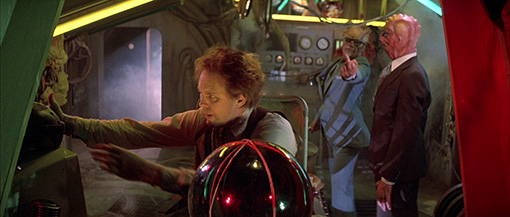 "Banzai" parachutes to Earth as "John Parker" heads to his people's orbiting spacecraft. "Buckaroo" finds "Penny" has died from her injuries and he goes to kiss her. Suddenly, he is shocked, by "John Emdall" again, and it revives her.
Next the closing credits start with the entire "Hong Kong Cavaliers" walking in the Los Angeles sewer system. Then "Penny" and other characters join them. Ever see 1954's
"THEM!",
or 1978's
"Grease"?
The closing credits state that the sequel:
Buckaroo Banzai Against the World Crime League
will be coming out, but it never did!

The probable reason for this picture's Box Office failure was similar to "Doc Savage the Man of Bronze". The picture was scheduled to have opened on June 8, 1984, but was pushed back to August 15th. Because "Ghostbusters" was to open June 1, 1984 and "Star Trek III: The Search for Spock" the same day. Then five days prior to the August release of "The Adventures of Buckaroo Banzai Across the 8th Dimension" the unexpected sleeper "Red Dawn" starring Patrick Swayze and Charlie Sheen opened.

Bill Gosford of "The Miami Hearld" got it right upon the pictures release:


Its comedy springs from that odd combination of self-effacement and self-absorption ... [it] is basically a comic strip, relentlessly hip ... an adventure in the Buck Rodgers mold.
But Richard Corliss for "Time Magazine" hit upon the real problem for the film other than the Box Office competition that moved it out of the Summer sweeps:


its creators, Earl Mac Rauch and W.D. Richter, propel their film with such pace and far-fetched style that anyone without PhDs in astrophysics and pop culture is likely to get lost in the ganglion of story strands. One wonders if the movie is too ambitious, facetious and hip for its own box-office good
Eventually late-night television showings and College showings turned the movie into the Cult Classic it has become.
THE SHADOW released July 1, 1994
Who know what evil lurks in the hearts of men? The Shadow knows!
"The Shadow"
began on July 31, 1930 as the Mysterious Narrator of the radio program
"Detective Story Hour".
He was voiced by an unknown actor named Orson Welles. The character became very popular and a complete radio program for the Welles character was created. The audience would find out that he was actually rich playboy
"Lamont Cranston"
with a dark past
and had a girlfriend named
"Margo Lane".
Next the radio character morphed into a Pulp Fiction mystic, on April 1, 1931, in
"The Shadow Mystery Magazine"
written by Walter B. Gibson. Who worked for the same publisher as Lester Dent and used a pen name, in this case, of
"Maxwell Grant".
Later on, when Gibson's work load increased with other series and he needed help with the writing, Dent was one of those who wrote additional stories.
There were six filmed shorts with the voice of
"The Shadow"
based upon the radio program. Next actor Rod LaRocque portrayed the character in two feature films, 1937's
"The Shadow Strikes"
and 1938's
"International Crime"
. In 1940 actor Victor Jory portrayed the character in a 15 Chapter serial
"The Shadow"
. In 1946 Kane Richmond took on the role in three very low budgeted features,
"The Shadow Returns", "Behind the Mask"
and
"The Missing Lady"
. In 1958 plans for a television series starring Richard Dent was first shot as a two-episode pilot. The series didn't sell and the two episodes were edited into the feature film
"Invisible Avenger".
It was re-released in 1962 under the new title
"Bourbon Street Shadows".
In 1994 a new movie version of
"The Shadow"
was released and is the subject of this article.
The screenplay was from David Koepp. Koepp's work prior to this feature included 1991's
"Toy Soldiers",
1993's
"Jurassic Park"
and
the same years
"Carlito's Way".
Russell Mulcahy was the director. Mulcahy had been directing music video's since 1976. His first feature film was the 1984 Horror-Thriller
"Razorback".
Russell Mulcahy went back to music videos and then in 1986 made his second feature film
"Highlander",
more music videos until 1991's
"Highlander II: The Quickening"
and back to music videos.
Alec Baldwin portrayed
"Lamont Cranston aka: The Shadow".
Baldwin and his then wife Kim Basinger had just been seen in the remake of the Steve McQueen and Ali MacGraw 1972
"The Getaway"
. Four years later he had a chance to do his best Sean Connery voice in
"The Hunt for Red October"
and back in 1988 co-starred in Tim Burton's
"Beetlejuice".
Penelope Ann Miller portrayed
"Margo Lane".
In 1988 Miller was in both
"Big Top Pee-wee"
and
Biloxi Blues".
1990 saw her in
"The Freshman", "Awakenings"
and
"Kindergarten Cop".
In
1992 it was
"The Gun in Betty Lou's Handbag"
and 1993 she was in
"Carlito's Way".


John Lone portrayed
"Shiwan Khan".
Lone started as the
"Chinese Cook"
in 1976's
"King Kong",
in 1994 he was the caveman brought back to life in
"Iceman",
and in 1987 Lone portrayed
"The Last Emperor"
of China as an adult.
Peter Boyle portrayed
"Max Shrevnitz".
Boyle had been acting since 1966 and some of his major roles were in 1970's
"Joe",
both 1973's
"Steelyard Blues"
and
"The Friends of Eddie Coyle".
In 1974 saw the actor at the two ends of the acting spectrum as
"Crazy Joe".
Which was
about the real-life gangster and as the singing and tap dancing monster of Mel Brooks'
"Young Frankenstein".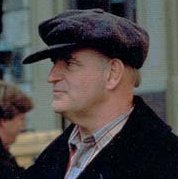 Tim Curray portrayed "Farley Claymore". Character actor Curray started television acting in 1968, but it was his as "Dr. Frank-N-Furter" in 1975's "The Rocky Horror Picture Show", "Rooster Hannigan" in 1982's "Annie" and the devilish "Darkness" in 1985's "Legend" that he is best known for.
Jonathan Winters portrayed "Police Commissioner Wainwright Barth". The comedian started on-screen acting in 1954 television comedy roles. He had his own comedy show and appeared on many other shows as a guest star. His movies included 1963's "It's a Mad Mad Mad Mad World" and 1966's "The Russians Are Coming the Russians Are Coming". After this picture Winters started providing voices on cartoon programs.
Ian McKellen portrayed
"Reinhardt Lane".
McKellen is probably best known for portraying
"Eric Lensherr aka: Magneto"
in the original
"X-Men"
motion picture series starting in 2000 and
"Gandalf"
in Peter Jackson's
"The Lord of the Rings"
motion pictures series beginning in 2001. He also was great as motion picture director James Whale in 1998's
"Gods and Monsters".


The Plot
The movie opens in Tibet after the end of World War One. American soldier, "Lamont Cranston", sees a way to become rich and sets himself up as a warlord known as
"Yin-Ko (Dark Eagle in Mandarin).

"Yin-Ko" is kidnapped by a group of men and when he is released finds himself staring at a Chinese monastery resembling some great castle.
Entering the monastery "Yin-Ko" meets a Holy man the
"Tuku".
The Chinese actors voice was
dubbed by Barry Dennen.
The "Tuku" has otherworldly powers and offers "Yin-Ko" the chance to redeem himself. At first he refuses and, suddenly, the
"Phurba",
a flying, sentient and mystical dagger is at his throat.
"Yin-Ko" reconsiders his options and begins seven years of mental and physical training. When it is concluded, "Yin-Lo" the "Warlord" is no more, and "Lamont Cranston"
"The Shadow"
remains.
Switch to a bridge in New York, three hoods are about to toss
"Dr. Roy Tam",
Sab Shimono, a physicist, wearing "Cement Shoes", into the water below. A man appears and in a strange voice warns them to stop.
They look towards the voice, but he's gone, or is he? This is the feared vigilante crime fighter that has the power to
"Fog Men's Minds",
making others believe he's invisible, known to be just a
"Shadow".

In the end the frightened hoods are run off and "Dr. Ram" saved. He is given a special ring and told when it lights up. "The Shadow" will expect the doctor to follow his instructions. As the doctor is now one of "The Shadow's" agents, because of his specialized skills. New York Cab driver "Max Shrevnitz" arrives.
"Max" drives the doctor to his home and reveals that he is also part of the team. Meanwhile the facial features of "The Shadow" change to "Lamont Cranston's". The very well known and very rich New York playboy.
"Cranston" goes to his favorite nightclub and is dinning with "Police Commissioner Barth". There he sees socialite "Margo Lane" enter and is caught by her beauty. "Lamont" excuses himself to go speak with her and invites "Margo" to his table. Which turns out to be a mistake, because "Margo Lane" is telepathic and feels something strange about "Lamont Cranston".
The table talk worries "Lamont" as it is obvious "Margo" can actually get inside his head. Before he leaves with her, "Lamont Cranston" uses his power to "Fog" the mind of "Barth". So that he will only remember dinning with him and nothing about "Margo Lane". Who thinks she heard "Cranston" whisper something to the Commissioner.
However, the two are attracted to each other and will spend the night in his house.
Meanwhile, as the evening is unfolding over at the museum. Something strange is happening as an unordered, or expected sarcophagus arrives and the curator starts to examine it. He can not believe what he is looking at, because it appears to be from the lost tomb of "Genghis Khan". It is all covered in intricate silver in-lays and a museum guard is instructed not to touch it and the curator goes away. Sounds now start to come from the sarcophagus and the locks start opening and closing by themselves.
The sarcophagus opens and inside is "Shiwan Khan". Whose ancestor was the Mongol leader that attempted to conqueror the known world. Now, "Shiwan", has the same desire and offers the guard a chance to join his army, but is refused. "Khan" uses the same hypnosis "Lamont" used on "Barth" to make the guard kill himself. "Shiwan Khan" was also a student of the "Tulku" and his powers seem to be stronger than "Lamont Cranston's".
After leaving "Margo" in his house and giving his butler, also an agent of course, instructions to give her breakfast and take her to wherever she wants to go. "Cranston" leaves and is picked up by "Max" and driven to an alleyway in the city. There, "Lamont" walks up to a blank wall which turns into a doorway into the secret lair of "The Shadow".
Inside waiting for him is "Shiwan Khan" with an offer for "
"Yin-Ko"
to join him in his conquest of the World. He mentions the extreme power of the two of them together. However, "Lamont" refuses and "Shiwan" produces a coin for him to examine,
As is seen in the above still. "Khan" has "Phurba" that he took after murdering the "Tulku". He now uses the dagger in their "Friendly" game of wills against each other.
After closing examining the coin. "Lamont" is told it's made from
"Bronzium"
an impure form of uranium. Which theoretically can create an atomic explosion and is being experimented with by "Reinhardt Lane" and his assistant "Farley Claymore".
Their battle of wills concluded. "Khan" leaves and "Cranston" next goes to see "Dr. Tam" about a possible bomb. There, "Tam" confirms the probability of a nuclear explosion that could destroy New York City.
While the meeting between "Shiwan" and "Lamont" was going on. "Margo" went to see her father at his government laboratory, but is faced with a problem named "Farley Claymore". Who thinks she'll marry him, because of his own suppressed genius.
"Khan" next gets to the ambitious and controllable "Claymore" and sets up the kidnapping of "Margo's" father. When "Lamont" meets with her, "Reinhardt Lane", has disappeared.
"Margo" is brought to "Shiwan Khan's" palatial headquarters by "Claymore" to meet her missing father. Then as the hypnotized "Reinhardt" looks on. "Khan", knowing "Margo" has met "The Shadow", but doesn't knows he's "Lamont" hypnotizes her to kill him.
"Margo" enters "Lamont's" home to kill "The Shadow" and when she see's "Lamont" doesn't react to him. He is able to release her from "Shiwan's" orders. Now "Margo" realizes that "Lamont Cranston" and "The Shadow" are one in the same person.
He attempts to rescue "Reinhardt Lane", but is stopped by "Khan's" henchmen.
The two drive around New York with "Max". "Lamont" suddenly has him stop opposite a extremely large vacant lot. This was the site of the
"Hotel Monolith"
that everyone in New York remembers, but not one person, including "Lamont", "Margo" and "Max" can remember it being taken down.
"Lamont" puts two and two together and realizes "Khan" has made the hotel disappear in people minds and it is still standing there. He is now able to see it and
"The Shadow"
enters for the final confrontation with
"Shiwan Khan".

While inside "The Monolith" the bomb has been completed and a count down begun.
Fighting his way through the lower levels of the hotel against "Shiwan's" henchmen "The Shadow" meets "Claymore".
Using his hypnotic powers "The Shadow" makes "Farley Claymore" jump off a balcony to his death. After the man foolishly attempted to kill him. Meanwhile, the bomb, shaped like a ball, starts rolling down the halls and staircases.
Locating "Khan", "The Shadow" now is attacked by the dagger, but "Lamont Cranston" remembers that a peaceful mind can stop it.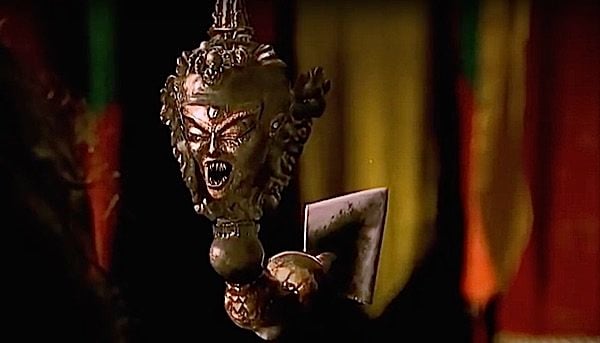 "The Shadow" grabs "Phurba" and throws it back at "Khan".
This causes a momentary lapse in "Shiwan Khan's" concentration and two things happen at once. It frees "Reinhardt" from "Shiwan's" control and to the surprised populace of New York City "The Hotel Monolith" reappears.
"Margo" joins her father and the two disarm the bomb. "Lamont", looking like himself, goes after "Shiwan" throughout "The Monolith". The two meet in the ballroom with glass mirrored walls and in their battle the glass starts to break.
Using telekinesis "Cranston" hurls a shard of mirror glass into "Khan's" frontal lobe. "Khan" wakes up in a mental hospital's padded room after having a lobotomy. A doctor enters and "Shiwan" claims to be the heir of "Genghis Khan", but discovers he is now without any power. The doctor assigned to his case is an agent of "The Shadow".
"The Shadow"
was to have been a "Summer Block Buster" and the start of a series. There were toys and other merchandise already produced, or ordered. The movie started out at #2, but would bomb at the Box Office. Among the pictures the film was up against was Disney's animated
"The Lion King"
released two weeks earlier. The Worldwide Box office was $42 million dollars, but the budget was $40 million not including money put out to the companies making the merchandise. As a result a decision was made to cancel plans for a second feature film.
Three
heroes over
Three
decades.
Three
Box Office Failures, but
Three
Cult features.