Edna Ferber wrote about strong women in her novels and Hollywood brought to audiences these women in multiple successful motion pictures and television productions over a 74 year period.

PART ONE: A PROLOGUE ABOUT MISS EDNA FERBER
The future reporter, novelist and playwright was born on August 15, 1885 in Kalamazoo, Michigan. Her father was Jacob Charles Ferber a storekeeper and her mother was Julia Neumann Ferber. Edna's early life was spent traveling from one city and state to another, because of the failing business ventures of her father. By the age of five the young girl was experiencing daily antisemitism from her families neighbors and people who saw her just walking on the street.
Adding to that pressure on the young girl was the early death of her father. Her mother now had to raise two young girls alone. Off setting the bad in Edna's early life was the strength of her mother and sister responding daily to the small families hardships. It would be Edna Ferber's own experiences growing up and how her sister and mother met their daily life. Which became the basis for the strong female characters of her future writings.
The young women became, as she described it, "Stage Struck" from the plays she would attend with her sister. Edna wanted to become an actress, but by age 17, in 1902, her plans had to change after graduating from High School. The girl's mother refused to permit Edna to attend acting and elocution classes. As a result and as a means of helping support her family. Edna Ferber went to a local newspaper in Appleton, Wisconsin, where the family now lived, called the "Daily Crescent" and got a job as a reporter. Probably unrecognized by her, at that time, was that her career as a writer had begun.
One year later Edna had moved and was on the staff of the "Milwaukee Journal". In 1910 she published her first short story "The Homely Heroine" which foreshadows Ferber'smajor works and begins:
And so," the story writers used to say, "they lived happily ever after."
Um m m maybe. After the glamour had worn off, and the glass slippers were worn out, did the Prince never find Cinderella's manner redolent of the kitchen hearth; and was it never necessary that he remind her to be more careful of her finger nails and grammar? After Puss in Boots had won wealth and a wife for his young master did not that gentleman often fume with chagrin because the neighbors, perhaps, refused to call on the lady of the former poor miller's son?
It is a great risk to take with one's book children. These stories make no such promises. They stop just short of the phrase of the old story writers, and end truthfully, thus: And so they lived.
Another year later in 1911 the budding author received National recognition for her first novel "Dawn O'Hara: The Girl Who Laughed". The title character is a reporter on a New York City newspaper who returns home to Wisconsin to help her sickly sister. The novel reflects a large amount of Edna Ferber's early life experiences.
The praise she received over this first novel led to a decision to move to New York City and start her writing career in earnest while working as a reporter. Her character "Dawn O'Hara" coming to life. In 1915 Edna Ferber wrote a successful play with George Hobbart entitled "Our Mrs. McChesney". In 1918 Metro Pictures, a forerunner to Metro-Goldwyn-Meyer, made a silent film version of it starring one of the first ladies of the legitimate stage Ethel Barrymore. The film is considered lost, but Edna Ferber's work had met Hollywood and more would follow.
In 1920 Edna would cover both the Republican and Democratic Presidential Conventions for the United Press Association. Her writing would continue and in 1924 the first of a group of six novels would be published that Hollywood turned into major motion pictures along with one of her plays . Edna Ferber's original written works all have a strong female central character and in the filmed versions. These strong women are played by strong actresses.
The works in question start with Edna Ferber's Pulitzer Prize winning novel "So Big" (1924), the novel "Show Boat" (1926), the play Ferber wrote with George S. Kaufman "Stage Door" (1926) and the novels "Cimarron": (1929). "Saratoga Trunk (1941), "Giant" (1952) and "Ice Palace" (1958).
PART TWO: SO BIG
So Big (The Novel)
The website "Goodreads: describes this novel as the:
Winner of the Pulitzer Prize and widely considered to be Edna Ferber's greatest achievement, "So Big" is a classic novel of turn-of-the-century Chicago. It is the unforgettable story of Selina Peake DeJong, a gambler's daughter, and her struggles to stay afloat and maintain her dignity and her sanity in the face of marriage, widowhood, and single parenthood.
Below is a link to this website:
http://www.goodreads.com/book/show/257443.So_Big
The basic story line has Selina Peake going to a small Dutch community outside of Chicago. There she rents a room from Klaus Poole and becomes a teacher. One of her students is Klaus' son Roelf. Eventually Selina meets and marries Pervus DeJong and they have a son named Dirk.
What the website does not mention is that the title of the novel comes from the question often asked of new parents. How big is your child? They replay by moving there hands apart and saying: "So Big". Pervus dies when Dirk is eight years old and the story follows Selina attempting to raise her son and the problems caused by his wanting to become an architect, but meeting a young artist named Dallas O'Mara.
The picture below is of Edna Ferber in 1924.
So Big (1924 Movie)
The first motion picture version of the novel was a silent picture that starred actress Colleen Moore as Selina Peake DeJong. Only the trailer for this motion picture remains in the Library of Congress and the feature is considered lost. The cast included Wallace Berry as Klaus Poole. The following year Berry starred as Professor George Edward Challenger in Willis O'Brien's 1925 stop motion classic "The Lost World". Ben Lyon played Moore's son Dirk and John Bowers was her husband Pervus DeJong.
For science fiction buffs here is the answer to a trivia question. Playing the young Dirk DeJong was child actor Frankie Darrow. In 1956 the actor was the man inside and at the controls of Robby the Robot in "Forbidden Planet". He also co-starred with Gene Autry in an early mixture of cowboys and science fiction. The 1935 serial "The Phantom Empire".
In this still from the film starting on the right is Gladys Brockwell as Maartje Poole, Wallace Berry as Klaus Poole and Colleen Moore as Selina Peake DeJong.
So Big (1932 Movie)
This was a large production made by Warner Brothers starring Barbara Stanwyck as Selenda Peake DeJong. The already box office power of Stanwyck's name is emphasized in the poster for the movie. All the other main actors are in small print at the bottom.
Directing the picture was William "Wild Bill" Wellman. Wellman had been a flyer in World War One for the French and was given the director's position on the movie "Wings", because of his experience and knowledge of flying. The film won the very first Best Picture Oscar, but Wellman was not dominated for his direction.
"Variety" complained that Wellman's direction of "So Big" was choppy, because he attempted to inter cut major events in Selina's life from the novel to give the movie more substance and that distracted from a straight forward narrative. What is interesting is the reason "Variety" gave for their complaint about the direction. It is also an indication of both the audience and critics attention spans at the time of the pictures release. According to "Variety" the picture was already overly long at a running time of 83 minutes.
Playing the major role of Roelf Pool was George Brent. This was his eighth roll in a career between motion pictures and television that lasted from 1924 through 1978. Playing the role of artist Dallas O'Mara in only her second feature for Warner Brothers was Bette Davis. Davis and Brent would be the two leads in Warner Brothers 1939 "Dark Victory". A film which co-starred Humphrey Bogart and a young Ronald Reagan.
Playing Dirk as a young boy was Dickie Moore. Moore was better known for his role as the leader in the "Our Gang" comedy shorts. After Jackie Cooper left and before George "Spanky" McFarlane took over. Moore had left to play the title role in the 1933 feature film "Oliver Twist".
Below Barbara Stanwyck at the beginning of "So Big".
Below Barbara Stanwyck and Dickie Moore
Below Bette Davis in "So Big"
Below Bette Davis and George Brent
An aged Barbara Stanwick, below, at the end of the picture.
Another problem with this film as the above photos indicated, but wasn't Barbara Stanwyck's problem was her make-up. The studio's hadn't yet figured out how to make a specific actor age gracefully on screen. Film critic Andre Sennwald of the New York Times put it this way:
A fine actress, Miss Stanwyck seems ill-suited to a role that hustles her in jerky steps from girlhood to old age; a role in which she is asked to express rugged grandeur and the beauty of a life well-lived from behind a mask of grease paint ...
So Big (1953 Movie)
The last filmed version of Edna Ferber's Pulitzer Price winning novel was directed by Robert Wise. Wise had previously directled two Val Lewton horror classics 1944's "The Curse of the Cat People" and 1945's "The Body Snatcher". Along with 1951's "The Day the Earth Stood Still" and later would direct such pictures as 1956's "Helen of Troy", 1958's "Run Silent, Run Deep" and two musicals: 1961's "West Side Story" and 1965's "The Sound of Music".
Playing Selina DeJong was actress Jane Wyman. The picture was after her divorce from second husband actor Ronald Reagan and was she had recently married her third husband Fred Karger. The role of Pervus DeJong was portrayed by actor Sterling Hayden. Three years earlier Hayden had starred in the classic robbery gone wrong feature "The Asphalt Jungle".
Steve Forrest played the grown up Dirk DeJong and Nancy Olson played Dallas O'Mara. It is interesting how on the poster below we do not see Steve Forrest's name. Even though he played a major role, but we do see Nancy Olson's name in third billing. Whose character in comparison to Forrest is minor. Forrest had appeared in 10 motion picture prior to this film, but only had a screen credited role twice. While Olson had appeared in eight motion pictures previously. All with screen credit and was the known name. The year before she had played John Wayne's wife in "Big Jim McLain".
Another interesting name in the cast was that of child actor Tommy Rettig. Rettig played Dirk at age 8. The following year he would have the lead in the live action fantasy written by Dr. Seuss "The 5,000 Fingers of Doctor T". However, the young actor would become known to fans of the TV show "Lassie" as her first master, Jeff Miller, from 1954 through 1957.
Playing the 12 to 16 years old Roelf Pool boy, below, is Richard Beymer. Who would be reunited with director Robert Wise in "West Side Story" playing Tony, the Romeo part, to Natalie Wood's, Maria, the Juliet part.
PART THREE: SHOW BOAT
Show Boat (The Novel)
Published in 1926 was "Show Boat" telling the lives of three generations of performers on board the floating theater "The Cotton Blossom". It begins at the end of the 19th Century with former River Boat Captain Andy Hawks buying a Show Boat. Captain Andy's family consists of his shrewish wife Parthy Ann and their 10 year old daughter Magnolia. Among the cast of his players will be Julie Dozier aka: Julie LaVerne and Steve Baker, The two form a husband and wife acting group. Julie will become Magnolia's closest friend as the first part of the novel continues.
Three major events occur during this work. The first is when the Southern Sheriffs discover that Julie is actually half Negro/half white and "miscegenation" is against the law throughout the south. Captain Andy is forced to throw Julie and Steve off the Showboat, or loose customers. The next part of the novel follows Julie and Steve's tragic life after that event.
The second amjor event comes when the now 18 year old Magnolia is playing the female lead in her father's productions and needs a leading man, Into the life of Captain Andy's family comes gambler and con man Gaylord Ravenal and a platonic love affair with Magnolia.
The third event is triggered when during a storm Captain Andy Hawks falls overboard and dies. Magnolia cannot stand her mother's rule and, runs away to marry Ravenal. The novel then follows the two at this point. They have a daughter Kim, but Gaylord cannot stop gambling and gets into debt. One morning Magnolia finds a note from him. He is leaving her and Kim forever and Magnolia is now left to raise their daughter.
The story moves forward to 1926 where Kim has become a major Broadway actress. Ravenal in the novel has been dead for many years and Magnolia had broken ties with her mother years before her Gaylord's death. Magnolia now receives a telegram that her mother has passed away. Knowing that she has raised Kim well and requires no more help from her. Magnolia makes a decision to leave the glamour of New York City and return to the Mississippi and the Showboat. Once there instead of her plan to sell the old ship and dismiss the cast. Memories flood Magnolia Hawks and she decides to keep the old Showboat, fix it up and manage the shows.
Show Boat (The Musical)
Before I can mention the motion picture versions of Edna Ferber's novel. The Broadway musical by Jerome Kern and Oscar Hammerstein II must be discussed, Kern had some problems convincing Ferber to make what has become a classic of musical theater, because at the time most Broadway musical shows were not serious drama but showcased Ziegfeld like girl productions.
The original running time was four and a half hours during tryouts and this would be cut to just over three hours for a two act show. A problem that would face the Hollywood film makers later.
The show opened on December 27, 1927. One of the most famous songs in the musical is "Ol' Man River". Which was written specifically for singer/actor Paul Robeson. As was the part of :Joe the Stevedore" expanded from the novel for the actor, but unfortunately at the time of the opening of "Show Boat" Robeson was not available to Kern and Hammerstein. I will return to Paul Robeson when I speak of the 1936 motion picture.
Playing the role of Julie LaVerne was "Torch Singer" Helen Morgan. One of the great singers of all time. A problem for the production arose over the fact that Morgan had been singing in New York Night Clubs. However, these "Clubs" were in actuality illegal Speakeasies during Prohibition. The singer was fronting one of these called "Chez Morgan". Only three days after "Show Boat" opened Helen Morgan was arrested for being involved with illegal drinking under Prohibition laws. It would take until February 1928 for the charges to be dropped against her. Luckily a judge permitted probation to allow Morgan to perform for Kern and Hammerstein.
The plot of the musical starts in 1887 when Magnolia is 18 and Julie and Steve are part of her father's acting troupe. A fight breaks out between Steve and Pete, the boat's engineer, who has been making advances at Julie. Steve knocks Pete down and has the upper hand. Peter swears revenge implying he knows a secret about Steve's wife.
In Mississippi Pete brings a Sheriff to arrest Julie for being a mulatto, but Steve had cut Julie's hand so he can claim to have Negro blood in him also. A friend of the Sheriff is part of the "Cotton Blossom's crew and speaks up for Julie and Steve. As a result the Sheriff does nothing to either, but the couple decide to leave the show for everyone's own good.,
The audience next sees Magnolia on deck, When she meets a handsome gambler Gaylor Ravenal who is seemingly passing by. This leads to the duet "Make Believe" and by the song's end the two are attracted to each other. Confused Magnolia seeks out Joe, the Stevedore, for advise which leads to the singing of "Ol' Man River".
Ravenal reappears and becomes Magnolia's leading man as Steve has left the troupe. By the end of Act One the two are in love for real and the curtain comes down as the dock hands are humming "Ole Man River".
Act Two starts six years later after the two have moved to Chicago and are living off of Gaylord's gambling winnings. Ar first they are living a very good life and in 1903 their daughter Kim is born. Then things go down hill quickly. Gaylord leaves Magnolia and Kim, because he has become depressed that he cannot support his family.
Two old friends from the "Cotton Blossom" are looking to rent a room and discover Magnolia and Kim about to be evicted from it. They are able to get Magnolia a job as a singer at the Trocadero Night Club where they are working. At the club is Julie who was abandoned by Steve and is now an alcoholic. Which would foreshadow of what would happen to Helen Morgan in real life. The excellent torch song "Bill" is sang at this point. Helen Morgan's singing of "Bill" is still considered a classic today.
On New Years Eve Captain Andy and his wife show up to see Magnolia sing. Overcome with emotion upon seeing here parents once more Her performance starts to suffer, but Captain Andy rallies the crowd with a sing a long. Magnolia will become a singing star as time passes.
The musical now moves forward another 20 years and Captain Andy is seen on the "Cotton Blossom".As he stands there Gaylord appears, Andy knows his daughter is retiring and returning to the "Show Boat" with Kim now a major Broadway star. Gaylord is uncertain about returning to Magnolia, but Magnolia is still in love with him, "Show Boat" ends with the family reunited as the cast sings "Ol' Man River".
Show Boat (1929 Movie)
Universal Studio's went to the novel and not the successful musical for the first filmed version of Edna Ferber's work. The problem was "The Jazz Singer" and the all sound film version of the Broadway show "The Desert Song".
Universal's "Showboat" was a silent movie when silent's were a thing of the past. The answer was a prologue with Helen Morgan and members of that original 1927 Broadway cast singing a selection of songs from the Jerome Kern and Oscar Hammerstein II musical. Along with adding some sound scenes in the film with singing, but not from the Broadway score.
Playing the role of Magnolia was silent screen star Laura La Plante. Although she would transition into talkies. La Plante could not compete with the new leading ladies and in 1930 she left the United States for England. Where her career continued in smaller roles. However, MGM was considering the actress to replace Myrna Loy in the "Thin Man" series opposite William Powell, but Loy decided to stay on.
Playing Gaylord was Joseph Schildkraut. He would receive the supporting actor Oscar for "The Life of Emile Zola" in 1937, but is remembered for originating the role of Otto Frank the father of Anne in the Broadway production of "The Diary of Anne Frank" and recreating the role in the 1959 motion picture version of the stage play.
Mirroring in real life her character of Julie La Verne, as did Helen Morgan, was actress Alma Rubens. Rubens career would be over due to her drug and alcohol abuse. Actor Stepin Fetchit played Joe and his singing voice would be dubbed by Jules Bledsoe. Bledsoe played the role on Broadway instead of Paul Robeson.
Basically 18 year old Magnolia falls in love and elopes with Riverboat Gambler Gaylord. After the death of Captain Andy, Magnolia, Gaylord and their daughter Kim born on board "The Cotton Blossom" leave for Chicago. There they live rich and poor off Ravenal's gambling Magnolia's mother lets them know she is coming to visit. This affects Gaylord who doesn't want to face her wrath and abandons his wife and child. Magnolia takes a job at a local singing club and eventually becomes famous. After her mother dies Magnolia returns to the Showboat were she is presented with inheritance money. At the end of the film Magnolia and Gaylord are reunited and she gives their daughter the inheritance money to start her own life.
Show Boat (1936 Movie)
Known for directing 1931's "Frankenstein", 1932's "The Old Dark House", 1933's "The Invisible Man" and 1935's "The Bride of Frankenstein". The idea of James Whale directing a big budgeted musical, or a musical at all seems in-congruent. Yet, James Whale directed what is today still the most cinematically successful and considered the best filmed version of Jerome Kern and Oscar Hammerstein II's "Show Boat",
The horror pictures I mentioned had been produced by the son of the owner of Universal Studios Carl Laemmle,Jr. known simply as "Junior" on the lot. "Junior" was known for very big budget motion pictures that were financial loses for the studio and would lead to the father and son being removed from control, but "Junior" was also the force behind the very profitable horror movies of the 1930's his father loathe and the public adored.
The James While directed production of "Show Boat" was "Junior's" most expensive motion picture ever. It was, for the 1930's, the most critically acclaimed Universal Studio's feature, and biggest money maker. However, that acclaim still did not stop the tide that forced the Laemmle's out.
James Whale was given carte blanche in the casting and he set out to get as many of the original stage production cast as possible for his picture. This resulted in the capture on the movie screen of some great performances by legendary stars. Although he did not use all of the music from the Kern and Hammerstein musical for different reasons. James Whale was able to get the two composers to write three new songs to fit the film's story line.
Playing Magnolia Hawks was Irene Dunne. Dunne had been nominated as Best Actress for the 1931 Edna Ferber based motion picture "Cimarron" and would be re-nominated in 1936 not for "Show Boat" , but "Theodora Goes Wild". In 1929 Dunne had been playing Magnolia Hawks in a road show version of the original Kern and Hammerstein show and was spotted by Florence Ziegfeld. Ziegfeld arranged a contract for her with RKO pictures and her acting career began.
Portraying Gaylord Ravenal was Allan Jones. Jones was a popular singer who turned to acting. He is best known for playing the romantic leads in the Marx Brothers 1935 "A Night at the Opera" and 1936's "A Day at the Races". It was James Whale that recognized the singer and minor actor for the dramatic skills that were required to play Ravenal.
Charles Winninger had played Captain Andy Hawks in the original stage production and was cast in the part once more. Whale had wanted actress Edna May Oliver to play Andy's wife Parthenia. Oliver had originated the role on Broadway, but she declined and Helen Westley was cast instead.
The casting of Joe the Stevagore and Julie LaVerne would result in the saving on film of two great voices and performances. Playing Joe was Paul Robeson and Julie was once again Helen Morgan.
Another casting of note was actress Hattie McDaniel as Joe's wife Queenie. Three years later she would become the first Afro-American to break, not completely, the "Color" barrier in the motion picture industry's Oscar ceremonies, McDaniel won the Best Supporting Oscar for "Gone With the Wind" as Scarlet O'Hara's "Mammy". I said "not completely", because Miss McDaniel was not permitted to attend the all white awards banquet. She was brought in and on to the stage through the kitchen. Hattie McDaniel was given her Oscar, made her acceptance speech and was escorted back out of the Academy Awards banquet through the same kitchen door. None of her fellow actors complained about the treatment the actress received at the time.
Below Hattie McDaniel in a "Posed" picture after receiving her Oscar. Note her facial expression.
A more detailed look at Miss McDaniel's Oscar award and racism at the time in Hollywood. Can be found in the section about Walt Disney's "Song of the South" in my article on the feud between Disney and Max Flesicher at:
http://www.bewaretheblog.com/2015/04/the-great-walt-disney-max-fleischer.html
Below Helen Morgan on the right, Hattie McDaniel and Irene Dunne on the left.
Below the great Paul Robeson singing "Ol' Man River".
Below Allan Jones and Irene Dunne
Below Irene Dunne and Allan Jones with Charles Winninger and HelenWestley
Another reason for this film's success is that the screenplay for the 113 minute feature film was written by Oscar Hammerstein II himself. When the film opens Magnolia Hawks is 18 years of age and the name of the show boat is now the "Cotton Palace".
Hammerstein does an excellent job of condensing his original Broadway script to fit the running time of the picture. You have the love story and its failures of Magnolia and Gaylord. You have the story of Julie LaVerne and her fate permitting Helen Morgan to sing "Bill" in a beautifully set up sequence by Whale. As with Paul Robeson's singing of "Ol Man River" in the above still. Director James Whale creates filmed imagery to enhance the power of the two performances.
The picture ends as with the stage play with the reuniting of Magnolia, Gaylord and Kim as a family.
For the music James Whale hired the show's original orchestrator Robert Russell Bennett as the music director and the original conductor Victor Baravalle. Thereby, using the talents of the two men who knew the music and how to present it.
The motion picture as I mentioned was extremely successful with movie audiences and critics alike. It is one of my personal favorites, but even with all of this. The movie suddenly disappeared from view and memory at the start of the 1940's. That story comes next.
Show Boat (1951 Movie)
Why the 1939 Universal version of "Show Boat' disappeared can be explained by three letters "M.G.M". Metro-Goldwyn-Meyer wanted to make their own film version of the Jerome Kern and Oscar Hammerstein Broadway play. The studio acquired the rights and then proceeded to purchase from the new owners of Universal Studio's all prints of the 1936 version and destroyed almost all of them.
MGM.'s initial plan was to make a movie starring Jeanette MacDonald as Magnolia and her one time singing partner Nelson Eddy as Gaylord, but that movie was never made. Ten years later in 1950 MGM. revived the idea, but part of the inspiration to do was strictly political.
World War 2 ended and on that day we were still allies with the Soviet Union. The following day the "Cold War" began and we were fighting Communism. The Soviet Union was now our enemy. What a difference a day makes.
"The House Committee On Un-American Activities" started its witch hunt and Hollywood became embroiled in it. This would lead to the "Black Listing" of many members of the Motion Picture Industry. Who like many American's had innocently joined the Communist Party during the Second World War, because they were our ally and this seemed a patriotic thing to do. Not to say there were not real members of the Communist Party within the Motion Picture Industry.
Paul Robeson became labeled a "subversive" over his politics during the Second World War. A politics which included supporting unionism in the deep South. Not forgetting the color of his skin playing it's part. The "House Committee On Un-American Activities" also zeroed in on the fact that Robeson had traveled to Russia and spoke there about American workers.
Eventually the acclaimed singer/actor left the United States having been "Black Listed" by the upstanding Americans of the Motion Picture Industry. The life of Paul Robeson makes for interesting reading. It was his alleged anti-American political views that contributed to keeping the 1936 film from being re-released. It wouldn't be until 1976 before the James Whale directed motion picture finally resurfaced.
In reality Hollywood was looking for ways around the House Committee and up and coming Senator Joseph McCarthy. They set up their own monitoring system which became the above mentioned "Black Lists" and Hollywood turned to creating "politically safe" movies starting in 1950. These were basically three categories: Westerns, the Bible and Musicals. One of the first musicals was the 1951 "Show Boat".
For those wanting a more detailed look at Hollywood "Black Listing" and the "House Committee On Un-American Activities". I wrote an article about screenplay writer and novelist Guy Endore. Among his screenplays are 1935's "Mark of the Vampire", 1936's "The Devil Doll", the Oscar nominated 1945 "The Story of G.I. Joe" about World War 2 correspondent Ernie Pyle and Hammer Pictures 1961 "Curse of the Werewolf". The last based upon Guy Endore's classic novel "The Werewolf of Paris" considered to be to werewolf novels as Bram Stoker's "Dracula" is to vampires.
http://www.bewaretheblog.com/2015/12/guy-endore-communism-in-motion-picture.html
The 1951 MGM. motion picture was the first pairing of Kathryn Grayson and Howard Keel.
Kathryn Grayson portrayed Magnolia and Howard Keel, who as the above poster indicates, at third billing was Gaylord. Ava Gardner appeared as Julie LaVerne. Gardber was a major draw for audiences. However, like many actors to come in musicals she did not sing. Her voice was dubbed by Annette Warren who would also dub the singing voice of Lucille Ball in two motion pictures opposite comedian Bob Hope.
Popular film Comedian Joe E. Brown played Captain Andy Hawks and as his wife was portrayed by actress Agnes Moorehead. Who would be known to 1960's television audiences as Samantha Stephens' mother Endora on "Bewitched". Actor Robert Sterling played Steve Baker, but of more interest were the supporting roles of Ellie Mae Shipley and Frank Shultz, They were played by the popular husband and wife dancing team of Marge and Gower Champion. Think an MGM answer to Fred Astaire and Ginger Rodgers. The Champion's had fourth billing and were an indication, as was Ava Gardner, that this film wasn't exactly the Jerome Kern and Oscar Hammerstein II Broadway show, a remake of the James Whale 1936 version, or Edna Ferber's story.
As to the screenplay writer John Lee Mahin almost completely wiped out the dialogue written by Oscar Hammerstein for the Broadway production. As another indication of the direction MGM. was going.
The above poster contains the tag line:
M.G.M.'s Glorious NEW SHOW BOAT
The Technicolor motion picture contained well staged musical sequences designed by producer Arthur Freed to be mini-showcases instead of the serious scenes of Kern and Hammerstein. The tone and look of this "Show Boat" was distinctly MGM. Taking the full advantage of Technicolor which seems at times to become the center stage of the scenes rather than the actors. A term used by some reviewers was "Glossy" which was an MGM. trademark.
As to the "Cotton Blossom" the look of it was changed from the previous two features and the original musical to a luxurious two smoke stack paddle wheeler. This was definitely an audience eye catcher, but the steam engine, the two smoke stacks were connected too, would have to come through the performers stage in such a craft. Real show boat's were nothing more than floating stages, without any means of self power, surrounded by rooms for the actors and pushed by what was known as a tow boat according to musical historian Miles Kreuger.
Below is the show boat with it's accompanying tow boat in the James Whale 1936 motion picture.
The character of Gaylord Ravenal is described by some reviewers as "sanitized". In the novel and both proceeding films the reason he wants to get on the "Cotton Blossom" is because a Sheriff is after him for killing a man in self defense. In the 1951 film Ravenal has only gambled away his boat ticket.
In the novel and the two previous motion pictures. Kim is born and a young girl when Gaylord can no longer face his responsibilities as a father and support his family. In the 1951 version he doesn't even know Magnolia is pregnant. After he hears she has had Kim he returns to face his responsibilities as both a husband and father. In short the reverse of the character as written by Edna Ferber, or even Oscar Hammerstein II, but more a lovable cad for post World War 2 audiences and "The House Committee on Un-American Activities".
The role of Joe 's wife Queenie is all but gone within the first ten minutes of this 107 minute film. The racial overtones of the original novel and the previous two films are also "sanitized" by Arthur Freed.
In the stage production and the 1936 motion picture Queenie overhears Julie LaVerne singing "Can't Help Lovin' Dat Man" and remarks how strange it is as only "Black Folk" know the song. Her remark is designed to foreshadow the truth about Julie, but you will not hear it said in the 1951 picture. When Julie's husband cuts his hand to mix her blood with his own. Robert Sterling uses what could be described as a pin to prick his finger rather than the large cut made with a switchblade knife of the previous two films and the novel. While the role of Julie in the MGM film was dramatically lengthened and rewritten for the number two billed Ava Gardner. Her role only depends on two songs. In the film there are several versions of "Can't Help Lovin' Dat Man" sung by Annette Warren for Ava Garner as Julie LaVerne and of course "Bill". Which is a major must have in any "Show Boat" score.
The African-American dock workers are hardly seen. William Warfield plays Joe in a role greatly shorten from any previous version of "Show Boat". It seems the only purpose for the character to be in the MGM production is to sing"Ol' Man River" as the white cast can't.
Several lines of "Ol' Man River" have also been "sanitized" by being removed. One of the removed lines went:
Don't look up and don't look down; you don't dast makes the white boss frown
During the singing of the song as originally written by Oscar Hammerstein. Joe is backed up by a dock worker's chorus. In the 1951 film Warfield is alone, but the audience hears an off screen chorus singing the chorus. Who they are is never known to the audience.
MGM. wanted their "Glorious NEW SHOW BOAT" to be distinct from the Broadway play and the 1929 and 1936 filmed versions. So along with the changes I have mentioned and others the ending was changed.
As I mentioned Ava Gardner's role of Julie was increased in size. It is now Julie LaVerne who meets Ravenal and convinces him to return to Magnolia. Her appeals win over Gaylord's misgivings and he returns to Magnolia and their little daughter Kim. This was to keep both Kathryn Grayson and Howard Keel from aging. The audience now views Magnolia, Gaylord and little Kim on the deck of the "Cotton Blossom" reunited as a family. The film ends as the show boat pulls out from the dock and with Julie standing there, unknown to either Magnolia or Gaylord, watching as she blows the reunited family a kiss. Fade out to "Ol' Man River".
PART FOUR: CIMARRON
Cimarron (The Novel)
This is what they used to call a sprawling story combining history with fiction. The novel covers two attempts to enlarge the United States under manifest destiny. Edna Ferber's story first focuses on a small Oklahoma Territory land rush and then the major Oklahoma Land Rush of 1889. The story then follows the homesteading of the land and the affects these actions have on the Native American tribes the Cherokee's, whom the Cherokee Strip gets its name, and the Sioux. The novel ends in the early 1900's.
As with her other two novels I've mentioned. Ferber's story revolves around a strong central women character Sabra Cavat and her husband Yancey. Edna Ferber based Yancey on Temple Lea Houston the last child born to Texas Statesman Sam Houston.
The website "Reflections on Great Literature' describes the two major characters of "Cimarron" in excellent prose itself:
Yancey Cravat is the Cimarron—the wild one, like an aimless river or a jousting bighorn sheep. He may tote legal volumes as easily as a gun, and be as quick with a Shakespeare quote as with a trigger; and yes, he's a lawyer and the editor of a socially active newspaper… but this is no milktoast city boy. This is Buffalo-Head, the tall, gruff, steel-eyed pioneer for whom three years in the same place or a single day without some sort of risk or conflict is evidently his idea of hell. And, no doubt, the wife of such a one is bound to be some kind of woman: Sabra, a sharp, spirited, strong, self-sufficient saber of a woman. In fact, although most assessments of this book will tell you that its permanence lies in its presentation to the world of the unforgettable Yancey Cravat, who is it that ties the book together? Whom does the narrative follow, when Yancey's itchy traveling bone takes him to Alaska or the Spanish-American war? Not him, but the determined, toiling Sabra. Granted, she lacks the explosive flash of her husband– her way is much too pragmatic to put her in much danger or make her many enemies. But she is really the central character of the book, the one who grows, the one who succeeds in adapting herself to the various jolting cultural shifts that get thrown into her path by the errant Yancey, or by her son, or by the discovery of oil.
The full review itself can be found at:
http://greatlit.net/tag/yancey-cravat/
The novel was Edna Ferber's third major success and became popular for it's historical setting. In literature "Cimarron" started a trend toward American historical love stories for women. A type of fiction that still is very popular today. The novel also telegraphed Ferber's more popular "Giant", of similar construction, which would not come out until 23 years later.
Cimarron (1931 Movie)
RKO brought the novel to the motion picture screen in 1931 three years after it's publication. The motion picture was nominated for seven Academy Awards, the most for a single film to date,and won what was known, at the time, as "Outstanding Production", but became Best Picture.
Playing Yancey Cravat was Western actor Richard Dix. Dix would be nominated for the Best Actor Oscar. In only her second motion picture was actress Irene Dunne as Sabra Cavat. She was nominated for Best Actress. Howard Estabrook won an Oscar's for his screenplay and Max Ree for Best Art Direction. Wesley Ruggles was nominated for Best Director and Edward Cronjager was nominated for Best Cinematography.
The film was the biggest budgeted movie yet from RKO at $1,433 million dollars. An extremely large sum for a small independent studio at the start of the Great Depression. On it's initial run this record setting Oscar nominated feature did not make it's money back. The final gross was $1,393 million dollars. It also had a running time of two hours and four minutes. When the average film of the time was under an hour and half.
Above Yancey, his wife Sabra and their son Cim at the start of the land rush. Yancy wants a piece of land called "The Bear Creek Claim', but it outwitted by a young prostitute named Dixie Lee, played by Estelle Taylor, for it.
The Turner Classic Movie Website has a very good summary of the motion picture's time spanning, multi-character screenplay:
Inspired by his adventures during the 1889 Oklahoma land rush, Yancey Cravat, a freewheeling lawyer and newspaper editor, convinces his Eastern-bred wife Sabra to leave her stuffy Wichita family and join him in the West. Although Sabra finds Osage, the Oklahoma "boomer town" that Yancey has chosen to start his newspaper, rough and squalid, she settles there with him and, with help from their young black servant Isaiah, undertakes to bring up her son "Cim." Soon after his arrival, Yancey confronts local outlaw and bully Lon Yountis with the murder of the newspaper's previous editor. During an "all-faiths church meeting," which Yancey has been asked to conduct at the town gambling hall, Yancey threatens to identify the editor's killer and is shot at by Lon. In self-defense, Yancey kills Lon, then dismisses his "flock," which includes Dixie Lee, a maligned prostitute whom Yancey had befriended during the land rush. A year later, after the birth of the Cravats' daughter Donna, Osage is besieged by an outlaw gang led by The Kid, an old cowboy friend of Yancey's. Although Yancey kills The Kid during a fierce gun battle, which also claims the life of the loyal Isaiah, he refuses to collect any reward for his deed and bemoans The Kid's downfall. In 1893, a new "Cherokee Strip" land rush is announced, and Yancey, who has never stayed in one place for more than five years, deserts the much-settled Sabra to participate in it. Helped and supported by expert printer Jesse Rickey and department store owner Sol Levy, Sabra, who knows nothing of Yancey's whereabouts, takes over the newspaper. Five years later, dressed in a "Rough Riders" uniform, Yancey returns to Osage just as Sabra and a group of "decent women" are about to try Dixie Lee as a "public nuisance." Yancey successfully defends the misunderstood Dixie in court, then convinces his less tolerant wife of Dixie's essential goodness. After Oklahoma obtains statehood in 1907 and the oil boom has brought prosperity to some of the Osage Indians, Yancey, who has been approached to participate in a political scheme to trick the Indians out of their wealth, writes a provocative editorial favoring citizenship for all American Indians. Despite the heated objections of Sabra, who has always loathed the Indians and who is repulsed by her son's romantic involvement with an Indian chief's daughter, Yancey publishes the editorial and then disappears. Many years later, after the fortieth anniversary of the newspaper's founding, Sabra is elected as Oklahoma's first Congresswoman. During a luncheon in her honor, a more tolerant Sabra speaks fondly of her Indian daughter-in-law and her long-lost husband. Just before she is to dedicate a statue honoring the Oklahoma pioneers, Sabra hears that a tramp called "Old Yance" has risked his own life to save many oil drillers from a deadly explosion. Sabra rushes to the accident site in time to embrace Yancey before his death, then discovers that the statue has been sculpted in his image.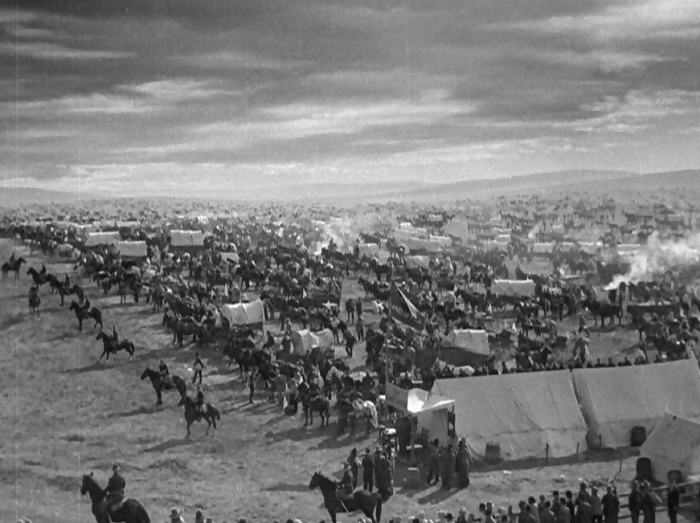 Below Irene Dunne and on the right Estelle Taylor
Richard Dix in "Cimarron"
Actor William Collier, Jr. had the supporting roles of "The Kid" and Sol Levy was played by George F. Stone.
"Variety" in the publication's review of the 1931 "Cimarron" stated the picture was:
An elegant example of super film making and a big money picture. This is a spectacular western away from all others. It holds action, sentiment, sympathy, thrills and comedy – and 100% clean. Radio Pictures has a corker in 'Cimarron'.
The "100% clean" comment referred to the fact that most pre-production code motion pictures pushed the limits of what they could get away with in sex and other "morally objectionable" elements. In short this was a depression era "Family Film".
However, as time passed so did the reputation of the picture diminish. On November 27,2009 film critic James Bernardinelli wrote on the website "Reelviews" that "Cimarron was:
an excellent study of how tastes have changed over the years. Critically lauded at the time of its release,

Cimarron

was beloved by most who saw it. Eight decades later, it is frequently cited on lists of the most undeserving Academy Award winners and is rightfully impugned for racist overtones and scattershot storytelling."
The entire review of the motion picture can be found at:
http://www.reelviews.net/reelviews/cimarron
Steve Evans on the website "DVD Verdict" wrote that:
Seen with contemporary eyes, the film is badly dated, slow moving, and pocked with racist caricatures....The recreation of the great 1889 Oklahoma Land Rush remains an exciting spectacle....Unfortunately, the film never manages to top this opening shot.
Apparently other than the quote it appears the website has purged this review and other early films.
Cimarron (1960 Movie)
Enter MGM. once again. The studio obtained the rights to the story from RKO in 1947 for $100,000 dollars. Their plan was to turn the story into a musical starring Kathryn Grayson and produced by Arthur Freed. The idea was shelved and Grayson next appeared in the musical "The Kissing Bandit". The title character was a "Zorro" inspired character who is really a shy Boston raised young man taking over the family business. He was portrayed by Frank Sinatra. MGM would return to "Cimarron" with a straight forward dramatic version made for 1960 release.
Directing MGM's "Cimarron" would be Anthony Mann. Among his works prior to this picture Mann was known for directing James Stewart in several Westerns: "Winchester 73", "Bend of the River", "The Naked Spur", "The Far Country" and "The Man from Laramie". After this picture Anthony Mann directed for producer Samuel Bronston 1961's "El Cid" starring Charlton Heston and Sofia Loren and Loren again with Alec Guinness, Stephen Boyd and Christopher Plummer in 1964's "The Fall of the Roman Empire".
Bronston was the producer behind many "cast of thousands" epics during the 1960's. He was also the defendant in a United States Supreme Court case about hidden profits from his films. The ruling determined if a lawyer does not ask a specific question. Even if later it is discovered that you knew where the questioning was going and chose on the stand not to say anything. You can not be held responsible for not revealing the true information, because the question was never asked. My bio of the producer is found at:
http://www.bewaretheblog.com/2016/04/samuel-bronston-movies-featuring-cast.html
This film version of Edna Ferber's novel, as with 1931, did not make it's initial budget back at the box office. The budget was $5,421 million dollars and the Worldwide box office was only $4,525 million dollars. That budget included being filmed in Metro-Color and CinemaScope at a running time of two hours and twenty-seven minutes.
In this feature film actor Glenn Ford portrayed Yancey and German actress Maria Schell was Sabra. Schell had been seen in Richard Brooks' 1958 film "The Brothers Karamazov" starring Yul Brynner and director Delmar Davies 1959 Western "The Hanging Tree" starring Gary Cooper prior to this picture.
Actress Anne Baxter played Dixie Lee,
The "Cherokee Kid" was portrayed by Russ Tamblyn.
Both motion picture versions of the Edna Ferber novel are known more for the land rush opening sequence then what follows. In sections both movies seem to stall.
The 1960 picture was nominated for Academy Awards in Best Art Direction and Best Sound as compared to the 1931 film's seven nominations, but did not win in either category.
PART FIVE: STAGE DOOR
Stage Door (1936 Play)
In 1936 working with playwright George S, Kaufman the authoress co-wrote the play "Stage Door". Prior to this the two had co-authored 1927's "The Royal Family" and 1932's "Dinner At Eight". Both would be turned into motion pictures.
The website "Bookrags" describes the plays premise as:
"Stage Door" by George S. Kaufman and Edna Ferber is the story of a group of young girls who live together in a big house in New York City called "The Floodlights Club." It is a house for young women from other cities and states who come to New York City with stars in their eyes. The women do not live in the best conditions. The big old house is run down and overly crowded. They each must put up with three girls per cramped bedroom while paying a relatively high rent for 1936. They sacrifice comfort and security just so they can be near enough to Broadway to audition for the opportunity to get a role, often just a walk on or a bit part.
The play follows the story of Terry Randall and Jean Maitland two roommates with the same goal in life, but as the play progresses their careers and lives change directions. You can read the entire description of the play at:
http://www.bookrags.com/studyguide-stage-door/#gsc.tab=0
Stage Door (1937 Movie)
George S. Kaufman after seeing the motion picture, which except for a couple of names and its original setting of a hotel for actresses, joked that the title of the film should be changed from "Stage Door" to "Screen Door". I could not find Edna Ferber's reaction to the film.
The screenplay was co-authored by Morrie Ryskind. Ryskind had written the screenplays for comedies such as the Marx Brothers' "Cocoanuts", "Animal Crackers" and a "Night At the Opera". He was also nominated for the Academy Award for the Carol Lombard, William Powell comedy "My Man Godfrey" in 1936.
The other writer on the picture was Anthony Veiller, Veiller was known for adapting mystery novels into screenplays. He would win the 1947 "Edgar" for his screenplay based upon the Ernest Hemingway short story "The Killers". Veiller's future work contained the screenplays for 1959's "Solomon and Sheba", 1963's "The List of Adrian Messenger" and the Elizabeth Taylor/Richard Burton film "Night of the Iguana" based upon a Tennessee Williams play. Along with the dialogue for many of Frank Capra's "Why We Fight" World War 2 home front propaganda films.
These were the two men who wrote the screen treatment of Kaufman's and Edna Ferber's Broadway Play.
An aspect of the screenplay came from both writers listening to the off camera talk of the actresses and actors adding some of this talk to the shooting script. Even rewriting a scene that had already been shot. Additionally director Gregory La Cava let the cast ad-lib dialogue. No wonder George S. Kaufman didn't recognize his own work.
Playing the two main characters, whose name were not changed, where Katharine Hepburn as Terry Randall and Ginger Rodgers as Jean Maitland. Hepburn's career had taken a dive when her four proceeding motion pictures had been box office flops. Two of these films were "Sylvia Scarlett" a romantic comedy with the actress opposite Cary Grant that lost $363,000 dollars. The other was the big budgeted production "Mary of Scotland" with Hepburn opposite Frederick March. The period piece lost a little less at $165,000 dollars.
While Ginger Rodgers was major box office as the dancing partner of Fred Astaire and on top of her game. "Stage Door" was a chance, she thought, to do something different and show she was not just a dancer.
Playing the male lead of producer Anthony Powell was Adolphe Menjou. Menjou had been acting in films since 1914. Prior to "Stage Door" he was seen in such classics as 1932's "A Farewell to Arms" co-starring a young Gary Cooper and Helen Hayes, 1934's "Little Miss Marker" starring Shirley Temple and 1934's "A Star was Born" starring Frederick March and Janet Gaynor. In 1942 he originated the film role, in the non-musical, of Attorney Billy Flynn in "Roxie Hart" opposite Ginger Rodgers in the title role. In 1957 he was reverting as General George Broulard in Stanley Kubrick's "Paths of Glory".
Note in the small print the last name on the above poster is Lucille Ball. This was Lucille Ball's 46th film appearance with 30 of them being non-screen credited, or her scenes deleted from the finished picture. Another 9 of those 46 appearances were in short subjects only.
Below Lucille Ball in "Stage Door". Not looking like the "Lucy" most of my readers associate with her show "I Love Lucy".
Hepburn and Menjou
Hepburn and Rodgers
In the foreground, actually dominating this still, is actress Eve Arden with her hand to her chin. Arden would be known for the 1950's television show "Our Miss Brooks" and as the principle in both the movies "Grease" and "Grease 2".
Ginger Rodgers could not escape a dance sequence and instead of Fred Astaire as her partner. Here she is with newcomer Ann Miller. Miller would become an MGM dancing staple in such films as the already mentioned "The Kissing Bandit". Then opposite Sinatra once more with Gene Kelly in "On the Town" and dance into the laps of the audience in the 3-D "Kiss Me Kate" singing "Too Darn Hot". Believe me in that song she really is "Too Darn Hot".
The story has Terry Randall moving into the "Floodlights Club". Terry immediately is at odds with all the other aspiring actresses with her perfect manners, expensive clothes and superior attitude. Her new roommate Jean Maitland thinks Terry has a "Sugar Daddy".
The truth is that Terry comes from a wealthy Midwest family that she had left, against the objections of her father, to make her dream of becoming an actress come true. Eventually she becomes close with Jean. The aging actress Anne Luther, played by Constance Collins, realizes her potential and becomes Terry's mentor.
Jean however becomes mixed up with the philandering producer Anthony Powell. This occurs after Powell dumps Linda Shaw, fourth billed actress Gail Patrick, after seeing Jean dance. His motive is the profit he can make off of Jean at a nightclub he partly owns.
Meanwhile Powell has a new play "Enchanted April" he is working on. Well liked Kay Hamilton, actress Andrea Leeds, had a successful play the previous year, but no work since and is close to being broke. She wants the lead in Powell's new play and gets an appointment for an audition, but he cancels it.
Unknown to Terry her father finances Powell's play on condition she get the lead as a way to prove acting is not for her. Terry is invited to Powell's penthouse to break the news. Unexpectedly Jean shows up and Terry sees a chance to show her what Powell really is like. Terry pretends that Powell is attempting to seduce her and it works.
As to her acting dreams? Terry is faced unexpectedly with stage fright and is terrible in rehearsals. Except that her father is financing the play. Otherwise Powell would fire the girl. What comes next is Kay committing suicide over Powell's rejection and her lack of a future, Terry's mentor Anne giving her a pep talk about the performance her friend Kay would have wanted her to give and proving to her father were she belongs.
Stage Door (Two Made for Television Movies)
Most of my readers would not think of television existing in 1939, but it did. Almost all the major programming that year was on the BBC. They had six programs going for those who could afford television receivers at the time. United States television started for earnest in April 1939. When Franklin D. Roosevelt became the first President seen on the small screen and it was small, very small. Again, for those who could actually afford a television set.
Below is a picture of the General Electric television that came out in 1939 in the United States. Sets had 5 to 12 inch screens and sold for between $200 to $1000 dollars. Adjusting for 2016 inflation that $200 set would cost my reader $3,373.98 at the time of this writing.
I bring this up because there were two made for television presentations of the George S. Kaufman and Edna Ferber play "Stage Door". The first on December 17, 1939 and the second on March 28, 1949.
PART SIX: SARATOGA TRUNK
Saratoga Trunk (The Novel)
Edna Ferber's 1941 "Saratoga Trunk" tells the story of a very ambitious Creole Women, Clio Dulaine. Shemeets her match in Texas gambler Clint Maroon. Both have big dreams of wealth, power and revenge against those who wronged their families. Together they strive to obtain all three. While not realizing they have a strong love for each other which outweighs their lust for revenge.
The story is very good. However, some reviewers of the novel as would film critics of the motion picture. Have taken note that a lot of the themes seem to be the same as Margaret Mitchell's epic novel "Gone with the Wind". That book was published in 1936 with the Clark Gable and Vivian Leigh 1939 movie coming out only two years before Edna Ferber's novel "Saratoga Trunk".
However, it should be noted that the basis for Edna Ferber's novel was not the American Civil War, but another type of war in 1869 between Andrew Carnagie and J.P Morgan. This business war was over the building of a one mile long tunnel in Tunnel, New York to connect the Pennsylvania coal country with the East Coast.
Saragtoga Trunk (1945 Movie)
The motion picture starred Ingrid Bergman as Clio and Gary Cooper as Clint. Two major marquee draws in 1943 when Warner Brothers made the film, but the picture was "Shelved" for two years and not released until 1945. Jack L. Warner seemed to use the delay, at the time, as a means of building up audience anticipation and letting certain selected people, for gossip purposes, see it.
The screenplay was by a very interesting writer Casey Robinson. Robinson wrote some of Bette Davis' most revered roles such as: 1939's "Dark Victory", 1940's "All This and Heaven Too" and 1942's "Now Voyager". His other work includes both the screenplay for 1939's "Captain Blood". The picture that made Errol Flynn a star and without any on screen credit. It was Casey Robinson who cleaned up the dialogue for 1942's "Casablanca". Film critic Richard Corliss once described Robinson as:
the master of the art – or craft – of adaptation.
So this screenplay for producer Hal B. Wallis and director Sam Wood was in excellent hands and it showed on the big screen in 1945.
Below Ingrid Bergman as Clio Dulaine
Gary Cooper as Clint Maroon.
One of the major characters and part of Clio's group was her Haitian maid Angelique Buiton. Initially Warner Brothers was thinking of Blues and Jazz singer Ethel Walters for the role, but did not cast the singer.
Next Warner Brothers considered another singer Lena Horne for the non-singing role, but once more did not cast her.
What Warner Brothers did was instead of casting an actress of color as Angelique. They would cast white British actress Flora Robson in the roles in "Black Face" make-up. A practice considered as offensive and inappropriate by the studio. Especially after Hattie McDaniel won the Best Supporting Oscar I described above for "Gone With the Wind" in 1940.
Flora Robson would be nominated for the Best Supporting Actress Academy Award. Although she was wearing the objectionable blackface.
"Saratoga Trunk" was considered too long by critics and most audiences at a running time of two hours and fifteen minutes. Interesting counter point to that belief came from the readers of the original Edna Ferber novel. They thought the movie too short and believed the picture should have been made into two parts, or just made longer with an intermission. The motion picture version of "Gone With the Wind" without the overture, intermission and exit music ran three hours and forty-one minutes, but had an intermission and wasn't considered too long.
The plot:
In 1875 Clio Dulaine arrives in New Orleans from Paris to seek revenge on her father's family over the treatment they gave her mother. She is accompanied by her maid the Haitian women Angelique and a dwarf servant named Cupidon. Clio's mother had accidentally killed her father. While he was attempting to prevent her mother from committing suicide. The Dulaine family took the step of exiling mother and daughter to Paris.
In a French Market Street Clio stops for a bowl of jambalaya. Sitting at the counter is Clint Maroon from Texas. The two are immediately attracted to each other and a romance of sorts begins. Clint moves into Clio's house, but her plan is to marry a wealthy man to prove to her father's family that she is as good as any of them. Clint, on the other hand, states he never wants to marry and is after revenge himself. He wants to destroy the railroaders who ruined his father in Texas.
Clio starts embarrassing her father's family in public and they finally agree to pay her $10,000, a large sum in 1875, and rebury her mother in a proper New Orleans cemetery. Meanwhile Clint has gone to Saratoga Springs New York to seek his revenge.
Clio and her two companions arrive in Saratoga Springs unexpectedly and can not find a hotel room. Now calling himself Colonel Maroon, Clint offers Clio two of the rooms in his suite. She next sets her sights on wealthy railroader Bartholomew "Bart" Van Steed as a possible husband. He has come to Clio's attention after Clint informed her that he owns a railroad called the "Saratoga Trunk". The small railroad is now worth millions, because it is the only one that connects to the Pennsylvania coal mining country. We now have our historical connection from the original Edna Ferber novel.
Crooked Railroader Raymond Soule wants Bart's railroad. Soule was the man who ruined Clint's father and with Clio's help a plan to save Bart's railroad is put into effect. The story ends with Clint now a wealthy man, because of the stock he received from Bart for saving "The Saratoga Trunk" and wants to marry Clio.
Saratoga (Musical 1959)
An attempt to turn Edna Ferber's "Saratoga Trunk" into a Broadway musical, like her "Show Boat", opened on Broadway and ran for only 80 performances. The two leads were excellent choices. Speaking of "Show Boat" the part of Clint Maroon was portrayed by Howard Keel. The role of Clio Dulaine was portrayed by Carol Lawrence. Lawrence was the original Broadway stage Maria in "West Side Story".
The problem was Johnny Mercer and Harold Arlen were not Jerome Kern and Oscar Hammerstein II. The original idea was to get Richard Rodgers and Oscar Hammerstein to write the score, but they were engaged on another project. Next Alan Jay Lerner and Frederick Lowe were approached. They didn't want to do anything at the time. Their musical "My Fair Lady' being such a hit and they were working on an idea that became "Camelot".
Adding to this was the script and direction were by Morton DaCosta. The script had too many minor characters and his direction was considered slow. Even though the show failed. Cecil Beaton won the Tony Award for his costumes.
PART SEVEN: GIANT
Giant (The Novel)
The novel is based upon the history of the actual "King Ranch" in Texas.
An article in the "Texas Observer" looked back on the novel's publication.
THOUGH IT NOW BOGGLES THE MIND, when Edna Ferber's classic potboiler Giant was first published in 1952, it scandalized Texans from the Pecos to the Sabine. Critics ripped the novel, a hard-nose satire of Lone Star mores, and Ferber herself to sheds in papers across the state.The Houston Press suggested she be lynched. And The Dallas Morning News headline on Lon Tinkle's review read "Ferber Goes Both Native and Berserk: Parody, Not Portrait of Texas Life". Reviewers outside the state also thought she'd been a trifle tough on Texas. John Barkham, writing in the New York Times , described Giant as "the biggest witch's broth of a book to hit the Commonwealth of Texas since the revered Spindle blew it's top/
The entire article can be read at:
https://www.texasobserver.org/giant-scandal/
Most on line reviews of the novel enviably end speaking about the 1956 motion picture. Here is the novel's description from the website "Goodreads":
This sweeping tale captures the essence of Texas on a staggering scale as it chronicles the life and times of cattleman Jordan "Bick" Benedict, his naive young society wife, Leslie, and three generations of land-rich sons. A sensational story of power, love, cattle barons, and oil tycoons,

Giant

was the basis of the classic film starring James Dean, Elizabeth Taylor, and Rock Hudson.
http://www.goodreads.com/book/show/149150.Giant
So lets look at that "Giant" of a motion picture.
Giant (1956 Movie)
Known as being James Dean's last movie, actor Nick Adams had to dub some of his lines after he was killed, the picture was the biggest screen version of any Edna Ferber novel. "Giant" was just that at a running time of three hours and twenty-one minutes and a "Giant" Hollywood cast of known and future major actors. The budget was $5.4 million 1955 dollars adjusted for 2016 equates to $48,285,018.38
Producer/director George Stevens hired Rock Hudson to play Jordan "Bick" Benedict, Jr. He then gave Hudson the choice of two actresses to play the female lead of Leslie Lynnton Benedict opposite him. The choice was between Grace Kelly and Elizabeth Taylor. Rock Hudson chose Taylor.
James Dean played the third major character Jett Rink, Rink is local handyman looked down on by the Benedict family and other Cattlemen. Later in the story on a piece of land, given to him by Bick's sister, Rink strikes oil and becomes as rich as the Benedict's. Below is the classic scene of Dean that appears on photos still sold today.
Ferber's novel has a second strong female character in Bick's sister Luz. She is portrayed by Mercedes McCambridge. There are some excellent scenes between McCambridge and Elizabeth Taylor's Leslie. As Luz does not approve of her brother's choice of a wife. Also up until the arrival of Leslie. It was Luz who ran the very large household and this new bride is now competition for that and most of all her brother's love.
.
The picture has a great cast of supporting actors starting with Chill Wills as Bick's uncle. Playing Leslie and Bick's daughter Luz Benedict II in her first motion was Carroll Baker. Prior to this picture her acting career were appearances on four television programs. At the end of 1956 Baker would become a major star in Elia Kazan's "Baby Doll". Playing Bick's and Leslie's son Jordan "Jordy" Benedict III was actor Dennis Hopper. Prior to "Giant" Hopper had only appeared on eight television shows and a role in the James Dean motion picture "Rebel Without A Cause".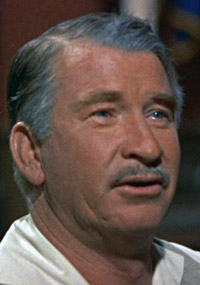 Others in the cast included Rod Taylor. The Australian actor had appeared on American television and in the Science Fiction motion picture "World Without End" prior to his very small role in "Giant". Four years later he would reach Science Fiction immortality in George Pal's "The Time Machine"..Sal Mineo had third billing behind James Dean and Natalie Wood in "Rebel Without A Cause" and was in the Paul Newman film "Somebody Up There Like Me", but was mostly making appearances in television shows at the time. Earl Holliman had already appeared in "The Bridges at Toko-Ri", "I Died a Thousand Times" and earlier in 1956 the classic Science Fiction "Forbidden Planet".
The film begins in Maryland were Bick Benedict has come to purchase a horse at the breeding stables and home of Leslie's father. Leslie falls for the Texan and breaks off her engagement to another man and marries Bick in what is a whirlwind romance.
One morning on their way to Texas. Leslie wakes up in their private rail car to see they are no longer attached to the train. Bick informs her that the car is now on Benedict land. Leslie wants to immediately get ready to meet his sister and the other family members, but is told even in the car awaiting them. That it is several hours drive to the mansion known as "Reata".On the drive Leslie learns the size of the ranch her husband and his sister own.
Tension exists between Bick's sister Luz and Leslie from the start. At the mansion style house known as "Reata" Leslie meets Jett rink. Rink may be looked down upon by the Benedict's, but he's more open to the situations surrounding the ranch with the Mexican workers. He also secretly loves Leslie from afar.
One day Jett takes Leslie for a car ride to the homes her workers live in. Seeing the squalor the Mexican's are living in. She decides to convince Bick to do something about the living conditions for their workers.
Back at "Reata" Luz decides to take her anger for Leslie out on her beautiful horse War Winds. A mistake that proves fatal as Luz digs her spurs into the side of the horse and War Winds bucks her off. Luz is she killed from the fall, but in her will to spite her brother leaves Jett a piece of Benedict land. Bick attempts to buy it back to keep "Reata" intact, but Jett refuses and to further flame the situation names his property "Little Reata".
At this point the story moves ahead ten years and we see the birth of Bick and Leslie's twins Jody and Judy. Later daughter Luz II will be born.The age old problem between children and parents over their futures is confronted. Bick wants his son to take over the ranch, but Jordy wants to become a doctor. Leslie wants to send their daughter Judy to finishing school in Switzerland, but she wants to study animal husbandry in Lubbock at Texas Tech. The twins win out.
While the above was going on Jett Rink discovers oil on his land. He shows up at "Reata" all covered in it. Jett goes from poverty to riches in the budding Texas oil industry.
Judy and her new husband Bob Dace arrive and Bick tries to talk him into working the ranch. He is not interested as the now World War 2 veteran wants to make it on his own with Judy's support . Jett talks to Bick about drilling for oil on his property and Bick agrees, because he realizes his children will not continue the ranch. The cattle ranch, like many real Texas ranches, changes to oil drilling. As a result of this change in their life styles Bick and Leslie become more wealthy than before.
The situation get more complicated when teenage Luz starts to flirt with Jett Rink. Jordy has married, but his wife is Mexican adding a racial tone to the story of the Benedict family.
Things come to a head when Jett gives a party at a hotel in Austin and the Benedict family arrives. Jett orders the hotel staff not to serve Jordy's Mexican wife. Jordy starts a fight with Jett over the treatment of his wife and looses. He is thrown out of the hotel, but Jett now has to face Bick as the fight that has been brewing over the years finally comes to a head. This occurs in a great fight sequence in a wine cellar.
Below James Dean at his Austin Hotel Party.
On their way home from Austin the family stops at a diner owned by a cook named Sage. Sage refuses to serve the family, because of Jordy's wife. Bick starts a fight with him and is beaten up resulting in the Benedict's being thrown out. During the fight one of the combatants hits the jukebox causing it to play a rousing version of "The Yellow Rose of Texas" as background music to the fight.
In the films closing scene between Bick and Leslie. He laments that the legacy, the ranch called "Reata". is not preserved by being passed on to his heirs. She replies that his actions the last couple of days have actually made him the hero she always imagined him to be and the family legacy is complete.
The motion picture was nominated for ten Academy Awards and won for Best Director George Stevens. Rock Hudson and James Dean had both received a Best Actor nomination. Mercedes McCambridge was nominated for Best Supporting Actress.
In Texas the film became a staple, but still was criticized over it's picture of Texas life.
PART EIGHT: ICE PALACE
Ice Palace (The Novel)
Amazon described the novel's story line as:
Czar Kennedy came to Alaska for money and power, Thor Storm for a dream. This is the story of their struggle, over a long half-century, for the future of Alaska and the destiny of their beautiful, rebellious granddaughter, Christine, a courageous woman who must make a choice that will shape the destiny of a new generation. Above all, it is the glowing and eloquent tale of Alaska itself—the last, great American frontier.
On the website "xroads,virginia.edu" author Eric Gislason wrote an article on the novel titled:
Edna Ferber;s Ice Palace: "The Uncle Tom's Cabin of Alaska Statehood" wrote:
Ferber--a sentimental and not usually profound writer--provides vivid representations of human lives, full of detail and a good deal of practical and psychological knowledge. Here is her version of how she got started writing Ice Palace:
Alaska, as a part of the United States, didn't particularly interest me. I was as ignorant of it as were (and are) most of the millions of citizens of my country. I knew a few bare facts only; Alaska was a Territory of the United States; it was vast enough to be termed, without too much exaggeration, a sixth continent; it had been bought from Russia for seven million dollars in 1867 over the protest of most of the citizens of this country who called the transaction Seward's Folly because the purchase had been advised by Secretary of State Seward. Something over seven million had been paid to Russia for this gigantic territory. Vaguely, it was known that Eskimos lived there and that in the 1890's gold had been discovered.
adding in the article's introduction:
Ferber's timing was indeed fortuitous. Alaskans were grateful, too. The Anchorage Daily Times acknowledged that "Miss Ferber has rendered a great service to Alaska through her newest novel," adding that the book "contains a tremendous boost for the good qualities of Alaskans and their plea for self-government as a full-fledged member of the union of states."
---
A few months after the novel' publication the vote for Alaska Statehood was held and Edna Ferber's work is given major credit for that votes result.
The entire article can be read at:
http://xroads.virginia.edu/~cap/bartlett/palace.html
It's a shame the motion picture version, released two years after the novel, wasn't that influential, or as good.
Ice Palace (1960 Movie)
Motion Picture rights to the novel were sold to Warner Brothers for $350,000 prior to the books publication.. The film's cast was excellent for the year. Warner Brothers publicity department played off of their success four years earlier with "Giant in the tag line:
THE MOTION PICTURE GIANT OF 1960 BY THE AUTHOR OF GIANT
Portraying Zeb Kennedy was Richard Burton and his partner Thor Storm was Robert Ryan.
The two women in their lives were portrayed by two popular actresses of the period.
A pre-Morticia from television's "The Addams Family" Carolyn Jones portrayed Birdie Ballantyne. For fans of Horror and Science Fiction films. Jones had been in both 1953's 3-D "House of Wax" and 1956's "Invasion of the Body Snatchers". Along with many other dramatic roles.
Portraying Dorothy Wendt Kennedy was Martha Hyer. She had been nominated for the Best Supporting Actress Oscar for 1958's "Some Came Running". Hyer had been in the 1953 version of Edna Ferber's "So Big", the second part of Ivan Tors' "Office of Scientific Investigation Trilogy" 1954's "Riders to the Stars", the classic 1954 comedy "Sabrina" and had played Rock Hudson's wife in the true story of Ohio minister Dean Hess in "Battle Hymn". Among 39 films prior to this one.
My article on Ivan Tors' "Office of Scientific Investigation" an early fact based Science Fiction trilogy including 1953's "The Magnetic Monster" and 1954's "GOG" can be found at:
http://www.bewaretheblog.com/2016/07/ivan-tors-office-of-scientific.html
The solid supporting cast included Ray Danton, "The Rise and Fall of Legs Diamond", The George Raft Story" and "The Longest Day",
Jim Backus, "Rebel Without A Cause", the voice of cartoon character "Mr. Magoo" and the popular 1950's television series "I Married Joan" co-starring comedian Joan Davis, but remembered more as Thurston Howell III on "Gilligan's Island".
Diane McBaine, "Parish" and "Claudelle Inglish" and the television series "Surfside 6", Below Diane McBaine on the left with Carolyn Jones in "Ice Palace"
Shirley Knight. who would be nominated for Best Supporting Actress also in 1960 for "The Dark at the Top of the Stairs" and in 1962 for "Sweet Bird of Youth".
Trivia note for Trekkies. "Ice Palace was the first on screen credited appearance of George Takei in a small part.Prior to this picture he appeared in four non-screen credited roles such as a "Soldier in the hospital" and provided the English language voices in "Rodan" and "Gigantis, the Fire Monster".
The screenplay was by Harry Kleiner who in 1953 wrote two Rita Hayworth films "Salome" and "Miss Sade Thompson". Along with Tyrone Power's "King of the Khyber Rifles" also in 1953 and the screenplay for the film adaptation of the Broadway musical "Carmen Jones" starring Harry Belafonte and Dorothy Dandridge.
The motion picture was directed by Vincent Sherman. Sherman got his start at Warner Brothers with the weird Humphrey Bogart picture "The Return of Dr. X", but also directed Bette Davis and Claude Rains in "Mr. Skeffington", Errol Flynn in "The Adventures of Don Juan" and Joan Crawford in "Goodbye My Fancy".
On paper this motion picture was set for success, but it was a box office failure and the movie critics panned it. Bosely Crowther in the New York Times, on June 30, 1960, wrote that the film treatment of Edna Ferber's novel was:
as false and synthetic a screen saga as has rolled out of a color camera
and describing the look of the film as:
no more authentic than cornstarch snow on a studio set.
The screenplay attempts to cover all of Edna Ferber's novel and perhaps that's part of the problem. Four years earlier Warner Brothers brought "Giant" to the screen. That novel had the scope of "Ice Palace", but the film version was 58 minutes longer than this picture. Another problem with the screenplay and the acting is mentioned by biographer Julie Goldsmith Gilbert in her "Ferber and Her Circle: A Biography" in 1999. She called the film about Alaska:
glacial at the box office
Obviously the public was not interested in the film. As a defense one has to look at some of the titles that came out the same year of 1960. You had Kirk Douglas in "Spartacus", Anthony Perkins in "Psycho", Yul Bryner and Steve McQueen in "The Magnificent Seven", John Wayne's roadshow version of "The Alamo", Elizabeth Taylor in "Butterfield 8", Burt Lancaster in both "Elmer Gantry" and the Western "The Unforgiven". Along with Spencer Tracy and Frederick March's "Inherit the Wind". and let's not forget another Edna Ferber film "Cimarron" with Glenn Ford just to name a few.
PART NINE: EPILOGUE
Edna Ferber never married, left no children and was not known to have had any romances or for that matter, according to here biographers, sex of any kind. Edna Ferber passed away April 18, 1968 at the age of 82 from stomach cancer. Her legacy is in these and other motion pictures and her written works which are still in print and available in E-book format.