DELL COMIC BOOKS, not Marvel, or Classics Illustrated, in the 1950's and 1960's, tied many of their titles to what my peers and I were seeing on both the Big and Small screens. For an average price of between Ten and Fifteen Cents. We could travel to "Altair IV" to meet "Robby the Robot" in 1956's "Forbidden Planet", or ride into post Civil War adventure with Nick Adams as"Johnny Yuma" on televisions "The Rebel". Today these comic book covers reflect the United States during those years as a sort of time capsule. So sit back my reader and have a little nostalgia from a bygone way to publicize and get Box Office and Television Ratings.

A BRIEF HISTORY OF DELL COMICS
In 1921 George T. Delacorte, Jr. founded
"Dell Publishing"
with $10,000, or the equivalent of $139,643 2018 dollars. Delacorte had two employees at the start. In 1953
"Dell"
claimed to be the World's largest comic book publisher with 26 million copies world wide each year.
"Dell Publishing's"
first "Comic Book" was
"The Funnies".
First published in January 1929 and was more of a comic supplement to the Sunday newspapers than an actual book.
In 1933 "
Dell"
collaborated with
"Eastern Color Printing"
to publish their first actual Comic Book
"Famous Funnies".
In 1938
"Dell"
went into a partnership with
"Western Publishing (Western Printing and Lithographing Company)"
and created the Comic Giant that lasted into 1974. However, most of their publications, at the partnerships start, were under the new name of
"Whitman Comics"
and a major title was
"Crackerjack Comics",
1938 through 1942.
The second major
"Whitman Comics"
title was
"Super Comics",
1938 through 1949.
However, it is the
"Licensed Material"
from Walt Disney Productions, Walter Lantz Studios, Warner Brothers, Metro-Goldwyn Meyer, Hanna-Barbera and others that I grew up with and what this article is about.
THE MOTION PICTURES
As I mentioned above,
"Dell Comics"
made comic book tie-in's to motion pictures starting during the 1950's. These were not the only tie-in's to what was on the Big Screen made during the period. It was common practice to have novelizations of different motion pictures written and released prior to the film's release, if there wasn't already a known novel. .
I showed, above, the cover for the
"Dell Comic"
version of the Science Fiction classic
"Forbidden Planet".
Also in 1956 was the novelization of the pictures screenplay written by Phillip MacDonald was released, but the original release was under his pen name W.J. Stuart
The following are a few examples of
"Dell"s"
motion picture tie-in's. Which should give my reader an idea of how widely the comic books were used to promote motion pictures.
1954
This is the classic motion picture version of Jules Verne's
"20,000 Leagues Under the Sea"
starring James Mason as "Captain Nemo", Kirk Douglas as "Ned Land", Paul Lukas as "Professor Aronnax" and Peter Lorre as "Conseil".


1956
"The Searchers"
director John Ford's classic Western about revenge starring John Wayne, Jeffrey Hunter and featuring a teenage Natalie Wood.
"Around the World in 80 Days"
was Michael Todd's big budgeted version of the Jules Verne novel. The feature had an all star cast headed by David Niven, Shirley MacLaine, Mexican comedian Cantinflas and Robert Newton. This was the first motion picture in the wide screen process "Todd A.O," Additionally in the program you could purchase for the Road Show Engagement. All the guest stars, who were on for perhaps a couple minutes, had their images placed in Victorian England Cameo frames at the back of that original hardcover program. As a result the motion picture term "Cameo Appearance" was created.
Howard Hughes produced
"The Conqueror"
, actor/singer Dick Powell directed and John Wayne starred as "Genghis Khan" with Susan Hayward as his "Tartar Women".This is the movie were the majority of the cast and crew developed cancer possibly related to the Nevada Atom Bomb Tests, because the production was located by a Utah city that was downwind of the testing site. Look it up. A copy of this ten cent comic is currently being sold on line for seventy-nine dollars.
Fess Parker, Jeffrey Hunter and Jeff York told Walt Disney's version of the famous "Great Locomotive Chase". This was the true story of the recipients of the first "Congressional Medals of Honor".

1957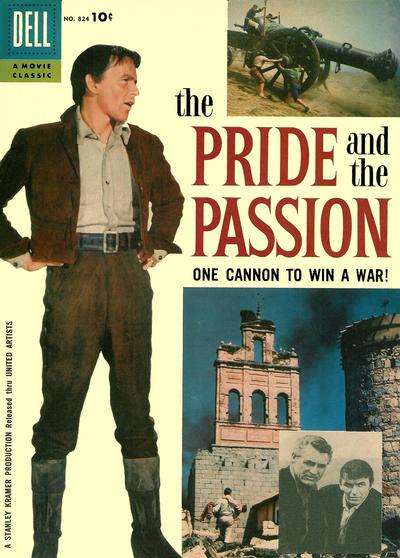 Stanley Kramer turned C.S. Forester's novel
"The Gun",
about Spanish resistance to Napoleon's occupation, into
"The Pride and the Passion"
starring Frank Sinatra, Cary Grant, Sophia Loren and that giant canon two people could stand upon.
1958
"The Vikings"
told the story of two brothers, unknown to each other, who battle for the love a women and against a cruel King. Its a very good motion picture that starred Kirk Douglas, Tony Curtis and his then wife Janet Leigh. While featuring Ernest Borgnine.
The movie was originally entitled
"Tonka"
and was about a horse raised by a young Comanche warrior he gave that name too. The horse ended up being owned by a Cavalry Officer at the "Little Big Horn". The real horse was honored and put to stud. "Comanche" is considered the only survivor of Custer's command. The picture was also known as
"A Horse Named Comanche".
The classic
"7th Voyage of Sinbad" was
stop motion animated by Ray Harryhausen and starred Kerwin Matthews, Kathryn Grant and Torin Thatcher.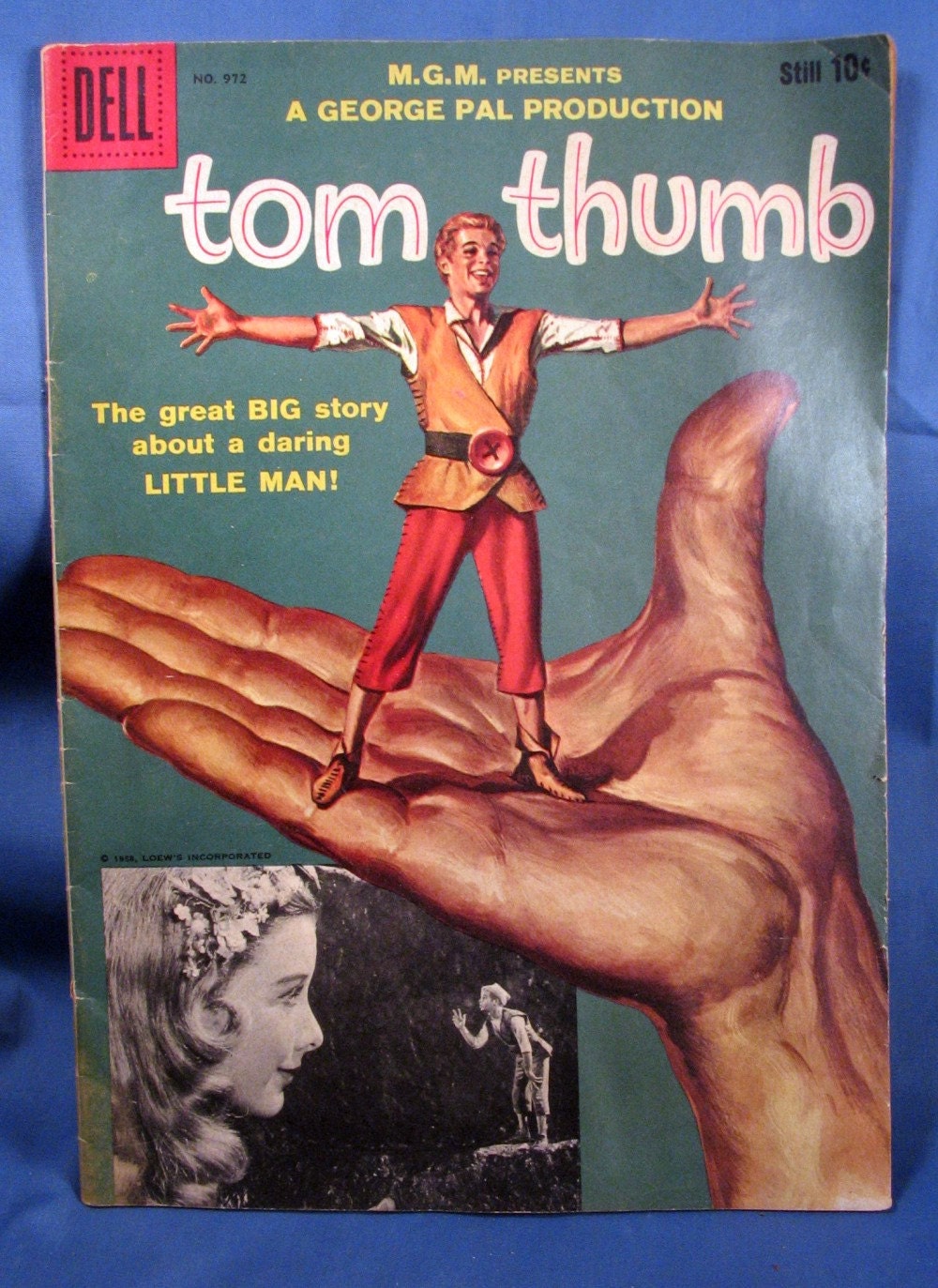 The George Pal film
"TomThumb"
starred Russ Tamblyn and Pal's Puppetoons. It was also a United States/U.K. co-production and the first American picture with British comedians/actors Peter Sellers and Terry Thomas.
The English language version of the Italian picture
"Le fatiche di Ercole (The Labors of Hercules)".
Made American Strong Man Steve Reeves a World wide star and started the Sword and Sandal film craze in this country. The plot dealt with "Jason and the Argonauts".
1959
The movie and comic for
"Hercules"
was followed in 1959 by
"Hercules Unchained".
Both picked up the previous story.
My article on Steve Reeves and Sword and Sandal films can be read at:
http://www.bewaretheblog.com/2015/01/steve-reevesa-look-at-his-films.html
"The Big Circus"
was Irwin Allen rip off of Cecil B. DeMille's
"The Greatest Show on Earth".
Allen's movie featured a tight rope walk over Niagra falls, rear projection, of Gilbert Roland. The film starred also starred Victor Mature, Red Buttons, Rhonda Fleming, Kathryn Grant, Peter Lorre and Vincent Price.
"The FBI Story"
was a best selling novel authorized by J. Edgar Hoover and turned into a major motion picture under the screenplay and scene approval of Hoover.
"The FBI Story"
had James Stewart as an FBI agent since its founding to the year of this films release. Actress Vera Miles portrayed his wife.
1960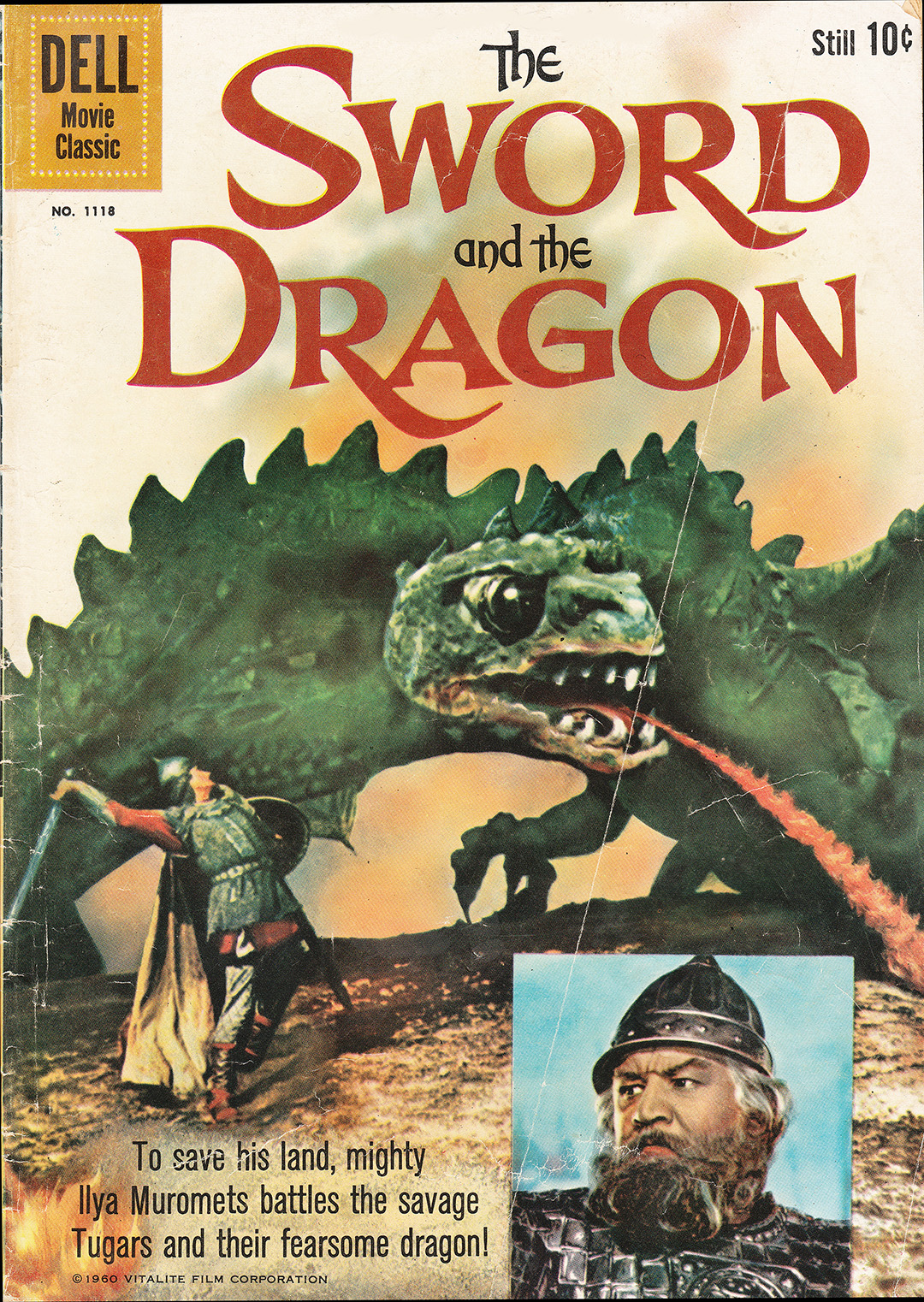 The motion picture was made and released in the Soviet Union in 1956, but didn't come to the United States in an English dubbed version, with several character names changed, until 1960. The re-editing was done by film maker Roger Corman. My article on this film and four other Soviet Block Science Fiction motion pictures can be read at:
http://www.bewaretheblog.com/2016/02/a-look-at-five-of-my-favorite-1960s.html
Walt Disney
"Pollyana",
about a 12 year old girl at the start of the 1900's starred British actress Hayley Mills as the title character. She was also in Disney's original
"The Parent Trap"
and
"In Search of the Castaways"
, The role of her aunt was portrayed by Jane Wynman and Richard Egan also starred.
Irwin Allen's production of Sir Arthur Conan Doyle's
"The Lost World"
starred Michael Rennie, Jill St. John, David Hedison, Fernando Lamas and Claude Rains. Allen tricked stop motion animator Willis O'Brien, 1933's
"King Kong"
and the original silent 1925
"The Lost World"
, into being involved with this project. Irwin Allen used lizards as dinosaurs, but wanted O'Brien's name associated with his production as a lure of stop motion fans.
1961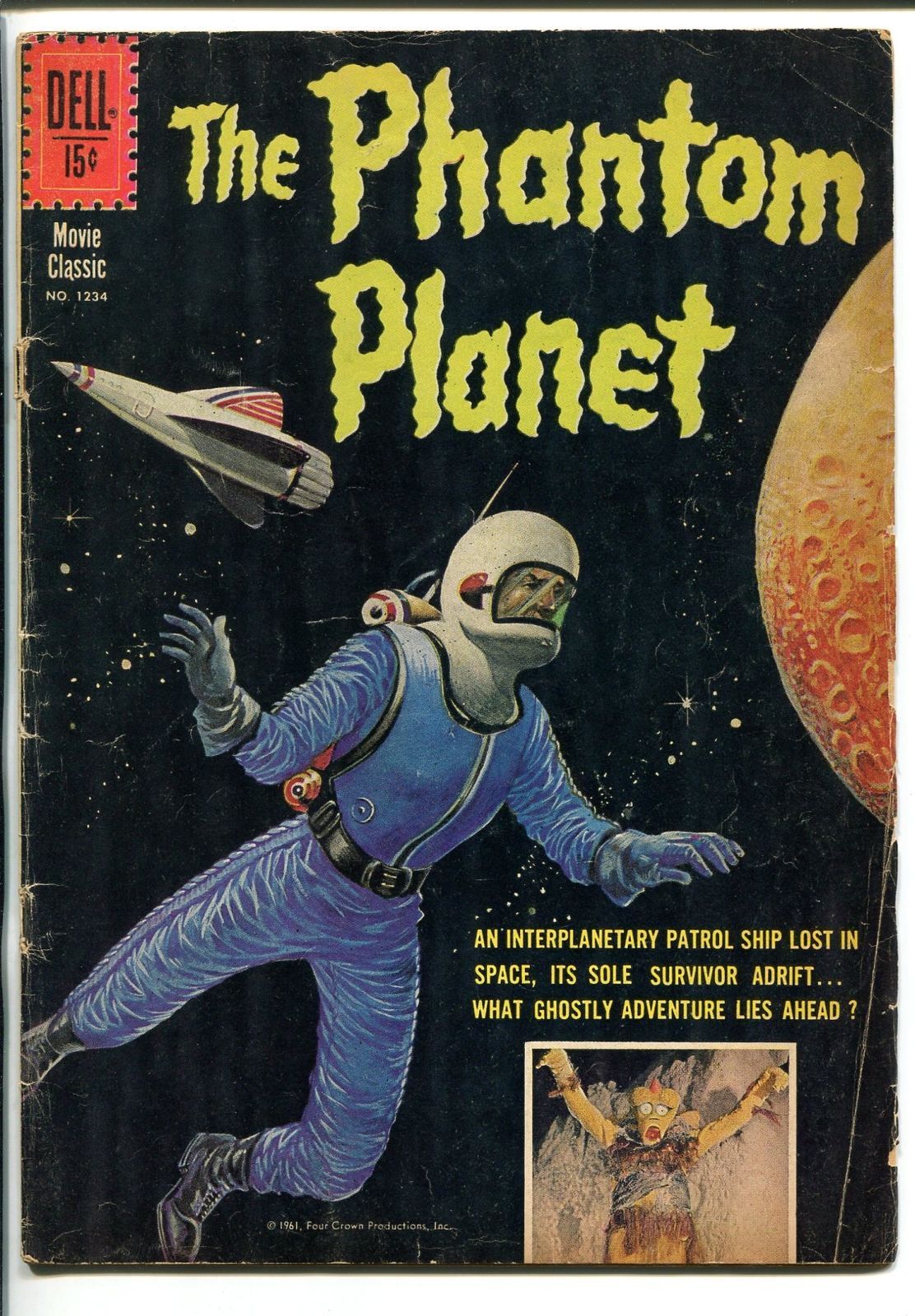 The low budget Science Fiction film
"The Phantom Planet"
was actually very good and has become an overlooked cult classic. It starred Dean Fredericks who was starring on a television series based upon a comic strip
"Steve Canyon"
. The girl was portrayed by Coleen Gray, Howard Hawk's
"Red River"
and a very good modern day horror film 1957's
"The Vampire".
For those of my readers that think they know all the Vampire films made. My article on "Not the Same Old Vampire Movies, or Get Your Dentures Away from My Jugular Vein" may be read at:
http://www.bewaretheblog.com/2017/10/not-same-old-vampire-movies-or-get-your.html
Samuel Bronston produced the epic
"El Cid"
starring Charlton Heston and Sophia Loren. It featured British actor Herbert Lom as the fanatical Arab leader.
For those familiar with Lom's work in both Hammer's
"The Phantom of the Opera",
Ray Harrison's
"The Mysterious Island"
and
"The Pink Panther"
sequels. My article on the actor can be read at:
http://www.bewaretheblog.com/2018/08/herbert-lom-his-motion-pictures.html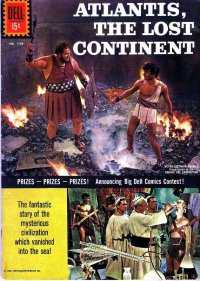 Although I liked it. George Pal's
"Atlantis the Lost Continent"
was a financial flop and the special effects dated at the time of its release.
In 1957 Debbie Reynolds was "Tammy" in
"Tammy and the Bachelor"
co-starring Leslie Neilsen. Now Sandra Dee took over the role in a remake,
"Tammy Tell Me True",
of that previous film opposite John Gavin. This was the first of series of films with Sandra Dee.
1962
John Beck brought to Toho Studios in Japan a screenplay he had stolen from stop motion animator Willis O'Brien entitled
"King Kong vs Frankenstein".
Beck sold the screenplay to Toho and the result was
"King Kong vs Godzilla"
and several law suits. Note there were two releases of the comic with two issue prices.
1963
Western Publishing's,
"Gold Key"
comics and not their
"Dell"
label/ Released, in the United States, the comic book for Samuel Bronston's epic about the Boxer Rebellion
"55 Days at Peking".
The feature film starred Charlton Heston, David Niven and Ava Gardner. The second comic book cover is the South African release of the same comic by Western Publishing. Going to that 26 million copies per year world wide.

"Gold Key"
and
"Dell Comics"
merged for legal reason in 1974 the last year the name
"Dell"
was used. The same titles for television went from the name
"Dell"
to
"Gold Key"
in that year, if they were still be published..
"Captain Sinbad"
was an American-German co-production and starred Guy Williams, TV's
"Zorro"
and
"Lost in Space",
Pedro Armendariz, John Ford's
"Fort Apache"
and the "James Bond" movie
"From Russia with Love",
was the evil Prince. The Princess was portrayed by German actress Heidi Bruhl.
Five years after Steve Reeves stop motion animator Ray Harryhausen made his
"Jason and the Argonauts".


.
This comic book title shows you a problem with tie-ins to motion pictures. The title on the comic book is
"The Lion of Sparta".
However, that was the working title and when the feature film was actually released the title had become
"The 300 Spartans"
. The movie starred Richard Egan as "King Leonidas"
Walt Disney turned the first half of T.H. White's massive novel
"The Once and Future King"
into the animated feature
"The Sword and the Stone".
The second half of the novel became the Broadway musical and then feature film
"Camelot".
1964
Nothing like the team of Maureen O'Hara and John Wayne to turn William Shakespeare's
"The Taming of the Shrew"
into Western comedy as
"McLintock".
"ZULU"
features co-producer/star Stanley Baker, Jack Hawkins and an unknown actor named Michael Caine. The film told the incredible true story of a garrison of Queen Victoria's troops in Africa. Who held off the entire Zulu nation at Rorke's Drift in a great action motion picture.
Another epic motion picture from Samuel Bronston was
"The Fall of the Roman Empire".
The actual cast of thousands, there was no CGI at the time, was headed by
Stephen Boyd, Alec Guinness, Christopher Plummer, Sophia Loren and James Mason. Ridley Scott remade the film with minor changes as
"Gladiator".


Julie Andews won the Academy Award for
"Mary Poppins".
The Disney musical co-starred Dick Van Dyke.
Let's all sing "Hooray for Santa Claus" as he brings Christmas cheer into the lives of Martian Children everywhere.
1965
"Battle of the Bulge"
was a World War 2 movie with an all star cast. That included Henry Fonda, Robert Shaw, Robert Ryan, Dana Andrews, Telly Savalas and Charles Bronson. The screenplay could have been shot in the 1940's and not the 1960's.
Peter O'Toole was Joseph Conrad's
"Lord Jim"
in a too faithful adaptation of the novel. The film also featured Eli Wallach, James Mason, Curd Jurgens and Jack Hawkins.
George Peppard and Sophia Loren led an all star cast in the World War 2 story of the German V-1 and V-2 rockers in
"Operation Crossbow".
The fifth entry to the
"Beach Party"
series starring Frankie Avalon as "Frankie" and Annette Funicello as "Dee Dee" was
"Beach Blanket Bingo".
In the cast were Joel McCrea's son Jody in the continuing role of "Bonehead". Harvey Lembeck as the leader of the pack "Eric von Zipper". A rip off of Marlon Brando from
"The Wild One".
Comedian
Don Rickles as "Big Drop", Paul Lynde as "Bullets", Buster Keaton as "Buster", regular John Ashley, who in this film was "Steve" and future
"Gidget"
Deborah Walley. Along with the about to co-star on television's
"The Big Valley"
Linda Evans as "Sugar Kane". This is considered the most popular and best of the entire series.
1966
"Around the World Under the Sea"
was from Ivan Tors starred Lloyd Bridges, TV's
"Sea Hunt",
Shirley Eaton,
"Goldfinger",
and David McCallum, TV's
"The Wild, Wild West".

"Fantastic Voyage"
starred Stephen Boyd, Rachel Welsh, Edmond O'Brien and Donald Pleasence. This was the original shrink a sub and insert it into the body of a human to save him. Dennis Quaid would do a simi-comedy take off of this picture in 1987's
"Inner Space",
but this film is fun to watch.
1970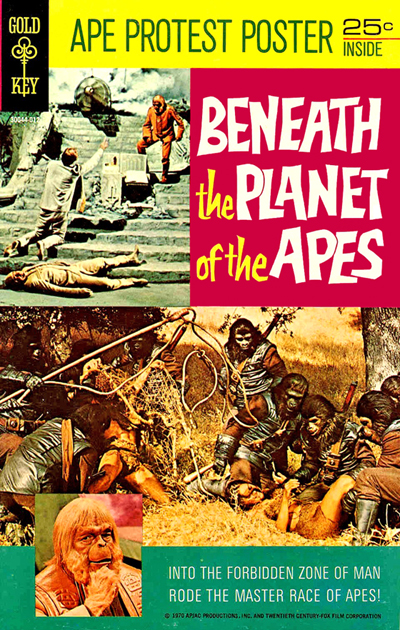 James Francicus, Kim Hunter and Maurice Evans in the sequel to the original
"Planet of the Apes"
was
"Beneath of the Planet of the Apes".
Charlton Heston was planned to be in it, but didn't want to be. A contractual agreement was made and he appeared in the final scenes.
I could go on with these motion picture based comics, but I believe my reader has a very good idea of how these tie-in's worked and that all genres were subject to this form of art.
THE TELEVISION SHOWS
Television Comic Books, especially in the 1950's, had a duel purpose. This was the real decade of the "Cold War" and American's were very ant-Communist and Pro-Red, White and Blue. In Congress you had the House Committee on Un-American Activities and "Tail Gunner" Joe McCarthy.
The motion picture industry was facing being "Black Listed" as Communist sympathizers and went to safe films. These included Science Fiction, Musicals, Family subjects and Westerns. So the new medium of television programming had to also reflect a Safe America and they adopted the same guidelines.
I am not going to do this section by year as I did with motion picture comic books, but categories to give my reader a sample of how
"Dell/Gold Key"
kept mostly kids tied to Safe television viewing Every title I use is just one of a group of comic books for that show available to be purchased.
As far as a Safe America. There was nothing more American than the"
WESTERNS
The following link take my reader to the unbelievable amount of Westerns that were on television during the 1950's. In one week there were as many as 49 Westerns on television.
http://www.bewaretheblog.com/2018/01/xxxxx.html
These first television Westerns were geared toward young people and were seen on either a Saturday morning, or in an after School time slot during the week.
Duncan Renaldo was "The Cisco Kid" and Leo Carrillo was his side kick "Pancho". The character first appeared in 1907 in a short story by American writer O'Henry and in a silent movie in 1914 followed by many more. The
Dell
would issue 41. The television series would last for 151 episodes and was filmed in color. Although the television sets at the time were black and white. Somebody was far thinking and the series would return in color.
Also filmed in color in the age of black and white television was
"The Lone Ranger".
Above a stunt man/ villain actor in chapter serials Clayton Moore, became the title role on my television set.
There was a spin off comic book and probably the first to treat Native American's with dignity.called
"The Lone Ranger's Companion TONTO".
Additionally there was, for 1956, an expensive twenty-five cent comic book. That price would eventually became normal. This comic book was a tie in to the first motion picture taken from the television show. The characters had first appeared in a 1938 Chapter Serial.
Gene Autry had been in motion pictures since the 1930's and moved to television.
Dell
created duo comic book titles.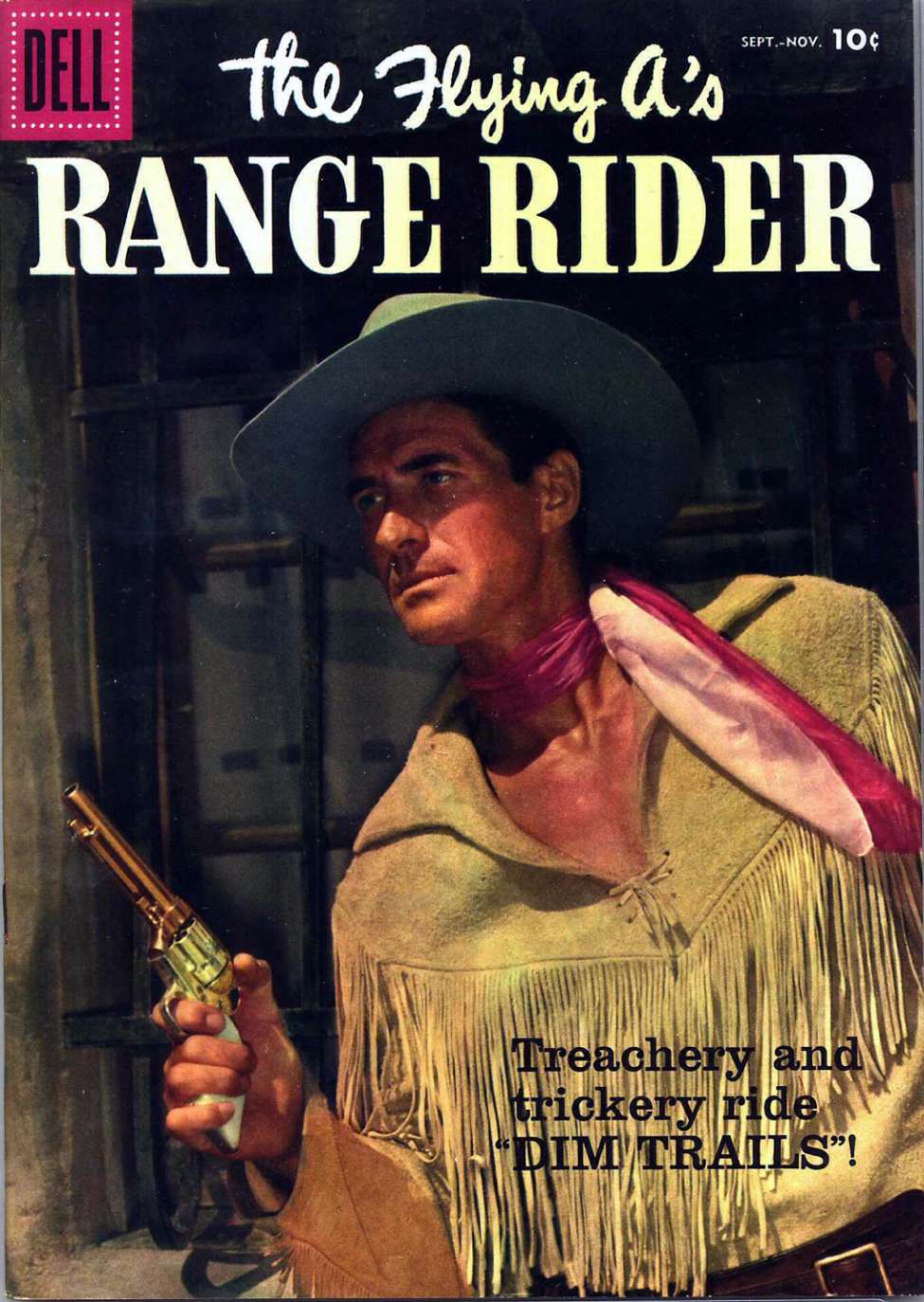 Jock Mahoney became television's
"The Flying A's RANGE RIDER".
"Flying A Productions" was Gene Autry's company and his ranch was named "Flying A".
"The Range Rider"
was still, at the time, a popular radio program going back to the 1940's.
If Gene Autry could have a
Dell
comic book with his horse "Champion". Then his competition Roy Rodgers could have one with his horse "Trigger". In the above issue there is a picture of his dog Bullet on it. Then
Dell
one upped "Champion" by giving "Trigger" his own comic book and we kids bought them all.
In an attempt to appeal to young girls. Roy's real life wife and co-star for a decade Dale Evans. Also had her own comic book.
Gail Davis was
"Annie Qakley"
and Jimmy Hawkins was her younger brother "Tagg". This television show had nothing to do with the real Oakley. The series was produced by Gene Autry's "Flying A Productions" and ran for 81 episodes.
His Cavalry parents killed by Indians "Rusty" is adopted by the men of Fort Apache. Later he finds a dog he names "Rin Tin Tin" and for five years and 164 episodes young fans followed
"The Adventures of Rin-Tin-Tin.
Aimed at young audiences and a variation of Gene Autry's
"Annie Oakley"
was
"Buffalo Bill, Jr".
A young boy and his younger sister were the sole survivors of an Indian massacre in the Black Hills of South Dakota. The two are renamed "Buffalo Bill, Jr" and "Calamity Jane". Neither is related to the real duo and "Bill" takes care of his sister in this family Western,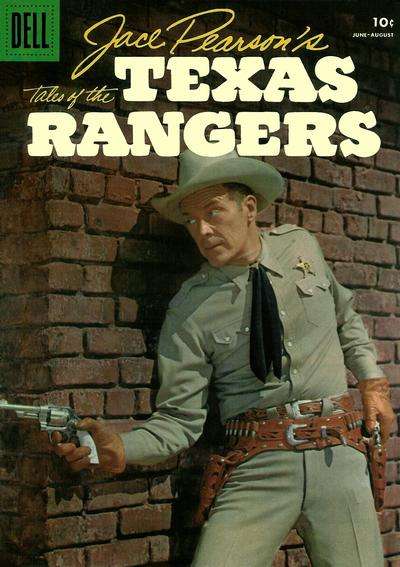 "Tales of the Texas Rangers"
was based upon real case files. Most were handled by the lead Ranger, on the above cover, played by Willard Parker. Another recurring Ranger was portrayed by Stacey Keach, Sr. The father of brothers Stacey and James Keach. This was one of many syndicated Western series that lasted only one season.
.
On September 6, 1955 the first episode of what was considered an Adult television Western as compared to the ones I have mention aired.
"The Life and Legend of Wyatt Earp"
starred Hugh O'Brien and would run into 1961 for a total of 229 episodes. This series was produced by "Desilu Productions" from husband and wife, at the time, Dezi Arnaz and Lucille Ball. The show had a catchy theme song that made it on to the charts. ABC brought the series back in reruns in 1965.
IF Wyatt Earp brought in audiences. Then what about Bat Masterson?
Also with a catchy theme song Gene Barry was
"Bat Masterson".
The show ran for three seasons and 107 episodes.
With all the Western shows becoming hits. Warner Brother Studios decided to get into the act with:
Warner added Will Hutchens as
"Sugarfoot"
and Ty Harden would become
"Bronco".
Of course Warner Brothers had another major Western hit in: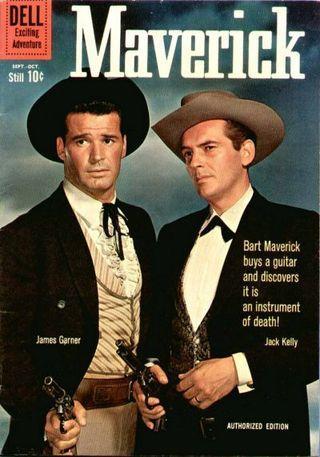 James Garner was "Bret Maverick" and Jack Kelly was brother "Bart Maverick". Later on the audience met "Cousin Beau Maverick" who looked a lot like Roger Moore.
My article on the series
"Maverick"
and its impact on three actoring careers may be read at:
http://www.bewaretheblog.com/2016/08/and-maverick-was-his-name-james-garner.html
There were many other Westerns and some had comic books from
Dell,
or one of their competitors such as
"Fawcett"
. Again I suggest my reader read my article on 1950's television Westerns.
SECRET AGENTS ON TELEVISION
As the Western shows started to fade in the 1960's another group of programs appeared, because of the "James Bond" craze.
Robert Conrad was "James West" and Ross Martin was the master of make-up "Artemus Gordon". The first shows were in black and white, but when color came in. The series changed to that format for a total run of 104 episodes.
Robert Vaughn was Secret Agent "Napoleon Solo" and David McCallum was "Illya Kuryakin". While veteran actor Leo G. Carroll was "Alexander Waverly" the head of the
United Network Command for Law and Enforcement
known as
"U.N.C.L.E.". "The Man From U.N.C.L.E.".
would run for 105 episodes.
A spin off show was
"The Girl From U.N.C.L.E."
starring Stefanie Powers and Noel Harrison. It only last for 29 episodes.
Above a scene from the original first season cast of televisions
"Mission Impossible".
On this cover is Steven Hill as "Dan Briggs" the original leader of the team for the show's first season. Peter Graves took over for the rest of the run.
WORLD WAR TWO
Ernest Borgnine starred as "Lieutenant Commander Quinton McHale" in this 1962 comic television series
"McHale's Navy".
.The premise was the same as the classic Phil Silvers army television program
"You'll Never Get Rich"
aka:
"The Phil Silver's Show"
from 1955. It was about the scheming "Sergeant Bilko". The setting was changed to the Navy for Borgnine and the series inspired three feature films. They were 1964's
"McHale's Navy",
1965's
"McHale's Navy Joins the Air Force"
and a 1997 remake starring Tom Arnold as "McHale".
For 168 episodes radio personality turned actor Bob Crane was Army "Colonel Hogan", Werner Klemper was German Prisoner of War Commandant "Colonel Klink" and John Banner the bungling "Sergeant Schultz". Who didn't know anything. Kempler had been Adolph Eichmann in the 1961 feature
"Operation Eichmann".
Here he was making fun of German Officers during World War 2.
The non-comedy
"The Rat Patrol"
starred Christopher George as the head of a group of soldiers in North Africa fighting Rommel. German-American actor Hans Gudegast played the German Officer wanting to stop them. Gudegast changed his name to Eric Braeden after this series.
SCIENCE FICTION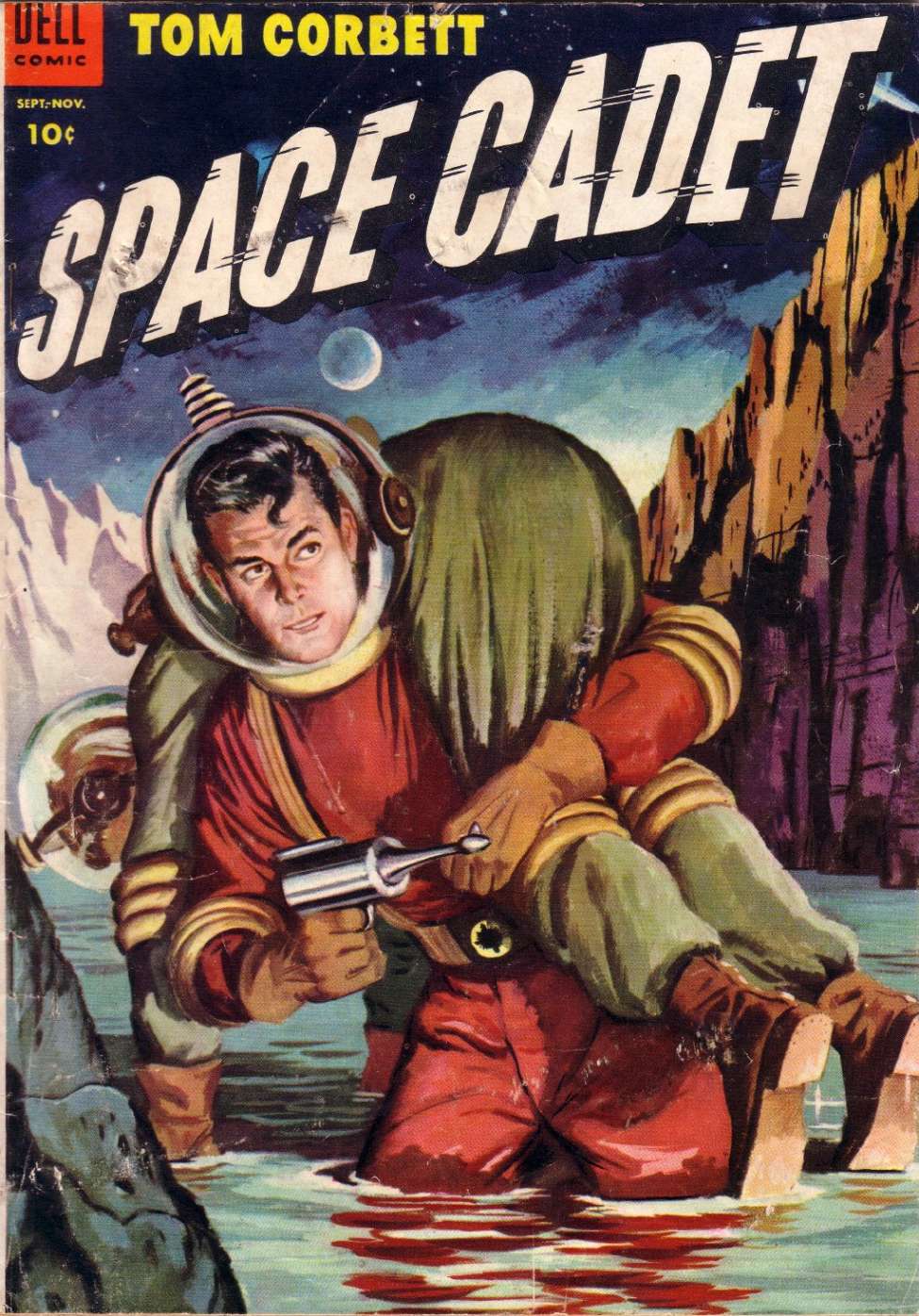 Sixteen years before
"Star Trek"
premiered I was watching
"Tom Corbett Space Cadet".
Which was an early attempt at 3-D television. It was also a very successful series of youth novels still available. This was one of many 1950's Outer Space programs I watched back then.
My article about "Tom Corbett" the other 1950's Space Operas may be read at:
http://www.bewaretheblog.com/2015/12/boldly-going-before-kirk-and-spock.html
Episodes of Rod Sterling's classic Science Fiction/Horror/Thriller
"The Twilight Zone"
were turned into comic form along with other original material to
Dell
comics.
The original stories from
"The Outer Limits"
were replaced by all new tales by
Dell's
story writers.
Irwin Allen turned his successful motion picture
"Voyage to the Bottom of the Sea"
into a very successful television series. First in black and white and then color.
Dell/Gold Key
had a large collection of the original
"Star Trek"
comic books to sell
.
Which helped to create the fan base we call "Trekkies".
Irwin Allen's
"The Time Tunnel"
starred Teen Idol James Darren, Robert Colbert and Whit Bissell.
Irwin Allen had another television series with
"Land of Giants".
Quinn Martin Productions turned their
"The Fugitive"
into the science fiction series
"The Invaders".
My article on
"The Invaders"
and four other television Science Fiction series can be read at:
http://www.bewaretheblog.com/2018/09/quatermass-and-pitt-invaders-ufo.html
DETECTIVE AND POLICE SHOWS
Robert Stack was Eliot Ness on televisions
"The Untouchables".
Each week Ness and his team went after major criminals such as Al Capone and Frank Nitti.
Every week we saw Craig Stevens as detective for hire
"Peter Gunn"
and Lola Albright as his girlfriend "Eddie Hart". This series was created by Blake Edwards and the theme song by unknown Henry Mancini was a major hit.
Warner Brothers went for detective shows at the time. Efrem Zimbalist, Jr and Roger Smith might have been the stars, but supporting actor Ed Byrnes as car hop "Kookie" became teen girls dream date. Especially when the song "Kookie Lend Me Your Comb" came out. Byrnes' car hop at the restaurant of the series title predated Henry Winker's "Fonz" with always coming his hair. Oh, there never was a restaurant at 77 Sunset strip. The actual exteriors were shot at 8524 Sunset Boulevard.
Predating the original
"Hawaii Five-0"
by nine years was Warner Brothers
"Hawaiian Eye".
The show starred Robert Conrad, Anthony Eisley, Grant Williams and featured Troy Donahue, eat your heart out "Rizzo" of
"Grease",
and singer Connie Stevens.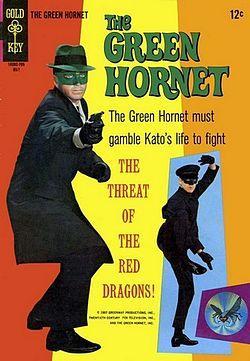 Van Williams was "Britt Reid" aka:
"The Green Hornet"
and Bruce Lee was "Kato". The show was by the same producers who had brought Adam West and Burt Ward to television in the camp
"Batman".
This show's comic was from
Dell,
but
"Batman"
was from
D.C.


FAMILY SHOWS AND SITCOMS

"The Life of Riley"
started out as a 1940's radio show. In 1949 actor William Bendix starred in the motion picture version. The first television sitcom, about this average working man and his family, ran from October 4,1949 until March 28, 1950 and starred Jackie Gleason. It was brought back, starring William Bendix, on January 2, 1953 and ran through May 23, 1958 and in 1958 the above comic book came out.


"I Love Lucy"
as a television series ran from 1951 into 1957. It starred Lucille Ball as "Lucy Ricardo" and her real life husband, at the time, Desi Arnaz as band leader and husband "Ricky Ricardo". Yes, during the show's run Lucille Ball became pregnant, it was incorporated in the program, and she had a boy as in real life. However, "Little Ricky" was never played by her real son contrary to belief by many viewers to this day.
Actor/Singer Danny Thomas and founder of St' Jude's Hospital starred in
"The Danny Thomas Show"
aka:
"Make Room for Daddy".
Which ran from 1953 into 1965. Portraying his wife was Marjorie Lord, his son was portrayed by Rusty Hamer and his daughter by Angela Cartwright. She doesn't look anything like she did on televisions
"Lost in Space"
on this cover from 1954.
"The Andy Griffith Show"
was a favorite from 1960 through 1968. Movie buffs look at Ronnie Howard on this early comic cover.
Big Brother Tony Dow was always getting in trouble from Little Brother Jerry Mathers on
"Leave It To Beaver".

Singer/Dancer/Actor Buddy Ebsen was the head of
"The Beverly Hillbillies".
Who found crude oil on his land and moved his family to Beverly Hills.
While character actor Walter Brennan was the head of
"The Real McCoys".
"I'm Dickens, He's Fenster"
starred comedian Marty Ingles and comedian John Astin as two carpenters. Who kept getting into typical sitcom situations.
In 1959 Sandra Dee was first seen in the motion picture
"Gidget"
starring Cliff Robertson and James Darren. In 1965 Sally Field was first seen on the television version.
Two years after she was
"Gidget"
Sally Field took to the air, literally, as
"The Flying Nun".
"Mc Keever and the Colonel"
was about a mischievous cadet at a Military School. The one season show might be called
"Leave It To Beaver"
meets
"Hogan's Heroes".
Back in 1955 Charlton Heston starred in a similar story in the motion picture
"The Private War of Major Benson".
"The Monroes"
was one season show about five orphans attempting to survive as a family on the Western Frontier. America wasn't ready for this idea in 1966, but five year later there was
"The Waltons".
Hey, Hey, We're the Monkees!
This typical American family,
"The Munsters".
Consisted of Fred Gwynne as "Herman", Yvonne De Carlo as his wife "Lily", Butch Patrick as their son "Eddie" and Al Lewis as "Grandpa".
My article on
"The Munsters"
and another television show
"The Addams Family"
can be read at:
http://www.bewaretheblog.com/2017/09/the-addams-family-and-munsters.html
Fred Gwynne was "Officer Francis Muldoon" and Joe E. Ross "Officer Gunther Toody" in
"Car 54 Where Are You?".
Al Lewis was in the cast as "Officer Leo Schnauser".
Although the show was divided into three programs between December 1954 and February 1955.
Dell
only issued two comics. The first for the original appearance
"Davy Crockett Indian Fighter"
and the last
"Davy Crockett at the Alamo".
The episode
"Davy Crockett Goes to Congress"
wasn't turned into a comic book. The series made Fess Parker a household name.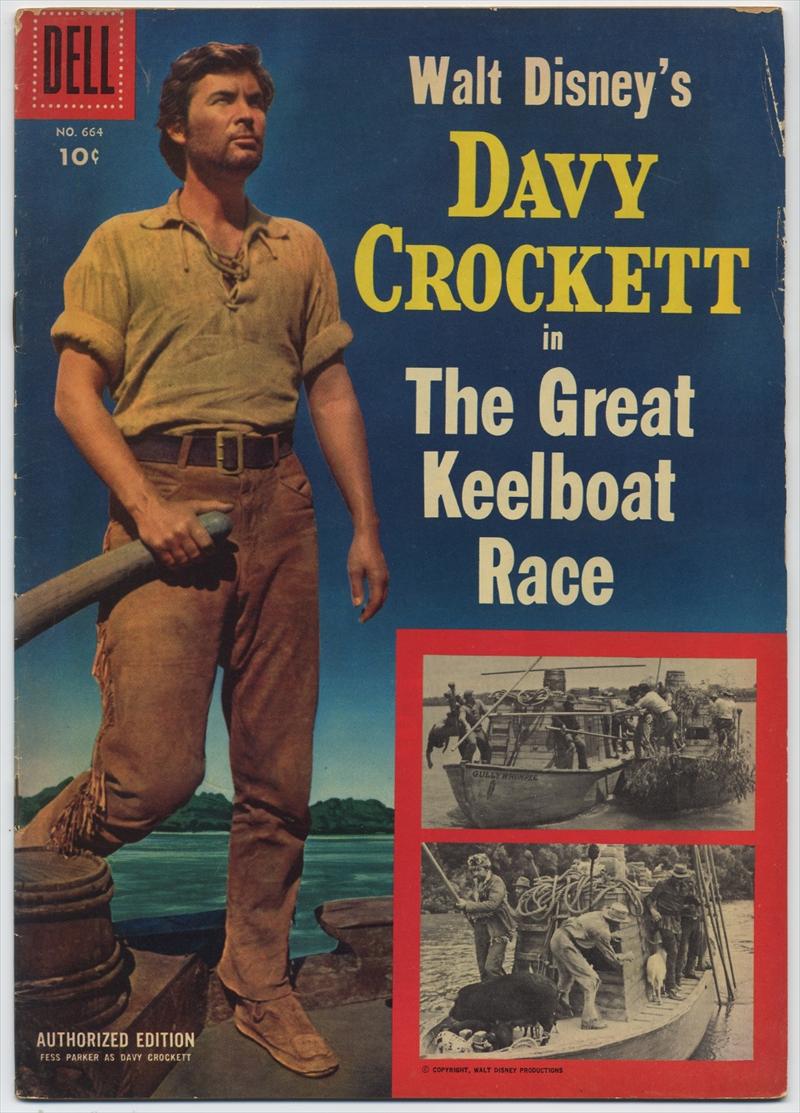 A sequel to the original mini-series were divided into two parts in November and December 1955.
Dell
issued a comic book for each episode.
Walt Disney had shot both mini-series in color. As was his practice with many mini-series he had released both in edited feature film versions for the European market and then decided to release both in American and Canadian movie theaters. Later he brought the two mini-series back on his
"Wonderful World of Color".
My article on the World Wide phenomenon that was Walt Disney's "Davy Crockett" may be read at:
http://www.bewaretheblog.com/2016/06/walt-disneys-davy-crockett-king-of-wild_25.html
With the success of
"Davy Crockett, King of the Wild Frontier".
Walt Disney would create four other mini-series. Two were about real people.
"The Swamp Fox"
was based upon real life Revolutionary War hero Francis Marion starring Leslie Nielsen.
"The Nine Lives of Elfedo Baca"
was about a real life Hispanic Frontier Lawyer in New Mexico and starred Robert Loggia.
"Texas John Slaughter",
based on the real lawman, starred Tom Tryon and was deliberately made to compete with the Warner Brothers television Westerns. While
"The Saga of Andy Burnett"
starring Jerome Courtland, was based upon a book Walt had read as a young man about early American Frontier life.
My article on all three mini-series and Walt DIsney's version of "Daniel Boone", not with Fess Parker, may be read at:
http://www.bewaretheblog.com/2017/04/walt-disney-presents-mountain-men.html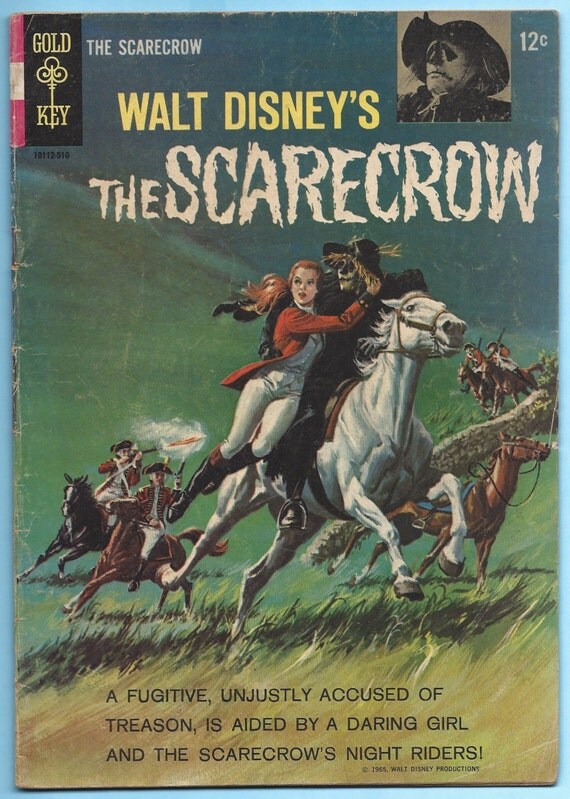 The unknown British actor Patrick McGoohan was
"The Scarcrow"
aka:
"The Scarecrow of Romney Marsh".
See my article on the actor mentioned above. This is an excellent mini-series about a small English Coastal "Victor" by day and Smuggler by night. Who was a thorn in King George's back as the American Revolutionary War was going on across the Atlantic Ocean.
On Disneyland Walt sought the advise of our German Rocket Scientist Werner von Braun and German/American Science Fiction writer Willy Ley. The two were to create screenplays for a series of accurate animated stories about space travel and exploration. One of the post popular was
"Man In Space".
THE ORIGINAL MICKEY MOUSE CLUB
Everyday after school ABC had Walt Disney's original
"Mickey Mouse Club"
on and I was one of the shows faithful viewers.
Probably the number one Mouseketeer was 16 year old Annette Funicello and every young 8 to 10 year old boy had a crush on her. At one point one of the mini-series on the program revolved around
"Annette"
and her adventures.
Probably the most known mini-series was
"Spin and Marty"
starring Tim Considine as "Spin" and David Stollery as "Marty". The 1955 series about the "Triple R" Western summer camp was so popular. That two other mini-series 1956's
"The Further Adventures of Spin and Marty"
and 1957's
"The New Adventures of Spin and Marty"
were made. Director John Ford's character actor and his God Son Harry Carey,Jr. was a regular as Camp Counselor "Bill Burnett". Guest stars would include Annette and Kevin Corcoran as "Moochie".
Tim Considine was back as "Frank Hardy" and Tommy Kirk as his brother "Joe Hardy" in
"The Hardy Boys Mysteries".
ADVENTURE SHOWS
On the above cover as Pirate Captain "Dan Tempest", in 1956, is Robert Shaw. Known to "James Bond" fans as: "Red Grant" in
"From Russia With Love"
and "Quint" in
"Jaws".
John Hart portrayed "Hawkeye" and Lon Chaney, Jr. was "Chingachgook". In this one season show loosely based upon the James Fenimore Cooper's novel
"The Last of the Mohicans".
When Clayton Moore got into a dispute over
"The Lone Ranger".
It was Hart who donned the mask for several very noticeable episodes of that television series.
Created by author James A. Michener
"Adventures in Paradise"
starred Gardner McKay as "Adam Troy". The show was about a Korean War veteran who stayed in the Pacific after the war ended.
Lloyd Bridges was scuba diver "Mike Nelson" is the popular series
"Sea Hunt"
from 1958 into 1961.
Marshall Thompson starred as "Dr, Marsh Tracy" and Cheryl Miller was his daughter "Paula" in this Ivan Tors production filmed in Africa. Oh,
"Daktari"
means "Doctor" in Swahili.
Before he was
"Lost in Space",
or fighting evil rulers as
"Captain Sinbad".
Guy Williams became Walt Disney's
"Zorro"
twice a week on ABC. During the second season Annette appeared in a continuing role. The series ran from 1957 through 1959.
My article of the Disney series with maybe a surprise or two, the original novel, the motion pictures and foreign television productions can be read at:
http://www.bewaretheblog.com/2015/11/zorroin-motion-pictures-and-on.html
I could keep going and going with all the available
Dell Comic Books,
but I believe my reader has seen a very good sample of the product produced mainly in the 1950's and 1960's. Many of these titles are available today in E-Book format.