In THIS ISLAND EARTH and KING KONG ESCAPES was that Rex, or Rhodes Reason? The two brothers popular in the 1950's and 1960's look and sound too much alike. This will hopefully clear the confusion for my reader, or not.


Above which is which?
STARTING OUT AND THROUGH 1955
Their parents were Rex George Reason and Jean Robinson Reason. While on a business trip in Berlin, Germany on November 30, 1928 Rex George Reason, Jr. was born. His parents moved back to the United States and on April 19, 1930 brother Rhodes was born near their home in Glendale, California. Besides their almost identical looks and sound to their voices. It should be noted that older brother Rex is one inch taller than Rhodes at 6 feet 3 inches.
I could not find much information about both brothers early life, but I know that in 1948, at the age of 20, Rex was learning his stage craft at the prestigious "Pasadena Playhouse". While that same year, at the age of 18, Rhodes was appearing in some role in a production of Shakespeare's "Romeo and Juliet" directed by Charles Laughton.
The website IMDb has the following quotation from Rex. It reflects the mix-up already happening to the brothers after they both started motion picture and television acting:
Back when we were in our 20s I would sometimes get fan mail saying that they saw me in such and such play some years back and that my name then was Rhodes Reason and why did I change it to Rex. Or people would think we were twins.
Rhodes first screen appearance was actually on the small screen of television. This was on the anthology series
"Stars Over Hollywood".
The March 14, 1951 episode was entitled
"Prison Doctor"
and starred Raymond Burr. Rhodes was listed sixth, right behind Strother Martin and Cameron Mitchell and just before Steve Reeves. While brother Rex started his career with a non screen credited role in the Stewart Granger motion picture
"Scaramouche"
released June 27, 1952.
On March 17, 1952 on another television anthology series, there would be many, entitled
"Hollywood Opening Night".
The episode of
"Prison Doctor"
appeared as exactly seen on
"Stars Over Hollywood".
The two programs were produced by the same company and explains the repeat at a later date.
I could not locate anything for 1953 about Rhodes and in 1954 hr had two minor roles in what were described a made for television movies about Alfred Nobel and Julius Caesar.
However, on June 25, 1955 in a third made for television movie
"The Farmer of Monticello".
Actor Rhodes Reason was the star portraying Thomas Jefferson. There would be another three 1955 television appearances on what would become the major source of his career.
Those three started with a Gene Autry produced family show
"The Adventures of Champion"
. about a wild horse that befriends a young boy. Rhodes appeared in two episodes
"Lost River",
October 22, 1955 and
"King of the Rodeo"
on November 29, 1955.The series
"Tales of the Texas Rangers"
found the young actor in
"Uranium Pete",
October 1, 1955 and in
"Hail to the Rangers"
December 17, 1955. On December 12, 1955 viewers of
"Death Valley Days"
saw the young actor as
"California's First Ice Man".
This was the true story of Peter Jeffries who came in search of Gold, but discovered cooling "Ice" was a richer commodity and became a millionaire.
Back on November 2, 1955 Rhodes Reason had been seen, without on non screen credit, in the feature film
"Lady Godiva of Coventry".
Maureen O'Hara was the lady who rode naked through the streets of Coventry, England.
Looking at this same period and older brother Rex Reason. His career continued on May 19, 1952 in a motion picture starring Howard Duff and Coleen Gray entitled
"Models Inc."
in another role without on screen credit. It is unconfirmed that Rex had another non screen credited role, as a Hotel Clerk, in the June Allyson and Arthur Kennedy motion picture
"The Girl in White"
released on May 23, 1952.
However, for a short moment in time, things changed with his next motion picture. A low budget film for Columbia Pictures, from Producer/Director Ivan Tors, entitled
"Storm Over Tibet"
released in July of 1952.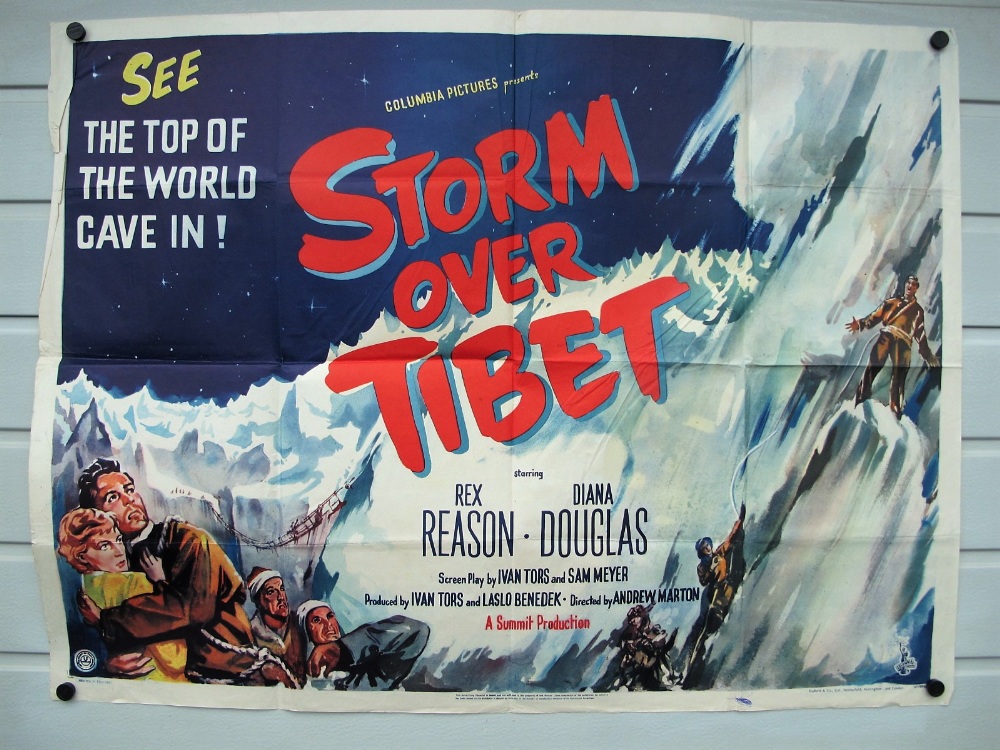 Rex Reason was the star as adventurer "David Simms". Typical of Ivan Tors pictures of the period there was plenty of stock footage. In fact most of the climbing scenes had been shot by Andrew Marton during the 1934 Himalayan Expedition led by Norman Dyrenforth.
There is a reference about Rex Reason in Michael R. Pitts 2010 work on Columbia Pictures Horror and Science Fiction films. The author states Rex got the part only because he looked like the previous actor in already shot footage that had suddenly died.
It should be noted
"Storm Over Tibet"
had a running time of 87 minutes and Rex Reason appeared only in 23 minutes.
From leading man to a non on screen credited role as tribune "Marcellus Fabius" in the Rita Hayworth, Stewart Granger and Charles Laughton
"Salome"
released March 24, 1953.
The difference between the brother's careers became obvious as Rex had 8th billing in the war movie
"Mission Over Korea"
released in August of 1953. Followed by another non screen credited role in the Edmond O'Brien and Barry Sullivan World War 2 movie
"China Adventure"
released on September 7, 1953.
Then came the Rock Hudson, Barbara Rush 3-D Western
"Taza, Son of Cochise"
released February 18, 1954.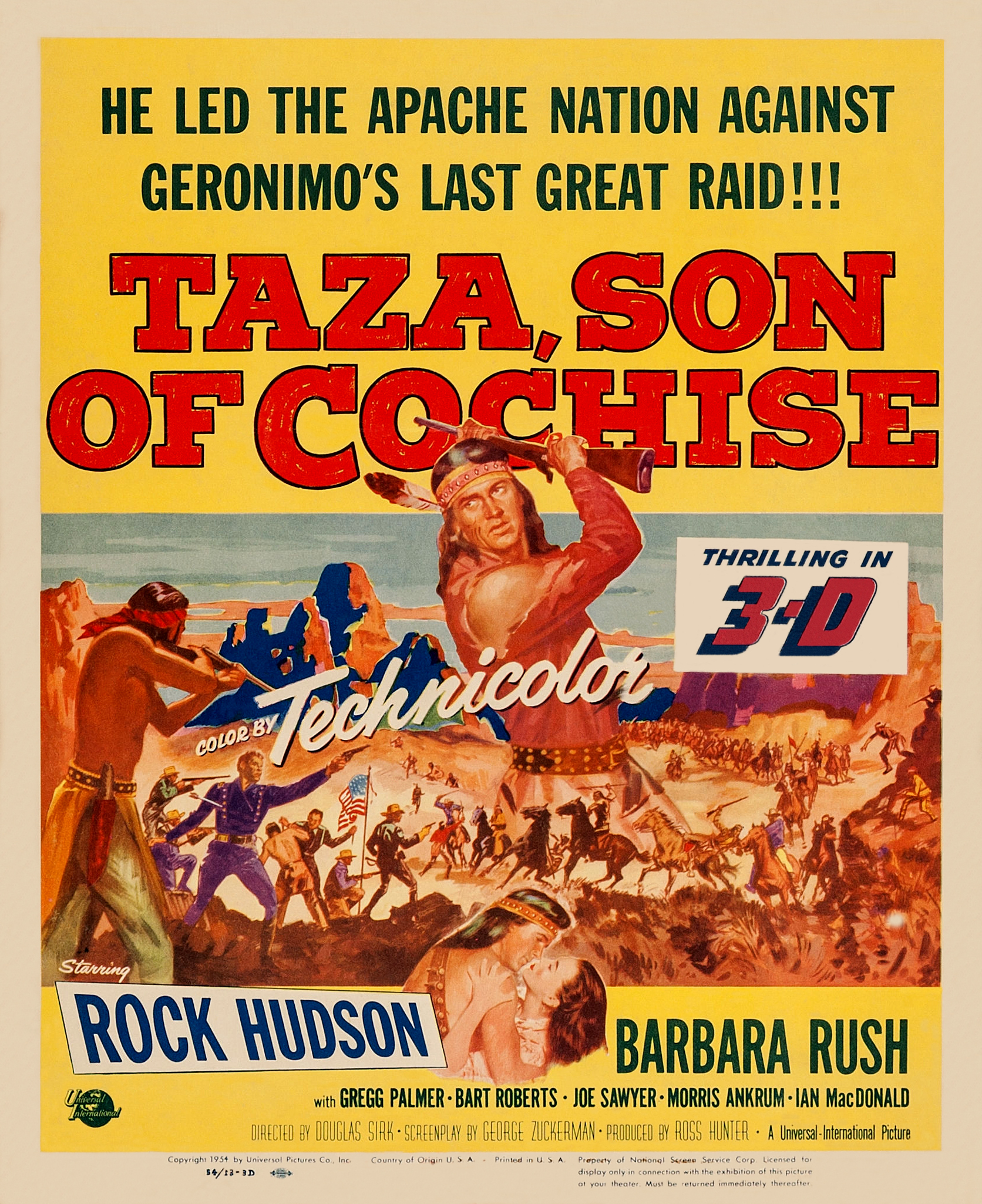 Rex Reason had fourth billing a Rock Hudson's, "Taza's", older brother and trouble maker "Naiche". LOOK at the about poster and see if my reader can find his name?
Returning to an IMDb quote from Rex Reason:
One morning while we were in Moab shooting

Taza, Son of Cochise

(1954),

Rock Hudson

came in and he had a newspaper in hand. He says to me, "Hi Bart!" I said, "What?" Rock told me that I was now Bart Roberts. The studio had just changed my name. He handed me the paper which had a publicity story in it, using my new name. Later, I went to the studio's head of production...and told him that I had read about my name change but that I would prefer to keep my name as Rex Reason. Well, it stayed Bart Roberts for the Taza movie and for my next film

Yankee Pasha

(1954)
Below the tie in scene to Jeff Chandler's role of "Cochise". Previously seen in the James Stewart, Chandler, feature from 1950
"Broken Arrow".
Below left to right: Rock Hudson, "Bart Roberts" aka: Rex Reason and Jeff Chandler. After "Cochise" names his youngest son "Taza", real history, the new chief of the Apaches and dies. This is actually a very good motion picture based on real incidents.
|
"Bart Roberts" was the narrator voice for the 1954 Alan Ladd and Shelley Winters motion picture
"O'Rourke of the Royal Mounted"
and the same years Jeff Chandler and Jack Palance film about Attila the Hun
"The Sign of the Pagan".
Then there was that fifth billing for "Bart Roberts", after actress Mamie Van Doren, as "Omar Id-Din" in the Jeff Chandler, Rhonda Fleming
"Yankee Pasha"
released April 17, 1954.
In March 1955, finally being called by Universal Pictures Rex Reason. The actor portrayed Calvary "Lieutenant Wayne Ford", with third billing, in the Western
"Smoke Signal"
starring Dana Andrews and Piper Laurie.
Dana Andrews was "Brett Halliday" a Calvary Officer accused of treason for being associated with the Ute Tribe that has been making raids on soldiers. He is being escorted to the location of his court-martial when the troops is attacked. Piper Laurie is the girl he's falling in love with, but Rex Reason is also in love with her.
After his second appearance on televisions
"Lux Video Theatre".
Rex Reason had third billing in one of two classic 1950's Science Fiction films. Released on June 10, 1955 the motion picture version of Science Fiction writer Raymond F. Jones'
"This Island Earth"
had little resemblance to the novel.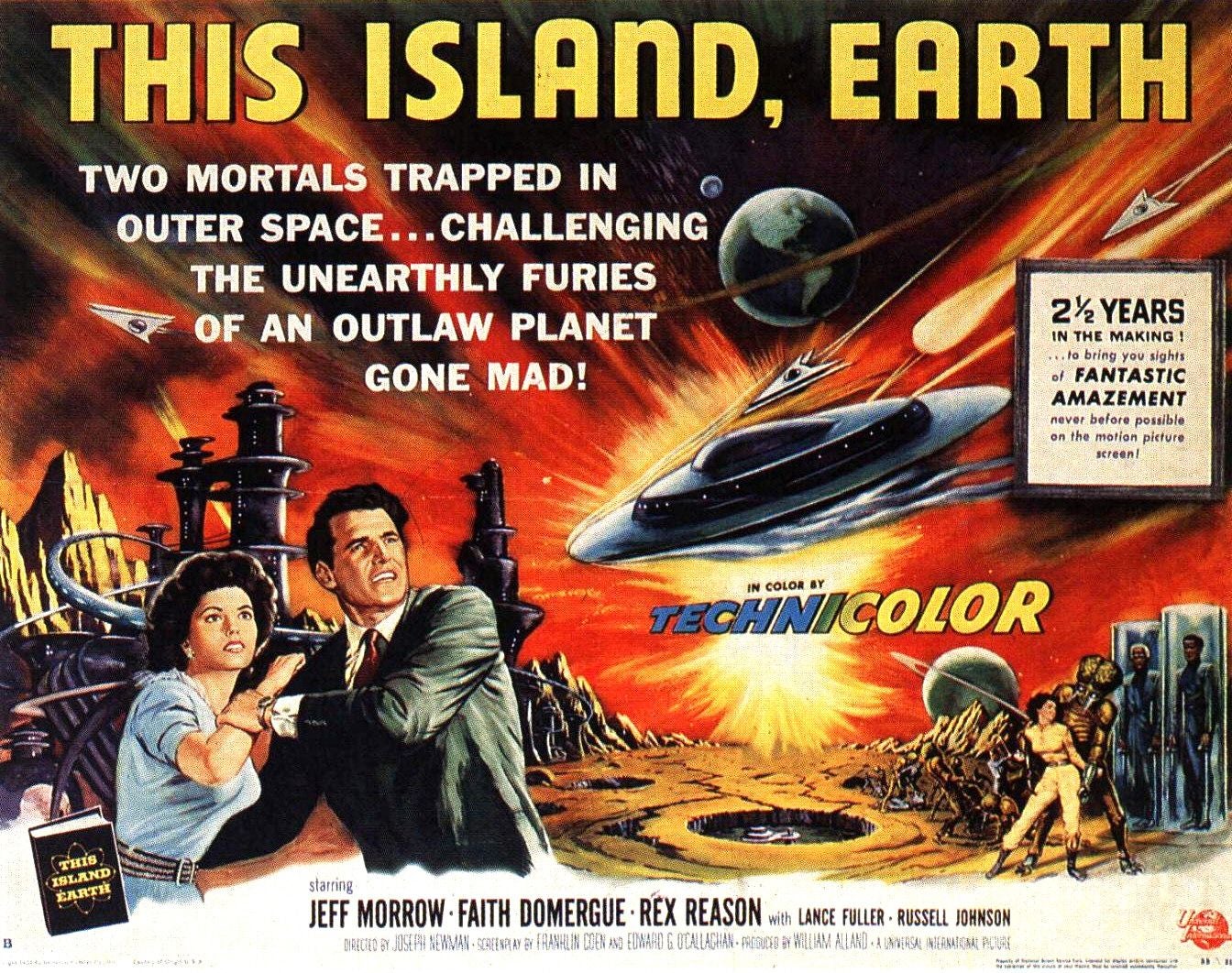 Rex Reason was "Cal Meacham" a brilliant scientist. When we first see "Meacham" he is flying the latest jet fighter when he looses power and is about to crash. A strange green colored light engulfs the jet and brings it in for a safe landing.
His partner shows him some red beads that have a generating capacity completely off the known scale for capacitors.
Then a catalog arrives made out of some unknown metal substance further intriguing "Meacham". This will lead to the building of a device called an "Interocitor" with the warning that no part can be replaced. When the device is turned on the alien face of "Exeter", Jeff Morrow, appears and invites "Dr. Meacham" to join his group of scientists.
There he meets Faith Domergue, can you pronounce her last night correctly, as "Ruth Adams". This will all lead to the fact that "Exeter" and others are from the planet "Metaluna". Which has been in a perpetual war with another planet "Zygon". "Ruth" and "Cal" are kidnapped in a one great looking flying saucer and taken to "Metaluna",
The pressure on "Metaluna" is different from Earth's and the two go through a process to adjust their bodies.
On "Metaluna" the leader wants to have the two Earth scientists brains probed for information turning them into mindless slaves. "Exeter" takes them toward the location for this procedure which is guarded by a mutant.
Before they enter the room the procedure is to take place. A major bombardment of "Metaluna" occurs and "Exeter" decides to help the two return to Earth. However, an injured mutant gets into the flying saucer.
The movie was a major money maker for Universal Studios and the "Metaluna Mutant" a popular character. However, Rex Reason had another opinion of it as this IMDb quote shows:
The mutant in

This Island Earth

(1955) I didn't much care for. I felt it looked too much like it had a human body. It should have been changed, because if you look at its head it was wonderful, and it had claws and such, but then it had human feet. It didn't jibe, but I thought it would be accepted, which it was..
My article on the film's star Jeff Morrow and his motion pictures can be read at:
http://www.bewaretheblog.com/2016/10/jeff-morrow-exeter-of-metaluna-icon-of.html
The picture was followed by a Steve Allen made for television feature to promote Allen's upcoming motion picture
"The Benny Goodman Story".
In it Steve Allen is wanders around the movie lot and meets different actors and actresses. This was seen in July 1955, but Rex Reason was back with actor Jack Palance, but not as an off screen narrator in
"Kiss of Fire".
Which once again teamed him with Barbara Rush.
A Spanish Princes, Rush, travels from New Mexico to California with the Outlaw "El Tigre", Palance, as her guide. Reason portrayed the "Duke of Montera" seen, to the left of Palance, in the following lobby card for the Italian language version of the picture called
"Fire Kiss"
.
I already mentioned that on November 2, 1955 Rhodes Reason had a non on screen credited role in the Maureen O'Hard motion picture
"Lady Godiva of Coventry".
Looking at the following poster for the feature. My reader will note that brother Rex had fourth billing as "Harold" in it.
The only still from the actual motion picture I could locate with both brothers in it is below. Rex has his head turned toward Torin Thatcher and Rhodes is barely seen standing behind him.
Below, in these two combined publicity stills, Rex is on the left and Rhodes on the right.
1956 TELEVISION AND A CLASSIC MONSTER MOVIE
For Rhodes 1956 was establishing the actor as a television regular. During that year he appeared on episodes of
"Matinee Theatre"
another anthology series, the Western
"Frontier", "Sky King"
a popular family series
,
Ivan Tors
"Science Fiction Theatre"
based upon possible scientific thought
, "Highway Patrol"
and the
"Chevron Hall of Stars".
He also appeared in five motion pictures.
On March 21, 1956 Rhodes Reason had tenth billing in a Film Noir
"Crime Against Joe"
that starred John Bromfield and Julie London, he had a non screen credited role in October's
"Tension At Table Rock"
starring Richard Egan, Dorothy Malone and Cameron Mitchell and another in the Rory Calhoun and Barbara Rush
"Flight to Hong Kong"
. Rhodes did have on screen credit for the forgotten
"Emergency Hospital"
released in November and ended the year, also in November, with fourth billing in the low budget Western
"Desperadoes Are In Town"
Brother Rex also started 1956 in a different episode of television's
"Matinee Theatre".
Then he appeared in two motion pictures a Western and a classic Science Fiction once more. The Western was released on March 24,1956 entitled
"Raw Edge"
and gave Rex fourth billing behind Rory Calhoun, Yvonne DeCarlo and Marla Corday.
However, it is a Science Fiction film, once again, that Rex Reason is remembered for being in. Reuniting with his
"This Island Earth"
co-star Jeff Morrow, Rex had second billing in the third and final entry of Universal Studios
"The Creature from the Black Lagoon"
trilogy.
"The Creature Walks Among Us"
was released April 26, 1956.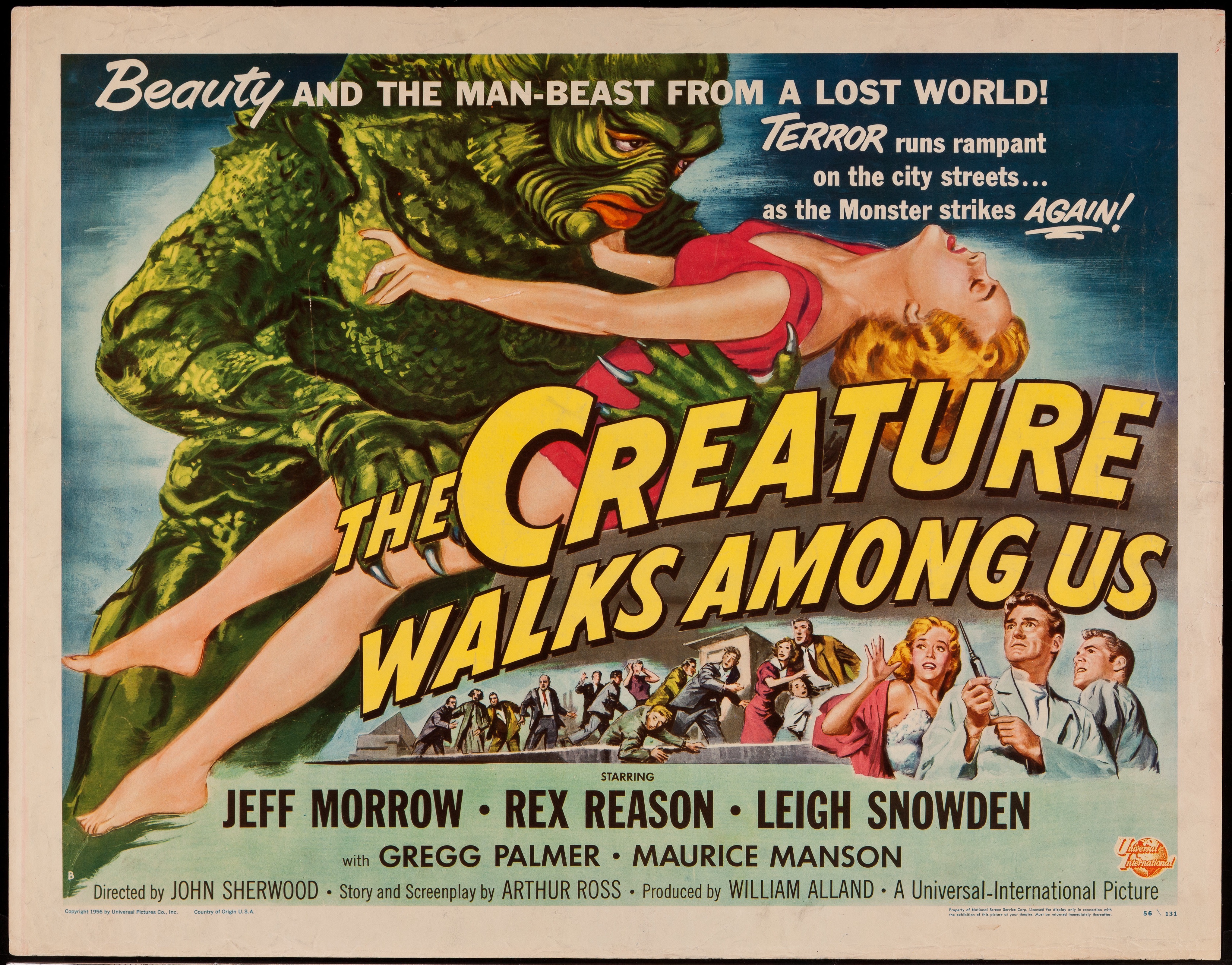 The Publicity Campaign for this installment misleads the potential viewer with the tag line:
TERROR runs rampant in the city streets...
As anyone who has seen the feature knows. The "Creature", in either form, never gets into any city at all.
This was the weakest link in the trilogy, but actually had the most interesting story line. The picture originally ended, as I saw it in April 1956, with the land version of the creature walking towards the ocean and a "Question Mark" appears on the screen. Apparently there was plans for a fourth film, but the box office changed that idea and the film would be re-released with the words "The End" instead of the "Question Mark". A way to tell which version you're watching.
Jeff Morrow portrayed Leigh Snowden's, "Marcia Barton", very jealous husband "Dr. William Barton". He plans to go into the Florida everglades were 1955's
"Revenge of the Creature"
ended and capture the "Gill Man".
Also, unlike the two previous pictures, the third installment was not in 3-D. As that process had become unprofitable for the motion picture industry. My article on those 1952 to 1955 Third Dimension motion pictures can be read at:
http://www.bewaretheblog.com/2015/08/third-dimension-golden-age-of-3-d.html
Rex Reason portrayed "Dr. Thomas Morgan" who accompanies "Barton" on this adventure. While Gregg Palmer is trouble maker "Jed Grant" and wants "Mrs. Baron". This brings out the jealousy in "Dr. Barton" even though his wife is truly in love with him and a victim of "Grant's" attempts to make her love him.
Above Rex Reason, Jeff Morrow and Leigh Snowden.
Above back row right to left is Palmer, Morrow and Reason. In the foreground sitting is Maurice Manson as "Dr. Borg" and standing far left James Rawley as "Dr, Johnson".
The usual underwater scenes were filmed with Ricou Browning for the third time portraying the "Gill Man".
The "Gill Man" is found, but there's a fire and he is severely burned unlike in the other films.
His capture leads to an operation after discovering that the "Gill Man" has two sets of lungs. One for underwater breathing and one, not completely developed, for air breathing.
Actor Don Megowan takes over as the land version after the surgery.
"The Creature Walks Among Us"
is when this new form of the "Gill Man" is taken to "Dr. Barton's" Florida compound. As I said it never gets near any city, or town.
Below the land version inside his electrified fenced enclosure.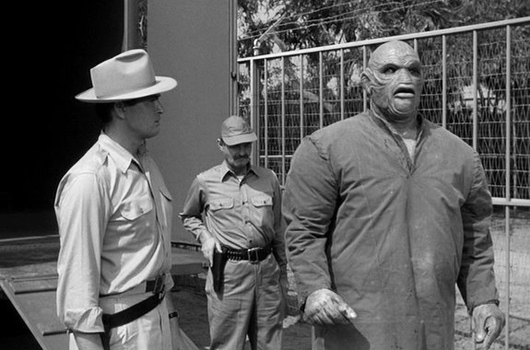 "Jed Grant" starts taunting the creature and it develops a hatred for the man. However, in a jealous rage after seeing "Jed" and his wife together. "Dr. Barton", not realizing his wife would have nothing to do with "Jed", kills "Grant"and throws him into the creatures cage. This enrages the creature who is able to break free and goes to the house.
There he kills "Barton", frightens "Marcia", is shot at by "Morgan: and heads toward the beach and the water he remembers.
The picture ends with the new land creature walking toward the ocean he cannot breathe in. Depending upon the release the audience sees either that "Question Mark", or the words "The End".
Rex Reason had a May appearance on the popular television series
"The Millionaire".
He ended 1956 on December 11th in the first of four appearances going into 1957 on the television series
"Conflict".
1957 INTO 1960 AND TELEVISION CONFUSION
Both brothers appeared in motion pictures during this period and Rex as usual had the most. However, this was also the start of the television viewers real confusion over which brother was which.
Rhodea had the most television appearances, and this started February 21,1957 with an episode of the Kenneth Tobey, Craig Hill series
"Whirlybirds".
Followed on the 27th by an appearance on the anthology series
"The Ford Television Theatre",
Next a short break in a terrible Boris Karloff motion picture
"Voodoo Island"
also during February.
Rhodes Reason had fifth billing behind character actor Elisha Cook, Jr. In a tale about a wealthy industrialist who hires hoax buster Karloff to prove his island is not cursed by Voodoo.
Below Boris Karloff and Rhodes Reason.
Then back to television with an episodes of
Cavalcade of America", "Wire Service"
and
"The Silent Service".
Don't even try and find the movie
"Jungle Heat"
set in pre-World War 2 Pearl Harbor. Fifth billed Rhodes didn't make the poster for this Lex Barker and Mari Blanchard July 1957 "B" feature.
On October 13th Rhodes Reason was back, with third billing, on television in
"Ghost Rider"
an episode of James Garner's
"Maverick".
Then it was an episode of the Will Hutchins show
"Sugarfoot"
and another Western episode of
Tombstone Territory".
However, Rhodes was seen as "John A. Hunter" in a syndicated television series.
"White Hunter"
was set in Africa, but mostly filmed in the U.K. using stock African footage. The first of the 39 episodes,
"Fugitive",
premiered October 12, 1957 and the last,
"Stepfathers",
premiered June 28, 1958.
In 1958 the only role I could found for Rhodes Reason was a pilot for a never picked up television series entitled
"Sea Divers".
It was probably created to be competition to the same years
"Sea Hunt"
from Producer Ivan Tors starring Lloyd Bridges.
1959 television saw the actor in an episode of Rex Allen's
"Frontier Doctor".
Shown originally on April 4th and titled
"Black Jack"
which was his character. As with brother Rex, the year before,. Rhodes appeared in an episode of
"The Millionaire"
on May 6th.
In 1959 Rhodes Reason would appear in two motion pictures. The first was the Biblical epic
"The Big Fisherman"
starring Singer/Actor Howard Keel as Christ's discipline "Simon Peter" and released August 4th. . In this slow moving, 3 hour picture without the typical intermission, story Rhodes portrayed the future "Saint Andrew".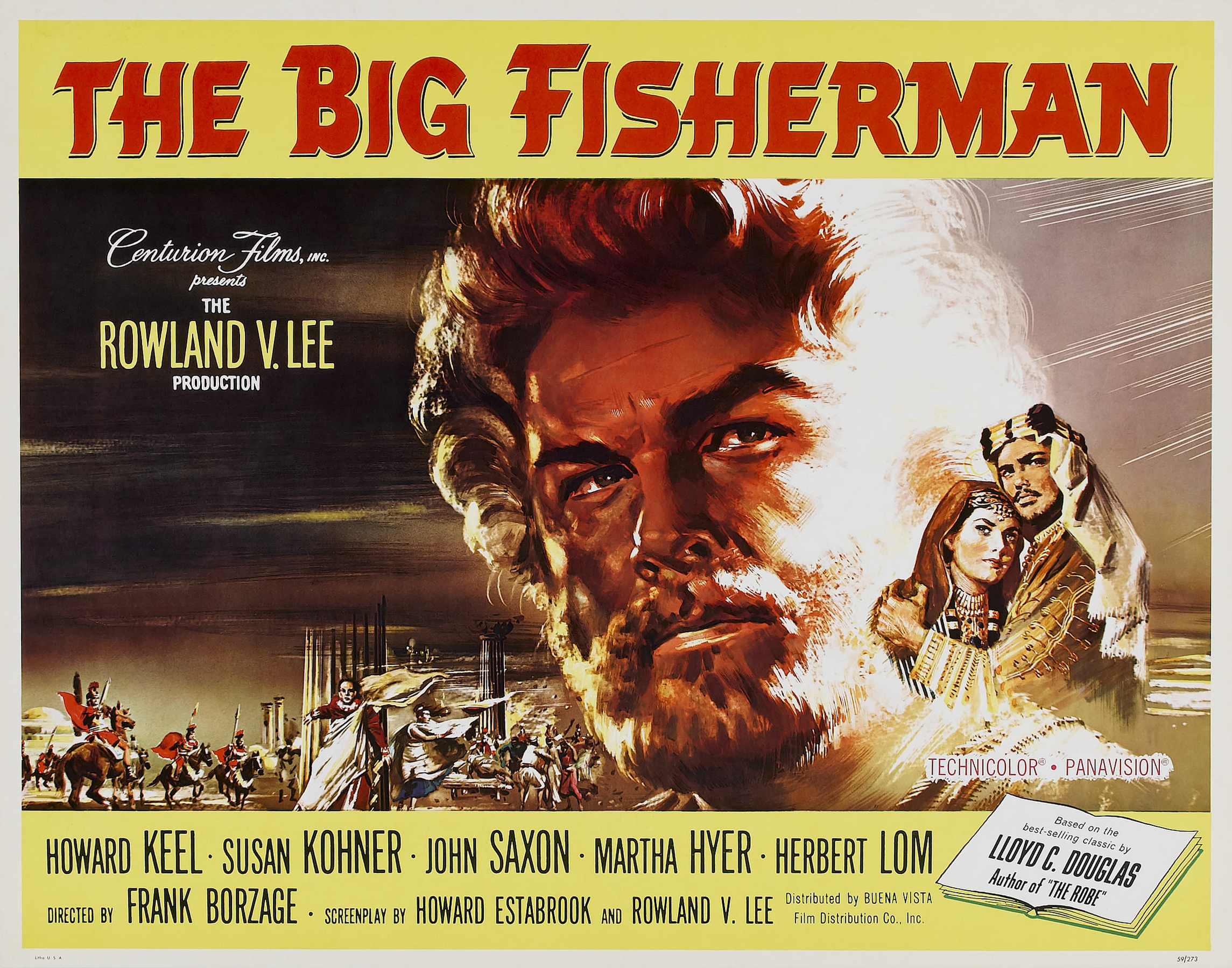 His second feature film starred three television personalities. They were Clint Walker. of the television show
"Cheyenne",
as the title character
"Yellowstone Kelly".
Ed Brynes, "Kookie", on the popular Detective series
"77 Sunset Strip"
and John Russell of
"Lawman".
All were under contract to Warner Brothers and it was Warner Brothers releasing the motion picture.on November 11th Note the following poster using their television shows to promote the motion picture. Illustrates the power of television, at the time, over the motion picture industry and why so many studios now had television divisions.
Rhodes Reason had 6th billing as Cavalry "Major Towns".
Rhodes finished 1959 on an episode of the television series
"Philip Marlowe",
December 1st, entitled
"The Mogul".
For the actor 1960 was nothing but television appearances. First on
"Bourbon Street Beat",
then Clint Walker's
"Cheyenne", "Bronco", "Colt 45",
an episode of the Boris Karloff hosted
"Thriller"
and lastly
"Surfside 6".

"Tales of the 77th Bengal Lancers"
was a short lived one season, 26 episode, series and Rex Reason appeared in episode 17 on February 19, 1957. Next he was seen on
"The Ford Television Theater".
Which helped confuse the regular audience as this was one month after Rhodes had appeared, Confusion would continue, later in 1957, when Rex Reason became the lead on the television Western series, also in syndication,
"Man Without A Gun".
This was the same time Rhodes'
"White Hunter"
was being televised and many viewers thought both shows had the same actor. As in some cities the shows appeared either back to back, or at in the same time slot on different stations.
.
Compare the above picture of Rex in
"Man Without A Gun"
with the only known picture of Rhodes from his television series
"White Hunter".
.
Rex appeared in one episode each of two other television series
"Trackdown"
and
"The Web".
Also in 1957 the actor appeared in three motion pictures. The first the forgotten "B" Western
"Badlands of Montana"
co-starred Margia Dean,
"The Quartermass X-periment"
aka:
"The Creeping Unknown",
Beverly Garland, Roger Corman's
"It Conquered the World"
and
"Not of this Earth",
and Keith Larsen, three short lived television series
"The Hunter", "Brave Eagle"
and
"Northwest Passage".
This feature was released May 1st.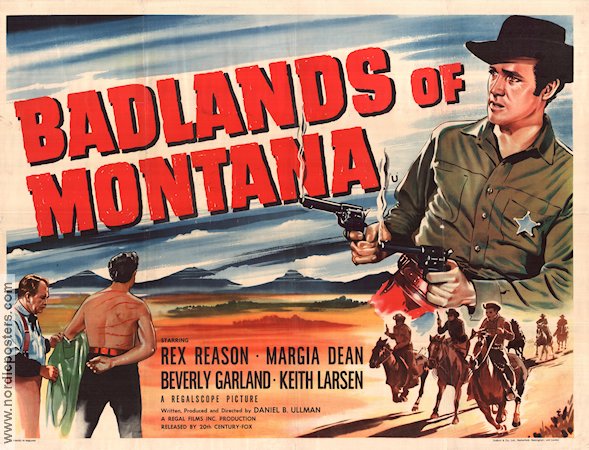 On August 3, 1957 Rex Reason had fifth billing in the post Civil War
"Band of Angles"
starring Clark Cable and Yvonne DeCarlo. The film featured Sidney Poiter and Efrem Zimbalist, Jr. On the poster, below, you can barely make out Reason's name after Zimbalist's.
On September 23, 1957 Rex Reason starred with Henry "Harry" Morgan. "Colonel Sherman T. Potter" on televisions
"M*A*S*H*".
in a forgotten "B" World War 2 movie entitled
"Under Fire".
Besides his television series
"Man Without A Gun"
Rex Reason appeared in two motion pictures during 1958. One another forgotten "B" Western
"The Rawhide Trail"
released January 26th.
It was the typical plot of two men falsely accused of leading a wagon train into a Comanche attack and now they have to save another.
His other film was the typical low budget Air Force plot of a commanding officer, Rex, seeing how his new recruits will react under pressure.
"Thundering Jets"
was released in May of 1958 and co-starred Audrey Dalton,
"The Monster That Challenged the World"
and William Castle's
"Mr. Sardonicus".
.
In March 1959 Rex Reason had third billing in a Family Film entitled
"The Sad Horse".
The story is about a 10 year old boy with polio. He gets to stay at his grandfather's, Chill Wills, horse farm while his father goes on a honeymoon with his new bride. The boy has a pet dog and becomes friends with the horse of the title. The horse had another dog as a companion until it passed away. The story has the boy come to realize the horse needs his dog more than he does.
Rex portrayed a Minister that comes to a run down mining town and helps the townspeople heal. The Western setting motion picture
"The Miracle of the Hills"
opened on July 27th.
In 1960 Res Reason stayed on television. He had appearances on
"77 Sunset Strip", "Bronco", "Bourbon Street Beat"
and four different episodes and characters on the Roger Moore, Dorothy Provine and Jeff York series
"The Alaskans".
Then on October 15, 1960 the actor became part of the cast of the television series
"The Roaring 20's"
that starred Dorothy Provine. He appeared as Newspaper reporter "Scott Norris" in the first season of 28 episodes. Provine was in all 58 episodes as singer "Pinky Pinkham". Donald May was in the first 42 episodes.
Below May, Provine and Reason.
Rex Reason's last episode of
"The Roaring 20's"
was on October 21, 1961.
1961 UNTIL EACH BROTHERS LAST ON SCREEN APPEARANCE
Rhodes Reason started out 1961 by being in the motion picture
"A Fever in the Blood"
released January 28th. The film was
about the trial of the accused murderer of a major socialite. The feature starred Efren Zimbalist, Jr. and Angie Dickinson. Rhodes had ninth billing. In March he appeared on the popular television Western
"Laramie"
starring John Smith and Robert Fuller. The episode was entitled
"Riders of the Night".
In 1956 Marilyn Monroe and Don Murray starred in the motion picture
"Bus Stop".
On October 1, 1961 Rhodes Reason co-starred in the television series, loosely based upon the movie, as "Sheriff Will Mayberry". He appeared in all 26 episodes, of the one season program, which told a different story of people taking a break at the
"Bus Stop".
Above Reason, Jenny Maxwell and teen singing idol Fabian in an episode of the anthology style series. In the episode
"Cherie"
Tuesday Weld and Gary Lockwood played the Monroe and Murray roles.
On December 24, 1962 Rhodes Reason appeared in the 13th episode of season five of Chuck Connor's television Western
"The Rifleman"
entitled
"Conflict".
He followed this up with his fourth appearance on
"77 Sunset Strip",
an appearance on
"Perry Mason"
in
"The Case of the Bogus Buccaneers",
two on Fess Parker's television series
"Daniel Boone"
and another on
"Death Valley Days"
in
"A Calamity Called Jane".
The December 29, 1966 episode starred actress Fay Spain as Martha Jane Canary aka: Calamity Jane. Rhodes was James Butler Hickok aka: Wild Bill Hickok.
Rhodes was seen as two other real people on the Irwin Allen's television series
"The Time Tunnel".
On December 9, 1966 he was Colonel William Barrett Travis in
"The Alamo".
On January 27, 1967 the actor was Joshua in
"The Walls of Jericho".
and on March 13th, Rhodes Reason was seen on an episode of television's
"The Big Valley",
but it was a Japanese Science Fiction movie that many fans of both the actor and Toho studios remember him best.
"Kingu Kongu no Gyakushu (King Kong's Counterattack)"
known in the English language version as
"King Kong Escapes"
was released in Japan on July 22,1967 and the United States on June 19, 1968. The original Toho version runs 104 minutes, but the English language version is shorter at 96 minutes.
From a publicity point of view my reader should note. That on the original Japanese poster is an image of the actual "King Kong" from the motion picture. While the United States poster has a sketch of a gorilla based upon the 1933 original film to lure audiences into the picture.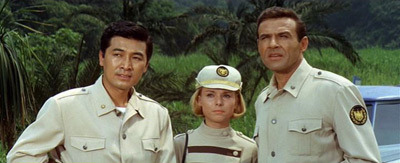 On the far left of the above still Akira Talarada was "Lieutenant Commander Jiro Nomura". He was known to fans of Toho films starting in the role of "Hideto Ogata" in Ishiro Honda's 1954 classic "Gojira". Which was dubbed and re-edited into 1956's
"Godzilla, King of the Monsters".
Among his 128 roles were 1955's
"Mountain Snowman"
re-edited and butchered into 1958's
"Half Human",
in 1960 the excellent World War 2 motion picture
"Storm Over the Pacific"
the story of Pearl Harbor and Midway as told from a Japanese point of view, 1961's
"The Last War",
1964's
"Mothra vs Godzilla",
1965's
"Invasion of the Astro-Monster"
and 1966's
"Godzilla vs the Sea Monster".
Linda Jo Miller was "Lieutenant Susan Watson". Miller was a model living in Japan at the time of this picture. She had only two other on screen appearances. They were the 1968 Science Fiction film
"The Green Slime"
and one episode of the television show
"My Three Sons".
Rhodes Reason was "Commander Carl Nelson" of a special nuclear powered submarine for the United Nations. As far as his name goes this may not mean much, but since 1964 Richard Basement was starring as "Admiral Harriman Nelson" of the special nuclear powered submarine for the United Nations the "Seaview". Toho Studios was known to borrow recognizable American concepts and names at times.
The only one of the three actors actually heard in both film versions is Akira Takarada. Linda Jo Miller was dubbed in Japanese by Akiko Santous and in the English language version by an unknown voice actress, but not Miller. As for Rhodes Reason his Japanese voice was provided by Kei Taguchi.
The movie was Produced by Arthur Rankin, Jr. and actually based upon the Rankin/Bass cartoon program
"The King Kong Show".
Which was a co-production of the United States, Japan and Canada. The series ran from September 10, 1968 until August 31, 1979 n the United States and Canada, but earlier in Japan..
There were two villains in the motion picture. First you had the evil villain from the cartoon show named "Dr. Who" and being a Whovian I know were this will go.
Point of information the BBC television series
"Dr. Who"
had premiered on November 23,1963 the day after President Kennedy was assassinated. |The first episode of that show didn't reach the United States until 1972. At that time "Time-Life" syndicated episodes of the third
"Dr. Who"
portrayed by Jon Pertwee. It was a flop and they cancelled the program.
However, in 1978 the first four season of Tom Baker's fourth
"Dr. Who"
were sold to the Public Broadcasting Corporation (PBS). So, like myself, if you were a PBS watcher you finally discovered the Timelord.
However, to get all the previous shows and those that followed. You needed to have a BETA Tape player.
The actual North American premiere of the series was on the Canadian Broadcasting Corporation (CBC) in 1965. This was the first 26 episodes of William Hartnell as the first
"Dr. Who"
and the series was cancelled for low viewership.
So it is obvious why the name
"Dr. Who"
meant little to either Canadian, or American viewers when
"King Kong Escapes"
was released in 1969. Unless you associated it to the cartoon series and not the BBC Science Fiction television program.
The actual villain of the movie is a Chinese Scientist named
"Dr. Hu",
pronounced
"Dr. Who".
In the English language promotions for the film his name is also written as
"Dr. Who".
Some critics did mention the similarly named BBC television series in their reviews of the picture.,
Below is Hideyo Amamoto as "Dr. Hu".Amamoto was in Ishiro Honda's classic 1961
"Yojimbo"
starring Toshiro Mifune. That motion picture was turned into Sergio Leone's
"A Fistful of Dollars"
starring Clint Eastwood. Amamoto also appeared in Honda's 1963 horror film
"Mantango"
and was seen as the "High Priest of Mu" in the same years
"Atragon".
His other work, as a Toho Studios contract player, included 1963's
"The Lost World of Sinbad"
a the female witch
, "Ghidorah, the Three Headed Monster"
and the excellent 1964 Supernatural
"Kwaidan".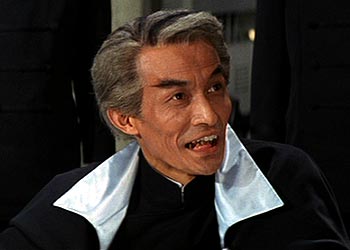 The second villain was "Madame Piranha", love that name, portrayed by the very sexy Mie Hama. She was known to most American and U.K. audiences for 1962's
"King Kong vs Godzilla"
and the James Bond return of Sean Connery 1967's
"You Only Live Twice"
in the role of "Kissy Susuki". American fans of Toho pictures also knew Mie for 1963's
"The Lost World of Sinbad"
and the excellent version of the 47 Ronin story, 1962's
"Chushingura".
The plot revolves around the legend of "King Kong" supposedly living on "Mondo Island". In the original animated series the island is called both "Mondo Island", or from the 1933 motion picture "Skull Island".
"Dr. Hu" has used information stolen from "Carl Nelson" about "King Kong" to create his robotic version "Mecha-Kong". The robot appears in both the original animated series and the Toho motion picture as shown below:
Meanwhile "Nelson's" submarine develops problems and they have to put in at "Mondo Island" for repairs. "Nelson", "Normura" and "Watson" go ashore and discover the living "King Kong" pf the legend. Following in the footsteps of Fay Wray's "Ann Darrow". "Lt. Watson" is attacked by a form of dinosaur "Gorosaurus" and "King Kong" fights it to protect the girl.
The same relationship between "Ann Darrow" and the original "King Kong" develops between this "Kong" and "Watson".
"King Kong" is captured by "Dr. Hu" and forced to dig up the highly radioactive "Element X" at the North Pole.
"Dr. Hu" will also kidnap "Commander Nelson", "Lieutenant Commander Nomura" and "Lieutenant Watson".
All of this will lead to a showdown in Tokyo between the real "King Kong" and "Mecha-Kong". Instead of the Empire State Building the viewer sees Tokyo Tower a site used in many of Toho's motion pictures.
After defeating "MechaKong" the real "King Kong" goes after "Dr. Hu" who murdered "Madame Piranha" for turning on him.
It was back to television and Rhodes Reason appeared in episodes of both Lucille Ball's
"The Lucy Show:
and
"Here's Lucy".
Between those two programs was an appearance on
"Star Trek"
in the second season episode entitled
"Bread and Circuses"
shown March 15, 1968.
The crew of the Enterprise investigates the disappearance of another Star Ship crew on a planet that is a modern version of the Roman Empire. Rhoades Reason portrayed "Flavius" a Roman Gladiator who helps "Captain Kirk" and his crew.
Additionally another appearance was on
"Mission Impossible"
in the appropriately titled
"Movie"
shown November 4, 1972 during the shows seventh season.
"Here's Lucy"
was followed by six more television appearances for the actor including 1976's
"The Bob Newhart Show"
and the Cloris Leachman show
"Phyllis"
in 1977.
At the end of 1977 Rhodes retired to Palm Springs, California. On December 26, 2014 at the age of 84 he passed away. He had been married twice and had three children from his first wife Carla Kenyon. They had been married in 1967 and divorced in 1972. The actor's second wife was Jerryln Hamilton and the two were married in 2000 and she was at his bedside when he died.
In 1961 with the television series
"The Roaring 20's"
Rex Reason acting career was almost over. The series was from Warner Brothers Studios and why he "Walked Out" on his contract with the studio I could not locate, but at the time he was being considered for the role of "Major Bennett Marco" in John Frankenheimer's 1962
"The Manchurian Candidate".
The role went to Frank Sinatra and he was excellent.
|
In 1962 four years prior to his brother appearing on televisions
"Perry Mason".
Rex was seen in
"The Case of the Ancient Romeo"
shown May 5th.
On March 24, 1963 Rex Reason was seen on the television program
"G.E. True"
in the episode
"A Pattern of Espionage".
On October 23rd he made his final on screen appearance on the long running Western television series
"Wagon Train"
in
"The Myra Marshall Story".
Starting in 1964 Rex Reason became a realtor and at times a voice over actor. He died at the age of 86 at his home in Walnut, California on November 19, 2015. The actor had been married three times. The first marriage was to Joan Johannes from 1952 to 1960 and the couple had two children. His second marriage was to Santa Pelkey from 1962 to 1963 and Rex Reason's third wife was Shirley Hake from 1965 until his death. Rex had three children from the last marriage.