"B" Cowboy's Bob Steele and Tom Tyler, "The East Side Kids", Bela Lugosi, Jon Hall, Noel Neil, George Reeves, Lucille Ball, John Agar, Johnny Weissmuller, George Montgomery, Bill Haley and the Comets, Ray Harryhausen, Richard Denning, Jeff Morrow and William Castle. These are just some of the names associated with SAM KATZMAN. This is his story.
The title of this article and my opening paragraph reflect a man whose name might not be known to many, but between 1933 and 1973 he truly became the "King" of the low budget motion picture.
His name was Sam Katzman and he was born in New York City on July 7, 1901.
The States of New York and New Jersey were the centers of the motion picture industry at the start of the 20th Century.. However, in 1911 D.W. Griffith took a production company to Hollywood, a name a real-estate developer's wife called his housing track, for the winter, but stayed on. A few companies also traveled to the area, but the center of all silent film production remained in the East. These movie company's were actually controlled by the American Patents of Thomas Edison. Who might, in a fit of anger, file lawsuits against them for infringement. As he had created most of the equipment used and importing either from France, or England was too expensive for these family owned businesses..
In 1914, 13 year old Sam Katzman was hired as a prop boy by one of the studios. Later as he started to learn the business. Katzman moved up to an Assistant Director at Fox Films.
The title of
Assistant Director
sounds impressive, but was actually, in many ways, a glorified gofer. His responsibilities included tracking a pictures daily progress against the production schedule. Preparing the daily
call sheets,
showing which actors were needed on set at what time, and how many extras, in what character, were also needed. Then Sam Katzman needed to get them all through costume and make-up in record time. Additionally he was responsible for keeping track of that cast and crew and making sure they were on set and on time. Along with the responsibility for the healthcare and safety of the pictures cast and crew.
William Fox, the founder and owner of Fox Studios, had his main studio in Fort Lee, New Jersey, but in 1915 he wanted to establish a studio on the West Coast. Because of the all year round good climate. The reason many studios were moving new leaving the East for Hollywood. In 1916 Fox had rented facilities at the Edendale Studios while his own permanent studio was being built. Edendale was any area located northwest of Downtown Los Angeles and today is called Echo Park.
In 1916 on the corners of Western Avenue and Sunset Boulevard the Fox Studio opened for business. At some time between that year and 1932 Sam Katzman moved to the West Coast Studio. I mention 1932, because that year was the first time Katzman actually received motion picture credit.
The film was entitled
"Deception"
and was released by Columbia Pictures, a company Sam Katzman's name would be connected with for many years in the future, on November 4, 1932. His title was that of Second Unit Director. A second unit director shoots the scenes the main actors are not involved in. This could be stunt work, footage of backgrounds, or action shots such as a car chase.
As
"Deception"
was about wrestling. Katzman would be shooting the close ups of the fight scenes and the body doubles for the actors during the wrestling matches.
Sam Katzman's next film, from an Independent Company, was entitled
"His Private Secretary"
and was released June 10, 1933. This is a prime example of the many hats a person had to wear. For this film the on screen credit as Producers went to Al Alt and D.J. Mountain. They were the main money men. Katzman received no screen credit, but was the Executive Producer. Additionally Katzman was the third screenplay writer without on screen credit, but he did receive on screen credit as the Production Manager. Actually running the making of the motion picture for the other two men.
This overlooked motion picture starred Evalyn Knapp. Knapp was known for appearing in Cliff Hanger serials such as 1933's
"The Perils of Pauline".
Knapp had starred with Edward G. Robinson and James Cagney in 1931's
"Smart Money".
Second billing went to a 26 year old actor named John Wayne.
Two years later Sam Katzman joined A.W. Hackel to create a studio named
"Supreme Pictures".
The two made a contract with :"B" Cowboy actor Bob Steele for 32 pictures. In actuality Katzman ran the company and Hackel provided the money.Their first Western was released March 8 1935 and was entitled
"Big Calibre".
The story had Steele's character of "Bob O'Neil" being told his father was gassed to death by a scientist and seeks revenge. Steele had been in films since 1920 and would star in 98 Westerns into 1946..During that period he appeared in a a non Cowboy role in 1939's
"Of Mice and Men"
starring Burgess Meredith and Lon Chaney, Jr.
Bob Steele's career as a leading actor started to decline in 1940 and he would smartly move to character roles that still included Westerns. This move started with the Humphrey Bogart, Lauren Bacall
"The Big Sleep"
in 1946. Some other films he appeared in were 1953's
"Island in the Sky"
starring John Wayne, 1959's
"Pork Chop Hill"
starring Gregory Peck
and 1968's
"Hang 'Em High"
starring Clint East Wood
.
Steele also became a regular actor on a large number of television Westerns popular in the 1950's.
Sam Katzman ever the promoter also started two studios of his own in 1935/ Illustrating how easy it still was at the time called
"Victory Pictures"
and
"Puritan Pictures".
His first production was 1935's
"Danger Ahead".
When an armored car goes missing with a shipment of gold. The also missing driver becomes the prime suspect. For the five years both his studios were in existence Sam Katzman had two major "B" Western Cowboy stars under contract. They were Colonel Tim McCoy and Tom Tyler. McCoy would make 93 Westerns and have a very popular television show in the early 1950's with Iron Eyes Cody.
Tom Tyler was also very popular in the 1930's and 1940's. He is remembered for three specific roles. Tyler was "Luke Plummer" in John Ford's 1939
"Stagecoach",
"Kharis" before Lon Chaney, Jr in 1940's
"The Mummy's Hand"
and the title role in Republic Pictures serial from 1941
"The Adventures of Captain Marvel".
My biography and a look at Tom Tyler's motion picture may be read at:
http://www.bewaretheblog.com/2017/01/tom-tyler-b-cowboy-star-who-became.html
One of two serials made by Executive Producer Sam Katzman, at this time starred, Bela Lugosi and was entitled
"Shadow of Chinatown".
The basic story has a madman named "Walter Poten", Bela Lugosi, being hired to put out of business a group of Chinatown merchants. Who are causing the loss of business for White Americans.
In 1940 Sam Katzman closed down both studios and moved to
"Monogram Pictures".
There he established three production companies:
"Banner Productions", "Clover Productions"
and
Four Leaf Productions".
1940 was a productive year for Sam Katzman. He noticed that films featuring "Tough Guy" kids were very popular. So he created
"The East Side Kids"
released February 10, 1940
.
The movie was about a young "Street Kid" who grows up to be a "Cop" after he realizes crime doesn't pay. This was more a pilot for a series idea Katzman had and his next film started to create what became a very popular series of 22 feature films.
The second picture
"Boys of the City",
released July 15, 1940, changed the original group and brought into it two of the actors known as
"The Dead End Kids".
Both had been seen in the 1937 William 'Billy" Wyler motion picture
"Dead End".
That picture starred Sylvia Sidney, Joel McCrea, Claire Trevor and Humphrey Bogart. The two young actors were Bobby Jordan, a high school friend of my father, as "Danny Dolan" and Leo Gorcey as "Muggs" McGinnis.
On September 23, 1940 the third feature of the series
"That Gang of Mine"
opened and Leo Gorcey and Bobby Jordan had become the stars of the film. The following poster from
"Pride of the Bowery"
shows Jordan and Gorcey on the left with three other members of "The East Side Kids". This picture opened December 15, 1940 ending Sam Katzman's first year with Monogram.
Three more "East Side Kids" films would be seen in 1941, but also two motion pictures with Bela Lugosi. The first was
"The Invisible Ghost"
released April 25, 1941. Initially the movie was called
"Murder By the Stars",
then
"The Phantom Monster"
and next
"The Phantom Killer".
It would be the first of nine feature films Bela Lugosi made for Sam Katzman at Monogram to enable the actor to have an income.
From the look of the above picture, the audience might think this was
1931's "Dracula"
starring Lugosi.
The plot has "Dr. Charles Kessler", Lugosi, plagued by homicidal urges. His wife has left him for another man, but she is left brain damaged from an automobile accident. The doctor keeps her in the cellar, in secret, attended by "Kessler's" gardener. An innocent man is executed for a murder committed by "Dr. Kessler". Kessler is now visited by his twin brother who discovers the truth.
On October 24, 1941 Executive Producer Sam Katzman released a motion picture horror comedy. He had came up with the idea, for a large potential box office, of having Bela Lugosi meet "The East Side Kids". The result was
"Spooks Run Wild"
and by this time Huntz Hall had joined the boys as "Glimpy".
Above look at the way Bela is dressed and his hair is groomed. Do we have a precursor to 1949's
"Abbot and Costello Meet Frankenstein"?
As the boys spend the night in a haunted house.
The writer of
"Spooks Run Wild"
was Carl Foreman, before the House Committee on UnAmerican Activities "Black Listed" the writer. Before he was "Black Listed" in 1952 besides having written
"Spooks Run Wild".
Foreman wrote a hard hitting World War 2 movie, 1949's
"Home of the Brave",
about racism in the U.S. Army. 1950's
"The Men"
were disabled World War 2 Vets attempting to cope with their disabilities. The picture stared Marlon Brando and Carl Foreman wrote 1952's
"High Noon"
considered by some as an attack on McCarthyism
.
After Hollywood "Black Listed" Foreman he would write from the U.K. such screenplays as 1957's
"The Bridge on the River Kwai",
1961's
The Guns of Navarone"
and 1972's
"Young Winston".
On March 6, 1942 Bela Lugosi was back in Sam Katzman's
"Black Dragons",
On May 2, 1942 Lugosi was stealing the bodies of virginal brides, he had killed, to take out a substance to keep his ancient wife young in
"The Corpse Vanishes".
On October 30, 1942 Bela Lugosi is the kindly operator of a soup kitchen for the hungry. Who is actually the leader of a criminal gang committing robberies and murders in
"Bowery At Midnight".
On March 5, 1943 Sam Katzman had Bela Lugosi in a low budget horror film
"The Ape Man".
The picture was a science fiction/ horror tale of a part ape part human.
If it worked once before thought Sam Katzman. Why not team up Bela Lugosi with the "East Side Kids" again for a high profit margin with a very low budget? The result was
"Ghosts on the Loose"
released July 30, 1943. The story has "Glimpy's" brother getting married and the gang decides to fix up the house for the newly weds. The house next store appears to be haunted by a group of mysterious men led by Lugosi.
After 15 walk on or small roles without on screen credit. This was the first time the name of Ava Gardner was seen in a film's credits in the role of the bride "Betty".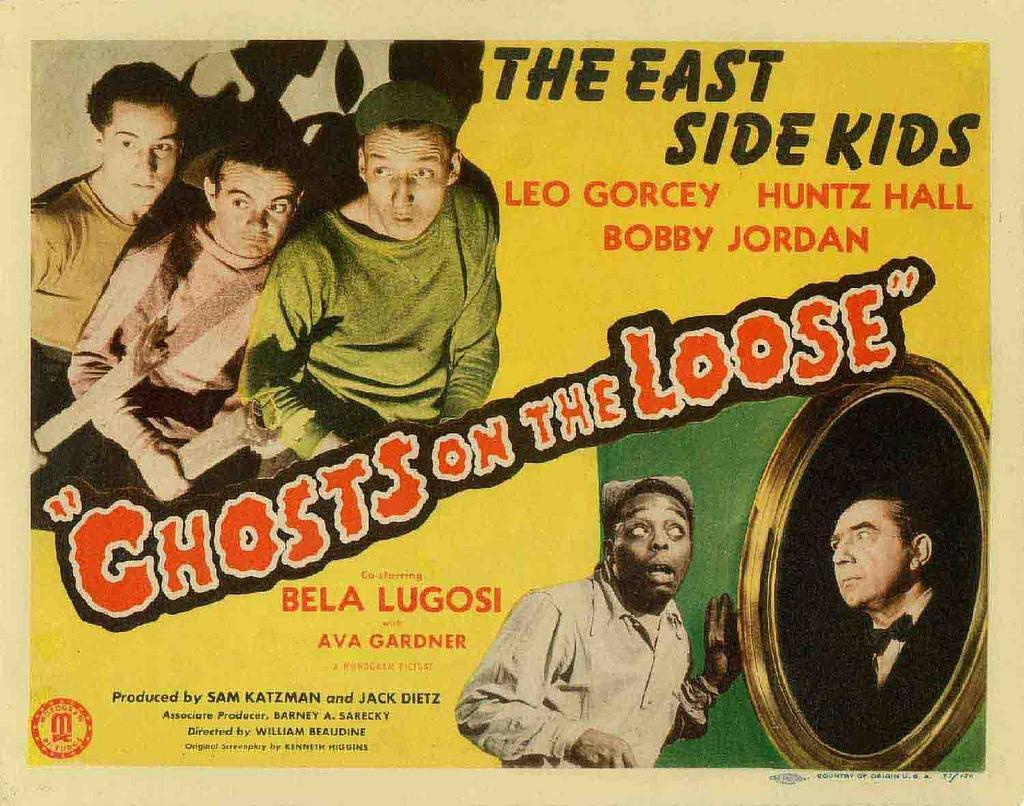 Below "Radio Actress" Ava Gardner at the time of this feature film.
On February 21, 1944 Bela Lugosi headed the cast of Sam Katzman's
"Voodoo Man"
featuring George Zucco and John Carradine.
The final collaboration between Producer Sam Katzman and Actor Bela Lugosi also featured John Carradine. On June 24, 1944
"The Return of the Ape Man"
opened
.
This was a sequel to Lugosi's previous feature in name only and was about two scientists finding a caveman in the Arctic.
The poster are misleading stating George Zucco was in the motion picture. He became ill during production and whatever scenes were filmed had been deleted for release. In 1945 Sam Katzman moved to Columbia Pictures and began working for studio head Harry "King" Cohn. This move would lead to Katzman earning the title of
"Jungle Jim",
because of all the adventure cliff hanger serials he would make there.
His first serial and production for Columbia Pictures was the 13 Chapter
"Brenda Star, Reporter"
released January 26, 1945.
.
The serial had been inspired by the very popular syndicates newspaper comic strip of the same name by Dale Messick.
Messick co-wrote the screenplay with George H. Plympton. A serial screenwriter of the first two
"Flash Gordon"
entries starring Buster Crabbe,
"The Phantom Creeps"
starring Bela Lugosi and
"The Green Hornet".
Plympton had worked for Katzman on "The East Side Kids" series previously.
According to the website "The Serial Report" Joan Woodbury stated:
It was made during the war and everybody was hungry, including me. My former husband had gone off to war. I was left with a little daughter. So, you grabbed anything you could grab and, believe me, you were very grateful for anything that came along. This was a 13-episode thing, in 21 days! The only reason they gave me the role was the fact I could learn dialogue fast enough to do everything in one take. The most memorable thing is, on the last night, the back of the set was one solid bar and there wasn't an inch of space between one bottle and the next. Everybody was waiting for the wrap-up, so we could have a party! But I had 19 pages of dialogue on a telephone, with nobody talking back to me. It's great if an actor talks back, you can at least ad lib on his ad libs. When you have nobody talking back, you've got nobody to ad lib you. So, I'd look at a page and say, 'Okay, let's do it,' pick up the phone and we'd shoot it. I shot all 19 sequences in one take, because they were going to kill me if I didn't, with all that booze waiting; and I proceeded to get bombed after that. (Laughs) Sam, at least, realized it was cheaper to hire a stuntlady than break my leg. So, I didn't fall out of windows…I didn't have any fun at all. (Laughs) I didn't care to do any more serials.
Woodbury's co-star was Kane Richmond, three years earlier, had starred as radio hero
"Spy Smasher"
fighting the Nazi's. In this production he was the love interest "Police Lieutenant Larry Farrell"
My article on
"Spy Smasher"
and other serials about
"America's Super Hereos vs the Axis Powers in World War 2 Cliff Hangers"
may be read at:
http://www.bewaretheblog.com/2015/02/americas-super-heroes-vs-axis-powers-in.html
Still working occasionally at Monogram Sam Katzman continued his
"
East Side Kids" series with
"Docks of New York"
released February 25, 1945. Kane Richmond was back, at Columbia, in Katzman's 15 Chapter serial
"Jungle Raiders".
Richmond was "Bob Moore" who goes in search of "Ann Reed". She had gone into the jungle to find her father, "Dr. Murray Reed", who disappeared years ago. The owner of a trading post is attempting to prevent everyone from finding a miracle drug made by the natives.
On March 26, 1946 Sam Katzman brought a D.C. Comic to the screen in the Columbia serial
"Hop Harrigan America's Ace of the Air Ways".
Then there was
"Chick Carter, Detective"
another 15 Chapter serial released July 11, 1946. The title role was portrayed by Lyle Talbot who would become both a major D.C. villain. After being cast as a famous D.C. Police Officer in two Sam Katzman serials.
Back at Monogram Katzman had finished his "East Side Kids" series and started another for the studio aimed toward a high school age audience. The first film was released May 11, 1946 entitled
"Junior Prom"
starring Freddie Stewart and June Preisser. Stewart was a promising Big Band Singer who is all but forgotten today. While Preisser was in several Mickey Rooney and Judy Garland vehicles starting with 1939
"Babes in Arms"
and going into
"The Andy Hardy"
series as Judy's competition for Mickey.
The two STARS were back on June 29, 1946 in
"Freddie Steps Out".
Then a third time on September 7, 1946 in
"High School Hero".
The duo would be seen in five more pictures ending on April 4, 1948 with
"Campus Sleuth".
However, Sam Katzman stopped producing the series with the fourth entry
"Vacation Days"
released January 25, 1947.
Sam Katzman would revive the "Teen Musical" concept with 1956's
"Rock Around the Clock"
featuring Bill Haley and the Comets. I saw it at the Dome Theater, on the Ocean Park, California boardwalk when it first opened.
Later in 1956 Bill Haley and the Comets were back in
"Don't Knock the Rock".
He smartly also turned to the Latin beat of 1956's
"Cha-Cha-Cha-Boom".
That picture featured Damaso Perez Prado the band leader who created the 1950's "Mambo Craze". The following year Johnny Desmond, "Oh My Darling", starred in Katzman's
"Calypso Heat Wave"
These 1950's Katzman productions were cheap to make, because in most cases he was paid by the group or singer's managers for the free World wide publicity.
Returning to the low budget world of serials was a rarity in the genre. The setting was 12th Century England and the
"Son of the Guardsman"
played off the "Robin Hood" legends. Even to having some of the outlaws of Sherwood Forest in it, but no "Robin Hood". The hero was nobleman "David Trent", played by Robert Shaw (Robert Gottschall). who becomes an outlaw. Daun Kennedy was the love interest "Lady Louise Markham".
Then there was
"Jack Armstrong, the All American Boy"
released February 6, 1947.
A typical trick of Sam Katzman was with the Colonial Period picture
"Last of the Red Men",
released August 1, 1947 and starring Jon Hall. Among his films Hall had been in 1937's
"The Hurricane",
1942's
"The Invisible Agent",
1944's
"The Cobra Woman"
and
"The Invisible Man's Revenge".
In this serial he
w
as "Major Duncan Heyward". Katman's trick was to take James Fennimore Copper's "The Last of the Mohican's" and change the names and add a couple of situations to make a "New" story.
On January 17, 1948 the audiences saw Jon Hall in Sam Katzman's
"Prince of Thieves"
portraying "Robin Hood". A year later Hall was the lead in Sam Katzman's
"The Mutineers"
released April 22, 1949,
Which brings me to another D.C. Comics character. Sam Katzman turned into the first of two low budget serials released on January 5, 1948 between the last two Jon Hall features.
This 15 Chapter serial starred Kirk Alyn as "Clark Kent aka: Superman" and Noel Neill as "Lois Lane".
How cheap was this Katzman Produced serial? When Kirk Alyn leaped into the air the picture turned into a Max Fleischer studio cartoon to save more money.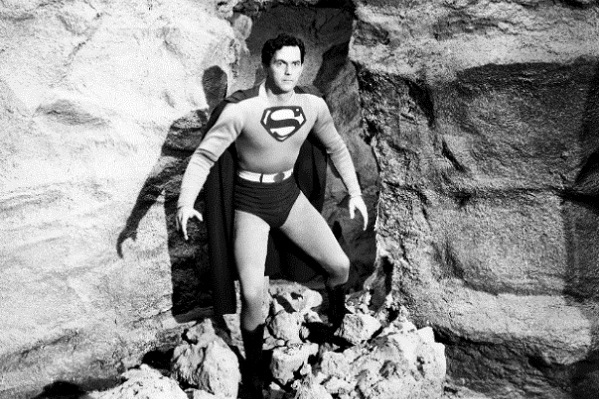 Below Noel Neill with Kirk Alyn.
Below Noel Neill with George Reeves on television's
"The Adventures of Superman".
Trivia:
Both television ":Lois Lane's", Phyllis Coates and Noel Neill can be seen in the 1952 Cold War Science Fiction picture
"Invasion U.S.A.",
but don;t blink or you'll miss them.
Below standing, Tommy Bond as "Jimmy Olson" and seating, Pierre Watkin as "Perry White".
The villain of the piece was actress Carol Forman as "Spider Lady".
Cartoon flight and all. The serial was a big success.
Moving ahead to July 20, 1950 Sam Katzman had the four leads return in
"Atom Man vs Superman".
Below is "Atom Man" confronting "Superman".
I previously mentioned that Lyle Talbot would be back in two Sam Katzman serials based upon D.C. Comics. Below is the secret of who "Atom Man" really is and that's Talbot as "Lex Luther".
As this was 1950 "Lex" utilizes a new device called television to spy on people and contact his own operatives, besides that short wave radio.
My article on the origins and first on screen appearances of "Superman", "Super Boy" and "Supergirl" may be read at:
http://www.bewaretheblog.com/2017/03/superman-superboy-supergirl-their.html
Back on October 28, 1948 Katzman released another Chapter serial entitled
"Congo Bill, King of the Jungle"
based upon another D.C. Comic character. This 15 Chapter serial added to the idea that Sam Katzman's nickname should be "Jungle Jim". As many of the serials, I have not mentioned, had a jungle setting as some of his motion pictures.
In this instance "Congo Bill", Don McGuire is sent to find out if the legendary White Queen of a forbidden valley is in truth "Ruth Culver" a missing heiress. She was played by Cleo Moore.
Keeping to the jungle theme and starting a new series of 15 feature films starring Johnny Weissmueller was
"Jungle Jim"
released on December 15, 1948
.
The series was about an African jungle guide and would end seven years later in 1955. Weissmueller also starred in a
"Jungle Jim"
26 episode television series, but Sam Katzman was not connected to it.
On May 26, 1949 Sam Katzman Produced the second "Batman" serial based upon the D.C. character. The title was
"Batman and Robin"
and starred actors Robert Lowery as "Bruce Wayne aka: Batman" and Johnny Duncan as "Dick Crayson aka: Robin".
Jane Adams appeared in the 15 Chapters as "Vicki Vale" and Lyle Talbot was "Commissioner Gordon".
My article on
"Batman Before Tim Burton"
may be read at:
http://www.bewaretheblog.com/2018/09/batman-before-tim-burton.html
Another 15 Chapter Serial starred future television "Superman" George Reeves in
"The Adventures of Sir Galahad".
As the Knight of the Round Table searches for the missing sword Excalibur.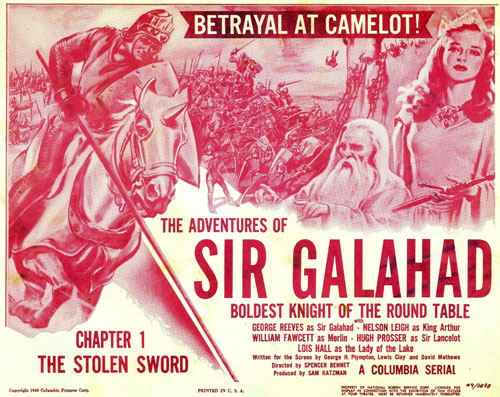 Above George Reeves is on the left.
Starring future television's
"The Range Rider"
and
"Yancey Derringer"
and two "Tarzan" motion pictures was Jock Mahoney. He portrayed"Lieutenant Jim Archer" in the 15 Chapter
"Cody of the Pony Express: Far-Famed Fighting Frontiersman"
with Dickie Moore as a young "William Cody".
In 1950 Pirate movies were very popular as were musicals and a revival of Westerns. The reason was these were "Safe" films for the Big and Small Studios to make. The word "Safe" refers to the fact America had entered the McCarthy Era and the Hollywood "Black Listings"
Columbia Pictures were already turning out "Safe" films with their serials and feature films. On October 25, 1950 audiences saw Paul Henreid,
"Casablanca"
and
"Now Voyager",
as pirate Jean Lafite in
"Last of the Buccaneers"
produced by Katzman.
This movie was followed by a chapter serial starring Buster Crabbe
"Pirates of the High Seas".
The title played off the Pirate craze, but was misleading. It was about two Navy buddies traveling to an island looking for diamonds and finding others doing the same.
The Korean War had started and Columbia Pictures and Katzman did their duty with
"A Yank in Korea"
released on February 14, 1951.
This was one of the very first Korean War motion pictures and you could substitute the North Koreans and Chinese for the Japanese in this typical World War 2 "B" picture plot.
Lucille Ball had the Katzman treatment in
"The Magic Carpet"
released October 18, 1951. Lucy was a Princess, John Agar is the real ruler raised by Outlaws, Patricia Medina is the sister of his boyhood friend he loves and the evil Raymond Burr is the Grand Vizier.
Later the same year Sam Katzman went back to World War 2 and a musical about entertaining the wounded troops entitled
"Purple Heart Diary".
Released on November 12, 1951 starring singer Francis Langford. Langford was a Big Band era singer who started on radio's the "Bob Hope Show" and appeared in musicals starting in 1932. Her last appearance was as herself in 1954's
"The Glenn Miller Story"
starring James Stewart and June Allyson.
Buried in the cast as "Major Green" was Lyle Talbot, in 15th billing was future tough guy actor Harry Guardino and without on screen credit Kaztman used archive footage of Al Jolson entertaining the troops.
In the 1950's Americans were discovering Science Fiction and Horror movies once more. Also they were approved by the House Committee on UnAmerican Activities as good for us. Columbia Pictures got into the act and on December 27, 1951 Sam Katzman released Judd Holden as the radio hero
"Captain Video: Master of the Stratosphere".
"Captain Video and his Video Rangers"
, the name of the radio show the serial was based upon and the title of an Early Science Fiction television show are fighting an evil menace from Outer Space.
On July 1, 1952 based upon a "Quality Comics" series. The company was in the process of being purchased by D.C. was the 15 exciting chapters of
"Blackhawk: Fearless Champion of Freedom".
Kirk Alyn was "Blackhawk" the leader of a World War 2 group of American flyers now fighting spies attempting to take down Democracy.
In 1953 Producer Sam Katzman made two motions picture back to back with a contract Director at Columbia. The Director's name was William Castle.
1953 was the year that the studios went into full war with the new medium of television. They were loosing audiences to what became known as "The Boob Tube". The studios answer was Three Dimensions, or shorten to 3-D.
Actor George Montgomery starred in
"Fort Ti"
released May 3, 1953.
This was the fictionalized story of Fort Ticonderoga set during the 1759 French and Indian Wars. A great setting to have flaming arrows shot out at the audience and Indians riding into your laps.
Not to say the Columbia Publicity Department didn't have a knack:
Released five days later on May 8, 1953, not in 3-D, Katzman and Castle's second feature was also a historical drama, but about Cleopatra.
"Serpent of the Nile"
starred RED Head Rhonda Fleming in a Black wig as the title queen. William Lundigan was the Roman Centurion "Lucilius", why not just call him Julius Caesar, and Raymond Burr was "Mark Anthony".
Back to what became the last Interplanetary Science Fiction Chapter Serial. This was Sam Katzman's 15 Chapter
"The Lost Planet"
released June 4, 1953
.
Film historians believe it was originally planned as a sequel to "Captain Video", but for some reason was changed. Judd Holden was back, but not as "Captain Video". Instead our hero's name is "Rex Barrow".
The good guys wear costumes from "Captain Video" and most of the props were from that serial also.
More known for being the third appearance of Basketball player Touch Connors before he became Mike Connors was the movie
"Sky Commando".
The title sounds very much like one of Sam Katzman's Science Fiction serials with Judd Holden. Its not! It's a Korean War story about two brothers starring Dan Duryea. The picture was released August 21, 1953.
The 69 minute feature Directed by Fred F. Sears shows its very low budget. As most of the action was stock footage and didn't merge well with the live action. In fact in one scene the type of plane Duryea was flying changed types three times.
Another of Sam Katzman's serials that I would like to mention was
"The Great Adventures of Captain Kidd, King of Pirates".
First
released on September 17, 1953
and starring Richard Crane as "Richard Dale". "Dale" is one of two British agents sent to gather information on the notorious pirate.
Richard Crane would be seen on two early Science Fiction television series. First he starred as
"Rocky Jones Space Ranger"
and then worked with Judd Holden in
"Commando Cody: Sky Marshall of the Universe".
Crane is on the left of the following still.
He would also portray Beverly Garland's husband in the Science Fiction/Horror film from 1959
"The Alligator People".
I've mentioned a couple of Science Fiction television series. There were many when I was a growing up. Some of these programs including the one Gene Roddenberry said inspired
"Star Trek".
Along with those great toys and premiums are part of my article entitled:
Boldly Going Before Kirk and Spock 1950's TV Science Fiction
at:
http://www.bewaretheblog.com/2015/12/boldly-going-before-kirk-and-spock.html
Among the other "B" films Sam Katzman Produced with William Castle as Director were three features in 1954 entitled::
"Charge of the Lancers"
released in February
, "Battle of Rogue River"
released in March and
"Jesse James vs the Daltons"
released in April.
Jock Mahoney, billed as Jack Mahoney, was back on April 15, 1954 in the five hour and fifteen minute serial
"Gunfighters of the Northwest".
The cliff hanger was set in Canada and Mahoney was Canadian Mounted Police Officer "Sergeant Joe Ward". The serial also featured pre-
"The Lone Ranger"
Clayton Moore as "Constable Bram Nevin", Phyllis Coates as under cover agent "Rita Carville", Lyle Talbot as "Inspector Wheeler" and 1930's "B" Cowboy actor Kermit Maynard, brother of another 1930's "B" Cowboy Ken Maynard, as an unnamed Mountie, but was also a stunt man in the serial.
Once again for Columbia's feature films was the team of Sam Katzman and William Castle. They started, still in April 1954, with
"Drums of Tahiti"
and added
"The Iron Glove"
starring pre-
"Untouchables"
Robert Stack..Bringing their team's April 1954 out put to three motion pictures together. Illustrating how fast "King" Cohn expected his Directors to work. Next on June 6, 1954 the two had Ricardo Montalban in
"The Saracen Blade"
and on August 1, 1954 Scott Brady had the lead in
"The Law vs Billy the Kid"
My biographical article on William Castle and his movies can be read at:
http://www.bewaretheblog.com/2017/10/a-tale-of-william-castle-motion-picture.html
More Westerns and a couple of low budget dramas followed and on June 9, 1955 Katzman remade his 1943 serial
"The Phantom"
starring Tom Tyler. By changing the name of his title character to become the serial
"Adventures of Captain Africa, Mighty Jungle Avenger"
starring John Hart. Hart for a short time replaced Clayton Moore as television's
"The Long Ranger".
Note the look of John Hart's costume and some of the 1943 sets were reused also.
It was in 1954 that Sam Katzman was approached by Independent Producer Charles H. Schneer. This was about a project he needed help making. Schneer told Katzman that he had recently looked up a friend from their Military Photographic Unit Work named Ray Harrthausen. A meeting of all three men took place and the result was released in July 1955 as
"It Came From Beneath the Sea".
Executive Producer Katzman would back once more on Schneer and Harryhausen's project released on June 13, 1956 entitled
"Earth vs the Flying Saucers".
The fans of Stop Motion Animator Ray Harryhausen are World wide, but few know the name of his Producer and Partner Charles H. Schneer. Even though with the exception of
"One Million Years B.C.".
His name is on is on every film Harryhausen made starting with these two features. My biography of Schneer and his relationship with Ray Harryhausen may be read at:
http://www.bewaretheblog.com/2016/09/charles-h-schneer-look-at-work-of.html
"It Came from Beneath the Sea"
was immediately followed by a very low budget horror film that has become a 1950's Cult Classic.
"Creature with the Atom Brain"
starred Richard Denning and also opened in July 1955.
What made this picture work was the outstanding story and screenplay by Curt Siodmak. Among Siodmak's previous work for Universal Studios were 1940's
"The Invisible Man Returns"
and
"The Wolfman"
in which he created the classic lines about a man saying his prayers when the moon is full and bright. In 1943 he joked his way into writing what became
"Frankenstein Meets the Wolfman".
For Horror Producer Val Lewton Curt Siodmak created the story and screenplay of the classic 1943 feature
"I Walked with a Zombie".
Curt Siodmak created the original story for
"Earth vs the Flying Saucers"
also.
My biographical article on Curt Siodmak and his Film Noir Directing brother Robert. The two made the Lon Chaney,Jr. motion picture
"Son of Dracula".
May be read at:
http://www.bewaretheblog.com/2017/11/curt-and-robert-siodmak-horror-and-film.html
Returning to this feature Curt Siomak's screenplay was indirectly referenced and the resulting motion picture mentioned in Peter Dendle's "The Zombie Movie Encyclopedia":
Good '50s fun abounds, with all the twisted gender ideology and antiseptic social ideals that that implies, packed in a tightly-wrought action film with strong (if entertainingly dated) conceptual support
As the setting was to be Los Angeles, to save money on the production, Curt Siodmak made his film more like an episode of Jack Webb's television series
"Dragnet"
in style and in some spots dialogue. The plot has a mobster, who is now out of prison, going after the men, the District Attorney, Judge, etc, that sen him up. We've seen that plot many times going back to the 1930's, but Siodmak twisted the story.
The gangster, "Frank Buchanan", Michael Granger seen above, has hired an ex-Nazi Scientist for his revenge plans.,.Together they bring back different dead men to kill each of "Buchanan's" targets. This causes the police department problems in identification of the killers as the finger prints belong to dead men. Another twist involves a television set. The Scientist and "Buchnan" can see through the eyes of the dead men they send out and the gangster's voice is heard by his victims.
Between
"Creature with the Atom Brain"
and the
"Earth vs the Flying Saucers".
Sam Katzman was Producing Westerns, Dramas and
"Rock Around the Clock"
using Directors William Castle, Fred F. Sears and Nathan Juran.
Juran would Direct for Columbia Pictures, but not for Katzman, Nathan Juran's Columbia Pictures included
"20 Million Miles to Earth",
the
"7th Voyage of Sinbad"
and
"First Men in the Moon".
Additionally, Independently, he would make
"Attack of the 50 Foot Women", "The Deadly Mantis"
and the
"Brain from Planet Arous"
during this same period.
My article
"Nathan H. Juran: A Look at the Work of the Man Who was an Art Director for John Ford, Directed Live Action for Ray Harryhausen and Wrote Screenplays for Fess Parker"
may be read at:
http://www.bewaretheblog.com/2017/05/nathan-h-juran-look-at-work-of-man-who.html
When I was nine years old I saw
"Earth vs the Flying Saucers"
at the Wiltern Theater, it's still there and a historical landmark concert venue, in Los Angeles. That was during the first week the movie came out and in the days of the double bill. That feature was either the lower, or upper half of the double bill's advertising. Which depended upon which Columbia Pictures television or newspaper ad you saw on any day. The other half was another Sam Katzman production for June 13, 1956 and the title was
"The Werewolf"
The screenplay by Robert E. Kent tells a story with pathos equal to Curt Siodmak's 1940
"The Wolfman".
It actually begins as a mystery as we meet a man with amnesia entering a small California Mountain Community and going into a bar. Who is he? Where did he come from?
One thing we learn about "Duncan Marsh", played beautifully by Steven Ritch, is that he is the title character, but how and why is not immediately answered. Also like Lon Chaney, Jr. he does not want what he has become and has a wife and son.
Add to this that Kent updates the werewolf legend to a Scientifically created creature by two Scientists. Who are searching, Cold War Era paranoia, for a way for mankind to survive Atomic War.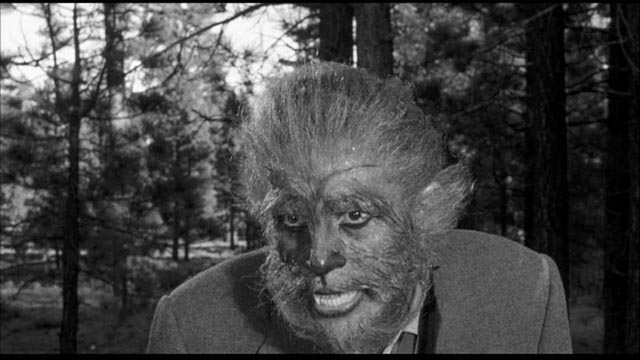 This is an excellent and mostly forgotten film from Producer Sam Katzman and Director Fred F. Sears. Sears also Directed the
"Earth vs the Flying Saucers".
Six more Sam Katzman low budget films followed and five were Directed by the very busy Fred F. Sears. Then Director Edward L. Cahn took over for the fun low budget
"Zombies of Mora Tau"
released in March 1957
.
The film features the Queen of Low Budget 1950's Horror movies Allison Hayes.
During 1957 she would also be seen in Roger Corman's
"The Undead"
and by others in
"The Unearthly", "The Disembodied"
and of course the original
"Attack of the 50 Foot Women"
from Nathan Juran.
A boat arrives on the African Coast and those on board become involved with the Zombie Crew guarding an ancient treasure.Above Allison Hayes, as "Mona Harrison", has been murdered and turned into a Zombie.
My article on Allison Hayes and two other "Sisters of 1950 Science Fiction", Peggie Castle and Gloria Talbott may be read at:
http://www.bewaretheblog.com/2015/04/peggie-castle-allison-hayes-and-gloria.html
Portraying "Dr. Jonathan Eggart" was Morris Ankrum a familiar face to 1950's Science Fiction and Horror audiences. He was an Air Force General in
"Earth vs the Flying Saucers"
that is captured by the aliens
My article on the actor may be read at:
http://www.bewaretheblog.com/2016/02/morris-ankrum-face-of-classic-1950s.html
The same month another Katzman horror film opened.
"The Man Who Turned to Stone"
aka:
"The Petrified Man".
It
was about one of a group of 200 year old unethical doctors who learned of extending their lives by draining, through transfusions, the life force of others.
Playing the title character, "Dr. Murdock", was actor Victor Jory.
From 1955 into 1960 low budget Horror and Science Fiction Films, like the early Harryhausen's and the other films I have mentioned, were being turned out aimed at the Teen and Pre-Teen audiences.
My article on a large number of these Teen features
"I Was A Teen Werewolf: 1950's Teenage Horror Movies"
may be read at:
http://www.bewaretheblog.com/2016/06/i-was-teenage-werewolf-i-was-teenage.html
In June 1957 continuing in this vein Sam Katzman released
"The Night the World Exploded"
Directed by Fred F. Sears and starring Kathryn Grant.
Three Scientists have created a machine to predict Earthquakes and determine one will occur within the next 24 hours. The Government is skeptical. The quake occurs in California, but it is discovered that something other than normal moving of the Earth's plates has caused the quake and it appears a Super Quake is coming that could tilt the Earth off its axis.
The Scientist go into a group of caves and discover what they will call "Element 112". This is a new ore that once removed from water becomes explosive. How can they prevent all of "Element 122" from exploding causing the predicted Super Quake?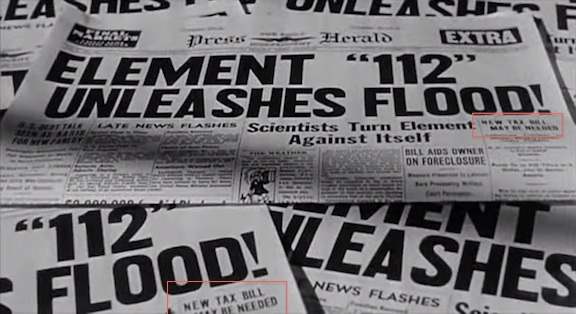 In December Universal International released
"The Monolith Monsters".
In that film there are pieces of meteorite that when exposed to water keeping growing and pulling silicone out of the Earth and people. In short the reverse of Sam Katzman's film's idea.
On the same double bill with
"The Night the World Exploded"
was a Science Fiction picture that is so bad its good and developed a Cult following. This was Sam Katzman's
"The Giant Claw"
aka:
"The Mark of the Claw".


The feature starred three solid actors of the 1950's Science Fiction genre. You had Jeff Morrow,
"The Island Earth", "Kronos"
and
"The Creature Walks Among Us".
His co-star was Mara Corday,
"Tarantula"
and
"The Black Scorpion".
Once more Morris Ankrum appeared as an Air Force General.
The two problems were not from Fred F. Sears' Direction, or the acting. They both were from the title character. This was suppose to be a giant bird come to earth to reproduce and creates nests around the world. The bird came from an anti-matter Universe and apparently had a protective invisible shield around it. Otherwise it would have exploded in our matter Universe as positive and negative atoms met. Fine, but then at the film's very quick climax/ Jeff Morrow and the others shoot the bird with a special isotope, but how did it ever really puncture its anti-matter shield?
The second problem was Sam Katzman was his cheap self and Columbia Pictures wasn't going to put up the money they had for the two Ray Harryhausen features. Although they made a large profit, or did the studio want to take the time needed to stop motion animate this picture. So Katzman went to a Special Effects company in Mexico. The result was a puppet on an obvious string. When Morrow, Corday and Ankrum went to a sneak preview sitting in the back row of a darken theater. The three saw
"The Giant Claw"
for the first time as the audience started to laugh. The three embarrassed actors disappeared before being noticed.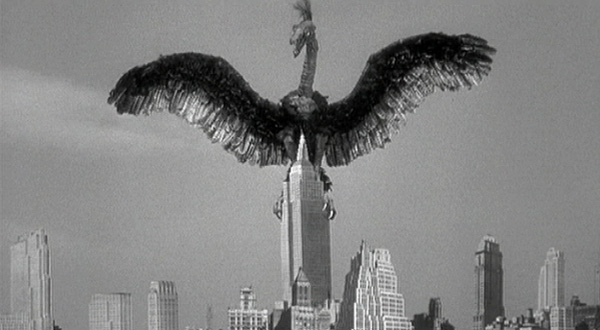 My article on actor Jeff Morrow can be read at:
http://www.bewaretheblog.com/2016/10/jeff-morrow-exeter-of-metaluna-icon-of.html
Sam Katzman's next ten motion pictures, between 1957 and 1960, are as low budget as his others and included teen love, World War 2 action, a trapeze circus family and a little straight drama. However, in those films it is the actors that are more interesting than these typical low budget turn a profit features.
1957's
"The Tijuana Story"
co-starred Teen Singing Idol James Darren. This was two years before Darren and Sandra Dee, her first motion picture, made
"Gidget".
Ninth billing went to actor Robert Blake.
1958's low budget
"The High and the Mighty"
was called
"Crash Landing".
This forgotten feature starred actor Gary Merrill and an actress who had changed her name from Nancy Davis to Nancy Reagan.
There were three other interestingly cast 1958 features.
"Going Steady"
starred 19 year old Country Singer Molly Bee, "I Saw Mommy Kissing Santa Claus", as a Teenage Girl hiding her marriage from her parents. Until, of course, she becomes pregnant.
1958's
"The World Was His Jury"
starred actor Edmond O'Brien. While
"Life Begins at 17",
another of Katzman's teen dramas, starred Mark Damon, two years before he co-starred with Vincent Price in Roger Corman's
"House of Usher".
The picture also featured Ed Byrnes the same year he became "Kookie", the car hop, on television's
"77 Sunset Strip".
"Kookie, Lend Me Your Comb" became a #1 song. Also in that cast was Luana Anders three years before she was in Corman's
"The Pit and the Pendulum".
1959's
"Juke Box Rhythm"
starred young actress Jo Morrow. This was the year before two of her most known pictures were released. They were William Castle's original
"13 Ghosts"
and Ray Harryhausen's
"The Three Words of Gulliver".
However, she also co-starred in Columbia Picture's 1959 with Michael Landon in
"The Legend of Tom Dooley".
The screenplay by Producer Stanley Shpetar was based upon the popular folk song by the Kingston Trio.
The two war movies, the first 1959's
"The Last Blitzkrieg",
starred actor Van Johnson looking for work. As well as Kerwin Matthews of
The 7th Voyage of Sinbad"
and a pre-
"Bewitched"
Dick York. While 1960's
"The Enemy General"
had Van Johnson. Along with looking for work French actor Jean-Pierre Aumont.
1959's
"The Flying Fontaines"
starred Michael Callan two years before Ray Harryhausen's
"The Mysterious Island"
and six years before the Jane Fonda and Lee Marvin comedy Western
"Cat Ballou".
On December 30, 1961 Sam Katzman was pushing, on the movie screen, a new dance craze. Chubby Checker was featured in
"Twist Around the Lock".
The title was
a play on the Bill Haley and the Comets 1956
"Rock Around the Clock".
On April 13, 1962 it was Chubby Checker back in
"Don't Knock the Twist".
On March 6, 1964 the Sam Katzman Produced
"Kissin' Cousins"
was released starring Elvis Presley. Whose film career was starting to decline.
The picture was released by Metro-Goldwyn-Meyer and didn't terrible at the box office.
Katzman did a second Elvis production released by MGM on November 25, 1965.
"Harum Scarum"
was Presley's second flop in a row.
On November 4, 1964 producer Sam Katzman presented George Hamilton as Hank Williams in
"Your Cheatin' Heart".
Singer, Dancer, Actor Gene Nelson Directed the film made with the assistance of Williams' widow Audrey. George Hamilton did an excellent job of lib syncing the songs. Which were performed by Hank Williams, Jr who was 15 at the time.
Actress Susan Oliver portrayed Audrey and Arthur O'Connell portrayed the only other actual person in the story Fred Rose. Red Buttons portrayed "Shorty Younger" a fictional agent for Hank Williams.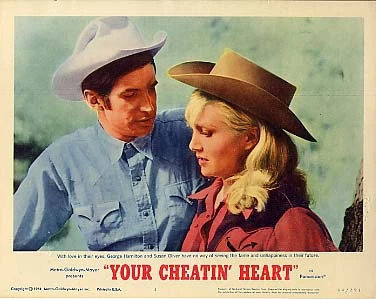 In an interview with George Hamilton many years later. He said
"Your Cheatin' Heart":
made me a hero in the South, but because it was a small film, it didn't get the exposure it deserved in the rest of the country.
It's a shame, because for a Hollywood Bio Pic, this one was very good.
On January 27, 1967 the Sam Katzman Produced
"Hot Rods to Hell"
found Dana Andrews and Jeannie Crane being pursued by a teenage gang.
In March of 1967 Sam Katzman and American International Pictures cashed in on an actual
"Riot on the Sunset Strip".
Which took place between the "Hippie Counter Culture" and the Straights.
The actual riot resulted from a local L.A. rock and roll radio station announcing a fake rally at the club "Pandora's Box" to protest the curfew placed by the city council. An estimated 1,000 people showed up, broke the curfew laws and the police stepped in. That's when the riot really broke out. There were Hollywood celebrities present including Peter Fonda and his friend Jack Nicholson. The movie used actual newsreel footage shot at the time to revolve around the story about a Police Officers daughter being gang raped.
I was in the Navy at the time and this was one of my favorite motion pictures of the period. Speaking of Fonda and Nicholson. The two made
"The Trip",
no need to explain the title, Fonda and Nancy Sinatra starred in a movie that regenerated the "Biker Film"
"The Wild Angeles".
Two other films that I saw during the Vietnam War Era were
"The Born Losers",
that introduced Tom Laughlin's character of ex-Army Vet "Billy Jack" and
"Wild In the Streets".
At the time you had to be 21 to vote, but only 18 to be drafted and die in Vietnam. The premise of
"Wild in the Streets"
is that the voting age is lowered and a Teenage Heart Throb becomes the President of the United States and anyone over 29 is put in a concentration camp. While being kept under control with LSD. It actually is a very good political allegory of the United States at the time. My article on all five movies can be read at:
http://www.bewaretheblog.com/2015/02/5-influential-viet-nam-era-movies-you.html
On September 1. 1967 Sam Katzman went Country Western with
"The Fastest Guitar Alive".
This was the first time Roy Orbison was seen on screen and he sang 10 songs. Orbison portrayed a Southern Spy during the Civil War with a gun shooting guitar.
In April 1972 the year before his death. Producer Sam Katzman released
"The Loners"
starring Dean Stockwell, Scott Brady, Gloria Grahame with the tag line:
First There Was Bonnie and Clyde
This movie was about man who accidentally kills a police officer and they go after him. Racism drives the police as the man in question is part Native American.
On August 4, 1973 Sam Katzman passed away at the age of 72. Leaving behind a varied portfolio of motion pictures.