When I was in Junior and Senior High School. I rode horses at the "SPAHN MOVIE RANCH". They were saddled by Donald Jerome "Shorty" Shea.
There's an old saying that
"FACT IS STRANGER THAN FICTION".
On May 21, 2019 director Quentin Tarantino premiered his motion picture
"OUNCE UPON A TIME IN HOLLYWOOD"
at the Cannes Film Festival in France.
The
"Spahn Ranch"
was back in the news and the
"Academy of Motion Picture Arts and Sciences"
liked the picture. So perhaps it should be
"FICTION IS STRANGER THAN FACT"?
This article is
ABOUT FACT
as it relates to the the "Spahn Ranch", or has
FICTION
overturned the
FACTS?
THE SPAHN MOVIE RANCH


Above the actual 55 acre "Spahn Ranch" in its heyday. The above scene was recreated for the 2019 motion picture
"Once Upon a Time in Hollywood".
Quentin Tarantino recreated the ranch near its actual location in the
"Santa Susana Pass Historic Park".
A person drives through the pass every time they take the 118 Freeway out of Los Angeles Country's "San Fernando Valley" into Ventura County's "Simi Valley", or vice versa.
In actuality the area used in the 2019 motion picture is what was left of another movie ranch
"Corriganville"
built in 1937. After his land purchase in Simi Valley by "B" Cowboy Star Ray "Crash" Corrigan. Among the motion pictures filmed at that location was director John Ford's first part of his "Cavalry Trilogy". That 1948 title was
"Fort Apache"
and the movie starred John Wayne and Henry Fonda. I first knew of "Corrganville" from the popular 1954 television show
"The Adventures of Rin-Tin-Tin".
The show used the original fort from the John Ford film as its main setting. My father took me the movie ranch as we lived less than 30 minutes from it.
The history of the
"Spahn Movie Ranch"
started around 1920. When Silent Cowboy Star William S. Hart, below, purchased the property. He already had a working ranch in over the hill in the Santa Clarita Valley. His home is now
"William S. Hart Park".
In 1928 the property was purchased by a Sharon M. Atkins, no known relation to Susan Atkins of the
"Manson Family",
and the entrance was originally at 12,000 Santa Susana Pass Road, However, once Simi Valley started building homes and businesses the address was changed. Atkins sold the property to Lee and Ruth McReynolds in 1947.
It was Lee McReynolds that built the Western sets on the undeveloped property and started renting his location to motion picture studios. As a result McReynolds' movie ranch now joined with both
"Corriganville",
almost next door,
and the
"Iverson Ranch",
in Chatsworth. Located just before McRenold's property and all three, at some point, overlapped each other, It was not uncommon for one movie, or television show being filmed to cross into each ranches property without beware of it during filming a scene.
Back in 1941 Howard Hughes filmed his version of the story of "Billy the Kid"
"The Outlaw"
on the Spahn Movie Ranch. The film introduced Jane Russell and featured Thomas Mitchell and Walter Huston. The production would run into censorship problems delaying its release. The picture was first released in 1943, pulled because of the censors after one week, and finally re-released in 1946.
For decades film historians have claimed that the Gregory Peck and Jennifer Jones 1946 , highly sexual, Western
"Duel in the Sun"
was filmed entirely at the Spahn movie ranch.
Producer David O'Selznick's story is about a half Native American girl,
"Pearl Chavez",
Jennifer Jones, who goes to live with her All-White cousin,
"Senator Jackson McCanles"
, Lionel Barrymore, after her parents die. There she has a highly sexual, for the the time, on again, off again, relationship with one of the Senator's son's,
"Lewton 'Lewt' McCanles"
, Gregory Peck, but is loved by the other son,
"Jesse McCanles"
, Joseph Cotton. Like
"The Outlaw", "Duel in the Sun"
had to be censored multiple times to get approval from the "Hayes Office" for release , Even then it earned the nickname of
"Lust in the Dust".
As to being filmed on the Spahn Ranch it
appears the motion picture had multiple filming locations and not one actually says the
"McReynold's Movie Ranch"
of the period, but the legend of the
"Spahn Movie Ranch"
and this picture still endures.
Looking at the official locations list for the 1945 filming of
"Duel in the Sun"
and 14 are in the State of Arizona. The other 8 are located throughout Southern California with
"Corganville"
as the only "Movie Ranch" listed.
However, one of the locations, for the
"Prairie Sequences",
is just listed as
"Chatsworth"
and another, without specific sequences named, just says
"Simi Valley".
So, it is probable that those two other references in relationship to "
Corganville"
would have had to be on the properties of both the future named
"Spahn Movie Ranch"
and the
"Iverson Movie Ranch".
Without official credit for either, or probably just lost over the years.
https://www.imdb.com/title/tt0038499/locations
In 1953, George Spahn purchased the property from McReynolds and it became known as the
"Spahn Movie Ranch".
Popular 1950's and 1960's television shows were filmed at the ranch and included
"The Lone Ranger", "Walt Disney's Zorro",
and
"Bonanza".
However, to back up what I said about multiple locations used for
"Duel in the Sun".
Those television productions used multiple movie ranch locations, sometimes just depending upon availability, and both "The Lone Ranger" and "Bonanza" were always partially shot at Iverson. While "Zorro" was also shot at the Walt Disney outdoor studio, in Placerita Canyon, located fifteen minutes up the street from my present Newhall, home.
At the end of 1949 homes for World War 2 Veterans started being built in the San Fernando Valley. As a result citrus groves and farm land turned into homes that started to encroach upon the land used by both the Iverson and Spahn movie ranches. The expanse for those big prairie sequences became $9,000 dollar three bedroom track houses. It was in 1954 that my parents bought the San Fernando Valley home I've mentioned.
I will return to the "Spahn Ranch" later. When I speak to the events of August 1969 the month before I was Discharged from the United States Navy during the Vietnam War.
SHARON MARIE TATE POLANSKI
I first became aware of actress Sharon Tate when I was in the Navy on board the aircraft carrier "U.S.S. Shangri-la CVA-38". The carrier was home ported in Mayport, Florida, just outside of Jacksonville. I was off my ship, one afternoon, and in Jacksonville saw the 1967 motion picture
"The Fearless Vampire Killers, or Pardon Me, But Your Teeth Are In My Deck",
but I'm getting ahead of her story.
Sharon Tate was born in Dallas, Texas, on January 24, 1943, I never thought of her as being older than me until now, As this is a
"Motion Picture and Television History Blog".
I am not going to go into details of Sharon's life before her acting career and suggest my readers turn to Debra Tate's website:
"The Official Sharon Tate Fansite"
at:
http://www.sharontate.net/
In 1960 Sharon Tate, her father was United States Army Colonel Paul James Tate, appeared on the cover of the Military newspaper
"Stars and Stripes"
sitting on what appears to be a "Nike" missile.
Some websites indicate that Sharon Tate appeared on an episode of
"The Pat Boone Chevy Showroom"
that was filmed in Venice, Italy. This is of course impossible as the half hour variety program was broadcast live from the ABC studios in either Los Angeles, or New York. We do know, from her sister Debra Tate, that 17 year old Sharon appeared in a 1960 episode of the program, with Pat singing to her, prior to the shows cancellation on June 23, 1960.
Next, the year her father was assigned to Italy presents a small problem for Sharon Tate's filmography. Quoting Debra Tate:
Colonel Tate would be reassigned to Italy in 1962 and Sharon would
begin attending Vincenza American High School.
"Vincenza American High School"
, seen below, is a "European Department of Defense Education Activity" high school located on the "NATO" base in Vincenza, Italy and was founded in 1954.
Above is Sharon Tate's High School Graduation picture.
Sharon's sister Debra's website doesn't mention her living in Italy prior to her father's assignment in 1962, but the facts would state otherwise. For one her High School graduation picture is dated, if true, as 1961. For another, her first two motion picture appearances, if accurate, as a non on screen credited extra had to have taken place in Italy in 1961.
The first motion picture listed on the website IMDb, and verified by Debra, is the Anthony Quinn Italian production of
"Barabbas".
Which opened in Italy on
December 23, 1961.
Sharon Tate's role was described as a
"Patrician in Arena".
In short she was in a crowd scene.
However, it is the unlisted, by IMDb, second feature film that is important to this article. Director Martin Ritt and producer Jerry Wald had moved from filming in Wisconsin to Verona in Italy, on
January 22, 1962,
to complete filming the motion picture
"Hemingway's Adventures of a Young Man".
The motion picture starred Richard Beymer, "Tony", in Robert Wise's 1961
"West Side Story".
Sharon Tate's role was described as a
"Burlesque Queen".
According to Debra Tate after meeting Beymer on the set. The two dated during the film's production, but most importantly. It was Richard Beymer that not only encouraged Sharon Tate to pursue her dream of modeling and acting, but gave the young women the card of his own agent Hal Gefsky.
Gefsky would introduce Sharon Tate to Martin Ransohoff. He was the chairman of the board for "Filmways" and with her parents permission she signed an exclusive contract with the producer.
On October 23, 1963 Sharon had 5th billing in her first credited role as
"The Girl".
This was
on the television series
"Mr. Ed"
in the episode entitled
"Ed Discovers America".
The budding actresses next appearance was also on the same television show, but as the 5th billed
"Telephone Operator".
On the December 15, 1963 episode
"Love Thy Neighbor".
Between my birthday on October 16, 1963 and October 20, 1965. Sharon Tate portrayed four different roles in 15 episodes of television's
"The Beverly Hillbillies".
Not listed on IMDb, but from Debra Tate, her sister had a role in the James Garner and Lee Remick comedy
"The Wheeler Dealers".
If Debra Tate is correct that role was so small Sharon doesn't even appear on the official cast list as a non on screen credited performer.
In August 1964 Sharon Tate was introduced to hair stylist Jay Sebring. The two became a couple and he purchased the house once belonging to Paul Bern, the husband of actress Jean Harlow, on Benedict Canyon Drive, along a ravine that connected the San Fernando Valley to Hollywood. Below a faded photograph of the two in 1966.
On October 27, 1964 James Garner and Julie Andrews starred in the Blake Edwards World War 2 comedy drama
"The Americanization of Emily"
. Blink and you might recognize Sharon Tate in the non on screen credit role of the
"Beautiful Girl".
Fans of "Napoleon Solo" and "Illya Kuryakin" would have found Sharon Tate as the 9th billed
"Therapist",
on April 12, 1965, in
"The Girls of Nazarone Affair"
on television's
"The Man from U.N.C.L.E.".
As with many of the show's episode the title was a parody of the 1961 Gregory Peck, Anthony Quinn and David Niven motion picture
"The Guns of Navarone".
On June 23, 1965 Mr. and Mrs. Richard Burton, aka: Burton and Elizabeth Taylor, starred in
"The Sandpiper".
Once more, according to Debra Tate, her sister was in a role so small it wasn't listed on the cast listing.
When Sharon Tate was finally told she had the role in her first major motion picture the was to be produced by Martin Ransohoff. The young actress did not want to leave Jay Sebring to go to France to film the feature, but she went.
The Ransohoff produced supernatural, occult, mystery thriller
"The Eye of the Devil"
was released first on April 24, 1967 in Sweden.
The feature now starred Deborah Kerr, in the role originally cast with Kim Novak until she broke her leg in a horse riding accident, as
"Catherine de Montfaucon".
David Niven was
"Phillipe de Montfaucon"
and Donald Pleasence was
"Pere Dominic".
The above poster is misleading on purpose. Sharon Tate was actually billed 7th as
"Odeile de Caray"
and David Hemmings billed 8th, on the official cast listing, as Tate's brother
"Christian de Caray".
However, for publicity purposes the two starting out actors are more attractive to catch an audience reading the posters. Than the real 4th through 6th billed Edward Mulhare, Flora Robson and Emlyn Williams.
Above David Hemmings and Sharon Tate.
The screenplay has "Phillipe de Montfaucon" called back from the United Kingdom to his French estate accompanied by his wife and two children. There the beautiful and very productive vineyards have fallen on hard times as if cursed. On the estate now live a young brother and sister and as "Phillipe" will discovers. The sister is a witch and the one behind the vineyards transformation and other strange happenings.
The film went unnoticed, but speaking to Sharon Tate's first major on screen role. The New York Time's stated in a review, at the time of release, that her performance was:
chillingly beautiful but expressionless
June 9, 1967 in Myrtle Beach, South Carolina, the Martin Ransohoff produced motion picture
"Don't Make Waves"
premiered starring Tony Curtis and Claudia Cardinale. Sharon Tate had 5th billing as
"Malibu".
The following poster seems to indicate she was third billed, but both Robert Webber and Joanna Barnes were officially billed above her and also in the opening credits.
Above Cardinale, Curtis and Tate.
Sharon Tate is surfer "Malibu" who saves Tony Curtis from drowning. After an argument with his girlfriend and falling asleep on the beach and as the tide rolls over him.

"Don't Make Waves"
led to a life changing meeting for Sharon.
He had been acting since 1953, directing feature films since 1955 and started writing screenplays that same year. He would become a producer in 1961 and in 1968 marry Sharon Tate.
Back in October 1963 I had seen Roman Polanski's
"Knife in the Water".
When the acclaimed motion picture was released in the United States. Two years later, to the month, his
"Repulsion"
was released here. So his name was familiar to me when I saw it on the marquee on that Jacksonville, Florida movie theater.
THE FEARLESS VAMPIRE KILLERS, OR PARDON ME, BUT YOUR TEETH ARE IN MY NECK
premiered November 13, 1967 in New York City.
That full title would be shorten to
"The Fearless Vampire Killers"
and in the United Kingdom the title became
"Dance of the Vampires".
Martin Ransohoff wanted to cast Sharon Tate in the role of
"Sarah Shagal".
Roman Polanski envisioned Jill St. John in the role. However, at Ransohoff's instance he agreed to have dinner with Sharon and to discuss the part. The following day Roman told Martin he still did not believe Sharon Tate was right for the part, but agreed to give her a screen test.
Sharon Tate showed up wearing a red wig and would get the role of
"Sarah"
. As Roman Polanski started to see his vision of a girl who could charm the vampire,
"Count von Krolock",
portrayed by the German-British actor Ferdy Mayne and the vampire hunter's assistant.
"Alfred",
portrayed by Polanski himself.
My reader must remember the year was 1967 and there were still major taboos for motion picture screenplays. This one by Roman Polanski and Gerard Brach, the French screenplay writer Polanski used for
"Repulsion",
broke all of them in very funny ways.
Two examples is the Count's son,
"Herbert von Krolock"
, portrayed by Polish actor Vladek Sheybal with a non screen credited dubbed voice, is openly gay.
Another has "The Innkeeper" and "Sarah's" father,
"Yoyneh Shagal",
as a stereotypical Jewish man of the period with that stereotypical heavy Jewish accent. Who after being turned into a vampire. Tells a women attempting to ward him off with a crucifix that:
Oy Vey, have you got the wrong vampire.
At the film's conclusion "Alfred" and the vampire hunter
"Professor Abronsius",
portrayed by Jack MacGowran, rescue "Sarah". Not knowing that she's now a vampire and they're carrying the plague they wanted to stop.
For those of my readers interested in a more detailed look at this unusual screenplay and similar unconventional vampire motion pictures. My article:
"Not the Same Old VAMPIRE Movies, or Get Your Dentures Away from My Jugular Vein"
Can be read at:
http://www.bewaretheblog.com/2017/10/not-same-old-vampire-movies-or-get-your.html
In 1967 Sharon Tate's boyfriend, Jay Sebring, who had invented a new and popular way to cut men's hair, opened the first of his hair saloons, Eventually he would have franchised saloons, the first ever on the United States, selling his own line of hair products. While most men's barbershop's charged a dollar to two dollars for a haircut. Sebring charged Kirk Douglas, Warren Beatty and Steve McQueen and other stars fifty dollars. Which is equal as of this writing to 386 dollars. Sebring would fly to Las Vegas every three weeks to cut the hair of Frank Sinatra and Sammy Davis, Jr. When Kirk Douglas had produced his 1960 motion picture
"Spartacus".
He hired Jay Sebring to design and cut all the leading male actors hair throughout the shoot.
However, in late 1967 Sharon Tate and Roman Polanski had become a couple, but she was worried over how Jay would take the news. The three met in London, Jay gave them his blessing, and the three remained close friends.
Also during this period Roman introduced Sharon to a close friend, from Poland, Wojciech Frykowski, Frykowski wanted to be a screenplay writer, but his motion picture career to that time. Consisted of once acting, under the name of
"Voytek Frykowski",
in a 1962 short subject
"Mammals".
Which had been written and directed by Roman Polanski and filmed in France.
Sharon was also introduced to "Voytek's" girlfriend Abigail Folger the heiress to the "Folger Coffee Fortune".
VALLEY OF THE DOLLS
released December 15, 1967
In 1966 Jacqueline Susann published her novel
"Valley of the Dolls".
"Dolls" were a term, at the time. for uppers, downers, and sleeping pills. Her novel became a best seller and like novelist Harold Robbins 1961
"The Carpetbaggers".
That had been about a not too thinly disguised Howard Hughes, Jean Harlow and William Boyd. Susann's main characters are an obvious Judy Garland, Marilyn Monroe, Dean Martin and Ethel Merman.
The motion picture version had Susan Hayward in the toned down Ethel Merman character of
"Helen Lawson".
However, according to actress Patty Duke at a screening of
"Valley of the Dolls",
on July 29, 2009 at the "Casino Theater" in San Francisco. The role was originally cast with Judy Garland, but director Mark Robson deliberately kept Garland waiting for eight hours. Knowing she would go out for drinks from the pressure of being kept waiting and returned drunk on the set.
For those familiar with the novel. Patty Duke's
"Neely O'Hara"
was the Judy Garland based character and one wonders what the real Garland would have thought?
Sharon Tate wasn't supposed to have the role of
"Jennifer North"
either
.
"North", in the Susann novel was a composite of Marilyn Monroe and 1940's actress Carol Landis,. Both women having committed suicide by drug overdose at the height of their careers, The studio wanted contract player Raquel Welsh for the role, but turned it down and said she wanted to be "Neely". The 20th Century Fox Executives said no and cast Sharon Tate possibly to put Welsh in her place within the studio system.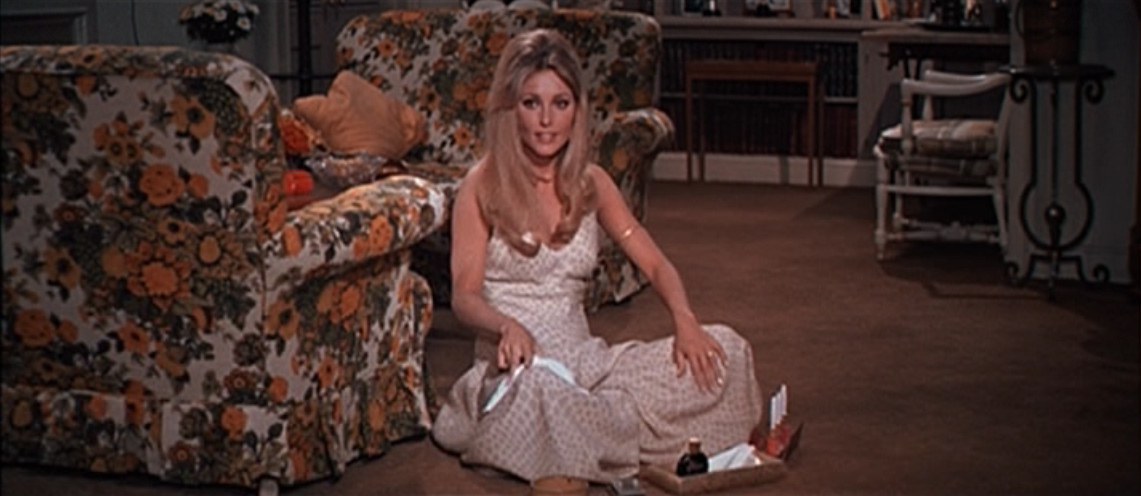 Above Sharon Tate as "Jennifer North" and Tony Scotti as
"Tony Polar",
the Jacqueline Susann, Dean Martin.
The movie was panned by critics, but the audiences loved it. With a 1967 budget of $4.69 million dollars. The motion picture initially had a Worldwide Box Office of $50 million dollars.
The month after the movie premiered two related events happened. Roman Polanski finally proposed to Sharon Tate in London and the two married in Chelsea on January 20, 1968. Their favorite mode of dress seemed to always be "Edwardian", Wherever they traveled in the United Kingdom and elsewhere. The couple seemed to be throwbacks to another era and their wedding photos fit right in.
RETURN TO THE SPAHN MOVIE RANCH
By 1964 television and motion picture production was near a complete stop on George Spahn's movie ranch. That year one of the only films shot was a Science Fiction picture entitled
"The Creeping Terror".
That film would be voted one of the worst movies ever made and actually placed above Ed Wood's 1959
"Plan 9 From Outer Space"
on many lists. Below is one of the "frightening (?)" scenes with the space creature filmed on the ranch.
Yes, that is a face on the creature.
By August 1968 things were truly going badly for George Spahn and his movie ranch. During the 1950's and the start of the 1960's. The ranch along with those adjoining it were busy with multiple Western Television programs. While 1950's "B" Westerns feature films were being made to avoid trouble from the "House Committee on Un-American Activities" that might lead to "Black Listing" during the "McCarthy Era".
My article
"HI HO SILVER, AWAY: The 1950's When WESTERNS Dominated the Air Waves"
can be read at:
http://www.bewaretheblog.com/2018/01/xxxxx.html
The ranch was now down to basically four people. Its owner George Spahn, who at 79, was going blind and wore dark glasses at times, stunt man and actor Donald Jerome "Shorty" Shea and Joseph Vance Randall aka: stunt man and actor Randy Starr and his wife Windy Bucklee. Starr was also in
"The Creeping Terror".
Above Donald Shea and below Randy Starr.
As I said it was "Shorty" Shea, he stood six feet four inches in height, who saddled horses for those who boarded them at Spahn, or rented the ranch's for riding back in the 1950's. At that time and later "Shorty" was used in "B" Westerns and television programs as a stunt man. Above he is seen in an unknown "B" Western. Randy Starr also appeared as a stunt man, or in films shot on the propety.
In 1968 "Shorty" had become a handyman, stock wrangler for the few animals still owned by George, and sometime still sometime stunt man for what where turning out be porno films shot on the property.
To George Spahn, the required upkeep of his movie ranch was too much for just Shea and Starr. As if an answer to his prayers. Along came a
"Nice Young Man"
, mainly determined by his voice, as Spahn was starting to see only shadows, and his "Family" trading their work for room and board.
INTERLUDE!
Also during 1968 the owner of the
"Gateway Whole Foods Ranch Market"
chain and horse breeder Pasqualino "Leno" Antonio La Bianca purchased the house he had grown up in at 3301 Waverly Drive, in the Los Felix area of Los Angeles.
Above Leno and his wife Rosemary on the Wavery Drive property.
Released first on Christmas Day 1968, in Canada, was
"The Wrecking Crew"
starring Dean Martin, Elke Sommer and Sharon Tate.
This was Dean Martin's fourth motion picture as Super Spy
"Matt Helm".
Sharon was a beautiful, but bumbling
"Freya Carlson"
from the Danish Tourists Bureau. In the four films with Martin, the character of "Helm" had been changed, from the secret government assassin sent out to liquidate enemy agents without emotion, to a cross between
"James Bond"
and television's Wild West Secret Agent
"James West".
At about this time Sharon Tate confirmed the she was pregnant. To make things easier on his wife, Roman rented a house at 10050 Cielo Drive, in Benedict Canyon, near Jay Sebring.
THAT "NICE YOUNG MAN"
As my reader knows the
"Nice Young Man"
George Spahn had living on his property was
Charles Milles Manson
. The following is a very brief look at the man that would connect the Spahn Movie Ranch to Sharon Tate, Jay Sebring, Wojciech Frykowski, Abigail Folger, Steven Parent and Leno La Bianca and his wife Rosemary.
Sometimes a Real Monster doesn't look like Frankenstein, Dracula, or Godzilla. They look just like you and me and we pass them on the street without notice.
Charles Milles Manson was born on November 12, 1934 in Cincinnati, Ohio, to 16 years old Kathleen Manson-Bower-Cavender. His father appears, only because of a paternity suit filed, to be Colonel Walker Henderson Scott, Sr. of Catlettsburg, Kentucky. After spending three years in prison for an attempted robbery. Kathleen reclaimed her son from relatives and left for Charleston, West Virginia.
His crimes began at age nine when he burnt down his school. This was followed by truancy, petty theft and other similar crimes. The courts attempted to find Charles Manson a foster home, but were unsuccessful. At 13 he was placed in the
"Gibault School for Boys"
in Terre Hault, Indiana.
This would be followed by more trouble and placement within the famous
"Boy's Town"
in Omaha, Nebraska. After four days there Manson and another boy, "Blackie" Nelson, left and robbed a store and casino. After being caught Charles Manson was tied to two more armed robberies and sent to the
"Indiana Boys School",
better known as the
"Plainfield Juvenile Correctional Facility".
In October 1951, Manson was in the
"National Bridge Honor Camp"
outside of Washington, D.C. He had previously been at the
"National Training School for Boys".
in D.C., without good results
.
In January 1952, one month before his release, Charles Manson was caught raping another boy at knife point. Instead of release, Charles Manson was transferred to the maximum security reformatory in Chillicothe, Ohio.
Four years later, after his release, Manson married a hospital waitress named Rosalie Jean Willis. The married couple came to Los Angeles in a stolen car from Ohio. Three months after their arrival he was charged with the Federal Crime of taking a stolen vehicle across state lines. He ended up with three years imprisonment in Federal Prison on
"Terminal Island",
San Pedro, California.
During his first year in prison Rosalie Manson gave birth to their son Charles Manson, Jr. However, shortly afterwards,Charles mother informed him that Rosalie was now living with another man.
Manson received five years parole in September 1958, but in November was picked up for pimping a sixteen year old girl and spent time in jail. A year after his release he pleaded guilty to attempting to cash a forged U.S. Treasury Check. He was able to get off with a 10 year suspended sentence, because a girl named Leona Stevens made a tearful plea to the judge that the two were in love and wanted to get married. The now divorced Charles Manson married Leona Stevens.
He next took Leona and another women to New Mexico for prostitution. He was arrested, but not jailed. Apparently, the Federal investigation into him was still be going on and they didn't want him jailed at the time. A bench warrant was issued in April 1960 for violations of his parole and the
"Mann Act".
While in Laredo, Texas, in June 1960, Charles Milles Manson was arrested and returned to Los Angeles for violating his parole on the U.S. Treasury check cashing charge.
Manson ended up in the
"United States Penitentiary"
on McNeil Island in the State of Washington. There he took guitar lessons from Alvin "Creepy" Karpis co-leader of the 1930's
"Ma Barker-Karpis Gang".
In 1963 Leona divorced Manson and in June 1966 Charles Manson was sent to "Terminal Island" to prepare for his release from prison and was released on March 21, 1967. By that date Charles Milles Manson had spent more than half of his 32 years in either prison or correctional institutions.
THE MANSON FAMILY
Hindsight always brings up questions of
WHY?
Upon his release from prison Manson was given permission to go to San Francisco. There he met a girl, Mary Brunner, a library assistant at the
"University of California Berkeley"
and moved in with her. Before long the room they shared now had 18 other women. He had learned, from Alvin Karpis, how to play the steel guitar and Manson's charm set him up as a Haight-Ashbury Guru within the
"Hippie Culture of the Summer of Love".
Above Mary Brunner.
It is said that Charles Manson adopted the teachings of the alleged Satanic
"The Process Church of the Final Judgement",
established in the United Kingdom in 1966, as the basis for his control of others. The founders of that church denied any connection, but whatever was the truth. Before the end of
"The Summer of Love".
"Charlie", as he was called, had his first family of followers. All believing that Satan would become Christ at the end of the world and only Manson could save them.
Their "Guru" now called himself
"Charles Willis Manson".
It has been mentioned that he would say that new name very slowly. So that it became
"Charles Will Is Man's Son".
His followers were told they were the reincarnation of the original Christian's and the Romans were the establishment out to stop them.
Before the summer was over Charles Manson and perhaps eight of his followers. That included for sure, Mary Brunner, Patricia Krenwinkel, and Lynette Fromme, Drove north to Washington State and south into Mexico, in an old bus psychedelically painted, and ended their trip back north in Los Angeles.
Above Patricia Krenwinkel Below Lynette Fromme.
In a condemned house in Topanga Canyon in Los Angeles County, on April 15, 1968, Mary Brunner gave birth to Valentine Michael Manson. Seven days later Charles Manson was in a Ventura, California lock up.
I could not locate why he was picked up, or how long he was in jail. However, in the spring of 1968 Brian Wilson the drummer for the
"Beach Boys"
picked up Krenwinkel and Ella Jo Bailey hitchhiking and took them to his home. Which became a major mistake.
Above Brian Wilson and below Ella Jo Bailey.
What started as two young women brought to his Pacific Palisades house for what Wilson thought would be a couple of hours. Expanded to 12 strangers living there plus Charles Manson. Who upon first seeing Dennis Wilson dropped to the ground and kissed the drummer's feet! Wilson couldn't get rid of them and it cost the drummer $100,000 in expenses as they became part of his household. The owner of the property was finally able to have them evicted and the next stop for the
"Manson Family"
was George Spahn's movie ranch.
BACK TO AUGUST 1968, THE SPAHN MOVIE RANCH, AND THE ORIGIN OF HELTER SKELTER
There was no question to "Shorty Shea" as who now controlled the ranch. Lynette Fromme had acquired her nickname of
"Squeaky",
because every time George Spahn pinched her thigh she squeaked.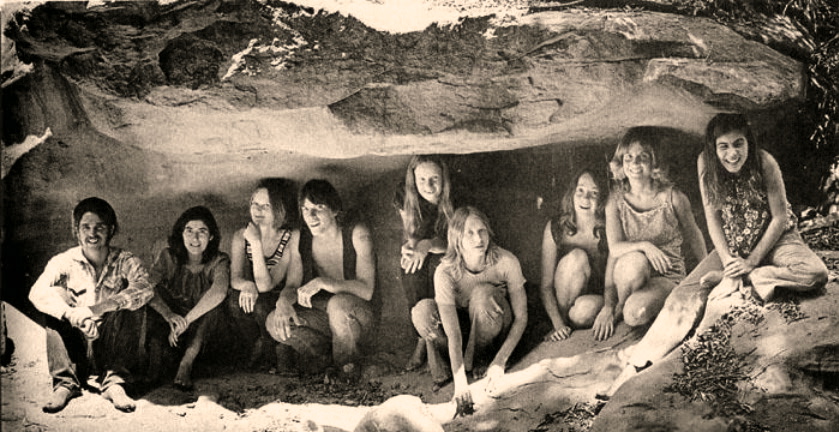 Above "T
he Manson Family"
taken in
"The Cave"
on the Spahn Ranch. Looking at the group they appear to be just normal College Age students. This photo would eventually be referred too as
"Infamous",
because of how innocent, to anyone seeing this photo, the group appeared and explained part of George Spahn's acceptance of them.
Charles Watson now arrived. He had met Manson at Dennis Wilson's house and tracked him down at the ranch. It was George Spahn that gave Watson the nickname of "Tex", because he had a thick Texas drawl. In high school Watson was an honor roll student, an athlete, and editor of the school newspaper. After graduation he attended the
"University of North Texas"
and was a member of the
"Pi Kappa Alpha"
fraternity.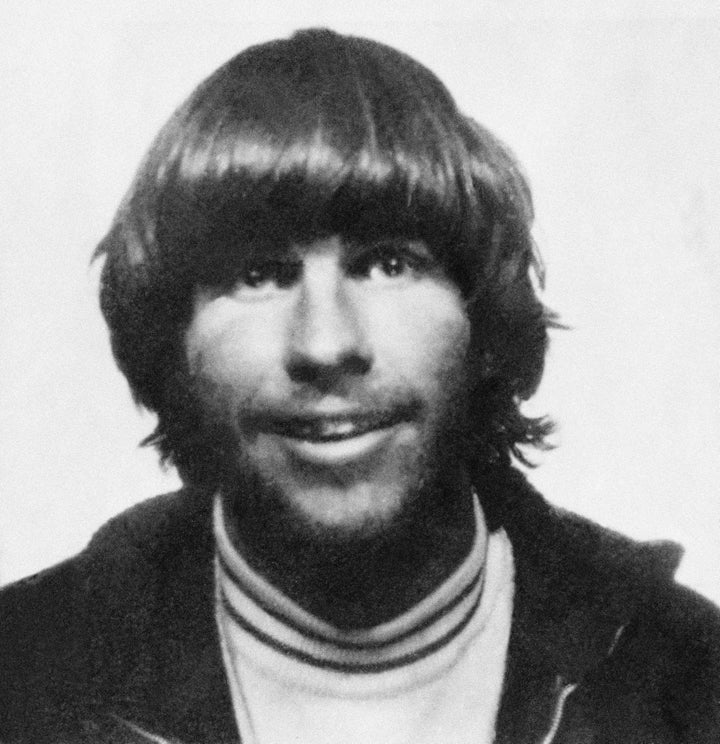 Charles Manson wanted another base of operation for his family and established two in Death Valley. In early November he took the family to a ranch owned by the grandmother of one of his new "Family Members", Catherine Gilles..
The second Death Valley ranch was owned by an elderly woman named Arlene Barker. Manson and another male member of the family approached her as two musicians looking for a quiet place to practice.
Living again at the Spahn ranch, in December, Charles Manson and Tex Watson visited a friend who was renting a house in Topanga Canyon. I could not locate the person's name, but according to the story. Manson's friend played the two visitors the latest album from
"The Beatles".
The release would be known as
"The White Album"
and Charles Manson became obsessed with that double album and the songs that included
"Helter Skelter".
In January 1969, in the cold night air of Death Valley, on the "Myers" ranch Charles Manson indoctrinated his "Family" in his new belief. He said that the blacks are going to arise up in rebellion against the whites in all the American cities at the same time. Adding he knows this, because
"The White Album",
is in code telling about it all. He now moved the group into a Canary Yellow house on Gresham Street in Canoga Park, very close to the Spahn Ranch, he named
"The Yellow Submarine".
The house was owned by Bill Vance seen below.
It was within
"The Yellow Submarine"
that Manson prepared his "Family" for the coming apocalypse. At this house around, an illegal within city limits, campfire Charles "
Willis"
Manson told the "Family" that he termed the apocalypse
"Helter Skelter",
became of the code within that song's lyrics.
[Verse 1]
When I get to the bottom I go back to the top of the slide
Where I stop and I turn and I go for a ride
Till I get to the bottom and I see you again!
Yeah, yeah, yeah!
[Verse 2]
Do you, don't you want me to love you?
I'm coming down fast, but I'm miles above you
Tell me, tell me, tell me, come on, tell me the answer
Well, you may be a lover, but you ain't no dancer
[Hook]
Go, Helter skelter
Helter skelter
Helter skelter
Yeah
Woo!
[Verse 3]
Oh, will you, won't you want me to make you?
I'm coming down fast, but don't let me break you
Tell me, tell me, tell me the answer!
You may be a lover but you ain't no dancer
[Hook]
Look out!
Helter skelter
Helter skelter
Helter skelter
Ooh
[Post-Hook]
Look out! Helter skelter!
She's coming down fast!
Yes, she is!
Yes, she is
Coming down fast
Can you hear me speaking?
By February 1969 Charles Manson and his followers would make their own album of songs with a diffident purpose. To Manson, each of their songs were as subtle as "The Beatles Coded Songs", and the release of their album would trigger
"Helter Skelter, the Apocalypse".
Based upon testimony, to most of his "Family", the murders in August were the first strikes of the Apocalypse.
There is one major alternate theory of what led to the murders. This revolves around the Gary Hinman murder. On July 25, 1969 Charles Manson sent Bobby Beausoleil, Mary Brunner and Susan Atkins to Hinman's house. Manson has met Gary Hinman and for some reason believed Hinman had inherited a large amount of money. For two days the three kept Gary Hinman hostage demanding the money that he never had. At one time Manson, himself, came and slashed the hostage's ear with a sword. Eventually, Manson ordered Beausoleil to kill Gary Hinman.
Above Bobby Beausoleil and below Susan Atkins.
Above musician Gary Hinman.
On August 6, 1969 Bobby Beausolei was arrested driving Gary Hinman's car. According to Beausolei, in an interview with writer Truman Capote, the Tate-LaBianca murders were to make the Los Angeles Police and Sheriff Departments believe the murderers of Hinman were still at large and they had an innocent man. Who unfortunately purchased the car from one of the killers. However, the police located the gun used in the murder in the car's tire well and thought otherwise.
SHARON TATE AND THE LABIANCA'S IN EARLY 1969
On March 23, 1969 Charles Manson entered the property at 10050 Cielo Drive and was stopped and questioned by Shakrokh Hatami an Iranian friend of Roman Polanski and Sharon Tate. Manson said he was looking for record producer Terrence "Terry" Paul Melcher. Whom he had previously met. Hatami said Melcher and actress Candice Bergen had been a previous tenants at the main house, but it was now the "Polanski Residence". Hatami was concerned about a stranger obviously familiar with property. He suggested the stranger might try the "Guest House", away from the main building, with another tenant and Manson went out and toward it. When Manson came back Sharon Tate watched him leave without the "Stranger" saying anything else.
Sharon Tate was nominated for the
"Golden Globe"
as the
"Newest Star of the Year",
because of her performance in
"Valley of the Dolls".
She was also nominated for the
"Golden Laurel Award"
created by the
"Motion Pictures Exhibitor Magazine"
as the
"Most Promising New Comer".
The actress chose the motion picture
"12 Plus One"
as her new vehicle. The French and Italian co-production co-starred Vittorio Gassman and Orson Welles. It was the chance to be in a feature with Welles that was Sharon Tate's reason to be in the film. She left for Italy to begin filming at the start of 1969 and Wojciech Frykowski and Abigail Folger moved into 10050 Cielo Drive to keep the house from being vacant.
Earlier Roman Polanski had left for London looking at locations for the motion picture
"The Day of the Dolphin".
He was to direct and write it for United Artists. At least that is what some websites state. While others state he was in London to produce, write and direct a British comedy
"A Day At the Beach".
Which Polanski shows being credited with for the screenplay. According to Sharon's sister Debra the motion picture was
"The Day of the Dolphin".
Which would change hands two more times before producer Mike Nichols was put in charge near the end of 1972 and released the finished motion picture on December 19, 1973.
"A Day at the Beach"
was released in the United Kingdom in May 1970.
About this same time Leno and Rosemary LaBianca returned home after being away for a couple of days to discover their dogs outside the house. They had been left them inside and additionally the two found items missing. A police report was filed and later it was determined that Manson and his followers had gone into several homes on Wavery Drive and the surrounding area.
After completing filming Sharon Tate stopped in London to visit with Roman. She would return to Los Angeles on July 20, 1969 aboard the
"Queen Elizabeth 2",
The plan was for Roman to return to Los Angeles on August 12th in time for the birth of their child. He had asked Frykowski and Folger to stay with Sharon until his return. Polanski would never direct whichever film is correct in the United Kingdom and would leave London after being informed of his wife's murder
.
Above one of the last photos of Sharon Tate before the-----
EVENTS OF AUGUST 1969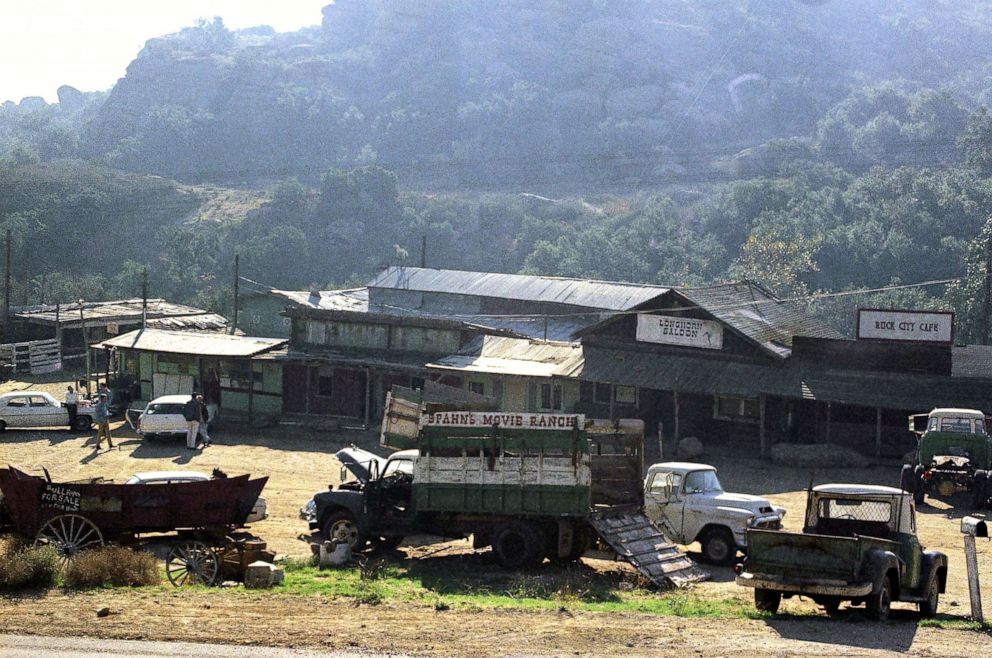 Above the Spahn Movie Ranch in 1969. Compare it with the black and white photo at the beginning of this article and you will see a lot of deterioration in most of the same vehicles and structures from lack of upkeep.
Two days after Bobby Beausolei's arrest and at the Spahn Ranch, according to the Prosecution's case at trial, Charles Manson told "HIS FAMILY":
NOW IS THE TIME FOR HELTER SKELTER
On the night of August 8, 1969
Charles Manson directed Tex Watson to take Susan Atkins, Linda Kasabian and Patricia Krenwinkel to 10050 Cielo Drive and kill anyone they found in the house.
Above Linda Kasabian.
The four "Manson Family" members murdered five people they found at the residence. Sharon Tate was eight and a half months pregnant when she was murdered. The others murdered were Jay Sebring, Wojtek Frykowski, Abigail Folger and High School student Steve Parent. Who was visiting the caretaker of the property at the "Guest House". Susan Atkins has written the word "Pig" with the blood of the murdered Sharon Tate Polanski on the front door. There was an inside wall with the words "Police Piggy" on it. The murderers didn't leave the house until the morning of August 9th.
Above Steve Parent's El Monte High School's yearbook picture.
The Los Angles police department listed the murders as a
"Home Invasion Serial Killing"
primarily by stabbing. Later the weapons would be identified as a ".22 caliber Hi-Standard "Buntline Special" revolver and a pocket knife.
It is probable that three more people might have died that night. Song writer, composer, arranger, music producer Quincy Jones had been invited to a party at the "Polanski Residence", but had another engagement and did not come. Actor Steve McQueen and his girlfriend had planned to attend the party, but somebody was looking after him. As his girlfriend convinced McQueen to stay home for a more intimate night.
"Life Magazine"
would do a major photo article on the murders and Roman Polanski agreed to be photographed by the front door that still had the word "PIG" in his wife's blood.
Early on the morning of August 9th, Leno and Rosemary LaBianca and their daughter Suzan made the 156 mile drive to Lake Isabella, in Kern County, to pick up Rosemary's son Frank from her previous marriage. The 15 year old son asked if he could stay another day and drive home with his friend's family. Leno and Rosemary agreed and with Suzan, at about 9 PM, made the return trip to Waverly Drive. Leno and Rosemary dropped Suzan at her Los Felix apartment at approximately 1 PM on August 10, 1969.
They next stopped at the newspaper stand at the corner of Hillhurst and Franklin Streets. There Leno picked up a copy of the Sunday Edition of the "Los Angeles Herald Express" and a Horse Racing Sheet. The news stand operator, John Fokianos, testified that the two men discussed the "Tate Murders". Returning to his car Leno and Rosemary drove home. She went straight to their bedroom and sleep. While he read the sports page of the newspaper and fell asleep on the couch.
On the night of August 9, 1969
Charles Manson ordered the same four "Family" members plus Leslie Van Houten and Steve "Clem" Grogan to go out on "Helter Skelter", but, according to testimony, Manson accompanied them. The reason being he was displeased with the "Panic Attack" of the previous night. Testimony stated Charles Milles Manson wanted:
TO SHOW THEM HOW TO DO IT!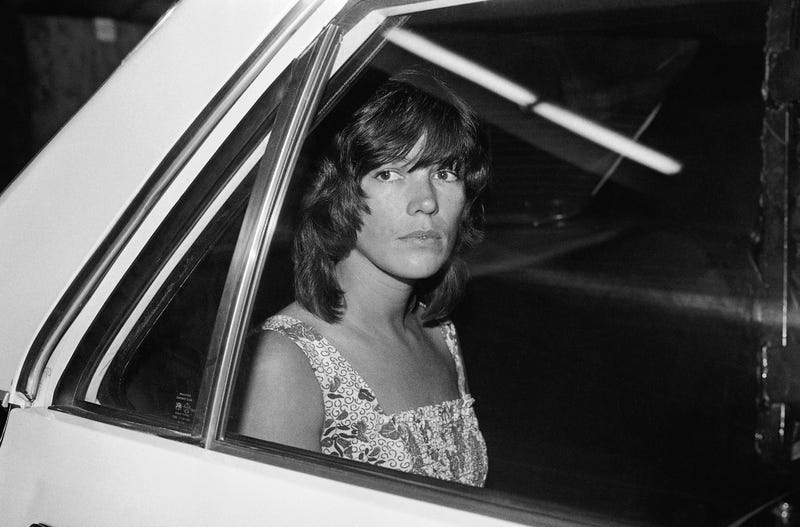 Above Leslie Van Houten and below Steve "Clem" Grogan.
After looking for a proper target. Manson directed Linda Kabasian to go to one owned by Harold True, at 3267 Waverly Drive, in Los Felix. Charles Manson had attended a party at the house the previous year. However, it was not True's house he wanted to enter, but the next-door address of 3301 Waverly Drive. It was now August 10, 1969.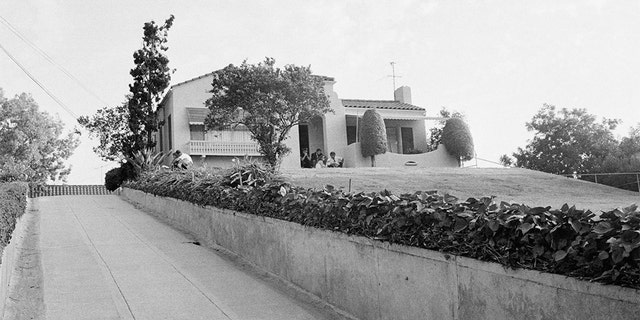 Initially Leslie Van Houten and Patricia Krenwinkel were ordered to stay outside the LaBianca home and the others entered. Manson and Watson woke a sleeping Leno on the couch and assured him they only wanted to rob the house. Manson went into the bedroom and woke Rosemary and permitted her to put a dress on over her nightgown.
Manson than ordered Watson to take Rosemary back to their bedroom and had Van Houten and Krenwinkel go into that room. In the living room the stabbing of Leno LaBianca began and in the bedroom the stabbing of Rosemary would start. In the end she was stabbed 41 times and Leno was found with a steak knife in throat and a carving knife in his stomach. The word
"WAR"
was carved into his stomach.
Later on August 10th Manson had Linda Kasabian drive him and two others to the apartment of a Venice Beach actor friend of hers. He left the three to perform "Helter Skelter" on the actor and then to hitchhike back to the Spahn Ranch. Kasabian deliberately knocked on the wrong apartment door and when another person answered. The three excused themselves for the misunderstanding and left the man alive.
William Garretson an acquaintance of Steven Parent lived in the "Guest House" at 10050 Cielo Drive and was the properties caretaker. He was detained, but released on August 11th after taking a polygraph.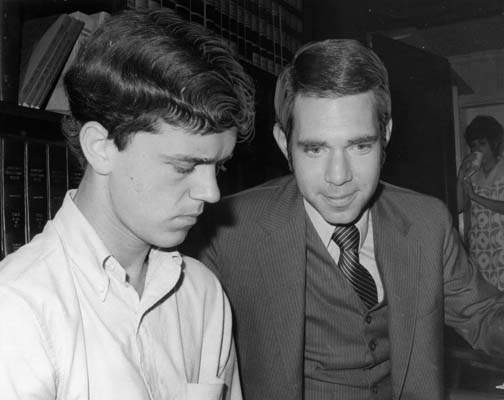 Garretson is on the left of the above photograph.
On August 12, 1969 the Los Angeles Police Department told the press there was no connection between the murders at the Polanski House and the LaBianca House.
On August 16th at the Spahn Movie Ranch the Los Angles Police Department raided the place and arrested members of the "Manson Family". This had absolutely nothing to do the with "Tate-LaBianca" murders, but a phoned in complaint that they had been stealing cars. The charges was later dropped and everyone was released.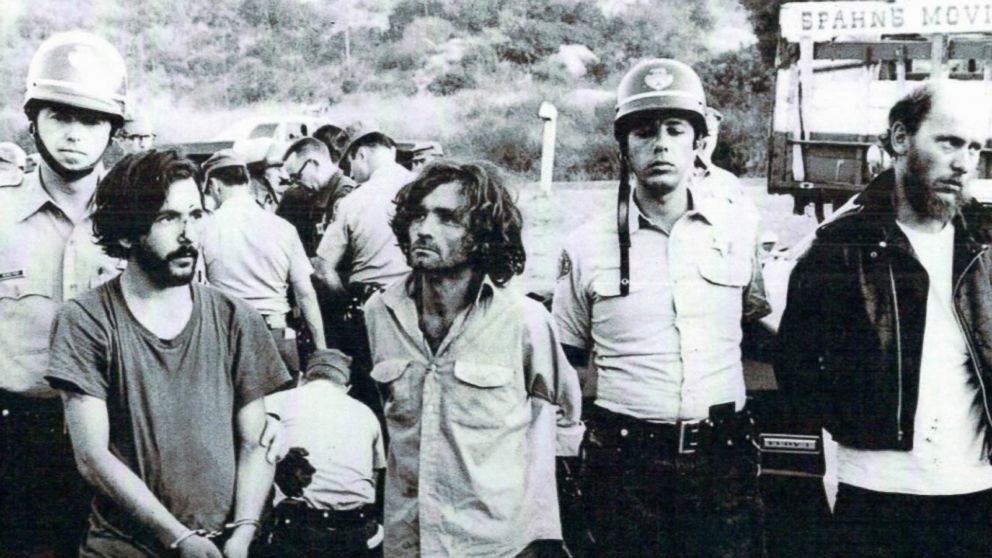 By August 25th all of the family was back at the Spahn Ranch, but Manson now believed that Donald "Shorty" Shea had been "The Snitch" and wanted him dead. He told Tex Watson, Bruce Davis and Steve Grogan to take care of it.
Above Bruce Davis in jail.
The following is his alleged testimony about what happened to "Shorty" Shea.
I was in the car when Steve Grogan hit Shorty with the pipe wrench. Charles Watson stabbed him. I was in the backseat with...with Grogan. They took Shorty out. They had to go down the hill to a place. I stayed in the car for quite a while but what...then I went down the hill later on and that's when I cut Shorty on the shoulder with the knife, after he was...well, I don't know...I...I don't know if he was dead or not. He didn't bleed when I cut him on the shoulder.
When I showed up, you know, he was...he was incapacitated. I don't know if...you asked if he was unconscious, I don't know. He may or may not have been. He didn't seem conscious. He wasn't moving or saying anything. And it started off Manson handed me a machete as if I was supposed to...I mean I know what he wanted. But you know I couldn't do that. And I...in fact I did touch Shorty Shea with a machete on the back of his neck, didn't break the skin. I mean I just couldn't do it. And then I threw the knife..and he handed me a bayonet and it...I just reached over and...I don't know which side it was on but I cut him right about here on the shoulder just with the tip of the blade. Sort of like saying "Are you satisfied, Charlie?".
And I turned around and walked away. And I...I was sick for about two or three days. I mean I couldn't even think about what I...what I had done.
There is a second possible motive for the killing of Shea. He showed up at
"The Yellow Submarine"
house in Canoga Park and got into a pretty major fight with both Charles Manson and Bill Vance. This stemmed from Donald Shea finding out that Manson had beaten up Randy Starr's wife Windy Bucklee. She had found out that her truck was being used to commit a series of robberies and told Manson she wouldn't loan it to him again.
The story continues that a new member to "The Family", Larry Bailey, was caught spying on "Shorty" Shea for Manson. As a result Shea, Bucklee and some others stripped Bailey naked and tied him to a tree facing the main road as a warning to the other "Family Members".
Above Larry Bailey.
According to both Bruce Davis and Steve Grogan, Larry Bailey and Bill Vance took part in Donald Shea's murder. The new alternate story would seem to contradict the testimony in the first version of the murder by Davis.
In 1977 the skeletal remains of Donald Jerome "Shorty" Shea would be dug up after Grogan drew a map to the burial location.
OCTOBER 1969
On October 2, 1969 Tex Watson left the Spahn Ranch and headed back to Texas.
On October 7, 1969, in Italy, the last motion picture made by Sharon Tate,
"12+1",
premiered. It wouldn't come to the United States until May 1, 1970.
On October 10th and October 12, 1969 two raids took place in Death Valley at the "Barker Ranch", The raids were conducted jointly by the
"Inyo County Sheriff's Department",
the
"California Highway Patrol"
and the
"National Park Service Law Enforcement Rangers".
Members of the "Manson Family", including Charles Manson, were arrested for vandalism of the
"Death Valley National Monument"
located north of the ranch. At this time none of the law enforcement officers had any idea who they had arrested.
Among those that remained in jail were Charles Manson, Susan Atkins and Leslie Van Houten, but not as yet connected to the double murders. However, a member of the group arrested mentioned that Atkins had been involved in the
"Gary Hinman"
murder and she became the first "Manson Family" member charged in any of the murders.
NOVEMBER AND DECEMBER 1969
A break in the murders occurred after Atkins, who had been transferred to a women's detention unit in Monterey Park, the
"Sybil Brand Institute",
bragged to two other inmates that she had taken part in the
"Tate/LaBianca Murders".
Susan Atkins was now charged with those murders. The two inmates Virginia Graham and Ronnie Howard would eventually receive the bulk of the $25,000 reward offered by Roman Polanski for solving the three murders.
On December 1, 1969 the confession of Susan Atkins led to Arrest Warrants being issued for Tex Watson, Patrica Krenwinkle and Linda Kasabian for the murders of Sharon Tate, Jay Sebring, Abigail Folger, Wojciech Frykowski and Steven Parent.
Later on December 1st, word was received that Watson was under arrest in McKinney, Texas. Apparently he had been charged with the
"Tate/La Binanca Murders"
on November 30, 1969. I could not locate how that charge came about on the day before the warrants were issued. For the next nine months Watson and his lawyers fought extradition.
Also on December 1st, word was received that Krenwinkle was under arrest in Mobil, Alabama. While Kasabian, learning of the outstanding warrant, turned herself in to authorities in Concord, New Hampshire on December 2, 1969.
With all this occurring the tie in to Charles Milles Manson sitting in jail since October 12, 1969 was finally made.
JUNE 15, 1970 TO JANUARY 25, 1971
Based upon all accounts Linda Kasabian had never been involved in the actual murders and was
granted immunity,
becoming the prosecutions star witnesses.
On June 15, 1970
"THE PEOPLE, PLANTIFF AND RESPONDENT, V. CHARLES MANSON ET AL, DEFENDANTS AND APPELLIANTS"
began in Los Angeles County Superior Court.
Those on trial were Charles Manson, Susan Atkins, Leslie Van Houten and Patricia Krenwinkle.
On November 16, 1970 the Prosecution rested its case. Three days later, November 19, 1970 the Defense Team surprised the World by resting its case and it went to the jury.
The trial was decided on January 25, 1971. The jury found
Guilty Verdicts
on all 27 counts against the defendants.
Footnote:
On October 12, 1971 Tex Watson would be convicted on seven counts of first degree murder and one of conspiracy to commit murder.
DENOUEMENT OF THE SPAHN MOVIE RANCH
Back on August 4, 1970 Joseph Vance Randall unexpectedly died.
On September 26, 1970 a wildfire destroyed the motion picture sets and other structures on the Spahn Ranch.
Below George Spahn on the property close to his death.
What was once was the
SPAHN MOVIE RANCH.
Today, is part of the
"Santa Susana Pass State Historic Park"
in Simi Valley, California, and looks like: