I first saw George "Gabby" Hayes on the "THE GABBY HAYES SHOW". His program was originally three times a week on NBC , at 15 minutes, from December 11, 1950 through January 1, 1954, and proceeded "The Howdy Doody Show". "Gabby" told children "Tall Tales" and ran clips from old "B" Westerns. A second version with "Gabby" ran on ABC as a Saturday morning, 30 minute. program in the same
format
from May 12, 1956 through July 14, 1956.


The program was sponsored by the "Quaker Oats" cereal company with the slogan that the cereal was:


"Gabby"
had an old civil war canon and would shoot it off at the audiences and the cereal would fly out of it.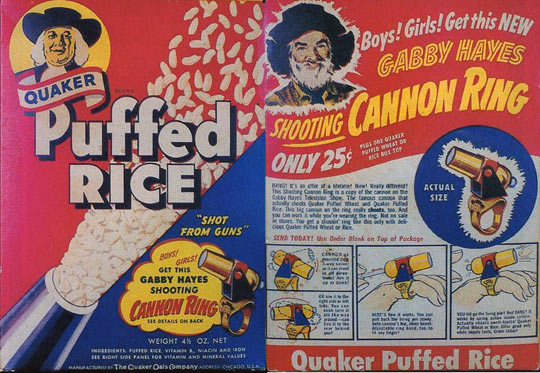 What I didn't know, until I started watching "B" Westerns on television, was how popular the actor was in the 1930's and 1940's. This is his motion picture story.

THE ROAD TO ACTING

George Frances Hayes was the third child of seven. His parents were Clark Hayes and Elizabeth Morrison Hayes. George was born on May 7, 1885, at the hotel owned by his father, in Stannards, New York, but would claim neighboring Wellsville, New York, as his birthplace.

George's father was also involved in oil production in Stannards and his Uncle, on his mother's side, was Vice President of the "General Electric Company". While a high school student George Hayes played semi-professional baseball. What is home life was like I could not locate, but in 1902, at age 17, he ran away and joined an acting stock company. Later working for a circus and then discovering the vaudeville stage.

On March 4, 1914 George Hayes married Olive E. Ireland. Olive joined George on the vaudeville stage using the name "Dorothy Earle", which created some confusion with a silent film actress of that name, and the two would remain married until her death on July 5, 1957.

George was very successful and by age 43, in 1928. the two retired to a home on Long Island, New York. However, the stock market crash the following year cost him all his savings. It was Olive that suggested they move to Los Angeles and he try his hand as an actor in motion pictures.

FROM VAUDEVILLE TO MOVIES

A chance meeting with movie producer Trem Carr, at Paramount Studios, led George Hayes to the start of his motion picture career. The movie was "The Rainbow Man" and George actually had sixth billing as "Bill". The picture featured singer Eddie Dowling and was released May 16, 1929.

Between 1929 and April 4,1931 George Hayes appeared in seven forgotten roles with five of them without official cast credit. However, that seventh picture was "Dirigible" starring Fay Wray. It was an adventure feature from director Frank Capra in which George portrayed a "Parade Official".
Also released on April 4, 1931 was a short featuring 55 of Hollywood's biggest stars. The plot had actress Norma Shearer's jewels being stolen and 54 cameo's begin in the hunt for them. To give my reader an idea of the cast. George Hayes had the role of "The Projectionist". While police officers included Buster Keaton, Oliver Hardy and Stan Laurel. A Gangster was played by Edward G. Robinson. The actors appearing as themselves included Joan Crawford, Douglas Fairbanks, Jr. and Irene Dunne. This was all to get the theater audience to donate to "The National Vaudeville Artists Tuberculosis Sanitarium". After this short finished showing, the lights came on, and somebody walked the theater to collect donations.




THE BIRTH OF A "B" COWBOY "SIDEKICK"

Released May 1, 1931 was George Hayes' first Western motion picture "God's Country and the Man". It was also the first time he played a "Sidekick" to a popular "B" Western Movie Star. However, before he could get the part. Hayes had to learn how to ride a horse.

The part was fifth billed "Stingaree Kelley".The picture starred Tom Tyler who had been in Westerns since 1925. Tyler would go on to play "Luke Plummer" in John Ford's 1929 "Stagecoach", the original "Captain Marvel" for Republic Pictures and the original Mummy "Kharis" for Universal Pictures. My article on the actor can be read at:


http://www.bewaretheblog.com/2017/01/tom-tyler-b-cowboy-star-who-became.html



Above Tom Tyler in red as government agent "Tex Malone". As he gets the upper hand on a bad guy. George Hayes as "Stingaree Kelley" looks on.

Two forgotten non-Western roles followed and then on September 27, 1931 George Hayes portrayed the main villain, "Cherokee Williams", in "The Nevada Buckaroo", released September 27, 1931. In which he frames "B" Cowboy star Bob Steele's "Buck Hurley" aka: "The Nevada Kid" for a stagecoach robbery.



Bob Steel is wearing the "Ten Galleon Hat" with the rifle pointed at him and George Hayes has the girl with his hands on him in the above faded lobby card.

Two more non-screen credited roles and George Hayes billed as "George. F. Hayes" was in another Western with a major "B" Western Cowboy Harry Carey, Sr. Released November 15, 1931 was "Cavalier of the West" with fifth billed Hayes as "Sheriff Bill Ryan".

Four motion pictures followed with three giving the actor no screen credit and the one credit was seventh billing as a "Private Detective". Then once again, as George F. Hayes, the actor was back as the "Sidekick" "Squint Sanders" to Harry Carey's Western hero "Jim Gray" in "Border Devils" released April 2, 1932.






Hayes was the bad guy,
"Hashknife Brooks",
in another Bob Steele Western
"Riders of the Desert",
released April 24, 1932
.
He followed that "B" with his third Bob Steele as another bad guy
"Shamrock Cassidy".
The character was
in the June 15, 1932 release of
"The Man from Hell's Edges".

Then
George Hayes changed "B" Cowboy leads to Hoot Gibson for
"The Boiling Point"
and back as Harry Carey's "Sidekick" in 1932's
"The Night Rider"
portraying
"Altoonie".


Above Elinor Fair, George Hayes and Harry Carey.

On September 10, 1932 George changed "B" Cowboy Stars to Rex Bell. Bell was married to silent screen actress Clara Bow, Bow was one of the first real sex stars of Hollywood films and was known as the "It Girl" during the Roaring 20's.

In "Broadway to Cheyenne", Bell was "Breezy Kildaire", and George Hayes was "Walrus". The film was one of a host of "Modern Day" Westerns being turned out in the 1930's. In which the story had automobiles with the bad guys being chased by the good guys on horseback.
THE ESTABLISHED 1930'S "B" WESTERN SIDEKICK

"Broadway to Cheyenne" was followed by another with Bob Steele. In "Hidden Valley" George was reduced to the role of a "Henchman" seen standing under the Bob Steele photo.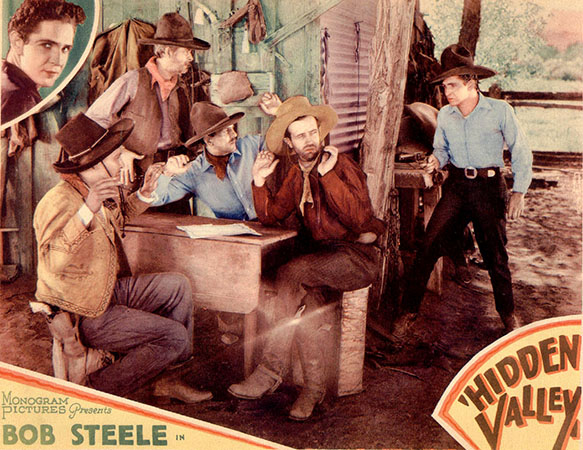 One more Bob Steele feature, "Texas Buddies", and character actor George Francis Hayes switched to his fifth "B" Cowboy star and this time it was a young Randolph Scott.

The feature film was writer Zane Grey's "Wild Horse Mesa". Scott was "Chane Weymer" and Hayes was a character named "Slack".Seven more feature films with three being with Bob Steele followed. Then it was time for another "B" leading man change. 1933's "The Return of Casey Jones" starred "B" Cowboy actor Charles Starrett and with third billing as "Timothy Shine" was George F. Hayes. As the title implies this wasn't a Western, but a railroad motion picture.

But then Hayes returned for two Bob Steele pictures and two Rex Bell features, but there was an interesting murder mystery sandwiched in-between. Released June 1, 1933 was "The Sphinx" starring Lionel Atwill. It was about a man who has been mute all his life and witnessed a murder. Except that people swear they heard him talk. George Hayes was "Detective Casey".
The later part of 1933 saw George Hayes in some detective thrillers in minor roles, However, it was his last motion picture of that year, released October 10, 1933, starring a singing cowboy who couldn't sing that is of interest here. The title was the "Riders of Destiny" and, in hindsight, seemed to imply both the future of that non-singing singing cowboy, John Wayne, and George Hayes.




John Wayne had his singing voice dubbed in the role of "Singin' Sandy Saunders". While George Hayes portrayed "Charlie Denton". Of interest is that Wayne's singing voice was provided by Bill Bradbury. He was the son of the picture's director Robert N. Bradbury and the brother of Robert A. Bradbury. Who was better known as Cowboy actor Bob Steele.




Below Cecilia Parker as Hayes' daughter "Fay Denton" and George.






"Riders of Destiny" was immediately followed by George's second picture with John Wayne "The Lucky Texan", released January 22, 1934.


Above George Hayes as "Jake 'Grandy' Benson" and John Wayne as "Jerry Mason". Below is a still from the film that includes George in a rare appearance without his beard and in drag, Next to Barbara Sheldon as his daughter "Betty Benson".


"West of the Divide",
another early John Wayne entry.
found George Hayes in third billing as
"Dusty Rhodes".
I
n a change of pace was another drama starring Lionel Atwill,
"Beggars in Ermine",
and an adventure film
"Mystery Liner".
Both were
followed by 21st billing in a Clyde Beatty, 15 Chapter, serial
"The Lost Jungle"
playing
a
"Doctor in the Dirigible".
Blink and you miss George as he was
seen only in Chapter One. 18th billing, in the same serial, went to a young child actor named Mickey Rooney. This was three years before his first movie as
"Andy Hardy".
While
22nd billing went to actor Henry Hull, a year before he became
"The Werewolf of London".
Both Rooney and Hull joined Hayes only in Chapter One of the serial. For many years Clyde Beatty's circus, which I had seen, was the main rival to Ringling Brothers, Barum and Bailey.

Next George Hayes,
in the role of
"David Fells",
was in the low budget Horror movie
"House of Mystery".
It was
released and forgotten on March 30, 1934.
Two more forgotten motion pictures later and George Hayes was back with John Wayne in
"Blue Steel"
as
"Sheriff Jake Withers".


"Blue Steel" was followed by three more with John Wayne and one drama. George Hayes was next seen in the role of "Colonel Campbell" in the Western "The Man from Hell" starring forgotten "B" Cowboy Reb Russell as "Clint Mason". Russell only had twelve films to his name and ten were his Westerns.




While "The Brand of Hate", November 2, 1934, once again starred Bob Steele.

Next was "In Old Santa Fe" starring popular "B" Cowboy Ken Maynard as "Ken" aka: "Kentucky". George Hayes portrayed "Cactus" and the motion picture featured H.B. Warner
as
"Charlie Miller".
Warner was a regular for Cecil B. DeMille and had portrayed "Jesus" in DeMille's 1927
"King of Kings",
Also seen in the movie "In Old Santa Fe" was a radio singing cowboy named
"Gene Autry"
. Autry's actual first starring role was in the 1935, 12 Chapter Serial,
"The Phantom Empire".
In
which he simply fought the lost continent of Mu, a scientist wanting to get the radium on his "Melody Ranch" property. While he ran a dude ranch for orphans and appeared at 2 PM, weekdays, on his radio program, to keep the bank from foreclosing on his ranch should he miss a broadcast.


"The Lawless Frontier" followed and reunited Hayes and Wayne. Then the two appeared together in another two feature films. They would be followed, for George, with three forgotten non-Western features in minor roles,

George Hayes and Bob Steele were back together again in "Smokey Smith", released April 2, 1935, with Hayes portraying "Blaze Bart". Another Bob Steele feature and two non-Westerns brought George F. Hayes to a film with popular "B" Cowboy "Colonel Tim McCoy", "Justice of the Range" had been released on May 23, 1935 and had the character actor portraying "Pegleg Sanderson". In this feature Ward Bond was "Bob Brennan".

On August 23, 1935 a typical "B" Western based upon a character created by writer Clarence E. Mulford, in 1912, appeared. There is little doubt that any of the Executives at Paramount Pictures knew what they were bringing to the motion picture screen, or for that matter. The actors in this typical 60 minute, or less
running time
"B" Western picture.
When the series finally ended. There would be 68 feature films, an early 1950's television show based upon the character and even an amusement park.
William Boyd portrayed the title character in the feature film "Hop-a-Long Cassidy" and in this feature George Hayes was "Uncle Ben".

Two forgotten features later found George Hayes as
"Dr. Parker"
in
"Tumbling Tumbleweeds",
released September 5, 1935. This was only the second feature actually starring Gene Autry and his "Sidekick" Smiley Burnett. In it Gene was Gene Autry and Smiley Burnett was Smiley. George had the 4th billed role of
"Dr, Parker".
Above George with the large mustache on the left and below.
October 1, 1935 found George Hayes as
"Ford Cruze"
with another "B" Cowboy actor Buck Jones in
"The Throwback".
Not keeping track, almost, and Buck Jones became the 12th major "B" Cowboy star that had character actor George Hayes in one of their feature films and more were to come.
With a slight change in name, as the character had yet to be nailed down, William Boyd was "Bill Hop-a-Long Cassidy" in "The Eagle's Brood" and George was only "Bartender Spike". The second motion picture of the series was released on October 25, 1935.
"Bar 20 Rides Again"
was released December 6, 1935 and George Hayes now became one of the "Sidekicks" for William Boyd's "Bill Hop-a-Long Cassidy" named "Windy", no last name given.


Below George, William Boyd and Paul Fix, the actor who taught John Wayne to walk like a real cowboy.





Once again George Hayes switched "B" Cowboys and found himself in "Swifty" starring Hoot Gibson in the title role. George portrayed "Sheriff Dan Hughes". Below billed George F. Hayes and Hoot Gibson.




Another switch of "B" leads and George was with Johnny Mack Brown in "Valley of the Lawless", released January 26, 1936.


Three movies later and
"Windy"
had a last name,
"Jenkins",
i
n the
"Hop-a-Long Cassidy"
feature
"Heart of the West".
Except in the next picture "Call of the Prairie", "Sidekick", "Windy Jenkins", was dropped and Georgge became "Charlie Shanghai McHenry". However, the other "Sidekick" portrayed by James Ellison, "Johnny Nelson", remained the same.
In 1934 George had been seen in a Ken Maynard Western and now he was in brother Kermit Maynard's "B" Western "Song of the Trail", released March 15, 1936.




Look closely at the "Farmer's Spokesman" in director Frank Capra's 1936 "Mr. Deeds Goes to Town", starring Gary Cooper and Jean Arthur, and you'll notice George Hayes.

The "Hop-a-Long Cassidy" feature "Three on the Trail" brought back "Windy" with the new last name of "Haliday"on April 14, 1936.


"The Texas Rangers".
The picture starred Fred MacMurray and Jack Oakie with George Hayes as
"Judge Snow".
Then on October 16, 1936, exactly ten years prior to the date of my birth, was
"Hopalong Cassidy Returns".
Note the change in the spelling of his name. James Ellison was nowhere to be seen, but George as
"Windy Haliday"
rode with now
"Hoppy".
George Hayes now found himself back in a motion picture with Gary Cooper and Jean Arthur. "Coop" was
"Wild Bill Hickok"
and Arthur was
"Calamity Jane".
Also the missing James Ellison was
"Buffalo Bill Cody"
in Cecil B. DeMilles
"The Plainsman".
In the picture George had 22nd billing as
"Breezy".
Thirteen of George Hayes' next fifteen motion pictures were as
"Windy Haliday"
in the
"Hopalong Cassidy"
series. As I said James Ellison was out and Russell Hayden was in as
"Lucky Jenkins".
Above Boyd, Hayes and Hayden in
"The Frontiersmen"
released December 16, 1938.
"Fighting Thoroughbreds"
was a modern sports drama about two competitor breeders. George Hayes portrayed
"Gramps Montrose".
Next George found himself 12th billed in a Nelson Eddy musical Western,
Let Freedom Ring",
as
"Pop Wilkie".
This picture was about a railroad owner using illegal means to gain control of the land around a small town and the young Harvard Graduate son of a man who doesn't want to sell. In reality Nelsen's
"Steve Logan"
is a singing government agent investigating the railroad owner and falling in love with his daughter.
GEORGE FRANCIS "GABBY" HAYES APPEARS
The creation of
"GABBY HAYES"
was the end result of a contract dispute with Paramount Pictures. They refused to give George Francis Hayes a raise and he left for Republic Pictures.
"Southward Ho",
released March 19, 1939,
starred the lead singer of
"The Sons of the Pioneers"
Leonard Franklin Slye. From 1935 into 1938 Slye and the singing group appeared in 14 different "B" Westerns. Gene Autry was demanding more money and the studio wouldn't give it to him. Republic started looking for a new
"Singing Cowboy"
and Len Slye won the role, but his name had to go and Roy Rodgers was born.
"Southward Ho"
was only the seventh motion picture with Roy Rodgers.
George Hayes portrayed third billed
"Gabby Whittaker"
and was now billed by Republic Pictures as George
"GABBY"
Hayes and as Roy's "Sidekick".
However, George Hayes had
"in the can"
two more
"Hopalong Cassidy"
features. The first of the two
"Silver on the Stage"
was released on March 31, 1939
On May 15, 1939 the excellent biography of Sam Houston, portrayed by "A" Western actor Richard Dix,
"Man of Conquest",
was released. George Hayes was seventh billed as
"Lannie Upchurch".
On June 19, 1939 George's second appearance with Roy Rodgers
"In Old Caliente"
was released and once more he was billed as George "Gabby" Hayes.
In the picture George became a "Singing Cowboy Sidekick" with the song
"We're Not Coming Out Tonight".
He would sing in nine other features with Roy.
"Renegade Trail",
the last
"Hopalong Cassidy",
motion picture with George Hayes was released July 25, 1939. Now, he was completely the "Sidekick" of Roy Rodgers and this was confirmed with the August 6, 1939 release of their co-starring feature
"Wall Street Cowboy".

.
Five more films followed with the pair in succession:
"In Old Monterey", "The Arizona Kid", "Saga of Death Valley", "Days of Jesse James"
and
"Young Buffalo Bill".
Then came a major "A" list "Civil War Period" motion picture from Republic Pictures.
DARK COMMAND
released April 15, 1940.
This was Republic's fictional story of William Quantrill and his Raiders, That met their fate in Lawrence, Kansas. The motion picture was directed by Raoul Walsh. Who had given John Wayne his name. That story behind that name and the first motion picture with it on a marquee can be read on my blog. In my article:
"JOHN WAYNE, WILLIAM FOX: Grandeur and 'The Big Trail'"
http://www.bewaretheblog.com/2015/10/john-wayne-william-fox-grandeur-and-big.html
In the cast of
"Dark Command",
John Wayne was teamed with his
"Stagecoach"
co-star Claire Trevor. My article
"Comparing John Ford's 1939 'Stagecoach' to the 1966 and 1986 Remakes"
can be found at:
http://www.bewaretheblog.com/2016/09/a-comparison-of-john-fords-1939.html
The main cast for
"Dark Command"
were:
Claire Trevor as
"Mary McCloud".
John Wayne as
"Bob Seton".
Walter Pidgeon as
"William 'Will' Cantrell".
Note the change in the last name.
Roy Rodgers as
"Fletcher 'Fletch' McCoud"
George Hayes as
"Andrew 'Doc' Grunch"
Porter Hall as
"Angus McCloud"
Marjorie Main as
"Mrs. Cantrell"
aka:
"Mrs. Adams".
Raymond Walburn as
"Judge Buckner".
The screenplay was based upon the 1938 novel
"The Dark Command"
by W.R. Burnett, Among novelist and screenplay writer Burnett's books are some titles film buffs would be interested in reading, if they can be found. These include 1929's
"Little Caesar",
1932's
"Beast of the City",
1941's
"High Sierra"
and
1949's
"The Asphalt Jungle"
Into the town of Lawrence, Kansas, comes "Bob Seton". Who was picked up on the road by "Doc Grunch". "Bpb" asks school teacher "Will Cantrell" to help him learn to read as he plans to become the new Sheriff and marry "Mary McCloud". "Will" agrees to help him, but he is also running for Sheriff and wants to make "Mary" his wife. In reality this seemingly upstanding school teacher is the leader of a group of outlaws posing as Confederate soldiers. "Mary's" younger brother "Fletch" falls under "Will Cantrill's" spell, . Eventually, everything comes to a climax of events. When "Cantrill's Raiders" head to Lawrence to burn it down and "Bob", "Fletch" and "Mary" warn the townspeople and set a trap.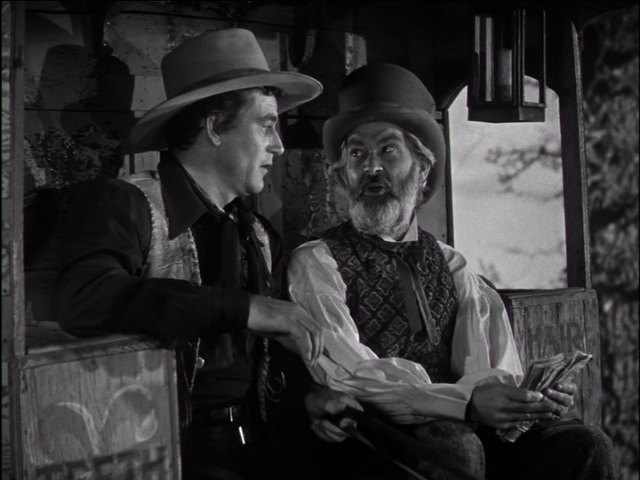 The following is a rare still with George Hayes far left, John Wayne and Roy Rodgers on the right, together.
"Dark Command"
was one of many motion pictures. That since the silent era Hollywood tampered with its depictions of the South, before, during, and after the Civil War. These include films with "America's Sweetheart" Shirley Temple and titles such as
"Gone With the Wind"
and Walt Disney's
"Song of the South".
Then there were the Outlaws, such as Jesse and Frank James, looking a lot like Tyrone Power and Henry Fonda, or others such as the Reno Brothers played by Elvis Presley and Richard Egan. My article
"The American Civil War Through the Eyes of Hollywood"
is at:
http://www.bewaretheblog.com/2017/08/the-american-civil-war-through-eyes-of.html
Next for George "Gabby" Hayes, see his billing on the following poster, was
"Wagons Westward"
released June 19, 1940. The actor found himself, fifth billed, as a character named
"Hardtack".
Republic wanted John Wayne for the lead as twin brothers, but realized he couldn't pull the part off. So the roles of
"David Cook",
the lawman,
and
"Tom Cook",
the outlaw,
went to actor Wayne Morris. Also in the cast was "B" Cowboy Buck Jones as
"Sheriff Jim McDaniels".

George Hayes nickname was being built up by Republic.
"Wagons Westward"
was followed by four 1940's entries in the Roy Rodgers series and his character names for Hayes reflected that concept:
In
"The Carson City Kid"
he was
"Marshal Gabby Whittaker",
in
"The Ranger and the Lady"
he was
"Texas Ranger Sergeant Gabby",
in
"Colorado"
he was just
"Gabby"
and in
"Young Bill Hickok"
he was back to
"Gabby Whittaker".


Then for his next film George Hayes went from 2nd billing to sixth as
"Pop Laramie".
Republic than switched the actor from Roy Rodgers' to his direct competition Gene Autry in
"Melody Ranch,"
released November 15, 1940.
The movie featured Jimmy Durante as
"Cornelius Jupiter Courtney"
and dancer Ann Miller as
"Julie Shelton".
Above Jimmy Durante and George "Gabby" Hayes in the picture.
Returning to Roy Rodgers was a film based upon Western author Zane Grey's
"The Border Legion"
and released December 5, 1940. In this picture second billed George "Gabby" Hayes was now
"Honest John Whittaker".
In the above lobby card, holding the cards to Roy's left, is fourth billed Joseph Sawyer. Joe Sawyer was a regular in "B" Westerns, but is probably best remembered, by my generation, as
"Sergeant Biff O'Hara"
on television's
"The Adventures of Rin Tin Tin"
and as one of the telephone linemen,
"Frank Daylon",
in the 1953 3-D Science Fiction classic
"It Came from Outer Space".
For the following Roy Rodgers entry,
"Robin Hood of the Pecos",
released January 14, 1941, George "Gabby" Hayes became
"Gabriel 'Gabby' Hornaday".
Then another completely different name for
"In Old Cheyene"
of
"Arapahoe Brown".

Four more Roy Rodgers features later and I come to one of those Hollywood movies that changes the real character of a real post Civil War outlaw. The film in question was
"Jesse James at Bay"
starring Roy as good
"Jesse James"
and bad look a like
"Clint Burns".
In the picture George "Gabby" Hayes portrays
"Sheriff Gabby Whittaker".
A crooked banker is cheating honest homesteaders and
"Jesse"
decides to help them. The banker hires look a like
"Clint"
to pretend to be "Jesse" and cause problems for everyone thinking he's "Jesse James" gone bad.
On December 7, 1941 the Japanese Empire bombed Pearl Harbor, Hawaii, and the United States entered World War 2. On December 12, 1941 Roy and "Gabby" were seen in
"Red River Valley".
"B" Westerns would continue to be made giving Americans on the "Home Front" and the "Boy's Oversea's" about 60 minutes of release from the pressures of the war. Soon movies would end reminding the audience to
"Buy War Bonds".
Eight more films with Roy followed in a row and then George "Gabby" Hayes appeared with another popular "B" Cowboy in
"Calling Wild Bill Elliott"
released April 30, 1943. The series starred Bill Elliott and began with 1939's
"Taming of the West"
, but he started out being called
"Wild Bill Saunders".
Then his character's name was changed to
"Wild Bill Hickok"
for twelve more films. Scattered between those twelve saw Elliott as either
"Wild Bill Boone"
and
"Wild Bill Tolliver"
for one picture each. This was the first film calling his character
"Wild Bill Elliott".
George "Gabby" portrayed the very originally named
"Gabby Hayes".
Actress Anne Jeffreys was
"Edith Richards"
in
"Calling Wild Bill Elliott".
My reader will find her name on many of the following motion pictures in "George Hayes' "B" Western career. Jeffreys and her husband actor Robert Sterling portrayed the ghosts of
"George"
and
"Marion Kerby",
originally portrayed by Cary Grant and Constance Bennett in 1937's
"Topper",
on the television version from 1953 through 1955. They co-starred with Leo G. Carroll as the title character.
Above Jeffreys and Elliott
The motion picture was immediately followed by
"The Man from Thunder River"
with "Gabby" Hayes back to portraying
"Gabby Whittaker".
While Bill Elliott remained
"Wild Bill Elliott"
in the third picture,
"Bordertown Gun Fighters"
. George "Gabby" Hayes was switched back to being a character called
"Gabby Hayes".
Most likely, because series screenplays were turned in by different writers. Who might have written two or three back to back, but they were released out of sequence with work from another series writer.
On December 6, 1943 George "Gabby" Hayes was fourth billed
"Despirit Dean"
in the John Wayne feature film
"In Old Oklahoma".
In the cast at sixth billing was a pre-Roy Rodgers, Dale Evans, as
"Cuddles Walker".
While John Wayne was
"Daniel F. Summers".
The picture is about battling oil men, Wayne and Albert Dekker as
"Jim 'Hunk' Gardner",
and would be reissued as
"War of the Wildcats".
Above Wayne, Hayes and Dekker.
Then on March 19, 1944 Hayes was back with Bill Elliott in
"Mojave Firebrand"
as
"Gabby Whittaker".
You with me?
Another feature followed and then there was a major character change for Bill Elliott, on May 14, 1944, as Republic Pictures merged the duo with the very popular Western newspaper comic strip, comic book and radio character
"Red Rider".
Which had been created back in 1936 by Fred Harmon and Stephen Slesinger and already been a Republic serial character in 1940's
"The Adventures of Red Ryder"
starring another Western "B" actor Don "Red" Barry.
The creation of the first film in what was to be a series, by Republic Pictures, sent the publicity department into full swing.
In
"Tucson Raiders"
Bill Elliott was now
"Red Ryder",
but billed as
"Wild Bill Elliott as Red Ryder".
While George Hayes remained as his "Sidekick"
"Gabby".
However, eleven years old Robert Blake, billed as
"Bobby Blake"
, was added, as "Ryder's" actual comic "Sidekick", the Native American boy
"Little Beaver".

Blake had been
"Mickey"
in the
"Our Gang Comedies",
in 1959 he was excellent in both
"Pork Chop Hill"
starring Gregory Peck and
"The Purple Gang"
co-starring with Barry Sullivan. Then there was 1969's
"Tell Them Willie Boy Was Here"
with Robert Redford and his 1975 through 1978 Blake's own television series
"Baretta".
Above a publicity still with Elliott, Blake and Hayes. Below another one, with Alice Fleming, Elliott, Peggy Stewart and Hayes in back and "Bobby" Blake in front.
George Hayes would only make one more "Red Ryder" film title. This was the
"Marshall of Reno".
Then George became
"Dave"
with John Wayne as
Rocklin"
in
"Tall in the Saddle"
featuring Wayne's USC co-football player Ward Bond as the bad guy
"Judge Robert Garvey".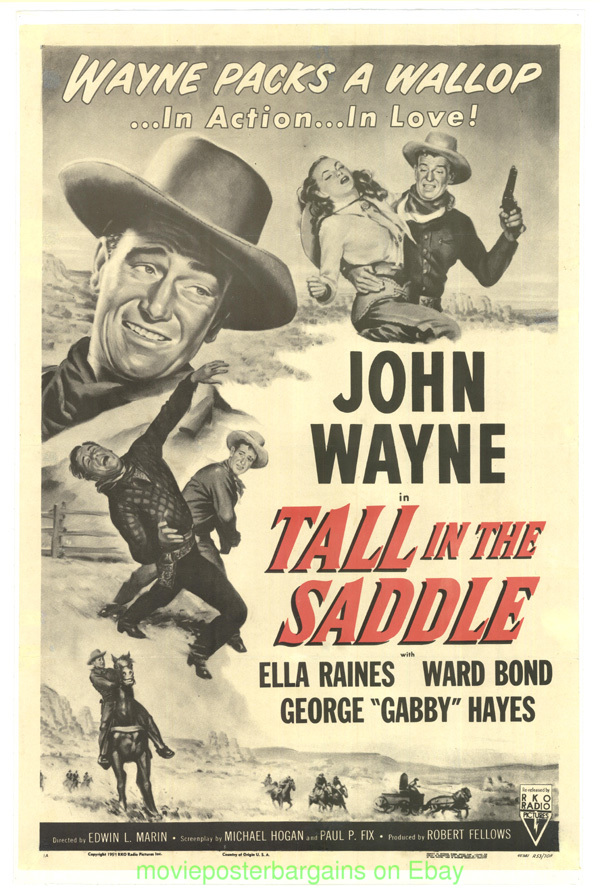 On November 6, 1944 in
"Lights of Old Santa Fe",
George "Gabby" Hayes as
"Gabby Whittaker"
was back with Roy Rodgers and now Dale Evans as
"Majorie Brooks".
To illustrate Hayes third billing position. George was right after
"Trigger",
but before Dale.
Above Roy, Claire Du Brey, George and Dale. Below Roy sings with
"The Sons of the Pioneers"
and it is obvious that the film is set in 1944.
However, the next film for fourth billed George "Gabby" Hayes in the role of
"Hap Selby"
was with actor Richard Arlen. Arlen was Union Army
"Captain Jed Kilton"
falsely accused of cowardliness under fire in
"The Big Bonanza".
The picture set in Nevada during the silver strikes was released on December 30, 1944.
The boy on the poster for
"The Big Bonanza"
is Bobby Driscoll as
"Spud Kilton".
This picture was two years away from Driscoll starring in Walt Disney's
"Song of the South",
see my article on Hollywood and the Civil War mentioned above. At this point Bobby Driscoll was six years from portraying
"Jim Hawkins"
in Disney's
"Treasure Island"
and nine years from becoming the voice of Walt Disney's
"Peter Pan".
Above Hayes, Arlen and Lynne Roberts.
George was back with Roy Rodgers, Trigger and Dale Evans in
"Utah"
released March 25, 1945.
Six more Roy and Dale films and, on May 4, 1946, George "Gabby" Hayes was
"Coyote"
in
"Badman's Territory".
The motion picture starred Randolph Scott as Texas Lawman
"Mark Rowley".
Who with his brother
"John",
played by James Warren, enter the film's title, a section of land between Texas and Oklahoma, not yet part of the United States. The brothers are out to arrest
"Jesse James"
, played by Lawrence Tierney, 1945's
"Dillinger",
and
"Frank James",
played by Tom Tyler. In the feature the two lawmen will meet other famous outlaws hiding out in the area. Such as the "Dalton Brothers", "Sam Bass" and "Belle Starr".
Below Lawrence Tierney and Tom Tyler as
"Jesse"
and
"Frank James".
Nester Paiva was
"Sam Bass".
Paiva is best known as
"Lucas"
in both 1954's
"The Creature from the Black Lagoon"
and the 1955 sequel
"Revenge of the Creature".
My article
"NESTOR PAIVA: Skipper of the 'Rita' VS The Creature from the Black Lagoon"
can be read at:
http://www.bewaretheblog.com/2020/02/nestor-paiva-skipper-of-rita-vs.html
"Rainbow Over Texas",
released May 9, 1946, was the start for "Gabby" of another six motion pictures as the "Sidekick" of Roy Rodgers. It ended on December 15, 1946 with
"Heldorado".
The picture was also the end of George Francis "Gabby" Hayes' run as Roy Rodger's "Sidekick".
GEORGE "GABBY" HAYES' FINAL MOTION PICTURES
A third film,
"Trail Street",
released February 19, `1947, with Randolph Scott followed.
Scott portrayed
"Bat Masterson",
"Gabby" was his friend
"Billy Jones"
and
Robert Ryan was
"Allen Harper".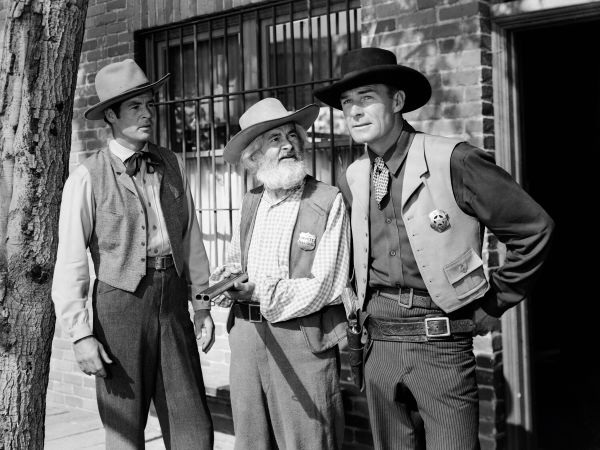 Above Ryan, Hayes and Scott.
No longer
"Wild Bill Elliott"
, or the
"Red Rider"
, Bill Elliott was
"Charles Alderson"
in the July 28, 1947 "B" Western
"Wyoming".
George Hayes was fourth billed
"Windy Gibson"
and between the two actors were Vera Ralston as
"Karen Alderson"
and John Carroll as
"Glenn Forester".

Randolph Scott was back as
"Cole Armin",
George "Gabby" Hayes was
"Juke"
and Lon Chaney was
"Steve Murkill"
in the Western
"Albuquerque",
released on February 20, 1948.
"Return of the Bad Men"
was one of two semi-sequels to
"Badman's Territory"
released on July 14, 1948. Even though the motion picture was from RKO and not Republic Pictures. Randolph Scott was now
"Vance",
Robert Ryan was the
"Sundance Kid"
and George was
"John Pettit".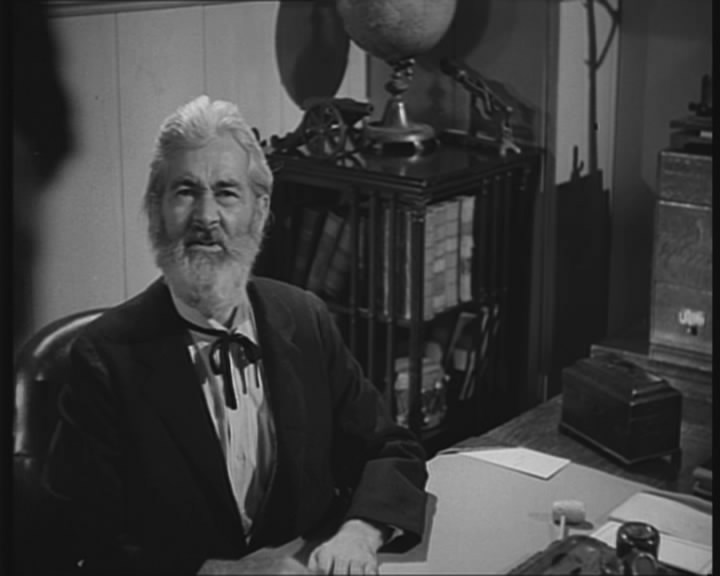 Above Scott and Anne Jeffreys as
"Cheynne".
October 21, 1948 saw the release of
"The Untamed Breed"
starring "B" actor Sonny Tufts as
"Tom Kilpatrick".
Third billed George Hayes was
"Windy Lucas".
Barbara Britton was George's daughter
"Cherry Lucas".

Another "A" list Western was released on August 5, 1949.
"El Paso"
starred John Payne as
"Clay Fletcher",
Gail Russell,
"Angel and the Badman"
and
"Wake of the Red Witch",
as
"Susan Jeffers"
and Sterling Hayden,
"The Asphalt Jungle", "Johnny Guitar", "The Last Command"
and
"Dr. Strangelove",
was
"Bert Donner".
"Gabby" was fourth billed
"Pesky Tees".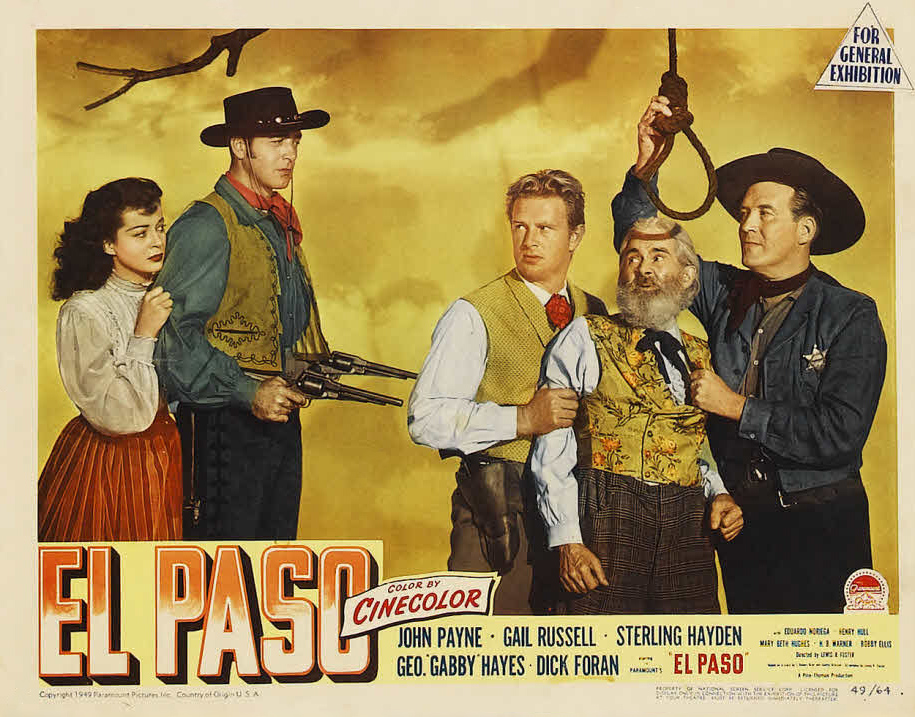 Above Gail Russell, John Payne, Sterling Hayden, George "Gabby" Hayes and Dick Foran as
"Sheriff LaFarge".
On August 1, 1950 the final motion picture featuring "Gabby" Hayes was released.
"The Cariboo Trail"
once again starred Randolph Scott as
"Jim Redfern"
and second billed George was
"Oscar"
aka:
"Grizzly".

Above contract player and pre-
"Tales of Wells Fargo"
Dale Robertson, Scott and Hayes.
Which now brings me back to:
George Frances "Gabby" Hayes past away on February 9, 1969 in Burbank, California at the age of 89. During his career of 192 roles, not including the Westerns with Randolph Scott, one time appearances and his few dramatic motion pictures. "
GABBY HAYES"
appeared with Fifteen different "B" Western Cowboy Stars in the 1930's and 1940's. Not many "Sidekicks" can say that.
REST IN PEACE
"OLD TIMER"!