"B" Cowboy actor TIM HOLT had interludes in his career with Directors John Ford, Orson Welles and John Huston and he even fought a Prehistoric Snail. This is a look at the film career of a "B" actor who was in Four "A" Film Classics and One "Cult" Science Fiction.
Charles John "Tim" Holt the 3rd was born February 5, 1919 in Beverly Hills, California. His father was actor Jack Holt, born Charles John Holt, Jr,
A Brief Look at Tim Holt's Parents

Tim's father's career consisted of 192 roles between 1915 and 1951 and mostly in "B" Westerns. Some of Jack's films were Cecil B. DeMille's silent classic Western 1918's
"The Squaw Man".
Jack was Jewel Thief turned Detective "Michael Lanyard" in the 1924 version of author Louis Joseph Vance's popular character
"The Lone Wolf"
and would star in Director Frank Capra's 1931 North Pole adventure
"Dirigible".
In 1935 the actor co-starred with Shirley Temple in
"The Littlest Rebel"
and portrayed "The Commodore" in Val Lewton's 1942 classic Horror film
"Cat People".
In 1945 Jack Holt portrayed "General Martin" in John Ford's
"They Were Expendable"
starring Robert Montgomery and John Wayne and take a good look at the "Flophouse Bum" that speaks to Humphrey Bogart in John Huston's 1948
"The Treasure of the Sierra Madre".
Tim Holt's mother was Margaret Wood. She was the daughter of tycoon Henry Morton Stanley-Wood was a divorcee with a daughter of her own. Her father would cut Margaret out of his will when she married "an Actor", but during the Great Depression. After he lost most of his money. Margaret and her father made up and he really became Tim's grandfather not just in name.
Right after Pearl Harbor, Jack Holt, at age 54, enlisted in the Army at the request of General George C. Marshall. This odd request was so Holt could be a "Horse Buyer" for the United States Cavalry. An overlooked fact was that at the start of World War 2 the Army still had cavalry units.
Above Tim and father Jack.
Tim would attend "Culver Military Academy" in Culver, Indiana.
His room mate was Budd Boetticher, Boetticher become a Director of Westerns and would be known for his 1950's films starring Randolph Scott. According to Boetticher mentioned in the article
"Tim Holt and the B Westerns"
on the Website "Off Screen":
https://offscreen.com/view/tim-holt-and-the-b-western
Tim Holt:
used to walk around in our suite of rooms there…and he often had on his .38 revolvers and holster. He'd walk up and down the hall in his bathrobe and practice drawing his guns. He'd say, 'I'm going to be a western star some day'.
Boetticher added the Holt would also say:
I'm going to be a western star some day'
Tim Holt's Career Starts
Technically it began back in 1923 at the age of 4. When Tim played his father's baby in the silent motion picture
"Hollywood".
Jack, like other film actors, William S. Hart, Alan Hale, Sr, Douglas Fairbanks, Charles Chaplin, Mary Pickford and Gloria Swanson. Along with Director Cecil B. DeMille, he did not direct, were playing themselves. In total the motion picture had 70 Hollywood personalities appearing in cameos, a word that wouldn't be created until Mike Todd's 1956 version of Jules Verne's
"Around the World in 80 Days",
that included many future sound film stars such as Mary Astor, Will Rodgers and William "Hopalong Cassidy" Boyd.
Just as "Technically" Tim Holt's first Western was author Zane Grey's
"The Vanishing Pioneer"
starring his father Jack Holt in 1928. Tim was only 7 years old.
In 1937 the actor had a real non screen credited role as a "Radio Operator" in 1937's
"History Is Made At Night".
Also in 1937 he was given 9th billing as "Richard Grovenor III" in the Barbara Stanwyck vehicle from Director King Vidor
"Stella Dallas".
Above Anne Shirley, as Stanwyck's grown daughter, and Tim Holt.
On February 12, 1938 Tim Holt was billed 8th in Director Michael Curtiz's big budgeted
"Gold Is Where You Find It".
The motion picture is set ten years after the Civil War in California. The story revolves around two factions with cross purposes. The first is the mining company using hydraulic methods to get the gold causing the flooding of the farms of the second faction.You might say that this is Romeo and Juliet once more. As "Jared Whitney", George Brent, of the mining company falls in love with "Serena Ferris", Olvia de Havilland, the daughter of a large farmer.
Tim Holt was "Lance Ferris" the brother of "Serena" and son of "Colonel Chris Ferris", Claude Rains. The Farmers win in the courts and the mines are to be closed down, but the leader of the mining operation wants to keep them open and his actions result in "Lance".
Above left to right, standing, George "Gaby" Hayes, Harry Devenport, Olivia de Havilland, Tim Holt on the sofa and Claude Rains. Below left to right, George Brent, Clements Ripley, Olivia de Havilland and Tim Holt.
On September 16, 1938 Tim Holt had third billing in the George Brent Western
"The Renegade Ranger"
from RKO Pictures. This was Holt's first film for the company that he would become their biggest star over all in the studio's history.
Note the name in second billing! This was Rita Cansino's 28th motion picture and her 12th using her new name of Rita Hayworth. "Captain Jack Steele", George Brent, of the Texas Rangers, is sent to stop gang leader "Judith Alvarez", Rita Hayworth. She is waging war against the crooked government officials who have been cheating the small ranchers and framed her for murder. Tim Holt is "Larry Cowin" and ex-friend of "Jack". Who he thinks got him drummed out of the rangers and is out to clear his name.
When Rita Hayworth became a major star the movie was re-released with her name in first position.
Above George O'Brien and Tim Holt. Below Tim Holt.
Below Rita Hayworth.
One forgotten film later and Tim Holt co-starred with Harry Carey, Sr. in
"The Law West of Tombstone"
released November 18, 1938. Harry Carey was "Bill Barker" and Tim Holt was "The Tonto Kid".
Above a publicity still of Tim Holt and Harry Carey, Sr.
DIRECTOR JOHN FORD'S "STAGECOACH" released March 3, 1939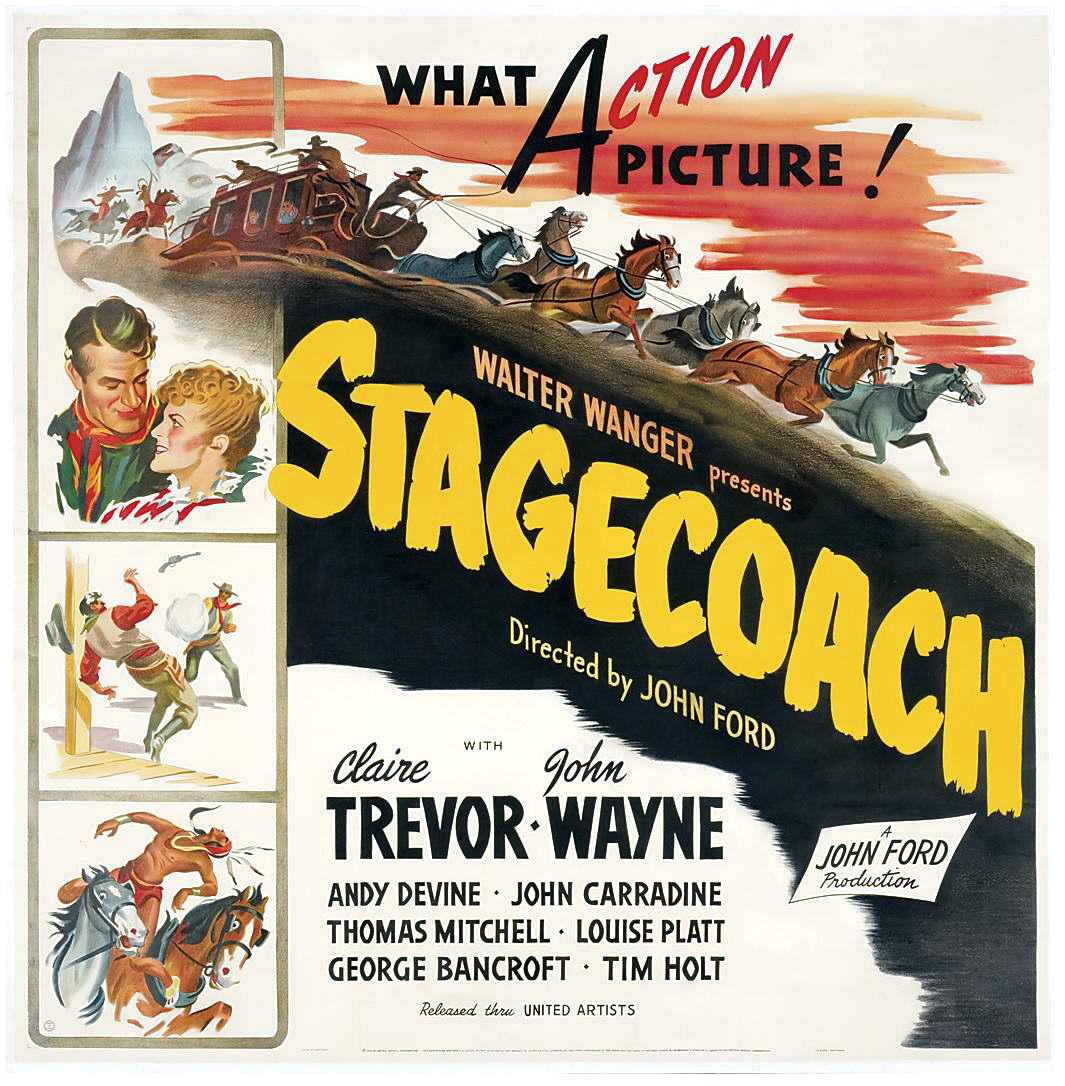 For Tim Holt's career the film really didn't seem to have any impact at the time, but for his art he was working with the best at the time.
The motion picture was Directed by John Ford. Who couldn't get any of the major studio's to pick up Dudley Nichols screenplay. The reason may seem strange today, but it was the idea that this was to be the unheard of "A" Cast Western. At a time when Western's were always very low budget, using stock footage over and over with a running time between 50 and 60 minutes shot in under a week.
However, Independent Producer Walter Wanger took on the costs of what would become a double Academy Award winning motion picture.
Claire Trevor was the star as "Dallas". Trevor was a major 1930's lead and the likes of Edward G. Robinson and Spencer Tracy had second billing to her, In short Claire Trevor's name meant Box Office to Walter Wranger. Especially when he had a "B" Cowboy actor named John Wayne as her co-star,
Wayne, as "The Ringo Kid", had worked for Ford in silents once even as a dead body. Ford's friend Director Raul Walsh changed Marian Mitchell Morrison's name in 1930 for
"The Big Trail".
Wayne was also a protege of Ford's friends Harry Carey, Sr. and Paul Fix. It had been Fix that Ford asked to teach Wayne how to walk like a cowboy.
The remaining cast were basically character and supporting actors. Andy Devine was the Stagecoach driver "Buck". My article on Devine's career may be read at:
http://www.bewaretheblog.com/search?q=andy+devine
John Carradine portrayed the Southern Gambler with a past "Hatfield". Just before the release of
"Stagecoach".
Carradine was "Bob Ford" in Tyrone Power's
"Jesse James"
co-starring Henry Fonda as "Frank James".
Thomas Mitchell was "Doc Boone". Mitchell would win the Academy Award for Best Supporting Actor for
"Stagecoach"
and appear in that same years
"Gone With the Wind",
but prior to 1939 he wasn't as well known as Carradine.
Louise Platt was pregnant "Mrs. Lucy Mallory". George Bancroft was "Marshall Curley Wilcox". Donald Meek was Whiskey Drummer "Samuel Peacock" and Berton Churchill was Banker "Ellsworth Henry Gatewood".
Should you follow the motion pictures official cast list. At
10th billing was Tim Holt
as "Lieutenant Blanchard". Which is interesting as 8th billed Donald Meek and 9th billed Berton Churchill's names were not on any of the original movie publicity posters, but Tim Holt's was on every original one that listed the cast. Why? Because he was a recognized "B" Cowboy.
In the above still left to right are Donald Meek, John Wayne, Claire Trevor, Andy Devine, George Bancroft, Louise Platt, Tim Holt, John Carradine, partly hidden Burton Churchill, Francis Ford (John Ford's brother) and Thomas Mitchell
Above Director John Ford with Tim Holt. "Lieutenant Blanchard" escorts the
"Stagecoach"
with his troops up to the first stop and after 32 minutes leaves the 96 minute movie.
It would be 27 years before someone decided to take on John Ford's classic and remake
"Stagecoach".
That motion picture starred one of the biggest stars of the time Ann-Margaret in the Claire Trevor role, introduced Alex Cord as the "Ringo Kid" and featured Bing Crosby, Van Heflin, Red Buttons, Slim Pickens, Bob Cummings, Stephanie Powers and Mike Connors in the other roles.
In 1986 Ford's motion picture was remade for television starring the singing group "The Highway". Johnny Cash was "Marshall Curly Wilcox", Kris Kristopherson was the "Ringo Kid", Willie Nelson was not "Doc Boone", but "Doc Holiday" actually as a "Dentist", and Waylon Jennings was "Hatfield".
My article on the actual story "Stage to Lordsburg" and the three motion pictures based upon it. Can be read at:
http://www.bewaretheblog.com/2016/09/a-comparison-of-john-fords-1939.html
Tim Holt immediately followed
"Stagecoach"
with 6th billing in a forgotten Military School story starring major young actors Mickey Rooney and Freddie Bartholomew
"The Spirit of Culver".
Which may have been as a result of someone reading Holt's background as this is his old school.
Next Holt had first billing in 1939's
"Rookie Cop",
but had to share it with "Ace the Wonder Dog". Can you think a Rin-Tin-Tin wannabe?
Take a typical gangster movie of the 1930's. About the head of a criminal organization who loves a girl, but she loves another. Then move it south of the border and you have the Leo Carrillo and Tim Holt Western
"The Girl and the Gambler"
released June 16, 1939.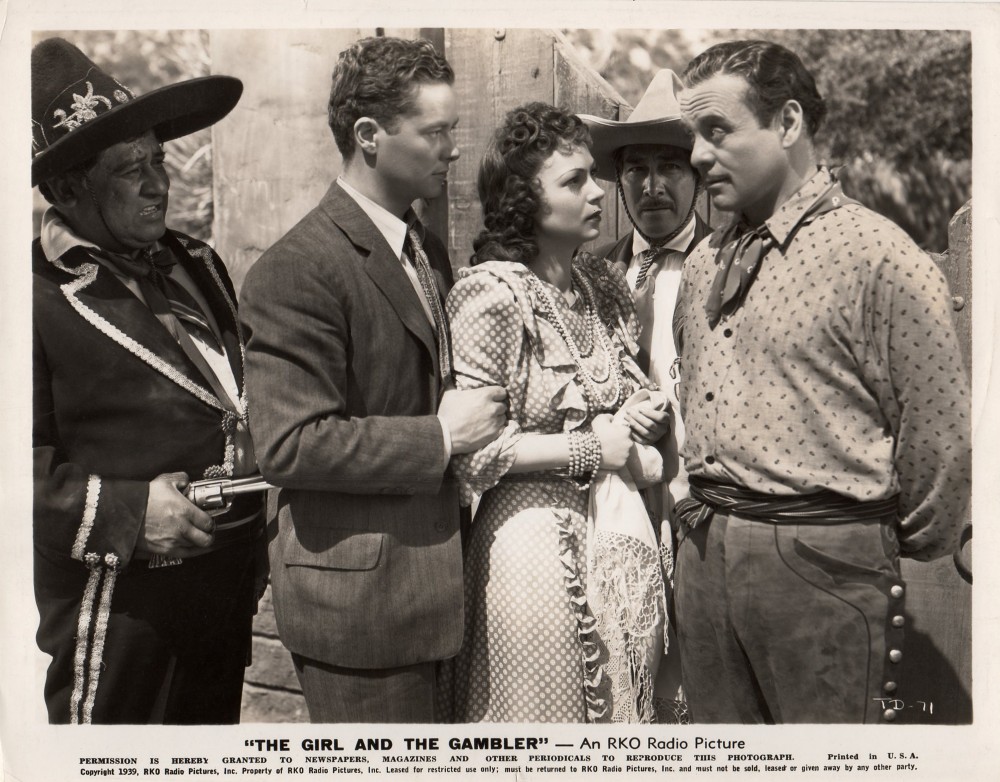 Above Holt with a gun in his back as "Johnny Powell", ballet trained Steffi Duna as "Dolores 'The Dove' Romero" and Leo Carrillo as "El Rayo aka: Don Jose Maria Lopez y Tostado". RKO had filmed the same story as a musical in 1932 as
"Girl of the Rio"
with Carrillo in the same role.
Two other forgotten features followed and then Tim Holt was "Fritz Robinson" in
"Swiss Family Robinson"
released February 8, 1940.
Above Freddie Bartholomew, Thomas Mitchell and Tim Holt. Below Tim Holt. Freddie Bartholomew, Thomas Mitchell, Edna Best and Terry Kilburn.
"Wagon Train"
was
released October 4, 1940, As RKO Pictures started to use Tim Holt exclusively in "B" Westerns as a replacement for actor George O'Brien/ Who had been a major box office Cowboy in the 1920's and 1930's.
Between
"Wagon Train"
and July 10, 1942 Tim Holt starred in 11 more RKO "B" Westerns.
DIRECTOR ORSON WELLES' " THE MAGNIFICENT AMBERSONS" released July 10, 1942
The previous year Orson Welles released,
"Citizen Kane",
a thinly veiled biography of publisher William Randolph Hearst. Who attacked it viciously in his newspapers and Wells thanked for the publicity. Now Welles turned to the 1918 Pulitzer Prize Winning novel by Booth Tarkington
"The Magnificent Ambersons".
The motion picture would be nominated for Four Academy Awards including Best Picture and Best Supporting Actress Agnes Moorehead.
However, what the public saw and the Academy raved about wasn't the motion picture Orson Welles made. In fact there are three versions released by RKO Pictures. The original release ran 148 minutes, a second release was cut to 131 minutes and there was even an 88 minute version. Based upon Wells' notes his rough cut ran approximately 208 minutes in length, but when he refused to edit it down. RKO took control and made their initial cuts to the motion picture. Composer Bernard Herrman demanded his name be removed as composer, because of what RKO did to his score.
The screenplay was by Orson Welles and tells Tarkington's story of the wealthiest family in the Midwestern city of Indianapolis, Indiana, at the start of the 1900's, and their decline in what was described as "The Age of the Automobile".
Above left to right Tim Holt, Anne Baxter, Joseph Cotton, Agnes Moorehead and Dolores Costello
Many of the actors came from Orson Welles' "Mercury Theatre". Who frightened the North East Coast of the United States, Halloween, 1938, with a radio version of H.G. Wells'
"War of the Worlds"
and had played a majority of the roles in 1941's
"Citizen Kane".
As in the above photo the main roles in this motion picture were:
Joseph Cotton as "Eugene Morgan"
Dolores Costello as "Isabel Amberson Minafer"
Anne Baxter as "Lucy Minafer"
Tim Holt as the grown "George Minafer"
Agnes Moorehead as "Fanny Minafer"
Above Tim Holt as "George Minafer" and Agnes Moorehead as "George's" Aunt.
The basic plot has "Eugene Morgan" court "Isabel Morgan", but is rejected after publicly embarrassing her. She marries "Wilber Minafer", Don Dillaway, whom she doesn't love to get even with "Eugene". "Isabel" and "Wilber" have a son "George" that becomes the terror of turn of the century Indianapolis and everyone would like to see get his comeuppance.
Switch to 20 years later. "George" has just returned from graduating College and after a 20 year absence. Widower "Eugene Morgan" returns with his daughter "Lucy" and the two young people fall in love. This ignites old wounds and the further decline of the "Amberson's" and the "Minafer's" as a reflection of old established way vs modern thinking.
Above Tim Holt talks with Orson Welles
Along with the 1942 "A" Orson Welles feature. Tim Holt, that year, was seen by much larger audiences, in four RKO "B" Westerns,
"Thundering Hoofs", 'Bandit Ranger", "Pirates of the Prairie"
and
"Red River Robin Hood".
Above Lee "Lasses" White, Tim Holt and Ray Whitley who played Tim's pal in many of these "B's".
Below Bad Guy Eddie Dew is confronted by Good Guy Tim Holt.
1943 saw four more feature films, but only three are Westerns, The year started with a somewhat lurid propaganda movie
"Hitler's Children",
released January 6, 1943, that became one of RKO's most successful motion pictures ever.
The screenplay was by Emmet Lavery based upon American writer Gergor Ziemer's book "Education For Death". Ziemer had lived in Germany between 1928 into 1939 and witnessed the raise of Adolph Hitler and the Nazi's. His sensational novel talked about what the Nazi Party was doing with young adults and children.
As for Lavery he also was known for another propaganda screenplay 1943's
"Behind the Rising Sun".
Later he wrote the screenplay for Director Otto Preminger's 1955
"The Court-Martial of Billy Mitchell"
that starred Gary Cooper.
This feature was Directed by Edward Dmytryk. His films prior to this picture included 1939's
"Television Spy",
the Carol Landis and Henry Wilcoxon 1940
"Mystery Sea Raider"
Boris Karloff's 1941
"The Devil Commands".
After this film Dmytryk Directed the John Wayne and Anthony Quinn 1945
"Back to Bataan",
was nominated for the Academy Award for Best Director for 1947's
"Crossfire"
starring Robert Young, Robert Mitchum and Robert Ryan, but his left leaning politics ran afoul of the "House Committee on Un-American Activties". Like nine others Dmytryk refused to name names of other World War 2 Communist Party members. That only joined, because at the time the Soviet Union and Stalin were our allies. Edward Dmytryk now became part of
"Hollywood Ten"
and went to prison. He redeemed himself later and went on to Direct 1954's
"The Caine Mutiny",
the counter to
"Gone with the Wind"
1956's
"Raintree County"
starring Elizabeth Taylor, Montgomery Clift and Eva Marie Saint, and 1958's World War 2 movie
"The Young Lions"
starring Marlon Brando, Montgomery Clift and Dean Martin.
Tim Holt portrayed a German youth born in America named "Karl Bruner".
Bonita Granville portrayed a German youth born in America named "Anna Muller". Granville was born into an acting family and her pictures prior to this film included 1933's
"Little Women"
and 1934's
"Anne of Green Gables".
In 1938 she became the first "Nancy Drew" in a series of motion pictures. Bonita Granville had 5th billing in the Bette Davis, Paul Henreid and Claude Rains 1942
"Now Voyager".
Kent Smith portrayed "Professor Nichols". Who runs a school for American's living in Berlin. Smith was a solid "B" actor best known for Val Lewton's 1942's
"Cat People"
and 1944's
"Curse of the Cat People".
He was in the excellent Film Noir, from director Robert Siodmak, 1946's
"The Spiral Staircase"
starring Dorothy Malone, Ethel Barrymore and George Brent.
Above Bonita Granville, Kent Smith and Tim Holt
The story starts in 1933 and the audience meets the young "Anna" and "Karl" in a confrontation over politics. The screenplay moves to 1939 with "Anna Mueller", who considers herself American, finds the Nazi Party declaring her pure blood German, because her parents are German born not American like her. As a result the Party expects "Anna" to be loyal to Hitler's Germany.
As this time she is teaching at the American school still run by "Professor Nichols". "Karl" is now a Lieutenant in the Gestapo and is ordered to remove "Wrong Nationalities" from the American school. One morning "Professor Nichols" finds "Anna" missing and the screenplay follows his search for her and what the Nazi Party is doing to indoctrinate the young women.
Below Otto Kruger as "Colonel Henkel" and Tim Holt
Tim Holt spent the next two years, he was called up during the filming of
"Hitler's Children",
as a bombardier on a Boeing B-29 Super Fortress in the Pacific Theatre. At the end of the war he received a Purple Heart, from a wound on the last day of fighting, and the Distinguished Flying Cross.
Tim Holt returned to the motion picture industry and found himself being lent by RKO to 20th Century Fox for his first motion picture after the war.
DIRECTOR JOHN FORD'S "MY DARLING CLEMENTINE" released on the day of my birth October 16, 1946



"My Darling Clementine"
was the third motion picture from 20th Century Fox about "The Gunfight at the OK Corral". The screenplay was by two writers based on a previous 20th Century Fox screenplay for 1939's
"Frontier Marshal".
The main writer was Winston Miller. Miller's screenplays included the rewrite, without on screen credit, of 1939's
"Gone With the Wind"
at the direction of producer David O. Selznik, 1942's
"Pittsburgh"
starring Marlene Dietrich, John Wayne and Randolph Scott and several "B" Westerns starring Gene Autry and Roy Rodgers.
The screenplay was co-written by Samuel G. Engel. He was a contract writer who contributed to the Tyrone Power 1940
"Johnny Apollo",
the Cesar Romero 1940
"Viva Cisco Kid"
and later the Richard Widmark and Dana Andrews 1951
"The Frogman".
Besides the fiction of the story line with "Wyatt's" love for "Clementine". The screenwriters place the story in 1882 which was actually one year after the real gunfight.
Director John Ford's previous film was the 1945 World War 2 picture
"They Were Expendable"
starring Robert Montgomery and John Wayne. Ford had been billed as "John Ford, Captain U.S.N.R.".
Henry Fonda was cast as "Wyatt Earp". Like Tim Holt World War 2 called up Fonda in 1943. He also joined the Navy. He would become a Lieutenant Junior Grade in Air Combat Intelligence and would come out with a Bronze Star. Again like Holt this was Fonda's first motion picture after the war.
Linda Darnell was "Chihuahua". Darnell had been "Tuptim" in 1946's
"Anna and the King of Siam"
starring Irene Dunne and Rex Harrison. In 1951 Rodgers and Hammerstein turned the story into
"The King and I".
Darnell had been Tyrone Power's love "Lolita Quintero" in 1940's classic
"The Mark of Zorro".
Victor Mature was "Doc Holliday". Mature's second motion picture was as "Tumak" in 1940's
"One Million B.C."
and he had co-starred with both Betty Grable and Carol Landis in the 1941 Film Noir
"I Wake Up Screaming".
Mature had also played the gay nineties composer "Paul Dresser" in 1942's
"My Gal Sal"
co-starring Rita Hayworth. In 1949 he would star in Cecil B. DeMille's
"Samson and Delilah".
Walter Brennan was "Old Man Clanton". Character actor Brennan's work before this film had him with Humphrey Bogart in Director Howard Hawks' 1944
"To Have and Have Not".
Before that Brennan was in three Gary Cooper features, 1940
"The Westerner"
as Judge Roy Bean, 1941's
"Sergeant York"
and 1942's
"The Pride of the Yankees".
Tim Holt was "Virgil Earp".
Cathy Downs was "Clementine Carter". Downs' roles prior to this film were all minor non on screen credit except 6th billing in the Lucille Ball and Clifton Web 1946 Film Noir
"The Dark Corner".
After
"My Darling Clementine"
Cathy Downs returned to those very minor roles.
The screenplay tells of the four "Earp Brothers" bringing their cattle to Tombstone, Arizona to sell. They meet "Old Man Clanton" and his men outside of town. He offers to buy the cattle at a ridiculously low price and is turned down. Later, while the three older brothers are in town, "Clanton" and his gang steal the cattle and kill "James Earp", Don Garner. The other brothers bury "James" and "Wyatt" becomes Marshal of Tombstone. As events move toward the famous gunfight.
Above Victor Mature as "Doc Holliday" and Henry Fonda as "Wyatt Earp". Below Walter Brennan as "Old Man Clanton".
Below John Ireland as "Billy Clanton" and Linda Darnell as "Chihuahua". Ireland would become "Johnny Ringo" in John Sturges 1957
"Gunfight at the O.K. Corral"
starring Burt Lancaster as "Wyatt Earp" and Kirk Douglas as "Doc Holliday".
Above Ward Bond as "Morgan Earp", Henry Fonda as "Wyatt Earp" and Tim Holt as "Virgil Earp".
Below Ward Bond, Tim Holt and Henry Fonda.
My article on the events of the actual
30 second long
gunfight and all the Hollywood versions, to date, can be found at:
http://www.bewaretheblog.com/2015/03/the-gunfight-at-ok-corral-as-reinvented.html
Once again Tim Holt went from an "A" film back to "B" Westerns for RKO.
"Thunder Mountain"
might have been released in June 1947, or perhaps May 14, 1946 depending upon whose site you look on. However, co-star Martha Hyer filmography goes with 1947. As this was the actresses first on screen credit and her fourth motion picture.
Below Holt and Hyer,
Two more "B" Westerns and then---
DIRECTOR JOHN HUSTON'S "THE TREASURE OF THE SIERRA MADRE" released January 24, 1948
Please note that the title is
"The Treasure of THE Sierra Madre"
and not, like many call the picture
"The Treasure of Sierra Madre".
The count is high on those who have lost a trivia contest on the word
"THE"
.
The picture was Directed and the Screenplay written by John Huston. Huston is seen in Tampico as the "Man in the White Suit". This was Huston's first feature film since before World War 2. During the War he made several documentaries about the fighting and was in competition with John Ford at that time.
For those interested in John Huston. My article on 1956's
"Moby Dick",
1958's
"The Barbarian and the Geisha"
, 1962's
"Freud: the Secret Passion"
and 1963's
"The List of Adrian Messenger"
may be read at:
http://www.bewaretheblog.com/2017/05/john-huston-moby-dick-1956-barbarian.html
Humphrey Bogart portrayed "Fred C. Dobbs". Bogart and his wife Lauren Bacall had just been seen in the Film Noir
"Dark Passage"
released September 27, 1947. The two would be back with Edward G. Robinson on July 31, 1948 in
"Key Largo".
The film was also directed by John Huston and would be written by future Director Richard Brooks.
John's father actor Walter Huston, who played the "Earp" character in the first motion picture based on the "Gunfight at the O.K. Corral", was "Howard". In 1930 Huston had played the title role in Director D.W. Griffith's
"Abraham Lincolon"
and the title role in the 1936 version of Sinclair Lewis'
"Dodsworth".
He had been as "Mr. Scratch" in 1941's
"The Devil and Daniel Webster".
Tim Holt was "Curtin"
Bruce Bennett was "Cody". Bennett was originally Herman Bix and as Bix was "Tarzan" in 1931's
"The New Adventures of Tarzan".
Among "Bix's" other roles was as "Bert Rodgers" in the original "Cliff Hanger" from 1938
"The Lone Ranger".
In 1939 he became Bruce Bennett in a non on screen credited role in
"Five Little Peppers and How The Crew".
The film was
based upon a popular children's series by Margaret Sidney. Bennett's first on screen role was in a Charles Starrett 1940 Western
"Blazing Six Shooters"
and the same year he had third billing in the Boris Karloff and Evelyn Keyes thriller
"Before I Hang".
Bruce Bennett had third billing in the Bogart and Bacall 1947
"Key Largo"
just before this picture.
The Huston's classic story is about four strangers, becoming partners in a such for gold,
"The Treasure of the Sierra Madre",
and their falling out over it as greed takes hold.
Above Humphrey Bogart, Tim Holt, Walter Huston and Bruce Bennett
Above Tim Holt, Humphrey Bogart and Walter Huston at two different times in the story. Below Holt and Bogart at the start of the treasure hunt and after everything has gone astray.
Below Holt and Bogart relaxing on the set.
After another break from the "B" Western grind. It was back to RKO's for
"The Arizona Ranger",
released May 15, 1948, co-starring Tim and his father Jack.
Above Tim, his father Jack and actress Nan Leslie. Below Jack and Tim.
In the story Tim and Jack portrayed father and son. The son returns to his father's ranch, but leaves to head up the new Arizona Rangers. This starts a feud with his father for not staying and working the family home. Tim Holt followed this film with three other "B" Westerns in 1948.
In 1949 he was voted the #4 favorite Cowboy star in the country by the U.S. Exhibitors Association. In 1951 he would move up to #3, Between his first 1949 "B" Western until his last 1951 "B" Western Tim Holt starred in 17 features.
However, Holt made only 4 films in 1952. The last being
"Desert Passage"
released on May 30, 1952. The picture lost $30,000 and his film career with RKO ended.
"B" Cowboy's were now showing up all over the new medium of television and probably had a major impact on Tim Holt's career. At one time, during the decade of the 1950's, as many as 46 different Western television series were on the air in a single week. My article on those Westerns can be read at:
http://www.bewaretheblog.com/2018/01/xxxxx.html
Tim Holt next appeared on the television anthology series
"Chevron Theatre"
in
"Adventure in Java".
The live broadcast was
originally shown on February 10, 1953. Of the six actors in the drama. Only one other name is remembered, Charles Buchinsky, who changed his last name to Bronson. I could not locate either photos, or a plot for the program.
For the next five years Tim Holt didn't appear on either the motion picture, or television screen. Then in 1957 he was back in what became a Cult Horror film.
THE MONSTER THAT CHALLENGED THE WORLD released June 1957
When
"The Monster That Challenged the World"
was released. It was on a double bill with
"The Vampire"
a nice update with a twist. Like many of my generation. I had no idea who Tim Holt was, that there was a movie called
"The Treasure of the Sierra Madre",
or something else called
"Stagecoach".
However, we knew Science Fiction and Horror movies.
Before I go any further I would suggest my reader read my article
"Not the Same Old VAMPIRE Movies, or Get Your Dentures Away from My Jugular Vein".
Which includes
"The Vampire"
and some unusual takes on the subject.
http://www.bewaretheblog.com/2017/10/not-same-old-vampire-movies-or-get-your.html
This movie was Directed by Arnold Laven. Who Produced for television the Sam Peckinpah created series
"The Rifleman"
starring Chuck Connors, ex-Mouseketeer Johnny Crawford and Paul Fix.
The story and screenplay was by two writers.
David Duncan wrote the English language version for the Japanese film that became 1957's
"Rodan".
He also did the screenplays for
1957's
"The Black Scorpion",
both 1958 movies
"The Thing That Couldn't Die"
and
"Monster On the Campus".
Then in 1960 it was George Pal's version of H.G. Wells'
"The Time Machine".
Pat Fielder wrote both the story and screenplay for 1957's
"The Vampire"
and in 1958
"The Return of Dracula".
Both men went into television.
Tim Holt was "Lieutenant Commander John 'Twill' Twillinger".
Audrey Dalton was "Gail McKenzie". Dalton was mainly a television actress, but was seen in the original 1953
"Titanic"
and William Castle's 1961
"Mr. Sardonicus".
Mimi Gibson was "Sandy McKenzie". Mimi was 9 when she made this picture. Most of her roles at this time were on television, but she was in some major pictures such as 1954's
"The Egyptian"
and
"There's No Business Like Show Business"
starring Ethel Merman, Marilyn Monroe and Donna O'Connor
.
In 1956 she was in the Science Fiction classic
"World Without End"
and Cecil B. DeMille's
"The Ten Commandments"
and in 1957 Gibson was also in
"The Wings of Eagles"
starring John Wayne and Maureen O'Hara.
Below Audrey Dalton and Mimi Gibson.
Hans Conried was "Dr. Jess Rodgers". Conreid had been a Nazi officer in 1943's
"Hitler's Children",
the title villain in the live action Dr. Seuss movie from 1953
"The Five Thousand Fingers of Dr. T".
The same year he voiced "Captain Hook" and "Mr. Darling" in Walt Disney's
"Peter Pan"
and in 1977 Conreid voiced "Thorin Oakenshield" in Rankin and Bass' animated
"The Hobbit",
Not to forget all of his television appearances.
Above Hans Conried and Tim Holt
The story starts with an underwater Earthquake at Southern California's Salton Sea. A rescue test of a parachute jump is being conducted by the Navy, but when the parachute is found. The jumper has become a body without any fluids in it. Then "Lieutenant Commander Twillinger" looses contact with the rescue boat and goes out to find it deserted and covered in slime.
"Twill" takes a sample of the slime to the Naval base lab and meets the recently widowed "Gail McKenzie" and her daughter "Sandy". "Dr. Rodgers" analyses the slime and discovers its from a mollusk. Which of course is an impossibility. As the two men are discussing the finding a report of young couple disappearing in the Salton Sea comes in.
"Twill", "Dr. Rodgers" and some divers go out on the Salton Sea. Under the water the divers are attacked by giant prehistoric mollusks that have survived and were released by the Earthquake.
The boat next is attacked by one of the mollusks.
A giant egg is found and taken back to the lab. Where it is kept at a constant temperature.
Meanwhile the mollusks escape into the canal system and are eventually destroyed. However, back at the lab "Sally", who likes the lab animals, visits the rabbits and finds them very cold. She turns the temperature up and the egg hatches trapping both the girl and her mother.
"Twill" arrives, kills the mollusk and with "Gail" and "Sally" lives happily every after, but the cute bunny rabbits were killed by the mollusk.
On June 5, 1965 Tim Holt resurfaced in the extremely low budget movie
"The Yesterday Machine".
Its about a Nazi scientist who invents a time machine, but that's all I could find out about this video taped motion picture.
On December 17, 1969 Tim Holt made his last appearance in
"A Women of Stone"
an episode of televisions
"The Virginian".
On February 15, 1973 in Shawnee, Oklahoma, Tim Holt passed away from Bone Cancer. He was only 54 years old.