Before there was Earl Stanley Gardner, Raymond Burr had a variety of roles good and bad. His two most widely known motion picture roles were by British-American director Alfred Hitchcok and indirectly Japanese director Ishiro Honda. I will get to those in their proper place, but first we have a little bit of Bob Hope and "Tarzan" to look at!
THE BASICS
Raymond William Stacy Burr was born on May 21, 1917 in New Westminster, British Columbia, Canada. His father William Johnston Burr sold hardware and his mother Minerva Annette Smith Burr was a pianist and music teacher.
When Burr turned six his family life was shattered by his parents divorce. William stayed in Westminster, but Minerva moved her three children, Raymond, Geraldine and James, to the United States and settled in Vallejo, California. Very briefly Raymond attended "San Rafael Military Academy" in San Rafael, California.
At the age of 12 his mother sent Raymond to work on a ranch in New Mexico for a year, or so some references state. The boy's height and weight gave him the appearance of a twenty year old. His age in that New Mexico reference might be a problem. As there are other references, and in some cases mentioning the New Mexico ranch, that state Raymond was supposed to have made his acting debut with a Vancouver, Canada, Stock company also at age 12. Logically he could not be in two places, or countries, at once.
However, speculation on my part, as to what might be the source of these and other discrepancies in Burr's early life was the actor himself. For most of his life Raymond Burr told interviewers he had a very happy childhood and related those events to them. Those stories changed dramatically when he was interviewed by journalist and biographer Jane Kesner Ardmore in 1986.
When speaking of his childhood, Raymond Burr, now mentioned that his deceptive height and looks permitted him to join a group of college kids in New Mexico.Who believed he was their age and had him join with them in activities of all types including possibly sex. When they discovered the truth of Raymond's age. They coldly dropped him and this stigmatized the boy .
The interview can be found in the June 3, 1986 issue of King Features Syndicate's
"The Spokesman-Review"
entitled
"Welcome Home Perry Mason".
What should be pointed out is that which ever set of events happened when Raymond Burr was 12 years old. The year was 1929 and the "Great Depression" began.
ACTING---BEGINNINGS
Raymond Burr wanted to be schooled at the
"Pasadena Playhouse"
in Pasadena, California. Located just outside of downtown Los Angeles.
This was the most prestigious training ground in the United States, but during the "Great Depression" funds were hard to find and Raymond Burr couldn't make the tuition. He had to find other means of improving his acting skills. I can sympathize with the young man. As I had been accepted to start in October 1969, after my tour in the Navy ended, but the school closed down that year. In my case, because of the lack of funds to keep "The Playhouse" open.
In 1934, Raymond Burr, joined a "Repertory Theatre Group" in Toronto, Canada, and started touring and refining his acting skills. Next he joined a group that toured in India, Australia and England. This would be followed by a short period of learning in Southern California at "Long Beach Junior College", but Raymond Burr, actor, needed an income. So he taught a semester of Dramatic Arts at "San Jose Junior College" in an area of California that is today known as "Silicon Valley".
By 1937, the now, actually twenty years old Raymond Burr, was a part time radio actor and singer. He had also made it to the "Pasadena Playhouse" as a performer. Once more honing his craft.
THE ROAD TO MOTION PICTURES
In 1940 Raymond Burr moved to New York City and in 1941 made his first Broadway appearance in a play by actor Kurt Kaznar entitled
"Crazy With the Heat".
The play closed almost immediately and Kaznar was drafted into the United States Army.
A short time later found Burr back at the "Pasadena Playhouse" and in November 1942 the actor had his first starring role. He was the replacement for the star of a production by British playwright Esther McCracken,
"Quiet Wedding",
in the playhouse's theater. After the play closed, Raymond Burr joined the faculty for the following eighteen months.
Burr returned to Broadway and appeared in a production of playwright Patrick Hamilton's
"The Duke in Darkness".
The story is
set in 1580 during the "French Civil Wars". The role led to Raymond Burr getting a contract with
"RKO Pictures"
.
THE FIRST FOUR YEARS ON FILM (1946 THROUGH 1949)

"Without Reservations"
was released by RKO on May 13, 1946. Some might say being in a John Wayne and Claudette Colbert motion picture directed by Mervyn LeRoy was a excellent start to a film career. However, when your role is so small, but at least has the character name of
"Paul Gil".
You're lucky it shows on the complete cast listing beside the entry "Uncredited". on IMDb.
Going from being just a name on a list of one-hundred and five "Uncredited Roles" in your first motion picture. To Eleventh billing on your second feature isn't bad for a fledgling movie actor. The motion picture was
"San Quentin",
released December 8, 1946, and starred Lawrence Tierney and Barton Maclane. Tierney had played
"John Dillinger"
in a hard hitting 1945 movie about the gangster.
While MacLane had portrayed
"Police Lieutenant Dundy"
in John Huston's 1941
"The Maltese Falcon"
.
In the front seat is Barton MacLane as
"Nick Taylor"
holding a gun on the prison guard during their break out. In the back on the left is Harry Shannon as
"Wardon Kelly",
Lawrence Tierney as
"Jim Rolland"
and Robert Clarke as
"Tommy North".
Below Raymond Burr as
"Jeff Torrance",
Tierney and Carol Foreman as
"Ruthie".
On February 20, 1947 Raymond Burr appeared in his first "B" western author Zane Grey's
"Code of the West".
Burr had ninth billing as
"Boyd Carter".
The picture starred James Warren as
"Bob Wade".
Warren had just replaced Robert Mitchum as "RKO's" "B" Cowboy lead.
Above Burr, Debra Alden as
"Ruth Stockton"
and Warren.
For Raymond Burr's next motion picture and his first film-noir the actor had third billing and saw his name on the poster for:
DESPERATE released June 20, 1947
The motion picture was directed by Anthony Mann. Mann was an excellent choice, but would be known in the 1950's as James Stewart's personal director. This started with 1950's
"Winchester 73"
and would move to 1952's
"Bend in the River",
1953's
"The Naked Spur",
the same year's
"Thunder Bay",
1954's
"The Glenn Miller Story"
and
"The Far Country".
In 1955 Mann directed Stewart in
"Strategic Air Command"
and
"The Man from Laramie".
Anthony Mann also directed two 1960 epics 1961's
"El Cid"
and 1964's
"The Fall of the Roman Empire".
Steve Brodie portrayed
"Steve Randall".
He had been with Burr in the western
"Code of the West".
Audrey Long portrayed
"Anne Randall"
Raymond Burr portrayed
"Walt Radak".
"Steve Randall" is a truck needing work and his friend tells him about a hauling job.Only when "Steve" arrives at the warehouse does he realize the good are stolen. He does want any part of the crime, but a police officer is killed. "Steve" is threatened with the mutilation of his wife unless he takes the wrap for the killing that was done by "Radak's" brother.
"Desperate"
was followed by another
"I Love Trouble",
released January 15, 1948, and starred Franchot Tone and Janet Blair. Raymond Burr was thirteenth billed as
"Herb".
Another film-noir followed that was close to an "A" list picture
"Sleep My Love",
released March 16, 1948.
The film starred Claudette Corbert portrayed
"Allison Courtland",
Robert Cummings portrayed
"Bruce Elcott"
and Don Ameche portrayed
"Richard W. Courtland".
Raymond Burr was billed tenth as
"Police Sergeant Strake".
The plot had "Allison Courtland" awaking on a train without any memory of how she got there. Her husband is planning on driving her to commit suicide so he can inherit her fortune.
Raymond Burr followed the potential "A" list film-noir with a definite "B" list.
"Ruthless",
released October 27, 1948 starred Zachary Scott, Louis Hayward and Diana Lynn. Burr was ninth billed as
"Pete Vendig".
It was during the year that Raymond Burr married Isabella Ward. They had met at the "Pasadena Playhouse" and would remain married into 1952.
Speaking of small roles in the Pat O'Brien and Daryl Hickman
"Fighting Father Dunne",
released May 12, 1948, found Raymond Burr as a
"Prosecuting Attorney"
in a quick background montage.
Anthony Mann was back directing another excellent flim-noir.
RAW DEAL
released May 26, 1948
The plot is typical period film-noir. "Joe Sullivan" has taken the rap for "Rick Coyle" and is sent to prison With the help of his girl friend "Pat Regan", "Joe" has escaped and wants to get even with "Rick". However, sadistic mobster "Rick" had planned for the other to be killed during the escape. Now is confrontation time between the two men. That said it is the cast that Mann put together that is what the picture is really about.
Dennis O'Keefe portrayed
"Joe Sullivan".
O'Keefe was a solid "B" lead across many genres in a 278 role career.
Claire Trevor portrayed
"Pat Regan".
Trevor had starred in director John Ford's 1939
"Stagecoach",
Raoul Walsh's
"Dark Command"
both pictures with John Wayne. She was about to be seen in a powerful role in John Huston's
"Key Largo"
with Edward G. Robinson, Humphrey Bogart and Lauren Bacall.
Marsha Hunt portrayed
"Ann Martin".
Hunt was close to breaking into "A" features, but would be caught up in the 1950's McCarthy Era "Blacklisting" and her motion picture career ended. However, that was the opening of the new medium television and Marsha Hunt started a career that ended in 1980.
John Ireland portrayed
"Fantail".
Ireland had portrayed
"Billy Clanton"
in John Ford's 1946
"My Darling Clementine",
he had been
"Cherry Vance"
in Howard Hawks' 1948
"Red River"
and in 1949 would be a reverting
"Robert 'Bob' Ford"
in Samuel Fueller's
"I Shot Jesse James".
Raymond Burr portrayed
"Rick Coyle".
Above Claire Trevor, Marsha Hunt and Dennis O'Keefe. Below Raymond Burr.
Below Curt Conway as
"Spider",
Burr and John Ireland
Below is a Sunday Comic Page ad for the motion picture.
One film-noir followed another.
PITFALL released August 24, 1948
The picture was directed by Andre De Toth. Who even though he only had one eye would direct the 3-D classic horror picture 1953's
"House of Wax".
The motion picture starred Dick Powell and Lizabeth Scott.
Above Raymond Burr as fourth billed
"J.B. MacDonald"
lights Elizabeth Scott as
"Mona Stevens"
cigarette. Scott was the "B" picture Lauren Bacall and her looks compared to Bogart's wife are very similar. Also in the cast was Jane Wyatt
as
"Sue Forbes".
Below Liz Scott, Dick Powell and Raymond Burr
Raymond Burr was back with Dick Powell in the Luke Short western
"Station West"
released September 1, 1948. He was back with Dennis O'Keefe and Louis Hayward in the film-noir
"Walk A Crooked Mile"
released September 3, 1948. Next it was Errol Flynn's
"Adventures of Don Juan"
co-starring Viveca Landfors. Raymond Burr had sixteenth billing as
"Alvarez".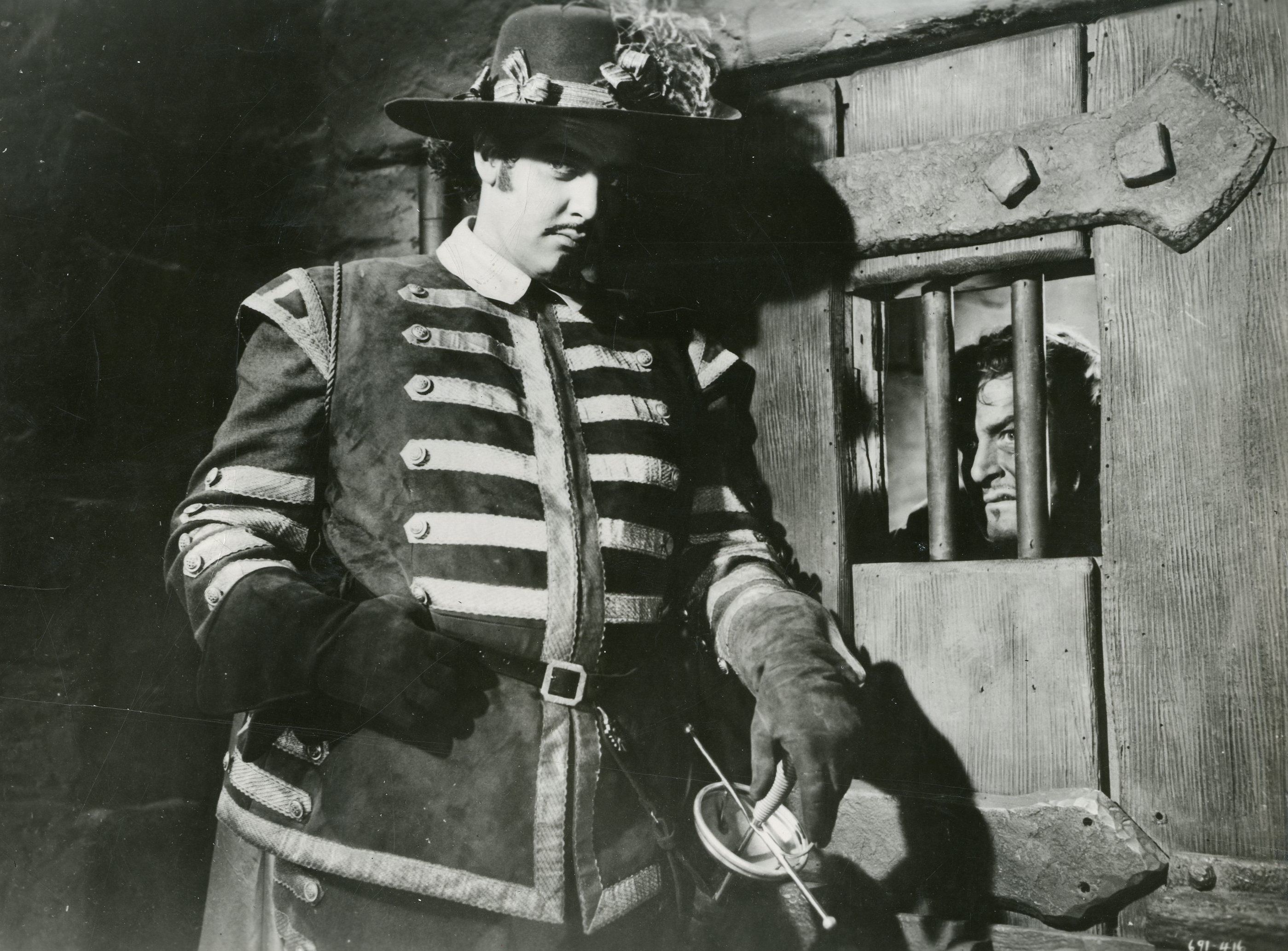 Studios sometimes played off other upcoming major motion pictures with a low budget one of their own. So it was for Paramount Studios attempting to use the publicity of 20th Century Fox's December 1949 release of "Prince of Foxes" starring Orson Welles as "Cesare Borgia" and co-starring Tyrone Power. Paramount beat out 20th Century Fox by eight months with "Bride of Vengeance", released April 4, 1949. Paulette Goddard portrayed "Lucretia Borgia", John Lund portrayed "Alfonso I d'Este the Duke of Ferrara" and MacDonald Carey portrayed "Cesare Borgia". Raymond Burr portrayed the sixth billed character of "Michelotto".

Between the release of "Bride of Vengeance" and "Prince of Foxes" had been another Orson Welles feature. "Black Magic" was released on August 19, 1949. The film was based upon a Alexander Dumas novel about "Joseph Balsamo", the Welles role, known to history as "Count Cagliostro". In the film Raymond Burr portrayed Alexander Dumas, Junior, seen below:
Another film-noir with an interesting cast was:
RED LIGHT released September 30, 1949
The screenplay was based upon a novel by "B" Cowboy Don "Red" Barry entitled
"This Guy Gideon".
Above Don "Red" Barry.
George Raft portrayed
"John Torro"
and Virginia Mayo portrayed
"Carla North".
Gene Lockhart portrayed
"Warni Hazard".
Raymond Burr portrayed
"Nick Cherney".
Henry Morgan portrayed
"Rocky",
He would change his name to Harry Morgan and be seen on the television series
"M.A.S.H."
portraying
"Colonel Sherman T. Potter".
Barton MacLane portrayed
"Strecker".
Arthur Franz portrayed
"Jess Torno".
In 1951 he was in both
"Flight to Mars"
and
"Bud Abbott and Lou Costello Meet the Invisible Man",
in 1953 he was in the original
"Invaders from Mars",
1954 saw Franz as part of the crew of
"The Caine Mutiny"
and in 1958 he was the
"Monster on the Campus".
Arthur Shields portrayed
"Father Redmond".
Shields and his brother Barry Fitzgerald often are confused, because how close they look. Shields was in John Ford's 1939
"Drums Along the Mohawk",
1940's
"The Long Voyage Home",
1941's
"How Green Was My Valley"
and
1949's
"She Wore A Yellow Ribbon".
To add to brotherly confusion Shields and brother Barry Fitzgerald were together in John Ford's 1952
"The Quiet Man".
Left to right above, Arthur Shields, Arthur Franz and George Raft.
"Nick Cheney" the former bookkeeper of a trucking company falsely in prison for embezzlement plans his revenge against his former boss "John Torno". He hears about the return of "Torno's" brother and set in motion his plan starting with the murder of "Father Torno" by "Rocky". A fellow inmate who gets out shortly.
The following are stills of Raymond Burr from this feature film.
Another film-noir followed entitled
"Abandoned"
and then a comedy of major proportions. Even if Raymond Burr was still playing a gangster.
LOVE HAPPY released October 12, 1949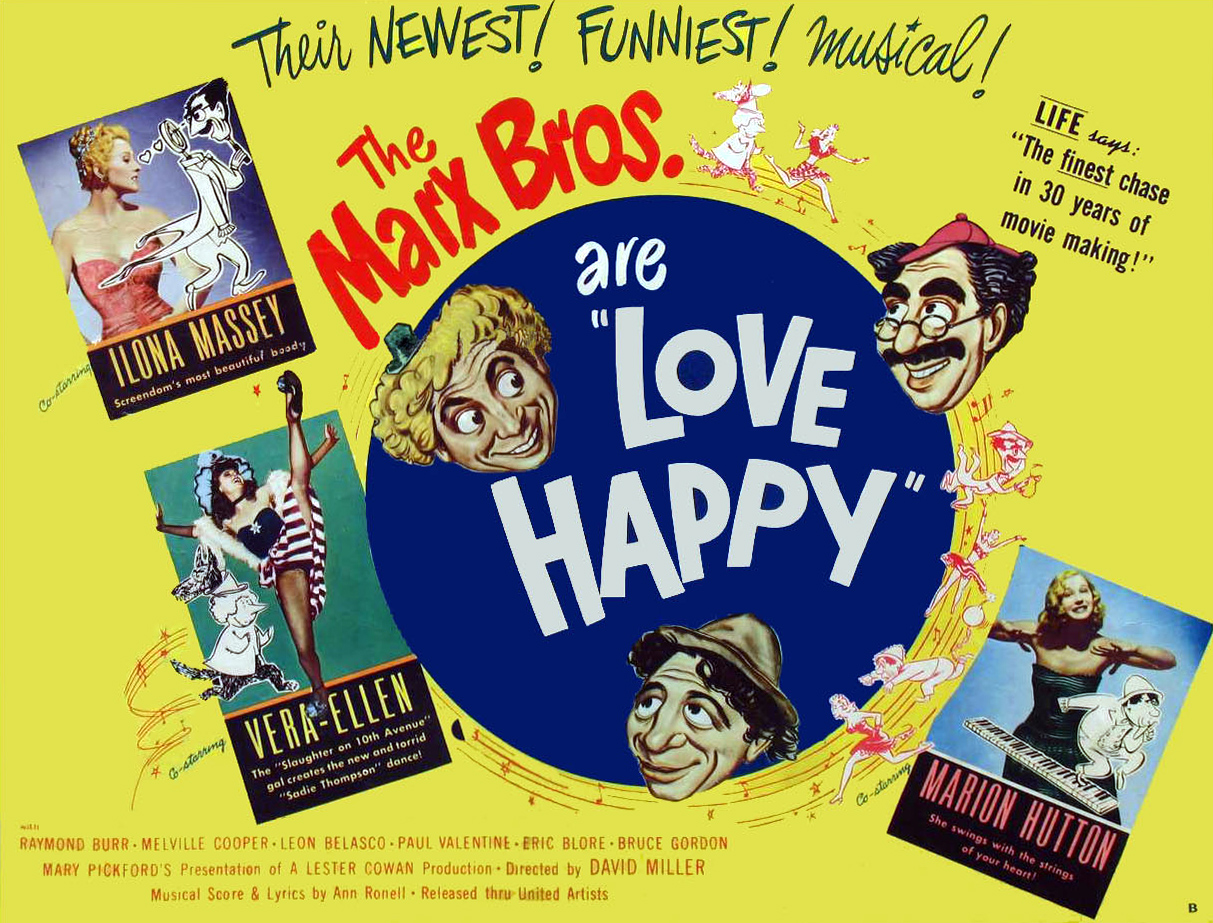 It's hard to read, but looking at the first name on the first line in red under Vera-Ellen's name. My reader will see sixth billed Raymond Burr.
Above Ilona Massey as
"Madame Egelichi"
with her henchman.
Raymond Burr as
"Alphonse Zoto",
Melville Cooper as
"Throckmorton"
and Bruce Gordon as
"Hannibal Zoto".
Although this was
"The Marx Brothers"
thirteenth and final film. The motion picture is not remembered for that, but for a walk-on by a basically unknown actress in her sixth film appearance. Her name was Marilyn Monroe and she portrayed Groucho Marx's,
"Detective Same Grunion's",
client.
Below Raymond Burr gets into a slapping match with Harpo Marx as
"Harpo".
While Ilona Massey and Bruce Gordon look on.
THE EIGHT YEARS BEFORE "PERRY MASON (1950 INTO 1957)
Released on January 30, 1950, with third billing as
"Roger Lewis"
was the very low budget crime drama
"Unmasked".
The movie is remembered only, because of the sets designed by art director Frank Hotaling. Hotaling was known for his western sets and was art director on John Ford's 1950
"Rio Grande",
1952
"The Quiet Man",
1956's
"The Searchers"
and 1959's
"The Horse Soldiers".
KEY TO THE CITY released February 2, 1950
The above poster is important
FOR WHAT IT DOESN'T SAY!
According to the poster actor James Gleason is billed
fifth
in this Clark Gable and Loretta Young feature film.
HOWEVER,
if you look on the official cast listing for the motion picture. James Gleason is listed
sixth
and the name of Raymond Burr is listed
fifth.
The reason is that the potential "A" List audience knew Gleason, but had no idea who Raymond Burr was and the Publicity Department wins.
Raymond Burr's first television appearance was in a made for television movie,
"The Amazing Mr Malone",
about Private Investigator
"John J. Malone"
portrayed by Gene Raymond. The movie was shown on February 14, 1950 and was based upon a novel by Craig Rice. Other than Raymond I could not locate what the names of the other roles were, but the cast listing only shows three other actors: Raymond Burr, Henry "Harry" Morgan the future
"Colonel Potter"
on television's
"M.A.S.H.",
Fred Clark, 1949's
"White Heat"
starring James Cagney and 1950's
"Sunset Boulevard"
and Maria Palmer, basically a television actress from 1949 to 1967.
This film may have been used as a pilot idea for a television series, because actor Lee Tracy, 1932's
"Dr. X"
co-starring with Fay Wray and 1933's
"Bombshell"
co-starring with Jean Harlow, appeared in the thirteen episode television series,
"The Amazing Mr. Malone",
as Private Investigator
"John J. Malone"
Another film noir
"Borderline",
released March 1, 1950,
starring Fred MacMurray and Claire Trevor with third billed Burr. Whose name was not mentioned on the posters, or film advertising. The plot was about two undercover agents, not knowing about the other, infiltrating a Mexican drug-smuggling ring ran by Raymond Burr's
"Pete Ritchie".
Next came an overlooked film classic that became a lost motion picture. Initially it was boycotted by some States and Cities, because of four time Academy Award Nominated director Joseph Losey's political views. That would lead to his "Black Listing" and leaving the United States. In 2018 a copy was found, restored, and was shown on television in 2019, being seen for the first time in sixty-eight years.
M
released in March 1951
Back in 1931 Germany, producer Seymour Nebenzal backed director Fritz Lang on a thriller that shocked even that country. Lang, who had filmed two classics of the silent screen, 1927's
"Metropolis"
and 1929's
"Women in the Moon".
Who with his wife created the familiar "Rocket Launch Countdown" to build tension with a silent screen audience. Now turned to the story of a child serial murderer in the original
"M".
The motion picture starred the unknown Peter Lorre. as
"Hans Beckert".
Who is simply
known to the German underworld as
"M"
for murderer.
For those interested in the work of Fritz Lang and the women who was Hitler's main propaganda film maker. May find my article:
Fritz Lang and Leni Riefensthal: Their Films"
at:
http://www.bewaretheblog.com/2015/03/fritz-lang-and-leni-riefensthal-their.html
For those of my readers interested in the film career of Peter Lorre. Can find my article
"Peter Lorre: Overlooked, or Forgotten Performances"
at:
http://www.bewaretheblog.com/2017/11/peter-lorre-overlooked-or-forgotten.html
In 1951 producer Seymour Nebenzal decided to remake Fritz Lang's
"M"
and hired Joseph Losey to direct.
Along with cinematographer Ernest Lazlo, director Joseph Losey, had made a time capsule of 1951 Los Angeles. Sequences were filmed in the "Bunker Hill" area with the original "Angel's Flight" and within the original "Bradbury Building". All three are now historical monuments of Los Angeles.
That said the role of
"Martin H. Harrow",
the
"M"
of the story, went to actor David Wayne. Wayne had been in the 1949 Spencer Tracy and Katharine Hepburn comedy
"Adam's Rib",
the Marilyn Monroe, Betty Grable and Lauren Bacall, 1953
"How to Marry a Millionaire",
and would be seen later in his career in director Robert Wise's 1971
"Andromeda Strain".
Above David Wayne and his characters fetish with shoes.
Sixth billed Raymond Burr was
"Pottsy".
One of syndicates leader,
"Charles Marshall's",
portrayed by Martin Gabel, enforcers helping him track down
"M".
As in the 1931 motion picture the underworld of Los Angeles is afraid the child serial killer is bringing too much police attention to their own activities. They want him dead!
After
"M",
Raymond Burr appeared, in 1951, twice on the forgotten television anthology series
"Stars Over Hollywood".
The "B" western
"New Mexico"
followed starring old pro's Lew Ayers and Andy Devine. Burr had dropped to tenth billing as
"Cavalry Private Anderson".
Raymond Burr next motion picture was an excellent and hard hitting film-noir.
HIS KIND OF WOMAN released August 15, 1951
This was another motion picture to showcase Howard Hughes' discovery and girlfriend (?) Jane Russell.
Robert Mitchum portrayed
"Dan Milner"
Jane Russell portrayed
"Lenore Brent"
Vincent Price was
"Mark Cardigan"
Above seated Robert Mitchum and Vincent Price as Jane Russell looks on.
Although Tim Holt, Charles McGraw and Marjorie Reynolds had roles above Raymond Burr's underworld boss
"Nick Ferraro".
When on the screen Burr dominates the film. "Ferraro" was deported to Mexico and he has a plan to re-enter the United States and take over his fallen empire. In inadvertently gambler "Dan Milner" finds himself caught in the middle of a tug of war between "Ferraro" and others.
Another very low budget picture about ex-Nazi's and Communist agents called
"The Whip Hand"
was released October 1, 1951. Then Raymond Burr was in an Arabian Nights fantasy.
THE MAGIC CARPET released October 8, 1951
The first thing to note about this film is that it was filmed in
"SUPERcineColor".
This was Columbia Pictures competition to
"Technicolor"
which the major studios were using. Another example was found with Republic Pictures and
"TRUECOLOR"
. Some of the majors upped the "Color War's" by going to the more intense
"Eastman Color"
, but you get the jest.
The second thing to note is that the movie was produced by Columbia's Sam Katzman. Katzman was known by Columbia's founder, Harry "King" Cohn, to take a typical low-ball budget and still bring back change for the studio. Among Katzman's Chapter Serials are the 1948
"Superman",
the 1949
"Batman and Robin",
the 1950
"Atom Man vs Superman".
His science fiction films include two by Ray Harryhausen, 1955's
"It Came from Beneath the Sea"
and 1956
"Earth vs the Flying Saucers".
Katzman's horror films include
the cult classic from 1955
"The Creature with the Atom Brain"
and 1956's
"The Werewolf".
That in my opinion has a story equal to 1940's
"The Wolfman".
My article
"SUPERMAN Meets 'The Giant Claw' as the 'Earth vs the Flying Saucers': Executive Producer Sam Katzman"
can be read at:
http://www.bewaretheblog.com/2018/10/superman-meets-giant-claw-as-earth-vs.html
The film's main cast:
Lucille Ball was
"Princess Narah".
Lucy was seven days away from the premier of
"I Love Lucy"
on CBS. She had been acting in drama, comedy and musical motion pictures since 1933.
John Agar had a three part hero role, because of his disguises. Agar was
Abdullah al Husan",
the rightful Caliph,
aka:
"Dr Ramoth"
aka: the rebel leader
"The Scarlet Falcon".
Agar had divorced Shirley Temple the year before and was feeling the wrath of the Hollywood major studios and the public. This was his start to rebuild his career that would lead to Universal Studio's and the 1955 3-D
"Revenge of the Creature"
and the same years
"Tarantula".
That was the start of him becoming a cult science fiction star. His story on my blog,
"John Agar His Fall That Led To Cult Science Fiction Status"
can be read at:
http://www.bewaretheblog.com/2015/03/john-agar-his-fall-that-led-to-science.html
Above the two stars in a publicity still.
Patricia Medina was
"Lida"
and George Tobias was
"Razi".
However, fourth billed Gregory Gaye is the evil
"Caliph Ali".
Above John Agar. Patricia Medina and George Tobias. Below Gregory Gaye and Lucille Ball.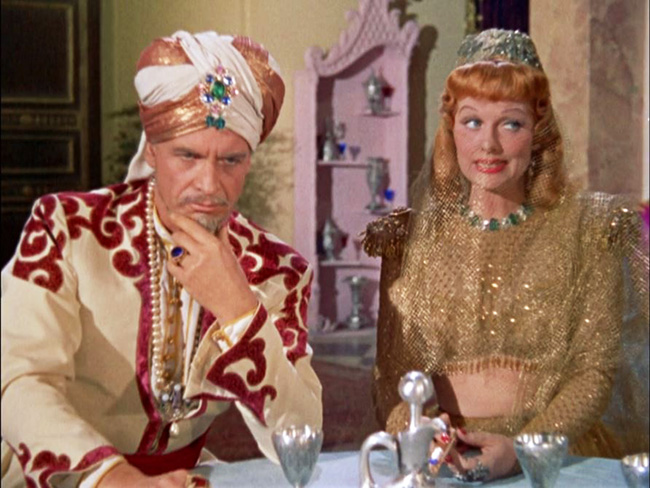 All this said it is third billed Raymond Burr as
"Grand Vizar Boreg el Buzzar"
that steals the film.
Burr next had sixth billing in the major "A" list Academy Award winning motion picture
"A Place in the Sun".
The feature was directed by Oscar Winner George Stevens and featured co-stars and Oscar nominated, Montgomery Clift and Shelley Winters. Along with Elizabeth Taylor and had been released on October 11, 1951.
BRIDE OF THE GORILLA
released October 1951
Lets start with the writer and director Curt Siodmak. He was the man who wrote the lines:
Even a man who is pure of heart and says his prayers by night. May become a Wolf when the Wolfbane blooms and the Moon is full and bright.
Curt's other screenplays besides 1940's
"The Wolfman",
include 1943's
"Frankenstein Meets the Wolfman",
Val Lewton's classic 1943
"I Walked with a Zombie"
and 1943's
"Son of Dracula"
directed by Curt Siodmak's brother Robert Siodmak. My article on the brothers
"CURT AND ROBERT SIODMAK: Horror and Film Noir"
will be found at:
http://www.bewaretheblog.com/2017/11/curt-and-robert-siodmak-horror-and-film.html
The Cast:
Barbara Payton portrayed
"Mrs. Dina Van Gelder".
Look her up on line. Her tragic Marilyn Monroe like life is very compelling.
Lon Chaney portrayed, a good guy,
"Police Commissioner Taro".
This was the start of Chaney's decline in films.
Raymond Burr portrayed
"Barney Chavez".
Tom Conway portrayed
"Dr Viet".
Conway was the brother of actor George Sanders. Conway was their real last name. The actor was in several Val Lewton productions such as 1942's
"Cat People"
and 1943's
"I Walked with a Zombie".
A side note had George Sander's portraying
"Tom Lawrence the Falcon"
in a series of detective movies and when George stopped playing the role. His brother Tom took over.
Above Payton, Chaney and Conway. Below Burr and Payton.
The screenplay has "Barney Chavez" killing his employer to marry the other's wife. A local witch doctor, played by Gisela Werbrisek, puts a curse upon him and at night he turns into a gorilla.
November 4, 1951 found Raymond Burr in another film-noir
"F.B.I. Girl".
Above fifth billed Burr were Cesar Romero, George Brent, Audrey Totter and Tom Drake. This movie was followed by one appearance in each of two forgotten television anthology series the
"Chesterfield Sound of Time"
and
"Hollywood Opening Night".
Along with an episode of Jack Webb's
"Dragnet"
and the Frank Sinatra movie
"Meet Danny Wilslon",
released April 1, 1952, and the Errol Flynn and Ruth Roman
"Mara Maru"
released April 23, 1952.
Raymond Burr was starting to appear on television more often. He appeared in episodes of three other anthology series
"Rebound", "Times Square Playhouse"
and
"Gruen Guild Theater".
Anthology drama series sponsored by car and cigarette companies were very popular in the first half of the 1950's.
It was back to a "B" western from Universal Studios that featured two of their contract players to end 1952.
HORIZONS WEST released October 2, 1952
Robert Ryan was
"Dan Hammond"
and the big name draw for the film. He had just been seen co-starring with Ida Lupino in
"Beware My Lovely".
Playing a psychopath taking the job of a handyman at the house of a lonely widow. This is a very good film-noir.
Julia, not yet Julie, Adams portrayed
"Lorna Hardin".
This was contract player Adams' fifteenth motion picture for the studio. It wouldn't be until the Tony Curtis
"Six Bridges to Cross"
in 1955, before her name changed. Look at the classic science fiction motion picture
"The Creature from the Black Lagoon"
and she is still "Julia" Adams.
Rock Hudson portrayed Ryan's brother
"Neil Hammond".
This was contract player Hudson's seventeenth motion picture for the studio. In 1956 he was still under contract to Universal when he was cast with Elizabeth Taylor and James Dean in director George Stevens version of the Edna Ferber novel
"Giant".
Above Robert Ryan and Julia Adams. Below Robert Ryan and Rock Hudson.
Between these leads and Raymond Burr were fourth billed Judith Braun as
"Sally Eaton"
and fifth billed John McIntire as
"Ira Hammond".
Raymond Burr was sixth billed
"Cord Hardin".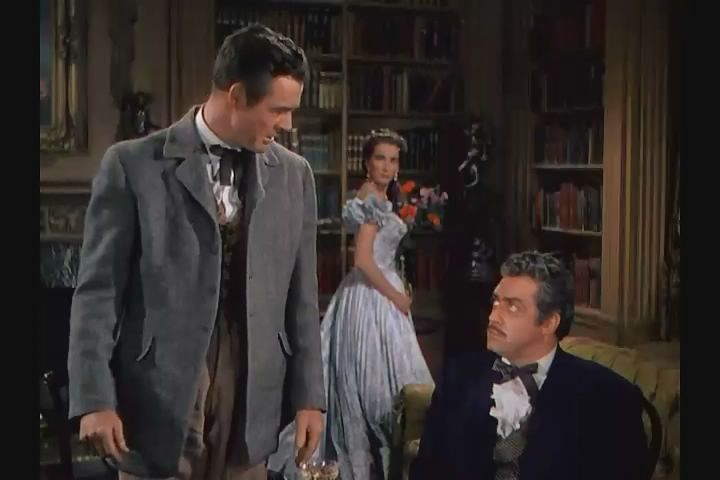 The story has the brothers returning home after the Civil War to Texas. Their father wants his sons to run the large family ranch, but "Dan" has dreams of empire building like the ruthless "Cord". Into the mix comes their father's wife "Lorna" with eyes on "Dan" and empire. After their father's death as a result of the clashes between brothers. "Lorna" gets her man and "Neil" becomes Sheriff. In the end the two brothers finally collide.
1953 saw Burr in episodes of five television anthology series. These were
"Tales of Tomorrow", "Your Favorite Story", "Chevron Theatre", "Four Star Playhouse"
and
"Family Theatre".
He had already appeared on "Family Theatre" in 1951 and 1952.
Also during the year were five motion picture roles.
BANDITS OF CORSICA released February 23, 1953
This film was a low budget version of the Alexander Dumas novel
"The Corscian Brothers".
About two Siamese twin brothers separated at birth, One raised wealthy and one as a gypsy who join together to overthrow a ruthless tyrant. Can you say Raymond Burr?
Richard Greene portrayed the twins
"Mario"
and
"Carlos".
Greene was
"Sir Henry"
in the Basil Rathbone and Nigel Green 1939 version of Sir Arthur Conan Doyle's
"The Hound of the Baskervilles"
and from 1955 through 1960 he starred in television's
"The Adventures of Robin Hood"
for 144 episodes.
Paula Raymond was
"Christina".
Raymond was mainly a "B" star.
Above Raymond Burr and Paula Raymond. Burr, whose name you can barely make out on the above poster, portrayed with third billing
"Jonatto".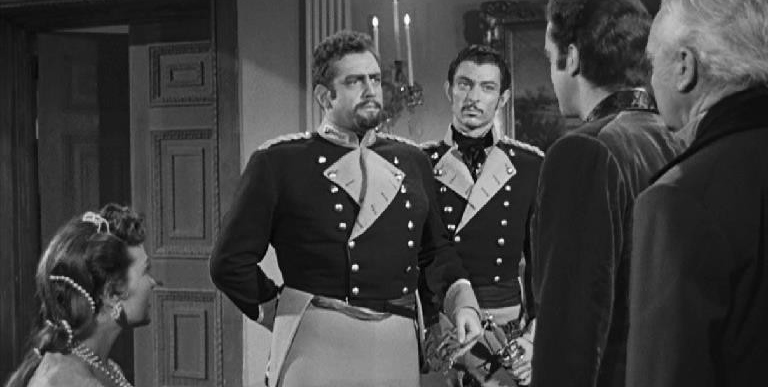 Above Raymond Burr faces Richard Greene and, yes, that's sixth billed Lee Van Cleef as
"Nerva".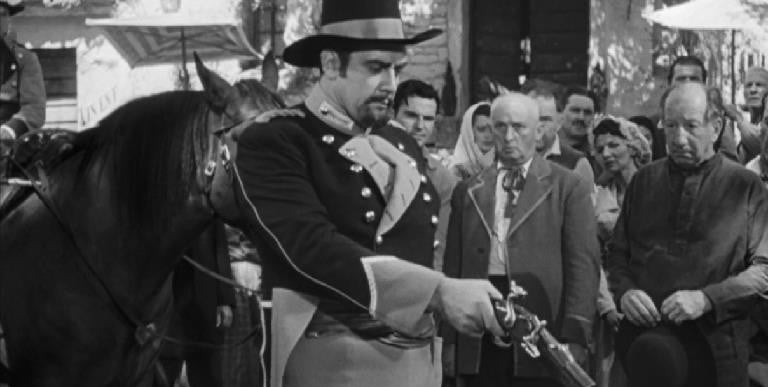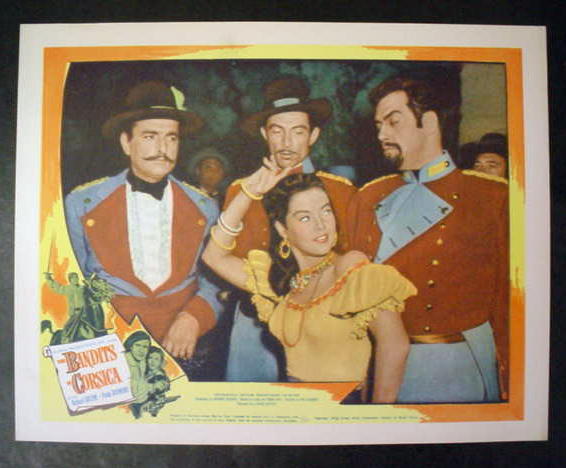 I mentioned earlier that Raymond Burr was in an American remake of a classic by director Fritz Lang. Now he was in the cast of a film directed by Lang.
THE BLUE GARDENIA released March 28, 1953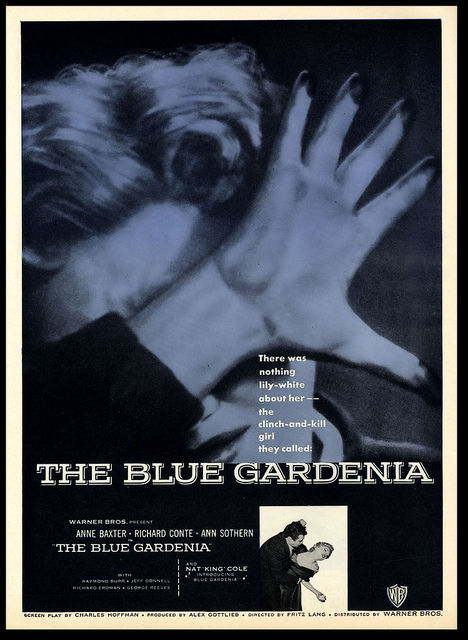 This film-noir was the first in what became known as Fritz Lang's
"Newspaper Trilogy".
Anne Baxter portrayed
"Norah Larkin".
Richard Conte portrayed
"Casey Mayo".
Ann Southern portrayed
"Crystal Carpenter".
Above the three leads Richard Conte, Anne Baxter and Ann Southern. On the far right and appearing on television, at the time, in
"The Adventures of Superman"
is George Reeves as
"Police Captain Sam Haynes".
Raymond Burr portrayed
Harry Prebble".
Above Raymond Burr and Anne Baxter. Another actor in the film was popular singer Nat "King" Cole playing himself and seen below with Baxter. Look for Cole at the piano at the "El Rancho" in his first on screen appearance in Orson Welles' 1941
"Citizen Kane".
A switchboard operator, "Norah", decides to celebrate her birthday alone in her apartment. She had received a letter from Korea and opening it discovers her fiance, in the Army stationed in country, is marrying a Nurse he met. The phone rings and answering it she finds "Harry Prebble" on the other end inviting her out. She accepts and after having several drinks at a nightclub returns to "Prebble's" apartment. There, he makes unwanted sexual advances and she apparently hits him with a fire place poker and then passes out from her drinking. When she awakes, "Norah" is back in her apartment with a blackout for the events of the evening, but believing she may be a murderer.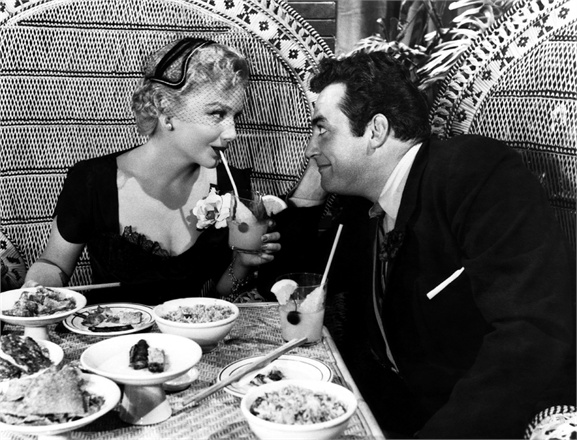 Once again Raymond Burr was in an episode of another of the many early 1950 anthologies
"Chevron Theatre".
In 1934 Cecil B. DeMille cast Claudette Colbert as
"Cleopatra".
In 1963 Joseph L. Mankiewicz would cast Elizabeth Taylor as
"Cleopatra".
Between these two major actresses was Rhonda Fleming.
SERPENT OF THE NILE released May 8, 1953
Once again we are looking at a Columbia Pictures release produced by Sam Katzman. The Columbia Pictures contract director Katzman hired for this production. Had just completed his second "B" western out of nine, the 3-D production
"Fort Ti".
Although it was set during the French and Indian Wars. The feature was seven years before the directors first thriller-horror movie that the name William Castle would be forever be associated with.
My article
"A Tale of WILLIAM CASTLE the Motion Picture 'GIMMICK KING"
can be read at:
http://www.bewaretheblog.com/2017/10/a-tale-of-william-castle-motion-picture.html
The screenplay was by Columbia contract writer Robert E. Kent. Some of his better screenplays included the comedy-horror 1945's
"Zombies on Broadway",
two of the Ralph Byrd
"Dick Tracy"
series, 1946's
"Dick Tracy vs Cueball"
and 1947
"Dick Tracy Meets Gruesome"
with Boris Karloff. Prior to this film Kent wrote the screenplay for the Bill Haley and the Comets 1956
"Rock Around the Clock"
and that excellent 1956
"The Werewolf".
In 1963 Robert E. Kent wrote the screenplay and produced
"Twice Told Tales"
that starred Vincent Price. Two other Price screenplays Kent wrote were the 1962 remake of RKO's 1939
"Tower of London"
and the underappreciated 1963
"Diary of a Madman".
Which was based upon Guy de Maupassant's 1887 short horror story
"The Horla".
As I mentioned Rhonda Fleming portrayed
"Cleopatra".
Flaming Red Haired Fleming had to wear a black wig for the role.
Above a publicity photo of Fleming and below the actress as
"Cleopatra".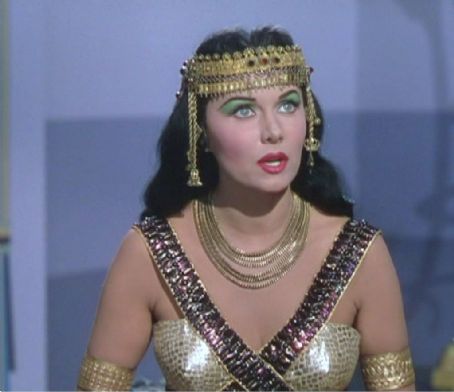 William Lundigan portrayed the Roman lover of the Queen,
"Lucillius".
There were at least two real people of that name during the period 44 B.C. through 30 B.C. that the film covers. The one Kent probably based the character upon. Had been a partisan of Brutus and knew Mark Anthony. After the assassination of Julius Caesar. That Lucillius became friends with Anthony.
Raymond Burr was third billed as
"Mark Anthony".
TARZAN AND THE SHE-DEVIL
released June 20, 1953
Fourth billed Monique van Vooren portrayed
"Lyra, the She-Devil".
This was the second of her 21 roles between 1950 and 2012. She played
"Miss Clean"
in an episode of television's
"Batman"
with Burgess Meredith as
"The Penguin"
and the same role in an episode with Barbara Rush as
"Nora Clavicle".
Van Vooren was
"Baroness Katrin Frankenstein"
in the 1973 West German motion picture
"Flesh For Frankenstein".
Lex Barker was
"Tarzan".
This was Barker's fifth and final appearance as the Edgar Rice Burroughs character. Barker would alternate with Stewart Granger in a series of American westerns made by West Germany during the period dominated by Italian Spaghetti westerns.
Joyce MacKenzie was
"Jane".
This was her twenty-first role since 1946 and she had seven more left through 1961. This was also the only time she portrayed
"Jane".
Above MacKenzie and Barker.
Below Raymond Burr was third billed as
"Vargo".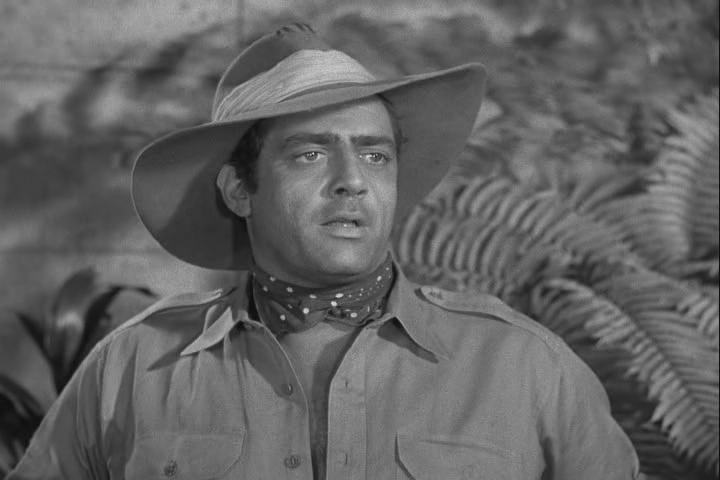 Tom Conway portrayed
"Fidel".
Below Conway, Van Vooren and Burr.
Ivory poachers led by Lyra, Vargo and Fidel enter Tarzan's territory. At one point Jane is believed killed and the enraged Ape Man goes after the poachers.
In the early 1950's 3-D trading cards were very popular with kids like myself and they came with a small blue and red lenses 3-D pair of glasses. Although the cost of the bubble gum pack with a couple of those cards were high compared to baseball, or football cards. Apparently there was a set of 3-D from "Topps" for this film.
Below upper left are Burr and Van Vooren's characters.
This picture was followed by
"Fort Algiers",
released July 15, 1953, starring Yvonne DeCarlo with Burr as a tribal leader attempting to cause rebellion against the French Foreign Legion in Northwest Africa. Then back to television anthologies followed by a Bob Hope comedy.
CASANOVA'S BIG NIGHT released April 7,1954
Bob Hope portrayed Casanova's tailor who knows he's out of town and decides to impersonate him to get the girls. Of course everything goes wrong, as the real Casanova owes money to the wrong people, and Hope ends up on the guillotine, before everything clears it self up.
Besides Hope as the above poster indicates. The main stars were Joan Fontaine, Basil Rathbone, Audrey Dalton and Hugh Marlowe. However, in the supporting cast my reader finds John Caradine, John Hoyt, Lon Chaney, Nester Paiva, and Vincent Price in a cameo as the real
"Casanova".
Where does Raymond Burr fit into this farce? He has thirteenth billed
"Minister Bragadin".
Above Raymond Burr, Arnold Moss and John Caradine.
Above Bob Hope and Raymond Burr on the far right.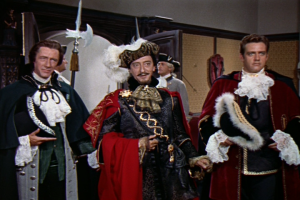 A one shot appearance followed on the Richard Denning and Barbara Britten television series
"Mr. and Mrs. North"
and Raymond Burr faced a:
GORILLA AT LARGE released May 1954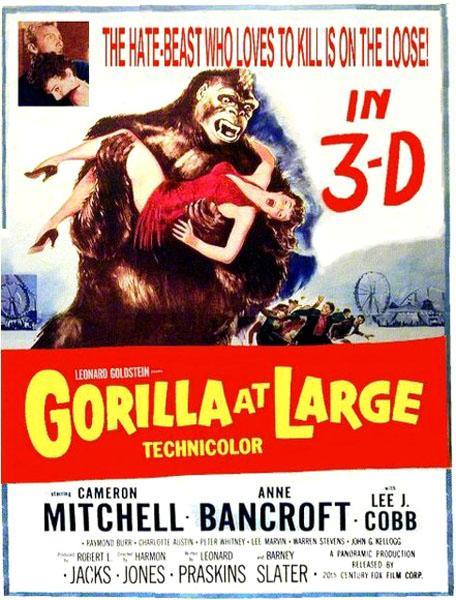 This was the second major year of the 3-D craze and 20th Century Fox, who had released the first CinemaScope film,
"The Robe",
the year before to compete with 3-D, wanted one of their own and distributed this picture. It is also a motion picture the three main leads would love to forget. However, Mel Brooks once told Cameron Mitchell it was one of his favorite movies.
My article
"THIRD DIMENSION the Golden Age of 3-D Motion Pictures 1952-1955"
may be read at:
http://www.bewaretheblog.com/2015/08/third-dimension-golden-age-of-3-d.html
Cameron Mitchell portrayed
"Joey Matthews".
Mitchell had just been seen in the very good "Cold War" thriller, 1954's
"Hell and High Water",
starring Richard Widmark. The year before was the only real millionaire in
"How to Marry a Millionaire"
starring Marilyn Monroe, Betty Grable and Lauren Bacall.
Anne Bancroft had been in the under appreciated 1952
"Don't Bother to Knock".
Also with Richard Widmark and Marilyn Monroe as a very chilling Psychopathic Baby Sitter. Bancroft would follow this picture with the sequel to
"The Robe", "Demetrius and the Gladiators".
Lee J. Cobb portrayed
"Detective Sergeant Garrison".
Cobb would follow this picture with
"On the Waterfront"
co-starring with Marlon Brando and Karl Malden.
Raymond Burr, at fourth billing, portrayed
"Cy Miller".
Above Cameron Mitchell, Raymond Burr and Lee J. Cobb. In the background is Warren Stevens as Police Detective
"Joe".
Below trapeze artist Anne Bancroft.
"Cyrus Miller's" circus has come to the fairgrounds. The "Pike" in Long Beach was used filmed between closing and opening hours. There is a murder and is it the real gorilla, or a person in a gorilla's suit. Who either let the gorilla out of its cage, or impersonate it?
Yes, that's Lee Marvin as Police Officer
"Shaughnessy"
with Lee J. Cobb.
From 3-D Gorilla's Raymond Burr moved to one of his classic roles.
ALFRED HITCHCOCK'S REAR WINDOW released September 1954
Not really into it, but released just before this motion picture was Alfred Hitchcok's only 3-D feature
"Dial M for Murder".
There is a link to a 3-D film clip from the film in my article mentioned above.
James Stewart portrayed
"L.B. 'Jeff' Jefferies".
This Hitchcock thriller came in the middle of that series of motion pictures by director Anthony Mann for Stewart.
Grace Kelly portrayed
"Lisa Carol Fremont".
She had just been seen in
"Dial M for Murder"
and would follow this picture with one of the few Bing Crosby dramatic roles in 1954's
"The Country Girl".
Above James Stewart and Grace Kelly by the film's title.
Wendell Corey portrayed
"Detective Lieutenant Thomas J. Doyle".
Thelma Ritter portrayed
"Stella".
Raymond Burr was fifth billed as
"Lars Thorwald".
The plot is simple. A man "Jeff Jefferies" has a broken leg and spends most of his time looking out of the
"Rear Window"
of his apartment. He's become somewhat of a voyeur watching the tenants of the apartments across the courtyard from him. He sees a murder committed by "Lars Thorwald" through one of the opposite apartment windows, but nobody will believe him. Did he really see what he thought he saw? Raymond Burr is just chilling with that white hair and a very understated, for Burr under the control of Hitchcock, performance.
Drop from "A" list Alfred Hitchcock to a "B" list adventure. Richard Egan leads the
"Kyber Patrol"
on the Afghanistan border fighting rebels in this film
released September 4, 1954. Raymond was
"Captain Ahmed Sir"
. Next a western ,
"Thunder Pass",
released just 16 days later. Dane Clark leads the cavalry escorting civilians through Indian Territory. Raymond Burr was
"Tusla".
Both were followed by
"Passion"
released October 6, 1954. The setting is Old Spanish California and tells of murder between two families. Raymond Burr was
"Captain Rodriquez".
Seated Lon Chaney, touching him is Cornel Wilde, next to him Raymond Burr. Behind Chaney is Yvonne DeCarlo and Anthony Caruso.
Then another switch of location for
"They Were So Young",
released January 7, 1955, about white slavery in Rio de Janerio, Raymond Burr was
"Jaime Coltos".
Above Scott Brady as
"Richard Lansing"
and Raymond Burr as
"Jaime Coltos".
An episode of television's
"Schultz Playhouse"
and then the terror of Dean Martin and Jerry Lewis.
YOU'RE NEVER TOO YOUNG
released October 14, 1955

Dean Martin portrayed
"Bob Miles".
Jerry Lewis portrayed
"Wilbur Hoolick".
Diana Lynn portrayed
"Nancy Collins".
She appeared with the team of Martin and Lewis in their first two motion pictures, 1949's
"My Friend Irma"
and its sequel 1950
"My Friend Irma Goes West".
Nina Foch portrayed
"Gretchen Brendan".
Foch portrayed a Gypsy werewolf in the overlooked 1944
"Cry of the Werewolf",
she was
"Milo Roberts"
in the 1951 Gene Kelly and Leslie Caron
"An American in Paris"
and of course
"Bithiah",
the foster mother of Moses, in Cecil B. DeMille's 1956
"The Ten Commandments".
Raymond Burr was the diamond thief
"Noonan".
In Los Angeles "Noonan" steals a valuable diamond and kills a guard. Getting on a train he first hides it in the pocket of "Bob Miles" and then with Barber Apprentice "Wilbur Hoolick". With "Bob's" help "Wilbur" disguises himself as a kid and is being followed by "Noonan".
Then back to two "B" westerns. The first was
"A Man Alone",
released October 28, 1955, and starring Ray Milland, Mary Murphy and Ward Bond. Burr was fourth billed as
"Stanley".
The second picture starred
Van Heflin and a young Joanne Woodward co-starred in
"Count Three and Pray"
with Philip Carey. It was
released also in October and Raymond Burr was once again fourth billed as
"Yancey Huggins".
Above Raymond Burr and Allison Hayes as
"Georgina Decrais".
Three years later Hayes would be known to science fiction fans as the title character in the original
"Attack of the 50 Foot Women".
Raymond Burr appeared as
"Major Tetley"
on
"The 20th Century Fox Hour",
November 2, 1955. This was a production of
"The Ox-Bow Incident".
1956 began with an appearance on
"The Ford Television Theatre".
That would be followed by the anthology dramas on both
"The Star and the Story"
and
"Celebrity Playhouse".
Next it was the forgotten film-noir
"Please Murder Me!"
co-starring with Angela Lansbury and released March 1, 1956.
GODZILLA, KING OF THE MONSTERS released April 27, 1956
Above one of the posters for the 1956 motion picture. Below another one mentioning "Godzilla's
Death Rays".
While other posters talked about "Godzilla
Breathing Fire".
Back on October 27, 1954 Toho Studios released
"Gojira".
The motion picture was directed by Ishiro Honda with special effects by Eiji Tsuburaya. The original story was an allegory of the Atomic Age and the incident of the "Lucky Dragon #5" fishing boat. An incident had was a result of the "Castle-Bravo" nuclear testing on Bikini Atoll in the Marshall Islands.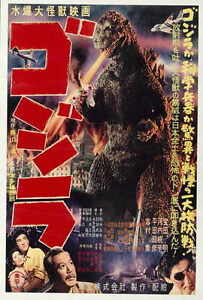 There were two main problems for America to have the original feature released in the United States. Although it would play in some major city Asian theaters that the majority of the population never went too.
The first being the definite implied relationship of "Gojira" to the Atomic Bombs dropped upon Hiroshima and Nagasaki in August 1945. The second was American memories of World War 2. The Japanese had only surrendered one month after those bomb drops and many American's still distrusted them in 1954. This feeling would still exist 16 years later when the excellent Toho World War 2 film, short English title,
"Storm in the Pacific",
was released and cut down and dubbed to become
"I Bombed Pearl Harbor"
for general United Stares release on December 7, 1961. Twenty years later.
The film rights to the original Japanese production were acquired by Edmond Goldman. Goldman had seen the film in an Asian movie house in San Francisco and wanted to dub the picture into English. However, he faced the two problems I mentioned in the above paragraph.
He would met with some other American film makers including Terry Morse and Joseph E. Levine. They came up with the idea of shooting new American sequences and by editing the original Japanese picture. They would turn it into a typical American giant monster on the loose feature. Such as the previous years Ray Harryhausen
"The Beast from 20,000 Fathoms".
It should be noted that the original Toho Studio production ran 98 minutes. While the Americanized re-edit with all the added Raymond Burr footage only runs 80 minutes.
For those interested I wrote an article
"Gojira Morphing Into Godzilla: In Our Own Image".
It is my viewpoint, based upon my own experiences, from the release of this feature, at age of nine, through the release of the 2014 feature. It may be found at:
http://www.bewaretheblog.com/2015/01/in-our-own-image-like-gojira-morphing.html
For 1956's
"Godzilla, King of the Monsters",
Raymond Burr worked upon the film for a total of three days. Yet, many fans of science fiction-thrillers of the period. Consider his role of Reporter
"Steve Martin"
as quintessential to both 1950's science fiction and the
"Godzilla Franchise".
Above Raymond Burr as "Steve Martin" and Frank Iwananga as
"Security Officer Tomo"
in one of the English sequences directed by Terry Morse.
Above the new English language scene of reporter "Steve Martin" and "Tomo" interviewing an Odo Island Farmer in 1956's
"Godzilla, King of the Monsters".
Below an original scene in the 1954
"Gojira"
with the original reporter
"Hagiwara"
portrayed by Sachio Sakai.
Another sequence in the 1956 re-edit has "Steve Martin" and "Tomo" watching a night time recreation of a dance to the God of Odo Island, To make the scene American footage is edited into original Japanese footage from the 1954 film. Instead of hearing the old man tell "Hagiwara" the God's name is "Gojira". In the Burr footage the dubbed old man speaks the name "Godzilla".
"Godzilla, King of the Monsters"
would play in Japan to very good reviews.
On May 16, 1956 director Jacques Tourneur, he directed Val Lewton's 1942's
"Cat People"
and
1943's
"I Walked with a Zombie"
plus 1957's
"Night of the Demon" aka: "Curse of the Demon",
saw the release of the post Civil War picture
"Great Day in the Morning".
The picture starred Virginia Mayo, Robert Stack, Ruth Roman, Alex Nicol and Raymond Burr.
Below Robert Stack as
"Owen Pentecost",
Ruth Roman as
"Boston Grant"
and Burr as
"Jumbo Means".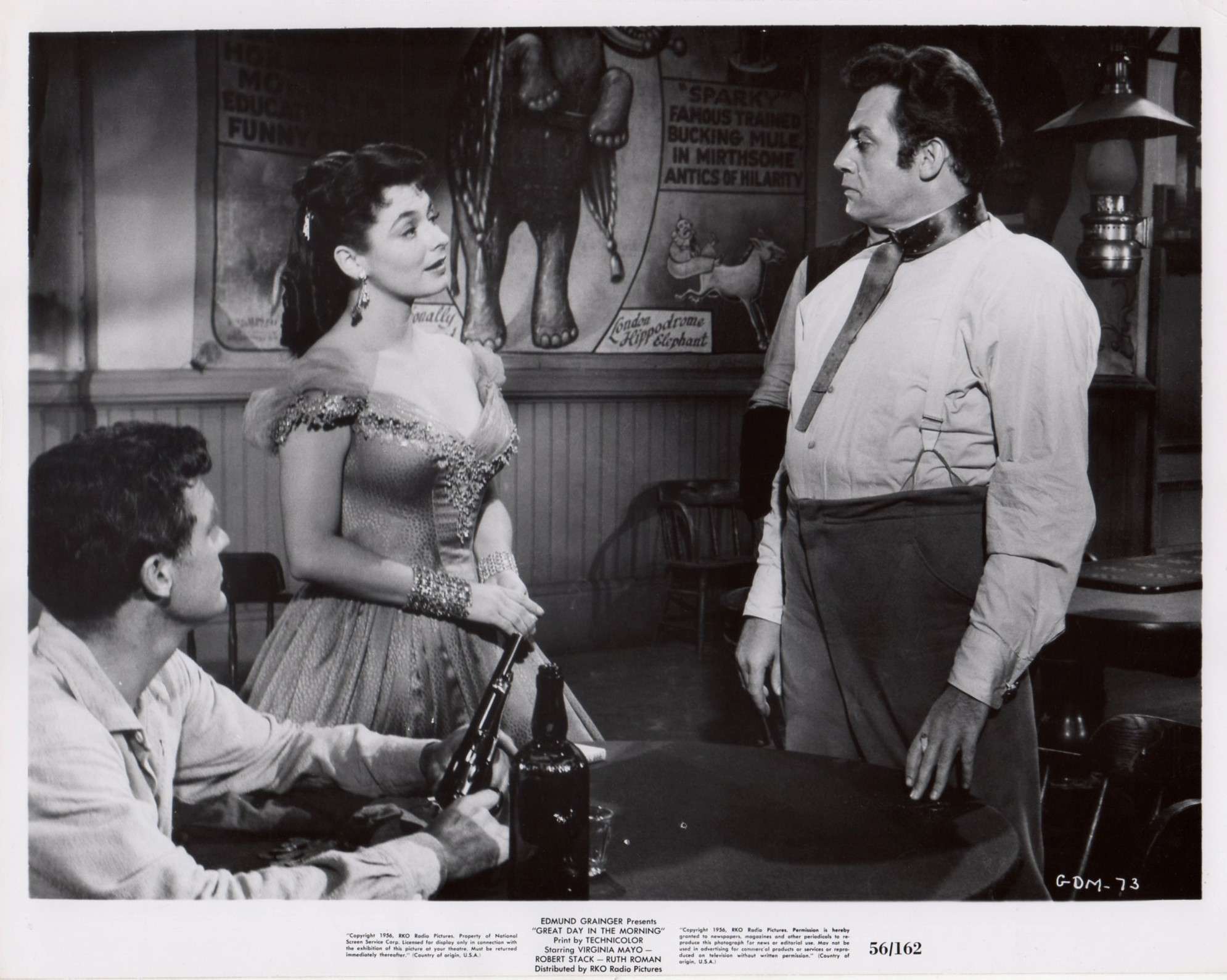 Another low "B" western followed the
"Secret of Treasure Mountain"
released June 25, 1956. Then came another film-noir in which the cast is more interesting than the picture.
A CRY IN THE NIGHT
released August 17, 1956
A deranged man kidnaps the daughter of a police captain. So much with the plot.
Above Natalie Wood as the kidnapped daughter
"Elizabeth"
and Raymond Burr as the deranged fourth billed
"Harold Loftus".
Above a behind the scenes photo op. In front the movie's narrator Alan Ladd and the film's director Frank Tuttle. In the back are Edmond O'Brien as
"Police Captain Dan Taggart",
Brian Donlevy as
"Police Captain Ed Baines"
and Natalie Wood as
"Elizabeth".
Below Burr and Wood.
Along with actress Joanne Dru on October 18, 1956 Raymond Burr made his fourth and final appearance on television's
"Lux Video Theatre.
They were
in a drama entitled
"Flamingo Row".
During the year Burr appeared on three separate drama's on the television anthology series
"Climax".
Keeping in character Raymond Burr found himself portraying multiple murderer
"Tris Hatten"
in the western
"The Brass Legend",
released December 12, 1956,
with his co-stars Hugh O'Brien and Nancy Gates. At the time Hugh O'Brien was in the middle of his 226 television episode
"The Life and Legend of Wyatt Earp".
While Nancy Gates had just been seen the excellent cult classic science fiction picture
"World Without End"
featuring Hugh Marlowe and Rod Taylor.
Released December 26, 1956 in London, England was another of Raymond Burr's film-noir
"Crime of Passion".
He co-starred with Barbara Stanwyck and Sterling Hayden. Burr was
"Police Inspector Anthony Pope"
working with Hayden's
"Police Lieutenant Bill Doyle".
Stanwyck's
"Kathy Ferguson Doyle"
wants her husband to move up in the force, but "Pope" stands in his way. She initially makes plays for him, but seeing that this is getting nowhere. The obsessed women will eventually murder "Tony Pope" to remove the competition to "Bill's" promotion.
Above Sterling Hayden and Barbara Standwyck.
Also in December was another forgotten low budget drama entitled
"Ride the High Iron".
Appearances of on the anthology series
"Chevron Hall of Stars"
and on two long forgotten television series,
"Undercurrent"
and
"The Web",
brought Raymond Burr into 1957.
1957 began on January 31st on the anthology series
"Playhouse 90".
He was eighth billed
"Lester Friedman"
in
"The Greer Case"
starring Zsa Zsa Gabor and Melvyn Douglas.
Later that year, on December 26th, Burr appeared on the "Playhouse 90" production of
"The Lone Women"
co-starring with Vincent Price and Scott Brady.
However, by December of 1957 Raymond Burr was in episode 15 of the
271
episodes of television's
"Perry Mason".
Between 1985 and 1993, Raymond Burr would make
26 "Perry Mason"
television movies.