I first met Andy Devine on a 17 inch black and white television set in 1951. I was 5 years old and the program was "The Adventures of Wild Bill Hickok" starring Guy Madison and Andy Devine as his pal "Deputy Marshal Jingles P. Jones".
The opening credits always had Madison riding hard after an unseen outlaw and Devine yelling,
Hey Wild Bill! Wait For Me!
as "Jingles" attempts to catch up.
Unless you're of my generation. Most people know Andy Devine as the somewhat comic "Buck" in director John Ford's classic 1939 Western
"Stagecoach"
starring John Wayne and Claire Trevor
.
What most don't know was Andrew Vabre Devine played football for Santa Clara University and after graduation, became a permanent lifeguard on Venice Beach in Los Angeles. This was a means of funding his search for a Hollywood acting career.
Devine's first Hollywood role was playing a College Student, of course, without on screen credit. In a short entitled
"The Collegians"
released November 8, 1926. In fact his first five on screen appearances were in short subjects portraying College students.
Andy Devine's first screen credited role was in the motion picture
"We Americans"
released May 6, 1928
.
The plot follows three families: one Jewish, one German and one Italian. It is interesting that the Jewish family is not thought of by immigrant nationality as the other two, but religion. A misunderstanding still prevalent today. In the film Devine had the role of "Pat O'Dougal" billed 14th out of 16 cast members.
On November 1, 1928 Andy Devine was a "Flood Extra" in the Biblical Motion Picture
"Noah's Ark".
He followed that up on December 2, 1928 with
"Red Lips"
set on a College campus. Devine had
the dual roles of a "Sophomore" and "Professor Fountain", but had moved, for the moment, to 5th billing. Then back to roles described a "Marine at a dance", "Convict with a knife", "Kibitzer" and "Doughboy" without on screen, or script credit.
When Andy Devine moved from silent motion pictures to the new medium of talkies. The studio's worried about Andy Devine's wheezy voice and how the audiences would respond. Devine would turn that weird sounding voice into his trademark.
Fortune seemed to change for the actor in 1931. He was seen with 8th billing in
"Heroes of the Flames"
about fire fighters, 7th billing in the adventure
"Danger Island"
and had 4th billing in
"The Spirit of Notre Dame"
starring Lew Ayers.
1932 turned into a good year as Andy Devine started in 5th billing in Jean Harlow's
"Three Wise Girls".
Below, Andy as "The Chauffeur" with James Thomas and Jean Harlow.
On March 1, 1932 Andy Devine was "Johnny Kinsman" in his first Western
"Law and Order".
The motion picture starred Walter Huston and Harry Carey, Sr. One of the non screen credited actors was a young Walter Brennan. That's Andy Devine on the ground in the lower right hand corner below. Harry Carey, Sr., dressed in black, is holding the rifle on the left and Walter Huston is wearing the top hat.
Andy Devine's second Western is the forgotten version of
"Destry Rides Again"
from 1932 starring Tom Mix. It is also the forgotten Andy Devine movie as his one scene was deleted.
Nine feature films later, acting with stars such as David Manners, Robert Armstrong, Maureen O'Sullivan, Claudette Cobert and Charles Bickford was
"The Big Cage"
released May 1, 1933. This was the first of several motion pictures starring Lion and Tiger Trainer Clyde Beatty. Andy was billed 3rd as "Scoops". Also in the cast were 12 year old Mickey Rooney, Walter Brennan, Anita Page and Wallace Ford.
On June 1, 1933 Andy Devine co-starred with comedian and actoir Slim Summerville in the comedy
"Horse Play".
The picture showcased Devine's comic talents.
In 1933 while filming the Will Rodgers comedy
"Doctor Bull",
released September 22nd, Andy Devine met Dorothy House. In what appeared to be a quickie Hollywood marriage. The two were married in Las Vegas, Nevada on October 28, 1933, but would remain married until his death in 1977. Below is a grouping of publicity photos with the top two showing Dorothy and his sons Dennis and Timothy.. Also in the top left photo is band leader Tommy Dorsey.
Returning to Andy's films. He was seen in comic and dramatic roles in pictures starring Loretta Young, Franchot Tone, Robert Young, Ginger Rodgers, pre-cowboy Joel McCrea, Mary Astor, Richard Dix, Irene Dunne and Henry Fonda. There was even a little William Shakespeare in 1936's
"Romeo and Juliet"
starring Norma Shearer, Leslie Howard, Basil Rathbone and John Barrymore. Andy was "Peter" a servant and comedy relief in "Juliet's" house.
Five motion pictures later and Andy Devine was 5th billed "Danny McGuire" in his first classic motion picture. This was director William A, Wellman's 1937 original "A Star is Born" starring Janet Gaynor and Frederick March. Below Andy Devine and Janet Gaynor as "Vikki Lester" the wife of failing movie star "Norman Maine".
My article on all versions of
"A Star Is Born"
can be read at:
http://www.bewaretheblog.com/2019/02/a-star-is-born-x-4-janet-gaynor-judy.html
On September 17, 1937 Andy Devine co-starred with Bing Crosby in the first of two musicals
"Double or Nothing"
with comedian Martha Raye. His second film with Bing was
"Doctor Rhythm"
released May 6. 1938.
Back on April 15, 1938 Andy Devine had 5th billing behind Tyrone Power, Alice Faye, Don Ameche and Alice Brady in the motion picture
"In Old Chicago"
about the 1871 fire cause by "Mrs/ O'Leary's" cow.
On of the 5 motion pictures that followed
"Doctor Rhythm"
was
"The Storm"
released October 28, 1938 and released by Universal Pictures. The movie was an early "All Star" disaster film about a passenger liner that unexpectedly runs into a typhoon
.
Two feature films later, released on March 3, 1939, was John Ford's
"Stagecoach"
and the role of the stagecoach driver "Buck". To put perspective at what stage Andy Devine's career appeared to be at this time. Look at the following poster Andy had 3rd billing above John Carradine and Supporting Oscar winner Thomas Mitchell.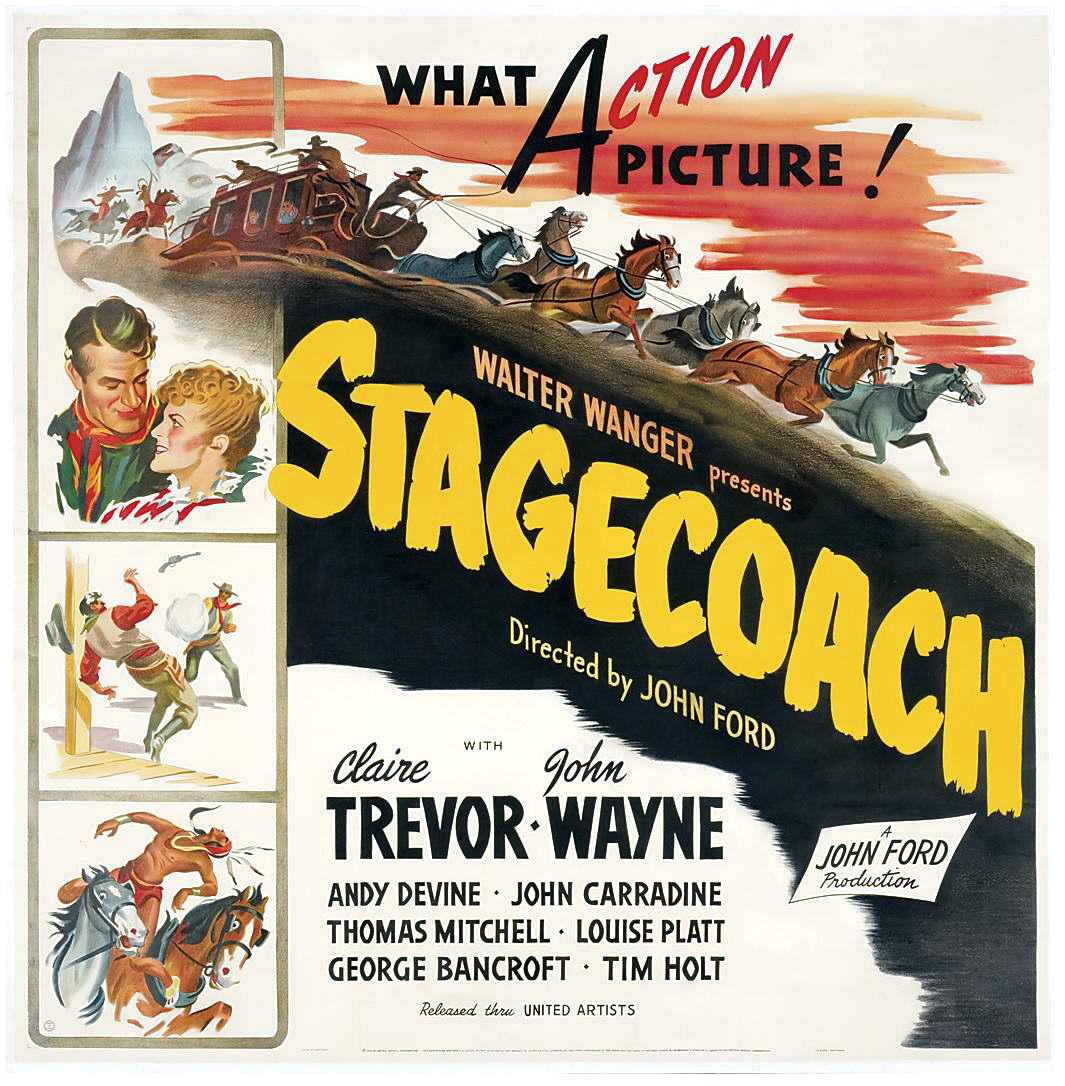 My article comparing John Ford's classic film to the two remakes. One starring Ann-Margaret and Bing Crosby and the other Johnny Cash, Kris Kristofferson, Willie Nelson and Merle Haggard. Can be read at:
http://www.bewaretheblog.com/search?q=john+ford%27s+stagecoach
Devine's next motion picture
"The Spirit of Culver",
released March 10, 1939, put the actor is another 3rd position, but this low budget film is probably known only to film buffs. As it starred child actors Jackie Cooper and Freddie Bartholomew now in their teens. In the following bad still Andy can be seen behind the counter speaking to star Jackie Cooper.
The picture was Universal Studios answer to Metro-Goldwyn-Mayer's highly successful

Boys Town"
starring Spencer Tracy and Mickey Rooney. The setting moved to a Military School and Cooper is the Rooney role of a street tough whose life is changed for the better,
A Bob Hope and Martha Raye comedy followed and then the first of 3 back to back motion pictures co-starring with "B" action hero Richard Arlen.
"Mutiny on the Blackhawk",
released September 1, 1939, was a story about slave running from Hawaii and a mutiny aboard a ship at sea. The team of Richard Arlen and Andy Devine would be publicized as
"The Aces of Action"
for what became 12 motion pictures going into 1942.
On the same date, September 1, 1939, was
"Tropic Fury"
with the duo was also released. I could not locate if the two films were on a double bill.
On November 3, 1939 the duo was again seen in
"Legion of Lost Flyers".
A group of pilots, with something bad in each of their pasts, join together to form an Alaskan air service.
On November 26, 1939, as we can't count
"Destry Rides Again",
.Andy Devine's actual third Western was released. The movie starred Preston Foster and Ellen Drew and was initially released as
"Geronimo",
but became known as
"The Story of a Great Enemy".
This is a typical Hollywood biography revolving around the relationship of two military officers, as in many plots already seen and to come, a father and son who can't understand each other.
Above Andy Devine is seen standing directly under the letter "E".
"Geronimo"
was followed with two more Richard Arlen duo's. These were 1939's
"The Man from Montreal"
and 1940;s
"Deadly Wheels".
On May 25, 1940 Andy Devine had 4th billing behind James Cagney, Anne Sheridan and Pat O"Brien in the drama
"Torrid Zone".
Followed 6 days later with a classic comedy. Since 1936 Andy Devine had been a regular in Western skits on Jack Benny's radio program. When Benny turned those skits into a movie
"Buck Benny Rides Again",
released May 31, 1940, Devine was also along for the ride. The film features two other of Jack Benny's regulars Eddie "Rochester" Anderson and Dennis Day. Who would follow him onto his television program.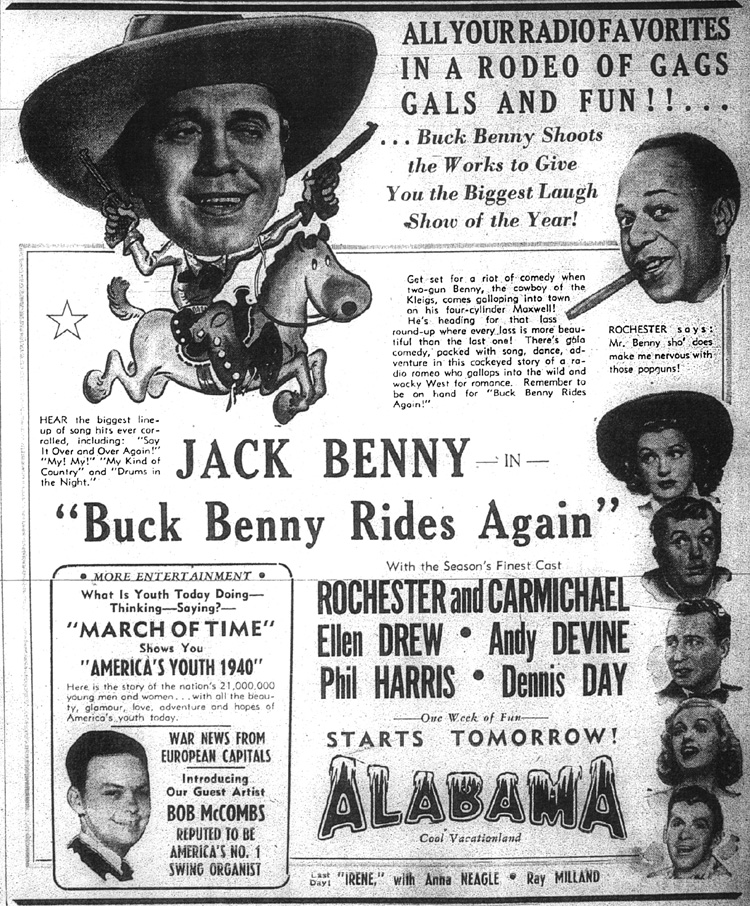 Starting in 1939 with Tyrone Power and Henry Fonda in
"Jesse James".
Both the major and minor movie studios started turning out films about outlaws Hollywood style. Now they were the one's wronged and the actual good guys of the post Civil War and Old West.
Based upon the autobiography of Emmett Dalton Universal Studios turned out
"When the Daltons Rode"
released on August 23, 1940. Andy Devine was back in a real Western as "Ozark Jones". The Dalton brothers were portrayed by Brian Donlevy, Broderick Crawford, Stuart Erwin and Frank Albertson. The film actually starred Randolph Scott as the Dalton's friend and the man who tracks them down.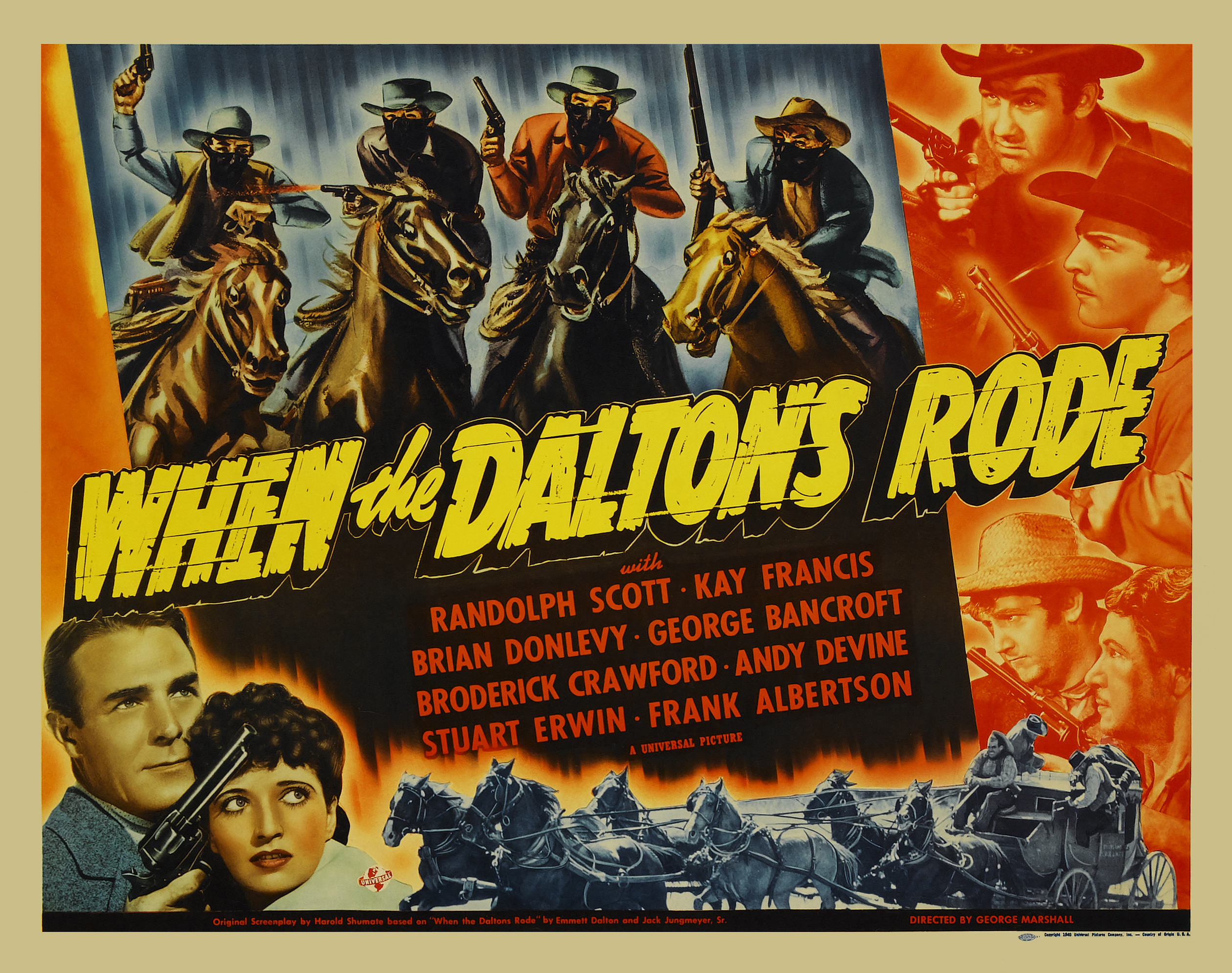 Above left to right are Frank Albertson, Andy Devine, Broderick Crawford and Brian Donlevy.
For Andy Devine it was more of the series with Richard Arlen and then back to another Western with Broderick Crawford
"Trail of the Vigilantes"
released December 13, 1940. This Western with comedy undertones actually starred Franchot Tone and Crawford was being billed as "Brod" Crawford. As to the comedy besides Andy the picture featured comedian Mischa Auer.
Above "Brod" Crawford, Franchot Tone and Andy Devine.
On August 21, 1941 Andy Devine appeared in the last of the his films with Richard Arlen
"A Dangerous Game",
because Arlen left Universal Studios for other work. For a few more motion pictures Andy was now teamed with Leo Carrillo. Who would be teamed up with Duncan Renaldo for television's
"The Cisco Kid".
The first Devine and Carrillo picture was the Western
"Road Agent",
released December 19, 1941, 12 days after the Japanese attack on Pearl Harbor
"North to the Klondike"
was
released January 23, 1942. The motion picture starred Broderick Crawford, Andy Devine, Lon Chaney and Evelyn Ankers. The movie had been shot and shelved by Universal Studios in 1941, but after the success of
"The Wolf Man"
starring Chaney and Ankers it was rushed into theaters.
This film was followed by a group of the Devine and Carrillo team ups released back to back in 1942. They had names like
"Unseen Enemy", "Escape from Hong Kong" ,"Danger in the Pacific", "Top Sergeant"
and
"Timber"
.
Released August 6, 1943 was a forgotten "B" Western
"Frontier Badman"
from Universal Pictures. From a film buff's point of view the picture had an interesting cast. The proceeded Leo Carrillo at 5th billing and Andy Devine at 6th.
The movie starred "B" actor Robert Paige as "Steve Logan" the title character. Paige was the hero, if that's a correct title, in
"Son of Dracula"
written by Curt Siodmak and directed by his brother Robert Siodmak.
The leading actress was Anne Gwynne. Who was the female lead in Universal's May 2, 1941
"The Black Cat"
starring Basil Rathbone and Broderick Crawford and would have a similar role in
"House of Frankenstein"
released December 1, 1944 starring Boris Karloff.
The third star of
"Frontier Badman"
was Noah Beery, Jr. He was the nephew of actor Wallace Beery and his father Noah Beery was a major Western supporting actor. Beery, Jr. would be seen in Howard Hawks' 1948
"Red River",
Robert L. Lippert's 1950
"Rocketship XM"
and 1952's
"The Story of Will Rodgers"
as pilot "Wiley Post". Noah Beery. Jr. would switch to television and co-star in the 1956 series
"Circus Boy"
with a young Mickey Dolenz. Later he was a regular on the James Gardner series
"The Rockford Files".
The fourth lead was actress Diana Barrymore the daughter of actor John Barrymore. She would be married 3 rimes and the first to a man 17 years older than her. All three marriages were to abusive men and Diana was suppose to have been a drug addict and died from an overdose, Her autobiography
"Too Much, Too Soon",
became a 1958 movie starring Dorothy Malone as Diana and Errol Flynn as her father.
Lon Chaney, Jr. had seventh billing behind Andy Devine and although the following poster indicates that Country Western Singer Tex Ritter had a prominent role. Actually the actor and singer had a non screen credited role as a "Cattle Buyer" in his 47th on screen "B" Western.
Below a publicity shot of left to right: Robert Paige, Andy Devine, Leo Carrillo and Noah Beery, Jr.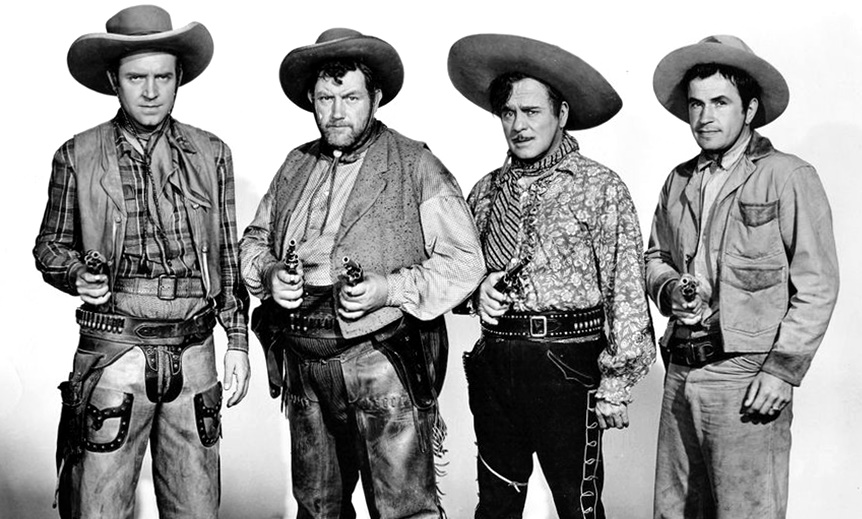 Below Anne Gwynne and Andy Devine on the set of
"Frontier Badman".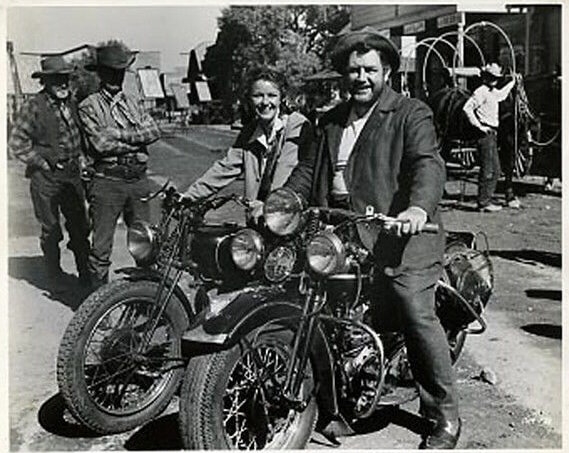 On September 29, 1943 Andy Devine was in the World War 2 motion picture
"Corvette K-225"
directed by Howard Hawks and starring Randolph Scott.
After a very hard hitting war film. The actor found his comic skills put to the test in
"Ali Baba and the Forty-Thieves"
released January 14, 1944 and starring Jon Hall and Maria Montez.
Andy had 4th billing as "Abdullah" behind "B" actor Turhan Bey. Six motion pictures later Hall, Montez, Bey and Devine, as "Nebka", were back in
"Sudan"
released April 18, 1945.
Above Hall, Devine and Montez.
Another 3 motion pictures and Andy Devine was providing "Sidekick" relief in
"Bells of San Angelo"
released April 15, 1947 by Republic Pictures. This was the first of ten "B" musical Westerns starring Roy Rodgers "The King of the Coiwboys".
Note on the above poster for the motion picture that Roy's new wife Dale Evans is billed after his horse Trigger "The Smartest Horse in the Movies". Andy would play "Cookie Bullfincher" throughout the series. In this film he invents a sixteen shooter pistol.
Andy Devine's next motion picture was also a Western
"The Vigilantes Return"
released June 1, 1947, but without Roy Rodgers. It starred Jon Hall, but without Maria Montez. The female lead was Margaret Lindsay who had appeared as "Nikki Porter" in a series of
"Ellery Queen"
movies starring Ralph Bellamy.
Back to his second film with Roy Rodgers and instead of Dale Evans,
"Springtime in the Sierras",
released July 15, 1947, had singer Jane Frazee. Frazee was appearing in many "B" Universal films including Abbott and Costello's 1941
"Buck Privates".
. .
Rodgers, Frazee and Devine were teamed up for the next four motion pictures from "The King of the Cowboys". Also during this period Andy appeared with "B" Cowboy "Wild" Bill Elliot in three features all co-starring actor John Carroll. Devine had 5th billing behind the female lead and whomever the actor playing the villain in these pictures. Such as
"The Fabulous Texan"
released November 9, 1947.
On February 15, 1950 both the Roy Rodgers and Bill Elliott series had ended. Andy Devine now found himself in a comedy Western starring comedian Joan Davis. Who would move to television in 1952 with Jim Brackus and create a 3 year long 98 episode classic
"I Married Joan".
The Davis and Devine movie was
"The Traveling Saleswoman".
On April 1, 1951 Andy Devine was seen opposite Guy Madison in Episode One, Season One, of television's
"The Adventures of Wild Bill Hickok"
entitled
"Behind Southern Lines".
For the next seven years and 112 episodes Devine and Madison were one of the favorites of children as Westerns dominated the television programming of the 1950's. The show began on CBS and moved in 1957 to ABC through 1958. During that ABC run it was still showing on CBS.
The series was sponsored by Kellogg's "Sugar Corn Pops" which is still around as "Corn Pops". Like many of the youth aimed series of the time. There were great merchandise items you could only buy with box tops.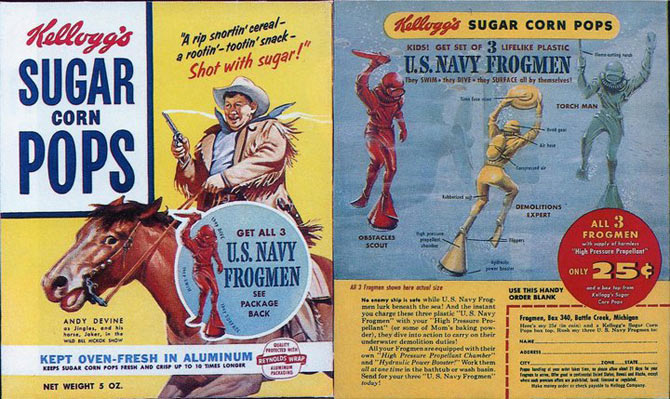 And remember as Andy Devine told us about
"SUGAR Corn Pops"
that:
They're shot with sugar, through 'n through!
Because
"Sugar"
was good for us during the 1950's.
My article "HI HO SILVER, AWAY: The 1950's When WESTERNS Dominated the Air Waves" with "Hopalong Cassidy", "The Lone Ranger", both the "Roy Rodgers" and "Gene Autry" shows, "The Life and Legend of Wyatt Earp" and "Wagon Train" for as many as 46 different programs a week. Can be read at:
http://www.bewaretheblog.com/2018/01/xxxxx.html
On September 21, 1951 American's saw Andy Devine as part of the ensemble cast in director John Huston's version of author Stephen Crane's classic Civil War tale
"The Red Badge of Courage".
The picture featured Medal of Honor winner Audie Murphy in his first on screen appearance. Devine's role is described as "The Cheery Soldier".
November 11, 1952 saw Andy Devine in the role of "Pete Blvins" in
"Montana Belle"
starring Jane Russell as "Belle Starr". His name is in very small print right after Scott Brady and Forrest Tucker at the bottom of this poster.
Also during 1952 was a weird one hour and 15 minute promotional film for Westinghouse Appliances called
"Ellis in Freedomland".
This is probably the first ever "Infomercial". Actress Betty Furness had been hired by Westinghouse to be their spokeswoman on television in commercials promoting kitchen appliances and other products . She played the same role in this film about an appliance salesman falling asleep and dreaming of all the Westinghouse appliances coming to life to help him.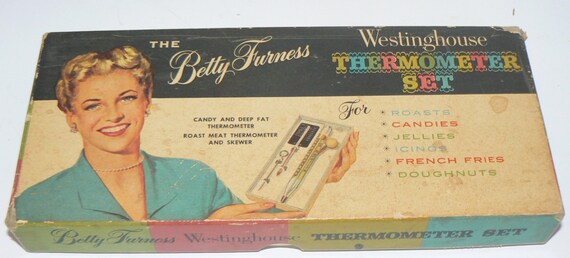 Andy Devine provided the voice of "The Waterheater". In the film some of the other voices were James Mason as "The Refrigerator", Lucille Ball as "The Laundromat" and Maureen O'Sullivan as "The Dishwasher". Actual actors seen in the film were Alan Hales, Jr. as a "Male Model", "Chief Iron Eyes Cody" in the same role and Richard Crane, television's
"Rocky Jones, Space Ranger",
also as a male model. In all Westinghouse paid 37 recognized actors to take part.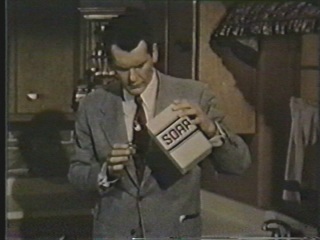 On September 5, 1953 director "Wild" Bill Wellman brought Ernest K. Gann's novel, based upon a real incident in an uncharted area of Canada,
"Island in the Sky"
to the motion picture screen. The screenplay was by the author and the motion picture starred John Wayne.
Wayne's Douglas C-47 Skytrain goes down in frozen Canadian wilderness and a search for survivors begins. Andy Devine portrayed "Willie Moon" one of the pilots whose part of the search. This film is still very hard hitting and realistic.
On July 31, 1955 the star of television's
"Dragnet",
Jack Webb, brought to the screen
"Pete Kelly's Blues".
The feature is
about a band leader mixed up with a crime boss in 1927 Kansas City during prohibition. The picture starred Webb and co-starred Janet Leigh and Edmond O'Brien. Andy Devine was "George Tennell" and the film featured singer Peggy Lee.. The screenplay was based upon a popular radio program and became a television series, but like both is now totally forgotten. Which in my opinion is a shame.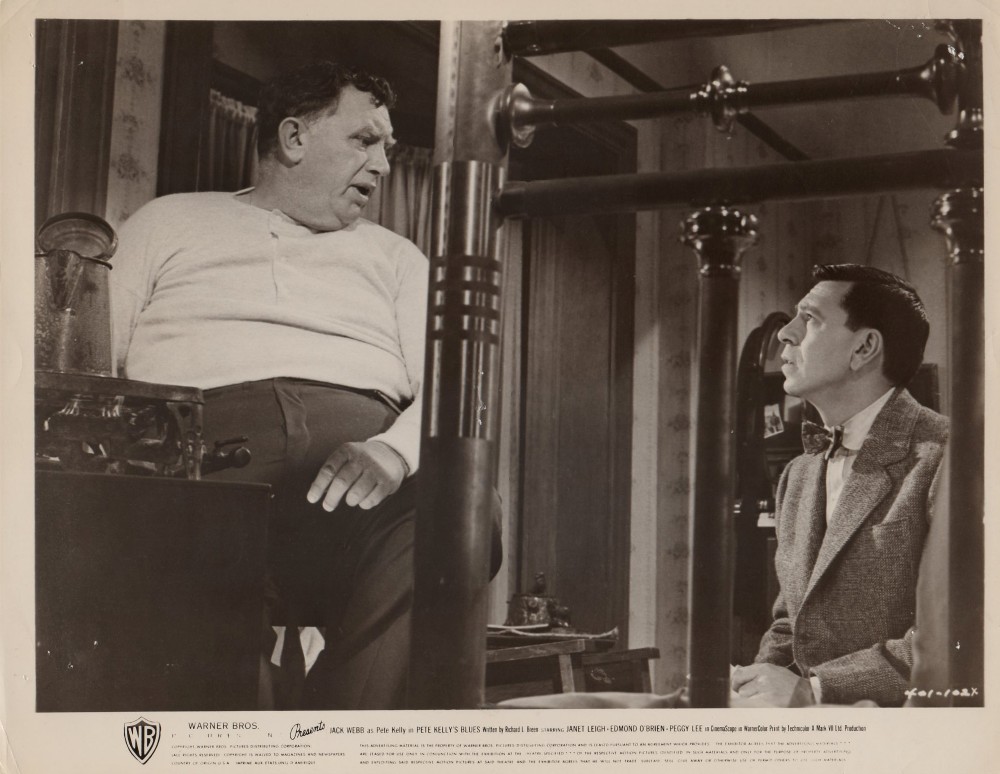 With motion picture work and
"The Adventures of Wild Bill Hickok"
going strong. Andy Devine hosted a new children's program, that we loved, entitled
"Andy's Gang".
The show premiered August 20, 1955 on NBC and ran through December 31, 1960.
Above Andy with the shows gremlin that causes lots of trouble "Froggy".
During the show Andy Devine would read stories to the audience.
On October 17, 1956 producer Michael Todd's
"Around the World in 80 Days"
premiered. This was the first film in the "Todd-AO-70 mm" process.
The feature film had only 4 main characters. They were portrayed by David Niven, Mexican comedian Cantinflas, relatively unknown Shirley MacLaine and Robert Newton. However, there were also 51 "Guest Stars".
These famous and recognizable actors and actresses might be seen for a few seconds. An example is when the piano player turns his head and the audience sees Frank Sinatra. As Jules Verne's story is set in Victorian England. Mike Todd had all 51 alphabetically listed with a photo in a Victorian Cameo Frames at the back of the motion picture's program and the term "Cameo Role" was created.
Andy Deine was one of the 51 playing the "First Mate of the Henrietta".
Seven television "Guest Appearances" later and Andy Devine was on Rod Sterling's original
"The Twilight Zone".
This was Episode 30, of Season 3, entitled
"Hocus-Pocus and Frisby"
that premiered April 13, 1962.
Andy played a gas station attendant known for telling tall tales claiming they're the truth. In the story Aliens believe him to be Earth's greatest intellect and kidnap "Somerset Filny".
Back to motion pictures for 2 appearances both directed by John Ford. The first was as "Link Appleyard" in
"The Man Who Shot Liberty Valance"
released April 22, 1962.
Above Devine as "Link" with Woody Strode as "Pompey". My article on UCLA and L.A. Rams football player turned actor Woody Strode. Can be read along with my biography of Australian actor Michael Pate at:
http://www.bewaretheblog.com/2015/03/woody-strode-and-michael-pate-one.html
This film was followed with a "Cameo" during the Civil War segment in the All-Star Cinerama production
"How the West Was Won"
as "Corporeal Peterson". Ford was one of three directors each taking a period of American History to direct.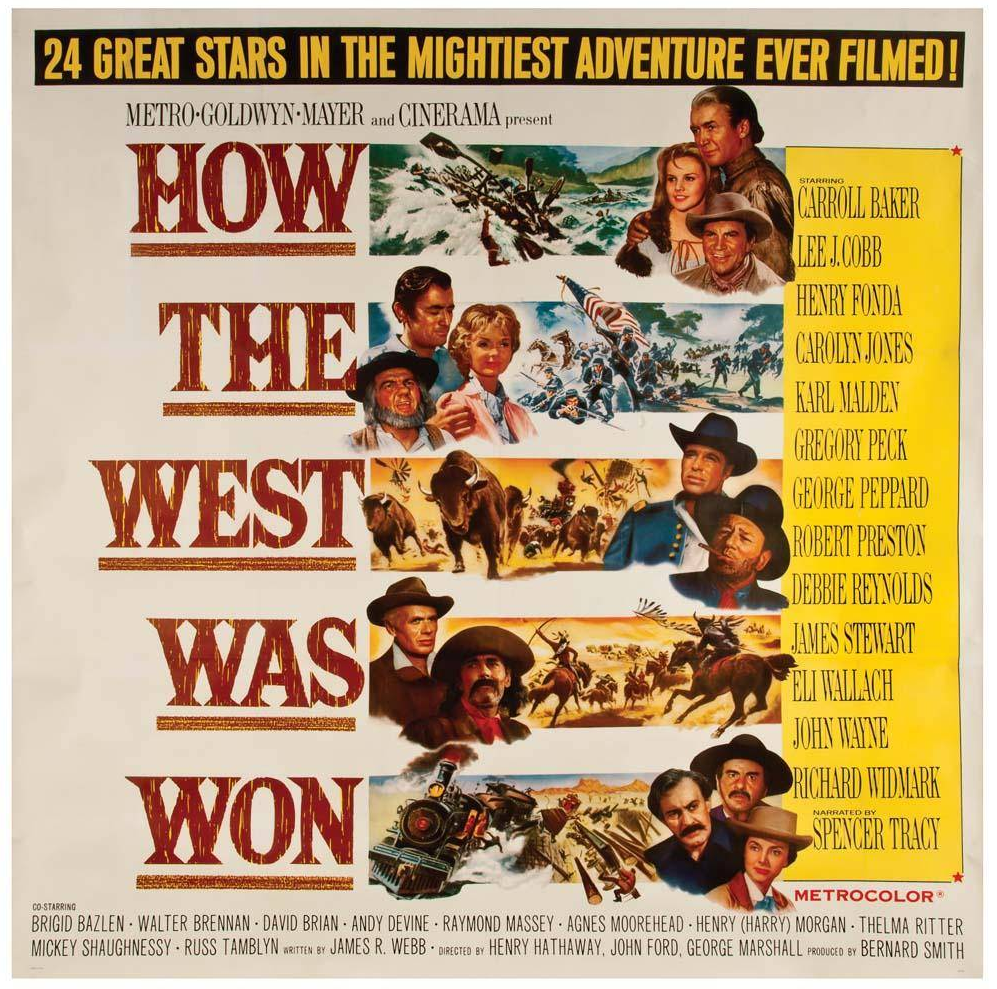 Andy's next appearance was in the classic screwball comedy, also in Cinerama,
"It's A Mad, Mad, Mad, Mad World"
released November 7, 1963. This motion picture featured some of the greatest comedians of the time searching for buried money under a "Big W". That one clue was left by dying crook Jimmy Durante. Among thw other comedians were Milton Berle, Sid Caesar, Buddy Hackett, "The Three Stooges", Terry-Thomas, Jonathan Winters and Mickey Rooney plus Spencer Tracy playing straight man to all of them.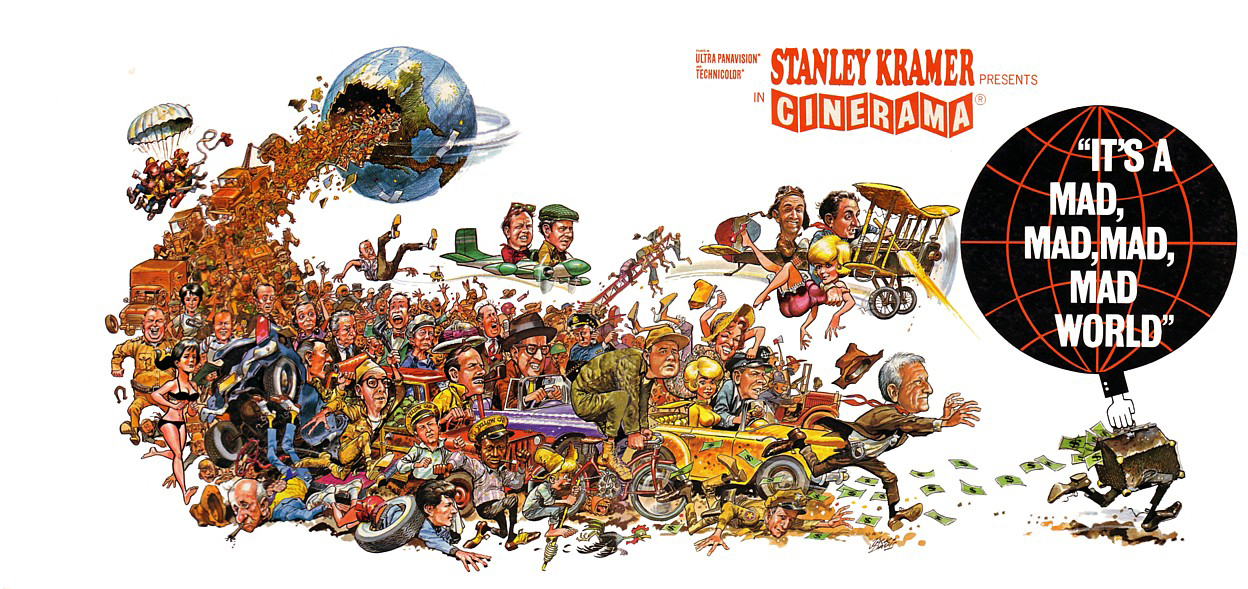 In the cast Andy Devine was the "Sheriff of Crockett County".
Six television appearances later and Andy Devine was "Santa Claus" opposite Adam West and Burt Ward on television's
"Batman".
The date was December 22, 1966 and this was Episode 32 of Season 2 entitled
"The Duo Is Slumming".
"Holly Bat Guano". Great make-up, because you can't tell "Santa's" Andy. Also Andy Devine received no on screen credit for the role. Between other television appearances Andy Devine portrayed "Judge Tatum" in the Doris Day and Peter Graves Western
"The Ballad of Josie"
released February 1, 1968.
In a lot of ways this is a remake of the 1958 Glenn Ford and Shirley MacLaine
"The Sheepman".
With Day in the Ford role and Women's Suffrage added in. The nickname under Doris Day's name has a double meaning. One the word "Calamity" refers to what her sheep farming does to cattle country Wyoming. The second is that Day starred in the 1953 musical motion picture
"Calamity Jane".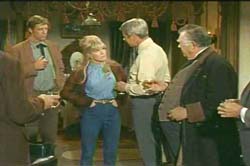 What does an old actor do in the age of television, besides making "Guest Appearances" on somebody else's show? Why they appear with other old actors in a made for television comedy Western about a group of seniors cleaning up a wild west town.
Walter Brennan played a retired Marshal that gets some friends together to help him clean up that town. Those friends and bad guys included Andy Devine as "Judge Amos Polk", Pat O'Brien, Jack Elam, Gypsy Rose Lee, Chill Wills, Myron Healey, Ricky Nelson, William Smith and Edgar Buchanan. Of course the title fit as these good guys were
"The Over the Hill Gang"
premiering October 7, 1969 on ABC.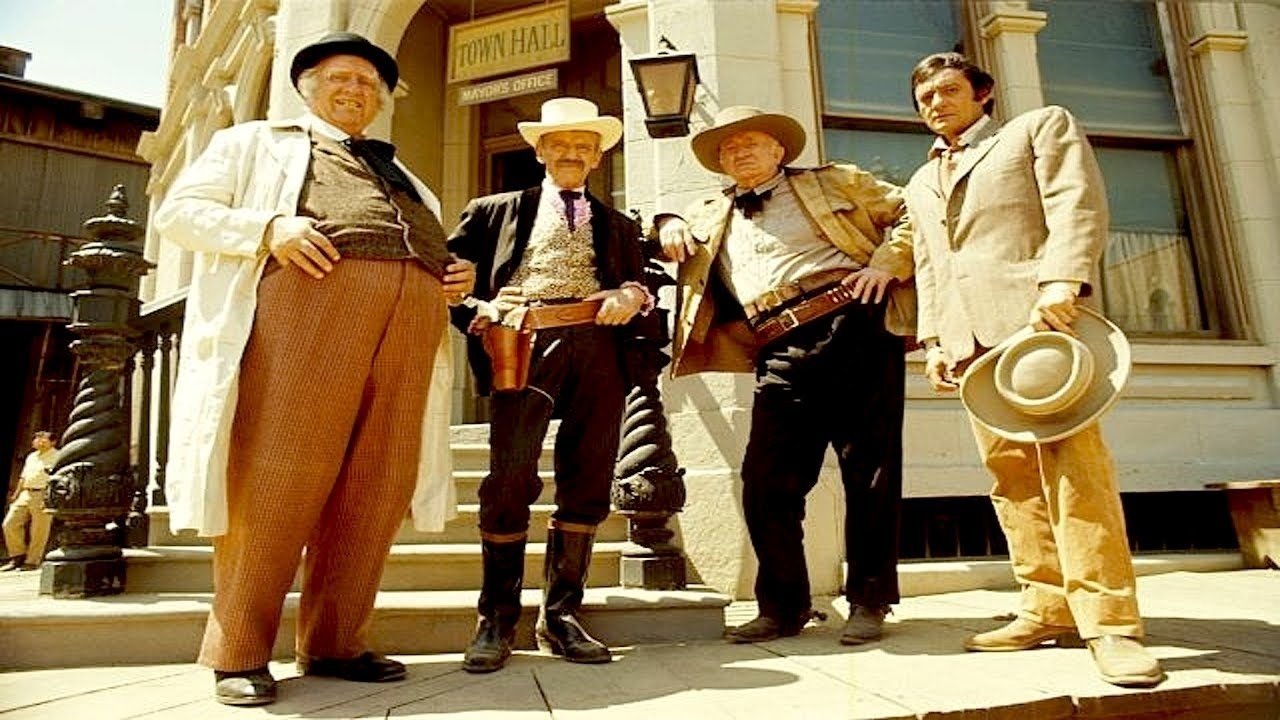 The movie was such a ratings success that
"The Over the Hill Gang Rides Again"
was shown on ABC November 7, 1970 with most of the original cast. Fred Astaire was "The Baltimore Kid" seen above next to Andy Devine and Walter Brenanan. That's normally bad guy Paul Richards on the far right.
On November 8, 1973 Andy Devine provided the voice of "Friar Tuck" in Walt Disney's
"Robin Hood"
with all the characters being animals.
Andy Devine's made three more features and 2 of them featured his voice. The last being as "The Frog" in the animated
"The Mouse and His Child"
released November 18, 1977.
Before this feature was released Andrew Vabre Devine passed away from leukemia on February 18, 1977 at the age of 71.
His star's on "Hollywood's Walk of Fame" at 6366 Hollywood Blvd.
HEY WILD BILL, WAIT FOR ME!