Michael Gough was "Bruce Wayne's" butler "Alfred Pennyworth" in four motion pictures starting with Tim Burton's 1989 "Batman", but to fans of British Horror and the occasional classic Science Fiction television programs he was more. This is a look at the Shakespearean trained actors' on-screen appearances in those two categories.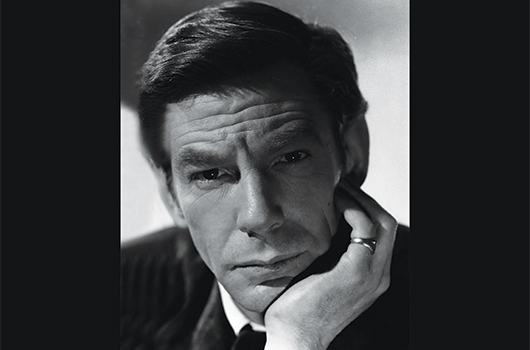 Francis Michael Gough was born on November 23, 1916 in Kuala Lamur, Malaysia. His father was an English rubber plantation owner named Francis Berkeley Gough. His mother was Frances Bailie Gough.

Francis attended "Rose Hill Preparatory School" in Royal Tunbridge Wells, Kent, England. It had been planned that he was to attend "Wye Agricultural College" in Wye, Kent, to follow in his father's footsteps, but by then he was doing some acting. He changed directions joining the "Old Vic" and became a Shakespearean actor.




During World War Two, Francis Michael Gough, was a "Conscientious Objector" and was assigned to the British "Non-Combatant Corps" as a member of the "6 Northern Company", Liverpool, Merseyside, England.

Some websites indicated that Michael Gough, he had dropped Francis, started his film career in the feature film "Blanche Fury"starring Stewart Granger and Valerie Hobson and released on February 18, 1948. In actuality he appeared in a television production of George Bernard Shaw's "Androcles and the Lion" on September 3, 1946. "Blanche Fury" was Gough's third on-screen appearance.In 1948 the actor portrayed "Nicholai" in the Vivian Leigh and Sir Ralph Richardson's version of Leo Tolstoy's "Anna Karenina".



In 1953 Michael Gough appeared in two Walt Disney British productions. He was the "Duke of Buckingham" in "The Sword and the Rose" and the "Duke of Montrose" in "Rob Roy: the Highland Rogue". Both features starred Richard Todd and Glynis Johns.


Above Michael Gough as the "Duke of Montrose".

Both of those motion pictures plus "Treasure Island" and "Robin Hood" are part of my article: "Walt Disney's Four British Tax Feature Films (1950 to 1954)" found at:

http://www.bewaretheblog.com/2016/09/walt-disneys-british-tax-motion.html

First in 1955 Michael Gough was "Mr. Russell Patridge" in "The Case of the Perfect Husband", May 9, 1955, on the American television series "Sherlock Holmes". The program starred Ronald Howard as "Holmes" and Howard Marian-Crawford as "Watson".

Then the actor was billed 22nd, as "Dighton, 1st Murder", in Sir Lawrence Olivier's motion picture version of William Shakespeare's "Richard III" released on December 13, 1955.

Between three motion pictures over the next two years. Michael Gough, appeared on seven different British television programs. Then came his first Horror movie role.


DRACULA aka: HORROR OF DRACULA released May 8, 1958





Surprisingly, Hammer Films classic "Dracula", was released in the United States, before the United Kingdom. To avoid confusion over the 1931 Todd Browning release starring Bela Lugosi. The American title became the "Horror of Dracula". This was the second motion picture made by Hammer on an agreement with Universal Pictures to remake all their classic monster films. There would be plans to remake "The Invisible Man", but that project was never started.




In the UK Hammer's adaptation of Bram Stoker's novel received an "X Certificate". So no one under 16 was permitted to see the film. While in the United States there was no such age requirement and 11 years old Lloyd went to see it.

"Count Dracula" was the role Christopher Lee would be, for decades, most remembered for playing. Yet, in the entire running time of 82-minutes. Lee is only on-screen for 7 of those.




The main actor was, Lee's 1957 "Curse of Frankenstein" co-star, Peter Cushing as "Doctor Van Helsing".




While 3rd billing went to Michael Gough as "Arthur Holmwood".




Below, Melisa Stribing portrayed "Mina Holmwood" the wife of "Arthur".




Hammer Pictures had screenplay writer Jimmy Sangster, "The Curse of Frankenstein", re-imagine the entire story line including the character names. The picture was directed by Terence Fischer who had also directed the "Curse of Frankenstein".

The opening setting is the town of Klausenberg in Romania. There, "Jonathan Harker", played by John Van Eyssen, arrives at "Castle Dracula" to be the Count's librarian. In actuality he is working for "Dr. Van Helsing" as a vampire hunter sent to destory "Dracula" and his "Bride".


"Harker" will destroy the Bride, but instead of destroying the Count. It will be "Harker" who is turned into a vampire.




"Van Helsing" arrives at the castle and discovers "Harker's" diary by an outside fountain. He reads it and goes to destroy "Dracula", but only finds the vampire "Harker" has become and puts him to rest.




Searching "Castle Dracula", "Van Helsing" finds a photo frame without a picture in it. He knows it belonged to "Harker" and the missing photo was of his fiancee "Lucy Holmwood", played by Carol Marsh, the sister of "Arthur". "Van Helsing" now goes to Karlstadt, a created town name that would appear in many Hammer Horror films, to give the "Holmwood's" the news of "Jonathan's" death.






"Lucy Holmwood" has been feeling ill and is not present for "Dr. Van Helsing's" sad news. What is happening to "Lucy" is of course "Dracula" visiting her at night.




"Dr. Van Helsing" proves to "Arthur Holmwood" that "Lucy" has become a vampire and the two put her to rest.




However, "Dracula" now goes for "Mina" and a cat and mouse game begins to save her. This will climax back at "Castle Dracula".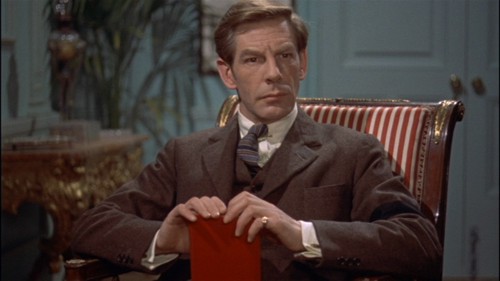 Opposite "Dracula's" the Horrific tone! The actor appeared in the Alec Guinness British comedy "The Horse's Mouth" released on November 11, 1958. Ernest Thesiger, the 1936 "Bride of Frankenstein", was also in the Guinness picture. Then there was an American-British co-production.

HORRORS OF THE BLACK MUSEUM released April 29, 1959


Above is the American poster for the motion picture.
This was an Anglo-Amalgamated and Carmel Production that would be distributed in the United States by American International Pictures.
The American executive producer was Herman Cohen. Cohen had already produced 1957's
"I Was a Teenage Werewolf", "I Was a Teenage Frankenstein"
and
"Blood of Dracula".
The last had been originally titled
"I Was a Teenage Dracula"
, but the title was changed before release
.
In 1958 Herman Cohen produced
"How to Make a Monster"
with the gimmick of featuring both the "Teenage Werewolf and Frankenstein". In 1959 it was the American-British co-production
"The Headless Ghost".
The original motion picture was filmed by British cameraman turned director Arthur Crabtree. It had a running time of 82-minutes and was released, as shot and edited, in the United Kingdom, but AIP co-owner, James H. Nicholson, decided the picture needed a William Castle like gimmick. He came up with
"Hypno-Vista"
and added a 13-minute prologue with hypnotist Emile Franchele to their American release.
In Tom Weaver's article about Herman Cohen found on the website Hermancohen.com. Weaver quoted Cohen on Nicholson's gimmick as saying:
We tested it in a few theaters, and the audience went for it like crazy...hokey as it was. It helped make the picture a success, I guess, 'cause people were looking for gimmicks at that time.
When the movie was released to American television the prologue was dropped, because it was feared, true story, Franchele might actually hypnotize those watching "Horrors of the Black Museum" in their homes.
Michael Gough portrayed "Edmond Bancroft". Initially Cohen wanted Vincent Price for the role, or Orson Welles. Who would go to Italy and appear in such films as 1961's "The Tartars" to get money for his own projects, but "Anglo-Amalgamated" wanted a British actor and a "cheap one".




The film starts innocently enough as a package is delivered to "Gail Dunlap", played by Dorinda Stevens.




She opens it as her roommate "Peggy", played by Malou Pantera, looks on.




Inside is a pair of binoculars and "Gail" goes to the window to use them. While "Peggy" is curious about who might have sent them.




Adjusting the binoculars "Gail" screams in agony as two spikes shoot out into her eyes.




British film critic David Pirie considered "Horrors of the Black Museum" to be the first part in Anglo-Amalgamated's "Sadian Trilogy". That emphasized sadism, cruelty and violence with strong sexual overtones. The other two films came out in 1960 and were "Peeping Tom" starring Austrian actor Carl Bohm and "Circus of Horrors" starring German actor Anton Diffing.

"Gail" collapses and dies from the spikes piercing her brain. "Peggy" is asked to go to Scotland Yard to be interviewed by "Superintendent Graham", played by Geoffrey Keen, and "Inspector Lodge", played by John Warick. During her interview mystery writer "Edmond Bancroft" enters the office.




"Bancroft" would like to see the binoculars and makes the comment that they look like the one's in "Scotland Yard's Black Museum". He offers to purchase them, but is turned down.




The real "Black Museum" is a crime museum at Scotland Yard that was first established in 1874. It contains interesting pieces of evidence related to crimes that were investigated by the Yard.

"Bancroft" next goes to an antique shop owned by "Angie", played by Beatrice Varley, and purchases an antique dagger.

Returning to his home and along with his assistant "Rick", played by Graham Curnow, the two enter "Bancroft's" basement and a secret room. Which he has made to look exactly like the real "Black Museum" and contains copies of actual murder weapons.




Afterwards, "Bancroft" visits "Dr. Ballan", played by Gerald Anderson. There "Bancroft" tells "Ballan" that he can't rest until "Gail's" killer is apprehended. "Dr. Ballan" notes, to himself, that "Bancroft" goes into a state of shock after the murders that have been occurring and needs psychiatric treatment and hospitalization.

"Bancroft" next visits his mistress "Joan Berkley", played by June Cunningham, at her flat. She argues with him, demands money and calls him a cripple.




He leaves and she goes to a local pub and dances very provocatively. Then returns to her flat.

"June" is asleep in bed, but a noise awakens her. She looks up to see a hideous face and a guillotine over her head.




The guillotine comes down.

"Superintendent Graham" arrives at "June's" apartment and while investigating the murder. He learns from the neighbors about the hideous looking man that pushed his way through them.

The following day "Graham" is at a cocktail party and so is "Edmond Bancroft". "Graham" mentions that the police have captured "Tom Rivers", played by Howard Greene, and he confessed to the murders.

Later, "Rivers" admits to other famous crimes and it is realized he hasn't committed any of them. When "Bancroft" asks "Graham" if he could meet "Rivers"? He is told the man is now in a mental hospital.

"Rick" now sneaks away from his duties for "Edmond Bancroft" to meet his fiancee "Angela Banks", played by Shirley Anne Field, and tells her he's being hypnotized and controlled by "Bancroft".




"Bancroft" returns to "Angie's" antique shop to buy some ice tongs. She confronts him demanding 12,000 pounds, because she knows he's using the items purchased to murder people. He kills her with the thongs.




"Dr. Ballan" visits "Edmond Bancroft" and walks with "Bancroft" to his personal "Black Museum". While they continue to talk, "Edmond Bancroft", uses a machine to knock "Ballan" out with an electric shock to his system.




With "Rick's" help the two lower "Dr. Ballum" into a vat of acid.




After a book signing, "Edmond Bancroft" returns to his house and the basement museum. There he finds "Rick" and "Angela".After she leaves he injects "Rick" with a drug to better control his actions and orders him to kill "Angela".




The climax comes at a carnival and starts with "Rick" and "Angela" entering the "Tunnel of Love". There, "Rick" transforms into the hideous looking killer and kills "Angela" with a knife. Fleeing from the tunnel and across the carnival grounds he is pursued by the police. "Bancroft" and "Graham" arrive to see "Rick" climbing the Ferris Wheel still holding the knife he used to kill "Angela". From the Ferris Wheel he yells at the police and tells them what "Edmond Bancroft" did to him. Then jumping off "Rick" lands upon "Bancroft" killing him with the knife and he also dies from the fall.





After this picture's release in 1959 Michael Gough returned to television and appeared in a 1960 television production of Robert Lewis Stevenson's "Treasure Island" and a episode of "The Adventures of Robin Hood" starring Richard Greene. Next for Michael Gough came what some credits call the British version, kind of, of 1933's "King Kong".


KONGA released March 22, 1961





This was another Anglo-Amalgamated American-British co-production from Herman Cohen. The picture was also released in the United States prior to the United Kingdom.

Michael Gough portrayed "Dr. Charles Decker".

"Dr. Charles Decker" returns from Africa a year after he was presumed dead. He brings with him several unknown species of carnivorous plants that grow to enormous size.




Above "Decker" with his pet chimpanzee "Konga".

The story is simple, "Decker's" wacko, and he tries his growth serum on "Konga". It turns the chimp into a large gorilla, or man in a gorilla suit played by Paul Stockman.




"Decker's" jealous girlfriend and lab assistant "Margaret", played by Margo Johns, attempts to get even and injects "Konga" with more growth serum. Resulting into san even more gigantic "Konga", that kills her, goes on a rampage through the streets of London carrying "Decker" in his hand. The military is called to deal with the problem and with pure military thinking almost destroy "Big Ben" in the process.




Above "Konga' with the doll version of "Decker" and below with superimposed Michael Gough.




In the end "Decker" is killed by "Konga" and shrinks back to a dead chimpanzee. The movie is one of those so bad its good.




Three movies and three television appearances, between March 1961 and April 1962, and Michael Gough was back with Hammer Films.

THE PHANTOM OF THE OPERA released June 25, 1962
I wish this picture could have been as good as the above poster. The film was directed by Terence Fischer which was a plus.
The screenplay, based loosely upon Gaston Leroux's novel, was unfortunately credited to John Elder. Elder was actually Anthony Hinds the son of the founder of Hammer Films William Hinds. Anthony was known to put his own name on a screenplay by another author. A great example is 1961's
"Curse of the Werewolf".
The screenplay was by American "Black Listed", but Academy Award winning screenplay writer Guy Endore. Who also wrote the definitive novel
"The Werewolf of Paris"
that his screenplay was based upon. However, the on-screen credit went to John Elder and it would be years after Endore's death that the truth came out.
The leads for Hammer's
"Phantom of the Opera".
Herbert Lom portrayed
"Professor Petrie"
aka:
"The Phantom".
The backstory for Hammer's "Phantom" is party drawn from Universal Studio's 1943
"Phantom of the Opera".
This was Hammer's third motion picture from their deal with Universal.
Herbert Lom was an excellent choice, just as Claude Rains had been for the 1943 production, if Lom had been given a role to play. You don't see his face until the very end. When the "Phantom", not "Christine", removes his own mask to reveal it.
The screenplay added a
"Dwarf",
played by Ian Wilson, doing all the dirty deeds including the chandelier falling at the end of the film. At which point "The Phantom" saves the British renamed
"Christine Charles"
, played by Heather Sears, by sacrificing his own life.
Michael Gough portrayed the evil sexual predator
"Lord Ambrose D'Arcy".
Who stole the music composed by "Professor Petrie" that leads, as in the Universal Picture, to acid being thrown in "Petrie's" face. "D'Arcy" also wants to help "Christine's" career in exchange for her sexual favors. Two-thirds into the story he will run screaming madly into the streets of London. After he makes the "Phantom" show him his face and
"Lord Ambrose D'Arcy" is not seen again.


Above Heather Sears as "Christine Charles", Michael Gough as "Lord Ambrose D'Arcy" and Edward de Souza as the real love interest "Harry Hunter". Below Thorley Walters as "Lattimer", Michael Gough and Edward de Souza.




Below Herbert Lom as "Professor Petrie".





Producer Herman Cohen was back again, but with a completely American made Horror film.

BLACK ZOO released May 15, 1963






Michael Gough portrayed "Michael Conrad".

All I could find out about the story is that "Conrad" is the owner of "Conrad's Animal Kingdom", but also the leader of a cult that worships wild animals. He uses his zoo animals to kill those people he wants out of his way. "Conrad" also loves to play organ music to his animals while they're in his living room.




Above, that's not a scene from"Konga" Michael Gough is monkeying around in, but is the same gorilla costume.




Above that is Elisha Cook, Jr. being killed by Michael Gough. Cook, Jr. was in John Huston's 1941 "The Maltese Falcon", Howard Hawks' 1946 "The Big Sleep" and was the current owner of William Castle's 1958 "House on Haunted Hill".

Four television shows followed including an episode of Roger Moore's 1964 "The Saint" and a British Mini-Series based upon Alexander Dumas' classic "The Count of Monte Cristo".

Then came an entry from Amicus Productions.

DR. TERROR'S HOUSE OF HORRORS released February 23, 1965





The picture was by British director Freddie Francis. Who had won the Academy Award in "Black and White Cinematography" for the 1960 British adaption of D.H. Lawrence's "Sons and Lovers" and would win another Oscar for "Best Cinematography" for 1989's "Glory". However, at this time, he was associated with Hammer Films and Amicus Productions Horror movies.

Milton Subotsky's screenplay was broken into five segments, "Werewolf", "Creeping Vine", "Voodoo", "Disembodied Hand" and "Vampire". The "House of Horrors" is a deck of Tarot Cards that Peter Cushing uses to tell the fortunes of five men on a train. That will end with them all dead and "Dr. Terror" being "Death" himself.

Michael Gough portrayed "Eric Landor" in the "Disembodied Hand". The segment starred Christopher Lee as "Franklyn Marsh".

Lee played a pompous self-centered art critic and Gough was the struggling painter he criticizes. To get back at "Marsh", "Landor" publicly humiliates him. In revenge "Marsh" runs down "Landor" with his car. This results in the painter loosing one of his hands and unable to paint anymore. In frustration "Landor" commits suicide and "Marsh" is haunted by "Landor's" crawling hand.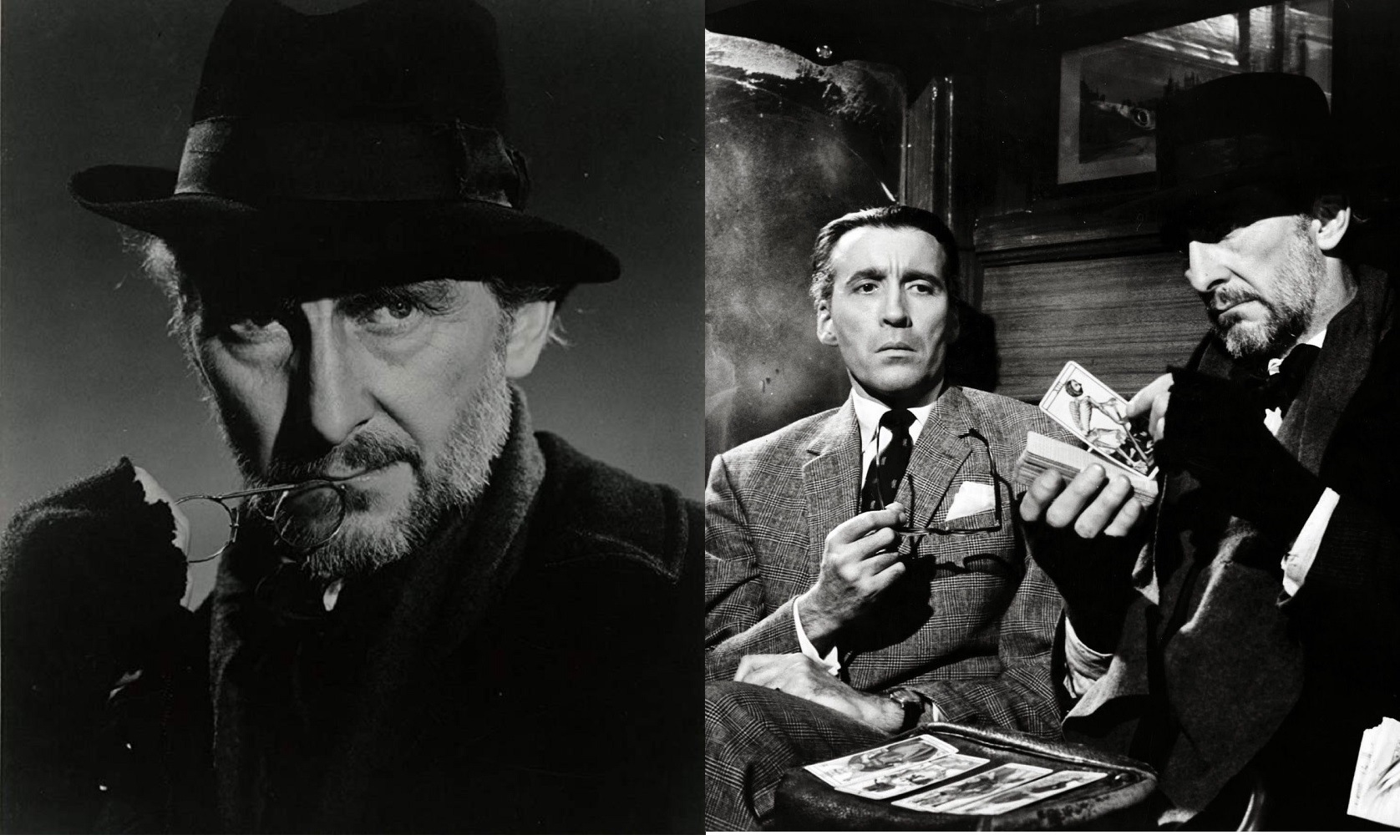 Three more television appearances followed and then Michael Gough was back in a Peter Cushing and Christopher Lee Horror entry from Amicus Productions.

THE SKULL released August 25, 1965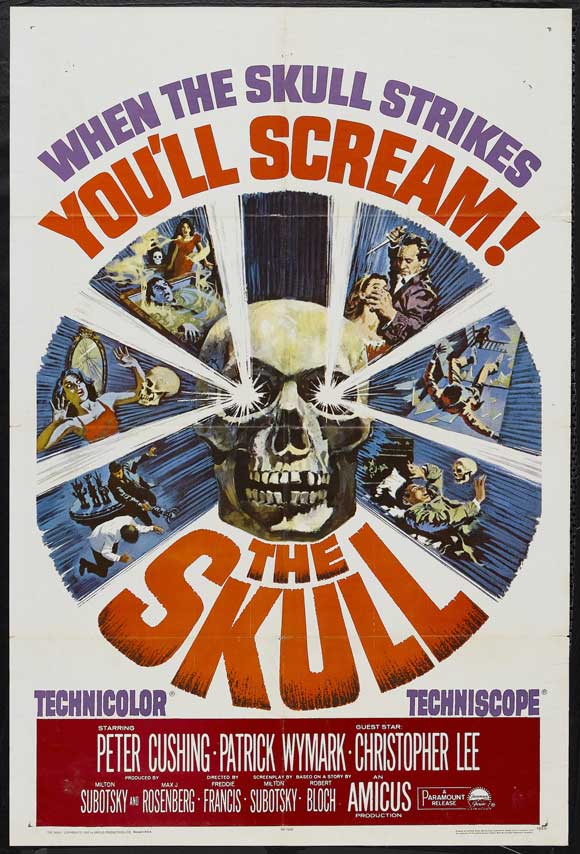 The motion picture was again directed by Freddie Francis. The screenplay again was by Milton Subotsky from "The Skull of the Marquis de Sade" by author Robert Boch. Who among his written work are "Psycho" and "Yours Truly Jack the Ripper".

Michael Gough had seventh billing as "The Auctioneer".




The plot has the skull of the Marquis de Sade being stolen from his grave during the 1800's. Then the legend says that the person who stole the skull become a sadist like the Marquis. Switch to modern London and the skull is auctioned off and acquired by Peter Cushing's "Dr. Christopher Maitland". "Maitland" wants to return to its proper owner Christopher Lee's "Sir Matthew Phillips", but "Phillips" doesn't want it back and soon "Maitland" learns why.

Michael Gough next appeared on British television in eight different roles including portraying the "March Hare" in a 1966 production of Lewis Carroll's "Alice in Wonderland" and in two episodes of "The Avengers".



DR. WHO four episodes from April 2, 1966 to April 23, 1966

William Hartnell portrayed the "First Dr. Who" and Michael Gough was the evil "Toymaker" in "The Celestial Toy Room" .





THEY CAME FROM BEYOND SPACE released May 1, 1967






Another Amicus Productions feature film, but on a very low budget. They even used sets left over from Peter Cushing's 1966 "Daleks' Invasion Earth 2150 A.D.". Director Freddie Francis said Amicus spent all their money on another low budget 1967 bomb, "The Terrornauts", leaving him no real money for this picture.

The screenplay was by Milton Subotsky from a 1941 novel entitled "The Gods Hate Kansas" by Joseph Millard. Who wrote American Western novels and Mysteries.

Michael Gough had fifth billing portraying "Arnold Gray the Master of the Moon".




Robert Hutton portrayed "Dr. Curtis Temple". Hutton was a "B" actor who became known for "B" Science Fiction films such as 1958's "The Colossus of New York", 1959's "Invisible Invaders" and 1963's "The Slime People".

The basic plot has a group of scientists investigating a meteor shower in a rural farm field in Cornwall, England, sorry "Dorothy", but not Kansas as in the forgotten novel. Some of the Scientists become possessed by an aliens who have their own purpose, but eventually it is realized the aliens just need our help. Which the Scientists would have given them, if they had asked for it. Rather than attempting to conqueror the Earth.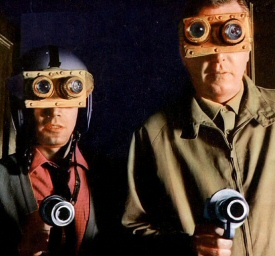 On September 10, 1967 Michael Gough portrayed "Mr. Bennett" in a six-episode production of Jane Austin's "Pride and Prejudice". Then it was back to producer Herman Cohen.

BERSERK released in September 1967




The motion picture was directed by Jim O'Connolly. This was his fourth film out of ten as a director. In 1969 he would direct Ray Harryhausen's "The Valley of Gwangi". O'Connolly was mainly a producer of forty-one movies between 1954 and 1973. He was also involved with the writing of thirteen motion pictures between 1962 and 1973.

Joan Crawford portrayed "Monica Rivers". This film was the last of a four grouo Crawford was in starting in 1962 with Robert Aldrich's "Whatever Happened to Baby Jane". Which was followed by William Castle's 1964 "Strait-Jacket" and his 1965 "I Saw What You Did". Right before this film Crawford was seen in an episode of television's "The Man from U.N.C.L.E.".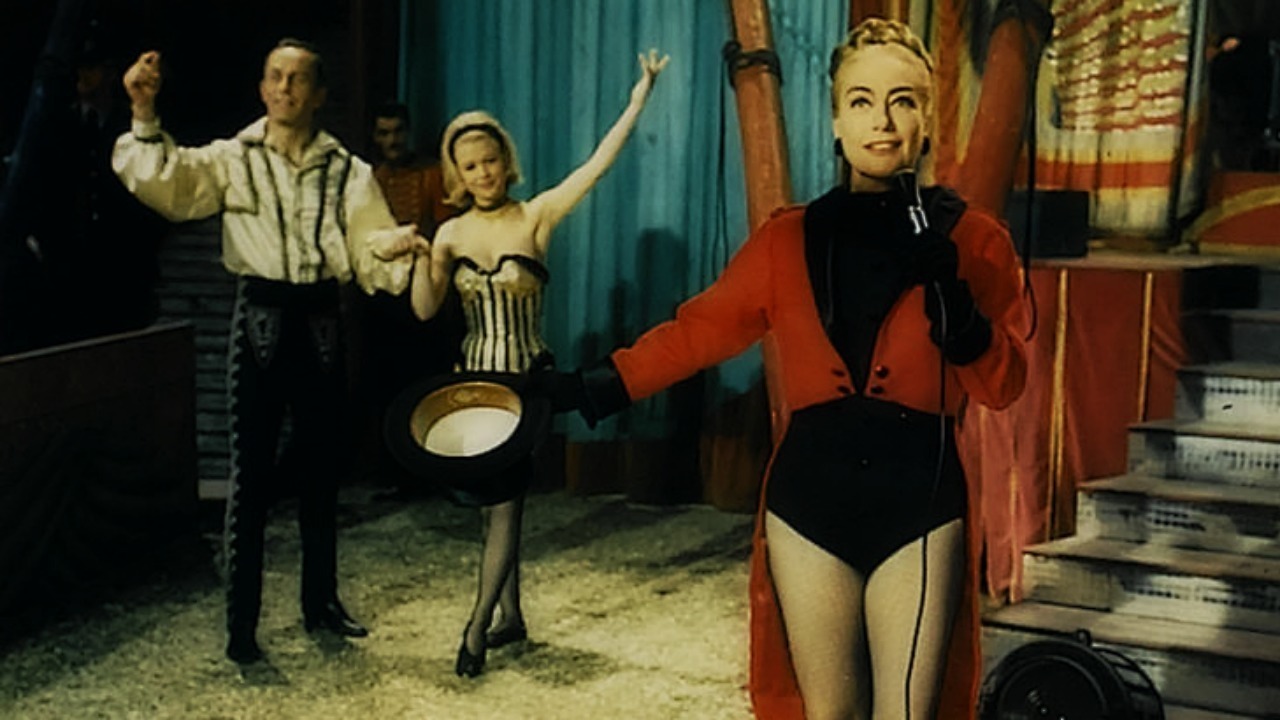 Michael Gough portrays the co-owner of Crawford's traveling English circus "Albert Dorando".




Above Michael Gough is with Ty Hardin as "Frank Hawkins". Hardin starred from 1958 through 1962 in one of the Warner Brothers Western television series "Bronco" as "Bronco Lane". Otherwise he had small roles in other feature films and appearances on television.

Judy Gleeson portrayed Crawford's daughter "Angela Rivers". This was only her second film and her third would be "To Sir With Love" starring Sidney Poitier.




A tightrope walker is killed, strangled by his tightrope, was it an accident, or murder? "Dorando" wants to buy out his partner "Monica", but she refuses the offer. To "Monica" the tightrope walkers death was good publicity. Meanwhile, her daughter "Angela" has arrived instead of completing school and wants to join the circus. More deaths start to occur and while the police investigate the box office receipts climb higher.




Has "Monica Rivers" gone "Berserk" and is she killing off members of her troop for more publicity? One of the deaths now becomes "Dorando".




What daughters will do for mum's attention!


"JOURNEY TO THE UNKNOWN" was a British anthology television series from Hammer films. Michael Gough portrayed "Royal", Dennis Waterman portrayed "Albert Baker" and American actress Carol Lynley starred as "Eve" the title character. This episode was shown on September 26, 1968 and was directed by American Robert Stevens. Stevens was the only director who worked on both "Alfred Hitchcock Presents", directing forty-four episodes, and "The Alfred Hitchcock Hour", directing five episodes.




Above Dennis Waterman and Michael Gough look at the mannequin "Eve". Which the young man has fallen in love with and comes to life. Below Waterman and Carol Lynley.




Another role in a different television production of "Treasure Island" and then--

CURSE OF THE CRIMSON ALTAR aka: THE CRIMSON ALTAR aka: THE CRIMSON CULT released December 1968





This was a Tigon British Films Production that would be released in the United States by American International Pictures. The screenplay was "allegedly" based upon H.P. Lovecraft's "Dreams in the Witch House", but there in no on-screen credit for either the story or Lovecraft.

Boris Karloff portrayed "Professor Marsh". Immediately before this feature Boris Karloff had appeared in the Mexican Horror movie "Fear Chamber" aka: "The Snake People" aka: "The Torture Zone". The first of four motion pictures for Mexican producer Juan Ibanez. After "The Crimson Cult" Karloff would appear in Ibanez's second Mexican Horror movie "House of Evil" aka: "Dance of Death". Then a movie made in Spain "The Corpse Collector" aka: "Cauldron of Blood" aka: "Blind Man's Bluff". Next Boris Karloff made his third film for Juan Ibanez "Isle of the Snake People". That was followed by the fourth of the four motion pictures and Boris Karloff's final motion picture "Alien Terror" aka: "The Incredible Invasion". His last two films had been released after Boris Karloff passed away on February 2, 1969.


Christopher Lee portrayed
"Morley".
Just prior to this release Lee had appeared in
"Dracula Has Risen from the Grave"
and would follow the film with his second appearance on television's
"The Avengers".

Mark Eden portrayed
"Robert Manning".
Eden was a popular British television actor. His first on-screen appearance was in the 1958 mini-series
"Quatermass and the Pitt".
Eden appeared on
"The Avengers",
Roger Moore's
"The Saint",
was
"Marco Polo"
on the first
"Dr. Who"
series starring William Hartnell and would be a
"Journalist"
on the mini-series
"Jack the Ripper".

Barbara Steele portrayed
"Lavina Morley".
The star of Mario Bava's classic 1960 Italian Horror film
"The Mask of Satan"
aka:
"Black Sunday",
Roger Corman's 1961 Edgar Allan Poe tale
"The Pit and the Pendulum",
the overlooked Italian Horror entr
y
1962's
"The Horrible Dr. Hichcock",
had just been seen in an episode of television's
"I Spy".

Michael Gough had fifth billing as the
"Elder".

When his brother disappears, "Robert Manning" traces him to a remote country house and becomes involved with the title cult. This is a very good and acted tale, but was made at the point when partial nudity was beginning to predominate in British Horror films.
Right before Michael Gough appeared in his second Joan Crawford motion picture. He went back to his Shakespearean roots in 1970's
"Julius Caesar".
Charlton Heston was
"Mark Anthony",
Jason Robards was
"Brutus",
Sir John Gielgud was
"Caesar",
Robert Vaughn
"Casca"
and Richard Chamberlain was
"Octavius".
Michael Gough was twelfth billed as
"Metellus Cimber".




TROG released in July 1970

Once more produced by Herman Cohen and directed by Freddie Francis was actress Joan Crawford's final motion picture.
Joan Crawford portrayed
"Dr. Brockton".


Michael Gough portrayed
"Sam Mudock".


Although the picture was not from Hammer Films in an article for the magazine
"Hammer Horror",
issue number 6, in 1995. Freddie Francis speaking about directing
"Trog"
stated to interviewer Christopher Koetting:
...I did it because of Joan Crawford, and poor Joan by this time was a very sad old lady. We had to have idiot cards

all over the place because she couldn't remember her lines. It was the last thing she ever did and she shouldn't have done it. Neither should I... She had no friends, and she kept writing sad letters to my wife and I until she died.
Continuing with the low budget approach of producer Herman Cohen. The dinosaur footage was actually taken from Irwin Allen's 1956 "The Animal Word" animated by Willis O'Brien and Ray Harryhausen. The suit worn by the title character came from the opening to Stanley Kubrick's 1968 "2001: A Space Odyssey".

The plot has anthropologist "Dr. Brockton" learning that in a series of English caves a possible troglodyte may be living. She leads an expedition to the specific caves and "Trog" is captured and brought back to her laboratory for study.

This leads to the local townspeople opposed to having a monster in their town including businessman "Sam Murdock"."Dr. Brockton" starts experimenting on "Trog" and through a series of surgeries gives him the capacity to speak. Then a device is place on "Trog's" head to recall events in its past including dinosaur battles that are projected onto a screen to view by the Scientists.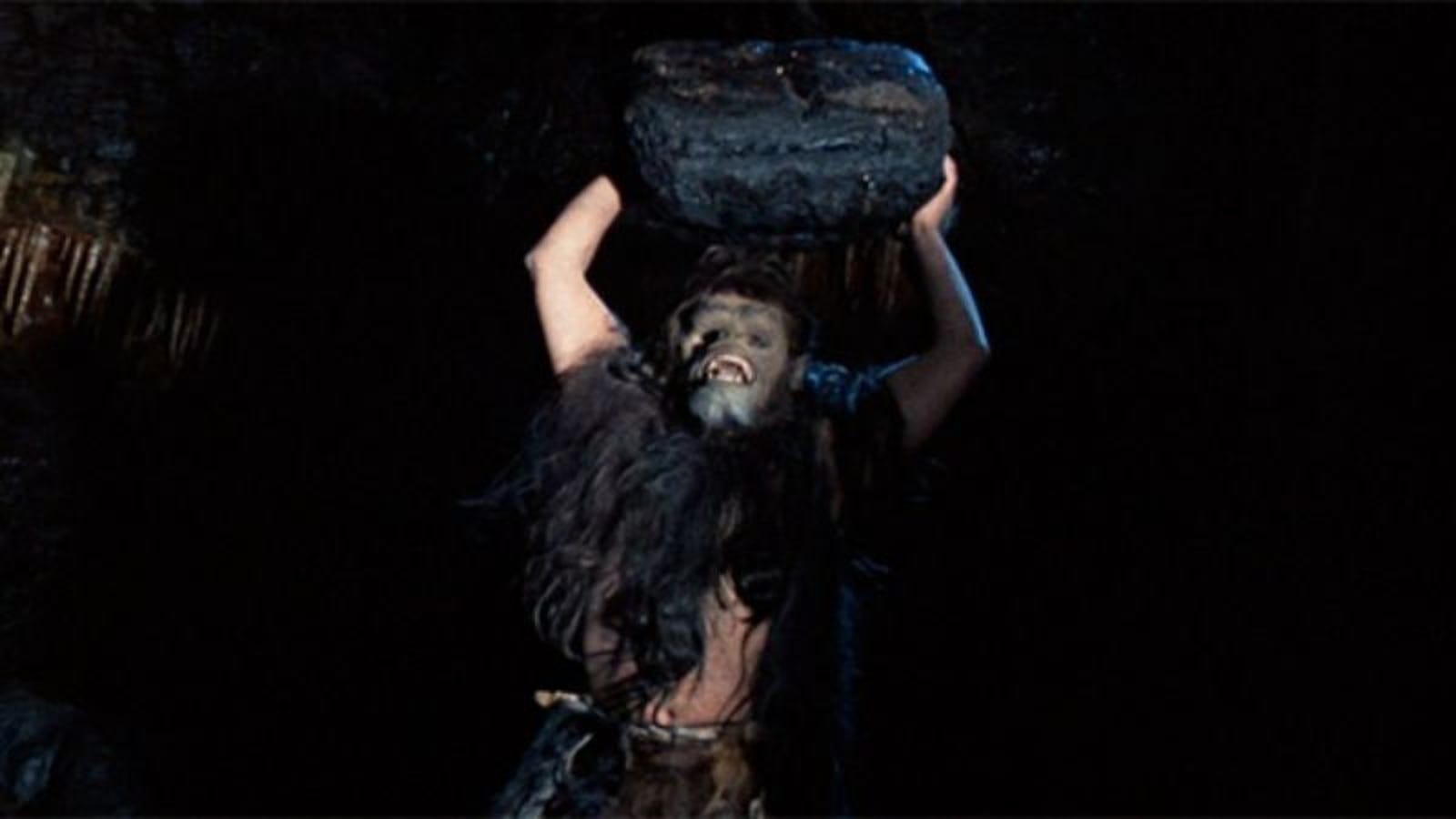 Still disturbed by "Dr. Brockton's" experiments and the idea of this monster taking away business. "Murdock" releases "Trog" in the middle of the night hoping local residents will kill it.




However, it will also lead to his own by being beaten to death by "Trog".




"Trog" takes a young girl off a playground, because she remains him of the doll he played with and "Dr. Brockton" is able to get the girl safely away from him.




Then the military moves in and kills "Trog".


THE CORPSE aka: THE CRUCIBLE OF HORROR released November 10, 1971





The story was based upon the class 1955 classic French film "Les Diaboliques". About the wife and mistress of a man coming together to kill her husband. In this case it was the wife and sexually abused daughter killing the father, "Walter Eastwood", portrayed by Michael Gough.




"Walter" is followed by his wife and daughter to his country cottage. There he gets out his favorit whiskey not knowing the two have drugged it with a poison. After "Walter" is dead, the two women drag his body upstairs, change his clothing and place him in bed with an open bottle of pills and a whiskey bottle to give the appearance of a suicide. They return to London and await the discovery of his body and the sad news.

However, there is no contact from the police. The son, who lives elsewhere, realizing his father hasn't shown up at work. Calls his mother and sister to have them drive out to the cottage and see if his father is there. The two go and find "Walter's" body is not in the bed, but behind the cottage is a large box. How he got their is a mystery to them, but they load the box into the mother's estate car and drive it to a worksite. The two remove "Walter" in the box and push the box down an embankment into a pond. Returning home they hope nobody finds the body and reports it as a murder, but again, there is no contact.

Then a man, unseen by the two women, enters the house and goes upstairs. The man frightens the daughter by hanging upside down on the darken stairs and when she goes to get her mother the intruder is gone.

The next morning as the mother and daughter sit at the breakfast table. They hear footsteps coming down the stairs and "Walter" walks in. He's wearing his normal suit and tie and asks for his breakfast. Nothing has changed for the women.

Michael Gough returned to television for almost two years and then came to back to back Horror features.

HORROR HOSPITAL aka: COMPUTER KILLERS released May 1973




British director and screenplay writer Anthony Balch was behind this Horror-Comedy.

Michael Gough portrayed "Dr. Christian Storm". Director Balch showed Gough the 1940 Bela Lugosi movie "The Devil Bat". Michael Gough was given instructions to play his role like Lugosi had in that picture.



Two hippie guys meet a gal heading for a "Health Farm" that turns out to be the home of a 1930's style Mad Scientist. He is performing lobotomies on his guests and drives a Rolls Royce equipped with a giant decapitating blade. The film is one of those fun bloody messes of the 1970's with an over-the-top Michael Gough doing his best Bela Lugosi impression minus the voice.







THE LEGEND OF HELL HOUSE released June 15, 1973




The screenplay is by Richard Matheson from his novel "Hell House". Matheson is better known for two other novels "The Shrinking Man", that he also wrote the screenplay as "The Incredible Shrinking Man", and "I Am Legend" that was filmed three times.




The story revolves around two psychics brought to the "Belasco House". All the previous investigators were killed by something, or some one. Except Roddy McDowell's "Benjamin 'Ben' Franklin Fischer" who has agreed to return. The other psychic is "Florence Tanner", played by Pamela Franklin, as the two discover the truth about "Hell House".

Below is Michael Gough in his non-on-screen credited role of "Emeric Belasco" and this is all I will tell my reader about this excellent Horror story.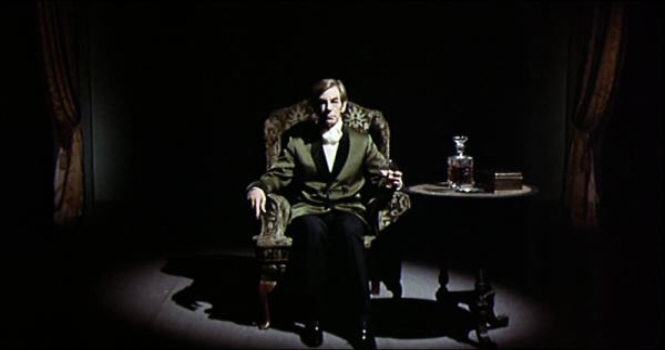 On October 14, 1973 Michael Gough portrayed "Sir Benjamin Dyce" in episode three, "View of a Dead Planet", on the British television series "Moonbase 3".

A variety of television appearances followed including the Leon Uris novel based min-series "QB VII", the mini-series "Jennie: Lady Randolph Churchill" and a biography of "Galileo".


SATAN'S SLAVE aka: EVIL HERITAGE released in December 1976




Michael Gough portrayed "Uncle Alexander Yorke".

Candace Glendenning portrayed "Catherine Yorke".




Above Michael Gough and Candace Glendenning.

A father, "Malcolm Yorke", played by James Bree, a mother, "Elizabeth Yorke", played by Celia Hewitt, and their daughter, "Catherine", are going to visit "Uncle Alexander". As they're driving onto "Alexander's" estate, "Malcolm" suddenly becomes ill and crashes the car into a tree. Their car appears slightly damaged and "Catherine" gets out of it to seek help as the car bursts into flames killing her parents.




This becomes the typical, with some twists, tale of a cult who has been waiting for "Catherine" to reach her twentieth birthday. The same age as an 18th Century ancestor also named "Catherine Yorke". So the elder "Catherine" can be reborn in the body of 20th Century "Catherine".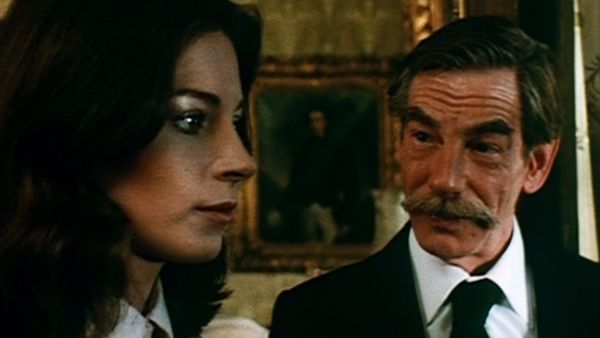 The twist comes at the end when all through the picture the audience believes the leader of the cult is Michael Gough, but the leader turns out to be "Malcolm Yorke", "Catherine's" father.

Michael Gough's next motion picture was a different type of Horror story.

THE BOYS FROM BRAZIL released August 19, 1978


This is the excellent adaptation of Ira Levin's novel. Levin also wrote the novels "Rosemary's Baby" and "The Stepford Wives".

Gregory Peck portrays Nazi Concentration Camp's "Dr. Josef Mengele". This role was a far cry from the one that Peck portrayed right before this picture, "General Douglas MacArthur".




Sir Lawrence Olivier portrayed the Nazi Hunter "Ezra Lieberman". Olivier was two roles away from playing "Dr. Abraham Van Helsing" in John Badham's "Dracula" and two more roles after that found the actor also portraying "General Douglas MacArthur".




James Mason portrayed "Eduard Seibert". Mason had just been seen as "Mr. Jordan" in the second remake of the 1941 feature "Here Comes Mr. Jordan" now called "Heaven Can Wait" and starring Warren Beatty.




Michael Gough had seventeenth billing as "Mr. Harrington". I could not locate a photo of Michael Gough for this article, but the Horror of this tale is that "Dr. Mengele" is cloning Adolph Hitler and the "Boys" of the title are several clones adopted by unknowing parents.

The size of roles for Michael Gough were to get smaller and smaller. Although after "The Boys from Brazil" included the three hour British television movie "Suez 1956", shown November 25, 1979. The actor had the lead as British Prime Minister "Anthony Eden" dealing with the Suez Canal crisis which brought down his administration. Again, I could locate one photo of this program.

For the next two years, except for a small role in the overlooked Horror-Thriller "Venom", November 28, 1981, starring Klaus Kinski, Oliver Reed, Nicol Williamson and Sterling Hayden. Michael Gough appeared strictly on British television. On September 28, 1982 he co-starred in an episode of "The Agatha Christie Hour" in "The Fourth Man". While on December 4, 1982 portrayed the "Judge" in a made for British television movie version of Christie's "Witness for the Prosecution". That starred Sir Ralph Richardson, Diana Rigg, Deborah Kerr, Beau Bridges, Donald Pleasence and Wendy Hiller.




On January 3, 1983 Michael Gough portrayed "Time Lord Councillor Hedin" in the first of a three part story "Arc of Infinity" starring Peter Davidson as "The Doctor".




Michael Gough is second from the left above.




Above Michael Gough and Peter Davidson.




On June 8, 1984, in a motion picture written and directed by Jim Abrahams, David and Jerry Zucker called "Top Secret". Found Michael Gough in a comedy from the team who had made 1980's "Airplane" and decided to spoof the entire Spy genre.

Seventh billed Gough portrayed "Dr. Paul Flammond".




Val Kilmer in his first on-screen role was with a group of actors in cameo roles spoofing their own images. These included Peter Cushing, Omar Sharif and Jeremy Kemp.


MERLIN AND THE SWORD aka: ARTHUR THE KING was first shown on television January 5, 1985

This was a made for television American motion picture initially broadcast at three hours, but released to Home Video cut down to 94 minutes. To add to the confusion it was actually made in 1982, but took three years to finally get a network to show it.
Malcolm McDowell portrayed
"King Arthur",
Candice Bergen portrayed his sister
"Morgan Le Fay"
and Edward Woodward portrayed
"Merlin".
Dyan Cannon was
"Katherine",
Rosalyn Landar was
"Guinevere"
and the still unknown Liam Neeson portrayed
"Grak".
Michael Gough was fifteenth billed as the
"Arch Bishop".

The plot was typical "Arthurian Hollywood" straight from the 1950's. "Morgan Le Fay" has captured "Queen Guinevere" and is using that to take over Camelot. Will "Arthur" be able to save her?
Television would bring Michael Gough to a German-Canadian children's series.

THE LITTLE VAMPIRE in 13 episodes starting on December 31, 1986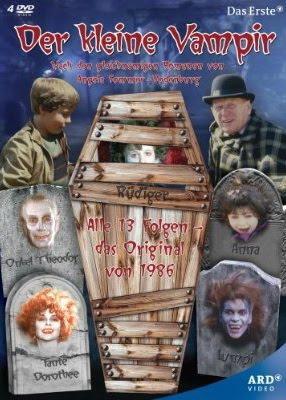 Michael Gough portrayed in the German language version "Onkel Theodor von Schlotterstein" and in the English language version the character was called "Uncle Ludwig von Schlotterstein".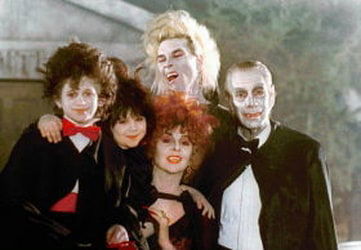 Michael Gough is on the far right and Joel Dacks is the title character of "Rudiger von Schotterstein" on the far left.




Another two television appearances and Michael Gough was back in what was described as a Fantasy-Horror motion picture.

THE SERPENT AND THE RAINBOW released February 5, 1988




Director Wes Craven's motion picture was very loosely based upon the non-fiction work.The book was about ethnobotanist, the study of a regions plants and there practical use through local customs, Wade Davis and had the same title as Craven's film.

Bill Pullman was the fictional Wade Davis, "Dennis Alan". Pullman had just been seen in the role of "Lone Star" in Mel Brooks' comedy "Space Balls" and this voodoo-zombie picture was certainly not a comedy.

Michael Gough portrayed "Schoonbacher".






"Dennis Alan" goes to Haiti to solve a murder and find a specific plant based drug for a pharmaceutical company and discovers a world he never imagined really existed outside of old "B" movies.

Three television appearances and one Bridget Fonda motion picture later and Michael Gough first portrayed the role he would be most associated with.

BATMAN released June 19, 1989






This was director Tim Burton's vision of the DC Comics anti-hero with probably a little to much emphasis on "The Joker".

There is still controversy over the choice of the actors for the two leads, but in the end:

Jack Nicholson portrayed "Jack Napier" aka: "The Joker". Nicholson's contract with Warner Brothers guaranteed time off for "Lakers Games" and only a three week shooting schedule with him on set. The contract would provide many problems for Burton. Jack Nicholson also had the power to demand top billing over Michael Keaton.




Michael Keaton portrayed "Bruce Wayne" aka: "The Batman". Keaton's role was reduced, because, once again, of Nicholson's star power and contract.





Kim Basinger beat out other actresses for the role of "Vikki Vale".






















Comic book writer Sam Hamm's original screenplay dropped the character of "Dick Grayson, the first Robin the Boy Wonder" and Warren Skaaren, who had written Tim Burton's 1988's "Beetlejuice", kept "Robin" out of the screenplay, but expanded the character of "Jack Napier".


Tim Burton was a fan of Hammer Horror and he knew from the start who he wanted to cast as "Alfred Pennyworth".




"Alfred" is the proper English butler for "Bruce Wayne" and in the movies goes back to "Bruce's" parents. When he made in first DC Comic appearance "Alfred Pennyworth" was very overweight. As he rang the doorbell for the home of "Bruce Wayne" and his ward "Dick Grayson". When the character came to the big screen he was slimmed down as a result of actor William Austin's appearance in the 1943 serial "Batman" and DC changed his look within two issues of the comic.

"Alfred" knows all the secrets and raised the boy after his parents were murdered, according to this screenplay, by a young "Jack Napier". Against the over-the-top Jack Nicholson and somewhat method actor Michael Keaton. The underplayed "Alfred" by Michael Gough becomes, at times, a more intriguing character and his delivery tells the audience he knows more about whats happening than even "Bruce Wayne" may.




Skipping ahead, Michael Gough reminded in character, as did Michael Keaton, in "Batman Returns", released on June 10, 1992.




On June 1, 1995 Michael Keaton was nowhere to be seen and had been was replaced in the cape and cowl by Val Kilmer. Additionally, "Batman Forever" introduced Chris O'Donnell as "Dick Grayson" aka: "Robin", but Michael Gough returned as "Alfred".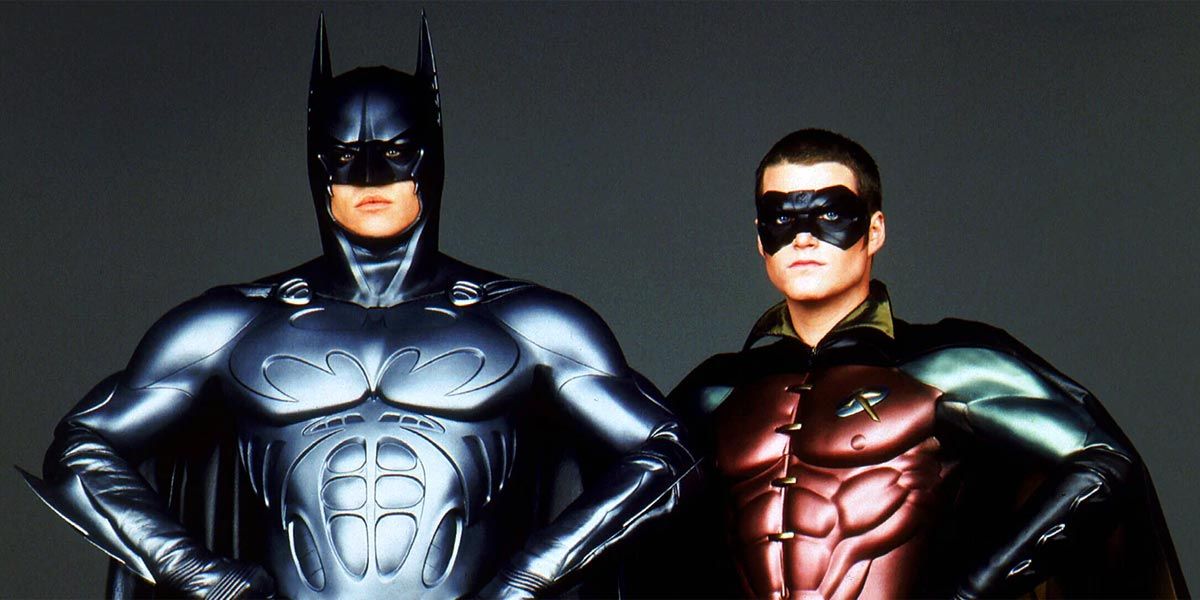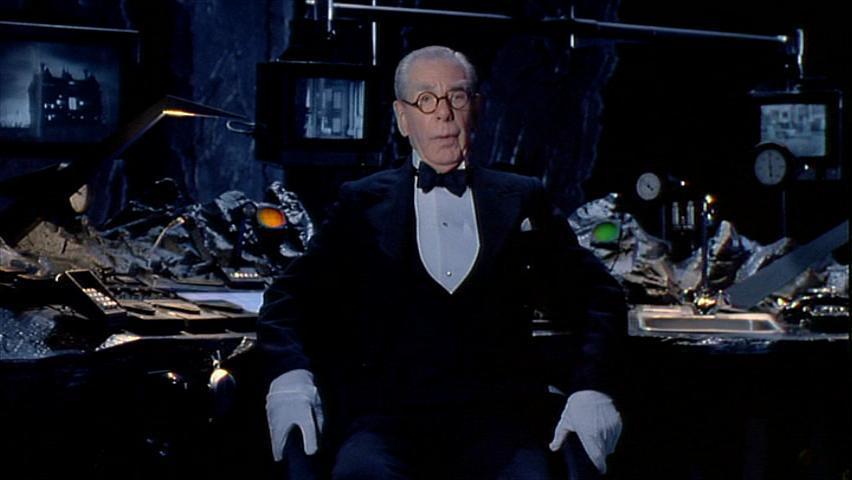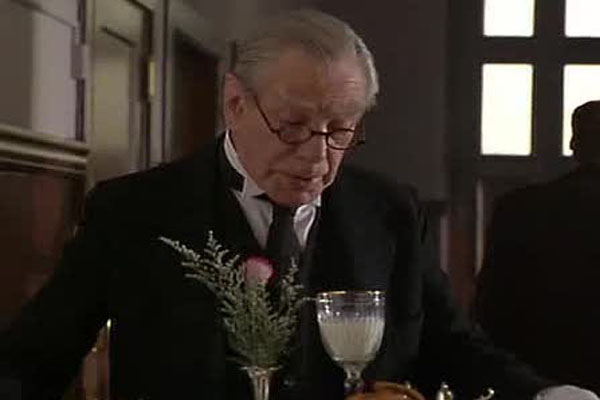 On June 12, 1997 the audience still saw Chris O'Donnell as "Robin", but once again "Bruce Wayne" changed in "Batman and Robin". The role was now given to George Clooney being cared for by Michael Gough's "Alfred Pennyworth".





Among Michael Gough's work between the movies of "The Batman Series" were mostly television appearances and a few small movie roles. He had nineteenth billing in Martin Scorsese's 1993 motion picture "The Age of Innocence" that starred Daniel Day Lewis, Michelle Pfeiffer and Winona Ryder. He provided some voice acting in 1995's animated "The Twisted Tales of Felix the Cat" and was seen as "Leo Tolstoy" in the 1996 feature film "The Adventures of Young Indiana Jones: Travels with Father".

Michael Gough now returned to Tim Burton.

SLEEPY HOLLOW released November 17, 1999




Director Tim Burton and screenplay writer Andrew Kevin Walker expanded the Washington Irving's short story. The two created a murder mystery with "Ichabod Crane" turned from school teacher to a 1799 New York Police Inspector using modern techniques. He is sent to the community of "Sleepy Hollow" in which several people are literally loosing their heads and it is up to "Crane" to find out who, or what is behind the decapitations.

Johnny Depp portrayed "Inspector Ichabod Crane". Earlier in the year Depp had been seen in both "The Ninth Gate" and "The Astronaut's Wife".




Christina Ricci portrayed the good witch and love interest "Katrina Van Tassel".


Miranda Richardson portrayed "Lady Van Tassel" and "The Old Crone".




Christopher Walken portrayed "The Horseman".




Michael Gough portrayed "Notary James Hardenbrook".




CORPSE BRIDE released September 7, 2005

This stop motion animated movie from Tim Burton starred the voices of Johnny Depp and Burton's wife, at the time, Helena Bonham Carter.




Above left Johnny Depp voiced "Victor Van Dort" and Helena Bonham Carter voiced "Emily the Corpse Bride".




On the right Michael Gough voices "Elder Gutknecht" and a close-up of the character is below.




Below Christopher Lee voiced "Pastor Galswells".





Next Michael Gough voiced the "Dodo" in Tim Burton's "Alice in Wonderland" released February 25, 2010.




Michael Gough's "Dodo" is standing between "Tweedledee" and "Tweedledum".

On March 17, 2011 in Wiltshire, England, the world lost Michael Gough. He passed away from complications of pneumonia and prostrate cancer. He was 94 years old, RIP.