He was a Comedian, a Singer, an Actor, a Television writer and a Television Producer, but he also founded "SAINT JUDE'S CHILDREN'S RESEARCH CENTER". His name was DANNY THOMAS and I first met him on our television set in the 1953 sitcom "Make Room For Daddy". This is a small look at a remarkable life.


His parents immigrated from Lebanon and on January 6, 1912,
Amos Muzyad Yaqoob Kairouz
was born in Deerfield, Michigan and attended "Woodward High School" in Toledo, Ohio and the "University of Toledo".
NAMES: A Sad Sign of His Times and Still Today


Amos Muzyad Yaqoob Kairouz discovered that finding work was next to impossible with that pure Lebanese name. So he anglicized it first into Amos Jacobs Kairouz. However, the 1930 Census shows the 18 year old modified his birth name again just to "Amos Jacobs" in his search for work. According to that same Census. His parents were not born in Lebanon, but Syria, spelled "Seria", and their "mother tongue" was not Lebanese, but Syrian, spelled "Serian". In fact the United States lumped all Lebanese immigrants into the category of Syrian. As to what the "Department of Immigration's" rationale was at the time. The only thing I could find is that Syria and Lebanon were both part of the old Ottoman Empire. As was Turkey, that most South American countries, at that time, considered immigrants from Lebanon to be from.
"Amos Jacobs" started making the rounds of the Night Clubs as a comedian. His parents did not like the idea of their son working in such places. In 1932 "Amos" started working at Detroit Radio Station
"WMBC"
on their family variety program
"The Happy Hour Club"
. Today, that stations call letters are
"WDTK"
and the station is known as
"The Patriot"
part of Conservative Talk Radio.
Above "WMBC's" "Amos Jacobs".
Rose Marie Cassaniti, actually Rose Marie Mantell, had a singing career and her own radio program in Detroit. The two met and one week after his 24th birthday, on January 15, 1936, the two would marry. Over their life together Danny and Rose Marie would have three children, actress Margaret Julia "Marlo" Thomas, actress Terre Thomas and producer Charles Anthony "Tony" Thomas.
Marlo had been born in 1937 and as the months passed. Her father was struggling to keep food on the table. As the true story goes:
Maronite Catholic Amos Jacobs was living from pay check to pay check. He was attending Mass in Detroit and placed his last $7 dollars in the collection plate. Amos than prayed to "Saint Jude Thaddeus, the Patron Saint of Hopeless Causes" to give him the means to feed his family. About one week later he obtained a gig that paid 10 times his current income. After this happened Amos Jacobs believed in the power of prayer and promised "Saint Jude", if "His Saint" would make him successful. He would build a shrine in his name.
In 1940 Amos and Rose Marie moved to Chicago. He returned to the Night Club circuit for the money it paid. However, he didn't want to upset his parents and changed his name to hide the fact pf his employment. Amos Muzyad Yaqoob Kairouz now took a stage name created from the first names of two of his brothers. From this time forward he was
"Danny Thomas".
1940's Radio
It was during the decade of the 1940's that Danny Thomas became a household name. From 1942 to the end of 1943 he hosted a 30 minute weekly variety radio program
"The Danny Thomas Show"
on ABC Radio. The show would return after World War 2 on CBS Radio from 1947 through 1948.
However, the comedian was also heard on three major radio programs. In 1944 Thomas joined the cast of
"The Baby Snooks Show".
"Baby Snooks" was a character was created by
"Ziegfeld Follies"
star Fannie Brice. Danny Thomas portrayed postman
"Jerry Dingle".
Above Thomas as "Jerry" in a publicity still.
On September 8, 1946 Danny Thomas' voice was heard on a 30 minute NBC radio program
"The Bickersons".
The two stars were actor Don Ameche and big band singer Francis Langford as "Bickering" husband and wife. Thomas was their nosy next door neighbor. In 1947 the show moved to CBS radio. The three were also heard Sunday's on
"Drene Time"
aka:
"The Drene Show".
The title fpr this 30 minute variety show came from its sponsor Proctor and Gamble's "Drene Shampoo",
Films and Television Acting


On September 19, 1947 Danny Thomas first appeared on the motion picture screen in:
The motion picture
"The Unfinished Dance"
starred child actress Margaret O'Brien as
"Meg Merlin".
O'Brien had been seen in 1944's
"The Canterville Ghost"
co-starring Charles Laughton and Robert Young and 1944's
"Meet Me In St. Louis"
starring Judy Garland.
Dancer actress Cyd Charisse was
"Mlle. Ariane Bouchet"
, Charisse would go on to dance in 1953's
"The Band Wagon"
with Fred Astaire, 1954's
"Brigadoon"
with Gene Kelly, 1955's
"It's Always Fair Weather"
with Kelly and 1957's
"Silk Stockings"
with Astaire.
Actress Karin Booth was
"La Darina".
This was Booth's second on screen credited role out her 34 motion pictures since 1941.
It's hard to read, but the above poster says
"Introducing Danny Thomas".
His role was that of
"Mr. Paneros", "Meg's"
guardian.
The motion picture was a remake of a 1937 French film
"Ballerina".
It tells the story of a young ballerina who idolizes the head of the dance school. Only to find out her idol may not be what she has always imagined.
Above "Meg" is comforted by her guardian. After she has caused an accident that damages the spine of her idol.
Thomas' next motion picture
"Big City",
released March 25, 1948, also starred Margaret O'Brien and co-starred Karin Booth. Plus Robert Preston and George Murphy. The story was about an abandoned baby that three men, a Jewish Cantor played by Danny Thomas, a Minister played by Preston, and a police officer played Murphy raise and then face a judge about who can legally can adopt her. The movie was a box office flop.
Danny Thomas' next three motion pictures showed how popular he had become though. They were his last movies, except for two films later in his career, as he moved to television.
The three major feature films were:
"Call Me Mister",
released January 31, 1951, co-starring Betty Grable and Dan Daily.
Next Danny Thomas co-starred with Doris Day and portrayed real life composer "Gus Kahn" in
"I'll See You in My Dreams".
released December 6, 1951.
Danny Thomas' third motion picture was the first remake of Al Jolson's 1927 Warner Brothers feature
"The Jazz Singer".
The screenplay followed very closely that historic original motion picture. About the son of a Jewish Cantor who doesn't want to follow in his father's footsteps. This technicolor production was released December 30, 1952 and Thomas starred with songstress Patty Page and the picture was directed by Michael Curtiz.
The musical score was nominated for an Academy Award and the sound track became a best seller.
In 1952 Thomas recorded a group of Arabic songs for an album to raise money for a "Saint Jude Foundation" fundraiser. It was around this time that his wife Rose Marie joined him traveling the United States on personal appearances to start raising money for his dream of a children's hospital.
On September 29, 1953, a production of the newly formed company "Desilu Studios" appeared on ABC television. The show was entitled
"Make Room for Daddy"
and it would end its run on CBS April 27, 1964, 344 episodes later, under a different name.
Like many American's of my generation. As I said, I first met Danny Thomas on that television program. The cast would be changed for several reasons after the first 90 episodes.
Above, Danny Thomas portrayed successful comedian
"Danny Williams".
His home base was the New York City nightclub "The Copa". An obvious version of the "Copacabana".
Jean Hagan was his wife
"Margaret Williams".
Hagen started her movie career with 6th billing in the Spencer Tracy and Katharine Hepburn 1949
"Adam's Rib".
In 1950 Jean Hagen had 3rd billing in John Huston's classic crime drama
"The Asphalt Jungle".
In 1954 her comic talent was in full view with 4th billing in the Gene Kelly, Donald O'Connor and Debbie Reynold's 1952
"Singin' In the Rain".
Sherry Jackson was daughter
"Terry Williams".
Jackson portrayed "Susie Kettle" in Universal Studios
"Ma and Pa Kettle"
film series. Between 1949 and 1951 Sherry Jackson appeared in 22 motion pictures without on screen credit. She was also popping up on television in episodes of
"The Gene Autry Show", "The Roy Rodgers Show"
and
"The Range Rider".
Perhaps, her role on
"Make Room for Daddy"
had influenced television anthology writers at the time, because in several of her other television appearances. Her character's name seemed always to be "Terry". After Jackson left the Danny Thomas series during the 1960's. She was seen making the guest star rounds on many major television series and appeared in only one motion picture with 3rd billing, 1968's
"The Mini-Skirt Mob".
Of the original co-stars only Rusty Hamer stayed the entire run of
"Make Room for Daddy".
Hamer would only have 10 others roles in his career and in 1970 recreate "Rusty Williams" in the short lived
"Make Room for Granddaddy"
with Thomas. In the end, like many successful child actors who could not make the transition to adult life. Rusty Hamer became depressed, alcoholic, and in 1990, at the age of 42, committed suicide by shooting himself.
The first three seasons of
"Make Room for Daddy"
were getting decent ratings, but had not cracked the top 30 television programs. The series made some changes for season four.
Jean Hagen left the show over differences with Danny Thomas. The fourth season opened with "Danny Williams", now a widower, and "Rusty" having an extreme case of the measles. This would be part of a four show arc to introduce two new characters. The first was a widowed nurse "Kathy O'Hara" and, the second, her daughter "Linda".
"Linda"
was played, for one episode,
#29:
"Little Miss Moppet",
April 18, 1957, by Lelani Sorenson.
The role of
"Kathy O'Hara"
was played by Marjorie Lord. Lord had been acting since 1937 in mostly "B" films. Such as 1943's
"Sherlock Holmes in Washington"
starring Basil Rathbone and Nigel Bruce and the same years
"Johnny Come Lately"
starring James Cagney, In 1947 she appeared in an episode of one of the first television series
"Public Prosecutor"
starring actor John Howard. After that appearance Marjorie Lord guest appeared on a large amount of television programs until she got this role.
The very next episode that also ended season four was
"Danny's Proposal"
and "Kathy's" daughter was nowhere to be seen in it.
Now CBS acquired the program and two more changes were made. The show's title now became
"The Danny Thomas Show"
and Angela Cartwright became the new
"Linda".
In the story arc "Linda" would be adopted by "Danny Williams". This new cast and new format would propel the show in the ratings and it would last for another seven seasons.
Prior to the television series Angela Cartwright had only appeared in two motion pictures, Paul Newman's 1956
"Somebody Up There Likes Me"
and the Rock Hudson, Dana Wynter and Sidney Poitier 1957
"Something of Value".
In 1965 she became a member of the Von Trap Family in Robert Wise's production of Rodger's and Hamerstein's
"The Sound of Music"
and on television, became part of the "Robinson Family" in
"Lost in Space".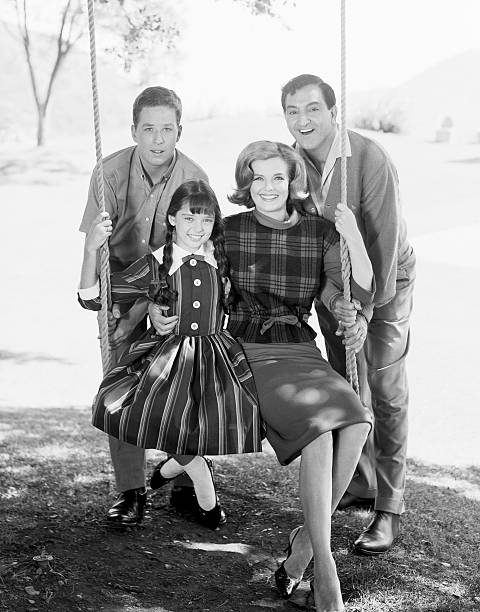 During season six Sherry Jackson left the cast, above, and "Terry" was said to have gone off to a school in Paris, France. In season seven the character returned in a seven episode story played by Penny Parker. She is standing next to Rusty Hamer below. In it she marries one of her father's friends from the "Copa".
Parker only had seven other roles and they were all on television. In 1961 she co-starred in the one season 26 episode television series
"Margie"
set during the Roaring 20's. The show was based upon the 1946 motion picture of the same name. That had starred Jeannie Crain, 1949 Oscar nominated actress for
"Pinky",
Glenn Langan, 1957's
"The Amazing Colossal Man",
and Lynn Bari, 1944's
"The Bridge of San Luis Rey".
In 1970, as I already mentioned, Danny Thomas, Marjorie Lord, Angela Cartwright and Rusty Hamer were back for the one season,
"Make Room for Granddaddy"
.The concept had aging grandparents "Danny Williams" and his wife taking care of their oldest daughter "Terry's" son.The Thomas produced show was cancelled by ABC, because the ratings indicated it only appealed to older viewers. Which the guest star list seems to support. Episodes show cased Lucille Ball in a recurring role and Frank Sinatra, Diana Ross. Bob Hope, Davy Jones and Milton Berle in one episode each.
Above Michael Hughes played "Terry's" son
"Michael Wilson".
After this series the actor appeared only four other times on television.
Back in 1959 Danny Thomas changed directions to become also a producer. His first such credit came with just one episode of the television show
"Love and Marrige",
on November 23, 1959, entitled
"Chip Off the Old Block".
The show starred William Demarest, who became "Uncle Charles" on television's
"My 3 Sons",
and Jeanne Bal. Who, besides this 18 episode series, would appear on other television programs through 1970.
Between 1957 and 1963 Danny Thomas was the Executive Producer of the Walter Brennan and Richard Crenna television series
"The Real McCoy".
In 1961 he started producing the 158 episodes of
"The Dick Van Dyke Show"
starring Van Dyke and Mary Tyler Moore. Also in 1961 Thomas produced the first of 90 episodes for fellow comedian and member of Frank Sinatra's "Rat Pack"
"The Joey Bishop Show".
In 1963 it was eight episodes of
"The Andy Griffith Show"
and the short lived
"The Bill Dana Show",
The later featuring the popular comedian from appearances on
"The Ed Sullivan Show".
While all of the above was going on Danny Thomas' dream of the
"Saint Jude's Children's Research Hospital"
was becoming a reality. Back in 1957 he formed the
"American Lebanese Syrian Associated Charities".
This group would become the main source of funds for the hospital
.
Initially helping with the creation of the hospital were two close friends of the entertainer. They were Dr. Lemuel Whitley Diggs, a pathologist, who worked in Memphis, Tennessee and Anthony Abraham, described as an automobile magnate from Miami, Florida.
The hospital was founded on February 4, 1962 and is now located at
262 Danny Thomas Place,
in Memphis, Tennessee. Although "Saint Jude's" is named for a Catholic Saint, It is non-denominational and it motto is no child is turned away and no family should have to pay.
As of three years ago, 2017, the daily operating costs for
"Saint Jude's"
was $2.4 million dollars. Danny Thomas'
"American Lebanese Syrian Associated Charities"
provides $1 billion dollars annually. While 75% of those daily funds comes from pubic contributions and only 14% comes from insurance recoveries and 9% from grants.
In 1962 the most common childhood cancer
"acute lymphoblastic leukemia"
had a survival rate of only 4%, Thanks to the work of Danny Thomas,
"Saint Jude's Children's Research Hospital",
has increased that survival rate, as of 2017, to 94% and is working toward their 100% goal. The overall survival rate of all childhood cancers during the same period was raised from 20% to 80%.
After the completion of his dream Danny Thomas still acted and produced programming on television.
As a producer his further work through 1979 included:
The forgotten 1967 television comedy western
"Rango".
The show starred comedian Tim Conway.
"McHale's Navy"
1962 through 1966,
"The Tim Conway Show"
in 1970 and
"The Carol Burnett Show"
from 1967 through 1978.
"The Guns of Will Sonnett"
starring Walter Brennan from 1967 through 1969. The 1969 made for television western
"The Over-the-Hill Gang"
starring Walter Brennan, Edgar Buchanan, Andy Devine, Jack Elam and Gypsy Rose Lee. In 1970 was the sequel
"The Over-the-Hill Gang Rides Again".
It starred Brennan, Buchanan and Devine, but added Fred Astaire,Chill Wills, Paul Richards and Lana Woods.
Between 1968 and 1973 Danny Thomas was the Executive Producer of the 123 episodes of
"The Mod Squad"
and produced the 1979 made for television
"The Return of the Mod Squad".
As an actor his fans saw Danny Thomas through 1991 in:
His own variety television show
"The Danny Thomas Hour"
from 1967 through 1968. On February 6, 1969 Danny Thomas appeared in
"My Sister's Keeper"
an episode of his daughter Marlo Thomas'
"My Girl"
series.The complete series featured his other daughter Terre Thomas in the role of "Rose Cassanetti". A name with a single letter change to her mother's stage name of "Rose Cassanitti".
Thomas had a short lived television series
"The Practice"
in 1976 as "Dr, Jules Bedford".
Another one season show was 1980's
"I'm a Big Girl Now"
with Thomas as a dentist. Another failed sit com was
"One Big Family"
in 1986. Danny Thomas' last acting role was in an episode of the Richard Mulligan and Dinah Manoff popular 1988 to 1995 series
"Empty Nest".
Danny Thomas played "Dr, Leo Brewster" in
"The Mentor"
shown on
February 2, 1991.
On February 6, 1991, five days after the
"Empty Nest"
, Danny Thomas passed away in Los Angeles after suffering a heart attack. In the previous month he had celebrated his 79th Birthday. Two days prior to his fatal heart attack Danny Thomas has celebrated the 29th Anniversary of
"Saint Jude's Children's Research Hospital".
Danny Thomas and his wife Rose Marie Mantell Thomas are buried side by side in a mausoleum on the grounds of "Saint Jude's". A commercial he had filmed for the hospital was shown, posthumously, after his death.