This is a look at 11 of the 85 on screen appearances featuring the Distinctive Voice of actor Claude Rains. Which illustrate his acting career and ability to assume many roles and film genres.
The title of my article comes from the lyrics to the first stanza of Richard O'Brien's
"Science Fiction Double Feature".
Heard first in his play and then in the classic film
"The Rocky Horror Picture Show":
Michael Rennie was ill
The Day the Earth Stood Still
But he told us where we stand
And Flash Gordon was there
In silver underwear
Claude Rains was The Invisible Man
For those my readers familiar with Richard O'Brien's lyrics, but not all the Science Fiction and Horror references. My article on the sources may be read at:
http://www.bewaretheblog.com/2015/02/science-fiction-double-feature-how-many.html
William Claude Rains
was born on November 10, 1889 in Clapham, London, England and grew up around his acting father. He went to the United States, in 1913, to act, believing that there was more opportunity for him. However, with the outbreak of World War 1. Claude returned to England and became a Captain in the all volunteer "London Scottish Regiment".
After the war Rains remained in London and returned to acting. Prior to
"The Invisible Man",
the only motion picture Claude Rains had appeared in was 1920's
"Build Thy House".
He had 8th billing in the role of
"Clarkis"
and, before the picture was released, returned to his London stage career.
THE INVISIBLE MAN released November 13, 1933
Above is one of the original posters for the 1933 release of
"The Invisible Man".
Although he had the title role the unknown Claude Rains is listed secind behind Gloria Stuart. She was a major Universal Studios star at the time. Below is the Realart Picture Corporations 1948 re-release poster for the motion picture. The status of Rains, by that time, had changed his billing considerably. Noticed the photo of Rains, lower left, that is not from the film and what are those rays coming out of his eyes?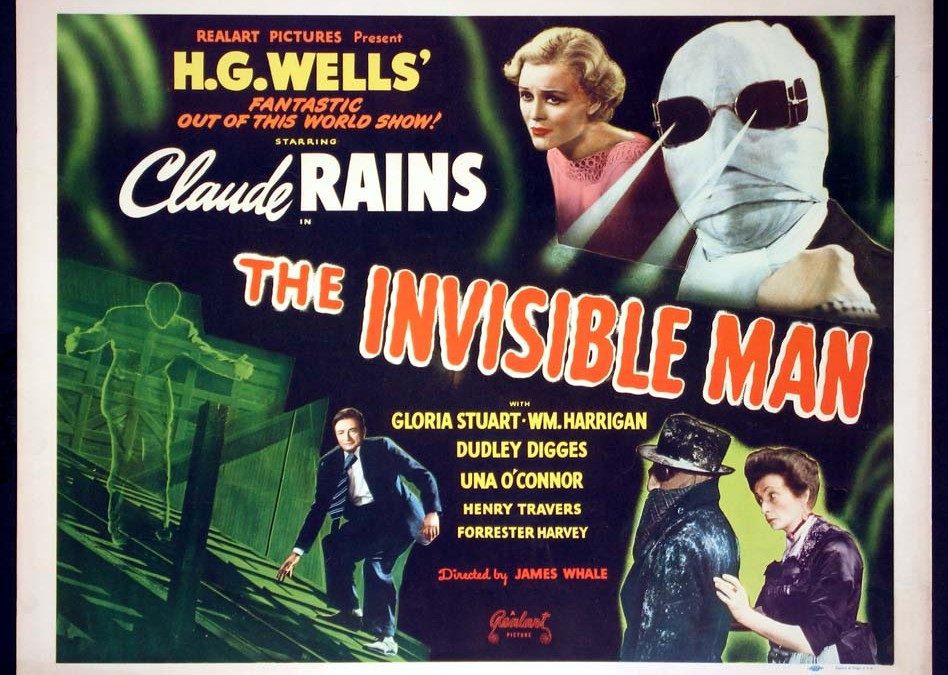 Initially Universal Pictures owner Carl Laemmle wanted Boris Karloff to portray
"Dr. Jack Griffin",
but he was having contract problems with the studio and refused. Next the studio considered Chester Morris, Paul Lukas and Colin Clive. Then Laemmle decided to move the director, Cyril Gardner, to another production and replaced him with James Whale.
Whale immediately made it known he wanted unknown Claude Rains for
"Griffin".
While visiting England on a short vacation. James Whale had seen, the actor on stage and heard Rains' distinctive voice. As R.C. Sherriff's screenplay, like the H.G. Wells novel, has
"The Invisible Man"
already in that state and would not be seen, as
"Dr. Jack Griffin"
, until he is dead. Whale wanted somebody whose voice would keep the audience interested.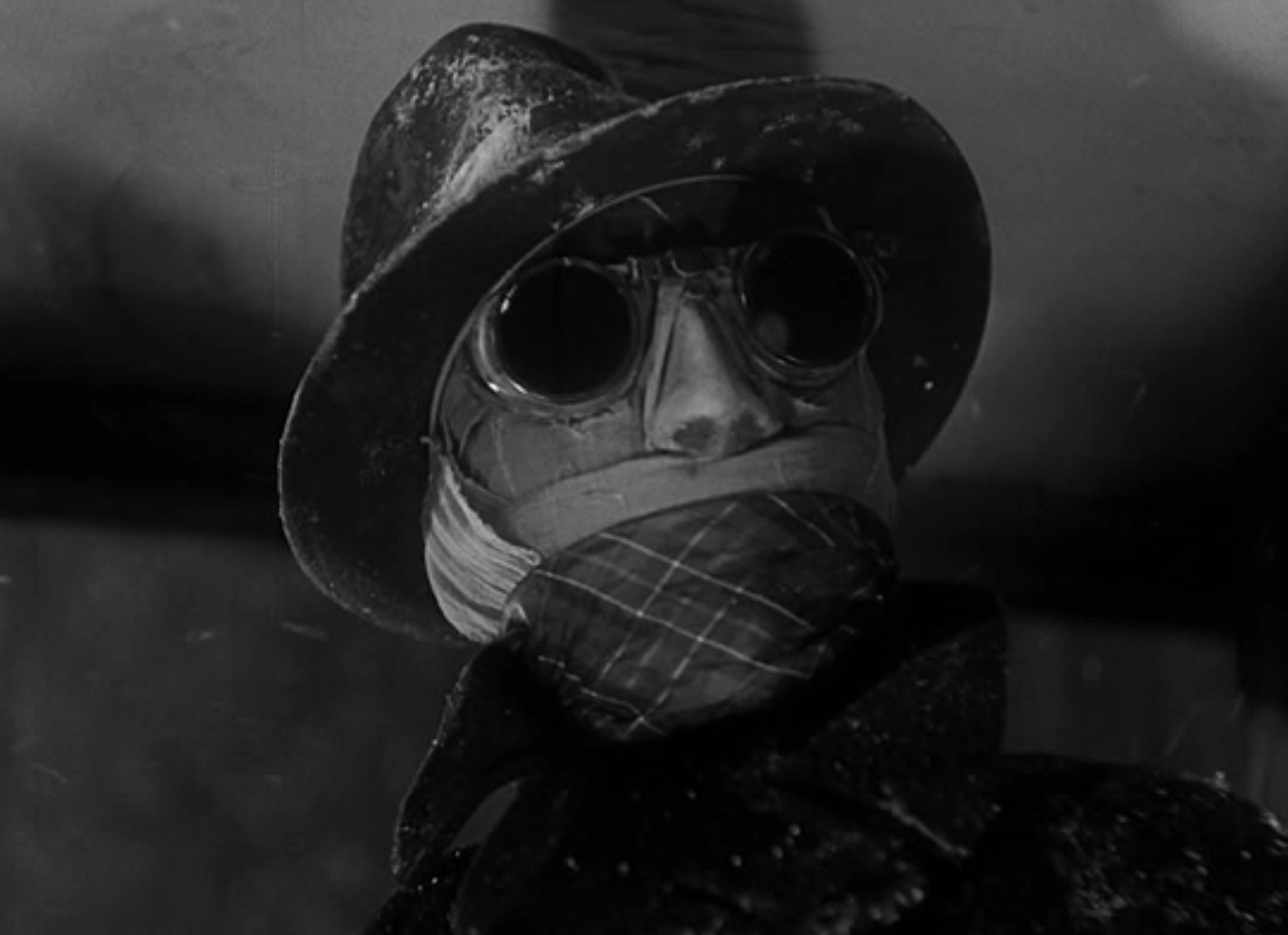 The original first billing role was that of "Griffin's" fiancee
"Flora Cranley".
She was portrayed by actress Gloria Stuart. Stuart had been in Universal's 1932
"The Old Dark House"
and 1933
"The Kiss Before the Mirror".
Both films were directed by Whale and he knew Gloria Stuart was perfect to play opposite Claude Rains.
In 1997 the actress portrayed the 67 year old version of
"Rose DeWitt Bukater",
portrayed by Kate Winslet, in James Cameron's
"Titanic".
William Harrigan had the third lead as
"Dr. Arthur Kemp".
The audience meets "Dr. Griffin" in the original H.G. Well's opening. It is a snowy night and he seeks lodgings at a pub and inn. "Griffin" takes a room above the pub to continue his experiments. He cannot find a way back from being invisible and is being driven mad, The wife of the pub's owner and others want him gone after some trouble They have speculated about what kind of accident has caused him to wear bandages on his face. Pushed to it "Griffin" reveals his invisibility to the locals.
It is this sequence that goes to director James Whale's choice of Claude Rains. As the audiences sees nothing of what Rains looks like, but an invisible head.
The basic plot has the police searching for the title character. While "Dr, Jack Griffin" forces "Dr. Arthur Kemp" to assist him. "Flora" meets "Jack" and attempts to help him, but the invisibility serum has now made "Griffin" completely insane.
He commits robbery and murder. He realizes "Kemp" is trying to help the police and goes for him. In the end he is trapped in a barn during a snow storm and when his foot prints reveal his location is shot.
In the hospital "Dr. Jack Griffin" dies and the audience gets to see Claude Rains for the first time.
Five years later, that included the interesting imperfect 1935 version of Charles Dickens' unfinished
"The Mystery of Edwin Drood",
Claude Rains was "Richard the Lionhearted's" brother.
THE ADVENTURES OF ROBIN HOOD released May 14, 1938
"The Adventures of Robin Hood"
was the second motion picture Claude Rains had been in with Errol Flynn. The first was the 1937 version of Mark Twain's
"The Prince and the Pauer"
in which the actor was billed right after Flynn. In this production Rains was in fourth position behind Basil Rathbone. This feature was also the third pairing of Olivia DeHavilland with Errol Flynn.
Trivia:
The film was originally written for James Cagney to portray the title character back in 1935, but Cagney walked out on his Warner Brothers contract.
Errol Flynn was the title character
"Sir Robin of Locksley"
aka:
"Robin Hood".
Olivia DeHavilland was
"Lady Marian Fitzwalter"
aka:
"Maid Marian".
Basil Rathbone was
"Sir Guy of Gisbourne"
and Alan Hale, Sr. was
"John Little"
aka:
"Little John"
Above left to right:
Alan Hale, Sr., Basil Rathbone, Olivia DeHavilland and Errol Flynn.
Trivia again:
Alan Hale, Sr. had originally portrayed
"Little John"
in the 1922 silent version starring Douglas Fairbanks, Sr.. He would play the role a third time in 1950's
"Rogues of Sherwood Forest"
starring John Derek as
"Robin Hood"
.
The film was directed by Michael Curtiz as an exciting adventure movie. In 1935 Curtiz had directed Errol Flynn and Olivia DeHavilland in
"Captain Blood"
that had featured Basil Rathbone.
This brings me to Claude Rains as
"Prince John".
While Curtiz kept the pace at a fast marathon run and Flynn, Rathbone and others were acting over the top. Claude Rains would steal the picture from them. Look at the expression, below, on Rains' face. As the actor stands between Melville Cooper as the
"High Sheriff of Nottingham"
and Basil Rathbone.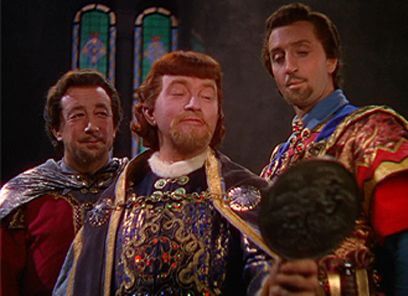 Claude Rains had already started portraying the villain of the piece. He was a pacifist writer who goes insane in 1934's
"The Man Who Reclaimed His Head"
and a fake music hall clairvoyant. Whose predictions suddenly come true in 1935's
"The Clairvoyant"
co-starring Fay Wray. Both of these films billed him as
"Claude Rains The Invisible Man".
Rains was also
"Napoleon Bonaparte"
coming between lovers Marian Davies, the mistress of publisher William Randolph Hearst, and Dick Powell in 1936's
"Hearts Divided".
So while Rathbone was overplaying "Gisbourne" in places and other actors were responding to Michael Curtiz's direction for swashbuckling characters. Claude Rains made "Prince John" a delicious, wickedly evil, underplayed villain.
Strangely the "Robin Hood" legend, as known through the motion pictures, was created by an American. He was author and illustrator Howard Pyle in
"The Merry Adventures of Robin Hood of Great Renown in Nottinghamshire"
published in 1883. The basics of his novel have not changed over the years in all feature films.
The screenplay was written by two Americans, Norman Reilly Raine and Seton I. Miller. Along with British writer Rowland Leigh. The three kept to the basics of Howard Pyle tale set in 1191. The fictional "Robin of Locksley" returns from the crusades to find his home taken over by the Norman's.
With his brother imprisoned by "Leopold V. Duke of Austria" and a ransom demanded. "Prince John" now rules England and is not in an hurry to help "Richard". "Robin" has one major enemy in "Guy of Gisbourne" and at the climax they have an often copied sword fight in which "Locksley" kills "Gisbourne".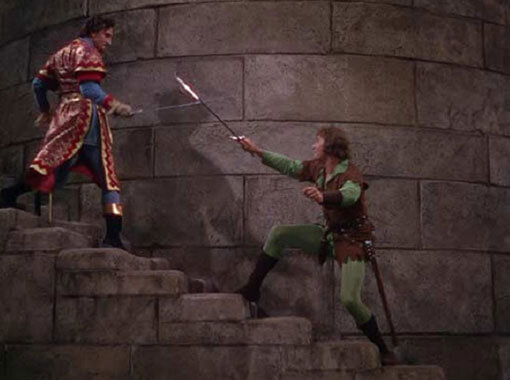 In the screenplay "John" has two main Norman allies. One is the aforementioned "Guy of Gisbourne" and the other is his appointed "Sheriff of Nottingham".
"Robin" loves his childhood sweetheart "Marian Fitzwalter", but is forced to become an outlaw. He
"robs from the rich and gives to the poor"
.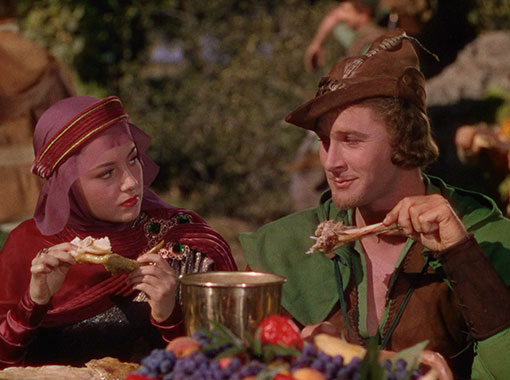 "Prince John" rules by cunning. Setting one person against another and playing both "Locksley" and "Grisbourne" as fools, if it suits him. His only fear is the release and return of "Richard".
Below note Claude Rains' smirk as he awards "Robin of Locksley" the prize at the archery contest.
The actor's face reveals a lot without Rains having to say a word.
Below the freed "King Richard" brings "John's" rule to an end. Claude Rains is perfect as the powerful "Prince John", becomes the frightened little boy when "Richard" returns.
JUAREZ released April 24, 1939
Warner Brothers had a multi-Academy Award nominated feature film two years previously with
"The Life of Emile Zola".
That feature was
directed by William Dieterle and actor Paul Muni had portrayed the title role. The thinking was if that team worked so well before. Why not team Dieterle and Muni again?
Prior to the release of
"Juarez".
Claude Rains had portrayed the detective haunting for John Garfield, as a boxer falsely accused of murder, in 1939's
"They Made Me A Criminal"
directed by famed musical choreographer Busby Berkeley. The picture's on screen credits put Rains in third position. Right after the popular
"The Dead End Kids"
featuring Leo Gorcey, Huntz Hall and Bobby Jordan.
In the story of Mexican President
"Benito Juarez".
Claude Rains was billed fourth as French President "
Napoleon III"
and the star of his previous motion picture, John Garfield, was billed fifth behind him.
Below Rains as
"Charles-Louis Napoleon Bonaparte"
Below a sketch of the real "Napoleon".
The motion picture biography starred Paul Muni as
"Benito Juarez".
His co-star was Bette Davis as "
Empress Carlota of Mexico"
and with third billing was Brian Aherne as
"Maximilian I of Mexico".
The basic plot, set in 1863, has "Napoleon III" concerned he will loose control of Mexico to the people's hero "Benito Juarez". He circumvents the "Monroe Doctrine" and sets up "Maximilian" and "Carlota" as "Emperor and Empress of Mexico". Two years later the American Civil War ends and the United States now concentrates on its neighbor to the south and warns "Napoleon" that they are prepared to enforce the "Monroe Doctrine" by military force, if necessary.
As usual when Rains was on the screen. He would become the focus for the audience no matter which star was in the scene.
Above Gale Sondergaard, the actress equivalent of Claude Rains in films, as
"Maria Eugenia Ignacia Augustina de Palafox y Kirk Patrick",
the wife of "Napoleon".
Between this motion picture and the next I want to mention. Claude Rains appeared in eight motion pictures and one short subject. Among those eight films were director Frank Capra's 1939
"Mr. Smith Goes to Washington"
as
"Senator Joseph Paine"
and the following years swashbuckler
"The Sea Hawk"
as
"Don Jose Alvarez de Cordoba"
. Also there was 1940's
"Here Comes Mr. Jordan"
starring Robert Montgomery as a boxer who dies fifty years before his scheduled time. In heaven he is given a second chance to return to Earth as another person. Rains was Montgomery's guardian angel and conscience
"Mr. Jordan"
.
THE WOLF MAN released December 12, 1941


This motion picture probably contains the most famous lines in the entire Universal Studio Horror and Science Fiction produced films except
"It's Alive'
from 1931's
"Frankenstein".
Even a man who is pure of heart, and says his prayers by night. May become a wolf when the wolfbane blooms and the autumn moon is bright.
The screenplay and the above poem were written by screenplay writer Curt Siodmak. Among his other Universal titles were 1940's
"The Invisible Man Returns",
1943's
"Frankenstein Meets the Wolf Man"
and with his brother, Robert, directing, 1943's
"Son of Dracula".
In which Curt created the gimmick of reversing
"Dracula's"
name to become
"Count Alucard".
My article on the brother's careers may be read at:
http://www.bewaretheblog.com/2017/11/curt-and-robert-siodmak-horror-and-film.html
The title role went to Lon Chaney, Jr. as
"Lawrence 'Larry' Talbot".
Who is bitten by the unseen werewolf portrayed by
"Bela Lugosi".
Above Lon as "Larry Talbot" with the gypsy women
"Maleva"
portrayed by Maria Ouspenskaya/ Below Lon being made up by make-up artist Jack Pierce.
My biography of Lon Chaney, Jr. may be read at:
http://www.bewaretheblog.com/2016/05/lon-chaney-jr-of-mice-and-werewolves.html
My article on Universal Studio's make-up artist Jack Pierce can be read at:
http://www.bewaretheblog.com/2015/06/jack-p-pierce-man-who-created-monsters.html
In the George Waggner produced and directed Horror film. Claude Rains was cast as "Larry Talbot's" father
"Sir John Talbot".
Who lives in the real world and is skeptical of his son's tale of being bitten by a werewolf and during the full moon turning into one himself.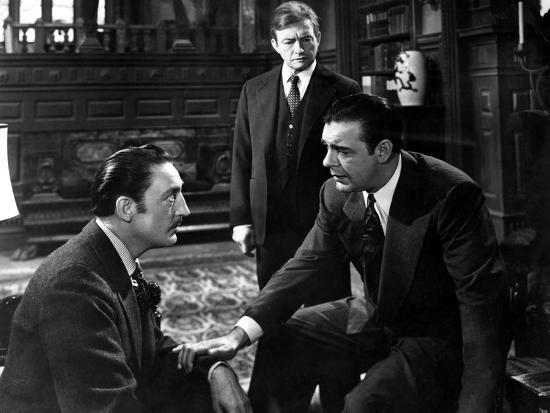 Above Claude Rains listens to Warren William as
"Dr. Lund".
The doctor is attempting to tell "Larry Talbot" that he cannot physically turn into a wolf, but that he is suffering from stress caused by a real wolf attack.
Throughout the movie Claude Rains perfect acting offsets the Horror of the story As his "Sir John Talbot" struggles with the possibility of his son being mentally ill and the mounting evidence of people being killed by a rogue wolf. In the end it is his facial expressions, once more, that are the most striking As "Sir John" kills the wolf man. Only to face his fear that it is his beloved son "Larry".
One has to ask how this Horror story played on the minds of Americans upon it release. That release was just
FIVE DAY AFTER
the United States of America was attacked by the Imperial Navy of Japan at Pearl Harbor.
The Second World War didn't play a part in the next three motion pictures Claude Rains appeared in. Although veiled homosexuality between actors Ronald Reagan and Robert Cummings in the controversial 1942
"Kings Row"
did, but then seven months later was:
CASABLANCA released November 26, 1942
Listen all you want, but you will never hear Humphrey Bogart, Ingrid Bergman, or any character ask actor and piano player Dooley Wilson to:
PLAY IT AGAIN SAM!
The screenplay was based upon an unproduced play entitled
"Everybody Comes To Rick's".
Even with the star studded Warner Brothers cast of contract players except for Ingrid Berman. Producer Hal B. Wallis traded Olivia DeHavilland to David O. Selznick for Bergman. Jack L. Warner and the actors never dreamed of the status the film would obtain. Warner just hoped to break even.
The cast is as well known as the motion picture.
Humphrey Bogart was
"Rick Blaine".
In what is considered Bogart's first real romance role. He had just been seen in 1942's
"Across the Pacific".
A World War 2 espionage thriller co-starring, from 1941's
"The Maltese Falcon",
Mary Astor and Sydney Greenstreet. That feature had also been directed by John Huston.
Ingrid Bergman was
"Ilsa Lund".
Bergman had just been seen in
"Dr. Jekyll and Mr. Hyde"
starring Spencer Tracy and co-starring Lana Turner from MGM.
Paul Henreid was
"Victor Laszlo".
He had just been seen co-starring with Bette Davis in
"Now Voyager".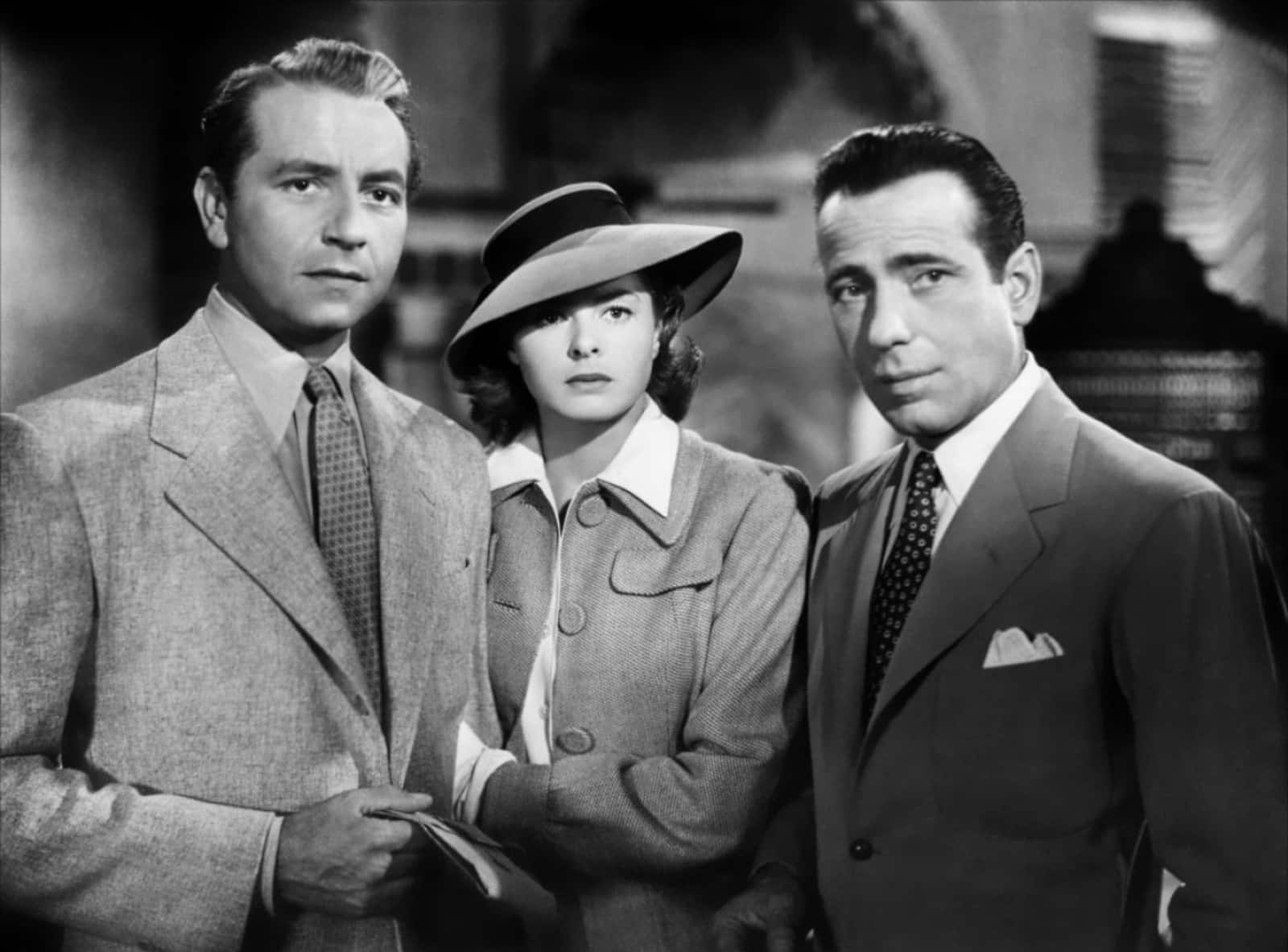 Above left to right, Paul Henreid, Ingrid Bergman and Humphrey Bogart.
Fourth billed Claude Rains was
"French Vichy Police Captain Louis Renault".
A role Rains made far more interesting than leading man Henreid's.
The supporting case included Sydney Greenstreet as
"Signor Ferran".
Peter Lorre as
"Signor Ugarte".
Conrad Veidt as
"Major Heinrich Strasser".
The plot is simple.
"Everybody Comes to Rick's">
In this case it's
"Rick's Cafe Americain"
owned and operated by American expatriate "Rick Blaine". "Rick" has a friendly "chess game" relationship with Police Officer "Louis Renalt". An almost daily visitor to the Cafe going through the expected motions of his office.
As "Rick" answers "Louis" and "Louis" reply's:.
Into "Rick's" life "Ilsa Lund" returns with her husband "Victor Laszlo". A known and hunted Czech resistance leader by the Nazi's
That "chess game" gets a little touchy. As "Rick's" love for "Ilsa" is reunited, her need for "Rick" to help get "Victor" out of Morocco and "Major Strasser" wanting to capture him. Along with an assortment of different characters complicating the situation with their own problems.
Then there's that classic ending as Rains and his men show up at the airport to appease the Nazi's/ However, "Captain Renault" lets "Ilsa" and "Victor" board the plane and fly out to safety. While revealing his true feeling about the Nazi's and accompanied by "Rick". The two men walk into the fog.
THE PHANTOM OF THE OPERA released August 12, 1943

Even with the title role. Claude Rains had third billing in Universal Pictures remake of their classic 1925 Horror film starring Lon Chaney, Sr.
The motion picture was designed to showcase Opera Singer and Actor Nelson Eddy and several beautifully staged opera segments rather than Horror. Which would now be seen in beautiful Technicolor on the original 1925 feature's Opera House set.
Nelson Eddy portrayed
"Anatole Garron".


Both "Anatole" and "Raoul" are in love with "Christine" and have some comic moments as her suitors. Rather than dramatic moments as in the original novel and motion picture.
Claude Rains portrays
"Enique Claudin"
a violin player in the Paris Opera and a composer.
Unfortunately, the screenplay downplays the "Phantom" and, as I already mentioned, concentrates of Opera and the comic love triangle between "Christine" and her two suitors.
"Claudin" is having problems with his hands from arthritis and is pensioned off by the Paris Opera. Unknown to "Christine" it has been the violinist who has been paying for her singing lessons. "Claudin" is informed those lessons will now stop.
"Claudin" goes to the music publisher and believes his beautiful composition is being stolen. In actuality he hears "Franz List" playing the composition with "Anatole" attempting to get it published for the the composer. In a rage of his own making "Claudin" attacks the publisher. Whose secretary throws what she thought was water into his face, but it is acid. Screaming in pain he enters the Paris sewers and is thought dead. As the "Phantom" now appears.
Rains is his excellent self and when on the screen makes Nelson Eddy's acting look more out of place.You wish for more and do not receive it. It's not Eddy's fault. This type of film should require a dramatic actor and tone, but instead we get the same light operatic tone and acting that started with the Nelson Eddy and Jeanette MacDonald 1935
"Naughty Marietta"
and carried through the duo's motion pictures.
The police set a trap for the "Phantom", but he kills an officer and takes the man's place.
"Claudin" is able to get "Christine"away from protection and takes the singer down into the catacombs to his home. "Anatole" and "Raoul" pursue.
We then have the unmasking of Claude Rains' "Phantom".
At that very moment "Anatole" and "Raoul" arrive and the police officer aims his gun to shoot, but the other accidentally hits his arm. The shot is fired not at "Claudin", but the ceiling causing a cave-in and burying
"The Phantom of the Opera".
Many viewers have wondered, by clues in the dialogue, if "Claudin" was actually "Christine's" father. The answer is yes, but the one scene that would have established this fact clearly was edited out at the direction of the producer George Waggner. It was an extra on the original DVD release.
Claude Rains was not the first choice for the role. Originally Lon Chaney, Jr. wanted it, but George Waggner thought he was wrong for the part. Instead of the "Phantom". Chaney was seen as "Larry Talbot" in
"Frankenstein Meets the Wolfman", "Count Alacard"
in
"Son of Dracula"
and four minor films the same year.
Considered for the role were Cesar Romero, Boris Karloff, Russian actor Feodor Chaliapin., Charles Laughton and Broderick Crawford.
There was to have been a sequel and another scene edited out by Waggner removed the fact that "Claudin" was still alive within the rubble. The sequel was re-written as 1944's
"The Climax"
starring Boris Karloff and Susanna Foster.
My article on all the film and television versions of Gaston Leroux's novel and the story of the real "Phantom" he used as a source. Can be read at:
http://www.bewaretheblog.com/search?q=phantom+of+the+opera
NOTORIOUS released August 15, 1946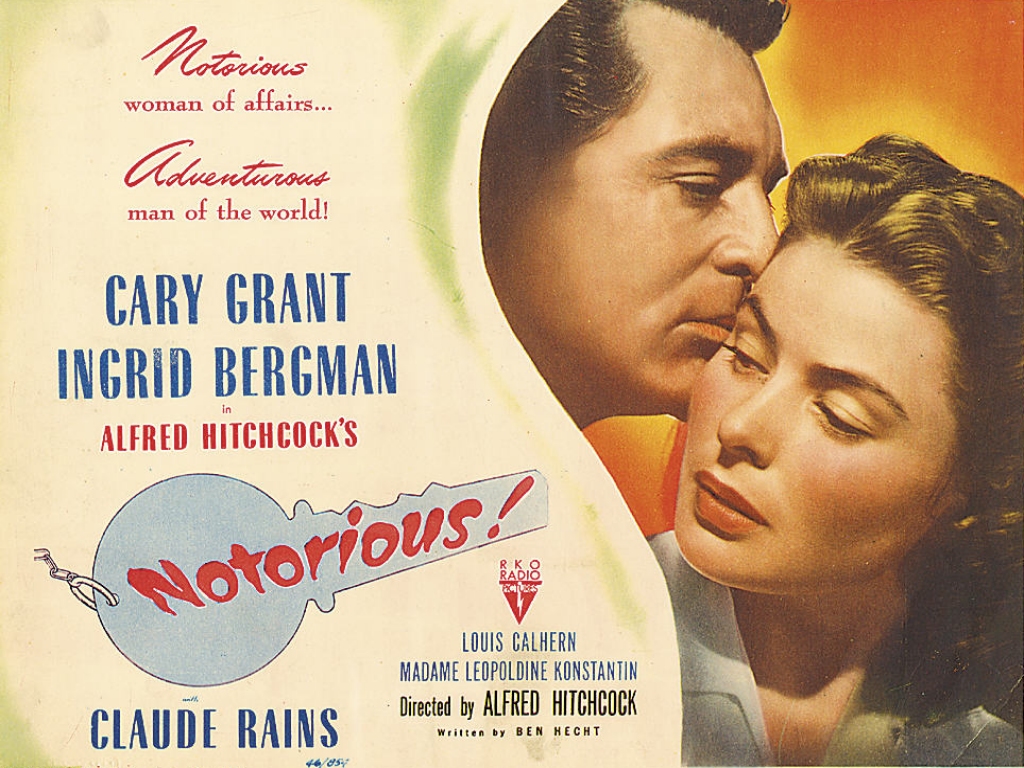 "Notorious"
had Claude Rains in a motion picture directed by Alfred Hitchcock and starring Cary Grant and Ingrid Bergman.
Biographer Donald Spoto said of this motion picture:
Notorious

is in fact Alfred Hitchcock's first attempt—at the age of forty-six—to bring his talents to the creation of a serious love story, and its story of two men in love with Ingrid Bergman could only have been made at this stage of his life
This is a classic Spy Film Noir written by the great playwright and screenplay writer Ben Hecht. Hecht had worked with "Hitch" on 1944's
"Life Boat"
and 1945's
"Spellbound".
He wrote the novel and then the screenplay for 1932's
"Scarface",
wrote the screenplay for 1934's
"Viva Villa"
and worked on the original 1937
"A Star is Born"
and created the story for 1939's
"Gunga Din".
All part of 77 screenplays before
"Notorious".
.
Cary Grant was
"T.R. Devlin".
Ingrid Bergman was
"Alicia Huberman".
Claude Rains was
"Alexander Sebastian".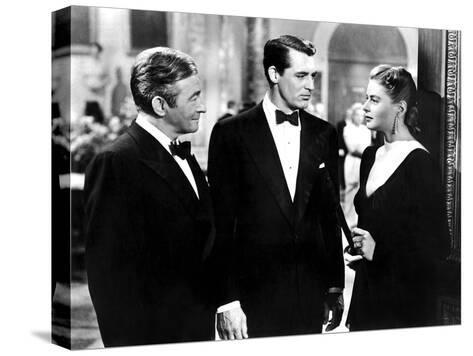 In April, 1946, government agent "T.R. Devlin" is given the assignment to recruit "Alicia Huberman" to infiltrate a Nazi Spy Ring in Brazil. Her father is a convicted Nazi spy. The leader of the Nazi group is "Alexander Sebastian" and "Devlin's" orders are to have "Alicia" seduced "Alexander". The problem is he's fallen in love with the girl. In typical Alfred Hitchcock style this triple romance takes place as the events unfold.
A problem for "Alicia" is the "Alexander Sebastian" turns out to be a suave and charming man.
One of the interesting problems for shooting the picture was the height of Claude Rains. He was 4 inches shorter than Ingrid Bergman . For a shot of the two walking hand in hand. Hitchcock devised a ramp for Rains to walk on. In other scenes the angles are important, or the height of the chair the actor sat upon..
Look at the angle of this scene as Claude Rains ends up on the ramp without the audience noticing.
Alfred Hitchcock and Claude Rains were best of friends. According to another Hitchcock biographer, Patrick McGilligan, the director kidded the actor during the shoot about his height compared to his wife played by Bergman.
It is a pleasure to watch Rains and Grant spar off at each other over Bergman. This is a must see movie and that's why I'm not saying much about the plot.
THE WHITE TOWER released June 24, 1950
The feature was directed by Academy Award nominated cinematographer turned director Ted Tetizlaff. Actress Carol Lombard only wanted him on her films and he did ten of them. For a mountain climbing motion picture Tetizlaff was the perfect choice.
The feature is set right after the end of World War 2 in the Swiss Alps.
Glenn Ford portrays
"Martin Ordway"
a American Bomber pilot. He is making small climbs, but was a world renown mountain climber before the war. He has a secret and is actually frightened of climbing the
"The White Tower".
Italian actress Valli was
"Carla Alten".
Her father died attempting to climb the still unconquered mountain
.
"Carla" is obsessed with making the climb and puts together a group of men to assist her.
Claude Rains, in one of his now character roles, portrayed
"Paul DeLambre".
He is a disillusioned French man of letters, a known climber in the past, and an alcoholic. He is also self-destructive and looks at the climb as possibly a way to end his life in glory.
Lloyd Bridges is the ex-German soldier
"Hein".
Still obsessed with the idea he was part of Hitler's master race and can do anything he wants. Hus goal is to reach the top of the mountain before anyone else.
Sir Cedric Hardwicke is
"Dr. Nicholas Radcliff"
a British Naturalist. "Radcliff" should never have attempted the claim and is weak in both strength and will.
Oscar Homolka was
"Andrea"
the mountain guide and is the strongest of the group.
Filmed in the Swiss Alps and with this cast. The picture should have been a major hit, but the screenplay just didn't work. This does not mean the individual performances were bad.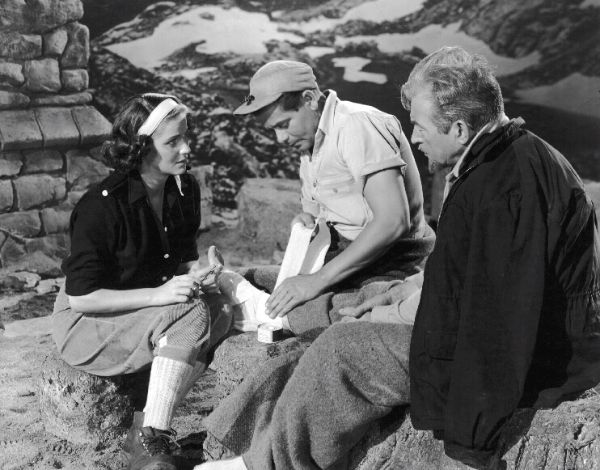 In the end "Ordway" becomes snow blind and "Carla" gives up her obsession to bring him down the mountain. "Hein" makes it to the top only to die there. The survivors of the climb start down.
A couple of forgotten motion pictures and appearances on television took up Claude Rains' work. Then came a remake of the 1925 silent classic from "King Kong" animator Willis O'Brien
"The Lost World".
THE LOST WORLD released July 13, 1960
The idea of remaking Sir Arthur Conan Doyle's novel was excellent. The cast was perfect for the time, but there was a problem. This was an Irwin Allen produced motion picture and he was a known cheapskate as to budget. The main examples in this film were the dinosaurs. Although Allen hired Willis O'Brien this was for name recognition only and instead of stop motion animation. Allen used live lizards instead. An old trick going back 20 years to 1940's
"One Million B.C.".
When questioned after the films release. He said 20th Century Fox cut his budget. According to O'Brien the real reason was stop motion animation was too time consuming and would delay Irwin Allen's promised release date made prior to starting production.
Irwin Allen also was the main writer. Although he used 61 year old British screenplay writer Charles Bennett. Best known for his Alfred Hitchcock's work. Such as the original 1934
"The Man Who Knew Too Much",
1935's
"The 39 Steps"
and 1940's
"Foreign Correspondent".
Bennett also worked with Cecil B, DeMille on the screenplays for both 1942's
"Reap the Wild Wind"
and 1947's
"Unconquered".
Michael Rennie made a very good
"Sir John Roxton".
The playboy explorer with a dark secret as his real reason to be on the expedition.
Jill St. John portrayed newspaper heiress
"Jennifer Holmes".
Who plans on marrying "Roxton" probably for his title.
David Hedison was Doyle's newspaper reporter
"Edward Malone".
Two years earlier as Al Hedison. He was the original scientist that becomes
"The Fly"
and four years after this feature. He was on Allen's television series
"Voyage to the Bottom of the Sea".
Claude Rains was
"Professor George Edward Challenger"
the organizer of the expedition.
Fernando Lamas was the guide
"Manuel Gomez".
Who like "Roxton" has a secret to hide.
Richard Hayden was
"Professor Summerlee".
Whose on the expedition to prove "Challenger" is crazy and there are no living dinosaurs in the Amazon Jungle.
Ray Stricklyn was "Jennifer's" younger brother
"David Holmes".
"Baby Faced" Stricklyn was actually seven years older than St. John.
Jay Novello was
"Costa"
the assistant to "Gomez" and interested in the diamonds.
Vitina Marcus portrayed the "Native Girl" who falls in love with "David".
Above photo:
Left foreground are Hayden and Rennie.
Middle background are Lamas and Novello.
Far right background are Stricklyn and Marcus.
Right foreground are Rains, St. John and Hedison
The role of "George Edward Challenger" gave Claude Rains a chance to ham up the character and play it over the top. It added to the comedy elements throughout the film. Elements that clashed with the serious backstory between "Sir John Roxton" and "Manuel Gomez". Along with the plot of the explorers being trapped on the plateau with cannibals.
One of those comedy elements revolves around the French Poodle "Jennifer Holmes" takes with her. In one scene it barks at what is supposed to be a Brontosaurus. The lizard is seen in the following second still being picked up by St. John.
Another problem with the story, never explained by Irwin Allen, was how all the explorers trapped on a prehistoric plateau on the Amazon River for days. Seem to never sweat except in a couple of small scenes, but even after those scenes. Their clothes appear dry cleaned and pressed, or ever get their hair messed up.
Below heading toward the graveyard of the damn after days on the plateau chased by dinosaurs and captured by the cannibals.
Below, some of the scenes with 71 year old Claude Rains in his role of "Professor George Edward Challenger".
IL PLANETA DEGI UOMINI SPENTI released in Italy October 30, 1961
At the same time as the Italian Sword and Sandal epics were being released Worldwide. The Italians were also making Science Fiction films. One of these was
"Il planeta degi uomini spenti (The Planet of Extinct Men)".
It would come to the United States as the English language dubbed
"Battle of the Worlds".
The film was directed by Antonio Margheriti. Who to appear American would use the name Anthony Dawson on some of his features. In fact on both the original Italian version and the English dubbed he used that name
Claude Rains portrayed
"Professor Benson".
Any similarity between "George Edward Challenger" and"Professor Benson" is entirely on purpose by Rains and he is having even more fun on his Italian vacation.
British actor Bill Carter was
Commander Robert Cole".
Cole has a total of seven film credits.
Maya Brent portrayed
"Eva Barnett".
I could not locate any background on her and this was Brent's one film role. French actress Jacqueline Derval was
"Cathy Cole"
and this was her fourth and final film role.
The only other major lead in the film was Italian actor Umberto Orsini as
"Dr. Fred Steele".
Orsini's film career spanned 1957 through 2017 with 89 film roles.
A black and white photo of Rains, Brent, Derval and Orsini on the set for this feature. Is available from "Getty Images" for a mere $499,
The plot by Vassily Petrov is very cheesy, but remember these were 1950's style screenplays. A large rouge planet is heading for Earth and scientists think it will collide. However, "Professor Benson" believes it will pass safely by us. Actually, everyone is wrong and it stops 95,000 miles away and starts to orbit the Earth. Next it sends out flying saucers and its up to a group lead by "Professor Benson" to go to the planet and stop the aliens.
Once on the planet "Professor Benson" and the others discover the aliens are dead at the controls of what is actually a space craft. Just go with the story and enjoy Claude Rains and his dog
"Gideon".
Below Carter, Derval, Rains and Brent
LAWRENCE OF ARABIA released December 10, 1962
Produced by Sam Spiegel and directed by David Lean was the fictionalized biography of Thomas Edward Lawrence.
The epic screenplay by Robert Bolt and Michael Wilson was based upon Lawrence's own
"The Seven Pillars of Wisdom"
and Lowell Thomas'
"With Lawrence in Arabia".
The screenplay had 29 named characters with speaking roles and with the extras and film crew. The total participants would reach over 1,000 people. All at times at one location.
The movie made stars of the unknown Peter O'Toole as
"Lawrence"
. This was his 10th on screen appearance and Omar Sharif as the fictional
"Prince Ali".
This was actually his 21st motion picture.
Claude Rains was
"Mr. Dryden".
"Dryden" was a fictional mix of several different British Civil Servants that came into the life of "T.E. Lawrence" in Arabia. Even with a three hour and forty-two minute Road Show presentation. A biographical motion picture can not have every real life person in it.
Claude Rains is seen, in David Lean's film, whenever the British Government is needed to move the story along. "Dryden" is the "Head of the Arab League" and is manipulating "Lawrence" for the goals of the British Empire in Arabia.
Below Rains and O'Toole.
Claude Rains perfectly underplays "Mr. Drydon". He comes across as conniving and like "Alexander Sebastian" charming, but purely evil.
After
"Lawrence of Arabia"
Claude Rains appeared in an episode of televisions
"Rawhide"
with Clint Eastwood after Eric Fleming had died
and on Richard Chamberlain's
"Dr. Kildare".
He was also in a movie
"Twilight of Honor"
with Chamberlain. Claude Rains' last feature film role was as
"King Herod"
in director George Stevens'
"The Great Story Ever Told"
in 1965. He was 76 years old.
Claude Rains passed away on May 30, 1977. Leaving a career of rich characterizations.