Say the name BARRYMORE and if you're a "Sherlock Holmes" fan. You think of the Butler in "The Hound of the Baskervilles", but if you're a real motion picture fan. You think of Lionel, his sister Ethel and brother John. However, I think of John's son, JOHN DREW BARRYMORE, the nephew of Ethel and Lionel.
This is a small look at the motion picture and television career of an actor I discovered as a pre-teen. Who I enjoyed, as a teenager, in many Italian "Peplum" motion pictures. This is not a biography with all of the family troubles associated with the name "Barrymore", but a fan's remembrance of a fine actors work.
The first time I saw John Drew Barrymore was in the 1958 motion picture
"High School Confidential",
but that's getting ahead of his career.
A BRIEF LOOK AT THE BARRYMORE FAMILY TREE
John Drew Barrymore's Grandfather was Maurice Arthur Chamberlayne Blythe. Who used the stage name of Maurice Barrymore.
His Grandmother was Georgiana Emma Drew a stage actress.
The couple would have three children.
Their oldest was Lionel Herbert Blythe born on April 28, 1878. Lionel took the stage name of Lionel Barrymore and his motion picture career started in 1905 and ended in 1956. Among his 223 roles were "Prince Dakar (Captain Nemo)" in a Technicolor, part silent and part talkie, motion picture released October 5, 1929 of Jules Verne;s
"The Mysterious Island".
Lionel would win the Best Actor Oscar in 1931 for the movie
"Lost Soul"
, portray "Billie Bones" in the 1934
"Treasure Island",
"Professor Zelin" in director Todd Browning's 1935
"Mark of the Vampire"
and the evil minded banker is director Frank Capra's 1946
"It's A Wonderful Life".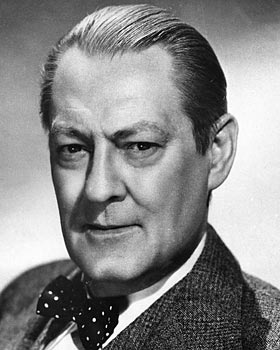 Ethel Mae Blythe was born on August 15, 1879. Ethel would also take the stage name of Barrymore. Among her 44 screen roles starting in 1914 were playwright Clifford Odets 1944
"None But the Lonely Heart".
In which she co-starred with Gary Grant and Barry Fitzgerald under Odets direction. Later she was seen in director Robert Siomak's 1946
"The Spiral Staircase"
co-starring with Dorothy Malone and George Brent and another Siomak film
"The Great Sinner",
from 1949, starring Gregory Peck and Ava Gardner. On television in 1956 she hosted the
"Ethel Barrymore Theatre".
Maurice and Georgiana's third child and second son was John Sidney Blyth, born February 15, 1882, and note that the "E" has been dropped. John, called "Jack" by his family and friends, would legally change his last name to Barrymore. In silent motion picture publicity he was billed as "The Great Profile" and had started his film career in 1912. Among Johgn's work are two silent classics, 1921's
"Dr. Jekyll and Mr. Hyde"
and 1926's
"The Sea Beast".
Which was loosely
based upon Henry Melville's
"Moby Dick".
He would remake the picture in 1930 and follow it as the evil hypnotist
"Svengali"
in 1931. John Barrymore was part of the ensemble cast of MGM's big budgeted 1932
"Grand Hotel",
the first motion picture with a real all-star cast walking in and out of it even in small roles,
and in 1940 the actor would portray the comic mad scientist in Universal Studio's comedy
"The Invisible Women".
There is only one motion picture that all three Barrymore children appeared in together. Released December 23, 1932 was
"Rasputin and the Empress".
Below left to right are John as "Prince Paul Chegodieff", Ethel as "Czarina Alexandra" and Lionel as "Grigori Rasputin". The boy who played "Prince Alexei" is not identified on any cast list.
"Jack" would marry actress Dolores Costello, known as "The Goddess of the Silent Screen", in 1928. The two had appeared together in 1926's
"The Sea Beast".
The couple would have two children seen in this 1934 photo below. They are Dolores Ethel Mae "DeeDee" Barrymore, born on April 8, 1930, and in his father's arms John Drew Barrymore. Who was born on June 4, 1932. The parents separated when their son was 18 months old and would divorce in 1934.
THE FILM AND TELEVISION WORK OF JOHN DREW BARRYMORE
The following is a selected look at his on screen work.
THE 1950'S
On December 9, 1949 John Drew Barrymore was first seen on the screen and in this case it was the small screen. The live television talk show was called
"We the People"
and was an interview program. What he said is unknown as I could find no information other than he appeared on the half hour program that day.
On February 2, 1950 the young actor was
"Introduced"
in the Western motion picture
"The Sundowners". N
ot to be confused with the Robert Mitchum, Deborah Kerr movie from 1961 set in Australia.
In the U.K. this film was known as
"Thunder in the Dust".
Which is important as this motion picture and the next were distributed by "Eagle-Lion Films". A British company owned by J. Arthur Rank of the "Rank Organization". The funding came about as a result of the acquisition of a "Poverty Row" American studio "PRC Productions".
"The Sundowners"
starred Robert Preston as "James Cloud" aka: "Kid Wichita". He had appeared in Cecil B. DeMilles 1940
"Northwest Mounted Police"
and the directors 1942
"Reap the Wild Wind".
Preston would star in 1962's
"The Music Man"
and co-star in 1984's
"The Last Star Fighter".
Robert Sterling co-starred as Preston's feuding Texas Rancher brother "Tom Cloud". Sterling would become associated with the very popular 1953 television show
"Topper"
as "Ghost George Kirby", the role Cary Grant played in the movie, and co-star in Irwin Allen's 1961
"Voyage to the Bottom of the Sea".
In the feature the future John Drew Barrymore was now billed as John Barrymore, Jr. He played the two stars younger brother Bill Cloud. Actually, if you look at the films credits. The
"Introduced"
Barrymore, Jr was billed 12th, but the producer was playing off his last name recognition. While in this Western in his fourth film, at 6th billing, was actor Jack Elam. Whose name wasn't on the above poster. The movie also co-starred Chill Wills in his 60th on screen role. Which included director Fritz Lang's 1941
"Western Union",
the 1941 movie starring Robert Taylor as
"Billy the Kid",
the 1944 Judy Garland musical
"Meet Me in St. Louis"
and the 1949 feature
"Tulsa"
starring Robert Preston and Susan Hayward.
In the still below the young Barrymore is pouring coffee and talking to Robert Sterling. One other point, John was a minor at the time, and to be in the production required his mother's permission.
Wills and Elam were back on September 1, 1950 in another Western
"High Lonesome",
but for his second motion picture John Barrymore, Jr. was the star.
On the poster ,"Eagle-Lion's", publicity department, billed "John Barrymore, Jr" as
"The New Profile"
playing off his father's fame as
"The Great Profile".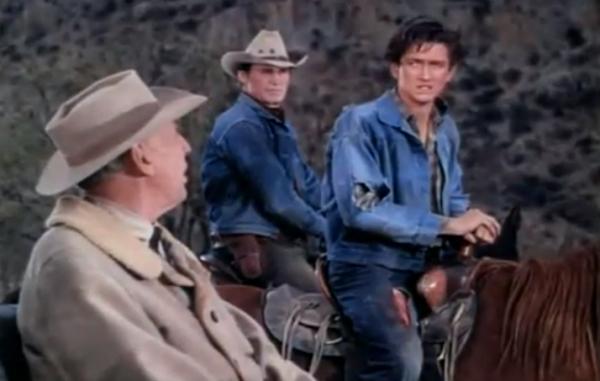 There is a website that speaks to "Forgotten Actors" and mentions John Drew Barrymore in this motion picture. To me he never was forgotten. I find it interesting that the same website mentions Randolph Scott, Pat O'Brien and Chill Willis and William Hartnell, the first
"Dr. Who",
putting Barrymore in some great company.
http://forgottenactors.blogspot.com/search?updated-max=2014-04-17T08:17:00%2B01:00&max-results=6&start=6&by-date=false
"High Lonesome"
is a interesting Western to be associated with. As it was written by Alan Le May and the only motion picture he directed. Le May is the author of the classic Western
"The Searchers"
that John Ford turned into an equally classic motion picture in 1956.
Only in her second motion picture actress Barbara Rush co-starred with John Barrymore, Jr. in
"Quebec"
released March 15, 1951 about a young man who discovers his mother, thought dead, is behind an 1837 revolt against the British. Rush would co-star in two classic science fiction films 1951's
"When Worlds Collide"
and 1953's 3-D entry
"It Came from Outer Space".
The young actor broke his Western mode with a somewhat ridiculous drama
"The Big Night"
released on November 13, 1951.
John Barrymore, Jr. portrayed "Georgie La Main" and Preston Foster, the original 1932
"Dr X"
frightening a young Fay Wray, portrayed his father "Andy La Main".
On the birthday of his teenage son "Georgie". Wrestler "Andy La Main" lets crippled newspaper man "Al Judge" beat him up with a cane in front of his son. Why would his father let this happen?
Below Barrymore as "Georgie".
The now confused, as his father won't explain,"Georgie" gets a gun to seek revenge for his the beating. At the same time he is wondering why "Frances", his father's girlfriend, didn't come to his birthday party? After going from one set piece to another searching for "Judge". He finally confronts him and learns "Francis" was "Al Judge's" sister and committed suicide, because the boy's father wouldn't marry her.
A struggle for the gun takes place and "Judge" is shot. Later the police come to arrest "Andy La Main" believing he's the shooter. "Georgie" confesses and his father explains why he didn't marry "Francis". It seems he was still legally married to the boy's mother, who unknown to "Georgie" for years, is still alive, but ran off with another man. Got that? Luckily the film only ran 75 minutes, but John Barrymore, Jr. was once again very good in his role.
Two appearances on two entirely forgotten television programs,
"Thunderbirds"
and the
"Schlitz Playhouse".
Along with two equally forgotten made for television movies
"The Adventures of Lt. Contee"
and
"The Reluctant Redeemer"
followed
"The Big Night"
between 1952 and 1955.
Then on May 16, 1956 John Barrymore, Jr. was directed by Fritz Lang, 1927's
"Metropolis",
1931's
"M"
and 1952's
"Rancho Notorious",
in the classic Film Noir
"While the City Sleeps".

A serial killer is murdering women in New York City and the press are calling him "The Lipstick Killer".
In this production John Barrymore, Jr. was in very good company. As the above poster indicates this motion picture starred Dana Andrews, 1942's
"The Ox-Bow Incident",
1946's
"Laura"
and 1946's
"The Best Years of Our Lives",
Rhonda Fleming, Alfred Hitchcock's 1945
"Spellbound"
and 1947's
"Out of the Past",
George Sanders, 1940's
"Rebecca"
and 1945's
"The Picture of Dorian Gray",
Howard Duff, 1948's
"The Naked City",
his wife Ida Lupino, 1939's
"The Adventures of Sherlock Holmes",
1941's
"High Sierra"
and
"The Sea Wolf",
Thomas Mitchell, 1939's
"Gone with the Wind"
and
"Stagecoach",
Vincent Price, 1944's
"Laura",
1948's
"The Three Musketeers",
1950's
"The Baron of Arizona",
Sally Forest, 1951's
"The Strange Door"
and 1955's
"Son of Sinbad",
and James Craig, 1940's
"Kitty Foyle"
and 1947's
"Dark Delusion"
co-starring Lionel Barrymore.
John Barrymore, Jr. was "Robert Manners" the killer everyone is looking for and a change in type for him.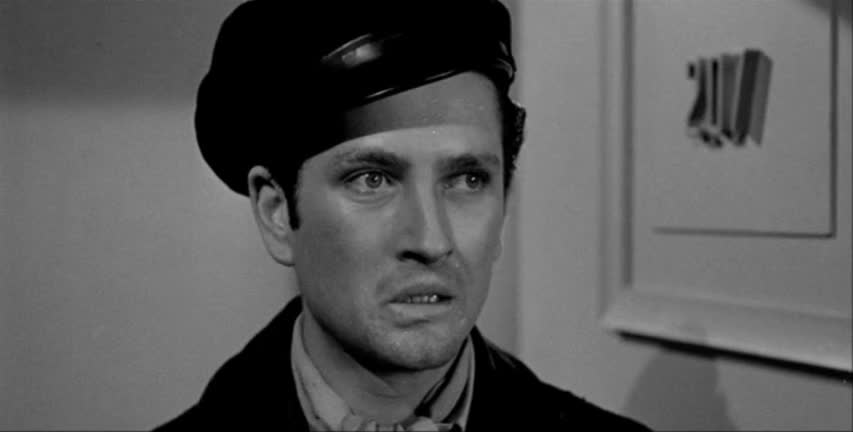 I finally saw this picture when it was shown on television and it worth my readers locating it..
After
"While the City Sleeps"
getting another role in a motion picture wasn't going well for the 24 year old actor. Who was married to actress Cara Williams and had a young son John Blyth Barrymore. So he moved, for the next three years, to television that was always looking for "Guest Stars".
Between 1955 and 1958 there was a daily anthology series entitled
"Matinee Theater"
on
NBC.
John Barrymore, Jr. appeared on the first of five programs on February 21, 1956 in
"The Runaways".
On July 25, 1957 he did not appear in the production, but would direct
"One for All"
for the anthology. Among his acting appearances were Edgar Allan Poe's
"The Tell Tale Heart"
and the Tennessee Williams play
"You Touched Me".
On February 7, 1957,
"Playhouse 90"
on CBS, presented
"The Miracle Worker"
directed by Arthur Penn.
John portrayed "James" the brother of Helen Keller. In this production she was portrayed by Patty McCormick.Who had portrayed the 9 year old emotionless murderer in 1956's
"The Bad Seed"
and on Broadway prior to the film This cast featured Burl Ives as "Captain Keller", Teresa Wright as "Annie Sullivan"and Akim Tamiroff as "Mr. Anagnos".
After a May 21, 1958 appearance on televisions
"Wagon Train"
in the title role of
"The Ruttledge Munroe Story"
. We come to
"High School Confidential"
and that first meeting between the actor on screen and myself I was aware of.
In 1955 Nicholas Ray directed
"Rebel Without A Cause".
The screenplay focuses on three High School Students. They are "Jim Stark" portrayed by James Dean, "Judy" portrayed by Natalie Wood and "John 'Plato' Crawford" portrayed by Sal Mineo. At the time of the picture's release, although Wood was 17 and Mineo 16, James Dean was 24.
The idea of older actors portraying teenagers had become the norm by the late 1950's. As movies aimed themselves at teens and pre-teens going to drive-in movie theaters. Who, unlike their parents, where not glued to the "Boob Tube" and could get the cash for a ticket from those same parents.Additionally there were "Car Load" prices and until you try it. You have no idea how many teens could fit into the original Volkswagen Beetle.
There were a string of teenage horror and science fiction pictures that had 28 year old Steven, not yet Steve, McQueen, 26 year old Robert Vaughn and 21 year old Michael Landon as teenagers.
So it's no surprise that now, with his name legally changed, 26 year old John Drew Barrymore played High School Student, "J.I. Coleridge" and 24 year old Russ Tamblyn was undercover cop, "Mike Wilson". Who was posing as High School student "Tony Blake" in
"High School Confidential".
.
Tamblyn had been a real teenage "Saul" in Cecil B. DeMille's 1949
"Samson and Delilah",
the youngest brother in 1954's
"Seven Brides for Seven Brothers",
"Norman Page" in the 1957 movie
"Peyton Place"
and the same year as this feature would have the title role in producer and director George Pal's
"Tom Thumb".
23 year old Diane Jurgens portrays the girl friend of Barrymore, "Joan Staples". Jurgens mainly appeared on television, but was in 1959's
"Island of Lost Women".
Below a publicity shot of "Teens" Barrymore, Jergens and Tamblyn.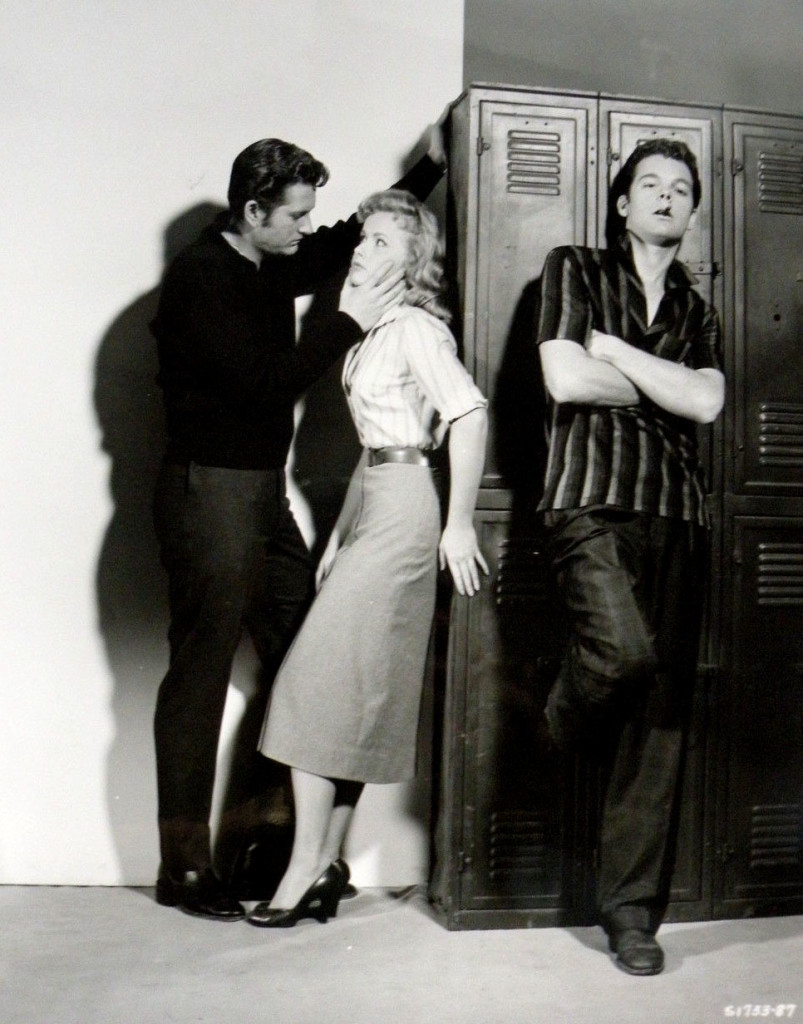 Tamblyn goes uncover to find out whose behind a High School drug ring. Jergens uses marijuana, remember this is 1958, and he gets friendly with her as a means to possibly find the source. This upsets school tough guy Barrymore.
Also in the cast was Mamie van Doren. She portrayed Tamblyn's "Aunt Gwen Dulaine". According to one reviewer van Doren's character was as close to a nymphomaniac that a 1958 movie could get away with. Like Jayne Mansfield, van Doren was considered a 1950's sex symbol in competition with Marilyn Monroe. In 1960 this pictures producer, Albert Zugsmoth, would cast Mamie van Dorn in his
"College Confidential".
Jan Sterling who had co-starred in the first motion picture version of George Orwell's
"1984"
was teacher "Arlene Williams" seen below. "Mike" causes a lot of problems in her class to establish his credentials as a troubled student. Whose been transferred from school to school, because of his attitude and deeds/
"J.I" turns out to be the local drug distributor for the big supplier that "Mike" is after. In the end the drug dealers are arrested and "Joan" promises that her drug use is over. The picture was considered controversial when it was released and the performances are a lot better than they should have been.
Also in this cast were Michael Landon, who the following year became "Little Joe Cartwright", and Charles Chaplin, Jr. the son of Charlie Chaplin and Lita Grey..
In 1948 the first sensational novel by Harold Robbins was published.
"Never Love A Stranger".
That best selling novel, about Jewish gangsters in New York,
would be followed by others based upon real people. Such as Howard Hughes in Robbins'
"The Carpetbaggers".
John Drew Barrymore had the lead in the motion picture version of
"Never Love A Stranger"
released ten years after the novel on June 22, 1958. The very good film is considered one of the last in the Film Noir style.
Barrymore was "Frankie Kane" brought up in a Catholic orphanage. "Frankie" befriends a Jewish student named "Martin Caball" portrayed by Steve McQueen. One film away from
"The Blob".
"Frankie Kane" becomes involved with the wealthy "Caball" family maid "Julie". She was portrayed by Lita Milan. Who in 1957 she had co-starred in
"Naked In the Sun"
about the Seminole Chief Osceola starring James Craig. Also in 1958 Milan was seen in
"The Left Handed Gun"
starring Paul Newman as "Billy the Kid".
"Frankie" discovers he is actually Jewish and the orphanage says he can no longer stay, but before he can be moved to a Jewish orphanage. "Frankie Kane" runs away and begins a life of crime with the Jewish mob. While "Martin" becomes a District Attorney wanting to bring them down.
Over time "Frankie" and "Julie" reconnect and he decides to go straight by helping "Martin". Below left to right are Barrymore, McQueen and R.G. Armstrong as "Fix".
Producer Albert Zugsmith had cast John Drew Barrymore in
"Night of the Quarter Moon",
released March 4, 1959, because he had been in the producer's
"High School Confidential".
With screenplay writers Franklin Coen and Frank Davis the screenplay should have been far better than it turned out. Coen had written the Tony Curtis vehicle, 1954's
"Johnny Dark", "Chief Crazy Horse"
that starred Victor Mature and the science fiction classic
"This Island Earth".
The last two in 1955 He also worked on the 1958 Orson Wells film
"Touch of Evil"
starring Charlton Heston and Janet Lee.
While Davis had written the screenplays for 1951's
"Jim Thrope-All American"
starring Burt Lancaster, 1952's
"The Story of Will Rodgers"
starring Will Rodgers, Jr and the 1952 version of
"The Jazz Singer".
Which had starred Danny Thomas in the role that Al Jolson portrayed in the First Talking Motion Picture.
"Night of the Quarter Moon"
was directed by Hugo Haas. Who was a Czechoslovakian actor, writer and director of some solid "B" features and Film Noir, but something just didn't go right with the picture and it wasn't the actors performances either.
The actual lead went to sultry songstress and actress Julie London. Her role was "Ginny O'Sullivan Nelson". She portrayed the new bride of John Drew Barrymore's "Roderic 'Chuck' Nelson". Besides a major singing career. Julie London is best remembered for the television series
"Emergency"
from 1972 through 1978..
Playing "Chuck's" very wealthy mother "Cornelia Nelson" was actress Agnes Morehead. Who appeared in Orson Wells' 1941
"Citizen Kane"
and 1942's
"The Magnificent Ambersons".
Her other roles included the 1943
"Jane Eyre"
starring Wells and Joan Fontaine, 1947's
"Dark Passage"
starring Humphrey Bogart and Lauren Bacall and 1956's
"The Conqueror"
starring John Wayne and Susan Hayward.
Portraying "Chuck's" brother "Lexington" was Dean Jones. In 1965 Jones he would begin appearing in a series of Walt Disney films starting with
"That Darn Cat".
Below on the far left is Arthur Shields as "Ginny's" father "Captain Tom O'Sullivan". Shields had been seen in director John Ford's 1949
"She Wore A Yellow Ribbon"
and Ford's 1952
"The Quiet Man".
Next to Arthur Shields is John Drew Barrymore, Julie London and Dean Jones.
Singer and actor Nat King Cole was "Cy Robbin". Look for the pianist in the scene at the "El Rancho" in
"Citizen Kane".
That was his first on screen appearance and just before the release of
"Night of the Quarter Moon".
Nat King Cole had appeared as composer W.C. Handy in
"St. Louis Blues".
In the following still are standing Nat King Cole and Anna Kashfi as his wife "Maria". Kashfi was in the Spencer Tracy and Robert Wagner 1956 movie
"The Mountain",
Rock Hudson's 1957
"Battle Hymn"
and the Glenn Ford and Jack Lemmon western 1958's
"Cowboy".
Sitting are John Drew Barrymore and Julie London.
The story has "Chuck" falling in love and marrying "Ginny". When he brings her back to his family and his mother discovers she's one-quarter black. She will stop at nothing to break up the marriage.
Film critic Howard Thompson opened his review in the New York Time with:
THERE are some mighty mean people in the world. And two nice young people in a mixed marriage are going to meet them head-on.
Like most critics he felt the film was overloaded with plot elements, but he liked the two lead actors.
Thanks principally to a pair of sincere performances by Julie London and John Drew Barrymore, as a cruelly victimized couple, this misguided film is most affecting as a simple love story.
His original review may be read at:
https://www.nytimes.com/1959/03/05/archives/racial-love-story.html
THE 1960's AND ITALY
In 1960 John Drew Barrymore went to Europe to appear in one motion picture, but before that year had ended. He had divorced Cara Williams, married Italian actress Gabriella Palazzoli and she gave birth to their daughter, Blyth Dolores Barrymore.
Before I continue with a group of feature films I really enjoyed seeing as a teenager. Always looking for the one's with Barrymore's name on them in particular. Let me tell a story about producer and promoter Joseph E. Levine. Who with three other partners turned an obscure 1954 Japanese movie,
"Gojira",
into the 1956
"Godzilla, King of the Monsters",
Levine, while in Italy, was shown a movie with an American body builder named Steve Reeves. The film was
"Le fatiche di Ercole (The Labors of Hercules)"
and seeing the features potential. He contacted Warmer Brothers to fund the distribution rights in America. The studio advanced $300,000 and Joseph E. Levine took the Italian language movie and had it re-dubbed into English. Then on July 22, 1959, young boys, like myself, discovered both
"Hercules"
and Steve Reeves. The box office in just the United States and Canada was $4.7 million 1959 dollars. When an adult ticket price average 70 cents.
As a result of that one Italian
"Peplum (People)"
motion picture. What became known as the "Sword and Sandal" craze began and American audiences couldn't get enough of these films. Actually "Peplum" covered both Mythology and Historical themes.
It was that craze that had brought John Drew Barrymore to Italy to make just one motion picture, because the Italian film industry was looking for American actors to be featured in their films. Back in 1954 Kirk Douglas had starred as the Italian language
"Ulysses",
based upon the Greek Homer's work, and
featuring Anthony Quinn. The same year Quinn and Sophia Loren co-starred in
"Atilla",
but imported Italian films, as with most Foreign films, were shown with subtitles mainly in Foreign Art Theaters until Levine's
"Hercules".
While being filmed these "Peplum" motion pictures, both the historical and sword and sandal, had actors from Italy, France, Germany, Spain and the United States appearing in them and speaking their lines in their native language. Making it very interesting on the set to get these actors to interact correctly, because in the case of John Drew Barrymore's first film. The director was also from Russia and only spoke that language.
However, what was said really didn't matter, if the facial expressions and action was correct for the scene. As all of these motion pictures would be re-dubbed into the two main languages Italian and French later by another group of actors. So as a viewer the voice you heard was normally not that of the person you see on screen and Barrymore, as well as Steve Reeves, had many different voices in the English dubs.
To further illustrate the British Horror actor Christopher Lee spoke fluent Italian and did his lines in that language for Mario Bava's 1961
"Ercole al centro della terra (Hercules at the Center of the World),
but when the English dubbed version was
released in the United States as
"Hercules in the Haunted World".
The voice the audience heard for Lee wasn't his own.
That film John Drew Barrymore went to Italy to make was
"I Cosacchi ( The Cossacks)".
The picture was released February 4, 1960 in Italy and in May in the United States.
The movie stars British actor Edmund Purdom as the real life "Shiek Shamil". Among Purdom's work prior to this picture were the role of "Strato" in MGM's 1953 version of Shakespeare's
"Julius Caesar"
starring Marlon Brando and James Mason. That was followed by the 1954 epic
"The Egyptian",
the 1954 musical
"Athena"
co-starring with Debbie Reynolds and Jane Powell and in 1959 Purdom had the title role in the Italian 1959 production of
"Erode il grande (Herod the Great)".

Below John Drew Barrymore as "Shamil's" son "Jamal" and Edmund Purdom
Portraying the girl of the story, the Russian "Tatiana", was Italian actress Giorgia Moll. In 1958 she appeared in the Audie Murphy picture
"The Quiet American"
set in 1952 Vietnam from, the Graham Greene novel. Moll had already co-starred with Steve Reeves in 1959's
"The White Warrior"
and would be the "Princess" in Reeves' 1961 remake of
"The Thief of Baghdad".
The plot for this film was very close to the 1835 Russian novel
"Taras Bulba",
but made to reflect a different set of "Cossack" leaders. "Shamil" is leading his Ukrainian people in revolt against the invading Russians. A truce is made, but his young son is taken from him and raised as a Russian. "Jamil" falls in love with "Tatiana".
When his father leads a second revolt again the Russian invaders. His son now becomes confused over his loyalties and in the end is killed by his father. In 1962 a big budgeted version of
"Taras Bulba"
was released. It starred Yul Brynner and Tony Curtis in the father and son roles.
Both John Drew Barrymore and Edmund Purdom were back in
"L'ultimo zar (The Last Czar)".
The feature was
known in the United States as
"The Night They Killed Rasputin".
The film was released in Italy on May 12, 1960 and in the United States not until October 1962.
Below left to right are French actress Jany Clair as "Irina Jussopoff", Edmund Purdom as "Grigori Rasputin" and John Drew Barrymore as "Prince Felix Yousoupoff".
Below actress Gianna Maria Canale is "Czarina Alexandra".
Gianna Maria Canale was a serious actress and appeared in many Italian and French historical dramas. In 1946 she was seen in
"Rigoletto"
and in 1951 co-starred in the American motion picture
"Go for Broke"
starring Van Johnson. Which was the true story about Japanese American soldiers fighting the Germans during World War 2.
The screenplay told an accurate, including the names of the conspirators, account of the conspiracy and murder of Rasputin. Who had a hold on the Czarina.
"Ti Aspettero All'Inferno (I'll See You In Hell)"
was released on October 29, 1960 in Italy, but I couldn't locate its United States release date. Although it did play here.
Below John Drew Barrymore and Hungarian born actress Eva Bartok.
Eva Bartok co-starred in the Burt Lancaster classic 1952 motion picture
"The Crimson Pirate".
Lancaster's pirate is considered the "Grandfather" of Johnny Depp's
"Captain Jack Sparrow".
In that British picture Bartok's acting was considered very stiff. She also appeared in the British science fiction film from 1953,
"Spaceways",
and a series of British "B" movies including another science fiction entry, 1956's
"The Gamma People".
The plot of
"Ill See You In Hell"
is very familiar. Its the story of a robbery gone wrong and the three men ho planned it, becoming mixed up with a women. Whose more trouble for them than the law, or each other.
"La donna dei faraoni (The Woman of the Pharaohs)"
was
known in the United States as
"The Pharaoh's Women".
It was originally released in Italy December 10, 1960 and came to the United States in May 1961.
The title character, "Akis", was portrayed by actress Linda Cristal. Mexican actress Cristal is remembered by American television audiences for the 1967 through 1971 series
"The High Chaparral".
She also appeared in the 1958 comedy, starring the then husband and wife acting team of Tony Curtis and Janet Lee,
"The Perfect Furlough",
John Wayne's 1960
"The Alamo"
and many appearances on American and Mexican television.
Below Linda Cristal with Armando Francioli as "Ramses Prince of Thebes".
Armando Francioli appeared in many Italian dramatic features, but is known mostly Internationally for this movie and an Italian television adaptation of Daphne Du Maurier's
"Rebecca"
in 1969.
Pierre Brice was the physician "Akis" really loves, "Amosis". French actor Brice would be associated with the character of Apache Chief "Winnetou" in a series of German motion pictures based upon German author Karl May's novels of the American West which he never saw. Depending upon the film they either co-starred Stewart Granger, or Lex Barker with Brice.
My article on these German Westerns and others from Europe including the Soviet Union. May be read at:
http://www.bewaretheblog.com/2015/01/american-westerns-european-style.html
Below Pierre Brice is seen speaking with Fancioli.
Below John Drew Barrymore was "Sabaku Prince of Thebes".
The basic story is a power struggle between two brothers who rule Upper and Lower Egypt. Into their battle to control the total Egyptian empire comes "Akis". Whom they both love in their own ways, but as I said she loves "Amosis".
Below Barrymore and Brice.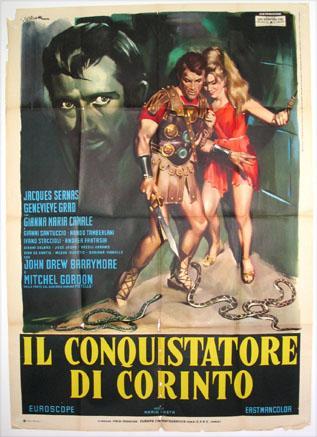 "Il Conquistatore Di Corinto (The Conqueror of Corinth)"
was released in Italy on October 21, 1961. It would arrive in the United States as
"The Centurion"
in August 1962.
The motion picture starred French actor Jacques Sernas as "Gaius Vinicius". Sernas had been acting since 1947 in French and Italian pictures. American audiences knew him from director Robert Wise's 1956
"Helen of Troy"
as "Paris".
French actress Genevieve Grad portrayed "Hebe". Below is a still of Sernas and Grad.
John Drew Barrymore portrayed "Diaeus".One of those bad guys I loved. He is seen in this poster to the far right.
The story takes place in 146 B.C. Greece under Roman control. "Hebe" loves "Gaius", but "Diaeus" wants her. Into the mix comes "Artemide" portrayed once more by Gianna Maria Canale. She wants "Gaius" and when he refuses her. "Artemide" has him imprisoned and this forces "Hebe" to go to "Diaeus" to save him.
In 1956 Jacques Sernars was "Paris", but on October 26, 1961 John Drew Barrymore was, depending on the language, either "Odysessus", or "Ulysses" in the excellent
"La guerra di troia (The Trojan War)".
Which came to the United States as
"The Trojan Horse"
in July 1962.
The main star was Steve Reeves as "Aeneas".
The above photo is from an excellent Blog dedicated strictly to the "Peplum" motion pictures/
The photo shows Barrymore as the cunning creator of the Trojan horse that permitted the Greeks to enter the walled fortress city of Troy.
The movie tells the story of the war through the eyes of Greek hero an survivor "Anenas".
After portraying Homer's tragic Greek hero. John Drew Barrymore had very interesting dual roles in the epic Italian motion picture
"Ponzio Pilato (Pontius Pilate)".
The feature was released in Italy on February 15, 1962, but did nor reach the United States until 1967 on late night television.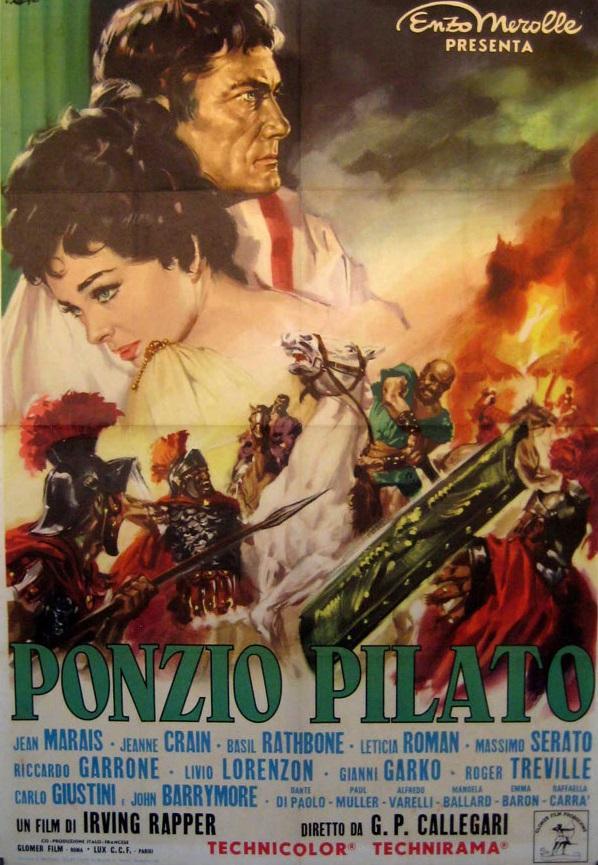 This is a very rare film in any language version, but it has an interesting International cast.
The main stair is French actor Jean Marais as "Pilate". He had beem acting in France since 1933, but is known for the classic 1946 film, by director Jean Cocteau,
"La belle et la bete (Beauty and the Beast)".
Marais was the "Prince and the Beast" in the motion picture that was the detailed model for the Walt Disney Company's 1991 animated feature.
American actress Jeanne Crain was "Claudia Procula". Crain was known for the Rodgers and Hammerstein filmed musical
"State Fair"
in 1945 and the 1949 drama
"A Letter to Three Wives"
co-starring Ann Southern and Linda Darnell. In the still below Crain is with John Drew Barrymore as "Judas".
Portraying "Rabbi Calaphas" was American actor Basil Rathbone. This film was released in Italy between Rathbone's appearances in Bert I. Gordon's
"The Magic Sword"
and Roger Corman's
"Tales of Terror".
Italian actress Leticia Roman portrayed "Sarah". Her first motion picture was Elvis Presley's 1960
"G.I. Blues"
with Juliet Prowse. Roman next appeared in the 1961 Western
"Gold of the Seven Saints"
starring Clint Walker and Rodger Moore and followed that with
"Pirates of Tortuga".
Just before making this picture and moving to Italian films.
As I said Barrymore had and interesting duo role in this production. Something that probably no other actor had ever done before, or since. The first photo below is John Drew Barrymore once as "Judas". However, the next two are of the actor in the role of "Jesus". His face is never shown .
In all this Italian and French co-production have 28 speaking roles.
Jeanne Crain and Pierre Brice were back with John Drew Barrymore in a story about Ukrainian rebels fighting for freedom against the Polish Army. Released in Italy in July 1962 was
"Col ferro e col fuoco (With iron and with fire)".
Three years later
the feature would come to the United States as
"Invasion 1700"
in January 1965.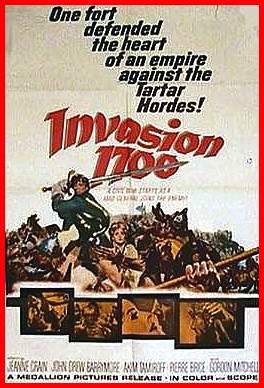 Jeanne Crain is the "Princess Elena (Helen in the English language version)",
Pierre Brice is Polish "Colonel Jan Skrzeluski"
Below Eleonora Vargas as "Horpina" speaks to John Drew Barrymore as the evil, of course, "Bohrun". While Jeanne Crain's "Prince Elena" watches/
Below Barrymore and Brice.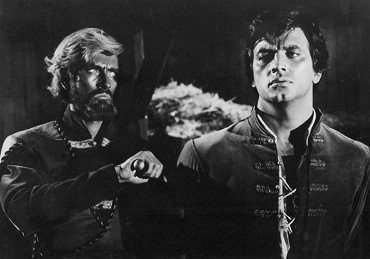 Sent to the Ukraine, Polish "Colonel Jan Skrzeluski"stays the night at a castle and falls in love with "Princess Elena". "Bohrun", the commander of the local garrison, although Ukrainian, is loyal to the Polish crown wants "Elena" for himself.
"Bohrun" discovers the love between "Elena" and "Skrzeluski". Next he realizes that "Elena's" upper class Polish family will not accept a man born of peasant stock and Ukrainian as her husband. He kidnaps the"Princess", kills her entire family and burns the castle. Taking "Elena" he switches allegiance and joins the Ukrainian rebels and Tartars fighting the Poles. While "Colonel Skrzeluski" rides to rescue the women he loves.
Released in Italy on October 31, 1963 John Drew Barrymore portrayed one of three brothers,"Lotario Duchesca", in
"I diavoli di spartivento (The Devils of Spartivento)".
The film was shown in the United States as
"Arms of the Avenger",
but I could not locate a date of release here.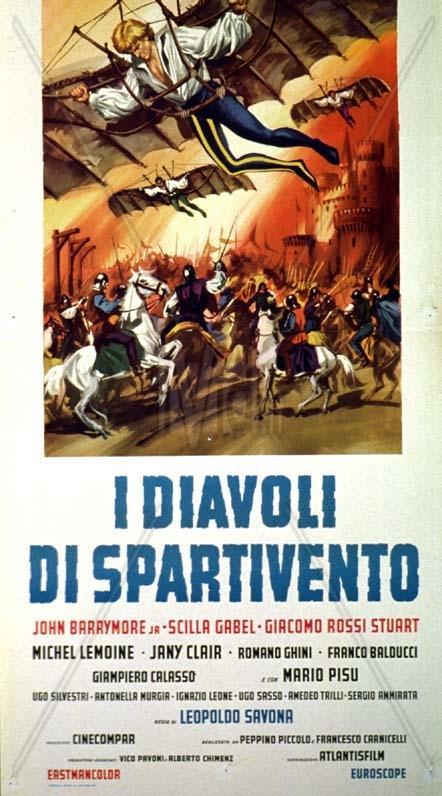 Playing one of Barrymore's other brothers is Giacomo Rossi Stuart as ""Vannozzo Duchesca". Stuart had been seen in 1958's
"Caltiki the Immortal Monster"
with cinematography by Mario Bava. In 1962 the actor was in director Robert Aldrich's biblical epic
"The Last Days of Sodom and Gomorrah"
starring Stewart Granger.
Playing the third brother was Romano Ghini as "Demetrio Duchesca".
The three brothers use Leonard Da Vinci's designs for weapons to fight an evil Duke. Below Barrymore prepares to fly.
Then instead of a Italian historical drama. John Drew Barrymore went to Denmark to film the controversial picture
"The Christine Keeler Story".
This motion picture was first seen in Washington, D.C. at a preview screening in November 1963, but would not be seen in England, where the events took place, until 1971, This was at a private invite screening, because the British Censors still banned the motion picture. That one time showing in the U.K. caused fines and other problems for producer John Nasht.
The screenplay was loosely based upon the "Profumo Affair". For those of my readers who are not of my generation and have no idea of those events. The scandal appeared to be about a brief affair, in 1961, with prostitute Christine Keeler by John Profumo. Profumo was the Secretary of State for War in Prime Minister Harold Macmillan's Conservative government.
When the Keeler-Profumo Affair went public. It was revealed that at the same time Christine Keeler was in an affair with Soviet naval attache Captain Yevgeny Ivanov. The result of both of her affairs brought down Harold Macmillian's government after he resigned for "Health Reasons".
19 year old Christine Keeler was portrayed by British actress Yvonne Buckingham. She had been appearing on television and "B"motion pictures prior to this film since 1957. John Drew Barrymore portrayed Dr. Stephen Thomas Ward an osteopath.
British MI-5 had been watching Ward, because of his friendship with Ivanov. The British Intelligence Agency knew the Russian naval attache was actually an Intelligence Officer spying on Great Britain. They wanted to use Ward to get Ivanov to defect.
Below are John Drew Barrymore as Dr. Stephen Ward and Yvonne Buckingham as Christine Keeler.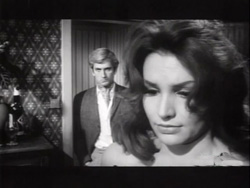 Alicia Brandet portrayed the other prostitute involved in the case. The friend of Christine Keeler. Mandy Rice-Davies.
Actor Mel Wells portrayed Captain Yvgeni Ivanov. Wells was in both Roger Corman's 1957
"Attack of the Crab Monsters"
and
"The Undead".
He portrayed another Russian officer in 1957's
"The 27th Day".
In 1958 the actor was in
"High School Confidential"
and in 1960 he was in another Corman motion picture the original
"Little Shop of Horrors".
I never saw the movie, but apparently there was no one portraying John Profumo. However, at the features closing the real Christine Keeler and Mandy Rice-Davies appeared.
In 1963 Barrymore appeared in another Italian motion picture entitled
"Natika",
but other than that fact. I could find nothing on this feature.
On February 13, 1964 the actor appeared in
"Roma contra Roma (Rome Against Rome)".
Which, when released in the United States in March 1965 had been re-titled by American International Pictures as
"War of the Zombies".
Below John Drew Barrymore as the evil, but fun to watch, "Aderbad".
Susi (Susy) Andersen portrayed "Tuilia". This was her fourth feature film and just before she appeared in
"Rome Against Rome"
. The actress was seen in the
"I Wurdalak"
segment of Mario Bava's classic motion picture
"I tre volti della paura (The three faces of fear)".
Which is
known in the United States as
"Black Sabbath".
Andersen followed this picture with the Spaghetti Western
"Texas Ranger".
Below Barrymore with Susi Andersen.
Ettore Manni was Roman soldier "Gaius". Manni had been in the Italian film industry since 1952. In 1954 he portrayed the brother of
"Attila"
in the epic Italian production starring Anthony Quinn and Sophia Loren. He made many Peplum films, but in 1965 would be featured in the Maureen O'Hara, Richard Todd and Rossano Brazzi American film
"The Battle of the Villa Fiorita".
Followed by several Spaghetti Westerns.
Below is Italian actress Ida Galli as "Rhama". Galli used the American name of "Evelyn Stewart" in her Spaghetti Westerns. A ruse many Italian actors did to make their audience think they were American Western movie actors come to Italy. Ida Galli's other films included Federico Fellini's, 1960
"La Dolce Vita",
Mario Bava's 1961
"Hercules in the Haunted World"
starring Christopher Lee and
Luchino Visconti's classic 1963 film
"The Leopard".
That starred Burt Lancaster, Claudia Cardinale and Alin Delon.
Below left to right Ida Galli, John Drew Barrymore and Susi Andersen.
"Gaius" is sent to Armenia to find out why some captured treasure, meant for Rome, never arrived. There he falls in love with the slave girl "Rhama" and discovers that the evil magician "Aderbad" has the local Roman official under his power. "Aderbad" is also building an invincible Zombie army of dead Roman Soldiers to conquer Rome itself. However, "Tulia's" husband is murdered by her and she plots with "Aderbad" to frame "Gaius".
From Zombies to an Occult Psychic in
"Delitto allo specchio (Mirror Crime)"
released in Italy on March 17, 1964. The title became
"Death on the Fourposter" in
the United States.
The story is about a group of young people who come to a castle to party. A late arrival is "Serena" who brings a date, "Anthony" portrayed by Barrymore. He has composed a song "Sexy Party" that will be played as the movies theme. "Serene" also mentions that "Anthony" is a psychic and talks him into giving a seance. He has some disturbing visions and predicts death at their party. After prediction is given "Anthony" is bored and leaves the party. John Drew Barrymore is basically in and out of the story in matter of minutes.
"Delitto allo specchio"
is one of the early "Gialli
(Detective Story)
Films" and is quiet good in its own way.
About one hour after "Anthony" leaves, "Serena", is found murdered and the killings begin. One of the tricks in the film is showing people reflected, the mirror, in other people's eyes, but which set of eyes belongs to the killer?
Below John Drew Barrymore as psychic "Anthony" making his prediction..
I very good review of the picture is found on the website
"euro fever"
at:
http://euro-fever.blogspot.com/2008/02/death-on-fourposterdelitto-allo.html?zx=fef6e5e9f6a5a793
In
"Death on a Fourposter"
Italian actress Luisa Rivelli portrayed "Caterina". She returns in another Detective Story, with John Drew Barrymore, entitled
"Crime a due (Crime to two)"
released September 27, 1964 in Italy. The worldwide English language title would be
"A Game of Crime".
Barrymore was "Paul Morand" and Luisa Rivelli is "Anna Lugani". "Paul" is the secretary for "Anna's" husband "David". Who suffers a heart attack and dies. The police believe "Anna" with the help of "Paul" murdered her husband, but did they? Adding to the plot is "David's" blind brother with the ability to predict disasters. What does he know, or not know about the events?
"Crime a due"
was the last motion picture John Drew Barrymore made in Italy and returned to the United States shortly after it wrapped.
RETURN TO THE UNITED STATES
On December 4, 1964 John Drew Barrymore appeared on an episode of televisions
"Rawhide".
His first appearance on the Eric Fleming and Clint Eastwood series had been on November 6, 1959. His second appearance was entitled
"Corporal Dasovik"
and featured Nick Adams in the title role. Barrymore played the role of "Harry Eccles"
Above left to right are Nick Adams, Sherwood Price, Howard Caine and John Drew Barrymore.
Below Adams and Barrymore. Adams had been appearing in movies and television since 1951. In 1955 he was one of the "Teens" in
"Rebel Without A Cause".
He finished, without his face being seen, James Dean's scenes in 1956's
"Giant".
In 1959 he became "Johnny Yuma" on television's
"The Rebel"
for 76 episodes.
Between 1965 and 1969 John Drew Barrymore would appear in episodes of seven television shows and in two motion pictures. Four of those television shows had familiar names. There was a 1965 episode of
"Rawhide"
and the actor appeared on
"Gunsmoke", "The Wild, Wild West"
and the dramatic series
"Run for Your Life".
Others had long forgotten names like "
Jericho",
"The Road West"
and
"Dundee and the Culhane".
The last starred British actor John Mills, but was cancelled after 13 episodes..
The 1967 motion picture
"Winchester 73"
was called a "Remake" of the classic Anthony Mann directed 1950 James Stewart Western with Tom Tryon in the Stewart role. The original film was about a cowboy, Stewart, winning the rifle of the title and tracking down the outlaw who had stolen it. The plot of this film had the brother, John Saxon, of the local Sheriff, Tryon, stealing the rifle he won and the chase is on. John Drew Barrymore was "The Preacher".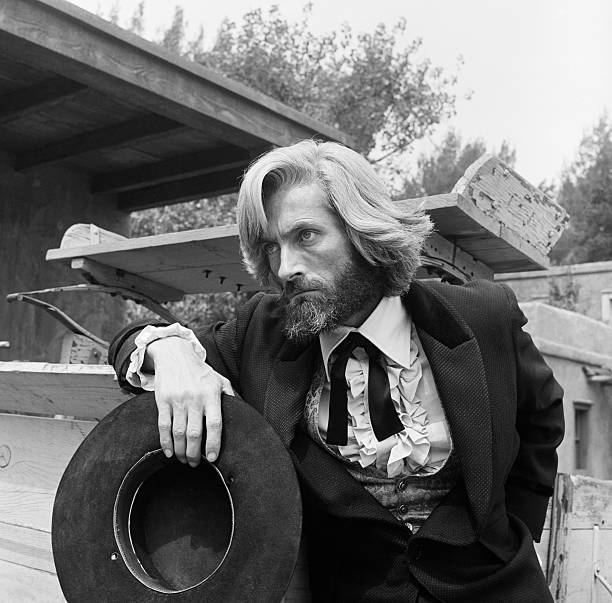 The National Broadcasting Company (NBC) and Universal Studios made
"This Savage Land".
The film premiered on July 23, 1969 in St. Louis, Missouri and was set after the start of the Civil War. The film is interesting more for who was in it. Then it was for quality and plot. Especially as NBC wanted it as a made for television entry.
The story has Ohio widower "Ben Pride", Barry Sullivan, moving his family to Lawrence, Kansas at the start of the Civil War. Not necessarily a smart move, but a good plot device. As they come up against Confederate raiders led by George C. Scott's, "Jud Barker".
Sullivan who had worked in "B" movies and the occasional "A" film, like 1952's
"The Bad and the Beautiful"
starring Kirk Douglas and Lana Turner, was mostly "Guest starring" on television programs. Staring after he made 1955's
"Strategic Air Command"
starring James Stewart and June Allyson. While Scott was one forgotten movie away from 1970's
"Patton".
John Drew Barrymore portrayed "Stacy Daggart". Glenn Corbett portrayed "Chance Reynolds" and Kathryn Hays was "Sullivan's" wife "Elizabeth". .Andrew Pine was "Timothy Pride" and Brenda Scott was "Margaret 'Madge' Pride".
Above left to right John Drew Barrymore, Terry Wilson, Rex Holman and George C. Scott.
Below Barrymore and Scott
Below John Drew Barrymore and Kathryn Hayes.
In 1970 Barrymore divorced his second wife Gabriella Palazzoli. In 1971 he would marry actress lldiko Jaid Mako. The couple would have one daughter Drew Blythe Barrymore born on February 22, 1975.
John Drew Barrymore next appeared in another forgotten motion picture released in August 1973. It was the extremely low budget science fiction entry
"The Clones".
The basic plot is about a scientist who wants to clone others so that he can control the World's weather. He makes a mistake and clones the wrong scientist who fights back.
The character John Drew Barrymore portrayed had a great name. He's the
"Brooks Brothers Hippie"
and is billed once more as John Barrymore, Jr. I could not locate any photos of the role and at 7th billing couldn't have been very significant. Once "A" list actor Bruce Bennett. Who appeared with Humphrey Bogart in 1943's
"Sahara",
1947's
"Dark Passage"
and 1948's
"The Treasure of the Sierra Madre",
for example, was reduced to 20th billing as "A Lab Assistant".
John Drew Barrymore's last credited on screen role was in the David Carrdine television series
"Kung Fu".
The episode was
"A Dream within a Dream"
and premiered on January 17, 1974. John Drew Barrymore portrayed "Alex McGregor" seen below. The program was about "Caine" finding a wealthy man who has been shot and many of the towns people have a reason to shoot him.
.On May 5, 1976 John Drew Barrymore appeared without on screen credit in his final film role. The picture starred Jan-Michael Vincent and was
"Baby Blue Marine".
According to the official list of actors in the motion picture. Barrymore was billed in 20th position as John Blyth Barrymore portraying "Idiot #2".
In 1984 John Drew Barrymore divorced Jaid Mako and a year later married actress Nina Wayne. They had one child born back in 1966 Brahma (Jessica) Blyth Barrymore.
On September 20, 2004 John Drew Barrymore passed away. I thank him for the memories those Italian motion pictures gave me and the enjoyment I had watching his evilness on screen. RIP.