"THE CURSE OF FRANKENSTEIN" was the first color version of Mary Shelley's 1818 novel "Frankenstein, or The Modern Prometheus". In 1957 watching that beautiful Eastman Color Blood dripping off Peter Cushing's Victor Frankenstein's hands was somewhat
enthralling
, but when Christopher Lee's emotionless creature strangled Elizabeth, Hazel Court, ten year old Lloyd went emotionally wild, BUT WAIT-----

I'm ahead of my story.
Hazel Court is remembered fondly for her appearances in a group of 1950 and 1960 Horror films. Over her career between British and American Motion Pictures and Television Programs she appeared 108 times. Of these performances if you include an early Science Fiction film and a Ghost Story. The appearances that make up Hazel Court's Horror Legacy total only 8, but they are all considered classic genre by their fans. This is a look at those 8 with a brief mention of her other works and life.


The future actress was born on February 10, 1926 in "The Royal Town of Sutton Coldfield" aka: "Sutton Coldfield" aka: "Sutton" in Warwickshire. In 1974 her birthplace became part of the city of Birmingham Parish, West Midlands, England.
At the age of 14 the young girl started to study acting at/with "The Birimngham Repertory Theatre" aka: "Birimingham Rep" aka: "The Rep". "The Rep" is one of the longest established producing theater's in England. Below the old theater building at the time Hazel Court started to learn acting.


Hazel also studied at the "Alexandra Theater" aka: "The Alex". In 1942 Hazel Court met motion picture director Anthony Asquith. The meeting led to her first on screen role in 1944's "Champagne Charlie" described as "Tipsy Champagne Drinker".
Hazel Court's second feature film was 1944's "Dreaming". In this small comedy about a British soldier who hits his head on a train journey and has a series of what are described as "Bizarre Dreams". The young actress actually had third billing playing three characters in the picture: "Miss Grey", "A Wren" and "Avalah". Below is a still of Court as the "Wren".
In 1946 the actress made two motion pictures"Showtime" and "Carnival". Her performance in "Carnival" earned Hazel Court a British Critics Award for her portrayal of the crippled girl Mae Rayburn.

Eight more motion pictures followed until in 1952 Hazel Court starred in

"Ghost Ship".

Her co-star Dermot Walsh was also Court's first husband since 1949.


The story is about a newly married couple who purchase a yacht called "The Cyclops" with plans to live on it. Shortly afterwards they start experiencing strange sounds and paranormal events. The couple hire a paranormal investigator who arrives with his assistant a medium. The story continues to unfold as the yacht's past begins to come clearer. The rumors appear true of a double murder with the victims allegedly buried somewhere within the "The Cyclops"

Another motion picture in 1953 and a short subject in 1954 brought Hazel Court to witness the arrival of
"The Devil Girl From Mars"
and her robotic companion. Also during 1954.

The British, like their American counterparts, exaggerated the posters for Science Fiction films in the 1950's. There are no cities on fire in this feature. Especially as the entire motion picture takes place in and around a bar called the "Bonnie Charlie" and a Scottish Inn on the moors. A concept possibly borrowed from the American 1951 feature "The Man From Planet X".
It seems that the Martian Invader Nyah, Patricia Laffan, sustained damage to her flying saucer upon entering the Earth's atmosphere. Additionally she has more bad lick by hitting a passing commercial airplane.Which apparently never alerts any British authorities to the mid-air collusion.

As a result of the two incidents Nyah is forced to land near the Scottish Moors for repairs. She is accompanied by her robot Chani, played by Larry Aten.. Unfortunately Nyah doesn't have British Auto Club to call, but her spacecraft is made from an organic self-regenerating technology. The Alien just needs to wait until it repairs itself.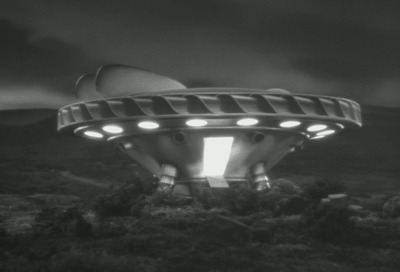 The screenplay by James Eastwood and John C. Maher was based upon a stage play and the film and it's sets seem to still be on stage rather than in a motion picture. A problem with several early Science Fiction pictures.
Apparently at some time in the past Mars had a war between the sexes and the females won. They next set up an Amazon Society, but as with the Greek Amazon's of Earth. The males died over the years and the Martian women need more males to keep the society going. Commander Nyah was sent to Earth to get new breeding stock. Her plans are revised as she eyes the Earth males at the "Bonnie Charlie".
At the bar Nyah runs into two "Romantic" subplots and in the first enter Hazel Court as Miss Prestwick.

Miss Prestwick a fashion model is running away from an affair gone wrong with a married man. She ends up at the "Bonnie Charlie" were she meets our hero reporter Michael Carter played by Hugh McDermott.

The second romantic subplot involves Albert Simpson who is really escaped murderer Robert Justin. He has come to the bar to meet with the barmaid Doris portrayed by Adrienne Cori,

Add in Professor Arnold Hennessey, Joseph Tomelty Hennessey marvels at the advanced Martian technology shown to him. While figuringout how to destroy Nyah. His brilliant solution: One of the men must go with her and destroy the saucer from within,

Along with this group are the owners of the bar and inn Mr and Mrs Jameson, John Laurie and Sophie Stewart. Plus a few expendable others to help along this talky screenplay.

Director Robert Wise, three years earlier, had brought British actor Michael Rennie to the motion picture screen as Klaatu in "The Day the Earth Stood Still". Klaatu was an allegorical Jesus Christ returning to Earth in the screenplay by Edmund H. North. North after watching "Devil Girl from Mars" said Nyah was Klaatu's opposite being an anti-Virgin Mary.
In his 2005 work "Mars: A Tour of the Human Imagination" writer Eric S. Rabkin wrote of Nyah and her robot Chani:
Without some underlying psychological engagements, how could anyone sit through a movie so badly made that a supposedly awe-inspiring robot of death is obviously a man with a gray, painted cardboard box loosely placed over his head? The special effects consist of models of a saucer and an aircraft "flying" on wires and a zap "ray" with which the robot makes lonely hilltop trees "disappear," or to be replaced with the wisps rising from a tin smoke pot.In this 1954 British Production, it is not unreasonable to see the racily black-clad "devil girl" not only as a dominatrix but a Neo-Nazi.
While actress Hazel Court said this of making the motion picture:
I remember great fun on the set. It was like a repertory company making that film
Acting in another five motion pictures and three British television shows would bring Hazel Court to the real start of the career this article is about.
In 1957 I lived at 15144 Martha Street, Van Nuys, California. The address doesn't mean anything except that only two blocks west was the Sepulveda Drive-In theater and from my roof you could watch, without sound, the movie screen. It was on top of the house that I first saw Christopher Lee remove those bandages from his face to reveal the creature of
"The Curse of Frankenstein".
I also remember not sleeping that night.
Three days later I was at the Van Nuys Theater on Van Nuys Boulevard to see the Hammer Studio's double bill of "The Curse of Frankenstein" and "X-the Unknown". A classic and very original Science Fiction from the pen of Jimmy Sangster.
The movie opens with Baron Victor Frankenstein, Peter Cushing, in prison for what the audience does not know yet. A Priest has arrived to give comfort to those about to face death, but Victor does not believe in God. However, he wants to relate his story and as he speaks to the Priest the screenplay also by Jimmy Sangster unfolds.

We learn that young Victor's parents died and he is now the Baron. His Aunt arrives with his Cousin Elizabeth, portrayed by Hazel Court's own daughter Sally Walsh, and the boy Baron promises both that he will continue the financial help his parents have been giving the pair,

Next we meet Dr. Paul Krempe,portrayed by Robert Urquhart, who becomes Victor's tutor and partner in his experiments. After a short few scenes Sangster's screenplay cuts to the adult Victor.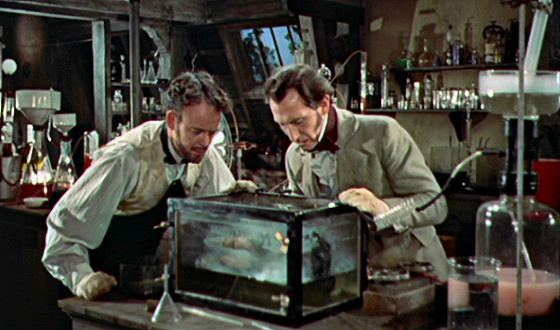 The Baron now presents Paul with the idea of creating life and after an experiment bringing a dead puppy back. He turns to creating a human being of his own. As the two men begin the work the grown up Elizabeth, now Victor's fiancee ,arrives to Paul's surprise. Knowing what is going on he attempts to get her to leave before Victor returns.


Victor has invited a noted scientist to his estate with the purpose of having him "accidentally" fall down some stairs. As a means of obtaining a remarkable brain.

After Victor removes the brain in the scientist's burial crypt. Paul and Victor struggle and the brain is damaged, but is used anyway. The first attempt to bring his creation to life fails and Victor leaves the creature in laboratory and goes down to dinner with Elizabeth.

Unknown to Victor in the lab the events he started are actually occurring on a delay. The film cuts back to Elizabeth and Victor and then to the lab were the audience sees the sequence I saw first from my roof as Christopher Lee reveals the creature's face.


Victor runs up to his lab from the noise his creation is causing and is attacked. The damaged brain has turned his creation into a psychotic personality instead of a brilliant mind.
The creature will escape the house! Victor and Paul go after it and kill it with a shotgun.

It is buried and Paul thinks everything has ended. He decides to leave, but before he goes attempts once more to get Elizabeth to leave Victor. After Paul is gone the creature is dug up and brought back to life.

Victor uses the creature to kill the maid Justine, Valerie Gaunt, who claims she is pregnant by the Baron and he must marry her instead of Elizabeth.

Time passes and Paul receives an invitation from Elizabeth, to return for her wedding to Victor. Victor takes Paul back to his lab to show him the now revived creature. Paul threatens to tell the authorities about what he has been doing.





Elizabeth's curiosity gets the best of her and she decides to see what is behind the locked laboratory door.




She of course finds the creature which has escaped it's bonds. Elizabeth escapes the laboratory to the roof with the creature following. Victor arrives and throws a lantern at it. Covered in flames the creature falls through the skylight into a vat of acid.

Although the police can not connect Victor to the murder of a blind man done while the creature had escaped the house. They do charge and convict him with the murder of Justine. The only way Victor can prove his story is through Elizabeth and Paul. The film cuts back to Victor's prison cell.

Neither Elizabeth, or Paul will testify on behalf of Victor and the picture ends with him being escorted by the Priest to the guillotine.

Hazel Court may have been terrorized by Christopher Lee is this classic Hammer Studio's production, but there was always lunch in the cafeteria.



Although without either Court, or Lee. One year after "The Curse of Frankenstein" found Peter Cushing again as Baron Victor Frankenstein in the first sequel "The Revenge of Frankenstein". Unlike Universal Studio's series of motion pictures with the undying monster. Hammer Films created a series of motion pictures with the undying Victor played by Cushing. Should my reader be interested in a comparison of the two series film by film. They can read my blog article on the subject at:


http://www.bewaretheblog.com/2015/02/universals-frankenstein-vs-hammers.html



It would be another two years before Hazel Court made a motion picture that was part of her Horror Legacy. However, she would co-star with American actor Patrick O'Neal in a comedy made in England for American television on CBS starting September 28, 1957. "Dick and the Duchess" was about an American Insurance Claim investigator in London who marries a Duchess. Her parents are always upset over the "Commoner" from America being part of the family and in the style of "I Love Lucy". Hazel Court's Duchess gets into comical situations with her husband's investigation.

Court made another feature film with her husband "A Women of Mystery". She also appeared in two excellent television shows. For U.K. television was "The Third Man" starring Michael Rennie as "Graham Greene's "Harry Lime". Hazel Court's episode from 1959 "The Angry Young Man" featured an actor named Roger Moore. The other show was filmed in England for the United States television anthology program "Playhouse 90". The episode was written by Rod Sterling and directed by John Frankenheimer and took place on an American Air Force base during World War 2.

Then in June 1959 five months before the British movie opened in the U,K. the United States saw Anton Diffring as "The Man Who Could Cheat Death".



Diffring was Dr. George Bonnet. Hazel Court portrayed Janine Dubois and Christopher Lee played Dr. Pierre Gerard.


The story tells of a sculptor who is in actuality 104 years old and takes place in 1890 Paris, France. Both Diffring and Lee's characters are in love with Court's. Bonnet's secret to eternal life is killing women for their Parathyroid glands to ward off signs of aging.
Below is what happens when you forget to get your Parathyroid treatment.
The screenplay was by Jimmy Sangster and the picture was directed by Terence Fischer. Fischer had previously directed Hazel Court in "The Curse of Frankenstein". This story was actually a remake of a 1945 motion picture based upon a play by Barrie Lyndon "The Man from Half-Moon Street".
Originally the role of Dr. Bonnet was offered to Peter Cushing. He turned it down just before shooting was to commence and Anton Diffring accepted the part. Had Cushing accepted this would have been the fourth film in the Lee/Cushing Association. "The Hound of the Baskervilles" had been released earlier in 1959 and "Dracula" aka: "The Horror of Dracula" the year before.
The European version of "The Man Who Could Cheat Death" has one additional scene of Hazel Court. In the scene she poses topless for Diffring's sculptor.
It wouldn't be until 1961 before Hazel Court added a film to her horror legacy. Following "The Man Who Could Cheat Death" she appeared on several television shows on both sides of the pond. Court traveled to "Hollywood" to appear in the "The Last Trophy" episode of "Bonanza" as "Lady Beatrice Dunsford". Along with episodes of both "The Alcoa" and "General Electric" American anthology programs and two episodes of "Adventures in Paradise", A television show created by author James Mitchener.
In the U.K. Hazel Court appeared in an episode of the British modern day television series "H.G. Wells The Invisible Man". She played a famous puppeteer that doesn't know her mink coat contains secret documents on microfilm. During this period Court only made one motion picture "The Shakedown" released in January of 1960 in the U.K.
One year after "The Shakedown" in January 1961. The actress appeared as Nurse Linda Parker in
"Doctor Blood's Coffin"
starring Kieron Moore as Dr. Peter Blood. Great name for a character and a better one for a feature film.
The multi talented Art Director, Screenplay Writer and Feature Film Director Nathan Juran wrote the original story, but sold it to the film's director Sidney Furie. Furie rewrote it almost completely.
The upcoming motion picture was featured in "Famous Monster's of Filmland". Which helped to promote this mediocre horror film. Most of the horror doesn't happened until the final minutes.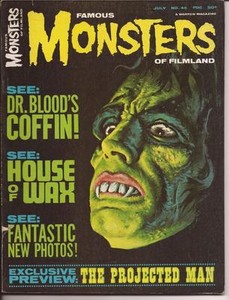 The plot might be described as Dr. Frankenstein Meets A Zombie. Dr. Blood is a brilliant young doctor who wants to bring the good dead back to life and punish the evil people by using them for his experiments. Doc Blood is in love with Nurse Parker whose husband has recently died. He decides to bring him back to life. Bad decision!
Prior to appearing in three classic Roger Corman motion pictures it was back to television land. Hazel Court made her fourth appearance on "Alfred Hitchcock Presents" and appeared on the forgotten American Western Series "Stagecoach West". In England she was seen in two episodes of "Danger Man" starring Patrick McGoohan. She made appearances on the television series "Top Secret" and another about a special Scotland Yard team known as the "Ghost Squad".
Then in March 1962 was
"The Premature Burial".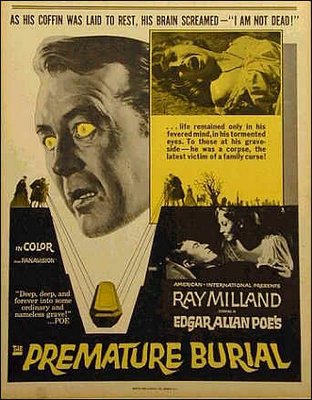 In the third of what would be eight motion pictures based upon the works by Edgar Allan Poe and the first without Vincent Price. Producer/Director Roger Corman made "The Premature Burial" starring Ray Milland and Hazel Court.
Milland was cast as British Aristocrat and medical researcher Guy Carrell. Who has a fear of being buried alive. Hazel Court portrayed Emily Gault the young women he's in love with. The setting is early Victorian England and as with Corman's "House of Usher". There is the eerie family crypt familiar to fans of Poe's work and a spooky looking old countryside home.
Guy tells Emily that as a young boy he thought he heard his father scream shortly after being placed in the family tomb. However, his sister Kate, Heather Angel, said she heard nothing at all. Guy always felt that his father, who suffered from catalepsy, had been buried alive. He further reveals to his fiancee that he also suffers from the disease.
The two are married.
Guy constructs a crypt with many means of escape. He demonstrates these features to Emily and her father Dr. Gideon Gault. Played by Alan Napier the future "Alfred" on television's 1966 "camp" show "Batman". Guy explains to the two that without tampering with his coffin. There is no way he can be buried alive in it without a means of escape.
Emily is worried that Guy's obsession may drive him mad. Her husbands friend and fellow medical researcher Miles Archer, Richard Ney, explains that his catalepsy is not hereditary.
Emily reveals to Archer that as she was playing an Irish folk song "Molly Malone" on the piano. Guy seemed to just pass out from hearing it. Miles responds that he is becoming more concerned with Guy's heath.
Guy and Emily go for a walk on the moors when he hears a grave digger whistling "Molly Malone". Guy passes out and dreams about being buried alive, but his escape devices save him. When he comes back to reality Emily is there and tells Guy there was no Whistling Grave Digger.
Miles Archer decides to have Guy confront his fears by going into the family crypt to prove that his father was not buried alive. Just as his sister told him as a small boy. When the coffin is opened a twisted decayed body is found. As if his father was buried alive and attempted to get his coffin open.
At the sight of his father's body Guy collapses and Emily's father Dr. Gault pronounces him dead. A funeral is held and Guy Carrell is buried.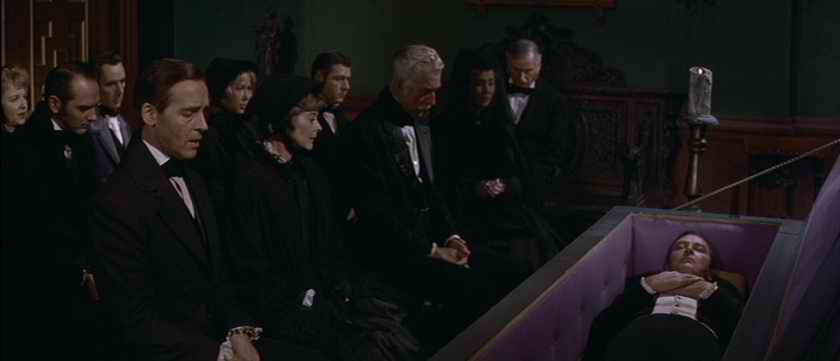 Guy wakes up in his coffin and can't get out. All the safe guards fail. Two grave robbers appear with plans to steal Guy's body. When they open the coffin lid Guy jumps out and murders them. In a madden state he goes after Emily and her father. Guy kills Dr. Gault and takes Emily.
Miles Archer discovers Dr. Gault's body and that Emily has disappeared. While this is happening Guy has taken her to the graveyard to bury Emily alive.
Miles arrives as Guy finishes burying his wife. The now completely insane Guy turns on his friend as a gun shot rings out.
Guy's sister Kate has killed her brother. She reveals to Miles that Emily married Guy for his fortune and with her father played on her brother's fear of being buried alive.
After completing work on "The Premature Burial" Hazel Court appeared on two American television series. "Borderline" was her second appearance on "The Dick Powell Theater" and the actress was in one episode of the Edmund O'Brien lawyer series "Sam Benedict".
This would be followed with two events in Hazel Court's life. The first was her divorce from Dermot Walsh and the second her marriage to Don Taylor. She would remain married to Taylor until his death in 1998. Taylor was an actor turned director. He appeared in the classic World War 2 motion picture "Stalag 17" and as a director. Don Taylor directed 1971's "Escape from the Planet of the Apes", 1977's "The Island of Dr. Moreau" and a Science Fiction "What If?" motion picture favorite of mine. This was 1980's "The Final Countdown" starring Kirk Douglas. The "What If" being a modern nuclear powered air craft carrier goes through a time warp and reappears on December 6, 1941. The day before Japan attacks Pearl Harbor. What do you do with your knowledge about what is to happen?
Hazel Court co-starred in another Roger Corman Poe epic based, very loosely, make that extremely loosely, on the poem
"The Raven"
. The film starred Boris Karloff, Vincent Price and Peter Lorre.
This was Boris Karloff's second appearance in a motion picture using Poe's poem as it's title. In 1935 he co-starred with Bela Lugosi in 'The Raven".
In Corman's Janaury 1963 version of the Poem. Vincent Price played good sorcerer Dr. Erasmus Craven, Boris Karloff was the evil Dr. Scarabus and Peter Lorre was Dr. Adolphus Bedlo aka: The Raven of the film. Hazel Court played Craven's unfaithful wife Lenore. Actually a very small role. Oh, and playing straight man to the three pro's was an actor still finding his way Jack Nicholson as Lorre's son Rexford Bedlo. He falls in love with Craven's daughter Estelle played by Olive Sturgess.
The script story and screenplay was by Richard Matheson. Matheson wrote both the novel and screenplay for 1957's "The Incredible Shrinking Man", the screenplay for Vincent Price in Jules Verne's "Master of the World", screenplays for three of Roger Corman's other Poe films:"House of Usher", The Pit and the Pendulum" and "Tales of Terror".
In a quote by Matheson in Lawrence French's 2012 :The Making of The Raven". The writer said:
After I heard they wanted to make a movie out of a poem, I felt the was an utter joke, so comedy was the only way to go with it.
The above picture of Vincent Price holding a Raven is at the start of this film. The Raven is talking in Peter Lorre's voice and explains he was turned into the bird by Boris Karloff. Price's Craven puts together a brew he believes should reverse what Karloff's Dr. Scarabus has down. Lorre becomes his normal self, almost, but has a body still covered in bird feathers.This is corrected.
Arriving at Craven's home looking for his missing father is Jack Nicholson as Rexford. As I said he pretty much plays the straight man to some of the lines and gags. Nicholson meets Olive Sturgess' Estelle and a very minor romance develops between the two.
Lorre convinces Price to go to Karloff's castle. Lorre's Dr. Bedlo wants revenge for loosing a sorcerer's dual with Karloff's Dr. Scarabus. Price's Dr. Craven believes he saw the "Ghost" of his lost love Lenore there. Reference to another Edgar Allan Poe poem.
The four take Craven's coach to ride in comfort to the castle of Dr. Scarabus, but the coachman seems to go mad and attacks them. Below is a photo of Roger Corman, right side, directling another scene between the coachman and Dr. Bedlo. Note Vincent Price in the background.
Of course the 'Ghost" of Craven's wife is Hazel Court and she is not dead. Lenore ran away from the "Dull" Craven to the more "Interesting" Scarabus. Actually Court's role is smaller than either Nicholson or Sturgess, but she has name value and, therefore, has fourth billing in the picture and on the above poster.
Bedlo has another dual with Scarabus and ends up as a Raven once more. Craven finds out that his Lenore claims to have been "Bewitched" by Scarabus.
This all leads to an epic (?) dual between Vincent Price and Boris Karloff that is full of funny bits. Karloff apparently did not like the idea of his chair floating in the air on wires, but the professional went with it anyway.
The dual ends with Craven winning and Lenore saying how much she loves him. Craven tells her she can have Scarabus. Bedlo still a Raven asks Craven to turn him back into a human. Craven tells him to shut his beak and says:
Quoth the raven-nevermore.
Staying in the United States Hazel Court appeared on the western television series "Rawhide" in the episode entitled "Incident of the Dowery Dundee" on January 23, 1964. On May 29, 1964 audiences saw Court in "The Fear" on Rod Sterling's "Twilight Zone".
On June 24, 1964 in Ireland another Roger Corman motion picture opened. It would not be released in the United States until September of that year. The title was
"The Masque of the Red Death".
"The Masque of the Red Death" was a British-American co-production directed by Roger Corman based partly upon the Edgar Allan Poe story of the same name. This feature was supposed to have been the second Poe picture from Roger Corman, but it took four years after "House of Usher" before Corman had a screenplay that he was satisfied with.
Besides Edgar Allan Poe's "The Masque of the Red Death about "Prince Prospero". Who summons his friends to a party at his Castle he believes is safe from the "Red Death" sweeping across the countryside. Screenplay writers Charles Beaumont and R. Wright Campbell used Poe's "Hop-Frog". The story is about a dwarf taken from his homeland to become the jester for a King who likes practical jokes. There was a third source for the screenplay, but not from Poe. It was "Torture By Hope" from French author August Villiers de l'Isle-Adam a contemporary. This story is set during the Spanish Inquisition and is about an imprisoned Rabbi being tortured and then seemingly freed by his jailers giving the story "The Hope" of the title.
Playing Price Prospero was Vincent Price.
Portraying his mistress Juliana was Hazel Court.
Actress Jane Asher was the peasant girl Francesca and David Weston portrayed Francesca's lover Gino.
Classic British actor Nigel Green was Ludovico the father of Francesca.
Another classic British Actor Patrick Magee was Alfredo.
The motion picture is considered Roger Corman's Poe masterpiece. Although he is not happy with the final sequence. Corman attributed the flaws in it as a result of how "slow" the British crews worked and that he had only one day to shoot it.
The motion picture is very atmospheric and Corman, as he did with "House of Usher", uses colors to the maximum to create specific imagery in the minds of his audience. The movie is at times very depressing, but is full of excellent acting.
It opens with a man dressed all in red meeting an old women and giving her a pure white rose that immediately turns to red. "The Red Death" has arrived in Italy the location of the story.
Prince Prospero visits a village he rules over and is confronted by Ludovico and Gino. They demand that he stop taking food from the village. Prospero responds by ordering both put to death, but Francesca begs for mercy. At this point the old women appears with the "Red Death" plague. The Prince orders the village burned to the ground and takes Francesca. Her father and lover go after Prospero to rescue her.
Prospero orders Juliana to teach Francesca proper court etiquette and see that she is clean and dressed properly.
Propsero has invited many local nobles to his castle for a grand party while the await the passing of the Red Death.
Entertaining the guests are two dwarfs. The male is named "Hop-Frog".Under the influence of Prince Prospero the young Francesca asks to join his Satanic Cult and a ceremony begins. Gino and Ludovico are captured and brought before the Prince and his guests.
For more entertainment Prospero has the two men fight each other with knives. Ludovico attempts to kill the Prince and for this Prospero kills him with his sword. There are other incidents of Sadism as the night goes on. At one point Prince Prospero decides to send Gino out of the Castle and to his fate with the Red Death.
Inside the castle Juliana pledges herself completely to Satan. During the ceremony Juliana hallucinates from a potion she drinks.
Shortly afterwards she is killed by Prince Prospero's pet Falcon.
Outside the castle the remaining villagers want to go to Prince Prospero to plead for help. Gino tries to stop them, but all, except a small girl are murdered by the Prince's soldiers at his order. After this incident Gino meets a man in Red who tells him to stay where he is and he will send Francesca to him.
The man in red enters the castle and Prince Prospero thinks he is an emissary of Satan. Prospero confronts the figure in red and it seems to agree with what the Prince asks. One of the requests is to send Francesca outside to die. So that she can enjoy the same high status in Hell Prospero believes he will. This is done, but in reality the Red Death has saved Francesca for Gino.
At this point the Red Death starts to take over the people within the castle. Then confronted again by Prospero about being sent by the Devil reveals to him that:
Death has no Master
As Prince Prospero pulls back the Red Death's hood he finds his own face starring back. Madness sets in as the Prince faces his dying guests and his own fate.
After this motion picture the actress now living with her husband on the California side of Lake Tahoe, California/Nevada appeared only in television roles until 1981.
These roles included appearances on such American television programs as "12 O'Clock High", "Burke's Law", "Dr. Kildare", "Gidget", "The Wild Wild West" and "Mission Impossible".
In 1981 Hazel Court appeared in the last installment of the "Omen" series "The Final Conflict". However, her role received no on screen credit and is described as:
Champagne Women at Hunt
On April 15, 2008 at the age of 82 Hazel Court passed away at her home in Lake Tahoe, California.