On April 13, 1953 Ian Fleming introduced the World to "James Bond" in "Casino Royale". Since that publication date the story has appeared as a daily newspaper comic strip in Britain's "The Daily Express", on live television, and as two motion pictures. It's the last three this article is about.

Ask anyone who first portrayed Double Oh Seven and 99.9% would say Sean Connery. This group is thinking of the 1962 motion picture "Dr. No" and remembering the scene at the Baccart table. Where the audience sees Sylvia Trench (Eunice Grayon with the dubbed voice of Nikki ven der Zyl) ask the man across from her his name and Connery makes the classic reply: "BOND! James Bond!"
Problem is the other .1% know otherwise.
A Quick Publication Look At The Novel
The following cover is of the first edition and was designed by Ian Fleming himself.
The novel, note the name Pierce Bronson fans, was written at Fleming's "Goldeneye" Estate located on Oracabessa Bay on the island of Jamaica in 1953. His estate was the second time Ian Fleming used the name "Goldeneye". It was originally a World War 2 Intelligence Operation he was in charge of to monitor Spain. This took place after a possible alliance between General Francisco Franco, dictator of Spain, and the Axis Powers, Germany and Japan was revealed to MI-5.
"Casino Royale" was published in the U.K. by Jonathan Cape Publishers. The first run totaled 4,728 copies and sold out during April 1953 the month it was released. A second print run in April also sold out and in May 1954 another 8,000 copies were printed. The sales of the novel were so strong that Jonathan Cape contracted with Ian Fleming for two more novels. On April 5, 1954 "Live and Let Die" was released. Followed exactly one year later on April 5, 1955 with "Moonraker".
In the United States two publishers turned "Casino Royale" down. Finally Macmillan Publishing accepted it. They printed 4,000 copies and released it on March 23, 1954. Sales were very poor and that first run wasn't a sell out for years. American Popular Library in 1955 published a paperback edition under the title "You Asked For It". They also changed James Bond's name to the more American "Jimmy Bond" in the printed run.
Interest in the novels in the United States would change after President John Fitzgerald Kennedy stated that Ian Fleming's fifth novel "From Russia Was Love" was one of his top ten favorite books in a "Life Magazine" interview published for March 1961.
How Did Ian Fleming See James Bond's Appearance And Habits
Most people know James Bond has some personal characteristics and habits of Ian Fleming. These were revealed in the first few pages of "Casino Royale" related to drinking, card playing and fast cars, but as for what the author thought Bond looked like. The author was thinking more of America singer/composer/actor Hoagy Carmichael.
Here is a sketch made by Ian Fleming of how he envisioned James Bond and in looks you can clearly see Hoagy Carmichael.
The First Of The Times Three
The first actor to portray Ian Fleming's "James Bond" was Barry Nelson on American television. We already know the title of Bond's first appearance, but when did this take place?
From 1954 through 1958 CBS had an anthology series entitled "Climax" aka: "Climax Mystery Theater", The series was originally hosted by actor William Lundigan. Lundigan would have 87 appearances as an actor not including hosting "Climax". He was seen as early as 1937 and appeared in films such as as 1939's "Dodge City" and in 1940 "The Sea Hawk" and "Santa Fe Trail" all starring Errol Flynn. At the time of hosting "Climax" he was also seen in the second movie of Ivan Tors' "Office of Scientific Investigation" trilogy 1954 "Riders to the Stars". I wrote about this early Science Fiction motion picture trilogy at:
http://www.bewaretheblog.com/search?updated-max=2016-07-29T05:59:00-07:00&max-results=7
"Climax" was broadcast both in black and white with some episodes in color for the few who had such sets at the time. The only surviving programs are in black and white Kinescope. One of these is "Casino Royale" which can be found as of this writing on the Internet, or DVD.
The novel was changed for the American television series and the program's running time without commercials became 48 minutes. "Casino Royale" premiered on October 21, 1954. This was eight years prior to Sean Connery's"Dr. No" first appearing in London on October 5, 1962 and eight years. seven months before the motion picture arrived in the United States on May 8, 1963.
British agent James Bond 007 took on the persona of a member of the American "Combined Intelligence Agency". Take the obvious first initials of this factious U.S. Agency and you have "C.I.A.". Bond's first name became "Jimmy" as in the paperback release of the novel in the United States.
As for Fleming's actual C.I.A. agent Felix Leiter. Leiter became a British MI-6 agent named Clarence Leiter. The first actor to play Felix "Clarence" Leiter was Australian actor Michael Pate.
Barry Nelson started his acting career in 1938. During World War 2 he appeared in several war based films such as with Robert Taylor in "Bataan" and "Winged Victory" were the actor was billed as "Corporal Barry Nelson", because of his actual Army rank, In fact all the actors with actual military rank were listed that way in the film's credits as an odd means of helping American film goers morale.
In 1947 Barry Nelson played real life Army Air Force Colonel Paul Tibbits in the motion picture "Beginning or the End". The picture was Hollywood's Government approved recreation of the Manhattan Project and the dropping on Hiroshima by Tibbits' air crew of the Atomic Bomb. Starting in 1949 with "The Ford Theater" the actor stayed mainly with television programs through 1990. One of the exceptions was the role of "Ullman" in Stanley Kubrick's 1980 "The Shinning".
Australian actor Michael Pate was busy at the time in the American film industry. Among his appearances was the Apache Chief Victtorio in John Wayne's 3-D picture "Hondo". He had appeared as the Butler in the Richard Carlson 3-D horror picture "The Maze", as a reporter in George Pal's "Houdini" and as Flavius in MGM's version of Shakespeare's "Julius Caesar" starring Marlon Brando as Mark Anthony and James Mason as Brutus. My readers can find his story and that of Woody Strode on my blog at:
http://www.bewaretheblog.com/2015/03/woody-strode-and-michael-pate-one.html
With these two actors the stage was almost set for the first version of Ian Fleming's "Casino Royale", but what is James Bond without a "Bond Villain"?
Playing the evil Le Chiffre was that perfect piece of casting Peter Lorre.
Two months after his appearance on "Climax" Lorre would be seen as "Conseil" in Walt Disney's "20,000 Leagues Under the Sea". Like many in the industry with falling motion picture fortunes Lorre started appearing mainly on television between 1952 and 1964 with the occasional big screen appearance. As in three Irwin Allen productions starting in 1959 with "The Big Circus" and followed by 1961's "Voyage to the Bottom of the Sea" and 1962's "Five Weeks in a Balloon". After which Peter Lorre became a face to recognize in American International Pictures productions such as "Muscle Beach Party", but had one last fun role in Roger Corman's "The Raven". Where he played a sorcerer turned into the title bird by Boris Karloff and rescued by Vincent Price. The three ad-libbed several very funny scenes and turned what should have been a terrible film with their straight man being played by a young Jack Nicholson into a classic.
Of course "Casino Royale" needed a "Bond Girl". Most people consider that the above mentioned Eunice Grayon has that distinction, but in this production it was Linda Christian .Valerie Mathis is introduced as the former lover of Bond and not Vesper Lynd as in the novel. To add insult to injury. The actual character of Bond's contact in Montenegro was a man named Rene Mathis. Who was merged with the Lynd character for television.
Christian was actually a Mexican-American actress born in Tampico, Mexico. Her first appearance was a walk on in a 1943 Mexican film known in English as "The Rock of Souls". Linda Christian had very small parts in 1947's "Green Dolphin Street" starring Van Heflin, Lana Turner and Donna Reed, 1948's "Tarzan and the Mermaids", but had fifth billing in 1952's "The Happy Time" starring Charles Boyer, Louis Jordan and Marsha Hunt. Christian's next role was the female lead of a Columbia Studio production from Sam Katzman in 1953 called "Slaves of Babylon". The only thing to remember about this motion picture was that the director was William Castle five years before he made "Macabre" and entered the gimmick horror film business. After "Casino Royale" Linda Christian appeared a few times more on American television and then went to Italy to make films there.
So now all the main players were in place, if not as Ian Fleming had imagined them to be. However, CBS had paid him $1,000 to turn the novel into a "One Hour" screenplay for this program only. At the time of this writing inflation tells us that would now be $9,063. Not much of a royalty in hindsight for what the series became.
This was "Live Television" and the program was divided into "Three Acts".
Act One:
We see people being let into the Casino by the doorman. As Bond starts up the stairs he is shot at, with some good effects, by an unknown person. Upon entering the "Casino Royale" he is approached by the manager offering assistance after the shooting and also by Clarence Leiter. Leiter in everyone's hearing says he remembers Bond from a game of Baccart he observed and wasn't he called "Card Sense Jimmy Bond"? Clarence than says he could never understand the game and asks Jimmy if he would explain it to him. The two go to a table in the bar area and identify themselves to each other. As part of their cover story Bond starts to teach Leiter and the American television audience in turn Baccart.
As this cover progresses Clarence explains to Jimmy that his mission is not to kill Le Chiffre, but to make him loose the following nights card game. Le Chiffre stole 87 million Francs from his Soviet Handlers and he has come to the "Casino Royale" to win it back, or if not the Soviets will kill him.. Leiter points out Le Chiffre, his body guards, but Bond notices that with the Soviet Agent is an old lover Valerie Mathis. Valerie approached Jimmy and Clarence at the instruction of Le Chiffre to talk Bond out of playing cards..
The following night we see Bond enter the card game and the act ends.
Act Two:
Bond receives a phone call warning that if he does win Valerie's life is forfeit. The Baccart game is very suspenseful and handled very well finally leading to a win for Jimmy Bond Afterwards Valerie seems to disappear. Jimmy returns to his hotel room to hide the check and Valerie enters. Just when Bond thinks she's now safe. Le Chiffre and his bodyguards show up and capture the two. Le Chiffre surprises Bond by mentioning he has discovered the Valerie Mathis is in reality an agent of the French "Deuxieme Bureau".
The "Deuxieme Bureau" was the French Military Intelligence Agency, but was dissolved when France signed it's armistice with Nazi Germany in 1940. The term "Deuxieme Bureau" returned to usage after the Second World War. However, it was used as a general term for the French Intelligence Services in general.
The same can be said for the British MI-5. MI-5 was also the Military Intelligence Arm of the British Secret Service and was dissolved after the Second World War. Although today the term still is a part of the lexicon.The section with the "Double Ohs" under "M" still seem to be a part of M-5. not MI-6 in Ian Fleming's novels. As was the author during World War 2. While the motion picture series implies they might be in the more widely known MI-6. Speaking of MI-6 they have a website with the slogan:
We Work Overseas To Help Make the UK A Safer And More Prosperous Place
https://www.sis.gov.uk/
The other counter to the French Deuxieme was the Soviet Union's Intelligence group known as "SMERSH" that remind in name only after World War 2, The character of Rosa Klebb worked for "SMERSH" in Fleming's fifth novel "From Russia With Love". While America's "Office of Strategic Service (O.S.S)" after the Second World War of course became the "Central Intelligence Agency (C.I.A.).
Act Three:
This Act contains a little more implied violence than many other television shows at the time. Le Chiffre tortures Jimmy Bond for the purpose of locating the bank check for his winnings. First he is beaten up by his guards, Then he's placed in a tub of ice water, tied up, and with a sharp pair of hand held clippers Le Chiffre cuts Bond's toes. Of course our stalwart Bond does not reveal this information, but Valerie can't help mentioning something she saw that lead Le Chiffre to the check. A variation of Vesper Lynd's deal to save Bond's life from the novel.
Even in this condition Jimmy Bond enters into a fight with Le Chiffre's guards and is also able to shoot and wound the Soviet Agent. Bond sits down in a chair between Valerie with Le Chiffre in another. As Valerie crosses between the two men to get the bank check from Le Chiffre's pocket. He is able to grab her and threatens the other man with killing the girl with a razor blade he had hidden. Valerie is able to break the grip just enough to permit Jimmy to kill the other man. The death of Le Chiffre is missing in most of the releases of the kinescope of "Casino Royale", but has been recently located.
For those of my readers who are into "Bondage". This show seems not only dated, which some of the Sean Connery vehicles are also, but for the exception of Peter Lorre at his evil best. The other members of the cast, including Barry Nelson, seem really miscast. In defense of Nelson there really wasn't any meat to the part written for him in this skeleton remains of the original novel and he was up against a great Scene-stealer in Lorre.
The 1954 "Casino Royale" became forgotten over the years. It wasn't until 1981 that is was rediscovered by film historian Jim Schoenberger in a bunch of old Kinescopes he was shown. By that year Roger Moore was playing James Bond on the big screen for the fifth time in the twelfth entry of the film series "For Your Eyes Only".
If you think the original "Casino Royale" was odd. How about a movie with seven James Bonds, six directors and three on screen credited writers and one not given credit?
Two Of The Times Three
In 1967 Sean Connery was back as "Bond, James Bond" in the fifth entry of the series "You Only Live Twice". This after his much publicized one picture walk away from the character By 1967 both good and bad parodies of Ian Fleming's character were on the screens across the world.
One of these parodies was in 1966 as actor James Coburn appeared in the excellent "Our Man Flint". He would return in the sequel "In Like Flint" during 1967.
"Our Man Flint" contains the following not so subtle Bond references. Derek Flint is offered Bond's "Walther PPK" and a attache case with hidden gimmicks. He refuses them as being too crude. After a brawl that Flint and a British Agent set up. The audience learns the British Agent is known as Double Oh Eight. He was played by Sean Connery look a like Robert Gunner seen below. Another scene featured a women reading a Double Oh Eight novel.
To be exact between the first parody from the U.K. 1964's "Agent 8 3/4" starring Dirk Bogarde through Italy's "OK Connery" released 7 days after the second "Casino Royale" on April 20, 1967. There had been a total of 22 spoofs released world wide with such actors as Vincent Price, Monica Vitti, Ray Danton and Mike Connors and the spoofs would continue.
To illustrate the extremes some went to parody James Bond. The Italian made "O.K. Connery" aka: "Operation Kid Brother" was about James Bond's younger brother also a British Agent. He was played by Neil Connery. Who of course was Sean's actual younger brother.
This picture also featured Adolfo Celi who was Emilio Largo in "Thunderball" and Daniela Bianchi who played Tatiana Romanova in "From Russia With Love". Both Bernard Lee the original "M" and Lois Maxwell the original "Miss Moneypenny" were featured in this film. While both actors were being seen in there actual James Bond roles in "You Only Live Twice" that same year. The Bond picture marking Sean Connery's return to the series.
And then there was the second version of "Casino Royale" from Columbia Pictures. This final cut was way over the top and is still considered the best James Bond parody. The film included an all star cast, some in cameo's, and a few unknowns who became stars shortly afterward.
The history of the picture actually goes back to March 1955 when Ian Fleming once again sold the rights to his first James Bond novel to actor'producer Gregory Ratoff for $6,000, or in 2017 $54,582. By the date of Gregory Ratoff's death five years later he had still not find backers. Enter producer Charles K. Feldman representing Ratoff's widow and obtaining the rights to "Casino Royale" for her.
In 1960 Feldman and his friend director Howard Hawks had plans to turn the novel into a movie starring Cary Grant at James Bond. Just prior producer Albert R. Broccoli had offered to purchase the rights to the novel from Charles K. Feldman, but Feldman turned him down wanting to make his own picture.
Meanwhile Broccolli teamed up with producer Harry Saltzman to form EON Productions and acquired the rights to all remaining and future James Bond novels by Ian Fleming. When 1962's "Dr. No" premiered Charles K. Feldman,m who as yet had found backers, attempted to sell the rights to "Casino Royale" to Broccoli, but was refused.
In 1965 after investing over $550,000 of his own money in pre-production. Charles K. Feldman approached another friend of his about an initial screenplay. This was the journalist/screenwriter/playwright Ben Hecht. Among Hecht's large volume of work were the screenplays for Alfred Hitchcock's "Spellbound" and "Notorious". Carlo Ponti's adaptation of Homer's "The Odyssey" as 1955's "Ulysses" starring Kirk Douglas" and previously without screen credit 1951's "The Thing from Another World". Hecht would wrote a parody of Fleming's work and Feldman took it to Columbia Pictures. Which brings my reader to the 1967 motion picture release.
Although once again Ben Hecht received no on screen credit. The three writers who put together the final screenplay were Wolf Mankowitz and British television comedy writers John Law and Michael Sayers. The result is at times a extremely funny screenplay and it reflects the year it was made and the political and social changes going on.
Then we have those six directors who could be working on different scenes at the same time, because of the way the screenplay was set up. As unlike most other pictures not all the main characters are involved in all the sequences. Basically because of having seven James Bond's..
They Directors were:
Ken Hughes:
Among his work were 1955's "Timeslip" aka: "The Atomic Man, 1960's "The Trials of Oscar Wilde", 1964's "Of Human Bondage" and he would co-write 1968's "Chitty Chitty Bang Bang" based upon Ian Fleming's only children's story. In "Casino Royale" Hughes directed all of the Berlin sequences including the great looking espionage dance academy sequence.
John Huston:
Where does one start? There's 1941's "The Maltese Falcon", 1948's "The Treasure of the Sierra Madre", 1950's "The Asphalt Jungle", 1951's "The African Queen" and 1963's "The List of Adrian Messenger" and you get my point. He directed the scene's at "Sir James Bond's Home" and the very funny "Scottish Castle Sequence".
Robert Parrish"
His credits included several World War 2 propaganda films as a film editor under Commander John Ford. Feature films included Gregory Peck's 1954 "The Purple Plain", 1955's "Lucy Gallant" starring Jane Wyman and Charlton Heston, Robert Mitchum in 1959's "The Wonderful Country" and the sequel for Daryl F.Zanuck's "The Longest Day" 1965's "Up from the Beach". Parish directed the Peter Sellers and Orson Wells casino scenes.
Val Guest"
Known by British Horror fans for his work with Hammer Films. This included 1955's
"The Quatermass Experiment" aka: "The Creeping Unknown", 1957's "Quatermass 2" aka: "Enemy from Space" and also 1957's "The Abominable Snowman" aka: "The Abominable Snowman of the Himalayas". Val Guest directed the sequences with Woody Allen including the film's wild ending and other sequences as a back up director.
Joseph McGrath"
A Scottish television and film director best known for Peter Sellers and Spike Mulligan's "The Goon Show". McGrath directed most of the scenes between Peter Sellers and Ursula Andress.
Richard Talmadge:
Was a silent screen actor, stunt man and assistant director. He also worked as a stunt coordinator in "The Greatest Story Ever Told" and "How the West was Won. Talmadge was the Second Unit Director for "Casino Royale", but received no on screen credit for his work.
The great music score was written by Burt Bacharach and the lyrics for the Oscar nominated song "The Look of Love" by his partner Hal David.
The budget for the motion picture was $12 million dollars and world wide grossed $41.7 million.
The plot is very simple. William Holden of the American CIA., John Huston as "M", Charles Boyer as a representative of the French Deuxieme Bureau and Kurt Kaszner of the KGB go to see the "Sir James Bond the one and only real James Bond 007", played by David Niven, who is in retirement. Their mission is to get him to return and stop whomever is killing off all their spy's. Sir James is also very upset about that "Fellow" who has taken on his name ruining his legacy by going to bed with every women he meets.
As "M" and the others drive through Sir James' estate there is a sequence with lions. One of the lions gets on top of the four men's car. At this point a little fun occurs as Bacharach's score cuts to a refrain from John Barry's popular theme from the previous years "Born Free" about Elsa the Lioness. Bacharach uses the same type of bit in the Berlin sequence. As Joanna Petit lifts a manhole cover and the audience hears a refrain from Burt Bacharach's and Hal David's theme from 1965's "Whats New Pussycat" that starred Peter Sellers. Listen closely to the music when Orson Wells performs magic and you'll hear a refrain from the theme for Dan Curtis' popular television show "Dark Shadows".
Sir James Bond returns and comes up with a plan to confuse "SMERSH" by having every agent called James Bond 007. Vesper Lynd, Ursula Andress, is given the job of recruiting the author of a book on Baccarat Evelyn Tremble, Peter Sellers, to play against Le Chiffre, Orson Wells, in the above shown Baccarat sequence.
In another sequence Sir James goes to the Scottish castle of "M". What the audience knows is that SMERSH has sent agent Mimi, Deborah Kerr, to seduce and kill him. The castle is populated with M's 11 "Daughters". All agents of SMERSH there to distract Sir James. The castle sequence leads to Mimi, after a night with Sir James, giving up SMERSH, saving him from the "Daughters" and going to a Nunnery.
Miss Moneypenny, Barbara Bouchet, is given the job of finding a "James Bond" who is not effected by beautiful women and can keep his mind on the job. It's a funny sequence that ends with Bouchet and actor Terrence Cooper in bed of course.
Sir James, himself, goes on a mission to find his illegitimate daughter Mata Bond, Joanna Petit. The reason for her first name is that her mother was the Dutch Dancer working for the German's during World War One Mata Hari. Mata is sent to a Dance School in Berlin that is a cover for a training school for SMERSH operatives.
Remember the year of this film was 1967. To get to Germany Mata takes a British Taxi from London to Berlin in one of the sight gags.
Once Mata enters the Dance School the sets are all German Expressionist and copies from the 1920 silent classic "The Cabinet of Dr. Caligari", I could not locate any stills of them, but with the black and grey crocked stairs and other elements this set stands out.
All of this nonsense comes to a head when the evil Dr. Noah, would you believe Woody Allen as "Little Jimmy Bond", kidnaps Mata Bond with his flying saucer.
Then he reveals, to Israeli singer/actress Daliah Levi, that his evil plan is to release a bacillus into the air that will turn all women beautiful and kill all men over 4 feet 6 inches tall. Daliah was born in 1942 in the British Mandate of Palestine before the U.N. declaration of the State of Israel in 1947. Her role in "Casino Royale" was "The Detainer". I mean James Bond 007.
Sir James and Miss Moneypenny are initially captures like all the other agents, but manage to escape and with the help of the Frankenstein monster's directions save all the captured agents.
My reader probably knows the actor, in the Frankenstein make-up, David Prowse as the body for "Darth Vader" in the original "Star Wars" trilogy. He would also play the Frankenstein monster in Hammer Films 1971 "The Horror of Frankenstein" and 1974's "Frankenstein and the Monster from Hell".
At this point the movie becomes one Mack Sennett slapstick comedy including his "Keystone Cops", After William Holden brings the U.S. Calvary to the rescue.The audience sees Indians jumping from a 007 airplane yelling "Geronimo". Their parachutes turn out to be Tee Pees.
French action film leading man Jean-Paul Belmondo shows up as a French Legionnaire coming to help save the Bond's. The comic bit here is that Belmondo's character doesn't speak English and uses a French to English translation book to speak his lines.
Classic American movie gangster George Raft shows up as a man who shot himself with a gun that shoots backwards.
And the gags rolls on until thanks to "The Detainer" "Little Jimmy Bond" has swallowed his atomic bomb pill and we reach the end of the count down as the casino and everyone inside are blown up by an atomic explosion.
One of the earlier attempts to kill Peter Sellers by SMERSH was with a beauty called "Miss Goodthighs". According to the credits she was played by "Jackie" Bisset. The scene lasted maybe three minutes.
Three films later in 1968's "The Sweet Ride". Jacqueline Bisset would be nominated for the Golden Globe as the Best New Actress and follow that film, the same year, with third billing in Frank Sinatra's "The Detective". Then still later that year she would have another third billing in Steve McQueen's "Bullett".
Watching the film you will recognize other actors who appeared in the actual James Bond series like Vladek Sheybal in "From Russia with Love" below: He was also known for many British television roles such as 10 episodes of the classic series "UFO" as Dr. Doug Jackson, or "Smiley's People". American audiences would also recognize Sheybal as the Russian officer in the original 1984 "Red Dawn".
Or how about Caroline Munro who was one of Dr. Noah's guards, on the left of Woody Allen, having no lines and a few seconds of a group shot.
Munro would become familiar with two non screen credited roles as Victoria Regina Phibes in both Vincent Price's "The Abominable Dr Phibes" and "Dr. Phibes Rises Again". She later had the female lead in Ray Harryhausen's "The Golden Voyage of Sinbad", Caroline Munro would also be seen in Hammer films "Captain Kronos Vampire Hunter" and be the Princess of Pelicuidar in "At the Earth's Core" with Doug McClure and Peter Cushing. As well as appearing on "Space 1999" among her credits.
My readers can find the 1967 "Casino Royale" on DVD and Blu-Ray.
Three Of The Times Three
Barbara Brocolli the daughter of the late Albert "Cubby" Brocolli, and now in charge of her father's EON Productions, wanted to film the one James Bond novel he wasn't able to do "Casino Royale".
Her first hurdle was the two previous versions were owned by two different motion picture groups. The 1954 television version had become the property of Sony Pictures and the 1967 motion picture had always been Metro-Goldwyn-Mayer's (MGM).
Getting the rights to the 1967 motion picture was no problem as EON Productions now distributed through MGM. Most of the original James Bond pictures EON had made were distributed in the United States by United Artists, When U.A. faced major financial problems. MGM had purchased the studio and it's library. So the only problem seemed to be the Sony owned television property. That was solved not by EON, but Sony itself. They wanted to make the MGM owned property "Spiderman" and in 1999 the two studios just exchanged the rights for "Casino Royale" and "Spiderman". Unforeseen, at the time, was by the start of production on "Casino Royale". Sony Pictures had purchased MGM.
It would be 2004 before the decision to actually film the Ian Fleming novel was made. At which point the writing team of Neal Purvis and Robert Wade were assigned to create the story and the initial screen play. The team had already provided those for "The World is Not Enough" and "Die Another Day".
There were two main factors at this point for the writing team. The first was it was believed James Bond would still be Pierce Brosnan and that did dictate some restrictions to the character. The second was that the two writers asked for and received permission to drop almost the totality of how Bond had been portrayed on the screen since 1962 and return to Ian Fleming's original novel. Therefore, a small conflict existed.
However, with their finished story the only major change to the novel came at the screenplay's climax. Purvis and Wade had followed Ian Fleming's work almost to the letter.
For the rewrite EON brought on board Paul Haggis to look the script over. He had worked as a writer and director on American television programs such as "thirtysomething" and "Walker Texas Ranger". His main change was Veper Lynd's death scene. In a December 4, 2007 interview in "The Guardian". Paul Hagis said:
I don't know why but I thought that Vesper had to be in the sinking house and Bond has to want to kill her and then try and save her.
As for who would direct "Casino Royale" Quentin Tarantino approached EON productions, after speaking with the Estate of Ian Fleming, to make the motion picture. He wanted to set the film back in the 1960's and have Pierce Brosnan also play James Bond. Barbara Brocolli turned his offer down. Tarantino always said he lost the film, because he had been working with Fleming's estate on how to approach the novel.
EON Productions chose director Martin Campbell. From a strictly James Bond film perspective Campbell had directed "GoldenEye", but by this time had also had directed both "The Mask of Zorro" and "The Legend of Zorro",
So who was to be James Bond 007?
Pierce Brosnan had completed his four picture contract with EON Productions to play Bond and he decided to go in other directions as he approached his 51st birthday. This eliminated any changes to James Bond's character to fit Brosnan. 2004 found the actor in the Romantic Comedy with Julianne Moore "Laws of Attraction".
EON decided to go with 36 year old Daniel Craig. Most American audiences knew him mainly for "Lara Croft: Tomb Raider" playing the villain of the piece Alex West. Craig had also been in Tom Hanks' "The Road to Perdition", but most of his work was in the UK in both films and television. I highly recommend the 2005 British spy mini-series, found on many streaming services, "Archangel" dealing with a plot involving a possible "son" of Stalin.
At first Craig did not want the roll. He envisioned James Bond as Sean Connery and the others that followed him. With them Bond just was not real to the actor and he refused the part. His agent asked him to read the script and according to the actor he changed his mind.
Daniel Craig re-envisioned 007 as more in line with his part of "Steve" in the excellent Canadian-American motion picture "Munich". That film tells a straight forward story based upon "Operation Wrath of God". Which was Israel's retaliatory mission against the members of the "Palestine Liberation Organization (PLO)" that attacked the Israeli delegation to the 1972 Olympic Games.
According to "The Daily Telegraph" interviewer Richard Grant in 2008 at the time "Quantum of Solace" was released. The actor referred to the Mossad and British Intelligence Agents on the set for "Munich" as his models for 007. Craig told Grant:
Bond has just come out of the service and he's a killer. [...] You can see it in their eyes, you know immediately: oh, hello, he's a killer. There's a look. These guys walk into a room and very subtly they check the perimeters for an exit. That's the sort of thing I wanted.
Sean Connery as Bond when we first see him in 1962's "Dr. No".
Below Daniel Craig in "Casino Royale" in 2006.
So let's take a look at Vesper Lynd in these three productions.
In the CBS 1954 television show "Climax". We had a newly created character named Valerie Mathis. She was loosely based on the character of Rene Mathis, but with minor touches of Vesper Lynd.
Rene Mathis in the novel was a long time friend of James Bond and is a member of the French DGSE (Directorate-General for External Security). Which is the actual name of the French Military Intelligence Unit after the Second World War that originally was the Deuixieme Bureau. However, Ian Fleming used the two terms interchangeably in his novels.
On "Climax" the audience finds out that Valerie Mathis works for the Deuixieme attempting to stop Le Chiffre. As Rene Mathis was initially doing in the novel. However, because of the 48 minute running time. The whole Vesper Lynd subplot of being a double agent and attempting to recover Bond's winnings was removed. As was an additional subplot involving the actual Rene Mathis.
In the 1967 production Vesper Lynd also has been changed. Playing her, as I mentioned above, was Ursula Andress. Andress had appeared as the "body of Honey Rider" in 1962's "Dr. No". Her speaking voice was dubbed by Nikki van der Zyl. As she had also done Eunice Grayson's, Ursula Andress' singing voice was provided by Diana Coupland. because her Swiss accent was considered "too thick" at the time and her English not perfect yet.
In the 1967 spoof Vesper Lynd is a millionairess and retired British agent. Sir James Bond wants her to come out of retirement to, if necessary, seduce Evelyn Tremble into playing Baccart against Le Chiffre. When we first see Vesper she is in a business setting with computers, stock market ticker tape machines and many accounting employees. One of them approaches her with a model of the Eiffel Tower to tell her the French will let her buy it and quotes a price. In a scene in her private bedroom. Tremble notes a statue of Lord Nelson that should be in Trafalgar Square and comments about it and Vesper replies "It Was!".
In a dream sequence with a Scottish Bagpipe and Drum marching band. Evelyn Tremble is seen being confused as they march back and forth around him. Vesper Lynd appears playing the pipes. She stops, aims the Chanter, the melody pipe, at the marches and it becomes a machine gun killing everyone, but Tremble. Cut to a bit of the actual Fleming character as Lynd re-informs Tremble of her warning not to trust anyone and kills him. After Vesper reveals she's a double agent for SMERSH..
.
The closest version of Ian Fleming's Vesper Lynd is found in the 2006 "Casino Royale" played by French actress Eva Green. However, two small changes to her background were made. She in no longer the personal assistant to the Head of Section S (Soviet Union), but a foreign liaison agent for "HM Majesty's Treasury's Financial Action Task Force". Which like it's counterpart "Financial Action Task Forces" around the world investigates International Money Laundering.
In the 2006 "Casino Royale" Vesper is assigned to make sure James Bond, known for spending over budget, manages the funds provided to him to bankrupt Le Chiffre. Who is identified as a "terrorist banker" that distributes funds to "Clients". The other background change is that instead of the Soviet Union's "Ministry of Internal Affairs" (MVD). Lynd's double agent status comes from a mysterious organization that will be revealed in the sequel as "Quantum". "Quantum" will eventually be tied, in later films, not to the Soviet Government, but "Spectre" through a character called "Mr. White".
The plot could have been set in the 1960's like Quentin Tarantino wanted it, or for that matter 1953 when Ian Fleming's "Casino Royale" first came out. EON Productions was throwing away the previous 20 motion pictures and reinventing James Bond for the 21st Century.
James Bond is first seen not as the confident 007 Sean Connery played in "Dr. No", but in more ways a typical gangster "Hit Man". The audience meets him when he performs a double assassination of the MI-6 section Chief for Prague and his terrorist contact. This mission finally brings Bond the 007 designation by "M".
His next mission, after breaking into "M's" house to learn what he can about his new boss off her "Secured" computer, has him going to Uganda. It is here that two characters are introduced. One is known only as "Mr. White" and the other is Le Chiffre. In the novel Le Chiffre and double agent Vesper Lynd work for SMERSH.
The audience NEXT sees an Uganda warlord give money to Le Chiffre. The plan is to sell stock short in an aerospace company called "Skyfleet" as a move to increase the Uganda's cash and establish a bank account. The plan depends upon an accident occurring to one of "Skyfleet's" aircraft.
In Madagascar Bond is after a bomb maker, finds him, but in the process of killing the bomb maker blows up an African embassy. "M" in turn suggests he might want to reconsider his line of work, because he can't just go around blowing up buildings. Kind of a homage to the earlier film series as James Bond now becomes a more serious double oh agent. While retaining that killer instinct and hard case attitude not fully developed on film until now as Fleming had written the character.
However, even "M" agrees that clues from the bomb maker seem to point to a corrupt Greek official. Bond traces the Greek to the Bahamas where he seduces the official's wife to learn his whereabouts, Miami, Florida. There he kills the Greek and follows one of the Greek's hired men to the airport and the "Skyfleet" aircraft that is to be destroyed. As a result the man who was to destroy the aircraft is killed and the aircraft stays undamaged. This of course now results in Le Chiffre's plan failing, but most of all costing Le Chiffre the funds he will now need to replace or be killed himself.
Arriving at the "Casino Royale" James and Vesper meet their MI-6 contact Rene Mathis. This leads to the famous card game, but with a change. In the original novel and the 20 previous motion pictures Bond plays Baccart. However, in this picture that game is updated to a Poker variation known as "Texas hold' em" aka: ("Texas holdem", or "holdem" or "hold 'em")., Initially Bond looses as is seen in both other versions and the novel. As this film follows the novel CIA Agent Felix Leiter gives him the needed cash to finally beat Le Chiffre with a "Straight Flush". After recovering from being poisoned in a drink by Le Chiffre's girlfriend.
This change in card games was telegraphed in the opening credits and some of the posters for the film.
Le Chiffre captures both Bond and Lynd to find out where's the account he set up with the winnings. He reveals to the two that Rene Mathis is actually a mole in MI-6 from the organization he works for.
Unlike 1954 in which Bond is tortured in a tub of ice cold water, or in 1967 when Peter Seller's Evelyn Tremble aka: James Bond is placed in a chair similar to the one described by Ian Fleming, but instead of physical torture is subjected to hallucinatory, let's hear it for the LCD culture of the time, torture. In this version Le Chiffre gets down and dirty as a naked James Bond is subjected to the torture described by Fleming in his novel.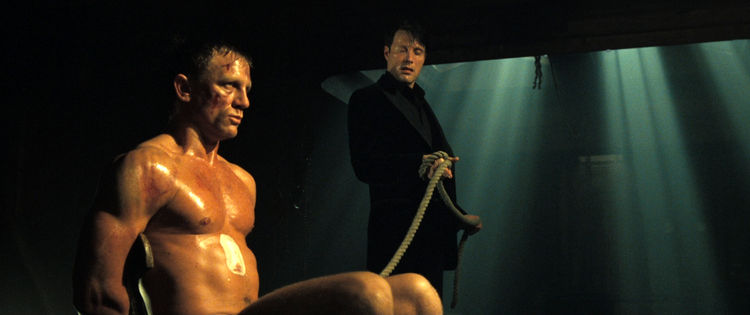 Bond of course refuses to reveal the location of the account and Le Chiffre decides to castrate the British agent. A that moment the mysterious "Mr. White" breaks in and kills Le Chiffre. Bond passes out and awakens in a hospital on Lake Como, in Lombardy, Italy. He is told Mathis has been taken into custody by MI-6.
James Bond and Vesper Lynd fall in love with each other. Vesper is the only true love Bond has before the women he married the "Contessa Teresa di Vicenzo (Tracy)" in Ian Fleming's 11th novel "On Her Majesty's Secret Service". James Bond 007 resigns from the Secret Service to live his life with the women he loves as the two travel to Venice, Italy.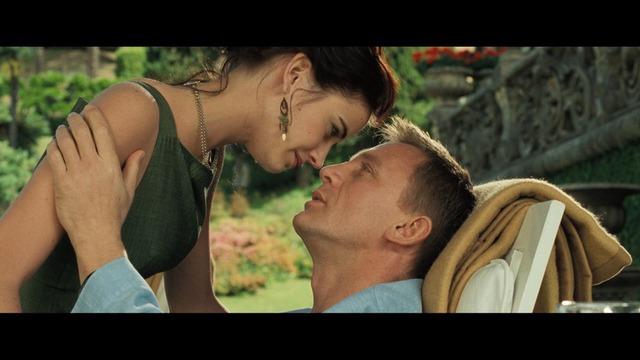 Bond receives a call from "M" informing him that the money he won from Le Chiffre never was deposited in the bank account. At that moment all his plans for his future come to an end as he realizes that Vesper stole it.
He follows Vesper and her associates to an abandon building on Venice's Grand Canal.
A struggle occurs as Bond kills those with Lynd, but the building that was under renovation starts to stink into the canal as a result of the damage to the supports during the fight. Vesper is trapped and is drowning. Bond attempts to rescue her, but she dies. Watching all of this is the mysterious "Mr. White" who ten calmly walks away with the money James Bond wanted to retrieve.
In the novels that follow Bond will visit Vesper's grave many times. Even after he meets Tracy.
"M" contacts James once more and informs him that those behind Le Chiffre had captured Vesper's lover and threatened to kill him, if she did not become a double agent. To save his life she took their offer, but also while Bond was being tortured Vesper made a deal to save him for the money. That was why "Mr. White" showed up.
On his cellphone James discovers a text message from Vesper, It gives him White's name and phone number. At White's estate on Lake Como White receives a message asking who the other person was? Before White replies he is shot in the leg as Bond approaches giving the film's closing line:
The names BOND...James Bond!
EON productions has returned to that question posted by Sylvia Trench to the man opposite her at the Bacarat table in 1962's "Dr. No".