HE FOUGHT COMMUNISTS, XENOMORPHS AND THE CREATURE FROM THE BLACK LAGOON.

Today if somebody recognizes actor Richard Carlson's name, or photo. They're more than likely fans of 1950's Science Fiction motion pictures. Who associate Carlson with one of two specific film titles, These are 1953's "It Came from Outer Space" and 1954's "The Creature from the Black Lagoon",
An occasional fan of the stop motion animation great Ray Harryhausen might remember that Richard Carlson was in his 1969 tribute to his mentor Willis O'Brien "The Valley of Gwangi".
Otherwise Richard Carlson like many "B" actors is a forgotten person and most of his early work contributed to this fact.
I first saw Richard Carlson on a 1953 television series "I Led Three Lives" playing the real life Herbert A. Philbrick. The three lives of the title were average family man, card carrying member of the Communist Party and FBI undercover agent. The program was a great hit in "Cold War" America and I will discuss it at the appropriate point.
PART ONE: BROADWAY AND HOLLYWOOD
Richard Dutiot Carlson, whose nickname was "Dick", was born on April 29, 1912 in Albert Lea, Minnesota, part of Freeborn County in the southeastern part of the state. His father was successful lawyer Henry Carlson and his mother was Mabel Du Tiot. After High School Carlson attended college at "The University of Minnesota". Graduating with possibly two "Masters" degrees as there is confusion on what he received. Some call the degree a "Master in English" while other sites refer to a "Master of Fine Arts and Dramatics". One point is clear Richard Carlson graduated summa cum laude and Phi Beta Kappa.
After his graduation he was asked to teach Drama at the University of Minnesota. Carlson taught for awhile,but this was not were he wanted his life to go. He would leave the position and using his own money purchase a small local theater. Where he would both act and direct at times. What his age was when he purchased that theater I do not know, but he sold it prior to his 25th birthday after developing a solid resume as an actor.
By that 25th birthday Richard Carlson was appearing on Broadway. His first role was as Lawrence Ainsworth on March 5, 1937 in "Now You've Done It" at the Henry Miller Theater for the total run of 43 performances. In November of the same year he opened at the Guild Theater in "The Ghost of Yankee Doodle" starring Ethel Barrymore. Carson played Richard Holmes and the show ran for 48 performances. At this time Richard Carlson wrote a play entitled "Western Waters" which he co-directed at the Hudson Theater. It opened on December 28, 1937 while he was still appearing in "The Ghost of Yankee Doodle" and his play closed after only 7 performances. By the 28th of March 1938 Richard Carlson was back on the boards at the Hudson Theater once more with Ethel Barrymore in "Whiteoaks". The plays would run for 112 performances.
His next Broadway play which began on February 9, 1939 was also Richard Carlson's last This play was "Stars in Your Eyes" a musical comedy in which he sang as he would do in several motion pictures. By this time he had rose to third billing as John Blake behind star Jimmy Durante and co-star Ethel Merman. The play was directed by Josh Logan and it ran for 127 performances at the Majestic Theater. It was what had happened between the stage productions of "Whiteoaks" and "Stars in Your Eyes" that changed Richard Carlson's life.
Back on October 19, 1935 at 23 years of age and still in Minnesota MGM made a short for its very successful "Crime Doesn't Pay" series with the title of "Desert Death", It was about a man who kills another one for the insurance money, Richard Carlson was credited as playing the non-screen credited role of an "MGM Reporter". Whatever that meant and at this point in his acting career the idea of making motion pictures a life's work just didn't enter his mind.
However, while appearing in "Whiteoaks" he met motion picture actress and star Janet Gaynor. It was Gaynor who convinced Carlson to try movies and she had just the part for him to play. So on November 3,1938 a motion picture entitled "The Young In Heart" was released by United Artists for "Selznick International Pictures", Playing the role of Duncan Macrae was a young Richard Carlson. For a starting film being in a motion picture staring Janet Gaynor, Douglas Fairbanks, Jr. and Paulette Goddard wasn't to shabby.
In the film actor Roland Young plays the head of a family of con-artists with Fairbanks and Gaynor as his son and daughter. The love interests in this comedy are Fairbanks and Goddard and Gaynor and Carlson seen in the still below.
After finishing his run with "Stars in Your Eyes" Richard Carlson decided he wanted to be in pictures over the stage. He would move to California and get an agent and start making the rounds of the studios. After "Young In Heart" Carlson would be seen in some totally forgettable pictures, but with interesting casts as other actors were also starting out. The first of these motion pictures was "The Duke of West Point" starring Louis Hayward and Joan Fontaine in which Richard Carlson received fourth billing, "Winter Carnival" was next with Carlson getting second billing after Ann Sheridan.
Then back to fourth in 1939's "Those Glamour Girls" starring Lew Ayers and Lana Turner. Which was designed as a Lana Turner vehicle.
"Those Glamour Girls" would be followed by another Lana Turner vehicle called "Dancing Co-Ed", but Richard Carlson had moved up to co-star. In the film Turner is a professional dancer who is enrolled at a College so she can win the dance competition and appear in a major movie. Carlson is the reporter that smells something fishy with her and of course this turns into a romance. Actress Ann Rutherford had fourth billing right after Artie Shaw and his band. Look closely at the girl on the motorcycle in a quick shot during the picture and you will see a non-screen credited starlet named Veronica Lake.
Above Rutherford, Turner and Carlson.
Then another small film in 1939 "Little Accident" about a baby being passed from one person to another after a father abandons her. It was during 1939 that Richard Carlson married. I could not find anything about his wife other than her name was Mona. The two would remain married through his death 38 years later and have two sons Richard Henry Carlson and Christopher Hugh Carlson..
"Little Accident" was followed in 1940 by the fantasy motion picture "Beyond Tomorrow" aka: "And So Goodbye" and strangely for a film released on May 10th as "Beyond Christmas", It was a fantasy story about three industrialists who are killed in a plane crash. To be permitted into Heaven the three are told to atone for some of their ways/ Part of this is to be sent back down to Earth to help a young couple they initially brought together. The climax comes as the ex-husband of the new wife of Richard Carlson's James Houston apparently kills the young man after shooting them both in a jealous rage. Houston's wife is only slightly wounded, but James' spirit leaves his body and goes toward heaven. The three industrialists intervene on his behalf convincing an off screen voice to let the young man have a second chance at life.
I've mentioned Richard Carlson sang. On the authorized Sound Track for "Beyond Tomorrow" the following songs are listed as being sung by the actor:
It's Raining Dreams
Good King Wenceias
Jeanie with the Light Brown Hair
Home Sweet Home
Louisiana Lady
Below Richard Carlson in 1940
It was in Richard Carlson's next role that he found himself billed third after Bob Hope and Paulette Goddard in the 1940 comedy classic "Ghost Breakers". The story was about a radio broadcaster, Hope, an heiress, Goddard, Hope's quickly frightened stereo typical black valet played by the under appreciated African-American actor Willie Best , who all go to an island off of Cuba to investigate the alleged haunted plantation house Paulette Goddard has inherited. Carlson plays Geoff Montgomery who tells them tales of voodoo, zombies and other supernatural happenings that supposedly occur on Goddard's plantation apparently to scare the three off. Does he have another reason for his tales? Playing the Zombie was another African-American actor Noble Johnson known for playing Native Americans, but especially for the role of the Chief of Skull Island in the 1933 "King Kong". Here is a link to my article about this forgotten actor:
http://kinescopedreams.blogspot.com/2015/06/noble-johnson-african-american-pioneer.html
"Ghost Busters" was followed by another major motion picture starring Gary Grant. "The Howards of Virginia" tells of the lives of Matt Howard, Grant, and his wife reflected in the events of the American Revolutionary War. The motion picture was filmed in the newly restored Colonial Williamsburg, Virginia. Richard Carlson received fifth billing as Thomas Jefferson.
It was back to comedy in a Lucille Ball vehicle "Too Many Girls". Richard Carlson plays one of a group of professional football players sent by Ball's screen father to protect her when she enters Pottawatomie College. The pros end up on the college football team turning it into a powerhouse. Ball and Carlson are falling in love when she discover the truth. She leaves for her home in the East while the pro's follow her. The movie also co-starred Dancer/Singer Ann Miller. Who was just coming out of the chorus line and bit roles in other movies.
For fun look at the haircut on Richard Carlson. What a young actor had to do to be in a movie.


.
On the "Two Many Girls" Authorized Sound Track Richard Carlson sang:
I Didn't Know What Time It Was
Conga
Next with his hair grown back was the motion picture version of the musical "No, No Nanette" starring Anna Neagle as Nanette, Richard Carlson as Tom Gillespie and Victor Mature as William Trainer. The movie featured up and coming lady comedians Zasu Pitts and Eve Arden, In this musical Carlson sang:
I Want To Be Happy
Tea For Two
1941's "Back Street" was a drama starring Charles Boyer and Margret Sullivan based upon a best selling novel by Fannie Hurst. Richard Carlson had third billing as a character called Curt Stanton, but I have never seen this film and I could not find his character's name mentioned in any synopsis of the motion picture including the 1932 and 1961's versions.
Then Richard Carlson was back to comedy with something called "West Point Widow".The motion picture starred Ann Shirley, Richard Carlson and Richard Denning. The title appears to refer to the wife of a cadet going through the Army Academy, but no other information is available. Shirley was a 1930's teen actress who just couldn't break into the big pictures and retired from the industry at the age of 26. She was 21 when this movie was made.
"West Point Widow" has the distinction of being German director Robert Siodmak's first American film. Siodmak would go on to direct the classic Universal horror film "Son of Dracula" from a story by his brother Curt and the film noir that introduced Burt Lancaster loosely based upon an Ernest Hemmingway story "The Killers" among others.
Then it was back to ghosts for Richard Carlson in the Abbott and Costello comedy "Hold That Ghost" released August 6, 1941. Although Richard Carlson has first billing after Bud and Lou. Note how Carlson's name and the other actors are very small on this poster. The big pull to see "Hold That Ghost" after the comedy dual are the Andrew Sisters and Ted Lewis and his entertainers
Richard Carlson's next role was in the major motion picture "The Little Foxes" with the actor receiving fourth billing behind Betty Davis, Herbert Marshall and Teresa Wright. This was the outstanding screen adaptation of the Lillian Hellman play and was directed by William Wyler. Richard Carlson played the role of David Hewitt.
The motion picture was nominated for the following Academy Awards:
Best Picture (Samuel Goldwin), Best Director (William Wyler), Best Actress (Betty Davis), Best Supporting Actress (Both Patricia Collinge and Teresa Wright), Best Adapted Screenplay (Lillian Hellman), Best Music/Scoring for a Dramatic Film (Meredith Willson), Best Film Editing (Daniel Mandell) and Best Art Direction (Stephen Gosson and Howard Bristol).
It received none and actually lost RKO $140,000, but the public loved it.
Then as his luck would have it Richard Carlson nosed dived from an "A" list motion picture to a thriller/comedy that I could find no description about "Fly-By-Night". It was the second American film directed by Robert Siodmak. Carlson played the lead a character named Dr. Geoffrey Burton and Nancy Kelly played Pat Lindsey. Kelly had co-starred in the Tyrone Power film "Jesse James" as his wife. She had also co-starred in the Spencer Tracy film "Stanley and Livingston" playing Eve Kingsley among other "A" picture roles. Now she found herself like Carlson in this forgotten movie. Yet as the poster shows she received top billing as the better recognized name.
"The Affairs of Martha" was about how a small town community becomes worried when a maid is writing a tell all book. The film was followed by the equally forgettable "Highways by Night" whose plot is about a millionaire, Carlson, who joins the real world and meets a maid and mobster.
On November 7, 1942 Richard Carlson appeared in another Robert Siodmak directed motion picture "My Heart Belongs to Daddy". What the film was about other than being listed as a comedy romance on several sites including TCM is unknown. The title was the same as a popular Cole Porter song of the time. However, I have nothing to say it was used in the picture, or if the movie was partly a musical with Carlson once again singing. What is interesting is the name of his character Professor Richardson Inglethrope Culberton Kay aka: R.I.C. Kay aka: Rick,
I did locate this photo from the movie,
Then the following month Richard Carlson was billed fourth as Langford in another "A" picture "White Cargo" starring Heddy Lamar, Walter Pigeon and Henry Morgan. The movies setting is on a British Rubber Plantation in Africa during World War Two. The four male leads become involved with the seductive Lamar as Tondelayo. The motion picture dealt with miscegenation and like its 1929 version ran into many problems with the censors. However, unlike "The Little Foxes" for RKO. "White Cargo" showed a profit for MGM of $1,240,000.
The soundtrack for "White Cargo" once again has songs sung by Richard Carlson which are:
There's No Place Like Home (Home Sweet Home)
My Blushin' Rosie
Back to the "B's" Richard Carlson went with "A Stranger in Town" described as a comedy-drama-political film. The plot for this picture is described on the website IMDb by Doug Sederberg <vornoff@sonic.net> this way:
In the small town of Crown Port local attorney Bill Adams is trying to break up the ring of corrupt town officials by running for mayor. The cards seemed stacked against him when he gets help from a visiting hunter who, unknown to Adams and the rest of the town, is actually vacationing supreme court justice John Josephus Grant.
The part of Bill Adams was played by second billed Richard Carlson and in first billing playing John Josephus Grant was Henry Morgan. Playing Lucy Gilbert was actress Jean Rodgers the original Dale Arden in the Buster Crabbe "Flash Gordon" series.
Then once more back to an "A" list motion picture and in this case the Judy Garland musical "Presenting Lily Mars". Here is a link to the original trailer for the film considered Garland's first adult role. Richard Carlson plays Owen Vail with fourth billing behind Garland, Van Heflin and Fay Bainter.
https://www.youtube.com/watch?v=bQG6JjhjoCE
Richard Carlson's next motion picture moved him down one peg to fifth billing and was 1943's "Young Ideas" described once more on IMDb:
Academy Award-winner* Mary Astor (The Maltese Falcon) stars as a widow whose grown children try to break up her romance with a college professor in this charming, offbeat comedy directed by the legendary Jules Dassin (Never on Sunday, Naked City, Rififi). When Susan (Susan Peters) and Jeff Evans (Elliot Reid), the adult children of widowed author and lecturer Jo Evans (Astor), discover that their mother has fallen in love with staid professor Michael Kingsley (Herbert Marshall), they intervene to try to end what they believe is an inappropriate relationship.
Although the above poster puts Richard Carlson's face at the top. I could find out nothing about what his character Tom Farrell does in the story.
Then came Richard Carlson's final motion picture before going off to World War 2. "The Man from Down Under" was described by MGM as the first American film about Australia and starred Charles Laughton and Binnie Barnes. It told the story of a old World War One Australian soldier who helps an orphaned boy and his younger sister. The adult versions are played by Carlson and Donna Reed in the second half of the movie.
The Australian press attacked the film for its portrayal of the county and the people and the movie overall lost MGM $246,000.
Carlson's last appearance before leaving to join the Navy as a fighter pilot was a short subject "For God and Country" about three actual military chaplains Father Michael O'Keefe played by Ronald Reagan, Arnold Miller played by Richard Worf and Tom Manning played by Richard Carlson.
PART TWO: HERBERT PHILBRICK AND XENOMORPHS
World War 2 ended and Richard Carlson returned to his wife and his family. He went to look for work and found it hard to get in the United States, but a small British company hired Carlson and the family took a trip to England. The motion picture was "So Well Remembered" starring John Mills. It was a family affair as John Mills' two daughters Juliet, the movie "The Rare Breed" with James Stewart and Maureen O'Hara and the television series from 1970 "The Nanny and the Professor",, and Hayley, Walt Disney's original "The Parent Trap","Pollyanna" and "In Search of the Castaways", played a young girl and a baby respectively. The motion picture co-starred Trevor Howard and Richard Carlson, fifth billed behind Howard, played the dual roles of Charles Winslow Senior and Junior.
The plot was takes place after World War 2 as a man played by John Mills in a Lancashire Mill Town recalls the past 26 years and the events that effected the community. The movie had a London Premiere on July 8, 1947 and an American on November 7th of that year. Then the movie just disappeared for 60 years until a copy of it was discovered in a movie theater not in the U.K., but Tennessee.
Still in the U.K. Richard Carlson joined fellow American actors Turhan Bey and Lynn Bari in "The Amazing Mr. X" aka: "The Spiritualist" a British film noir. The motion picture was released first in the United States on July 29, 1948 and in the U.K. on September 23rd of that year. The part played by Lynn Bari was originally to have been performed by American actress Carole Landis, "One Million B.C" and "Topper Returns", but Landis committed suicide a few days prior to the start of shooting.
The film's plot has Bari's character two years after her husbands death thinking she is hearing him and coming under the influences of Turhan Bey's fake spiritualist. Richard Carlson plays Martin Abbott, but I could not find anything written about his character. As usual Carlson was fourth billed and he is not mentioned on any of the movie posters by name.
Another film noir was the next picture for Richard Carlson and his last before he would unknowingly discover the way to "Stardom", if not by the way he expected or in the medium he expected.
There is director Sam Fuller's 1963 classic "Shock Corridor" with Peter Beck as a Journalist who enters a mental institution to discover the truth about them as a fake patient. Then there is Budd Boetticher's 1948 "Behind Locked Doors" about a Private Detective, Richard Carlson, entering a mental institution to find someone also as a fake patient.
Dennis Schwartz on the website "Ozus' World Movie Reviews" on December 6, 2003 wrote the following:
Budd Boetticher directs a fast-paced low-budget B-film thriller with a far-fetched idea as its storyline and presents a shaky portrayal of the mental health profession. The film's claustrophobic and oppressive surroundings in a private mental hospital, moves this paranoiac tale somewhat into film noir territory ... No character was developed, the storyline never seemed believable, and despite the attempts made through the dark photography to create tension that wasn't possible because we didn't know enough about the lead characters and the villains were merely cardboard characters. Aside from being well directed, this melodrama has little else to recommend it. Boetticher is better known today for the many splendid Westerns he directed during the 1950s with

Randolph Scott

as star, which include

Comanche Station

,

Ride Lonesome

, and

The Tall T
There is no way Richard Carlson could have known he would be always associated with the new medium "Television" over his motion picture career. He first television appearance was in the second story of the first season of "Pulitzer Prize Playhouse".
The ABC TV Series sponsored by "The Joseph Schlitz Brewing Company" was an anthology that ran from 1950 into 1952 based upon "Pulitzer Prize" winning short stories. Richard Carlson played "Donald Ring Mellet" in "The Canton Story" written by Budd Shulberg. The story was about a Canton, Ohio, newspaper publisher waging war on organized crime. I could not find a description of that 60 minute program, but one can suppose with his character's name that Richard Carlson was the head of the organized crime the publisher was fighting.
Richard Calrson returned to motion pictures for his next outing.
On November 24, 1950 a motion picture classic was released from MGM that even though Richard Carlson was billed third as John Goode. When the picture is spoken about most people don't even remember he was in it until they either see it again, or are reminded.
H, Rider Haggard's 1885 novel "King Solomon's Mines" was completely rewritten by MGM to have a female character that was not in the novel and for that character to be portrayed by Deborah Kerr, Kerr also has top billing as Elizabeth Curtis, Elizabeth is searching for her missing husband in Africa and seeks out Big Game Hunter Allan Quaterman played by, Stewart Granger. Quaternain as in several novels by Haggard was the original main character in "King Solomon's Mines". Richard Carlson's John Goode has also been changed from the third major character of the novel and the friend of Sir Henry Curtis into Elizabeth Curtis' brother. Of course there is a romantic subplot between Kerr and Granger which is satisfied when the body of her husband is found within the mines.
The movie is very good and holds it own. However, note how small Richard Carlson's name is on the poster for the motion picture. Evidence that they needed somebody in the part, but not a recognized
star on the level of either Kerr and Granger.
On December 12, 1950 Richard Carlson once more dropped out of "A" List motion pictures into something called "The Sound and the Fury". The plot being described as being about a man down on his luck who falls in with criminals. The movie actually starred Frank Lovejoy and Kathleen Ryan with Carlson in his usual third place followed by Lloyd Bridges. To illustrate how forgotten this motion picture is, if you look on the net for this title even including the year it was made. You will discover 1959's "The Sound and the Fury" starring Yul Bryner and Joanne Woodward, mention of William Faulkner's story of that name and a 2014 film of that title starring James Franco based upon the Faulkner novel, but nothing of the Richard Carlson motion picture. The only scenes I could find showed Lovejoy and Bridges, but nothing with Carlson in them.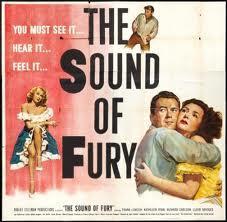 Maker of small films, no pun intended, Edward Small made the first biography of Rudolph Valentino. The motion picture starred Anthony Dexter as Valentino and Eleanor Parker as a combination of several of Valentino's leading ladies playing the dual roles of Joan Carlisle/Sarah Gray and in third position Richard Carlson as William "Bill" King which was a very fictionalized version of director Rex Ingram seen below.
This is a link to a very interesting article on the motion picture from the "Turner Classic Movies" website:
http://www.tcm.com/this-month/article/178891%7C0/Valentino.html
It was back to television for Richard Carlson with three starring broadcasts.
On March 13, 1951 he appeared in "One Sunday Afternoon" on "The Prudential Family Playhouse". Another anthology series presented by Prudential Insurance on CBS. Carlson appeared twice on "The Ford Theater Hour" presented by Ford Motors. As you can tell major companies were discovering the power of television even in its infancy. Richard Carlson played "Marlow" in Joseph Conrad's "The Heart of Darkness" which Francis Ford Coppola would rework in 1979 as "Apocalypse Now". Carlson's first appearance in the play was on November 3, 1950. "The Ford Theater Hour" would restage the play also starring Carlson on March 23, 1951. On July 9, 1951 Richard Carlson co-starred with Constance Bennett on the NBC anthology series "Cameo Theater" in something called "Avalanche".Remember these shows were on "Live: television and anything could happen and probably did at times like a shadow from a boom mike, or an actor forgetting a line.
Richard Carlson's first touch of horror came when he starred on Arch Obler's television series based upon his award winning radio program "Lights Out". The appearance on Obler's show was only 7 days after "Cameo Theater" on July 16, 1951 as "Steenie" in "The Devil in Glencairn". Jay Phelps <jaynashvil@aol.com> wrote on IMDb:
Steenie, the best piper in all of Scotland, is about to be evicted if he doesn't pay his owed rent. After selling his pipes to raise the money, a mysterious stranger appears, ready with a deal: it involves Steenie's money, bagpipes--and his immortal soul.
Back to third billing in the Fred MacMurry and Eleanor Parker motion picture "A Millionaire for Christy". Richard Carlson played Dr. Roland Cook and the story revolves around Fred MacMurray and his "Gold Digging" secretary Parker. Who informs him he has inherited two million dollars. This was MacMurry's first comedy role and it would eventually lead him to the television series "My Three Sons".
Then there was 1951's "The Day the Earth Stood Still". Don't look for Richard Carlson on film, but according to the website IMDb, information I could not locate his name on any other full cast listings, he has the uncredited role of "Thomas Stevens, Jr". Several people jump on the fact that according to the trivia section on the motion picture and other posts that he did have a part in the motion picture, Illustrating both the power of the Internet and how you can not believe what you read without further research, but here is what IMDB actually wrote::
The name "

Richard Carlson

" - another leading sci-fi actor of the 1950s - appears at the bottom of the glass door to

Hugh Marlowe

's office.
The problem of course is that Richard Carlson's first science fiction appearance, if you discount the fantasy "Beyond Tomorrow", would not be until 1953 with 'The Magnetic Monster" that I will discuss shortly, but apparently this mix-up has become an "Urban Legend" of sorts associated with 1951 "The Day the Earth Stood Still" and Carlson. The second problem is that the name on the door is "Richard J. Carlson". When Richard Carlson's middle name starts with a "D". A bigger problem is that if 39 year old Richard Carlson's character was "Thomas Stevens, Jr". Then his father is 40 year old actor Hugh Marlowe who plays "Thomas Stevens" in the motion picture. Love it.
The following is part of the "Full Cast" list off of IMDb for 1951's "The Day the Earth Stood Still":
The real Richard D. Carlson's next motion picture was released on January 10, 1952 and was "The Blue Veil". This is the story of a young widow Louise Mason played by Jane Wyman who becomes a nurse and helps many young children. As time passes and her young patients grow up Louise is finally forced to face old age and once again feels her life is empty. Her now grown young charges have other plans for her.
Carlson played Jerry Kean. Also in the picture are Charles Laughton, Joan Blondell, Agnes Moorehead, Audrey Totter, Vivian Vance, Dan O'Herlihy and 12 year old Natalie Wood, see last picture below.
On January 28, 1952 Richard Carlson appeared on the prestigious television anthology "Robert Montgomery Presents", The interesting story was "Eva? Caroline?". The police claim Eva committed a murder several years later, but Eva claims to be Caroline the wife of a successful lawyer. She produces 28 people to validate her claim, but the lawyer states his wife died years ago.
On January 31, 1952 Richard Carlson joined a large group of actors who played the radio hero Whispering Smith in "Whispering Smith Hits London" aka: "Whispering Smith vs Scotland Yard". The movie was filmed in the U,.K. and featured Herbert Lom and Lawrence Naismith. The very slim plot on this very slim motion picture has an American Detective summoned to London to investigate a murder.
Richard Carlson rejoined Frank Lovejoy in the Korean War drama "Retreat Hell" released February 19, 1952. A U.S. Marine Battalion fights its way out of a frozen pass against overwhelming odds. Carlson was Captain Paul Hansen.
Returning to a television anthology series on "Celanese Theatre" Richard Carlson had the lead in "When Ladies Meet" which ran on June 11, 1952. It tells the story of Mary a writer who is attracted to her publisher. Jimmy who is in love with her introduces Mary to a women who happens to be publishers wife without telling her. I guess Richard Carlson was Jimmy as the cast was only two actresses and himself. For your information the "Celanese Corportion" aka: "Hoechst Celanese" is still going strong since they sponsored this program on ABC. It is now a "Fortune 500 Company" that produces global technology.
Released on August 24, 1952 was "The Rose Bowl Story". Richard Carlson was not seen in the movie, but did the opening narration. Then on October 26, 1952 Carlson found himself back in the Navy co-starring with Sterling Hayden in "Flat Top" aka: "Eagles of the Fleet" about a group of Naval flyers on an aircraft carrier during the Korean War.
On December 19, 1952 on the television anthology series "Schlitz Playhouse" Richard Carlson starred as "The Playwright". Which was an appropriate title for the show he also wrote. This was his first writing credit for television and more would follow as you will read,
On January 29, 1953 Richard Carlson continued on television in another "The Ford Television Theatre" presentation. The play was "Adventure in Connecticut" which was a comedy drama and musical. The plot has Russian's Antonin and his Granddaughter Vlasta arriving in the United States only to discover their sponsor is deceased and they must return to the country they have left. The two attempt to persuade their sponsors son, Carlson, to take his place.
Following is the trailer for "The Magnetic Monster" the first Science Fiction Motion Picture Richard Carlson was in and the start of his association with that 1950's genre.
https://www.youtube.com/watch?v=qYDZmg1LHaY
Released on February 18, 1953 and produced by Ivan Tors to be known for the excellent "Science Fiction Theatre", "Sea Hunt", "Flipper" and "Daktari". Tors wanted his Science Fiction grounded in as much fact as possible and "The Magnetic Monster" was a great start.
Forgot the "COSMIC FRANKENSTEIN TERRORIZES EARTH" tag line. The "monster" was not "Cosmic", but man made. A scientist creates a radioactive isotope and it is up to the members of the OSI (Office of Scientific Investigation) to find it and stop it from growing. The isotope must "feed" every 11 hours by absorbing energy from anything in its surroundings including human beings. After it completes this absorption the "Magnetic Monster" gives off both a strong radioactive and magnetic field discharge as it doubles in size. Then it becomes almost dormant until 11 hours have past and the scenario is repeated.
The film had a very low budget estimated at a $105,000. So Tors used Richard Carlson's OSI Agent Dr. Jeffrey Stewart as a narrator. Thereby cutting down the on screen dialogue. The motion picture has a documentary feel and style to it which adds to the tension. Ivan Tors also utilized ten minutes of film footage of an "Atomic Smasher" from the 1934 German motion picture "Gold" to further save money at the movies climax. Another item Tors used to make the film seem more scientific was the Los Alamos MANIC (Mathematical Analyzer, Numerator, Integrator and Computer). The MANIC added a feeling of having the latest technology to his picture.
The following link is to the complete motion picture. The first in a trilogy which I will speak about a little later, but don't let the low budget get you. This is a very good movie with a good script by Curt Siodmak. Whose screenplays included the 1941 "The Wolfman", 1943's "Frankenstein Meets the Wolfman" and 1943's "Son of Dracula" among others. Siodmak also directed "The Magnetic Monster".
https://www.youtube.com/watch?v=8ljQwGUcTCY
Richard Carlson found himself being directed once more by Budd Boetticher and back to fourth place billing after Rock Hudson, Anthony Quinn and Barbara Hale playing the commanding officer out to get Osceola in "Seminole".Carlson is very good in this part, but the movie twists history and is extremely predictable as Rock Hudson is court marshaled by Carlson for causing the death of Osceola, his boyhood friend, while in a prison cell in Carlson's Fort.
Richard Carlson returned to television for his next two acting appearances which would lead to the first of two Science Fiction Classic's the actor starred in.
Carlson first appeared on the television anthology "Hollywood Opening Night" in something called "My Boss and I" on March 23, 1953 which was followed with his second appearance on "Robert Montgomery Presents". "Appointment in Samarra" shown on May 11, 1953, starred Robert Montgomery as a man whose world falls apart during the Great Depression in 1930.
14 days after appearing on "Live" TV a motion picture opened in the 3-D process which Richard Carlson and the other cast members didn't think much about except as a means of a pay check. The movie was "It Came from Outer Space".
It was based upon an original screen treatment, not a published story, by Science Fiction writer Ray Bradbury entitled "The Meteor". Like some other pictures of the "Cold War" era Bradbury's script was considered allegorical. In her 1992 book "Daughter of a Blacklist that Killed A Father". Patricia Bosworth wrote that the movie was about:
aliens from outer space serving as metaphors for the Soviet menace
The following link is to an article related to Patricia Bosworth's book and her father lawyer Bartley Crum. It gives the reader a little taste of the times "It Came from Outer Space" was released within.
https://www.blogger.com/blogger.g?blogID=4856844389887948002#editor/target=post;postID=5347870183070392015;onPublishedMenu=allposts;onClosedMenu=allposts;postNum=0;src=postname
The aliens, called "Xenomorphs" in Bradbury's story "Meteor", only want to repair their damaged spacecraft and leave Earth. They do not want contact with humans for two reasons: 1. We are not ready for such a meeting and 2. Their appearances would be misunderstood as monsters.
However,their problem is they need our bodies, or actually duplicates to do the work and obtain the required materials.
What you have in this intelligent movie are aliens that can not harm us as it is against their principles, but require humans to make copies of their forms. The humans although captured are treated with respect and kindness, but of course the others in this small town including the Sheriff look upon things differently and a confrontation is set in motion.
The one person in the community able to understand what is happening and assist the "Xenomorphs" is Richard Carlson's character of John Putnam. Putnam viewed the craft crash and investigated before it was completely buried, but he also must deal with the Sheriff and his own girlfriend which causes further complications in protecting the aliens until their craft is repaired and they can just leave.
The paranoia of the Sheriff and the other townspeople over not knowing what is happening becomes the allegorical Cold War tie that Patricia Bosworth and others refer too, The film predates by a year Jack Finney's serialized story in "Colliers Magazine" "The Body Snatchers", Which director Don Siegel would turn into the 1956 Science Fiction classic "Invasion of the Body Snatchers" about alien life forms wanting to take over the Earth by killing people and assuming their forms.
"It Came from Outer Space" co-starred Barbara Rush as Carlson's girlfriend Ellen Fields and Charles Drake as Sheriff Matt Warren.
On June 25, 1953 Barbara Stanwyck starred in Ross Hunter's "All I Desire" a "B" picture from Universal Studios. Stanwyck plays Naomi Murdoch who leaves her husband, Richard Carlson, and her son and daughter to become an actress. After 10 years of separation from her family Naomi returns home at the invite of her daughter. Who now is a High School drama student that wants her mother to see a play she has a part in. Playing the daughter Lilly was Lori Nelson just starting out at Universal Studios. Playing Stanwyck's son Ted was Billy Gray, Gray had been the boy in "The Day the Earth Stood Still" and would go on to play the son of Robert Young and Jane Wyatt in the 1954 to 1963 television series "Father Knows Best".
Ross Hunter changed the original sad ending to an uplifting one. As after all this time Richard Carlson's husband takes Barbara Stanwyck back and they start over as a happy family.
Written by Maurice Sandoz in 1945 and illustrated by Salvadore Dali is a 110 page novella entitled "The Maze". Right now you can get a copy of the original publication for $39.00 on Amazon. A reviewer only identifying themselves as a customer wrote this of the story.
The Maze" is an old, hard covered little book, that tells a tale of mysterious events in an old caste-like setting with a maze garden. It's not a terrifying-Poe-like tale, but it has its own sense of hauntingness and mystery. The end is a cool surprise, if you hadn't already figured out the puzzle, or "the Maze." Add to this illustrations by SALVADORE DALI! Yes, Salvadore Dali pen & ink drawings (with onion skin over them for protection in some editions). The drawings ADD to the puzzle & the surprise! A wonderful gem to have on your bookcase. Sure to be a classic. I don't think I'll ever sell mine.
I make mention of this work as in the following trailer for the next film starring Richard Carlson. The producers brag that this is the first 3-D motion picture based upon a "great suspense novel".
https://www.youtube.com/watch?v=b92iwO1XIx4
Released on July 26, 1953 "The Maze"is a very moody and well conceived motion picture until the ending which unfortunately on the screen became laughable. The movie is directed by William Cameron Menzies. Richard Carlson played Gerald MacTeam who is engaged to the very pretty Kitty Murray and everything is going perfect until Gerald receives a message. He has inherited a Scottish Castle and the mystery begins as Gerald stops his engagement and just disappears to Scotland. Kitty and her Aunt travel to the country where they meet a very aged in appearance Carlson. What is the mystery of the castle? You will not get that from me here. Playing a very proper, but strange butler is one of my favorite character actors Australian Michael Pate and he steals the movie at times from the leads.
Read about Michael Pate on my blog article on his life:
http://kinescopedreams.blogspot.com/2015/03/woody-strode-and-michael-pate-one.html
On August 12, 1953 the distinctive voice of Richard Carlson was heard as the narrator in the Rock Hudson Arabian Nights Fantasy "The Golden Blade".
On October 1, 1953 a syndicated television series premiered entitled "I Led Three Lives" aka: "I Led 3 Lives" Richard Carlson was always searching for "Stardom". Even after starring in "It Came from Outer Space" and a motion picture yet to be released "The Creature from the Black Lagoon". Both unchallenged 1950's Science Fiction Classics. It is this television program playing real life Herbert A. Philbrick that is and will remain Richard Carlson's elusive "Stardom".
Below a picture of the real Philbrick introducing the TV program.
I was 15 days away from my 7th birthday when the show began, but even at that young age I was aware of who the Communists were and the Soviet Union. Although that happened to be tied to drop and cover drills at school to save me from an Atom Bomb attack. Whatever an Atom Bomb was!
By the time "I Led Three Lives" premiered on television. I had already seen the 1952 movie "Invasion U.S.A." with the tag line "It Will Scare the Pants Off of You" quoting Columnist Hedda Hopper. At 6 I may not have understood the political implications about Russia taking over the United States, but the movie caught me up. It was on a double bill with a science fiction film called "A Thousand Years from Now" about an Atomic Bomb war. Whatever that was, because as well as our scientists the people of 1950's America were just caught up in a paranoia George Orwell in 1945 called "The Cold War" scared that one day it would become"Hot". Whatever that meant! Americans were even afraid that our next door neighbors might really be 'Commie" Agents as they were afraid of us. Enter Richard Carlson in "I Led Three Lives" from ZIV TV.
"I Led Three Lives" was based upon a book by Herbert A. Philbrick. As I mentioned at the start of this bio sketch those three lives were average family man, member of the Communist Party and FBI undercover agent. The real Philbrick narrated episodes which added to the "truth" about them. Each of the 177 programs into 1956 had to have all scripts "pre-approved" by J. Edgar Hoover himself. Those scripts were written by a group of writers consisting of Lee Berg, Frank Burt, Stuart Jerome, Norman Jolley and a young writer name Gene Roddenberry as Robert Wesley
The following is a badly filmed copy of the episode "Radioactive" written by Gene Roddenberry as Robert Wesley.
https://www.youtube.com/watch?v=U0DW_qpilRQ
The television program "I Led Three Lives" is still used in both History and College classes. These courses usually cover "The Golden Age of Television", or Senator Joseph McCarthy and the early "Cold War" paranoia in the United States. Having starred in the series is the major reason Richard Carlson is remembered today and not, sadly, his motion picture career. Although Science Fictions fans would disagree.
It should be noted that besides script approving J. Edgar Hoover considered the show a personal favorite. There is another historical personage who adds to why "I Led 3 Lives" remains today a talked about program of the era. When most other television programs that aired between 1953 and 1956 are forgotten. That person was Lee Harvey Oswald who mentioned it as his favorite television show while growing up.
On January 14, 1954 the second film in Ivan Tors' trilogy about the OSI was released.
Richard Carlson not only played the part of Dr. Jerry Lockwood in "Riders to the Stars", but directed the Curt Siodmak written motion picture.
The film tells the story of a group of men trained for a space mission to retrieve a meteor prior to its entry into the Earth's atmosphere, Scientists want to study what they believe is the "protective shell" of meteors as a possible means to protect deep space craft "to the stars".
The movie isn't very good, but it is considered one of the first films to accurately deal with the scientific problems the we face in putting a man in outer space. Besides Richard Carlson the film featured Herbert Marshall, who would return as another character in the final film of the trilogy "GOG", William Lundigan, who starred, Martha Hyer, Dawn Adams, King Donovan and James Best.
Here is a link to the complete motion picture:
https://www.youtube.com/watch?v=QnYZaRaS6Zs
On the same day Jaunary 14, 1954 that "Riders to the Stars" opened Richard Carlson appeared live on "Lux Video Theatre" in a program entitled "All Dressed in White".Apparently during the "Intermission" to the program actress Vera Miles was interviewed to permit the actors to make costume changes.
On February 12, 1954 Universal Studios released a motion picture that would spawn two sequels and plans for a third which was never made. The picture photographed in the 3-D process was "The Creature from the Black Lagoon". As I mentioned above the movie starred Richard Carlson and also Julie Adams. It featured Richard Denning, Antonio Morena, Nestor Paiva and Whit Bissell.
This plot tells of an expedition to the upper reaches of the Amazon River and the area called "The Black Lagoon". Where they encounter the "Gill Man" who proves highly intelligent and deadly.
As also mentioned above "The Creature from the Black Lagoon" was the second major Science Fiction motion picture Richard Carlson would be forever connected with. The movie contains the only monster that was added to Universal Studio's Classic Horror collection after the 1940's.
Here is a link to the trailer for "The Creature from the Black Lagoon".
https://www.youtube.com/watch?v=IZqSCs8Kj_8
Back to other television work when on April 4, 1954 Richard Carlson appeared on "The General Electric Theatre" in "Pardon My Aunt". This was followed by another Carlson directed motion picture which he did not appear in "Four Guns to the Border". The first credit in the dark green at the bottom of this poster reads: "Directed by RICHARD CARLSON".
On April 10, 1954 Carlson did the voice over opening narration to a movie entitled "The Annapolis Story" starring John Derek, Dianna Lynn and Kevin McCarthy. On August 3, 1955 a motion picture released by Republic Studios with an interesting back story came out.
Actor Sterling Hayden starred in "The Last Command" aka: "Alamo" as Jim Bowie. Once more at third billing behind Anna Maria Alberghetti who would play the Princess in Jerry Lewis' "Cinderfella". Richard Carlson played William Barret Travis in this tale of the last days of the Alamo.
Originally the motion picture was to be produced and directed by John Wayne who was working at Republic Studios. However, Herbert Yates, who ran the studio, wanted Wayne to act in the movie and not produce or direct it. This led to a split which resulted in John Wayne leaving Republic to form "Wayne-Fellows Productions". Five years later in 1960 John Wayne released his own version of the siege entitled "The Alamo" at 3 hours and 22 minutes compared to "The Last Command" at 1 hour and 50 minutes.The word "THE" was added to avoid confusion with international prints of the Republic Studios picture.
The plot of "The Last Command" centered around the supposed friendship through marriage of Jim Bowie and General Antonio Lopez de Santa Ana which breaks up over Texas Independence. In a lot of ways this is a far better motion picture than Wayne's production, but as with many of Richard Carlson's and Sterling Hayden's films it is mostly forgotten.
The following four and a half minute clip is the start of the final assault on the Alamo and you get to see Richard Carlson die beautifully and without the hamming up of Lawrence Harvey in John Wayne's movie. This small clip shows you how Republic could do a picture right. Don't get me wrong I wish the Road Show version of Wayne's film was re-discovered, but this small movie told almost the exact story with characters you could relate too and in less time.
https://www.youtube.com/watch?v=zW1-epuCOs0
Returning to screen writing Richard Carlson wrote "The Haunted" for "The Kraft Theatre" performed on August 24, 1955. On September 14, 1955 another "B" movie with Carlson called "Bengazi" was released and quickly disappeared from memory.
There was a weekly day time series called "Matinee Theater" which was sometimes live and sometimes on kinescope. Richard Carlson appeared with his "Bengazi" co-star Richard Conte in something called "Three for the Money", but no plot seems to be available. It aired on May 31, 1956.
At this point in his career Richard Carlson with the exception of six theatrical motion pictures, one only written by him, and three of the early made for television movies spread out over a 13 year period was totally committed to television as a performer, director and writer.
During this television period Richard Carlson would appear in many major television programs of the time and is some multiple times. These included "Riverboat" which originally starred Darren MacGavin and would feature a young actor named Burt Reynolds, "Thriller" hosted by Boris Karloff , "The Fugitive" starring David Janssen, "Wagon Train", "Rawhide", "Perry Mason" and "Voyage to the Bottom of the Sea" to name a small amount.
Carlson would direct or write for now forgotten television series such as "The Man and the Challenge", "Men Into Space" and "The Aquanauts". Besides being the lead actor Carlson would also write and direct at times on his second television show "Mackenzie's Raiders", 1958-1959, which I will now look at.
This 39 episode syndicate series once more by ZIV TV was loosely based upon Colonel Ranald S. Mackenzie of the Army Corps of Engineers.
The series took place after the Civil War during either 1873-1876, or 1878-1879 when Mackenzie was stationed near Brackettville, Texas at Fort Clark. Where he is shown leading raids into Mexico after bandits and Indians who crossed into the United States. Each episode began with this introduction:
From the archives of the United States Cavalry, the true story of Colonel Ranald Mackenzie and the Cavalrymen he led - Mackenzie's Raiders. His secret orders from the President of the United States - clean up the Southwest ... make it a fit place for Americans to live ... wipe out renegades, outlaws

, and murderers. If necessary cross the Rio Grande, knowing capture means hanging

by the enemy ... discovery,.. court martial by the United States Army
To put this fictional show into prospective as it applies to Ranald S. Mackenzie. After the Civil War as he was remaining in the Army Mackenzie was reduced to his permanent rank of Captain. In 1867 he was appointed Colonel and took command of the 41st Infantry later turned into the 24th which was a Buffalo Soldier regiment. Most white officers refused duty with an African American unit at all. On February 25, 1871 Mackenzie assumed command of the 4th Calvary at Fort Richardson in Jacksboro,Texas.
In actuality the real Mackenzie was under the direct command of General Philip Sheridan and NOT "Secret Orders" from the President. The Indians Wars were an out in the open situation covered in the newspapers of that day. It was Sheridan and not Mackenzie who was operating under direct orders from President Ulysses S. Grant.
The idea in the opening of the show of Mackenzie crossing the Rio Grande: was real, but was a direct order from Sheridan on his orders from Grant and was not an "if necessary" situation. To be exact Colonel Mackenzie had been ordered by Sheridan to raid Mexico on May 18, 1873. On that date Mackenzie took 6 companies and 20 Seminole-Negro Scouts and with a total command of 400 men crossed the Rio Grande. The purpose of this raid was REVENGE for the attack on the Nueces River Valley and Howard's Wells, Mackenzie's Raid was directed against the Kickapoo, Lipan, Pottawottami and Mescalero Apache lodges at Rey Molina. The end result was the burning of all the lodges to the ground, the death of at least 19 Indian warrior, 40 to 50 prisoners taken including the Lipan Chief Costilates and the capture of nearly 200 horses. The real result of this raid was the stopping of all Indian activity in the area for nearly three years.
There is an interesting quote about Richard Carlson's personality that I have encountered before while researching him, but I never had a direct reference until this series. This quote appears in "The West Texas Historical Review" Volume 89, 2013, within pages 112-113. It is from screenwriter Warren Douglas stating Richard Carlson always felt::
rather superior intellectually and culturally to most of his peers ... and he was
In this article Carlson's Master's Degree is referred to as a "Master of Arts" giving us a third description of what might as I earlier stated have been only one degree: "Masters in English", "Master of Fine Arts and Dramatics" and now "Master of Arts".
This link is to one of the episodes of the television series:
https://www.youtube.com/watch?v=BCGqwHfz8L0
There were four movies Richard Carlson was involved with after his television show "Mackenzie Raiders" that I think are worth mentioning before I conclude my biographical sketch of the actor, writer and director.
The first came out on September 22, 1960 and was entitled "Tormented". The film was shown on the fourth season of "Mystery Science Theater 3000" and was Produced, Written and Directed by Shlock Master Bert I. Gordon. Which is really the interesting point here picturing Richard Carlson in a Bert I. Gordon motion picture.
The motion picture starred Carlson as Jazz pianist Tom Stewart and Bert I. Gordon's daughter Susan as Sandy Hubbard with Judy Reding playing Vi Mason.
Tom is set to marry Meg Hubbard when his old girlfriend Vi shows up. Vi tells Tom she will break up his engagement to keep him hers even if it means blackmail. The two argue while on top of a lighthouse and the railing gives way as Vi falls to her death in the ocean. After this event Vi's ghost keeps coming back to hunt Tom telling him he is still hers. Adding to his problems Tom begins to be blackmailed by a "ferry-driving beatnik" who suspected something was odd when Tom quickly paid him the $5 dollars owed by Vi for the ferry ride. Tom kills the beatnik, but Meg's younger sister Sandy has seen it all. When Tom attempts to kill the girl at the lighthouse on the very spot Vi fell over. Vi's ghost attacks and Tom falls to his own death. The film ends with a search for Tom's body and the discovery first of Vi's. When Tom's body is found it is placed next to hers. Vi's body somehow turns over placing her hand now wearing the wedding ring that was to have gone to Meg across Tom's body. In death they are together forever.