There were many dog stars on 1950's television and this is about Six of them.
This article is dedicated to my Cockerpoo Hannah Montana that I miss very much.
I am about to tell the three of them the story of Five 1950's television dog stars. Along with a mystery involving "The Dog That Wasn't There", or maybe was. So if Piggy, Hannah and Bentley will lay down around my chair I will start with the story of "The Adventures of Rin Tin Tin".Which I watched on our 20 inch television black and white television.set. Yes, I said black and white as the first television program to be televised in color was "Bonanza" in 1959 and even at that time those TV"s were still very expensive.
"The Adventures of Rin Tin Tin" was a favorite with most boys my age the day the first story "Meet Rin Tin Tin" came outl I was seven years old as it was on October 15, 1954. The next morning I was eight years old.
The show revolved around a young boy named Rusty played by Lee Aaker who was orphaned in an Indian attack and adopted by the men of Fort Apache out on the Wild Frontier of the Old West and his dog "Rinty", Rin Tin Tin.
Lee Aaker had played the young boy in John Wayne's classic "Hondo" and playing Lt. Ripley "Rip" Masters was James Brown. Brown also had a John Wayne connection as he played one of the Marine's in "Sgt, Stryker's platoon in "The Sands of Iwo Jima".
Also in the cast was Joe Sawyer as Sgt. Biff O'Hara. Sawyer played one of the two telephone repair men who find themselves taken by the aliens in the classic 1953 Science Fiction film "It Came from Outer Space".
Between October 15, 1954 and May 8, 1959 there were 164 Episodes of this series telling the adventures of Rusty and "Rinty". Some of the titles were "The Devil Rides Point", ":Rin Tin Tin and the White Wolf" and "Rusty's Romance". The program was sponsored by Nabisco and like many shows of the time the characters might just turn to the audience and start in with a commercial and then resume the episode.
Besides the sponsors merchandise we were prompted to purchase. There were other items kids like myself hit on our parents to buy. I remember having a complete Fort Apache set with Calvary men and Indians along with "Rip", "Biff", "Rusty" and "Rinty". Here are some of the other items associated with the program:
This is a link to one of the television series programs "Rin Tin Tin and the White Buffalo":
https://www.youtube.com/watch?v=I6OZqJl89jY
Let me tell the three of you the history of "Rin Tin Tin". It began during the First World War when a soldier named Lee Duncan found a German Shepherd puppy and named him "Rin Tin Tin", or "Rinty" for short. Duncan was part of the 135th Aero Squdron and the dog became their mascot. After the war Duncan continued to train him and in 1922 "Rin-Tin-Tin" would appear in his first motion picture a silent entitled: "The Man from Hell's River".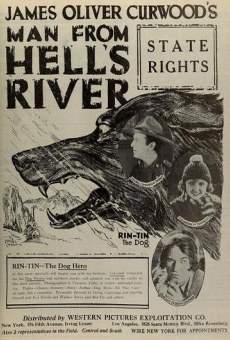 Rin Tin Tin's first actual starring role came in the 1923 feature film "Where the North Begins" and the future for this canine star and his family was set. Of note was this film and others with "Rinty" were written by a young screen writer name Daryl F, Zanuck who would be moved upwards to producer and eventually run 20th Century Fox Studios. Truly the "Big Dog" in the pack..
The original Rin-Tin-Tin made 27 films going into the sound era. His last film was the 12 part Mascot Serial "The Lightening Warrior" released in 1931.
An interesting fact Bentley that you and the girl's should know happened at the very first Academy of Motion Pictures Arts and Sciences Awards. When the votes were counted for the very first Best Performance by an Actor Oscar ever. The winner actually was Rin-Tin-Tin, but the Academy would not give a dog that award over the two human nominees, but the fact remains on record that Rin-Tin-Tin should have had that first statue in 1929.
After the first Rin-Tin-Tin entered Doggy Heaven, or the Actors Home however you want to view it. He was followed by his son only of the 48 puppies he fathered with another dog named Nanette. Lee Duncan sold all but two of the puppies.
Rin-Tin-Tin, Jr. would appear in Eleven films and two with "Rex the King of the Wild Horses". One of the titles seems like a buddy film "The Adventures of Rex and Rinty" and was another 12 part Mascot serial.
Beginning on April 30, 1930 in "Wonder Dog" the character of Rin-Tin-Tin would appear in three radio programs. Sorry Piggy I forgot you three of you dogs don't know what I'm, talking about. Besides going to motion pictures if there was one they could get too. Most Families listened to stories being told over the radio, because television wasn't affordable until the early 1950's to everyone. In the case of "Wonder Dog" the first Rin-Tin-Tin actually provided the dog barks and sounds. The three programs would last until 1955 when television really took hold and listening to radio stories became mostly a thing of the past.
Rin-Tin-Tin, Jr. actually started people getting German Shepherd's as pets. Before the popularity of his father and himself people thought the breed were mean and violent dog. A misunderstanding that was finally changed. During World War 2 Rin-Tin-Tin the Third worked with the Military to promote the use of dogs within the Army.
In 1947 Rin-Tin-Tin made a motion picture "The Return of Rin Tin Tin" with a young actor named Robert Blake. Let me tell the three of you a little about Blake. To begin with he started out in "The Our Gang Comedies" aka: "The Little Rascals". In 1944 he played the Indian sidekick of "Red Ryder", a popular comic strip character, in several movies. He was called "Little Beaver". Next Blake made "The Return of Rin-Tin-Tin" As he got older he would appear in some excellent motion pictures such as "Pork Chop Hill" and "The Purple Gang", but it was his performance as killer Perry Smith in the first motion picture version of Truman Capote's "In Cold Blood" that really solidified his acting skills. On television Robert Blake would star in a hit 1970's detective series "Baretta".
"Rin-Tin-Tin" has his own star on "The Hollywood Walk of Fame" and to further show how popular this Canine Star was on May 26, 1979 Bruce Dern and Madeline Kahn starred in a parody on "Rinty" called "Won Ton Ton: The Dog That Saved Hollywood".
It would be Rin-Tin-Tin the fourth that I watched every week in "The Adventures of Rin Tin Tin". Ok, lets take a break and take the three of you out for a walk and anything else you might want to do.
So are you three ready to meet Yukon King and another great 1950's program aimed at kids "Sergeant Preston of the Yukon"?
The first episode premiered on September 29, 1955 on CBS and went up against an ABC program without a dog,but with a silver bullet called "The Lone Ranger". Which as you will see is a very interesting coincidence.
Like its competitor "The Lone Ranger" those behind Sergeant Preston were thinking ahead and although television was broadcast in black and white the show was shot in color. Obviously they could not go to the Yukon to film the series and it was shot in Ashcroft, Colorado.
Ashcroft really fit the tone of the show with its history. Originally the mining town was named Castle Forks City, but later became Chloride until 1892 when it was renamed a second time as Ashcroft. In 1939 the last known resident of the town Jack Leahy passed away and Ashcroft, Colorado was now a ghost town.
Here is a link to the very first episode of the television series and I will return to the show shortly, but lets look at the story behind the character of Yukon King and Sergeant Frank Preston.
https://www.youtube.com/watch?v=6VuzBIFzyv4
Sergeant Preston actually began as a 1938 radio adventure created at Radio Station WXYZ in Detroit, Michigan. Today the station's call letters are WXYT. The original title for "Sergeant Preston of the Yukon" was entitled "Challenge of the Yukon" and the script was written by Tom Dougall. Dougall had already created two other action series for the station's owner George W. Trendle. One was about the young publisher of "The Daily Sentinel" Britt Reed and his masked partner and companion the Japanese martial arts expert Kato, who would become Chinese during the second World War, called "The Green Hornet". The other was similar as it was about an Indian named Tonto and his masked companion "The Lone Ranger". However, there had been problems originally with "The Lone Ranger".
George W. Trendle had noticed that Dougall's story idea was very close to a 1915 book by Western Writer Zane Grey "The Lone Star Ranger" and was concerned of possible copyright violations. The problems between the two men had been ironed out, but now Trendle discovered that "Challenge of the Yukon" seemed to be very similar to another series about a a Canadian Mountie "King of the Royal Mounted". Which had been a newspaper comic strip in 1935, a radio series in 1936 and a film series in 1937. The other interesting aside was that Zane Grey's son was involved in the stories along with his father at times.
Apparently as with "The Lone Star Ranger" similarity nothing came of all of this and the radio show went on as planned in a 15 minute format as most local productions were. Sergeant Preston's back story had Frank Preston joining the Royal Canadian Mounted Police to track down and jail his father's killer. After this was accomplished Preston is promoted to Sergeant by his commander.
Yukon King's backstory had the Alaskan Husky's as an orphaned puppy raised by a mother wolf who is attacked by a Linx. Preston comes along and isn't able to save the mother wolf, but did the young Husky and the two become fast friends.
The two companions would rescue trappers, fight and track down smugglers and save homesteaders from wild animals.The series was very exciting and actually ran until 1955 when the television show premiered.
Of note Bentley, Hannah and Piggy is that Yukon King was not played by a real Alaskan Husky. He was played by an Alaskan Malamute. They make great sled dogs as was needed in the live action program.
"Challenge of the Yukon" went to a 30 minute format when Quaker Oats become its sponsor. Cereal companies sponsored lots of shows as they knew children would be either listening to radio, or watching television and that was a built in audience for their products.
Below left is the emblem used on the radio show after its name would be changed to "Sergeant Preston of the Yukon" and on the right the emblem used for the television production.
Below are examples of the merchandise that was generated by Sergeant Preston of the Yukon as with other radio and television programs.
On television Richard "Dick" Simmons played Sergeant Preston and in costume he would visit children in hospitals and attend other events as did the stars of other programs I watched. There was a different atmosphere back in the 1950's especially with shows aimed at children and their viewers.
However, one of the greatest promotions probably ever attempted by a radio program came from Quaker Oats and was tied to the "Sergeant Preston of the Yukon".
Quaker Oats bought 19.11 acres of land in the Yukon Territory of Canada for $1,000 and then set up the promotion. It started in January of 1955 with advertisements in 93 United States newspapers telling people that they could:
Get a real deed to one square inch of land in the Yukon gold rush country
Listeners were told to obtain one of the 21 million deeds to this Yukon Land. They needed to mail in a special form along with the box top from either
Quaker Puffed Wheat, Quaker Puffed Rice or Muffets Shredded Wheat. On what turned out to be very good advise from their council Quaker Oats transferred the land to "The Great Klondike Big Inch Land Company".

This is one of the deeds issued by Quaker Oats.

:
The promotion was in full swing until the State of Ohio Securities Division determined that Quaker Oats didn't have a license and was illegally selling Foreign Land in their state. To get around Ohio Quaker Oats stopped the promotion as originally stated and put the deeds into boxes of their cereal as just a give-a-way.
Everything really came to a head in 1965 when Canada repossessed the land for failure to pay back taxes totally $37.20. Today the land is part of a Golf Course in Dawson City.
One last thing Hannah, Bentley and Piggy. I know you three like to eat so how about going to Lafayette, Indiana's "Sgt. Preston's of the North" Bar and Grill.
Here's a link to their menu:
http://www.sgtprestons.net/
They were the "King and Queen of the Cowboys" and I loved watching "The Roy Rodgers Show" starring Roy and his wife Dale Evans with their dog "Bullet".
The series ran for 100 episodes from December 1, 1951 through June 9, 1957 on NBC. Roy was a major Singing Cowboy star of the 1940's and it was during those years that he met his co-star Dale Evans and the two married.
"The Roy Rodgers Shows" actually was part of a battle for young audiences with other major 1930's/1940's cowboy stars from those great "B" Westerns.
On television also was Roy's Singing Cowboy competition Gene Autry on of course "The Gene Autry Show" from July 23, 1950 through August 7, 1956. Gene's sidekick was Pat Buttram. Also as with their films there basically wasn't much difference in the format of the television shows, but we kids didn't care as we were watching our two favorite singing cowboys.
Another major 40's Cowboy star was also on television going up against Roy and Gene was Hopalong Cassidy played by William Boyd. Actually this show was the first on television as Boyd in 1949 sold the idea to the new NBC and his program ran through 1952. "Hoppy" had his horse "Topper", as Roy had "Trigger" and Gene "Champion". Boyd approached a company called "Aladin" who made lunch boxes and sold them on the idea of putting his character of Hopalong Cassidy on one and selling it to children. The idea became a hit and television character lunch boxes were born, and merchandising to young audiences also started with William Boyd's business sense, but Bentley, Piggy and Hannah. Hoppy did not have a dog co-star.
A fourth major Cowboy program started out as a 15 minute program showing clips from old Westerns from December 11, 1950 through January 1, 1954 hosted by Western character actor and sidekick to many major stars Gabby Hayes. His second season with the same format lasted only 13 weeks on ABC May 12th to July 14, 1956. On both shows Quaker Oats was the sponsor and the commercials where Gabby shooting cereal out of a gun at the audience and advising the kids to watch out for their television sets. The slogan was that "Quaker Oats were shot from Guns.". Of note is Gabby's first season proceeded the "Howdy Doody Show" and both shows had a floor manager named Fred Rogers long before he created "Mister Rodger's Neighborhood".
Returning to "Bullet" and his human's weekly series Roy Rogers played a rancher in the fictional town of Mineral Springs.
There were four co-stars on the program with Roy and Dale. Human wise was Pat Brady as Roy's sidekick and the cook at the Eureka cafe run by Dale. Then there was Roy's horse "Trigger", the Jeep "Nelly Bell" and yes Bentley there was also Roy's German Shepherd "Bullet".
The show kept to the pattern of Roy and Dale's motion pictures from the 1940's that blended modern settings with Western action as did Gene Autry's/. As with his "B" Cowboy movies there was no explanation why you had a Jeep like Nelly Belly chasing hold up men on horses and nobody really cared. The program was just pure fun and very typical of the period.
For 1950's television audiences Roy and Dale's dog "Bullet" was just as big a star as "Rin Tin Tin" and remember "Rinty" did not come along until three years after "The Roy Rodgers Show" started on television Piggy and Hannah.
Piggy, Hannah and Bentley even "Bullet" got into the act selling dog food.
Here are some examples of how popular this show was:
Like all the shows I was watching there all those cool items to get my parents to buy.
and of course the over the top promotions
To end my small section on Roy and Dale let us remember her the show ends:
https://www.youtube.com/watch?v=kFvyKml2nPA
Good morning Hannah, Piggy and Bentley. So you want to hear some more about dog's on 1950's television programs. I have three more to tell you about including a "Mystery Dog", but first eat your egg and Pup-Peroni omelets.
Her name was known to more people than even "Rin Tin Tin", but she wasn't really a girl but a boy. I am speaking about "Lassie" who would also surprise people when he had puppies on the "Lassie" television series.Before I get more strange looks than the one's Piggy and Hannah just gave me. The reason "Lassie" was always played by a male Collie was because their color is more intense than females. In the 1950's you might call this method acting.
Actually here is the explanation from the "Lassie Fact Sheet"
http://www.lassieweb.org/lassfact.htm
All the dogs portraying Lassie have been male. A female collie was hired to play the lead in Lassie Come Home, but when an opportunity came to film "Lassie" negotiating some rapids, the female reportedly would have nothing to do with the rushing water. Rudd Weatherwax's collie "Pal" was substituted, and not only stole the stunt but won the role. Weatherwax continued to use male collies in the role for a good reason: both sexes shed in the summer (when most movies and television shows traditionally film most of their episodes), an event called "blowing coat," but since the male has thicker fur, he wouldn't look so scrawny during filming. Also, fans tend to think of Lassie as a "big heroic dog." Female collies are usually 10-15 pounds lighter than their male counterparts, therefore a male dog playing Lassie would look more impressive. Female collies were not ignored because they are any less intelligent; in fact, some of Lassie's stunt doubles have been females.
As to how many times HE, I mean "Lassie" had puppies. Here is another quotation from the same source:
Since all the collies portraying Lassie have been males, of course Lassie actually didn't have any litters, although each Lassie was the sire of the next collie to take over the role. However, the character of Lassie did have a litter several times within the story. She has a litter in "Lassie's Pups," a Jeff episode. She also has puppies that are being given away at the beginning of second season; this is probably another litter. All the puppies are given away except for Laddie, who is only seen in one other episode. Another of one of her puppies, Comet, is featured in the episode "The Marauder" (he appears to be from the same litter as Laddie).
Lassie has at least three litters during the Timmy years, the first two in "The Puppy Story" and "Puppy Sitters." Blacktail, one of the members of the litter born in "The Puppy Story," returns at the beginning of seventh season in an episode entitled (surprise!) "Blacktail." Lassie also gives birth in the episode "Lassie and the Eagle."
The only other litter mentioned is at the beginning of the seventeenth season, in the seven part sequence, "The Saga of Lassie's Puppies." Lassie's encounter with a male collie named Duke in "Lassie's Interlude" leaves her in "a family way." The first of three puppies is given away to a little boy named Kerry in "The Miracle," the second to the boy Davey in "The Offering," and the third to a little girl in "Nature's Child."
Lassie also had a litter of puppies at least once in The New Lassie (one was given to Mrs. Chadwick, who turned out to be a remarried Ruth Martin) and at least once in the Cinar series (the series finale, "Graduation").
My own first experience with "Lassie" was of course the television series that premiered on September 12, 1954 starring an old school mate of mine Tommy Rettig as Jeff Miller. He was eleven years old at the time. The year before he had "instant stardom and recognition" Tommy had appeared in the motion picture "The 5,000 Fingers of Dr. T" written by Theodor Seuss Geisel before he became just "Dr. Seuss".
With different casts and story lines "Lassie's" initial run would last until March 25, 1973.
The first four seasons of the program followed Jeff, his mother Ellen who had lost her husband during World War 2, Ellen's father-in-law known as "Gramps" and Jeff's friend nicknamed "Porkey". They lived on a farm and the adventures revolved around that community.
I also watched season five through ten with a different cast, but basically the same set up. In this cast you had a married couple Paul and Ruth Martin with their adoptive son Timmy. Instead of "Gramps" you had Paul's "Uncle". "Porky" was replaced by Cully Wilson. The Martin's lived on the same farm that the original cast moved from. Simple set up and transition.
Playing Timmy Martin was John Provost and his character was young and more warmer than Tommy Rettig's Jeff.
When John Provost did not renew his contract the producers dropped the boy and his dog theme and attempted to broaden the show by having Lassie owned by a forest ranger. Playing the Forest Ranger was Robert Bray and in 1964 "Lassie" turned to color. Bray was replaced in 1968, because of his drinking. The next actor Jack de Mave was replaced in 1968 by Jed Allen who took the Forest Ranger series through 1970.
There were two more attempts at continuing the series. From 1970-1971 Lassie traveled alone into different adventures and from 1971 through the end in 1973. Lassie was a member of the Holden Ranch and the format although not in a farm setting was similar to the original concepts. Instead of a small boy there was a deaf little girl who lived near the ranch.
From September 8, 1989 to February 15, 1992 there was a show entitled "The New Lassie". The series revolved around the McCullough family who has a young son. This short lived series actually was a continuation of the show from 1954-1956 as we meet the fathers brother Steve McCullough. The part was played by Jon Provost and in an episode called "Roots" we get the surprise that this is actually Timmy Martin from the second TV series who has found his real family. Making a guest appearance in that episode was June Lockhart as Timmy's foster mother Ruth Martin.
In 1997 "Lassie" moved to Canada in a Canadian made series. "The New Lassie".also was the title which does cause confusion with some human. No Bentley he/she did not need a passport back than. Today she would , lol. The series lasted for two years.
I would be remiss if as with the other shows I have mentioned I did not look into "Lassie's" past.
Lassie first appeared in British writer Elizabeth Gsakell 1859 short story "The Half-Brothers". Gsakell was born September 29, 1810 and passed away on November 12, 1865.
It is believed that that story was the inspiration for writer Eric Oswald Mownbray Knight to write his 1940 novel "Lassie Come Home". That novel would be made into the first "Lassie" motion picture and along with Lassie her human co-stars were a young Roddy McDowell and Elizabeth Taylor. Who as this poster indicates did not get major credit for her role of Priscilla.
The next film was "Son of Lassie" and features not only Lassie, but his son Laddie. The motion picture starred Peter Lawford who would gain fame as a member of Frank Sinatra's "Rat Pack" and politically as the husband of Patricia Kennedy the sister of JFK and RFK and Ted Kennedy during their marriage between 1954 through 1966.
Playing the part originated by Elizabeth Taylor was June Lockhart who would play Ruth Martin Timmy step mother on the television show Lassie. Interesting fact isn't it Piggy and Hannah?
Next up brought Elizabeth Taylor back to the Lassie fold in "Courage of Lassie".
Taylor played a your girl living on a sheep ranch named Eleanor Merrick, but speaking of famous movie stars who played opposite this famous Border Collie. I have to mention the fourth Lassie film entitled "Hills of Home" from 1948. Playing Margit Mitchell, before taking a famous shower in "Psycho" was a very young Janet Leigh.
There would be many other "Lassie" movies over the years, but these are the most famous. Like "Rin Tin TIn" Lassie would get a star on the Hollywood Walk of Fame.
Of course gang there were many books and comic books issued about Lassie. Here are few examples:
Then there were Lassie cartoon shows:
Lassie is a one dog industry that is still going strong for the Weatherwax family. I think this was a long session and Bentley would you escort the ladies on a little walk to stretch your paws and then I will tell you the story of "Corkey and White Shadow" as a prologue to "The Mystery of Sky King's Dog". You like stories about Phantom dogs that people know existed, but there isn't any proof to that claim,
Sorry to all these great dog shows you three are enjoying hearing about, but the number one program from 1955 through 1959 starred a Mouse and not a Canine. "The Mickey Mouse Club" locked young kids to the TV sets after school and no program could knock it off the air in the rating wars. Except perhaps Walt Disney's own "Zorro".
Each day of the week had a special show theme, which was reflected in the various segments. The themes were:
Monday – Fun with Music Day
Tuesday – Guest Star Day
Wednesday – Anything Can Happen Day
Thursday – Circus Day
Friday – Talent Round-up Day
Then there were the cartoons opened with two Mousketeers saying: "Miska Muksa Mouseketeer, Mouse Carton Time Now is Here":
and those first ever mini-series like "Spin and Marty", "The Hardy Boys|" and the one I am going to talk about "Corky and White Shadow".
Helping Mickey Mouse were the two adults Jimmy Dood and Roy Williams.
Of course there were those Mousekeeters:
Not from an official Disney website, but to describe the 17 part mini-series that played during June of 1956 on the Mickey Mouse Club "Corky and White Shadow" is this excerpt from "The Original Mickey Mouse Club":
Twelve year-old Corky Brady lives in the town of Beaumont with her widower father, Matthew Brady, the town sheriff. The sheriff hears by phone that the bank in the nearby town of Glen Forks has been robbed. Corky and her dog White Shadow want to help, but the Sheriff tells Corky to mind the housekeeping. Corky sets off for her Uncle Dan's cabin, but after a short visit, comes across an unconscious man on her return home. With Uncle Dan's help, Corky gets the wounded young man back to the cabin. The young man turns out to be the Durango Dude, one of the bank robbers. When Sheriff Brady, guided by White Shadow, comes looking for Corky, the Dude steals his horse and gets away.
The next day Corky finds the Dude's loot but gets caught by him. He gags her and ties her to a tree as the sheriff's posse comes close. But when a rattler threatens the helpless girl, the Dude kills it with a pistol shot, though it means he himself is captured. While the Dude is locked up in Beaumont, his partner, the Nevada Kid, breaks jail in Glen Forks. He releases the Dude, and the two of them hide out at Uncle Dan's cabin, keeping the old man captive. When Corky comes looking for White Shadow, she steals the outlaw's horses. Fleeing on foot, the robbers find Corky. When the Nevada Kid grabs Corky to steal her horse, the Dude fights him. Sheriff Matt returns to the jail house to find both outlaws in the cell with Corky guarding them.
For those interested here is the link to the website:
http://www.originalmmc.com/corky.html
Playing Corky was Mouseketeer Darlen Gillespie the first time one of the group was used in a Disney non-Mickey Mouse Club Vehicle.
Playing her father was Buddy Ebsen who had appeared in Walt Disney's "Davy Crockett" series with Fess Parker as George Russel.
Here is a link to a video of Darlene Gillespie as Corky singing to her "Uncle Dan" played by Lloyd Corrigan.
https://www.youtube.com/watch?v=NR_q5tcFvMs
Bentley, you want to know what happened to the dog who played White Shadow after the series was over? Here's an advertisement from Dorothy Crider his trainer and a link to a website about her and White Shadow Crider who played the dog in the series. White Shadow Crider is also known as Chinook One.
http://www.minternsgermanshepherds.com/white_shepherds.htm
Like all of the programs at the time there was a lot of merchandise for kids to purchase, or should I again say their parents.
So now we move to "The Mystery of Sky King's Dog" which many think was also called "White Shadow:, or "Shadow" and belonged to Sky King's niece Penny. Here are two links about that dog and both talking about its name..
http://www.funtrivia.com/askft/Question13698.html
http://www.funtrivia.com/askft/Question13698.html
However, "The Official Sky King Website" never mentions such a dog.
http://www.skyking.com/
So what is the story? Bentley, Piggy and Hannah we need to start by first looking at the history of the show for any clues.
It was said that the 1946 radio program the character of Arizona Rancher Schuyler "Sky" King was based upon the exploits of 1930's Jack Cones "The Flying Constable of Twenty-Nine Palms" California. Here is a link to his background.
http://www.roadtripamerica.com/murals/California-Twentynine-Palms-Jack-Cones.htm
"Sky" King owned the Flying Crown Ranch. On the ranch were Sky King's niece Penny and on the radio program their friend "Clipper". "Clipper" would become Sky's nephew on the television program. They would engage in adventures revolving around the community and in many an episode Penny getting herself into trouble and needed to be rescued. The same format would be transferred to the television show.
The radio show was sponsored by Peter Pan Peter Butter. On November 2, 1947 during the episode called "The Mountain Detour" Sky King used his secret Signal Scope. Listeners were advised that by sending in 15 cents and the inner seal from a jar of Peter Pan Peanut Butter they could get one of their own. Here's a picture of the scope from an E-Bay ad: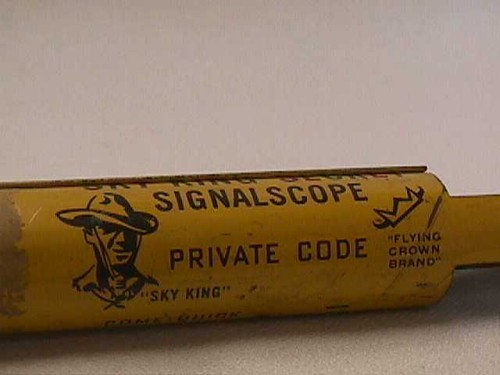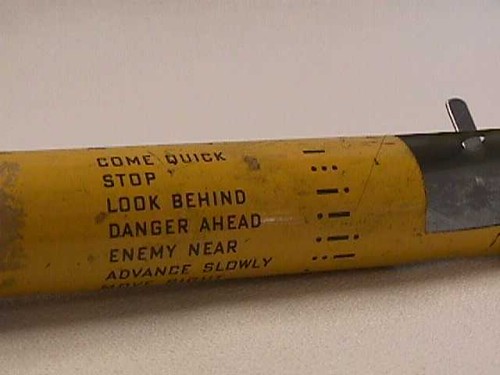 Now that we know how the program began to solve, or not "The Mystery of Sky King's Dog" I switch to the television show where a White German Shepherd might have been a part of. I have talked too eight people in my seniors community who also said the dog was on the television show and belonged to Penny.
Playing Schuyler "Sky" King was Kirby Grant a face that would be recognized for many years and associated with the character..
Playing Penny was Gloria Winters.
Playing "Clipper" was Ron Hagerthy.
In the series Kirby Grant flew two planes. By that statement I meant he was the actual pilot and owned them. Here is a description from a website called "The Mid-Atlantic Nostalgia Convention" on the aircraft.
Kirby Grant's original Songbird aircraft was made of wood, (nicknamed "bamboo bomber" accordingly). When it eventually became unsafe to fly, he sold it, and then flew a twin-engine Cessna 310B for the remainder of the Sky King series. Although Grant changed from one plane to another during the course of the series, the later plane was not given a number (i.e., "Songbird II"), but was simply known as "Songbird."
During the run of the show and afterwards Kirby Grant and Gloria Winters made many personal appearances across the country.
But it is now the time to look at that dog mystery for real. On the program there are two recognized dogs. The first was a Cocker Spaniel Puppy and the second was-----
YES a German Shepherd named Barney. The shepherd's color was not White, but he was the normally seen Tan, Brown and Black and his name was not White Shadow or Shadow., Here's a link to that complete episode.
https://www.youtube.com/watch?v=K-Dhlkn0Eak
Here is a quote about the years "Sky King" was on from the Official Website:



Episodes of Sky King




The television show was initially aired on Sunday afternoons on NBC between September 16, 1951, and October 26, 1952. These episodes were re-shown on ABC on Saturday mornings during the following year (November 8, 1952, through September 21, 1953). Later the show made its prime-time debut on ABC's Monday night lineup.
Hannah Montana, Piggy and Bentley pay specific attention to this line from above:
The television show was initially aired on Sunday afternoons on NBC between
September 16, 1951, and------
So it is obvious that the first episode was on September 16, 1951. According to the Website and those who quote it the number of episodes of "Sky King" was 72 and covered Four Seasons. However, Kirby Grant claimed the number was not 72, but 133 and that 61 shows were lost in a warehouse fire. Every time he raised this issue he was shot down by the owners of the company. Stop for a moment and think this through. We have a White German Shepherd that many people claim was on the program, but there is no record of it today. Could that dog have been in those 61 episodes Kirby Grant stated were shot and lost in a fire?
Now I will let this Official website:


Support Kirby Grant in his claim that there had to be more episodes of the program.
According to the list of the 72 episodes the first one for Season One of Sky King was
entitled: "OPERATION URGENT" and was about a USAF pilot that is running out
of fuel during a storm. The problem I have is that that episodes initially aired on
APRIL 5, 1952.

Of course simple mathematics tells us that's EIGHT MONTHS after September 16,1951.
So how can a television show start in 1951, IF the first episodes isn't until 1952?

I can't prove a thing about a White German Shepherd name White Shadow, or Shadow
being on the televised series "Sky King", but there are my the website's own words
approximately 33 episodes missing by count, or half of what Kirby Grant claimed were
also made. I might add that the same paragraph about play dates mentions


Later the show made its prime-time debut on ABC's Monday night lineup.
However, unlike the other entries does not state if these were re-runs, or completely
new programs. I leave that to my reader.

As to the name of the German Shepherd it is possible we are all confusing it with the dog
from "Corky and White Shadow", BUT just to mix the pot once more:

On August 31, 1952 which would place it just during the first Season of "Sky King", if
buy those September 16, 1951 through October 26, 1952 dates as accurate. Kirby Grant
appeared as a Canadian Mountie in the motion picture "Yukon Gold". My itself this
would not seem relevant, but he co-starred with a White German Shepherd.




Now look at the poster and who do we have playing the dog, but the same "Chinook:
The Wonder Dog" who played "White Shadow" in "Corky and White Shadow".
Confused yet Bentley, Hannah and Piggy? Kirby Grant played a Mountie in Ten
Motion Pictures, below he is with Bill Phipps and Gloria Talbot in "Northern Patrol".

You have the story about Kirby Grant and his White German Shepherd named
White Shadow, but really Chinook. Could we all have been mixing his Mountie
motion pictures with Sky King? Perhaps.

I leave the answers to "The Mystery of Sky King's Dog" to others.

I hope you have enjoyed my fun way to mention some of my favorite kids
programs with some of my favorite dogs and my three current favorite canines.